| | |
| --- | --- |
| the WAFFLE page | |
September 30, 2010. And another month bites the dust.
Money in, money out
Riding the fiscal roundabout
Matters not how loud you shout
Cos that's what life is all about.
But I am handling my meagre finances much better these days. I even have a few bob left over! I think I've finally discovered the golden rule... the less you spend, the more you keep.
Being pay day, Lindsay arrived home from the bank and paid his and Sue's share of the rent and groceries. Fine. Then Sue wanted to take a shower. Fine. So Lindsay placed a plastic chair in the shower, announced that Sue was fine, and then went to the pub. Next thing I hear Sue screaming in the bathroom. Fortunately, she hadn't locked the door, which she usually does. She'd settled herself into the shower and sat on the plastic chair before turning on the hot water tap. Oops! She's being scalded. So instead of turning on the cold water tap, she tries to escape. G to the rescue. What Sue doesn't understand - and neither does Lindsay - is that the taps should be turned on, and the water temperature checked, BEFORE a person steps into the shower. Meanwhile, Sue is hysterical and it takes me a while to settle her down. She also forgets to remove her watch so that makes her even more hysterical. Isn't life fun?
I've often mentioned Irish humor. Here's one called Americans Versus The Irish.
Beeb time: US President Barack Obama has ordered unprecedented sanctions against senior Iranian officials for "sustained and severe violations of human rights". The eight men include the head of the Revolutionary Guards, a former interior minister and the prosecutor general. The treasury department said they would face a travel ban and asset freeze. The alleged abuses include the killings and beatings of anti-government protesters after the disputed presidential election in June 2009. It's a pity sanctions weren't imposed on Nazi Germany before Hitler rose to power. A man convicted of an attempted bombing in New York's Times Square said he planned a second bomb two weeks later, prosecutors say. It's a worry. You only need 1% of the population to be idiots in order to cause havoc. A Russian company has unveiled an ambitious plan to launch a "cosmic hotel" for wealthy space tourists. Orbital Technologies says its "comfortable" four-room guest house could be in orbit by 2016, Russia's RIA Novosti news agency reports. Guests would be ferried to the hotel on a Soyuz shuttle of the type used to transport cosmonauts to the International Space Station (ISS). I guess it won't be long before such things will be as normal as a cruise on an ocean liner. More than 100 colourful aerial images - showing Britain's natural and human landscapes - are being showcased in Bath city centre. Take a look with the Director of The Royal Geographical Society, Dr Rita Gardner. Definitely worth a look. Sir Michael Caine unwittingly predicted the 9/11 terror attacks in a novel he was writing prior to the events of September 2001, the actor has revealed. "I had this plot where terrorists fly a plane into a London skyscraper," he can be heard telling Mark Lawson in BBC Radio 4's Front Row on Wednesday. "Then they did it in real life. I was stunned by that, so I stopped writing." The 77-year-old was speaking ahead of the publication of his autobiography, The Elephant to Hollywood. I like Michael... a great actor without being all arty farty.
Speaking of arty farty, FL Josh sent this link to an answering machine at an Aussie school in Maroochydore, Queensland. This is priceless. I have taught grammar school through college and I can so identify with it.
This weekend is the Labor Day long weekend, and the Old Bar Festival with vintage cars, old Kombis and all the usual razzamatazz. But the weather is not looking all that flash... 20/21 with the possibility of showers. Oh well, I'll toddle out there anyway and see what I can do photographically.
Anyway, that's it. After all the shopping and yadda yadda I've run outta time. Porterhouse steaks tonight and onions. Gary
September 29, 2010. Leg day. Yes, leg day. The surgeon will remove the bandage (which is getting a bit smelly), check my wound and, hopefully, pronounce it healed and successful. Personally, I'm not amused by all these attempts by bugs to shorten my life. Who the hell do they think they are? Why can't they mind their own damn business like I do?
Back from delivering Lindsay to the airport to collect his jacket, and then to the doc's to pick up prescriptions. So that's Bluey's little excursion for the day.
Surprise, surprise. Just got a call from one of my nieces, Trish, from whom I haven't heard in umpteen years. She wants me to attend my older bro's 80th birthday. But it's a bit far to travel. Hmmm. Why do people keep making me feel guilty? "We'd love to see you, Gary, but I'll leave it to you." Yeah, right. Trish is a grandmother. I've not seen her kids let alone her grandkids. And that goes for her sister's as well. We're not a terribly close family as you may have gathered. I'll certainly phone my older bro for his 80th but as to attending the party, well, I doubt it. Coincidentally, his birthday is the same day as Mark's, October 17.
Ohio Jace wrote in response to FL Josh's email: Didn't think my rambling about evolution would make much sense. To me it makes more sense than creation, but…. As to the pics of Sean and David at the beach minus Speedos, sorry but those are for my eyes only.
Of course, and I'm sure FL Josh was joking. Jace's two sons and the boys next door, David and Sean, grew up together and virtually became family. While Sean was still in diapers one of the sisters was in hospital in the city so David and Sean were with us a week or two. June and I changed many dirty diapers on baby Sean. Ew! As to creation, I'm with Jace, it doesn't make any sense at all. Maybe it doesn't need to. If people are happy to build statues in honor of the God of Thunder and the God of Whatever, then they're capable of believing anything.
Beeb time: The youngest son of North Korean leader Kim Jong-il is awarded two key party posts, in a move seen as part of a gradual transfer of power. "You must promise not to let me down, son. I expect you to be as loopy as I have been." Miners trapped underground in Chile could be out by mid-October, engineers say, as drilling efforts make a rapid advance. Can you imagine those guys going back to their old jobs after that ordeal? A judge in Ontario overturns key anti-prostitution laws, finding they unconstitutionally force prostitutes to work in streets at risk to their safety. How is it possible to outlaw the oldest profession in human history? President Hamid Karzai has broken down in tears during a speech at a high school, as he lamented the problems plaguing Afghanistan. Afghanistan is facing its bloodiest year since the US-led invasion of 2001. Mr Karzai's speech on Tuesday aimed to promote education in a country whose literacy rate is about 30%. The president began crying as he said he wanted Afghans to get an education and be self-sufficient. Yes, it's easy to blame people for being ignorant if they don't have access to decent education. Some executions in the US are being delayed because of a nationwide shortage of sodium thiopental, one of the drugs used in lethal injections. Meanwhile, nine states have planned 17 executions before the end of January. Vengeance is mine saith the Lord. Not that it matters to some people.
My new pocket watch arrived today and I'm tickled pink. It really is a very nice item, and quite heavy... solid brass with an antique look. Even with postage it's a bargain. At least, I think so. I'll be able to tell lies about it belonging to my great great grandfather hehe. I showed it to Averil and she was impressed too.
Back from the doc. I read an old copy of Reader's Digest while I waited, and started laughing. So I explained to everyone in the room that I was amused by an article in the magazine. "Remember MAD magazine?" I asked. "I used to read it on the train. Big mistake. All the other passengers think you're nuts." And then I explained what was in the Reader's Digest that made me laugh. It was a story written by a woman who hated flying, but had to take an urgent flight on a 30-seater commuter. The plane ran into bad weather. The pilot advised that they were about to take evasive action, and that all passengers should buckle up their seat belts. He had hardly started talking when the plane nose-dived and the hostess slid down the aisle on her butt while saying, "Everything is under control, ladies and gentlemen. There's no need to panic." Well, that cracked me up but the people in the waiting room only smiled politely. That's the thing about waiting rooms... they're a hush zone.
Anyway, the doc removed the old bandage while muttering, "I keep telling them not to put these bandages on. They need to leave the wound open to let the air in. These bandages are like a hothouse and foster bacteria. I keep telling them but they refuse to listen." I agreed with him. I didn't like the idea of the wound being locked up in a humid environment either. But it seems the surgery was a success and that all the cancer has been removed. I spent all of 5 minutes with the doc but it still cost $50. Sheesh. I saw a Mercedes in his garage, and a flash 4WD. But I get about 80% back from Medicare.
Justin posted a drawing of three military coffins draped with the American flag on his blog which posed the question, "Whis one is the gay one?" I answered the middle one. But Justin decided not to post my comment probably because he thought it was offensive. So the question was loaded, and my answer was inappropriate. So why ask the question in the first place?
When you ask the question, "Which one is the gay one?" what are you saying? That it doesn't matter? If you're saying it doesn't matter, why ask the question? A rhetorical question is a figure of speech in the form of a question posed for its persuasive effect without the expectation of a reply. My problem is that I don't always meet the expectations of others hehe.
Oh well, there ya go. It's the night before pay day and the pantry is kinda lean, so I'll feed the troops scrambled eggs with cheese and chips. They're not complaining and neither am I. Gary
September 28, 2010. Chewsday. Yes, we humans need to have names for things. We take a length of wood and divide it up into sections called millimeters, centimeters and meters. To anything else it's just a length of wood. And another 24 hour period is not called anything at all.
So that inspired me to do a Google on famous quotes about language:
Any language is necessarily a finite system applied with different degrees of creativity to an infinite variety of situations, and most of the words and phrases we use are ''prefabricated'' in the sense that we don't coin new ones every time we speak.
David Lodge
After all, when you come right down to it, how many people speak the same language even when they speak the same language?
Russell Hoban
As societies grow decadent, the language grows decadent, too. Words are used to disguise, not to illuminate, action: you liberate a city by destroying it. Words are to confuse, so that at election time people will solemnly vote against their own interests.
Gore Vidal
How many languages are there in the world? How about 5 billion! Each of us talks, listens, and thinks in his/her own special language that has been shaped by our culture, experiences, profession, personality, mores and attitudes. The chances of us meeting someone else who talks the exact same language is pretty remote.
Anonymous
What gets me about language is that it can take just a split second for an idea to form in the brain. Then that idea, in order to be communicated, has to be expressed in words, either written or spoken, which takes far longer than the idea took to form in the first place. Thoughts are electrical impulses.
Okies, back from running a few errands which included inflating Bluey's tires and filling the tank. The fuel gauge showed empty yet all it took to fill the tank was 35 liters. Bluey holds 65 liters. Go figure. 30mpg = 7.8 liters/100km, so I still had enough in the tank to do over 300kms, which is the distance between here and Sydney. I just read a report from an owner of a Nissan Nomad who said it was "extremely reliable" but assessed its overall performance at 6/10. Hmmm. I think it's at least a 7 and maybe even an 8. Mind you, my last car was a 40 y/o Holden and I've not driven anything newer than Bluey in my entire life! And she's 21 years old! Oops! Not true. I drove a new rented Mitsubishi Mirage to get us here in 2001, which I didn't think was all that thrilling.
I'm sure Sue had no idea what the hell was going on when we moved from Petersham to Taree. It was a 4 hour drive, much of it along the Sydney to Newcastle expressway. We stopped at some little one-horse town to use the public toilet and grab a snack. Mine was a sausage roll which was DREADFUL. Sue slept most of the way but woke as we turned off the Pacific Hwy and took the road into Taree. She looked out the window to see open fields with horses and cattle. She didn't say anything but must've wondered where the hell we were. Hehe. Then we crossed the Manning River and I remarked at how wide it was. Next thing she knew we were checking out our new abode. That'll be 9 years ago next month.
Beeb time: North Korean leader Kim Jong-il's son, Kim Jong-un, has been appointed a general as a ruling party leadership conference is reportedly under way. Ho hum. Russian President Dmitry Medvedev has signed a decree firing powerful Moscow Mayor Yuri Luzhkov, Russian media say. Mr Luzhkov has recently been criticised by state-run TV for gridlock on the capital's roads and bulldozing of historic buildings. He and his billionaire wife have been also accused of corruption. Ho hum. Australia's new parliament has opened in Canberra, following the country's closest election in 70 years. Prime Minister Julia Gillard won the first major test of her Labor government after her nominee was re-elected parliamentary speaker. Ms Gillard was forced to seek the backing of independents and Greens to form a government after August's poll. The leader of the opposition Liberals, Tony Abbot, has vowed to lead a "ferocious opposition" in the assembly. And you can bet he will. The US says it is "disappointed" by Israel's decision not to extend a ban on West Bank settlement building. Palestinian Authority Mahmoud Abbas said he would respond to the decision after a meeting of Arab leaders in Cairo next Monday. Ho hum, same old, same old. A food production company was ordered to pay nearly £17,000 after a man found a dead mouse in a loaf of bread as he made sandwiches for his children. Stephen Forse, of Kidlington, Oxfordshire, had already used some slices when he came across the mouse. In July, the company, which makes Hovis bread, Branston pickle and Bisto gravy, admitted to having failed to maintain acceptable standards at its British Bakeries site in London. Now why on earth would they admit that? Why didn't they just call it protein enriched or something? France's ex-justice minister Rachida Dati mixed up the words "fellatio" and "inflation" - which sound similar in French - during a TV interview. She told Canal Plus: "I see some [foreign investment funds] looking for returns of 20 or 25% at a time when fellatio is close to zero." Within hours, the video was an internet hit on websites such as YouTube. Hehe, good ol' Youchewb!
I did a bit of banking business today, and was ushered into a room staffed by a child. Well, a 20-something child. I'd heard that when policemen start looking like boys, you're getting old. Hehe. Apparently the same applies to bank staff. Anyway, I'd finished paying off one of my credit cards and we decided to dump it. I'd been diligently paying it off at $120 a month which is now all MINE. I think the trick to appreciating the value of money is not to think of it as, say, $100 a week but rather $5000 a year. You can do a lot with $5000.
Anyway, there goes another Chewsday. Salad tonight... shredded ham, chicken, and pastrami, boiled eggs, cheese, lettuce, tomato, onion, beetroot, pickles, yadda, yadda. Gary
September 27, 2010. FL Josh explained his problem with accessing ABC TV program material on Youchewb: I mentioned the link to the advertising video not working and included the screen those of us outside Australia get, which had a brightly highlighted banner across the top, saying:
This video contains content from The Australian Broadcasting Corporation, who has blocked it in your country on copyright grounds.
I thought it might be useful feedback for you to know that those of us outside of Australia couldn't view the video in case you might make references to it in the future. Your response was, "I checked the link to the vid about advertising and it works for me."
Sigh . . .
Okay, so I'm an Aussie... don't rush me. Better late than never. :-P Mind you, the ABC does have a habit of getting its corporate knickers in a knot. It ain't called 'Aunty' for nuthin' ya know.
Speaking of knickers, I watched the beginning of a Nature program last night, voiced by the inimitable David Attenborough, about baboons. Didn't take long to tire of all those bright red butts and floppy genitals, so I turned it off. Baboons may be interesting, but... yuck.
Got an email from a young Brit today. Daniels diary has really helped me. I used to call my self bi but now I realise im not. Im Charlie. People always used to ask me if I was gay and I always used to go red and deny it. But now I look at them in the eye and say 'No. Im not gay. Labeling your self is ridiculous' and I walk away. No one asks me that now. So you've helped me stop the bullies that used to make me dread school in the morning. I know this story shouldn't have affected me this much. But it really has and its made me see the world in another light. Im so happy I came across this website. I just wanted to say thankyou. You and Daniel, Greg, Paul and all the others. You've made my life worth living, Thankyou so much :)
Sometimes I forget how much influence Daniel had, and apparently is still having. He took the Boo out of taboo. However, I'm not sure St Peter will be quite so flattering when I get to the Pearlies. I remember the elevators during the 50s and 60s in big department stores. They had drivers who operated a handle, and who announced the range of merchandise at various floors as the elevator arrived. If you were somewhere above the ground floor waiting for an elevator, the doors would open when it arrived and the driver would either say "going up" or "going down". I have a feeling the latter will apply to me. Oh well... at least Charlie's happy.
Oregon Richie just wrote to say he took a ride on his Honday 599 in nice weather today. Find a modest uphill swing... get it up to 6 + K RPM in third or fourth and twist that throttle and it's a bit of a thrill; sometimes a bit much of one. It just rips, and as light as I am I'm basically hanging on tight and have to back off when it charges up to about 70 to 75 mph with plenty of RPM range left. The engine of that bike against the wet weight of the bike equals about one horsepower per 4.9 pounds. I can handle no more, really... for a sporting bike.
So that got me wondering what Bluey's HP per pound is. 1.3 tonne = 2866 pounds. 100bhp divided by 2866lbs = .034hp per pound. Hmmm. Or .17hp per 5lbs. Is that right? I'm hopeless at math. Anyway, that explains why Bluey ain't as zippy as the 599. The speed limit in most of Oz is 110kph or about 70mph...100kph for trucks and buses.
Beeb time: Israel's PM Benjamin Netanyahu urges Palestinian leader Mahmoud Abbas to continue talks, despite the end of Israel's ban on West Bank construction. I can't shake the feeling that neither side is sufficiently willing to compromise, but we'll see. The bottom line is: no compromise, no solution. At least 13 people have died after a coach carrying Polish tourists crashed near Berlin, German police say. The bus came off the A10 motorway at Schoenefelder Kreuz, about 30km (20 miles) from Berlin. Nineteen people were severely injured, while 20 others were less badly hurt in the crash on Sunday morning. Initial investigations indicated that the bus had been forced off the road by a car joining the motorway, a police spokesman said. The driver of the car is said to be among the injured. It can happen anywhere. Recently, a car containing 3 young men including a learner driver entered a major highway directly into the path of an oncoming truck. All three from the same small town were killed. A week or two beforehand, another three young locals were killed in a car accident, a total of six in less than a month. Just about every resident of that small town would have known at least one of the deceased or a member of the family. One of the most powerful independent church leaders in the US says he will fight allegations that he coerced young men into sexual relationships. Four young men have filed lawsuits against Bishop Eddie Long, pastor of the New Birth Missionary Baptist Church in Atlanta, Georgia. Bishop Long, who is an outspoken opponent of gay marriage, built up the New Birth church from a small suburban community to a congregation of 25,000. No comment. The effects of the economic crisis are still being felt in many parts of the United States and the closure of a museum dedicated to a Las Vegas showman reveals further evidence of the fading of the American dream. Fascinating article about Liberace that you can read here. South Korea's biggest car maker Hyundai has announced a recall of around 140,000 cars in the US over steering concerns. The company is recalling Sonata models manufactured since December 2009, following a probe into steering problems by US authorities last month. The Sonata is Hyundai's best-selling model in the key US market, accounting for around 35% of sales. Hyundai said the recall was a precaution, with no accidents reported. I took delivery of a brand new 1967 Beetle and drove it home, only to discover that the steering wheel hadn't been bolted on. In fact, the bolt was missing altogether. Fortunately, I'd stopped outside my house before I lifted the wheel and it came off the column. China's government says it will impose import duties on US chicken products it says are being unfairly dumped on the Chinese market. The move is the latest in a growing trade dispute between China and the US. On Friday a US Congress committee approved a bill allowing tariffs to be imposed on imports from currency manipulating countries. The bill is aimed at China, which is accused of keeping the yuan artificially low to help its exporters. If it ain't that kinda war then it's another kinda war. We all love wars ya know. Portable devices with painless laser beams could soon replace X-rays as a non-invasive way to diagnose disease. Getting better all the time. A two-year-old Rottweiler has been recognised for his bravery after he saved a woman from a sex attacker. The dog, named Jake, chased off the man as he molested a woman on Hearsall Common, Coventry, in July 2009. Jake, who stood guard over the victim until police arrived, received his honour at an RSPCA event in Shrewsbury. The attacker was convicted of serious sexual assault and jailed for four years. A bravery award and a medalion? How the bloody hell are you supposed to eat that?
Back from shopping where I saw Stephanie, young Josh's mother. Josh is on vacation from university for the rest of the year. He popped in to his mom's place, said g'day, changed clothes and went to a party. Came home next day, changed clothes again and went to another party. And now he's in Sydney partying down there. However, Steph was all smiles when she told me how well he's doing at uni... honors and distinctions. So my guess is that his live-in girlfriend has sent a rocket or two up his skinny butt hehe. He'll be back in Taree in a week or two and Steph promised to send him over here to say g'day.
Kitchen time. Cocktail frankies and chippies. Don't blame me... that's what Lindsay wanted. Anyway, I like them... with tamaaaaata sauce. Gary
September 26, 2010. Yes, the garlic prawns were pretty good... imported from Vietnam. There's no shortage of prawns in Oz, particuarly around here on the mid north coast, but these were peeled and marinated in garlic, herbs and a little chilli, all ready (after defrosting) to throw into a wok. Very convenient, as well as tasty. L&S thought they were yummy.
I put the pics I took at Old Bar yesterday into an album and posted them on AO this morning. Nothing all that spectacular, but worth a look. Next time I go there I'll try to get better shots of the kite surfers.
FL Josh read Ohio Jace's contribution to the evolution thingy: I tried to understand Ohio Jace's bit about evolution but I think it would be a lot more enlightening if he would include pictures of Sean's and David's run in with the Ranger and surfing. Post those and Bennie's on his own!!!
Also his comment about the pubic hair letting us know when someone has reached sexual maturity. Sounds great in theory, but when someone tries to put that information to practical use, they get locked up and any evolving they had hoped for ceases.
As for the link to the youtube video on your local ABC-TV about advertising, the attached photo is what we here in the states get when we click on the link. The video obviously contains top Aussie secrets that would threaten your national security if the Yanks ever found out about them.
Yes, dear Breth, Josh does indeed have a wicked sense of humor - on occasion. I checked the link to the vid about advertising and it works for me. If you do a Youchewb search for Gruen Transfer you should get access to a selection of clips from the program. If you're at all interested in what makes advertising work, and the psychology behind it, you'll enjoy them.
I just discovered Frank Caliendo. What a funny guy! This guy is so talented he can have a room full of people and be each and every one of them! I've never seen an impersonator as awesome as this bloke before. He can switch from one impersonation to the next in an instant.
Beeb time: Palestinians are willing and ready to reach a comprehensive and just peace agreement, Palestinian leader Mahmoud Abbas tells the UN. And Mr Netanyahu's response is? The number of wild animals in Ugandan national parks has surged over the past 10 years, the country's wildlife authority says. That figures. Victims of child abuse by Catholic priests in Italy have gathered in Verona, and called for such abuse to be made a crime against humanity. Dozens of victims and their families went to the public meeting, the first of its kind in Italy. Organiser Salvatore Damolo, a former victim and an ex-priest, said the aim was to give victims a platform to talk about their experiences. This issue is becoming bigger than Quo Vadis. Japan turns down China's demand for a formal apology for detaining a fishing boat captain for two weeks after a collision in disputed waters. I guess national pride is at stake here but I hope it's just a storm in a teacup. Interviewing US President Barack Obama, I felt a weight of responsibility. This was the first time an Iranian reporter had interviewed President Obama, and our audience in Iran has a wide range of questions and concerns about the policies of United States government. Read the full article here. Australia's Olympic Committee president has said the Commonwealth Games should not have been awarded to Delhi. Do you agree? Some interesting (even humorous) comments there from the public.
In the BBC interview with Obama, he was described (as usual) as the world's most powerful man. I wonder what Vladimir Putin would have to say about that.
Oh yes, I almost forgot. I emailed a link to Oregon Richie yesterday that showed a lunatic climbing Sydney Harbor Bridge with no harness or safety equipment. He didn't follow the normal tourist route but cat-walked the narrow beams right up top. Crazy stuff. He says in one of his answers to a comment that he was a pro stunt man and was used to taking such risks. Actually, the original workers on the Bridge during the 20s and early 30s also cat-walked the girders without using safety equipment because there wasn't any. Quite a few fell to their deaths as a consequence. It's almost a century ago that the NSW government called for tenders to design a Sydney Harbor crossing. Little did they realize then what an icon it was destined to become.
Meanwhile, I've learned something about what it's like to be a dung beetle, and how unfair life can be. The other guy always has a dung ball bigger than yours.
How's this for a publicity coup? Oprah Winfrey is bringing her TV audience to Sydney in December for a couple of programs that will air in January. Local tourism authorities are hailing it as "publicity you couldn't buy" and as big as Crocodile Dundee was in the 80s. So we can expect to see all the usual stuff... Harbor Bridge, Opera House, Bondi Beach, kangaroos, koalas, yadda, yadda. There's been quite a lot of criticism of tourism authorities here not capitalizing on the success of "the best Games ever!" following Sydney 2000, so maybe Oprah's visit will compensate for that. I guess it'll be interesting to watch an American star's impression of my home town. I hope someone teaches her to say "owyagoinmatenoworries". I had a lotta fun some years ago trying to teach a young Japanese tourist how to say "owyagoinmatenoworries" but he'd get half way through and crack up. It was hilarious and kept us amused for ages. He eventually gave up.
No towing on the Odyssey, right? Self-contained motorhome, right? No trailer, right? No boy scout stuff, right? Yeah... well, just for the hell of it I checked used caravans and campers and spotted a small pop-up camper trailer that's been sitting around doing nothing for several years. Good canvas and screens. Needs a little TLC. But only $1200. Hmmm. It's kinda tempting. And I could keep Bluey. So, as the politicians keep saying, "I'm not ruling anything in and I'm not ruling anything out." Another phrase they're fond of using is, "let me make this absolutely crystal clear..."
And that's it for Sundee. Gary
September 25, 2010. The last weekend of September. Sheesh. It's a beautiful day so I reaaaaaally should spend some of it outdoors - provided I can get my stickies off this damn keyboard for long enough. The problem is, early mornings and evenings are the best times for outdoor photography because of the lighting conditions. But those times are inconvenient for me at present, which is why the Odyssey is so desirable. Up at sparrow's and there right in front of me is a fantastic view with sunrise. The same opportunities will present themselves at sunset. Johnny on the spot. Click, click, thank you very much.
So how's the leg? Still a little sore but getting better. My appointment with the surgeon is next Wednesday so hopefully by then, when he removes the bandage, it'll be fine. Meanwhile, I spotted an old bloke coming down the escalator at the supermarket the other day with legs like an emu's... two sticks with a bulbous knee in the middle. A bloke with legs like that should know better than to wear shorts, but I guess he couldn't give a damn.
Oh, yes, I've been meaning to comment on FL Josh's remark the other day: His statement, "The Earth orbits the sun. The Moon orbits the Earth. Therefore, the Moon orbits the Sun," is what is called circular reasoning and is pure nonsense used to lead someone to a false conclusion. It's like saying, "All dogs have four legs. Dogs are animals. Therefore, all animals have four legs."
Took me a while to figure this out but Irish logic would say: "All dogs have four legs. Dogs are animals. Therefore, all animals have no wheels." I searched Youchewb for Irish Logic but instead found this charming Irish deaf woman with the most intriguing facial animations using sign language to describe her visit to Limerick and King John's castle. There are no subtitles so it's a good opportunity just to study the face and hands. She also has a couple of vids with subtitles.
Speaking of wheels, here's an amusing clip of a race car using race cam that gets stuck behind a Beetle.
Beeb time: US President Barack Obama tells the BBC that claims by Iran's president that the US may have been behind 9/11 are "hateful" and "offensive". Imagine what he would have said if he really let loose and had not been restricted by political correctness. The threat level to Britain from Irish-related terrorism has been raised from moderate to substantial. Home Secretary Theresa May said it meant an attack was a "strong possibility". It was the first time this threat level had been published, the Home Office confirmed. The head of security service MI5 warned last week that dissident republicans opposed to British rule in Northern Ireland could strike mainland Britain. God, not again. We've had enough of that already. Mind you, the Yanks didn't pull any punches when they kicked the Brits out of America. A Belgian court has begun trying a woman accused of murdering her love rival by sabotaging her parachute on a sky dive four years ago. Els Clottemans is accused of murdering Els Van Doren who fell 1,000m (3,200 ft) to her death while jumping with her and the man they both loved. Ms Van Doren held hands in formation with her lover seconds before finding her parachute cords had been cut. Surely no normal person could live with themselves after committing such a dreadful crime. Australia's Olympic Committee president has said the Commonwealth Games should not have been awarded to Delhi. John Coates said the Commonwealth Games Federation lacked the resources to monitor progress and to ensure that construction deadlines were met. Well, the fat lady ain't sung yet so let's see what the verdict is at the end of the games. A Canadian student inspired by Leonardo da Vinci's sketches says he has made the first sustained flight in a human-powered, wing-flapping aircraft. Todd Reichert's ornithopter is an engineless plane that stays aloft by flapping its wings like a bird. The craft, dubbed "Snowbird", flew 145m (476 feet) at the Great Lakes Gliding Club in Tottenham, Ontario. Leonardo would have been thrilled. Watch the video here. US satirist Stephen Colbert has appeared before a Congress committee discussing immigrant farm workers. Colbert appeared in character as the conservative commentator he plays on his show on Comedy Central. Colbert suggested one of the few ways to avoid the need for immigrant labour would be the invention of "vegetables that pick themselves". Hehe.
And here I am back from Old Bar. Bluey ran really well considering she hasn't had an Italian tune-up for a while. I figured I really MUST take advantage of the good weather and point the Fuji at a bit of this and that. There wasn't a lot happening but I did see a couple of kite surfers down the beach a ways near the mouth of the Manning River. So I stopped and took a few pics. They were a fair distance from me but some of the pics turned out okay. I suppose I should have walked down the cliff to the beach and closer to the guys but.... well... sore leg and all. Anyway, I'll do a photo album tomorrow and post it on AO. Meanwhile, I posted one of the more "artistic" pics on Red Bubble.
So that's it for Saturday (unless I win Lotto later tonight). Garlic prawns tonight, which I'm looking forward to. Gary
September 24, 2010. FL Josh has inspired Ohio Jace to comment on evolution: Concerning Florida Josh's statement about the great apes not evolving into modern man, Speciation is the key. The fossil record shows that some ancestor of great apes split and diversified into multiple "new" species several million years ago. Only Homo sapiens (modern man) survived extinction on its side of the split. The Gorillas, Chimps, Orangutans, etc went in a different direction from us. If Homo erectus and/or the others had survived then we may not be the species we are today.
Actually, the great apes may well be evolving - there are two recognized species of Gorilla and two subspecies of each, which means they are slightly different. There are two species of Chimpanzee living in five or six isolated populations, which means they could evolve into different species eventually. There are two recognized species of Orangutan with three subspecies for the Bornean Orangutan living on Borneo and the other living on Sumatra.
Man is taller today because the species is better adapted to the environment and has plenty of food. As we continue to evolve we'll probably lose all body hair, unless nature decides a few hairs are still necessary for sexual attraction, which is what body hair is mainly for at present. It is a sign of sexual maturity. And therefore, the individual is able to perpetuate the species.
Evolution may or may not change from generation to generation in the form of mutations. Mutations are the reason the common cold and/or the flu virus is different from season to season. Mutations (in the form of selective breeding in man's case) have developed so many different colors and forms of flowering plants seen in gardens around the world. Most times the wild mutation does not survive because it cannot adapt to the environment or is easy pickings for any hungry carnivore that happens along. Like seeing a pink cricket sitting on a green leaf instead of a green cricket (which is nearly invisible blending into the background). If the pink cricket survives from generation to generation then it will eventually become a new species.
All of our food has been mutated by selective breeding. Likewise, dogs and cats, but that does not necessarily mean they will become new species, but it is a form of manipulation mutation. If left to itself it would probably either have died out or revert back to a wild form (feral).
There is a moth in England that has been slowly evolving into a new species (adaptation) due to pollution. The original was a gray and black pattern insect, but as the air was polluted by coal ash and soot the color has darkened into an all black morph so it could blend into the new (dirty) environment. The darker moth has become more common while the original gray and black has become rarer.
Go to any reptile show and you will see evolution (mutation) in action with all the different color morphs that because they are captive breed survive while in the wild they probably would not. This is natural selection where more and more mutations survive from generation to generation until the (new mutation) becomes dominant "self-evident".
There is another form of mutation that eventually leads to new species called genetic drift, a good example is cave dwelling animals that have lost pigmentation and in many cases eyes due to living in constant darkness. The ancestors to these animals lived on the surface and thus had pigments and eyes, but have evolved away from surface living.
Alligators and cockroaches have not changed because they have found their niche and therefore do not need to change in order to survive.
Everything needs nourishment to survive so bacteria, fungi, etc evolved to eat dead matter in order to survive. Single celled organisms were the first life forms on Earth. Some were predators while others were prey. Eventually, one came along that adapted to eating dead matter.
The laws of Physics and mathematical formula explain the Big Bang Theory and order out of chaos. Actually, the Big Bang Theory (as a hypothesis of the primeval atom) has religious connotations and was originated by a Roman Catholic Priest in the 1920s. Some religious groups take the theory at face value while others completely reject the theory or ignore the evidence all together. Most cosmologists prefer Steady State Theory.
Speaking of alligators - or in this case crocodiles - Australia's original croc hunter Malcolm Douglas was killed in a car accident on his property in Broome, Western Oz. He was jammed between his 4WD and a tree.
I watched a science program last night on telly about the Hubble Space Telescope and what a wealth of information it has provided in its 20 years of operation. However, I did take exception to the host's comment: "Imagine that! If your car was 20 years old it would be an old bomb!" Bluey is an old bomb? How DARE he! But there's a new telescope about to be launched, bigger and better than Hubble, and able to penetrate deeper into space, which also means it'll be on its own - no help from astronauts on repair missions.
Which reminds me. One scientist made an interesting remark: "We (human beings) are the Earth's intelligence."
Also last night I watched the final of the New Inventors. The solar paint didn't win but you can bet your sweet bippy that it's destined to make a massive impact right around the world. The winner was a machine that can fast-track the detection of mental and nuerological illnesses by probing the inner ear.
The Inventors (now called the New Inventors) started 40 years ago. The original producer thought it might run 13 episodes, but would have been happy with 6. Yeah, right. 40 years later it's still running and going great guns. Seems there's no shortage of inventive genius in Oz. One of the guest presenters on the show, who has had a very successful life, said, "If your dreams don't scare you, they're not big enough."
Beeb time: The US and other Western delegations at the 65th UN General Assembly have walked out in protest at the speech of the Iranian president. Mahmoud Ahmadinejad said some saw the 11 September attacks on the US as part of a US conspiracy to protect Israel. Mr Ahmadinejad was speaking on the first day of a week-long UN diplomatic marathon at its New York headquarters. The US denounced his remarks on the 2001 attacks, which killed nearly 3,000 people, as "abhorrent and delusional". The American delegation was joined in its walk-out by representatives from 32 other nations - including all the EU countries, Canada, Australia, New Zealand and Costa Rica. Hitler could not have assumed power if not for his supporters. Likewise an idiot like Ahmadinejad. So you have to wonder who the real idiot is, or idiots are. Birds of a feather? A woman who conspired to murder her husband and stepson is executed in the US, the first female to be put to death there for five years. I fail to understand the logic of taking a life if it serves no purpose other than vengeance. The England team "unanimously" agrees to go to the Commonwealth Games in India despite concerns over facilities and security. I heard on the news last night that the Oz team is quite happy to participate in the games cos they got there early and snapped up all the best accommodation. Hehe. Aafia Siddiqui, the female Pakistani scientist convicted of attempting to kill US military personnel, has been sentenced to 86 years in prison. Siddiqui was being interrogated by US officials in Afghanistan when she grabbed a rifle and opened fire, shouting "death to Americans". Prosecutors in New York called her an al-Qaeda sympathiser and sought life imprisonment. Protests broke out across Pakistan after the sentence was announced. How do you spell deranged? A woman from the US state of Montana has fought off a 200lb (91kg) black bear with a courgette from her garden. The bear attacked one of the woman's dogs on the back porch of her home late on Wednesday evening, Missoula County Sheriff's Lt Rich Maricelli said. When the woman tried to stop the attack, the bear bit into her leg. The woman, whom police have not named, grabbed the closest object - a courgette from her garden - and threw it at the bear, causing it to flee. And what is a courgette? A cucumber. Next thing you know, park rangers will be issued with courgettes. Almost three-quarters of a million UK adults say they are gay, lesbian or bisexual - equivalent to 1.5% of the population, a survey suggests. Suggests? I would have thought the percentage is much higher, more like 10%.
One of my ripened grapefruit fell on the ground so I picked it up, tossed it from one hand to the other, and wondered what to do with it. There's a bunch of workmen next door so I asked one of them if he wanted it. Turns out he's the owner of the property, which is rented by the business there... a financial advisory service. He started it years ago then retired and sold it. But he still owns the house. So he peeled the grapefruit and said it was okay as he ate it. We chatted about the work he's doing... renovating the wrap-around veranda, and discussed the value of old heritage architecture... things like French doors, vertical weatherboards and all the intricate, decorative woodwork common to buildings of that era. All very interesting. I do enjoy a bit of a chat ya know.
Advertising. Don't you love it? ABC TV here in Oz is a public-funded broadcaster that has no advertising other than the promotion of its own products. So it can afford to have programs like this that question the ethics of advertising. I spent years in advertising, and I'm here to say I'm glad to be out of it.
Taree is a very cosmopolitan town ya know. I'm just back from getting my hair cut at Mark's Barber Shop, which is littered with interesting junk. So while I waited my turn, I took a pic of the ceiling.
And that's it for another Friday, ladies and genitals. Time to shuffle off to the kitchen. Gary
September 23, 2010. A mate of mine in his 50s lost his job about 18 months ago so he diligently set about finding a new career. Lots of appointments, phone calls, faxes, emails, webinars, etc. Meanwhile, the funds he had set aside for such an emergency eventually dwindled because of mortgage payments and other bills. He's a bit peeved about that, but it begs the question, 'What is a security cushion for?' Imagine the pickle he would have been in if it hadn't existed.
Anyway, he recently landed a new job. It came outta left field and was pretty much the last thing he expected. The past 18 months of appointments, phone calls, faxes, emails, webinars, etc, amounted to zilch, except to keep him occupied and hopeful during the interim. So, as the old saying goes, life happens while you're busy making plans.
In the past, I spent far too much time agonizing over what might have been. It's a pointless exercise. What matters is now. Now is all we have, and that's what we need to deal with. Marlon Brando made that very clear on the Youchewb clip I watched the other day. He was questioned about some of his more controversial deeds - the unflattering headlines - and he declined to comment other than to say it didn't matter. What's gone is gone.
I figure life is like being caught in a rip. The idea is not to swim against it. If you do, you'll become exhausted and drown. You also don't want to be dragged out to sea. So the best way to deal with being caught in a rip is to swim across it. Once you're out of the rip, you can make your way leisurely back to shore by catching a few waves. Yeah? Oh... and don't panic.
I watched another clip on Youchewb by Craig Ferguson this morning, and I honestly believe that all world leaders in politics, religion and commerce should be comedians... particularly in the Middle East. Is there such a thing as an Iranian comedian?
Oh yes, tonight is the final of The New Inventors. Last night, the panel of judges chose the final 5 from 10 semi-final contenders, and the ultimate winner will be announced tonight. My preference is the solar paint. The others are also brilliant but the water-based solar paint gets my vote. Imagine that... every roof in the world painted with solar paint. No more grids. No more power stations. How awesome is that?
Beeb time: The US is revamping foreign aid to focus on development, not dependence, President Barack Obama tells the UN. Very sensible. India's foreign minister has told the BBC that the Delhi Commonwealth Games will meet international standards, amid concerns over hygiene and safety. SM Krishna said India would be "able to deliver" on next month's Games. His comments came after complaints from several countries and the withdrawal of some athletes amid security concerns. I hope he's right for India's sake, and the athletes' sakes, but the situation doesn't look too promising. Israel's military broke international law and showed "unacceptable" brutality in a raid on a Gaza aid flotilla, a UN human rights team says. I get the feeling Israel won't lose much sleep over the finding. President Barack Obama's senior advisers have waged internal battles over Afghan policy for 20 months, according to a new book. The recent Afghan election fiasco and corruption makes me wonder what the hell we're doing there. The Kremlin has formally banned the sale of S-300 air defence missile systems to Iran three months after new UN sanctions. A decree was issued by President Dmitry Medvedev prohibiting the sale, which had been in the pipeline for years. Possession of S-300 systems would enhance Iran's defence of its nuclear facilities against attack from the air. One door closes. Hello China? Three Obama administration officials have told Congress that efforts by terrorists to recruit US residents are causing new national security threats. At least 63 US citizens have been charged or convicted of terrorist acts or related crimes since 2009. Yep, borders are no defense against disease. Canada's minority government has lost a bid to end a rifle and shotgun registry which police say helps to trace guns used in crimes. Opponents say the programme is ineffective and treats rural Canadian hunters and farmers like criminals. Yeah, well, it could be argued that highway patrol police treat all motorists as potential criminals. Should we get rid of police on the roads? Microsoft co-founder Bill Gates has been named as the wealthiest person in America for the 17th year in a row. Forbes magazine put his fortune at $54bn (£34.5bn), with investment guru Warren Buffet second with $45bn. The collective net worth of the 400 billionaires rose by 8% from 2009, totalling $1.37 trillion - approximately the same as the GDP of Spain or Canada. Sheesh. By the way, the Oz dollar is now worth about 95 cents US. New computer simulations have shown how the parting of the Red Sea, as described in the Bible, could have been a phenomenon caused by strong winds. The account in the Book of Exodus describes how the waters of the sea parted, allowing the Israelites to flee their Egyptian pursuers. Simulations by US scientists show how the movement of wind could have opened up a land bridge at one location. This would have enabled people to walk across exposed mud flats to safety. I rest my case. Mind you, Cecil B. DeMille would much prefer the original version of the story.
Ohio Jace wrote and commented on the Aussie interviews with ignorant Americans. He wonders what they did with the peeps who actually knew the answers. Edited them out, of course. No fun in people getting the answers correct if you're doing a video about dumb Yanks. That would be like Charlie Chaplain not slipping on a banana peel. Jace also shed a bit of light on my red lily: Your red lily is actually a Hippeastrum (Amaryllis), a member of the lily family but not actually a lily. I can identify with that. I'm a member of the human race but not actually human. And I'm a redhead! Or was.
Jace is back from a short vacation with Sean and his brother at the beach. Jace was sitting on a sand dune while the boys surfed naked. I learned a lot about Sean and David too. We spent hours on the beach or in the ocean. Most of the time we had the beach to ourselves with the occasional surfer or park ranger dropping by. Over the weekend the beach was closed due to heavy surf and rip currents caused by Hurricane Igor as it moved north. The waves were a bit too big for me but the boys are excellent swimmers so they went in anyway. They left their Speedos with me to swim, not expecting anyone. Of course a ranger showed up, a female ranger. I heard the ATV coming, but I doubt she saw the guys.
I was sitting atop the dunes when she passed behind me before taking the beach access trail to flag down a couple of surfers. They both got tickets; at least I think she wrote tickets. Coming back she must have noticed the boys. She parked behind me and walked over the dune. She asked if they were mine before motioning for them to come ashore. The Speedos were lying right in front of her and she had to see them, but…. Anyway, they both came ashore giving her a good peek at their dark pubes and willies before Sean cupped his behind both hands. David did not bother to cover up. Both boys dressed in Speedos while she chatted away with me.
I expected to get tickets too, but they did not. She said she had three teenage sons that she can't keep out of the water and lives on the other side of the lighthouse. Before she left she mentioned she would be making another pass up the beach in a couple hours. A hint if I ever heard one. The boys waited a few minutes before stripping naked again and hitting the waves. The surfers did not leave either and the ranger never did come back.
What's the bet if I ever get this damn Odyssey off the ground that Jace's experience never happens to me? BTW, Lindsay got it wrong about the Old Bar Festival. It's scheduled for the long weekend in October, 23-25. Bloody drongo. Meanwhile, I must do something for AO this month before it disappears!
Justin posted this link on his blog about the Autumnal Equinox. I hadn't really understood it until I watched this vid. Yes, all very interesting. And there goes another day. If I knew how many I had left, I might be more upset about it hehe. Gary
September 22, 2010. FL Josh wrote: Concerning the ignorant Americans being interviewed by Aussies, our own TV star, Jay Leno has been doing a routine called Jay Walking where he goes out on the street and asks people questions. Here's a sample. The shocking thing is that people like these vote and their input selects who runs their country.
That would be the case in Oz where voting is compulsory but perhaps not so much in the States and Britain. That's debatable, I guess.
Josh continues: As to there is no God, just evolution, there is a problem with that. We can say man evolved from great apes, and chickens evolved from dinosaurs or whatever, and each individual example makes sense, but why do things stay in balance. The concept that a bunch of things in space just banged together and earth was created by chance and things just evolved from that doesn't explain the amazing balance. For every animal or plant that has ever lived on the earth, there have been tiny plants and animals to break down all living things after they die. It's like taking a huge box of stuff and throwing it on the ground and it happens to form a Porsche, and also gas stations, tire companies, dealerships, people to operate it, etc. Evolution can explain something growing and adapting to its environment or becoming extinct, but it can't explain things like bacteria to break it down.
Also, evolution can't explain a child being born with the ability to describe perfectly a place that exists in another country, or a place that no longer exists but did exist at some time in the past. Edgar Cayce identified people and places from Biblical times that no one had ever heard of, then, years after his death, the dead sea scrolls were unearthed and there were the people and places. How can that be explained with evolution?
And why is evolution selective. If we evolved from great apes, why didn't all great apes evolve into modern man. If some genetic mutation occurred that changed some great apes, why has that genetic mutation never happened again. At one time, it happened often enough to get enough great apes heading towards becoming modern man, but nothing has happened since. Today's man is taller and less hairy than the man of 5,000 years ago, but the great apes of today are just like the great apes of 5,000 years ago. Alligators and cockroaches haven't changed in something like a million years. Something is controlling what things evolve and what things don't. Where is that control coming from and what is its purpose?
And the Big Bang! Apparently there was just one Big Bang but by sheer luck, it just happened to send things speeding out into space at just exactly the correct speed. Any slower and the universe would collapse on itself, and any faster and it would fly apart.
So often, people assume the things they can't understand can't be. You talk to a 6 year old child and they will tell you 1 plus 1 is 2 and it can't be 10. Anyone who says 1 and 1 is 10 is a fool. But that same child can go to school and gather new facts and eventually discover 1 plus 1 can indeed be 10, and if it weren't for that, we wouldn't have computers because that is how binary math works.
As I get older, I find things in life make more and more sense, particularly as to the way people behave, and how successful they are in life. Karma can't be explained with evolution but it certainly exists. I observe it every day.
What Josh says about the Big Bang is true. If it hadn't happened exactly the way it did then things wouldn't be as they are. On the other hand, what makes it reasonable to assume that the way things are was intended? How can anyone argue that because something exists the way it does in nature that it was planned to be that way? That's like two people falling in love saying their love was written in the stars. Oh, really? I don't think the "balance" argument stacks up. In other words, it's the way it is because that's the way it is. Prove me wrong. :o)
However, I do believe in some sort of Karma; that for every action there's an equal and opposite reaction; that what goes around comes around.
I like to keep things simple. My answers to the Unanswerables were either a single word or a short sentence. Hehe. That's not Josh's forte. In any case, why bother arguing about what you can't prove?
Success is an interesting subject. What is success? In my book, success is all about what makes a person happy. And what makes me happy is not necessarily what makes someone else happy. I'm happier now than I ever have been, and I've been able to analyze the reasons why. It doesn't matter what they are because they're probably irrelevant to everyone else. What's important is finding whatever it is that makes you happy. All of which leads me to paste this article from Justin's Blog this morning:
The first day of school our professor introduced himself and challenged us to get to know someone we didn't already know. I stood up to look around when a gentle hand touched my shoulder.
I turned around to find a wrinkled, little old lady beaming up at me with a smile that lit up her entire being..
She said, 'Hi handsome. My name is Rose. I'm eighty-seven years old. Can I give you a hug?'
I laughed and enthusiastically responded, 'Of course you may!' and she gave me a giant squeeze..
'Why are you in college at such a young, innocent age?' I asked.
She jokingly replied, 'I'm here to meet a rich husband, get married, and have a couple of kids...'
'No seriously,' I asked. I was curious what may have motivated her to be taking on this challenge at her age.
'I always dreamed of having a college education and now I'm getting one!' she told me.
After class we walked to the student union building and shared a chocolate milk shake.
We became instant friends. Every day for the next three months we would leave class together and talk nonstop. I was always mesmerized listening to this 'time machine' as she shared her wisdom and experience with me..
Over the course of the year, Rose became a campus icon and she easily made friends wherever she went. She loved to dress up and she reveled in the attention bestowed upon her from the other students. She was living it up.
At the end of the semester we invited Rose to speak at our football banquet. I'll never forget what she taught us. She was introduced and stepped up to the podium. As she began to deliver her prepared speech, she dropped her three by five cards on the floor.
Frustrated and a little embarrassed she leaned into the microphone and simply said, 'I'm sorry I'm so jittery. I gave up beer for Lent and this whiskey is killing me! I'll never get my speech back in order so let me just tell you what I know.'
As we laughed she cleared her throat and began, ' We do not stop playing because we are old; we grow old because we stop playing.
There are only four secrets to staying young, being happy, and achieving success. You have to laugh and find humor every day. You've got to have a dream. When you lose your dreams, you die.
We have so many people walking around who are dead and don't even know it!
There is a huge difference between growing older and growing up.
If you are nineteen years old and lie in bed for one full year and don't do one productive thing, you will turn twenty years old. If I am eighty-seven years old and stay in bed for a year and never do anything I will turn eighty-eight.
Anybody! Can grow older. That doesn't take any talent or ability. The idea is to grow up by always finding opportunity in change. Have no regrets.
The elderly usually don't have regrets for what we did, but rather for things we did not do. The only people who fear death are those with regrets..'
She concluded her speech by courageously singing 'The Rose.'
She challenged each of us to study the lyrics and live them out in our daily lives. At the year's end Rose finished the college degree she had begun all those months ago.
One week after graduation Rose died peacefully in her sleep.
Over two thousand college students attended her funeral in tribute to the wonderful woman who taught by example that it's never too late to be all you can possibly be.
Actually, I do disagree slightly with that last line. I would say: It's never too late to be all you want to be. No, that's not true either. Cody never got the chance. Nonetheless, it's a lovely story of a little old lady who touched the hearts and minds of thousands of people who will go on to tell and retell her story.
Beeb time: US senators have rejected attempts to open a debate on a bill which included a provision allowing the repeal of the ban on openly gay military personnel. Just 56 senators voted in favour of debating the defence authorisation bill, four short of the 60 required. Gay people can serve in the military, but face expulsion if they reveal their sexuality. US President Barack Obama has promised to scrap the policy. According to what I've read, Alexander the Great not only served in the army but LED it! Indian officials insist facilities will be ready for the Commonwealth Games, after accommodation was described as uninhabitable.The pressure's on! The world is watching! The US Supreme Court has refused to halt the Virginia execution of Teresa Lewis, scheduled for Thursday. Teresa Lewis, who has learning difficulties, conspired with two men to kill her husband and stepson in 2002, leaving a door unlocked so the gunmen could enter the family home. Two of three women in the nine-judge court voted to halt the execution. The two gunmen who carried out the killings received life sentences. Lewis - due to die by lethal injection on Thursday - will be the first woman executed in Virginia since 1912. Would I want to befriend an executioner? No, definitely not. And that goes for the judges as well. The sharp growth in extremist websites is making recruitment much easier for al-Qaeda, according to Interpol head Ronald Noble. "The threat is global, it is virtual and it is on our doorsteps," he said. Mr Noble told a conference of police chiefs in Paris there were 12 sites in 1998 and 4,500 by 2006. He said tackling radicalisation had been made far harder by the internet because many of the activities involved were not criminal. Increasingly, he said, the individuals targeted were young and vulnerable and from middle-class backgrounds. There's a price for everything, including freedom of information. The goodies have just gotta try harder than the baddies, that's all. Protests by atheists against last week's papal visit to the UK have highlighted the age old friction between religion and science. But for hundreds of years thinkers with a foot in both camps have sought to reconcile these two beliefs, says Dr Thomas Dixon. Read the full article here. Very interesting.
Wiz favorited a vid on Youchewb that I think is a hoot, so I just favorited it too. It's a song about college roomates and what you might expect if he's selected at random.
First time I've seen something like this... several shots of a surfer riding a wave but all the shots are in the one image. How cool is that?
And here's one I took of Averil looking glamorous with her new hairdo, after I returned from shopping today. Hehe.
Well, I gotta go take the condoms off the sausages and make rissoles. I got some leftover diced ham so I'll throw that in as well, along with chopped celery, chopped onion, herbs and a bit of this and that. Then I'll shape them, crumb them, grill them and serve them with chips and gravy. How's that sound? Pretty good, according to L&S.
BTW, Lindsay tells me that the Old Bar Festival is on again this weekend... Kombis, vintage cars, rides for the kids and all that stuff. I've been there before but it's an excuse to get out and about, and take a few pics. Gary
September 21, 2010. Did you watch those vids of cheeky Aussies interviewing Americans yesterday? In which month did 9/11 occur? In which state did KFC begin? Hehe. I know it was Aussies taking pot shots at Yanks but it would have been just as funny if they'd been Brits or even Aussies.
Oregon Richie got around to watching: Was not able to see that interview clips of Americans on YT until just a little bit ago. What a bloody riot, and how jarring when one considers how VERY true that may be... about some things. I watched the British one, too... which was not quite as funny but right up there. I sent that American one off to a couple folks who I know will get a laugh out of it, and... know better, too. Kentucky Fried indeed. Iran in the southern Pacific. How big North Korea is. Jeez !!
Yes, dear Breth, dumb-dumbs keep having more babies. No license or special skills required, no authorization needed. Just plug and play, as they say.
Justin's blog has attracted a lot of comments in relation to articles about religious intolerance and extremism. Naturally, I've had my little say. But I tend to be the fly in the ointment with these things. I believe that intolerance would exist even without religion. Religion is just another excuse to whack the other bloke over the head with a big stick. Intolerance, hatred, jealousy, extremism and all those things exist because human beings exist. Getting rid of religion wouldn't solve the problem. Getting rid of human beings would. Hehe.
Beeb time: North Korea's ruling party will hold its first conference in a generation on 28 September, state media reports say, amid speculation that leader Kim Jong-il is about to name his successor. The Workers Party is widely expected to promote Mr Kim's third son, Kim Jong-un, to a senior position. Observers believe a promotion would anoint him as the heir to his father, the self-styled Dear Leader. I'm not a supporter of dictatorial regimes. On the other hand, how many mobs of sheep vote for their shepherd? The Millennium Development Goals can still be met if enough work is done, the UN secretary general has said. Ban Ki-moon urged world leaders meeting in New York to stick to the task despite the global downturn, insisting they could be achieved by 2015. Created in 2000, the eight goals aim to reduce poverty and hunger and improve health standards around the world. Meanwhile, we're living longer and improving the infant mortality rate. A controversial Republican candidate for the US Senate is trying to play down revelations that she dabbled with witchcraft in high school. "How many of you didn't hang out with questionable folks...?" said Christine O'Donnell, a day after a clip of her discussing the occult was rebroadcast. I see... the folks she hung out with were questionable but not her. Well, the folks she hung out with may very well say the same about Christine. Internet search engine Ask Jeeves (known as Ask outside the UK) has compiled what it called a top 10 of "unanswerables" in the past decade. The list is based on some 1.1 billion queries made on the site since its launch in 2000.
JEEVES' UNANSWERABLES
1. What is the meaning of life?
2. Is there a God?
3. Do blondes have more fun?
4. What is the best diet?
5. Is there anybody out there?
6. Who is the most famous person in the world?
7. What is love?
8. What is the secret to happiness?
9. Did Tony Soprano die?
10. How long will I live?
Would you like me to have a go at answering those unanswerables? Okay, let's give it a shot.
1. Procreation and evolution. Same as in all of Nature. That's it.
2. No.
3. No.
4. Everything your body needs in moderation.
5. No.
6. Adam.
7. A bunch of chemicals.
8. There is no secret.
9. He never lived.
10. Not long enough.
I just happened upon an interview with Marlon Brando by Dick Cavett that's almost 40 years old (1973), and which I found totally riveting. The first 4 of the 6 segments are a battle of wits between the two men, and most entertaining. The remaining two involve representatives from various American Indian nations discussing issues with reservations, which are probably dated now. But I definitely recommend watching the first 4 segments. I never had much of an impression of Brando before watching this interview but I do now. Great stuff.
And so another day comes to a close. The sun is setting and soon the stars will twinkle once more until the dawn, largely ignored by people sleeping under tiled roofs. I'll chop up leftover chicken tonight and make omelets for THEM. I don't feel like an omelet. I would have preferred thick potato soup with chicken and ham, but Lindsay doesn't like it. Bleh. I'll settle for a chicken, lettuce and mayo sandwich. Gary
September 20, 2010. Oregon Richie sent a link to remind us what it was like for Susan Boyle when she first appeared on Britain's Got Talent.
What gets me about Susan is why was she ignored for so long? I mean if she can set new benchmarks for the Guinness Book of Records, what the hell was going on beforehand? Here's Richie's comment: I gather Susan was held in friendly enough fond esteem in her home village earlier on but completely under the radar of just about the whole world outside her Mother and her cat. Then not only was she ignored but basically borderline mocked and taunted before she opened her mouth on that stage. Gotta admit, her antics and hip swiveling were indeed pretty funny. You go, girl... indeed, and bugger 'em all. History and a story the world needs every now and then.
Yes, in showbiz it's called the 'Lucky Break'. It may come early, it may come late, or it may never come at all. I still think if Green Room fell into the right hands, it could be a best seller. But we'll have to wait and see about that.
Beeb time: A research team reports new findings of stone age tools that suggest humans came "out of Africa" by land earlier than has been thought. Geneticists estimate that migration from Africa to South-East Asia and Australia took place as recently as 60,000 years ago. But Dr Michael Petraglia, of Oxford University, and colleagues say stone artefacts found in the Arabian Peninsula and India point to an exodus starting about 70,000 to 80,000 years ago - and perhaps even earlier. It's still a drop in the bucket compared to the billions of years the Earth has been doing its thing. A woman armed with an automatic weapon has shot dead one person at a hospital in Germany before being killed by police. A police officer was also injured in the incident in the town of Loerrach near the French and Swiss borders. Police believe the shooting is linked to an explosion at a nearby building where they found the bodies of a man and a child. Prosecutors say a domestic dispute may have triggered the shooting. Oh... well there ya go... that explains everything. Have gun, will shoot. Thousands have witnessed the Pope's beatification of 19th Century churchman Cardinal John Henry Newman, before the pontiff's departure by air for Rome. Pope Benedict told more than 50,000 people at a Mass in Birmingham's Cofton Park that they were celebrating the cardinal's "outstanding holiness". It's a good thing most of us are grubby little nobodies otherwise Benny would have to spend all day, every day beatifying the rest of us. A burglar in Malaysia who broke into a house to steal watches and jewellery was caught after falling asleep with the loot on a sofa, local media report. Fair enough. You can't expect a shift-worker to work his ass off without an occasional kip. The restored grave of the last known "sin-eater" in England has been at the centre of a special service in a Shropshire village churchyard. Campaigners raised £1,000 to restore the grave of Richard Munslow, who was buried in Ratlinghope in 1906. Sin-eaters were generally poor people paid to eat bread and drink beer or wine over a corpse, in the belief they would take on the sins of the deceased. Believers thought the sin-eater taking on the sins of a person who died suddenly without confessing their sins would allow the deceased's soul to go to heaven in peace. Sheesh. I'd hate to think how much a sin-eater would need to devour in order to save my soul.
Address, please.
Ratlinghope.
I beg your pardon?
Ratlinghope.
Are you being serious?
Yes... Ratlinghope.
FL Josh is a bit peeved with my attitude toward puddy tats: You dissed cats the other day but maybe cats would have a better attitude if dog lovers were a little more considerate. Well, here, this video says it all. And this one.
I thought this comment from a viewer of the second clip was funny: Ya know, it's Sylvester that makes searching hours on youtube worth while...Thank you Sylvester and your pet human.
Well, what's on the menu tonight? Lamb chops and onions for THEM and a flash steak and Guinness pie for ME, all served with chips. I like those Guinness pies... lots of chunky, tender steak and lovely thick gravy in a wicked pastry. Sue doesn't like pastry, hence the chops.
By the way, have you seen pics of the new Peugeot BB1? Are we talking weird or what?
How smart are Americans? If you're an American, you should definitely not watch this.
So that's Monday. I sent a copy of Green Room to a bloke I've known for 40 years. He's a well-known broadcaster in Sydney radio and TV, and knows a lot of influential peeps. Maybe something will come of it. I haven't asked him to do anything about it... I didn't even include a note. Gary
September 19, 2010. It's about time you checked my favorites on Red Bubble again. There's a pic there of dolphins that's one of the best I've ever seen. The identical triplets, yes?
Oh yeah, I've been meaning to mention this. Lindsay said on the return trip from Sydney to Taree aboard the Saab 340 Turbo the ride was really bumpy. They must've had a serious tail wind cos the flight took 35 minutes instead of the usual 70.
Do I need a pocket watch? No, of course not. But I like them... always have. I bought a couple a while back for about $8 each (from Hong Kong) and gave one to Averil. The battery died and she gave it to me to replace it. But I can't get the back off. It costs about $12 to get a watchmaker to replace the battery so I checked out eBay for a mechanical pocket watch with a wind-up mechanism. Hmmm. I don't need it but it's kinda interesting. Not a genuine antique but who cares? I'm a genuine antique anyway so who needs two? Sooooo... I'll think about it. Averil is not interested, by the way. She reckons she's got enough watches already.
Yes, I bought it. Are you surprised? What am I gonna do with it? Buggered if I know.
Beeb time: Nato and the UN have praised voters who turned out for parliamentary elections in Afghanistan, despite violence that killed at least 14 people. Nato forces chief Gen David Petraeus said the voice of Afghanistan's future belonged to the people, not extremists. UN Secretary General Ban Ki-moon said Afghan voters had shown "courage and determination". Turnout has been put at 40%. However, there were many reports of fraud that may question the results. Hmmm, 40% is not too good. But I believe turnouts of 60% in countries where voting is not compulsory (as it is in Oz) is quite normal, so I suppose 40% in Afghanistan where violence and apathy exist is not all that bad. A Canadian who helped make the bomb that destroyed an Air India jet in 1985 has been convicted of committing perjury at the subsequent trial. Inderjit Singh Reyat was jailed for five years in 2003 for manslaughter in connection with the attack, in which 329 people died. He later testified at the trial of two Sikh separatists, and told the court then that he did not know what the bomb was for or who organised the plot. Maybe he thought he was making the bomb for a collector. Pope Benedict XVI expresses his "deep sorrow" for the "unspeakable crimes" of child abuse within the Catholic Church. We hear you, Benny. But the abuse has been going on for decades. Police in Mexico say eight officers who were abducted by gunmen in the southern state of Guerrero on Friday have been found shot dead. A ninth member of the unit has been found alive with wounds to his head. The bodies of some of the dead officers are reported to have been mutilated. This is really serious stuff that makes Al Capone look like a punk kid. And any fuckwit who snorts, pops, smokes or injects needs to share some of the blame. A Frenchman whose arms and legs had to be amputated following an electrical accident has successfully completed his attempt to swim the English Channel. The 42-year-old, who swims using prosthetic legs, finished the 21 mile (34km) challenge by reaching Cap Gris Nez in more than 14 hours. Isn't it amazing what human beings are capable of when they have something to prove? Scottish singer Susan Boyle has been given three different entries in the new Guinness World Records book. Her debut album I Dreamed A Dream was the fastest selling album by a UK female and also had the most successful first week's sales of a UK debut album. Boyle, who shot to worldwide fame after appearing on a TV talent show, was also the oldest person to reach number one with a debut album. Her debut album sold 411,820 copies in its first week in the UK - almost 50,000 more than the previous record holder Arctic Monkeys. Heartwarming stuff, yes? Thousands have marched in London to protest against the Pope's visit. Organisers of the Protest the Pope event said they wanted to highlight his stance on controversial subjects, including the ordination of women. Speakers at the rally included the human rights lawyer Geoffrey Robertson and atheist scientist and author of The God Delusion, Richard Dawkins. At the rally, Mr Robertson said: "We are here today to celebrate our faith in liberty of conscience; our faith in equality; our faith in human rights. Of the Pope he said: "He's been met with the most utter, exquisite, grovelling politeness and with that somehow we are in an uncivilised third world country. What is civilised about demeaning the women, demonising homosexuals, wishing that IVF children had never been born?... our only crime has been silence." I've long been a big fan of Geoffrey Robertson.
In case you've forgotten just how awesome Susan Boyle is, check out her performance on Britain's Got Talent.
And Geoffrey Robertson? Here he is being interviewed on Oz radio about the UK inquiry into the legality of the Iraq war. I think J and FL Josh will find this bloke interesting.
Here's one with Geoffrey Robertson talking about the Human Rights story. It's fascinating stuff (particularly for anyone interested in history) in 6 parts but well worth watching. I was amazed by Robertson's ability to speak for so long, quoting dates and events and names without referring to notes.
Well, there ya go. I've spent quite a bit of time watching Youchewb and buggerizing around with whatnot, and the day has slipped by. I'm gonna bake cocktail franks tonight cos I reckon they're tastier that way, and serve them with mash and peas. And in about a week or so I'll have my new pocket watch which will no doubt be put into a drawer never to see daylight again. Gary
September 18, 2010. Okies, I assembled some of Jan Gray's pics of the Northern Territory and the top end of Western Oz and posted 2 albums on Aussie Odyssey's Guest Travelers section.
FL Josh sent a couple of links: This is cute - and different. I promise you it's different. You're not wrong Narelle.
And this one: Here is 16 year old UK singer Tom Andrews making his first big TV appearance yesterday (9/16/10) on the Ellen show.
Thanks for the links, Josh... they're both great.
Beeb time: Voters in Afghanistan cast their ballots in key parliamentary elections, amid fears of violence and threats from Taliban militants. I don't think I'll ever understand the mentality of people who insist on being totally dogmatic. The Pope has warned that religion - and Christianity in particular - is "being marginalised" around the world. His comments came in his keynote speech to UK MPs, senior members of British society, and religious leaders at Westminster Hall in central London. Pope Benedict XVI warned that there were some people who wanted to see "the voice of religion be silenced". Says the man whose religion tried to silence Galileo, and would indeed silence people like me if it had the opportunity. A drill reaches the 33 men trapped in a Chilean mine since early August, but it will take several weeks to widen the hole to free them. Progress! That must have lifted their spirits enormously. The director of the largest prison in Paraguay has been suspended after child pornography believed to have been shot there was found on a computer in the jail. Prosecutors say a room featured in the videos was inside the prison. They believe underage girls in the videos were befriended by convicts over the internet and then blackmailed into visiting them in jail. Heterosexual pedos, huh? Well, there ya go. Ali G and Borat star Sacha Baron Cohen is to play Freddie Mercury in a film about Queen, the rock band's guitarist Brian May has confirmed to the BBC. Freddie Mercury... one of the great legends of British rock. United Airlines and Continental Airlines have been cleared to merge, creating the world's largest carrier. Shareholders in the two airlines overwhelmingly voted to approve the deal on Friday. The merged airline will be known as United Airlines, with Continental's chief executive Jeff Smisek taking on the same role at the new carrier. And now on with the show. Russia has confirmed it will supply Syria with anti-ship cruise missiles, Russian media report. Defence Minister Anatoly Serdyukov was quoted as saying Russia would fulfil a contract signed in 2007 for the P-800 Yakhont missiles. Both the US and Israel had requested that Syria should not be supplied with the missiles. But Russian officials did not agree that they would "fall into the hands of terrorists", Mr Serdyukov said. Remember when Saddam Hussein sent Russian scud missiles raining on Israel? People who think more about whether they are right have more cells in an area of the brain known as the frontal lobes. UK scientists, writing in Science, looked at how brain size varied depending on how much people thought about decisions. But a nationwide survey recently found that some people think too much about life. These people have poorer memories, and they may also be depressed. A mate of mine once said, "I'd rather have a bottle in front of me than a frontal labotomy."
I was taking a pic of my red lilies out front when a voice from behind said, "What are you doin'?" I was in the process of struggling to stand because my leg is still sore, so I said, "Who's that?" "Keiran." Well, it was good to see my favorite little brown person again. He and his older bro Brendan were continually fighting so their mother sent Keiran to live with his father in Newcastle for a while. "How do you like living in Newcastle?" "I'd rather live here in Taree." "Do you go to school in Newcastle?" "Yeah, but I'd rather go to school here." "So when are you coming back?" "During the school holidays." "I mean permanently." "Yeah, I'll be back permanently." Keiran was on his way to the Vet down the street cos his cat's got a problem... apart from just having given birth to a bunch of kittens. Sheesh. WHO would want six kittens in the house? You can't even give the damn things away!
And that's it for another Satdee. Bacon, fried eggs and home-made chips tonight. Gary
September 17, 2010. This morning I went through all the (hundreds of) pics Jan Gray gave me of his trip through the Northern Territory and the top end of Western Australia and selected those I'll use for a couple of albums in the Guest Traveler section of Aussie Odyssey. They're just happy snaps - not professional - but they're okay. I'll get stuck into that in the next day or two.
The leg is improving a little so I better do the shopping routine today, including Averil's list. How thrilling!
Beeb time: Pope Benedict XVI has celebrated an open-air Mass in Glasgow, attended by tens of thousands of people, on the first day of his visit to Britain. About 70,000 people attended the celebratory event in Bellahouston Park. In his homily, the Pope warned against people who seek "to exclude religious belief from public discourse". Earlier, he urged the UK to resist "more aggressive forms of secularism". The Pope has now arrived by plane at Heathrow. He timed his arrival perfectly. L&S had already left for Oz. How sensible. A speech in which the Pope appeared to associate atheism with the Nazis has prompted criticism from humanist organisations. However, the Catholic Church has moved to play down the controversy, saying the Pope knew "rather well what the Nazi ideology is about". Humanists have said the comments were a "terrible libel" against non-believers. In his address, the Pope spoke of "a Nazi tyranny that wished to eradicate God from society". He went on to urge the UK to guard against "aggressive forms of secularism". Next! One in seven Americans was living in poverty in 2009 with the level of working-age poor the highest since the 1960s, the US Census Bureau says. That surprises me. A US artist whose satirical cartoon inspired an internet campaign inviting people to draw images of the Prophet Muhammad has disappeared into hiding, her newspaper has said. Molly Norris, who disavowed the movement that provoked outrage in the Islamic world, has moved and changed her name, the Seattle Weekly said. She fled after FBI agents warned she was in danger, the newspaper wrote. Depictions of the Prophet Muhammad are forbidden in Islam. Athiests don't have that problem. There's nothing to depict. Body parts which were found inside a shark appear to belong to a man who disappeared off a Bahamas beach where one of the Jaws movies was filmed. Police say fingerprints match those of Judson Newton, who swam for shore after his boat broke down in August. The 3.6-metre (12ft) tiger shark was caught on 4 September by a local investment banker who was deep-sea fishing. Whilst reeling it in, he said he saw a leg poking out of the shark's mouth. After cutting the creature open, defence force officers found a torso, two severed arms, and a right leg. Authorities say they are still waiting for DNA tests to confirm they belong to Newton. How gruesome! John Lennon's killer Mark David Chapman has told the parole board in New York he thought by killing The Beatles singer he would become a somebody. Instead, Chapman told the board that "I became a murderer and murderers are not somebodies", according to the published transcript of the interview. Chapman was denied parole for the sixth time last week. Chapman, now aged 55, shot and killed Lennon outside his New York apartment in December 1980. You hear that suicide bombers? Murderers are not somebodies. A man has shot a doctor at a hospital in the US city of Baltimore, before shooting his ailing mother dead in her bed and killing himself, police said. Police at Johns Hopkins hospital said the gunman had shot the doctor once in the chest after becoming distraught at news about his mother's condition. The doctor was said to be recovering from a non-life threatening wound. Police discovered the two dead bodies after a stand-off. They identified the gunman as Warren Davis, 50. Gunman? Well, there ya go. That explains everything. Blues singer Michael Grimm has been named the winner of America's Got Talent. The 30-year-old from Mississippi beat 10-year-old soprano singer Jackie Evancho of Pittsburgh. No worries, Jackie. You still got a long way to go yet. Letters written by the late playwright Oscar Wilde are to be auctioned off later this month. The letters appear to reveal Wilde "propositioning" a magazine editor at a time when homosexuality was illegal. And Wilde's vilifiers were morons.
Just got an email from a former boss... a bloke who began an advertising agency in Gosford back in 1974. I was his first employee... and the only one for a while until I attracted enough business for the others to come on board. Anyway, he moved the business to Sydney after I left to return to radio, and then sold it when he moved to Brisbane and started a new agency there. He sold that eventually too and retired. He was diagnosed with Parkinson's 12 years ago and had a brain operation. Cognitively he's slowing a bit but doing really well physically, and living the high life in retirement... house in Brisbane, holiday house on the Gold Coast... just back from a vacation on Lizard Island (Great Barrier Reef). He was a Dutch boy who came to Australia in his early 20s with two bob in his pocket to seek his fortune and did really well. Anyway, I'll write back and one of these days we might catch up and talk about old times. They were heady days indeed.
Roast chicken tonight (stuffed and marinated) and roast herbed spuds. I wouldn't go to all that trouble for myself, ya know... so I suppose that's the advantage of living with other peeps and being the cook.
I've seen a few vids on Youchewb where some bloke drives around in his car with a camera mounted somewhere in the cab. Pretty boring really. But I thought it might be interesting to do that in Bluey around Taree and environs and edit the footage to remove the boring bits. Anyway, I'll think about it. I could do a running commentary as I drive around. Hmmm. Gary
September 16, 2010. Pay day, bills day... same old story. My leg is feeling a little stiff and sore now that the anaesthetic has worn off. But it ain't too bad.
TX Greg wrote: Glad everything went ok with the op. Bet you slept good after that :) Yeah, like a baby... until I started to feel a bit of discomfort, that is. But it's nothing I can't handle. I'm a big brave boy, ya know.
I've had needles in the arm, butt and various other places where you hardly notice the intrusion. But I've also had needles in far more sensitive places, like the forehead, nose and, this time, the muscle just above the knee. YEEEOOOWWW! It ain't fun, ladies and genitals. But at least it doesn't last long.
Did I tell you I got the hospital staff to video yesterday's operation?
I've shrunk! The nurse measured me yesterday at 177cms, which means I'm just below 5' 10". I've lost a bit over half an inch. Bloody hell. Where the hell did that go? Actually, the conversion thingy measures length as opposed to height. So apparently that's how long I am when I'm horizontal. They say you get shorter as you get older, so theoretically if I live to be a thousand, I'll be able to check out blokes wearing shorts. That'll be interesting.
Beeb time: Tens of thousands of people are expected to line the streets of Edinburgh later when Pope Benedict XVI arrives for the start of his UK visit. Whatever blows your hair back, I guess. Chilean engineers say they may be able to free the 33 trapped in early November, some six weeks earlier than their previous estimate. Welcome news. A similar incident occurred in a mine in Tasmania in 2006. Mexico is celebrating the bicentennial of its independence amid high security, as fears continue of drug cartel violence. There was a story on telly last night about Mexican drug cartels targeting Oz as a destination for their cocain. Bastards. France's lower house of parliament has passed a controversial reform bill which will raise the minimum pension age from 60 to 62 by 2018. It passed with 329 votes to 233 in the National Assembly in a stormy session and will now go before the Senate. Jeez, in Oz it's 65 and will be raised to 67 in a few years. If you're a self-funded retiree in Oz you can retire whenever you like. Firefighters in the US state of Oregon have had to use all their shovelling skills to do a delicate job: dig a camel out of a sinkhole. They were called by the Clackamas County owners of the 1,500lb (680kg) animal, named Moses, who said they were simply unable to free him. The rescuers had to dig for hours to rescue Moses, whose long skinny legs were deep in the mud. A veterinarian later checked the animal and said he was unhurt. Which all goes to prove that you don't need to be on fire - or indeed be human - to be rescued by the Oregon fire department. The inventor of the Web has called for everyone to have access to his creation for free. Tim Berners-Lee said that he would like to see everybody given a low-bandwidth connection "by default". He said the web could be instrumental in giving people access to critical services such as healthcare. Currently, he said, just one-fifth of the world's population has access to the web. "What about the other 80%?" he asked the audience at the Nokia World conference in London. "I would like to see people enrolled in a cheap data plan by default. I would like them to get it for free." And there I was thinking that just about everybody had access to the web. A senior Papal adviser has pulled out of the Pope's UK visit after saying arriving at Heathrow airport was like landing in a "Third World" country. Cardinal Walter Kasper reportedly told a German magazine the UK was marked by "a new and aggressive atheism". The Vatican said the cardinal had not intended "any kind of slight" and had pulled out because of illness. Yeah, mental illness. Fair dinkum, those guys live in la-la land. An ice cream company banned from using an advert displaying a pregnant nun has vowed to position similar posters in London in time for the Pope's visit. Antonio Federici's advert showed a pregnant nun eating ice cream in a church, together with the strap line "immaculately conceived". The Advertising Standards Authority has ordered it to be discontinued, saying it mocked Roman Catholic beliefs. Mock atheism all you like but don't ever mock religion. (Stephen Fry is one of) More than 50 public figures (who) have added their names to a letter in the Guardian newspaper saying the Pope should not be given the "honour" of a UK state visit. Check out Fry's video response here.
Before I fergit, I watched The New Inventors on telly last night and one bloke is working on a solar panel that - wait for it - can be painted on! He's already got the plastic film figured out and it's only a matter of time before the paint version is available. How cool is that?
We now pause for a commercial break, and will return right after this message. Australia invades New Zealand.
Okies, the T-bones are under the grill and the onions are ready to fry in butter. It's back to the old routine, folks. Well, almost... I didn't do the shopping today cos the leg's a bit stiff. Gary
September 15, 2010. After fasting all night and this morning, I walked to the hospital and arrived at 9am for the admission procedure. Lots of red tape. Up to the third floor for interrogation, before disrobing and putting on the obligatory hospital gown, plastic shoes and cap. I was then taken to the waiting room where I watched one of those corny morning shows on commercial telly... infomercial or whatever they're called. Dreadful. At 10:30 I was called by the orderly, much to the annoyance of another bloke in the waiting room who insisted he was there first. But it doesn't work like that. It depends on the type of surgery, who's available to do it, and what equipment is available at the time. When you're a public patient getting a freebie, you don't have the luxury of being choosey. I was placed on a bed with wheels in the anaesthetic room when the surgeon arrived. I was in the process of explaining that the bandage on the lesion was stuck to a scab when he just yanked it off. OUCH! "It's not now," he said. Sheesh.
Then the surgeon drew a kind of rectangular border around the lesion, and decided I didn't need a skin graft which also meant I didn't need to be sedated. They just stabbed my thigh with local anaesthetic (which stung a bit). Then they grilled me with a series of questions... same ones I'd already answered a zillion times. One was about my drinking. "You drink about a bottle of wine a day?" someone said. "Ish," I answered. "I'm a sipper and I just keep sipping." The surgeon smiled and said, "So would I if I could." Hehe.
Then I went through the weird sensation of watching walls and ceilings retreating into infinity as the male nurse pushed the bed along a number of hallways on the way to one of the operating theaters where I was placed under two monster lights suspended from the ceiling. There were about 4 or 5 people in attendance. "Are you alright, Gary?" a nurse asked as the operation proceeded. "I'm a little worried about those overhead lights," I said. "Are they securely attached to the ceiling? I'm feeling a bit vulnerable. They're aimed at my sensitive bits."
It was all over in about 45 minutes. The stitches were done in two layers... below the surface of the skin, and on top. They dissolve after about a week so there's no need for their removal, and the scar will eventually almost disappear.
I was wheeled into the recovery room and asked to dress. The local anaesthetic meant that I could walk around like I normally do, but they wouldn't allow me to walk home in case it affected the wound dressing. So they did some more paperwork while I had a nice cuppa tea and a ham and tomato sandwich (free). Then they phoned a taxi and that was it. I was allowed to go home. And here I am.
The only thing better than a cuppa first thing in the morning is a cuppa after you've fasted for a longish period. It's just soooooo good. The tea they served was grown in Oz and it was very nice.
All the staff were great, especially the surgeon who operated. He was friendly and attentive, and wished me well with my recovery as well as in life generally. So there ya go... all pretty straight forward. No dramas. And the whole smash didn't cost me a cent except for the cab fare. I even tipped the driver!
Beeb time: The conservative Tea Party movement in the US scores a dramatic win in Delaware, as its candidate Christine O'Donnell beats a long-serving congressman in the Republican Senate primary. During the sixties we had flower power and Woodstock. Now we have the Tea Party and ultra conservatism making a comeback. And so the wheel turns. One of 33 men trapped in a mine in Chile becomes a father for the third time after his wife gives birth to a girl named Esperanza, meaning hope. Excellent choice of name, and at least daddy is aware of what's going on upstairs. George Michael has been given an eight-week sentence for crashing his car while under the influence of cannabis. He was also fined £1,250 at Highbury Corner Magistrates Court in London and given a five-year driving ban. The 47-year-old singer was arrested in July in Hampstead, north London after driving his Range Rover into a branch of photographic store Snappy Snaps. Last month he pleaded guilty to driving under the influence of drugs and possessing cannabis. The singer was told then that his offences were "a serious matter" and that he could face imprisonment. It is a serious matter. You can't go around endangering the lives of other people no matter who you are. The world is getting older. In most countries, the population is ageing. That inevitably has dramatic consequences for pensions and other arrangements for supporting older people. In Oz we have superannuation, which is pension system that workers and their employers contribute to during their working lives. It's compulsory. But it wasn't always compulsory so guys like me are supported by the tax payer. We also have GST, a Goods & Services Tax, which is a 10% levy on almost everything bought and sold commercially (except basic essentials). Australia's Prime Minister Julia Gillard has been sworn into office, making her the first woman elected to the post in the nation's history. She called an election after ousting former PM Kevin Rudd in an internal Labor party revolt in June. Last month's poll produced a hung parliament, forcing Ms Gillard to seek the backing of independents and Greens to form a government. Yeah... so it's not like the people voted her in. But we're stuck with her anyway. About 2,000 people have been evacuated from the Eiffel Tower in Paris and its surrounding park after a bomb scare, French officials say. They say the alarm was raised after an anonymous call to the company which manages the famous landmark. A police cordon was formed and about 1,000 people were moved to the banks of the nearby River Seine. Officers with sniffer dogs searched the area. But police later said it was a false alarm. And you can bet the prankster thought it was hilarious. What a bloody ratbag.
Well, L&S are still sleeping as they have since about midday yesterday. Jet lag, I guess. Neither of them wanted any dinner. Sue's been up for a pee or two but that's about it. She chucked a bit of wobbly yesterday but I think that was because she was grumpy and tired. She also has a chest infection. The doc arrived at about 7 last night to check her. He prescribed some medication and that was that... except to give me a bit of cheek about having my leg amputated. I emailed him today to let him know the surgery went well - no dramas - and that one of the nurses said I was a nice man. "So keep that in mind next time you're tempted to give me more cheek."
I just checked the letters after the surgeon's name: MB, Bachelor of Medicine... BS (Hons), Bachelor of Surgery... FRACS, Fellow of the Royal Australasian College of Surgeons. So there ya go... I think he knows a thing or two about scalpels. He wasn't the one who operated... it was one of his assistants, a bloke in his 30s under supervision. But I had every confidence in the younger bloke, as did the head honcho. I have an appointment with the HH at the end of the month at his private surgery just to check that the procedure went okay and that there are no complications.
So that's it for today. Not sure what I'll be cooking tonight cos THEY are still in bed, and it's almost 5pm. Gary
September 14, 2010. Leg op tomorrow. It should be pretty straight forward. Remove a skin cancer, stitch it up, and Bob's yer uncle. Ohio Jace wrote to wish me good luck but it's not like I'm going in for a brain transplant or anything. Now wouldn't that be interesting?
Jace also wrote more about young Peter Lenz, the boy who was killed in a motorcycle racing accident recently: Peter was eleven in the picture, which I think is so cute. Sleeping with his helmet on and stuffed dinosaur tucked under his arm. BTW the stuffed animal image was on his uniform and he took it to the track with him.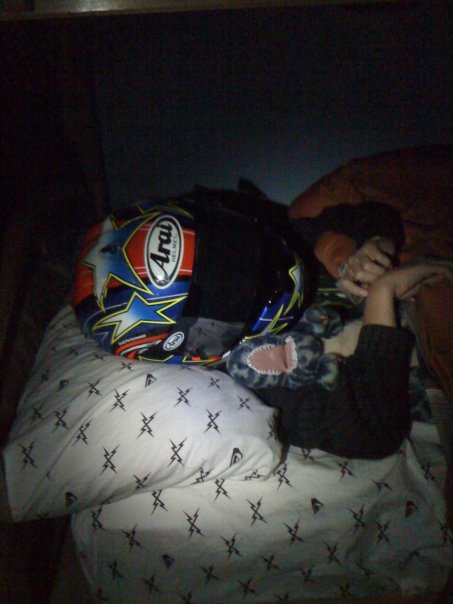 There have been so many conflicting reports from various so-called news outlets and of course the vilifying of the parents continues. FOX NEWS brought in an ex-prosecutor who wants to criminally charge the parents with child endangering or other crime. Seems she hates motorcycle riding of any kind. And allowing kids to do what they love to do. Not sure what she wants (well actually I probably do, lock all kids in padded rooms until they turn adult to protect them from harm). Is it better to allow kids to ride on sanctioned tracks with all the proper safety gear and safest conditions that can be provided or run helter skelter on the streets and roads without any safety gear and we know if they want to ride they will do so. Let's make sure it is supervised and as safe as possible.
I can imagine my boys reaction if I had denied them the ATV's because they were "too dangerous". Sean wrecked his one time and spent a couple days in hospital and yet the rents let him get back on. Look what happened to Jeremy and Lucas earlier this summer and Jeremy is an adult. The accident was not his fault, but neither was the accident Peter's fault or Xavier's.
On that fateful weekend: Friday Peter was signing autographs and showing off his new braces. Saturday he won his last race and of course we know what happened Sunday.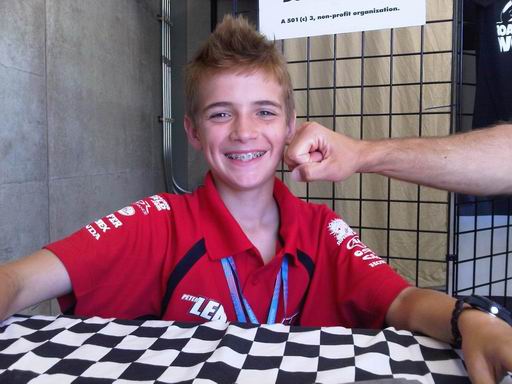 I agree with Jace. You can't stop kids from being kids. The little buggers have no fear. All you can do is try to ensure that their high-spirited zest for life and its challenges is as safe as possible. You can't put kids on a lead and take them for a walk around the block.
Imagine that... the little bloke sleeping in his helmet and cuddling his pet dino. How cute is that? At least the mantle shelf at home is stacked with lots of trophies and photographs and memories of a great little hero.
Speaking of heroes, I've not heard from L&S yet. They're due in Sydney today but I can't decipher Lindsay's writing... could be AM or PM.
I spoke too soon. They're here. Probably deported. Sheesh, what a sight. Lindsay says they'll be going back next July, so I'll look forward to that. As I just said to Averil on the phone, "6.5 billion people in the world and I've gotta get tangled up with these two!" Then Averil said, "And me." Hehe... yeah... and Averil.
Hey, I won Lotto last night. Well, not the major prize. More like $39.50. But you know... sumthin's better than nuthin.
Well, no Beeb today. Too busy with all the homecoming stuff, shopping and getting back into the routine. Gary
September 13, 2010. Actually, there's a bit of a story behind my last Valiant. I had a '73 model and wanted to trade up to a CM, the last of the Chrysler Valiants made in Oz. Chrysler sold the factory to Mitsubishi in 1981. So I went out to Auto Alley at Parramatta thinking I could probably find a CM. It took a while but I did. I spotted a CM at the back of a used car lot. It had just been traded and wasn't even washed or detailed yet. It was filthy. So I walked into the shed that served as the dealer's office and asked "how much do you want for the silver Valiant?" The salesman thought I was joking even after I insisted I was serious. So he called his boss into the office and the boss said, "Now, listen, are you serious about buying this car?" I said, "Sure. I want a CM." He took a bit of convincing but eventually gave me the paperwork to sign. A few days later, after they'd cleaned and detailed the old girl, they delivered it to the radio station where I worked at North Sydney, and drove my old Valiant away.
I enjoyed that CM for 3 or 4 years - it was a bloody good car - and then sold it to a copper. Six months later I read in the paper where he'd been killed riding his police motor cycle.
Meanwhile, FL Josh wrote: I did enjoy watching the series of videos with the guy working on the Chrysler station wagon, but I think he is going to find his work doesn't hold up. We have a TV show over here called Overhaulin' where they use some premise to steal someone's car and in a week's time, completely rebuild it. Here is part one of an episode called Surfer Kid where they snatch a 17 year old surfer's El Camino and redo it. Just follow the links for the other five episodes. Chip Foose is the head of Overhaulin' and he is one amazingly talented guy.
Thanks for the link, Josh. I really enjoyed that show. Does that kid have a killer grin or what? He's adorable! When he was overcome with emotion in the last chapter, I was gone. Tissues galore.
Josh continues: Also, here are some amazing photos entitled "Earth from above" by a photographer by the name of Yann Arthus-Bertrand
Thanks again for the link, Josh. That's some of the most spectacular photography I've ever seen. Simply stunning. I posted the link on my Red Bubble journal page.
Meanwhile, I posted a couple of pics on my Red Bubble page... nothing all that flash but it is spring ya know. Pic 1 and Pic 2.
Weeeeeeell, Rome wasn't built in a day. Neither was Green Room. I just got delivery of the latest copies and guess what? SUCCESS! Yes, the reformatting worked a treat... Times New Roman instead of Courier. It was all Rashi's fault with his insistence on courier, courier, courier. Oh well... we all live and learn. Experts ain't necessarily experts. If you'd like a copy of the final edit, go for it. I won't be surprised if you choose not to. You've been through all this shit before. But for me this one is kinda special. I finally got it right.
Beeb time: The US and Germany have welcomed the result of the Turkish constitutional referendum. The US President Barack Obama and German Foreign Minister Guido Westerwelle have issued statements commending the vote. Voters in Turkey gave strong backing to a package of changes to the country's military-era constitution. The changes are aimed at bringing Turkey in line with the European Union, which the government wants to join. With nearly all votes in the referendum counted, about 58% had voted "Yes" to amending the constitution. Prime Minster Recep Tayyip Erdogan said the result meant the country had "crossed a historic threshold toward advanced democracy and the supremacy of law". It's all a bit over my head but if it means a more tolerant and peaceful world, cool. The Mexican authorities say they have arrested one of the country's most wanted drugs traffickers. Sergio Villarreal - known as "El Grande" - was detained by navy marines in the city of Puebla, east of Mexico City. He is alleged to be a top lieutenant in the powerful Beltran Leyva cartel. His arrest comes two weeks after the capture of another drug kingpin, Edgar Valdez, known as "Barbie", who led a rival faction of the same cartel. Excellent work! Crush the bastards! Tony Blair's Commission for Africa says despite some advances in five years, the continent still needs billions in more aid. Yes, until we're all equal and there'll be no more keeping up with the Joneses because they won't have any more than you do. Hurricane Igor has strengthened in the Atlantic and is moving westwards, forecasters warned. The category four storm with winds of up to 135mph (220km/h) is currently 1,565 miles (2,520km) east of the Dominican Republic. Forecasters say it could cross the northern Caribbean, possibly heading toward Bermuda. I was really pissed off the other day when a gust of wind that lasted maybe 10 minutes blew a bunch of leaves onto my front veranda. How do you reckon I'd cope with a hurricane? The New York imam leading efforts to build an Islamic centre near the World Trade Center site says plans by a small US church to burn Korans would have sparked "a disaster". Yeah... like we don't have one already. Almost six in 10 Catholics say that their faith is not "generally valued" in British society, according to a poll commissioned by the BBC. But 70% of British Catholics polled expect the Pope's visit to help the Catholic Church in the UK. I still wanna know why Jesus Christ wasn't a catholic. Military police are investigating claims that British soldiers may have trafficked heroin from Afghanistan. The Ministry of Defence said they were aware of "unsubstantiated" claims that troops were using military aircraft to ship the drug out of the country. Oh, dear... I sincerely hope that's not true.
Okay, the end of another day. In about 12 hours from now, L&S will have arrived at Sydney airport. I'm not sure when their connecting flight to Taree is due to depart but I expect a call asking me to collect them and drive them home. Woe is me. These past 5 weeks have been soooo lovely. AND CHEAP. My grocery bills have been practically zilch.
So what's for din dins tonight? I won't tell you cos you'll be horrified. Actually, it's not that bad... cocktail franks and corn fritters, and a generous dollop of tamaaaaata sauce. Just don't tell anyone, especially my doc. Gary
September 12, 2010. I've been checking out vids of early 50s Morris Oxfords on Youchewb. My first car was a Morrie Ox, a 1951 model I bought in '62 when I was 18. Cost $400. Almost 50 years later I bought a Nissan Nomad for $350. Hehe. You can find a stack of Morris Minors on Youchewb but not many Oxfords of the type I had... the MO. The Minor was by far the bigger seller because it was cheaper. Both cars were designed by Alec Issigonis just after WWII and released in 1948. 10 years later he designed the Mini.
I won't bore you with the Morris, but I did find some interesting footage of early '50s British Auto Shows, back when 7000 pounds could buy you a brand new Rolls Royce.
My fire chief friend failed to materialize last night, much to my annoyance. I hadn't eaten anything in anticipation of going out for a bite. He Bubblemailed me with an apology which I read this morning. He stayed overnight in Port Macquarie and left his mobile phone in the car. Grrrr. He's on his way here now just to say g'day, then continue on to Tamworth.
Here's something else Ohio Jace mentioned yesterday: Now something of a bit lighter tone; (Sean) Code's teacher asked his 'rents to make sure he wears underwear to school. Seems he went commando. She did not mention how she knew that. When I was a kid in primary school, no one wore undies! My mom used to make my school shorts... no zip or buttons, just a little flap that you poked inside. One day, probably after taking a pee in the school dunny, I failed to close my flap properly and a bunch of girls in the playground were pointing and laughing at my shorts. I was devastated when I realized why. Funny how you remember those things.
Well, I certainly impressed the hell outta John Vandeven and his wife Sue. We were chatting away on the front lawn in the sun for a bit longer than I'd anticipated. The sun is quite strong today, and I had my back to it. I started to feel a bit giddy so I sat on the fence. Then I felt faint. John helped me inside where I sat for a minute before I grabbed a bucket and did the good ol' Aussie chunder trick. Hehe. I was okay after a few minutes. It was a mild dose of sunstroke. It happens to us fair skinned peeps ya know. Anyway, I recovered sufficiently to see them off, and even got a peck on the cheek from Sue. When I looked at John he said, "I'm not kissing you!" Good thing he didn't... he hadn't shaved.
Now here's something car buffs will enjoy. It's the story of a couple of Aussies doing up an old CM Chrysler Valiant, which was the last car I had before buying the VW Kombi back in the '80s. The series is very funny, with lots of crazy stuff, and is in several parts. I think FL Josh will identify with this series... lots of rust removal, welding, sanding and spray painting. Start with part 1 and then you'll find the subsequent parts listed. Takes quite a while to watch all parts... I watched up to part 10 and then couldn't find any more. I think part 11 is still to come. Actually, you don't need to be a car buff to enjoy this mix of Croc Dundee and the Keystone Cops called 'The Gus Bus'. Be warned: lots of swearing, alcohol and unbecoming behavior.
Beeb time: Competing demonstrations have been held in New York on the anniversary of 9/11 over plans for an Islamic cultural centre close to Ground Zero. Hundreds of people attended both demonstrations which became heated but passed off without violent incident. The radical Dutch politician Geert Wilders addressed one demonstration, calling for an end to the plans. The demonstrations were held after ceremonies honouring those killed in the World Trade Center nine years ago. Weird, huh? Democracy allows more than one point of view. But some people who are lucky enough to live in a democracy reckon there should be only one point of view... their own. A man in Kentucky kills himself after shooting dead five people during a row with his wife over how he liked his breakfast. Lemme guess. He had a gun, right? Miners trapped deep underground in Chile for more than a month have been given permission to smoke. Health officials had previously refused to send the men cigarettes, saying smoking would pollute the air in the refuge where they are sheltering. But rescuers have now improved the ventilation system so they can pump fresh air in from the surface. Where's the anti smoking brigade? Shame, shame, shame! There have been clashes in the Kosovan city of Mitrovica after Albanians jeered Serbs following Serbian defeat in an international basketball game. Mobs from the city's divided Albanian and Serbian populations hurled stones at each other over the river that runs through the city. Fair dinkum, if it's not religion or politics it's sport. Some people are just plain aggro. Bloody loonies if you ask me. Russian PM Vladimir Putin has joked that he and his Italian counterpart Silvio Berlusconi could stay in their jobs until the age of 120. Why not? Probably couldn't do any worse than what they're doing now. Australian Prime Minister Julia Gillard has named her cabinet, four days after returning to power with a tiny majority backed by independent MPs. Kevin Rudd, the man she displaced as Labor party leader two months before the election, becomes foreign minister. He speaks fluent Mandarin hehe. I suppose that's a plus given that our biggest export customer is China. Actually, I think exporting both Julia and Kevin would be a good idea. Long division and long multiplication have been replaced in schools by chunking and gridding. While the new methods are meant to make maths easier, parents have been left scratching their heads, writes Rob Eastaway. Leave me outta that one, but if you're interested in math, check out the story here.
Are you interested in aircraft? There's a Red Bubble group called Aircraft of the world you might wanna take a look at.
Meanwhile, it's time to call it a day. I spent too much time yakking away to John and Sue, and then watching silly Aussie vids about doing up an old Valiant. Actually, my Valiant wasn't all that old when I bought it... it was just 4 years old. But that was over 25 years ago. Sheesh. Was it really that long? Gary
September 11, 2010. 9/11 as it's known after that infamous attack on the WTC. "It was just a plane crashing into a hotel," Sue said at the time. She thought it was a movie. Al Qaeda failed to destroy America but it surely changed the world forever. Shades of Japan and Pearl Harbor.
I think it's time Benny had a chat with God and asked him what the purpose of all this madness is, and then explained it to us.
It occurred to me the other day why people who hold firm religious beliefs don't question them. If they question them, they might lose faith. And if they lose their faith, what do they replace it with? As Justin said of me and my atheism, "All dressed up with nowhere to go".
Moreover, God knows everything, including what you're thinking. So if you're a believer and you start having doubts, or dare question the Bible/Koran, then God can read your thoughts. So you risk being punished. Yeah? Better and safer to just follow the straight and narrow. Yes, sir, yes, sir, three bags full.
Speaking of Justin, here's a gem he posted on his blog:
MY LIVING WILL:
Last night, my kids and I were sitting in the living room and I said to them, 'I never want to live in a vegetative state, dependent on some machine and fluids from a bottle . If that ever happens, just pull the plug . '
They got up, unplugged the Computer, and threw out my wine .
They are SO on my shit list . . .
Justin also quoted Einstein's definition of insanity: Doing the same things over and over again, always expecting different results. I love that kinda logic, and commented in jest that I was amazed that Einstein wasn't Irish. Justin pointed out that Einstein was indeed half Irish... the son of an Irish Tinker with wild red hair, and a German Jew. So there ya go. Irish logic rules again!
Beeb time: President Obama makes a plea for religious tolerance, as a church threatening to burn the Koran demands contact with a New York imam. I suppose one could ask the question: does religious tolerance extend to the acceptance of a church wanting to burn the Koran? I get the feeling sometimes that we try to make sense of things that don't make sense. Iran delays the release of Sarah Shourd, one of three US hikers arrested last year on suspicion of espionage, officials say. More silly games. I can hear Mahmoud Ahmadinejad giggling his tits off. At least 85 prisoners have escaped from a jail in northern Mexico, close to the border with the United States. Inmates used ladders to scale the fence of the prison at Reynosa in Tamaulipas state before dawn on Friday. The prison's director and guards are being questioned by state prosecutors, because of suspicions that some may have collaborated in the breakout. My sentiments exactly. Ladders? Harrowing details of some 300 cases of alleged sexual abuse by Roman Catholic clergy in Belgium have been released by a Church investigator. Peter Adriaenssens said cases of abuse, mostly involving minors, had been found in nearly every diocese, and 13 alleged victims had committed suicide. Two-thirds of victims were boys but 100 girls also suffered, he said. What pedophiles continually fail to realize is that kids grow up to be adults... very angry adults. At least four people were killed and dozens injured in an explosion and fire near San Francisco, reports say. The blast tore through a neighbourhood in San Bruno, engulfing dozens of houses and vehicles. It shattered water lines, hindering firefighting efforts. Witnesses said it blew a fireball 1,000 feet (300 metres) into the air. Firefighters have contained the blaze but much of the the area is still too hot for them to enter, officials said. I watched the footage on the TV news last night... astonishing. Former Cuban leader Fidel Castro has said that his recent comment about Cuba's economic model was misinterpreted by a US reporter. Mr Castro was quoted earlier this week by journalist Jeffrey Goldberg as saying that "the Cuban model doesn't even work for us anymore". But speaking at the University of Havana, Mr Castro, 84, said he meant "exactly the opposite". How on earth could Castro deny the fact that Cuba has been a total disaster ever since he came to power? The strength of your handshake could be a clue to how long you'll live, say scientists from University College London. They matched older people's balance, grip strength and ability to get up from a chair with their risk of an earlier death. Those who did best were likely to live longer, the British Medical Journal reported. It is hoped such simple tests might help doctors spot "at-risk" patients. Nothing worse than a limp handshake. Ew! By the same token, bone-crushers are also a worry. A federal judge in California has ruled that a ban on homosexuals serving openly in the US military is unconstitutional. The judge said the law violated fundamental First Amendment rights. The law allows gay and lesbian soldiers to serve if their homosexuality is not known but suspends them if it is. It is referred to as "don't ask, don't tell". The latest case was regarded as a major test for the law, which President Barack Obama says he would repeal. When we finally get over all this nonsense, and substitute robots for humans, will robots have a sexual orientation? Me no think so.
Oregon Richie commented on my comparison of Uluru with Table Mountain yesterday: It's certainly true that Uluru has a unique if not nearly ethereal appearance in its surroundings. It's just such a contrast. I'm not sure what the "geologic findings" of its history is, but it's amazing, and being able to capture unique perspectives on it... there is no end to that, and almost has an "active or living quality" to it just as TM has. I never had too much trouble grasping the dimension of the rock in that landscape, but it's interesting to know what the actual dimensions are. Most people see the standard classic view of TM but it can look very different from various perspectives and angles... such as coming in from the east, or down along Cape Point, and so forth. At night when spotlights are shining up it looks really cool, and the tablecloth is ever changing. I can always understand the feeling that Cody had for it. Uluru probably does the same for many, and can equally adapt itself, perhaps... to science fact and science fiction.
I'm not surprised that FL Josh jumped up and down in the one spot when he read my reply to his comment yesterday about whether or not Cruithne is a moon. Hehe. He does get a little excited ya know: I'm not as convinced as you that your Mr. Jumpingjack knows what he is talking about. He states the earth has seven NEO's (Near Earth Objects) and that is way off. It has literally thousands.
His statement, "The Earth orbits the sun. The Moon orbits the Earth. Therefore, the Moon orbits the Sun," is what is called circular reasoning and is pure nonsense used to lead someone to a false conclusion. It's like saying, "All dogs have four legs. Dogs are animals. Therefore, all animals have four legs."
He seems to accept the fact that Cruithne doesn't orbit the Earth but tries to overcome this with his statement that a satellite does not have to "orbit the parent body." His statement is true, but the exception is satellites in geostationary orbits where they don't orbit the parent body but are in a fixed position above it, such as the satellites we have that provide us with cable TV and our internet connections. We can aim our satellite dishes at the satellite because relative to us, it is in a fixed position in the sky. But his statement does nothing to support Cruithne being a moon orbiting about the Earth. A "moon" is a natural (as opposed to a man-made) celestial body that orbits a planet or smaller body, called the primary. Cruithne follows an elliptical orbit around the Sun. It neither orbits around the Earth or is in a geostationary orbit above the earth.
You say, "It's all about definition. And who does the defining?" and you are right, and but the key is "who is doing the defining," and one should not blindly embrace information provided by people with no credentials, especially when what they offer contains obvious untruths.
Yes, Josh. I do understand circular reasoning and how it can lead to a false conclusion. Exempli gratia: The universe could not have created itself therefore there must be a God. :o) As to being convinced that my Mr. Jumpingjack knows what he's talking about, I'm not. What's more I don't care how many moons Earth has, or even whether they are moons or not. I thought the QI clip was interesting and amusing. That's all. I'm a very simple man, Josh. But I do appreciate your contributions to the Waffle page. A bit of lively discussion stimulates the mind.
Jeez, what CAN'T you see on Youchewb? Check out this mini Michael Jackson.
Ohio Jace wrote: I got an email from a fellow racing fan I have been chatting NASCAR racing with for a while and Peter Lenz since the accident. He told me to check out Peter's site again. Here is something I would like you to watch. Before you do make sure you have a ton of tissues.
This video or part of it was shown at Peter's Funeral. If that is the case there was not a dry eye in the house (including mine and June was here for dinner, thankfully, for my sake no one else was).
What a joy it must have been to be around that little guy.
The email guy watched the video of the accident. I have not and do not think I want to. Anyway, Peter had fallen with the bike on a warm up lap before the race. He sat up and signaled to the other riders and that he was okay by waving his arms as he continued to slid on his butt down the track. Several riders rode past him. As he was standing up a group of three other riders came upon him. Xavier Zayat was behind the other two and Peter was not visible to him as Peter was in the process of standing upright. Peter was struck at 35 mph (56 km) by Xavier Zayat who also crashed. The impact broke Peter's neck. If that is the case, then he probably did not feel any pain.
The email guy was in Portland, Oregon last year when Peter's brakes failed and he hit a tire/tyre barrier breaking his leg in three places and severing the radial nerve. He needed several surgeries, but was back on the track as soon as he could ride.
He also mentioned Peter wrote a monthly column in a racing magazine.
The family was really struggling financially to keep Peter racing, yet Peter often donated his own money to help other racers get safety gear or equipment. I had a bit of money left in my Paypal account so I sent a donating in lieu of flowers.
You were right about the tissues, Jace. I watched it and noticed that the first song was by Jack Johnson, one of my fav singers. It's very sad, of course. Peter was obviously a bright kid from a loving and close family. I feel sorry for everyone, but especially little Xavier Zayat who had the misfortune to crash into Peter. He must be feeling terrible. To think that Peter was waving his arms one minute to let everyone know he was okay, and the next minute he was gone, makes this tragedy even more heart-breaking.
Peter's generosity in using his own money to help his mates get safety equipment reminds me of Cody using his own savings to buy Wingnut a surfboard and wettie. It's a class act.
Well, I just got a call from a fire chief. Yeah. First time that's ever happened. He's a Red Bubbler I follow, and he's been touring Queensland for some weeks. Now he's heading south on his way back to Albury on the NSW/Victorian border where he normally squirts fires. But he plans to head west to Tamworth before going home. He's currently at Port Macquarie which is about an hour away, but he's meeting up with a bloke there for a brief visit. He reckons he'll be in Taree about 7:30 or 8:00. When he arrives, we'll sort out whether we go out for dinner or not. Go out for dinner? GO OUT FOR DINNER? I haven't gone out for dinner in a decade or more! He keeps referring to 'we' so I think he's traveling with his missus.
I hope he doesn't try to talk me into doing a photo shoot at sparrow's or something. More tomorrow. Gary
September 10, 2010. Jeez, a third of the way through September already.
This morning I favorited a photo of Uluru in the Rain on Red Bubble, and realized once again that photos of Uluru never give an accurate picture of its size... mainly because there's nothing to compare it to. It's just a big rock plonked on a plain in the middle of nowhere. They say that 2/3rds of Uluru is buried underground. So it's a bloody big rock. But how big?
I decided to compare it to Table Mountain, with which many of us are familiar, and some have seen first hand. The actual table top - the flat part of Table Mountain - is 3 kilometers long. The table top is roughly a third of the length of the entire mountain which makes it about 9 kilometers long in total. Uluru's length is 3.6 kilometers, a bit longer than TM's table top, and its width 1.9 kilometers.
At its highest point, TM stands 1086 meters above sea level, which is about 2/3rds taller than Uluru at 348 meters above ground level. But Uluru is 863 meters above sea level.
Uluru's circumference is 9.4 kilometers, about the same distance as TM's total length. So you could say that Uluru is a bit longer than the table section of TM and about a third of the height. That ain't no pebble, baby. You'd be hard pressed to skim that across the smooth surface of a pond.
It'll be interesting to read what Oregon Richie has to say about that comparison because he has visited Cape Town twice. Table Mountain has a major city built around its base, so it's much easier to judge its imposing size. Uluru is surrounded by an almost endless flat plain in all directions so there's virtually nothing to compare it to in situ. Here's another shot of Uluru by the same Red Bubble artist, but from a different perspective.
And now for the latest weather forecast, we cross live to Spike Milligan.
Now that we know about the weather, let's check the time with Peter Sellers and Spike Milligan in The Goons.
Beeb time: The pastor of a US church at the centre of a row over plans to burn copies of the Koran says the event has not been cancelled, but is only "on hold". The same could be said for his brains. Iran is to free on Saturday one of three detained American hikers accused of espionage, officials in Tehran say. An Iranian official named her Sarah Shourd, 31. No reason has been given for her release. Reminds me of what my lawyer told me 30 years ago when I had to front court. "It's all a game, and you're the pawn." An appeals court in the United States has suspended a ban imposed last month on federally-funded research involving embryonic stem cells. The court in Washington placed a temporary stay on an earlier decision by US District Judge Royce Lamberth. Judge Lamberth ruled that the research violated US law because it involved destroying human embryos. I really don't know much about this business but I do know that every millisecond of every minute, something dies in order that something else can live. A rare copy of John James Audubon's Birds of America, billed as the world's most expensive book, is to go on sale at Sotheby's, it has been announced. Only 119 complete copies of the 19th-century book are known to exist, and 108 are owned by museums and libraries. A separate edition of the wildlife book sold for a record-breaking price of $8.8m (£5.7m) a decade ago. The copy going under the hammer in December comes from the collection of the late Lord Hesketh. It contains 1,000 life-sized illustrations of almost 500 breeds. It took wildlife artist John James Audubon 12 years to complete his study. He did so by travelling across America, shooting the birds. He would then hang them on bits of wire to paint them. How gross. These days we use cameras. US Marines have boarded and seized a vessel hijacked by pirates off the coast of Somalia, navy officials say. A group of 24 marines swooped on the German-owned M/V Magellan Star and took control of the ship from nine pirates who had captured it on Wednesday. There were no casualties during the pre-dawn raid, the US Fifth Fleet said. The vessel has been returned to its 11-man crew, who are unhurt after they managed to seal themselves in a safe compartment when the pirates struck. Splendid job, chaps. Congratulations. Former Cuban leader Fidel Castro has said the Cuban model no longer works. He made the comment in an interview with a US journalist, who asked him if Cuba's model was still worth exporting to other countries. No longer works? Hello? Did it ever? The cost burden of ageing populations in industrialised nations may not be as much as feared because of improved health, a study suggests. That figures. As Britain prepares for a visit from the Pope, there is opposition from some gay people who believe the Roman Catholic church is intolerant of their sexuality. But in one London church homosexuals are attending a "gay Mass" with the blessing of senior clergy. Paul Brown had not been to church since his mother's funeral in 2002. Now he is back in the pews, courtesy of a Mass for lesbian and gay Catholics which is the only one of its kind in the UK. I'd love to know what Jesus thinks of all this.
FL Josh wrote: As for the number of moons the Earth has, contrary to what that guy in the video says, the answer is still just one. He calls Cruithne a moon of the Earth's but it is actually an asteroid that is orbiting the Sun. It takes the same amount of time to orbit the Sun as the Earth does so it looks like it is following Earth in orbit around the Sun. Isn't it amazing people like the fellow in the video aren't responsible enough to take a couple of minutes to check out their facts before showtime.
Then again, Josh, in the QI talk forum re the subject of Cruithne, there's this comment from JumpingJack (the author of a book about such things) in response to Dr.Bob who reckons Cruithne is not a moon of the Earth:
What's this? Are you trying to organise a book-burning already?
It's not a 'howler'. We know perfectly well none of these objects are giant green cheeses a quarter of the size of the earth.
The question of what 'a moon' is, is very complicated – as we try to explain in the book. Furthermore, 'the Moon' is a satellite of the earth. The word satellite comes from the Latin meaning 'an attendant'. It is not necessary for such things to orbit the parent body – as is the case with earth's seven NEOs.
Before QI drew general attention to Cruithne, practically no one except professional astronomers had ever heard of it. At the time of its discovery, it was described as the Earth's 'second moon' in the New York Times.
QI is trying to explain, to discover, to draw to light, to stimulate and to try to understand.
'Howlers' belong to the culture of prep schools, where there is only ever one right answer.
And while you're at it you might like to check your own work before submitting it.
Quote:
"Something that orbits the Sun is not a moon of the Earth. Bit obvious really."
The Earth orbits the sun. The Moon orbits the Earth. Therefore, the Moon orbits the Sun. QED.
(From Answers.com): Q.E.D. is an initialism of the Latin phrase quod erat demonstrandum, which means "that which was to be demonstrated". The phrase is traditionally placed in its abbreviated form at the end of a mathematical proof or philosophical argument when that which was specified in the enunciation, and in the setting-out, has been exactly restated as the conclusion of the demonstration.[1] The abbreviation thus signals the completion of the proof.
So there ya go... to moon or not to moon, that is the question. It's all about definition. And who does the defining? Humans, of course. Even experts have a habit of disagreeing. :o) By the way, the word demonstrate contains the word 'demon'.
I read an interesting comment today from a person who watched a Bogey clip on Youchewb. He said something like it's great that Bogey never really knew how talented he was because it never went to his head. I think the same can be said for Russell Crowe. Crowe is immensely talented but more than that, he's a hard worker. He hangs around after a shoot in case the director needs to re-shoot or change something. Crowe has never lost touch with his roots. He mixes with the rich and famous but he remains a regular guy. I dunno about these days but he used to live just up the coast from here on a farm. He drank at the local pub and shopped at the local store just like everyone else. He was considered by the townsfolk to be one of them. Here he is being interviewed by Craig Ferguson.
So here I am having spent another day checking out the BBC, Youchewb, Justin's blog and waffling on about whatever takes my fancy. I'm addicted to the keyboard and it's a bit of a worry. Not that I'm neglecting housework. No, I did about 10 minutes worth today. :o) But seriously, I need to get outta the house and DO things, like take piccies. I reckon the Odyssey will do the trick... different places, different people, new scenery, things to discover. The trouble with Taree is I've seen it all before. Same old, same old. There's no inspiration or incentive to get off my tired old butt. Fact is, the internet is more interesting than what's outside. I need to change that.
Well, that little speech did some good. I just finished another 10 minutes of housework. Hehe.
And now it's THAT time of day again. Why can't I just have one of those tubes that feeds comatose people in hospital? Why do I have to cook stuff? It's so much bother! Gary
September 9, 2010. FL Josh wrote: Concerning eight, nine, ten, and your comments about Americans have this annoying habit of doing everything the wrong way round, I want to point out with our system, we had 8/9/10 in August, a good month before you Aussies. bwahahaha. Ya'll got sloppy seconds. All the cards and decorations you just bought for the big holiday were leftovers from our celebration a month ago. BWAAAHAAHAAHAAAA!
Hehe. That's very funny, Josh.
Actually, the reason Americans write our dates the way we do is because that is how we say dates and writing it to record what we say or want to say. I would say today is September 8th, not "the 8th of September," because it is quicker and our language tends to migrate towards the easiest way to say things.
Okay, so if I were at the head of a queue, I wouldn't be first in line, I'd be line first. Have I got it right? I think this is an appropriate point to watch a vid of QI about the difference between a cake and a biscuit... or, if you're American, a cookie.
Meanwhile, I gather that Oregon Richie is not a big fan of Sarah Palin: Despite all manner of influence and begging, that one small church is hell-bent to do that burning of the Holy Quoran or Koran and it's just stupid and evil. I have been to THE spot in Berlin where the infamous burning of the books happened and it reminds me of that. It's a shame. Half of them must be religious zealots, right-wing tea party lunatics, and followers of walin' Palin. Her book "Going Rogue" should have been titled "Going Droll". The woman sickens me most of the time; a screeching foul vixen who makes little sense and I'd rather spend time with a Warthog scratching a chalk board. A certain mentality LOVES to listen to her and buffoons like Rush Limbaugh because it simply pleases them to hear such ravings from people they believe are credible. They are beyond credible... they are certifiable.
It's a pity Cody is not around to share and enjoy all this banter on Waffle. I'm pretty sure he would have loved it. He had a pretty wicked sense of humor.
Sooooo, what's in store for today? Well, I gotta run a few errands for Averil and I REALLY should get around to the laundry which I've been postphoning. I was born to be rich ya know. I'm convinced. Yes, I could sit here typing away merrily while someone else does all the housework and cooking and shopping and gardening and whatever else.
Well, that's one way to see the doc. I took a basket of clothes down to the laundry and who should say hello over the fence? The doc. He was visiting Averil, and wants me to pop out to the surgery later to pick up a referral for Averil. She needs to see a skin specialist. She's had a rash for months and it's not getting any better despite various treatments.
Well, washing's on the line, so that's outta the way.
Beeb time: Drug-related violence in Mexico increasingly has the hallmarks of an insurgency, US Secretary of State Hillary Clinton has said. "It's looking more and more like Colombia looked 20 years ago, when the narco-traffickers controlled certain parts of the country," she said. Her comments were made following a major speech to US foreign policy experts in Washington. A Mexican government spokesman rejected Mrs Clinton's analogy. I think I agree with Hillary on this one. Shades of Chicago and Elliot Ness. Taliban leader Mullah Omar says his fighters are on the verge of victory in Afghanistan and the Nato-led campaign has been "a complete failure". What worries me is that he could be right. What also worries me is that the Afghan people don't seem to care who runs the country. High doses of B vitamins may slow the rate of brain shrinkage in older people experiencing warning signs of Alzheimer's disease, a new study says. Vegemite! Actually, I've been taking Mega B for 30 years, ever since a chemist told me that vitamin B could cure my migrains. And guess what? It did. Google has sped up its internet search engine by launching a new product, Google Instant, that displays results as soon as users type in queries. "This is search at the speed of thought. It represents a quantum leap in search," the company said. What an amazing age we live in, dear Breth. A US pastor says he is not "backing down" from plans to burn copies of the Koran on the anniversary of 9/11, despite international outrage. "We are not convinced that backing down is the right thing," said Terry Jones of 50-member Florida church, the Dove World Outreach Center. The group's plan has sparked condemnation from Muslim countries, Nato and the top US Afghan commander. US Secretary of State Hillary Clinton called the plan "disgraceful". And Hillary was being polite. A business jet came close to a mid-air collision with a Turkish Airlines passenger plane after taking off from London City Airport, a report has said. The Citation 525 jet was about 100ft to 200ft below and half a mile away from the Boeing 777 passenger plane, heading to Heathrow with 232 people on board. The report said the control tower at London City Airport had cleared the German-owned business jet to climb to 3,000ft but when the flight crew acknowledged the instruction, they said they would be climbing to 4,000ft. This instruction from the plane - a "readback" mistake - was not noticed by the controller at the tower, the AAIB said. Nuff said. I get nervous in a double decker bus. Residents of Lustful Court in the American state of Georgia have been told they must start a petition if they want a less provocative street name. County commissioner Lonzy Edwards raised the possibility of a name change at a Tuesday evening board meeting after receiving complaints. A common Oz slang word for sexual intercourse is 'root', and my mother during her latter years lived at Rooty Hill. I don't think she ever got the connection. If she had, she would have been on the phone to the local council in a millisecond. Either that or moved out. The happier people are, the more likely they are to give time or money to charity, the largest ever study into global charitable behaviour suggests. The survey - conducted by the UK's Charities Aid Foundation - suggests that well-being is a more reliable indicator of philanthropy than wealth. The survey took place in 153 countries, covering 95% of the world's population. The "World Giving Index" placed Australia and New Zealand joint top, with the US in fifth and the UK eighth. We're happy little Vegemites, as bright as bright can be... Fidel Castro has criticised Iranian President Mahmoud Ahmadinejad for what he called his anti-Semitic attitudes. The former Cuban leader also warned that an escalating conflict between Iran and the West could lead to nuclear war. It's about time he woke up. Sir Paul McCartney is to be presented with a Kennedy Center honour at the White House in Washington in December. And I can't think of a more worthy recipient.
Are you into astronomy? How many moons does the earth have?
Here's one I like... what's the origin of the world 'hello'?
One more. I think I've linked this before but it's worth watching again. What is the key to eternal life?
Well, the day has almost vanished. Add an 'r' and you have varnished. But that's beside the point. Time to think about din dins. I really can't be bothered but I suppose I have to eat something. I think there's something wrong with my d. I have to press it twice sometimes. But at least it's made me realize just how many words there are that contain 'd'. You'd be amazed! Gary
September 8, 2010. Yesterday, I sent the link to the Gay for Pay Youchewb vid to Justin who rejected it. He then wrote a long article about why he rejected it but without mentioning my name as the sender because he must have thought I'd be pissed off. Well, I wasn't. No biggie. This morning I wrote a response and he posted it. So all is well.
But all this controversy got me to thinking a little more about sex, and how society still treats it as a taboo subject. I'm reminded once again of Ohio June's comment, "It's only sex." Yes, it's ONLY sex. But people still get their knickers in a knot about it. Those two Gay for Pay porno stars were telling the audience that "it's only sex" and yet the camera kept showing horrified expressions on the faces of the audience. What the hell is so horrifying? I can't figure it out.
To me, those Gay for Pay porno stars were doing what all actors do... playing a role. Actors have been murderers, thieves, vampires, heroes and villains, daredevils and whatever else ever since ancient Greece built its first amphitheater. Hollywood has made a fortune out of it, and created "stars". Many actors over the years have elected to do their own stunts. Porno actors do the same thing. So what's the biggie?
I'll tell you what the biggie is. Sex is a sin. Religion tells us that sex outside marriage is wrong. As a kid, I had to refer to masturbation as "impure thoughts" every time I went to confession. We were taught that sex was dirty; sex was disgusting; sex was strictly for procreation within marriage. Even Joseph wasn't allowed to get cosy with Mary in order to produce Jesus. It was called the Immaculate Conception... no ikky stuff or wobbly bits involved.
If sex was considered a normal, everyday part of human behavior, the way it is with all living creatures on Earth, there would be no sin. Sexuality - homo or otherwise - would not be a big deal. Same sex marriage would not be frowned upon by homophobes. In fact, there would be no homophobes. Being gay would be like being short or tall, fat or skinny - redhead, blond or brunette.
I find it curious that you have to hide your condom purchase but it's not necessary to hide the toilet rolls.
Porn exists because of this absurd notion that sex is dirty and wrong. Otherwise there would be no market for it. It's that simple. Nudity is the same. Can you imagine trying to sell pictures of naked people to members of a nudist colony? Or hiring a stripper to perform at their Christmas party? No. It's only clothed people who are interested in pictures of naked people.
As to porno stars feeling embarrassed about their chosen career later in life, why should they? What's wrong with sex? They didn't murder anyone or rob a bank or pull the wings off flies. All they did was have sex. And the sooner society gets it through its thick skull that IT'S ONLY SEX, the better.
There. I feel better now.
Sad note from FL Josh: You were right about Grégory Lemarchal having a beautiful voice, and I went to Wikipedia to see when he was born and was shocked to see he died in 2007, just short of his 24th birthday. He had cystic fibrosis and was awaiting a lung transplant. What a tragic loss. But his music lives on. Good luck with your leg transplant.
Cheeky bugger.
I just phoned the hospital to confirm the date of my op and said, "No worries, Bob's yer uncle." And then I said, "Do you know the origin of Bob's Yer Uncle?" and she said no. So I told her the story... there was a well known Perth politician who's nephew was desperate to get into politics, and Bob pulled a few strings to make it easier. Hence the saying, Bob's Yer Uncle, meaning no worries. Hehe. So then the nurse said, "Did you know it's eight, nine, ten?" Well, that hadn't occurred to me. Yes, it is eight, nine, ten. Unless you're an American where it's nine, eight, ten. Americans have this annoying habit of doing everything the wrong way round.
And now for those interested in the history of the VW Beetle, here's the official story from the Discovery channel - Part 1. Part 2. Part 3. Part 4. Part 5.
Did you know that Elton John did a cover of the Beach Boys' God Only Knows?
Beeb time: A small US church says it will defy international condemnation and go ahead with plans to burn copies of the Koran on the 9/11 anniversary. Bloody idiots. The Koran didn't fly the bloody planes. So everyone who reads the Koran is a killer? What morons. A powerful aftershock near the New Zealand city of Christchurch causes further damage and sends residents running into the streets, reports say. Scary stuff... like something you'd expect in a third world country. Vodafone has pocketed $6.5bn (£4.2bn) in cash following the sale of its 3.2% stake in China's biggest wireless operator, China Mobile. It is the biggest such sale by the UK-based phone company of its non-strategic investments. There was a time when you didn't charge for smoke signals or messages in a bottle. Experts from America's space agency Nasa have been speaking about tips they gave 33 trapped Chilean miners to keep up their psychological health. They said they advised the miners - trapped at the San Jose mine since 5 August - to regulate the number of times they spoke to their families. The experts also said the miners should form an "underground community". Of course! How obvious! Nasa trains people to survive in situations like that. Yes! Scientists say they've carried out the first rigorous analysis of dance moves that make men attractive to women. The researchers say that movements associated with good dancing may be indicative of good health and reproductive potential. Quite interesting. You can read the article here. In Afghanistan women are not allowed to dance in public, but boys can be made to dance in women's clothing - and they are often sexually abused. The men behind the practice are often wealthy and powerful. Some of them keep several bachas (boys) and use them as status symbols - a display of their riches. The boys, who can be as young as 12, are usually orphans or from very poor families. I've seen such stories on TV documentaries. Makes you wonder why the hell we're trying to save Afghanistan from the Taliban. Read the report here. Australian author Peter Carey, who has won the Man Booker prize twice, has been shortlisted again for this year's award. He previously picked up the prestigious literary prize in 1998 for Oscar and Lucinda and again in 2001 for True History of the Kelly Gang. Carey and I have at least one thing in common... I've not heard of him (well, I have now) an he's not heard of me.
The True History of the Kelly Gang huh? You mean all the stuff we've read previously is not true? Kelly has icon status in Oz as a cult hero but he was a criminal. People like to believe that he was a victim of harsh treatment by the colonial bureaucracy. Well, who wasn't? I'm all for rebels, but not rebels who plunder and murder. Kelly is more or less the Oz version of Billy the Kid. He was hanged aged 24 and his last words were, "Such is life". What would he know about life at age 24?
Incidentally, the world's first feature movie was The Story of the Kelly Gang, made in Oz in 1906. I share Kelly's last name but not his hat. His hat was made of iron... mine is made of wool felt not designed to stop bullets.
Rogue River Blue? That's a famous cheese. How do I know? Cos I'm watching one of my fav shows... a show about cheeses from all over the world, and tonight it happens to be about Rogue River. Where dat? Oregon. Right, Richie? Gary
September 7, 2010. The Christchurch NZ earthquake is making world headlines. Here's a Youchewb clip of one lucky young bloke who came tumbling down with a crumbling upstairs brick wall.
So here we are. The 3 Australian independents hope to announce this afternoon who they'll side with, Labor or the Coalition. I've never experienced a result like this before... or the lack thereof. At least the media is making the most of it. There are 150 seats in the Australian House of Representatives. Can you imagine the chaos if they were all independents?
Let's get the Beeb outta the way before my pre-admission appointment at the hospital: President Barack Obama has called for a new comprehensive infrastructure plan as part of efforts to to jump-start the spluttering US economy. The plan will invest about $50bn (£32.5bn) in roads, railways and airports as well as high-speed rail and the creation of an infrastructure bank. US infrastructure has long been considered underfunded and receives poor grades from government agencies. The move comes amid signs that the US economy is faltering. Now there's an interesting word... spluttering. The International Atomic Energy Agency says Iran has hindered its investigations by repeatedly objecting to its choice of inspectors. It's a game to buy more time. Almost two-thirds of the 160,000 homes in and around Christchurch have been damaged by Saturday's earthquake, New Zealand's prime minister has said. John Key said many had been damaged beyond repair, and that it might take some time to discover the damage to the region's underground infrastructure. A state of emergency in Christchurch has been extended until Wednesday, and the city centre remains cordoned off. Experts have warned a major aftershock could rock the area in the near future. The cost of rebuilding must be staggering, especially for a country with only 4m people. French Foreign Minister Bernard Kouchner has said he is willing "to do anything" to save an Iranian woman facing a death sentence for adultery. "If I must go to Tehran to save her, I'll go to Tehran," Mr Kouchner said of Sakineh Mohammadi Ashtiani, who was sentenced to death by stoning in July. Iran suspended the stoning sentence after an international outcry, but the mother of two could still be hanged. Weird huh? On the one hand, Iran embraces the nuclear age, but on the other it's still living in the dark ages. A 70cm (27-inch) tall Colombian has been named the world's shortest living man by Guinness World Records. Edward Nino Hernandez, 24, weighs only 10kg (22lbs). His mother said he had not grown since he was two years old. Mr Hernandez, who works part-time as a dancer, told the Associated Press: "I feel happy because I'm unique." Now that's what I call a positive attitude.
I just measured my leg, and Edward stands just a few inches short of my crotch.
I've since learned from Averil that there's a special fund which was put aside years ago by the NZ government in anticipation of the Christchurch earthquake, which now contains billions of dollars for restoration. Apparently, offers of help from the US and Australia have been respectfully declined for the time being.
Now, this has gotta be the most intriguing vid I've seen on Youchewb - a real eye opener. Gay for Pay... a guy who's the father of 3 kids with another on the way, with a fiance he intends to marry, and who's a gay porn star despite being allegedly straight. Here's part 2 of that interview. I've long believed that a person doesn't need to be gay, or to live a gay lifestyle, in order to do gay stuff. I really do think it can sometimes be a case of 'When in Rome...' Hehe.
Ever seen a dandelion in a wet suit? We've got one in Oz. Jack is a 12 y/o with a mop of feral blond hair who surfs like a pro, and could be the next Kelly Slater. FL Josh wrote: Here's a video of a 12 year old champion Aussie surfer, Jack Robinson. When you click on the link, you'll see a picture on the right. Click on "Video" above the picture and when the video box comes up, click on the play button in the middle of the screen. To get full screen, the second button in on the lower right does the trick.
Had a bit of fun with the nurse at the hospital today for my pre-admission routine. The nurse read the riot act, which was expected, so I kept nodding and smiling. "You're not listening to a word I'm saying," she said. Hehe. Then she asked me about how much I drink. "Well, first thing in the morning I have a cup of tea..." "And then what? A scotch?" "No, no, no... I don't drink the hard stuff." "On your admission statement you say you only have one drink a day." "Yeah." She glared at me so I added, "Okay, so it's a big one." "How big?" "Pretty big." Then she rattled on about health issues and yadda yadda, so I told her the story of my heart op in Sydney, and how I was discharged the morning after the op (which included a serious wound in my groin) when I walked all the way from Royal North Shore hospital to St Leonard's railway station, caught a train to Central, walked all the way to Countrylink (stressed to buggery) and arrived just in the nick of time to catch a train back to Taree. She raised her hands and said, "Don't tell me any more! I don't want to hear any more!" She spent most of the session waving her finger at me but I'm sure she realized it wasn't doing any good.
"Can you give me a sample of urine?" "No. I peed before I left home and I'm all peed out." So she gave me a little bottle. I need to pee in that before the op. But she was cool. She could see the funny side despite all the bureaucratic finger waving. Hehe.
Anyway, the operation is scheduled for the 15th of this month, which is the day after L&S arrive back from England.
Averil just phoned to break the sad news. Two of the independents sided with Labor. The third sided with the Coalition. But that would mean 75 seats apiece - a deadlock. So the third independent decided to go with the others in order to avoid another election. There ya go... we've got a fat-bottomed red-head named Gillard leading the country for the next 3 years. Oh dear... Where's my mute button?
So what's for dinner? Don't spread this around, okay? Keep it to yourself. Averil felt like some bacon and cheese rolls... nice soft bread rolls fresh from the bakery, smothered in cheese and sprinkled with diced bacon. So I bought a pack of 6 and we went halves. I happened to suggest that a couple of cocktail frankfurts would go well with the rolls... kinda like a hot dog. So I bought some frankies as well. AND THEN I suggested that a fried egg would go pretty well with the whole shebang. Hmmm. Sooooooooooo... yeah.
Before I go, have you heard of Gregory Lemarchal? I hadn't either until just now. If you don't understand French, don't worry about it. He sings like an angel. Gary
September 6, 2010. Well, they reckon by sometime today or early tomorrow, the three independents will announce which of the two major parties they have chosen to support in order to form a minority government. Will it be the Gillard Labor party, or the Abbott Coalition? If it's Gillard, I'm gonna buy a remote with a mute button.
Justin posted this message on his blog... a video of continuous chest compression in the event of someone suffering cardiac arrest. Watch the video, and if you happen to be at hand during an emergency, you could save a life. It sure beats the hell outta standing around and saying, "I dunno what to do!"
Ohio Jace wrote: You mentioned the kookaburra on Waffle. Isn't that the bird with the distinctive call used on the old Tarzan movies? It or its cousins (kingfishers [which the kookaburra is]) are going to be featured on a set of Postal stamps from OZ sometime this year. I dunno about Tarzan. From what I gather, Tarzan didn't swing from gum trees or wrestle wombats. But I found this clip on Youchewb of a kookaburra laughing, which is a sound I hear most mornings. I think they're probably Australia's favorite birds. Pity the clip is from Sacramento zoo, but hey... a kooka is a kooka. And yes, they are a species of Kingfisher but the Aussie version prefers lizards and mice. Kookas mate for life, and return to the same spot each year to raise their young.
But the bird that fascinates me most with its call is the butcher bird... which is another call I hear most mornings. This bloke is doing his own thing as well as mimicking the call of a magpie and other birds such as gulls. It's quite funny, really. He's a real show-off.
I can't find a clip with exactly the same song as the local butcher birds sing, but here's one with "almost" the same song as the one I hear locally.
Jeez, I'm hopeless. Green Room arrived today, and it was the same as before. My previous attempt at changing the text from Courier to Times New Roman failed. Grrrr. So I copied the file from my backup HDD to my laptop HDD and re-named it in order to separate it from the previous Word doc. Then I uploaded it to Lulu and this time I downloaded the print-ready copy to check before giving it the okay. Yes, it's fine. Also, the size of the book changed from 390 pages to 401, so there ya go. Finally got there. I ordered another 5 copies.
AND, just got a call from the hospital. I'm due there for pre-admission tomorrow at 10:40am, which means the skin cancer op on my leg should be in another week or two. I thought it was gonna be November, so that's cool. The sooner the better!
It's Chewsday already! I kinda lost the plot yesterday looking for bird calls. I'll be back later today with more Waffle. Gary
September 5, 2010. Beautiful sunny day, with more to come during the week. I'm so chuffed I might even do the laundry.
If you're interested in steam locos, here's a triple header... three locos pulling a line of carriages. The 3237 (which took me from Taree to Wingham and back recently), the 5917 and the 3830. I asked a bloke one time how two or more locos can be synchronized and he said "by feel". Modern diesel locos are controlled by computers so synchronizing two or more of them is a piece of cake. Not so the old steamers. I love watching old steam locos with all their animated huffing and puffing and noise. The first two digits of the four-digit number represent the class of loco, and the second two represent the individual loco. Not many of the hundreds of original locos that traveled the tracks of Australia in the old days are still operational, and those that are have been lovingly restored by enthusiasts with no assistance from government. They rely on donations and ticket sales. It'll be a sad day if they ever disappear from the Australian scene. But I don't think that will ever happen, not as long as big kids and little kids are fascinated by steam.
Here's some more great footage.
Guess who's having babies? Spring has sprung in Oz and my grapefruit tree has gone bananas. Probably not the most appropriate metaphor there, but you know what I mean. Nature is busting out all over. So, being me and a bit a camera buff, I took a pic, didn't I.
Beeb time: A fourth Pakistan cricketer is being investigated by cricket's governing body, claims the News of the World. Salman Butt, Mohammad Asif and Mohammad Amir are already the subject of police and International Cricket Council (ICC) investigations over a betting scandal. Test skipper Butt and fast bowlers Asif and Amir have been suspended and charged by the ICC. This is not good for cricket, dear Breth, and even worse for Pakistan. A series of aftershocks have rattled Christchurch, New Zealand, following a powerful 7.0-magnitude earthquake. A curfew imposed overnight between Saturday and Sunday has been lifted, but parts of the city remained cordoned off, Radio New Zealand said. Police said the curfew was intended to protect people from falling debris, as the quake caused significant damage. The mayor of the city, Bob Parker, described the damage as immense, and a state of emergency has been declared. Gale force winds were forecast for Sunday, and authorities have warned that these may affect unstable buildings. New Zealand's Civil Defence estimated that more than 500 buildings had been damaged. There are thousands of quakes every year in the 'Shakey Isles', but very few do any damage. Luckily, this one caused no reported loss of life. Afghan President Hamid Karzai has formed a committee to seek peace talks with the Taliban, his office says. Peace talks with the Taliban? Hmmm. Sounds a bit suss to me. Eggs, bottles and shoes have been thrown at the former prime minister Tony Blair as he attended a book signing in Dublin. It happened as he arrived at Easons on O'Connell Street in the city to sign copies of his autobiography. The missiles, which were thrown by anti-war protesters, did not hit Mr Blair. Four people were arrested as activists clashed with Irish police at a security barrier outside the bookshop. Around 200 protesters demonstrated at Mr Blair's role in the wars in Iraq and Afghanistan on one side of the street on Saturday morning. Most Dubliners looked on in disbelief. The looney fringe... they're everywhere and certainly not exclusively Irish. But it's interesting that the headline is 'Blair pelted with eggs in Dublin' rather than 'Blair protesters outnumbered by supporters'. That's the media for you. Nine people, including four foreigners, have been killed in a light aircraft crash in New Zealand, police say. The plane, owned by a skydiving company, crashed soon after taking off from the tourist spot of Fox Glacier on the South Island. The dead were from Britain, Ireland, Australia and Germany, said police. The pilot and the other four passengers were all local. The closer you are to the ground, the shorter the fall. That's my motto.
Brendan arrived at the door to ask for my bicycle pump, so I took the opportunity to ask about young Josh. Brendan and his mother Stephanie visited Josh recently in Coffs Harbor where Josh is attending teacher's college. Josh lives with his girlfriend in a two-bedroom garden flat (attached to a house). It's fully furnished and very nice, according to Brendan. So there ya go, the kid I befriended and spoke to at the front gate for 4 years is now all grown up and domiciled, and on his way to becoming a primary school teacher. I understand his g/f is studying to be a pre-school carer.
And now for something completely different. Would you like to fly a helicopter? Why not? It's easier than you might think. This video was made in Australia, so don't forget your phrase book.
Ohio Jace mentioned Peter Lenz the other day, the young motor cycle racer who was tragically killed in a race warm-up accident. Cody's life was short, but this young bloke's was even shorter... 1997 to 2010, and it happened to be the same day as my birthday, August 29. Jace asks: So much talent and such a bright future. And such a wonderful little guy. WHY? There's no answer to that question, and never will be. We don't own life, we didn't ask for it, and we don't control its longevity. Peter was 4' 10" and 80 lbs.
Well, that's it for another Sundee. My three thousand, four hundred and thirty second-ish. Don't ask me about the others cos I don't remember. Bloody hell, I don't even remember what I did last Sunday! Gary
September 4, 2010. A month ago I was looking forward to L&S going to England. Now I'm dreading their return. It took a while to get used to being on my own but now I'm enjoying it. Like yesterday when I listened to that remix of Yothu Yindi's Treaty and had the speakers rocking. Woohoo! And I didn't have to worry about Sue being asleep or Lindsay watching TV. Once again I have to say that those little Logitech laptop USB speakers are amazing, especially for the price. $60 is practically zip. As the young salesman said, speaker technology has improved outtasight.
Yeah, I often wonder about the way technology works... like evolution. You can't start out with a finned '59 Cadillac, you gotta start out with a funny looking chariot that resembles a buggy with spoke wheels. It's the old one step at a time routine. You invent something, and then some bloke comes along and figures out a way to improve it. And so it goes. It took a long time before Cadillac created the finned '59 model. And now, of course, that's been relegated to a museum piece. My little Logitech speakers were impossible not all that long ago, and anything remotely as good would have cost 10 times as much, or more.
The other day at the bank, I chatted with the young teller about how some people refuse to change from old-fashioned passbook accounts and withdrawal slips... like L&S (I used his passbook to withdraw his and Sue's share of the rent) and Averil. And she said, "Well, each to his own." She was being diplomatic. I had to show her my driver's license for ID. "I've had that since 1962", I said. Then I mentioned internet banking and plastic cards an all that stuff, and how the latest generation has grown up not knowing anything different. "I'm a 90s baby," she said. And I said, "90s? That's yesterday! How can anyone working in a bank possibly be born yesterday?" "I'm almost 20," she said. "So you're telling me you missed out on the 60s and 70s and 80s?" "Yeah," she smiled, "I missed out on all the good stuff." Hehe.
It is amazing though. It still shocks me when someone says they were born during the 90s. I mean, the 90s hasn't even gone cold yet.
Beeb time: Former UK Prime Minister Tony Blair has described radical Islam as the greatest threat facing the world today. Mr Blair said radical Islamists believed that whatever was done in the name of their cause was justified - including the use of chemical, biological or nuclear weapons. "We need to give a message to Iran that is very clear - that they cannot have nuclear weapons capability, and we will stop them," he said. I think you'd be a fool to disagree with him. Tony Blair's memoirs, based on his time as the prime minister, have broken sales records, booksellers have said. A Journey became Waterstone's fastest-selling autobiography ever and shot to the top of Amazon's best-seller list. The Waterstone spokeman added: "We've never seen a book like this sell so quickly in one day. It's selling in the sort of numbers you don't see outside of mass market fiction with huge appeal - Dan Brown and JK Rowling are the competition here." No surprise to me. Six Portuguese men have been jailed after they were found guilty of sexual abuse at a state-run children's home. Carlos Silvino was given an 18-year sentence after confessing to 639 charges relating to the abuse of children or procuring them for others. His co-defendants, including the former TV presenter Carlos Cruz, were jailed for between five and seven years. The boys, now aged between 16 and 22, were all residents at the Casa Pia children's home in the capital, Lisbon. It must be some kind of addictive disease. I can't even imagine treating children in such an abhorrent manner. A state of emergency is declared in Christchurch after a 7.0-magnitude earthquake strikes New Zealand's South Island, injuring two people seriously. New Zealand ain't called the "Shakey Isles" for nothin' ya know. BP has removed the blowout preventer that should have stopped oil leaking into the Gulf of Mexico when a drilling rig exploded in April. The 300-ton device will be examined as part of the inquiry into the leak of 206m gallons of oil into the Gulf. The company said it had spent $8bn (£5.2bn) in clean-up costs and compensation to Gulf residents. Meanwhile, BP have said a ban on offshore oil drilling may impede its ability to pay for the damage. 206m gallons... that's almost a billion liters. Sheesh. An Australian head teacher is under fire after removing the word gay from the famous song Kookaburra Sits in the Old Gum Tree. Garry Martin told pupils at Melbourne's Lepage Primary to substitute the word fun for gay in the chorus: "Laugh, kookaburra, gay your life must be." "I knew if we sing 'Gay your life must be' the kids will roll around the floor in fits of laughter," Mr Martin told a local radio station. "I wasn't trying to insult gay people." But after a local newspaper reported his change to the campfire classic, Mr Martin began receiving angry e-mails from readers and criticism from gay rights groups. The school principal admitted he had probably been "hypersensitive", but said the word gay was commonly used as a playground insult and he was keen to minimise disruption in the classroom. "Seventy years ago when the song was written gay meant you are happy. Nowadays we know it's got all sorts of different meanings," he said. Martin has a valid point. But it's also important to reclaim the original meaning of 'gay' and not allow modern usage to hijack it. The original meaning should be explained to and understood by kids. Anyway, I was woken by one of those little kookabuggers right outside my bedroom window this morning before sunrise with his cackling and laughing and I saw nothing gay about that! A weakened Hurricane Earl has passed North Carolina and is continuing up the east coast of the US, leading two more states to declare states of emergency. The storm weakened from a category four to a category one, with maximum sustained winds of 140km/h (85mph). Earl is expected stay away from mid-Atlantic states but to closely pass the coasts of New York and Massachusetts. Officials said the storm has so far caused only minor flooding and power outages on the US mainland. Even 85mph is more than just a gentle breeze. Sony has won a permanent ban in Australia of a hack for its PS3, but the code behind it has been released for free on the web. Hackers get their jollies from spoiling other people's fun. I think hackers are morons. And if I ever meet one, I'll spit on him (provided he's not very big). Crocodile Dundee star Paul Hogan reaches an agreement with tax authorities in Australia allowing him to return to his home in the US. Tax authorities and debt collectors... same mold.
As to the word 'gay', way back in the 1600s, it had connotations of immorality. So there ya go... it ain't nuthin' new.
What Americans call cell phones, we call mobile phones. We changed from analogue to digital some years ago. And what Americans call mobile phones we call portables. Hehe. ANYWAY, I'm just back from a little shopping and noticed that the mobile phone shop at the mall has closed... packing up and moving out. When they started a few years ago, they did a roaring trade. But now everyone is selling mobile phones... department stores, computer stores, even the damn supermarket is selling mobiles... not to mention the post office. I've had my new one for about six months now and still haven't used it. It's my JIC phone... just in case.
I just discovered a WONDERFUL 10 minutes of footage from the Australian Film archives showing a day in the life of Sydney in 1971. Wow, talk about bringing back memories! Mini skirts (not that I wore one - at least not in public), double-decker buses, the old red-rattler trains, Beatle haircuts, cars like TT and older, and so much more. I was 27 back then. What a great discovery! How good is Youchewb?
If you're interested in the history of Sydney, its layout and streets, and how it evolved, this is an informative clip.
And now the sun has set, and it's time for you-know-what. Rubbish tonight... spring rolls, cheese and spinach pastries, and samosas... and a dollop of sweet and sour sauce. What the hell... no one's looking. Gary
September 3, 2010. Here we are again! Something about planetary revolutions or whatever. Which reminds me, as a kid I went to the afternoon session at the Royal cinema in Lakemba (rhymes with September... the suburb of Sydney were I was born and raised) and sat through the pre and post interval sessions. Then there was a break during which time the afternoon audience vacated the cinema to make way for the new evening audience. But I didn't know that. So I sat through the break and started watching the same stuff I'd seen earlier in the afternoon. It struck me as a bit familiar but what the hell. Then an usher arrived with his flashlight and told me that my father was waiting for me in the foyer. Obviously my mother was wondering why I was so late getting home, so she sent dad to rescue me. I remember being surprised to see that it was dark outside as we walked home.
And now back to Ohio Jace, the turtle rescuer: Happy to hear you received the T. Sean asked me for suggestions on what to get. Seeing you often visit Justin's blog I suggested Provincetown. He got me one of similar color only from the Gold Coast, Queensland, with a stylized map of OZ.
So an Aussie is wearing a Provincetown T and an American is wearing a Gold Coast T. Sounds like Irish logic to me, but hey, whatever... Jace also warned me about the iron-on decals on the Ts, and to be careful when laundering. Yeah... I always use cold water in the washing machine, and I never use a dryer. Nevertheless, some of the decals on the older Ts are showing signs of cracking. The ones that go back 5 or 6 years are pretty much ratshit. But them's the breaks. And I still wear them anyway. When I do, I stand on street corners with my upturned hat on the footpath. :o)
Here's Jace again with something very sad: We all know that life isn't fair, but are often jolted into realizing just how unfair it can be: Over the weekend they were holding motorcycle races in Indianapolis, Indiana. Peter Lenz was riding a warm up lap and fell off the bike and was run over by a motorbike from behind. He died in hospital later. Peter was only thirteen years old and even worse (if that is possible) the kid who killed him was only twelve. Peter was an excellent rider and had a promising career ahead of him. He is currently the championship leader in his division (12 to 18 years old). He was the youngest to ever win a sanctioned race. You can check him out here if the site is still up.
A tragedy made worse by the kid being so young and talented. But, as Jace points out, there's another side to the coin: Of course there is now an outcry to stop kids so young from racing. Also many are blaming the parents for letting him ride in the first place. My boys and Sean were riding ATV's at 5 or 6. Young Code (5) is also riding and Steven (3) is learning on a toy ATV. You can't keep kids locked up until they turn adult. They need to experience life and its ups and downs (or as Cody said "hills and valleys"). He (Peter) was doing what he loved to do and I for one commend his parents for allowing him to do so.
And just one more comment about the snapping turtle. Did you check out the pic? Is that one ugly SOB or what?
Beeb time: Israeli and Palestinian leaders meet in Washington for the first direct peace talks in nearly two years and agree a framework for negotiations. Obama sets clock ticking on Middle East talks. Talk is cheap, but in this case it's also cheaper than bombs. I wish them luck. The three Pakistan cricketers accused of corruption have been charged with various offences by the International Cricket Council (ICC). Salman Butt, Mohammad Asif and Mohammad Amir are being investigated by police over allegations Asif and Amir bowled deliberate no-balls against England. The Poms have a saying that if something isn't proper or right, "it simply isn't cricket", which is a sport they refer to as the "gentlemen's game". An explosion has torn through an offshore oil platform in the Gulf of Mexico, west of the site of the blast in April that caused a huge oil spill. All 13 crew on the rig escaped into the water and were later rescued. The US Coast Guard said that a blaze that burned for hours after the explosion has now been extinguished. Officials said there was no evidence of an oil leak, despite earlier reports of a mile-long sheen. Oh, dear, we don't wanna go through that again. Areas along the US East Coast have declared states of emergency as Hurricane Earl churns towards the region, forecast to make landfall on Thursday night. But the hurricane has weakened to a category two storm, with maximum sustained winds of 175km/h (110mph). US weather officials predicted the storm would continue to weaken as it passed North Carolina. But they warned that Earl would remain "large and powerful". Justin will be pleased about the weakening but it seems the show ain't over yet. Justin is in Provincetown, MA. Burger King is being sold to private equity firm 3G Capital in a deal valued at $3.26bn (£2.1bn), it has been announced. The fast food chain, with 12,100 outlets worldwide, had been the subject of takeover rumours for days. I don't think we have a Burger King outlet here in Taree... got Hungry Jacks and McDonalds though. Amazing huh? Some of the biggest companies in the world sell burgers. A growing number of New York sky-scrapers are switching off their lights to help reduce the number of birds hitting the high-rise buildings. The "lights out" project - organised by NYC Audubon - runs until 1 November, when migratory birds are expected to have completed their autumn migrations. The Empire State and Chrysler buildings are among those dimming their lights. An estimated 90,000 birds each year are killed in the city as a result of striking glass-fronted buildings. Now there's something you prolly didn't know. More than 10,000 vehicles are stuck in a 120km (75-mile) traffic jam on China's Beijing to Tibet motorway. A state television reporter said the gridlocked section of the road, in the north-eastern region of Inner Mongolia, resembled a "big car park". The majority of the vehicles stuck in the jam, which began on Tuesday, are coal trucks heading to the capital. A 100km traffic jam that had lasted nine days on the same motorway was cleared just over a week ago. Sheesh. Makes Taree seem like a ghost town. Peak hour in Taree lasts about 5 minutes. One of four key independent lawmakers has pledged support for Prime Minister Julia Gillard, leaving her just two seats short of the majority needed to form the next Australian government. Andrew Wilkie, who represents Denison in Tasmania, said Ms Gillard's Labor party was most likely to deliver stable government. Three other independents have yet to decide who to back. It's a joke, that's what it is. And voters must think very seriously before they vote independent again. Voting independent means you don't know where the hell your vote might end up. There is no place for God in theories on the creation of the Universe, Professor Stephen Hawking has said. He had previously argued belief in a creator was not incompatible with science but in a new book, he concludes the Big Bang was an inevitable consequence of the laws of physics. I could have told him that ages ago. Aliens almost certainly exist but humans should avoid making contact, Professor Stephen Hawking has warned. In a series for the Discovery Channel the renowned astrophysicist said it was "perfectly rational" to assume intelligent life exists elsewhere. But he warned that aliens might simply raid Earth for resources, then move on. "If aliens visit us, the outcome would be much as when Columbus landed in America, which didn't turn out well for the Native Americans," he said. Prof Hawking thinks that, rather than actively trying to communicate with extra-terrestrials, humans should do everything possible to avoid contact. He explained: "We only have to look at ourselves to see how intelligent life might develop into something we wouldn't want to meet." Yes, my sentiments exactly. Try to convince bees not to sting you, or ants not to eat you.
Now, this business of no place for God in creation is a bit of a bummer actually. Who else are we gonna blame for stuff? How can you blame the Big Bang for all the injustices we suffer? What happens to expressions such as 'Thank God!'? Who else are we gonna thank? And what about Benny? What the hell's he gonna do? He's in charge of a massive empire based on the existence of God. What happens to all his party hats and high-camp rituals? And what about all those priests who tampered with little boys over the years? How are they gonna cope without confession and three Hail Marys?
Professor Hawking's findings will be rejected. There's far too much at stake... like millions of churches and cathedrals and other places of worship. You can't worship if there's nothing to worship. Yeah? You can't tear down all those priceless monuments because some bloke reckons there's no God. Humans need a God. They need to believe in a Creator. Otherwise what's the point of existence? Yes, Virginia, there really is a Santa Claus.
Mind you, I'm not a complete cynic. If it weren't for Santa, millions of kids would be denied a wonderful childhood fantasy. And if it weren't for a belief in God, we wouldn't have magnificent architecture that represents some of man's greatest artistic achievements. I mean who's gonna dedicate a stunning monument such as Saint Peter's Basilica to the Big Bang? Man needs to be inspired, and belief in fantasy provides that inspiration. Just ask Walt Disney.
Speaking of inspired, FL Josh wrote: Here is 10 year old Jackie Evancho, a contestant on America's Got Talent, and the hands down favorite, although they have some tremendous talent this year. We're down to the final 10.
Can you believe that little girl? How incredible is that? Here's something that FL Josh sent yesterday: This was in today's paper!!!
Hmmm. I don't get it. Unless Vegemite itself is considered a joke. I rather like Vegemite occasionally on toast. My mom used it regularly to flavor stews and gravies. And Men At Work turned it into a hit song.
BUT... there's more! Yes, folks, the classic of all classic Aussie TV commercials!
Here's one comment from the Youchewb vid: I've been in America for 40 years now and used to have to have my Vegemite mailed over. Now I can get it at my local World Market! Yay!!!!!!!!!!!!!!!!!!!!!
And here's another: Is that why Australians kick so much ass!? They're all so damn strong from eating their damn Vegemite!
There's only one Aboriginal song I really like, and it's probably because it was a collaboration between white musicians and black. The best of both worlds. Treaty by Yothu Yindi.
And here's a seriously infectious remix of the same song, featuring didgeridoo. If that doesn't get you bouncing around in your office chair, nothing will.
Well, it's getting a bit late so that means... yeah. Last night I had a pie... a flash one... slow-cooked tender beef infused with Guinness gravy in special flaky pastry. Yum! Not cheap at $3.75 but well worth it. Tonight I'll pan fry a crumbed chicken schnitzel, with honey and sprinkled with mustard seeds, and have it with a corn fritter. Mmmm. Averil had one last night and said it was delicious. Gary
September 2, 2010. Imagine a car screeching to a halt, and then seconds later, spinning its wheels and zooming off again. Yeah, well that's what happened this morning when I paid all the bills. Money in, money out. But at least the bills are paid.
Averil got a bit teary today. She's terrified of going out cos she can't get around too well. She wants to see the doc at his surgery rather than have him visit her at home, so she asked me if I'll drive her out there. Sure, no worries. We can take Sue's wheelchair so I can wheel her up the ramp and into the waiting room. Too easy. Averil's afraid to use the walker cos it needs both hands to apply the brakes, and she likes to use one hand to hold onto the ramp handrail. Able-bodied people often don't realize how difficult it is for frail people to get around, or appreciate the fears they have of being stranded in unfamiliar territory. Poor thing. She's fine at home where she feels secure. It's going out without someone she trusts to assist her that she dreads.
So there's me with Averil, and there's Ohio Jace with a snapping turtle: I did my good deed for Mother Nature last week. I was sitting in the window working on the comp and saw a strange movement in the yard. It was a snapping turtle heading for who knows where. The direction was away from water and toward the four lane highway. Not sure where it came from. I went out to get it oriented back toward water, but got no cooperation only hostility. A large snapper can take your finger off and while this one was of medium size I decided to play it safe and use a wheelbarrow to haul it to the creek. Everytime I tried to pick it up it hissed and stood up to look larger so I ended up flipping it over into the wheelbarrow. It quickly righted itself and protested all the way to safety. It was unceremoniously dumped into the water. After a few seconds i saw it swimming around.
Jace had more to say but I've run outta time... what with Averil's shopping and all. The day just vanishes. Soooo, I'll catch up with more tomorrow. Gary
September 1, 2010. Yes, first day of Spring in Oz, and Steve's birthday. I think he's 27 now. I was his age 39 years ago. Sheesh. The wonderful thing about months with 31 days is I don't have to change the date on my calendar watch.
J wrote on Justin's blog: Happy birthday, Gary. You are the first person I regularly read on the Internet, and now I'm addicted. Thanks for the added pressure, J. That's all I need, hehe. Fair dinkum, I'll never understand what a literary genius like you sees in the stuff I write (or think). I'm grateful for the comment of course, but I don't understand the attraction. On the other hand, some years ago a bloke (now ex-friend) said, "Who the fuck do you think you are?" when I told him about Aussie Odyssey. You know, like I need his permission to do my own thing... like I need to be famous or something before I dare express myself to the world (or a little bit of it). I don't have a huge following, but I don't see that as relevant. This is not a popularity contest. Can't remember who it was now, but I read about some entertainer who stepped on stage in a theater to find only one person in the audience. But the entertainer went ahead and did the show anyway. Bravo!
I started out this whole internet blog thing with an audience of one - Cody. In fact, to begin with, I didn't have a blog. I emailed Cody my stories. It was only after writing 55 chapters of Daniel that the idea of creating a web site dawned on me.
When I mentioned Aussie Odyssey to my older bro he said, "How are you going to compete?" Compete? With whom? Hello? AO is not about competing with anyone. It's just about me doing my thing, that's all. How come some people don't understand that? Anyway, bugger 'em. If I wanna talk about frankfurts I'll talk about frankfurts.
You've seen family portraits, right? Everyone posing and trying to look natural... some seated, some standing. Boring, boring, boring. Well, my mate William Bullimore (I'm dying to call him Billy Bullimore but I don't have the nerve yet) on Red Bubble posted his version of a family portrait. He's in the pic, but he used his remote to fire the camera. It's a great shot, and I love the setting.
Beeb time: President Obama hails the end of US combat operations in Iraq, saying the US has paid a "a huge price" to "put Iraq's future in its peoples' hands". Okay, now that you've fixed the Iraqi thing, it's time to nick over to Oz and get rid of Julia Gillard. Four Israelis have been shot dead in the West Bank, Israeli police say. The military wing of the Palestinian Islamist movement, Hamas, said it had carried out the "heroic operation". Prime Minister Benjamin Netanyahu said it showed there should be "no compromise" on Israeli security demands at the relaunched direct peace talks. Peace? Who needs peace when you're having this much fun? US officials have said they do not believe two Yemeni men arrested in Amsterdam after flying from Chicago were planning a terror attack. The men were detained at Schiphol airport after they were found to have checked luggage onto a US internal flight but not boarded it. Airport authorities had earlier found "suspicious items" in one of the men's luggage but had cleared it to fly. The two men are being held by the Dutch authorities. They are being held "on suspicion of a conspiracy to a terrorist criminal act". The Dutch authorities have until Thursday to charge or release them. "We are taking it seriously. Otherwise we would not have arrested them," said Theo D'Anjou, a spokesman for the Dutch national prosecutor's office. He said an investigation was under way "to see whether we can charge them, and if we can charge them, with what". Yeah, with what would be helpful. Anyway, that's the age we live in, dear Breth. Look sideways and you're in trouble. Spanish police say they have broken up a sex trafficking ring which brought mostly young Brazilian men to Spain to work as prostitutes. Authorities arrested 14 people on suspicion of running the group and 17 alleged male prostitutes. The victims and their clients were plied with cocaine, viagra and other recreational drugs. Police say it is the first time they have dismantled a trafficking operation involving male prostitutes. Party poopers. The Catholic Church in Germany has issued tougher guidelines on the handling of reports of sex abuse. The revised rules insist all allegations must be reported to prosecutors in an attempt to prevent cases being covered up. Since the start of 2010, at least 300 people have alleged sexual or physical abuse by priests across Germany, the Pope's home country. No worries. Three Hail Marys and Bob's yer uncle. Tony Blair has described Gordon Brown as "difficult, at times maddening" in his long-awaited memoirs, which are published on Wednesday. The former prime minister added it would have been "well nigh impossible" to stop Mr Brown taking over when he resigned in 2007. Mr Blair also said he was "sorry for the lives cut short" by the Iraq War, but did not regret the 2003 invasion. The book, entitled A Journey, has taken three years to write. That's a long time. But it's bound to sell more than just a few copies. Fidel Castro has said that he is ultimately responsible for the persecution suffered by homosexuals in Cuba after the revolution of 1959. The former president told the Mexican newspaper La Jornada that there were moments of great injustice against the gay community. "If someone is responsible, it's me," he said. In the 1960s and 70s, many homosexuals in Cuba were fired, imprisoned or sent to "re-education camps". Mr Castro said homosexuals had traditionally been discriminated in Cuba, just as black people and women. But, nevertheless, he admits he didn't pay enough attention to what was going on against the gay community. Ah, yes, good ol' hindsight. Tough luck for the persecuted gays, though. Out with the old - Oval Office gets a makeover for President Obama. Click here for the slide show.
The Coyote never catches the Road Runner, right? Wrong! It's finally happened.
How long is it since you enjoyed a Tom & Jerry cartoon?
Jeez, I think it's gotta be the best part of 50 years since I last saw Tom & Jerry. I can remember how delighted I was at the Saturday matinee when the music started and it was a T&J cartoon. Yes! And it's just as much fun now as it was then. I haven't grown up yet, ya know.
Every day I discover something new or different on Youchewb. What an amazing place! Anyway, it's getting late now and once again - ho hum - it's time to think about din dins. Would you believe scrambled eggs with cheese and chips? Hell, why not. Gary
← Older posts Waffle Index Newer posts →
or
Return to Home Page