| | |
| --- | --- |
| the WAFFLE page | |
March 31, 2011. And so ends March. Yesterday, I phoned the canvas bloke up the road. He's been there for years, and does all kinds of custom canvas fittings for caravans and campervans. A fly (which is basically a canvas awning that slides along a rail attached to the roof, and extends to poles and ropes at the far end) costs about $300. A fully enclosed canvas room costs about $2400 but I'm not sure I wanna go that far. A shaded area at the side of the van sounds pretty cool to me... quick to erect, folds away into nothing... use it when required. You can buy a plastic tarp and poles for less but they ain't canvas and they don't breathe. I already have a dome tent, pop-up shower tent and a pop-up beach shade. :o) And a porta potti.
Meanwhile, it's pay/bills day... and a bit more juggling. I'll pay the owner of the Toyota today. Sheesh. I was hoping for a clean swap but it hasn't turned out that way. I'll be the owner of two vans for a while... at least until I sell Bluey.
The doc's here to see Sue but he took the time to say he read my account of the heart attack on AO, and enjoyed it. He said it was interesting to read a patient's account of what it was like to go through the surgery... particularly how the time dragged while the docs and techies in the operating theater chatted amongst themselves as if I were totally incidental. "Yoo hoo! I'm still here you know!"
Time for a giggle. Here's Dame Edna chatting to a group of girls on a chat show.
Beeb time: Libyan Foreign Minister Moussa Koussa is in Britain and "no longer willing" to work for Libyan leader Muammar Gaddafi's regime, the Foreign Office says. He flew into an airport near the capital earlier on Wednesday. He has subsequently spent hours talking to British officials. His apparent defection comes as rebels in Libya are retreating from former strongholds along the eastern coast as Colonel Gaddafi's forces advance. The rebels have now lost the key oil port of Ras Lanuf and the nearby town of Bin Jawad, and are also in full retreat from Brega. In the west, the rebel-held town of Misrata is still reportedly coming under attack from pro-Gaddafi troops, reports say. There's no way the coalition will allow Gaddafi to win this war. That's my feeling. Japan is to decommission four of the quake-hit reactors at the Fukushima Daiichi nuclear plant, after failing to bring them under control. No surprises there. President Barack Obama has vowed to reduce US oil imports by one-third in little more than a decade. He said in a speech in Washington that America had to "get serious" about a secure and affordable energy future. And not only America.
Drama, drama, drama. I got confused with PayPal and sent Mick (the Toyota seller) and echeque instead of funds directly to his email account. Dammit. So I tried to contact eBay and that didn't work. So I got in touch with PayPal. Too late to cancel the echeque and start again. So I phoned Mick and said "I buggered it up!" But he was cool, and doesn't mind waiting a few days to be paid. An echeque needs to be processed by my bank like an ordinary cheque (check) except there's no bit of paper involved, the funds are electronically transferred.
Actually, Mick and I ended up laughing our tits off about my tizz hehe, and he told me not to worry about it. "It's a learning curve," he said. And I said, "Yeah, but I'm 66... when does it stop?" And guess what he does for a living? Is he a nurse? Is he a doctor? Is he a rocket scientist? You'll never guess. "The other day," I said, "you said you were on call, so I was wondering what you do for a crust." Are you ready for this? He's a chicken farmer. "A what? I'm 66 and I've never in all my life met a chicken farmer! This is awesome! I'm gonna put this on my blog!" So we had a good giggle about that. The big sheds that house the chickens are temperature controlled and if anything goes wrong, it could spell disaster for the birdies, so he has to be on call. There ya go. The Codemobile belongs to a chicken farmer. How's that for a coop?
Oops! A single-engined Piper with 6 people aboard crashed just short of the airport at Moree, which is not far from Tamworth. 4 died and 2 survived. Pardon me if I'm glad I'll be driving to Tamworth on Monday. Gary
March 30, 2011. Bloody hell! All this organizing has got me buggered. The aero club phoned this morning and quoted $690. Oops! They charge for the return trip as well even though I won't be on it. So that's out. Then I phoned Country Link (trains and buses) and it's mucho cheaper but way too much fiddling around. There's no direct route from Taree to Tamworth so I'd have to leave at 6:30am and arrive at 4:30pm. Add another 3 hours to get back to Taree. So that's out. Stan the Lawn Man is another option but he can't drive me to Tamworth until Friday of next week... and he'll charge me $300 anyway. Then I searched for something else on the net and thought, "Why not hire a car?" Hertz quoted me $390 for the one-way trip. Avis and Thrifty don't have depots in both towns. I collect the car Monday morning and arrive in Tamworth at midday-ish. I phoned the seller and he's arranged to meet me at the Hertz depot. I'll arrive back in Taree at about 4pm in time to cook for the troops.
Apologies to Oregon Richie and Daytona Dave for getting them all excited about a possible light plane trip. Dave got his private pilot license back in 1968 and flew many times, sharing the cost with a fellow passenger. He has lots of fond memories of his flying days, and even suggested I take the controls on my flight. Yeah, right.
If you do fly, make sure the pilot has a commercial license. Ask him to take over for a bit when you are flying at cruising altitude, something safe and easy since all small planes have dual controls up front. You would be surprised how easy that really is, and perfectly legal.
Most enjoyable were trips to and from Florida, which were about 1000 miles each way from my home airport depending on my destination down there. And also the side trips over to the Bahamas, a short flight from South Florida locations. The distance to the nearest land in the islands was only about 65 miles, about a half hour flight usually. But flying "over the ocean" took some getting used to, and I always climbed to an altitude from which I could glide to an airport in the event I should have some kind of engine problem. Gliding safely in such an event is usually safer in a small plane than in a commercial airliner. But I never had such an experience, I'm glad to say.
I was looking forward to taking lots of pics of the adventure but, alas, it's not to be. Too expensive. Even the hire car ain't cheap but my options are limited. Mick, the seller, sounds like a nice guy on the phone. He's cool about my arrival on Monday. "I'm on call so I'm not going anywhere." Maybe he's a nurse or doctor or something. As to the Codemobile getting from Tamworth to Taree, he says the trip from Canberra to Tamworth was a breeze and the Toyota cruises happily at 90 to 100kph. Fine with me. I'm no Fangio. And he says the engine runs happily on unleaded. He said they had the head reconditioned recently and there was no wear on the valves.
NC Art wrote: Before Codemobile becomes too firmly embedded, please try a more mellifluous moniker. Codymobile trips more easily off the tongue, or a variant. Codeemobile perhaps?
Hmmm. I dunno. Codemobile has kinda stuck in my brain. Maybe something else will turn up. Codymobile has 4 syllables whereas Codemobile has 3, and could be shortened to The Code (or even TC or TCM). Cody was often referred to as The Codeman.
I noted that indigenous youngsters sometimes steal cars for fun and profit. That's another curious word. Same root as indigent, which generally means poor or needy in some fashion. As a one-time radioman, you appreciate getting pronunciation right, and likely have had moments when comments came out all wrong or embarrassing even.
Three spring to mind. At my first radio station I pronounced the name of a movie as Tarren-chewla instead of Tarantula. Hehe. At another station where I read the news I did the Ar-kansas thing instead of Ark'n'saw. At another station the word schizophrenia was in the news bulletin and I started the word with "shits" instead of "skits". That gave me an instant heart attack and I thought I'd be banned from the airwaves for life. But nothing happened.
The night sign-off guy in Anchorage while I was sojourning there pulled some doozies. His late night patter ended with a string of public service announcements, and the poor bloke regularly read a plea for donations to a Christmas fund for the "indignant people of the community." He never once got it right through the whole of December. He tried out the indi part but stumbled every time. It's bad enough to be poor, but being indignant about it may not promote great waves of generosity.
Another thing I thought odd is that a 1984 vintage vehicle would fetch $3,500. I drive a 1991 Buick Park Avenue that was top-o-the-line in it's day. Land Yacht, smooth as silk. Still runs really well too. The insurance on the damned thing costs more than the tax value of the car--$600. 00! Well, the engine bonnet (hood in U.S.) shows what sun will do for a paint job and I ripped the headliner out due to dry rot, but... so what.
I enjoy your humor, Art. Hehe. But remember the Codemobile is more than just a 1984 vintage vehicle... it's got a house inside! Besides, others of the same vintage are selling for double that and more! An empty van would be lucky to fetch one or two thousand.
I enjoy your blog cause it gives me a different slant on the news from Washington. As for Congress, I wonder about those idiots. A lot. We've managed to forget what a democracy means, or even a republic. Now we have a near perfect oligarchy. Four hundred families own and control 50% of the total wealth in the nation. And the mass of people seem not to notice. I think there must be sedatives in the drinking water. Then there's GE, net profit from domestic operations last year 4.2 billion dollars; tax paid 0. Off shore profits ran to some 14 billion plus, and it all stayed offshore. And they are not alone.
Beeb time: US President Barack Obama has said he does not rule out arming the rebels seeking to overthrow Libyan leader Colonel Muammar Gaddafi. He said in an interview that Col Gaddafi had been greatly weakened and would ultimately step down. Pro-Gaddafi forces have driven the rebels back tens of kilometres over ground they took in recent days after coalition air strikes. I'm sure, like me, Obama feels frustrated by how long it's taking the rebels to make headway and finish the job. Gaddafi has to go, and so do his supporters. Seawater near Japan's crippled nuclear reactors is said to have a much higher level of radioactive iodine than previously reported. But an official said the iodine would have deteriorated considerably by the time it reached people. So why bother to report it? Qantas Airways has warned that profits at the company will be hurt by the recent natural disasters in Japan, New Zealand and Australia. Demand for travel to Japan has fallen following the earthquake on 11 March and amid fears of radiation leaks. "There has never been a time when the world faced so many natural disasters, all of which have come at a significant financial cost to the Qantas Group," said Alan Joyce, chief executive officer of Qantas. The good times and the bad times, all par for the course. After Kamran Safi's father was murdered by the Taliban in 2007, the teenager took the perilous journey from Afghanistan to Britain when they threatened to kill him too. He has now made an animated film about his ordeal, which has captivated millions around the world. He told the BBC's Mark Lobel his story. Very touching story, and probably one of millions. Check it out here. Australian Prime Minister Julia Gillard's parliamentary computer and those of at least two senior ministers are suspected of being hacked, according to a newspaper report. The government was alerted to the security breach by a US intelligence tip-off, Sydney's Daily Telegraph said. It is reported that several thousand emails may have been accessed from the computers of at least 10 ministers. Sydney's Daily Telegraph quoted four unnamed government sources as saying Chinese intelligence agencies were among a number of suspected hackers. Oops! Reports suggest the hackers may have been trying to access information on Australia's lucrative mining industry. The Australian dollar has risen to a 29-year high against the US dollar as demand for the country's commodities continues to grow. It rose as high as $1.0318 in trading on Wednesday, the highest since the currency was freely floated in 1983. Neh neh neh neh neeeh neh. Is the American Dream still achievable in 2011, amid lingering economic hard times, wars and political discord? Veteran US pollster John Zogby says fewer Americans think it is, but many have redefined what that dream means. An interesting read, especially if you're a Yank.
And that's it! Din dins time. Gary
March 29, 2011. Well, I've just spent ages on the phone organizing car insurance and roadside assistance matters in relation to selling Bluey and buying the Codemobile. When I collect the new car, I wanna be sure it's covered. It's all such a hassle! I'll be glad when things settle down again.
I also received a call from the local aero club about a flight to Tamworth next week. They're gonna get back to me. It'll cost about $300 which is the same as what I'd pay a driver to take me there by road (incl fuel). But a flight will get me there in an hour. AND, I'll bring the camera for lotsa pics! It's all part of the big adventure ya know. It's been over 30 years since I flew in a little Cessna, Piper or whatever (not counting the twin-engined Cessna air ambulance). And guess where I'll be? Up front next to the pilot! Still and all, I'll be glad when all this farting around is over.
Meanwhile, AO or no AO, I reckon having a campervan as regular transport for shopping, running errands, and all the usual things is cool cos it can also be used for weekend getaways and camping trips. My old Kombi was my regular transport for 8 years, and I often used it for weekend getaways. Why settle for an ordinary car when you can have one with a bed and a kitchen and a pop top?
Beeb time: US President Barack Obama has defended the first war launched under his presidency, insisting US military involvement in Libya will be limited. Addressing Americans, he said US intervention had saved "countless lives" threatened by the forces of the "tyrant" Muammar Gaddafi. But having led the initial campaign, the US would hand over to Nato allies on Wednesday, he said. The only thing that worries me a little is that the devil we don't know might not be much better than the devil we do. China is on course to overtake America in scientific output possibly as soon as 2013, far earlier than expected, a UK study suggests. Hmmm. I'll believe it when I see it. Alain Robert, the French urban climber dubbed spiderman for his feats, has scaled the world's tallest building, the Burj Khalifa in Dubai. It took him six hours to ascend the 828-m (2,717-ft) tower in the United Arab Emirates city, including the tapered spire above the top floors. A large crowd watched from the ground as he moved up the facade, picked out by spotlights after darkness fell. Brave or crazy? Take your pick. The aircraft carrier HMS Ark Royal is up for sale on the Ministry of Defence's auction website. The Royal Navy's former flagship was decommissioned two weeks ago after 25 years in service as part of the government's defence budget review. Proposals for it include turning it into a commercial heliport, a base for security personnel during the London Olympics, or a school and nightclub. But it could also be sold for scrap like its sister ship HMS Invincible. Pity I didn't know about this before I bought the Codemobile.
Speaking of which, I've been doing my sums and lots of fiscal juggling, and I figured out a way to pay for the Codemobile before I sell Bluey, which relieves the pressure quite a bit. I hate rushing things, so now I can wait for a Bluey buyer to come along without fretting about it, and without pissing off the bloke who's selling the Toyota.
I just took another look at the pics. That's about the 50th time so far hehe. And the more I look at it, the more I like it. As I said to Averil earlier today, I haven't grown up yet, and I don't wanna rush into it. After all, I'm only 66.
Well, with all this fiddling and farting around today, organizing things and whatnot, it's time to hit the kitchen AGAIN. Gary
March 28, 2011. Well, well, well, it's all beginning to dawn on me. What have I done? That's the thing about change ya know... we often resist it because we're reticent about leaving our comfort zone - the security of our rut. Sure, I'm nervous. The Odyssey scares the hell outta me. We're not talking hotel rooms here, mate, we're talking parked out in the sticks with all kinds of weird noises outside in the dark! THAT YOU CAN'T SEE! And I'll be on my lonesome! I'm hoping after a month or so that I'll be accustomed to life as a vagabond and not give a damn about being out in the sticks with the spooks. Stay tooned.
TX Greg wrote: Well that is really a sweet deal. Hope you have no problems selling Bluey. I noticed on the pics of Bluey you have a steering wheel lock. Is crime that bad in Taree???
It can be. Some of the local indigenous youth has a rep for stealing cars and getting up to mischief. Bluey doesn't have an alarm or immobilizer or any of that stuff (and neither will the Toyota) so it's better to be safe than sorry. Greg also mentioned a new name for the Toyo. He suggested A/O-ta. Hehe. Hmmm. I'm thinking something to do with Cody, such as The Codemobile. I'll have to think about that some more. Also, the current plates are Australian Capital Territory. Once I register the car in New South Wales, they'll be different... so that might influence a name.
Whatever you end up naming it you're one step closer to your dream and I'm really proud for you :)
Thanks, Greg. BTW, yesterday I drove Bluey to the carwash and noticed as I went through the wash bay that the big machine was made in Houston, Texas. I put the $10 note in the machine as I arrived, drove in to the wash bay and then nuthin'. So what's the story? I asked as I waited for something to start happening. So I reversed out, walked over to the machine that takes the money, pressed the start button again and whaddaya know... the sign lit up 'ENTER'. So I drove in again. For a moment there, I was gonna leave the car in the wash bay and walk back to the money machine. Can you imagine what would have happened when I pressed the start button? Yeah...
Greg also mentioned the 12/240 fridge and how they can drain the car battery if used when camping. True, true, true. I intend to get a second battery - a deep cycle - as well as an isolator and inverter for charging cameras, laptop, etc. Also, a solar panel is on the shopping list. Meanwhile, Averil has a 3-way portable camping fridge she's trying to sell. She said I can have it for $100. On top of that, I have an ice chest which keeps ice cold for 4 or 5 days. PLUS one large cooler and one small. Soooo...
Okies, time for some funny stuff compliments of NC Art:
AMAZINGLY SIMPLE HOME REMEDIES:
1. AVOID CUTTING YOURSELF WHEN SLICING VEGETABLES BY GETTING SOMEONE ELSE TO HOLD THE VEGETABLES WHILE YOU CHOP.
2. AVOID ARGUMENTS WITH THE FEMALES ABOUT LIFTING THE TOILET SEAT BY USING THE SINK.
3. FOR HIGH BLOOD PRESSURE SUFFERERS ~ SIMPLY CUT YOURSELF AND BLEED FOR A FEW MINUTES, THUS REDUCING THE PRESSURE ON YOUR VEINS. REMEMBER TO USE A TIMER..
4. A MOUSE TRAP PLACED ON TOP OF YOUR ALARM CLOCK WILL PREVENT YOU FROM ROLLING OVER AND GOING BACK TO SLEEP AFTER YOU HIT THE SNOOZE BUTTON.
5. IF YOU HAVE A BAD COUGH, TAKE A LARGE DOSE OF LAXATIVES. THEN YOU'LL BE AFRAID TO COUGH.
6. YOU ONLY NEED TWO TOOLS IN LIFE - WD-40 AND DUCT TAPE. IF IT DOESN'T MOVE AND SHOULD, USE THE WD-40. IF IT SHOULDN'T MOVE AND DOES, USE THE DUCT TAPE.
7. IF YOU CAN'T FIX IT WITH A HAMMER, YOU'VE GOT AN ELECTRICAL PROBLEM.
DAILY THOUGHT:
SOME PEOPLE ARE LIKE SLINKIES - NOT REALLY GOOD FOR ANYTHING BUT THEY BRING A SMILE TO YOUR FACE WHEN PUSHED DOWN THE STAIRS.
Beeb time: Nato's Secretary General, Anders Fogh Rasmussen, has said it has decided to take on the whole military operation in Libya "with immediate effect". The alliance will enforce "all aspects" of the UN resolution authorising action to protect civilians. "Nothing more, nothing less," Mr Rasmussen added. Libyan rebels have been advancing westwards, capturing towns abandoned by Col Muammar Gaddafi's forces. And it's about bloody time. Another earthquake off the north-east coast of Japan has shaken the already devastated region. The 6.5-magnitude quake, 109km (67 miles) east of the badly-damaged port city of Sendai, prompted a brief warning of a possible small tsunami. Jeez, as if those poor buggers are not doing it tough enough. A BBC poll finds growing public concern, especially in rich countries, about China's increasing economic weight and power. Going from keeping up with the Joneses to keeping up with the Wongs is a bit of a worry, I guess. Libyan rebels say they have signed an oil contract with Qatar to export and market oil from rebel-held territory. Not sure what that means but... yeah... okay. Chat show host David Letterman picks up the highest honour at the first US Comedy awards. Letterman is a comedian? Well, there ya go... I didn't know that. Control of US actor Mickey Rooney's finances will be permanently handed to his lawyer after a court was told money is missing from the star's accounts. Michael Augustine said $400,000 (£250,000) had disappeared, adding Mr Rooney had so little cash that he frequently wears the same clothes and has just one pair of shoes. Mr Rooney has accused his stepson Christopher Aber of blocking information about his finances. What a sad ending for a great star.
I favorited another pic on Red Bubble this morning. How's this for a little piece of Paradise?
Here's another shot I favorited. I don't normally like the post-processing of images but this one is interesting because it's called 'selective coloring' where certain colors are relegated to the background and others are highlighted.
Here's another example of 'selective coloring' which I think works extremely well.
I dunno if I wanna get involved in manipulating images but, hey, who knows what I'll be doing/thinking in a few years down the track. For now, though, I'm just happy to point and shoot.
BTW, Oregon Richie wrote something interesting about campervans and RVs in general. Richie has been in the motor biz since Adam was in shorts: I suppose most of the points (made by FL Josh) are valid for consideration but I already know you would have considered them and it's just not that difficult, even for a 1984... hardly ancient by RV standards.... to get parts or work done. Anyway... RV's in general just don't get as much hard and heavy use and even the lenders believe they have in the worst case at least TWICE the lifespan of motor vehicles and finance them accordingly, and I never thought that many years for a well cared-for RV was that big of a deal. I may have to experience that for myself someday, you know.... !! The listing for Bluey looks OK and there is always a strong market for used vehicles in good nick; that I know for SURE with what we deal with. There has been a bit of a invigorated market for people carriers around here... or SUV things with 3rd-row seats, because people often want to transport their own brood or pride and their friends and relatives.
Yes, as I said to Averil the other day, "it's not the age, darling, it's the condition!" Anyway, when I see all those high-priced RVs for sale at tens of thousands of dollars, I suspect I might have snared myself a bargain. I certainly hope so. And if not? Oh, well... back to square one.
I have contemplated the worst scenario, ya know. If the Toyota is a heap of shit, I'll keep it anyway, save up for a cheap used Toyota Hiace van, transfer all the camper fitout to the empty van, and voila. That's the worst that can happen.
And now dear Breth, it's time to do the din-dins routine. PIES AND CHIPS! Don't knock it... pies and chips are cool... it's the national Aussie dish. Gary
March 27, 2011. FL Josh wrote: I just read the Waffles for the last couple of days and saw where you became interested in a 1984 van. When I clicked on the link, it came up as sold. I so hope and pray it was not you who bought that thing, Gary. You learned nothing from your experience with Bluey.
I disagree. I learned a few things, one of which is don't buy a coach if you want a camper. Josh says the rust around the side window is not surface rust but rust coming through the metal at back. That's true. Bluey had similar rust around the windscreen, which had to be removed before the rust was treated. Josh reckons the rust job on Bluey wasn't done properly. Well, two years later there's not a bubble in sight. Chris (my rust bloke) knows the diff between a good job and a patch job and says of himself, "I'm too bloody honest". Anyway, I have no complaints at all about his work. It's as good now as the day he did the job.
Bluey is a 1989 model and you have had a terrible time getting parts so how do you think things are going to go repairing a 1984.
No, parts for Bluey haven't been a problem except for one bit that needed to be imported from Japan. Can't even remember what it was. It was the carby that gave me trouble and that was a problem related to labor and lack of expertise. Anyway, there are a million old Toyotas on the road so I don't expect any problems with parts. Like they used to say about old Holdens, "You can get parts at the local butcher shop."
And what is so shocking is this van was only two hours away from where you are and you didn't even bother to go look at it.
True. Actually, it's more like three. Three hours there, three hours back, and one in between. And the only contact I have with the seller is via eBay email. There's no address or phone number on the ad. Besides, the vehicle was still for sale, so it could have been bought by someone while I was on my way there. We're talking $3500 here, not $35,000.
I am just blown away that after what you went through (and continue to go through) with Bluey, a total disaster, you are going to repeat it.
Actually, Bluey's fine now... breezed through the last registration inspection a week ago. Bluey certainly cost more in repairs than I'd anticipated, but that was though poor workmanship before I flicked my initial mechanic and took her to Nissan. This time I'll be taking the new van to Toyota.
Lord, I hope and pray you are not the buyer of that thing and have time to rethink what you are doing.
Too late. I'm the buyer. I bit the bullet late yesterday. Hehe. Sure it's a risk buying something sight unseen apart from a few photos. But it's a calculated risk. The vehicle was last registered in Canberra where inspections are rigorous (I know, I had my VW Kombi registered there). Canberra is also inland, as is Tamworth, well away from salt air. The rust in the Toyota is the result of condensation. Bluey's rust was the same. Structurally, Bluey is sound.
The way I figure it, $3500 is less than what it would cost to fit out an empty van. The fit-out is professional and appears to be in good nick. AND, it's a pop top! A few extras like curtains, awning, solar, and Bob's yer uncle. Also, it occurred to me that if I spend the rest of the year saving for something better, then what? I take off in a van I know virtually nothing about? This way, I have 6 to 8 months to fix the things that need fixing, and get to know the vehicle intimately. I don't have a lot of money but I have enough to take care of things one at a time over a period. By the time I'm ready to hit the road, the Toyota should be fit as a fiddle. By the way, all my insurance on Bluey is transferable.
And another thing, in 6 to 8 months from now demand for campervans will be at its peak and so will the prices. So, it's bite off more than you can chew and chew like buggery time. Imagine living a life where everything was safe and predictable!
And now it's time to list Bluey for sale. I'll give her a wash and take a few photos later. I'm thinking $3500 to start the auction and "buy it now" @ $4500 with a reserve of $4000.
Nonetheless, Josh may be right and this whole thing might come crashing down around my ears. Time will tell. There's no turning back now. Meanwhile, I just organized a driver... Stan the Lawn Man's son. He'll drive me there and I'll drive the van back. I'll pay him, of course, but it's cheaper than getting the van transported here. I hope the van lasts the 3-hour trip! Hehe. FL Josh probably has his reservations about that.
So, these are exciting times, ladies and genitals. Am I nervous? Yes. Am I confident about having done the right thing? No. So what else is new? Stan the Lawn Man just phoned and suggested I check with the airport tomorrow to see if I can get a flight from Taree to Tamworth. Not a bad idea. Otherwise, he's happy to drive me there (or have someone else do it) for a fee.
It's taken ages to get this damn eBay ad together. I hope I haven't forgotten anything.
Meanwhile, Oregon Richie was a bit more supportive than FL Josh: Pretty cool and congrats on making the deal with the Toyo. I went back and looked over the listing and the pictures and I don't think the problems are TOOOOO awfully bad that you can't deal with... or know how to. Fingers crossed that it all works out okay. I like the basic layout of the vehicle and do hope it proves to work well and is live-able for what you have in mind. It looks as if it has had reasonably good care and probably not trashed by a group of frenzied family types aside from the weather-related stuff.
NOT that it is applicable in this case, but I was reminded from the comment that Josh made about some lines from the second Jurassic Park movie.... "I'm not making the same old mistakes...." the old man said to which Dr. Malcom answered.... "No, you're making a whole set of new ones......", and I guess the point IS that there is always a little measure of both that should balance out.
Obviously I've not taken the most direct route to getting a camper. More like the scenic route. Hehe.
And now for a little light relief from NC Art: Some may object to the term civilization for ancient homo erectus folks, but pro-creation itself is a civilizing event I think. Never mind, but 40,000 years boggles the mind, as does other data about Oz. Yesterday I read in a magazine story about cultures and demographics that Australia (is) likely become totally non-religious within a decade or so. Wonder if anyone will notice.
The BMW link reminded me of one I saw parked at police station in my tiny home town. The thing was a bit older, but just as jazzed up like an overdressed whore. At two o'clock in the morning this strange apparition came tooling through town and was stopped by the only gendarme on duty. Turns out the thing was stuffed with cocaine and the boot contained two shotguns and a dozen pistols. The driver took up residence in a Federal prison a few months later. My bro was police chief and told me the guy had been snorting his own merchandise and was happy as hell until he woke up in his private cell, where he rested until federal officers collected him two days later.
Not sure what Art meant about the BMW link but it dozen madder anyway. He's an amusing old bloke with some wonderful anecdotes.
BTW, the NSW state elections yesterday resulted in the encumbent Labor Party being totally demolished. As the polls predicted, it was over even before it started. NSW's Labor premier, Christine Kenneally, has quit politics. Watch out, Julia Gillard, you're next.
Time for a quick Beeb: Reports from Japan say radioactivity in water at reactor 2 at the damaged Fukushima nuclear plant is 10 million times the usual level. Workers trying to cool the reactor core to avoid a meltdown have been evacuated, Reuters news agency says. Earlier, Japan's nuclear agency that levels of radioactive iodine in the sea near the plant have risen to 1,850 times the usual level. The UN's nuclear agency has warned the crisis could go on for months. Oh dear... just as the situation seemed under control. French fighter aircraft have destroyed five Libyan air force planes and two helicopters in an attack on the forces of Col Muammar Gaddafi. A French spokesman said the aircraft were caught on the ground at Misrata air base preparing to launch attacks in the area of the rebel-held town. Seems Gaddafi is not the only dingaling... his supporters haven't gotten the message either. Two neighbours in the US state of Mississippi drew weapons and fired at each other as an argument over a defecating dog ran out of control. Associated Press news agency said Jerry Blasingame, 60, has been charged with assault for shooting Terry Tehnet, 52, with a shotgun. Mr Tehnet was angry because he thought Mr Blasingame's dog had defecated on his lawn, in a rural part of the state. Mr Tehnet, whose injuries are not life-threatening, may also be charged. You don't need to sit for an IQ test to own a firearm in America.
And that's it for today, folks. Art sent some more funny stuff, but I'll post that tomorrow. Now it's time to hit the kitchen. Gary
March 26, 2011. The Thunderbird Club has a display of T'Birds at Old Bar today... but it's cloudy and not looking too good weatherwise. Meanwhile, I gotta duck over the road and vote in today's NSW elections.
Well, that was easy. The polling booth is just across the road in a public hall, and there was no queue. I noticed on the ballot paper that one of the parties was the No Parking Meters Party. Hehe. I was tempted but no... I voted for the National party, which is part of the coalition (Liberals in the cities, Nationals in the regional areas). In fact, there's not a single parking meter in Taree, or anywhere else around here.
No bids on the Toyota camper as yet, and the auction ends tomorrow afternoon. Like I said yesterday, if it doesn't sell, I'll buy it. I think bidders might be frightened of the rust and the dings, but after what I went through with Bluey, that's not a problem at all. I'm still nervous though. Once I've got a camper, there'll be no more excuses to procrastinate. Eeek! Meanwhile, I might use the camper to spend a weekend or two locally for a bit of a trial run. And I'll bring the porta potti.
I just checked the '84 Toyota van specs: 2 liter donk, carb, leaded petrol, 65Kw (about 90 horses), 4-speed (probably column shift). I'm not too keen on leaded fuel. That's what TT used and I had to fill her with unleaded premium and add lead substitute. Oh well... But I just saw the same model camper for sale @ over $13,000. Diesel and 5-speed but even so... And another @ $10,800. And another @ $8,800. The cheapest I could find was $7,000. Now you can understand why $3,500 appeals to me.
Beeb time: Libyan leader Col Muammar Gaddafi is reportedly arming volunteers to fight the uprising against his rule, a US official says. Stubborn bugger. I guess old habits die hard. Syrians stage anti-goverment rallies in the capital, Damascus, and other towns and cities, amid reports that protesters have been killed. And all I had to do today was walk across the road to cast my vote in the state elections. Up to one million people may have fled their homes because of violence following Ivory Coast's disputed elections, the UN refugee agency says. Thank God I live in Oz. An order of US Catholic priests agrees to pay $166.1m (£103.3m) to hundreds of Native Americans sexually abused by priests at its schools. That never happened to me so I can't even claim one lousy dollar. Dammit. The long-held theory of how humans first populated the Americas may have been well and truly broken. Archaeologists have unearthed thousands of stone tools that predate the technology widely assumed to have been carried by the first settlers. The discoveries in Texas are seen as compelling evidence that the so-called Clovis culture does not represent America's original immigrants. Details of the 15,500-year-old finds are reported in Science magazine. That's still way short of Australia's 40,000 years. Australia has launched an investigation into racist videos and comments allegedly posted by troops serving in Afghanistan on the social networking site, Facebook. Defence Minister Stephen Smith says he has apologised to his Afghan counterpart, Abdul Rahim Wardak. The videos show soldiers using racist terms about Afghans, with one describing them as "smelly locals". Water is scarce in Afghanistan, and I suspect soap is not a real big seller either. Other than that, no comment.
It's 2pm now and the Thunderbird display at Old Bar is almost over. The clouds have been threatening all day even though it hasn't rained yet. Soooo... I missed out on that one. Actually, I'm not a fan of T-Birds... somewhat overstated and ostentatious for my liking, kinda like a Christmas tree on wheels. I'm not really into sports cars or convertibles anyway, but for a bit of fun I wouldn't mind whizzing around in something like this. I'm also quite partial to this model Benz. I think it's one of the most beautiful cars Benz ever produced.
Dammit. I can't wait. I've just written to the bloke selling the Toyota camper and offered to "buy it now" at the asking price of $3500 and pay him in about a week once Bluey is sold. Hopefully, he'll respond soon. It's 5pm and he still hasn't had any bids.
Well, this could turn out to be the Satdee that determines the Odyssey's fate. Gary
March 25, 2011. Here's a classic sent to me by NC Art:
Proof that you can't ever underestimate the creativeness of American boys for mischief:
When considering all the brilliant, devious minds we had in high school, I don't know how we missed doing this...
At a high school in Montana , a group of students played a prank; they let three goats loose inside the school. But before turning them loose, they painted numbers on the sides of the goats: 1, 2, and 4. School Administrators spent most of the day looking for goat No. 3...
Even Lindsay laughed at that one. There's also a lesson there, dear Breth... about jumping to conclusions.
Meanwhile, I received an email from a librarian at a Kentucky University asking which country I'm from. She needs the info for cataloging Green Room. Oh really? I didn't even know Green Room was being catalogued by ANYONE let alone a university in Kentucky. So I guess all universities are cataloguing GR, and even public libraries. Actually, I think Lulu did mention that some time ago when I got ISBNs for GR and GRII but I'd forgotten. Soooo, the fat lady still ain't sung yet.
How's this for a shot? Snakes and lizards use their tongue to sense vibrations (and smells?) in the air. It's forked so they can detect left from right.
Yesterday, I mentioned with affection the old DC-3s. NC Art recalls some of his experiences with Ode to the C-47:
Your paean to the DC-3 was quite touching. The thing was a true workhorse and consequently was worked to death! I first knew it as a stalwart soldier of the sky called a C-47. A cargo ship. The cargo might be anything, including troops heading to battlefronts and wounded or dead soldiers returning. As for pure cargo of supplies, the buzzard took off with impossible loads or arms or bread or beef or anything else needed to fight a war. Arctic freeze or jungle heat were all the same to that incredible pack mule.
Postwar, they formed the cargo and passenger fleets for the beginning of a new age in aviation. South American industries flew them for all manner of work, along with surplus bombers--including the B=24, that ungainly looking contraption that was my home in the skies over Germany.
When I left Alaska in Dec. '49, the passenger plane I boarded was...ta da: A retrofitted C-47 as the civvie version called a DC-3. Unfortunately, the heat system worked not at all, so we were all wrapped in Arctic clothing for hours until a fuel stop in central Canada. The pilot promised to have the heat system fixed before takeoff or Minneapolis, MN. And he did. The heat was on full blast and refused to go off. Sweaty parkas, wool hats, mukluks and double socks began to collect in the aisles. Steamy and stinky!
I was amazed at the lack of complaining and reckoned most passengers were just glad the damned thing stayed in the air as it should. Minnesota is cold in December, but nothing like the Canadian Northwest or Anchorage, AK. So I was happy to be there and then on to Tennessee and South Carolina two days before Christmas. [I was born in a tiny South Carolina town named York, The White Rose City. a nearby town was named Lancaster, The Red Rose City. Naturally our athletics competitions were called the Wars of the Roses. History, you know.]
It's ok to remember the old days fondly, conveniently forgetting their primitive discomfitures, but I don't make a habit of it. A 747 jetliner suits me just fine. My son left El Paso, TX, at 7 this morning and was in Wilmington, NC, at 4 this afternoon--including a 3-hour layover in Atlanta. Cool, what?
Oregon Richie, who's a bit of an aeronautical buff, had this to say: Good clip on the mighty and legendary DC-3, aka the Dakota, C-47, and certainly an iconic game-changer in the early days of commercial aviation. All aluminum ( or aluminium, as some call it.. ) with big two-row radial engines, monowing, and totally overbuilt. Boeing had a smaller similar version just a few years earlier but Douglas stole the game for quite some time later. While Boeing excelled at various warplanes, Douglas had a lot of the market until the jet age came along. The B 707 was a roaring success, and 727 did great, and the 737 series have been the most popular airframe of all time. The DC-3 was one of the last "taildraggers" also. Richie went on to say a bit more about 'taildraggers' but I better not include that.
As I wrote Richie this morning, I think most people have great affection for the old DC-3. I also remember fondly the Catalina sea-planes operated by Qantas Empire Airways at Rose Bay in Sydney from the late '30s to 1977. Here's another shot of the Qantas Catalina. And here's a shot of a US Navy Catalina.
During my time living at Greenwich in Sydney at the junction of the Lane Cove and Parramatta Rivers where they entered Sydney Harbor, a neighbor owned a Beaver seaplane which he used several times a week to commute to and from his property on the South Coast. I could hear him coasting low over the roof of my apartment as he dropped down to land outside my front window. Once on the water, he revved the engine and headed over to his wharf out front of his house, just like parking a car in the driveway. In the mornings, he maneuvred the craft to face the open water of the inner harbor, and waited until the coast was clear before take off. I watched him often and wondered how the hell that thing managed to become airborne after such a seemingly slow run. I met him a couple of times, and he was straight out of Biggles books.
Is there an Australian designer/manufacturer of aircraft? Yes, there is. And here's another one. No Jumbos, though.
Beeb time: Nato has agreed to take command of enforcing the no-fly zone over Libya from the US. But Secretary General Anders Fogh Rasmussen made clear that other aspects of the operation would remain in the hands of the current coalition for now. Nato has been locked in dispute about whether to take charge of the mission to enforce a UN resolution. It is believed there are differences of opinion whether attacks on ground troops should form part of the action. Coalition raids on Libya are meanwhile continuing for a sixth consecutive night. Where are all my supporters? the Colonel is asking. Syrian leaders have pledged to introduce reforms to meet the demands of protesters, after days of violence in the southern city of Deraa. Officials promised to study the need for lifting the state of emergency, in place since 1963. The government also said it would bring to trial those suspected of killing several protesters in Deraa. President Bashar al-Assad later ordered the release of everyone arrested during the "recent events", state media said. The tide has turned, Mr President, and there's nothing you can do to stop it. Dame Elizabeth Taylor is to be buried at Forest Lawn Memorial Park outside Los Angeles, a day after her death at the age of 79. I wonder what Averil thinks about all this... she just turned 78. Most people chosen to be the best man at a wedding feel nervous about the big day - and the big speech. But for Prince Harry, the pressure must be even greater. His speech for brother William will be given at Buckingham Palace, in front of hundreds of dignitaries from around the world. So how should he approach it - and how to strike the right tone? BBC News invited comedians Lucy Porter, Arthur Smith, Miles Jupp and Hattie Hayridge to give their advice to Prince Harry about his traditional best man's duty. Check the video here. Five Brazilian police officers have been arrested after television stations broadcast a video in which some of them appear to shoot a 14-year-old-boy. The footage - captured by a security camera in the city of Manaus - shows uniformed men pushing the teenager before shooting him in the chest. The boy survived with several wounds and is now in a witness protection programme along with his family. Shame, shame. Yuvraj Singh hits an unbeaten 57 as India, roared on by their supporters in Ahmedabad, knock Australia out of the World Cup. Looks like Australia's long reign as the world's No.1 cricketing nation has ended. Oh, well... A hacker who placed pornography on a video billboard above Moscow's inner ring road has been jailed for one and a half years, Russian media report. Igor Blinnikov, 40, uploaded the video on 14 January last year from his home computer in Novorossiysk, a city 1,225km (760 miles) south of Moscow. The shipyard fitter confessed to the offence, describing it as a "bad joke". But funny nonetheless. An amateur video posted on YouTube that shows young boys acting out a suicide attack has been condemned by UNICEF and by children's charities in Pakistan. The origin of the video is unclear, but it appears to have been filmed in the border areas of Pakistan or Afghanistan. Some of the participants appear to be as young as three or four. Check the video report here.
Well, I've made a sort of semi-plunge into buying a campervan. It's an oldie, and has some rust and few dings, but at $3,500 it looks pretty good. I don't mind spending a few bucks on fixing a bit of this and that if the car's in reasonable shape. I don't have the readies just yet (especially after spending $900 on registration and insurance on Bluey this month) but I've written to the seller saying that if he doesn't get a buyer I'll sell Bluey and buy the van within a week or two. Stay tooned. Here's the van. BTW, Tamworth is about 2 hours from Taree.
Up until now, I've been thinking long term... a vehicle that's good for the next 10 years and a million miles. Wrong! Now my thinking is "just get started". If something like this baby gets me going, and does the job for a year or two, I can worry at some later date about what happens after that. Meanwhile, I'll have the rest of this year to fix anything that needs to be fixed and make sure the van is in good nick before I hit the road.
Back from shopping and buying all kinds of sweet things for Averil... cream biscuits, apple strudel, apple custard pies, chocolates... and I'm sure the checkout chick thinks they're all for ME. And then of course there's the obligatory chat after I deliver all Averil's stuff. I told her about the campervan and got the usual "now be careful" lecture.
Time to hit the kitchen with crumbed chicken breast schnitzels and corn cobs. I get my corn cobs fresh, and peel off all the outer husk. Yum! Juicy and sweet. Gary
March 24, 2011. Blue skies, late 20s C, slight breeze, so where am I? Here. Oh well, at least I'm doing something.
Surprisingly, the pic of the fluttering male butterfly wooing the female was featured in a Red Bubble group called If It Moves, Shoot It. I didn't think it was all that good but obviously they did. Not an easy shot to get, to be sure to be sure.
God knows how many times my shutter buttons will be pressed on the Odyssey. Once you get into photography, you can't help recognizing a photographic opportunity every 5 minutes, especially when you're driving... in which case, it pays to have a clean windscreen and be the passenger. But I dread to think how many pics will be on AO in a couple of years from now.
Meanwhile, let's go for a little ride in a DC3 built the same year I was born, 1944, and operated by Danish Dakota Friends. As a kid, I used to see those old planes in the sky all the time... ANA (Australian National Airways). There are a few DC3s still flying in Oz, mostly for scenic flights. Some of those old girls must be 70 or more years old! Total production of the DC3 was 16,079 from 1936 to 1950. The common saying among aviation buffs and pilots is that "the only replacement for a DC-3 is another DC-3." The aircraft's legendary ruggedness is enshrined in the lighthearted description of the DC-3 as "a collection of parts flying in loose formation."
The DC3 was so highly regarded back in the late '30s as a revolution in aerodynamics and technological achievement that automobile manufacturers often used a DC3 as a background for their publicity shots. "Ya can't get any more modern than this, folks!"
Stan the Lawn Man is here. He charges $30 to mow the lawn and trim the edges. "How long have I been doing this for?" he asked as I paid him in cash. "Ten years... almost," I answered, knowing full well what he was about to say. "And you're still paying $30!" he grumbled. Hehe. "No price increase in ten years. How's that for a good deal?" he added. True, but I pointed out that he does both ours and Averil's next door, so it's a pretty convenient double. Anyway, he does okay... flash house, two cars, caravan and lots of holidays.
Beeb time: The US chief of staff for the mission in Libya has insisted there have been no reports of civilian casualties caused by allied action. Rear Admiral Gerard Hueber's comments come despite claims to the contrary by Muammar Gaddafi's government. Earlier, British Air Vice Marshal Greg Bagwell said Col Gaddafi's air force "no longer exists as a fighting force". Claims and counter claims... par for the course. At least 10 people have been killed and dozens wounded after Syrian police opened fire on people protesting against the deaths of anti-government demonstrators in Deraa, witnesses say. Hundreds of youths from nearby villages were shot at when they tried to march into the centre of the southern city. A Syrian human rights activist told the BBC that at least 37 had died. Troops also reportedly shot at people attending the funerals of six people killed in a raid on a mosque overnight. And they say the Middle East is the cradle of modern civilization. Dame Elizabeth Taylor, one of the 20th Century's biggest movie stars, has died in Los Angeles at the age of 79. The double Oscar-winning actress had a long history of ill health and was being treated for symptoms of congestive heart failure. Her four children were with her when she died at Cedars-Sinai Medical Center, her publicist said. British actress Joan Collins, who starred alongside Dame Elizabeth in the 2001 TV film These Old Broads, called her "the last of the True Hollywood Icons". Yep, a true legend. Air strikes against Libyan targets by an international coalition have divided opinion in the country. BBC Arabic heard differing views from two Libyan women from the cities of Tripoli and Zuwara. Interesting points of view which you can read here.
I've been lazy today... lethargic... looking at used campervans again. "He's a bright boy Mrs Kelly, but he daydreams a lot." Gary
March 23, 2011. Well, as I suspected, most of the butterfly pics were blurred due to all the frantic activity. But I did manage to get a couple. Here's the male doing his fluttering jitterbug... and here's the female with her wings open, giving the poor guy a bit of extra encouragement.
Justin posted a vid of bullying on his blog... a couple of school kids involved in a fracas. At first it appears the victim was the bully, but more footage reveals otherwise. That cheeky little bloke doing his fancy boxing footwork got more than he bargained for, and he'll think twice before he punches another kid.
Reminds me of Mark calling Cody a faggot in the school quad, and getting flattened for his trouble hehe. But they ended up becoming the best of mates, so there ya go. Truth is stranger than fiction.
Beeb time: The Libyan leader, Col Muammar Gaddafi, has appeared at a site in Tripoli that was recently attacked by the Western coalition and told his followers: "We will be victorious in the end." In a brief speech at the Bab al-Aziziya compound, targeted on Sunday, he said "all Islamic armies" should join him. He said there was a "new crusader battle launched by crusader countries on Islam". "Long live Islam everywhere. All Islamic armies must take part in the battle, all free [people] must take party in the battle.... We will be victorious in the end." Ah yes, it's not an attack on Gaddafi's regime, it's an attack on Islam. If that's the case, what are the rebels? Calathumpians? At least four people have died after security forces fired on protesters outside a mosque in the Syrian city of Deraa, human rights activists say. Hundreds of people had earlier gathered in the streets outside the Omari mosque to prevent troops from storming it. Pretty quiet day in Taree today. No guns, no bombs, no tear gas. Yemeni President Ali Abdullah Saleh has said there could be a civil war in Yemen because of attempts to stage what he called a coup against his rule. "Those who want to climb up to power through coups should know that this is out of the question. The homeland will not be stable, there will be a civil war, a bloody war," he said. Army officers expressed their support for pro-democracy protesters on Monday. A senior EU official has predicted that the president "won't last long". I hope not. Lighting is restored in the control room of a badly-damaged Japanese nuclear reactor, raising hopes of reconnecting vital power to the stricken Fukushima nuclear plant. Progress at last. Two US airmen have been rescued after ejecting from their F-15E Eagle warplane just before it crashed during allied operations in eastern Libya. The plane appeared to suffer mechanical failure near the rebel stronghold of Benghazi, the US military said. Thank God Bluey doesn't have ejector seats. I don't like surprises. The leaders of several African countries, including Uganda, South Africa and Zimbabwe, have condemned the air strikes on Libya. Uganda's President Yoweri Museveni has written a lengthy newspaper article accusing the West of double standards. He was one of five African leaders tasked with finding a solution to the crisis, whose mission to Tripoli was called off when the air strikes began. South Africa's Jacob Zuma was also on the African Union panel. Although South Africa voted in favour of UN resolution 1973, which authorised military action to protect civilians, Mr Zuma has also criticised the air strikes, suggesting they were part of a "regime-change doctrine". So what if they are?
I'm not surprised Gaddafi wears sunglasses a lot. Those beady little black eyes of his are evil as hell. I was also disgusted last night to see footage of Gaddafi being "kissed" on the cheeks by Tony Blair when he was PM of Britain. But Blair wasn't the only one who befriended the Lybian tyrant. Fools. And now they're bombing the shit out of him. Where's the consistency in that? Make up your mind once and for all guys, and stick to it. There's no place for tyrants in this world. Period.
Check out the glad rags. How absurd is that? He's just like that ratbag who heads North Korea and the other one who heads Iran. They could all do with a "regime change" Mr Zuma. Or have you forgotten apartheid?
Oregon Richie sent a link to a story about a Chernobyl survivor of the nuclear disaster there, and her advice to those doing the cleanup job at Fukoshima. Run away as quickly as you can.
I've been fiddling around with a few bits and pieces today and the day got away from me. Time to hit the kitchen. Gary
March 22, 2011. One of your poems on YouTube reminded me of Robert Service and his poems of the Klondike gold rush. He was no Shakespeare, but the imagery always kept me hooked on his stuff. For another goodie, Google "The Cremation of Sam McGee" and tell me what you think.
Art included The Shooting of Dan McGrew with that email. Great stuff. So then I found this recitation of The Cremation of Sam McGee by Johnny Cash on Youchewb. I drew attention to Robert Service's work once before on Waffle but that was before Art's time.
I mentioned dogs yesterday. I've always believed that if a dog could talk it would.
During the Japanese tsunami, a camera crew came across a dog that refused to leave its injured friend. They called a rescue team, and the dogs are now in care.
Well, I just paid Bluey's 3rd party and comprehensive insurance, and renewed Bluey's annual registration. So much for this month's savings. Whoosh! But at least I won't have those bills for another 12 months so now I can get back to socking the bucks away.
Beeb time: Libya's government says more civilians have been killed in a third night of air and missile strikes by coalition forces enforcing a no-fly zone. Explosions and anti-aircraft fire have been heard near Col Muammar Gaddafi's compound in the capital, Tripoli. Fighting between the forces loyal to the Libyan leader and the rebels has also continued, despite the declaration of a ceasefire by the government. Libyan state television reported that the capital was "currently under crusader enemy aerial bombardment" and that several sites had been attacked. "These attacks are not going to scare the Libyan people," it said. I suspect the real truth won't be known for some time yet. And what's all this nonsense about "the Libyan people"? Who do they think the rebels are? At least 17 people have been injured by a series of Israeli air strikes in the Gaza Strip, Palestinian medics say. There were reports of up to nine explosions in Gaza City, and in the north and south of the territory. Witnesses say militant training camps operated by Hamas were targeted, as well as a workshop and cement factory. On Saturday, Palestinian militants fired dozens of mortars into southern Israel in what was reportedly their heaviest such barrage in two years. Everyone's joining the party. Efforts resume to restore power and cool damaged reactors at Japan's quake-hit Fukushima Daiichi nuclear power station, despite smoke and steam rising from the plant. Seems like the Japanese are slowly but surely getting on top of the situation. A 25-year-old man horrifically injured by an accident involving an electric power line has received a full face transplant in the US. It took a team of more than 30 doctors over 15 hours to give Dallas Wiens his new face. Surgeons who carried out the operation at Brigham and Women's Hospital in Boston have hailed it a success. I don't have the stomach to watch something like that but you can see the video here. Grammy award winning blues pianist Pinetop Perkins has died at the age of 97, his manager has announced. Perkins, who died at his home in Austin, Texas, became the oldest-ever Grammy winner only last month winning for best traditional blues album. In a career spanning eight decades, Perkins toured with Ike Turner in the 1950s and later with Muddy Waters. Perkins also won Grammy awards for Lifetime Achievement in 2005 and for Best Traditional Blues Album in 2007. Despite his age, he played regularly at blues clubs in the Austin area. His agent told the Associated Press news agency he had more than 20 performances booked this year. "He is the blues, he is the epitome of it," Mr Southard said. "He lived it, breathed it." Once asked about his longevity, Perkins said: "I always try to do something different all the time." Yep, you only give up when there's nothing left to do. A study using census data from nine countries shows that religion there is set for extinction, say researchers. The data reflect a steady rise in those claiming no religious affiliation. I can't see religion disappearing altogether... not while human nature remains the way it is. Religion owes its very existence to human nature.
Back from getting a Cheap Chewsday pizza for Averil. I'll save my half for tomorrow. But as I walked to the garage, two butterflies were doing naughty things, so I whipped out the little Fuji and took lots of pics. The bloke was fluttering and hovering over his lady so his image is probably blurred unless I got lucky. I haven't seen the pics yet. Meanwhile, the lady was sitting on a leaf playing hard to get. But every now and then she opened her wings as if to say, "Well, maybe... lemme think about it." They were so preoccupied with the courtship they paid no attention to me, so I kept snapping away hoping for a decent pic. I'll find out later after I cook dinner for the troops.
Speaking of whom, when I told Lindsay about it he said, "Well, butterflies have gotta fuck sometime." Such a charming chap.
NEVER GO OUT WITHOUT YOUR CAMERA! Gary
March 21, 2011. Mondee. Bin day. Lindsay takes care of the bins. He always puts them smack bang in the middle of the drive so I have to move them when I take Bluey for drivies, which will be the case today because I didn't shop yesterday, and she needs more petrol and the tires checked. Isn't life exciting?
Drivies, walkies, din dins, wee wees, beddie byes... that's what happens when you own a dog. At least it did to me, and I can't break the habit. Mind you, if I'd owned a Great Dane or a Pit-Bull Terrier things might have been different.
Do you watch Cesar Millan, the Dog Whisperer on telly? He's on every week night here before the 7 o'clock news. Good stuff. If I'd watched his show when I had Kelly #2 she might not have been such a problem. In any case, I've discovered that dogs and Odysseys don't mix. For starters, all dogs are banned from National Parks as well as many beaches. They are good company but they restrict free movement to the extent that the dog calls the shots.
There's another Aussie doing the wildlife thing on telly... Chris Humfrey. He's not as flamboyant as Steve Irwin was, or as showbiz savvy, but he's pretty good and he handles animals like it's second nature... snakes, crocs, whatever. I admire people who have a natural ability to communicate with animals. Some people have it with plants as well.
Beeb time: The Pentagon expects to hand over control of allied military operations in Libya "in a matter of days", either to a UK-France coalition or to Nato, US Defence Secretary Robert Gates says. Meanwhile, witnesses in Tripoli reported hearing loud blasts and anti-aircraft fire on Sunday night. Smoke rose from near the compound of Libyan leader Col Muammar Gaddafi. The UK said it again launched Tomahawk missiles as part of a co-ordinated strike on Libyan air defences. Earlier, the Pentagon said Libya's air defences were effectively degraded. While the US will continue to play a part in military operations against Col Gaddafi's forces, Mr Gates says it "will not have the pre-eminent role". Lessons learned from Iraq, methinks. Japanese police say 15,000 people may have died in one prefecture alone, as efforts to tackle the Fukushima nuclear crisis go on. Yep, we ain't heard the last of this by a long shot. Yemeni President Ali Abdullah Saleh fires his cabinet amid continuing protests against his rule and a string of resignations. The poor guy is having a bad hair day to end all bad hair days hehe. Egyptians have strongly backed constitutional changes that will allow the country to move quickly on to elections. Good. Now all we have to worry about is the caliber of the people doing the electing. US President Barack Obama has praised Brazil as a model of democracy, during a visit to the country. Mr Obama - on a five-day Latin American tour - said Brazil's flourishing economy and growing democracy were a model for countries in the Middle East. Earlier, the US president visited the City of God, one of Rio de Janeiro's shantytowns, where he met local people. Nuff said. Pop singer Ricky Martin, music mogul Russell Simmons and HBO TV drama True Blood have won awards from the Gay and Lesbian Alliance Against Defamation. The annual Glaad awards ceremony in New York hailed Martin for appearing on The Oprah Winfrey Show to discuss his decision to come out as gay. The Latino singer also spoke of life as a single working father of twin boys. How different life was in the 50s and 60s. Australia's Labor government is grappling with potentially combustible plans to introduce a carbon tax as part of efforts to cut emissions of greenhouse gases. After the basic framework of the proposal was announced, public support for Julia Gillard's administration collapsed to historic lows, weighed down by concerns about rising household energy bills. Voters were baring their teeth at a prime minister who promised before last August's election that her party had no intention of pursuing a pollution tax. It's all very well to say that it's a woman's prerogative to change her mind, but when that woman is a Prime Minister who leads the Labor Party, it's a different matter. Meanwhile, click here for BBC pics of the Super Moon.
Julia Gillard's government is a minority supported by two independents and the Greens. It's pretty obvious that the Greens are having more than their fair share of influence. No Greens, no Julia. Go figure.
Today's snail mail included a letter from my sponsored child in Nicaragua through World Vision. It's written in Spanish by a local interpreter who attached a version in English. But there's a pic of Angel's hand that he traced and colored in. Hehe. How cute.
My name is Angel... I was born on January 29, 2009. I am 2 years old. I like to play cars, rattles. My siblings play with me. I am a joyful and loving child.
My family:
My family is comprised of my mother Rumilia, she is a housewife. My siblings are Juan, Bayardo, Carlos and Anielka. We are close and loving.
My community:
My community is very nice, the weather is cool. There is a school, a church and trees. People grow corn, beans and wheat. People are helpful and kind.
So there ya go. Hehe. That's my boy! Actually, the initial correspondence from World Vision led me to believe that Angel had no siblings, so it's nice to know he has several to keep him company in a loving family environment.
NC Art wrote: My spelling (Kaddafy) was intentional. Think daft, Daffy Duck, bonkers, round the bend, as insane which most folk would agree the Colonel Dipshit must be. What's correct anyway. Ghadaffi, Qadaffi, Gaddiffi; I've seen those and more. Perhaps schooling in Arabic, Aramaic, Farsi or Urdu would help? Heheheh.
Yep, I figured that, which is why I didn't "correct" it, which I do sometimes with typos.
That old gas refrigerator was likely quite efficient. The electric industry hinted that they were dangerous, or something, and they quickly lost favor. (When I say 'gas' I often mean gasoline, as in petrol as the English call the stuff...and maybe Aussies also. Canadians are happy with either term, but in the UK, one might be corrected sharply for breaking the rule. One instance in making a telephone call from a phone box (--never phone booth!) I could not understand an operator with a heavy Cockney accent. When I finally translated the command as "Press button A" I said, "Sorry," which got this rebuke: "I should think you should be!" No time for Yanks with this duck. Besides, phone boxes should be blue, not red; red is the proper color for police/emergency calls. As a general rule, our English friends were courteous and helpful to us American clods, but there were some instances which showed some contempt, envy, and a hint that it was simply preposterous for crude, ungrateful colonials to find fault with King George III's benevolent rule. Forget, Hell!
Yes, we had a similar problem for a while. Brits emigrating from the Mother Country to Oz in the early years after WWII were subsidized. They paid 10 pounds for the sea trip to the colony and were known as "Ten Pound Poms", and also "Whinging Poms" because they complained about everything. They thought they were superior. But that's all changed now. The only time they bitch is when we thrash them at cricket. Prince William is here at the mo charming the ladies. They all think he's lovely.
BTW, they're not red boxes any more in Oz. They're plastic thingies with no door. So much for privacy.
In 1993 I went back to England to take a better look at places I missed in war time. Behind the Great Altar in St. Paul's Church there is a small room (sacristy?) with a book in which is written the names of every American airman who died during the war. There was absolute silence as people filed along to read names on that day's open page. It gave me an eerie shiver when I realized some other tourist might have seen S/Sgt. Arthur XXXXX inscribed but for blessed luck. All my bomber crew made it through, although I am now the last soldier still alive. Lonely feeling at times.
I can imagine. But someone's gotta be the last to leave the party, and I'm afraid you're it. Besides, I think if Daniel, Cody and gang knew that a senior sergeant from the USAF attached to a bomber squadron based in London during WWII had read their crazy adventures they'd be totally chuffed. That's the last thing any of us would have expected! It's a privilege to know you, Art.
Right, tires are inflated, tank's full, and shopping's done. The bloke at the pump next to mine was the young NRMA (roadside service) fellow who saved my butt just after I got Bluey 2 years ago, and broke down after filling the tank. So there I was, stuck at the pump with a flat battery and a queue of cars behind me and I couldn't get the damn thing started. Moreover, my NRMA membership was still in TT's name and not in Bluey's. But the young bloke turned up, got me going, then gave me a wink and a nod and told me not to say anything to his boss. Hehe. Before I drove away from the pump today, I said g'day and reminded him of the incident. "Yeah, I remember that," he grinned, and wished me a nice day.
You never forget a kindness, ya know.
And now it's time to throw a few pork chops into the pan and boil a few spuds. Gary
March 20, 2011. Here's a camper in my price range (or will be at the end of the year). Bit long in the tooth but beggars can't be choosers. It's quite well fitted out... pop top, annex, etc. At dealers, you're lucky to find anything below $20K, and the real good ones are up around $30K and more. It's enough to make a bloke weep. Keep buying those Lotto tickets, G.
This is the kinda thing you can buy for about $25K from a dealer.
$25K? It's not hard to tell I'm a pensioner. The present owner of my old house in Glebe told me she's thinking of spending about $200K on renovations. Hehe. And here's me carrying on about $25K. But it's all relative. For many people, $25K is nothing. For me it's a fortune. But you never know your luck. Stay tooned.
NC Art wrote: As I write, French strike fighters and American missiles are busily busting up Col. Kaddaffy's military hardware. Where this will end is idle speculation, being the Middle East and all it's tribal factions.
The Colonel is going to be very cross with you, Art, for not spelling his name correctly. Meanwhile, how do you get Kurnel out of Colonel? Just wondering.
Art goes on: The Humber was familiar to me from days in England during WWII. Only a few, but even then they were used by government officials. No one else had gasoline to spare, y'know. With the final shot of that war, car makers swung into high gear to fill pent up demand as factories had made nothing for civilians for years. A good English car was produced by Ford's UK plants. One model was the Anglia, and its slightly larger sister was called the Prefect. Tiny by American standards, but popular because it was tough, tightly built and very easy on petrol. Two of my college mates had them. American cars were turned out so hurriedly that many were pretty poor.
Yes, I remember the Anglia and Prefect. I took a few photos of one on display at a local vintage car show a few years ago. My older bro went broke in his late 20s and bought a used Prefect for 20 quid. It kept jumping out of second gear, but at least it was transport. Months earlier, he'd had the temerity to call my first car, a Morris Oxford, an "old man's car". Well, when the bum fell out of his little world, my Morris looked pretty flash alongside his Prefect. Neh, neh, neh, neh, neeeh, neh.
By the way, Art, you don't meet many peeps these days who can say, "my days in England during WWII". Pity you didn't meet Winston. And speaking of gasoline to spare, my dad drove a Chevy panel van during the early post-war years. It was fitted with a large balloon on the roof (a bit like an inflatable mattress) that contained gas to power the engine. As I kid I remember we had a gas stove as well as a gas fridge (Silent Knight). Before that we had an ice chest. The Silent Knight was pretty flash cos it had a little ice maker section, and mom could make ice cream and ice blocks. Hehe.
Art ends his reminiscing with: Yep, we've lost several great jazz men from the good old days. And nary a Beethoven on the horizon. What passes for music now I can do without. This afternoon I listened to a radio presentation of "Lucia di Lammermoor" on Live from the Met. I've heard better. We have no Maria Callas or Joan Sutherland either, worse luck.
Hmmm. I haven't reached the stage yet where I lament the "good old days". I'm still happy to embrace whatever I think is good from the current crop of musicians. And I'm grateful for the technology that allows us to enjoy Beethoven et al via recordings. Occasionally, when I have the time, I'll sit in my fav chair, close my eyes, and listen to Ravel's Bolero. What an amazing piece of music that is... totally absorbing. One of these days, I'll be somewhere out in the sticks, with miles of nothing in front of me, and no other person in sight, and I'll be listening to Ravel's Bolero blaring while I watch the sparks of a campfire dancing in the air.
TX Greg just sent an email titled Green Room. An amazing Green Room shot! Now if Cody had seen this, he would have raved for weeks. Thanks, Greg... that's a stunner. And now we know who Dylan Longbottom is hehe. When Cody, rode his first Green Room, he said, "And you know what happened, G? I got this huge lump in my throat and wished you were there to see it." Well, Code... I think I just have.
Beeb time: The UK, US and France have attacked Libyan leader Col Muammar Gaddafi's forces in the first action to enforce a UN-mandated no-fly zone. Pentagon officials say the US and the UK have fired more than 110 missiles, while French planes struck pro-Gaddafi forces attacking rebel-held Benghazi. Col Gaddafi has vowed retaliation and said he will open arms depots to the people to defend Libya. Defend what? Your own people are against you, you dimwit. Workers are close to restoring power to cooling systems at a quake-hit Japanese nuclear power plant, officials say. Engineers connected a cable through which they hope to supply electricity to part of the Fukushima Daiichi plant. At last... a bit of positive news. Millions of Egyptians vote in a referendum on constitutional reforms, a month after a popular uprising swept President Hosni Mubarak from power. People power in action! On the other hand: Syrian security forces fire tear gas at mourners at the funeral of protesters who called for President Bashar al-Assad to step down, witnesses say. I guess you can't win 'em all. Palestinian militants in Gaza have fired dozens of missiles into southern Israel in what appears to be their heaviest such barrage in two years. About 50 mortars were fired - two Israelis were hurt, Israel says. With all the revolution fever going on in the Middle East capturing world media attention, I suppose the Palestinians don't wanna be left out of the picture. "Yoohoo! We're still here, ya know!"
I reckon they're all nuts.
Meanwhile, a bloke's gotta do what a bloke's gotta do. So I rose to the challenge and defrosted the bar fridge. I also had a shave and cut my nails. AND I'm supposed to do some shopping but I don't wanna get too carried away with extra curricula activity. Besides, the bar fridge hasn't fully defrosted yet.
According to Justin's blog, tonight will be the SUPER MOON for the Vernal Equinox, when the moon will be the closest to the earth in 18 years. It's cloudy here so it seems we won't see it. Only once have I seen a big moon rising. I was driving along a road in Sydney 30 or more years ago, and at the end of the straight road (seemingly) a massive - and I mean massive - yellow moon rose from the horizon. It was awesome! Did I have a camera? No. I'd kill for an opportunity like that again. However, not all moons are reliant upon planetary movements. Unless it happens to be this kinda mooning.
In all seriousness, this is what it looked like.
I just checked Red Bubble and was pleased to see this response to my story about the heart attack. Lots of people checked the RB journal entry to begin with, thinking I'd just suffered a heart attack, but when they saw that it happened in 2002 they thought, "oh, well, he's okay" and didn't click the link. That's not the point you bloody dingalings...it's the STORY that matters! Sheesh.
Fair dinkum, God, you really do need to go back to the drawing board post haste. Don't include me in the re-do, though. I'm fine.
And that's it for Sundee, ladies and genitals. Fish 'n' chips tonight... with a squeeze of lime. The lemon tree is bare but the lime tree is doing okay. Gary
March 19, 2011. I saw little Keiran late yesterday. He was on his way down to the river with his mate for a spot of fishing. He goes to Taree High now (just a few blocks away), unlike Josh who attended Chatham High a few miles from here, and his brother Brendan. Keiran has hardly changed since I first met him. He was eight then, and now he's thirteen. He's a fiery little bloke, though, and I suspect he gives as good as he gets from any kids who try to bully him. The most endearing thing about Keiran is his mop of straight, jet-black hair that rises and flops as he runs or pushes his scooter. I remember the days when he stopped at my gate to show me his frogs or lizards or silk worms in a shoebox. Hehe. I figure he's outgrown that kinda thing now.
Steve W wrote: Just read your update regarding the heart attack, you do have a way with words but well done on surviving that.......the heart attack, not the update. Being a keen, no make that fanatical, fisherman, I hold Steve Starling in very high esteem (and have helped make him rich with purchasing many of his products) so was great to hear that he is a friend of yours - despite him being responsible for your heart attack! A suggestion, get the stuff from your Scrapbook and your blog and for goodness sake, write a bloody book - an autobiography this time. You have a story to tell and you tell it so well. Anyway, just a thought.
I appreciate the comments, Steve. In a way, Aussie Odyssey is an autobiography, and it ain't finished yet. I don't think I want to formalize it into a book. Not yet, anyway. I like to ramble on without any formal constrictions. Steve suggests I get a hacker to change the number of votes (I've still only got one) on the Trading Post writing competition site. Hehe. Nah... let's not go there. I've accepted the fact that I don't know enough people to have any chance of winning, so bugger it. I'll enter the last two weeks of the comp but I won't make a fuss about it. Meanwhile, if you do wanna vote for me, go here.
I haven't been in touch with Steve Starling for a couple of years now. Like most of my former colleagues, he's "moved on". But our paths may cross again some day on the Odyssey. Meanwhile, *shrug*. I still have a copy of Steve's first book - The Australian Fishing Book, which he gave to me as a gift some years ago. "We used thick paper to make it look more impressive." Steve was always a keen fisherman but he began his working life as a primary school teacher in the country. Back in the late '80s, I gave Steve a lift to Sydney from his home in Gerringong on the South Coast. I had the poor old Kombi in second gear as we battled up Bulli Pass. He looked out the side window and said, "I've never been at flower-picking speed before." Here's a view of Wollongong from Bulli Lookout at the top of the mountain.
NC Art wrote: While poking around in your Scrapbook, I had a trip down musical memory lane to find myself humming Leaving on a Jet Plane and a few more. Wandering on, I was caught by the name Yvonne Tonks. It may be commonplace in Oz, but I wondered if that made her a honky tonk girl. Recently I had correspondence with a lawyer named Tonya Urps. If she does that regularly I'm glad I don't visit her in person.
I don't think Tonks is commonplace in Oz. I've only ever known one, and that was Daryl and his wife. But if you do a Google, there are lots of Tonks. On air, I used to call Daryl (who was another announcer at the radio station) Daryl's Tonk instead of Daryl Tonks. Hehe.
Art goes on: Nor incidentally, what is a HOLDEN? Yep, I saw the photo but wasn't terribly impressed. When my daughter was in high school we had an English Exchange Student to live with us for a year. She talked about her parents' Humber until I wanted to strangle her. We had a huge Chevy station wagon which she scorned. What a spoiled brat! I never owned a VW, but sometimes drove one. Not a winter car; with no radiator, there was no warmth until the tiny engine overheated, a long time with frozen fingers and toes.
Holden is "Australia's Own Car", first released in 1948. Holden was originally a coachbuilder and automobile assembler of General Motors products shipped to Oz. The company was purchased by GM during the '30s but didn't manufacture locally until after the war. In Oz it's known as General Motors Holdens, and has been very successful. In fact, it remained unaffected by the parent company's recent plunge into bankruptcy. Holdens are basically a scaled down version of the American Chevrolet with a few Aussie touches, and have been exported to the US where they're sold as Pontiacs.
Humber in England was part of the Rootes Group, manufacturers of Humber, Hillman, Singer, Sunbeam and Commer. As far as I'm aware, it's gone bye byes along with many other British auto manufacturers. Humbers were considered very posh in their day, and were often used by royalty and various parliamentary dignitaries. Actually, Holdens today are used by Aussie parliamentarians... the top of the range Statesman Caprice, which is a pretty flash chariot. Before Holden went upscale with the Caprice, Aussie parliamentarians used Yank Tanks or leftover Rolls and Daimlers from the colonial days. In 1976, Gough Whitlam turned up at the radio station where I worked in a Ford LTD. His successor, Malcolm "You-know" Fraser swanned around in a Chrysler Regal SE (like the one I had but a bit posher). However, NONE of the cars used by Aussie PMs over the years were anything like Obama's Cadillac which is bullet-proof, missile-proof, bomb-proof, and every other kinda proof, and weighs almost as much as the QE2.
Art also has this to say about the Trading Post writing comp: You're right about the Trading Post. I was tempted to vote for your Staffy Puppy entry, but recognized it was a scam.
Meanwhile, Dave from Ormond Beach wrote: I read the "fine print" concerning the rules and regulations for voting in the writing contest you entered. It was noted therein that it was for Aussies only, at least as I interpreted it. They required your email addy as well as telephone number, both of which would have given away any pretense of being from Oz. Given that info, I felt it was senseless to proceed. But maybe some people from the US and other countries did go ahead with it, but their votes were thrown out and you weren't informed of that fact. Don't know how many people from Oz read your blog, but you would think that more than one of them would have voted for your submission which I thought was pretty good.
Dave's local area (mostly Daytona) has been busy with its 70th Annual Bike Week, which attracts some 350-400K people. I would class that as a wonderful opportunity to take lots of piccies but Dave reckons it's all too hard, especially for an old bloke like him... too much traffic and not enough free parking. He'd rather be at home with his puddy tats.
Beeb time: US President Barack Obama has said Libyan government forces must end their offensive against rebel-held towns and pull back - or face military action. He said the terms of a UN Security Council resolution backing action to defend civilians were "not negotiable". Col Muammar Gaddafi's government has declared a unilateral ceasefire, as attack plans are drawn up against him under the UN resolution. There are reports government offensives are continuing despite the ceasefire. In the rebel-held western city of Misrata, which is surrounded by government forces, residents there told Reuters news agency that there was no sign of a ceasefire and that the city continued to be pounded by bombs and artillery. If that's true, the Colonel is asking for BIG trouble. That's not surprising, though, cos he's a bloody ratbag. Japan has raised the alert level at its quake-damaged nuclear plant from four to five on a seven-point international scale of atomic incidents. The crisis at the Fukushima Daiichi site, previously rated as a local problem, is now regarded as having "wider consequences". The UN says the battle to stabilise the plant is a race against time. Isn't everything? I wish them all the luck in the world. Unidentified gunmen firing on an anti-government rally in the Yemeni capital Sanaa have killed at least 45 people and injured 270, doctors told the BBC. The gunmen fired from rooftops overlooking the central square in what the opposition called a massacre. President Ali Abdullah Saleh declared a national state of emergency but denied his forces were behind the shooting. Well, you can bet your sweet bippie they weren't friends of the protesters. Displaying crucifixes in schools in Italy does not breach the rights of non-Catholic families, the European Court of Human Rights rules. If you were to take that situation to its logical conclusion, neither should depictions of the devil. Or is that going a little too far? Internet overseer Icann has given final approval to the creation of an internet domain dedicated to pornography. The move to create a top level ".xxx" domain - similar to ".com" and ".org" - ends a 10-year battle over the virtual red-light district. Red light gets the green light. Jet Harris, the original bass player with The Shadows, has died of cancer aged 71. The guitarist, who played on number one hits including Apache, died at his partner's home in Winchester, his agent Peter Stockton said. Sir Cliff Richard paid tribute to his former bandmate, saying: "Jet was exactly what The Shadows and I needed - a backbone holding our sound together." Bloody hell, all the old rockers are falling off the bloody perch! Utah has become the first US state to designate an official state firearm. The Browning M1911 joins the state fossil (allosaurus), fruit (cherry), gem (topaz), bird (sea gull) and other symbols with official designation. The gun was designed by Utah native John Browning. The law's sponsor said it symbolised freedom and empowerment. Opponents said it was inappropriate to glorify a firearm, citing the January mass shooting at a congresswoman's constituent event in nearby Arizona. I agree with the opponents. As Prince William arrives in Australia, to visit areas ravaged by the recent cyclone and flooding, he finds a country that is hotly anticipating his forthcoming wedding to Kate Middleton, despite many Australians' republican sympathies. In a country still of majestic coinage, crown prosecutions, Royal commissions and Her Majesty's ships, prisons and war planes - where the Queen still adorns bank notes and a public holiday marks her birthday - the upcoming royal wedding is arguably the biggest event this year on Australia's national and media calendar. I personally see no valid reason to go from a constitutional monarchy to a republic. Read the full article here. A US judge in Wisconsin has issued a temporary restraining order blocking the state's new collective bargaining law from taking effect. Public-sector unions' bargaining rights would be affected by the law, if it is published later this month. Judge Maryann Sumi issued the order, which is being seen as a setback to Republican Governor Scott Walker. Well, well, well... the cavalry rides over the hill just in the nick of time. Hehe. Australian police have fired tear gas to subdue rioting asylum seekers at the Christmas Island detention centre following days of unrest. Police reinforcements were flown to the island on Thursday after about 250 detainees set fire to buildings and attacked security staff. Inmates say they are protesting against living conditions and the time it takes to process their asylum applications. So the answer is to burn down the facility and shit in your own nest? Doesn't make sense to me. American Idol made more money from advertising revenue than any other US TV show in 2010, according to a survey by Forbes magazine. I'm not surprised. Everyone loves a fairy tale ending.
Hang on a minute. What did Art say? Leaving on a Jet Plane? Oh, dear... Musta been a big hit in North Carolina.
With all this talk about Libya and Col Muammar Gaddafi, I'm reminded of the "Rats of Tobruk". During WWII, the Brits ordered Aussie Diggers to hold Tobruk against occupation by Rommel's Afrika Korps for 2 months. They held it for 8 months, and were called "rats" by the Nazis because of their cunning. The term was meant to be an insult but the Aussies adopted the name with pride, going so far as to strike their own unofficial medal made of scrap metal taken from a captured German bomber. These days, there's a Rats of Tobruk Memorial in Canberra, and a branch of the RSL at Bondi called "the rathouse".
I just checked the "events" page on the local council site and next month there'll be a Century of Motoring History held at Great Lakes, half an hour's drive from here. Should be worth a look... coming from England is a 1909 Stanley steam car, and a Doble E22 steam car once owned by Howard Hughes, reputedly clocked by Texan police doing 213kph in 1925. There's a 1911 Cadillac and a 1911 Model T, plus a bunch of other stuff. Sounds cool.
Well, time to throw on the chef hat. Bangers, potato/pumpkin mash, onions and gravy. The bangers are Mr Beak's - beef with spicy salsa - jalapenos, tomato salsa and a spot of chilli. Apparently the Beak family has been around for 130 years doing all kinds of interesting things with spices using traditional homestyle methods. I've not tried them before, so let's go Mexican and see what happens! Gary
March 18, 2011. I wish I had a dollar for every time I've said, "I should have known better." The Trading Post comp is not a writing comp, it's a vote-getting comp. It's got nothing to do with writing skill and everything with 'who you know'. Apparently, I don't score too well in the latter department because my entry has only one vote despite my request yesterday for votes from readers of this blog. My vote count was one last night when I received an email from Steve W, and it's still one this morning. And yes I'm disappointed and pissed off.
I just voted for you and checked your score............one.........well it's a start! No, no need to thank me really!
At least my pissed off mood gave me an opportunity to do something I've been meaning to do for a while. I resurrected the story of my 2002 heart attack and posted it on Aussieodyssey.
NC Art wrote: Wingnut and Daniel caused an LOL sometimes, but I'm more of a hehheh type usually. But I did look at my young son once and then at the clothes dryer. That was because I noticed his eyes shifting from the cat to the microwave and wearing a silly grin. He got the message.
An LOL? Yeah... took me a while to realize Art pronounces it Ell Oh Ell rather than LOL. He goes on to write:
Among the nuttier commentaries on the Japanese nuclear woe was one Glenn Beck interpreting Revelation for us and suggesting this just MIGHT be the warning that the world's end could be in sight. I suggest you keep paying grocery bills anyway. Beck is a staple idiot and mischief maker on Fox TV News nightly. Aussie native Rupert Murdoch sure knows how to get viewers among the lovers of dark plots and dire motives of our leaders. And is a multi-billionaire! Whuush.
Speaking of money, a news mag last week published a study by some UN agency of wealth among nations. In three years the U.S. skidded from No. 1 to No. 10 in personal wealth and living satisfaction. The lead now is Finland, followed by the Norse countries. Australia is now at No. 6. Yet I expect most Americans still would howl that WE are the TOPS by any yardstick--especially our impeccable morals. And we think Brits insufferably arrogant. Oy vey. heheheh.
Keep the flag flying.
Well, that cheered me up a bit. Not sure what flag I'm supposed to be flying, but okay...
Beeb time: The UN Security Council has backed a no-fly zone over Libya and "all necessary measures" short of an invasion "to protect civilians and civilian-populated areas". In New York, the 15-member body voted 10-0 in favour, with five abstentions. Well, it's about bloody time. Engineers at Japan's stricken Fukushima nuclear power plant have managed to lay a cable to reactor 2, the UN's nuclear watchdog reports. Restoring power should enable engineers to restart the pumps which send coolant over the reactor. Workers at Fukushima have been battling to prevent fuel in the reactors from overheating since Friday's magnitude 9.0 quake and subsequent tsunami. Progress at last! A US shallow diver has broken his own world record by swan-diving 36ft (11m) into a paddling pool containing just 12in (30.5cm) of water. Darren Taylor, also known as Professor Splash, dived into a pool of near-freezing water in Trondheim, Norway, making the jump his 13th Guinness certified record. Mr Taylor, who is from Colorado in the US, has 25 years' professional high-diving experience and works as a stunt diver. Click here for the video. The first US government-chartered evacuation flight has taken off from quake-hit Japan for Taiwan, amid rising fears over the country's stricken Fukushima nuclear power plant. The plane carried 100 Americans, mostly relatives of government workers. France and China are also to evacuate thousands, while the UK and Australia have advised citizens to leave Tokyo. That won't make the natives feel too secure. The New York Times has said it will start charging North American users for some of its online content. The newspaper will initially charge readers in Canada, with its US audience facing charges from 28 March. The newspaper hopes to make up for lost revenue as newspaper sales have fallen and as advertising earnings have slipped. I guess it had to happen. Most people treat access to information on the internet as a right rather than a privilege. China has suspended approval for new nuclear power stations following the accident at Japan's Fukushima Daiichi plant. It will also carry out checks at existing reactors and those under construction. China is currently building 27 new reactors - about 40% of the total number being built around the world. Yep, nuclear "fallout" ain't just confined to Fukoshima. Michael Gough, best known for playing Bruce Wayne's butler, Alfred, in Tim Burton and Joel Schmaucher's Batman films dies, aged 94. Not a bad innings. Gary
March 17, 2011. Yesterday, Jeremy my ex-neighbor in Glebe sent me a link to another writing comp. My first attempt was rejected for "inappropriate content". I'm not surprised, but I find it almost impossible to resist being cheeky:
My 10 year old arrived home from school one day following a sudden storm. He was drenched to the bone. My first thought was to put his clothes in the dryer. But he was such a pitiful sight, with bedraggled wet hair and shoes that squished with every step, I decided to put him in as well.
I was tempted to use the washing machine spin dryer at first, however I pride myself on being a caring mother whose number one priority is the wellbeing of her family. Moreover, I checked the spin settings and there was none for 'child'.
After an hour in the dryer, my 10 year old emerged, albeit a bit sweaty and dazed but otherwise fine, and his shoes and clothes were perfect.
I would definitely recommend this dryer to anyone with wet children. Used only once. Top condition.
By: Gary Kelly
I also made a mistake. I thought I was supposed to write a short story about ONE of the three items but it's supposed to be a short story about all THREE items... a washing machine (which I thought was a dryer), Staffy puppies, and a 4x4.
So this morning, after they invited me to try again, I had another go:
1. Hello?
2. I believe you have a Staffy puppy for sale.
1. It died.
2. Oh... I'm so sorry to hear that. Do you have another?
1. No, but I have a washing machine.
2. Er, thanks but no thanks. Bye.
1. Wait! It's a front loader. My problem is I sit in front of the damn thing for hours watching the clothes go around, so I desperately need a top loader. I'm selling it cheap.
1. I'm sorry but I called about the Staffy.
2. What about a Four Wheel Drive?
1. I already have a Four Wheel Drive.
2. Not as good as this one. This one has extra big wheels... you know, like those car-crusher trucks.
1. I'm only a short person...
2. I could throw in a step ladder free.
1. I really want a Staffy.
2. I know a good taxidermist.
1. *Click*
By: Gary Kelly
When it comes to stuffing things up, at least I'm consistent. I realized after I submitted the story that I'd buggered up the sequence of 1 & 2 when I edited the thing down to the required number of words. Oh well... at least I've been accepted.
Anyway, now it's up to YOU guys to vote for my entry. Here's where you go to vote. Voters go in the draw for a $5K prize but I think it might be restricted to Oz (although the terms and conditions don't state that). Meanwhile, I could win 2 Gs or even 10! Ten would get me a camper. Yes? Vroom, vroom. BTW, this is week 4 of the comp, and it has 2 weeks to go with 2 more chances to win. Stay tooned. Meanwhile, get your friends and family to vote, get Barack Obama to vote, stop people in the street and ask them to vote! I don't care who votes as long as they vote!
Beeb time: Increasing alarm has been voiced in the US about the crisis at the Fukushima Daiichi nuclear plant in Japan. A top US nuclear official said attempts to cool reactors with sea water to prevent a meltdown appeared to be failing and workers could be exposed to "potentially lethal" radiation doses. Japanese army helicopters on Thursday dumped water on the reactors to try to cool overheated fuel rods. The US state department has urged Americans living within 80km (50 miles) of Fukushima Daiichi, which lies 220km from Tokyo, to leave the area - a much wider exclusion zone than the 20km advised by the Japanese government. I watched an interview with a spokesperson for General Electric (the company that built and installed the reactors) last night on Aussie TV and he was very reluctant to answer questions with any specific detail. In fact, he was most evasive. Security forces with tanks have overrun a square in the centre of Bahrain's capital Manama where anti-government protesters have been camped for weeks. At least three civilians were reportedly killed after police fired on mainly Shia protesters. Officials said three police also died. US Secretary of State Hillary Clinton said she was alarmed by developments in Bahrain. "We deplore the use of force against demonstrators, and we deplore the use of force by demonstrators. We want a peaceful resolution," she said in an interview with the BBC in Cairo. Good luck, Hillary. The International Committee of the Red Cross pulls out of the Libyan rebel stronghold of Benghazi fearing an imminent attack. This is serious stuff. Meanwhile, the UN continues to twiddle its thumbs. The world's largest online child abuse ring has been smashed with the arrest of 184 people so far, Europol announces. Despicable creatures. Prince William has begun a tour of disaster-stricken areas of New Zealand and Australia. The prince, who is not accompanied by his fiancee Kate Middleton, is travelling on behalf of the Queen. He started in Christchurch, New Zealand, where more than 160 people died in an earthquake last month. Nowhere near as significant as Fukushima but significant nonetheless. Oil prices rise on worries about the continuing unrest in the Arab world and concerns over the Japan nuclear crisis. That brings the crisis closer to home and the hip pocket.
A friend sent a link to a short video of a woman naked from the waist up who could bounce her boobies independently from each other, and give them lines to say (rather like a ventriloquist does with a hand puppet). I don't know if I could say I was totally mesmerized or even impressed, but I'd give it a 5 for novelty value. Anyway, at the mall while shopping a few hours ago, I saw a woman with a child in her arm (and a toddler by her side) breastfeeding her baby. Her breast was totally exposed... which is not something you see very often in public, especially when the mother is walking rather than sitting on a bench. For a moment there, after having watched the video, I was tempted to ask if she could do the 'boobie bounce' but thought better of it. How's that for coincidence?
And that's it for this pay day... money in/money out... and around and around we go, merrily we roll along. And a happy Saint Patrick's Day to you! Gary Patrick Kelly
March 16, 2011. March is slipping away, folks. Not to mention 2011 itself. A minute ago we were celebrating the 2000 Sydney Olympics, and now we're getting ready for 2012 in England. Sheesh.
I've discovered something about blogging. I've used this blog for several years to chat merrily away with all and sundry about anything that pops into my head. But it doesn't stop there. Now I blog everywhere I go... the supermarket checkout, the supermarket aisles, the doc's waiting room, the barber's shop, the street. It doesn't matter where I am, I chat to whoever happens to be within hearing range. Hehe. And it's all because of this damn blog. What's more, I chat away as if I'd known people for ages, even when they're perfect strangers. It's a worry.
I think blogging has a lot to do with being yourself. There's nothing pretentious about this blog. It's warts and all. I'm not out to win friends and influence people. I'm just having a cosy little chat with my imaginary audience "out there", and as far as I'm concerned they're all nodding enthusiastically in total agreement and enjoying every word of it. Hehe. Sometimes I get grumps like FL Josh who disagree with something but that's okay. They settle down after a while.
So when I spot people at the supermarket or in the street or wherever, I think of them as members of my imaginary blog audience, and away I go, happily chatting about whatever takes my fancy as if I'd known them forever.
FL Josh wrote the other day about Cody Simpson and Greyson Chance getting together for a concert tour. I think it's a good idea. But I have to say that Cody is becoming a 'business'. When he started out on Youchewb, he was just a kid doing his thing, and for me he had a certain innocent appeal. But now Cody Simpson is becoming a pop machine. He even refers to his fans as 'Simpsonizers'. Oh well... he did say in one interview that he is very ambitious, and wants to be Number 1.
Anyway, it certainly vindicates the power of Youchewb. Back in the mid '90s I had an idea called Teen Idol, a kind of forerunner to Youchewb, Twitter, Facebook and the like. I wrote a long formal business prop and presented it to potential investors all of whom rejected the idea. One simply said, "I don't like it." Another said, "How are you gonna make stars out of nobodys?" My answer was, "They won't stay nobodys for very long." He was the spokesperson for Rene Rivkin, a well-known and successful Australian entrepreneur and investor. I tried other potential investors but they all thought I was nuts. Yeah, right.
So then I met my Cody, and that led to Daniel and MrB. I figured if I couldn't sell the Teen Idol concept, I'd create my own. And I did it with a budget of a few dollars. Twitter, Facebook, Youchewb are all worth billions these days. Cest la vie. It doesn't pay to be born before your time, dear Breth.
And that's another thing. I don't like the phrase "my fans". I would never in a million years refer to anyone who reads this blog as "my fan". Sheesh. I think it's okay for me to say I'm a fan of someone else but not for them to say they're a fan of me. If people like what I do, that's fine. But leave me out of it. Hehe.
Beeb time: Fire has again broken out at the quake-stricken Fukushima Daiichi nuclear plant in northern Japan. The blaze has struck reactor four, where spent fuel rods are kept. The plant has already been hit by four explosions, triggering radiation leaks and sparking health concerns. Officials have warned people within 20-30km (12-19 miles) of the site to either leave the area or stay indoors. The Tokyo Electric Power Co (Tepco), which operates the Fukushima plant, said on Wednesday that efforts were under way to put out the latest fire. The devestation is incredible. I can imagine Japanese people watching news footage of the Christchurch quake in NZ last month with no idea of what was in store for them at home. Tickets for the London 2012 Olympic Games go on sale 500 days ahead of the event, priced from £20 to £2,012. See what I mean? Time, as they say, flies. Germany has temporarily shut down seven of its nuclear power plants while it reconsiders its nuclear strategy. Chancellor Angela Merkel said that all reactors operational before 1980 would be taken offline, and safety checks carried out on the remaining plants. The move comes after concerns about radiation leaks at a Japanese plant after last Friday's earthquake. The EU has also reached agreement on "stress tests" of all European nuclear facilities. Not surprising, no? G8 foreign ministers meeting in Paris have warned Libyan leader Col Gaddafi he could face "dire consequences" but have failed to agree to a no-fly zone. Germany and Russia were said to oppose British and French plans aimed at halting the advance of Col Gaddafi's forces against rebels in the East. German Foreign Minister Guido Westerwelle warned of a risk of being "sucked into a war in North Africa". That's what the Americans were saying about the war in Europe before Pearl Harbor. Japanese stocks are rising on Wednesday as concerns over the long- term impact of Friday's earthquake and tsunami on Japan's economy ease. I suppose the best time to buy stocks is during a panic.
Sue's mother is almost 90, and recently stopped driving her car. She's totally pissed off about losing her independence, but her eyesight is failing. So I asked her what kind of car she drove. "A Citroen." Well, that came as a surprise. I'd imagined her pottering around in a Morris Minor. I've always admired Citroens, but never owned one, or even driven one. I remember being blown away by this model during the 70s. I saw one being reverse parked at a kerb in Sydney and watched it rise and fall as the hydrolastic suspension leveled the car after the passengers had alighted. Magic stuff. At the press of a button you could raise or lower the ground clearance of the vehicle to suit the road conditions. I also had a fondness for the older Citroens that buzzed the streets of Paris during the 50s and 60s. The Mayor of North Sydney drove one for years. We only have one Citroen in Taree (that I'm aware of) owned by the dentist across the road from this house. It's a modern, smaller buzzbox type, probably the same as Sue's mother drove. "Oh, Gary, it was a wonderful car... never let me down... not once." I have driven a Peugeot, though, and was quite impressed by that.
What's 63 years old, has a hole at one end, and is made of leather? My baby shoe, of course.
Well, time to skedaddle and do the kitchen thing. Gourmet beef and Guinness pie for me, gourmet egg and bacon pie for HIM, and scrambled egg, cheese and tomato for HER... all served with home-made chips. We're all still alive so I can't be doing too badly. Gary
March 15, 2011. You know how sometimes you see a person and you like them instantly? That's what happened when I saw this bloke. He's straight but not narrow... my kinda dude. Now, an hour later, I'm discovering that this bloke is a famous actor. I had no idea. WHERE HAVE I BEEN? Avan Jogia is his name.
Back from delivering L&S to the doc's. L is getting his ears de-waxed with a giant syringe (ew!) and S is being checked out for whatever. She's had a few falls lately but it's mainly due to being stubborn. She insists on trying to get around barefoot (without her built-up shoe) and minus her walker.
Wanna see a portrait of a budding Churchill? Check this out.
Steve W wrote: You brought back a lot of memories with your blog yesterday – especially Pavane for a Dead Princess - Deodato 35 years ago. I loved that album and still have it. So when I get a chance, must firstly find and then fire up the old turntable and give it a blast! Do you know how one can transfer from vinyl to CD's? As I have a heap of good stuff on albums that I would like to burn onto discs.
Thanks, Steve. I know there are machines you can buy fitted with a turntable, cassette and CD but I'm not aware of any other method of burning to CD directly from vinyl. However, there's no shortage of vinyl to CD websites, such as this one.
NC Art wrote in reference to my mention of tarpaulins the other day: You might add that tar was used in sailing ships for caulking. Decks and siding needed frequent waterproofing and American pine trees were great sources of sap boiled down to a black tarry state. In the process, Sea Island blacks worked barefoot and naturally picked up the stuff on foot soles. North Carolina was blessed with great forests of pines, so tar became a lucrative product. (And played hell with old growth pines.) North Carolina is not called The Tar Heel State for no reason. Hehe.
Yes, I saw evidence of tar being used for caulking sailing ships when I visited the Endeavor replica a few years ago. They use tar on ropes and pulleys as well. I wasn't aware that tar was made from wood sap, I always thought it was a derivative of oil or coal. One of the places on my list of 'must sees' is the Maritime Museum at Darling Harbor in Sydney. Meanwhile, I had no idea that tar had so many uses and was so interesting! For more about tar click here.
Beeb time: A quake-stricken nuclear plant in Japan has been hit by a third explosion in four days, amid fears of a meltdown. The blast occurred at reactor 2 at the Fukushima Daiichi plant, which engineers had been trying to stabilise after two other reactors exploded. The protective chamber around the radioactive core of reactor 2 has been damaged and radiation levels near the plant have risen, officials say. I'm not exactly sure of this number but I think a news story said the Japanese quake was 6000 times greater than the recent quake in Christchurch NZ. Apparently, the intensity doubles with each point. Troops from a number of Gulf states, including Saudi Arabia and the UAE, have arrived in Bahrain at the request of the kingdom, officials say. It comes a day after the worst violence since seven anti-government protesters were killed in clashes with security forces last month. Dozens of people were injured on Sunday as protesters pushed back police and barricaded roads. Bahrain's opposition said the foreign forces amounted to an occupation. This whole Arab situation is getting stickier by the minute. Col Gaddafi's forces are pushing towards the main rebel-held towns in Libya, as the UN Security Council fails to reach consensus on a no-fly zone. That's where Gaddafi has the advantage... he doesn't need consensus. Five Somali men convicted of attacking a US Navy ship they mistook for a merchant vessel have been sentenced to life in prison. The men were found guilty in November of trying to hijack the USS Nicholas, a vessel on an anti-piracy mission. The piracy conviction carried a mandatory life sentence; the men were sentenced to an additional 80 years for firearms charges in connection with the hijack attempt. They get no sympathy from me. Legendary jazz drummer Joe Morello, from the Dave Brubeck quartet, dies aged 82. An Aussie jazz trumpeter said one time, "If you try to understand jazz, you're missing the point."
Yes, the Aussie jazz trumpeter (James Morrisson) makes an interesting claim. Maybe some things are simply not meant to be 'understood' or analyzed in order to make sense of them, like abstract art. Some things just are.
Meanwhile, those who argue against the use of nuclear energy to power cities now have evidence to bolster their case in the wake of the Japanese earthquake and fears of a nuclear meltdown. Even if a meltdown is avoided, the risk may be too great to pursue the nuclear path. In which case, what's left? We can forget about fossil fuels. So that leaves wind and solar and maybe tidal movement/hydro. That is UNLESS some bright spark figures out a way to harness the heat below the earth's crust and turn it into steam. The heat and energy below our feet ain't never gonna run out. It's been boiling away for a few billion years already. So it's all there, folks, we just gotta harness it.... cos we need our elek trickle gizmos.
Have you noticed I don't LOL? I'm not really a LOL person... more hehe. Cody was a bit more than hehe. He added another he, so he was hehehe. Steve never hehe'd, he was a hahaha person. Oregon Richie is hee hee. He likes to pause between things. Some people I know have a thing about being cool so they're into heh.
So what's for dinner? THEY are having pork loin chops, onions and spuds. I'll have noodles. I like noodles. Some people think noodles are a last resort for desperates who can't cook. Not true. Noodles are cool. Archeologists recently found a 40,000 y/o Aboriginal cave painting that shows a bunch of people cooking noodles. So there. :-P Gary
March 14, 2011. Bobby wrote: not so sure of what the world thinks of us (Americans) but this was cool. It's a series of pics put to the music of Fanfare for the Common Man.
That reminded me of Emerson, Lake and Palmer's version of Fanfare for the Common Man, released back in the early 70s. It blew my mind back then and it still does. It was a buzz to hear it again. British groups like ELP gave rock a classical influence which inspired other groups like Pink Floyd, Yes and Queen. It was an amazing period in popular music. I had an Onkyo stereo back then which was streets ahead of most other makes. I sat my father in front of the Onkyo one day and played Emerson, Lake and Palmer, and dad was speechless. He'd never heard anything like it in his life. Hehe. Another LP the Onkyo reminds me of is Tubular Bells. And this one, Pavane for a Dead Princess - Deodato. 35 years ago, I used to wind up the Onkyo until the room vibrated and smother myself in the music.
Well, I can't say that the 50s, 60s, 70s, 80s and 90s were dull. I think I've lived through some pretty interesting and exciting times, and it ain't over yet. Hehe. However, I suspect my parent's lives were not quite so exciting. Married, kids, house, steady job, same old, same old, year in, year out. Maybe I'm wrong but I never detected any signs of excitement from my parents. In many ways, they were like robots. If they ever did get excited about anything, they never showed it... at least not to me.
You know how you see kids walking the streets with their iTunes thingies and whatever with phones stuck in their ears, oblivious to the world around them? When I was their age, I had my 1959 H.G. Palmer stereogram (timber cabinet on legs, almost identical to this Pye) in the living room. I used to put Ray Conniff and his Orchestra and Chorus on and then lie flat on my back on the floor with my head under the stereogram so I could hear the speakers without any outside interference. They were Rola speakers... 6 inch ovals. I knew every single note of every single track on that album (a collection of latin rythms such as Besame Mucho).
Who was Ray Conniff? Between 1957 and 1968, Conniff had 28 albums in the American Top 40, the most famous one being Somewhere My Love (1966). Wikipedia.
Oh dear... I'm reminiscing again. I think it's a sign of post maturity.
Beeb time: Japan is experiencing its greatest hardships since World War II, Prime Minister Naoto Kan says, in the aftermath of the earthquake and tsunami, and a growing crisis at a nuclear plant. Police warn that the death toll in one of the worst-hit areas is likely to exceed 10,000. I remember the first report, and news that one death had been confirmed. I thought to myself, that's only the beginning. Forces loyal to Libyan leader Muammar Gaddafi reportedly seize control of the eastern town of Brega as they continue their advance on rebel strongholds. The baddies are winning, and it's not good. US state department spokesman PJ Crowley has resigned after calling the treatment of the man accused of leaking secret cables to Wikileaks "stupid". He said he was taking responsibility for the impact of his remarks about Bradley Manning. Private Manning is being held in solitary confinement at a maximum security US military jail. He has been on suicide watch at the Quantico marine base in Virginia and is shackled at all times. He faces 34 charges relating to the leaking of 720,000 diplomatic and military documents. Some people believe that a fly swatter needs to be a sledgehammer. I agree with Crowley that Manning's treatment is an over-reaction. Soprano Hayley Westenra is planning to stage a star-studded concert, dubbed Quake Aid, to raise funds for her home town of Christchurch in New Zealand. More than 160 people died when an earthquake struck last month. The singer will invite global stars to take part in the benefit concert, to be held in Auckland in August, she said. If that's what they're doing for New Zealand, imagine what they'll do for Japan. The Sinclair ZX81 was small, black with only 1K of memory, but 30 years ago it helped to spark a generation of programming wizards. Packing a heady 1KB of RAM, you would have needed more than 50,000 of them to run Word or iTunes, but the ZX81 changed everything. Yep, everything's gotta start somewhere.
Salad tonight, which means I gotta go to the supermarket and get some salad meats and other stuff. Why didn't I keep my mouth shut? But it's too hot for anything else. I'll have my salad on a fresh bread roll.
Jeremy, my ex-neighbor in Glebe, sent me info about a writing competition. The theme is Inner City Life and the word limit is 500. The last time I entered a writing competition was about 40 years ago and I got second place. I suspect it was my pen name that did the trick... George McTavish. Is that a great name or what? Anyway, I'll give it a shot. No rush... entries close mid November.
NC Art wrote to ask if Cody's Mark was piloting the Florida doctor's yacht (that I mentioned yesterday). Now wouldn't that be interesting? No, the captain looked maybe 40-ish. Besides, the doc's yacht is the motor kind, not the sailing kind, and Mark was definitely into the 'aye, aye, batten down the hatches and walk the plank' stuff. Which just led me to this. You've heard of tarpaulin (often shortened to tarp), yes? Here's the origin: Tar, a slang term for a Sailor, has been in use since at least 1676. The term "Jack tar" was used by the 1780s. Early Sailors wore overalls and broad-brimmed hats made of tar-impregnated fabric called tarpaulin cloth. The hats, and the Sailors who wore them, were called tarpaulins, which may have been shortened to tars.
And that's it for Mondee... or Mundee. Take your pick. It's the day before Chewsdee. Time to shred the lettuce, slice the tomato, and do the salad routine. Gary
March 13, 2011. Autumn with summer temperatures. 30C yesterday, 29C today. Autumn is not apparent here on the mid north coast, and certainly not like it is in Canberra. When Canberra was designed, the streets were planted with lots of deciduous trees that turn all kinds of golds and yellows and oranges and reds at this time of year, and the city looks a picture. I didn't like living there but I do admit it's a pretty town.
It occurred to me this morning that being woken by a laughing kookaburra just outside my window is not something most people experience... not even in Oz. I was NEVER woken by a kookaburra in Sydney or other places I lived. But here in Taree they're quite common. The birds wake me every morning... usually just before sunrise... kookas, butcher birds, chattering lorikeets, peewees and various other species. No clock radio alarm needed. Down by the river, just a block away, there are lots of water fowl as well... pelicans, gulls, ducks, geese, cormorants, etc. But it's the kinda thing I generally take for granted. During the summer fruiting season, we also get a few bats (flying foxes) around here. So I guess all of that says this area has a pretty healthy environment (he wrote as an ambulance with siren blaring whizzed past).
FL Josh wrote: Obviously Charlie Sheen is paying big bucks to keep the people of Oz from learning what's going on. I'm tired of looking at sites about him but in a nutshell, this Dr. Drew, who is a doctor with his own talk show, says what we are seeing in Sheen is typical of people coming off drugs, feelings of grandeur, and being right about everything and everyone else just the opposite, and he needs to be committed to a mental hospital against his will for treatment before he hurts himself or others. The police raided his home night before last (that would be about a week ago in Oz) and searched for guns due to a tip that he had a gun. None was found and Sheen just continued to eat dinner and let them look.
I wonder what he had for dinner, and if he cooked it himself. Ya know somethin'? I figure the problem with being THAT rich is the temptation to expect more from life than it realistically has to offer. If you have all that loot at your disposal, you might be inclined to think, "Hey, I can have anything I want!" And that's dangerous. Sheen needs to spend a while with a bunch of Aborigines in the outback sitting around making boomerangs and eating witchety grubs, and learning about the spirtual significance of billabongs.
I watched a program last night about moving large objects from one place to another. A heart surgeon in the US retired after 6000 operations over many years to enjoy life. So he designed and built a luxury yacht (which we call a cruiser) that he sailed around the Mediterranean. But then he decided to return to the US, and have the boat transported to Florida. The boat was designed for calmer waters, and there was no way it could cross the Atlantic under its own steam without being damaged. So he and 20 other yachties hired a ship which was specifically designed to transport luxury yachts across oceans - large yachts that couldn't be lifted by crane. The ship's construction was something like a table-top truck. It could sink itself to a certain depth which allowed the flat deck to be submerged sufficiently to allow the cargo to 'sail' on. Then the water was pumped out and the ship floated back to its normal height. In the interim, divers arranged special cradles around the hulls to hold the cargo in place during the voyage. All very interesting. And the doc's pride and joy arrived in Florida without a scratch.
The doc was obviously worth a mint but, unlike Sheen, chose to spend his money on practical things. I suppose dealing with human mortality over a long period taught him a thing or two about what was truly important in life. He employed a full-time captain and crew to manage the vessel. He was aware of his own limitations. As we say in Oz, 'horses for courses'.
Beeb time: An estimated 170,000 people have been evacuated from the area around a quake-damaged nuclear power station in north-east Japan that was hit by an explosion, the UN atomic watchdog says. A building housing a reactor was destroyed in Saturday's blast at the Fukushima No.1 plant. The authorities said the reactor itself was intact inside its steel container. The Japanese government has sought to play down fears of a meltdown at Fukushima No.1, saying that radiation levels around the stricken plant have now fallen. Can you imagine the logistics involved in evacuating 170,000 people? Here's an analysis report about 'meltdowns' and what they mean, written by the BBC's environment correspondent. The Arab League backs the idea of a no-fly zone over Libya, as rebels continue to be pushed back by Colonel Gaddafi's forces. That's encouraging. Police in Yemen have attacked anti-government demonstrators in the centre of the capital, Sanaa, killing up to six people and injuring many more. Reports say hundreds of police moved in, using tear gas, water cannons and live bullets at a protest camp in Tahrir Square. On Thursday, President Saleh announced plans to change the constitution to move to a parliamentary system. In a live televised address, he said a referendum would be held this year on measures including a new election law. However, opposition groups said their demands were "bigger than that". How fortunate am I to have been born in Oz. Zahida Kazmi has been hailed as Pakistan's first female taxi driver. She has driven from the crowded markets of Islamabad to the remote tribal country in the north. Here she tells Nosheen Abbas about her two decades in a male-dominated world. Interesting article.
Well, I'm a bit brain dead today for some reason... tired and not particularly inspired. So, it's bacon, eggs and chips time. Gary
March 12, 2011. FL Josh wrote: Here's another video on Casey Abrams, performing to be in the top 24 and making it. The judges say he is the most talented ever on the show. Interestingly, he has ended up in the hospital during both the last two weeks after performing and they are not letting out what is wrong with him. I wonder if it is nerves. All they say is it is a stomach problem. Josh goes on to say: One "Idol" insider informed The Hollywood Reporter (THR) that Casey has gotten blood transfusions while in the hospital. While host Ryan Seacrest didn't detail on Casey's illness at the Thursday night show's opening, THR claimed he suffered from ulcerative colitis, an inflammatory bowel disease which affects the lining of the large intestine. This is his second trip to the hospital since being on the show.
Well, Casey Abrams has got himself one more fan. ME. That guy is sensational, even more so because he's just 19. Make sure you check out that vid.
One comment from a judge that really struck a chord with me was "you're fearless". Yep, Abrams holds nothing back... he gives it all. And as a bonus, he's funny.
I've known fear all my life... fear of failure, fear of not measuring up. When I went down the tube, and my ex-biz partner put the boot in, I lost all confidence. I gave up. Then along came Cody. So there ya go. Now I don't care. I just do my thing and anyone who objects can go to buggery. If what I do is good enough for me, then it's good enough period. Hehe. Silly me for taking myself way too seriously all those years.
When I met Cody, it was no longer about me. It was about him. So I lost all fear. His success and his happiness was all that mattered. Mine was immaterial. I learned a valuable lesson from that experience.
Josh also says the link to medical opinions about Charlie Sheen's mental condition is down because of copyright issues, and sends an alternative link. It might work in your country but in Oz it's also down for the same reason. Meanwhile, Josh asks: Did Bluey's doctors say what was causing the backfiring? Yes, they did... my imagination. They couldn't get Bluey to backfire, so they suggested that when I rev it out in 2nd gear more than I normally do, there could be an excess of unburned fuel vapor that's causing the noise. But there are no leaks, and there's nothing to worry about. Bluey is 100% fit.
Speaking of 100% fit, here's an interview with Eike von Stuckenbrok. It's in German and I didn't understand a word but who cares. Hehe.
Well, it's Saturday and has been for some hours now. Not a lot has happened here but a day sure has made a difference in Japan. I saw the news footage of the quake and tsunami on TV last night, and checked the latest news this morning on ABC News 24. Hundreds dead, cars and buildings washed away and 4 trains missing. But despite that, the Australian journalist covering the event said Japanese society is very efficient, and most people were calm and orderly. Where she was in Tokyo, it was "business as usual". She said after the main quake, she counted 30 after-shocks up until midnight, most within the range of 5 to 6 on the Richter scale. There was talk initially of the tsunami endangering Australia but that was soon quashed by local meteorological authorities.
Beeb time: At least 350 people are dead and hundreds missing after a tsunami caused by a huge 8.9-magnitude quake devastated north-east Japan. We'll be hearing a lot more about that story in the coming days and weeks. Production is halted at many factories in Japan, the world's third biggest economy, as companies assess the damage of the disaster. Yep, it'll take quite a while for the full impact of the disaster to be assessed. Tsunami waves caused by the huge quake off Japan have reached the US Pacific coast, hours after bowling past Hawaii, but little damage has been reported. Thousands of people had been ordered to leave coastal areas in Hawaii ahead of the waves' arrival. Evacuation orders were also issued in some coastal areas of the western US and Canada's British Columbia province. At least five people in California and Oregon were swept out to sea, and some fishing boats were torn from moorings. I was 60 before I'd even heard about tsunamis. Now we hear about them regularly. The US president and EU leaders press Libya's Col Gaddafi to step down, as reports from Libya suggest rebel forces are being pushed back. Step down? Not likely. It's gonna take a bit of extra persuasion. Everybody knows it, but who's gonna do something about it? US actor Charlie Sheen files a $100m (£62m) legal action against the makers of Two and a Half Men after being fired from the sitcom. He's got Buckleys of winning. He's a nut case.
I'm a nut case too which explains why I've never sued anyone. Actually, someone asked "Do you know how much crack Sheen took?" And the other person said, "Enough to kill Two and a Half Men."
When ever I need a giggle, I check out QI on Youchewb. This one is about Adam and Eve.
Shopping's done. Boring, boring, boring. But I did spot a few specials, and that always gives me a bit of a thrill. But then I unloaded my trolley into Bluey and remembered I'd forgotten to pay Averil's newspaper bill. Damn. So I had to go all the way BACK! That took the shine off the specials. Shopping is such a bore. Averil jots down a list of things on a piece of paper and thinks the whole thing is done in five minutes. WRONG! It takes HOURS.
Anyway, that's another Satdee that's gone the way of all other Satdees since time immemorial. But before I go, check out this pic I favorited today on Red Bubble. Gary
March 11, 2011. Well, I wonder how Bluey's getting along. If I hadn't come along when I did two years ago, Bluey would have been sent to the wreckers. A couple of other lookers were itching to cannibalize her for parts. So I paid the money and said, "Tell 'em to go to buggery. She's mine!" Jeez, she was a bit of a mess when she arrived here. Noisy timing chain, rust in the roof and around the windshield, leaky oil seals, a couple of bald tires, rusty exhaust, suspension problems, leaky radiator, buggered battery and carburetor, etc. My $350 investment soon became several thousand. Oh well...
It's a good thing I bought her for next to nothing otherwise I'd be spitting chips.
FL Josh wrote: You wrote regarding Charlie Sheen's salary, "I think $3.6m a week is taking capitalism too far. Actually, I think it's outrageous that anyone can be paid that much money to recite a bunch of lines written by somebody else." I wonder what would happen if they cut the actor's pay to say $250,000 (they could always find someone who would take the part) and paid the writers the $2 million per episode!!! And in the continuing saga of Charlie Sheen, here are some medical opinions explaining what is probably going on with Sheen.
Josh is also following American Idol closely: Here's a link to James Durbin's May 9th Idol performance of Paul McCartney's Maybe I'm Amazed, including the judge's comments. James Durbin has Tourette syndrome, "a neurological disorder characterized by repetitive, stereotyped, involuntary movements and vocalizations called tics." You can see it with him in the way he squints his eyes frequently. As if that is not enough of a burden for this young man, he also suffers from Asperger's syndrome which "is an autism spectrum disorder that is characterized by significant difficulties in social interaction, along with restricted and repetitive patterns of behavior and interests. It differs from other autism spectrum disorders by its relative preservation of linguistic and cognitive development. Although not required for diagnosis, physical clumsiness and atypical use of language are frequently reported." He lost his father when he was very young. He is married and has a child but no job and they live in the cheapest place they could find.
Well, after James' performance on Idol, I think his poor days are well and truly over.
Here's another Idol contestant, 19 y/o Casey Abrams who's a hoot.
And here's 16 y/o country singer y'all, good ole boy Scotty McCreery.
Beeb time: Libyan rebels are fleeing the oil port of Ras Lanuf after sustained attacks by forces loyal to Col Muammar Gaddafi. There were reports of severe civilian casualties after rebel positions and residential areas came under fire from rockets and shells. Libyan state TV said pro-Gaddafi troops had also cleared rebels from the oil port of Sidra, west of Ras Lanuf. One of Col Gaddafi's sons, Saif al-Islam, said it was time for "liberation" and "action". Obviously not looking good for the rebels. US President Barack Obama's top intelligence adviser, James Clapper, predicts Col Gaddafi will defeat the rebels. A US congressman has warned al-Qaeda is actively recruiting US Muslims for violent attacks within the country. Representative Peter King, a Republican, spoke at a House homeland security committee hearing into the "radicalisation" of US Muslims. Critics say the hearing is feeding anti-Islamic sentiment and criticise Mr King for singling Muslims out. Yes, I think it's a mistake to tar all Muslims with the same brush, even though it's tempting. Some call it the 'New McCarthyism'. A good old belly laugh can help heal leg ulcers, experts say. The Leeds University team said good nursing and the occasional laugh was a better way to get the body healing than using the latest technology. "Believe it or not, having a really hearty chuckle can help too. This is because laughing gets the diaphragm moving and this plays a vital part in moving blood around the body." Bit late, mate... 'laughter is the best medicine' has been around for donkey's years. The Wisconsin state assembly has voted to approve a plan to strip public-sector unions of most of their collective bargaining rights. Senate Republicans used a procedural move to pass the bill on Wednesday. Republican Governor Scott Walker promised to sign the bill into law as quickly as possible. We ain't heard the last of this. France has become the first country to recognise the Libyan rebel leadership, the National Libyan Council (NLC), as the country's legitimate government. But other members of the European Union held back, with a spokesman for the EU's foreign affairs chief warning against "rushing" into decisions. It's called procrastination. There's only one other choice, and that's to recognize Gaddafi. The body of a soldier who died along with his record breaking sniffer dog in Afghanistan last week has returned home to the UK. Lance Corporal Liam Tasker, from Kirkcaldy in Fife, was shot dead while on patrol in Helmand province. The ashes of the 26-year-old's dog Theo were flown home on the same plane. L/Cpl Tasker, who was called a "rising star" by Army chiefs, was shot by Taliban snipers and Theo died of a seizure shortly after his master. The soldier and his 22-month-old dog had made 14 finds in five months while on the frontline. That surely brings a tear to my eye. You can't get closer mateship than that.
Well, the news is that there's gonna be a movie made about Sarah Palin, and her bid in 2008 to run for the US vice presidency. Meanwhile, Oz has its own Sarah Palin... Pauline Hanson. That's all we need... two redhead females in government. Sheesh. She's just returned to politics and nominated herself as a candidate for the upper house in this month's NSW election. Here's a classic Hanson quote: My view on issues is based on common sense, and my experience as a mother of four children, as a sole parent, and as a businesswoman running a fish and chip shop. Here's another one: The majority of Aboriginals do not want handouts because they realise that welfare is killing them. And another: The World Health Organisation has a lot of its medical experts sitting in Geneva while hospitals in Africa have no drugs and desperate patients are forced to seek medication on the black market.
Pauline should forget about politics and get into standup comedy. She used to head the One Nation Party, which was about as right wing as you can get. Pauline was a Queenslander but now she's living about 2 hours drive south of Taree at Nelson Bay.
Yes, I'm looking forward to the day when I can take pics like this by just walking a few yards from my camper. Imagine that... actually BEING there. And, more importantly, not having to drive home. I took that photo 3 years ago at Seal Rocks... not a bad shot. But I reckon with daily practice, I could be a better photographer. A major mistake I made back then was not understanding the value of resolution, so all the pics I took were fairly low res, okay for the internet but not for printing. Now the minimum I use is 5MP or about 2 megabytes per shot (and up to 4mb). Also, because I had to drive there and then return home, that pic would have been taken in the middle of the day - not ideal lighting conditions. When I'm Johnny on the Spot, I'll be able to take advantage of early morning and late afternoon lighting which is much more camera friendly.
How's this for psychic? As soon as I decided to brush my teeth and have a shave, I figured Shane from Nissan would phone to say Bluey's ready. Guess what? Yeah. So I answered the phone with a mouthful of toothpaste.
BACK! Bluey passed registration inspection with flying colors. No problems. And she's been serviced - greased, oiled and all the usual bits and pieces. $224 all up, which is pretty much what I expected. And she zooms along just fine. Now I gotta part with another $600 for 3rd party/property and comprehensive insurance. It costs about a grand a year just to park the damn thing in the garage!
And that's it for today, dear Breth. Thanks to FL Josh for sending those entertaining and informative links. Gary
March 10, 2011. My elder bro mentioned yesterday that he has 6 grandchildren and 2 great grandchildren... "But they're not Kellys". No, he had 2 daughters. My other elder bro had a son and a daughter, and my younger bro had one of each as well. So that's only 2 boys out of the whole next-generation tribe to carry on the Kelly name. I dipped out cos I never married. Funny about that.
My mother's maiden name was Clampett. How does Gary Clampett sound? Hmmm... no thanks. I think of myself as a Kelly.
Meanwhile, Carlos Estevez prefers to call himself Charlie Sheen. FL Josh wrote: Clip from Two and a Half Men. Charlie Sheen is (was) the highest paid actor on TV at $1,800,000 per episode and they would film two a week. The kid, Angus Jones, is the highest paid teen on TV at $250,000 per episode.
Amusing but not brilliant. I think $3.6m a week is taking capitalism too far. Actually, I think it's outrageous that anyone can be paid that much money to recite a bunch of lines written by somebody else.
Josh goes on to say: Clip of Charlie Sheen with his newly created own show on the internet called Sheen's Korner. In listening to this, keep in mind he thinks his thinking is so far above others that it is beyond their comprehension and the rest of the world is composed of losers and trolls.
Well, I could only handle 30 seconds of that tripe before I shut it down. Sheen should go back to reciting other people's lines. They make more sense.
Bluey goes in for a registration check-up tomorrow and a full service. When I accelerate in second gear a bit more than normal, I get a little 'pop', like a mini backfire. It's only just become noticeable. The exhaust is new (2000kms ago) so it might be the catalytic converter which wasn't renewed. Or maybe it's a gasket or whatever. Anyway, I've asked Nissan to check it. Oh dear... just when you think you've got everything fixed...
Beeb time: Libyan leader Col Muammar Gaddafi's security forces detained and beat up a BBC news team who were trying to reach the strife-torn western city of Zawiya. The three were beaten with fists, knees and rifles, hooded and subjected to mock executions by members of Libya's army and secret police. One of the three, Chris Cobb-Smith, said: "We were lined up against the wall. I was the last in line - facing the wall. "I looked and I saw a plain-clothes guy with a small sub-machine gun. He put it to everyone's neck. I saw him and he screamed at me. "Then he walked up to me, put the gun to my neck and pulled the trigger twice. The bullets whisked past my ear. The soldiers just laughed." A second member of the team - Feras Killani, a correspondent of Palestinian descent - is said to have been singled out for repeated beatings. Nasty stuff. Read the full report here. Jared Loughner pleads not guilty to 49 new charges, including killing a federal judge and wounding a US congresswoman, in a shooting in Arizona. The idiot is obviously playing games. I suppose he has nothing to lose. The oldest of America's space shuttles, Discovery, lands in Florida, bringing to an end its remarkable 27-year career. Yep, in an age where technology changes almost every five minutes, 27 years is a standout achievement. Morocco's King Mohammed VI promises "comprehensive constitutional reform", following last month's pro-democracy protests. Have a quiet word with your Lybian mate Gaddaffi. The foreign secretary has condemned Tehran's "completely unacceptable" behaviour after British Special Forces seized a shipment of suspected Iranian arms intended for the Taliban. The 48 rockets are understood to have been intercepted in Nimruz Province, in southern Afghanistan, on 5 February. UK officials say technical analysis showed they had come from Iran. William Hague said Iran's actions were at odds with its claim to "support stability and security in Afghanistan". You might as well file everything Iran says under B for bullshit. It wasn't Julia Gillard's blazing red hair, or even her jarring, nasal accent that made her an anomaly in Washington this week. It was her message. As Australia's first female prime minister arrived, Washington was slowly emerging, in fits and starts, from a bitterly cold winter. Amid a sea of charcoal overcoats, she delivered an optimistic, hopeful message to a politically wearied town. "You have a true friend 'down under'," she declared, to rapturous applause. To Australian ears, the flattery seemed heavy-handed. A bit desperate. Aussies might have called it crawling, or sucking up - not a desirable trait. But to Americans, at this unpredictable moment in history, there are few things more welcome than an admiring ally. Or, as Ms Gillard termed it, a "great mate". "Your brave and free people have made you the masters of recovery and reinvention," Ms Gillard said. "As I stand in this cradle of democracy I see a nation that has changed the world and known remarkable days. I firmly believe you are the same people who amazed me when I was a small girl by landing on the moon." The speech, filled with glowing references to American exceptionalism, was intended to leave a favourable impression - and it probably did. By the end, House Speaker John Boehner's eyes were filled with tears. You can read the full article here. British singer and drummer Phil Collins has confirmed reports he is to retire from the music business. "I am stopping so I can be a full time father to my two young sons on a daily basis," he wrote on his website. He's the most unlikely looking pop star but anyone who sells 100 million records ain't no flash in the pan.
I don't like Ms Gillard but I have to admit that the Yanks are all the things she says they are... exceptional. Americans have dazzled the rest of us with technology and culture over many decades. It hasn't all been good, but the good far outweighs the bad. I can understand why House Speaker John Boehner was moved to tears at hearing Gillard's praise. It's nice to receive a pat on the back sometimes from friends who appreciate the effort.
Stan the Lawn Man is here so I interrupted his mowing and said, "I need a big strong man." "I don't know any," he grinned and kept mowing the lawn. Hehe. Actually, his mower is a self-propelled Honda so there's no pushing effort involved. Anyway, he finally relented and helped me move a wardrobe in the garage. I've been meaning to ask him for ages.
Back from the Nissan dealership where Bluey will be housed overnight and attended to first thing in the morning. And yes, I got a ride home in a Nissan Tiida... nice car but no character. Maybe new cars are not supposed to have character. Come to think of it, I would have really dug a ride home in a '39 Buick straight-eight WITH BIG FAT LEATHER SEATS. Hehe. Gary
March 9, 2011. Something just occurred to me: I've seen all kinds of luxury cars such as Cadillacs in junk yards but I've never seen a Rolls or Bentley left to rot.
And before I forget, here's something that's sure you make you giggle.
Meanwhile, here's a great shot of an old restored steam loco. Terry, the photographer, checked out my motorcycle pics the other day and was inspired to visit the Thirlmere steam festival. Like me, he loves vintage and classic machinery. Thirlmere is about an hour's drive SW of Sydney and is the site of the Rail Heritage Center... another must-see on my list.
Beeb time: Any decision to impose a no-fly zone over Libya should be made by the UN and not by Washington, US Secretary of State Hillary Clinton says. Ah ha! The Bushes are no longer influencing US military policy. At least one person has died in clashes between Coptic Christians and Muslims in Cairo, Egyptian officials say. Reports say the victim was a Coptic Christian. Fifteen people were injured. Tuesday's violence erupted when Coptic protesters blocked a highway in the Egyptian capital, protesting against the burning of the church in the province of Helwan. The rally angered Muslims who wanted to pass through. Witnesses say people from both sides then began throwing stones until the army intervened. I reckon they're all nuts. Security forces in the Yemeni capital Sanaa open fire on protesters calling for the resignation of President Ali Abdullah Saleh, injuring at least 50. Next! Mexico's youngest police chief, Marisol Valles Garcia, has fled to the US after apparently receiving death threats, immigration officials have confirmed. Ms Garcia attracted worldwide attention last year when she became police chief of a border town plagued by drug-related violence because no-one else dared take the job. She is now seeking asylum in Texas after fleeing across the border. I'm not surprised. The only way to beat those thugs is to employ a tougher thug. Where's Kojak? New video has emerged of the 11 September 2001 attacks on New York's World Trade Center, shot by a police helicopter crew hoping in vain to rescue trapped office workers. The video shows the aircraft hovering near the towers' roofs, only to retreat as the first tower fell. "The whole tower, it's gone," an officer is heard yelling. "They knocked the whole fricking thing down." Click here for the video. I won't watch it. I've seen enough 9/11 footage to last a lifetime. Twenty-one priests in the US city of Philadelphia have been suspended after being named in an inquiry into claims of widespread child molestation. The move follows the release last month of a grand jury report in which 37 priests were identified as suspects. Cardinal Justin Rigali, archbishop of Philadelphia, said the 21 Roman Catholic priests had been placed on leave while their cases were reviewed. Here we go again. Prince William will visit New Zealand and Australia next week to tour areas devastated by recent natural disasters, St James's Palace has said. The prince will travel to Christchurch, New Zealand, where more than 150 people died in an earthquake last month. He will also go to Greymouth, near the site of the Pike River mine disaster in New Zealand in which 29 people died. William will then travel to Australia, where he will visit areas hit by flooding in Queensland and Victoria. Well, that's one way to attract a bit of royal attention. US officials fear a public health hazard after an estimated one million sardines that inexplicably washed up in a California marina begin to rot. The carcasses coated the surface of the King Harbor Marina in Redondo Beach, near Los Angeles, and piled as high as 18in (46cm) on the marina floor. Officials said the fish had sought shelter from rough seas and soon exhausted the water's oxygen supply. They said they would "recycle" the fish carcasses into fertiliser. Ew! I quite like sardines BUT... Oil prices fall as the Saudi oil minister says his country has 3.5 million barrels per day of spare capacity available. Henry Ford has a lot to answer for.
Speaking of sardines, every now and again I get a thing about Peck's Paste on toast, and I've been having it every morning for the past week. I NEVER have anchovies on pizza, but I quite like Peck's Anchovette, which is 20% anchovies. Don't ask me what the remaining 80% is cos I don't think I wanna know. But Peck's has been around for donkey's years and I was surprised the other day that they've changed the bottle. Not only that, they now call it Tasty Spread instead of Fish Spread. Maybe they did some market research and discovered that Tasty is more acceptable than Fish. BMW-driving advertising executives tend to suggest that kinda thing, ya know. They've also upped the contents from 50g to 125g, which is a bit of a worry cos you've gotta use it within 5 days of opening... and you use it sparingly, just a thin smear. Anyway, it still tastes good but I'm up to the 5 days already so it looks like I'll have to chuck half of it.
Here's part of an article written by David Dale, Aussie author and columnist: Australia's most purchased takeaway foods: 1 Sandwiches; 2 Hot chips; 3 Hamburgers; 4 Cakes/ pastries; 5 Chinese food; 6 Pizza; 7 Fried or grilled fish; 8 Ice cream; 9 Meat pies; 10 Filled rolls.
Apparently every Australian buys 20 sandwiches and 18 orders of potato chips a year, as part of an expenditure of $9 billion on 1.4 billion takeaway meals - up 3 per cent on the early Noughties.
To me, this news is more depressing than the notion we might be the land of tea and Vo Vos. I've nothing against the chip, but I must confess a bias against the sandwich that began when my mother got into the habit of sending me to school with white bread slices squashed round spaghetti from a tin.
Spaghetti sandwiches have no swapping value and by lunchtime they're so soggy your thumb goes straight through them. Now that I'm grown up, I will never eat a sandwich again, not even when it's disguised with a trendy name like focaccia.
Obviously millions of Australians were never traumatised by their school lunches. The only good news in the Bis Shrapnel survey is that over this decade our consumption of sandwiches and chips has remained static (the way they do in the gut), while our order of Chinese takeaways has risen from six a year in the early Noughties to nine now. Chinese is apparently most popular with eaters over 35, while sushi is the Asian choice for people aged 18 to 24 and Thai for people between 25 and 35. That sounds pretty progressive.
Now back to the bad news: Hamburgers are declining in popularity, while rolls are rising (reflected in Subway outlets - 851 of them -- now outnumbering McDonald's outlets).
I don't care how they dress them up, filled rolls are still a form of sandwich. It would take only the slightest hint of economic downturn for unscrupulous operators to start filling them with tinned spaghetti. And then society would be on the toboggan.
My mother used to make sandwiches for my school lunch, and by the time midday rolled around they were all soggy and horrible. Sandwiches are great when they're freshly made, so the trick is to keep everything separate - especially wet stuff like tomato and lettuce - until it's time to eat. But my mother didn't use a plastic lunch box. She used brown paper bags, and even they were all wet and soggy by lunch time.
Two of my fav sangers (or sarmies if you're the Codeman) are 1) mashed boiled egg with mayonaise and shredded lettuce, and 2) tasty cheese with a slice of pineapple. Yum! For toast, it depends on what my current 'thing' is, and right now it's Peck's Paste. Otherwise it's a toss up between Vegemite or Peanut Butter.
All of which inspired me to phone my eldest bro who's 80 and talk about the old days. It cost me 11 pence for a ticket to the Saturday Matinee but it only cost him 6 pence hehe. "It's inflation," he said. But I wanted to know more about school lunches. He said mom used to give him lunch money rather than make sandwiches, so he bought a bread roll and a meat pie every day for years, split the roll in half and stuck the pie in the middle. Hehe. Sheesh, what a mess that must have been. Dad used to hand over his weekly pay packet to mom, and she gave him a quid (two dollars) back for his tobacco, beer and other incidentals (he drank 1 beer a day after work on the way home).
Well, enough reminiscing for one day. Time to hit the kitchen! Gary
March 8, 2011. I was supposed to have a haircut yesterday but it didn't happen. Most of my plans are like that... tomorrow means sometime in the next 12 months. But I really need to get this mop trimmed. As I said to Richie, if the council dog catcher spots me I could end up at the local pound. Even the local real estate bloke the other day said he was gonna buy me a comb for Christmas.
So here I am mid sixties with a full head of hair. The hair line across my forehead is exactly as it's always been. No sign of receding. The color has changed from auburn to white but that's okay. I didn't like red anyway. Bleh. The women at the office did though. If I had a dollar for everytime one of the office ladies said, "I wish I had hair that color... it's gorgeous!" I'd make Bill Gates look like a pauper.
The smoke alarm just went off. Talk about ear piercing! But I checked the house and there was no smoke. Mind you, Sue was in the loo so maybe that's what caused it. Ew! Fortunately, the thing turns itself off after a few minutes. There's no way anyone could sleep through that bloody racket.
Back from the haircut. It's a wonder I wasn't mobbed by fans on the way home. But I had to wait for three other blokes before my turn. Mark is ALWAYS busy. It's not surprising really... he charges about 10 bucks less than the other hairdressers (he's a barber) and gives blokes like me a pensioner's discount. $16... so I got change of 2 x two dollar coins which went straight into my Thomas the Tank Engine money box. Isn't eccentricity a wonderful thing?
I do tend to be a bit chatty in waiting rooms or at Mark's, and I'm aware that all the other people waiting are thinking to themselves, "Oh, God, I hope that strange man doesn't talk to ME!" Hehe. Oh well...
Beeb time: Pro-Gaddafi forces have launched several air strikes on Libya's rebel-held oil port of Ras Lanuf. One attack destroyed a car carrying a family, killing at least one person, Reuters agency reported. Bin Jawad, 50km (30 miles) to the west, has fallen to forces loyal to Libyan leader Col Gaddafi, correspondents say, checking the rebels' westward progress. The UN says 200,000 people have fled the violence, where the revolt is well into its third week. Nato is considering military options in response to the situation in Libya, US President Barack Obama has said. "We send a very clear message to the Libyan people that we will stand with them in the face of unwarranted violence and the continuing suppression of democratic ideals that we have seen there," he said. Iraq and Saddam all over again? For the West, I think it's a case of once bitten, twice shy. Actor Charlie Sheen has been fired from the hit US sitcom Two and a Half Men by Warner Bros Television. The studio said it had acted after "careful consideration". The news comes amid a frenzy of US media reports on Sheen's controversial personal life. "After careful consideration, Warner Bros Television has terminated Charlie Sheen's services on Two and a Half Men effective immediately," Warner Bros said in a statement. Never seen the show, and not familiar with Mr Sheen's troubles. But Mark the Barber mentioned him. Australia and the US stand "shoulder to shoulder" in condemning the violence in Libya, President Barack Obama has said. Mr Obama met Australian Prime Minister Julia Gillard at the White House on Monday. The two leaders also discussed climate change, the war in Afghanistan and trade. The visit marks the 60th anniversary of the Anzus military alliance between the two nations. It is Ms Gillard's first official visit to the US since taking office. When I told Mark the Barber that my hair used to be red, he asked if I was related to Julia Gillard. "I can't stand the woman," I said. And he commented, "You and most of Australia." Nuff said. The inventive language created by doctors the world over to insult their patients - or each other - is in danger of becoming extinct. So says a doctor who has spent four years charting more than 200 colourful examples. Not a bad read hehe. Actually, I sent the link off to my own doc.
As to Australian Prime Ministers visiting the US, we had John 'A Man of Steel' Howard getting chummy with George W Bush, and then Kevin Rudd getting chummy with Barack Obama, and now Julia Gillard getting chummy with Barack Obama... and he hasn't even served one term yet! It's bloody ridiculous. Gillard heads a minority government. If it weren't for the independents who sided with her party, she'd be history. And my bet is that those independents will fade into oblivion at the next election. So Barack can look forward to meeting yet ANOTHER Australian Prime Minister before too long.
Back from a little shopping. Woolies has new trolleys that actually turn corners and go straight. That took quite a bit of getting used to.
I dunno much about this Sheen dude, but I found this vid on Youchewb. He seems to be a bit of a worry.
Well, I better throw the chef hat on and do the daily ritual. If I win Lotto tonight I'll let you know in the morning. It's only $10m so it's nothing to get excited about. Hehe. Gary
March 7, 2011. Mondee. Now how do you get Mundee outta Mondee? I dunno. God works in mysterious ways so it musta been God who invented English.
You see, dear Breth, the wonderful thing about being silly is that you can get away with being silly. That's what people expect. But when you say something sensible, they say, "Oh, he isn't so silly after all!" However, if you have an image of being sensible, and you say something silly, then your image is ruined forever. That's the way it works.
I watched the final episode of America last night; the Great Depression, the Hoover Dam, Pearl Harbor, America's involvement in WWII, the occupation of Berlin, Hiroshima and Nagasaki and the Japanese surrender, and post-war development... all of which led America to become a world super power. Pretty amazing stuff. There's an interesting parallel between the construction of the Hoover Dam and the construction of the Sydney Harbor Bridge. Both were undertaken during the Great Depression, and both provided much needed employment for thousands of men.
The Sydney Harbor Bridge as an icon also has something in common with New York's Statue of Liberty in that migrants upon seeing it as they sailed into the city knew they had finally made it to the land of opportunity. Here's a pic of Sydney Harbor's Bennelong Point without the Opera House circa 1949 taken from a Harbor Bridge pylon. And here's a pic of the Sydney Rocks area when the Bridge was taking shape. The old coathanger will be 80 next year.
Good grief... I just drifted off into la la land imagining two people on stage, mother and middle-age son, with the son aware of the audience while the mother is completely oblivious to it. Every time she says something a bit risque, the son says, "Mom! You can't say things like that in front of all those people!" And she says, "What people? I can't see any people!" In another scene, she starts to undress for bed, and the son reaches for an imaginary curtain to shield her from the audience, but she opens the curtain again and insists that her son is losing his marbles. "It's a terrible thing to happen at your age, my dear... you're still only a boy." So the son walks to the edge of the stage and apologizes to the audience for his mother's inability to deal with reality. "She's getting senile, ladies and gentlemen - she's fantasizing. I hope you understand." Then the mother says, "Who are you talking to dear? There's no one there." So the son asks the audience to make a noise. The mother says, "Did you hear something, dear? I think there's someone at the front door. Can you go and see who it is?"
Yes, I do that kinda thing from time to time, dear Breth... my mind wanders and starts to imagine all kinds of scenarios. Actually, that would probably make a pretty good play. Yes... a group of actors on stage... someone plotting a murder... but only one of the group is aware of the audience. He/she desperately tries to warn the other actors but to no avail. Such a plot would involve the audience in the play and make it a lot of fun. Yes? Maybe I'll write a play one day.
Beeb time: A day of fierce fighting in Libya has seen rebels trying to hold back an intensified counter-offensive by forces loyal to Col Gaddafi. And if Gaddafi succeeds, what will he gain? He will be isolated from the rest of the world and be despised by the majority of his countrymen. Pro-democracy activists in Egypt have been attacked by men in plain clothes, armed with knives, outside the interior ministry in Cairo, reports say. It is the first such attack since the fall of Hosni Mubarak last month. Protesters have stormed ministry and secret police offices to obtain documents they say show evidence of repression under the former president. Closets and their skeletons... and heads will roll. Brazil and South Africa boost their global image as a BBC poll on national views shows growing credibility for "middle powers". I often wondered why there were first and third worlds, but no second.
I just spent a bit of time on Youchewb traveling around on the Sydney Monorail. I remember the controversy back in the late '80s, and the people who were dead against the "monstrosity". But 23 years later it's still there, taking passengers (including many tourists) around Sydney streets, high above the traffic. I think it's a good thing, and always have, but I've yet to ride it. That's one of the zillion things on my list. I also watched some footage of the demise of the old "red rattlers", the trains that served Sydney for over 60 years (since the electrification of the suburban network). I rode those things twice a day for many years, back when you could buy a copy of the Daily Telegraph at the station for 6d (5 cents). There were also two afternoon papers, the Daily Mirror and The Sun. They both disappeared years ago, so god knows what commuters read these days on their return trip. Sometimes I read Mad magazine, which is still around. But I gave that up cos I used to burst out laughing and attract far too much attention from fellow commuters who craned their necks to see what was so funny.
On the Odyssey when I visit places I knew years ago, I'm half expecting to see to see them as they were, but I know they won't be. It's a bit sad in a way but that's the way it is. This area was farmland when I was at Goonellabah in 1970. These building blocks are selling for between $165K and $189K without a house. My mate at the time bought a whole damn house and land package for $12K at Goonellabah. Hehe. He also bought a brand new Holden for $3 thousand. I was renting a flat in town for $12 a week.
Oh well, if nothing changed and everything stayed the same, we oldtimers would have nothing to talk about.
Yes, it's very important to keep a photographic record of things. I was driving past the historic Taree courthouse recently and noticed work being carried out. Apparently, the old police cells were not adequate any longer and needed to be replaced, so there's extensive renovation going on. I have a photograph of the building intact, plus a few of the building in various stages of being dismantled. Maybe they're going to use the same bricks/stones to reconstruct it. I don't know. In any case, I have the pics, and I'll continue to take more as the project unfolds. You see, ladies and genitals, once its gone, it's gone forever. So ya gotta keep that shutter button busy!
And now it's time to do the gastronomic thing AGAIN. I seem to spend half my life feeding people. Gary
March 6, 2011. Another gray and dreary day but that's okay... I ain't goin' nowhere. (Isn't it wonderful to be grammatically incorrect and not get detention after school?) Got some nice feedback about the motorcycle pics I posted yesterday, so that was cool. My mini Odysseys these days are down to maybe one or two a month, if that, but once I'm on the road, it'll be one a day! Mind you, I may not post albums every day but you can rest assured that my cameras will be kept busy. I just lerv taking piccies.
However, all that crouching, bending and kneeling yesterday has given me sore legs today. I need more exercise.
I think I need one more camera though. Not sure what kind. It would be nice to have a Nikon or a Canon but they're expensive. For the moment, though, my Fujis and my Sony will suffice. As to the old Kodak... I guess it's okay for mini vids. Unlike most compacts, it has an optical viewfinder which is handy. Otherwise, it's a relic...hardly worth two bob these days. But I'm glad I had it, otherwise I wouldn't have pics like this one. If you click on the little camera icon to the right of the pic, you'll see the camera info.
Looking back at the pics I took in the early 'noughties', I realize how much I've learned from Red Bubble and observing other people's photography. It's called plagiarism hehe... but that's cool. That's the way we all learn, yeah? Monkey see, monkey do.
Take this shot, for example. Notice something? The photographer hasn't included ALL the grave in the shot... leaving something to the imagination. He places the front cornerstone in the foreground to lead the eye to the headstone. I've noticed a lot of good portraits don't include the whole head but rather the face from the forehead down. I used to wonder why that was and then I realized that when we study something up close we tend to focus on part of the object rather than its entirety. Boom boom. Here's a good example of that. And here's another one.
Beeb time: Fierce fighting has rocked Libya's Zawiya, 50km (30 miles) west of Tripoli, as rebels repelled government efforts to retake the key city. Pro-government forces were pushed out of the city centre in heavy fighting on Saturday morning, but regrouped for a fresh assault. Early on Sunday, heavy gunfire was heard in the capital. Rebels fighting Col Muammar Gaddafi have taken control of the port of Ras Lanuf to the east of Tripoli. The rebels have pushed further west towards Sirte, Col Gaddafi's heavily guarded hometown, and captured the town of Bin Jawad, 160km (100 miles) from Sirte. Observers say the overall balance of power is difficult to assess as the struggle for control over Libya continues. This is serious stuff. But it reminds me of the final days of Hitler before his inevitable defeat. The leaders of the Republic of Ireland's two largest parliamentary parties say they have agreed to form a coalition government. Shades of the case in Oz at the mo... and it's not working very well. We have a minority government supported by independents. Protesters march on the headquarters of the country's secret police in Cairo demanding the organisation be dismantled. No doubt there are those who would disagree with me, but I think in a similar way that's what Julian Assange is trying to achieve on a larger scale. Thousands of people have joined protests in the US state of Wisconsin against proposals that will limit the power of trade unions. In the city of Madison, filmmaker Michael Moore told them: "We're going to do this together. Don't give up." Republican Governor Scott Walker has proposed stripping collective bargaining rights as part of a budget-cutting bill. ..."government of the people, by the people, for the people, shall not perish from the earth." Thousands cram Sydney's streets for the Gay and Lesbian Mardi Gras. Check the pictures here.
So there ya go... another shortie today. Lamb chops and potato and pumpkin mash tonight. Nothing flash but tasty. Ya know something? I figure if humans didn't have so many taste buds they wouldn't be so fussy about what they eat, and they'd gulp down their food just to fill their bellies like other animals do. How boring. Long live taste buds. (And tasty buds, but let's not go there...) Gary
March 5, 2011. I left here at 7:30 this morning to catch the Taree and District Classic and Vintage Motorcycle Club members assembling at the Airport Tavern for a rally. There were over 100 machines there which was all very interesting, and I got some pretty good shots with the old Sony. Not one dud in 83 shots, which I thought was pretty cool.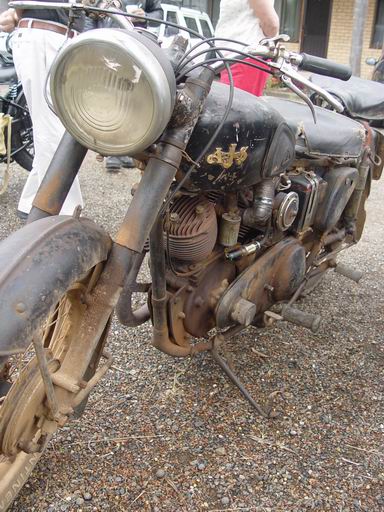 So then I arrived back here and set about creating an album and all that business, which took half the day. It's pretty labor intensive work ya know.
I was sitting in Bluey as the bikes were departing for the rally, and a bloke came up to the driver's window to ask if I was gonna follow the rally. "Nope." He explained that a bunch of people were looking for a ride "and I saw all those seats" (Bluey's licensed to carry 8 people). Jeez, fancy carrying a crazy bunch of motorcycle fanatics up the coast for 120kms. Hehe. L&S are bad enough.
Let's do a Beeb: Libyan rebels have been locked in fierce battles with pro-Gaddafi forces on two fronts. Rebel-held Zawiya, just 50km (30 miles) west of Tripoli, was the subject of a fierce government assault. Both sides later claimed to be in control. Heavy casualties were reported there and in other key cities, including the eastern port of Ras Lanuf. Dozens of people were also killed and hurt in apparently accidental blasts at an arms dump in rebel-held Benghazi. Obviously, Gaddafi is not giving up without a fight. All I can say about his supporters is that not every punter backs the winner of a race. China must ensure social stability by reducing inflation and corruption, Premier Wen Jiabao tells the parliament's annual session. You can't "reduce" something that doesn't exist, so... hmmm. Protesters in the Egyptian city of Alexandria have stormed the HQ of the state security agency, believing officers were destroying key documents. Several people were injured after police inside fired on the protesters, who then broke into the building's lower floors and clashed with police. The abolition of the force has been a demand of protesters who ousted Hosni Mubarak as president in February. Where's that damn fat lady? She's late! Search teams in Christchurch, New Zealand, react with relief after finding no bodies in the rubble of the earthquake-hit cathedral. Thank God for small mercies. The man accused of shooting a US congresswoman has been charged over the killing of a federal judge who died in the attack in Arizona in January. Jared Loughner, 22, was charged by a grand jury with 49 counts, including the murder of Federal Judge John Roll. Mr Loughner, who was rejected by the US military and had been suspended from college over concerns for his mental health, has been in jail since the attack. Obviously his mental health didn't affect his ability to own a weapon. The Queen is to pay a state visit to the Irish Republic this year, the first by a British monarch since independence, it has been announced. The Queen accepted an invitation from the Republic's President Mary McAleese, although no date has been released. King George V was the last reigning monarch to visit the country in 1911 when it was then part of the UK. Wow, a century ago. A university in the US state of Utah has suspended a star basketball player for having pre-marital sex with his girlfriend in violation of the school's strict "honour code". Brandon Davies was dropped after admitting the transgression to staff at Brigham Young University (BYU). The BYU honour code requires students to be "chaste and virtuous". Now you know why I don't play basketball. A dentist who faced charges of breaking wind and belching in front of patients and staff has been struck off. Ew! How gross is that?
Now here's a pic of the type of dinner guest you might attract when camping out in the mulga. The nerve of that guy!
Well, a bit of shopping's outta the way, Bluey's bedded down for the night, and I'm about to hit the kitchen for oven roasted Thai style chicken kebabs and chips. I hope you enjoy the mini Odyssey and the sickles. Gary
March 4, 2011. I'm becoming obsessive about this savings plan. Yesterday, I decided to quit buying Lotto tickets each week but today I relented. I'm spending less though. I'm afraid I can't do without my little flutter and the dream of winning something substantial. Bugger the millions... a few grand would be fine.
Anyway, NC Art was inspired to check out a few things after reading my Waffle the other day: Your musings on hell fire, brimstone, assorted madnesses such as wars that settle nothing except more young bodies into graves sent me back to elementary school day and poems we all had to memorize. The two I've clogged your in-box with are two poems which stick in memory--but not clearly enough to quote verbatim. So I did the prudent and hustled to Google for assistance. Fastwax huh? I drive a 19 91 Buick with so many dings it would take a tank car of the stuff to make it presentable!
I checked and discovered the poem written by MAJ John McCrae "In Flanders Fields" (May 3, 1915) on an Aussie government army web site. The red poppy mentioned in the poem became the symbol of remembrance for all soldiers from all wars.
Art also referred to another poem, "I have a Rendezvous with Death" written by Alan Seeger published in 1917 a year after his death.
As to Buicks, there was a story on Collectors last night about an Aussie who collects Buicks. I think his fav is a '59 model that "drives like a dream". My first meeting with a Buick was when my older bro bought a used '39 Straight Eight and drove it around to my parents' house to show it off. I was about 12 at the time and I remember how HUGE it was, and the smell of the leather. There was enough room in the back for a dozen kids like me. I also remember the Art Deco look of the dashboard and the old valve radio - lots of ivories, tans and browns. AND... most of all, I remember the sound of those eight cylinders in a straight line.
In May 2008, I did a mini Odyssey of the Historic Car Club. I was standing in the park and heard the awesome sound of a straight eight approaching. What a sound! And this was it. It was surprising as well as remarkable to hear such a sophisticated sound from a car built in the late '20s. The driver parked the old Buick on the grass and I was all over it like a rash, taking photos. I overheard him telling an onlooker he found it in a dilapidated state on a farm somewhere, and trucked it back to his place to restore.
All of which reminded me to check what's happening here on the weekend. I discovered that the Taree & District Classic and Vintage Motorcycle Club is holding its annual rally this Saturday and Sunday, with over 100 vintage machines on display between 8 and 9:30am at the Airport Hotel. So I better get my tired old butt out there in the morning to take a few pics. I'll use the Sony, which I haven't used for a while. It's only 5MP but it's a Carl Zeiss lens. Not worth much these days but still a great camera. The Buick pics were taken with the Sony.
Beeb time: Rebels in eastern Libya have said they will not negotiate unless Col Muammar Gaddafi quits and goes into exile. The National Libyan Council in the city of Benghazi also called again for foreign intervention to stop government air raids against the rebels. The International Criminal Court meanwhile said it would investigate Col Gaddafi and some of his sons for crimes against humanity. US President Barack Obama repeated his demand that the embattled ruler resign. Game's up, Colonel. Tunisia's interim president Fouad Mebazaa says elections for an assembly to rewrite the constitution will take place by 24 July. Another example of "history sweeping the region". A US university president has said he is "disturbed" that a psychology professor allowed a demonstration of a motorised sex toy in a lecture hall. Morton Schapiro of Northwestern University called the decision to allow a naked woman to demonstrate use of the device last month "poor judgement". About 100 students observed the proceedings following a lecture session for a class on human sexuality. I hope it wasn't before lunch. Ew! Rupert Murdoch's News Corporation is given government approval to take over BSkyB after it offers to spin off Sky News. Rupert is a collector of power and wealth and he knoweth not when to desist.
Yes, I suppose that's the way it is with collectors. When does a philatelist say, "that's my last and final stamp!"
There was a period between 2000 and 2010 when digital cameras went through rapid and constant updating, from a couple of megapixels to 10+, from 3x zooms to 10+ zooms. The older ones are not worth anything these days. I saw a used Fuji Finepix S9600 on eBay for less than $400, with everything any serious amateur would need. That's what I paid for the Sony about 4 years ago, and now I'd be lucky to get $100 for it. But it seems the technological advances in digital SLRs have pretty much leveled out. A good camera now will still be a good camera in 10 years whereas even a 5 year old camera now is pretty much old hat. However, 5MP still produces a high-quality image, so I won't be retiring the old Sony just yet. I'm pretty sure the pics from Hubble beamed back to earth were 5MP.
And that's about it for Friday. I'll fry a few veal steaks and onions for THEM and bake an Angus beef pie for moi. That'll do. Gary
March 3, 2011. It's after 1pm already and I've only just started this page. What have I been doing? Buggerizing around. In other words, lots of thinking with no results. Well... I did a bit of reading. Justin posted a bunch of stuff about Westboro Baptist Church on his blog, and that led to a few links about the First Amendment and why a judgement was made in favor of the Westboro Baptist Church, etc. It all got a bit complicated after a while, and my eyes glazed over. But it's worth reading the comments on Justin's blog, in particular the lawyer J's comment.
And now it's almost 5pm. The day has vanished... shopping, bills, yadda yadda.
Time for a quick Beeb: Rebels in Libya have been celebrating after fighting off an attempt by troops loyal to Col Muammar Gaddafi to retake the eastern oil port of Brega. The town was full of jubilant people, who fired their guns in the air, the BBC's John Simpson in Brega reports. Well-armed Gaddafi forces had arrived in large numbers, and at one stage appeared to hold the upper hand. But they were later forced to retreat. Meanwhile, Col Gaddafi warned he would "fight until the last man and woman". And what would that achieve, Colonel? New Zealand earthquake relief officials say there is no longer any hope of findings survivors in Christchurch, as the first foreign victims are named. Not surprising. The US Army has charged a soldier held in connection with the leak of US government documents published by the Wikileaks website with 22 extra counts. The new charges against Private First Class Bradley Manning include aiding the enemy, a capital offence, but prosecutors have said they will not seek the death penalty. Who or what is the enemy being aided? The US Supreme Court has ruled an anti-gay church has the right to picket military funerals under the US constitution's free speech protections. The court ruled 8-1 for the Westboro Baptist Church, throwing out an earlier $5m (£3m) judgement awarded to the father of a fallen US Marine. That's the story mentioned on Justin's blog. Two US Air Force servicemen have died after a gunman opened fire on a bus carrying American military personnel at Frankfurt Airport, police say. Two servicemen were also wounded. One of the dead is said to have been the driver. All four were based at RAF Lakenheath in eastern England. A 21-year-old man from Kosovo was arrested at Terminal 2 close to where the attack took place. One nut case and one gun is all it takes. A Kenyan lawmaker thrown out of parliament for wearing ear studs and sunglasses says he will fight to change the dress regulations. "I represent the youths who elected me to parliament," Gidion Mbuvi, 35, told the BBC. "This is our generation. It is our time," said the MP who drives a Hummer car, like many US rap stars. He said that Kenya had been governed by old men for too long. Maybe he has a point.
So that's it for today, I'm afraid. Gary
March 2, 2011. When you're 85, you like to keep an eye on who's still going at 110 hehe. So NC Art sent this little contribution to the Waffle page: From local newspaper on March 1, these items were reported: Frank Buckler, the last American survivor of World War I, died at age 110. That leaves only two remaining. One named Florence Green will be 110 this month and lives in the UK. The other whose 110th birthday will occur this month, is a veteran of the Royal Navy, born in England and now resides in Australia. His name is Charles Choulee. Thought that is interesting.
The sad thing, of course, is that many soldiers who served during WWI were still in their teens when they died... victims of human insanity.
Which brings me to this: Revelation 14:10-11 "The same shall drink of the wine of the wrath of God, which is poured out without mixture into the cup of his indignation; and he shall be tormented with fire and brimstone in the presence of the holy angels, and in the presence of the Lamb: And the smoke of their torment ascendeth up for ever and ever: and they have no rest day nor night, who worship the beast and his image, and whosoever receiveth the mark of his name".
If you ask me, no God could have dreamed up a punishment of eternal fire and damnation for non-believers. No way, Jose. That is just too disgusting for words. Insane! Only man could have conjured up such an absurd idea, of eternal weeping and gnashing of teeth. (Gnashing of teeth?) It's got human imagination written all over it... kinda like the wicked old witch boiling children alive in a big bubbling cauldron of magic potion. Human beings love all that kinda thing... horror movies, Halloween, whodunits, murder, cops and robbers, war games, blood and guts, explicit violence, etc. It was human beings who wrote the Bible and the Koran. It was human beings who created God in their likeness, which explains why God has such a fixation with violence and cruelty and vengeance.
Now what made me go off on that tangent? Well, I was just thinking about the utterly despicable misery endured by those young soldiers during WWI, and how many millions of them were reduced to maggot-infested flesh on foreign fields... victims of human insanity as I said before. Surely no God could be as disgusting as mankind. Except, of course, one created by mankind.
Mind you, not all of mankind is tarred with that particular brush. Take me, for instance, I'm totally scrumptious... generous and caring to a fault. Winner of the Mr Lovely Award.
Beeb time: The UN has called for a mass humanitarian evacuation of people fleeing Libya for Tunisia, saying the border situation is at "crisis point". General Secretary Ban Ki-moon said thousands of lives were at stake. Some 75,000 people have fled to Tunisia since unrest began and 40,000 more are waiting to cross, the UN says. The organisation has voted to suspend Libya from its Human Rights Council. Oregon Richie reports: I saw the British PM David Cameron last night doing a gig in Parliament and he right-royally slammed the Libyan dictators and everything happening there BIG time, and his recitation of "history sweeping through the region" and this "once in a generation" social movement was nearly Churchillian in content and theme. Not bad, Davey... keep it up ! German Defence Minister Karl-Theodor zu Guttenberg steps down after he was found to have copied large parts of his university doctorate. Oh dear... the shame of being found out! Not worth cheating in the first place, Karl. Iran security forces fire tear gas to break up demonstrations by opposition supporters in the capital Tehran. As Cameron says, "history sweeping through the region". UK researchers have demonstrated the highest-resolution optical microscope ever - aided by tiny glass beads. The microscope imaged objects down to just 50 billionths of a metre to yield a never-before-seen, direct glimpse into the "nanoscopic" world. The team says the method could even be used to view individual viruses. That's the kind of mankind I like to see.Check out the full story here. Two objects believed to be time capsules have been discovered in the aftermath of last week's ruinous earthquake in New Zealand. A glass bottle with a parchment inside and a metal cylinder were found by rescuers searching the grounds of the cathedral in the city of Christchurch. They were in the base of a statue of John Robert Godley, the Irishman credited with founding Christchurch. Two words were visible on the rolled-up parchment inside the glass bottle - "by" and "erected" - but it will only be opened and examined in detail by experts in a humidity-controlled environment. That's a revelation in itself... I wasn't aware of a prominent Irish presence in New Zealand. In 1859, Charles Darwin published On the Origin of Species, a book which transformed our understanding of how life on Earth developed - but ever since then, scientists have wondered whether humans were resourceful enough to remove themselves from the grip of natural selection. An interesting article you can read here. The London School of Economics has confirmed it is investigating allegations that Colonel Gaddafi's son plagiarised his PhD thesis. Saif al-Islam studied at the LSE from 2003 to 2008, gaining both a Master of Science degree and a doctorate. But allegations have emerged that he used a ghost writer, and copied sections of his thesis. In 2009, he pledged a £1.5m donation to the LSE from the Gaddafi International Charity and Development Foundation. Stay tooned. Ice cream made from breast milk has been removed from a central London restaurant on health grounds following complaints by members of the public. The dessert, called Baby Gaga, went on sale at ice cream parlour Icecreamists in Covent Garden in February. Westminster council said it had received two complaints from members of the public and concerns were raised by the Health Protection Agency and Food Standards Agency. Tory Westminster Councillor Brian Connell said: "Selling foodstuffs made from another person's bodily fluids can lead to viruses being passed on and, in this case, potentially hepatitis. Oh dear... well, I don't think it would be my cuppa in any case. The price of gold hits a record high as investors worry about the political turmoil in Libya and tensions in the Middle East. If only Aussie dollar and two dollar coins were made of REAL gold!
Lemme do a Google. Okay, the Aussie dollar coin weighs 9gms (which is kinda crazy cos the Aussie two dollar coin weighs only 6.6gms). Anyway, 9gms is about 0.3 of an ounce. Gold is worth AUD1414 an ounce or about AUD45 a gram. So if an Aussie dollar were made of REAL gold, it would be worth about 400 bucks! Actually, its composition is 92% copper, 6% aluminium, and 2% nickel. Zero gold, ladies and genitals. Diddly squat. We wuz robbed!
Anyway, at that price, I'll certainly be doing a little panning for gold on the Odyssey. I did a bit during a camping trip when I was 16 and got some dust which I put in a matchbox. But it disappeared... somehow, someday, somewhere. I know where the place is, though. In fact, I know two places. The problem is, when you're dealing with tiny little specks, it takes quite a deal of specks to make an ounce! Look for the nuggets... that's the go.
If you have the time to read a short story about the prospecting luck of a few blokes on a week's holiday searching for gold, check it out here. I found it most absorbing. Gary
March 1, 2011. You know what makes time go really slowly? A savings plan. That's all it takes. It takes FOREVER between deposits. But if you want time to fly, simply pay off your debts. You pay your bills one fortnight and whammo, the next one arrives in an instant. It seems ages ago since I decided to put my spare cash into a savings account rather than use it to pay extra off my debts. And what happened? Time ground to a halt.
Savings will take a dive this month when Bluey is due for registration (early April), compulsory 3rd party insurance and comprehensive insurance renewals. Dammit. I've booked her in for a service (after only 1000 kms since the last one?) and a registration inspection at the end of next week.
Yes, it's like the difference between being a kid and being a chicken. If you're a kid waiting for Santa to arrive, time drags. If you're a chicken waiting to be plucked, stuffed and roasted for Christmas dinner, time flies. Hehe.
So here we are, March already. And I remembered this morning to change the date on my day/date calendar watch from 29 to 1. I'm right now until the end of April. How's that for a riveting piece of information.
Beeb time: Libyan leader Col Muammar Gaddafi has told the BBC he is loved by all his people and has denied there have been any protests in Tripoli. Col Gaddafi said that his people would die to protect him. He laughed at the suggestion he would leave Libya and said that he felt betrayed by the world leaders who had urged him to quit. US ambassador to the UN Susan Rice said the interview showed Col Gaddafi was "delusional" and "unfit to lead". I agree with Rice. Iranian opposition leaders Mir Hossein Mousavi and Mehdi Karroubi, and their wives, have been taken from their homes by security forces, reports suggest. Both Mr Mousavi and Mr Karroubi have called for demonstrations in Iran in the light of the recent uprisings in Tunisia and in Egypt. You can't stop a tsunami, Mahmoud Ahmadinejad, no matter what you do. Actress Jane Russell, a Hollywood sex symbol who starred in Gentlemen Prefer Blondes with Marilyn Monroe, dies at the age of 89. Another bit of history bites the dust. Three Danish children and their parents have been snatched by pirates who hijacked their sailing boat in the Indian Ocean, Danish officials say. Denmark's foreign ministry said the children were aged between 12 and 16, and that two Danish crew members were also captured during the attack. Piracy is a highly lucrative trade in Somalia, where gangs can often demand millions of dollars in ransoms. As of last week, the EU's anti-piracy naval force said pirates were holding a total of 31 vessels, and 688 hostages. It's impossible to have any sympathy for their case, if you ask me. Bastards. America's last surviving veteran of World War I, Frank Buckles, has died aged 110. Mr Buckles, who joined the US army in 1917, at the age of 16, lying about his age to get enlisted, died of natural causes at his home near Charles Town, West Virginia, on Sunday. He was one of more than 4.7m Americans who signed up to fight in the Great War between 1917-18. We lost our last ANZAC in 2002... Alec Campbell, aged 103. Oetzi the Iceman has reappeared looking fighting fit - as a new model on show in the Italian Alps, where he died from an arrow wound some 5,300 years ago. In 1991 a German couple found Oetzi's mummified corpse embedded in a glacier, in a high mountain pass. Researchers say Oetzi was about 159cm tall (5ft, 2.5in), 46 years old, arthritic and infested with whipworm. There was no Medicare back then. British film The King's Speech is crowned best picture at the Oscars and wins a further three awards including best actor for Colin Firth. Well deserved, I think. I was good friends with a stutterer years ago. He would take forever to say something. But when he sang on stage it was a different story... no problem. He was a talented drummer as well.
Back from shopping... mostly Averil's. But as I wheeled my trolley into the parking lot, I was approached by a smiling young lady who said, "You're my next victim!" She waved a can of something or other, with a trigger spray, and I asked her if it was good for cooking. "No! This is not for cooking, this is for your car!" I told her I never wash my car and yadda yadda, but it didn't do any good. She followed me to Bluey, chatting all the time, and then proceeded to demonstrate the product, which I have to admit is pretty amazing. "Do you have any scratches?" she asked. Well, I told her about the one on the driver's door caused by some dimwit who pressed a glomesh handbag against the paintwork while searching for keys (I presume). I had previously tried to get rid of it with cutting compound and polish but to no avail. The girl gave it a spray and a wipe, and then a polish and whammo... it was gone! Well, that sold me. FORTY BUCKS??? Actually, it cost me $50 with a trigger, a tube of terry towelling cloths, and a tube of micro-fibre polishing cloths thrown in. It's called FW1 or Fastwax.
Anyway, that's another $50 off the savings plan. BUT I'll use it just before I sell Bluey and have her looking like a million bux.
Meanwhile, it's time to hit the kitchen again. Bleh. Gary
← Older posts Waffle Index Newer posts →
or
Return to Home Page