| | |
| --- | --- |
| the WAFFLE page | |
August 31, 2011. I forgot to mention yesterday that ZYX wrote: Remember what I told you years ago?......."A MAN NEVER GROWS OLD.......... ONLY OTHER MEN DO" So Happy Birthday.....................KID!
NC Art also wrote: G'day Gary, and a BIG BELATED HAPPY BIRTHDAY TO YOU, MATE!! Art's ISP crashed yesterday somewhere along the net. I had been thrilled to find TV, phone, internet and electricity all up and running in the aftermath of Irene--thart bitch. Goodnight Irene, goodnight Irene, and stay the hell out of my dream. She is still making mischief and misery for thousands--including my daughter in Virginia. No power and no promise of when. Monday morning I reached her home phone, but was interrupted by a message that service had been discontinued. She keeps her cell phone off to conserve battery because there is no way to recharge it. An e-mail to granddaughter in Charlotte has not been answered yet. It's worrisome not to know what the hell is happening.
Yes, it is worrisome being out of touch, especially during a disaster. When Cody was killed in a car crash, it was 6 weeks before I was told. Imagine if I'd never been told. I'd still be wondering what happened even now, 10 years later. Is it better to know than not? Yes, it is.
I was just thinking about the sheer joy of being alive. I've experienced it a few times but not all that often. I'm not the type of person to bounce out of bed in the mornings feeling exhilerated, and then go jogging around the block. Bleh. But I'll never forget one time I took my dog to the local park. The grass had been freshly mowed, and it was a gorgeous day. She was so excited, she took off and ran around in circles, ears pinned back and little legs a blur. Then she'd make a direct bee line for me as I sat on the lawn and veer away just in the nick of time to avoid a collision. She was part daschund with shortish legs, so occasionally she misjudged her sharp turns and went for a tumble, hehe. But it was a joy to see her so elated; intoxicated by the smells of freshly mown grass and whatever else was in the air. I think that was the most memorable demonstration of joie de vivre I've ever witnessed.
On the subject of shutter speeds and apertures, NC Art made this comment: Last month National Geographic magazine published an article on the camera obscura and Louis Daguerre's contribution to modern photography. This month a reader had a letter telling of his eye-opening experience while sitting through a boring physics class at Boston University. The professor suddenly closed the wooden blinds and darkened the room as he went on lecturing. A few minutes later he called attention to a tiny hole in one of the blinds and told his student to look at the opposite wall. They were fascinated to see vehicles moving on the street, a great view of the Charles River, and tiny images of joggers in a park. They gave him a standing ovation and they got a new appreciation for the properties of light. We all owe a big debt to Louis Daguerre and his quest for the right chemicals to "fix" an image on film and later on copper plates---or the daguerreotype. The French government bought his system and promptly made it public property. So, you should remember that the smaller the aperture, the sharper the image...but the small aperture also requires longer exposure and/or more intense lighting on the subject. Sounds shit simple, Huh? Until you actually try to juggle all those factors. In making halftone negatives for printing photos in commercial publishing (my career) those factors will send you into a fit. An old hand told me, "Waal Art after you've screwed up ten thousand sheets of film you should get a good one." How's that for discouraging words! Yooowwp.
Yes, it does get a bit complicated, and shooting outdoors means you don't always have time to make adjustments like you do in a studio. It's often catch as catch can. But the great thing about digital photography is that you don't use film, so you can happily shoot as many pictures as you like without the need for processing. If you happen to be familiar with Photo Shop or one of the other digital image enhancement programs, you can manipulate images to your heart's content in post production. There's also a thing called bracketing, where the camera takes 3 (or more) pictures in quick succession at varying exposures. In situations where there's a lot of contrast between say sky and subject in shade, you can merge the three exposures in post production so that all elements of the resultant single image are correctly exposed. Excessive contrast is why photographers prefer to shoot in soft light, such as early morning or late afternoon/evening. Harsh shadows are a photographer's nightmare (although silhouetting can be effective).
Processing bracketed shots is called HDR... high dynamic range. Here's an example of an image using HDR.
Of course, some photographers are not happy to take pictures of what's there, they prefer to create something that's not there.
A few minutes ago, my bowl of chicken flavored noodles wasn't there. Now it is. But not for long. It's lunch time! I do love my noodles (with a bit of extra chilli and parsley).
Beeb time: Libya's interim leaders give pro-Gaddafi forces until Saturday to surrender or face military force, after Col Gaddafi's wife and three children flee to Algeria. What, no pardon? Soldiers have been airlifting storm-relief supplies to Vermont towns which remain cut off after the trail of destruction left by Irene. More than 200 roads are blocked or washed away in Vermont, hampering rescue efforts to 13 towns. Irene killed 44 people in 13 US states, according to the Associated Press, and caused billions of dollars' damage. About half of the 6.7 million utility customers on the east coast who lost power still have no electricity. A reminder from Nature that even the most powerful nation in the world ain't all that powerful. An Australian official has described as "incredibly irresponsible" Wikileaks' release of a US cable that appears to name Australian terror suspects. The cable was among more than 130,000 confidential US cables released by the whistle-blowing group, many of which did not remove the names of sources. Such information has previously been redacted in Wikileaks releases. The group has denied that any sources were exposed or that there were any mistakes in the data release. The alternative is to close down Wikileaks and go back to treating us ordinary folk like mushrooms, happily being fed shit in the dark. The Australian city of Melbourne has beaten Canada's Vancouver to the title of world's most liveable city for the first time in almost a decade. Vancouver has topped the annual Global Liveability Survey since 2002, but this year fell to third behind Vienna. Overall, Australian and Canadian cities did well, capturing seven of the top ten spots. MOST LIVEABLE CITIES 2011 1: Melbourne 2: Vienna 3: Vancouver 4: Toronto 5: Calgary 6: Sydney 7: Helsinki 8: Perth 9: Adelaide 10: Auckland. London was ranked 53, out of 140 cities surveyed. Honolulu, at 26, was the top US city. Sydney will be furious about Melbourne's win. Zimbabwe has expelled Libya's ambassador who last week abandoned Col Muammar Gaddafi and backed the rebels. Taher Elmagrahi joined protesters who stormed the embassy and raised the pre-Gaddafi flag. Zimbabwe's foreign minister said it did not recognise the rebel National Transitional Council. President Robert Mugabe is a close ally of Col Gaddafi, who bankrolled the African Union. Only a few African countries have recognised the NTC. Birds of a feather - Mugabe and Gaddafi. No surprise to me. Land Rover will release an all-new version of its Defender model in 2015, it has confirmed. The carmaker has also released the first images of the concept car upon which the new Defender will be based, the DC100. This is set to make its public debut at next month's Frankfurt motor show. The current Defender was first introduced in 1948 and has gone on to enjoy sales of more than two million around the world. Its basic design has changed little over the past six decades. Oregon Richie will be interested in that... he's a huge Landy fan, and drives one. A Glasgow-based company has installed its first commercial "alkaline hydrolysis" unit at a Florida funeral home. The unit by Resomation Ltd is billed as a green alternative to cremation and works by dissolving the body in heated alkaline water. The system submerges the body in a solution of water and potassium hydroxide which is pressurised to 10 atmospheres and heated to 180C for between two-and-a-half and three hours. Body tissue is dissolved and the liquid poured into the municipal water system. Mr Sullivan, a biochemist by training, says tests have proven the effluent is sterile and contains no DNA, and poses no environmental risk. Yep, poof! Gone. That's me.
So what's so great about Oz? Read BBC correspondent Nick Bryant's last Aussie blog, Farewell to Oz.
Outta the blue another old colleague, Peter Kukura, spotted the Scrapbook page on Aussie Odyssey and emailed me. Peter was a whizz knob-twiddler at 2DAY FM back in the mid 80s when I worked there. We collaborated on quite a few projects, including a jingle that rocked. Another blast from the past.
Right, my mobile techie Beau has just left after installing my old external hard drive with a new case. The drive was okay but the case was stuffed. So now I've got a new silver one with a fancy blue light. Very flash. And he programmed it to backup my files weekly at noon on Sundays. Cool. All the other stuff from the past 12+ years is there as well. Beau told me he's buying the business in partnership with his wife. The original owner Chris has had enough and has lost interest. Shortly after I arrived in Taree in 2001, Chris built my desktop computer, and a second some years later.
So that's it! Time to hit the kitchen and feed the inmates. Gary
August 30, 2011. While I was at Old Bar the other day, I spoke to an elderly couple, one of whom had just moved into the area. I think the population there is about 5000 give or take. But apparently there's a new estate earmarked for an increase of 8000 in the coming years. So much for sleepy little Old Bar. As we chatted, a powered hang glider flew over. It was too far away to take a decent pic. But there's an airfield nearby - a grass strip that was used as a hop and refuelling depot during WWII. Next door is a sports field which is the venue for the annual Kombi festival. Anyway, I updated the Journal this morning to include the pics of the kookaburra plus a few of the main beach area.
Got a notice from Lulu this morning that a copy of Green Room and a copy of Green Room II were sold. A little bit here and a little bit there. Lulu changed the shop front or something or other the other day to make authors and their books more visible. I don't understand it all but it seems to have made a difference.
Just back from my daily exercise... and managing to inflate Das Busse's tire at the same time. How's that for killing two birds with the one stone? Old Kev's foot pump is not the most efficient of contraptions but it does the trick. Air's free ya know.
Beeb time: The wife and three children of fugitive Libyan leader Muammar Gaddafi are in Algeria, Algerian officials say. A foreign ministry statement said Col Gaddafi's wife Safia, daughter Ayesha and sons Muhammad and Hannibal left Libya early on Monday. Algeria's UN ambassador said they were received on humanitarian grounds. Meanwhile rebels said they had uncovered four mass graves in recent days, apparently containing victims of Col Gaddafi's forces. Col Gaddafi's own whereabouts are unknown. Humanitarian grounds? More than 50 bodies have been found at a warehouse in Tripoli, behind the headquarters of a feared army unit, the Khamis Brigade, led by one of Colonel Gaddafi's sons. Survivors say they were civilians, massacred by Gaddafi's forces earlier this week. It is the smell that forewarns you of the horrors to come. The nauseating stench of death reached out from the warehouse, curling around us, like a physical presence. This is the Gaddafi legacy, and anyone associated with that evil bastard should hang their heads in shame. Read the article here. The number of people killed by Tropical Storm Irene nears 40, as authorities warn flooding could continue for three more days in some US states. Luckily, NC Art wasn't one of them. He's been around too long to let a bit of wind bugger up his longevity. The US government has wasted $30bn (£18bn) in contracts in Afghanistan and Iraq over the last decade, according to a bi-partisan spending commission. The commission on wartime contracting blamed an over-reliance on contractors, poor planning and fraud for the waste. Over the last decade? Hello? Who was in charge? The Joys of Blogging by BBC correspondent Nick Bryant who has spent the past few years based in Oz. Not a bad read. Private security firm G4S has sacked two members of staff who tagged a man's false leg allowing him to remove it and break a court-imposed curfew. The pair were fooled by Christopher Lowcock, 29, who wrapped the prosthetic limb in a bandage when G4S set up the system at his Rochdale home. He was then able to remove the limb and break a curfew imposed for offences involving drugs, driving and a weapon. G4S sacked the pair for committing a serious disciplinary offence, it said. Oh dear... the Keystone Cops are still alive and well.
Now that I've overcome my nervousness about using manual controls on the Sony, I'm more at ease with the thing. I've always had a fear of trying anything new ya know. Wussy me. Anyway, using aperture or shutter priority is pretty much like the way I operated my range finder and SLR cameras back in the old days. Select one, adjust the other. Pretty straightforward except that it's a bit time consuming if you're trying to get a quick shot before the subject disappears. Also, if you're using the LCD screen to select shutter speed or aperture, it's damn hard to see what you're doing in strong sunlight. The viewfinder is better but then your fingers have to find their way around the camera buttons in the dark. Oh well, practice makes perfect so that's what I gotta do. Get out there and practice. Mind you, auto is fine for 90% of shots, using focus/exposure lock.
Here's a comment from a guy who watched a Holden advert on Youchewb. My first car was also an EJ wagon. I bought it in 1983 for $1000 and kept it for 22 years. I sold it for $4200! It had 93,000 miles on the clock when I bought it and 440,000 miles when I sold it. Not a bad endorsement for the old Aussie bus. And if you don't wanna drive an old Holden, you can always turn one or two into something else, like a barbecue and a sofa.
The main reason I was farting about on Youchewb was to find an Aussie bush camping vid but they were all pretty lame. This one is not bad but it's a commercial vid for outback travel.
It would be cool to do a few vids on the Odyssey for a bit of fun, and post them on Youchewb. With a little practice maybe I could do something worth watching. For example, when the sun sets over Uluru, the rock changes color quite dramatically several times, and probably the best way to capture that is with a short vid. Anyway, we'll see what happens. My mind is racing with ideas already, and I'm not even there yet! Gary
August 29, 2011. Yeah, 67. TX Greg wrote: So what to get Gary for his B-Day, how about your very own billboard…………. HAPPY BIRTHDAY!!!
Bloody hell! That blew me away! How the hell can I refuse to go now? I'm obligated. In one fell swoop, Greg has encapsulated the essence of my dream despite all my fears and difficulties in getting it happening. That is one awesome graphic, Greg. A true inspiration. You've knocked me out. Forget the suit though... it'll be jeans and T.
Coincidentally, Oregon Richie wrote: HAPPY BIRTHDAY DAY and hope it is enjoyable, Gary. Goodbye to the double-six perhaps but six is followed by seven pretty naturally !! So maybe that is a fine progression of things. It is of course quite interesting to ponder WHERE and WHAT you will be doing by the time the next one rolls around. I can't see illegal parking being that much an issue in the vastness of OZ and don't think you will stumble much upon "no camping allowed" zones but it's nice to think about how many special places "out there" just "waiting for Gary" may be vacantly and patiently waiting. A hundred scenes unimagined; a morning view like no other, scenery and morning panorama's and vistas that you could never have thought of, and will be ever-changing and new, and not even in the imagination of thousands upon thousands of those city dwellers who can no longer see beyond the building next door or the inside of an office or the choked traffic or the inside of a commuter train. That is perhaps not giving them enough credit, but hey.... you got the means and you are coming up on having the way so the ways and means will be extra special.
So maybe having that dream and being on the cusp of making it happen is the very best birthday present of all. At least the realization of certain dreams were the best presents that I ever managed to achieve for myself, so.. I think that's true !!
It occurred to me yesterday when I got that shot of the kookaburra that I was at the right place at the right time, and you don't get that by sitting on your office chair in front of a computer. Go figure.
By the way, I've got staff. Did you know that? A bloke who has just discovered the Cody stories wrote me and I replied. He wrote again and I replied again. So he figures I've got staff. I was pleasantly surprised to have received two emails from you (replies to what I sent you). The stories must get you a lot of emails. So if these are not personally from you then you have an excellent staff because they feel like they are from you. Hehe. Yeah, right. What staff? I remember when Albert first wrote me and was surprised to get a reply. He thought I must've been famous. No, mate, it's just lil ole me.
NC Art survived Hurricane Irene: My parole from hotel hell was approved early afternoon today, so I am safely re-ensconced in my familiar shack in the woods. With all the innovative ways the lodging industry has devised to separate man from money, I'm real glad to be free again. Hotel food is no better than my home cooking, but they seem to believe it is woth tenX more! No major damage at the homestead. Trashy yard from leaves and small tree limbs and an electric line that went from son's home to his shop. He can fret about that when he finishes a job in El Paso, TX.
Art also liked the shot of my Aussie feathered friend: Love the shot of kookaburra. I wanted a closeup, and even at 440% the resolution was still sharp. Photography was never my long suit, so good shots were all accidental. One fondly recalled is Mount Hood in Oregon taken from an airliner. A perfect doughnut shaped cloud band encircled the top just below tip of the peak. A cheap camera, lens held against the window to foil auto focus did the trick. I had discovered that auto focus would be fooled by the glass if held away from it and blur everything farther way. Also discovered that an ancient Kodak box camera often did as well as a $750 lens on an expensive Konica. Ah well.
A serious Red Bubbler once told me that he always carried his little Canon compact with him and that many of the shots were as good as or even better than his hugely expensive Canon DSLR. The shot of the kooka, by the way, is 5 megapixels which is not huge but not bad either. Good enough for a large print but not poster size. The Sony is almost 10 years old now but still a good camera. The thing about lots of megapixels (10+) is that you can crop a portion of a shot and still have a high-resolution result. Incidentally, Konica merged with Minolta, another good brand. Red Bubble makes it obvious that you don't need a Canon or a Nikon to take good pictures. There are photographers out there using all sorts of brands with excellent results.
Oh, and the pic of my parents I posted the other day on Red Bubble was featured in the group Days Gone By. Imagine that... 90 years down the track and there's mom and dad on the internet.
Thanks to Ohio jace who sent an e-card with a bunch of canines singing Happy Birthday hehe. He says they felt the recent earthquake in Ohio as well... shake rattle and roll. The local school was evacuated as a precaution. Jace follows racing, so he's up to date with what's going on. He says Casey Stoner, the young Aussie motogp racer, is about to become a papa. That kid with the goofy grin and lots of teeth gives a false impression. He looks like he still belongs with the juniors but there's no doubt about his determination, courage and will to win in top grade. He seems like quite a modest person as well. Jace reminds us that the blond Adonis Steve will be 28 on September 1, Mark will be 29 on October 8, and Wingnut was 24 on August 15. You have to wonder if they still sometimes reminisce about those crazy teen days of yesteryear.
Meanwhile, the Ohio gang is doing well, except for a few ATV mishaps. Little Sean head-butted a tree and spent a few days in hospital. Kids! Big Sean is attending various job interviews so he'll be soon settled. Not married yet, though. That'll come next. Kids grow up sooooo fast! Code and Stevie are doing fine. Code is in first grade so Stevie gets to be king of the castle at grandma's.
Beeb time: US President Barack Obama has warned that flooding and power cuts are still a risk as Tropical Storm Irene moves away north towards Canada. The storm, downgraded from a hurricane, passed New York on Sunday but Mr Obama said the danger was not yet over as swollen rivers could burst their banks. More than 300,000 people evacuated from low-lying areas in New York City are being allowed back home. The storm has killed at least 18 people and caused extensive damage. More than three million people have been left without power in New Jersey, Connecticut and New York. That's nature. Kind one minute, cruel the next. Lockerbie bomber Abdelbaset Ali al-Megrahi is at death's door in the care of his family at home in Tripoli, CNN says. I have no sympathy for that mongrel whatsoever. A suicide bomber kills at least 28 people and wounds at least 30 more inside a Sunni mosque in the Iraqi capital Baghdad, local officials say. Meanwhile, Allah is busy finding another 27 virgins. Can you believe all this shit? The singer Sir Tom Jones cancelled a Saturday night concert in Monaco on doctor's orders, it has been confirmed. His spokesman said Sir Tom, 71, was suffering from severe dehydration, but denied earlier press reports of a heart scare. He spent Saturday night in hospital in Princess Grace Hospital in Monte Carlo, where he was said to be well. The Welsh star's performance on Saturday in Monte Carlo was due to be the last of a three-month tour. Sheesh, the guys I grew up with, all bloody ancient. Hit comedy Absolutely Fabulous is to return to BBC One later this year with three specials to celebrate the show's 20th anniversary, the BBC has said. Jennifer Saunders and Joanna Lumley will return as Edina and Patsy along with other original cast members. Julia Sawalha will resume the role of put-upon daughter Saffy, June Whitfield as Edina's mother and Jane Horrocks as personal assistant Bubble. The award-winning series ran from 1992 to 2003 with a special in 2004. What an absolutely fabulous show that was.
Here's a montage of AbFab's best bits. Those two were totally off the wall. And yet Joanna Lumley (the crazy blonde) is a very intelligent and intellectual woman. I saw her front a documentary about the Arctic Circle and she was brilliant. She saw the Northern Lights and was mesmerized by the spectacle. I've also seen her front other documentaries about various exotic locations around the world.
Some survey bloke just rang and I made him wish me happy birthday before I answered any of his questions. Then he wished me HB at the end of the call as well! Just prior to the call I was fiddling around with the Sony trying to figure out how to use manual focus. I don't have a proper user manual with the camera so it took a while but I eventually got the gist of it using either shutter or aperture priority. Full manual is not something I'm interested in - choosing both shutter speed and aperture. I'll leave that to the pros. But manual focus is handy in certain situations where the camera can become a little confused about exactly what needs to be focused on.
Well, another day, another year. Thanks again for the graphic, Greg. It rocks. I'll have to try a bit harder to make it all happen.
Have you been to Ireland and seen the traffic lights there?
Well, pork chops for THEM and I dunno what I'll have yet. Dozen madder. Gary
August 28, 2011. Yes, it's a lovely sunny day and I'm planning on taking a little trip out to Old Bar, hopefully to photograph kite surfers or wind surfers or whatever they're called. I was there once before but I didn't get close enough to capture the action very well.
I also checked the internet for the latest news on hurricane Irene. Very serious stuff with lots of evacuations along low-lying areas of the east coast of the US. Those kinds of destructive winds are enough to scare the pants off of even the bravest of souls, and my thoughts are with all those people in the storm's path. At least these days we get warnings. Imagine what it must have been like back in the old days when Native Americans lived in tipis. In one report, I read where some New Yorkers were pretty relaxed about the approach of the storm. It was a beautiful day in the city with blue sky and pleasant conditions, and it seemed inconceivable to them that such devastation was only hours away.
Back from my trip to Old Bar. Not ONE kite surfer. NONE! But I did manage to get a pretty good shot of something I've long had on my list of 'must dos'... a close up of a kookaburra. Those things are everywhere but not easy to photograph unless you get lucky. And today I got lucky. The light was great as well. This is only one shot of over 20 but it took all those shots to get a really good one. Many of the others are pretty ordinary because the light wasn't falling on the feathers properly, and the bird's eye was shaded. After a while, the bird flew to another tree which had lots of leafy branches, so I walked over there and took more pics. But I was using auto focus which focused on the branches in the background instead of the bird. Dammit! So I really must practice using manual focus in such situations. Meanwhile, I got the shot I've always wanted so I'm a happy chappy. The bird, the branch, and the blue sky. Perfect.
Shopping's done, so let's do a Beeb: Hurricane Irene is pummelling the US east coast after making landfall in North Carolina. At least eight people have been killed in North Carolina, Virginia and Florida, as Irene sweeps north. The 500-mile wide storm, with winds of around 80mph (129km/h), is moving slowly northwards. New York and other large cities are in its predicted path. More than two million people have been ordered to leave their homes after warnings of storm surges and flooding. Obama was right in calling Irene historic. This is one angry mother. Nigeria's president has promised to bring terrorism under control, during a visit to the scene of Friday's bombing at the UN's headquarters in Abuja. Goodluck Jonathan said it had been not just an attack on Nigeria, but an attack on the international community. The radical Islamist group, Boko Haram, told the BBC it was behind the blast in the capital, which left at least 19 people dead and dozens wounded. I hope Goodluck has better luck than the rest of us are having. Indian anti-corruption campaigner Anna Hazare ends his 12-day hunger strike after the Indian parliament expressed support for some of his demands for strong anti-corruption legislation. And not only that, he saved a few bob on groceries. Rescue workers say five people were killed and at least 27 injured when a tram derailed in the Brazilian city of Rio de Janeiro. After coming off the rails, the tram skidded down a Rio street for 50m (55 yards) before crashing into a lamp post. The accident comes two months after a French tourist died falling from a Rio tram as it was crossing a bridge. The tram is a popular attraction, offering panoramic views of the city. Isn't that terrible. You'd think of all things you'd be safe riding a tourist tram. Libyan rebel leaders have announced measures to tackle shortages of water, fuel and medicines in Tripoli which the UN says are threatening lives. Mahmoud Shammam of the National Transitional Council (NTC) promised diesel fuel to restore electricity and water supplies would arrive on Sunday. But he warned residents not to expect miracles after such a swift victory against Col Muammar Gaddafi's forces. Meanwhile, at least 50 bodies have been found in a warehouse south of Tripoli. Residents of the district of Salah al-Din said they were civilians who had been executed on Tuesday by members of a brigade commanded by Col Gaddafi's son, Khamis, before they abandoned a nearby military base. Whatever credibility Gaddafi may have had left has evaporated. He is as Ronald Reagan described him, the Mad Dog of the Middle East. And there's no shortage of those. Al-Qaeda's suspected operations chief, Atiyah Abd al-Rahman, has been killed in Pakistan, a senior US official says. The Libyan militant was killed on 22 August in the volatile Pakistani tribal region of Waziristan, he added. The official said Abd al-Rahman's death was a "tremendous loss for al-Qaeda", because the group's new leader, Ayman al-Zawahiri, had relied heavily on him. Another valid reason why the west needs to stay in the region to finish the job.
Yes, people who call for the withdrawal of allied troops from places like Afghanistan need to realize that dismantling terrorist organizations such as Al-Qaeda and the Taliban takes lots of time and patience. Bin Laden is gone, and now this bloke. We're making progress. Let's not fuck it up before the job is finished. Apart from that, we need to make it clear to any other aspiring terrorist groups that the west won't put up with their dumb shit.
Well, here it is 5pm already. Time has flown and all that. I asked Lindsay what he wanted for dinner. "Prawn cutlets?" "Yeah... whatever." He's such a pain in the ass, that twit. By the way, thanks to Joao from Brazil for remembering my birthday tomorrow. And Oregon Richie as well. I don't make a big deal about birthdays, except for Cody's. So don't get carried away with all that wishing jazz. It's only another day, and another number. Hehe. WHICH I DON'T NEED! I was quite happy with two sixes. Oh well... And no, I don't have anything special planned. The less fuss the better as far as I'm concerned. Gary
August 27, 2011. Satdee again. God got our weather just perfect yesterday but now he's gone and buggered it up again. It's cool and cloudy. Mind you, he's done a worse job over there in the Caribbean and along the east coast of the US. NC Art wrote to say: As I write, Hurricane Irene will visit us here in about 14 hours. I will abandon my cottage this afternoon and move to a hotel made of bricks. Hopefully, on Satidy p.m. will move back to my shack if trees are not blocking access. My son and friends are more concerned than I am, so this move is an act of compassion to keep them happy. The blasted storm is a monster and the head is heading straight to sea islands a short few miles from my place sited in the center of a wooded area. Fallen trees may be a big snag to my plans, but I stay optimistic. And I hate hotels and I hate being shuffled hither and yon. Pfaw.
I know what Art means about being shuffled hither and yon. The older you get, the more reluctant you become to have your routine disturbed. Familiarity breeds security. I remember one day going to the vet to collect my dog. She was brought out to reception looking confused and disoriented, wondering where she was and what the hell was going on. Then she saw me, and her immense relief was immediately apparent. I know how she felt.
Heard on the radio this morning that enough solar energy falls on Oz to power the entire world for six months. The problem is harvesting it. Current technology only harvests about 10 to 20% of the potential. No way I'm leaving this house in Das Busse without a solar panel or two. I like my lektrickety, and I need to keep my lektrickle gadgets charged.
By the way, TX Greg spotted the ideal Odyssey easy chair on Youchewb... one that I could take with me.
Beeb time: UN chief Ban Ki-moon has called for the international community to work together to restore order in Libya and for fighting to end. Mr Ban said the crisis had entered a "new and decisive phase" and said the emphasis must now be on ensuring there was a smooth transition of leadership. Rebels say they have almost complete control of Tripoli, while fighting continues in the east. I suppose the UN is required to make such a statement but I suspect it's falling on deaf ears. President Barack Obama has warned that Hurricane Irene, currently looming off the east coast of the US, could be a "historic" storm. Mandatory evacuations have been ordered in parts of four states, and in low-lying areas of New York City. Seven states from North Carolina to Connecticut have declared emergencies ahead of Irene's arrival. The category two storm has weakened a little yet is expected to make landfall with winds of up to 100mph (155km/h). Irene, which has already caused havoc in the Caribbean, is expected to hit the coast of North Carolina on Saturday before barrelling northwards towards Washington and New York City a day later. Frightening stuff. Meanwhile, NC Art is holed up in a hotel. At least 18 people have been killed in an apparent suicide car bombing at the United Nations headquarters in the Nigerian capital, Abuja. A spokesman for the Islamist group Boko Haram told the BBC in a phone call that it had carried out the attack. In Friday morning's attack, a car crashed through two security barriers and rammed into the building's reception before exploding, witnesses said. Hospitals are said to be overwhelmed by the number of injured and have appealed for blood donations. Boko Haram, which is fighting for the establishment of Sharia law in Nigeria, also said it carried out a car bombing at police headquarters in June. Sharia law? They know nothing about law. They know nothing about justice. They know nothing about decency. If Allah existed he would crush them. Go figure. Mexico offers a 30m peso (£1.47m) reward for information leading to the perpetrators of a casino arson attack which killed more than 50 people. Seems to me the Mexican drug cartels also believe in Sharia law.
Well, today's weather is dreary but tomorrow's is looking good, along with the rest of the week. So a bloke should take advantage of the pleasant weather and go on a photo shoot, shouldn't he. Yes, he should. Hmmm.
Hopefully, I'll get an email from NC Art tomorrow to say he survived Irene without any major dramas. I certainly hope so. Gary
August 26, 2011. No more excuses, I'm afraid. Gotta do the laundry. After my morning coffee, that is. Will I be this bad on the Odyssey? Probably worse. Actually, I saw a pic on Red Bubble the other day of a lovely sunrise. The photographer said he was camped at the spot and woke to see the colorful sky, so he took a picture. Too easy! No getting up at unspeakable o'clock and driving for 2 hours. When you're camped somewhere, you're there at sunrise and again at sunset, and all day in between. That's what I call convenience.
Meanwhile, Das Busse started first go. Not bad for an old bus that's been sitting in the backyard for 5 months. She's a bit smoky at first, and a tad wobbly, but settles down after a while. Not sure why that is but I'll find out one day. Now she's parked away from the rotary clothes hoist while the old Simpson pumps and swishes away doing the wash. By the way, the phillips screw that holds the broken strap in DB still refuses to move despite the application of WD40 yesterday. Maybe Stan the Lawn Man can figure something out next time he's here.
On a bewdiful day like today, with bright blue sky and oodles of sunshine, I can imagine myself camped somewhere in DB just admiring my surroundings and... well, never mind about 'and'... use your own imagination. The thing about living in the one spot is that you walk around the block and it's the same block. Same, same, same, day in, day out. On the other hand, it's true that there's no place like home. Routine offers security for a lot of people, including me. The thing that scares me about the Odyssey is that it's not a holiday for a few weeks or a month or whatever. It's permanent!
Actually, I can't wait to write my first journal entry after the Odyssey begins for real. I hope it starts with something like, "Hey, I was really worried about this vagabond lifestyle thing but it's awesome!" Or something like that.
Beeb time: The United Nations has called on all sides in the Libyan conflict to take steps to ensure there are no acts of violence and revenge. It comes as reports emerge of abuses and alleged summary killings by both rebels and troops loyal to Col Gaddafi. The UN has also agreed to release $1.5bn (£1bn) in Libyan assets - which had been frozen under sanctions - to help with immediate humanitarian needs. Violence and revenge is not surprising after what both sides have been through. It's a sad fact of life that war is sometimes the only way to settle differences. Six states along the east coast of the US declare emergencies ahead of the arrival of Hurricane Irene, which has already caused havoc in the Caribbean. Justin and some of his blog followers live in those areas and are pretty concerned. I guess NC Art is as well. Meanwhile, here in Taree you couldn't wish for a more perfect day. More than 30 people have been killed and more injured in an attack on a casino in the northern Mexican city of Monterrey. Armed men broke into the building and set it alight, but it is not clear whether the fire was caused by grenades, or an arson attack. Firefighters had to free dozens of people trapped by smoke and flames. Monterrey has seen a surge in violence blamed on rival drugs gangs. The prosperous industrial city is being disputed by two rival drug cartels - Los Zetas and the Gulf cartel. No market, no drugs. Drugs suck. Tougher action is needed by governments across the world if the obesity crisis is going to be tackled, experts say. I reckon that's true. So many people are their own worst enemies. Without leadership they're directionless. Police in Austria have arrested a man suspected of imprisoning and sexually abusing his two daughters in his village home over 40 years. The man, now 80, denies the abuse, which allegedly began when one girl was aged 12 and the other four. Police say the case was reported in May, when the daughters escaped after one reportedly knocked over the father as he tried to rape her. Now aged 53 and 45, they were both found to have "mental deficiencies". Austria's Die Presse newspaper says there are echoes of another Austrian case, that of Jozef Fritzl, who is serving a life sentence for imprisoning and raping his daughter, fathering seven children with her. How the hell do you explain that kind of behavior? It's beyond me. Rick Perry's economy: Texas miracle or Texas curse? Read the full BBC article here. One of the best-known cartoonists in the Arab world has been beaten up by Syrian security forces, activists say. Ali Ferzat, whose work is critical of the government, was forced from his car in Damascus and badly beaten. The attack comes after 11 civilians and eight soldiers were reportedly killed in different incidents across Syria. The demonstrators are demanding the removal of President Bashar al-Assad, whose family has been in power for 40 years. In one of his latest cartoons, Ali Ferzat shows President Assad sweatily clutching a suitcase while he tries to hitch a lift with the Libyan leader, Col Muammar Gaddafi, who is furiously driving a getaway car. Dictators have no sense of humor. Nor do their goons. Islamic police in the Indonesian province of Aceh have forced two women to have their marriage annulled and sign an agreement to separate. The women had been legally married for a few months after one of them passed as a man in front of an Islamic cleric who presided over their wedding. But suspicious neighbours confronted the couple and reported them to police. The two women are now back with their families, forcibly separated and under surveillance by the Islamic police. The local Sharia police chief told them Islam said they must be beheaded and burned for what they had done. Love thy neighbor as thyself. By the way, what millennium is it in Indonesia? Steve Jobs resigns as chief executive at Apple and will be replaced by the firm's chief operating officer Tim Cook. How remarkable is that? A guy tinkering around in his garage back in the '70s has changed the world, first with the Apple II and now with the iPhone and iPad. Hits by Lady Gaga, Beyonce and Take That are among 100 songs that have been placed on an internet blacklist by China's culture ministry. Music websites have been given until 15 September to remove the offending tracks, which officials say harm "national cultural security". Those that fail to do so risk being prosecuted by the Chinese authorities. How's that for a repressive society? One can't help wondering how much longer it will last. The founder of the Ikea furniture chain, Ingvar Kamprad, is facing further questions about his Nazi past following claims in a new book. Author Elisabeth Asbrink says Mr Kamprad was an active recruiter for a Swedish Nazi group, and stayed close to sympathisers well after World War II. The details go beyond what Mr Kamprad has previously admitted. The Swedish billionaire has said his involvement was youthful "stupidity", and the "greatest mistake" of his life. Ikea wasn't a bad idea though. Made a few bob outta that one.
Not long ago Ikea furniture and furnishings were considered kitsch. But now kitsch from the 50s and 60s and 70s is very collectable. So there ya go. Don't take any notice of what the snobs think. I you like it, that's all that matters. I had a friend in the 80s who decorated his new apartment in Ikea stuff and it looked perfectly alright to me. But then I'm no snob. One of my older bros is. He's got a Jacobean lounge suite. Well, bully for him. He'd never heard the word till he bought it, and now he's an expert and can't stop talking about it. The first time I got involved in interior decor design was when I built my first cubby house as a kid. It had an earthen floor which I diligently swept, and then I spruced it up with a old jam jar filled with red and yellow nasturtiums. I can't begin to tell you how fabulous it looked. I was desperate to invite all the neighborhood kids around but, for some reason I can't recall, they failed to accept.
I do have a thing about a favorite chair, though. I have one now but it won't be coming with me on the Odyssey. It's too big. It's part of a suite my parents bought back in the '60s. I remember my mother saying it was covered in "deer hide". It wasn't bloody deer hide at all... it was bloody vinyl. But my mom was like my older bro with the snob thing... she was into deer hide and he's into Jacobean. Anyway, I had the suite recovered in velvet about 25 years ago.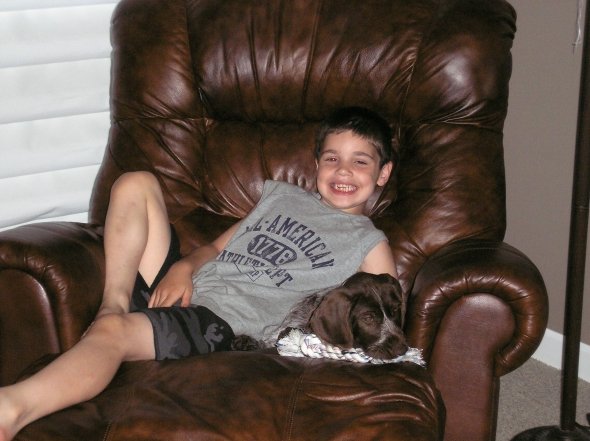 No, this isn't the chair, but it's the kinda chair I would like when I finally settle down in one place. Something big enough to get lost in, with nice wide arms and lots of comfy cushioning. I could easily spend the rest of my days in that thing. And if I get another dog, which is not likely, he can share it too. Visitors will have to make do with the Ikea stuff.
Lindsay and I are having chicken and veg pies tonight. Sue doesn't like pastry so she's having scrambled eggs. Isn't that exciting? Meanwhile, I hope Irene doesn't scare the pants off Art and the rest of the mob on the east coast of the USA. Gary
August 25, 2011. More interesting stuff posted on Justin's blog today about the religious right in American politics. We have them here in Oz too.
It's a gorgeous day in Taree... sunny and 22C. So I should do the laundry, right? Well, I'd have to move Das Busse away from the rotary clothesline, which would mean blocking the driveway, and I need to take Bluey up the road to get some stuff. Over 50 years ago, one of my teachers at school said, "Kelly, you have an excuse for everything." Hehe.
Okies, errands have been run. I suppose I could do the laundry now but... well... it's after lunch. Tomorrow will do. :o)
Beeb time: Libyan rebels have announced an amnesty for anyone within Col Muammar Gaddafi's "inner circle" who captures or kills him, and a $1.7m (£1m) reward. Col Gaddafi's whereabouts are unknown, though rebels have said they think he is still in or around Tripoli. Rebels fighters have fought running battles in the capital, where pockets of pro-Gaddafi resistance remain. The fugitive leader has vowed in an audio message to fight until victory or martyrdom. Well, it looks like Gaddafi can forget about victory. But my question is, why has it taken 42 years for the rebels to rebel? Some 12 million people around the world do not have citizenship of any country, and are being denied basic human rights as a result, the UN has warned. The organisation is calling for more countries to sign up to two conventions on statelessness. It says the issue is becoming worse as stateless children are born to stateless parents. The problem is most widespread in South East Asia, Central Asia, Eastern Europe, the Middle East and Africa. The forgotten people. I must admit, the dilemma of statelessness had never occurred to me. Hurricane Irene has been hammering the Bahamas as it moves towards the US on a projected track to hug the east coast. The first hurricane of the Atlantic season has grown into a category three storm, with winds of 120 mph (190km/h), and is expected to become stronger. The Outer Banks islands off North Carolina are being evacuated and people are stocking up on supplies in coastal areas of the US state. Like I said yesterday, Taree weather ain't so bad. The price of gold plunged by 5.6% on Wednesday to close at $1,757.30 an ounce in New York, a drop of $104 on Tuesday's finish. During a volatile week for the precious metal, its price has fallen since topping $1,900 an ounce during trading overnight in Asia on Tuesday. Analysts put the falls down to profit-taking and hope of new measures in the US to try to bolster its recovery. Kinda like a waiter with Parkinson's serving drinks. Two cousins have been charged with negligently setting the largest wildfire in Arizona history. The Wallow Fire, which consumed 804 sq miles (2,080sq km), started from a campfire lit by Caleb Malboeuf, 26, and David Malboeuf, 24, both of Arizona, according to charging documents. The two experienced campers left the fire unattended and went for a hike in the Apache National Forest on 29 May. The fire destroyed 32 houses and cost more than $79m (£48.2m) to fight. You would think even the dumbest of campers would know better than to leave a campfire unattended. Police in Australia have launched an investigation into the cause of a house fire near Brisbane in which 11 people died. Eight of the victims are thought to be teenagers and children; one was just three years old. Two Pacific Islander families from Tonga and Samoa were inside the house when it caught fire. Queensland's police minister said it was "potentially the worst residential fire tragedy in the state's history". Veteran firefighters described the blaze as the worst they had ever seen. Police said the fire was "a tragedy on an unimaginable scale". According to the TV news last night, the inferno was caused by an exploding gas cylinder in the basement. Taking a stroll may soon be enough to re-charge your mobile phone, after US researchers developed a way to generate electricity from human motion. Placed in a shoe, the device captures the energy of moving micro droplets and converts it into electrical current. Kinetic charging is already used in some low power devices such as watches and sensors. The University of Wisconsin team published its study in the journal Nature Communications. What a great idea! Waste not want not. Naked Rambler Stephen Gough has been jailed for another 657 days after enjoying less than 60 seconds of freedom. The 52-year-old was arrested outside Perth Prison almost immediately after he was released from his previous 21-month sentence. He was found guilty of breaching the peace and being in contempt of court. The former Royal Marine, from Eastleigh in Hampshire, has been behind bars in Scotland for much of the past decade. He does have a point, but a naked 52 y/o ain't a good look.
The screw that fixes the engine-lid holding-strap to Das Busse has been there since 1984 and doesn't wanna move. Dammit. All I've succeeded in doing so far is to burr the cross shaped slots in the phillips screw head (U.S. Patent 2,046,837). So I gave it a squirt of WD40 and I'll try it again tomorrow.
And so ends another day with limited cerebral input. That's the way it goes ya know. Although I did contribute a few thoughts to Justin's blog. By the way, that McCains tandoori chicken pizza last night was pretty damn good. Frozen pizzas are usually a bit like flavored cardboard but not this one. Fish 'n' chips tonight. Gary
August 24, 2011. According to NC Art, Taree weather ain't so bad: As I booted up computer to find data about a hurricane aimed straight at this city, suddenly there was a trembling of the monitor. What the hell? I found out later that an earthquake that occurred in central Virginia and was felt from New York to Atlanta, GA. I had already laid in 20 gallons of gasoline for emergency generator anticipating power outages, and wondered what nature could add to to scare the piss out of us. Hurricane expected to make landfall late Friday or Saturday. No electricity means no water for me because I pump the aqua from a well. Nuts! Quit complaining about clouds and drizzle in Taree, willya?
So there ya go... everything's relative. No earthquakes or hurricanes here, thank god. By the way, Averil's rainbow turned out to be a bit of a dud, photographically speaking. Just a dreary gray sky with a band of fading color across it. Truly spectacular rainbows are pretty rare. Read the poem alongside the pic. I could have written that about Cody. In fact, shortly after Cody died, I photographed a rainbow and sent the pics to Steve who joined them and placed Cody's face in the sky. It looked as if Cody was smiling down at my house, which was exactly what I needed back then.
Speaking of gods and mortality, Justin's blog posted a link to this thoughtful essay, Dreaming God.
Well, lookie lookie lookie. It's late afternoon already and I'm back from shopping. Lots of cakes and chocolates and sweets for Averil, and more mundane stuff for us. Anyway, I better do a quick Beeb before I have to hit the kitchen:
Col Gaddafi vows "martyrdom or victory", a TV station says, after scenes of celebration following Libyan rebels' seizure of his Tripoli compound. That guy is so obsessed with going down in history as a great leader he's irrational. North Korea's reclusive leader, Kim Jong-il, is holding talks with President Dmitry Medvedev, on his first trip to Russia since 2002. What I'd give to be a fly on the wall. A magnitude-5.8 earthquake has rattled the east coast of the United States. The quake centred on the state of Virginia but was felt in Washington, where the Pentagon and US Capitol were evacuated, as well as in New York. The quake was one of the most powerful on the east coast of the US since 1897, according to USGS records, matching the strength of a tremor in the state of New York in 1944. NC Art wasn't kidding! However... Hurricane Irene has weakened to a category 1 storm, but US meteorologists warn it could regain strength and hit the US east coast over the weekend. Irene had sustained winds of 145km/h (90 mph), as it lashed the Turks and Caicos and the south-eastern Bahamas, the National Hurricane Center said. But it added that Irene could become "a major" hurricane in the next 48 hours. Officials earlier warned the entire US east coast should be ready for the first hurricane of the Atlantic season. The US officials said the storm could possibly make landfall in Georgia, South Carolina or North Carolina. The "first" hurricane? Sheesh. Okay, I admit Taree weather ain't all that bad. Australian police are investigating claims an MP from the governing Labor Party misused his trade union credit card to pay for sex with prostitutes. Police said they were examining new evidence against Craig Thomson. Mr Thomson has denied any wrongdoing, and has already said an unnamed friend forged his signature to use the card. A conviction for theft or fraud could bring down Julia Gillard's minority government, which has a working majority of just one seat. I for one won't be sorry to see her go. China overtook the US to become the largest PC market in the world during the second quarter of 2011, new figures suggests. About 18.5 millions units worth $11.9bn were shipped in China during the quarter, says market intelligence firm International Data Corporation (IDC). That beat the 17.7 million units worth $11.7bn shipped in the US. However, across the year the IDC expects the US to remain the biggest market for 2011. Thank you very much. I really needed to know that.
Anyway, time has vanished once again and I'm afraid that's all I have for you today, ladies and genitals. Except that I won $21 on lotto last night. Isn't that exciting? At least it pays for the next fortnight's plunge. L&S have elected to dine on scotch filet steak and onions tonight which provides me with the opportunity to pig out on tandoori chicken pizza! Gary
August 23, 2011. Cloudy with showers again. How dreary. Meanwhile, NC Art sent this link to the mysterious disappearance of Col. Muammar Gaddafi. He's running for the presidential Republican nomination.
I think the old brain is taking a break cos I'm sitting here looking at the screen wondering what the hell I can write about! And when I look out the window for inspiration, all I see is gray cloud. Speaking of clouds, Red Bubbler Mieke held her first exhibition and is on cloud nine. She makes her own luck, that girl, and she has the kind of bubbly personality that attracts people. Combine that with her natural talent for photography and she can't help but succeed.
Beeb time: One of Col Muammar Gaddafi's sons, Saif al-Islam, has appeared in Tripoli and claimed the government had "broken the backbone" of the rebel offensive there. He turned up in a government vehicle at a hotel held by loyalists, a day after the rebels said they had detained him. A BBC correspondent said Saif al-Islam seemed confident and full of adrenalin. He later went to his father's Bab al-Azizia compound, and told three journalists accompanying him: "Tripoli is under our control. Everyone should rest assured." Well, it seems the fat lady ain't sung yet. Prosecutors plan to dismiss sexual assault claims against Dominique Strauss-Kahn amid concerns about the accuser's credibility, reports say. I must say I also have my doubts about that woman's claims. Jerry Leiber, one of the men who penned classic Elvis Presley songs Hound Dog and Jailhouse Rock dies in California at the age of 78. You ain't nothin' but a hound dog... yes, Leiber didn't care much for grammar. But what the hell. The price of gold has crossed $1,900 per ounce mark for the first time on growing concerns about a slowdown in the global economy. So what the hell am I doing sitting here? There's heaps of the stuff lying around "out there". I gotta get me a metal detector and a pan. A truck driver in Kentucky whose penis was amputated during an operation is suing the surgeon, claiming it was done without his consent. Phillip Seaton says his penis was removed during what was supposed to have been a circumcision to treat inflammation four years ago. Dr John Patterson says he amputated because he found life-threatening cancer during the operation. The Seatons have already sued Jewish Hospital, where the surgery took place. Funny they should have mentioned it was a Jewish hospital. Meanwhile, no more pointing percy at a urinal for poor Phillip. Nasa says it will now cost $8.7bn to launch the James Webb Space Telescope in 2018 and operate it for five years. The assessment - some $2bn higher than previous estimates - has emerged from documents sent to the US Congress. James Webb is regarded as the successor to Hubble and will carry technologies capable of detecting the light from the first stars to shine in the Universe. But delays and cost overruns have dogged the project, and now some politicians want JWST cancelled. The observatory is supposed to be the next great undertaking in space astronomy, incorporating the biggest mirror ever sent into orbit. Its near-infrared detectors promise a swathe of remarkable discoveries about the early cosmos. It's gotta happen. Knowledge is everything. Who, What, Why: How dangerous is firing a gun into the air? I've often wondered about that myself.
Yep, where would we be without knowledge? Back swinging in the trees and eating bananas. Not that I have anything against bananas. And I spent many years during my boyhood swinging in trees. Knowledge is what makes us what we are.
I was just about to have a little snooze before cooking dinner when the phone rang. It was Averil. "You told me next time I see a rainbow to let you know. Well, there's one out the back, a big double one." So I grabbed the keys and went out the back. No rainbow. And then I thought... Averil's back is my front. Women! So I went out the front and guess what? A big rainbow. BUT there are poles and power lines in the way of a clear shot. Damn! So I walked out into the drizzle on a cold winter's evening to get a shot without the power lines. Where is it? In the camera. It's too late to upload it to the computer so it can wait until tomorrow. Meanwhile, I'll have to have a word to Averil about the difference between her back and my front.
Anyway, forget about the snooze. It's too late. Bacon and eggs tonight. Gary
August 22, 2011. Well, not the most thrilling of Show & Shines yesterday but I posted the photo album. My fav shot is the blue Monaro parked in the garage. There was a patch of sunlit floor just in front of the car which lit the headlights and grill. She has the same front end as Tough Titties except it's a GTS. I remember when that model Monaro coupe was first released in '71 - it blew me away. Even now, 40 years later, they still look great. They were based on GM's American Chevelle from the late 60s/early 70s.
I wrote Oregon Richie this morning: Just heard a horn honking... and a few seconds later a woman's angry voice, "Can you see the L plate? Can you see the L plate?" When I was an instructor, I used to tell the students not to worry about irritated motorists or whatever else. "Just take your time and concentrate on what you're doing."
Reminds me of the story of my aunt, which I've told before. She stalled at an intersection and had trouble starting the engine. The driver behind became impatient and started honking his horn. So my aunt took a deep breath, went to the driver behind and said, "I wonder if we could swap places. You try to start my car and I'll sit here blowing the horn."
Meanwhile, my legs are sore from kneeling and squatting yesterday at the Holden show. Woe is me. I'm getting old.
Speaking of old, Dave in Ormond Beach wrote: Interesting photo exhibit at local photography museum featuring pics from the 9/11 disaster, and wartime in Iraq, Afghanistan, etc., lasting from now until October 2. Anyhow, I thought it pretty interesting, although mostly related to professional photographers and not amateurs.
Also, and unrelated of course, I re-read the Wingnut story which I just finished yesterday. That really brings back memories (although my short-term memory is like a sieve). Boy, all those lads certainly were a horny bunch!
That's putting it mildly, Dave. Hehe. I wonder what the Codeman would have to say about those days if he were still alive now. My personal feeling is that he would probably find it difficult to relate. We all change ya know, and mature. What's good for the gosling is not necessarily good for the goose.
Another showery day today but the rest of the week looks pretty good. It'll be a while though before the lawns dry out. It's like a soggy sponge out there. When I squished my way across the park yesterday my shoes were like leaky boats. Wet socks are not fun, dear Breth.
Have you met my parents? Well, here they are blissfully unaware that I would be on the agenda a few decades down the track. Hehe.
Beeb time: A convoy of Libyan rebels has rolled into central Tripoli past celebrating crowds after a day of heavy fighting in and around the capital. Crowds on Green Square cheered them, waving flags and firing salutes. Nato said the regime was "crumbling". The UK said the end was near for Muammar Gaddafi and urged him to go to avoid more suffering for his people. The rebels reportedly captured Col Gaddafi's Saif al-Islam, as the Libyan leader himself vowed to fight on. International Criminal Court prosecutor Luis Moreno-Ocampo said he had been informed of the arrest. The court has indicted Saif for torturing and killing civilians. Another of Col Gaddafi's sons, Muhammad, was also detained, according to rebel sources. "HIS" people? Obviously HIS people don't agree with that. So what now? Stay tooned. International concern is growing over the upsurge of violence between Palestinian militants and Israeli forces, as cross-border attacks continue. It's the Middle East, darling... that's what they do over there. A national memorial service is being held in Oslo for the victims of the 22 July attacks, marking the end of a month of mourning. It seems no part of the world, no matter how innocent and peaceful, is immune from such madness. US Secretary of State Hillary Clinton says she is "deeply disappointed" by the eight-year sentences given to two US hikers for spying in Iran. Deeply disappointed? Sometimes the language of diplomacy just doesn't cut it. A special tribute has been held at the Bournemouth Air Festival for the pilot killed when one of the RAF's Red Arrows crashed following a display. Flt Lt Jon Egging, 33, from Rutland, died when his Hawk T1 aircraft crashed into a field at the village of Throop near the airport on Saturday afternoon. Brian May, from rock group Queen, who spent a day with the team recently described Flt Lt Egging, known as Eggman, as "a hero in anybody's book". He said: "These men and women are the hardest of nails. But their humanity and wickedly humorous team spirit was a joy to be around. It's plain that Jon sacrificed his life yesterday to save civilians below, as he piloted his stricken Hawk jet away from housing, finally ejecting only when it was too late to save his own life." Heroes go where others fear to tread. A new arrival in Australia could reasonably be forgiven for thinking that there was some kind of constitutional requirement making it mandatory for political leaders to spend at least three days each week wearing either a fluorescent orange jacket or a white hard hat. Hehe. An amusing look at Oz politics by a BBC correspondent. Click here for the article. United States Vice-President Joe Biden, who is visiting China, has said the US would never default on its debt. In a speech on the last day of his visit, he reiterated that China's large holdings of dollar assets were safe. "You're safe," Mr Biden told university students in the south-western town of Chengdua, in answer to a question about Washington's ability to repay its debt. "Please understand that no-one cares more about this than we do, since Americans own 87% of all our financial assets." China is the American government's biggest foreign creditor - holding $1tn (£608bn) of US debt - and has called on the country to do more to reduce its budget deficit. It's all over my head. I'm more concerned with getting Das Busse on the road.
I think I've mentioned before that the strap in DB that hooks onto the engine lid to keep it open is broken. I tried an auto wrecker the other day. "Sorry, mate. Happens a lot. Can't help you." Stan the Lawn man suggested a belt with a strong buckle, so on my little walk around the block today I called into Vinnies and bought a belt for a buck. Then I went next door to the 'Booty' (which is how boot makers/repairers refer to themselves). He's got an antique Singer boot stitching machine in the window, so I thought, "Ah! That's the man for me!" Turns out he also has two other stitching machines in the work area out back. So I explained my dilemma and he said no worries. Next, I need to unscrew what's left of the strap in DB and take it - along with the $1 belt and buckle - to the Booty. Where there's a will... Yeah? The Booty is the same guy who attached an adjustable leather neck strap to my bush hat for the grand fee of $10. When you're using both hands to operate a camera, you don't want to be spending time on a windy day chasing your hat.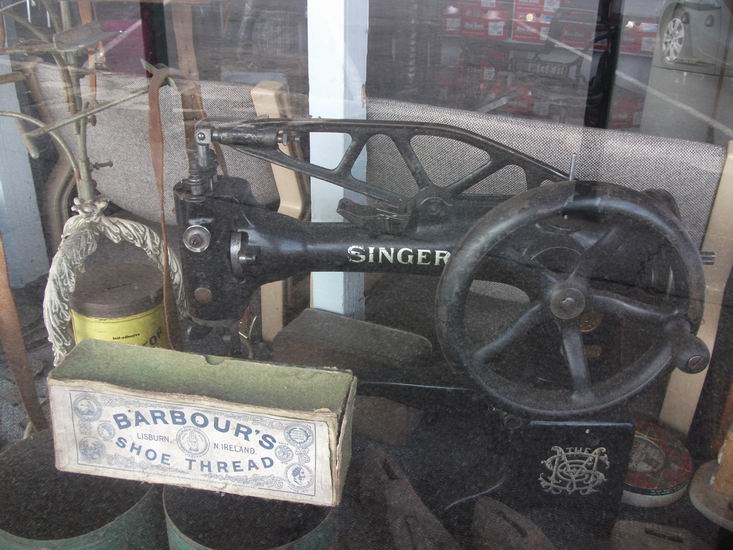 Oh, and another thing I'll be needing on the Odyssey is a good pair of boots.
Weeeeeeeeeeeeell, here we go again... time to hit the kitchen. Gary
August 21, 2011. Unless the current weather changes dramatically, we can forget about the Old Holdens Show & Shine. It rained heavily overnight and again this morning. There are occasional glimpses of sun but they soon vanish and give way to more showers. Outside in the backyard there's a fairly deep pond that was probably once home to goldfish and water lilies. It's now half full of rain water. Ah yes, here we go again, it's raining now after another brief respite.
NC Art wrote: The gravity stressed picket fence is good shot. I am wondering about that device in foreground which looks like part of a fuchsia cement block with a make do mail box on top? Ah well. Yes, the old letter box has seen better days, and the color is a bit of a worry, but it beautifully complements the wobbly fence and peeling paintwork. It's all part of the character, which is what caught my eye.
By the way, I've added a few new favorites to my Red Bubble page that are worth a look, especially the old corner store in a country town. There are some very clever photographers on RB with a keen eye for the unusual. Photography teaches you to become more observant; to see things in a different way. Before the introduction of digital cameras and the internet, serious photography was pretty much the preserve of dedicated amateurs and professionals, but now millions more have seen the "light" and are discovering the joys photography can bring.
Lately, I've been toying with the idea of selling Das Busse and going back to saving for a camper that doesn't need so much work. But when I looked at campers for sale on eBay I realized that the prices being asked for good ones are about the same (or more) as what it will cost to bring DB up to scratch. What is most frustrating is how long it takes to save. I hadn't expected a quote of $6000 for rust and body work... more like $2000. If it were the latter I could do it now. Oh well...
Beeb time: Explosions and sustained gunfire have been heard in parts of Tripoli, as rebels close in on the Libyan capital. A credible source told the BBC there had been heavy fighting in some districts. A rebel official said the uprising had begun in Tripoli. But Col Muammar Gaddafi said his forces had eliminated "rats". He accused the rebels of trying to destroy Libya. It's not Libya they're trying to destroy, Colonel. The Israeli defence minister has said he "regrets" the deaths of Egyptian policemen on the Gaza border, as Cairo considers recalling its ambassador. Without confirming Israeli forces had killed the five policemen, Ehud Barak said he had ordered a joint inquiry to be held with the Egyptian army. Since Thursday's (Palestinian) attacks, Israeli aircraft have repeatedly attacked targets in the Gaza Strip, while Palestinian militants have fired more than 20 rockets into Israel. In Cairo, the deaths of the Egyptian policemen prompted angry crowds to gather in protest outside the Israeli embassy. And on and on and on it goes. Two US hikers accused of spying and illegally entering Iran have been jailed for eight years by a court in Tehran, reports say. Iranian state TV's website said Shane Bauer and Josh Fattal each received three years for illegally entering Iran and five years for spying. While out walking they were stopped and arrested by Iranian troops who told them they were in Iranian territory. The friends have always maintained that if they did stray into Iran, they did so mistakenly. The Oz government should take note: jail all illegal immigrants for 8 years and solve the problem of people smuggling. A rainstorm has disrupted a keynote homily being delivered by Pope Benedict XVI to a million-strong crowd of pilgrims at an air base near Madrid. Losing his skull cap in the gale, and sheltered by an umbrella, the 84-year-old commended the crowd for having faith "stronger than the rain". Many in the crowd had waited for hours in baking heat for his appearance. It wasn't God's doing ya know. No, no, no... it was the devil's.
Well, as it turned out the weather cleared so I jumped into Bluey and whizzed out to Cundletown for the Old Holdens Show & Shine. But by the time I got there, many of the exhibitors were driving their cars away. Thanks very much. It wasn't a big show anyway... mostly local rev heads with hoods/ bonnets raised revealing lots of V8 muscle. The majority of the cars were of Tough Titties vintage - 1970s. A couple were from the 60s, and there was only one FJ, stock standard. Anyway, I'll do an album and post it tomorrow. At least the old Sony got a bit of a workout and did a pretty good job. Oh yes, and the cops turned up. Hehe. So I had to get a pic of that.
It's fun taking pics, and when I'm in a situation where there's a lot of subject material I lose any sense of self-consciousness. I become totally absorbed in "getting the shot". You see it on TV news footage... cameramen running around, pushing and shoving, jostling for positions, chasing cars and doing whatever they need to "get that shot". It becomes your prime motivation, and all sense of decorum and dignity goes out the window. If you're kneeling, bending, standing on a bench or involved in some other form of gymnastics, it doesn't matter. The only thing that matters is the shot. It also helps to have a fairly substantial camera, like the Sony, with a BIG lens and a hood to make it look even bigger. Leaping about with a little compact just doesn't seem legit, and observers are not likely to take you seriously. It's one of those situations where size really does matter.
I suppose all my fears about camping out on the Odyssey and living in a van will be dispelled once I get busy with the shutter button. Taking photographs and writing the journal will become my focus as well as purpose. All else will be secondary.
Anyway, it's THAT time again. T-bones for THEM and Chinese style beef and black bean with rice for me. Gary
August 20, 2011. There's a bit of cloud about but also blue sky, and the sun is shining despite the forecast of heavy showers. BUT, Lindsay has gone out "for a few hours to see the boys". There are no boys. He means poker machines at the pub. He told me not to worry about Sue being left alone while I check out the Old Holdens Show & Shine. "She'll be right." Maybe she will but I can't take the risk.
Which reminds me of suggestions that I should jump into Das Busse when she's ready to go and spend a few days camping here and there before I embark on the real Odyssey. That's all very well but I'd be a bundle of nerves wondering what L&S were getting up to back home. There's only one way I'll leave this house, and that's permanently. Then they can burn the joint down for all I care.
I spent some time this morning reading camera manuals and trying to figure out how to take panorama shots. I've seen a few on Red Bubble lately and they're pretty impressive. Regular wide-angle shots of wide vistas just don't cut it. Anyway, it seems my Fuji S7000 doesn't have the pano capability, and I suspect the Sony doesn't either. They're too old. But the little Fuji A170 compact does. Pano shots are not all that simple. Each shot needs to have a slight vertical edge overlap on one side (depending on whether it's a right or left pan) but the tops and bottoms need to be on exactly the same horizontal plane so the stitching of each shot (3 in the case of the little Fuji) can be seamless. It means best results require a tripod with a swivel head (which I have). Panos are ideal for beachscapes, cityscapes, and outback areas with broad horizons, so I better get cracking with a few practice shots.
The other thing about taking pano shots is that you can't have people walking around or any other variations in content during the shoot. The entire scene needs to remain static. Surf in a beach shot, for example, could be a problem, or shooting a pano from an unstable platform such as a boat or plane. The alternative is to use an ultra wide-angle lens or a fish-eye, but they distort the image. They're also horrendously expensive.
Beeb time: Libyan rebels fighting to oust Col Gaddafi claim to have taken the strategic coastal cities of Zlitan and Zawiya as they close in on Tripoli. I heard on the news last night that Gaddafi is planning to flee to another country. At least four Palestinians are killed in the latest Israeli air strikes on Gaza amid an escalation in violence after a deadly attack on Israeli buses. Isn't religion a wonderful thing? At least 20 people in Syria are reported killed in anti-government protests, the day after the US led calls for the Syrian president to step down. What a joke. Major European share markets closed lower, after another tubulent week prompted by fears of recession and worsening debt problems. Fears being the operative word. North Korea's reclusive leader, Kim Jong-il, is reported to have begun his first trip to Russia since 2002. South Korea's Yonhap news agency reported that Mr Kim's train had arrived at the border town of Khasan in the Russia's Far East. He is expected to hold talks with Russian President Dmitry Medvedev. On Friday, Moscow announced it was providing 50,000 tons of wheat to North Korea, where hundreds of thousands are reportedly suffering food shortages. No shortage of goose-stepping soldiers, though. Three members of a TV news team - including a veteran reporter - have died in a helicopter crash in South Australia, police say. Reporter Paul Lockyer, cameraman John Bean and pilot Gary Ticehurst were all employed by the Australian Broadcasting Corporation (ABC). Their helicopter went down in a remote area near Lake Eyre. The cause of the crash is being investigated. ABC described the men as "news gatherers at the peak of their craft". ABC News last night devoted 10 minutes to its report of the tragedy, and the following current affairs program at 7:30 devoted the whole half hour. All ABC management and staff are in shock at losing three of their most respected and loved colleagues. There was nothing but praise for each of those guys for their professionalism, integrity and just being "good blokes"... and not only from the ABC but from other television networks. A new drama tells the story of a Jewish lawyer who confronted Hitler 80 years ago - earning the dictator's life-long hatred. So who was Hans Litten? A most interesting article about a most interesting man.
Lindsay is back. He met some bloke at the pub who traveled to Taree to catch the Old Holdens show tomorrow. Tomorrow? I did a Google and yes, it's on tomorrow, not today. So there ya go. But the forecast is not looking good for the next few days, so we'll see how it goes.
I just visited a web site and got a note to say it's off line. They apologize for any inconvenience. Isn't that nice of them? And they said they'll be back on line shortly. How long is shortly?
It's late! Chicken and corn cobs tonight. Gary
August 19, 2011. The things that catch a photographer's eye.
But Mieke has triumphed again with a shot taken on the Derby mudflats in Western Oz of a boab lit by the moon. She's a clever girl, that one.
Speaking of Western Oz, NC Art wrote to say he forgot to mention that Stonehenge in Esperance is called Clonehenge.
Well, here it is almost midday and I've not written much at all! It's one of those days, I'm afraid. Besides, I didn't do the shopping yesterday so today's the day unless we all wanna starve. And I've got Averil's to do as well. But before I do, it's...
Beeb time: The UN is to send a humanitarian mission to Syria on Saturday to assess the situation there, as Damascus repeats claims that army operations against protesters have stopped. Oh, well thanks very much. How nice of you. Asian stocks fall Friday tracking a sudden sell-off in the US and Europe on fears about the strength of global growth. As an Aussie finance commentator said last night, "Investors simply don't know what to do." The Israeli military has carried out air strikes over the Gaza Strip, targeting those it blamed for a series of deadly attacks in southern Israel. At least six people, including a senior militant, were killed in the air strikes, Palestinian sources said. Earlier, Israeli officials promised a strong response after attacks on vehicles near Eilat left seven dead. Israeli officials said Gazan militants were responsible, although Gaza's Hamas government denied involvement. Do you get the feeling this conflict will never end? An oil refinery outside the Libyan town of Zawiya, just 50km (30 miles) west of Tripoli, has been taken by opposition forces, a BBC correspondent confirms. A BBC crew was taken around the refinery by the rebels who have captured the complex. There was no sign of pro-Gaddafi troops, and dozens of rebel groups could be seen milling around. This contradicts a statement by the Libyan PM who said earlier that government forces were in control. Gaddafi has sworn to fight to the bitter end, and it seems the end will be bitter... for him. The US state of Virginia has executed a convicted murderer and rapist by lethal injection, despite objections from the drug manufacturer. Jerry Jackson, 30, was put to death on Thursday evening for the murder of 88-year-old Ruth Phillips. A shortage of drugs used in past US executions has forced Virginia authorities to rely on an epilepsy drug manufactured by Danish firm Lundbeck. Lundbeck has said it opposes the "distressing misuse" of its product. Asked if he had any last words, Jackson shook his head and said "no", reports the Associated Press news agency. I'm lost for words, too. Three members of a TV news team - including a veteran reporter - are feared dead after a helicopter crash in South Australia, police say. Reporter Paul Lockyer, cameraman John Bean and pilot Gary Ticehurst are all employed by the Australian Broadcasting Corporation (ABC). ABC described Lockyer as one of its most experienced reporters, who had worked in Washington, Singapore and throughout Asia in a career spanning more than 40 years. How very sad. I feel as if I know the bloke. Hewlett-Packard agrees to buy UK software firm Autonomy for $10.3bn as it announces plans to exit PCs and mobile devices. My only experience with HP was a camera that failed when I was several hundred meters down a steep gorge photographing a waterfall. The camera was still under warranty but HP didn't honor it. IBM has developed a microprocessor which it claims comes closer than ever to replicating the human brain. The system is capable of "rewiring" its connections as it encounters new information, similar to the way biological synapses work. Researchers believe that that by replicating that feature, the technology could start to learn. How fascinating! Read the full article here. A new Australian Academy of Cinema and Television Arts (Aacta) - with Geoffrey Rush as president - has been launched to "celebrate screen excellence". Now there's a talented actor if ever there was one... Geoffrey Rush.
Well, the forecast for tomorrow is heavy showers. If that's the case, the Old Holdens Show & Shine will be a washout. Rain is predicted until about mid week. So that doesn't look too promising. It also means I can't do the laundry. Well, I could cos I have a dryer. I've had the dryer for over 10 years and used it about 3 or 4 times. I prefer to dry the washing on the line in the sun. A dollop of bird shit on your shirts does wonders for your image.
Meanwhile, it's a good thing I stocked up with shopping today. Ya know, one of the best things ever invented is the garage with internal access to the house. But I'm afraid that innovation arrived well after this house was built in 1930. A bloke could drown getting from the garage to the front door.
Anyway, that's it for today. I bought a stack of stuff for tonight's dinner - T-bones, chicken, bacon, prawns, etc, but Lindsay wants fish cakes and chips. Fine... I don't mind what we have. Gary
August 18, 2011. Pay day/bills day wham bam, thank you sailor. Now if Barack Obama said that, it'd make instant headlines, but not me.
NC Art wrote: The discussion on Justin's blog was interesting, but alas there is no remedy in sight for many such outrages against simple human rights. In the State of North Carolina, the legislature will consider in September a constitutional amendment that prohibits any marriage other than one man and woman. There is already a law prohibiting same-sex marriages, but the far right Republicans want to nail the door shut any way they can. The hypocrisy is that the Honorables don't care about the issue, but it's good political fodder to feed Bible thumping hard right conservatives in exchange for votes. Aaargh!
And now there's another discussion on Justin's blog about a Rabbi who acts as matchmaker for gay men and lesbians who wanna get together in marriage to have a family (according to orthodox Jewish law). There's a link to the Times article and a video.
Live and let live seems not to be on certain people's agenda. For some reason I can't fathom, they insist on imposing their views on others and telling them how to live their lives. I mean it's not like legalizing same sex marriage is gonna force the entire population of heterosexuals to change! Heterosexuals will remain free to marry somebody of the opposite sex. So what's the big deal? I don't understand why do-gooders are so hell-bent on forcing everyone to think and act like they do when advocates of marriage equality don't. What's wrong with live and let live?
Actually, I think those on the religious right are nothing more and nothing less than control freaks. They want to create a world of robots and clones.
NC Art also mentioned the arrest of an Australian man in Kentucky accused of attaching a fake bomb to the teenage daughter of a Sydney millionaire in an extortion attempt. The accused is an Australian lawyer and investment banker - you'd think he'd have more sense. I've been following the story on TV news in Oz. Someone said of the police success in tracking the man after only a week, "He might as well have left his phone number printed on the girl's forehead."
Beeb time: Jailed Indian anti-corruption activist Anna Hazare has agreed to a police offer which will permit him to go on hunger strike in a park for 15 days, his aide says. Writing on the social networking site Twitter, Kiran Bedi said Mr Hazare would begin his fast later on Thursday. He had previously vowed to remain in custody in Delhi unless he was permitted to resume the protest, which triggered his arrest on Tuesday. His detention sparked massive rallies. Mr Hazare's protest is aimed against what he regards as a watered-down anti-corruption bill introduced by the Indian government. If his aim was to attract publicity then he has succeeded. Bit bizarre for me, though. They're an eccentric lot over there ya know. Thousands of protesters have rallied in the Spanish capital, Madrid, against the cost of a visit by the Pope, hours before he is due to arrive. A number of the demonstrators clashed with police after marching to the central Sol square chanting slogans. The trip comes at a time of economic hardship in Spain, although organisers say the pilgrimage is self-funded. Up to a million pilgrims from across the world have gathered in the city for the six-day World Youth Day (WYD 2011) festival, which culminates with an open-air mass on Sunday celebrated by Pope Benedict XVI. A million pilgrims in town with fat wallets should allay any fears of cost. Mosquitoes can rapidly develop resistance to bed nets treated with insecticide, a new study from Senegal suggests. I have no idea why Noah thought it was a good idea to include two mosquitoes on the Ark. A "potentially catastrophic" bomb plot hatched by an expelled high-school student has been thwarted in the US city of Tampa, Florida, say police. Jared Cano, 17, is accused of planning to plant a device at Freedom High School in north Tampa and detonate it as students returned on Tuesday. Fuel, shrapnel and plastic tubing, along with timing and fusing devices were found at his home, police said. The teenager had previously been arrested on several juvenile charges. Mr Cano, who had been expelled from the school, was hoping to kill or injure more people than the 1999 shooting by two students at Columbine High School in Colorado, police chief June Castor said. That shooting killed 12 students and a teacher. To look at his photo you'd think he was just a kid. But that's obviously not the case. As they say, you can't judge a book by its cover.
Meanwhile, Norway is trying to come to grips with the recent massacre by another twisted mind. Oregon Richie sent the link to this article.
It's Lindsay's birthday today so he hit the town and left me to look after Sue, which meant I wasn't free to do other things. He arrived back at about 4pm and went straight to bed... too late for me to do the shopping for Averil and us. What a pain.
By the way, I mentioned clones earlier. NC Art tells me that clones are everywhere. TAJ MAHAL....in Bangladesh by a film maker Ahsanullah Moni, an exact replica for tourists and making movies; TITANIC.....two scale models of the unfortunate ship, one in Pigeon Forge, Tennessee, the other in Branson, Missouri to cash in on the 100th anniversary of its clash with an iceberg; STONEHENGE.....Esperance in Western Australia, now open to public but still under construction.
Gary
August 17, 2011. TX Greg wrote: Let's see being naughty and wanking wouldn't need a lecture, SO that can oooonly mean....................
I made two mistakes yesterday. 1) I went to the pub during my walk and 2) I failed to quit while I was ahead. Fortunately, it was only my wallet that got a hiding and not the plastic.
Meanwhile, there are some interesting comments on Justin's blog, including J's legal perspective, about the gay couple being separated by US immigration. In case you missed the TV news report, here's the link.
And on the issue of democrats versus republicans, here's a republican who used to be a democrat, Ronald Reagan, being roasted by Jack Benny.
I like the Russian joke Reagan told about the availability of automobiles during the Communist regime. Only one in seven families owns an automobile. They have to wait ten years after placing an order, and they have to pay cash in advance. So the guy went to the auto dealer, paid the money, and the dealer said, "Right, your car will be delivered in 10 years." The purchaser asked, "Morning or afternoon?" The dealer was surprised by the guy's question: "It's ten years from now, what does it matter if it's morning or afternoon?" The purchaser said, "The plumber's coming in the morning."
Beeb time: Five tobacco companies sue the US government over a new law that would force them to place graphic health warnings on their cigarette packets. That's been happening in Oz for quite some years now. "People just ignore the warnings," my local tobacconist says. Now the Oz government wants to outlaw branded packaging and replace it with plain. The "royal" prefix has been restored to Canada's air and sea forces, the country's defence minister has said. The Canadian Forces Maritime and Air commands are now known as the Royal Canadian Navy and Air Force. Land Force Command is now the Canadian army. The labels are a nod to the Canadian military's "proud history and traditions", Defence Minister Peter MacKay said. The "royal" label was removed in 1968 in a command restructuring. "Restoring these historic identities is an important way of reconnecting today's men and women in uniform with the proud history and traditions they carry with them as members of the Canadian Forces," Mr MacKay said on Tuesday. We have it here too... The Royal Australian Air Force (RAAF), Royal Australian Navy (RAN), etc. How to build a wind farm. An interesting article about the cost of wind farms to produce electricity compared to more conventional methods. Read it here. Telescopes looking for extra terrestrial intelligence should re-open within weeks after donors replaced income lost in public funding cuts. The Search for Extraterrestrial Intelligence (SETI) Institute, had to shut the $30m (£18.3m) Allen Telescope Array in April. Donors, including actress Jodie Foster, raised more than $200,000 (£122,000). The 42 radio telescopes, in northern California, search space for potential signals from alien life forms. Ms Foster was one of more than 2,400 people who contributed to the fund to save the Allen Telescope Array. She played the lead role of an astronomer looking for evidence of aliens in the 1997 film Contact. Aliens? You're looking in the wrong place, Babes. They're not out there, they're down here. Boo!
Even Cody said he was "recently from Mars". Hehe. He only came here for the surf, he said.
But back to producing electricity: I heard someone comment on a TV program the other night about solar. Apparently, it would take only a few square meters of solar panels per person to power the entire world. Sounds good to me.
I was pricked this morning. Twice! I went for a blood test... doc's orders. The nurse checked my right arm but couldn't find a decent vein, so she checked my left arm. But that failed because she couldn't draw blood after inserting the needle. So she went back to my right arm. Sheesh! And on top of all that, I had to fast... no cuppa first thing in the morning. I'm glad it's only once a year. The doc also ordered a prostate test, and I had to answer questions about peeing. Something tells me I ain't as young as I useta was.
I'm currently recharging the Sony camera for Saturday's Old Holdens Show & Shine. The Sony is only 5MP but good enough for large prints, and it has a Carl Zeiss lens. I also note that Fuji has introduced a few new models, including a couple with 14MP and 30X digital zoom! Forget interchangeable lenses. Who needs them? Fuji optics and technology are first class, and their prices are much lower than Canon, Nikon, etc. For less than $400 you can get a camera like this! That's what I paid for the old used Sony which cost almost $2 grand new. Mind you, I need another camera like a hole in the head, but one of these days...
Been a drizzly and dreary day today. Not fun, so I didn't go walkies. Meanwhile it's feed time at the zoo. Gary
August 16, 2011. It's a rather pleasant day, sunny and bright, and not toooooo cold. Pretty good for August in the southern hem... well, this particular part of the southern hem. Further north, they're all running around in shorts and Ts.
The little ditty I wrote the other day about My Tree hasn't attracted any comments yet, and I figure it's because 'you had to be there'. I guess most readers never had a favorite tree, and can't identify. Oh, well... About 20 years ago, I took a drive back to the house where I was born and raised. I knocked on the door and explained the situation, and the owners invited me in. One of the first things I did was go out to the backyard to see if my tree was still there... and it was. Not long ago, I did a Google street view and guess what? Yep, it's still there. Camphor laurels are deciduous... their polished green leaves turn multiple shades of red, orange and gold in autumn and I remember being absolutely fascinated by the colors. My dad wasn't so impressed because he had to rake up the leaves from the lawn.
And now back to words, and their origins. I regularly watch a game show on telly called Letters and Numbers, and the letters expert last night talked about the word 'claptrap'. I'd never thought about its literal meaning before, but it was used back in the 15th and 16th centuries to describe a technique used by entertainers to attract applause by delivering a line or doing something amusing. Clap - trap. And it came to mean rubbish or a load of old codswallop. Hehe. I dunno if you can get the episode "over there" but here's the link.
Richard Moorecroft, the host, was an ABC newsreader for many years... all very prim and proper, until it was discovered that he used to secrete his pet bat in his shirt as he read the news rather than leave it in the dressing room.
And here's something rather sad about a married couple being forced apart... because they're gay.
Beeb time: Military forces loyal to Libyan leader Col Muammar Gaddafi have fired a Scud missile for the first time in the country's six-month conflict, US defence officials say. They say it was launched from near the coastal city of Sirte and aimed at Brega - currently held by rebels - but landed harmlessly in the desert. Oops! I don't like Gaddafi's chances of buying American ones. An Australian man has been arrested in the US in connection with an attack on a teenager who had a fake bomb strapped to her neck, the FBI says. The suspect, 50-year-old Paul "Doug" Peters, was arrested in Kentucky, in an operation involving Australian police and the FBI, officials said. The Australian authorities said they would ask the US to extradite the man. What a bloody idiot. Just 15 minutes of exercise a day is enough to boost life expectancy by three years, researchers in Taiwan say. Compared to what? US President Barack Obama has promised a "very specific" plan next month to improve the flagging US economy. In Iowa on day one of a rural Midwest bus tour, he said he would put forward the blueprint when Congress returned in September. As President Obama spoke, his would-be 2012 Republican challengers blamed him for the flagging American economy. I might be missing something here but I don't think GWB left the economy in very good shape. Thousands of people gathered in the Australian capital, Canberra, to protest against a planned carbon tax aimed at curbing greenhouse emissions. It is the centrepiece of Prime Minister Julia Gillard's environmental strategy, despite her ruling out its introduction during last year's election campaign. The proposed tax would penalise 500 of the country's heavy polluters. It was drawn up after Ms Gillard failed to win an overall majority in parliament at the polls and had to rely on the support of the Australian Greens. Plus a couple of independents. Her government is being propped up by minorities. I can't stand the woman. Qantas has unveiled plans to launch two new airlines in Asia, restructure its struggling international carrier and buy new planes. Under the plan, Qantas aims to launch a new premium, Asia-wide service. It will also set up a budget carrier focusing on the Japanese market. Qantas said 1,000 jobs would be affected by the changes. It has been losing market share at a time when travel in Asia is growing. To accommodate the changes Qantas said it would expand its fleet of aircraft, ordering as many as 110 Airbus A320 jets. And it all started with a single Avro used for joy rides and air taxi trips back in the early 1920s. A boy of 11 called a German police emergency line to complain of "forced labour" after his mother told him to help clean the home. Police say the boy from Aachen, who has not been identified, spoke to an officer via the 110 number. They say he complained: "I have to work all day long. I haven't any free time." His mother told the officer the boy had kept threatening to call them, having repeatedly complained of having to do housework during the school holidays. A transcript of the conversation, printed in local newspapers, revealed the officer asking the boy to describe the kind of "forced labour" he was doing. The boy replied that he had to clean the home and terrace, it said. Asked if he knew what forced labour was, the boy said he did, and the police officer asked to speak to his mother, who at that stage was standing next to him. She explained he had called after being asked to pick up paper from the floor, adding: "He plays all day long and when told to tidy up what he's done, he calls it forced labour." Oh dear... he sounds a lot like me!
I've been a bit naughty today, ladies and genitals. And I'm not going to explain why. I don't need the lectures. Suffice to say that it's late and I've gotta cook dinner. Gary
August 15, 2011. NC Art is an educated man of letters and comments on yesterday's reference to swearing:
Most of us never read any Shakespeare passages in the original language of the common folks--his main audience. The sweet versification of love between Venus and Adonis would curl your toes if it had not been cleaned up for modern students of the classics. What we consider oh so naughty was the verbiage of the country in Elizabethan era.
You are correct, often profanity is the struggle of a weak mind to make an emphatic statement. But the art of swearing can be colorful, even creative. My pilot told me after watching my futile attempts to hit a softball with a bat, "Darwin, you couldn't hit a bull in the ass with a bass fiddle." I retorted that he "couldn't hit a barn door with a bushel of beans," I like the alliterative tone of my coinage.
Trouble with language is it is so damned hard to use for communication. People insist on muddling up the meanings. Some think all sin is illegal too. Not so fast, bub, sin is a breach of religious rules and some of those may be also illegal. Or even immorality is often covered by civil law when a majority of legislators get hold of it. But morals are simply accepted standards of the community, whether the home, neighborhood, the entire city or the nation--even the world. And these units may vary considerably. Think about all that until you go barmy. Dictionary gives specific meanings for sin, morals and legality, but we are left to decide which are mutually exclusive and which may be all inclusive. Oh tempora, oh mores, oh hell!
Yes, I like the sound of a barn door with a bushel of beans. Alliteration is a technique advertising copywriters like to use.
When I delivered Averil's groceries the other day, she was talking on the phone as I took her stuff to the kitchen. I overheard he say, "Oh, he didn't, did he?" Averil's always saying things like that. "Oh, you're not, are you?" "Oh, it isn't, is it?" Hehe. I often hear people discussing the weather. "It's a lovely day." "Yes, it is, isn't it?" I'm also curious as to why people say things like "He's a good bloke, Fred", instead of "Fred's a good bloke". And why people put 'but' at the end of a sentence instead of in front. "It might rain, but."
Reminds me of one of my fav quotes: "We are but temporary custodians of our genes". Yes, I think if we spent too long here on this planet we'd go nuts. Pass the genes onto the next bloke and let him try to make sense of it all.
Beeb time: Syrian warships have joined a military assault on protesters in the northern port city of Latakia, activists say. At least 19 people have been killed in the operation, according to activists and human rights groups. Explosions and gunfire have been reported in several districts of the city which have seen large protests against the Syrian government. More than 1,700 people have reportedly died in the six-month uprising against the rule of President Bashar al-Assad. If he wins, what will he have achieved? Nothing but isolation from the rest of the world. Norwegian gunman Anders Behring Breivik has been taken back to the island of Utoeya for a police reconstruction of the killing of his 69 victims there. Mr Breivik, wearing a bulletproof vest and tethered on a rope, was seen pointing to where he had fired shots. Police later said he showed no remorse. The 32-year-old far-right extremist admits the killings but denies any criminal guilt. How do you fathom a mind like that? Libyan rebels have advanced into two strategic towns controlling access to the capital, Tripoli, from the west and the south. If the towns fall to the rebels, they would have Tripoli surrounded by land, with Nato blocking sea access. It's only a matter of time. Human Rights Watch has said all sides in Somalia's are guilty of serious violations of international law. The campaign group says civilians are bearing the brunt not just of a terrible famine but also a failure by any side to protect them. It says Islamist group al-Shabab is guilty of unrelenting brutality, while government troops carry out arbitrary arrests and detentions. Typical. The poor bloke in the middle becomes the meat in the sandwich. Same-sex pairs of monogamous birds are just as attached and faithful to each other as those paired with a member of the opposite sex. The insight comes from a study of zebra finches - highly vocal, colourful birds that sing to their mates, a performance thought to strengthen the pair's bond. Scientists found that same-sex pairs of finches sang to and preened each other just like heterosexual pairs. Oh dear, I wonder what Bachman and Palin and their religious right buddies will have to say about this! Tim Pawlenty has announced he is dropping his bid to become the Republican Party's candidate in the 2012 presidential election. Mr Pawlenty said: "I thought I would have made a great president, but obviously that pathway isn't there. I do believe we're going to have a very good candidate who is going to beat Barack Obama." Yep, and go back to the good old days of George W Bush.
No dramas today except for a power outage for about half an hour, which meant I had to adjust all the electric clocks. To make sure it wasn't confined to this house, I checked the traffic lights down the road. Sure enough, the cops were there directing traffic. It was a brief reminder of how much we rely on electricity to operate all our gadgets and appliances. And when it goes phutt, we're plunged back into the 19th century.
Actually, it's been a pretty slow day... me included. Catch you again tomorrow. Gary
August 14, 2011. Here's a hoot... an old used car ad from the sixties. And I love this comment from a Youchewb viewer: Whoa! Whoa! BACK THE FUCK UP!? Did he say that thing has a radio AND a heater? For ONLY 695, damn! Forget the airconditioner in Flordia, this baby has a heater.
Yep, I bought a brand new Beetle off the showroom floor back in '65 for 950 quid ($1900). It had a radio and heater too, but no a/c.
TX Greg has mixed feelings about my pokie win yesterday. He congratulated me but on the other hand he hopes that I don't fall into that habit again. Me too. It's scary. Those things can gobble money like it's going outta style, and I'm a real sucker. I begin with the best of intentions, like I'll only spend ten bucks and call it quits, but it never works out that way. I got lucky this time. There's a sign on the machines that says your chances of winning a jackpot are one in a million. On the poz side, I haven't played those things for years, and I hope it's years before I do again... if ever.
That said, it's a buzz to see all those lights flashing when you win a biggie. In fact, during the payout I went to the loo for a pee, and the thing was still dancing and jiving when I got back! I was the only one in the gambling room, incidentally. There was another bloke in there when I first started but he bombed out and left. Anyway, that pays for Bluey's busted rear window a month or two ago. One step back, one step forward. Deja vu.
But back to sex and swearing. Swear words are almost exclusively related to sex organs, sexual activity or excrement. Why? I suppose they're designed to shock. But once you realize there's nothing shocking about sex or excrement, you cease to be shocked. For example, Wingnut often bitched about his parents "putting shit on me". If he'd been a strawberry, he wouldn't have minded at all hehe. If swearing upsets some people it's because they allow it to. When God said "Go forth and multiply" he actually meant "Go forth and fuck". But you see, dear Breth, the word 'multiply' doesn't offend anyone even though it means the same thing. So if you can get your head around that, swearing won't bother you any more.
Swearing is supposed to serve as an enhancer. You know, if it's really cold it's fucking cold. Or fucking hot. But I don't see what's wrong with words like 'really' or 'very' or 'exceptionally'. What the hell has fucking got to do with the weather? Swearing is stupid, basically. It's a handful of words that has no meaning, used by people with no vocabulary... and probably no brains. I overheard a group of teens a while back talking, and one of them said, "and these cunts were comin' up the road". Did he mean vaginas? No. He meant other teens. He had plenty of alternative words to choose from... guys, teens, people, blokes, etc... but he chose cunts. Hehe. You see how ridiculous it is? It's the language of morons, basically. However it does serve a purpose if used judiciously and sparingly to make a point. Otherwise it becomes pointless.
My favorite emphasizer is 'bloody'. It's inoffensive and does the job. Bloody hot, bloody cold, bloody hell. I use 'bugger' quite a bit too. Silly bugger, bugger off, go to buggery. Dick is also useful. Dickhead. Ass is another one that comes in handy, as does shit. Bullshit, fulla shit, and just plain shit. But I nonetheless recommend exercising restraint in the use of all words, not just swear words.
Beeb time: US Republican Congresswoman Michelle Bachmann has won a key pre-election campaign poll in the state of Iowa. The Iowa straw poll held in Ames attracted about 17,000 voters and is considered the first big test of the 2012 presidential race. Mrs Bachmann, an Iowa-born social conservative, narrowly beat her rival Ron Paul in the non-binding contest. Before the vote took place, Mrs Bachmann told her supporters: "We are going to make Barack Obama a one-term president." Yes, well I hope you live to regret those words, darling. There are serious clashes around Zawiya in western Libya, with the government denying rebels had captured the key coastal town. This mess has gone on too long already. The Palestinian Authority says it will present its bid for statehood recognition when the UN General Assembly reconvenes in September. He who has the gold makes the rules. And guess who has the gold. Germany's political leaders attend commemorations marking the 50th anniversary of the building of the Berlin Wall, with the city's mayor saying it must not be forgotten. No. The Chinese tried it, the Russians tried it, the Israelis tried it, and it doesn't work. A helicopter has plucked to safety 20 people stranded in mid-air on a cable car in southern Germany after a paraglider collided with the cables. The 19 passengers and conductor were brought to safety after spending 18 hours suspended 80m (260ft) above the ground at Mt Tegelberg in Bavaria. Rescuers supplied food and blankets, and toys for six children aboard, while waiting for strong winds to die down. They also freed the paraglider and his tandem passenger. The head of the cable car operator, Tegelbergbahn, said he was shocked the paraglider had apparently tried to cross the cables. Pilots knew they were only allowed to fly parallel to them, Franz Bucher said, according to the Sueddeutsche Zeitung newspaper. It was not immediately clear if the pilot would face charges. The stuff of nightmares. Check out the video here. Several thousand people have marched through Prague in the Czech capital's first "gay pride" festival. Revellers in fancy dress waved rainbow flags and blew whistles as they marched through the city centre. Some 300 police guarded the colourful event, which had stoked controversy and counter-marches. Earlier this week, a top aide to conservative President Vaclav Klaus, Deputy Chancellor Petr Hajek, labelled gay people as deviants. Whereas politicians are all respectable and cuddly. Agricultural pesticides are causing significant damage to the Great Barrier Reef, according to a new Australian government report on water quality at the site. The report says some farmers must be more careful with their chemicals. It found that nearly one-quarter of horticulture producers and 12% of pastoral farmers were using practices deemed unacceptable by the industry. The Great Barrier Reef is a World Heritage-listed natural wonder. Well, don't just stand there, DO something about it!
Gay people are deviants? thefreedictionary.com Adj: Differing from a norm or from the accepted standards of a society. N: One that differs from a norm, especially a person whose behavior and attitudes differ from accepted social standards. I suppose if grandma in her neck to knees saw girls leaping about in bikinis she would call them deviants. The "accepted standards of a society" keep changing, which makes us all deviants. Hehe. Besides, gay people have always existed. The only difference now is that they are more visible. You can't put homosexuality in a closet and pretend it doesn't exist. The word for that is denial... as in the world is flat. By the way, when Galileo said it wasn't flat, did we all fall off?
Oh dear, why was I born a human being? I could have been born a tree or something far less complicated. Of course, the trouble with being a tree is, if you don't like the neighbors, there's nothing you can do about it.
I do like trees though... and was inspired to write this little ditty.
Ooer! We just got a brief storm with pea-size hail. And it's cold! Not fun.
Anyway, bangers tonight... organic bangers. What that means exactly, I'm not sure. Maybe the cows ate special grass or something. And they're flavored with tomato and basil. Sounds like the name of a law firm. I'll grill them, and serve them with good ol' mash, onions, and gravy. Gary
August 13, 2011. Another day! Or is it simply an extension of the previous one, which is therefore the zillionth extension of the first one. Don't ask me, it's all too hard. But that's the thing about humans; everything has to be divided up and compartmentalized and labeled.
TX Greg suspects I've been kidnapped by Aliens because of what I wrote yesterday about wanking not being the most dignified of pursuits. NC Art agrees: But you are correct about dignity compromised in sexual matters; any way it's performed is simply is ludicrous to behold. But no species eschews its lure. And that's why society gets its knickers in a knot about sex, and why religion regards it as a sin unless its sole purpose within marriage is to produce children. Sex embarrasses people. It's something animals do. And anything animals do is not what humans do. Humans put animals in zoos, and raise them on farms where they're called livestock destined for slaughter. Animals don't have toilets but humans do. There's not a lot humans can do about the urge "to go" but at least it can be done behind closed doors. Humans are not animals, or so they like to believe.
That said, I don't approve of people who fart in restaurants or who pick their nose at traffic lights. I try to avoid people who lack dignity. At the same time, I'm attracted to people who call a spade a spade and who are down to earth. So I'm a little confused about exactly where I stand on the dignity issue hehe. You see, ladies and genitals, there was a certain charm about the way Barry behaved when he demonstrated the art of masturbation to a group of us wide-eyed kids. Had he been ten or more years older than us, it could have been a very nasty incident indeed. But he was just a few years older... a kid himself. Also it was back in the '50s when barefoot kids were pretty innocent. Meanwhile, Art puts it wisely and succinctly: No species eschews its lure.
Art also wrote: I don't remember Sherlock Holmes saying anything about evolution to Dr. Watson. He often said, "Elementary, my dear Watson" when explaining his solution of his mystery of the moment. But then, everything evolves, with the possible exception of stupidity among politicians.
Actually, I'm pretty sure Sherlock never said "Elementary, my dear Watson". Somebody made it up, just as I made mine up about evolution. Poetic license.
Art also has a word to say about coins: A columnist for the Washington Post took the government to task for minting one-dollar coins which are warehoused at great expense because no one will use them. Reason: the one-dollar bill is still printed for some reason, so who wants to tote a weighty coin about. The one-cent copper coin is a drag also, and most of them wind up in jars, boxes, drawers or lost under seat cushions. So billions are minted annually to replace the ones which disappear. Actually copper is too expensive to use in a coin, so nickel and lead are used and colored like copper. See my comment in first paragraph (re politicians and stupidity).
Beeb time: US Secretary of State Hillary Clinton urges all countries to cut political and economic ties with Syria as its harsh crackdown on protests goes on. I agree, but I also suspect Assad might be a puppet. He looks too weak to be el supremo. Italy has announced a fresh round of austerity measures after an emergency cabinet meeting. The 45bn euro ($64bn: £40bn) plan aims to balance Italy's budget by 2013, a year earlier than had been planned by slashing public spending and jobs. PM Silvio Berlusconi said the measures were painful but unavoidable. The Roman Empire take two. Mind you, they could always get a loan from Pope Benny. Police chiefs have defended their handling of this week's riots despite criticism from the prime minister. Association of Chief Police Officers president Sir Hugh Orde rejected suggestions that the restoration of calm was due to political intervention. Ministers and police chiefs have clashed over who was responsible for bringing about a surge in police numbers on the streets of London from 6,000 on Monday to 16,000 on Tuesday. Forget about the blame game, gentlemen, just get on with the job. A Brazilian judge renowned for her work against organised crime has been shot dead in Rio de Janeiro State. Patricia Acioli was gunned down outside her home in the city of Niteroi late on Thursday by masked men travelling on two motorbikes, officials said. She was best known for convicting members of vigilante gangs and corrupt police officers. The judge's family said she had received several death threats, but had not had a police escort. That's the way criminals solve their problems. I figure what's good enough for the crooks is good enough for the goodies. Go get the mongrels and give 'em a dose of their own medicine. Crooks need to understand what what goes around, comes around. Oil giant Royal Dutch Shell has said it is working to stop a leak at one of its North Sea oil platforms. The leak was found near the Gannett Alpha platform, 180 km (113 miles) from Aberdeen, Scotland. The company would not say how much oil may have been spilt so far, though it said it had "stemmed the leak significantly". The Greens will be outraged, I suppose, but so would you and I if we turned up at the gas station tomorrow to find it empty. A US man has been sentenced to death for the murders of 11 women whose remains he kept in his house in Ohio. Anthony Sowell was found guilty last month of aggravated murder, kidnapping and other charges in the 11 deaths. At court in Cleveland, the 51-year-old sat with eyes closed as Judge Dick Ambrose read aloud the details of each murder, before passing sentence. His execution by lethal injection was scheduled for 29 October 2012, although it is likely to be delayed by appeals. Death is too lenient for an asshole like him. Librarians in Australia have launched a three-year project to rediscover lost indigenous languages. The New South Wales State Library says fragments of many lost languages exist in papers left by early settlers. Before British colonialisation began there in 1788, around 250 aboriginal languages were spoken in Australia by an estimated one million people. Only a few dozen languages remain and the communities number around 470,000 people in a nation of 22 million. I don't see the point. What the hell are we gonna do with 250 languages? Imagine the outcry in America if a senior cabinet member in the Obama administration had announced she was about to have a baby with her gay partner. In Australia, however, the news that Finance Minister Penny Wong and her partner, Sophie Allouache, are expecting a child has generated a minimum of fuss. Indeed, I can report that it has been the non-story of the week. Read the full article here. The makers of Sesame Street say characters Bert and Ernie (who have lived together for 40 years) will not marry in a same-sex ceremony despite an online petition calling for the union. Campaigners say the best friends should marry as a way to encourage tolerance of gay people. Nearly 7,000 have signed the petition, with more than 3,000 joining a Bert and Ernie Get Married Facebook page. A statement from the show's makers said: "They remain puppets and do not have a sexual orientation." As opposed to the rest of the 6.5 million puppets of the human kind.
I hope you're not trying to make sense of all this, dear Breth, because if you are you're wasting your time.
Back from my little walkies which I must admit was a bit of a struggle. I walked past a pub and thought "will I or won't I?" Well, I did... and ordered a schooner of VB, and then I went into the gambling lounge and put $10 into a poker machine. It was up and down like a bloody yo-yo for a while, kinda tantalizing me. So when it went down I put in another $20. And then another $20. And then a 50, and then another 50. I ended up spending $300 on that damn thing. What a waste! Well, it woulda been if I hadn't won $800. Hehe. Woohoo! The thing went beserk and I took a photo of the screen when it was spitting out gold coins.
I'm not proud of what I did. Gambling is a fool's game. I got lucky. And hopefully, it'll be a long time before I do it again. Meanwhile, it's late and time to throw a few things together to feed the zoo. Gary
August 12, 2011. Dan was not impressed by my mention yesterday of a dozen or so teens wanking themselves stupid without providing a link to the URL. Hehe. Well, it was NC Art's story, and HE didn't provide the link. Local boy Barry was the one who introduced me to the marvels of masturbation when I was about 13. Barry was 16 and, one day, in front of a group of us kids, he proudly paraded his willie and showed us how continued stimulation of the erect appendage produced "stuff that comes out". It was all very illuminating, I suppose, but at the time I hadn't gone through puberty so I was yet to be convinced it was worth all that trouble. I never mentioned it to my parents because one never spoke about those sorts of things at home. However, I still believe that, pleasurable though it may be, wanking is not the most dignified of pursuits, and is probably best left to those to whom dignity is not an issue... like Barry.
Cold and cloudy today, with the prospect of rain. About as thrilling as a wet sandwich. But I need to go shopping anyway, and pay Averil's rent and newsagent bill. Today is the kind of day I'd like to be sitting in front of a roaring log fire. That's one of the things I miss about the old fashioned pubs... the big log fires. These days it's all air conditioned. No atmosphere. Bland, bland, bland. Campfires are nice too... sitting around, poking the fire occasionally with a stick, sending sparks into the air and watching the flames illuminate the faces of your friends as you enjoy conversation and laughter.
Fire is a wonderful thing, whether it's a candle-lit dinner or a raging bonfire. But, like most things in life, it needs to be contained before it becomes a threat.
Beeb time: The police admit they got their riot tactics wrong, the prime minister has said, as he announced measures to help homeowners and businesses. David Cameron told MPs the riots in cities across England were "criminality pure and simple", but there were "far too few police" on the streets. In an emergency recall of Parliament, he announced a crackdown on facemasks and a review on the use of curfews. More than 1,500 arrests have been made since the unrest began on Saturday. One was a school teacher's aide and another was a graphic artist. How do you figure that? A man has been arrested over an attack on a Malaysian student who was mugged by apparent Good Samaritans after rioters attacked him in east London. Police said the suspect, believed to be in his 20s, was being held on suspicion of robbery in connection with the incident in Barking on Monday night. The attack on Asyraf Haziq, 20, made headlines after it appeared on YouTube. A man was arrested? No, no, no. What was arrested was a piece of shit. I saw the footage on TV news and I was disgusted. France, Italy, Spain and Belgium ban short-selling on the shares of banks and other financial companies after market turmoil. Too many bloody crooks in the business causing mayhem. Syrian forces reportedly kill 12 civilians, mainly in the province of Homs, as authorities continue to try to quell protests against President Assad's rule. Have you noticed that guy's weak chin. He looks like a real nerd. A picture of a US woman who underwent face-transplant surgery after being savaged by a chimpanzee in 2009 is revealed for the first time. No thanks. One of the alleged masterminds of the 2002 Bali bombings has arrived in Indonesia after being extradited from Pakistan, officials in Jakarta say. Umar Patek, who was arrested in January in the same part of Pakistan where Osama Bin Laden was killed, is expected to be charged with murder. Mr Patek is accused of helping to make the bombs that killed 202 people, many of them foreigners, on the island. Most of those "foreigners" were Aussies. Rot in your own excrement, Patek. PCs are going the way of typewriters, vinyl records and vacuum tubes, one of the engineers who worked on the original machine has said. The claim was made in a blog post commemorating 30 years since the launch of the first IBM personal computer. No longer, said Dr Mark Dean, are PCs the leading edge of computing. Evolution, my dear Watson, evolution.
It's late, and I'm just back from shopping and delivering Averil's stuff. The other day, I chatted with an old bloke who was there at the supermarket again today, and he said g'day. His name is George and he's 88. His wife is 87. "She's the superintendent," he said. Hehe. He wheels the trolley around and she does the choosing. What a lovely old couple. Another old bloke filling a bag with potatoes gave me a tip: "Brush them and leave the skin on," he said. "All the goodness and vitamins are in the skin." And there was a lady shopper who explained all about cakes. "This marble cake is nice and moist," she said. Averil always writes cakes on her list and I know NOTHING about cakes. Actually, Averil is funny... she writes healthy stuff down, like low fat this and low fat that, and fresh fruit, but she also wants chips and cake. Hehe. I guess she figures it's cool to eat junk if you're also eating healthy stuff. Women!
Anyway, now it's time to feed the troops as well as myself. And I'm in the mood for Eddy's chicken & veg rissoles and... hello? CHIPS. Gary
August 11, 2011. Saturday week, August 20, the Old Holdens Show 'n' Shine will be held just up the road from here. I've been to previous shows but there's always the chance of finding something new, or getting a new angle on a particular shot. The Old Kombis show is due soon as well... first weekend in October. Meanwhile, remember Tough Titties? Here's a bunch of crazy Aussies driving those old Holdens around a track in Brisbane in the early '70s. I never drove TT like that, honest. The old HQ still holds the record for the most sales of any model Holden in the marque's history.
Before Holden was bought by General Motors and became General Motors Holdens, delivering the first Australian manufactured car in 1948, Holden was a coach building company, and assembled car components imported from the US. Actually, the first Holden was designed in Detroit in 1938 but Hitler kinda buggered things up and the project was postponed until after the war.
You'd have thought the Brits would have established a manufacturing plant in Oz rather than the Americans, given that Oz was still fairly subservient to the "Mother" country in those days. But it wasn't until the '60s that Leyland started producing the Morris Mini in Oz, as well as the Austin Freeway and Wolseley sixes against tough competition from Holden, Ford and Chrysler. During the late '60s and early '70s, as well as the Mini, they produced the Morris 1100 and the Austin 1800. Later came the P76 which was a disaster and spelled the end for Leyland in Oz. The thing was Australia's version of the Ford Edsel.
No, I'm not really a car freak but I do think they have an interesting history. Their evolution over the past century is quite fascinating to me.
Beeb time: Asian shares have fallen, after declines in the US and Europe, amid fears that the financial crisis is spreading to bigger economies. Japan's Nikkei 225 index fell 1.8%, South Korea's Kospi shed 2%, and Australia's ASX lost 1%. The latest sell-off was triggered by rumours that France may become the next country to lose its triple A credit rating. Analysts say markets are likely to remain choppy in coming sessions. "We have had volatile markets in the past that have headed in one direction, but this time around no one seems to know what is going to happen," Andrew Robinson of Saxo Capital Markets told the BBC. Markets are driven by gamblers. And I don't trust gamblers. I mean, if you asked a bunch of buffalo during a stampede where they were headed they'd say, "Fucked if I know, man. I'm just following the dude in front." The prime minister has said the "fightback" is under way, after cities in England suffered a fourth night of violence and looting. David Cameron said every action would be taken to restore order, with contingency plans for water cannon to be available at 24 hours' notice. Earlier, Mr Cameron said: "We have seen the worst of Britain, but I also believe we have seen some of the best of Britain - the million people who have signed up on Facebook to support the police, coming together in the clean-up operations. "There are pockets of our society that are not just broken, but are frankly sick. It is a complete lack of responsibility in parts of our society, people allowed to feel the world owes them something, that their rights outweigh their responsibilities and their actions do not have consequences. Well, they do have consequences." The Met Police has made 820 arrests and charged 279 people in connection with violence in the capital. In London, three courts will stay open all night on Wednesday to deal with some of the scores of people facing mainly disorder and burglary charges after four nights of rioting. When the going gets tough, the tough get going. Hooligans need to understand they are not in charge. The US ramps up pressure on Syria with sanctions on a leading bank and phone operator, as the regime continues its crackdown on opposition activists. And the same goes for the hooligan Syrian regime. Media giant News Corporation has seen its quarterly profits fall 22% on the back of losses caused by the sale of the MySpace social networking website. The company, whose UK subsidiary News International has been rocked by the phone hacking scandal, made $683m (£423m) net profit in the three months to 30 June - down from $875m last year. News Corp sold MySpace in June for $35m, having paid $580m for it in 2005. Oh well... a few hundred million here, a few hundred there, easy come, easy go, no biggie. Technology firm Apple has become the most valuable company in the US, with its market capitalisation overtaking that of Exxon Mobil. Apple had briefly become the largest US firm on Tuesday, before dropping back below the oil giant. But Apple has now managed to stay in the top spot at the close of Wall Street for the first time. I thought Apple was the poor cousin of Microsoft but it appears that's no longer the case. A Nato air strike has killed the Taliban forces who shot down a Chinook helicopter that crashed and killed 38 US and Afghan personnel, Nato has said. General John Allen, US forces commander in Afghanistan, said those responsible had been targeted on Monday by an F-16. Nato said the raid had killed a Taliban leader and the insurgent who fired at the military helicopter on Saturday. Too late to save the Seals but better later than never, I suppose. Three siblings wanted for bank robbery and the attempted murder of a police officer have been arrested in Colorado, ending a nationwide manhunt. State police said the two brothers and sister, dubbed the Dougherty Gang, were captured after a 100mph (160 km/h) car chase that ended with a crash. Ryan Dougherty has been arrested 14 times on felony charges and has also been accused of sending explicit text messages to an 11-year-old girl on the social networking website MySpace. Lee Grace, who had been working part-time as a stripper in Florida, had previously been arrested five times for hit-and-run accidents and misdemeanours. She had written about herself on her profile on photo sharing website Flickr.com: "I love to farm and shoot guys and wreck cars. I'm a redneck and proud of it". Too late to plead the 5th amendment, darling. Sheesh.
My little foray into posting links to pics of various parts of the US yesterday inspired NC Art to do a little investigating of Taree: A Google poke-about provides these fascinating data re Tyree: 16,000 souls City of Taree; 48,000 in Local Government Area; 15,736 Microchipped dogs [?!]; 121 Pigs; 23,155 Milking Cattle; 64,046 Beef Cattle. Isn't that amazing? I did not count the car repair shops, but the list suggests that driving is more of a demolition exercise than a means of transportation. Be careful when moving Das Busse to the street.
Art also happened on a site featuring a dozen or so teens wanking themselves stupid. Their techniques were amazingly varied and innovative, a subject I had never thought about nor researched in all my long life. Jeeze, I missed so much in my boyhood activities. What a waste! Hehe. Memories... Can it be that it was all so simple then, or has time rewritten every line. If we had the chance to do it all again, would we? Could we? Hmmm. I'm not sure I wanna answer that.
Do you like fresh bread straight from the oven? Don't we all? I buy small hot-dog-style bread rolls called "bake at home". They're half baked (like so many of my ideas) so you just warm the oven to medium, put a roll or two in, and in 5 minutes you have fresh, hot, steaming bread rolls ready to butter and fill with whatever goodies you choose.
Back from my little walkies and I'm glad to report that the legs are responding quite well to the new regime. The aches I experienced climbing hills and stairs a few days ago have disappeared and I'm getting about like I used to. I was worried there for a while, thinking that my "condition" was permanent. This time I revisited the old swimming pool down by the river. Last time I was there, a few years ago, it was derelict - just a big waterless hole with all the fixtures still intact like starting blocks for races, tiled lanes, etc. Now the hole has been filled, a lawn planted and work continues to turn it into a riverside park of some kind. So I took a few more pics. When my backup external drive is returned by my techie, I'll put the two sets together.
Heater's on, and it's time for vittles and a little telly. Gary
August 10, 2011. Not easy getting outta bed this morning, dear Breth. Twas a tad chilly. And the best we can hope for today is 17C. Bleh. With a bit of luck, this time next year I'll be somewhere up north where it's about 10 degrees warmer. Not inland though... just checked Alice Springs. The maximums are great, around the mid 20s, but the overnight minimums are down to low single digits. Oops! I'll stick to the coast during winter, thank you.
I just read an article about the best time to visit Alice Springs - April. Not too hot, not too cold, not too many tourists. I guess that applies to all places, and is something about which I'll need to familiarise myself. By the same token, lots of tourists wouldn't bother me. I do love a chat ya know. Also, not being part of an organized tour means I can avoid the crowds and go where I please in my own mobile accommodation. "No Vacancy" won't be a problem. If a place cheeses me off for some reason, I can move on.
Stan the Lawn Man is back, this time spraying all the weeds. He uses a backpack with 40 liters. It takes 80 liters to do the whole yard, something I could never do with cans. No way. Stan charges $30 which is pretty cool... $15 for me, and the rest split between L&S. When I finally settle down somewhere, it won't be in a house. No, no, no. Weeds schmeeds. It'll be an apartment with ONE pot plant. Okay maybe two. Actually, I used to have a flat where the kitchen window sill faced the morning sun. I had a bunch of potted herbs growing there, and they flourished like you wouldn't believe. It was the perfect place... fresh herbs ready for cooking. On the Odyssey it'll be different, of course. Dried herbs in jars. But that's okay. And I can always pick a few wildflowers when I'm camped somewhere and do the girly thing with a vase in Das Busse. I quite like a little splash of color to brighten up the joint.... even if it does attract a few sideways glances.
Beeb time: Sporadic violence has broken out in several cities around England, although London remained largely quiet with a heavy police presence on the streets. With 16,000 police officers deployed in London, the streets remained calm after three previous nights of rioting. But there was unrest in Manchester, Salford, Liverpool, Wolverhampton, Nottingham, Leicester and Birmingham with shops being looted and set alight. The PM is recalling Parliament over Monday night's "sickening scenes". Forty seven people have been arrested so far over trouble in Manchester and Salford where crowds of youths have set fire to buildings and cars while 87 have been arrested over disorder which has broken out across the West Midlands. One needs to remember that Oz was the dumping ground for Irish and British convicts of which there was no shortage back in the 19th century. Maybe little has changed. Two girls who took part in Monday night's riots in Croydon have boasted that they were showing police and "the rich" that "we can do what we want". The pair who were drinking wine looted from a local shop at 09:30 BST on Tuesday morning, spoke to the BBC's Leana Hosea. Yeah, let's have equality. Let's all be poor and stupid. Sheesh. Asian markets have rebounded after the US Federal Reserve said it will keep interest rates on hold and Wall Street had its best day in two years. The decision by the US central bank to keep rates at current levels until at least 2013 helped stem one of the biggest sell-offs in recent years. The Oz dollar took a dive to below parity with the US dollar but rebounded and ended at 103 US cents last night, down from 110 a week ago. Boing, boing, boing. Syrian President Bashar al-Assad says he will not relent in pursuing "terrorist groups" in the country, despite growing international condemnation. Pride before people, yes? Bloody dickhead. The Chinese navy's first aircraft carrier has begun its sea trials, the state-run Xinhua news agency has said. It quoted military sources as saying that the refitted former Soviet warship left its shipyard in the north-east and the trial "would not take a long time". The move is likely to raise fresh concerns over China's rapid military build-up. It is a relatively old design and it was not built by China. It was constructed in the 1980s for the navy of the USSR, but was never completed. When the Soviet Union collapsed in 1991, the rusting hull of the Varyag sat in dockyards in Ukraine. I'm doing the same thing with Das Busse. It was built in the 80s too. Polygamist sect leader Warren Jeffs has been sentenced to life in prison for sexually assaulting two underage followers he took as brides. The Fundamentalist Church of Jesus Christ of Latter Day Saints leader was handed the maximum sentence possible. Last Thursday, the 55-year-old was found guilty of forcing two girls into "spiritual marriages" and fathering a child with one of them. Is there such a thing as a woman polygamist? President Barack Obama has visited a US air base to honour 30 US troops killed in an Afghan helicopter crash, as their bodies were repatriated. That's the great thing about being killed in action... you get to be famous.
Many in the UK are reeling after days of images of brazen thefts and wanton damage during the riots, but just where is the tipping point when people think they can start looting? An interesting article worth reading if you want to understand the mind (or mindlessness) of a looter.
Meanwhile, NC Art writes: Gordon Brown, former British PM, wrote in a Newsweek magazine article, "those on the right have been playing at the politics of fear, on all continents, that even Australia--a country with virtually no debt--the incumbent labour government, lost its majority when it faced a conservative onslaught about deficits." The barstids 'ave got hard-ons all over the world and prepared to fuck us all! It's not that simple in Oz. First we had Kevin O'Seven Rudd the Dud who was dumped by the Labor backroom boys because they were worried about his popularity shortly before the last election. They replaced him with Julia Gillard, the big-bottomed, Pinocchio-nosed school marm who likes to boss us dumb Aussies around. Gillard won the election by default because two independents and the Greens sided with her against the conservative Liberals. Those on the right in Oz don't have to play at the politics of fear. The Labor party is quite capable of self-destructing all by itself. And those independent Judases, in my opinion, (one of whom is the federal member for my area) can kiss their careers goodbye at the next election.
So there.
I've posted a lot of Red Bubble links to pics of Oz lately, so I thought it was about time I posted a few links to other places... like North Carolina, for example. Cute little buggers aren't they. And here's one of Oregon. Now let's take a look at Ohio. And last but not least, here's Texas.
You've heard of a tea cosy, right? Those knitted pullovers that cover a tea pot to keep the tea hot? Well, in Alice Springs there's a lady who knits tree cosies. And why not? It brightens up the joint. A bit of color never hurt anybody. Nonetheless, the things some people do to amuse themselves amazes me. Like writing this Waffle page, for example.
Anyway, it's THAT time again, and the chilli and garlic marinated chicken is in the oven, together with the herbed potatoes. Gary
August 9, 2011. Those rissoles last night were yummy. But Lindsay this morning was carrying on with his typical nonsense. He says he doesn't want anything with meat in it tonight, so I told him I'd give him a bubble.
I spotted a couple of awesome pics on Red Bubble this morning. How's this for a hotel room in the Caribbean? And here's another one of The Rock at sunrise. Click on the pic for the larger view. No wonder the local Aborigines thought of Uluru as something spiritual. How the hell did such a huge rock appear in the middle of nowhere? I believe two thirds of Uluru are underground. Here's an unusual view of the Sydney Harbor Bridge. My little house in Glebe was top right hand corner somewhere.
Interestingly, the guy who took the shot of the bridge used an expensive Canon 5D MkII and yet he favorited one of my shots taken with my little Fuji compact. Hehe.
It's a bit chilly this morning, ladies and genitals, and a little cloudy. Not my favorite kinda weather. I was obviously Goldilocks in my last life cos I like everything to be just right.
Just completed the Australian census thingy on line. Mucho easier than filling in forms by hand. Click, click, click does the trick. And now Stan the Lawn Man is here giving me cheek again, and I had to move Das Busse onto the street. It's all such a bother! Speaking of which, after having probs with his a/c during a heatwave, NC Art's computer died and he had to enlist the services of a techie: In other news, my computer has balked for three days...until I got a wizard to stop in (for money) to unlock it. This guru did the same procedures I had performed without success and the son-of-a-bitch lit up like a Christmas tree. Go figure.
I'm not sure if Art means it was the wizard or the computer that lit up like a Christmas tree, but either way it seems to have solved the problem. Meanwhile, Art tells me that if I wanna study Aramaic, the Semitic language spoken by Jesus and members of that culture, then I should hurry before the professor carks it. He teaches at Sydney University, the only school that has the course. Well, I suppose it would be cool to say "g'day, mate" in Aramaic when I get to meet The Man (assuming I do, of course). But I think I might pass.
Art must be a bit of worry, ya know. I mean like he's off line for 3 days and then can't wait to be reconnected to find out who teaches Aramaic.
Beeb time: Fires have been burning in parts of London after a third day of violence and looting on the city's streets. Shops were looted and buildings set alight as police clashed with youths. The trouble also spread to Birmingham, Liverpool, Manchester and Bristol. Violence first flared on Saturday after a peaceful protest in Tottenham over the fatal shooting of a man by police. It's party time for the loonies... any excuse will do. Asian markets have been hammered amid fears that the US is heading for a recession and after Wall Street posted the biggest losses since late 2008. Reminds me of those panic stampedes in stadiums where people get trampled to death for no good reason. Oscar Pistorius will become the first amputee athlete to compete at the able-bodied World Championships, after being named in South Africa's squad. The 24-year-old double-amputee, who competes on carbon fibre legs, will race in the 400m and 4x400m relay. Now that's what I call determined. Syria's neighbours are increasing diplomatic pressure on the country as the regime continues a violent crackdown on anti-government protests. Saudi Arabia, Kuwait and Bahrain have all recalled their ambassadors while Jordan has called for dialogue. Saudi King Abdullah has called on Syrian President Bashar al-Assad to urgently implement real reforms. Stay tooned. The (British) Ministry of Defence is investigating claims that a soldier sliced fingers off dead Taliban fighters to keep as souvenirs. It is understood the allegations relate to a soldier from the Argyll and Sutherland Highlanders who was serving in Afghanistan. How gruesome! Former Philippine first lady Imelda Marcos has joined a growing protest over an art exhibition pairing religious icons with phallic symbols. She said Mideo Cruz's exhibition at Manila's cultural centre had "desecrated" something sacred. The exhibition - which features a crucifix with a model penis attached - has provoked outrage in the mainly Catholic country. Mr Cruz says it is intended to be about the worship of icons. "This speaks about objects that we worship, how we create these gods and idols, and how we in turn are created by our gods and idols," said the Filipino artist, referring to the 300 years of Spanish rule that brought Catholicism to the Philippines and the current influences from the US. Well, if we're told to go forth and multiply, we need something to multiply with! From feral child to "human pet" at court in Georgian England, Peter the Wild Boy caused a sensation. And new analysis of his portraits may have solved the mystery of his unusual characteristics. A most interesting article. Nato is a terrorist organisation - akin to al-Qaeda - because of its bombing campaign in Libya, Zimbabwe's President Robert Mugabe has said. If that bloke had any brains he wouldn't open his mouth. Australia's High Court has stopped the authorities from deporting a boat-load of asylum seekers to Malaysia. Lawyers for the group of refugees argued that their transfer to Malaysia would be illegal. Judges ruled there was a "sufficiently serious question", and ordered a halt to such transfers until a full hearing can be held later this month. The ruling could jeopardise Australia's deal to send 800 asylum seekers to Malaysia over the next four years. Anything that puts egg on Julia Gillard's face is fine with me.
Oregon Richie had something colorful to say about Romney, Bachman and Santorum: Oh, yes... those modern-day Republican types who insist on living in the dark past of another age... and one that may never have existed at that. I'm reading about our President TR "Teddy" Roosevelt... considered to be the only and perhaps LAST truly progressive Republican President. Bachman is almost more irritating than Palin. When she speaks I see a person who represents considerable conflict and confusion where whatever true intelligence she has is at odds with her complete idiocy. WHERE they get off with all that crap they shovel out for the masses about marriage and such is only exceeded by the fact that they seem to believe that they have the RIGHT to do so. Yuck squared.
Hehe. Yuck squared. I wonder if all Oregonians are like that.
Oh... I just remembered... I saw another pic on Red Bubble today... this one of St James railway station, just across the road from the Registrar General's Dept where I started work on December 5, 1958, aged 14. Twice each weekday for several years I was on that station and never really gave it much thought. That was back in the days of the "red rattlers". Next time I visit, I'll be riding something far more flash. Check out the interior of the new Millenium train. And compare that with the interior of an old red rattler.
It'll be quite an experience to walk the same streets I walked all those years ago, and to wander around Hyde Park. "This fountain is a gift of the late J.F. Archibald to his fellow countryman and is intended in terms of his will to commemorate the association of Australia and France in the Great War 1914 – 1918. It was erected in 1932 and is the work of Francois Sicard, Sculptor, Paris." The fountain depicts a bronze Apollo surrounded by Diana, Theasus slaying the minotaur and other mythical figures. The camera will get a hiding, that's for sure. Hehe. Sooooo many things to photograph! Actually, it's frightening. I could end up with thousands of photos! Which reminds me... I didn't go for my daily walk today. Tsk, tsk. I meant to, but time got away from me, and now it's a bit too chilly... and the heater's on.
Here we go again... kitchen time. Prawns tonight, those wriggly gray things with lots of little legs that turn pink when cooked. Mind you, I think I'd turn pink too if I were... no, come to think of it, let's not go there. Prawn cutlets and chips. Gary
August 8, 2011. Oregon Richie was rather chuffed with Hampden Bridge over the Kangaroo River so I sent him a link to its history, which is quite interesting.
As I explained, the whole of the Southern Highlands is prime grazing country and renowned for its prize horse studs. Quite a few showbiz personalities have properties there as well, especially around Bowral. I've not seen a helluva lot of Oz compared to what there is to see, but apart from the endless stretches of dreary suburbia in the greater Sydney metropolitan area, it's all pretty interesting. As Pru and Mike said the other day, even the Nullarbor Plain is interesting if you take the time to poke around and check it out.
Quite by accident, I happened on this image on Red Bubble. A most profound image indeed. Comfort in a time of need.
Beeb time: Saudi Arabia says it is withdrawing its ambassador from Syria in protest against the crackdown on Syrian anti-government demonstrators. In a statement broadcast across the Arab world, King Abdullah said the violence was "unacceptable". It came hours after the Arab League issued its first official condemnation of the repression in Syria. Good. When Arab countries start expressing condemnation, it's very powerful. The Metropolitan Police has launched a "major investigation" into the riot in Tottenham which saw attacks on people, fires and looting. Officers on the inquiry, codenamed Operation Withern, will interview witnesses and review hours of CCTV footage in a bid to identify rioters. Fifty-five people arrested during the disorder are being questioned. Clashes have broken out in Enfield, north London, where shop windows have been smashed and a police car damaged. Riot police were deployed to the area, and the Met Police said "several arrests" had been made after shops were vandalised. A sad day for Britain. All patients getting cancer treatment should be told to do two and a half hours of physical exercise every week, says a report by Macmillan Cancer Support. Being advised to rest and take it easy after treatment is an outdated view, the charity says. Research shows that exercise can reduce the risk of dying from cancer and minimise the side effects of treatment. I couldn't agree more. Seven people have been shot dead by a gunman in the north of the US state of Ohio, say reports. The man, who has not been named, was later shot dead by police in Copley Township near Akron. The violence is believed to have begun as a family argument - one of the victims was an 11-year-old girl, local media reported. Witnesses told local media that many of the victims were family members of the gunman. What can you say? What can you do? It's just so crazy and wasteful. A 61-year-old American woman is attempting to become the first person to swim from Cuba to the United States without the protection of a shark cage. Diana Nyad set off from Havana across the straits of Florida late on Sunday. Ms Nyad was one of the world's greatest long distance swimmers back in the 1970s, but she failed in her original attempt to complete the crossing from Cuba in 1978, when she was 28. Now at the age of 61, she has decided to re-enter these shark-infested waters and try once again the gruelling 103-miles (166km) swim between Havana and Key West. There will be no sleep for Ms Nyad for the next three days - just brief pauses in the water every 90 minutes to take in food through a plastic tube. Why? Hehe. You'd have to ask her cos I don't have the faintest idea.
There's an interesting exchange of comments on Justin's blog about republican presidential candidates Mitt Romney, Rick Santorum and Rep. Michele Bachmann, R-Minn., signing a new pledge to oppose marriage equality, support a federal marriage amendment and restrict their judicial nominations to judges who disagree that gay and lesbian couples have a constitutional right to marry.
Fortunately for me, I have no wish to marry anyone. But if I did, I wouldn't want some bunch of dickheads telling me who I could marry and who I couldn't. Who the hell do they think they are? They don't OWN marriage. Nobody does.
Anyway, I felt like something reminiscent of what "grandma used to make" for dinner tonight. Store bought rissoles are no good, so I bought some mince, ONE carrot, and ONE stick of celery, and I'll make my own, with a pinch of herbs, garlic and curry powder, and then crumb them and grill them. Then I'll serve them with potato mash, peas and gravy. Mmmm. It's a bit of buggerizing around but it's worth it. Gary
August 7, 2011. TX Greg wrote about the heatwave in America's south: It was just a few months back I was talking about the record snow and ice here for the Super Bowl. Now we're breaking all kinds of records for this heat wave!!! Every day in the news someone is dropping over dead from it. I saw the story you mentioned on the local news about the elderly lady whose A/C was stolen and died, all for a few bucks of scrap copper, really sad. Art was lucky as last week when it got to 110F one of my A/C compressors blew and locked up, that wasn't cheap. The landscape here looks more like winter with all the grass dead, and many ranches are selling off herd as hay and stock ponds dry up.
Yes, I remember Greg bitching about the snow and ice not so long ago hehe. I think he said he was housebound for a week and running out of groceries. So it's gone from one extreme to the other over there.
Greg also wrote: Perhaps a stupid question but just a thought. Why don't you rent a room from Averil? If that was your "home base" then maybe you could start the Odyssey on shorter trips, say a week or two at a time, and still have a place to return to. I know you feel the Das Bus needs the 6K of re-spray and rust work, but really isn't the mechanical and tires the most important first? Say you get that all done and oops dare I say back into something.
Rent a room from Averil? Not bloody likely! I'd never get a moment's peace. Besides, she has all the local windbag wallies dropping in for chat. And on top of that, I have a number of habits that would not meet with her approval. L&S don't care about my habits, which suits me fine. As to Das Busse, both the body work and the mechanical aspects are important, so it's six of one and half dozen of the other. Mechanical problems don't deteriorate when a car is not being driven, but rust does. The sooner the body is restored and rust-proofed, the happier I'll be. I mean who wants to fill a bucket with holes in it?
As I wrote Oregon Richie this morning, in my 20s and 30s I went from town to town and job to job working in country radio, with all my worldly possessions stuffed in a Beetle. It didn't bother me a bit. Even as late as 10 years ago, I stuffed L&S into a Mitsubishi Mirage and all my possessions into a truck, and moved 400kms up the coast to Taree. I broke all ties with my past and embraced an uncertain future. But it turned out okay. So now I'm faced with the prospect of stuffing Das Busse with whatever will fit and leaving everything else behind to launch myself into the great unknown again. Sheesh. But things are different now. The heart attack 9 years ago means I'm on regular medication, and all these pesky skin cancers that keep popping up like weeds need to be attended to at least twice a year. So I'm not as carefree as I was in my younger days.
On the other hand, I'm also mindful that a bit of stimulation will do me the world of good. As one bloke said, getting out and traveling will add years to your life, and I believe he's right. Greg's idea of having a home base and doing mini Odysseys for a week or two at a time is not without merit. That's what I did years ago with the VW Kombi and my house in Glebe. The difference now is that rent is dead money, and there's not much point in paying for something you don't use. At the end of a year I'd rather have $5000 in the bank than in some landlord's pocket. Even $5K would be enough to set me up in a nice little flat somewhere with a bit of furniture when I decide to settle down permanently AND WRITE ANOTHER BOOK! Just because I settle down doesn't mean I wanna curl up and die. And think of just how much richer my life experience will be after a couple of years of traveling Oz. Actually, apart from writing an autobiographical account of my travels and adventures, I also have an idea for a story based on those things. The lead characters would be fictional but the backgrounds and places would be real. It would begin with an old man traveling Oz, who gives a hitch hiker a lift. The hiker turns out to be on the run from the law and steals the old man's camper, leaving the old man on the side of the road with nothing. But the hiker has a change of heart and returns, and from there a strong bond grows as the two become traveling companions... one on the run, and the other wanting to experience a bit of adventure before it's too late. Sound good?
I checked my Lotto numbers this morning and saw zip. Bombed again. But just now I got an email to say I had a winning ticket. Ooer! Yes, folks, $14.60! It's credited to my account so I'll use it next time I renew my sub, which is every fortnight.
Beeb time: Thirty US troops, said to be mostly special forces, have been killed, reportedly when a Taliban rocket downed their helicopter in east Afghanistan. Seven Afghan commandos and a civilian interpreter were also on the Chinook, officials say. US sources say the special forces were from the Navy Seal unit which killed Osama Bin Laden, but are "unlikely" to be the same personnel. This is the largest single US loss of life in the Afghan conflict. Oh, dear. That's terrible. So now I expect to hear cries of "bring our troops back home". But I would rather hear cries of "let's go get those Taliban bastards". Petrol bombs have been thrown at police and two patrol cars, a bus and buildings have been set on fire in a disturbance in Tottenham, north London. The incident began after a protest over the fatal shooting of a young man by police on Thursday turned violent. About 300 people have gathered outside the police station on the High Road. Members of the community had taken to the streets to demand "justice" after the shooting of 29-year-old father-of-four Mark Duggan. Often, protests are an excuse for hooligans to vent their spleens, and this incident sounds like one of those to me. The ringleader of the US military guards who photographed their abuse of suspected Iraqi insurgents at Baghdad's Abu Ghraib prison has been released. Charles Graner served more than six-and-a-half years of a 10-year sentence, army officials said. Graner, a former US Army Reserve specialist, was convicted of leading his six-member team in the sexual humiliation of naked prisoners. Images of the acts emerged in 2004, sparking international outrage. And I was one of those outraged. China has scolded the US over its "addiction to debt" after rating agency Standard & Poor's downgraded the US' top-notch AAA rating to AA+. State news agency Xinhua said unless the US cut its "gigantic military expenditure and bloated welfare costs," another downgrade would be inevitable. But other countries, such as Australia, France and Japan, said they retained their faith in US bonds. Fact is, Oz would now be in Japanese hands if it weren't for America's "gigantic military expenditure" during WWII.
Back from my little walkies again before it rains, which is predicted. There was a time as a kid that I was first off the train and up the station stairs two at a time often beating the ticket collector to his booth. I never went up stairs one at a time. NEVER! Now I'm struggling to get up the local hill hehe. But I will persist until I can walk several miles without a prob. And I'd like to get back into riding my bike.
Now you see that pic of Lakemba station? Just below that platform 1 sign is where I used to meet my mate Ron Thompson every morning to catch the 8:02 into the city. I thought he was totally scrumptious hehe. I was 18 at the time and I think he was a year younger. But I was totally captivated and besotted. Nothing naughty ever happened though. No, no, no. We were both far too innocent for anything like that. We each had a girlfriend. Ron and I would sit in the front seat of my car, while the girls were relegated to the back. And after the night's outing, I would drive the girls home and leave Ron till last. Then I'd park outside his house and turn off the engine, and we'd sit there chatting away till it was time for me to go home. How romantic. Yes... the follies of youth.
That photo of Ron was taken during our 5-week camping holiday down the south coast of New South Wales back in 1964. I still remember it vividly. He eventually married, raised a daughter who was his pride and joy, and bought a house in a pretty classy Sydney waterside suburb. When we met, I was a clerk at the Registrar General's Dept and he was a draughtsman working for the Water Board. He was very skilled at drawing and had exceptionally neat handwriting. Anyway, I thought he was scrumptious even though I always beat him at pool.
Actually, when we took off on that 5-week camping holiday all we had was my car (a Wolseley 1500), a tent and a surfboard, plus a bag of clothes and whatever. And that was it! No campervan, no cooker, no porta potti. One night, the owner of a camping area store (at Broulee, I think) invited us to join him for a few drinks. It was expensive scotch liquer - Drambui or something like that - and it was his treat. I remember him lamenting, "I wish I had a mate to share things with like you blokes have." I think he was also wishing for something else but we were too thick to get the hint.
Thinking back, I still have absolutely no idea what Ron saw in me. Hehe. Meanwhile, I thought he was hero material... a person to be admired and even worshipped. Thilly me. But that's the way we humans are programmed, especially when we're young. We all need our heroes. Either that, or to be seen as a hero in another person's eyes.
One of the most picturesque places I've been is Kangaroo Valley. The scenery is absolutely stunning, and I must go there again. There's a cute little bridge leading into town. Actually, the whole of the south coast and southern highlands is stunning.
Okay, that's enough reminiscing for one day. I've just woken from a little snoozette and it's almost time to throw on the chef hat. Fish 'n' chips. Gary
August 6, 2011. Another weekend already. Sheesh.
Something is going on in Lindsay's head, which proves that things can and do happen in a vacuum. In fact, he's off to buy a new vacuum cleaner. Now why would he want his own vacuum cleaner when mine works perfectly well? Methinks L&S plan to move out. If that happens, I'd have to move out too, into a smaller place. Stay tooned.
Fire ants are not one of NC Art's fav insect species. They colonized the compressor switch in his air conditioner and buggered it. Not funny! Especially during the current American heatwave. So Art had to part with 100 bucks to get it fixed, and another 50 to get rid of the ants. Colonies of South American fire ants have been found in Brisbane, QLD, but quicky exterminated. Tropical fire ants have become established in coastal areas of the Northern Territory but as yet have not caused significant problems. I'm not sure how they got here but they sure ain't welcome. We have enough indigenous ants as it is, and not all of them are friendly. I watched a program on telly the other night about jumper ants and bull ants. Their sting can be lethal to patients allergic to the venom - about 3 to 4% of Aussies.
As to American currency: Interesting notes on money matters. The U.S. is lagging Oz on making sense of coin denominations and rounding off prices. We still use a copper 1-cent which makes no sense. A 1-dollar coin has been tried several times without success. But then I remember a 3-cent coin in the '20s along with half-dime, neither of which is minted now. During army service in the Southwest, silver dollars and 2-dollar bills often turned up in our pay envelopes. The West is still mad about going off the silver standard, I think.
Pay envelopes. Now there's a relic from the past! I remember those too... little brown envelopes stuffed with cash on pay days. All you get these days is a bunch of numbers transferred to your back account. Hehe. I still get some old-fashioned folding stuff though. Lindsay goes to the bank to withdraw his and Sue's share of the rent and groceries, and comes back with a bunch of notes and coins. No brown envelope though. However, there was a time when you got paid by check/cheque, and you'd have to take it to the bank to cash it or deposit it in your account. All too hard, really. Electronic transfer is much simpler, and all you need to access your funds is a piece of plastic and/or a computer.
Beeb time: One of the top credit rating agencies, Standard & Poor's, has downgraded the United States' top-notch AAA rating for the first time ever. S&P cut the long-term US rating by one notch to AA+ with a negative outlook, citing concerns about budget deficits. The agency said the deficit reduction plan passed by the US Congress on Tuesday did not go far enough. That's bound to be a bit of a bruise to the ego of the most powerful nation in the history of the world. The US, French and German leaders have condemned Syrian President Bashar al-Assad over the use of "indiscriminate violence" against protesters. President Barack Obama called France's Nicolas Sarkozy and Germany's Angela Merkel to discuss new measures against Damascus, the White House said. al-Assad is not listening. He figures he's untouchable, and maybe he's right. A US federal jury has convicted five police officers in New Orleans over fatal shootings in the chaotic aftermath of Hurricane Katrina. Two unarmed residents were killed and four others wounded in the incident on the Danziger Bridge after the 2005 storm. But the jury decided that neither of the fatal shootings was a murder. The five officers were convicted of violations stemming from the cover-up of the deaths. Four of the men were also found guilty of civil rights violations. Guns and badges don't make you better than the next guy. A polar bear has mauled a 17-year-old British boy to death in the Arctic and injured four other UK tourists. Horatio Chapple, from Wiltshire, was with 12 others on a British Schools Exploring Society trip near a glacier on the Norwegian island of Spitsbergen. The four who were hurt - two severely - included two leaders of the trip. They have been flown to Tromsoe where their condition is stable. What a way to go. A $1.1bn (£0.7bn) unmanned Nasa space mission has launched from Florida on a journey to the planet Jupiter. The Juno spacecraft will cruise beyond Mars to put itself in orbit around the gas giant in 2016. It is the first solar-powered mission to venture this far from the Sun. Juno's mission is to probe the secrets of the Solar System by explaining the origin and evolution of its biggest planet. Would've been cheaper to read the Bible. Hehe. A 75-year-old aviation enthusiast whose plane strayed into restricted airspace during a presidential visit, prompting fighter jets to be scrambled, has brushed off the incident. Two F-16s intercepted Myrtle Rose's aircraft as she took to the skies over the suburbs of Chicago city on Wednesday afternoon. The widow told US media she thought the warplanes were just admiring her plane. Now, THAT is funny. A US woman who reported that her air-conditioning unit had been stolen later died of heat exhaustion, officials in the state of Texas have confirmed. Dolores Grissom, 79, died in her home in Oak Cliff two days after telling police her unit had been stolen. The news comes as parts of Texas are experiencing their 39th consecutive day of temperatures above 100F (38C), with 13 deaths in Dallas County alone. And NC Art thinks fire ants are a problem. Actor Rowan Atkinson was hurt when he crashed his McLaren F1 supercar into a tree in Cambridgeshire. The Blackadder and Mr Bean star suffered a shoulder injury in the accident, near Peterborough. He is said to have walked from the car, which caught fire, after the crash on the A605 at Haddon on Thursday evening and waited for an ambulance. Atkinson achieved fame through BBC shows Not The Nine O'Clock News and Blackadder, before gaining international recognition in Mr Bean, in which his hapless character drives an old Mini. How's that for irony?
Here's Mr Bean trying to get his Mini out of a car park.
Back from another little walk down by the river where I chatted briefly to an elderly couple. My walkies regimen is only a week old but I hope my fitness improves soon. I hadn't realized I'd become so unfit! Just a couple of years ago I could walk around the block no problem at all, but not now. Use it or lose it, as they say. And it's soooo true!
Well, according to the forecast, our little Indian summer is over. Tomorrow will be showery and cool, in fact so will the rest of the week. Too good to last, as they say. BUT we're coming to the end of winter. Actually, as I sat on a bench in the riverside park and looked at the bare branches of a deciduous tree, with its dozens of twigs silhouetted against a clear blue sky, I saw a couple of little buds saying "g'day".
And now it's time for me to vamoose. Chicken schnitzels and corn cobs. I wonder who invented schnitzels? Take a piece of meat, bash the crap out of it to make sure it's deceased, crumb it, and fry it. Oh well... Gary
August 5, 2011. NC Art remembers the old British coins from his stint in London back in 1944. Odd that the half penny was a huge heavy copper coin, and the sixpence a demure silver thing. My favorite was already scarce in 1944: the tiny silver farthing which depicted a tiny bird of the same name. Lovely, but quite easy to lose in a crack or upholstered seat. I made it home with a sample of each coin, but alas for my souvenirs they were pilfered by a moving van driver somewhere between my many relocations. Puff!
I had a set of 1944 Australian silver coins but I went broke and sold them. The Australian mint was busy with the war effort at the time so the coins were minted in San Francisco. They were uncirculated and worth a bit. Pity I went broke. The farthing had disappeared from circulation when I was born. Interestingly, Oz had no currency when first settled by Europeans in 1788. Rum was used as currency until the governor imported a stack of Spanish dollars. The center was punched out and used as a small denomination coin, while the remainder was called the Holey Dollar. There must have been a lot of bartering going on in those days. The first Australian paper currency was printed by the various banks. The banks promised to pay the bearer the amount printed thereon. They were called promisory notes. Today, we still call our paper currency 'notes' rather than bills. Actually, it's no longer paper... its polypropylene polymer plastic.
Coins: 5 cents, 10 cents, 20 cents, 50 cents, 1 dollar, 2 dollars. Notes: 5 dollars, 10 dollars, 20 dollars, 50 dollars, 100 dollars. Cents are rounded to the nearest 5 so anything costing 98/99 cents actually costs a dollar. Anything costing 96/97 cents costs 95. 1 and 2 cent coins went out of circulation ages ago.
Anyway, these days we have kilometers instead of miles, liters instead of gallons or pints, grams instead of ounces, kilograms instead of pounds, centimeters instead of inches or feet, celcius instead of fahrenheit, kilowatts instead of horsepower and a whole bunch of other things I fail to comprehend. When I was a kid we had miles to the gallon. Now we have liters to the kilometer and I'm buggered if I can make sense of that.
Beeb time: Wall Street had its worst day for almost three years as shares tumbled on fears about the eurozone debt crisis and the US economic recovery. The Dow Jones index closed down more than 500 points, or 4.3%, and came after the leading European bourses fell more than 3%. It was the biggest one-day fall for the Dow since October 2008. Earlier, European Commission President Jose Manuel Barroso warned that the sovereign debt crisis was spreading. Pretty hard to get your pound of flesh from a skeleton. Striking new images from the mountains of Mars may be the best evidence yet of flowing, liquid water, an essential ingredient for life, says Nasa. Which all goes to prove that what we know ain't all there is to be known. Former Beatle Sir Paul McCartney says he appears to be a victim of phone hacking and will talk to the police when he returns to the UK from a US tour. Now there's a bloke a few years older than me and he's still touring the world. US Secretary of State Hillary Clinton says the Syrian government has killed at least 2,000 people in its attempts to crush opposition protests. The Syrian leadership is fighting a losing battle. They just haven't realized it yet. Polygamist sect leader Warren Jeffs has been convicted on child sexual assault charges by a jury in Texas. The head of the Fundamentalist Church of Jesus Christ of Latter Day Saints made no reaction as the verdict was read. He faces up to life in prison. He was found guilty of forcing two teenage girls into "spiritual marriage" and fathering a child with one of them when she was 15. The charges followed a raid on the remote west Texas ranch in 2008. Latter day what? A heatwave is frying southern US states from California to North Carolina, as temperatures top 100F (38C) in parts Texas for the 38th consecutive day. The National Weather Service has issued heat advisories for areas in 15 states across the south. The blistering heat pushed electricity consumption in Texas to record highs in the state's hottest summer since 1980, according to the state grid operator. Blistering heat. Now that's something a fair-skinned redhead like me knows about... literally. An Australian teenager who endured a 10-hour ordeal with a fake bomb strapped to her neck was the victim of an extortion attempt, police say. An intruder apparently entered the home of Madeleine Pulver, 18, and fastened to her neck what appeared to be a bomb. Police took 10 hours to remove the device, evacuating nearby streets in the wealthy Sydney suburb of Mosman. They said the intruder left behind a note attached to the device that confirmed the motive was extortion. The demands made on the note have not been revealed but New South Wales police Detective Superintendent Luke Moore said: "We are treating this as an attempted extortion - a very serious attempted extortion." My congratulations to the cops who stayed with the girl throughout her ordeal to keep her calm despite a very real threat to their own personal safety. If that's not deserving of a bravery medal I dunno what is.
This morning I had an invite from a member of LinkedIn to link with an editor at Golden Sky Books, a publisher in NY. I have no idea what precipitated the request, or what it might mean, so I asked Justin if he had anything to do with it (after reading Green Room). Nope, he hadn't. He had toyed with the idea of contacting Simon & Schuster in NYC but hadn't quite figured out what his approach might be. GREEN ROOM would be helpful to lots of guys. . . besides being a very good read. It is so well written, entertaining, engaging and involving. What more can one want from a book? Everything does not have to have a practical objective; everything does not need to be therapeutic!
So there ya go. Welcome back to square one, a square with which I'm becoming increasingly familiar. Not that I'm complaining. David Hicks spent 5 years in Guantanamo Bay in order to sell 30,000 copies of his book. All I've done is spend 10 years with L&S. Meanwhile, I edited Green Room's introductory notes to include the words 'Australian' and 'surfer'.
I just noticed a review of Green Room I'd not seen before: "Lightning in a Bottle" Reading about Kyle's friendship with Brett, as well as Stuart and everthing else. This book has had quite a solid impact on my life. Its certainly one of the most touching and human books I have read yet.
And that's it for Friday. I did my little walkies around the block today, and also saw a Toyota campervan drive past. It was a high top rather than a pop top, but it was the same model as mine. Lucky peeps. Meanwhile, it's rump steak and onions for THEM and I'm not gonna tellya what I'm having cos you'll think I'm awful. Gary
August 4, 2011. Oh yes... I forgot to add something to yesterday's Waffle about being green... lollies. Merry Cans call them candy. Remember the old lolly shops, with big jars of yummy things, and trays of colorful goodies on display in the glass cabinet? The man would weigh your candy and put it in a paper bag. None of this plastic wrapper shit. Our corner store had a lolly section and I always found it irresistible. I remember rainbow balls for two a penny. You could suck on those for ages. And jelly babies. My mom told me to always ask for the boy ones cos you got a bit extra. But my fav lolly was sherbet... a paper envelope with tangy lemon sherbet inside and a straw made of hollow licorice.
They were the days when a half penny was pronounced ha'penny (as in ape-knee), two pence was pronounced tuppence, and three pence was pronounced thripence. Sixpence was known as a tray, and a shilling was called a deaner or a bob. A pound was a quid, and half a pound was ten bob. Hehe. Five pounds was a fiver and ten pounds was a tenner. Then we went decimal in '66 and got buck. How the hell do you get buck outta dollar? Anyway, a buck was worth ten bob and a it took two bucks to make a quid. Are you confused yet?
I must admit, the decimal system is a helluva lot easier to manage. 12 pence to a shilling and 20 shillings to a pound was a nightmare. And to make it even more complicated, we had the guinea (one pound, one shilling, or 21 shillings). But I still use the term dozen. Then there's a "baker's dozen" which is 13... an extra loaf for good measure.
Beeb time: The UN Security Council has condemned the Syrian government for a deadly crackdown on protesters. It is the first clear condemnation issued by the Security Council, which includes longstanding allies of Syria such as Russia. It was adopted over the fears of some members that any action could lead to Libya-style intervention. It comes as the Syrian army attacks Hama, a centre of opposition protest, with reports of much loss of life. Dozens of people are believed to have been killed in the action against Hama, with residents saying tanks have now shot their way into Assi (Orontes) Square, in the centre of the city of 800,000 people. Seems to me that Syria is thumbing its nose at the rest of the world, and knows that the world doesn't want another Libya. Egypt's deposed President Hosni Mubarak denies all the charges against him as he lies on a hospital bed in a courtroom cage on the opening day of his trial. Lies on a hospital bed? You could take that two ways. President Barack Obama has again urged Congress to end a funding row that has partially shut down the body which oversees US air safety. He said it was a "lose-lose situation" that could cost the government $1bn (£610m) in uncollected air fare taxes. Many lawmakers left for summer breaks after the US debt crisis was resolved, without extending the Federal Aviation Administration (FAA) budget. About 70,000 construction workers on airport projects have had to stop work. Oops! Australian police have freed a young woman after 10 hours of tense efforts to deal with a suspected bomb that was reportedly strapped to her body. Madeleine Pulver, 18, called police from her home in a wealthy Sydney suburb at 14:30 (04:30 GMT). The police said the device was "very elaborate, very sophisticated" but would not comment on media reports that it was part of an extortion attempt. Ms Pulver was finally reunited with her parents just after midnight. The BBC's Nick Bryant, in Sydney, says she had been studying for her exams when an intruder, wearing a balaclava, reportedly entered the house and placed a potentially explosive device around her neck. There were also reports that the intruder had left behind a note. Police said the process to remove the device was a delicate and painstaking operation and that they had sought the help of British bomb-disposal experts. How bizarre! And they still don't know what the motive was. IT security firm McAfee claims to have uncovered one of the largest ever series of cyber attacks. It lists 72 different organisations that were targeted over five years, including the International Olympic Committee, the UN and security firms. McAfee will not say who it thinks is responsible, but there is speculation that China may be behind the attacks. Beijing has always denied any state involvement in cyber-attacks, calling such accusations "groundless". Two world wars, the Cold War and now the Cyber War. The US has charged 72 people it alleges were part of a global child pornography network used to share photos and videos of sexual abuse. Announcing charges after 20 months of Operation Delego, senior US officials said some 600 users of a site known as "Dreamboard" had been investigated. Attorney General Eric Holder said some images on the site showed the abuse of infants and young children. This kinda thing happens with alarming frequency and you have to wonder just how many abusers of children are "out there" in so-called normal society.
Okies, shopping's done, bills paid, and mandarins were on spesh at $1.50 a kilo. Mandarins are cool... how to eat an orange without needing a wet suit. Small pineapples were also on spesh at $1.50 each.
Matt from Smash Zone phoned today to ask if I was ready to have Das Busse rejuvenated. Things are slow so he's trying to drum up some biz. But I'm afraid I'm nowhere near ready yet. When will I be? Realistically? I dunno.
Just spotted this shot of Uluru lit by the moon with the fading sunset in the background, and night stars adorning the desert sky. A real stunner. The photographer said he was trying to get more night shots but an over-zealous park ranger chased him out of the park after 7:30, and the ranger's headlights buggered the remaining shots. Be sure the read the photographer's comments on the right.
Filet mignon tonight... chicken filet, not beef, wrapped in bacon with a touch of garlic. Mmmmm. Gary
August 3, 2011. Seems the Blogspot gurus have taken exception to Justin's latest graphic with thumbnails that included bare butts and even a pair of hangers, and removed his blog. Bare butts and hangers weren't created by the devil ya know, but you could be excused for thinking they were. That's the main reason I don't use free social media such as blogspot, facebook, twitter, etc, for my site. I don't wanna be told by dickheads how to suck eggs. My intention is not to have content here that is offensive or nasty but that's not the point. I don't like to be TOLD. And I sure as hell don't wanna spend hours and hours putting a site together only to have it disappear at the whim of some moronic arbiter such as Google. Those guys get so big they think they own the internet. The internet belongs to the people. That means you and me, not Google or governments or corporations.
Anyway, like I said, bugger the freebies. I'll stick to my own dot com, thank you very much.
NC Art is not amused: AH SHIT. BUTTS AND TESTICLES!? LET ME KNOW WHEN THEY BAN FAT, SLOPPY OLD HAGS. I'D THINK BUTTS ARE LESS OFFENSIVE, Y'KNOW.
However, Art did find this amusing: After being married for 40 years, I took a careful look at my wife one day and said, "Forty years ago we had a cheap house, a junk car, slept on a sofa bed and watched a 10-inch black and white TV, but I got to sleep every night with a hot 23-year-old girl. Now ... I have a $500,000.00 home, a $35,000.00 car, a nice big bed and a large screen TV, but I'm sleeping with a 63-year-old woman. It seems to me that you're not holding up your side of things." My wife is a very reasonable woman. She told me to go out and find a hot 23-year-old girl and she would make sure that I would once again be living in a cheap house, driving a junk car, sleeping on a sofa bed and watching a 10-inch black and white TV. Aren't older women great? They really know how to solve an old guy's problems.
Meanwhile, my old mate Greg Somers the artist forwarded a thing about being green. Green is all the rage these days. According to the Greenies, it's something new... something we oldies knew nothing about. It's rather a long piece, so I'll paraphrase it:
In the line at the store, the cashier told an older woman that she should bring her own grocery bags because plastic bags weren't good for the environment. The woman apologized to him and explained, "We didn't have the green thing back in my day." The clerk responded, "That's our problem today. Your generation did not care enough to save our environment."
No we didn't have the green thing back then. But, we returned milk bottles, soda bottles and beer bottles to the store for recycling. We washed diapers instead of using throw-aways. We dried our laundry on a clothes line, using solar power instead of electricity. Our kids got hand-me-downs from their older siblings instead of new clothing all the time. We had one TV or radio in the house, not one in every room. And the screen was the size of a hankerchief. In the kitchen we blended and stirred by hand instead of using electric gadgets. We used newspaper to package mail instead of bubblewrap or styrofoam. Back then we used a push lawnmower instead of something powered by gasoline. We climbed stairs instead of riding an escalator, and exercised by working instead of going to a gym. We drank from a park fountain instead of a plastic bottle. We refilled writing pens with ink and replaced razor blades in our shavers instead of throwing them away. Back then we took a streetcar or bus into town, and the kids rode their bicycles to school. But you're right... we didn't have the green thing back then.
When I was a kid, I used to take a billy can to the corner shop to get milk. Biscuits were weighed and put in a brown paper bag. Bread came in unwrapped loaves. Bread was also delivered by horse and cart, and the delivery man carried the loaves in a cane basket. My mom took a string bag when she went shopping. There was no such thing as a dishwasher. We kids played cricket after school on the road because there was almost no traffic. Yes, I could go on...
But you know how kids are. They think they invented everything.
Beeb time: President Barack Obama has signed legislation to increase the US debt ceiling and avert a financial default after Congress voted in favour of a bipartisan compromise deal. The bill cleared its final hurdle in the Senate by 74 votes to 26. I wonder what the 26 were thinking. Residents say Syrian troops continue their siege of Hama as part of a crackdown which has killed scores, while the UN debates its response. Debates a response? Hello? Spain's Prime Minister Jose Luis Zapatero has been forced to postpone his holiday as investors continue to flee his country's debt. How dare they flee before he gets a chance to. The trial of Egypt's ex-President Hosni Mubarak, who was forced from office by mass demonstrations in February, is due to start in the capital, Cairo. He is charged with corruption and ordering the killing of protesters - a charge that carries the death penalty. But apart from that he's a really nice bloke. Forces loyal to Libyan leader Col Muammar Gaddafi have launched a counter-offensive against rebels near the key western town of Zlitan. At least seven rebels were killed after pro-Gaddafi forces attacked their positions on the outskirts of the city, east of Tripoli. Meanwhile, Col Gaddafi's son, Saif al-Islam, vowed that fighting would continue until Libya was "liberated". Huh? Can you run that past me again? Australia's government has launched a court action against former Guantanamo Bay detainee David Hicks in a bid to seize profits from his autobiography. The case is being brought under a law banning profits from crime. Hicks's legal team says the law does not apply because his conviction by a US military commission at Guantanamo Bay was invalid. Hicks spent five years at the facility before pleading guilty to providing material support for terrorism. His book Guantanamo, My Journey, tells the story of his incarceration at the controversial detention centre in Cuba. It has sold about 30,000 copies. Now THAT will be a very interesting case to follow. It won't surprise me in the least if Hicks becomes a folk hero. China's central bank governor has welcomed measures taken by the US to avoid a default on government debt obligations. Zhou Xiaochuan said the People's Bank of China (PBC) would "closely observe its implementation", in a statement on the PBC website. Mr Zhou said China, which is the largest holder of US debt, hopes that the US takes responsible policy measures to handle its debt issues, while keeping the interests of the rest of the world in mind. Interesting. I had no idea China was the largest holder of US debt. Internet Explorer users have a lower than average IQ, according to research by Consulting firm AptiQuant. The study gave web surfers an IQ test, then plotted their scores against the browser they used. IE surfers were found to have an average IQ lower than people using Chrome, Firefox and Safari. Users of Camino and Opera rated highest. Er... I changed over to Firefox yesterday. Hehe. However, if you wanna sell more Frisbees to more people, you don't aim for high IQs. Australian wallabies are eating opium poppies and creating crop circles as they hop around "as high as a kite", a government official has said. Lara Giddings, the attorney general for the island state of Tasmania, said the kangaroo-like marsupials were getting into poppy fields grown for medicine. Australia supplies about 50% of the world's legally-grown opium used to make morphine and other painkillers. Something tells me we must have wallabies in parliament. One of astronomy's longest-running "missing persons" investigations has concluded: astronomers have found molecular oxygen in space. While single atoms of oxygen have been found alone or incorporated into other molecules, the oxygen molecule - the one we breathe - had never been seen. Oxygen is the third most abundant element in the cosmos, after hydrogen and helium. Its molecular form, with two atoms joined by a double bond, makes life on Earth possible - but this form had never definitively been seen in space. Hmmm. The thick plottens. Remember ET? He got along okay in the earth's atmosphere.
And now, ladies and genitals, guess who's back minus the naughty bits? Yes, Justin Dunes.
And now I'm back as well, after my little walk around the block. My legs are aching like buggery, which just goes to show how unfit I am and how I need to maintain this daily regimen if I'm to go walkabout on the Odyssey. Years ago, I used to ride my bike to and from work. I lived on top of a long fairly steep hill which was a cinch to ride down but not so easy to climb. For some months I rode the long way home up gentler slopes. One day I was in a hurry to get home so I pedaled up the hill and, to my surprise, it was a piece of cake. I figure my daily walks around the block will achieve the same result in due course... maybe a month or two.
Anyway, there goes another day. Pork chops and spuds for THEM and whatever for me. There are plenty of leftovers. Gary
August 2, 2011. It was 23C (73F) yesterday, and will be the same today. Sunny and blue, quite unusual for this time of year. And I'm not complaining.
Just renewed my fortnightly splurge on Lotto - ten bucks a week. But I included tonight's $30M Oz Lotto draw. I don't normally enter Tuesday's draw but I did this time. My chances of winning a prize are about one in umpteen billion but what the hell. The thought of winning even a small portion of all that loot is pretty tantalizing. I can dream until tomorrow's email says "no winning games", as it does 99.999% of the time.
Beeb time: The US House of Representatives has passed by 269 votes to 161 a last-ditch deal to avoid a federal debt default. The legislation must now be passed by the Senate and approved by President Barack Obama to become law. It would raise the debt ceiling by up to $2.4tn (£1.5tn) - from $14.3tn - and make savings of $2.3tn over 10 years. There were cheers as Congresswoman Gabrielle Giffords made her first appearance on Capitol Hill since she was shot in Tucson in January. After months of bitterly partisan deadlock, House Republican and Democratic leaders swung behind the bill on Monday, ratifying a deal sealed the night before with a phone call from House Speaker John Boehner to President Obama. After all, America is the land of Hollywood cliff hangers. Syrian security forces have fired shells in the city of Hama, as prayers ended on the first day of the Muslim holy month of Ramadan. Rights groups say around 130 people have been killed by the authorities since Sunday, most of them in Hama. Lunacy. What else could you call it? Norway's Prime Minister, Jens Stoltenberg, has warned his compatriots not to launch a "witch-hunt" following the deadly attacks of 22 July. At a special session of parliament, he urged citizens and fellow politicians to show restraint and tolerance. A survey has suggested public pressure is growing in Norway for stiffer sentences for serious crimes. The poll for Verdens Gang newspaper suggested 65% of people thought penalties in Norway's justice system were "too low"; more than half said their view had hardened since the massacre. Is that what is known as reactive rather than proactive? Ford is recalling 1.2 million pick-up trucks in the United States and Canada because of fears their fuel tanks could fall off and start fires. Sheesh! If it weren't so serious it would be hilarious! Harry Potter and the Deathly Hallows: Part 2 has passed the $1bn (£609m) mark at the worldwide box office, distributor Warner Bros has said. Should I be embarrassed to admit I've not read any of the books nor seen any of the movies? 150 years ago, on 1 August 1861 the Times newspaper published the first ever weather forecast. The forecast was put together by Admiral Robert FitzRoy, who led the meteorological department in the Board of Trade which was later renamed the Met Office. John Hammond and Rob Varley of the Met Office told Graham Satchell about the history of a famously difficult art. Interesting video. Check it out here.
I dunno if this will enlighten you as to global public debt, but my ex-neighbor in Sydney, Jeremy, who works in the finance/investment industry, sent this link to the World Debt Clock which is updated every few seconds. I thought this comment from one reader was interesting: Global debt is not a very meaningful figure since it is all - quite obviously - owed to earthlings. If we'd borrowed from aliens then "global debt" would be cause for alarm. Suppose the aliens came collecting?
I had trouble accessing Justin's refurbished blog today - certain graphics refused to display properly. One commenter said it was fine using Firefox so I changed my browser from IE to Firefox and it's okay now. But it meant farting around for a while getting the bookmarks organized and the home page sorted. It's all such a bother. Imagine if there were 57 different ways to turn on the oven to cook something. Do we really need all this shit?
Anyway, the day has almost vanished, and it's THAT time again. However, I did manage to get my little walkies in... a little trip around the block. That's not negotiable anymore. My fitness is at stake, and I really do need to get back into some sort of reasonable shape. Gary
August 1, 2011. Another month already! This morning, I updated July's journal to include my meeting with Pru and Mike yesterday, and added a couple of pics. I would have liked to have taken a few more shots but they were itching to get to Newcastle before nightfall and I didn't wanna intrude.
Grumpy Ol' Art is bitching about his personal woes: G'day Maight, Personal woes last night included air conditioner failure. The day was 98F and too humid to be outside more than five minutes. This morning I managed to get a service man to come out and fix the bugger--$110 bucks. Replaced the start-up load capacitor for second time this season! Yeah, I know 98 degrees is cool to you, but you'd sing a different tune if you lived in the American southeast, believe me.
Yes, I'm the same with humidity (which I like to call humi-didity... Averil calls it humm-didity). It's debilitating. You feel like a scoop of ice cream sitting in the sun. Outback heat is different. It can be extremely hot but it's dry. Tropical areas of Oz are warm and even quite hot in winter, but there's no humidity. Not a good place to be in summer, though. Actually, today in Taree is bewdiful... a bit cool indoors but stunning outside in the sun.
Beeb time: US President Barack Obama says Republican and Democratic leaders have reached an agreement on raising the US debt limit and avoiding default. He said the deal would cut $1tn of spending over 10 years, and set up a committee to report by November on a proposal to further reduce the deficit. But Congress still has to approve the deal, and no votes are expected until Monday at the earliest. The parties face a Tuesday deadline to raise the $14.3tn (£8.7tn) debt limit. No way either party could allow America to default. That would be like cutting their own throats. US President Barack Obama has condemned the Syrian authorities' crackdown on protesters on Sunday, which activists say has left more than 130 dead. Mr Obama said he was appalled by the government's use of brutality against its own people and promised to work to isolate President Bashar al-Assad. Security forces killed dozens in the city of Hama, the hardest-hit area. The government said troops were sent to Hama to remove barricades erected by the protesters. But an official at the US embassy in Damascus dismissed those claims as "nonsense", saying the government had launched "full-on warfare" against its own people. Mr Obama said the reports from Hama were horrifying and demonstrated the true character of the Syrian regime. Yep, true character. Say no more. Police in Mexico say a suspected cartel leader they arrested on Friday has confessed to ordering the murder of 1,500 people in northern Chihuahua state. Jose Antonio Acosta Hernandez, 33, is also suspected of masterminding the attack on a US consulate worker and her husband in Ciudad Juarez last year. Officials say Mr Acosta Hernandez is a key figure in the Juarez cartel. Juarez is Mexico's most violent city, with more than 3,000 murders in 2010. The suspect, who is better known as El Diego, is accused of being the leader of the La Linea gang, whose members work as hired killers for the Juarez cartel. Nothing more than human trash. Not worth a pinch of shit. Iran and India have resolved a payment dispute that was threatening to halt the Islamic state's crude exports to India. The National Iranian Oil Company said the two sides had agreed to settle the bill as soon as possible, state news agencies said. Iran had threatened to cut off supplies to India if payments were not made by 1 August. US sanctions on Iran make it difficult to send international bank payments. So what are they doing? Using PayPal?
Just back from my daily constitutional around the block during which I stopped to chat with Paul, the local radiator repair bloke who sold me Tough Titties back in 2002, and also fixed Bluey's radiator. Anyway, he was peering under the hood of a late model Nissan. "Find what you're looking for?" I asked. He laughed and said he was trying to find the thermostat. He had to be kidding. That Nissan's engine bay was jam packed with stuff. No way you could find anything in there, let alone get to it. As we chatted, I told him about Das Busse and the quote for $6000 to pull the thing apart, fix the rust and give it almost a full respray. Paul took me to the back of his premises and showed me a car with a busted front fender. "THAT'S $6000 worth," he said, "so your quote is looking pretty damn good! Don't let them outta your sight!" Hmmm. Well, that makes me feel better. I was wondering if 6K was good value or not, and it appears it is. Now all I gotta do is find it!
We chatted about Tough Titties and how there was a stack of room under the hood. You could have a party in there! He said all you needed to take those old chariots apart was three spanners and a screw driver. Hehe.
Paul will be 67 in a week but I won't be 67 until the end of the month. "So I'll be able to come down here for the next few weeks and say neh neh neh neh neeeh neh," I said. He reckons he'll keep working on radiators "till I drop". No young blokes are getting into the trade he said. Modern radiators are throw-away... all plastic and shit. The technology has changed dramatically. Blokes like Paul are a dying breed, like farriers and chimney sweeps.
There was also a fairly tame magpie nearby who gave me a nice rendition of maggie warbling for about a minute, which was very pleasant. I think it's the same bird that visits my lawn occasionally to snack on grubs and bugs. Every time I stop to say g'day, he continues to go about his business without fear.
I nodded off for a while in Das Busse again... my sunroom. Before I nodded off, Lindsay saw me as he walked home from somewhere and stopped to chat at the open side door. I told him how lovely and warm it was in there, and that I was acclimatizing myself - getting used to the bus. He nodded and grunted hehe, and then toddled off. He thinks I'm nuts. Maybe he's right but who cares?
I checked Justin's blog's latest entry in which he talks about what he's been doing during the summer, and his plans when he returns to school. He's certainly got his head screwed on right, that kid. Knows exactly what he's doing and where he's headed, which is a helluva lot more than I knew at his age. I knew zip all.
Oh... as I walked past a real estate agent's office yesterday, on my way down to the river, I checked out some of the properties for sale in the window and saw a unit/apartment for sale at $85,000. Whoa! It's basic... one bedroom, living, bath, small kitchen, a couple of windows and a door, no balcony. But it's only a block from the CBD. That's cheap! At first I thought where the hell am I gonna get the money to buy that thing? It would be MINE! But later, after I got home, I thought what would be the point? What's the difference between paying off a mortgage and paying rent? No matter what you call it, it's still X dollars a week out of your pension. And when you're dead, owning something doesn't count. You can't take it with you. I'm at the stage of life now where I might as well pay rent. The current rent on that property is $120 a week, which is 6,240 a year. It would take at least 14 years to pay off the mortgage, and that's not including interest. So I figure I'd be close to 90 before I owned it. Bleh. Forget it. The only way I'll own my own house again is if I win Lotto.
I suppose it's time for a bloke to attend to domestics again. I'll do leftover meatloaf, potato and pumpkin mash, and gravy tonight. That'll do. It's a good and wholesome feed. And it's easy.
PS: I'm watching the TV news and saw an interesting statistic: America's total debt divided by its population is $30,000 a head. Australia's is $4000. China's is 0. Gary
← Older posts Waffle Index Newer posts →
or
Return to Home Page