| | |
| --- | --- |
| the WAFFLE page | |
November 30, 2011. Bluey's gone. She arrived on the back of a vehicle transporter 3 years ago next January. I arrived at the airport this morning a little early so I wandered around and spotted a chopper next door. That was interesting. Then I took a few pics of the Saab landing, and met Neile as he entered the main reception area. I recognized him right away... scruffy, thongs (flip flops), unshaven, no baggage... but a nice bloke with a firm handshake. "No bag?" "Nah mate... travelin' light." "You haven't shaved." "Nah mate. Up at sparra's for the flight to Sydney (from Perth)." "But this is a special occasion... your new car." So we wandered over to where Bluey was parked, right in front of the airport lounge. "I don't need all the receipts for work I've had done on the van," I said, "so they're in the glove box to give you an idea of the van's history... and to make you feel bad about only paying a miserable $1500 after I've spent millions!" I explained a few things then invited him to drive me home where we signed the papers. He also asked a few questions about the LP gas tanker crash. Then he told me I was a champion, shook my hand and drove off. Goodbye Bluey.
Meanwhile, in reference to "sagas", NC Art wrote: Oh yes, Gary, the mission still can be a saga, albeit in its birth throes, but yet with a possibility to attain epic proportion. Think of Wingnut and his magnificent obsession with his pubes and penile proportions. "Hey Kyle. Can I ask you something? Ya think my woody will be big as yours when I'm 18?" Not a direct quote, but you get the drift. Hehe. Penis envy is not exclusive to the non male populace. But like his dad says, they all work as intended pretty damn well.
Neile's obviously does... he's got 4 kids. I'm sure they'll love the van and will be climbing all over it later today when dad arrives home. He was surprised at the size of Taree... bigger than he thought it would be.
Meanwhile, I've just renewed Codysworld at My Domain for another 2 years.
Beeb time: Up to two million public sector workers are staging a strike over pensions in what is set to be the biggest walkout for a generation. Schools, hospitals, airports, ports and government offices will be among sites disrupted, as more than 1,000 demonstrations are due across the UK. It would "achieve nothing", Downing Street said, calling for more talks. Some people are firmly convinced that the world owes them a living. Conrad Murray, the US doctor convicted of the involuntary manslaughter of Michael Jackson, is sentenced to a maximum prison term of four years. I'm sure the family and fans will think it's too lenient. The secretary general of the Arab League tells the BBC that its approval of unprecedented sanctions against Syria has sent a serious political message. What effect it has is yet to be determined. China increases the level at which people in rural areas are considered poor to $1 a day, a move that should see millions more get state benefits. Now there's a reality check. We keep hearing about the rise and rise of China and yet their poor are still earning a dollar a day. UK Prime Minister David Cameron has warned Iran of "serious consequences" after protesters stormed the British embassy and a UK compound in Tehran. Offices were ransacked and flags burned in the attacks, which followed a demonstration against sanctions imposed on Iran over its nuclear programme. Mr Cameron described the attacks as "outrageous and indefensible". Sounds like the same rhetoric Iran uses against the West. Samsung has won a major battle in its ongoing tussle with Apple, after an Australia court overturned a ban on the sale of its Galaxy tab in the country. Apple had won an injunction against Samsung in October preventing sales of the Galaxy 10.1 tab, accusing of it copying its touch-screen technology. Samsung has since redesigned the tablet. The overturning of the ban is likely to provide a big boost to Samsung ahead of the Christmas shopping season. I wasn't aware there was a ban in place. Oz is apparently one of the world's biggest consumers of those devices per capita. Psychiatrists assessing self-confessed Norwegian mass killer Anders Behring Breivik have concluded that he is suffering from paranoid schizophrenia. They believe he was in a psychotic state both during and after the twin attacks on 22 July that led to the deaths of 77 people and injured 151. Their report must still be reviewed by a panel of forensic psychiatrists. Breivik will still be tried in April but it seems likely he will be placed in psychiatric care rather than prison. It won't make any difference to those who died. But if a bloke walks into a shop to buy a rifle and ammunition, how do you tell whether or not he's a loony tune? A woman has appeared in court after a video apparently showing a passenger abusing ethnic minority people on a south London tram was posted online. The clip, viewed more than two million times since being uploaded to YouTube on Sunday, shows a woman sitting with a child, shouting at fellow passengers. Emma West, of New Addington, Croydon, was accused of a racially/religiously aggravated intentional harassment. The 34-year-old was remanded in custody while reports are prepared. I saw the vid on Youchewb this morning and couldn't believe it. She's a total lunatic. And to make it worse, she has a child! The vid has almost 5 million views now, double what it had 8 hours ago.
It's almost 5pm. Neile should be home in Lismore (actually a little place called Cawongla out of town) with Bluey. So now it's time to feed the zoo as another page turns in the life and times of yours truly. Gary
November 29, 2011. Anyone notice where today went? Cos I didn't. I've been wandering around in a daze all day, accomplishing very little. And now it's almost 5pm already. This morning I started Bluey for the first time in a couple of weeks, so she took a little encouragement. But she was fine. Then I transferred all the stuff in Bluey to the Ute... tools, camping stuff, first aid kit, flashlight, yadda, yadda... and filled in the transfer of registration paperwork. So now Bluey's ready to drive to the airport tomorrow morning to meet the new owner. He'll drive me home and then carry on up the highway to Lismore to his waiting missus and kids. And that'll be the end of another chapter in the saga of the Aussie Odyssey. How can anything be a saga before it's even started yet? This is ridiculous. Gary
November 28, 2011. I wrote to Flexiglass canopies to ask if it would be okay to take the Ute to a car wash. Yep, it's cool - might get a minor leak here or there but no biggie. I'm not big into washing cars myself. I used to wash TT but kinda baulked at Bluey cos it had a lot more sheet metal. And now I've gotten outta the habit.
NC Art commented on the Fat Bottomed Girls article yesterday: The high percentage of fat-asses of UK and other places should be a relief for Americans, but it's not much. I should be grateful I don't live in the UK where it must be a horrible sight to follow a butt trying to squeeze along a market aisle. Wall-Mart stores in the U. S. are the 'butt' of internet humor as photographers broadcast horrid pix of flesh bulging over garments like rising tubs of yeast dough. Ugggly!
Yes, not a good look. The human skeleton was never meant to support that much extra bulk. There are some obese peeps in Taree (usually women) who don't seem to care. They wear shorts or other clothes that make no attempt to disguise their horrible fleshy excesses. Maybe not caring is how they cope with being repulsive. I'm not sure what the percentage of fat versus skinny is in Oz but here in Taree grossly obese peeps are fairly infrequent. Pleasantly chubby is another matter - I don't call that obese.
The tire bloke is busy. People and cars everywhere. That's cool, I'm in no hurry. He said the tires already on the car are 215mms wide, which is an odd size priced at $120 each. He suggested 205mms, about a half inch narrower which is fine for the rim, at $85 each. 205mms is about 8 inches.
Back from the tire bloke... all's well for $170, fitted and balanced, which I reckon is pretty damn good. You can pay that for a pair of shoes! We chatted about the road out to Manning Point and all the potholes. He lives just north of there near Harrington in a semi rural area and said the road leading to his place is the same... a total shambles. Then a woman customer entered the shop and joined in the convo. The consensus after a few minutes comparing notes is that the local council is hopelessly incompetent. Incidentally, the new tires are made in Thailand. The two at the rear are made in China. Figures. I'm sure they make boomerangs and stuffed koalas over there as well.
Beeb time: The Arab League adopts unprecedented sanctions on Syria, including an asset freeze, in response to Syria's crackdown on anti-government protests. At last, some serious action. And the Syrians can't blame the West this time. Egypt's army chief says he will not let "troublemakers" undermine Monday's elections, as protesters against military rule gather in Cairo. Troublemakers? So who's calling the kettle black? Occupy Wall Street protesters camped outside City Hall in Los Angeles have said they plan to hold eviction parties as a deadline to leave the site looms. Overnight, police handed out leaflets informing occupants of the nearly 500 tents that the clock was ticking. Protesters have until midnight local time (0800 GMT) to leave. Who are these protesters? Don't they have jobs or families or things to do apart from camp in parks? Scientists in Canada have raised a tantalising prospect - reversing Alzheimer's disease. Brain shrinkage, declining function and memory loss had been thought to be irreversible. They used a technique known as deep brain stimulation - applying electricity directly to regions of the brain. In two patients, the brain's memory hub reversed its expected decline and actually grew. Deep brain stimulation has been used in tens of thousands of patients with Parkinson's as well as having an emerging role in Tourette's Syndrome and depression. Huh? What's Alzheimer's? And who the hell are you?
Meanwhile, Oregon Richie reckons avoiding a few potholes is a piece of cake. He comes from a place where driving hazards are a lot more dramatic.
Well, that's it, I'm afraid. Not a lot to report. Gary
November 27, 2011. Back from a drive out to Manning Point. Big mistake! After all the recent rain, the road is a mess with potholes. It's not a good road at the best of times but now it's a bloody disgrace. At least dodging all the craters gave me an opportunity to test the Ute's steering, which is very precise (helped by the small-diameter sports steering wheel, I guess). And the suspension is firm and stable with no bangs or rattles. At one stage, an oncoming 4WD hit the shoulder to avoid a large pothole and sent stones flying, a couple of which smacked into my windscreen. It was a helluva bang but only caused a tiny chip... hardly noticeable. But I was still pissed off. That's a brand new windscreen!
The other annoying thing about that road is the lack of space at the sides to pull over and stop for a bit of photography. A lot of water is still evident so I didn't trust the dense grassy shoulders which could have been quagmires lying in wait to swallow the Ute. Some of the fields had turned into shallow lakes, attracting lots of water fowl. Would have made a great pic or two but there was nowhere to pull over. There's also a priceless battered old windmill I've photographed before but not this time.
The Ute performs as I expected; effortless acceleration and cruising. The suspension is firmer than a sedan's because it's built to carry heavy loads, but it's quite comfortable. Those big wide tires have a tenacious grip (which will be even better when I get new front ones fitted tomorrow). All in all, not a bad chariot. I just wish I'd gone to a different location.
Apart from the pic above, I didn't take any pics today. Probably just as well cos I made a mistake with setup and accidentally changed the resolution to low res. Thilly moi! Anyway, just to refresh your memory, here's the album I put together when I was there back in January 2008. The Ute is parked in the same spot as pic #13. Notice there's no beach this time - the river was right up to the bank. Two years later in January 2010 I was there again for the sailing regatta.
Beeb time: Pakistan has ordered a review of all co-operation with the US and Nato after the alliance struck a Pakistani army checkpoint, killing at least 24 people. A committee chaired by Prime Minister Yousuf Raza Gilani also decided to cut supply lines to Nato in Afghanistan. A Nato spokesman admitted it was "highly likely" that Nato aircraft were behind the strike at the Afghan border. The US has stressed the importance of its relationship and said it fully backed Nato's plan to investigate. Nato's Brig Gen Carsten Jacobson sent condolences to Pakistan and said the alliance was investigating how the incident occurred. Oh dear... Pakistan has enough problems with the Taliban without Nato getting in on the act. Members of the Arab League draft a list of economic sanctions against Syria after it fails to end its deadly crackdown on protesters. So we're at the draft stage are we? The League is obviously not in a desperate hurry. Nasa launches its most ambitious mission to Mars yet - a 900kg robot to find out whether the Red Planet is, or ever has been, suitable for life. Gimme a break. I haven't even seen all of Oz yet! The UK has more obese women than any other country in Europe, according to European Union figures. Just over 22% of UK men were classed as obese, coming second only to Malta. After the UK, the countries with the highest levels of female obesity were Malta, with 21.1%, and Latvia, where 20.9% fulfilled that criteria. Meanwhile, after Malta and the UK, the countries with the highest instances of male obesity were Hungary - where 21.4% fall into that category - and the Czech Republic, where 18.4% are classed as such. The UK's high levels of obesity are in stark contrast to those in countries such as Romania, where just 8% of women were classed as obese along with 7.6% of men. Obesity levels were also found to be low in Italy, Bulgaria and France. Didn't Queen sing a song called Fat Bottomed Girls? They were a British group. A man who stayed behind to defend his home from a bushfire in western Australia used scuba-diving equipment to escape the blaze. While others in the town of Margaret River fled their homes, Peter Fabrici got his wife to safety and then went back to fire-proof his home. An amazing story the rest of which you can read here.
BTW, as I drove along the road to Manning Point, being followed for some miles by a 4WD, the 4WD finally overook me, slowed down to the same speed I was doing, then signaled a right-hand turn about a mile further on. Hello? What was that all about? I'm quite sure it had nothing to do with the driver having long blond hair. Ahem.
It's almost 6pm which means time to rustle up some grub for the troops. Gary
November 26, 2011. NC Art is getting grumpier by the day hehe. Build an oversized dog house and hit the road. Whaddya want, Buckingham Palace on a pickup truck?
Wanna be a pretty big pickup. Nah... I can do without the chandeliers and grand marble staircase. Actually, the Ute already has an oversize dog house on the back... a fibreglass canopy. Throw in a mattress and a few bits and pieces and Bob's yer uncle. 50 years ago that would have sufficed but not now. My boy scout days are well and truly behind me.
BTW, here's how the local rag, the Manning Times, reported the tanker accident the other day. The driver said he was checking traffic on his right as he approached the intersection. Yeah, right. From 80 meters away? That's when the truck collided with the parked car. Next came the power pole, and he was still traveling like a bat outta hell before he finally stopped. Checking for traffic on his right my arse. He nodded off, probably after driving all night.
Well, still gray and raining but apparently the clouds will clear by midday-ish and we can look forward to several days of sunny and warm weather. AT LAST! I'm booked to do Averil's shopping today but, hopefully, I'll get an opportunity to take the Ute for a spin tomorrow... probably out to one of the local beaches like Wallabi Point or Manning Point. Been a while since I was out that way. Remember this bloke? That was almost 4 years ago. I wonder if TX Greg has calmed down yet.
And now for something completely different. How long does it take a dog to demolish 74 inflated balloons? Under 60 seconds.
Beeb time: Prime Minister-designate Kamal Ganzouri has asked Egyptians to "give me a chance" as tens of thousands rally in Cairo against the military rulers. In his first public comments since being named, he said he would not name a new government before Monday's polls. The protesters in central Cairo's Tahrir Square want the parliamentary elections postponed. But the BBC's Lyse Doucet in Tahrir Square says a truce seems to have ended the clashes and a carnival atmosphere returned to the demonstrations on Friday. People were letting off fireworks and shouting "Down with the military regime," she says. Yes, the military should be the servant of the people, not the other way around. The start of the US holiday shopping season was marred by shootings and pepper-sprayings as bargain-hunters stampeded stores. The violence gave a whole new meaning to Black Friday, the day after Thanksgiving when many retailers move out of the red and into the black. The incidents, including at least two robberies, mostly took place at branches of the store chain Walmart. One of the most dramatic incidents happened in a Walmart store in Los Angeles, where police are using CCTV footage to hunt for a woman who used pepper spray on crowds competing for Xbox 360s. In the most violent incident, a man is in a stable but critical condition in hospital after being shot in the early hours as he left a Walmart with a group of people in San Leandro, California, when they resisted two armed robbers who demanded their purchases. Thank God I hate crowds. I wouldn't be seen dead at one of those sales. Robot wardens are about to join the ranks of South Korea's prison service. A jail in the eastern city of Pohang plans to run a month-long trial with three of the automatons in March. The machines will monitor inmates for abnormal behaviour. Researchers say they will help reduce the workload for other guards. How interesting! All those corny sci-fi movies from the 50s and 60s are coming true. An Arab League deadline passes for Syria to allow in observers or face sanctions, as evidence mounts of protests turning into an armed insurgency. And so the game of bluff continues. There has been uproar in India's parliament over the cabinet's decision to open up the retail market to global supermarket chains. One key government ally, the Trinamool Congress, joined opposition parties in shouting slogans and unfurling banners. Supporters of the move say it will increase competition and quality while reducing prices, which have been hit by close to double-digit inflation. Opponents say the multi-nationals will squeeze out India's smaller and poorer traders and drive down prices paid to India's farmers. Some people lament the demise of the corner store, but they forget that the corner store would still be there if most people didn't prefer to shop at a supermarket. Supermarkets succeed because they give the people what they want. A benefits fraudster who claimed he was bed-ridden yet was filmed dancing at a wedding has been jailed. Mohamed Bouzalim, 37, cheated the authorities out of nearly £400,000, Isleworth Crown Court heard. He will serve nearly seven years for 11 counts of deception, fraud and assisting illegal entry into the UK. The court heard he had also falsely claimed asylum saying he was an Afghan who had been tortured by the Taliban when in fact he was from Morocco. Some people are born without a conscience. What a creep.
Well, the forecast was right... the clouds are moving towards the coast and there's a patch of blue sky in the west. And it's about bloody time! BTW, last night when I was in the kitchen preparing dinner, the girlfriend of a nitwit who lives in a flat across the road, opened the screen door and was half way down the hall when she asked if she could use the loo. "I'm desperate," she said. Bloody hell! So I yelled, "Get in there!" She had diarrhoea and there was no way I wanted her to deposit the disgusting contents of her bowel on my carpet. A minute later, she asked for a plastic bag. I didn't dare ask what it was for, so I passed one through the open loo door. She was sitting there with the door open! Can you believe the nerve of that woman? "I don't hassle you THAT much," she said at one stage, to which I responded, "Just get out!" Life is never dull around this neck of the woods, dear Breth... it's fulla loonies (including two in residence).
About an hour has passed since I wrote that last para and the skies are clear and blue. How lovely! Earlier, I delivered Averil's groceries and drove the Ute into her driveway. She was quite impressed with the beast and said it looked "modern". Hehe. Well, it is to me. It's the most modern car I've ever owned (albeit not the newest), with all those power gizmos and whatnots.
So now it's time to think about din dins. Chicken rissoles (with corn, peas and onion mixed in), plus corn on the cob. On spesh at 4 for a dollar - fresh. Sounds good to me. Gary
November 25, 2011. Where dat blue sky and sunshine gone? This kinda gray, drizzly weather is most depressing but at least the meatloaf last night was totally yummy! A big open fire would be nice too but it's not quite cool enough for that. As to a campfire, well, go figure.
My Red Bubble calendars arrived the other day. They ain't cheap, but they certainly do a top quality job. Stan the Lawn Man gets one, as well as Averil and the doc. It's become a Christmas tradition. The latest Red Bubble idea is to print covers for iPhones. They're not cheap either but a lot of Bubblers are getting into it. Mieke has just released a series of iPhone covers of images from her Kimberley expeditions. She's big time into boabs.
Had a bit of a browse on eBay for slide-on campers. New ones are up around the $30K mark and more, but there are reasonable used campers for somewhere between 5 and 10. Finding the right one will take a bit of doing... some are made for table tops, some for tub utes (like mine), some for twin cabs, some for single cabs, and some are too heavy for my Ute (with a payload of 820kg - about 200 short of a tonne). And I'm not gonna drive half way around Oz to find the right one, so it'll have to be reasonably local. Not an easy task, ladies and genitals.
Beeb time: Egypt's military rulers appoint former Prime Minister Kamal Ganzouri to form a new government, state media say. Hmmm, sounds a bit suss when the military "rulers" do the appointing. Iran has arrested 12 spies of the US Central Intelligence Agency (CIA), the official IRNA news agency reports. Parviz Sorouri, an influential lawmaker, said the agents were targeting Iran's military and its nuclear programme. He said they were operating in co-ordination with Israel's Mossad and other regional agencies. The United States and its allies suspect Iran is pursuing a nuclear weapon program, a charge Tehran denies. Mr Sorouri, a member of the powerful National Security and Foreign Policy Committee, did not give the nationality of the alleged agents, nor when they were arrested. "The US and Zionist regime's espionage apparatuses were trying to use regional intelligence services, both inside and outside Iran, in order to deal a strong blow to our country," he was quoted as saying. "Fortunately, these steps failed due to the quick measures taken by Intelligence Ministry officials," Mr Sorouri said. Another sticky mess for Barack to unstick. A poll for the BBC indicates a small and diminishing appetite around the world for building new nuclear reactors, although the UK bucks the trend. I must admit nuclear worries me a little too. I'd much rather something more passive. Police in northern Germany have used water cannons against demonstrators waiting for the arrival of a shipment of nuclear waste from France. Obviously, I'm not the only one. India has approved long-awaited proposals to open up the retail market to global supermarket chains. Food Minister KV Thomas said the cabinet has agreed to 51% foreign ownership of multi-brand retail stores, allowing groups like Wal-Mart and Tesco to open stores. Such operators currently can only sell wholesale in India and not directly to customers. "Consumers will have many more choices," said Gibson Vedamani, of the Retailers Association of India. "It will truly be a borderless world in terms of products available." Sounds cool to me. US retailers hope hordes of bargain-hunters can lift the economic gloom as the holiday shopping season begins. After polishing off Thanksgiving turkeys, millions of Americans will head to the shops on Friday for the busiest shopping day of the year. Black Friday - so-called as it is when many retailers head out of the red and into the black - sees many stores open at midnight, or even earlier this year. Half of the entire US population is expected to hit the shops this weekend. I belong to the other half.
This report from Oregon Richie just arrived hot off the press: I know it's not a day-of out there but it's a biggie with us rebellious Yanks after all and the so-called "Black Friday" insanity of shopping officially begins around freaking midnight at some stores, four in the morning at others, and it's evolved into a herd-mentality fire-the-starting-gun and burst out of the stables to shop like drunken sailors with a fresh pay-packet and otherwise an indulgence in... indulgence. Good grief.
Let's check out Colin Hay's most extraordinary voice as he sings Down Under during the closing ceremony of the Sydney 2000 Olympics. The American commentator referred to the song as Australia's unofficial national anthem hehe. There are a couple of other "unofficials" - Waltzing Matilda and Peter Allen's I Still Call Australia Home (which Qantas used as their theme some years ago). AND... not forgetting the Seekers and their awesome song, I am, You are, We Are Australian.
Speaking of voices, with all the rain lately I figured all living things would be wishing the bloody stuff would STOP! Nuff's nuff. But no... there's a family of butcher birds nearby and one of them must love the rain because he's been warbling away merrily for the past few days, and not only that but singing his entire repertoire which is most considerable as well as impressive. They're amazing birds; a species I'd not seen or heard before I arrived in Taree. Averil said the same thing.
Meanwhile, Getup in Oz has produced a short video about marriage equality called It's Time. I agree. Not that I'm the slightest bit interested in marrying ANYBODY. But if two peeps wanna tie the knot, that's fine with me. Dozen madder what sex they are.
Today is Thanksgiving Day in the US, but not everybody celebrates with family and home cooked turkey. Some people are alone, like a mate of mine in Texas. Nonetheless, he has things to be grateful for. I found his note, which arrived just now, very touching indeed, and I'm glad to have had the opportunity over the past decade or so to touch the lives of others in a way that has made a difference. It's mutual ya know... we've all shared in becoming a sort of family as a consequence of knowing Cody and Co. Anyway, this is what Greg had to say:
Today was our Thanksgiving Day Holiday, families setting around the table stuffing their mouths with turkey till their pants pop. Well it's just me, so I'm actually having just a frozen turkey TV dinner. Always admired your cooking skills, I think even Richie once said he'd marry you for it, hehe. When I was little my mom never allowed me near her kitchen, so I never learned. Today is about family and what we're thankful for. I know you're thankful that crash the other day wasn't worse! So I was sitting here thinking about some things I'm thankful for. I got to thinking that I'm thankful for "Steve" introducing us many years back. I've learned and seen so many beautiful things over the years about Cape Town and Oz that I never would have experienced. And you know you have taught me a few things over the years too :) You don't need me telling you how thankful everyone is for you, Cody and the stories. Gary, you know how you sometimes walk past your mantle with Cody's pics and shake your finger at him and call him a scallywag? Yes indeed he is :)
Thanks, Greg. That's very sweet, and I appreciate your thoughts very much. As to me shaking my finger at Cody's pic, when I told him about that, he said if I did it again he'd bite it off. But I agree with TX Greg, the Codeman gave us a lot to be thankful for. Gary
November 24, 2011. Capital D for Dreary! Cool and wet, and the forecast says it's gonna remain Dreary until Sunday. I can't remember what it was like last spring but I don't think we had this much rain. We did have a flood though... when was that? Oh yeah... June this year.
Pay day, bills day, WTF? day. Or WDIAG? day. Actually, it's not too bad. The money from the sale of Bluey was transferred by Paypal to my bank account overnight (less PP's share... the greedy buggers) so there's still a few bikkies left over. I'll spend a bit of it on the Ute. AND THAT'S IT! I'm tired of buggerizing around with cars and fixing things and losing money. Hopefully the Ute has put an end to all that shit, and she'll behave herself for a while so that I can catch up with my savings.
Before I fergit, on a game show the other night called Letters and Numbers (which I quite like), the letters expert explained the origins of a couple of words, one of which was swashbuckle. I'd often heard the term used to describe Errol Flynn movies and his adventures on the high seas with pirates and all that medieval stuff. Anyway, it turns out that swash is an old English word for "strike", and buckle is a variant of the word for "shield"; those personal protective devices used in hand-to-hand combat. So when warriors were striking swords and using their shields for protection, they were swashbuckling. There ya go. Now you can tell all your friends how smart you are. The bloke also talked about the origin of the Jolly Roger, the flag flown by pirates. Now we think of a black flag with a white skull and crossbones, but originally it was red. I think he said the phrase was French. Jolly had something to do with robbers/pirates and Roger was derived from rouge which means red. The red color signified the pirates' willingness to fight until every drop of blood was spilt. All very interesting, yes? Actually, there are probably hundreds of phrases we take for granted, without knowing their origins.
Okies, the Ute's booked in for 2 front tires on Monday at 11am. He quoted me $85 each for regulars or $110 each for Bridgestone/Dunlop etc. I'll decide when I get there. I took Tough Titties there for 4 new tires and never wore them out. Then Bluey for 2 new tires and never wore them out. And now the Ute.
Next! Just booked the Ute in for a full service, rego inspection, and check-up for Monday December 5. Ford is in the same complex as Nissan where I used to take Bluey. The receptionist recognized my voice and remembered all the trouble I had with Bluey's carby. Hehe. So we chatted for a while about her baby, which is now 18 months old and getting into all kinds of mischief. But when I told her about the valve stem seals she said, "If the car blows smoke during deceleration it's the valve stems. If it blows smoke during acceleration, it's the rings." So I said, "How do you know?" And she said, "Cos I'm a mechanic." Well, how about that? SHE'S a mechanic? So I said, "But mechanics don't have babies!" Anyway, apparently she'd rather be a receptionist these days than get her fingernails dirty. She said she was a real Tomboy as a kid, and loved fiddling with machinery. She also knows about the gear cog that's stopped the odometer from working. No worries.
Well, not quite no worries. Rings and/or valve stems worry me a little, and I'll await the verdict from Ford with some trepidation. However, I was advised by the previous owner about the possibility of a valve stem job so I can't bitch about it.
Beeb time: Protests go on in central Cairo as demonstrators step up their demand for Egypt's military rulers to resign, with elections due in less than a week. I think I heard on the radio news that the situation has since been resolved. Reading William Shakespeare could give physicians a fresh insight into the links between emotion and illness, a retired doctor and scholar believes. Dr Kenneth Heaton says many doctors fail to connect psychological problems with physical symptoms - and argues the playwright could help them do it. He listed dozens of examples in which Shakespeare described these phenomena in his works. "They could learn to be better doctors by studying Shakespeare," he said. The Bard was a man of exceptional intellect and insight, no doubt. The Queen has formally presented the Duke of Edinburgh with the title and office of Lord High Admiral of the Navy to mark his 90th birthday. The post - the titular head of the Royal Navy - dates back to the 14th Century. It has been held by the Queen since a review of the Navy in 1964. The Duke was given the post on his birthday in June but has now received the letters patent as the holder of the title, watched by the Queen. Prince Philip gave up a promising career on the seas to devote his life to royal duty. He had already reached the rank of commander before stepping down from his active role in 1951 as the health of his father-in-law George VI deteriorated. 90 years old with almost as many medals. Onya, Philip. I'm sure the missus is very proud of you hehe. Scientists have outlined which moons and planets are most likely to harbour extra-terrestrial life. Among the most habitable alien worlds were Saturn's moon Titan and the exoplanet Gliese 581g - thought to reside some 20.5 light-years away in the constellation Libra. I'm pretty much convinced that human beings are stuck with planet Earth and are unique to the universe, but you can read the rest of the article here. THE ADVERT: John Lewis, The Long Wait THE BRIEF: To press home the real meaning of Christmas - that it is better to give than to receive. And while you're at it, make sure it's one of the most-talked about ads around. THE SCHTICK: John Lewis has been quick off the blocks with its blockbuster £6m Christmas ad. Arriving with much marketing fanfare and a telegenic seven-year-old, much of Middle England has been reduced to tears by a simple feel-good message. THE BREAKDOWN: If your heart hasn't been melted by The Long Wait then it is made of flint, and Scrooge-like you deserve to be visited by every ghost going. Remember, out of the mouths of babes and all that. The child in question is seven-year-old Lewis McGowan, who in the ad spends 10 days counting off the hours, minutes and seconds until Christmas. Not so he can indulge in a frenzied present-opening fest, but so that he can experience the joy of giving his parents a special gift of his own. See, it's better to give than to receive - that's the twist, and it took a child to point that out. This is John Lewis focusing on core family values, in these economic belt-tightening times. And it has captured the public mood. See what all the fuss is about and check out the ad here. Thousands of Britons emigrate to Australia every year in search of a better life, but now more and more are deciding down under is not for them and returning home. The same trend seems to be happening to Australians deserting the UK. Why? Read the full article here. A bushfire that burned out of control has destroyed or damaged more than 20 homes in Western Australia. The fire, which started as a controlled burn lit by firefighters, swept through the town of Prevelly, about 280 km (175 miles) south of Perth. Oh dear... how embarrassing.
Shopping's done. The Ute started first go, no worries, after standing idle for 4 days. And because today is cool and WET, I've made a meatloaf which I'll serve with roasted herbed spuds and peas and GRAVY. I was desperate for something with gravy tonight for dinner... something old fashioned and yummy. And I must say that the Ute is a pleasure to drive... smooth and responsive. If it's a nice day Sunday, which the forecast predicts, then I really should take the old girl for a bit of trot somewhere. Hehe. I've been saying that for weeks!
Oh yes, at the deli counter today, I was served by a young bloke who's always smiling and friendly, and I overheard the couple of ladies nearby talking about him as he attended to my order. When he came back, I said, "We were just discussing how wonderful you are." Well, you should have seen his face light up hehe. His smile was a yard wide. I think we made his day. Gary
November 23, 2011. At last, a quiet day with no botherations or appointments or other annoyances. One of the Red Bubblers who checked out the tanker crash pics yesterday said I can now call myself a photojournalist. I never thought of that, but I suppose that's basically what I'll be doing on the Odyssey. I'm not terribly interested in taking arty shots of sunrises and sunsets, etc, although occasionally I will. I prefer to document my experiences with shots that tell the story of where I've been and what I've seen as well as who I've met. Human interest, as it were. I'll leave the arty farty stuff to the hoi palloi. That doesn't mean I won't exercise care with the shots I take, it just means that the storyline will take precedence over art.
The problem with developing an interest in photography is that you can't walk 10 yards without seeing something you wanna snap. Hehe. Almost everything you see becomes a potential picture. And it's not only the things you see but also the way you see them... the angles, the lighting, the shapes, the perspective. Photography certainly makes you more observant, if nothing else.
Speaking of observation, NC Art wrote: I must correct your claim that you have not sold a single book on Amazon. I paid the full price for Green Room just after it was listed. No biggie, just sayin. And, I posted a rave review to boot. Check out Amazon's policy of running 'daily specials'. Each day reduced prices are advertised in e-mails to regular customers. Maybe you can jump start sales that way.
Roite. Forgot about that one. My commission is probably too low for Amazon to bother sending it to me. Art goes on to say: As for familiarity with cow poo, my young buds and I often spent Sunday afternoons in the pasture playing games with cow pies. After a few hours in the sunshine, a big plop of poop settles into a disk suitable for slinging like a Frisbee at unwary targets. One memorable event occurred when Bill Couick popped one on my back as he ran by laughing like a loon. A few yards ahead, he looked back just as I returned fire and, mouth wide open, caught my missile right in his gaping maw. Bill screamed, choked, sputtered, gagged, and swore a blood oath to make me eat a soft and fresh one before he killed me. Instead, we jacked each other after supper and all was forgiven. Hehe.
Ah, the misadventures and antics of youth. I can easily see how and why the adventures of Wingnut appealed so much to Art and many others. Of all my many favorite Wingnut moments, one I absolutely cherish is when he grew his first pube and couldn't wait to show it to Cody. After inspecting it close up, Cody plucked it. Hehe. Wingnut was devestated. I also love the way Wingnut would arrive home after a game of rugby, covered in mud and grass stains, one sock up, one down, and call into Cody's place to proudly display his battle scars before going home to shower. Yes, so many memorable Wingnut moments. He was a classic, and I'm most fortunate to have been an "eye witness" to his formative years.
One bloke who had only just discovered the Cody/Wingnut stories wrote to tell me he was up for 5 nights at 7 hours a night reading. Hehe.
Beeb time: Egypt's military rulers agree to hold presidential elections by next July, as protesters continue to pack Cairo's Tahrir Square. That must seem like an eternity to the protesters. The International Monetary Fund announces new measures to help countries protect themselves from the eurozone debt crisis. One thing I've learned as a pensioner on a fixed income is if you ain't got the cash, don't buy it. Pakistan's ambassador to the United States resigns over claims he sought Washington's help against his country's military. Oops! The US economy grew at an annual pace of 2% in the third quarter, figures show, slower than originally estimated. But encouraging nonetheless. South African MPs have overwhelmingly approved a controversial media bill despite widespread criticism of it. Nobel Peace laureate Archbishop Desmond Tutu called it "insulting" and warned it could be used to outlaw "whistle-blowing and investigative journalism". South African journalists wearing black have staged a protest against the so-called "secrecy bill" outside the headquarters of the governing ANC. The ANC says the law will safeguard state secrets and national security. Goodbye transparent government. US President Barack Obama has visited the key primary state of New Hampshire to challenge Congress to extend an expiring payroll tax cut. He made the trip one day after the failure of a deficit-cutting effort by a bipartisan congressional committee. The president offered Congress a "second chance" to renew the economic stimulus via a separate vote next week. He challenged Republicans - who generally oppose tax rises - to back the plan or see taxes rise in 2012. It's hard to pick a winner at this stage of the battle. I just hope Obama is smarter than the Republicans give him credit for. A Kenyan long-distance runner who spent more than two days lost in snow storms in the US state of Alaska has had his feet amputated just above the ankles. His disappearance, a day after the university's cross-country team's return from a triumphant championship in Washington State, sparked an intensive search for the 28-year-old athlete. In a statement on the university's website, Mr Cheseto thanked the university and volunteers who searched for him. "While I am still recovering - both physically and emotionally - I will do my very best to give back to the community that has helped me so much and to my home country, Kenya. I sincerely apologise for any problems that I may have caused." What a generous and gracious thing to say after such a terrible experience. Here's a story from China that will bring a tear to your eye. A dog that refuses to leave his master's gravesite.
When I was born on August 29, 1944, I was the 2,393,937,112th person alive on Earth, and the 75,157,752,569th person to have lived since history began. How do I know? The BBC told me. So there were about 2.5 billion people alive when I was still in nappies. 67 years later there are 7 billion. And I've never had any kids! Musta been someone else.
The Oz version of the ostrich is the emu (eem-you). They're quite big and can be dangerous, but they are also comical. Check out this bloke.
If there's a next life, I'm coming back as this bloke. Read the comments - he only does this as a hobby. His main focus is studying economics at a Finland university.
This weather lately is all over the joint. Yesterday was as hot as buggery (which I believe is quite warm) but today it's cool and wet. So what's the story here? Is it global warming or global cooling? Make up your minds, guys. Anyway, I won't give a hoot if I win Lotto tonight. Incidentally, when I told the buyer of Bluey about the near miss with the tanker crash he said, "You should buy a lottery ticket!" Well, I'm not superstitious but, just in case I should be, I bought ten $2 Jackpots. The Jackpot is about $4.5 million which would be quite nice. That'd buy a few drinks and shout the bar as well. In fact, it would probably buy the whole damn pub. But I'm not interested in running a pub. I'd buy me a motorhome with everything that opens and shuts, and take off into the sunset.
Averil just phoned for a chat about this and that. She said the $5 Jackpot went off yesterday or the day before and some bloke from a country town won $38m. Sheesh. How the hell would you spend that much? Averil reckons she'd buy more chocolates hehe. Bloody lotta chocolates!
Time to think about din dins again. I offered to go up the road to get something for tonight but Lindsay said he'd be happy with scrambled eggs with cheese and tomato and chips. Fine by me. Tomorrow's pay day so the big shop can wait till then. Gary
November 22, 2011. The photo album of the tanker crash yesterday is now posted! More importantly, I'm still here to tell the story.
Meanwhile, Bluey was sold to a bloke from Lismore, up the coast not far from the Queensland border. I worked there in radio back in 69/70 as a 25 y/o sprout. He's currently working in Western Oz in the mining biz (probably making a fortune) but will fly into Taree Wednesday November 30. I'll meet him at the airport and he'll drive me back home (about 10 minutes). Then he'll head off to Lismore to see his cheese and kisses and tin lids whom he hasn't seen for 12 weeks. Daddy's got a prezzie!
He paid $1500 cash so I can kiss a couple of grand goodbye. Oh well... never mind. Win some, lose some. Just don't make the same mistake again, Gary. Poke, poke, poke.
Just got a newsletter from Kindle Direct Publishing:
David Baldacci, Amanda Hocking and Stephenie Meyer are the latest authors to join the Kindle Million Club, selling over 1 million paid copies of their books in the Amazon.com Kindle Store. They join 11 other authors in the Kindle Million Club: Stieg Larsson, James Patterson, Nora Roberts, Charlaine Harris, Lee Child, Suzanne Collins, Michael Connelly, John Locke, Kathryn Stockett, Janet Evanovich and George R.R. Martin.
As with John Locke before her, Amanda Hocking sold the majority of her 1 million Kindle books independently using Kindle Direct Publishing (KDP). Since its launch in 2007, KDP has provided a fast, free and easy way for authors and publishers around the world to make their books available in the Kindle Store. In addition to the more than 2 million books sold by John Locke and Amanda Hocking, 12 KDP authors have sold more than 200,000 books and 30 KDP authors have sold more than 100,000 books.
Jeez, I haven't even sold one copy yet! Ah ha! I just checked Amanda Hocking. Her books are mostly 99 cents, a couple are $2.99 and a few are around 8 bucks. That explains a few things. Green room is selling for $9.99. Hmmm. What's better? No sales at $9.99 or a million at 99 cents? Time for a re-think.
I've done the last of the house cleaning jobs, and the inspection bloke is due here in about 15 minutes. As NC Art wrote: Chores are things that no matter how well you do them will not stay done. --Robert Frost, American poet. I agree, and that's the frustrating thing. Write a book and it stays writ. Chisel David out of marble and it stays chiseled. Take a photo and it stays took. Hehe.
Beeb time: Egypt's cabinet has offered to resign after three days of mass protests against the military rulers. Cabinet spokesman Mohammed Hegazy said the resignation had not yet been accepted by the military council. The BBC's Yolande Knell in Cairo says the crowds in Tahrir Square cheered and shouted "God is great" when they heard of the resignation. If God is so great, how come you guys are in such a mess? The US, Canada and UK announce fresh sanctions against Iran amid growing concern over Tehran's nuclear programme. I bet Israel has other ideas. Russia's Soyuz spacecraft lands safely in Kazakhstan, bringing three crew members back from the International Space Station. Those blokes deserve a medal. Growth in the developing economies of East Asia is moderating because of weakening external demand, said the World Bank in a report. Yes, the best customers are customers with lots of money. But where are they? A congressional committee tasked with reducing the deficit by $1.2tn (£762bn) has failed to come to an agreement. The panel of six Republicans and six Democrats confirmed after the New York Stock Exchange closed that its work had ended without a deal. The outcome means automatic cuts outlined in the bill that created the committee should take effect from 2013. The US national debt has just risen above $15tn. I guess that relates to my last question. A healed fracture discovered on an ancient skull from China may be the oldest documented evidence of violence between humans, a study has shown. The individual, who lived 150,000-200,000 years ago, suffered blunt force trauma to the right temple - possibly from being hit with a projectile. But the ancient hunter-gatherer - whose sex is unclear - survived to tell the tale: the injury was completely healed by the time of the person's death. Read the rest of the article here. A night-flowering orchid, the first of its kind known to science, has been described by a team of botanists. Experts say the "remarkable" species is the only orchid known to consistently flower at night, but why it has adopted this behaviour remains a mystery. Yeah? Well, Cody talked his mom into buying an orchid plant at a fair because he said it reminded him of me hehe. He was in bed asleep one night when his dad woke him to see the orchid flowering in the backyard with a bloom Cody described as the bluest of blue. His dad said it was a species that flowered only at night, and only once a year. Cody thought it was so kiff he woke Wingnut next door and ordered him to take a look. Wingnut couldn't understand what all the fuss was about, especially after midnight. But Cody did, and couldn't wait to tell me about it.
Yep, when Cody got the orchid home, he painted my name on the pot. How's that for cool? I think he was 16 or 17 at the time.
The inspection was painless. Les is back from a week's holiday chasing cows which is what he loves. As well as all the cow poo. He's a happy man because he also sold a few cows. He was a dairy farmer before getting into real estate, and his father before him. So he grew up with lots of cow poo. "My two sons are not in real estate, so they learned their lesson pretty quickly." He said the place looks tidy and clean. So I told him I left a few dirty bits for him to criticize hehe. "Where are they? I haven't seen them yet." It's a little over 10 years since we moved in on October 30, 2001. BTW, Les was intrigued with the story of yesterday's tanker crash. While I was explaining the drama to him on the front veranda, an insurance assessor arrived and asked me a lot of questions about what had happened. He was amazed. He thought the crash had happened at the roundabout and was shocked to discover that the first impact happened 80 meters down the road.
And now it's time to call it a day, and attend to kitchen duties. It's been another hottie. A few dark clouds are gathering and there's a bit of distant rumbling. At least that'll cool things down a bit. Gary
November 21, 2011. Up at sparrow's this morning for some reason. Made a cuppa, checked email, etc, then went back to my bedroom where I heard a helluva loud bang, followed by a second very loud bang, and then some kind of noisy ruckus at the front of the house that sounded like a serious collision. I took a peek out the window and saw a power pole just 10 or 15 yards away, snapped at the base and hanging by the overhead wires, some of which were loose and causing sparks. I went straight to the phone in the middle room (my office) and phoned Triple O (emergency). I was quite shaken and having some difficulty collecting my thoughts. The person who answered the phone asked me to describe what happened, and I told her, except that I couldn't see a thing from where I was. So she asked me to leave the phone and check out the scene. It was a large LP gas tanker up on the nature strip right in front of our house. Lindsay has already bolted outside and was chatting to some other bloke. "Anyone injured?" I asked but they ignored me in favor of continuing their chat about what happened. So I yelled as loud as I could. "IS ANYBODY INJURED?" The answer was no, so I ran back inside and finished the call to emergency.
I soon discovered that the large tanker had collided with a car and trailer parked two houses down the road. That was the first bang. Then the truck pushed the car and trailer up the road until the truck hit a power pole in front of the house next door, snapping it off at its base. By the time the driver (whom I assume had nodded off) realized what was happening, he'd pushed the car and trailer 80 meters further on, and half way across the roundabout in front of our house. The base of power pole had been moved several meters so that it was sitting in my driveway between the fence and the roadway. The only thing holding it semi-upright was the wires. Damage to the front of the truck was minimal... a bent bullbar and a broken windscreen. The car's rear end was pushed in by the force of the trailer being hit so hard, and the petrol tank had been ruptured, which spilled fuel all over the road.
Can you imagine what would have happened if the truck had hit the second power pole (which it missed by just inches) and brought down the lines, with the resultant sparks igniting the petrol? We're talking umpteen liters of liquefied gas in that tanker, ladies and genitals. It would have blown a giant crater in the ground and this house would have been reduced to splinters and rubble. And I wouldn't be here writing this Waffle. I'm here to tellya, ya don't have to go lookin' for trouble, mate. It can find you easy enough even when you're having a morning cuppa in quiet li'l ol' Taree.
It's also quite possible that the truck could have veered a little more to the left which would have sent it careering into the front of this house.
Anyway, when I calmed down a little (it was quite a shock), I grabbed the camera and started taking a few pics. By then, about 7am, the cops and a fire truck had arrived on the scene, and one of the cops told me to get back inside because of the leaking fuel. So I went out the back door and around the side of the house to take more pics hehe. Then the power company trucks arrived and people were everywhere. It was all very interesting really, and I proceeded to take more pics as the morning progressed. It was about 2pm before power was restored. Meanwhile, I got a pretty good look at how well organized those power crews are. It was like a precision military operation, with each bloke knowing exactly what he had to do. The professional coordination was most impressive. Within a few hours, they had the old pole out and a new pole in, ready to have everything reattached and secured. While one bloke was doing one job, another was doing another job, and another doing something else... but it was all very well coordinated.
I spoke to one of the guys and congratulated him on the team effort. "We do this kinda thing every day, mate. We're used to it." The guys were also working in light rain and drizzle, and hadn't had a break for several hours. The bloke also mentioned how close the truck had been to creating a major disaster by missing the second pole by just inches. "Otherwise it would have been goodnight Irene," he said. He also suggested that the driver had been overcome by fatigue and had nodded off. I agreed. I'd say that driver is now in deep shit with both his employer and the law. He must have been in shock when he finally realized what a trail of devastation he'd left behind - all in just 5 or 10 seconds. Had it been an hour or so later, there would have been more traffic, not to mention pedestrians, and more devastation.
It's a bit late now to do the photo album so I'll put that together tomorrow. Gary
November 20, 2011. One tire kicker wanted to know if Bluey has working aircon. Hello? For $1500? I'm sure some people browse eBay for amusement, and take delight in asking dumb questions. Now he wants to know if I'll meet him half way up the coast between here and Lismore. Roite. And how am I expected to get back home? Meanwhile, I feel pretty fortunate to have a Ute with aircon, power everything (almost), a stereo CD and other goodies. If you're into technical jazz, you can read a review of the XG Falcon Ute here. Not brilliant but not bad. And for $2000 I ain't complaining. The thing that surprised me was the economy... not too flash around town at about 20mpg but highway cycle is 31mpg.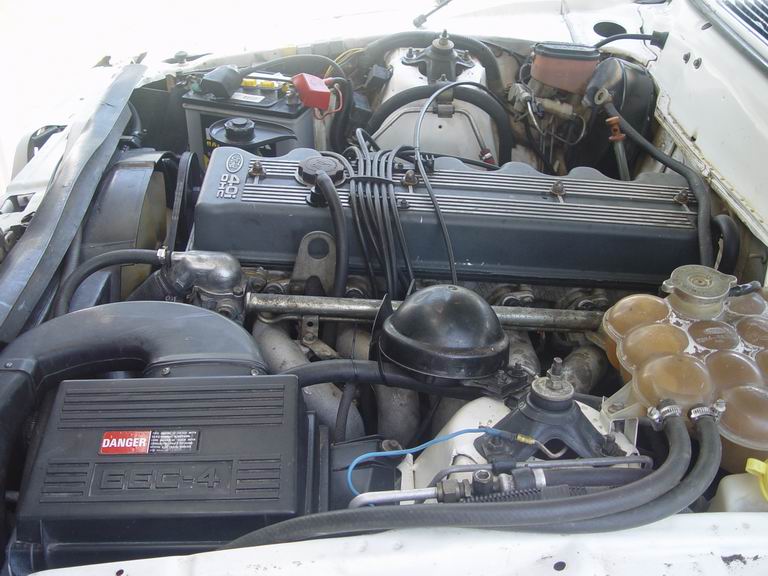 Not sure what that brown plastic thing is on the lower right of the bottom pic... probably an egg poacher.
NC Art was kind to me after reading my lament yesterday about having spent 10 grand over 3 years with no result: Actually you have been around a good bit just getting set to achieve a goal. Those preliminary steps are known as tactical measures to win objectives leading to victory. The fact that you've screwed up some of them is just a difficulty peculiar to war. Now, don't you feel lots better? That said, if you don't get a move on the entire project may turn into the Ossified Odyssey.
Actually, I should point out that although I haven't been anywhere yet, I do have a porta potti.
I watched more news items about that awful fire at a nursing home in Sydney. For one thing, an arson suspect has been arrested and charged with murder. He was interviewed on the TV news just after the fire as one of the nursing staff and a witness. He hadn't been there long...an Asian guy with weird colored hair. He was talking about how he helped rescue some of the patients but the cops became suspicious. Meanwhile, one cameraman broke down during an interview as he talked about some of the elderly patients with dementia stuck in their beds as the fire raged around them, unable to move. One of the fire fighters described it as "a fireman's worst nightmare", and told of the heroics performed by some of the guys who were first on the scene, crawling along corridors under a blanket of thick black smoke, feeling the tops of beds and checking inside cupboards for survivors, risking their own lives in the process. Jesus Christ, talk about above and beyond the call of duty.
Beeb time: Saif al-Islam, the fugitive son of former Libyan leader Muammar Gaddafi, has been captured and will face a fair trial, the prime minister says. Which is more than Gaddafi's regime gave dissenters. Clashes erupt between Egyptian security forces and protesters in Cairo and Alexandria, killing two and injuring hundreds. Who in his right might would want to live in the Middle East? Spaniards prepare to vote in parliamentary elections likely to bring a new government into power after a campaign dominated by the economy. Spaniards are not the full quid either. It's not all that long ago that civil war gripped the country followed by 40 years of Franco's dictatorship. A deadline for Syria to accept a peace plan put together by the Arab League has passed, at the end of a day marked by more violent deaths. Syria has agreed in principle to accept the peace plan, but critics accuse it of stalling for time. In an interview with the UK's Sunday Times, President Bashar al-Assad was defiant, saying he would "not bow down" in the face of foreign pressure. A game of bluff and we all know who's paying the price. The team which found that neutrinos may travel faster than light has carried out an improved version of their experiment - and confirmed the result. If confirmed by other experiments, the find could undermine one of the basic principles of modern physics. The initial series of experiments, comprising 15,000 separate measurements spread out over three years, found that the neutrinos arrived 60 billionths of a second faster than light would have, travelling unimpeded over the same distance. The idea that nothing can exceed the speed of light in a vacuum forms a cornerstone in physics - first laid out by James Clerk Maxwell and later incorporated into Albert Einstein's theory of special relativity. Roite. 60 billionths of a second. I always wondered about that. Australia proved to be England's tormentors once again with a stirring display to win the 2011 Four Nations title at Elland Road. The victory gave Kangaroos captain Darren Lockyer, who scored the final try of the game in his last match, a fitting career finale. At least we're doing better at rugby against the Poms than we are with cricket against the Safricans. Women might dream of tall, dark and handsome, but researchers are claiming that it is men of average height who are having the most children. Scientists studying men in the US said those who were 178cm (5ft 10in) were the most reproductively successful. Looks like the average is in safe hands then. A veteran assistant coach for Syracuse University's basketball team has been put on administrative leave amid accusations he molested young boys. Bobby Davis, now 39, told sport network ESPN that Bernie Fine molested him repeatedly for 10 years from 1984. How come it's never the boys who molest the coach? If money is no object and you are looking for a new car, the answer may have arrived. A brand new model is about to hit the market. The numbers are limited - and at $1.8m (£1.4m) each, it is highly unlikely that your neighbour will have one. Check out the video report here.
Well, I'll stick to the Ute, thanks. Besides, I think it's better looking.
Peter Holme da Toid, a guy I've known on Red Bubble for a while, artiste extraordinaire, has just published his first picture book. Peter has an amazing imagination, and does with pixel manipulation what people like da Vinci and Picasso did with brush and paint. Check out the book (click preview for a peek inside).
Almost forgot. I took a few pics yesterday including this one of the lollypop man taking a break.
Today's been pretty mundane really... more cleaning stuff in readiness for the property inspection next Tuesday. I HATE cleaning! It's one of those things that doesn't stay done... like shaving. Bleh. Gary
November 19, 2011. Bluey didn't sell, so I've relisted it for auction, starting at $1000 or Buy it Now at $1500. Sheesh. How to lose money. In retrospect it was a dumb idea but them's the breaks. Nissan Nomads are not exactly on everyone's shopping list. TT was much easier to sell, as was Das Busse. I don't think the Ford will lose much but I have no intention of selling it anyway.
So how's that for smart thinking? I get this idea to do an Aussie Odyssey, spend about 10 grand over 3 years and I still haven't gone anywhere.
Yesterday, I posted a pic on Red Bubble that I thought was nice but not brilliant. But it's been favorited by two peeps so far. You never can tell ya know. Beauty is in the eye of... and all that stuff.
Anyway, it's late. The power wasn't reconnected until about 4pm AND IT'S BLOODY HOT! L&S don't feel like any dinner tonight so it'll be a lazy one. I'm buggered anyway cos I've been cleaning up the joint for a property inspection next Tuesday, as well as pruning lots of feral plants threatening to take over the joint including Bluey's garage... killer vines. Have you seen those things? This one, a wisteria, sends out shoots that twist around themselves and reach out for something to grab onto. They're bloody lethal! If you stood still for long enough the damn thing would strangle you.
Oh yes, NC Art wrote an email with the subject line: Old, my arse. Hehe. I knew he'd bite: You missed a birthday. Art is now 86. Old, yeah. Poor, yeah. Dear? Well, sometimes I try. But the politicians keep putting my balls in a uproar and I think uncharitable things in spite of my sunny, loving nature. Hehe.
And another thing... spotted Bert and Charlie (The Two Ronnies) this morning on Youchewb. Absolute nonsense but well done.
Seeya tomorrow. Gary
November 18, 2011. My mate Greg Somers of mud brick house and hippie artist fame sent this link to an innovative exercise gadget called the Tug Toner. Hehe
Meanwhile, NC Art was inspired to send this link after he read about the Ute's Smart Lock designed to foil would-be thieves... except this little old lady has a few ideas of her own.
Tomorrow will be interesting. Essential Energy will be upgrading the local electricity supply in my area and have advised that power will be interrupted for "up to" 7 hours from 9am. It's not likely to affect L&S... they'll probably sleep through the whole thing, but it'll affect me. For starters, Bluey's auction closes at midday so I won't be able to follow it. I'll probably fiddle around with the Ute for a while, and maybe even go for a decent spin somewhere.
How to make your dick wobble a lot: Lesson #1. Remove all clothing. Step into shower. Scrub tiles and floor.
How to feel totally buggered: Lesson #1. Remove all clothing. Step into shower. Scrub tiles and floor.
Beeb time: New Italian PM Mario Monti's government of technocrats passes its first test, winning a vote of confidence in the senate. Can you imagine the chaos if it hadn't? Occupy Wall Street demonstrators are marching on New York's Brooklyn Bridge after a day of protest that has seen solidarity rallies across the US. Shades of anti Vietnam, civil rights, etc. Scientists think they can now explain the existence of what are perhaps Earth's most extraordinary mountains - the ice-entombed Gamburtsevs of Antarctica. Read all about it. Germany, France and the UK table a UN resolution calling for an end to human rights violations in Syria, and receive the backing of four Arab states. What's taken them so long? The man suspected of shooting at the White House last Friday is charged with attempting to assassinate US President Barack Obama. Another fruit loop with a gun. Three elderly people have died after a fire ripped through a nursing home in Sydney, Australian officials say. About 50 people were injured, some seriously, in the blaze at the the Quakers Hill Nursing Home, in the north-west of the city. Nearly 100 fire crews battled the flames and plumes of thick smoke, which engulfed the home. Terrible thing to happen to the poor old dears. They must have been petrified. The Vatican says it is taking legal action over the use of an ad showing Pope Benedict kissing a leading imam as part of a Benetton advertising campaign. The Vatican move comes despite an announcement by the Italian clothing company that it was pulling the ad. The ad, with its doctored image, is part of a global advertising campaign. It consists of photo montages of political and religious leaders kissing each other on the mouth. A statement said the Vatican had told its lawyers in Italy and around the world to "take the proper legal measures" to stop the use of the photo, even in the media. Just because the Benny and his Bishops wear party hats doesn't mean God has a sense of humor ya know. Thousands of people have been queuing at Alexandra Palace in London to be hugged by a woman called Amma. Originally from Kerala in India, she travels the world embracing anyone who turns up to meet her. Check out the video report here.
Click here for a Benetton ad. Here's another. And here's the one Benny has his knickers in a knot about.
I just realized something about those people in the nursing home fire. I'd forgotten that NC Art at 85 is also a poor old dear. I'd better wash my mouth out with soap and watch my tongue in future.
Just spotted this little bloke on Red Bubble. What a great shot!
And that's it for now. Power outage tomorrow so don't expect too much! However if I go for a drive, I might take some pics. Gary
November 17, 2011. TX Greg reckons 'oar' doesn't rhyme with 'Madeline'. Hehe. Quite right. But Madeline does rhyme with paddlin'. He says that song was written in 1925 which is why he didn't get the connection.
The bloke who bought Das Busse wrote to say he picked up the van and drove it home yesterday. He said it was a slow trip because the engine was running hot (it was a hot day). But he didn't bitch about anything... which I thought he might. She's not exactly in pristine condition ya know. Maybe the radiator needs a good flush. Anyway, he'll certainly have lots to keep him occupied for a while.
Meanwhile, Bluey is getting a few lookers on eBay... 167 so far this morning with 2 1/2 days to go, which is not bad considering the limited market. I only need one serious bidder. This buying and selling cars business is for the birds. I'll be glad when it's all over and I can focus on The Ute. Incidentally, I'm not so sure there's a problem with the valve stem seals. I haven't noticed any smoke from the exhaust. Stan the Lawn Man had a look the other day and he didn't notice any either. Anyway, I'll have Ford check it over and do an assessment after I get new front tires fitted.
Barack is in Oz at the mo for a whirlwind trip before he flies off to Bali. I watched his address to the joint sitting of the Australian Parliament in Canberra just now. You could have heard a pin drop. And at the end of the speech, he was met with a standing ovation that lasted several minutes. The speaker of the house thanked him and wished him a safe trip home to the cheese and kisses and the billy lids (the missus and kids). Hehe. A commentator said it was most unsual for the speaker of the house not to yell "Order!" for such a long period. During the ovation, Barack stood with hands clasped and head bowed, trying desperately to look humbled but he was dying to grin like a Cheshire cat, which he did when somebody spoke to him. Barack is still shaking hands as I write this... he's meeting and greeting everyone in the parliament, which is probably in the order of some hundreds. Next, he's off to a local school in Canberra to address the students, then the US Embassy to plant a tree, and then he flies to the RAAF base in Darwin to talk about the military alliance between the US and Oz. From Darwin he'll fly to Bali for the East Asia Summit. He's a busy boy for sure! And I'm glad he got such a great reception in Oz.
Beeb time: US President Barack Obama, speaking in Australia, says that the Asia-Pacific region will define the future of the world. The BBC must have watched ABC News 24 like I just did (on line). The Arab League says it is giving Syria three days to "stop the bloody repression" of protesters and allow in observers or face economic sanctions. It's about time the Arab brothers got tough. Scientists have found the best evidence yet for water just beneath the surface of Jupiter's icy moon, Europa. Analysis of the moon's surface suggests plumes of warmer water well up beneath its icy shell, melting and fracturing the outer layers. Any liquid water could represent a potential habitat for life. Makes sense... that's how it started here. Shares in US banks tumbled in late trading on Wall Street after ratings agency Fitch issued a warning over their exposure to the eurozone crisis. The Dow Jones fell sharply in the last hour of trading, to close 1.6% lower, with financial stocks taking the brunt of the selloff. Fitch said that unless the eurozone crisis is resolved soon, the outlook for US banks could worsen. Oh dear... it's a bloody good thing I don't have any investments! Mario Monti has unveiled a new, technocratic cabinet meant to steer Italy through its debt crisis after the fall of Silvio Berlusconi's government. Mr Monti, who has now been sworn in, appointed a banker to lead a super-ministry of development, infrastructure and transport. Mr Monti, a former EU commissioner, has sought to reassure markets that Italy will overcome its debt crisis. Italy's borrowing costs have fallen back below the critical 7% level. So far so good. A man wanted in connection with a shooting near the White House has been arrested, the US Secret Service says. Authorities in Indiana, Pennsylvania held Oscar Ramiro Ortega-Hernandez, 21, on Wednesday, officials said. Two bullets were found at the White House, one of which struck a protective window when it was fired. Mr Ortega was described as a white Hispanic male of medium build, with several distinguishing tattoos - including three dots on his right hand, his name across his back and the word Israel tattooed on his neck. So what's all the fuss about? Sounds pretty normal to me. :-/ Osama Bin Laden has been described as both "tender" and "kind" in a video released by the new head of al-Qaeda. Ayman al-Zawahiri, who took over at the head of the network after Bin Laden was killed in Pakistan in May, said the former leader was a sensitive man. "People don't know that this man was tender, gentle, kind, with refined feelings, even when life was hard," Zawahiri says in the video, dressed in a white robe and turban and sitting in front of a green curtain. As evidenced by the story of Jekyll and Hyde, a split personality is a mental condition wherein within the same person there exists at least two distinct personalities. Britain's 'cheapest' lunchtime meal was unveiled by scientists on Wednesday - the toast sandwich. The Royal Society of Chemistry (RSC) is reviving the mid-Victorian dish, which, unsurprisingly, consists of two slices of bread around a slice of toast. The society is so confident in the repast, it will offer £200 to anyone who can create a cheaper alternative. The meal, costing 7.5 pence, was first promoted by Victorian food writer Mrs Beeton. It is taken from Mrs Beeton's Book of Household Management which became a best-seller after its appearance 150 years ago next month. We call them jaffles, and they're a great idea. Kinda like a toasted bread pie with whatever filling you like. Australia has agreed to host a full US Marine task force in the coming years, Prime Minister Julia Gillard has announced at a news conference with US President Barack Obama in Canberra. She said about 250 US Marines would arrive next year, eventually being built up to 2,500 personnel. The deployment is being seen as a move to counter China's growing influence. Last time I looked there were no Chinese soldiers in Oz.
How long have I owned the Ute so far? Two weeks? Anyway, I just tried the CD player, and guess what? It works! There's no user manual with the stereo so it's a matter of pushing buttons and figuring out how the damn thing operates. The rubber front mat is a bit of a worry so I checked molded carpets on eBay - $130 to $170 new which ain't bad. Trouble is I gotta buy the rear one which I don't need!
Now here's something interesting I read in a report on the net. The Ute is fitted with Ford's 'Smartlock'. South Australian Police revealed the operational success of "Smartlock", by inviting four professional car thieves to steal an EB specified with the locking system. The thieves were unsuccessful at their attempt, giving up after four days.
It's been a pretty non-event day... thunderstorms overnight, cloudy and gray today, raining now. Bleh. According to the forecast it'll get better as the week progresses. I hope so. Gary
November 16, 2011. Here's another pic I favorited on Red Bubble this morning. What a classic! Norbert travels the world as a professional cameraman and SCUBA diver and sells his stuff to various magazines. Sometimes he does photo shoots for exotic tourist resorts with free accommodation and meals! What a life.
I've got TX Greg stumped. He wants to know what the October pic is on the Kelly's Kollection calendar. So I asked him how did Madeline get home? And he said it probably wasn't in the back of The Ute hehe. So I wrote back and asked him what rhymes with Madeline? Anyway, if you look at the title of the pic here, you'll know the answer.
Marty, the American sculptor who's making a porcelain image of Cody, sent me a couple of pics of the plaster cast fresh out of the mold with no retouching as yet. He just wanted me to see them and make any suggestions. Hell, what would I know about that kinda thing? They look fine to me. He said it might take him a while to fire them and take them to the next stage. He said he'll make two copies; one for himself and one for me. But he can make others, so if you'd like one, you can get in touch with him at his website.
I checked Youchewb this morning and found a great Two Ronnies sketch about a boring accountant.
Back in my biz days when I had a few bob, I had an accountant who was conservative but definitely not boring. Quite often he would join my rogue friend Philip and me for a fish 'n' chip lunch in Crows Nest, not far from our respective offices. He would always begin by saying he really shouldn't have taken the time off, and that he needed to get back to the office to catch up on some stuff, but he would inevitably have one more wine than he should, and then another etc, and before he knew it, it was 3pm and he was sozzled. Hehe. "You're a terrible influence on me, Gary," he would always say... but accepted the invitation to lunch anyway. Actually, I just did a Google and found him. He's now a director of an accountancy firm called... wait for it... Kelly + Partners, chartered accountants hehe. So I sent him an email.
Beeb time: Turkey increases pressure on Syria over the crackdown on protests, with PM Erdogan warning Damascus against shedding "the blood of the oppressed". Syria is fast running outta friends. Let's hope that makes a difference. Occupy Wall Street protesters re-enter Zuccotti Park, but are banned from returning with tents after a New York court says an overnight clearance of the park was legal. I gather they're complaining about the demise of Middle America in favor of a richer Wall Street and a poorer poor. If that's the case they have a legitimate beef. But they need public support which they won't get if they behave like hooligans and radicals. Italy's Prime Minister-designate Mario Monti says he is convinced Italy can overcome its debt crisis, ahead of unveiling his new government. Give the people confidence and hope... that's what they need. Cholera breaks out in the world's largest refugee camp in Kenya, housing Somalis fleeing famine and conflict, the UN says. And all because Eve tempted Adam with an apple, according to some people. Israeli police have detained six Palestinians dubbed West Bank Freedom Riders who boarded a Jerusalem-bound bus used by Jewish settlers. The activists say they drew inspiration from 1960s US civil rights demonstrators who campaigned under the same name against segregated buses. Palestinians from the West Bank are not allowed to cross into Jerusalem without Israeli permission. Israel says such restrictions are for security reasons. What an absurd mess the Middle East is. An Ohio man has been executed for shooting and killing his three sleeping sons in 1982. Reginald Brooks, 66, shot his sons, aged 11, 15 and 17, shortly after their mother filed for divorce. Brooks' execution was the first lethal injection in Ohio in nearly six months. Where's the good news? Or isn't there any? Batteries for phones and laptops could soon recharge ten times faster and hold a charge ten times larger than current technology allows. Scientists at Northwestern University in the US have changed the materials in lithium-ion batteries to boost their abilities. One change involves poking millions of minuscule holes in the battery. Batteries built using the novel technique could be in the shops within five years, estimate the scientists. Ah ha! Good news at last!
Back from the doc in her new surgery just across the road from the river in a lovely old renovated weatherboard house. The lesion hasn't changed but she suggests it be removed. I thought as much. She referred me to Dr Simons, the specialist who removed a couple of my skin cancers in the past at the local base hospital. He's pretty good, and he's her doc too. He's very much a no-nonsense, down-to-business doc. When he discovered how much wine I drink he said, "I would too if I could." Hehe. So I turn up at his surgery just down the road on December 9 and he'll arrange surgery at the local hospital probably some time in Jan/Feb.
One person in the waiting room today had a serious deformity - a sort of cross between a thalidomide baby and Down's syndrome. She appeared to have the mental age of a small baby but I think she was much older... maybe even in her teens or 20s. Her eyebrows were quite hairy with eyes spaced far apart, almost at the sides of her face. She was sitting in a special wheelchair, next to her mother and a friend. Oh dear... a tragic case indeed. I couldn't help thinking it would have been better had she not been born. But of course I don't know the full story. It certainly puts any problem I might have into perspective.
And that's it. Time to start getting my chef act together. Bacon, eggs and chips! Gary
November 15, 2011. TX Greg wasn't impressed with the photograph that fetched a record price. Kiss my ass, If that is worth 4.3 million then some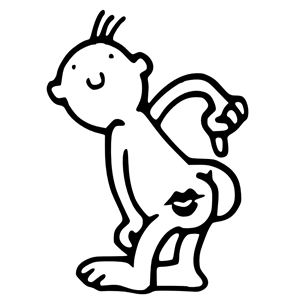 of your photos should be worth 4.3 billion!!! I don't think Greg is alone in his criticism. I couldn't see the value either. But it does raise the question what is art? I guess it's like anything... all in the eye of the beholder. Maybe some people have the ability to see what ordinary mortals like you and me can't. In any case, I wouldn't give two bob for that photo.
I have the same problem with opera and ballet. There's a soapy on local telly about the lives of a group of young ballet dancers... all cute and yummy, of course, and plagued by the usual teen coming-of-age problems. I was watching it the other night when the scene cut to the dance practice hall and a couple of girls went leaping past the camera, arms and legs outstretched, and I burst out laughing. It looked so absurd! Sorry ballet lovers... I just can't see the point.
As to opera... A while ago I accompanied young Josh to a speech night sponsored by the local Rotary Club. After the speeches and awards, we all stood to sing the National Anthem. One of the old guys at our table had an operatic singing voice which drowned out every other voice in the entire hall. It was intimidating, and oh so UNNATURAL. At least, that's what I thought about it. Uncultured and plebeian, that's me.
I've added a couple of new favs to my Red Bubble favourite list recently if you'd like to take a peek.
I also added my new calendar for 2012 and bought 4 for myself as Chrissy pressies. My doc keeps the old ones in case I become famous one day hehe.
Beeb time: Dozens of people have been killed in clashes in Syria, activists say, as the king of neighbouring Jordan urges President Assad to step down. From what I understand, Assad is only part of the problem. It's his backroom boys who are pulling all the strings. Italy's prime minister designate Mario Monti says he hopes to form a government that will be in office until 2013 when the next elections are due. Good luck. The current turmoil in Europe is an opportunity for the UK to "refashion" its relationship with Brussels, David Cameron has said. In a speech in London, the prime minister argued powers should "ebb back" from Brussels to Westminster as part of "fundamental" future reform. Although the EU is "out of touch" on many issues, he said it is not in the UK's national interest to exit. The PM is under pressure from many of his MPs to renegotiate UK membership. Some Conservatives want to go further and leave the EU altogether. I remember a young German guy I knew refer to the Brits as the "islanders" as if to say they are not European. Oz is in a similar situation. We're geographically Asian but not culturally. The murders of nine immigrant workers by suspected neo-Nazis are "shameful" for Germany, Chancellor Angela Merkel says. There is absolutely nothing about Nazis, neo or otherwise, that deserves even the smallest shred of respect. The former boyfriend of a woman who accuses Republican presidential candidate Herman Cain of groping her has corroborated her story. Speaking at a news conference, Victor Zuckerman said Sharon Bialek told him Mr Cain made an unwanted advance shortly after it allegedly happened. Mr Cain's lawyer said there was nothing new in the claim, which he denies. So why did Bialek wait until Cain ran for nomination before she approached the authorities? The former Penn State coach at the centre of a child abuse investigation that has shocked the US has admitted in an interview showering with young boys, but denies being a paedophile. Jerry Sandusky told NBC News that he had "horsed around with kids", hugged them and touched their legs, but was innocent of the charges against him. In a phone interview, he said he should not have showered with the children. I would like to believe it's true but any touchy-feely stuff with kids is asking for trouble. Australia's prime minister has called for the country's ban on selling uranium to India to be overturned. Julia Gillard wrote in a newspaper column that it made no sense to sell nuclear material to China, Japan and the US, but not to India. Ms Gillard's Labor Party introduced the ban in 2008 because India had not signed the non-proliferation treaty. Australia holds about 40% of the world's proven reserves of uranium and supplies about 20% of the world market. The country has no nuclear power facilities itself but allows the export of uranium for peaceful purposes. A comment I heard on radio said that if India wanted to use uranium for nuclear weapons it wouldn't need ours, it has enough of its own reserves already.
Yes, "horsing around" with naked boys in the showers is playing with fire. Kids don't stay kids. They grow up and start to wonder what the hell was really going on. Innocent though it may be, there's always serious doubt about the intentions of the adult "horser". It's a pity really, because kids and their sense of play is very contagious; it brings out the boy in men (which never really goes away). I think it's very natural to feel attracted to fresh-faced youth, and to express affection towards them, as one might with a pet. Nevertheless, it's wise to exercise caution and care... and to be safe rather than sorry.
The Ute had about a quarter of tank of juice so I topped her up with $50 worth and now she's almost full. I got a discount of 8 cents a liter so I saved about $3. Isn't that wonderful? With the kinda mileage I do, that'll last for ages. The checkout chick said she's been spending about $200 a week on juice cos they're in the middle of moving house... lots of backwards and forwards. Wow! That's a lotta bikkies! At my current rate, I'd be lucky to spend that in a year! I also checked the tires so all is well in the wheels department for the time being. And yes, I do like driving it. :o)
Well, here we go again; time to whip up some vittles for the er... THEM. Chicken schnitzels and corn on the cob. Gary
November 14, 2011. NC Art wrote and suggested that Ohio Jace show this video to the kids if they mention Christmas toys before December 23.
Meanwhile, it's off to the Indian doc again Tuesday to have my mouth lesion checked "just to make sure". Not sure what she's got in mind, but I heard the tail end of an interview on radio the other day about cancer. It seems even benign lesions can turn cancerous at a later stage, so I guess that means the damn thing has gotta go. What a bloody nuisance.
Gonna be a hottie today - 32C - but I've got a bit of shopping to do nonetheless. Lindsay wants fillet steak so that means I can pig out on something else. Hmmm. There's a tandoori chicken pizza I rather fancy.
There was a story on telly the other night about Aussie surfboard manufacturers going out of biz because of cheap Chinese imports. Most of the Aussie surfboards are shaped and made by hand by ex-professional surfers who operate their own workshops. The guys also design their own unique styles, which are - yes, you guessed it - copied by the cheapies. It's a disgrace as well as a dilemma. What the hell can you do about it?
More tire kickers are dribbling into the Bluey auction on eBay but not much is happening. I guess it won't through the week until the auction ends next Saturday about midday.
The Ute's headlight surrounds and grill are white plastic which has discolored because of exposure to the elephants (huh?) and grime over the years. So I did a Google and one cleaning remedy suggested methylated spirit. Another is hydrogen peroxide. Hmmm. Another is soaking in warm water and bleach, which sounds a bit difficult unless the items are removed from the car (which also sounds like too much bother). I think I'll try methylated spiritus dominus vobiscum. Painting them white is another alternative but that would also require them being removed from the car.
The Victorian buyer of Das Busse collected the camper from the transport company's depot in Melbourne today and hasn't emailed me yet to express his disappointment. Hehe. I hope he's happy with what he bought, and has the necessary wherewithall to fix a lot of the problems himself.
Beeb time: Technocrat Mario Monti is asked to form a new Italian government to tackle an acute debt crisis which prompted the resignation of Silvio Berlusconi. Wikipedia: Technocracy is a form of government where technical experts are in control of decision making in their respective fields. Syria's leadership is under mounting pressure from other Arab states and Turkey to end its violent repression of pro-democracy protests. Fingers crossed. The Taliban in Afghanistan say they have obtained a government security plan for the grand assembly of leaders, or loya jirga, which opens in Kabul this week. The document includes what appears to be a detailed list of security arrangements for senior figures. Afghan security officials have denied that the document is genuine. Could be a trick. If it is, it's a very clever one. Police in riot gear move in on Occupy Wall Street protesters in Portland, Oregon, responding to a deadline from the US city's mayor. Same thing is happening in Oz. I really do think a lot of protesters have nothing better to do than cause trouble. Libya raises crude oil output to 600,000 barrels a day and expects to reach pre-war levels of 1.6m a day by the end of 2012. They've probably heard about my planned Odyssey. The United States has apologised after former Indian President APJ Abdul Kalam was frisked at a New York airport. The government in Delhi complained after the 80-year-old was frisked on board the aircraft, and had his jacket and shoes briefly taken away. India has complained in the past about its treatment of dignitaries by US air staff - including a previous incident involving Mr Kalam in 2009. Protocol exempts former presidents and other dignitaries from such searches. Maybe they should wear a name tag. Dubai-based Emirates Airlines has ordered 50 long-range Boeing 777 passenger aircraft in an order worth about $18bn (£11.2bn) at list prices. The carrier's chairman and chief executive, Sheikh Ahmed bin Saeed al-Maktoum said it was the single largest dollar-value order for Boeing aircraft. "This order represents a milestone," he said after announcing the contract at the Dubai Airshow. I'll bet Boeing are rubbing their hands with glee as well! Police in Germany have made a second arrest after the dramatic discovery of evidence linking a self-styled Nazi group to the murder of nine foreigners. A man suspected of being a member of the hitherto unknown "National Socialist Underground" was arrested near the northern city of Hannover. Eight ethnic Turks, an ethnic Greek and a policewoman were murdered. The group only came to light this week after one alleged member surrendered and two others killed themselves. Following in the madman's footsteps. Former Somerset captain Peter Roebuck has been found dead at a hotel in Cape Town. He was 55. Opening batsman Roebuck played for Somerset from 1974-1991, scoring 1,000 runs per season on nine occasions. After retiring, he became a respected writer and broadcaster in Australia renowned for his strong opinions. South African police said Roebuck had taken his own life and are investigating the full circumstances surrounding his death. The Sydney Morning Herald, who Roebuck had written for since 1984, reported that he fell to his death from a hotel window on Saturday night after being questioned by police. I'm not a follower of cricket but I know his death has shocked the cricketing world. I suppose we'll get all the sordid details soon enough. Poor bugger. Former prime minister Tony Blair has told the BBC the collapse of the euro would be "catastrophic" - and Europe must get behind it. Mr Blair said he hoped it would not collapse, but European leaders faced "very difficult and painful" choices. A "long-term framework of credibility" was needed, he said, which included "strong fiscal co-ordination". I think he means live within your means. Hehe. US President Barack Obama has announced the broad outlines of a plan to create a trans-Pacific free trade zone at an annual regional summit in Hawaii. "I'm confident we can get this done," Mr Obama said at the Asia-Pacific Economic Co-operation (Apec) talks. Nine Apec nations are involved in the Trans-Pacific Partnership (TPP), but China has so far not expressed interest in joining the talks. In all, 21 Apec countries account for about 44% of global trade. They also make up some 40% of the world's population. All I know is that it's good for Oz. President Raul Castro has agreed to allow people to buy and sell cars in Cuba, ending a ban on Cubans selling cars bought after the 1959 revolution that ushered in communism. However, the changes could spell the beginning of the end for many of the island's classic American cars, which are a key feature of Cuban roads. Interesting stuff. Check out the video report here.
Oregon Richie sent a link to a place in his state called Fort Rock in response to me talking about Uluru and the Northern Territory's current advertising campaign which says it's a place where time stands still. Such places do cause you to reflect on your place in the great scheme of things. I liken it to standing on a beach as the spent waves wash over your bare feet. It makes you think about the countless millennia during which time those waves have continued to tumble to shore time after time after time, long before life crawled from the oceans to populate dry land. And here we are existing for a nano second convinced of our individual importance hehe. Yes, I know... everything is relative. But it does affect your sense of perspective, and your awareness of time and space. My Red Bubble mate Terry Everson was standing on a ledge overlooking a steep gorge just outside Sydney and took a photo of a train far below about to enter the Glenbrook Tunnel, which is not a bad example of what I'm talking about.
Speaking of photographs, what kinda photo would you expect to fetch $4.3m for the original? Check it out.
Din dins time. Fillet for THEM and tandoori chicken pizza for me. I found a fresh one on spesh at Woolies, marked down from $8 to less than $4. So I gave Averil half. Gary
November 13, 2011. Well, I just did the Karate Kid trick and used cut and polish on half the Ute's bonnet to see what difference it would make. It's an improvement but not all that brilliant... certainly not as marked as it was with TT. The Ute's paint lost its lustre a long time ago, and the front of the bonnet area has a few small pitmarks. But the improvement is not bad. I'll give it coat of UV protective wax as well. If it looks clean and tidy and presentable, that'll do me. She's a workhorse, not a dressage contestant.
By the way, I saw a pic of Henry with his first Ford (1896) on a newsgroup this morning. Who woulda thunk that would lead to The ute?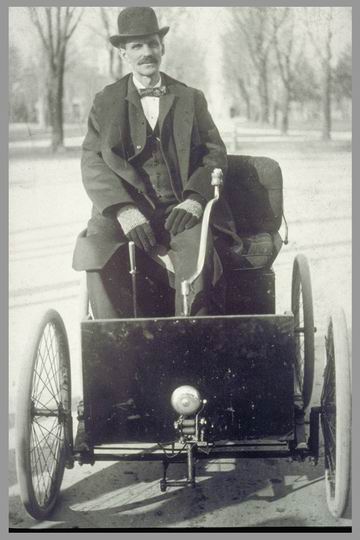 Somebody on radio or telly the other day was talking about - oh yes, it was Stephen Fry on QI - how the automobile saved cities from pollution. Before motor cars, there were tens of thousands of horses in cities like London, dropping their poo all over the place. Cleaners could hardly keep up with the mess, which was worthless. There was so much of it, no one wanted it, not even for fertilizer. When the sun dried out the manure, and it became loose and flaky, the wind would carry it around and it became airborne pollution, which caused various respiratory problems in people. A very nasty business indeed. So people like Henry and Carl made a huge contribution to the overal cleanliness of cities by introducing poo-less transport. Of course, once motor cars multiplied like rabbits into their millions, it was a different story.
Ohio Jace says the kids are counting down the days to Christmas already hehe. Yeah, well, kids love Christmas. He says he's tired of the Christmas music on telly already. I haven't noticed it here - yet. And the supermarket is not playing it - yet. The other day I heard Don Gibson's Sea of Heartbreak, and I can't get the damn thing outta my head. But it does bug me when I hear nothing but Christmas music every time I go shopping during the "festive" season. It drives me bonkers.
Beeb time: Italy's Prime Minister Silvio Berlusconi resigns, days after losing his majority in the midst of an acute debt crisis threatening the eurozone. I heard on the news last night that Berlusconi has been in power for 20 years. Not exactly the most gracious of exits. The Arab League votes to suspend Syria from its meetings and impose other sanctions over its failure to end a government crackdown on protesters. I hope it works... but I have my doubts. US President Barack Obama announces the broad outlines of a plan to create a trans-Pacific free trade zone at an Apec summit in Hawaii. Yes, he's over there with our dreary woman PM, and I think he's due to visit Oz in about a week. It'll be interesting to see what kinda reception he receives here. All former US Presidents have been treated like superstars in Oz. The one I remember most is "All the Way with LBJ". Japan lets reporters inside the Fukushima nuclear plant for the first time since it was crippled by an earthquake and tsunami in March. Better late than never, I suppose, not that it'll do much good. 'Smog-eating' material breaking into the big time. What material can you find in toothpaste, sunscreen, solar cells, on the baseline at Wimbledon, in a Roman church, and along a tunnel in Brussels? A most interesting article about a building material that actually cleans our air! Read about it here. The 2018 Commonwealth Games will be held in Gold Coast after the Australian city beat off the challenge of Sri Lanka's Hambantota. Gold Coast, in south east Queensland, won by 43 votes to 27. Australia has hosted the games four times previously in the event's 80-year history while Sri Lanka was bidding to host the games for the first time. Another money-spinner for the Gold Coast. I haven't been there in 40 years! It was a seaside village back then. Now it's a city of half a million.
Yes, I remember the Gold Coast/Surfers Paradise back in the 60s and 70s when the city council introduced parking police. But they were called Meter Maids, and they wandered the streets in bikinis. A bit of a change from the uniformed 'Brown Bombers' in Sydney.
This is Coolangatta in 1965 before all the high-rise development. Coolangatta is on the NSW border at the southern end of Surfers Paradise and The Gold Coast. I was there in 1962/3 with a mate (Robert Howlett) and my Morris Oxford, where we stayed in an old fashioned guest house. I remember ordering beers... not by the glass but by the jug! This is what the Gold Coast looks like these days.
Robert and I befriended a couple of girls. I had no idea what to do with mine hehe. I'd never had a girlfriend before! Anyway, we went for a walk in a bushland setting where the girl and I laid down on the grass and started all that kissing business. Did you know lipstick is made from animal fat? That's when I found out. After a bit of smooching, I had all these little balls of fat stuck to my lips. Ew! But I figured I'd better keep going so I undid her bra and started fondling her breasts. It was safer than doing anything else... and I certainly wasn't prepared to be THAT adventurous! Then for some reason I looked up and saw a Peeping Tom in the bushes giving us the eye. Thank god for him! I told the girl some dirty old man was checking us out, so that put an end to all the smooching and breast fondling. I can't remember what my mate Robert did (or didn't do). I don't think we discussed it.
Yes, I know what you're thinking (apart from my first foray into unbridled sexual lust). Did I do the second half of the Ute's bonnet? Yes, I did. And I'm buggered. The Karate Kid was a lot younger and fitter than I am. I'll do the UV wax coating some other time. Actually, the paintwork on the rest of the car is in pretty good nick so I wouldn't be surprised if the XR6 front end panels are from a different car.
Bluey's auction is going along okay... about 55 views so far, 2 from people who want a coach to transport all their kids (one couple has six kids!) so that's probably where my market is. One contacted me about a 'buy-it-now' price. I've checked eBay for similar vehicles and the asking prices are pretty low so goodbye to all the money I spent. Oh well... never mind. Spilt milk and all that jazz.
Anyway, it's now time to attend to the zoo. I can hear Lindsay in the other room doing his "funny" yodel for Sue's amusement. She forgets he did it last night, and the night before, and the night before, and, and, and... Sheesh. Gary
November 12, 2011. TX Greg wrote: "I wish I'd gone straight from TT to Bluey but that didn't happen." Ok did you mean to say "to the Ute" or did you mean you wished Bluey would have worked for the Odyssey??? Yeah, it was late and I meant The Ute. FIXED! Greg went on to say maybe he shouldn't read the Waffle until AFTER he has his morning coffee. He also wrote: I like the way we have different words for the same thing. You call it a windscreen and we call it a windshield. Yours makes me think of window screen :) Yeah, and it goes on and on... boot instead of trunk, bonnet instead of hood, mudguard instead of fender, etc, etc. But I have noticed that the bonnet pull lever in the cabin of the Ford is labeled 'Hood'. Greg also mentioned something NC Art wrote: I'm surprised you didn't give Art a hard time "If the steering wheel had been put on the proper side". Nah... takes more than that for me to bite, mate. Hehe.
BUT... Greg hasn't finished yet. This morning he sent an email about the new 7 natural wonders of the world: Wow! Table Mountain got on the list of "provisional New 7 Wonders of Nature". :) Cody would doubtless say it's about time. I'm sure Oregon Richie would agree. He's been there, and intends to go again early next year. When ever I think of Table Mountain I think of Wingnut putting a lizard in Mark's sleeping bag hehe. Mark flew outta the tent like a startled gazelle but got his own back later when he collected Wingnut in his arms, still in his sleeping bag, and tossed him into the freezing stream. Jesus, fancy going hiking/camping with a bunch of teens. You'd have to be nuts.
Well, I suppose I'd better start thinking about throwing an ad together on eBay for Bluey. I'll start the bidding at $2000 but I'm not expecting much. There's not a lotta demand for 8-seater coaches. But ya never know ya luck. Maybe there's another dingaling like me out there.
Roite... done... check out Bluey's ad here. By this time next Satdee I might be Blueyless. Nothing much happens with auctions until the last 10 minutes or so. That's when the lurkers suddenly pounce.
Beeb time: Stock markets rise after Italy's senate approves austerity cuts designed to avoid a bailout of the eurozone's third largest economy. Yep, it's well and truly time for those Europeans to pull their fingers out and get their acts together. Greece's new coalition government and interim Prime Minister Lucas Papademos are sworn in, ending days of political wrangling. Good. That's a start. Mexican Interior Secretary Francisco Blake Mora - a key figure in the war against drug cartels - has died in a helicopter crash as he travelled to a meeting. Don't ask me, ask God. A passenger ferry is hijacked in the Sea of Marmara in north-western Turkey by suspected Kurdish militants, officials say. There's another one you can add to your list of questions to ask God. The Duke of Cambridge's posting to the Falkland Islands has been condemned by Argentina as a "provocative act". Britain says Prince William's deployment for training as a helicopter rescue pilot is routine. But Argentine official Sebastian Brugo Marco said Argentina could not ignore the "political content" of the mission. For crying out loud, Agentina, the Falklands war is over. You lost, remember? An elderly Amish man has had his hair and beard cut off by his own son in the latest such attack in the US state of Ohio, said police. The victim was allegedly pounced upon while visiting his son during an attempted reunion in the city of Steubenville. The older man - who is in his 70s - has told police he will not press charges. Spiritual differences are said to be behind the attacks on a number of Amish men and women in recent weeks. Welcome to the ideal lifestyle. Hehe.
Credit where credit's due, though. I saw a pic on Red Bubble of an Amish school with a bunch of bicycles outside the fence. None of them was chained or locked. That's the way it was when I was a kid. You could drop your bike outside the milk bar and spend all day playing the pinball machines and not worry about anyone nicking your bike. In fact, you couldn't even buy a bloody lock! It was the same at the beach. You could leave your money and valuables wrapped in your beach towel while you went swimming. No worries.
Speaking of pics on Red Bubble, I spotted this one this morning, an aerial of South Head (click the pic for a larger view), one of two heads that guard the entrance to Sydney Harbor, "In which a thousand ships of the line may ride in the most perfect security." This is what Sydney Cove looked like in 1804 (16 years after European settlement) and this is what it looks like today (click the pic for a larger view). Notice any changes? In fact a lot has changed even since the 1920s.
Ohio Jace wrote: From Waffle: You mentioned the 2000 Olympics. Callan McAullife was one of the youngsters who sang at the opening of the games. He was 5 at the time. He is currently living in the U.S. and acting; recently starring in I am number four with Alex Pettyfer (2011) and is going to be the lead in the Aussie TV series Cloudstreet. At the ripe old age of 16 he has worked with some very famous directors (Rob Reiner, Steven Speilberg, Michael Bay, Matt Saville, etc). He was born in Clontarf, OZ and started acting at 8 so you might have seen him on telly.
No, actually, doesn't ring a bell... but then I don't watch much telly at all apart from news, current affairs and a few docos. I read where McAullife was born in 1995. How can anyone possibly be born then? It's hardly more than yesterday! He's younger than The Ute!
Nature's making a bit of a racket outside... lots of flashes and banging. So I suppose I better upload this Waffle before my computer explodes or something. I'm back to eating now... not much but enough to keep me going. Seeyazall later. Gary
November 11, 2011. Here we are! The eleventh of the eleventh, eleven. At 11am we will have a minute's silence in memory of those who lost their lives in battle for Australia and freedom. It's Remembrance Day, made even more poignant because of the recent deaths of Aussies in Afghanistan... "lest we forget".
Speaking of forgetting, there's one incident the bloke who sold me The Ute won't forget in a hurry. After be bought a 2001 Holden sedan the other day, he drove it home and changed the oil, oil filter, air filter and spark plugs. However, the auto place had sold him the wrong oil filter, so after about 10 ks it fell off. Oil went everywhere, and there was a lot of smoke. He hitched a ride home, retrieved the old filter from the rubbish bin, bought more oil, and got a lift back to the car where he replaced the old filter and topped up the oil. Next day he contacted the auto place and bitched about them having sold him the wrong part, so they did the right thing and fixed all the problems including replacing the brake pads which had been affected by the oil. He also had the engine checked for damage but it seems okay. So how's that for an introduction to his new rig?
This morning I checked Youchewb and watched part 6 of a series showing the 2000 Sydney Olympics Opening Ceremony. I remember being at home in Petersham at the time expecting the usual Waltzing Matilda re-hash and a bunch of embarrassing country-bumpkin corn. Instead, I was treated to what I still think is the best show I've ever seen in my life. It was the perfect mix of Aussie humor and 21st century sophistication, and a total surprise. I was never so chuffed to be an Aussie, and could never in a million years have anticipated such a wonderful spectacle. The staging and choreography was incredible. If you wanna start off at Part 1, click here.
Beeb time: Former European Central Bank vice-president Lucas Papademos is named as Greece's interim prime minister, following a political crisis which threw the EU bailout deal into turmoil. Greece is famous for some of the greatest minds in history. I hope this bloke is one of them. A US military court convicts Sgt Calvin Gibbs, an American soldier, on three counts of premeditated murder for the deaths of unarmed Afghan civilians. Another tragedy of war. It brings out the best and worst in people. Conrad Murray, the doctor convicted of the involuntary manslaughter of Michael Jackson, has defended his use of propofol to put the singer to sleep. In a TV interview recorded before the verdict, Murray, who did not testify at trial, said he gave Jackson an "inconsequential" amount of the drug. A coroner found that he died in June 2009 of "acute propofol intoxication". Murray, who claimed Jackson had been using the anaesthetic long before he met him, said he did not tell paramedics he had given Jackson the drug because it was such a small dose. I guess the fat lady was just warming up despite all the fuss. A Ugandan man has been sentenced to 30 years in prison for murdering the country's leading gay rights activist, David Kato, in January. Sidney Nsubunga Enoch admitted in court that he had bludgeoned Mr Kato to death with a hammer, but alleged he had been provoked by sexual advances from him. The murder sparked outrage, with Western governments calling on Uganda to legalise homosexuality. Most Ugandans believe homosexuality is un-Christian and un-African. And what about murder? The US National Archives has released the grand jury testimony of former President Richard Nixon, made after the Watergate scandal forced him to resign. You can read the article here. Australia were bowled out for 47 - their fourth lowest Test total and their lowest for 109 years - by South Africa as 23 wickets fell in one day. The Aussies had started the second day on 214-8 in their first innings and were bowled out for 284, before skittling the Proteas for 96. Having narrowly avoided the follow-on, the home side's pace bowlers then tore into a shell-shocked Australia. But with the Proteas chasing 236 to win, Australia are still in the game. Oh dear... Cody would be giving me a terrible time about that if he were still here. An American is claiming the record for surfing the biggest wave ever. Garret McNamara rode the wave - estimated at 90ft high - during a competition in Portugal. Check out the incredible video.
Back to Youchewb. What happens when you tell the kids you've eaten all the Halloween candy? Check it out.
I did a little shopping at the Mall and parked behind this bloke. He was about to leave when I leaned out the window and yelled, "Now there's a car with character!" He was a bearded bloke in overalls and as much a character as his chariot. He came over and we chatted for a bit. He said he's thinking of getting rid of the old Troop Carrier "but I've been saying that for years". Then he added, "It's bloody hard to part with the old girl cos ya git attached." He also owns a Ford similar to mine and remarked on the placement of the dizzy (distributor) below the manifold. Fortunately for me, mine was replaced by the previous owner who also complained about how hard it was to access.
Weekend weather's not looking too flash. Tomorrow showers and Sunday possible showers. If Sunday turns out to be okay I wouldn't mind taking The Ute for a bit of a spin. I haven't been anywhere yet apart from a few short trips. However, I plan to advertise Bluey for sale this weekend on eBay, with the auction finishing next weekend. I took a few pics a little while ago in case it rains tomorrow.
So there ya go... the times they are a-changin'. I wish I'd gone straight from TT to The Ute but that didn't happen. Hehe. I took the scenic route. Oh well... By the way, I'm feeling a bit better today so I think I'll have a bit of tucker tonight. Gary
November 10, 2011. A young bloke from Delaware arrived at the front door late yesterday selling stuff for some charity. He reeled off his spiel so fast I didn't catch it all, but I accused him of memorizing it. "It's part of my training," he said. Anyway, it cost me 10 bucks for 3 chocolate bars. Then I tried to teach him to say New York with a nasaly Aussie accent. Hehe. He couldn't quite get it but before he left he said I was definitely one of his more memorable customers. So I shook his hand which was all sweaty and horrible. YUCK! Here's a bloke I found on Youchewb who says he's a Yank doing his Aussie accent, but some of the commenters suggest he's actually an Aussie doing an American accent.
The windscreen bloke turned up just after 9am in his battered old Mitsubishi van to drive me back to his shop where I paid for the job. Looks pretty good to me. He found a metal plate underneath the hood near the windscreen to which the wiper motor is attached. It was almost new but whoever installed it forgot to tighten the screws. So the bloke fixed that for me. One less rattle! And the wipers work just fine.
NC Art enjoyed the pics of the old Dodge Buckboard: Yep, that old Dodge sent a wave of nostalgia rippling through my brain. If the steering wheel had been put on the proper side it would be a load of fun to hack around in.
Actually, during my last year in high school in 1958, one of the De La Salle brothers had a similar old jalopy he used to teach some of the older students to drive - not on public roads though. The school had a couple of acres out back that were used as sports fields. It must have been an old farm or something before the school was built about 1954. You certainly wouldn't find that much vacant land in Sydney suburbia these days. Oops! Not quite true. A new development is underway just a few blocks from my old inner city house in Glebe. Until recently, it was the Harold Park paceway (trotting) and greyhound track. The Sydney Opera House is built on an old tram depot, and the Darling Harbor complex is built on an old railway goods yard. I'll shuddup now.
Beeb time: A deadly earthquake topples a hotel and other buildings in eastern Turkey, leaving dozens trapped in an area hit by a huge tremor last month. Jeez, fancy living there! Nothing like that ever happens in quiet li'l Taree. Italy's president says Prime Minister Silvio Berlusconi will step down within days, as the country's financial crisis deepens. I suppose even his multi-million dollar empire is not sufficient to make up for his failed political life. Talks on forming a new Greek government head into a fourth day, after the smallest party in coalition talks walked out of the negotiations. I'm not surprised. It's the old too many cooks problem. US authorities have charged seven people with spreading software to hijack millions of computers worldwide. Six of them are Estonians, who have been arrested, while the seventh, a Russian, is still at large. They are alleged to have spread software across four million computers in 100 countries that redirected users towards online adverts. Assholes. The eight contenders for the Republican presidential nomination have faced off over the economy at a debate in the state of Michigan. Front-runner Mitt Romney criticised the government bailout of US car makers in the state, while his rivals said banks should not become too big to fail. The biggest drama of the evening came when Texas Governor Rick Perry stumbled over his lines, finding himself unable to name the three federal departments he would eliminate if he became president - a key policy and a regular part of his stump speeches. If this kinda Republican circus continues, Obama may find himself winning the next election by default. Professional card player Pius Heinz of Germany goes home $8.72m (£5.4m) richer after winning the World Series of Poker in Las Vegas. The 22-year-old from Cologne won the final hand against Czech player Martin Staszko with an ace high. Fancy that... a 22 y/o professional poker player... and a university drop-out to boot. Russia has ruled out supporting fresh sanctions against Iran, despite a UN report that says Tehran may be trying to develop nuclear weapons. Britain, France and the US all said they would pursue new sanctions against Iran in the wake of the IAEA report. Russian Deputy Foreign Minister Gennady Gatilov told Interfax news agency that extra sanctions "will be seen in the international community as an instrument for regime change in Iran. That approach is unacceptable to us, and the Russian side does not intend to consider such proposals." You have to wonder if Russia sees itself as the obligatory fly in Western ointment.
The other day I looked out the kitchen window and saw a large rescue truck, a police van and an ambulance lining the street outside. They were attending to a problem in one of the flats on the other side of Averil's house. Nobody seemed to be in a panic so I figured it might be somebody with a finger stuck in a drain or something. Turned out that a rather large woman got stuck in her car after she drove home. She somehow buggered up her normal method of alighting from the vehicle and couldn't move. Averil said she was there for 2 hours before her husband noticed. He was inside the flat. But I doubt it. If she'd been stuck that long she would have sounded the horn. Anyway, all those emergency vehicles seemed like a bit of overkill. Hehe. But at least it entertained the neighbors for a while... and gave Averil a bit of juicy goss.
Still feeling a bit queasy so I'll skip dinner again tonight. I had a piece of toast this morning and half a banana a while ago so I'm not starving. Probably got some bug or other that'll go away in good time. Gary
November 9, 2011. Not the best of days yesterday. Too much buggerizing around and TOO BLOODY HOT. Actually, I felt a bit nauseous last night and skipped dinner. TX Greg wrote: Sounds like maybe the Ute is equipped with a alarm system. Tho the horn should have been blowing too with the hazard lights. Did it come with the owners manual? That's not the factory steering wheel have you checked to see if the horn blows? Close... it's not an alarm but an engine immobilizer. The horn works. And yep, it came with an owner's manual... parts of which I've read. Anyway, I figured out what caused the problem with the remote. Rough treatment can cause the battery to become dislodged and lose proper contact. It's a matter of keeping a mini Philips screwdriver in the glove box to access the battery if/when it happens again.
I must say, having air conditioning in The Ute is pretty cool... in more ways than one... especially on hot days like yesterday. It's not even summer yet!
NC Art explained the Power/Economy modes: Choose POWER when towing, lugging up steep terrain, etc. ECONOMY does fine and saves petrol for ordinary terrain and cruising. The significant difference is that power option holds the transmission in a lower gear while rpm will be higher; with a consequent increase in fuel consumption. I've got it figured out now. It's an electronically controlled auto transmission. There are two other switches nearby which confused me but they were used for driving lights and some other thing that's no longer fitted. If I select Power, it lights up on the instrument panel.
In other matters, Michael Jackson's doctor was found guilty of involuntary manslaughter and hauled to jail to await sentencing. No more $150,000 per month fees for the over helpful physician! As I said to Oregon Richie this morning, anyone who pays his doc $150,000 a month ain't looking for advice, he's more interested in advising the doc! Go figure. If the doc's guilty of anything it's allowing himself to be bought. Meanwhile, Jackson wanted to be remembered as the "greatest entertainer in the world". See where excessive ambition gets you?
Anyway, just when I think I've kicked a goal and got myself a decent set of wheels, along comes a Ute I could have bought if I'd known about it. This old girl is just oozing with character. No power steering or a/c though.
Roite. Time to whizz up to the windscreen place. The bloke quoted me $230 to replace it which is pretty cheap. But it depends on what he finds when he removes the cracked one. If there's any rust it'll be an overnighter.
Beeb time: Italian Prime Minister Silvio Berlusconi confirms he intends to step down after key austerity measures are passed. I suppose some people are driven to succeed no matter what... to go down in history as a great achiever rather than as a failure. In its toughest report yet on Iran, the UN's nuclear watchdog says it is conducting research that can only be aimed at developing the capacity to make nuclear weapons. Allah told them to do it in order to defeat the infidels. US Republican candidate Herman Cain strongly denies allegations of sexual misconduct and vows to continue in the race for the White House. It's a bloody circus. J the lawyer commented on Justin's blog that 4 women so far have lodged allegations of sexual misconduct against Cain, which means innocent or guilty, Cain is finished. Russia is to launch an audacious bid to scoop up rock and dust samples from the Martian moon Phobos and bring them back to Earth. The race is on again. A Red Arrows pilot has died after being ejected from an aircraft at the aerobatic team's base in Lincolnshire. The RAF confirmed the pilot was ejected from a Hawk T1 jet while it was on the ground at RAF Scampton. The Military Aviation Authority is carrying out an independent inquiry to determine the cause of the incident. Oh dear... what a tragic way for a skilled aerobatic pilot to lose his life. An asteroid that is 400m (1,300ft) wide will pass by the Earth on Tuesday, closer to it even than the Moon. It poses no danger to the Earth and it will be invisible to the naked eye. Asteroid 2005 YU55's closest approach, at a distance of 325,000km (202,000mi), will be at 23:28 GMT. It is the closest the asteroid has been in 200 years. It is also the largest space rock fly-by the Earth has seen since 1976; the next visit by such a large asteroid will be in 2028. Creationists who reject the Big Bang theory must believe that God sent all those rocks flying around in space just for a bit of fun. Muhammad Ali has led tributes from around the world for former heavyweight boxing champion Joe Frazier, who has died aged 67 from liver cancer. "The world has lost a great champion," said 69-year-old Ali, who fought Frazier three times. "I will always remember Joe with respect and admiration. My sympathy goes out to his family and loved ones." From one legend to another. I like what Joe Bugner said about Frazier: "Joe Frazier was relentless. Here was a man about 5ft 10in, he weighed about a stone lighter than myself, but he was so courageous and ferocious. You literally had to hit him with a sledgehammer to put him away." The US government has formally denied that it has any knowledge of contact with extraterrestrial life. The announcement came as a response to submissions to the We The People website, which promises to address any petition that gains 5,000 signatories. Two petitions called for disclosure of government information on ETs and an acknowledgement of any contact. The White House responded that there was "no evidence that any life exists outside our planet". I for one would be very surprised if there were. Pressure is building on one of the most famous figures in American sport to quit amid a child abuse scandal around a long-serving assistant coach. Penn State head football coach Joe Paterno is under fire for not reporting the allegations of abuse to police. Former assistant football coach Jerry Sandusky was arrested at the weekend for allegedly abusing eight boys over 15 years. We now cross live to our American correspondent NC Art for this report: Apparently it was all hushed up until the boys [now men] started blabbing. A janitor reported that he saw the coach giving oral "pleasure" to a ten year old, reported it but no one investigated apparently. Guess the law needs to lower the age of consent and conform to reality? Kids know a lot more than we did so many years ago!
Here we go again: ANOTHER Afghan soldier has opened fire on Aussie troops, injuring three in the second such incident in 10 days. The Afghan National Army soldier opened fire on the Australians at a base in Oruzgan province with an automatic weapon and grenade launcher.
The Ute will be back tomorrow morning. No problem with rust when the windscreen was removed. The bloke said "it looks pretty good, actually." But he found what he described as a plate that holds the windscreen wiper motor in place and said it had been replaced at some stage but hadn't been tightened up properly. So that was a bonus... the elimination of a rattle.
And that's it for another day. I'm still feeling a bit queasy so I think I'll skip dinner again tonight. Still have to cook for the zoo though. I hope you enjoy the old Dodge Buckboard! Gary
November 8, 2011. One of those days. Stan the Lawn Man decided to "inspect" the Ute - poked and prodded, started the engine, buggerized around with this and that, and whaddaya know... the remote locking thingy did something weird and the hazard lights wouldn't stop flashing. The Ford dealer reckons the batteries in the remote need replacing, and the roadside service bloke reckons the same thing. I managed to stop the hazards after I took the remotes apart and checked the battery contacts, which looked a bit iffy. But it was a pain in the butt that took most of the morning to sort out. And now it's as hot as hell and I have to so some shopping and run a few errands for Averil.
It's now almost 6pm and the day's gone. The Ute is running okay and I think I've sorted out the remote locking thing. Tomorrow, she's booked in for a new windscreen. Gary
November 7, 2011. TX Greg wrote: That's a pretty sharp looking Ute :) I couldn't believe my eyes it's got RV trailer wheels on it. Seen hundreds of those before..... You know with that topper already on there for storage and the fact it has a trailer hitch already, as bad as I hate to say it perhaps a tent camper would be a better way to go. Would rather see you consider a small caravan instead. Thanks very much. I finally got my head sorted and Greg starts buggerizing around with alternatives. He also suggested I call it Fossil's Ute... or FU for short. Cheeky bugger. BTW, those wheels are called Sunraysia in Oz. You see them a lot on trailers, 4WDs and that kinda thing. Not as flash as mags but not a bad look. Sunraysia was a brand that went bust but the style was adopted by other manufacturers such as Mullins. The ones fitted to The Ute are Speedy.
If I did decide on a wind-up camper trailer it would certainly give me plenty of carrying capacity... the Ute tray can take a heap of stuff. Anyway, we'll see what happens. The way I've been going over the past few years, anything could happen.
Getting used to the power of the Ute ain't easy. I've been trying to take off at the lights nice and smoothly but the damn thing gives me a belt in the back and rockets away hehe. It thinks it's in a race or something. There a P/E switch under the dash for Power or Economy mode, and I'm not sure which one I've selected. Trial and error, I suppose. I'll figure it out eventually. There's no way I'll ever use all that power, or go anywhere near as fast as it's capable of going. I'll leave that to the hoons. Could be handy for overtaking, though.
Just phoned the windscreen place. The poor bloke's missus has cancer and he's in a bit of a muddle at the mo. He's gonna phone me back to organize a day this week. He said not to worry about a cab... he'll drive me back home while the job's being done, and pick me up again later. Then I think I'll have the front tires replaced (rear ones can come later). After that, I'll get the valve stem seals done and a registration check. In the interim, I'll sell Bluey and hope I can get a couple of grand. There's not a big market for those things. If whatever I get pays for the Ute repairs, rego and insurance, I'll be a happy camper. Then I can go back to saving my bikkies for a slide-on.
Beeb time: Greek leaders at crisis talks in Athens agree to form a coalition government, with a new prime minister replacing beleaguered George Papandreou. I hope this is not just rearranging the deck chairs. At least 19 people die in continuing violence in Syria, activists say, as the Arab League announces plans to meet again to discuss the crisis. Methinks it'll take a lot more than discussion to resolve this mess. Nicaraguans are voting to elect a president, with incumbent Daniel Ortega seen as a favourite to secure another term in office. I don't think Anyel will pay much attention to that. He's only 3. Lady Gaga dominates the MTV Europe Music Awards, collecting four prizes including best song, best video, and best female artist. I keep hearing a lot about her but I ain't seen her perform. I don't even know what she looks like! Police probing the M5 crash which killed seven people (and injured 51) have said a firework display next to the road is the "major line of inquiry". Avon and Somerset Police Assistant Chief Constable Anthony Bangham said his focus was the Friday night event. He said "a bank of smoke" had been across the M5 at the time of the crash. Mr Bangham said people who attended the fireworks display, which was staged by Taunton Rugby Club, would be interviewed by officers. "Our main line of inquiry has now moved towards the event that was on the side of the carriageway," he said. Hmmm. Not the brightest of ideas. They said the smoke was like a thick fog and very difficult to drive through. Geoffrey Mutai of Kenya has won the New York City Marathon in a course record time. Mutai finished in an unofficial time of two hours, five minutes, six seconds, lopping more than two minutes off the old time. The 30-year-old has established himself as the favourite at next summer's Olympics with this second landmark performance of the year. Skinny as a rake, black and 30. Speaking of racing... The US city of Portland in Oregon is home to a unique weekly cycling event known as zoobombing. It attracts an eclectic crowd of cycling enthusiasts who like nothing more than hurtling down a steep hill at high speed, on souped up children's bikes, late at night. Click here for the video. American singer Andy Williams says he has been diagnosed with cancer of the bladder. Williams, 83, broke the news to fans at his Moon River Theater in Branson, Missouri, on Saturday night. But the singer, famed for songs such as Can't Take My Eyes Off You and Moon River, vowed he would return next year to celebrate 75 years in showbusiness. I didn't realize the old crooner was still around. Bladder cancer is what killed my young bro. He was 61.
Well, the semi trailer arrived to take Das Busse away. The driver parked on the other side of the road and had to drive DB around the roundabout. I told him it was unregistered. "No worries, mate. I've done worse." Hehe. He couldn't get the bus into reverse so I had to show him how. Sheesh. Then I watched him load it on to the top deck. Whoa! I'm glad it was him and not me. He drove DB about half way up the steep ramp, chained the wheels, and then used a remote to raise it to the correct height. He said his truck is getting a bit long in the tooth... I forget what he said but I think it was something like 6 times around the clock, which would be about 6 million kms. "But the air conditioning still works pretty good." I gather he's an owner/driver. Yes, it's another hot day in Taree.
The semi was parked almost a block away so I used the Sony zoom to take a pic. Looks a bit precarious to me but I guess the bloke knows what he's doing. Sheridan, by the way, are manufacturers of bed linen and bedding.
So there ya go... the end of another chapter, and the beginning of a new one.
I was listening to the radio in the bathroom earlier and heard this bloke talking about Yoga. He's 83 and can do the splits. He says Yoga has also improved his golf swing. He's a retired psychiatrist, and says Yoga is not only good for the body but also for the mind. He's written a free internet book which you can check out on his website, as well as his story. Sue's mother is a Yoga teacher and has been for years, and she's almost 90. Check it out.
And something else I discovered earlier today... a vid on Youchewb of Hanson. Remember them? They were the new teen heartthrobs that conquered the world with Mmmm Bop, hehe. And I'm not saying another word... except that it was 14 years ago! How time flies! And how temporary is youth! It's scary.
So here we are again... din dins time. The Ute is in the garage, Bluey is in the other one, and things are more or less back to normal - ish. Gary
November 6, 2011. Jeez, it's a BIG donk under the ute's bonnet/hood. I'm used to looking at 2-ish liters, not 4. Even TT's was only 3.3. But on closer inspection, it all seems pretty good. The engine's fairly clean and there are no oil leaks. Hoses and wiring seem fine. Front tires will probably need to be replaced before long. They're 215 x 15... a bit less than an inch wider than standard. What's the bet the spare is a standard rim? It's tucked away in a lockable compartment under the rear tray.
I figure I'll end up calling it The Ute. It's simple and straight forward. I thought about Brute for a while but... well, it's a bit over the top. Beaut Ute? You Beaut Ute? Nah... Actually, ute is short for utility (vehicle) and there's no way I'm gonna call it utility. Hehe. And ute sounds better than pickup... that's too reminiscent of a one night stand.
A while back Ohio Jace wrote about Westboro Baptists picketing a US soldier's funeral, but I didn't understand why: I meant the Westboro roaches were coming here to picket the funeral of the seabee killed in Afghanistan. It was reported on Westboro's twitter they were coming Tuesday when the body was returned, but no one showed up, and reported a second time that they would picket the funeral itself. I was there and did not see anyone. That doesn't mean they were not somewhere else along the route. This is redneck country and something might (probably) would have happened had they tried to picket. Westboro loves a confrontation and sue at the slightest hint of one. And they usually win. They are anti most things, but especially Jews and homosexual and since American soldiers fight for the rights of both they are considered... (fill in the blank). Two of the three Columbus TV stations were here both days showing a bit of the proceedings on the news. Although they do not give Westboro the time of day unless they cause a disturbance, which they have done in Columbus.
It's a dilemma. People who live in a democracy have a right to demonstrate. To take that right away from one group would constitute discrimination. So I guess it's something up with which we must put (to quote Churchill), whether we like it or not. The irony is, if people like the Westboro Baptists had their way, we wouldn't have a democracy.
And if you wanna know what a 'seabee' is (as I didn't) do a Wikipedia.
Let's do a Beeb before I whizz out and take a bunch of pics of The Ute: Dozens of people are killed in bomb attacks on police and churches in Nigeria's north-eastern town of Damaturu - Islamist group Boko Haram's deadliest raid to date. This is totally ludicrous. You can't check the news without reading about this kinda crap happening somewhere or other in the world. Human beings are NUTZ! At least three people have been killed by Syrian security forces in the city of Homs, anti-government activists in Syria say. See what I mean? Actually, I watched an item on last night's news that said the Syrian PM is a pretty mild-mannered person and that it's his brothers that are causing all the trouble. A Pakistan court charges two policemen and five suspected Taliban militants over the 2007 killing of former PM Benazir Bhutto. There we go again... dickheads who think if you dispose of someone by murdering them it'll solve the problem. Seven people have been killed and 51 injured in a 34-vehicle pile-up on the M5 in Somerset, and police fear the death toll may rise. Makes the prang on the Harbor Bridge look a bit ordinary. A Canadian dentist has bought one of John Lennon's teeth for £19,500 at an auction in Stockport. Alberta-based Michael Zuk bid by phone to secure the molar given by the former Beatle to his house keeper Dot Jarlett, who worked for him in the 1960s. No thanks. How bizarre!
Back from my little photo shoot of The Ute across the river where the jacarandas bloom. I left it a bit late to catch the jacrandas in their full spring glory but they're not bad. Click here for the album. Just after I parked it in the yard, I walked back to the front veranda and turned around to see an identical one drive past. What??? Somebody stole it already??? But no. Hehe. That would have really pissed me off! Meanwhile, that bloke who said 'Gary's got a million ideas but none of them work' forgot one thing. I'm not up to a million yet.
30 C right now in Taree... shirtless and shoeless weather. Showers are predicted for tomorrow which will be fun. The semi trailer is due at about midday to collect Das Busse. Then the driveway will be free and The Ute will have access to TT's old garage.
I saw a pic on Red Bubble this morning and commented that at first I thought it was a German soldier in disguise. The photographer thought it was funny. Yeah... well I'm good for a funny line now and again.
Well, home made burgers and salad tonight. And then I'll look forward to a good night's sleep. Dunno why I'm so tired but I am. Gary
November 5, 2011. TX Greg wrote (and sent the pic below): Are you sure the suspension on this Ute is capable of handling a slide on camper??? It's going to drive totally different once loaded with that higher center of gravity and weight.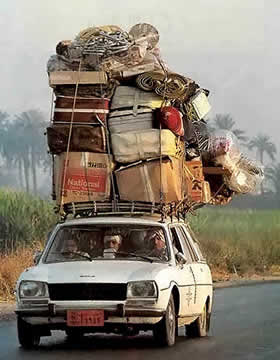 No worries. There are lots of utes fitted with slireminisde-ons getting around Oz. Sure, it'll handle a bit differently but most of the weight in the slide-on is kept down low in the tray or just above the side walls. Everything above that is just shell. That extra weight over the driving wheels will also improve traction on dirt roads. Anyway, it can't be much different to driving a campervan or motorhome. Utes are made pretty tough to handle farm or tradesman work. This one was named the Longreach to give it a rugged image. Longreach is an outback town in Queensland famous for the location of Australia's Stockman's Hall of Fame and the home of Qantas (Queensland and Northern Territory Air Service).
Oregon Richie asked if the Falcon is fitted with a V6. Nope, a straight six. The newer Falcons use a V6 (or V8) but my model goes back to 93-99 when they had an in-line donk. No shortage of horses though... about 200 (148 kilowatts). Taxi drivers swore by the old six, and said they were almost indestructible. The model before mine had pretty much the same shape but with twin rectangular headlights which I thought looked a bit lamo. I think the quads look pretty flash. Jeez, fancy an old bloke driving a flash Falcon with a sports steering wheel. Hehe. Maybe I should get a face-lift and wear a baseball cap back to front.
Beeb time: Greek PM George Papandreou wins a crucial confidence vote in parliament, promising to hold talks on a national unity government. Sounds to me like a pretty wily and tenacious politician. Syrian military forces resume attacks in the city of Homs, as fresh anti-government protests take place around the country. It's a case of Syria's leadership trying to forestall the inevitable. Lions and bears charged at Ohio policemen arriving at a private game park where their owner had set them free, a police report says. The report reveals just how close some animals came to the policemen and defends their decision to kill them. Police say they were defending the public from aggressive animals - including tigers, wolves and monkeys. They killed 48 wild animals after their owner, Terry Thompson, 62, opened their cages before shooting himself dead. No shortage of excitement in Ohio!
Nothing on the Beeb about a serious accident on the Harbor Bridge in Sydney yesterday which caused traffic chaos in the CBD. Apparently a car strayed into the oncoming lane and collided head on with a tanker. I've crossed that bridge a million times and always avoided the outside lane adjacent to the oncoming lane. Head ons are rare on the bridge but they do happen, often caused by head-swivelers who wanna check out the scenery.
Andrew arrived at about midday and we did all the paperwork, etc. Had a bit of a chat and a giggle, and now AWA48G is parked in the driveway. What does AWA stand for? I haven't figured it out yet. It's been an Aussie brand name since the early 20th century... Amalgamated Wireless Australasia, famous for its radio and television appliances. There's an AWA radio/cassette sitting on the fridge in the kitchen. Oh, and by the way, Andrew said he checked the ute's carrying capacity and it's licensed to carry a ton. Tare weight is 1435kg and Gross Vehicle Mass is 2300. No worries about a slide-on.
So there ya go. Instead of going straight from Tough Titties to the Falcon I've taken the scenic route. Bluey seemed like a good idea at the time but it took a couple of years to figure out it was a dud. Then Das Busse was another experiment that backfired. Oh well... Meanwhile, I've got a cover note on the Falcon in case of theft or accident until I sell Bluey and transfer the insurance.
Tomorrow I'll take a few pics and post them but for now it's THAT time again. By the way, Marty the sculptor is working on the clay model of Cody and it's looking pretty good so far. Gary
November 4, 2011. The owner of the Falcon ute is due here sometime today. It'll be interesting to see what kinda deal he's willing to make since it needs two repairs right away - valve guide seals and a windscreen - and registration renewal is due at the end of next month. If he's willing to settle for about two grand I reckon that'll be okay. Meanwhile, I did a Google. Specifications of Falcon XG ute.
TX Greg wrote to say November 3, 2011 seems like yesterday. Yes it does. I remember the morning I opened the email from Cody's neighbor John telling me about the accident and Cody dying on the operating table. I was sitting right here at my computer desk. Billy Connolly was interviewed one time and asked a question about the passage of time. "Twenty years in the future seems like a long time but 20 years ago seems like last Wednesday."
Well, Andrew arrived with the Falcon ute and I had a good look. I also took a test drive around the block. It drives well. It has an XR6 front but it was manufactured in June 1993 before the XR6 was introduced in October, so I think it has the previous engine which is not quite as powerful. Paintwork is a bit shabby and needs a cut and polish but that can wait. AND NO, I'M NOT DOING IT MYSELF! Anyway, I asked him what his price was given the jobs that need to be done and he said, "Two thousand." "Done! It's a deal." So I'm pretty happy with that. It brings the total to about three grand but it's still pretty good value. The tail gate has a ding on the inside caused by something heavy sliding backwards on the tray but it still locks okay... and can be replaced at some stage for a few hundred. The interior of the tray is in good condition... rust proofed, lined and painted. Upholstery is in pretty good nick... a bit of wear elsewhere which is to be expected of a car that age. Overall, not bad. CD player, a/c, power windows, power steering, sports steering wheel (sheesh!), 4-speed auto, Sunraysia wheels, wider tires, yadda, yadda. So there ya go, I got me a new set of skates. I'll get the cash from the bank today and Andrew will deliver the car tomorrow.
Beeb time: Greece's centre-right opposition calls for PM George Papandreou to resign, throwing hopes for a unity government into doubt, ahead of a confidence vote. Is that what they call a Greek Tragedy? The case against the doctor charged with the death of the pop star Michael Jackson goes to the jury, following closing statements. Stay chewned. Dozens of Chinese miners are trapped in a pit in Henan province after a "rock burst", officials say, in the latest disaster to hit the industry. Don't quote me but I think most of the coal mines in Oz are open cut. Six men locked away in steel tubes for a year-and-a-half to simulate a mission to Mars are set to end their experiment. God, strike me pink, you wouldn't wanna be claustrophobic. Qantas has confirmed its flight from Singapore to London has landed safely in Dubai after an engine was shut down. The flight was QF31 and had 258 passengers on board, with four pilots and 21 cabin crew, Qantas said. The plane is an Airbus A380 superjumbo and engine number four suffered "an engine oil defect", a spokeswoman said. Right, well if anything goes wrong with the Falcon's engine I'll be at an altitude of 1 foot, not 32,000. The Irish Republic has decided to close its embassies to the Vatican and two other nations on cost-saving grounds. It said the closure of the missions in Vatican City and also in Iran and East Timor would save about 1.25m euros (£1.1m; $1.7m) a year. Saving the pennies. Actually, it's about time we had an Irish Pope. That's what the Papacy needs... someone with a sense of humor. A motorcyclist who filmed himself speeding at 150mph and put the footage on the internet has been sentenced to 51 weeks jail, suspended for two years. At Aylesbury Crown Court, Robert Mark Owens, 48, of Whaddon Way, Bletchley, Milton Keynes, admitted dangerous driving and was banned for five years. He used a helmet-mounted camera to record himself on four occasions in April 2011. Some of the footage was uploaded on to the social networking site YouTube. No, it wasn't Oregon Richie. Check out the video here.
Well, I'm still in a bit of a spin about buying another car a minute after selling Das Busse. It's all happened so quickly! It also seems strange having my butt so low to the ground after sitting up high in Bluey. Averil was peering through the screen door watching everything that was happening. Andrew parked the car outside her house. Hehe. I knew she'd be taking notes. The old girl doesn't miss a thing. Anyway, she phoned later to find out what happened and gave her approval. "It looked pretty good from here!"
Actually, it was rather reminiscent of buying TT back in 2002... an old car that needs a polish, a test drive around the block, smooth performance, and a decision to buy it. Done. Tomorrow I'll have the chance to take a better look at everything in detail. It all happened too quickly today to absorb everything. I don't even remember the CD player! Andrew fiddled with the a/c as I drove it around the block so I know that works. More observations tomorrow. Gary
November 3, 2011. Ten years ago today we lost Cody. But he lives on in our hearts and minds, and on his web site so that others have the chance to meet the one and only Codeman. Long live The Codeman.
That photo was taken 4 years before I met him... all sweet and innocent hehe. He could have been an altar boy. Yeah, right. Don't let those cutie-pie, rosy-cheeked looks fool you. He was a scallywag even then at age 11.
I'm still getting enquiries about Das Busse even though the van has been sold. However, viewers on eBay are not aware of that because the van was sold AFTER the auction, and not officially through eBay. But it seems everyone wants a bargain and when they miss out they get pissed off. Why didn't they make a decent bid in the first place instead of haggling with nickles and dimes?
Am I rushing in do you think? I just took at look at utes on Gumtree and there's one for sale at Old Bar for less than $3000. Needs a new windscreen but I got a quote for around $250. Rego is due in December but I get it free cos I'm a pensioner. The ute has a lockable canopy which is handy until I get a slide-on. Hmmm. Anyway, I emailed the bloke and am waiting for a reply. I might go and check it out. Never owned a Ford before.
A couple of Adventists or Witnesses knocked on my door a little while ago. Here we go again. "I'm a Catholic," I said before they got a chance to launch into their spiel. "Some bloke poured water all over my head and said 'you're a Catholic whether you like it or not!' So they said thank you very much and have a nice day, and left. Next!
Beeb time: The next 8bn euros of rescue loans will be withheld from Greece until after its referendum on the eurozone rescue plan, European leaders say. French President Nicolas Sarkozy said it could be held on 4 or 5 December. German Chancellor Angela Merkel said the vote was over whether Greece wanted to stay in the eurozone. Europe has never been united before so I guess it'll take a bit of getting used to. China's unmanned Shenzhou 8 craft joins up with the Tiangong-1 space laboratory - the country's first in-orbit docking. If I were an astronaut I think I'd go with the Chinese because I love their food. Hehe. The International Criminal Court's chief prosecutor says Muammar Gaddafi's son Saif al-Islam may be trying to flee Libya with help from mercenaries. The court has been trying to negotiate the surrender of the 39-year-old, who is wanted for war crimes. He says he's innocent. Yeah, right. The US has joined criticism of Israel's decision to accelerate settlement building in the West Bank and East Jerusalem after Palestinians joined UN cultural agency, Unesco. White House spokesman Jay Carney said the US was "deeply disappointed". Hitler wasn't quite so discreet. Wikileaks founder Julian Assange has failed in his appeal against extradition from the UK to Sweden over allegations of rape and sexual assault. Two judges at the High Court in London decided that a previous ruling in favour of extradition must be upheld. Swedish authorities want him to answer accusations of raping one woman and sexually molesting and coercing another in Stockholm last year. Hmmm. The thick plottens! Meanwhile, Herman Cain knows the feeling. Ghana's President John Atta Mills has rejected the UK's threat to cut aid if he refuses to legalise homosexuality. Mr Atta Mills said the UK could not impose its values on Ghana and he would never legalise homosexuality. Most Africans argue that homosexuality violates their religious and cultural beliefs. Yes, I believe even missionaries had to prove their heterosexuality before being boiled in a big pot with carrots and potatoes. Eating gays was a no-no. Dramatic amateur footage shows the moment when two large birds flew into the path of a man paragliding over the Himalayas. Russian Vladimir Tsarkov then had to keep a cool head as one became entangled in his cables, causing both bird and man to come crashing down to earth. Incredibly, both appear to have escaped the incident without major injury. How extraordinary. Then again, maybe not. It's probably a wonder it hasn't happened before. Check out the video here.
Well, the owner of the Falcon ute emailed me. Seems like the valve guide seals need to be replaced because the car blows a bit of smoke when first started in the morning. He said he's had a quote for $600 but I phoned a mechanic who reckons a proper job would cost $1200. However the owner said he's willing to drop the asking price accordingly... according to his quote, that is. I've asked him to call in next time he's in Taree. It's probably worth a look. If the body is in good nick, and the condition of the mechanicals is generally okay, I don't mind spending a few bob to fix things. Isn't this fun? At least it keeps me occupied.
Meanwhile, here's the owner's reply: I'm out and about in Taree tomorrow so will drop in so you can take a look. Body wise has no rust as it was a country car most of its life (Gunnedah i think ) and i live a distance from the beach .The previous owner has rust proofed all the likely spots and the tray has been repainted before i put the canopy on it . Will stop by tomorrow then. Well, that's good news... rust is a killer. So we'll see what happens tomorrow.
Yes, what happens tomorrow. Hehe. We never really know, do we. Life can be fulla surprises when we least expect it. Is that tautology? Dozen madder.
Ohio Jace wrote yesterday and mentioned the 10th anniversary of Cody's passing. He said it seems like only yesterday he was reading about Cody's shenanigans. Yes... a sad day but also a day when we can be thankful for having known him. He left one helluva legacy, and changed quite a few lives in the process... including Jace's.
Jace is also pissed off about WestBoro Baptist Church folks picketing the Ohio funeral of a fallen US soldier who served in Afghanistan. I'm not sure what the reason is though. I couldn't quite understand what Jace was saying about the situation. However I do know that the WestBoro people are demented. Funny innit? We can excuse people for being mentally or physically challenged but we can't excuse people for being nasty.
And now, ladies and genitals, it's THAT time again. Fish cakes and chips tonight. Nothing flash but edible. And as November 3 passes once again, let it be known that Cody will be in our minds and hearts for all of our tomorrows. Every day is a Cody day as far as I'm concerned. Furthermore, he's coming on the Odyssey with me whether he likes it or not. Gary
November 2, 2011. NC Art said horses don't bet on humans so they must be smarter than we are hehe. He said the last and final time he bet on a horse was in the Kentucky Derby. He lost. But at least I'll be able to tell the story of the time I bet on a horse with a whole bunch of 11s and it ran 11th. That's a pretty cool story, and it only cost me 6 bucks.
Meanwhile, I received an email this morning from Marty in Tennessee. He used to work as a sculptor at the US Mint in Philadelphia, but he's retired now. His hobby these days is making porcelain portraits, and he wants to make one for me - free. No, not OF me. No, no, no, no, no.... FOR me. Hehe. He wants to make one of... guess who? Cody. Marty visited Cody's World and was moved enough to want to make a portrait in Cody's honor, which is particularly relevant given that tomorrow is the 10th anniversary of Cody's death. So how's that for a surprise straight outta the blue? I sent Marty some pictures of Code that might be suitable for modeling. You can check out some of Marty's work here.
I know who I'd like to give the portrait to... the Ts. Maybe that will happen some day. By the way, Marty has a grandson who's 19.
The second highest bidder at yesterday's auction of Das Busse emailed last night to ask for my bank details in order to make a direct deposit into my account. Two grand. Then he'll figure out how to transport DB down to Victoria. So that's that. There was also another bidder who wanted to make an offer but Graeme got there first. I wonder if he knows how much those vehicle transport companies charge. They're bloody crooks.
So now I'm kinda toying with the idea of trading Bluey on a ute, and then keeping an eye out for a suitable slide-on camper with cab over. Too expensive to buy the combo all at once, soooo... If I own a ute, I'll still have transport, and when I find a camper I can afford I'll be able to drive there and collect it. Yeah? Slide-ons are not considered a separate vehicle so there's no extra registration as there is with a trailer or caravan. The question is, tub tray or flat tray. Flat trays sit above the rear wheels so the slide-on sits too high off the ground. I think I'll go for a tub tray.
Just thinking aloud here, folks. As Mark often said to Cody, you gotta have a plan.
Beeb time: Greek PM George Papandreou insists a referendum on a EU bailout will go ahead despite market turmoil and stunned reactions from other eurozone states. Yes, why settle for a major drama when you can have a catastrophe instead? Israel says it will speed up the construction of Jewish settlements, after the Palestinians won membership of the UN cultural organisation Unesco. Do you get the feeling those guys are never gonna settle their differences? Pakistan cricketers Salman Butt and Mohammad Asif are found guilty of their part in a betting scam in last year's Lord's Test match against England. So much for the "gentleman's" game. A Boeing 767 carrying 230 passengers has made an emergency landing at Warsaw airport after its landing gear failed. The plane, which was travelling from the US city of Newark, in New Jersey, landed on its belly without its wheels. It had circled above the Polish city for over an hour burning up fuel as the airport was prepared for the crash landing. The Polish airline Lot, which operated the flight, said all safety procedures had worked and that no-one was injured. "The plane landed safely on its belly on the runway which had been sprayed with special flame-retardant substances. All the passengers disembarked, no-one was injured," Leszek Chorzewski, a spokesman for Lot, told AFP news agency. Now there's a story they can tell their grandkids. Check out the video here. A large pair of silk bloomers that belonged to Queen Victoria have sold for more than three times their original estimate. The undergarment, auctioned alongside hundreds of other royal artefacts, sold for £9,735. Two pairs of silk stockings worn by Britain's longest serving monarch also went under the hammer in Edinburgh - one pair selling for more than £5,000. Good grief, Victoria must be turning in her grave at the thought of someone having her bloomers on display.
Lots of excitement here. A woman who wanted Das Busse waited until the last minute to take advantage of a second offer but failed to make it on time. Bloody good job she did because I'd already sold it to the bloke in Victoria (who transferred the money to my account this morning). Would have been a bit sticky with two buyers and only one van. DB will be collected by a transport company next Monday.
Oregon Richie wrote to say I haven't got November's Waffle organized yet. Hello? Here it is! Maybe he pressed the wrong button or something. Or maybe he got the previous page in his cache. When that happens, go to the main Waffle link page and click refresh.
Back from getting a few bread rolls from the bakery. On the way, I bumped into a neighbor and her friend. They were neighbors back in Holland as youngsters and they have 50 years to catch up on... no shortage of conversation. Anyway, the friend is on a backpacking tour of Oz, and she's 60 if she's a day... probably closer to 70. She stays in backpacker hostels and all that kinda thing. "Why not? The children are all grown up and now I can do what I like!" I'll bet she's got a million stories to tell but we didn't chat for very long. She's staying in Oz until next March. As to my plans to tour Oz she said, "Don't leave it too long!" Yeah, yeah, yeah. Sheesh.
Earlier I phoned Averil to tell her about the porcelain bloke and as soon as I mentioned Cody's 10th anniversary I went to pieces and became a blubbering mess. Dammit. Poor Averil didn't know what to say. It's okay if I'm typing here but as soon as I speak about it to someone that's it. I'm gone.
Salad tonight... on a plate for THEM and on a bread roll for me. It's been a warm day, probably late 20s C. So that's it for now, folks. Gary
November 1, 2011. The final month of spring before summer in Oz. And the final day of DB's auction. I'll know at about 2:30 this afternoon what the result is. It's also Melbourne Cup day, Australia's richest race, the day many people take the afternoon off to attend Melbourne Cup parties in pubs, clubs and restaurants. Even non-punters usually have a flutter on the cup, even in sweeps where your horse is drawn out of a hat.
I just made my little bet over the internet... #11 Precedence, trained by Bart Cummings and ridden by Darren Beadman. It's currently about 20/1 in the market and I've had $6 each way (win and/or place). Big better. Bart is 83 (8+3=11) now and still a brilliant trainer (some say better than ever), and Darren is a first class jockey. I saw Bart interviewed on telly last night... man of few words... but he's a living legend in Oz. The current favorite in the race is Americain, a French horse. Anyway, I've got horse 11 from barrier 2 running on 11/1/11 trained by a bloke whose age equals 11. If I'd been consistent I'd have bet $11 hehe.
Time for a giggle from the Two Ronnies... a great sketch.
SF Bill wrote to say Aussie Odyssey being a free site doesn't help with my "addiction to old vehicles". Hehe. Well, I wouldn't call it an addiction. New vehicles aren't bloody cheap enough! So I'm stuck with oldies. I've owned 4 new cars and I agree, it's a lot less hassle than fixing clunkers. Bill drives a Nissan 350Z he bought new in 2008. ...it will most likely be the last new car I'll buy since I'm 70 now. Bill goes on to say: Anyway, I hope you can recover your money and move on to a different vehicle for your future travels. Please, be more careful and selective on your next choice as I'd like you to be able to start odyssey soon.
Yes, I've rushed in (like fools do) too many times, and it's about time I showed more restraint and better judgement. For example, I've decided not to become anxious about the campervan at Old Bar. I'll check it out on Saturday and if I get it I get it, if I don't I don't. Have you seen those people who queue up before the doors open at a department store's post Christmas sale, and then rush in desperate to grab what they can before anyone else? Hehe. That's what I've been like. Gotta get that van before someone else does! In the case of both Bluey and Das Busse I wish someone else had beaten me to it.
Meanwhile, TX Greg has been singing my praises in an attempt to attract sponsorship to AO. But he's been met with the usual "thank you but no thanks" response. Yep, been there, done that. It's not enough to be a "lovely man" with a dream. I've gotta get out there and DO what I say I'm gonna do before there's any hope of attracting sponsorship.
NC Art responded to my mention yesterday of his expertise in relation to apples and serpents: I was there, so here's the story: Even mistook Adam's extra appendage for a mischievous snake. That apple was a figure of speech; the fruit was a cherry! Let's get this creation crap right.
Art also added another bit to his story about the luxurious motorhome parked outside his bro in law's house for his 40th birthday. I asked bro-in-law John who the bloke with the motor home was. John said right sourly, "He's my plumber." Sounds like the plumber I use.
I had thoughts along those lines when I last visited the ear nose and throat specialist who checked the lesion on my lower jaw. I wondered who the hell would wanna specialize in staring up people's hooters or in their earholes or go poking around in their mouths. But I'll bet she's not short of a quid.
Beeb time: Greece will hold a referendum on a new European Union aid package intended to resolve the country's debt crisis, Prime Minister George Papandreou says. Mr Papandreou said a vote of no-confidence would also be held on the deal. The package envisages losses of up to 50% for private holders of Greek debt and a new 100bn-euro loan (£86:$140bn). There have been large-scale protests in Greece against the austerity measures introduced by the government. I remember my next door neighbor in Glebe years ago virtually living on cereal to pay off her mortgage quicker. I'll bet she's dining on caviar now. China's unmanned Shenzhou 8 craft launches on a mission to try to rendezvous and dock with the country's Tiangong-1 space laboratory. Shades of the old space race days between the US and the USSR. The United Nations Security council expresses concern over the fate of the massive weapons stockpile built up in Libya under Col Gaddafi. "Concern" is putting it mildly. US authorities say they have broken up a massive drug-smuggling network run by a Mexican cartel in Arizona. A total of 76 suspects have been arrested and huge quantities of drugs and arms seized in a series of raids. The ring used backpackers and vehicles to smuggle marijuana, cocaine and heroin across Arizona's western desert. The network was linked to Mexico's Sinaloa cartel and generated an estimated $2 billion in profit over the last five years, officials said. People who use illicit drugs are DUMB. It surprises me that the BBC didn't report the killing of three Aussie soldiers by an Afghan soldier. Read the report here.
That's the second time a rogue Afghan soldier has killed Aussies. They're supposed to be working together as allies to defeat a common enemy, the Taliban. I suspect this latest murder will make cooperation between Aussie troops and Afghans untenable.
Well, the auction ended and no bidder matched the reserve of $2000. The best was $1670. Oh dear... buying DB was not one of my smartest moves. Anyway, that puts paid to any thoughts of buying the camper at Old Bar. I guess it's back to saving my pennies and waiting for another day. At least the government keeps giving me money every fortnight, so that's something.
I watched the Melbourne Cup on telly. Precedence was up there running second at one stage and gave me a bit of a thrill but alas, the race wasn't short enough (3200 meters). Precedence was swamped over the final 300 meters. The Cup was eventually won in the narrowest of photo-finish margins (barely a wart) by French horse Dunaden ridden by a French jockey who flew in only yesterday after the scheduled jockey was unable to take the mount. I think the horse that ran second was also French - Red Cadeaux. Third was another international horse Lucas Crenache, so the Aussies got trounced. Remember all those 11s I was talking about? Guess where Precedence ran. Yep, 11th. Can you believe that?
One of the auction bidders just emailed me offering to match the reserve of $2000. So there ya go. And now, dear Breth, it's back to kitchen duties. Isn't life exciting? Gary
← Older posts Waffle Index Newer posts →
or
Return to Home Page