| | |
| --- | --- |
| the WAFFLE page | |
July 31, 2012. Here we go, another month relegated to history. Another page turned as the story unfolds. I checked the cPanel Webalizer figures for Codys World this morning. He's averaged about 150 visits a day this month, and almost 4,500 in total for July. That includes robots, of course, but the site is still healthy. MrB is about 200/5,500. Aussie Odyssey surprised me... 408/12,250.

How To Stand Out in a Crowd.
I figured I'd better take that little bloke's pic before Stan the Lawn Man arrives.
This time tomorrow I'll be in a Port Macquarie hospital bed either stomach tubeless or about to be. Good thing the ute's got a heater because I have to leave early, and the mornings are chilly. Then I'll stay overnight at the lodge before returning early Thursday. So, apart from the dentist, that will be it until mid November when I travel to Sydney again to see the head/neck specialist and photograph this baby. Been quite a year, yeah?
TX Greg wrote: Just a quick note wishing you a safe trip to get the stomach tube out. I know how happy you will be to get rid of that :) Wow, I'm tearing up a little here. You've come a long way to beat this thing and you know what? You're getting one step closer to starting the Odyssey :)
Greg wrote in the subject line, Tube be Gone! At first I thought he meant Youtube hehe, and I thought NO! You can't delete my vids! Not after all that trouble! Anyway, thanks Greg. Yep, this is one year I never wanna repeat. Just before they yank it out tomorrow I'll look down and say, "Just make sure you got the right bloody one!"
All morning I've been hanging out for a piece of toast with lots of butter and spreadable cheddar cheese, so I relented. Only got through one finger (which is all I spread) but it was worth it hehe. I could have had more but one'll do for now. At least I got the taste. One small step, etc.
I don't intend to shoot any footage in Port Macquarie but I'll take two cameras anyway. Ya never know what might happen. I won't get a chance tomorrow anyway cos I'll be fulla anaesthetic (wheeeeeee!), and Thursday morning will more than likely be too bloody cold. Meanwhile, I checked the ute's oil... still full after about 2000 kms and more importantly, clean.
And what's for dinner tomorrow night at the lodge? In my backpack, there are 2 cans of my supa dupa, high nutrition food that I drink from a glass instead of using the tube (and have for a few months), together with a bowl of La Zuppa microwavable creamy chicken, asparagus and herbs soup. That should do the trick, provided the hole in my stomach closes hehe, and I don't even wanna think about what might happen if it doesn't. In the meantime, I have to fast from tonight until an hour or two after the op. :o(
While at the supermarket, I also bought a few other things including a sprinkle pack of Curash powder, some of which I've already sprinkled into my slippers to annoy the bacteria in there that have taken a liking to the skin between my toes. Nasty little critters. How dare they!
Just had a brainwave. I checked my dresser drawers for my old hot water bottle which I'd almost forgotten about. Then I filled it with hot water and placed it against the backrest of my typists chair like a cushion. Mmmm! Nice and warm! I'll have to do this more often. Certainly cheaper than using a heater. It'll get another run on the easy chair later when I'm watching TV. And again tonight in bed to warm the tootsies.
Let's check the latest medal tally at the London Olympics (gold/total): China 9/17, US 5/17, France 3/7, Korea 3/4. Australia is running 10th with 1/4. The UK still hasn't won gold yet, and ranks 20th. You probably saw/heard/read on the news the fiasco about vacant seats. The people who queued for hours and paid a fortune for theirs are furious. One bloke dressed up in a Union Jack suit paid 3,000 pounds for tickets to the opening and closing ceremonies plus some other event/s. I think he said it drained his bank account. You could buy a pretty flash telly for 3000 quid, mate. Not to mention a flat bed ute. Safrica has won 1 gold, I see.
Speaking of Africa, I watched Australian Story again last night. It was about an Australian couple that adopted two Ethiopian kids, a girl about 1 year old and her brother of 4. That was back in 2002 so the kids are now teens, and what good looking kids they are. The boy, who is particularly handsome, was watching video of the family shot several years ago and remarked that he could recognize himself but couldn't quite relate to the person he was seeing. I remember my nephew saying the same thing after watching a home movie showing him playing soccer in the backyard as a kid. I also look at old photos of myself and feel the same way. I know it's me, but I'm not the same "me". I suspect it proves that we change as individuals as we get older and become a different person... however slightly. Relatives and friends who see us on a daily basis probably don't notice any change all that much, but if there's a gap of several years the difference can be quite significant. So it's all about the here and now. I am what I am now, not what I was.
Heater's on! Gonna be a chilly one tonight. Lemme check the forecast. Possible shower tomorrow, 6C overnight. But temps are looking reasonable for the rest of the week with highs around 19 or 20. That's better than London's summer!
Depending on how wobbly I am after the op tomorrow, I may be able to Waffle. Not sure. But I'll have the Acer with me. So that's it! Time to check out the telly and what's on the menu for din dins. And set the alarm. Don't wanna be late. Gary
July 30, 2012. Seems I made sense to TX Greg: Now I get it. We call that type of A/C unit a heat pump. They do ok for heating in outside temps down to 40-50F, but any lower and you really need to have a furnace. That's probably why youre saying it's taking so long to heat up the house. They just don't work as good as a gas furnace.
Yep, 'heat pump' is used here as well, but the most common term is reverse cycle. As to heating up the house, I don't use the a/c during the day... not even in summer unless it's insufferably hot. Too expensive. If I owned a house, I think I'd go for a heater like Richie has... an enclosed fireplace with a glass door. When I was a teen, my mate's folks had a big old fuel stove in the kitchen which was where we all gathered and played cards around the kitchen table. It was by far the warmest room in the house. At my place, we had a 'Wonderheat', which was enclosed. It sat in an old fireplace and drew cold air from underneath the house by convection. The cold air was heated by passing over the firebox and flowed out through a vent at the top. It was so damned effective, you couldn't stand too close to the thing to warm your hands. The camper has an air conditioner but it runs on 240V so I won't be using that unless I'm connected to town power.
Open fireplaces are the most romantic and visually attractive, and I've lived in houses with big open fireplaces. But they chew up fuel like it's going out of style.
I watched Australian Story last night on telly about an Aussie country singer who went to Iraq some years ago to entertain troops, both Aussies and Americans. Later, she received a letter from a fan who was anti war. He said he'd ripped her poster from his bedroom wall because of her visit to Iraq. She was so upset - angry and saddened at the same time - she used that energy to write a song. It became a hit both in Oz and the US. She still gets mail from vets in the States thanking her for writing that song... and even from widows of US soldiers who died serving their country. Even the Pentagon wrote an official letter to thank her.
About a dozen years ago, she married a man and bore his child. But there was something missing from the marriage. She couldn't figure out what it was. Her husband was a great guy and they got along really well. But just after the baby was born, they divorced. Shortly thereafter, she realized she was gay. At first, she was reluctant to come out to her fans. She thought they might reject her. But eventually she relented, and now she's accepted for who she is. Her son, by the way, thinks his mom rocks.
Her name is Beccy Cole, and this is the song she wrote for the man who took her poster from his wall.
Just spoke to my ISP techie about a prob with some of NC Art's mail being rejected. Rather than talk me through the thing, he got me to download a small program called Teamviewer which allowed him to access my computer remotely. I could see his mouse pointer whizzing around the screen, making changes hehe. Hopefully, Art won't have any more probs.
When does the postie arrive? When I'm in the shower, of course. Why would he come when I'm not? Anyway, he managed to wake Lindsay from his slumber (he's got a cold) and he signed for the package on my behalf. More padlocks. Yes, I forgot about the bottom storage box on the camper. It makes the camper sit about a foot higher than it would otherwise, but there's certainly no shortage of space to store things... outdoor chairs and table, tents, poles, jacks, deep cycle batteries, ground sheets, tools, and whatever else. Even the back end of the air conditioner is inside one of the boxes. That was a major concern when I bought the Toyota HiAce... NO STORAGE! The camper has oodles of cupboard space inside as well.
Here's a pic of Clareville in Sydney in 2012, a place where I holidayed as a kid with my younger bro and parents. That was over 50 years ago and the place hasn't changed. Click the pic to get the larger image.
While there, I met a kid from Melbourne. He was holidaying with his folks who owned a clinker built speedboat with an inboard motor. He invited me to join him for a ride around Pittwater - with him driving. Apparently the thing was capable of 45 knots but I'm not sure we actually went that fast. However, I remember how awesome it was to have the stern sink low into the water and the bow rise as the power was applied. That experience was an entire world away from the life I was accustomed to back in south western suburban Sydney. Some things ya never fergit.
Back to the London Olympics Opening Ceremony, Oregon Richie adds: Yes, I saw almost all of the opening ceremonies from London but did in fact fall asleep in my chair during the parade of nations when the countries starting with a P came around... pretty sure I got through Poland but nodded off before Peru. Hence, I did not see our own country's athletes marching by nor the South Africans. A whole lot of healthy folks, though... many quite handsome and pretty, and more that had major educational and life-goal accomplishments, which is something I truly respect. It WAS an interesting show, unlike just about anything else I could have imagined, and concluded that it was something that ONLY the British could come up with and deliver. There has been the usual debate about quality and content but who the heck cares. Sir Paul was a bit weak at first but improved, but both Becky and I thought that "Hey, Jude.." was a bit odd of a song, but... whatever- and we also thought that something classically British from "that era" such as "Penny Lane" would have been, well... uh- smashing ! Much of it reminded me of some areas I visited when I was there... briefly, after all... but I was there. Hmm. For like... 36 hours, give or take? Yeah.
I heard on the news today that some of our swimmers bombed out badly. There's been a feeling for quite a while here in Oz that the London Olympics ain't gonna be our finest hour. But we did well in the 100 meters medley with four of our girls winning gold. Just checked the current tally (gold/total): China 6/12, USA 3/11, Italy 2/7, Korea 2/5. Oz is in 8th place with 1/3. And the UK? 0/2
And there goes another day. Heater's on, and daylight is beginning to fade. So is July for that matter. One more month of winter remaining. Next year, I probably won't even think of winter... I'll be chasing the sun. Gary
July 29, 2012. TX Greg wrote: I'm sure I've said this before but... It's soooo strange for me to hear you say turn on the "a/c" instead of heater or furnace. Here a/c is referred to air conditioning, meaning cooling :) And my a/c is spinning the meter big time, over 100F+ this week! I walk outside and it feels like a sauna!
The a/c in this house is reverse cycle, which has nothing to do with bicycles going backwards. The previous owner blocked all the fire places, and disconnected the gas heater in my room, and installed r/c a/c instead. It has outlets throughout the house so you can't heat or cool individual rooms. But she had plenty of dough. I heard she used to order scotch by the case. Greg also mentioned the windows in the curio shop at The Rocks, and reckons they look like fireplaces. Yeah, they do a bit. It's an old warehouse from the early days of Sydney town when supplies arrived by tall ship. There are converted warehouses all over The Rocks, preserved for their heritage value. Back in the old days, it was Sydney's roughest, toughest precinct, with murders, robberies and bashings quite commonplace. It's all very la de da these days.
Yes, back in the old days, public bars in hotels had tiled floors and walls so the blood and guts could be hosed out next morning hehe. That was also the case in Glebe where I had my little house. Different now, though. All the pubs have posh bistros and restaurants and carpeted floors, and it costs an arm and a leg for a beer.
Oregon Richie wrote to say Pitiful little me here writing at long last; rather caught-up in this 'n that lately which includes damn near crippling myself in putting together a "little" 10-foot diameter swimming pool thing for my lass the other day. I had not learned a former lesson about trying to tug around a big thing with a couple hundred or more gallons of water in it without stretching the leg muscles to an extent far beyond their design limits, so to speak....
Yep, women ain't dumb ya know. Mom spots a wading pool on spesh and brings it home, knowing that her knight in shining armor will come to the rescue and put the thing together. And all she's gotta do is stand there and say things like, "Oh, darling, you're sooo clever!"
My older bro wrote to say it was wonderful news about the PET scan, and that the Sydney vid was "very professional and entertaining". Turns out that my grand nephew David, whom I haven't seen since he was a toddler, is now playing professional football for Essenden (second grade) and studying industrial design at university. Whoa! That's pretty flash. His mother, my niece, is teaching in Malaysia. She didn't want all the hassle of having a husband so she spotted a handsome bloke from Malaysia (at a family gathering about 20 years ago I kept asking him if he had a twin brother hehe) and had a child by him. Enter David. Then she raised David as a single mother in Oz. So the Kelly Clan has become quite diverse.
Lovely outside in the sun. Nice and warm. So what am I doing in here? Don't ask.
I saw grabs of the opening ceremony of the London Olympics last night on telly, and heard reports that it was most spectacular and very British. Even the Queen made her acting debut by meeting Mr Bond, and then jumped out of a plane and parachuted into the main arena. Hehe. But according to Oregon Richie, who watched the whole thing, it wasn't all beer and skittles. Sir Paul McCartney strained the old vocal cords a bit with Hey Jude. He ain't no chicken anymore, but he's certainly an icon. I only saw a few highlights so I have no idea if London outdid the Sydney opening ceremony. It would need to have been bloody awesome if it did. Aussies are normally pretty subdued when it comes to patriotism but I'm sure every Aussie heart was filled with pride that night. The only other occasion I can remember that inspired such patriotism was back in 1983 when Oz won the America's Cup after 132 years of American dominance. From Wikipedia: The U.S. yacht won the first and second races by margins of more than a minute when the Australian yacht suffered equipment failure, but the Australia II took the third race, and came back to win the fifth and sixth races after the Liberty won the fourth. This was the first time the America's Cup had needed a sixth race, let alone a seventh.
The cup title came down to the seventh and final race. For the seventh and deciding race on 26 September 1983 the wind was light at around eight knots. The pre start was not a typical match race start. "Neither party wanted to make a mistake and end up in the protest room," Conner would explain later. Liberty won the start by eight seconds ahead of Australia II. Over the course of the race there were three lead changes, as well as relentless pressure as each of the yachts tried to provoke dramatic new turns of events. Because both upwind speeds were nearly identical, the tacking duels were fierce and close. Dramatic winds shifts tested the tacticians on both yachts. On the penultimate leg Australia II passed Liberty. One did not need PJ Montgomery's commentary to realize, in the first minutes of that run, that Australia II was sailing significantly lower and faster than Liberty". After 47 grueling tacks, Australia II crossed the finish line with a winning margin of 41 seconds, becoming the first successful challenger in the 132 years "since the schooner America won it in a race around England's Isle of Wight in 1851".
I was in Brisbane at the time. It was just before dawn but you could hear the car horns blaring all over the city. What a day that was!
Understandably, Connor was totally pissed off about losing, so much so he said he didn't wanna get out of bed the next morning. He just wanted to hide. BUT, he changed his mind when he won the following cup in Stars and Stripes in 1987: In retrospect, Conner said that losing the Cup in 1983 had been good for the sport of sailing and the Cup itself: "Me losing after 132 years was the best thing that ever happened to the America's Cup and the best thing that ever happened to Dennis Conner…Before the win by the Australians, the America's Cup was only big in the minds of the yachties, but the rest of the world didn't know or care about it at all. But when we lost it… it was a little bit like losing the Panama Canal - suddenly everyone appreciated it. If I hadn't lost it, there never would have been the national effort . . . without that there never would have been the ticker-tape parade up Fifth Avenue in New York, lunch with the President at the White House and all the doors of opportunity that it opened...".
The bikies are back in town. There's a million of 'em thundering up the road flouting noise pollution laws and getting away with it.
Just back from sitting in the camper for a while. Nice and warm in there from the sun on the alumininininiummmmm. Yes, it's still there and looking fine. I'm sure it'll be home sweet home on the range. Certainly adequate for my purposes and probably better than that. The fact that the living quarter has no need for a sleeping area makes it quite comfy and roomy. That big sofa/dinette is a definite plus... lots of room to stretch out or entertain a few other peeps. It can seat four easily, and five at a pinch, with a sixth on the box that houses the water tank (and acts as a step to the sleeping area). There's a separate cushion for that box. I very much doubt there'll ever be that many peeps in the camper, though. Besides, I intend to spend most of my time outdoors. And if anyone is desperate for shelter, they can borrow my dome tent.
The sudden change of lifestyle will be total and radical, and will certainly take a bit of getting used to, especially at first... which I admit does worry me a little. I mean it's not like moving from one house to another, like moving from Sydney to Taree. For starters, there won't be a house! Or a street number. Or any kind of permanancy. I'll be out there with the wallabies and wombats and goannas! No postman, no Jehovahs Witnesses, and sometimes not even a neighbor! No waking up in the morning and walking through 3 rooms to get to the loo. No lawnmowers. No trucks and traffic noise. No sirens. No local mall with familiar faces. It's gonna be very strange indeed.
However, I've painted myself into a corner here, and I have no choice but to go ahead and DO IT. Besides, you blokes out there need your daily Waffle.
BTW, I had a dream last night. I was with a couple of blokes at a roadside diner and decided to order a burger with the works despite strong reservations about being able to eat it. But I did. Not only did I demolish the whole damn thing with ease, but then I ordered a meat pie! That went down the hatch in record time as well, so I ordered another! Then the dream went sour when I learned that one of the blokes was a dangerous crook. That's when I woke with my bladder urgently demanding it was time for a pee despite being 3am and freezing.
You've heard of Winton, right? Population 800. Stuck out in the middle of nowhere in Queensland. I watched a program on telly last night about Winton being invaded by a film crew shooting a movie. The director was saying how awesome the landscape is around those parts: rolling Mitchell Grass Downs suddenly interrupted by mesa formations, starkly beautiful red earth and spinifex country, and Channel Country, undulating plains as far as the eye can see with a myriad of dry channels, waiting for the wet season. It's opal country as well, and the home of Banjo Patterson who wrote Waltzing Matilda. Another movie will be shot there soon called Banjo and Matilda. When I see shows on telly like the one about Winton, I know why I wanna do the Odyssey. Winton is only one of a million towns all over Oz with a ripping yarn to tell.
Mieke from Red Bubble, originally from Holland, lived in Melbourne for a long time then moved to Derby in Western Oz (near Broome) not far from the Kimberley region. She wanted to see the "real" Oz outback and loves to photograph the boab trees, the sand dunes, the Kimberley with its deep gorges and spectacular landscapes. She's just released a calendar of Kimberley pics. Flick through the pages and you'll see what I mean.
So, yeah, the alternative to doing the Odyssey doesn't sound too flash, does it? Hehe. You only live once. So it looks like that little house parked in the yard next to the garage is gonna cover a lotta territory before it finally comes to rest... who knows where.
Meanwhile, the Third Rock is tilting away from the sun, which is about to pop up somewhere near your place so that Richie's missus can splash about in her new pool while he hobbles about with torn ligaments, and Greg can enjoy his sauna. The a/c is warming up this joint and pretty soon I'll tuck into some garlic chicken balls and country chicken soup. I might even have a choc coated ice cream on a stick later if I'm still hungry. It's a bit easier to eat stuff now... not trying to chew my tongue like I used to not so long ago. There's a bit of feeling coming back. Seeyaz Mondee. Gary
July 28, 2012. A guest on Planet America last night was the mayor of Pittsburg who was asked about the recent shooting in Colorado as well as gun laws in the US. Among other things, he said that the annual murder rate in NYC had dropped from 1200-ish in recent years to 400, which made it the safest city in the US. So I Googled the figures in Oz. The latest official figures I could find were from 2006-7. In that year, there were 260 homicides in the entire country of which less than 16% involved guns. The current homicide rate in Oz is 1.2 per 100,000. Another interesting comment from the mayor was than there is a significant cultural difference between Oz and the US. In the States, the emphasis is on individual rights whereas in Oz it's on community rights. What's good for the community is good for the country.
Red Bubbleonian Mieke sent a link to images photographed by Max Dupain during the mid 20th century of typical Aussie scenes as well as Aussies themselves, which seems appropriate after my history lesson yesterday. Max was a master at capturing the essence of life in Oz, and preferred the medium of black and white. It reminds me of our family album which was full of B&W images as well as some sepia but not a single one in color.
B&W was a bit misleading, actually. As a kid, I thought all old buildngs must have been drab and painted in shades of gray. It wasn't until there was a renaissance of Victorian and Federation houses and other buildings in Oz, painted in their original color schemes, that I realized how colorful that era was. In fact, they made the "modern" houses of the 50s and 60s look bland by comparison.
Another thing I've been meaning to do is copy the stills I took during the filming of Sydney earlier this month (from the Acer) to make an album. You can check it out here.
In one of the pics, a window of a curio shop, there are money boxes which these days are politically incorrect. But when I was a kid, my mate down the street had one, and nobody batted an eyelid. That was back in the 50s and 60s. The red-headed kid in the middle is Ginger Meggs, a popular comic strip character of the time... one of my favs in the Sunday comics. I was often nicknamed Ginger. The original pic is cropped so you can see the money boxes in more detail.
The problem with shooting a vid (at least for me, currently) is you don't think too much about taking stills. You tend to focus on the mission at hand. Maybe that will change when I have more time at other locations. In Sydney, it was all a bit frantic trying to shoot as much footage as poss in the time allowed.
Here's a gem I just discovered on Youtube about an old 38 class steam loco doing the Newcastle to Sydney run back in the mid '60s just before steam was scrapped in favor of diesel. Those old steamers could get up to 85mph on the straights back then. Some really good footage in that vid.
Jeez, I'll be glad when winter's over. The days are okay but as soon as that sun starts getting low in the sky, it's time for the a/c. They say it's 16.4C outside but it sure doesn't feel like it in this house. It's double brick and takes forever to warm up, which is great in the summer but NOT in the winter. With a bit of luck, I won't be here next winter but rather up north somewhere.
My old boss from 2UE back in the '80s phoned last night. He and his missus have just arrived back in Sydney from a holiday in the Northern Territory where winter temps are in the late 20s and early 30s. He was telling me about his first video camera which was as big as a fridge. But he flicked that, and bought a smaller one about 15 years ago which is only as big as half a fridge. It uses VHS tapes. Hello? Anyway, being the scrooge he is, he still uses it and took it to the Northern Territory with him. How embarrassing. Hehe. I told him about the movies I shot with a digital camera and a 4GB memory card so he's gonna check out Youtube.
Guess what? It's time again for the ol' seeya later trick. I think I might tuck into noodles tonight, just for the hell of it. Noodles are cool. I nibbled on crackers and tuna again earlier. It was easier this time cos I had the teeth in hehe. Incidentally, when my old boss phoned last night, I didn't have the teeth in, so I sounded even worse than I normally do... especially with words containing 's' and 'sh'. I told him to check out aussieodyssey... try saying that without your teeth in. Anyway, that's it for Satdee. Gary
July 27, 2012. Here's an interesting piece about gun laws according to a soldier who has served in Iraq. An arms race we can't win.
Meanwhile, here's Steve W on matters piscatorial: Being your resident Piscatorial Consultant (doing pro-bono work here) I can say with absolute certainty that in 50 years of fishing I have never encountered that creature……….I have caught or seen all sorts of weird ooglies (technical term) from the deep but that takes the cake. In fact if it came into my boat, it could take any bloody thing it wanted! However, I am going to do some research, as I want to put a name to it - but in the interim, let's call it Lara Bingle (Botanical Name).
NC Art, however, has this to say: Anyway, that sea critter looks a bit like a rock shrimp tarted up for Mardi Gras. Rock shrimp are small and wear a shell harder than lobster. About 20 of them will yield a tasty snack after you smash the shell with a big hammer.
Art also comments on Aussies: Yep, I feel so sad about the way Aussies are treated as inferior beings. The Rangers I encountered during WWII were so mild and deferential—until you were stupid enough to challenge one of 'em! And then there are plenty of Aussie golfers, swimmers, football players who make it to the big leagues. I don't count them out, ever.
And the Olympics and gun control? As for the Olympics, my usual daytime TV channel was all about women athletes. Soccer teams from Japan, Colombia, Spain, N. Korea were skittering about and doing idiotic things with a round white ball hour after hour—with no goals for an afternoon's sweaty contention. Seems the best part is when one tiny Asian smacks an arm bone across a big gal's nose to show her who's boss.
The gun business is damned lucrative for legal and illegal dealing. Austria ships most of the Glock .44 Cop Killers to the U.S. Brazil, Italy, Germany and Spain make up a $100,000,000.00 U.S. business annually.
Dylan Moran said a funny thing about male genitalia... he said it looks like something hanging out of a shark's mouth. Hehe. Or a set of bagpipes with hair around it. And about being gay: Oh yes, he still likes his toast done on three sides... or... Oh yes, he still likes picking up twigs from the floor of the forest in the spring time.
Well, there ya go. I've been meaning to back up all my pic files to the external HD and then delete them from the comp HDD to free up space. It'll take half an hour? No worries, I'll attend to other chores and come back later. And when I did come back later, there was a window that said, "Are you sure you wanna yadda yadda", so nothing happened while I was away. Sheesh. Anyway, I now have half my HDD space free.
Just received a letter from Anyell, my sponsored child in Nicaragua. His mother says he often asks about me... the man from a land far away who gives me gifts and who sends money to spend on improvements to our village and our education. Yeah... kinda like a Santa Claus who comes more often than once a year. He says he wants to meet me one day. "We know this may be difficult or maybe not." I think maybe not. I do understand and appreciate what a difference my contribution makes to Anyell's life and the lives of his family and neighbors, but I certainly don't think parting with 10 bucks a week is anything to brag or feel saintly about. It's the very least I can do to provide hope for people who desperately need it. Meanwhile, it's nice to be reminded occasionally that Anyell and his folks think of me, and appreciate the fact that I exist.
So how am I handling the rice crackers and tuna? Not as well as I'd like but I'm managing to put a few away. So nice and tasty! Very moorish indeed. The crackers are extremely fragile and there are quite a few broken ones in the pack. But that's okay. Just heap a bit of tuna on the knife, bung it in the gob followed by bits of broken cracker and voila. No prob.
On the news last night, Caltex announced the closure of its refinery at Kurnell. Shell is to close another also in Sydney at Clyde. Ford in Melbourne laid off hundreds of workers because of falling sales in the large car sector. And Qantas is closing its maintenance workshop in Melbourne. So the unions are saying 'how dare they!' and workers are bitching about their mortgages and whatever. So what are they saying? That employers owe them lifetime security? A job for ever? Sorry, guys. That's not the way the market works. If an employee was offered better pay and conditions elsewhere, would he feel bad about leaving the company? Of course not. Yet he expects loyalty from his employer. It doesn't make sense to me. Why should an employer be responsible for anything other than a fair day's pay for a fair day's work? A business can't predict the future. If market conditions change, and profitability is threatened, a business has to alter course, or even cease to exist, in order to meet those changes. I had to smile last night when I heard a union boss yell into his microphone, "We will not allow this refinery to close!" Who is 'we'? And what right does 'we' have to tell a business what it can or cannot do? Beats me. Meanwhile, looks like Qantas is doing a deal with Emirates.
So why did Jimmy Cook name the east coast of New Holland New South Wales? I was hoping to get an answer but it appears Captain Jimmy didn't give an explanation. 139 years previously Welshman Thomas James had already applied the name New South Wales to the SW coast of Hudson Bay in Canada, and Jimmy, for some reason, apparently thought it was an appropriate name for this pile of dirt down under. He obviously didn't give two sniffs what the Dutch thought anyway because he went ahead and annexed half of New Holland with a stroke of his quill.
In 1642, Abel Tasman had already claimed Van Diemen's Land (later Tasmania) for the Netherlands. A small part of the eastern mainland (now Southern Victoria) and the western half of the continent had been claimed by Louis de Saint Aloüarn for France in 1772 even though it had been mapped previously by Dutch mariners. So it seems back in those days anyone could come along and plonk a flag in the dirt and claim it as their own. Australian Aborigines, who had been here somewhere between 40 and 60,000 years mustn't have had a flag.
Amazing innit. This barren land ignored for centuries until the Brits desperately needed somewhere to ship their convicts after they were booted out of America, is now one of the richest countries in the world, with one of the healthiest economies. We make fine wine, we grow fine fleece, we even have a thriving truffle industry, we have an enormous food bowl that feeds a large part of the world, we have a booming mining industry that supplies Japan and China with billions of dollars worth of raw material, and we have an accent that no one can successfully mimic. Owyagoinmate? No worries. And it all started a little over 200 years ago as a penal colony. There ya go, Art... Circular Quay pre-square.
And that's our history lesson for today, ladies and genitals. All very interesting, yes? Time now for me to waddle off to telly land and think about what I'll throw down the screech later on. Thank you for listening, and bye for now. Gary
July 26, 2012. I've seen some pretty strange creatures that live in the deep blue sea, but nothing quite like this before. If Norbert hadn't said it was real, I would have thought it was a toy in a fish tank.
I sent Tom Ehrich's piece about gun control to Justin yesterday, and he posted it on his blog. Here's what J had to say about it: There is one glaring error in this editorial: Grant required all of the Confederates to stack their firearms and public property. The ones allowed to keep guns were the officers, who were permitted their sidearms and horses which they owned personally.
Before we start beating the gun control drum again, let us remember that Norway has much stricter gun control than we do, and they almost never license a person to possess a firearm for personal protection. Only hunters can obtain a permit to keep a firearm if he meets other qualifications. And yet this did not stop the Norway massacre, which was far worse than this movie theater slaughter. We should also recall that about a week before this occurred an elderly man who possessed a license to carry a concealed weapon opened fire on two armed robbers who were terrorising an internet cafe full of people. One robber was shot and the other fled. I wonder how many people would have been killed if that old man hadn't been there, and how many would have been saved at the theater if there was just one armed guard around. What this shows is that a firearm is merely a tool of its possessor. If the shooter is a sociopath, it would be better if one righteous person was armed enough to stop him. In the 20 years I spent prosecuting I came to believe that criminals, who by definition have no regard or fear of the law, will find a way to arm themselves irrespective of gun control regulations. I do not believe these horrible incidents would have been prevented by the gun laws, because the perpetrators were planners who spent a lot of time deciding how they could best go about their bloody-minded business. The best we can do for the people of Colorado is to give this guy a fair trial and execute him.
Meanwhile, here's a report from the Beeb: The number of people seeking to buy guns in Colorado has soared since last week's mass shooting in the US state's town of Aurora, say law officials. In the three days after the shooting, applications for the background checks needed to buy a gun legally were up 43% on the previous week.
Lovely day, sunny and bright, and even warm. So I went to Mark's Barber Shop for a snip, and then to the shops for a couple of things. I saw small cans of John West tuna on spesh, 4 for $5... lemon and cracked pepper, dried tomato and basil, mango chilli and tomato and onion. Mmmm, they'd be nice as a snack on a cracker so I bought some thin rice crackers. I should be able to handle those okay. Too bad if I can't! Bought some bananas too... green cos I like 'em firm. And fig yoghurt.
There's a dietician here for Sue, so I answered the door, then woke Lindsay who staggered out of the bedroom, still half asleep, wobbling all over the place with his shoulder length hair all tangled. The dietician spent quite a long time studying Lindsay, not believing what he was seeing. Reminds me of the look on our GPs face when he first visited this house 11 years ago. L&S look like something straight out of the Addams Family, fair dinkum. And to make it a bit more authentic, there's a storm outside with thunder and lightning. Yes, I know what I said in the previous para, but the storm arrived unexpectedly.
Oops! Olympic organizers apologize to the North Korean women's football team after their images were shown on a screen beside a South Korean flag. Last night on the news, I saw people queuing for up to 10 hours for tickets they'd already ordered and paid for. Naughty, naughty. And, of course, there's the kerfuffle about a London security company not providing the level of security they'd promised, and the army having to bring in troops. I heard something on radio the other day about a girl from Taree competing in the London Olympics but I didn't catch the whole story. I think she's a hurdler.
Oz is not confident of winning as many medals this year as it has in previous years. Thorpedo made a recent attempt at a comeback but died in the bum. From what I gather, and I haven't taken a great deal of interest, the Oz team is not all that strong this time. One of our greatest swimmers, Kieren Perkins, said the other day that Australian athletes normally punch above their weight in international competition because they believe they need to try harder than the rest of the world to be as good. I think the same applies to our actors and other performers as well. I know I've always had a bit of a complex about being an Aussie writer/performer. As a kid, I thought you had to be an American to be any good hehe. And now? Well, I no longer compare myself to anyone. I just do my thing and everyone else, Americans included, can think whatever they like. I must admit, when I first started writing Daniel's Diary, I cast him as an American because I didn't think he would attract an audience if he were an Aussie. Cody felt the same way about being South African. How silly we were.
I suspect the Aussie inferiority complex stems from the days when the British thought of us as inferior colonials. However, the perception is changing, and not only by the Brits. The Yanks think we're pretty flash as well. There was a story on telly last night about our crack SAS troops in Afghanistan. They do a lot of reconnaissance work, and the accuracy as well as the amount of information they pass on to the American system apparently astonishes our Yankee mates. The boss of the Aussie contingent said, however, that they nearly got blown to smitherines by an American drone because of false data collected by US intelligence. Oops! The Aussies were way out in the field somewhere, not far from where the Taliban were holed up. The raid was called off at the last moment. I think the boss said intelligence had mistaken their Land Rovers for enemy tanks. Those SAS blokes are highly trained and the absolute pick of the crop. Only 1 in 4 make it through the course. We don't wanna lose them.
Actually, we lost one in Uruzgan province recently. He was on his 7th tour of duty when shot in the chest during a firefight. He was on a mission to track down an insurgent leader.
Well, here we are again, rolling around in space and entering another phase of the sunrise sunset thing. The storm has passed... a bit noisy for a while but it didn't last long. I'm wondering what to have for dinner. Decisions, decisions. Anyway, that's it for Waffle for another day. Later. Gary
July 25, 2012. Last night, the TV news forecast for Taree was sunny and 20C. And this morning? Cool and gray. Hello? What's the story? We've been misled!
My fellow Red Bubbleonian Mieke did her first "movie" recently, a bunch of sand dune stills taken in Western Oz. She was up until 3:30am editing the thing hehe, and she was grumpy. She says she'll never do another one... she can't handle all the editing. On the other hand, she can spend hours in Photoshop fiddling with a single image no problem. Horses for courses, I guess. Editing certainly is a laborious business that requires a great deal of concentration and patience (most unusual for me) but it does have its rewards. It took me about three 8-hour days to edit the Sydney vid. And that was 16 minutes! Imagine editing a 2-hour movie! Bob Hughes watched the Sydney vid and described it as "Lovely pacing and mood". Yep, pacing is important - carefully choosing the length of each scene... not too long, not too short... always mindful of the "whole" as well as the individual components that make up that "whole". How often have you heard a movie critic say that a particular scene was too long, or that a certain section lacked interest? No matter what an editor does, of course, not everyone will agree with it. I can only describe my technique as a sort of natural instinct that tells me how long a scene should be, or in what sequence certain shots should be assembled, or whether to use a transition or just a straight cut.
In my not-so-humble opinion, the more a cameraman can think like an editor, the easier the editor's job will be. I suppose the same can be said for a director. Years ago, I worked with an editor from somewhere in Eastern Europe with a strong accent. Polish maybe? As an Aussie, I was frequently saying "no worries" hehe. One day he exploded and said, "No worries, no worries! You're always saying 'no worries'! It IS a worry! It's a BIG worry! How do you think all this (editing) happens? You think it happens by itself?" I had to explain that 'no worries' doesn't mean nobody gives a damn... that it means everything will work out in the end. Anyway, he settled down and we became very good mates. I ended up nicknaming him 'Nooo Waaaarries'.
But the time I spent watching that bloke do his thing taught me a lot about what was going on in his head when he edited footage. They were valuable lessons.
Ravel took a huge risk with Bolero. The same musical theme runs for several minutes, but he used clever methods of keeping the interest alive by changing key and introducing new instruments along the way. It's a brilliant piece of music, and one of my absolute favs.
NC Art sent this article about the gun lobby in the US, from Morning Walk Media:
By Tom Ehrich
Killings in Aurora, CO, immediately stirred unresolved issues about gun control in America. Just as quickly, the gun lobby shouted down those concerns. One Congressman said the answer was more guns, not fewer.
I have been observing these rituals for years. Like most of our political theater, true motivations and concerns get lost in the smoke.
The Second Amendment was about enabling widely scattered citizens to defend their communities by forming militias. People remembered how the British had tried to disarm colonialists and render them compliant.
People also needed weapons for hunting. In a great and gracious act, General Grant allowed Confederate soldiers surrendering at Appomattox to keep their rifles in order to feed their families.
The militia imperative, while reasonable in 1800, seems less pertinent today, as we have employed trained police forces to protect and serve. The Federal government, like its state and city counterparts, isn't an invading force that needs to be resisted with weapons. We are a democracy. If we don't like what the government is doing, we vote them out of office. If our votes don't attain a majority, that isn't a problem we can resolve with weapons.
For a time, the gun lobby focused on hunters and sportsmen. That made sense when the weapons in question were shotguns and target pistols. Assault rifles, however, aren't about hunting or sport. Neither are machine pistols, oversized cartridges, so-called "cop killer" ammunition, Glocks or ceramic weapons capable of evading metal detectors. Those are about killing people.
Now the gun lobby focuses on fear, loathing and taking the law into one's own hands. That's about nothing more than using fear to maximize profits. It's like the craven politicians who use fear to win votes.
I find it curious that the gun lobby has such power. Congressmen don't hesitate to turn against the massive cadre of elderly by threatening Medicare, or against the majority (women) by dialing down women's rights, or against families, drivers and workers by trashing infrastructure like schools, highways, and workplace rules, or against the pleading of their own police forces who know they will be the primary target for over-the-top weaponry.
The gun lobby's sway is proof that money in politics can corrupt anyone. It's also proof that we have some confused narratives circulating about. One confused narrative is that people must defend themselves, because government is incompetent. Another is that government can't be trusted. Another is that freedom is, bottom line, about getting one's way. Another is that America is strongest when citizens are armed and ready to kill.
None of those narratives can withstand scrutiny. But they persist, because they answer some deep-seated questions that we might be barely aware of asking. Like, what does it mean to be a man when patriarchy ends? What does it mean to be white when non-white populations are growing? What does it mean to be an American when our basic institutions are profoundly corrupt and the outside world has stopped admiring us? What does it mean when a few live so large and the rest of us live so small?
These are the same questions that underlie our presidential politics -- and our candidates are answering them no better than the gun lobby is answering them. They all demonstrate a failure of ideas and imagination.
Shouting and shooting don't create better ideas, but they do fill a vacuum.
For what it's worth, I agree with Tom Ehrich's sentiments.
So what's happening in ol' Taree that's worth shooting? Shooting a vid, that is. There's the Old Holdens Show 'n' Shine in mid August. That could be cool. Last time I took stills, but stills don't capture the atmosphere of the crowd or the tire kickers and lookers. So I'll give that a whirl. I could get lucky and get some cooperative fans giving the camera the thumbs up and saying something like, "Old Holdens never die, mate!"... or something equally intelligent.
As it turned out, the day improved weatherwise, and it's quite nice outside... or was... even warmish in the sun. Had a chat with Averil for a while. She likes to hear the latest medical news so she can keep all the neighbors informed hehe. Naturally, she wanted to know why the food tube is still dangling down my leg. So I told her 7 days from now it'll be history.
But now the sun is low in the sky and it's getting cold rather quickly, so the doors are closed and the a/c is on. My ISP wrote to say that they phoned Optus who said the Taree CBD tower has been subject to congestion. Oh really? Tell me about it. Seems to me the only way to deal with it is to avoid peak times for uploading and downloading. At least I know the problem is not permanent, and can be managed.
Okies, time to vacate this page for the time being and attend to matters domestic. Speaking of telly, Peter Reith was on The Drum last night doing his 'quite franklies' and 'the fact of the matter ises' hehe. Politicians are all the same. What do they call that stuff? Rhetoric? Anyway, it's all meaningless. If you analyze that piece above written by Tom Ehrich you'll note there's not a word wasted... straight to the point with no bullshit... all based on logic and reason. Not that it'll make a shred of difference to the gun lobby. He who makes the gold makes the rules. Yeah? Gary
July 24, 2012. Spotted a nice guitar/keyboard version of the old jazz classic Take Five this morning on Youtube, so here's the link before I lose it.
The steam loco vid has broken the 100 views barrier, Taree is up in the early 90s, and Sydney is at 44. Not a lot but steadily growing. Makes me think of the cactus Cody bought as a reminder of his fossil mate. He painted Gary on the pot. The thing flowered but once a year, and only at night. He said the color was the most intense blue he'd ever seen. I met a Buddhist about 10 years ago. He was formerly a Catholic priest. Anyway, he said he could see my aura. Whether he actually could or not I'm not sure. But he said it was green, which meant I hadn't quite achieved my potential yet. When I had, it would be blue.
NC Art forwarded this: SHAKE A LEG...AN' EVERTHANG ELSE!
Happy People Dancing on Planet Earth
A report from The Cosmos
What are these humans doing? Dancing. Many humans on Earth exhibit periods of happiness, and one method of displaying happiness is dancing. Happiness and dancing transcend political boundaries and occur in practically every human society. Matt Harding traveled through many nations on Earth, planned on dancing, and filmed the result. The video, the latest in a series of similar videos, is perhaps a dramatic example that humans from all over planet Earth feel a common bond as part of a single species. Happiness is frequently contagious -- few people are able to watch the video without smiling.
Well, whaddaya know? A day without medical appointments... apart from having a blood test first thing this morning. It's for the removal of the food tube next week. "A small prick," the nurse said as the needle penetrated. And I said, "When?" I didn't feel a thing.
Oh yes, I meant to mention something posted on Justin's blog yesterday. Justin and Peter took pics of themselves at their local beach, dressed as they usually are, which means they're not. Hehe.
Remember all the kerfuffle about my broadband usage last month? 10 days into this monthly period and I've used 11%. So there ya go. I avoid trying to upload/download large files during peak periods. Last night, though, I was a bit late posting Waffle because I couldn't even connect, period! So I waited till most of the cyber frenzy had subsided.
My old radio colleague Bob Hughes just emailed. We'd been talking about typewriters and he said he liked the zzzt ding at the end of the line with manuals. So I sent him the link to the typewriter song on Youchewb. I also sent him the link to the Sydney vid because he offered to do a free voice over for any of my Youchewb vids. How's that for cool?
Bob also agreed that it was a good idea to put all my scrapbook stuff on the web. It had been gathering dust on a shelf for years and not been of any value to anyone, so now it has a new lease of life. Quite a few peeps from my old days in radio have discovered it and enjoyed the memories... not to mention the surprise.
A well regulated militia being necessary to the security of a free state, the right of the people to keep and bear arms shall not be infringed.
I heard more comment about gun laws in the US last night, and how the right to bear arms is embedded deep in the American psyche. It'll never change. It could be argued that "the people" is a collective noun that means the state rather than individuals, but the popular interpretation amongst pro-gun citizens is that it means the individual. One commentator last night mentioned Canada, and how the Mounties were established right from the start so that law and order existed along with population growth. In the States it was different. People spread out all over the country and made their own law - the law of the gun - the Wild West. The law in the form of sheriffs and marshals, and traveling judges, came later. But the "right to bear arms" had already become an accepted concept in American society.
When Obama made his speech to the mourners in Aurora Colorado he didn't even mention the word gun. It's election year. If he wants a second term, any mention of gun law reform is a no-no. Apparently Mitt Romney also talked about gun reform some years ago but he sure ain't mentioning it now.
Funny ol' world, innit. Dylan Moran certainly thinks so.
Well, that's about all I can come up with on this Chewsday, dear Breth. Time to relax, do my lymphodema massage, catch up on the nooze and all that stuff. Gary
July 23, 2012. Well, as it happens, Steve W did write: "chunky legs and chubby cheeks." Well I never! In fact I wasn't even in that photo, I was out fishing that day. I took metal-work as one of my options at school and had an agreement with the metal-work teacher (poor old Mr Smith), instead of making things like sugar scoops, and fruit holders that my mother would never use, I would make metal fishing lures (which I then on-sold to Manning's Sports Store in Gosford) and at least the materials and tools would be put to a practical use and encourage capitalism. Ended up making fishing rods for them and then working holidays for Mannings. Not sure if the store is still there but Kev was a great character and a good friend.
How sensible was that? The kid made fishing lures and rods, and sold them? I like his attitude. Meanwhile, I apologize for sending everyone on a wild goose chase. He wasn't even in the pic!
Shortly I'm off to the denteeest for a bottom row clean, and then a trip up the Pacific Hwy to Port Macquarie for a check and appraisal by the doc. "We'll discuss the removal of the food tube then," he said the other day. But it won't happen today. Probably next month, which will be six months after it was implanted.
Wow, I don't wanna go through that again in a hurry. Talk about brave! Some of those back teeth are pretty sensitive, and Nancy reckons I might lose one or two. But she's collaborating with a Sydney dentist who's a radiation specialist in order to save as many as poss. Next appointment in 3 weeks. And now it's off to Port Macquarie. It's a bit showery so that'll be fun. NOT.
Yoohoo! It's me! Got back from PM about 3:15 and my padlocks were here waiting for me. They look pretty good... strong and weatherpoof. Both docs were pleased with my PET report and general progress. So was the lymphodema lady, and said I'm looking pretty good. The younger doc, whom I described as a bit scruffy some time ago, had a new pair of ankle boots on, which I immediately referred to. Actually, they weren't new... he bought them at an op shop hehe. Scrooge. But they looked pretty cool, and weren't scuffed... yet. He's an op shop fan and so am I. So both docs agreed that it's time to remove the food tube. I'm booked in for Wednesday week, August 1st at 8:30am. They'll be giving me some stuff to make me sleepy and then, when I'm suitably stupified, YANK! Out it comes. I'll be forbidden to drive home so I'm booked in at the Rotary Lodge overnight. But I'll be fine by next morning.
I must admit, I wasn't too impressed with the YANK thing hehe. I thought it might be a slightly more delicate procedure. I have to fast from midnight so my exposed "hole" doesn't leak ikky stuff. How gross! But apparently it closes up within a few hours and everything starts getting back to normal. The doc related the story of one patient who insisted on being able to drive home afterwards, so he underwent the procedure without anaesthetic. Later he said it was the worst experience of his entire life. Hehe. So I got the message and booked the room at the Lodge.
Earlier, when I was talking to the younger doc, and he was raving on about how good the PET scan was, especially since it's capable of detecting even the slightest abnormality, I got a bit philisophical and suggested that it was still possible that I could walk around a corner and step under a falling piano. "Anything could happen," I added before continuing. "It's funny though that we don't see much in the papers or on the TV news about people walking under pianos." He gave me a kinda quizzical look and then said, "It's the pianist lobby. You don't hear about people being killed by pianos because the lobby keeps it out of the news." So there ya go... he's as crazy as I am.
Speaking of news, I heard a report on the radio while driving home about the reaction to the mass murder of theater-goers in Colorado. Many people interviewed said the incident made them more likely to carry a gun than not. One guy said he knew a couple of the people killed and that if he'd been there in the theater with his gun, he may have been able to shoot the perpetrator and save an innocent life or two. I can see the logic but I'm not sure I agree with it. If I knew that a cinema, restaurant or any other public place was fulla peeps with guns, there's no way you'd see me in there. And what if that guy interviewed had not been the only dude with a gun besides the murderer? What if dozens of people rose from their seats and started firing? Bloody hell.
I may have mentioned this at some previous stage, but I was at a concert in a night club in Sydney one time. Neil Sedaka was the arteeste. During one of his quiet ballads, the people at the table behind ours were making lots of noise, so I turned around and told them to be quiet. A few minutes later, one of the guys at my table leaned over and said, "Don't look now but the bloke at the other table is pointing a gun at you." Well, that sobered me up quick smart hehe. I waited a while and then went to the loo in the lobby, hoping to see a security guard or somone but the lobby was empty. I was standing at a urinal and guess who walked up to the urinal beside mine? Yep, the bloke with the gun. He didn't say anthing though. So I zipped up, left the loo, and vanished before the gunman emerged. When I saw him go back inside the concert room, I found a security bloke and reported the incident. Shortly afterwards, a couple of security guys entered the room and escorted the gunman outside, and told him to leave the hotel. A month or two later, I heard that the gunman was a pimp from Kings Cross. He related the story often and told people that if he ever saw me again, I was dead meat. Well, I'm still here.
Reminds me of another time when a client took me to lunch at an Italian restaurant in Leichhardt. He was a pretty rough character and had a lot of enemies in the builders and laborers union movement, who were equally rough. As we began to tuck into our pasta and red wine, he casually mentioned that at any moment, it was possible that a couple of guys with machine guns could burst through the restaurant door. Hehe. It was a difficult decision... leave before I'd finished my pasta and red wine, or stay. I chose to stick with the pasta and red wine.
Well, time to vamoose again. BTW, the Ute sailed along no worries. And I saw two cars along the way that had broken down. I feel sooooo guilty about having bought that thing for just 2 grand. Seeyaz l8r. Gary
July 22, 2012. Sundee, and a dreary one at that. The forecast for tomorrow is sunny with showers clearing which will be mucho betterer for traveling to Port Macquarie. They've even extended the hospital car park and created a new section just for me.
NC Art reckons: In the old photo, Steve the piscatologist, is the one in white shorts with chunky legs and chubby cheeks. Am I right?
You're asking me? Buggered if I know! Maybe Steve will write and let us know.
And on the subject of Kelly's blunders: I wrote viral not feral. Going viral is spreading like a disease infesting a million or ten million in a matter of minutes. Feral refers to domesticated pets lost in the wilds and returning to their original vicious natures. But feral is not so different, on thinking more about it. Some of that internet crap bites.
I watched a segment on telly last night about feral dogs in Oz, and the terrible damage they do to sheep. I love domesticated dogs but loathe feral dogs. They disembowel sheep just for the hell of it and leave them scattered all over the place. It's a sight that breaks a farmer's heart. But the dogs wouldn't be there if it weren't for careless owners who set their unwanted pets free rather than take them to the pound or the RSPCA. By contrast, the other night I watched a show about Aussie sheepdogs, Kelpies, that do a remarkable job of rounding up the woolly critters and herding them into an enclosure. The farmer/trainer reckons they can do the work of half a dozen men. They work all day, 7 days a week, never complain, and all they need is a feed and shelter. His dogs sell for well into the four figure bracket.
And now to etiquette in relation to oranges: As for eating orange with knife and fork—quietly—that's not human. Only way to properly enjoy an orange is to cut the thing in halves, lean over the sink and sink your teeth in while the juice dribbles where it will. All the flavor and just a bit of clean-up needed.
I'm rather partial to mandarins, actually. You can peel away the bite-size segments and pop them in the gob, no worries. I overheard one woman at the supermarket one day complaining that the mandarins were too expensive. "They're too small, and the skins are too thick." I felt like telling her that they sell by weight, not size. Sheesh. And the thick skins are much easier to peel. People are sooooo dumb!
By now, the whole world knows about that lunatic who killed 12 people in a cinema in Colorado. No point in trying to make sense of it or ask why. The two aspects of such senseless killings that worry me most are 1) the fragile nature of the human brain's wiring, and 2) the ease with which a deranged person can obtain firearms in the US. And gas cannisters? How the hell can any civilian have an excuse to purchase those? And full body armor? I saw the guy's photo on telly and, typically, there was nothing about his facial features to indicate the evil that dwells within. One shudders at the thought of how many ticking timebombs there are secreted within the general population.
I also watched a story on telly last night about Ned Kelly (1854-1880), Australia's most notorious bushranger. He had full body armor as well but he made his own. Only his legs were not covered, and that's where one copper shot him from behind during the Siege of Glenrowan. Kelly fell to the ground, guns still blazing, but it was all over. He was no match for 40 cops and armed civilians. Before the siege, he had remarked a couple of times that he was tired of running, and that it would end "here" (at Glenrowan). The author of the latest book about Kelly said in 2500AD, only four people will be remembered from the first 200 years of European settlement in Oz; Admiral and governor Arthur Phillip (who led the first fleet of 11 ships), Governor Lachlan Macquarie, some other bureaucrat, and Ned Kelly. The world's first full-length feature film, made here in Oz in 1906, was The Story of the Kelly Gang. It was released just 26 years after Kelly was captured. The budget was 1125 pounds, and it returned 25,000 at the box office. Not long afterwards, Hollywood began producing feature length films. Go figure.
Interestingly, Kelly's first conviction was at age 15 when he assaulted a Chinese bloke named Ah Fook. That might explain why Ah Fook emmigrated to Oz instead of Northern England or Scotland. Hehe.
"Such is life," Kelly uttered before the trapdoor gave way under his feet and he hung by the neck until dead. Not far from here in Taree is Thunderbolt's Way, a road named after another notorious bushranger. Not surprisingly, given that shiploads of convicts were sent here by the Brits during the late 18th and early 19th centuries, there were several bushrangers in Oz. On the other hand, many convicts became respectable citizens and owners of freehold land. Some became notable architects, artisans and businessmen. Little wonder, then, that Australia's unofficial anthem is a song about a sheep-stealing vagrant who gets nabbed by three troopers. Also little wonder that Aussies tend to admire national heroes who show a streak of larrikinism. Crocodile Dundee embodied that kind of larrikin quality, so enamored by Antipodeans. In fact, that's what our current crop of politicians is lacking. They're all a bunch of boring lamos.
Just spotted this shot on Red Bubble of a beach in Oz not too far north of Taree. How cool is that? Not a soul in sight (except a few 4WD tracks in the sand). If you were camped there, you could pretend you were Robinson Crusoe. It's not uncommon to see long stretches of unpopulated beaches in Oz, though. And I've heard many travelers say they've been places where they haven't seen another soul for a week or more. In a land roughly the size of mainland US, with only 8 capital cities and a pop of 22m, it's hardly surprising.
Meanwhile, I'm keen to take a look myself, in person, me myself in situ, as in "you had to be there" (to fully appreciate it). Watching docos on telly is all very well but it ain't the same. You have to smell it and touch it. What's more, I've been reminded a few times recently that every bloke's got a use by date hehe, so he'd better get a bloody move on.
I watched Gardening Australia last night, which featured a couple of stories about older folks, some in their 90s, who reckon they owe at least part of their longevity to gardening... planting things, tending the soil, watching things grow, understanding the seasons. One story featured a retirement village where residents each have their own plot where they grow vegies. When one has too many tomatoes, he swaps them with a neighbor for carrots or cucumbers or whatever. It's all very cordial and sociable, and they love it. There are also many neighborhoods in cities where local councils encourage householders to use common land, such as pavement nature strips to create flower and shrub gardens as well as vegie patches. It gives the neighbors a common interest and creates a much friendlier atmosphere, as well as a much more aesthetically pleasing one. It also does wonders for people's appreciation of chook poo.
I think city dwellers are at last realizing that they've isolated themselves from nature for far too long. Now you see rooftop gardens, and better use made of public spaces instead of all that dull concrete. Green is cool, and it's good for us. How often do you see real estate ads that refer to "tree lined street" or "leafy aspect"?
Have you ever seen a new subdivision being created? They clear the trees (except for a few), bulldoze the land, section off allotments, install roads and cul-de-sacs and driveways and the joint looks like a desert! Even when the houses start appearing it still looks like a Palestinian settlement. Which reminds me of another oft used real estate expression, "well established".
No wonder people go camping. No wonder travel mags talk about "getaways" and "escapes" hehe.
Just received an email from my fellow Red Bubbleonian Mieke saying she was grumpy about a project she worked on. So that inspired me to write this little ditty.
And here we are (or at least I am) at the end of another day, Wafflewise that is. Time now for the usual telly and belly rituals after a day of deliberations and wafflings. Keeps the ol' brain active, ya know. Gary
July 21, 2012. When I mentioned Steve W yesterday being piscatorially predisposed and having enjoyed plenty of free feeds on his Aussie travels, he sent me an example:
True I am a Piscatorial Tragic, I'm afraid... more enthusiasm than results frequently. But that's why it's called fishing and not "catching" - my excuse anyway. But a pic of a recent catch is attached - its a Kingfish, also known as a kingy or a hoodlum due to their extreme power and their ability to take your line around the nearest obstacle and cut it.
Check out the pic of Steve and his school mates taken in 1971 and see if you can pick him from the crowd. I'm the one in the wheelbarrow. Meanwhile, Steve above looks very pleased with his breakfast. He might remember the series with John Mellion, Go Fish Australia. I know sweet bugger all about piscatorial matters but I worked on that show as a writer back in '88. Jesus had a thing about fishermen. He was quite friendly with 12 of them, although one was a bit of a worry. You can tell fishermen from normal people cos they've got longer arms.
NC Art commented on my analysis of myself yesterday: When I realized I had nothing to do with my getting here, I gave up trying to justify my existence. Works for me.
Yes, it doesn't change anything, so I guess it's a pretty pointless exercise. Art also commented on scripts: Got a chuckle about critiquing prepared scripts. Example: At the kickoff for New York's annual hotdog eating contest, Mayor Bloomberg read from a prepared script as he showed discomfort actually verbalizing a string of awful puns about weenies, snapping dogs, cold buns, etc. At the end, he looked around and asked petulantly, "Who wrote this shit!?" I was wondering the same thing. Hehe.
Steve commented on scripts as well: Re your comment on length of commercials, I remember years ago Laws going absolutely ballistic one day when an ad ran for only 27 seconds and there was 3 seconds of dead air - I recall him saying "I can do a live read that lasts 'exactly' 30 seconds, why the #$%@ can't you pre-record one that is 30 %&*#ing seconds. Destroy that cart!" He could be very critical of others, but fair enough I think…….attention to detail is important.
Yep, a few of my scripts ended up in shreds on the floor of Laws' studio hehe. But it was all an act, really... a touch of melodrama to liven things up a bit. In those days, there were six pips just before the hour. Laws prided himself (as I did) on finishing the hour just before the first pip. Those 3 seconds of dead air would have annoyed the crap out of him. Laws was a whizz panel operator, too. He could back-announce a record and then drop the pickup arm on exactly the right spot to replay the song from a particular point, usually the start of the chorus... a sort of instant encore. He got lazy after a while and pre-recorded the tail end of a song on cartridge. Besides, you can't drop a pickup arm on a CD. Hehe. He had a kill button as well. Sometimes he would swear on air and use the kill button to beep out all but the very beginning and end of an offensive word. Everyone knew what it was but he never got into trouble over it.
Laws was reportedly the highest paid talk-back radio announcer in the world at the height of his career back in the '70s and '80s. He's still on air at age 76 (77 in August) but the golden days are over.
Another trick of his in the early days was to override a caller if he deemed them boring. I remember one woman who called and rabbited on and on and on about whatever, so Laws overrode her with his normal program, playing commercials etc. You could still hear her voice babbling away in the background hehe. Every now and again he would interrupt her with "Is that a fact?" or "That's amazing!" to make her think he was paying attention. It was a very funny segment. And when she did finally stop talking, she was none the wiser.
Another woman caller I remember got a serious fit of the giggles and couldn't stop. She giggled so much she had Laws giggling as well. The funny thing was no one knew what the giggling was for! I was giggling too, as I'm sure the rest of his audience was. Laws had an infallible instinct for capitalizing on those rare situations. There was one disgruntled male caller (I think from the Northern Territory) who said to Laws "You're a mongrel! You're a bloody mongrel!" Laws put the insult on cart, and used it whenever he said something controversial on air. He used it for years! He even hosted the Mongrel Dog Show in Sydney where listeners brought their bitzas along for judging.
One of the tricks I used when writing scripts for Laws was to feed him lines. Rather than me writing the punch line, I would leave that to him, knowing his penchant for adding his own personal touch to a live read. The clients were happy too... they'd end up getting a 60 second ad instead of a 30.
What a dreary day! Wet and cool. But I can hear a lawnmower outside despite the drizzle. One wonders what one would do on a day like this if one were camped out in the sticks. Probably the same thing I'm doing now... writing Waffle. Or maybe editing a movie. If I were close to town, I'll probably hit the pub. But if there were other campers nearby, I suppose we could hook-up for a cook-up and a bit of a chinwag. No doubt, I'll find out for sure one of these days... and more often than once!
How's this for stranger than fiction? Two men, each raised in strict religious families, each married to women and each the father of two children, are now married to each other. To make it a tad more interesting, one of them is an active member of the USAF and the marriage ceremony took place on a US military base officiated by a Navy Chaplain. And where did they go after the ceremony to celebrate? Disneyland. You can read the full article on Justin's Blog.
NC Art mentioned the word 'feral' the other day in relation to certain vids getting hundreds of thousands of views for whatever reason. That would be nice. But I don't expect one of mine to go feral unless I happen to be filming when a UFO lands. I did see a young bloke drop his track pants one day on Broadway in Sydney. I was in a bus on the other side of the road. The guy was wearing only track pants which he dropped and stepped out of as two women approached him from the opposite direction. He waved his flaccid willie at them, and then climbed a nearby tree and hung upside down like an ape. Not a well chappy, I suspect. Anyway, the bus took off and I didn't see any more. I also didn't have a camera at the time. Nonetheless, the word 'feral' lingers in the back of my mind, and if I get an idea for a vid with that kinda potential, I'll make it.
I drove up the road a while back to get a few things and heard a program on the radio about a finishing school for young ladies in Sweden. The course teaches etiquette, and is designed to prepare ambitious young femmes desirous of succeeding in the upper echelons of high society. They learn such elegant skills as how to eat an orange with a knife and fork, and not make any noise. Hehe. How sensible. Not much use at Hungry Jacks but I imagine young ladies of refinement never eat at HJs. Or ever throw another shrimp on the barbie, for that matter.
And there goes another Satdee. Time for the usual routine. Checkyas on the morrow. Gary
July 20, 2012. Surprisingly, that Swedish toothbrush and the Biotene work well in the mouth. The brush has a gentle massage action that doesn't upset gum sensitivity, and the toothpaste tastes pretty good. My previous brush was rather aggressive by comparision. I like the smaller head too.
So what will today bring? Buggered if I know, actually. I was thinking about being parked out in the sticks or wherever in the camper, waking to a view of trees and mountains and maybe a river or billabong, and making a cuppa to start the day. How nice would that be? I was on a Hawksbury river houseboat with a bunch of people some years ago, and one of the guys woke early to catch fish for breakfast. Nothing special, just plain ol' tailor (also spelled taylor)... common as muck. By the time the rest of us had woken, the fish had been cleaned and scaled, and were frying in the pan. Mmmmm. Fresh, sweet and delicious. What a wonderful breakfast that was! As well as unexpected.
This world-wide saltwater fish has different names in various countries. In the United States it is called bluefish, while in South Africa, it is known as elf. Here in Australia, anglers usually call it tailor (sometimes incorrectly spelt "tailer" or "taylor"), or use its popular nicknames of "chopper" or "green back". In Victoria, tailor are sometimes called skipjack or "skippies".
I'm not particularly piscatorially predisposed, actually. I'd happily settle for catching an egg from the fridge and boiling it to have with fingers of toast. No gutting, no scaling. But if someone else is prepared to go to all that trouble, no worries. Steve W has a penchant for things piscatorial and I dare say he's had plenty of free feeds on his Aussie expeditions.
The Heinz vegetable soup last night was wicked. Thick and tasty. I've never been much of a soup person over the years but now I am, for obvious reasons. It's great in a mug to drink rather than eat from a bowl with a spoon. The proper stuff in a can leaves instant packet soup for dead. No comparison. It's got bulk. There'll be plenty of those in the camper pantry, I can promise you. No pun intended.
Cans are cool. A can of savory mince is perfect for making jaffles (toasted sandwiches in a jaffle iron). Canned fish is great too. And there's certainly nothing wrong with good ol' baked beans (apart from excessive flatulence).
Back in 1978 when I bought my little house in Glebe, I had bean bags for furniture and not much else. I must have mentioned it at the pub because the woman behind the bar said she was dumping her old lounge suite and getting a new one. She said I could have the oldie. The guy I was having a beer with was a trainee journo at the radio station where I worked, 2GB. Charlie Cox was his name. Among other things at the station, I was a part time newsreader. The first time I read a bulletin, I asked him where the news booth was. He jumped up from his desk and showed me. Some months later, I was in the booth reading a bulletin and he came in behind me with a late story. I was in the middle of trying to pronounce esophagus and gave up after 3 attempts, saying "whatever the hell it is". How embarrassing. Anyway, Charlie Cox was the guy who volunteered to collect the lounge suite in his Holden panelvan (same model as TT). One night he turned up at my little house with the thing sticking out the back of his van, and we carried it piece by piece inside. I was pretty chuffed about that because Charlie was a very handsome, tall, blond surfer boy with whom I was kinda infatuated. He later became a fully fledged journalist and worked with me at radio 2UE. I lost track of him after that. I knew he was managing a radio station in London and making a name for himself as a racing car driver but I had no idea he'd become a major celebrity. I was Googling him earlier today and discovered that he also co-hosted Top Gear in Oz back in 2008. I had no idea! Now I believe he's heavily into MotoGP in England. That's him in the blue shirt. He was born in 1960 so he would have been 18 or 19 when I met him.
I've known some pretty famous peeps in my time, so why aren't I one? I think it's because I'm not competitive. I don't have that killer instinct. There's not an aggressive bone in my body. I'm also unwilling to accept the kind of responsibility that comes with serious success, the pressure of always measuring up to high expectations. Parties, socializing with people I don't particularly like, networking, that kinda thing. I'm a loner who just wants to do his own thing. Cest la vie.
Yes, it's occurred to me that at 67 (soon to be 68) I should be well past the stage of making amateur vids with a $130 camera and a monopod hehe. That's for beginners, not guys who've had decades of experience in media and advertising. Or is it? I don't remember having too much fun the last time I was involved in putting a TV program together. In fact, I don't remember having any fun at all. The most fun I've ever had is when I ran my own biz, writing and producing my own stuff. The guy who owned the studio didn't talk to me much. Hardly ever. I was a solo operator who booked a studio for an hour and got the job done. He preferred to chat with the agency reps who booked a studio for the whole damn day just to record one or two commercials. Half the time the ads hadn't even been written until they got to the studio. Agencies had plenty of money and were more than happy to spend it. But me? They called me 29 point 8 because that's how long my 30-second scripts ran when they were recorded. They were perfected at home in my office, not in the studio. I felt guilty about spending my clients' money. Scratch spending, substitute wasting. I used to arrive at the studio on my bicycle and yellow stack hat. The agency guys turned up in their Beemers hehe. "Sumthin wrong here," I used to say to myself.
Yes, there was sumthin wrong, alright. I was playing by the wrong rules. I ended up costing my clients a pittance for what they were getting. I remember telling one writer that I was charging $50 a script. He said he was charging $1500 and that his clients were happy to pay it. Sheesh. Many years later, he admitted that I could run rings around him when it came to writing scripts.
I'd love a dollar for every time I've seen an ad on TV or heard an ad on radio that made me cringe and think, "People are actually getting paid for that crap!"
So here I am, ladies and genitals, doing my own thing writing Waffle, taking pics and making movies, and not having to worry about anyone's rules or standards but my own. Does that sound like a copout? It probably is.
Just checking Red Bubble. The other day a bloke posted a pic of a derelict house and called it Bleak House. I wrote a comment: There ya go...I've always wondered where the Bleaks lived. He hasn't responded. Prolly thinks I'm rude.
So I reckon this Friday could go down as Soul Search day... a bit of self-serving analytical mumbo jumbo attempting to justify my failures. Doesn't change anything really. I'm still in exactly the same position I was a couple of hours ago. Hehe. Meanwhile, it's time to catch up on what the world's been doing today, and take a bit of nourishment. Planet America is on soon, a program I like to watch. Gary
July 19, 2012. Well, that was fun. Nancy cleaned my uppers this morning, with lots of water spray and a drill thingy whizzing around. I kept gagging on the water but other than that, it wasn't too bad. The gums are a bit tender though. She gave me a Swedish toothbrush with a small head... lots of circular brushing with small strokes, twice a day with a toothpaste called Biotene. Next Monday morning she'll do the bottom teeth. Then at midday I'm off to Port Macquarie to see the radiation doc. Nancy says she's in for a dispute with him cos he's recommended having all my teeth pulled, but she reckons they'll be okay provided I maintain diligent dental hygiene. That's absolutely critical. If I don't, and the teeth need pulling in the future, the sockets may not heal properly. So, it's brushy brushy brushy every morning and every night with Biotene.
BTW, she whipped out a Nikon DSLR to take some pics of my open mouth. Made my little Fuji compact look a bit ordinary. Oh yes, and I'm getting a new denture. The old one is a bit tatty.
Dave from Ormond Beach wrote, and cracked a joke about the Pet scanner. He says it seems about the right size for his cat Spooky. Oh, dear. I swore not to say anything to the receptionist at the hospital about forgetting my budgerigar or whatever hehe. I'm sure she's heard it all before.
However, Dave commented on the videos of Taree, Sydney etc: And now you are in the movie-making business! You're doing quite nicely, I notice. One thing that surprises me is that with the mopod (sp?) you're getting surprisingly motion-free shots. One would think the camera was on a well-placed tripod, since the results are so smooth. Or are you cheating by perhaps placing the camera on top of something like a piece of furniture?
Monopod... mono for one leg. Yes, it works well and is much easier to carry around than a tripod. It collapses into a short stick when not in use, so I can take it wherever I go instead of having to pack it away, and I can leave the camera attached. If something like a pole or a wall is handy, I lean against that for extra support, but otherwise I just stand wherever I happen to be, adjust the height of the monopod to eye level (I use the viewfinder rather than the LCD screen), steady myself, breathe gently, and shoot merrily away. If you watch the edges of the frame you'll see some movement but not much. The monopod does restrict certain movements, like shooting up or down, in which case I have to rely on a hand-held pan. One example of that was when I panned from a bunch of buildings in an arc up and across the sky to Centerpoint Tower. If the pan is quick enough (but not too quick) you can avoid noticeable shake. It's a good idea to do a practice run before the actual shoot. The trick is to stop breathing and remain as still as possible once you reach the end of the pan. A camera with a built-in gyro would help but mine doesn't have that luxury.
Just got a call from Dr Jacques Hill in Port Macquarie to remind me of my appointment next Monday, and also to let me know that he received a copy of the report from Newcastle about the PET scan. 100% clear. A tiny speck on the voice box due to the effects of the radiation but otherwise clear as a bell. How's that for cool? I also mentioned the teeth biz and he said, "It's her call. If she can save your teeth she'll get no argument from me." To use J's expression, I managed to dodge the bullet.
I was thinking this morning that all this kerfuffle about operations and radiation and teeth, etc, is rather fortuitous in a way, all happening within a period of one year. It'll all be over once I hit the road on the Odyssey... apart from 4 monthly checkups and returning to "base". But that'll be okay. No biggie.
On the subject of school desks and memories, NC Art wrote: The school desk pic was familiar. Also the double seaters in early grades. They caused some friction, and Fat Floyd had trouble with any neighbor so close because he farted constantly and it wasn't the odor of peach blossoms.
Our desks and seats were bolted to the floor, of course, and some seats were fold down. The clatter was like a small war as the kids filed in, jumped up to recite, and at end of period. One teacher simply covered her ears as her little darlings strove mightily to drive her insane.
Yes, now that you mention it, I remember the clatter as well as the farts. One kid in particular thought farts were hilarious, and the more putrid the better. I live with one now. Lindsay often entertains Sue with his. I can hear them through the wall in my office. When we first arrived here in Taree, he asked me if I wanted to hear him burp and fart at the same time. "Try that in my presence and I'll break your nose."
The clatter and farts may be distant memories for Art these days but: I have an authentic schoolroom typewriter table which my son refinished for me 25 years ago. A Canon printer resides thereon today.
Lindsay's home today which is just as well. Sue insists she's gotta get ready to go to college. College? She asked me to convince Lindsay. "Darling," I said, "you're a 58 y/o woman. College was a long time ago in England. You live in Australia now. You've been married to that man for 30 years." Well, she wasn't impressed and continued to weep. Sad, isn't it? But I think I taught Lindsay something... speak softly and kindly, and don't get angry. Yeah, right.
So there ya go, dear Breth... a bloke in his 50s who still thinks farts are funny and a woman of 58 who thinks she's still in college. Makes me look pretty normal. Hehe.
Back from a little shopping and a tube of Biotene. Wow, that stuff is expensive! $13.50 a tube! I think I've already mentioned that I figured out how to eat/swallow certain foods so I bought a stack of canned soups... all the goodies, classic winter veg, creamy pumpkin, potato and leek, pea and ham, and country chicken. Have you ever heard of city chicken soup? Neither have I. All of which meant I had an excuse to buy Herbert Adams pastry parcels of chunky King Island beef in Worchestershire sauce. Yum!
I also topped up the Ute's tank from half full. $60, which means it cost about $50 to drive to Newcastle and back, which ain't bad for a 4-liter 6. It would be about the same for a one-way trip to Sydney. One thing I noticed on the freeway was lots of 2-liter buzzboxes whizzing along at speeds over the limit. And the big trucks? They're limited to 100kph. Oh yeah? Quite a few passed me doing 120 or more.
Just noticed this pic on Red Bubble. Well done, if you ask me. And I think Dave from OB will agree. He's a puddy tat man.
Today's gone fairly quickly for some reason. People like Averil who already know about the PET scan result have responded with 'congratulations' and 'great news' etc, but it hasn't really affected me in that way. If the news had been bad, I would have been surprised because I honestly feel that my time's not up yet... that I still have way too much to do! I certainly don't wanna make light of how serious the operation was, or be flippant about cancer, but for whatever reason, my imminent demise was not on my personal agenda. Why else would I buy a camper and have a new Ute on the shopping list? Call it a positive attitude or just plain stubborness or even a refusal to accept reality hehe, but I've got an appointment with Oz and a bunch of movies to make. So there. BTW, Averil was most impressed with the Sydney vid.
Okies, time for telly and din dins... and brushy brushy brushy with Biotene before bed. Gary
July 18, 2012. NC Art wrote: One other great thing about ink pens, when overfilled on a cold morning, was ink splotched shirt pocket and blue toned skin after sitting in a warm classroom for an hour. Permanent ink, that is. Bleach in the wash did a bit for the cotton shirt, but not advisable for skin. It simply had to wear off in the shedding of dead dermal cells.
Parker and Waterman were names of venerable in pens, some sporting gold points and intricately decorated barrels of pearlescent material. I used the damned things throughout elementary and high school. Not sure when the first ball point pens debuted, but most of them were pure crap before engineering caught up with selling hype.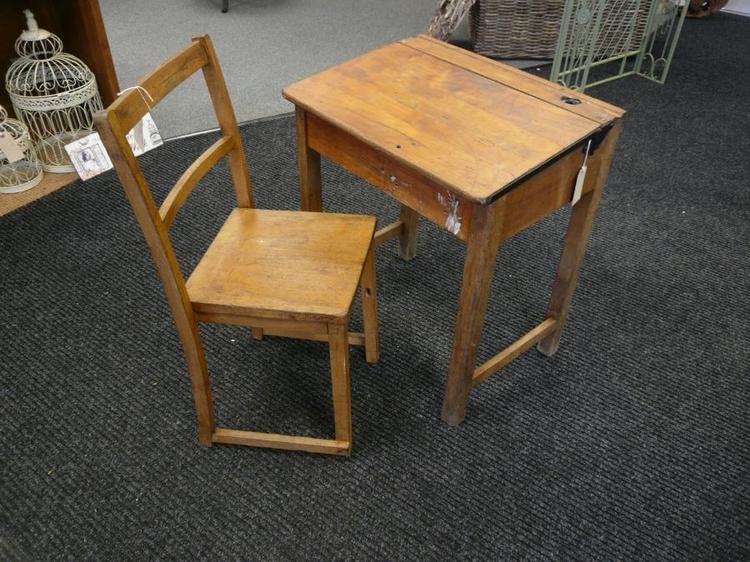 The desks at our school were similar to the one above except we had two abreast, joined by a single bench. They had a groove at the top to keep pens and pencils from rolling all over the place, and a hole for the ink well. But the hole was positioned for right handers, and I had to reach across each time I dipped my nib. Have you seen Obama sign documents? I used to write like that (and still do when I sign something) but had to change to vertical writing because of the hump in the center of an open exercise book (where the staples are). Resting the heel of your hand on that hump made writing difficult. Anyway, that desk is obviously for sale as an antique or collectable, and the seller is probably asking a fortune.
There was a report on the TV news the other night about class sizes of 20 students. One of my classes had 56 which explains why we had two desks abreast to make less aisles.
Art eventually graduated from fountain pen to typewriter, as I did. Mine was an office Remington with an extra long carriage, and weighed a ton. I tossed it a couple of years ago because it was too heavy to lug around, apart from being redundant. Those things are museum pieces nowadays... more incriminating evidence for younger people to ogle and wonder how the hell mankind ever managed to make it to the digital age.
TX Greg, Steve W and Art commented on my dentist's decision to leave my teeth in place. I'd kinda gotten used to the idea of them all being removed but I suppose it's the devil you know, etc. Besides, there's a box of peanut brittle bars in the fridge.
Got a second response from the on line retailer who sold me the dud GPS to say that their supplier is not answering emails. Am I surprised? That particular retailer was not the only one selling those "refurbished" GPSs either. There were probably thousands sold. Oh well...
And on the subject of buying, I just splurged on 2 x 4-pack padlocks, each pack keyed alike. I couldn't find a pack of six, which is what I need for the camper, but no worries. The two side storage bins can be keyed the same and the rear one keyed differently. It's still only two keys. And I have two spare locks. The price was great, less than $10 for each padlock including postage. They're new stock from a closed-down hardware store. There won't be anything of great value in the bins so basic padlocks are fine.
It's difficult to concentrate here. Sue's had a fall already, and then spent time washing her hair at the hand sink in the bathroom. Now she's rummaging around in drawers in the bedroom, looking for god-knows-what. I have to watch her like a hawk because Lindsay's out at the pub all day. He couldn't wait for me to quit my carer's job after I had the cancer op back in January when he said I was so helpless "you can't even look after Sue". Then he kept asking if I'd transferred to the age pension. And now he's at the pub all day! There was a period a while back when he was at the pub all day for about 3 weeks running. Even when I do have to go out for something, he still leaves Sue here home alone. It's not good, ladies and genitals. Not good. Sue at is the stage now where she needs supervision 24/7. I've already removed the TV remotes from the living room.
Just now she had the walker upside down trying to release the brake from one of the wheels. Sheesh. So I fixed that. But she's like a kid that gets into all kinds of strife if you take your eyes off her for an instant. My parents mounted a search for my oldest bro when he was a toddler. They had all the neighbors out looking for him. Finally, they found him in one of the kitchen cupboards pigging out on a jar of jam.
Lindsay's home. I start bitching but he's not listening. He's all over Sue like a rash. I might as well be invisible. He walked into their bedroom and said, "It looks like a brothel." Yeah... Sue's been busy.
I've got a banana that's a bit past its use by date, so I'll slice it in a bowl and pour custard all over it. Sound sensible to you? But in spite of that I don't think this particular day will go down in the annals of GK history as banana and custard day. It could go down as Sue's fall day but we've had a million of those. I think it's more likely that this will go down as the padlock day. Less than $10 each for 8 locks is pretty cool ya know.
And now it's time for the usual yadda yadda about dinner, telly and whatever. You've heard it all before. Hehe. I'm off to the dentist again early tomorrow morning... not sure if it's for a clean or a filling or whatever. Dozen madder. Seeyaz then. Gary
July 17, 2012. Wot does a PET scanner look like?
Now you know. Apparently it checks the whole bod because I had to pee before the scan. "A full bladder shows up on the image," is what they said. They also asked if my track pants had a metal zip. Yesterday, Art mentioned Americans packing more blubber these days. Take a look at the width of that bed. Hehe. No fatties allowed. They'd have a hard time fitting through that donut as well. "Emergency? Quick, we have a patient stuck in the scanner!"
Not sure what's gonna happen at the dentist shortly but it's possible my toothbrush will become redundant. Probably wise not to think about it. I'll know in about half an hour. The things an old bloke has to endure!
My dentist is Nancy - Dr Nancy Saunders-Clay, BMedSci BDent - and she's an absolute hoot. Late 20s and very tall. Also very Aussie... mate this and mate that. Loves a giggle. The glasses are for the bright light that hovers when she's checking the patient's open mouth. "Do I get to keep these flash specs?" "No." "Then you'd better take my pic before I have to return them." Seems like my teeth are gonna stay. Fillings and cleaning are about all I'm in for. And an X-ray at the hospital. "I've often wondered why people wanna become dentists." "Because we love it, silly as it may seem." I also have thrush of the gums because of the radiation, so I have to place my dentures (4 upper front) in a glass of water overnight. Normally, I leave them in position in case of burglars. Anyway, next appointment is Thursday morning.
Televisions in hospital/medico waiting rooms usually have those infotainment programs on during the day... the ones where everybody gets excited about vacuum cleaners that suck up billiard balls, and exercise machines guaranteed to make you anorexic in 5 minutes. People who watch that stuff must be couch potatoes without a remote. And the presenters? The less said about them the better. Talk about an insult to intelligence.
When Lindsay arrived home he asked how I fared at the dentist. He seemed disappointed when I told him I only needed a couple of fillings and a clean hehe. He loves a bit of drama ya know, and I've let the poor bugger down. In fact, he was so keen to hear the worst, he headed straight to my room before anything else, still carrying all his shopping.
Not all that much to waffle about today, dear Breth. Eddie's gourmet chicken rissoles? Yeah, I bought some. I'll have them with a mug of potato and leek soup to wash them down. Otherwise it's like trying to swallow blotting paper... not that I've ever munched on blotting paper, but I can imagine. Do they still use blotting paper these days? Every writing pad had a sheet in front, and there was a large framed sheet on top of every office desk, just in front of the seated occupant. People also used a wooden ink blotter with a curved underside. I'm sure NC Art knows heaps about blotting paper cos he useta was a printer. I even remember the ink I used to buy at the newsagent... QUINK. It was in a small bottle, available in Indian black or dark blue. There were other colors but we didn't use those for writing. We didn't use fountain pens either... just plain wooden pens with a steel nib designed to hold a blob of ink without spilling. If memory serves me correctly, fountain pens were banned at our school because they would make us lazy.
When I first started my working life as a clerk in a 19th century sandstone government office, I used a fountain pen. The office sink was attached to a wall in a small alcove and was used for scrubbing ink off fingers. It had a pummel stone instead of a cake of soap.
Actually, one of Australia's best selling authors and raconteurs Max Walker writes by hand using a fountain pen. He has a collection of pens that are quite valuable as well as of great sentimental value. He says they're works of art, which inspire him to write more creatively. Anyway, it works for him. All his books have been big sellers. I've been typing for so many years now, my handwriting is atrocious. I believe John Steinbeck's handwriting was not much more than scribble as well, and it drove his publisher/editor crazy, but if it works, who's complaining?
For me, typing is about speed and convenience. And I don't need blotting paper.
Well, there ya go... from chicken rissoles to blotting paper and pens. No doubt about the ol' Gazza, he can sure spin a yarn. Sooooo, it's time to vamoose and check out what's on the TV nooze. Gary
July 16, 2012. Quickie time. Just back from N'cle with a CD of pitchas of my ikky bits. A report goes to each of the docs involved, and I'll take the disk with me to Port Macquarie next week. It's a long day... 2 and bit hours there, 3 hours at the hospital, and 3 hours back cos I stopped for a coffee at a roadside diner. The coffee was that bloody hot it took me half an hour to drink it! So now it's 5pm.
The Ute went well... sailed along the expressway smooth as silk. That model Ford was used by taxi drivers for years and they swore by them. Not at them, by them. But I don't think I'll be doing those kinda miles on the Odyssey in one day. Total trip was close to 400kms. I noticed a heap of places along the way I would have stopped and camped if I'd had the new ute and camper. At Bullahdelah, the highway still runs through town (that's where I had the coffee) but there are major roadworks in progress, building a bypass. It's a bit silly to be doing 110 kph one minute and 60 the next.
The PET scanner is similar to the scanner at Port Macquarie hospital but no mask this time. I was in the tunnel for 15 minutes. Before the scan, I was injected with some kinda colored stuff that shows up on the scanner. As usual, the techie asked my name, date of birth and some other thing. So I gave him a whole lotta codswallop including my IQ and he didn't bat an eyelid... just carried on as usual hehe. "Did you just hear what I said?" "Huh?" "I could be an imposter!" "All the same to me, mate." Then they left me on a bed in a private room to rest for an hour before the scan, which I did. In fact, I dozed off.
And parking? The damn machine kept rejecting my $2 coins, so I pressed the emergency button. Somebody finally answered the speaker/phone and said, "Is the carpark full?" "Where's the full sign? I can't see it." "It's just to the right of where you insert the coins." "Oh." "What does it say?" "Full." "Well you better reverse out and try somewhere else." "I better tell the other 57 cars behind me as well. They followed my lead."
A drove a bit further into a kind of side street where a zillion cars were parked rear to kerb on both sides of the road leaving barely enough room to drive between them. Luckily, I'd only gone a few yards when I spotted a bloke getting into his parked car. Within 5 minutes, I'd taken his spot.
Anyway, all's well that ends well. Tomorrow morning I have my first visit to the dentist. That should be fun. And the power bill arrived. No big surprises despite the doomsday sayers. Averil says hers went up by $100 but ours was about average.
On the subject of shark attacks, NC Art wrote: Yep, those ugly sharks are causing jitters in lots of places they don't often go. Wearing my marine biologist hat—which is fake—I think the shark still prefers the seal to a human dinner. Shark metabolism uses lots of blubber fat for energy and the scrawny human is short on that. But maybe not for long. Humans are packing more blubber at an alarming rate. Don't know about Oz, but the U.S. is doing its part and will soon need to widen sidewalks for two behemoths to pass without colliding. Some airlines require two tickets for grossly overweight passengers who can't stuff themselves in a single seat. Still, it's good to have something to compete with overstuffed politicians.
And on the subject of Waffle, Oregon Richie wrote: The SYD vid is fantastic. YEAH !! I know what you mean about those amazing memory cards. I had a half hour of footage and over 900 pics on one 4 gig card from the DSA trip. Something else !! The content of the W page is really full of great stuff this month, and most enjoyable. As for the prime operator and Chief bottle-washer of the AO, well.... well put indeed.
So that's about it, dear Breth. Time for a bit of telly, a feed and a good night's snooze. Gary
July 15, 2012. Once upon a time there were childhood sweethearts who were very much in love. But for various reasons they parted, and lived separate lives. Drugs and alcohol took control of their destinies. But now, in their fifties, healthy and happy, the childhood sweethearts are back together and engaged to be married. Congratulations, Richie. Yesterday, I sent Richie an engagement prezzie. Just the pic... it's all I can afford. Hehe.
NC Art wrote: A 'day in the life of' subject is right under your nose: Sue and Lindsay. One bit that shows Sue heading for the bathroom, then follow Lindsay about doing whatever interspersed with shots of the closed bathroom door throughout the day. The fiddler never moves and neither does Sue. Closing shot, bathroom door opening and Sue emerging to be fed. Wot's easier and more authentic? Could go viral and turn into a cult rave!
Hehe, yeah. Perhaps Art is right about the thing going viral. Trouble is, I've lived with those guys for far too long. It's a pain as it is without contemplating a movie as well. I'm thinking maybe doing something with young Josh's mom, Stephanie. She's a well known Aboriginal artist around these parts, but I'm not sure she'd be willing. We'll see.
Art also asked about internet connection "allowances". My ISP offers 3 monthly plans: 2 gigs, 5 gigs and 10 gigs. I have the 5GB plan which costs $30 a month. My previous month's allocation finished yesterday and I snuck in at 94%. Providers here charge flat fees per tier based on [alleged] speed, but with unlimited use. The providers often make noise about getting rules changed to let them reward their big commercial users with hog share of high speed while crowding individuals into a tier so slow it effectively shuts them out. So far the "Free Forever" little guys have kept the vultures at bay. But for how long we don't know. The biggies think it's unfair to keep them from controlling the whole business and get all the big money. Rules here are made by the Federal Communications Commission under the Department of Commerce. Oh well, it's hard to fight giants.
True, but David with his slingshot did pretty well.
Justin's blog has been talking about great white sharks invading the cape area near Provincetown, MA. Meanwhile, they've been busy in Oz as well, with another fatality near Perth, Western Oz. Yep, according to Nature, we're just another link in the food chain, and sharks don't discriminate between humans and seals.
Ya know what I think it is that appeals so much to me about making movies? Story telling. Stills are cool. Stills can be artistic. Stills can transcend the years and become icons. But movies tell stories, and I love telling stories. It's not all that different to writing, actually. Editing is pretty much the same as constructing sentences and paragraphs. In fact, I think like a writer when I'm shooting and editing. And when I'm shooting I think like an editor. That's the great thing about being "the bloke in charge of absolutely everything" hehe. You know what's required by everybody involved in the entire process. I remember being on professional shoots and hearing directors asking cameramen to do pickups... extra bits of footage to be used as transitions or cutaways or fillers. Often, it's too late to shoot pickups the following day or whenever. Better to do them during the main shoot. And if they end up on the "cutting room floor", no worries. Better to have that extra material to worth with than not. Also, if you're aware of what you need as an editor, you can shoot stuff out of sequence. Dozen madder. All will emerge just fine from the wash.
When I wrote Richie this morning I mentioned how all that footage of Sydney fitted on a memory card the size of a postage stamp, a far cry from the days when metal cannisters housed huge rolls of 35mm film, and heavy cameras sprouted Mickey Mouse ears. Only one set of AA batteries was required as well. No need for the spare set. And microphones... the one inside the Fuji is about as big as a matchhead.
Another thing I mentioned to Richie was my job at Aussie Odyssey. I don't get paid, there are no annual holidays, no retirement plan, and I work 7 days a week. But I enjoy the work and the boss and I get along really well. Hehe. Seriously, it's the best job I've ever had. Not only that, the boss has promised never to sack me.
Just noticed this comment on Justin's blog from J about the Sydney vid: A great montage that, strangely enough, captures the cold beauty of modernity and the isolation of crowds.
How's that for thought provoking? I musta done something intellectual hehe. Another thing I've noticed is that nobody's complained about the length. 16 minutes is a long time to hold viewer interest with that kinda material (no plot), so it seems I've done a good job of editing. I think the longest scene was the Captain Cook Cruises ship docking, closely followed by the tram and the War Memorial rememberance pool. I figured those were a bit risky but apparently not. An editor's greatest enemy is viewer boredom. As Dame Edna Everage says, "Color and movement, darling. The little dears need their color and movement."
This is all part of the learning curve, ladies and genitals. Analyzing comments, making observations, taking note of what's said as well as what isn't. It's how I learned to be a band manager, a radio announcer, a writer, a producer, a webmaster and even a driving instructor at one time in my varied and sordid career. Not to mention a cook. I do regret a couple of things, like not having the patience or persistence to become a musician/singer... or a cartoonist. That would have been cool.
Meanwhile, it's off to Newcastle in the morning for the PET scan... and a six hour fast beforehand. I am allowed black tea with no sugar though. I know it's gonna be a BORING day but I'll take the camera anyway. Last time I was in Newcastle was 1973, almost 40 years ago. And yes, I remember it like yesterday. I was not a happy little chappy in those days and a bloke gave me a book to read: Cyber Cybernetics by Maxwell Maltz. It must've worked because I picked myself up and went on to become a mini super starlet in Sydney radio.
And Tuesday? The dentist at 9:45am. Bleh. At least it's a 1 minute walk up the road. Heart attack, skin cancers, mouth cancer, radiation, teeth out... wot's the story here? Wot kinda bod is this? I wuz diddled!
My mother firmly believed that upon death, and arrival at the Pearlies, one was reunited with one's body when it was at its peak. Mom? There's no air up there. No toast and Vegemite, no tea, no rissoles and gravy. No toilet paper either. Mom? You're not listening. Nonetheless, when my bros and I lowered the casket into the open grave on a wet and gray day, the clouds suddenly parted and the sun shone through. I turned to the other mourners and said, "She's hardly been there five minutes and she's pulling bloody strings already."
Lindsay can't cook, unless it's a frozen microwavable meal or one that you heat in a conventional oven. So he bought a couple of scotch fillet steaks today (and onions) because I was silly enough to say I'd cook them for him and Sue. And what am I having? Cheezy macaroni. Every time I think of macaroni I'm reminded of Cody being invited to supper at Mark's place. Cody was incredibly impressed with Mark's domestic proficiency... as well as everything else hehe. He was smitten big time. Mark, on the other hand, certainly got a kick outta playing host to the spiky haired scallywag about whom he once commented, "You're good for my ego".
Pretty soon, the third rock will complete the part of its daily revolution that sends the sun to you blokes "over there", which means macaroni and telly for me, and one more sleep before I motor down the freeway to N'cle. That's the way we spelled it when I worked in the Land Titles office at the Registrar General's Dept. And Wollongong was W'gong. Hehe. We had a time book that we had to sign upon arriving for work, and knocking off for the day. As the seconds ticked towards 5pm, I'd sign the book, dash across College Street, hurtle down the tunnel leading to St James railway station, sprint down the stairs 2 or 3 at a time to the platform, and be on the 1 minute past 5 train home. I always got a seat on that one. Then I'd read the latest MAD magazine and giggle all the way to Lakemba.
Seeya Chewsdee... unless I get back in time tomorrow for a quickie.Gary
July 14, 2012. Approval from our peers. That's why we do stuff ya know. Not necessarily applicable to masturbation hehe, but it applies to just about everything else we do.
But before I go any further, here's a link to a Youchewb vid a friend, Mieke, sent this morning, and it's delightful. Remember the Typewriter Song?
And now to the Sydney vid... NC Art wrote: You did a good one, mate. Enjoyed all of it, the cityscape running from Victorian to neo-mod architecture. Um, from the squawk and squeak of that fiddler, I'd give him ten $$ to stuff it and move on. Well, he deserves an A for persistence.
Off the coast of Florida, a series of islands are known as the Florida Keys, one named Key West. In Toronto, Ont., The Queen's Quay is a famous spot. Quay is pronounced 'key' and the quay in Quai d'Orsay is sounded key (approximately). The upshot of all this is nobody knows what the hell the others are talking about.
Speaking of others, the legendary baseball manager Yogi Berra dropped this gem: "Always go the the funerals of other people, or none of those people will go to yours."
Aussies (at least the more traditional ones) are known for being difficult to understand, and I believe it originated from the days when people got into the habit of speaking without moving their lips, which was designed to keep the flies out. Art also identified with my story about the cockroach. His cottage is set low to the ground, which invites an assortment of creepies to invade his place. But he says the consolation is that it gives him a bit of exercise.
One Youtube watcher commented: I feel like I was there! Thanks Gary!
Hmmm, not sure why he said that. Maybe it's because I'm familiar with the territory and shot it from a native's POV. Or maybe it's because I was solo and didn't have to lug around a ton of equipment or a crew. Anyway, it was a nice compliment.
TX Greg commented: Hmmm youre getting pretty crafty with these vids :) I love the way you used the violin playing bloke in the vid and ending back on him. That's a ton of cool shots in there. Would have thought it would take someone a week to shoot all that footage. Perhaps you should put the new comp on the buy list before the Ute :)
It would have taken a week with a professional crew. But that's one of the most satisfying things about this "hobby". After being deserted by all my former colleagues years ago, and being written off as a hasbeen, I've finally mustered the nerve to take another shot at it. Moreover, I'm proving I can do the whole bloody thing myself! So stuff those bastards. The kid's back! And ya know what? I don't think any of those guys by themselves could match what I'm doing solo. So there! New comp? Yeah, that'd be nice. But if I can manage with what I've already got, I'll stick with it for a while yet. BTW, the repeats of the fiddler is known in the biz as a running gag.
Got some nice comments from Justin's blog followers too, which is encouraging. Justin reckons I should do vids for Travel Agencies. Hehe. Nah, this is not an attempt at launching a new career. This is all about doing what I love, and proving to myself that I ain't lost it. Mind you, I spared no expense in putting this latest vid together... a $130 camera, a $10 monopod, and a five buck tip for the fiddler. Oh, and a coffee at McDs.
So far, no one has commented on the woman who made the desperate dash for the train as the doors were closing. Hehe. I thought that was classic. So too was the photographer who was giving the bride a hard time in Hyde Park, trying to get her wedding gown in position for a photo. And the fiddler, of course. All those unexpected gems are a photographer's dream. I got lucky with the steam loco vid as well, with that long haired woman leaning out the window, waving at all the passers by. No one has commented on the interior shots of the Queen Victoria Building either. That was the first time I'd ever been inside (although I had seen lots of pics on Red Bubble). The building was Sydney's pride and joy during the early 1900s but was then allowed to deteriorate in favor of new skycrapers and the "modernisation" of the city. When I was a kid, it was derelict, with boarded-up windows and doorways of corrugated iron. There was talk of demolishing it. Fortunately, however, concerned citizens rallied for the building's restoration to its former glory. And what a gem it is. I thought it was stunning.
Another shot I rather like is the Freshwater ferry waiting to disembark from the Quay. I used my all-day pass to gain access to the wharf even though I wasn't a passenger and then snuck up to where I placed the camera. I stood there for quite a while hoping that I wasn't trespassing on forbidden territory or something. Then when the shot was finished, barriers had been placed around where I stood to prevent passengers waiting for the next arrival to gain entry hehe, AND I WAS STUCK THERE! But the bloke who did the rope thing earlier was kind enough to let me out... and was most pleasant about it as well.
When one is armed with a camera, the shot is everything, and one does things one might not ordinarily do in order to get it. And that's why that shot is important to me. It exists now for all time. The shot that Kelly got.
Speaking of which, guess what? Guess what's arriving at the Overseas Passenger Terminal at 7am Monday November 12? Here's a hint. Yes, folks, I just checked arrivals and departures. How's that for cool? The Pacific Jewel in all her stunning glory. I'm certainly looking forward to getting lots of shots of that baby from every angle I can manage. That particular shot was taken from Circular Quay railway station. I hope it's a nice day. So this will be third time lucky. I've been to Sydney twice this year. I'll also be taking a ferry ride or two next time so I'll get footage of the ship from those angles as well. What a bonus! Here's another shot of the 70,000 ton liner.
I've just updated Art's Art - Recollections of a Small Town Boy. This time it's political... Another Damn Liberal Democrat!
Art forwarded this gem as well...
This was written by a black guy in Texas.......so funny.....what a great sense of humor
When I born, I black.
When I grow up, I black.
When I go in sun, I black.
When I cold, I black.
When I scared, I black.
When I sick, I black.
And when I die, I still black.
But you white folks.....
When you born, you pink.
When you grow up, you white.
When you go in sun, you red.
When you cold, you blue.
When you scared, you yellow.
When you sick, you green.
When you bruised, you purple.
And when you die, you gray.
So who you callin' colored?
I just made a small change to the Sydney vid text on Youchewb and, while there, checked a short vid I made ages ago about war and its horrors. I'd almost forgotten about it, and how effective it is. Took a while to gather all those images but it works.
Now that I've unwound from all the work, stress and anxiety of the past week, I'm ready for the next project, whatever that might be. It's move on time. I have a thing about 'that was then, this is now', not that the past is irrelevant, it's just that now is of the essence. And the next project becomes my focus. I can't go back, but I can go forward. Next! I'm kinda toying with the idea of a "day in the life" of somebody but I haven't worked out who yet. Or what. I guess I'll just wait for an opportunity and grab it.
And there goes another Satdee! I just checked my broadband usage on my ISP's site and guess what? 90% and my monthly allowance ends today. So I'm sweet. Seems there's no need to upgrade my account. I'll upload vids late at night or very early in the mornings in future. Neh, neh, neh, neh, neeeeh, neh. Gary
July 13, 2012. Friday the 13th again, so how come my woes were on Thursday the 12th? I couldn't stay awake last night during the slow upload of the Sydney vid so I left the computer on and went to bed. A few hours later I woke for a pee, and checked the comp. Well, whaddaya know, the thing had finished uploading. Cool. But I was still too tired to do whatever was supposed to come next, so back to bed I went. This morning, I checked my channel on Youtube - no upload. Did a search of my vids - nothing about Sydney. Huh? So here I am once more, going through the upload procedure YET AGAIN. But this time it seems to be working okay. 25% so far and it's only being going about 15 minutes.
The mysteries and vagaries of computers and cyber space. Now you can better understand why Wilbur and Orville persisted with their heavier than air contraption. If we humans weren't so infuriatingly persistent, nothing would ever get done.
Regarding things technical, NC Art wrote: A recent magazine article reported that Facebook is building the biggest server farm ever in the north of Norway, 50 miles south of the arctic circle. That cold location will save millions of $$ on electricity required to cool the servers. And as a bonus it will recapture heat from the servers to warm offices where human specimens work.
I expect your woes are server-related. There aren't ever enough to keep up with the good stuff because of all the crap swirling around. A download and upload rate check NEVER comes close to the claims of blinding speed made by ISP advertising. Caveat emptor.
And regarding pronunciations, Art added: Yeah, it is quay, not bay. And while we're quibbling why not spell it kay ee wye, the way it's pronounced. Odd that Brits, Frenchies (and Amurykuns} won't say what they spell and vice versa.
Actually, if you wanna do the phonetic thing, I'd suggest kew-aye. And I like 'quibbling'. What a wonderful word! I think it was back in the '60s that the Cahill Expressway was built to direct eastern bound traffic off the Harbor Bridge and over the top of the Quay on poles. They built the railway station on poles, and then put the expressway on top of the station. For a long time, there was a hue and cry about how ugly the whole thing was, and that it spoiled the look of the city skyline for visitors arriving by ship. But then the buildings around the foreshore got bigger and taller and suddenly dwarfed the Cahill Expressway, and no one complained anymore. Hehe. I can't see that thing ever being dismantled now. Sydney certainly is a pretty city, aided by its natural harbor. No one could deny that... not even Melbournians or Brisbanites.
Did I tell you Art's got a fan? Yep, Oregon Richie wrote: The WAFFLE entries have been most interesting, too. I really do enjoy the views and comments from various peeps and how they perceive things. Art is smart guy with many interesting points to make although I have not as yet read all his entries of late.
How's the upload doing? Half way-ish. Not bad. I think you'll like watching it. Lots of pretty pics. A few technical "issues" but not too many, and I certainly could have added more if I'd had the time. For example, I went right past the old GPO in Martin Place... a marvelous example of sandstone architecture from the 19th century. Lots of massive columns and intricate stone work, reminiscent of classic Rome and Greece. In fact, Martin Place itself is a huge pedestrian plaza. Dammit, I forgot all about it. And Darling Harbor? I got off the bus near Town Hall and the Queen Victoria Building and was facing Darling Harbor but decided to do the QVB first, and then forgot all about Darling Harbor! Maybe next November when I see the doc again. It'll be summer then.
BTW, you'll notice footage shot through a train window as we entered an underground station (it's amazing how well that little Fuji handles low light conditions) that reveals scratches on the glass. Graffiti fuckwits aren't happy with just paint anymore, now they're scratching the glass which can't be removed. It's a bloody good thing for them I'm not in charge of their punishment. Averil was telling me that just after the GPO was renovated and restored to its former glory (housing shops and restaurants these days), the fuckwits were there again vandalizing the building with their "art". What a joke.
The problem with vandals is that they seek vindication and praise from their peers, which they undoubtedly receive in abundance. They couldn't give a shit what you and I think, so there's no incentive for them to desist. At least not while I'm not in charge. Maybe we should try a bit of reverse psychology and make graffiti respectable, especially the worst of it. Give out awards for the most despicable and trashy. Put the "artists" on the Queen's Honors List hehe, and make a big fuss. Once they start getting kudos and praise from those whom they despise, the whole point of their idiotic exercise will become redundant. Nah. Interesting idea but not very practical.
Upload is about 2/3rds through at the mo but I think it's slowing down a bit. Zillions of people out there are using their mobiles and iPhones or whatever the hell they are. It's peak time on a Friday morning. If it's illegal to sell tickets to a fully-booked show or a plane with no seats left, why isn't it illegal to sell high-speed broadband if it's not high speed? Our current federal government is spending billions of dollars on a fibre broadband network, the biggest and most expensive national infrastructure program in the country's history, but what's the point of a socket stuck in a wall if you wanna be mobile?
Wet and dreary today, which doesn't do much for one's state of bliss. And that reminds me, I must check if any cruise liner will be in port at the Overseas Passenger Terminal when I'm in Sydney in November. Don't wanna use Google just yet tho cos of the upload, which is now about 80%. Yes, it would be cool to shoot one of those big mothers in Sydney Harbor. There was hardly a soul there last Monday, just a few young tourists taking pics of themselves using the self-timer and pretending to be having a fabulous time. I remember when tourists used to ask you to take their picture for them but I suppose there are too many crooks around these days to trust anyone with your camera, let alone all the pics it contains. One young bloke had the Captain Cook Cruises ship behind him as his camera took an auto shot. I was watching him and imagining all the lies he would tell his friends back home. You'll see the CCC ship docking in the vid. It's a pretty substantial vessel but by no means a QE2 or whatever. The scene is shot from where I stood to shoot the still of the Quay and city skyline Art referred to. It was a nice time of day too, with the eastern sun low in the sky and shining on the city buildings.
The upload has slowed to a snail's pace now at 85%. Fair dinkum, if this thing fails again, I'll scream. What the hell does a bloke have to do to make this thing happen? Meanwhile, I don't dare check for mail or anything else to upset the flow. It's like walking on eggshells. Fortunately, I have this Waffle entry to keep me occupied during all the eggshelling. Otherwise I'd go nutz. It's now 10:15am.
Just had a woman from the Newcastle hospital phone to remind me of my appointment on Monday for the PET scan. She rabbited on about street directions and all that stuff but I'm not confident of finding the place that easily. It takes about 2 hours to drive there but I'll allow 3. And I've put $10 worth of $2 coins in my backpack for parking meters. Speaking of backpacks, it's only recently that I let out the straps so that I could wear it on my back properly. Quite often as I walked around Sydney I got the feeling something was missing or I'd forgotten something. Then I'd remember it was on my back, and all my goodies were in there safe and sound. Many other times I'd get the camera ready for a shot, and then lean back on a pole or wall to steady myself, forgetting I was wearing a backpack, and roll sideways or whatever because I wasn't firmly against the pole or wall. Shot ruined, thank you very much.
90% uploaded now. Fingers crossed.
The other night I spotted a cockroach scurrying across the floor, so the chase was on in earnest. I grabbed my strategically placed fly swatter as the fleeing beast ran under one of my camera bags on the floor. I lifted the bag and the thing took off again, zig zagging all over the shop until, in a panic, it ran under my shoe. I raised my foot and stomped, but the bug was too quick, and scampered off again. However, the noise of the stomp alerted Lindsay and he thought it was Sue in the bedroom taking another fall. After a few more unsuccessful attempts with the swatter, I finally nailed the bastard, giving him another couple of whacks for good measure, and then shoveled him up from the floor and deposited his battered corpse into the waste bin. Then I walked into the living room where Lindsay was watching telly, and waved my swatter around. "I'm a dangerous man when armed with one of these things," I said. "Matter of fact, I'm gonna do a movie, starring me of course, riding into town on a mule and wearing one of those Clint Eastwood "make my day" expressions. My two holsters contain a pair of pearl-handled fly swatters. I dismount, tether the reins to the log thingy with a nice bow, then with a slow but menacing walk, I step through the swinging saloon doors. One bloke on my left catches my eye and I don't like the look of him. Quick as a flash, I draw one of my swatters and belt him around the head a few times. Then I approach the bar and order a Milo. Whaddaya think so far? Lindsay said I'd be bundled into a straight jacket within seconds and whisked away by a couple of blokes in white coats.
96%. Nope, just clicked over to 97%.
99%.
100%, but the blue bar says 0%. Wot dat mean? All is quiet on the western front. Nothing seems to be happening except the little circle thingy is going around and around. Is anyone home? Wot's the story? Is the upload successful? Will somebody please let me know what's happening? Thumbnail selections will appear when the video has finished processing. Yeah? Well, that happened last night too but the upload still failed. Upload complete! Your video will be live here. Yeah but when? Ah, a thumbnail has appeared! And now three thumbnails? Should I click the link to see if the vid is on Youtube? I don't wanna bugger anything up.
Are you ready for this? After all the crap and stress and buggerizing around, click here for my latest extravaganza. And don't say anything bitchy. I'm way too fragile to handle anything but the gentlest of commentary. Be nice.
Here's a gem. I've just been notified by my ISP that I've reached 89% of my 5GB wireless broadband allocation for this month (which ends tomorrow). That means it's gone from 64% early yesterday to 89% today, and all I've done is try to upload a 300MB video to Youtube. It stinks, and I've told them so. I'm paying for their SLOW connection. I told them that too.
Okay, so it's congestion according to my ISP. Maybe that's the price I'm paying for living in a small town. Congestion on the wireless network. Which means the phone company's focus is on the big cities where the big bucks are, and we hicks can go to buggery. I guess I'll have to bite my tongue when I finish editing movies and wait till late at night or early in the morning to upload the damn things. Grrrr.
Meanwhile, the video converter program that came with the Toshiba died today when I tried to make a DVD for Averil. So I swapped over to the Acer but it doesn't have a converter. It doesn't have a CD/DVD player/burner either. So now I'm back with the Toshiba where I downloaded a trial version of Solid WMV to DVD, which was doing just fine until a minute ago when a window popped up to say the burn to disk failed. Dammit. So now I'm trying a new disk at a slower speed. Ya know, all this bullshit has taken up several hours and the day has gone. I was gonna do a couple of things this afternoon that are now kaputski. And how has your day been, dear? Ah! Success! Burn completed successfully. And yes, it's now in the TV and working like a charm. The big screen format looks good as well. Oops! The complete vid didn't copy and convert for some reason. Dammit! ANOTHER GREMLIN! The original is okay, but the copy stops about half way through. Hello? I'll attend to it later... probably with my fly swat. What's that? Friday the 13th? Rubbish! I'm not superstitious.
Wait a sec. It says this is a free trial version. It has some limitations: less subtitle types supported - half video conversion. Did they just say half? Roite. Sheesh. I think I need a stiff drink or something. Fair dinkum, I'm so frazzled I can't begin to tell you. NOW THEY TELL ME! Anyway, I just parted with $30 to buy the damn thing. It works well and (now that I've booted a few gremlins out of the process) it's as easy as pie to convert wmv to dvd.
And that about sums up my day, ladies and genitals. I'm not sure if it's been a success or an absolute disaster. Hehe. I know one thing... I'm buggered. I reckon a bit of telly and a feed will go down well, and a good night's snooze. I'm too bloody old for all this excitement. Oh yes... my older bro. I email him about my cancer treatment and no reply. I email him about vids I've uploaded to Youtube and no reply. I email him about a bunch of Japanese students playing big band music and I get an instant reply. So there ya go. Gary
July 12, 2012. Roite, back at the Toshiba after slaving away on the Acer with the Sydney vid for the past couple of days plus half a day today. Then I tried to upload it to Youtube but the connection was sooooo slow it was pointless. I'm trying again now (after about 4 attempts). I copied the vid to a USB memory stick which is now poked into the appropriate Toshiba slot.
The vid runs about 15 minutes and is about 300MB in .wmv format. It's not bad, unless ya wanna get picky. I can see room for several improvements but considering it was shot in half a day and edited on a slow machine, it's pretty cool. The Fuji's auto focus got a bit confused occasionally but hell, shit happens. Anyway, every time I put a movie together I learn things, and that's one of the encouraging aspects of this game. It's a pity I wasn't interested in something like this many moons ago.
Just checked the upload again... 5% so far. DEAD SLOW. This crap happened before with the Taree vid but all I get from my ISP technical service is a load of bullshit about "try again later" or disconnect and reconnect or "the wireless network is probably busy". Oh really? Ya think so?
In response to my mention of blubbering on the phone to Averil, Steve W wrote: Ok this has gone just a tad too far………..inspiration, yes you are but……….."a slave to your every whim, doing my best to enrich your lives"………steady on cobbler! But I will concede, you do bring a little warmth and joy into our days. Always look forward to checking The Waffle.
Cobbler? I think he meant 'cobber'... an old Oz expression for 'mate'. TX Greg also commented: Oh that got me laughing this morning.....
"I'm a slave to your every whim". Gary, I didn't know you got into that kind of kink, hahaha
NC Art forwarded this story: Two blondes were sipping their Starbucks during break from their government job when a truck went past loaded up with rolls of sod.
"I'm going to do that when I win the lottery," announced Blonde #1, who works in the Office of the Treasurer processing tax payments.
"Do what?" asked Blonde #2, a manager in the Recorder's Office.
"Send my lawn out to be mowed."
AND... not forgetting I won $14 on last night's Lotto. What kinda ute do you reckon I could buy for $14?
NC Art also sent a link to something he says is pretty spesh: A Teenage band from a Japanese girl's school playing Benny Goodman. Japanese Swing. This is good! If you are old enough you will smile, if you are young, you will love it. Amazing how young they are. Whether or not you like swing music turn up your speaker and take a trip back in time. These Japanese kids would make Benny Goodman proud!
I can't watch it now cos I'm in the middle of an upload, and I didn't watch it before cos I was busy with editing. But Art has since written again: Great shot of Circular Bay, the square one. hehe. Also that fwd of the Japanese swing band is a real hooter. Showed it to my son and he asked me to send it to him so his lady can enjoy. I watched it four times and enjoyed all four. Sound is eerily like the big swing band era I grew up with! The little gal with the trumpet solo amazed me. Keep up the good work on your new movie producer career.
He means Circular Quay. Circular Square? Square Quay? There's a stack of landfill there so I suppose the original cove was circular. There's a circular skyscraper in the city called Sydney Square. So there ya go. My two older bros grew up with the swing era, and I came in at the tail end just before Haley rocked around the clock. I quite like Big Band music, the Goodmans, Krupers, Dorseys, Elgarts, Shaws, and the crooners like Sinatra, Crosby, Lee, Bennett.
How's the upload going? 9%. Sheesh. Forget it. It would take 12 hours or whatever at this rate. I've reported it to my ISP but a fat lotta good that will do. I'll try again later tonight. Meanwhile, I'll check out Art's link to the Japanese Big Band.
Oh yes, good stuff! Those kids are really into it, and those girls are master players. Most surprising! I wonder if we'll see a revival of swing? Earlier today, listening to the radio in the bathroom, I heard a report that it's the 50th anniversary of the first public performance by The Rolling Stones in London, and those guys are still going... certainly not something they would have anticipated way back then as a bunch of long-haired rock and rollers. Solo artists often have very long careers but it's extremely rare for bands.
Oh yes... yesterday, mid winter, it was sunny and 23C. That's 73.4 F. Didn't last long tho... today has been cooler (although not all that cold) and showery.
Time for a wrap. I'm a bit stressed and also pissed off about not being able to upload the Sydney vid at this point. The gremlins are out to get me, I suspect. There's always SOMETHING! Seeya tomorrow. Gary
July 11, 2012. My poor old legs are certainly feeling the strain of all that walking in Sydney on Monday. But it was worth it. Today I spent over 8 hours solid on editing the Sydney vid... lots of fiddly stuff that drives you nuts. So now the thing is edited but needs refining, as well as titles, captions, and a bit of this and that. It runs about 14 minutes. The Acer has slowed to a crawl after all that work. Even so, at 1.6 giggle hurts it can't cope very well with the vid in it's raw state... it's very jerky and difficult to tell in some instances how the saved .wmv will look. It'll be a bit of an educated guess. My worst fear is that some shots will be a tad too long... even by 1 or 2 seconds... gotta keep that pace moving to maintain viewer interest. A much faster machine will be on the shopping list one of these days for sure. Gotta get another ute first, though. See what happens when you suddenly wanna be a Cecil B?
So I'm behind with mail and other things, but it can't be helped. Didn't even have time for a shower today! And lunch was on the run.
Just phoned Averil.... she would have been wondering how I went with the doc. Then I made the BIG MISTAKE of telling her what Steve W wrote about my being an inspiration and went ALL BLUBBERY! Dammit. Change of sub. This is a shot of the old coathanger I took when I was wandering around The Rocks. I thought it was pretty cool so I posted it on Red Bubble too.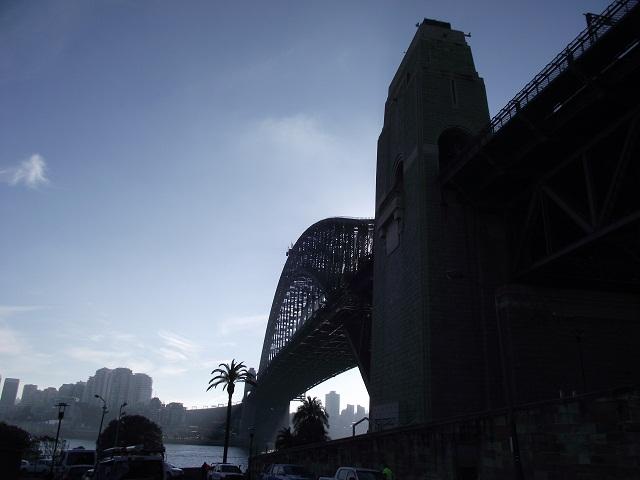 Actually, I took a few stills which I'll put in an album when I get a bit better organized, and finish the vid... hopefully by tomorrow or Friday at the latest.
Yes, ladies and genitals, it's a lotta work doing this kinda thing but once it's done, it's there forever. God bless Youtube. I'm not sure what inspired me to take an interest in shooting movies. Not all that long ago I thought they were too time consuming and too much trouble. Now I've done a complete 360, but if you asked me what exactly changed my mind I couldn't tell you... unless it was because of the S1800 manual I read on line, which spoke of how good the camera was at shooting video even though it was essentially a stills camera. Anyway, whatever the reason, here I am totally obsessed with doing the vid thing.
Time to call it a day - to relax a little watching the telly and satisfying the belly. After a good night's snooze, I'll get stuck into it again tomorrow. Jeez, imagine how keen I'd be if I were being paid! I do it for you guys, you know that? I'm a slave to your every whim, doing my best to enrich your lives and bring a little warmth and joy into your day. Hehe. Why the hell not? Gary
July 10, 2012. G'day ladies and genitals, boils and goils, here I is again back in Taree and, according to the doc, I'll be around a bit longer yet. He says I'm doing very well. I told him I was totally buggered after walking around the city and he was pleased... pleased that I was active and doing things. Apparently, the tissue in the mouth looks good and is healing nicely. He reckons once the tongue settles down again, I'll have my normal speech back. How long that will take, he didn't say. Meanwhile, he wants to see me again in November... par for the course in these types of matters. And that might continue to be the case for a year or more, in which case the Odyssey will include return trips to Sydney every 4 months or so. No biggie I guess.
I should also mention that I look pretty good compared to some of the people in his waiting room, who have had the same operation. One bloke was speaking through a trachi in his throat and making an awful gurgling sound. And quite a few people there had lymphodema worse than I do.
And the footage? I was stressed when I arrived in Sydney at 7am and hadn't slept. My first few attempts at filming weren't too good (or so I felt) but they got better as I did my thing. Even so, I wasn't confident that I'd shot anything other than pretty ordinary stuff. I was too tired when I arrived home last night to bother watching any of it, so it wasn't until this morning that I bothered. Well, well, well, it was better than I expected. Some was even brilliant! I'm having a rest day today so I'll get stuck into editing tomorrow. It's a BIG job so I'll take several days I imagine. I shot about 3 gigs of footage.
My schedule didn't go to plan. No taxi trip to the North Shore. But I did a lot of walking and covered a fair bit of territory. Forgot about Darling Harbor though. Hoping to shoot as much of the city as I'd planned was being way too optimistic. Nonetheless, I did pretty well... and managed to get a couple of bits I can using as running gags. When I go back in November, I'll do specific shoots of the Harbor, north and south, from shore and on board ferries, as well as Darling Harbor. My first thought was to add new scenes to yesterday's movie but it's better to do separate videos.
All that crap I wrote about jumping in a taxi and doing the quick tour last Sunday night was wishful thinking, and an attempt to stay awake until 1:30am.
The Snorer's Express wasn't too bad... no snorers. But I still couldn't sleep. Those damn seats look comfortable, and they are for a while. But I've got little padding on my bony butt so I was constantly repositioning myself, and STILL couldn't get comfortable. Naturally, I didn't sleep, and was a bit frazzled by the time I got off the train at Central.
My first food was a McCafe coffee at McDs. Nothing to eat though, and that was about midday. I sat there drinking my coffee watching everyone else munching away on yummies, dammit. So apart from a glass and a half of white wine aboard the train on the way home (an exhorbitant $6, thank you very much), I'd eaten nothing all day. There was a young German backpacker sitting across the aisle from me, eating a flat-bread salad and cheese wrap, and I was salivating watching him. Watching him eat, that is. :-P
BTW, I was busting for a pee at McDs and had to climb 3 flights of stairs to get to the loo! Walking into a public toilet with a camera mounted on a monopod was a bit of a worry though. Hehe.
Anyway, I was anticipating having to apologize for a second-rate attempt at shooting a vid of Sydney yesterday, but now that I've seen the footage, I've changed my mind. I think it'll turn out pretty well. Managed to get a few interior shots of trains and buses, and some "traveling" footage, and one bonus... a woman making a desperate attempt to board the train as the doors were closing hehe. I also spotted a wedding with the full tux and bridal gown in Hyde Park, and I filmed a violin playing busker at Central, whom I tipped $5.
Yes, I could have done more... lots more. But that will always be the case no matter how much I shoot or how long I shoot for.
I must say that Fuji S1800 does a fine job. Not perfect, but good enough. And I bought it used for $130. I'm using the Acer at the mo, cos I have a feeling I might be tempted to start editing the movie today.
I took that pic of Circular Quay from the Overseas Passenger Terminal (which was vacant) and resized it for this page using MS Paint cos ACDSee is not on this comp. Whatever works, yes?
Oh yes, and I must mention my disappointment with some of the city trains. One was so filthy, I let it go and filmed the next one. The city is still using a lot of the old rolling stock but even the newer trains are constantly vandalized by graffiti fuckwits. The authorities are fighting a losing battle against cleaning it off, I'm afraid, and I was saddened, even ashamed of that aspect of my old home town.
Anyway, I'll post this Waffle now and spend the afternoon getting started on the edit... Sydney - A Winter's Monday Morning. Gary
July 8, 2012. AN EXTRA BIT OF WAFFLE AT THE BOTTOM, ADDED LATE SUNDAY NIGHT.
Bright and sunny but a bit fresh. I expect it to be about the same in Sydney tomorrow as I wander around the city. Mind you, not TOO much wandering. I'll be catching buses and trains over longer distances. There's a lot I wanna shoot and not all that much time to shoot it... Sydney Harbor, Hyde Park, various city icons, The Rocks, Darling Harbor, Botanic Gardens, railway stations, streets (and their signs), traffic... and basically whatever catches my eye. I wanna shoot footage inside trains and buses too, as I travel around the metro. And I'd love to shoot the interior of the restored Queen Victoria Building, which was derelict when I was a kid. It's a real showpiece now, but I'm not sure how much time I'll have to shoot interiors. We'll see. I'd like to take a quick ferry trip too, but that could be pushing it a bit. A bloke could spend a week in Sydney and still not cover it all, let alone places like Bondi, Manly, the Parramatta River, the northern peninsular, and a host of other areas beyond the city itself. One of these days I'd like to shoot footage of the historic inner city areas such as Paddington, Darlinghurst, Glebe, Leichhardt, Balmain, and Pyrmont with all their quaint Victorian and Federation style cottages and shop fronts.
Not so long ago, you had to lug a bunch of heavy equipment around to shoot movies, but now it's all miniaturized and you can almost blend into the crowd and go unnoticed. The cameras are fast too, so you can shoot stuff in low light without the need for extra lighting. My total equipment will be a smallish camera and a monopod. That's it. And that'll take care of both video and stills. And audio! And film? Wot dat? I'll have 2 x 4GB memory cards no bigger than two postage stamps. I'll also take my little Fuji compact as a spare.
I remember the shoots I used to be a part of back in the TV days. A cameraman with a full size broadcast camera and tripod, a director, a sound man, a lighting guy, a script writer, and several large aluminium boxes to carry all the gear. Try boarding a peak hour train or bus with all that paraphanalia and personnel!
Yesterday, I mentioned sheds, so TX Greg made one for me: Found you a waffle shed complete with its own Rodney under the porch, hehe.
Just be careful of that first step inside.........
BTW> Did you know we have a chain of restaurants here called Waffle House?.....
Love dem waffles with maple syrup. Remember recently I mentioned a Brit cook and his oven-baked prawns in chilli sauce, served with mint and wrapped in a lettuce leaf? He was on telly again last night, doing all kinds of magic things with food. He made an upside down pizza with the crust on top in the oven which looked superb. He's big time into pies too... all kinds of pies. He also made crab-meat cakes with a tasty crispy batter that included fresh corn kernels and fried them on a camp stove at Brighton Beach, and served them with a generous dollop of sour cream and chives. Yum! Nigel Slater's Kitchen the show's called. The bloke's a whizz at creating simple but delicious dishes, making clever use of contrasting flavors and textures.
Speaking of sour cream and chives, it's hard to go past a spud wrapped in foil and baked on a campfire, then served with lashings of sour cream and chives. Heaven on a stick!
NC Art also wrote with regard to my mention of Dr Karl and his love of science yesterday: I'd celebrate Alan Turing, OBE, over Dr. Karl. Turing worked out the algorithms for computer language, and was a pioneer in artificial intelligence. Was on the team which broke German code and sped up the end of WWII. The code messages were written by a machine which randomly changed the code key. Enigma was the decoder machine that busted the code. So he would fairly be known as the father of computers. But, life is not fair.
He was discovered in a homosexual act—against the law at that time—and given a choice of prison or hormone treatment to 'cure' his criminal tendencies. He chose hormones. Two years later he died at 46 of cyanide poisoning, and ruled a suicide. That hormone stuff will screw thing up, uh royally. PM Gordon Brown belatedly apologized for the shabby way he was treated. HURRAH! Fat lot of good it did him then.
Artificial Intelligence has a ways to go yet. The human brain speeds along at 1,000 gigabytes per sec; the fastest computer: 1. No contest yet.
As far as I know, Dr Karl has not been responsible for any great scientific breakthroughs but he has made a great contribution to science by being able to communicate scientific wonders to the great unwashed by making them entertaining as well as enlightening. He stimulates curiosity and then gets his audiences to ask questions. It's all about presentation, isn't it. Decades ago, there was an American physicist who often visited our shores to give televised lectures called Why Is It So? His name was Professor Julius Sumner Miller; a crabby old dude but very entertaining. I suspect Dr Karl took a leaf out of the old guy's book. Sumner Miller also made a few bob from doing commercials. That cute kid in the ad is now a middle age man.
Stood in the sun for a bit just now to warm up the old bod and saw a Trakka motorhome breeze past. It was a biggie! Easily as big as a bus, and probably worth $300,000 or more. I remember Trakka back in the late '80s. It was a small company that transformed VW, Toyota and other vans into campervans. They fitted a new canvas sleeve to the poptop in my Kombi for $1200. I doubt if they do that kinda work these days. But the growth of Trakka into a major builder of motorhomes just goes to show how the market for traveling Oz has grown in the last 20 to 30 years. Ditto Freeway, the people who built my camper back in the '70s. They are now known as Winnebago, and we all know how big they are. Yep, it's a major industry with retirees sitting on a million bucks worth of real estate in big cities, and selling up to purchase a motorhome with all the comforts, plonking the balance in a bank account, and taking off around Oz to check out the scene. So next year, hopefully, I'll be out there with my $4700 camper parked next to a bunch of those hugely expensive rigs, with my cask of cheap plonk in the fridge, saying "g'day". I hope they don't mind me cheapening their posh neighborhood. Hehe.
Never mind, I'll be seeing the same sights they will, and probably make better vids hehe. In fact, I'd like to make vids of the people I meet but only if there's a particular point of interest that appeals to a general audience. I don't wanna do the boring snapshot thing. Like any journalist will say, ya gotta look for an angle. Or a bit of gawk material. :o)
NC Art sent a couple more essays which are now included on Art's Art - Recollections Of A Small Town Boy. I particularly like When The Gold Was Sold. It's a remarkable snapshot of life during the Great Depression. Recommended reading.
Art also writes about The Death of the Icebox. I remember ours. It had a green wooden lid over the galvanised metal box where the block of ice was deposited. But I don't remember the ice man chopping small blocks from a larger block. Maybe ours were pre chopped. However, I do remember his horse drawn cart, and the big tongs he used to carry the heavy block to our ice box. But then came the Silent Knight, Australia's first domestic fridge. It was round shouldered, and gas powered. And it was cream colored. It had a small ice box top center, big enough to make ice cubes or home made ice cream. I remember my mother using her Sunbeam Mixmaster to create the ice cream mix which she poured into two aluminium trays for freezing. Sometimes she made milk ice blocks with sugar and flavoring. I think they were my fav. Silent Knights sold in their tens of thousands, and I dare say there are still a few chugging away as "beer" fridges in Sydney basements. Some years later, when I was a teen, came the Crosley Shelvador, an electric fridge with a full-width freezer compartment and more squarish shoulders. Very flash indeed.
During the '50s our kitchen had one enameled sink and one tap. There was no running hot water. The bathroom had a Carmichael gas water heater which you lit each time you wanted to shower or bathe. The external laundry, which my dad built, had a large copper that was gas heated. My mother plonked all the washing in the copper and used a big pole to swish it around in soapsuds. It had an attached wringer operated by a handle. No spin dryers in those days, ladies and genitals. I remember the lady across the road used to collect everyone's old newspapers because she had a chip heater in her bathroom. I think it was designed to use chips of wood as a furnace but she used old newspapers cos they were cheaper.
But that's the way it was back in those days, and nobody complained. Before TV came along in 1956, we barefoot kids would play cricket out on the road (no traffic then), and then come inside just before 6pm to listen to the radio serials while we ate dinner. Tarzan between 6 and 6:15, Hop Harrigan between 6:15 and 6:30, and Yes What? between 6:30 and 6:45. Hehe. Then we'd have to do our homework before bed time. Bleh.
The gas wasn't natural gas either. It was produced by a huge gas works on the banks of the Parramatta River, not far from the center of Sydney. Coking coal was used make the gas, which was piped all over the city and burbs. I remember the smell. Ikky. The gas works closed down and was sold off about 20 years ago. Now the area - many acres of prime inner Sydney foreshore - is a large suburb of low to medium density apartments. Very upmarket and very expensive. Some of the old gas works buildings have been kept and refurbished as historic reminders of the area's past. Another world of ice boxes and horse-drawn carts and radio serials.
Well, looky looky, it's late afternoon and I'm mere hours away from rattling my way to Sydney aboard the 'Orrible Express. Oh well... one of those things up with which we must put. I'll drive the Ute to the station and leave it there till I return tomorrow night about 9:30. I'll probably do a quick check for email and whatever tomorrow night before I hit the sack, but little else. Then again I might be too buggered after galavanting around Sydney all day to bother with anything except sleep. On Tuesday, though, I'll be keen to check the footage I shot and start editing the vid. Don't count on much Waffle for a while, dear Breth. Cecil B will be hard at work.
Lemme check the weather forecast for Sydney tomorrow. Min 8, max 18. Partly cloudy. Light winds. Sounds pretty good, actually, but it'll be a bit nippy when I arrive at 7am. Another thing up with which I must put. Gotta get that footage, and as much as I can! I heard where the monorail is going to be dismantled so maybe I should shoot that while it's still available. I've never ridden it even though it's been operating for 20 years. There's also light rail which I've also never ridden. So much to do, so little time to do it! By the time I get to the doc's appointment at about 2pm, my hair will be standing on end and my eyes will be twirling around like lolly pops and bouncing on springs. I'll be frazzled.
Hmmm. I wonder what the doc will say? Not much, I expect. The PET scan is not until the following week in Newcastle. It will reveal the presence or otherwise of "hidden" cancer cells in the area of the operation (mouth and neck). He will get a copy of that report I should think, as will the doc at Port Macquarie and my own GP here in Taree. I'm being well scrutinized, ladies and genitals. My hope is that I'll be around long enough to shoot movies of all kinds of interesting places in Oz, like Uluru, Lightning Ridge, Kalgoorlie, Oodnadatta, Broome, Hobart and other capital cities, and god-else knows where. I'm yet to blossom, so hold that bolt of lightning!
And dinner? Well, last night I had mushroom soup and a choc coated ice cream on a stick. Not exactly a feast fit for a king, but not too bad nonetheless. I might get a bit more culinarily (spellcheck didn't like that word) adventurous tonight. How about cheezy macaroni and mini beef balls in tomato sauce? And a choc coated ice cream on a stick for dessert? I'm not sure Nigel Slater would approve but what the hell. Wish me bon voyage and I'll see ya Chewsdee. Gary HANG ON! I haven't finished yet!
It's late Sunday. Couldn't sleep so I'll stay awake until it's time to depart for the railway station in about 2-ish hours. Besides, it might help me sleep on the train.
I was thinking about how I can physically cover some of the areas in Sydney I wanna shoot. They're a bit off the "beaten track" in terms of public transport. So, here's the plan. I arrive at Central, shoot all the obligatory stuff about the station, trains, platforms, buildings, etc. Buy my day pass - concession, of course - I qualify as ancient. Then jump on a city-circle train to Circular Quay. Shoot the ferries disgorging city workers, assorted harbor activity, Bridge, Opera House, city skyline, a bit of The Rocks area, etc. Then jump in a cab and travel north over the Bridge, shooting footage all the way, left down to Luna Park, under the Bridge to Kirribilli, then back across the Bridge, left lane so I can shoot the city skyline as we approach, then back into the city, left up Bridge St and down to Mrs Macquarie's Chair which has great views of the Opera House and Bridge from the eastern approach. Then to St James railway station where I can walk to the other shots I wanna get... and take my time. I reckon that taxi trip should cost maybe $60 - $70 but it'll be worth it to get all the shots I otherwise couldn't. By then it should be about 8am-ish and I'll have plenty of time to wander around town shooting stuff at my leisure. Sound like a plan to you? Sounds pretty cool to me, and it means I don't need to fret about missing out on certain stuff. There are some things people expect to see when they watch a video of Sydney, so that's what they'll get.
Yes, I could cheat and use some shots from the internet but it wouldn't be the same. Anyone can do that. This will be a Fossil Fillum!
Steve W snuck in a quickie email earlier tonight, which kinda threw me: Good luck for tomorrow Gary, you are an inspiration to all of your followers. More power to your arm (and your mouth) mate.
Inspiration is a word I use to describe the likes of Cody and certain others, but never myself. On the other hand, Steve can do or say whatever he bloodywell likes, I suppose. And thanks for the wishes. Gary
July 7, 2012. No mail this morning. I've been deserted. Makes me wonder if I'd bother with all this if I didn't have feedback. I've heard various authors talk about taking a year or more - sometimes much more - to write a book, and I wonder how they can survive that long alone in a room writing something to which the only reaction by anyone is there own. I'm not sure I could handle it. Even when I spent a month putting that Taree video together I was busting at the seams waiting to upload it to Youtube. Hehe. No patience, this kid.
Peer approval, that's what motivates us human beings. Why would we bother otherwise? Why the hell would I travel around Oz in a box, writing a journal and taking pics if I were the only person involved? They don't call showbiz showbiz for nuthin' ya know. In fact, I'm gonna spend all next week sitting in front of this computer (actually, the Acer) editing hours of footage to make a movie about my visit to Sydney, and not receive one single cent for my effort. Kudos will be my reward. Hopefully, hehe. Would I prefer to be paid? I don't think so. That would only mean bosses and working with other people and not being free to do my own thing. Artistic freedom, is that what it's called? Or just plain stubborness?
You may have heard this story before but it's worth telling again: John Laws used to tear some of my scripts to shreds on air, which pissed me off a bit. But rather than confront him, I began to insert a dotted line across the middle of the page with the words "Tear here" typed at the side. Hehe. Laws is 9 years older than I and still going strong on air. He tried retirement but got bored. The guy can't help himself, and neither can I.
One consolation in relation to getting older is that your perspective improves. You see things more clearly and from a much more enlightened standpoint. Too often, at the time of those occurrences, you were too close to judge the situation accurately or, dare I say it, wisely. The disadvantage now, of course, is that it's too late to go back and change those things. Cest la vie.
And how was the choc coated ice cream on a stick last night? Lovely. No trouble at all. First time I've eaten one of those things in years! Home Brand too... about 3 bucks for 10.
BTW, those crispy bits of bacon I mentioned yesterday... you can buy them dried now in small jars in the herbs and spices section. On Planet America last night I saw Joey Chestnut on July 4 win his sixth consecutive Coney Island hot dog eating contest by downing 68 hot dogs and buns, breaking his own record. Yeah, well, whatever blows your hair back. What's the bet he went straight out the back and puked it all up again?
Another program I watched on telly last night was about a Street University in the south western burbs of Sydney where unemployment is high, and drugs and homelessness among the youth there is a major problem. So the kids are encouraged to join this Street University where they can learn all kinds of skills like rap dancing and rap singing (if they're good enough) plus more formal courses. It costs them each $100 a year and they even get fed! A lot of students are inspired to give up their life of crime on the streets, and go back to school or even seek employment. It's all about improving self esteem.
Another program I watched was about retired blokes with not a lot to do, especially widowers. So two blokes rented an old shed and borrowed a big old table and a bunch of other stuff, and opened it as a Men's Shed where old blokes could come and spend the day mending old toys and bicycles and all kinds of other junk. It was so popular with the local retirees they soon had to find a bigger shed, with more tables, donated tools and machines. All their repaired goods are gratefully received by charities. And the blokes couldn't be happier. One bloke said he walked 4 miles every day to be there among his mates, joking and laughing, and putting his time to good use. I'm sure it'll add quite a few years to their lives as well.
My dad had his shed. It was a mess, crammed with all kinds of interesting things. It's where he disappeared whenever mom was a bit cantankerous. I don't recall ever having seen her in his shed. They must have had a mutual understanding... that the shed was out of bounds to women. As a kid, I snuck in there on occasion to marvel at the old cabinet wireless sets he had stored, or cupboards full of bits and pieces, and tobacco tins full of nuts and bolts and screws and washers. I still have his old hammer and a hand drill. My dad believed junk was only junk until you found a good use for it. Eventually, my folks moved into an apartment and all those treasures in the shed were abandoned. Dad was finally shedless.
In a way, Waffle is my shed. It's where I think and babble on about this and that, and hopefully add something interesting, meaningful or amusing to someone else's day. It works for me too. Often I have to research something which means I learn something. Or a contributer enlightens me.
That's the way the human race works. It didn't get to where it is today by keeping secrets. Everytime we flick a switch or drive a car or watch TV or listen to the radio, it's the result of what some bloke invented. And his knowledge was built upon knowledge passed down through the generations. Dr Karl, an Aussie scientist who has turned his knowledge and talent into a successful showbiz career, was talking the other day about the creation of the internet. He said scientists around the world had all this knowledge they'd accumulated over the years on their computers, and they really needed a way to share it with other scientists. So some wiseguy came up with the idea of the internet. Computers that can talk to each other. And now there are millions of computers around the world talking to each other! I wonder if we truly appreciate the significance of the age in which we live.
Dr Karl is a geek. But a very successful geek. His passion and enthusiasm for science and the wonderful truths it holds is infectious. He explains things in such a way that ordinary people can appreciate the magic. And he's been doing it for years on Aussie TV and radio. At the moment, he's all excited about this new discovery that scientists believe holds the answer to what creates mass.
There ya go. I start talking about homeless kids and bored retirees and the next thing ya know I'm talking about Dr Karl. Hehe. One thing leads to another, yeah?
The sky is pink and it's after 5. It's also cold so the a/c is on. One more sleep (and maybe a nap) till I'm on board the Snorer's Express. It occurred to me today what matters most... the doc's report or the footage I shoot of Sydney. Hehe. If you guessed No.2 you're right. I can't wait to get stuck into it. Seeya Sundee. Gary
July 6, 2012. Yep, good ole Americun hotdogs. I prefer them when the bun is toasted and spread with soft butter, and the sausage is sprinkled with bits of crispy bacon. A thin smear of Hot English mustard gives it a bit of extra zing too. The supermarket bakery here sells mini bread rolls, partially baked so you pop them in the oven for a minute or two. Fresh, crusty and hot! So I use those to make mini hot dogs with cocktail frankfurts.
NC Art revealed something about Ludwig that I was unaware of: As rehearsals began for the premiere performance of Beethoven's Ninth Symphony, the most renowned European soprano looked at the score, pronounced it unsingable, threw it on the floor and stormed out. But it did indeed get sung...and still does.
And of Oregon Richie: Oregon Richie needs to unwind before he pops a spring. But I share his dudgeon over the fat mossbacks who cannot imagine a brand of democracy which responds to people's needs. They remember too well the glorious days when the richest got even richer by the hard time labor of the un-rich. Wanna share? Hell no!
My dad was ambitious. His boss drove a new 1954 Desoto which my dad admired. So in 1964, he bought a 10 y/o one hehe. I don't think my dad knew the difference. Or cared. In the late '50s, Chrysler Australia stuck a couple of fins on the back of that model, and a new grill, and called it the Chrysler Royal, but it was essentially the same car. Then came the Valiant, and the race was on between the Big Three, Chrysler, Ford and Holden. Volkswagen and British Leyland (The Morris Mini) had their own private battle in the small car stakes. But then, funny names like Toyota, Datsun, Isuzu, Mazda, and Honda began to emerge, and everything was destined to change dramatically. Which all goes to prove that loyalty is not a human strong point.
Conservative or liberal? Who's right and who's wrong? Well, here's a kid who's been there and back, and who now rejects labels. Very interesting.
Dame Edna Everage (alias Barry Humphries) is retiring after all these years. "I just can't do it anymore". However, the Dame says she will always allow her fans to approach her "provided they don't get too personal with my erogenous zones". If you're unfamiliar with the Housewife Megastar from Moonee Ponds, here she is being interviewed some years ago on Parkinson.
Averil just phoned to say she watched both my movies, Driving Around Taree and the Steam Loco, and was "very impressed". Yeah, just like real television. The vids are getting a few new views each day on Youtube. The Loco is about 80+ and Taree is about 70+, which ain't bad considering I don't promote them - well, other than a few mentions here and there. I told Averil I'll be shooting footage of Sydney next Monday. I'll miss out on sights like all the buskers at Circular Quay, who would have been there in droves the previous day, Sunday. But that can't be helped. Sydney on a Monday morning will be quite different, with workers running around trying to get to the office on time. So I'll make that the theme of the vid. Busy, busy, busy. Lots of ferries, buses and trains.
Back from inflating my tires and filling the Ute's tank. I have one of those fuel guages that takes forever to reach 3/4 and then does a high dive. Anyway, $65 worth of juice which will keep the Ute running around for a while. Nope, not really. The Newcastle trip mid July will be about 200kms there and 200 back.
And I bought some more of that fig yoghurt, which is just too yummy for words. AND, I splurged on chocolate coated ice creams on a stick... 10 of them in a box. I think I can manage those okay. Do you have Gay Times over there? We've had them for decades over here in Oz, long before 'gay' had those kinda connotations.
A friend of mine sent this link to a 30-second vid about "this dog will never go to heaven".
Art forwarded a few funnies such as: "The problem with politicial jokes," said Henry Cate, VII, "is they get elected."
And here's something I wrote ages ago. I'd forgotten about it until a Red Bubbler commented on it today.
Well, the sun's disappeared from Taree. Hopefully, it'll reappear for you shortly and have you brushing your teeth and soaping your armpits, and then sitting down to a bowl of crispy crunchies before launching yourself into the new day. For me it's only two and a bit sleeps before I board that Snorer's Express, which I'm dreading. But Planet America is on telly soon, which is a show I enjoy. Seeya Satdee. Gary
July 5, 2012. I checked Justin's blog this morning and was pleasantly surprised by something very special that happened in Spain. Justin dedicated it as his July 4th gift from his family and his b/f's family who all celebrated Independence Day together. How's this for a great start to the day?
Ludwig lives on, yes? J, a long time friend and regular commentator on Justin's blog wrote: Well, you just made my day, Justin. These flash gatherings remind us that civilization endures in a world where barbarism is always with us. Schiller's vision of a world in which "alle menschen verden bruder" still seems far fetched, but when Beethoven put it to music so glorious, music he was too deaf to hear at the time, you believe that all truly will be well. Thank you so much for this.
And on the subject of Independence Day, NC Art comments: We hold these truths to be self evident, that all men are created equal and are endowed by their certain unalienable rights, and among those are Life, Liberty and the pursuit of happiness. –Preamable to the Constitution
The last right was originally "property," until someone noticed that slaves were considered property. So if that was in the constitution it would perpetuate a horrible institution! So "pursuit of happiness" got the honor. Note the word pursuit as a right, not the happiness. Cagey old buzzards weren't they.
As for socialism, all people are socialists, just not with a capital C. If we weren't social animals, we would have killed ourselves off by now. And yes to Francois, I am a liberal socialist, and believe that governments have the responsibility to lead a nation to feel and act responsibly for the betterment of all its citizens—and the strangers within its gates (to get Biblical about it). Those who have garnered most of the money and power did not get there by themselves—however differently they claim to believe.
Enuff for this stuff now. We will eat good ole Ameracun hot dogs tonight to celebrate the Glorious Fourth, and a finger for King George III and his tea tax.
Well said, Art and I'm sure Francois would agree. And I hope you enjoyed Ludwig's contribution to the festivities (even though it was unrelated). Impressive camera work and editing in that piece too.
Oregon Richie also got motivated to write something about the medicare situation in the US: Interesting views on health care in this country. Why it has quite the controversy associated with it sort of mystifies me, and the relative private lobby groups for "misinformation and fear" have certainly done a fine job of all that nonsense. It's so damn absurd about all this "big government" stuff. So it is, and so it's not, since big government equates, in my view, to "big society", which you can't hardly escape for 50 feet in any direction. I think many Americans continue to resent the fact that it IS ( and largely should be ) and even more that they do in fact depend on it SO much. Hey? Like ol' boy Chuck? You want to forfeit your current unemployment compensation? Your medicare? Your added value social security benefits? Congratulations, ye conservative anti-socialist minions !! You are retired now and solely by the good graces of the US Federal Government, with a nod of appreciation to the state. Yeah !! And yes, we "do all pay into it", and the taxes are not cheap, but... the MOST conservative estimate of value received holds that most get back at least 20 times what they pay in, and some I know of... it's gotta be about 200 times !
Art wasn't too crazy about my naming his contributions Art's Art (too funky) because he wrote his essays originally as Recollections of a Small Town Boy. So we compromised... and I added a little something else as well.
I put fresh batteries in my little flashlight today. I bought it years ago to find my way around all the spaghetti under the desktop. What a mess that was! Now it's the laptop and far less chaos under the desk. But it occurred to me that boarding the overnight snorer's express to Sydney is always a major problem in that all the lights are turned off, and it's almost impossible to see the seat numbers. All seats are pre-allocated on the train so you can't just plonk your butt wherever you like. Now I'll have my little flashlight to find mine in the darkness. It's in my backpack. The scene on the snorer's express is reminiscent of a train wreck, with bums, legs, arms and luggage strewn all over the place, including the aisle, as people try to stretch out in cramped conditions to catch forty winks before they arrive in Sydney. Driving would be preferable but there's no way I'd find parking in Sydney near the doc's rooms. Besides, it's easier and quicker to use public transport to get around town and I only have about 6 hours to shoot as much footage as I can.
What's for dinner tonight? Dunno... haven't figured it out yet. Mushroom soup? Hmmm. Maybe something a bit more substantial... like savory mince (meat) and vegies. Yeah, that'll do. BTW, it wasn't easy to get outta bed this morning. Hehe. Bit chilly! So I stayed there until almost 8am. I felt a bit guilty but not THAT guilty. And that's another thing I don't like about catching the snorer's express... it leaves Taree at 1:30am. Gary
July 4, 2012. NC Art wished me Merry Christmas and a Happy and Prosperous New Year today. I thought it was Independence Day. Oh well, dozen madder. Meanwhile, he sent a few more essays to add to his list. In case you're wondering, they're short and only take a minute or two to read. Maybe I should call them snippets of life... Art's Snippets.
I'm more of a waffler than a snippeter.
Francois wrote to say he'll be away for two months: I'm going away soon (next week), so I'll not write for 2 months, and maybe not read your waffles: internet will be very slow for me and reserved quite to forecast and family news.
Does Francois mean weather forecasts? I take it he'll be aboard his boat... you're a braver man than I, Gunga Din. Anyway, seems like he'll miss my next movie extravaganza, the one I'll shoot next week when I visit Sydney. Never mind, it'll be there on Youtube waiting for his safe return. BTW, the forecast for Sydney next Monday is sunny and mild, about 18C, which is pretty good for winter.
Francois also commented on my mention of Medicare: I'm french and socialist, so you can guess what I think. But what I've to say is conservatives and facists are always blocking the social evolution building theories on one exception. We've the same ultra right in France (quite 20%), and they say all the problems come from immigration: easy to charge those who have not the same skin colour (and no money) of all the problems of the society...
Crooks are everywhere, above all in the financial part of society and they rob billions to the states, much more than this social crooks, and none are saying much to them.
To live in a country without medical care is a shame: only the rich peoples may have an access to the hospital: what an exemple was the usa before Obama's social laws! Well, that's politic, and Art is still in the generation who thought each social law is communist, as many americans. They've to open their eyes: communism is nomore a danger for them, it doesn't exist anymore anywhere...
Don't post in your waffles politic opinions: not the place! So don't speak of my mail if you don't want open a politic fight!
I think Francois misunderstood what Art was saying about the system of payment and refund yesterday. Art has a social conscience. He supports same sex marriage equality, for example. He also supports Obama and the introduction of universal medical care for all US citizens. It seems to me that both Francois and Art agree on issues regarding social equality, but I don't think Art labels himself as a socialist. Neither do I, for that matter. I'm more inclined to be politically neutral. A swinger.
As to political fights, nah. I have little interest in taking sides or arguing the point. Same with religion. I express my opinion, sometimes strongly, and am happy for others to express theirs, but that's where it ends. I'll leave all that bickering to the politicians and religious nuts.
If you'd like to read some interesting quotes about opinions, check out this site.
Anyway, we all live in a world where there are a multitude of opinions other than our own. It's the way it is, was and always will be. Who the hell would want to spend all their time justifying their own? Jesus did and look at what happened to him.
The president of Indonesia has been visiting Australia for talks with Prime Minister Julia Gillard so we've been hearing a lot of President Susilo Bambang Yudhoyono. Try getting your tongue around that name! It slips off the tongue of newsreaders no worries, so they must have been practicing.
Ohio Jace just wrote about the storm he experienced. Trees down, power lines down, chaos everywhere. But his house, June's house and those of his neighbors survived okay, despite the downed trees and debris. Jace says 75% of his area was without power and water over the weekend. I saw a story on the TV news the other night about severe storms in Washington, and Oregon Richie told me about the drenching he got in his home town. All this in the wake of the huge firestorms in Colorado. If that's the way God blesses America then I'll stick to Oz. Mind you, the Queensland floods we had a year ago were the worst in over a century. Climate change?
Jace also figured out why his nephews took such a keen interest in what kinda truck he bought to replace the old one written off in his recent accident. He's been designated substitute chauffeur for the boys and their bikes when they go to the races. Hehe. What would the boys do without good ol' Jace. By the same token, what would good ol' Jace do without the boys? They keep him busy.
I know how it is when you have a vehicle that can carry stuff. When I bought Bluey, I had a couple of neighbors wanting me to cart stuff around for them. But they quickly lost interest when I explained that it wasn't a van but a coach with seats. Now I have the Ute but it has a canopy hehe, so it's not much good for carrying bulky loads. AND I'M NOT TAKING THE CANOPY OFF!
My next ute will be the same. Once the camper is on the back, that's it. It ain't coming off. That'll require a few changes to the regular routine... no more parking undercover at the mall, and I'll need extended wing mirrors and a reversing camera. I expect the new rig will take a bit of getting used to. The shopping center opposite the one I've patronised for the past 11 years has an open parking area, so I'll use that.
Speaking of V hickles, I love this shot of a 1967 Ford Mustang. They were a pretty sharp looking beast, and still are.
Wanna see another one? This is a 1937 German Horch. Pretty snazzy for its day. NC Art was a kid riding farm tractors when this thing was rumbling around town.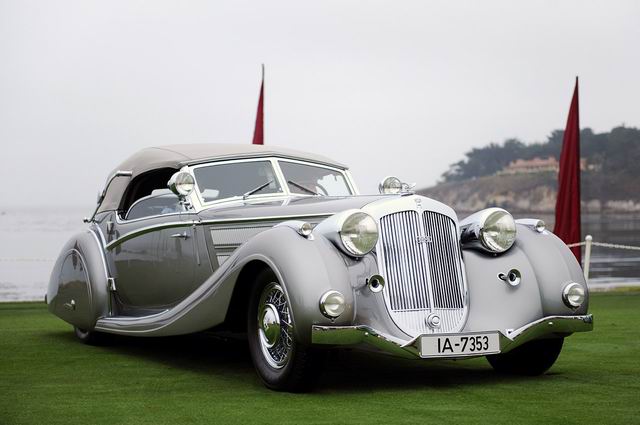 Whale, that's it for anotherie. Time for the nooze on telly and some grub. Roite, Francois? Francois thinks English is difficult enough without me buggerizing around with it. Hehe. Gary
July 3, 2012. There's a reason for everything, yeah? NC Art commented on my reference to the Medicare system of payment and refunds: That Medicare system of pay and refund provides a check on overcharging by providers and possible collusion with patients to receive kickbacks. If the doc's charge was $256 and you paid it in cash, you'd be out $126 and the doc would be screwing the system...and you! Government agencies spend a lot of time chasing unscrupulous blokes. In Florida recently, a Medicare fraudster was charged with collecting muchos dinaros and splitting the loot with a gang in Cuba. Seems his "patients" were happy to share the goodies also. Oy vey!
Yes, I'm reminded of similar scams in Oz over the years. Some of them were high flyers and ended up serving time behind bars. I could crack a funny about bartenders but I won't.
And on the subject of crooks trying to log into other people's Facebook accounts, TX Greg writes: My guess is the Facebook login was an honest mistake. And you got only one email notice? Comcen does serve the Brisbane area, right? So my guess is someone with an addy very close to yours just mis-typed in the addy on login. Now if you had gotten two or more notices from Facebook that would be strange.
So here we are on another Chewsday. Sunny and bright but a bit Picadilly. I had to get outta bed twice last night for a pee, and it was a wonder I could find my damn willie by the time I got to the loo. I'm not a fan of winter at all. It was 3 degrees this morning. It'll be interesting to have my first night's sleep in the camper, whenever and wherever that happens to be. There are three windows in the forehead section, which will be handy on warm nights. I don't expect to encounter wintery conditions anywhere because I'll be following the sun. But in desert country, the nights can be very cold even though the days are hot. In a way, the Odyssey will be like being reborn - starting a new life completely divorced from the past. Nothing other than my presence on the internet will be familiar. Willies notwithstanding.
And to further deepen the mystery, I have no idea where I'll eventually end up and settle. Maybe I won't. Maybe I'll die with my proverbial boots on, out in the sticks somewhere frying a snag on the campfire. But it doesn't matter. The future will take care of itself and I'll just follow my nose.
Americans celebrate their independence from British rule tomorrow, 4th of July, and yet the two countries are "family". We Aussies were less confrontational about our independence, we simply beat the pants off the buggers in cricket. We still have our Queen but we're a constitutional monarchy, which means the Royals can visit our shores anytime they like provided they don't tell us how to suck eggs. Our national anthem is no longer God Save the Queen but Advance Australia Fair. When I was a kid, God Save the Queen was played in cinemas before the movie, and we all stood in reverence to Her Majesty. It was played at school too. I must admit I don't even know the words to Advance Australia Fair except for a smattering. Shame on me. But I do know the words to Waltzing Matilda, which is our unofficial anthem... all about sheep-stealing rogues and coppers. Hehe.
A while back, a woman from Community Health was here organizing stuff for Sue when she had some paperwork to fill out. She asked Lindsay a bunch of questions, one of which was about his ethnic origin. "Do you have any Australian Aboriginal or Torres Strait Islander blood?" "No, I'm an Aussie." She repeated the question and got the same answer. Sheesh. God knows what she thought but she didn't say anything.
Just back from a little shopping, and checked the back of the docket. Ads hehe. Nothing's wasted, yeah? They even sell advertising space on the back of shopping dockets. Anyway, that satay chicken with rice last night was so nice, I bought a couple more of the same brand... teriyaki chicken, veges and noodles, and beef and veges in black bean sauce with rice. At four bucks each, why not? I don't bother cooking these days. I also bought a couple of cans of my fav soup, potato and leek, and a can of savory mince and veges. So there ya go, nothing frozen. Getting ready for the Odyssey.
Speaking of cooking and recipes, I saw a Brit on a cooking show the other night doing some rather interesting things that had nothing to do with fish 'n chips. He poured sweet chilli sauce from a bottle into a baking dish (enough to cover most of the bottom, maybe a quarter inch deep), and then placed a number of large raw peeled and deveined prawns about an inch apart along the bottom, making sure they were well coated with the sauce, and then baked them in a moderate oven until they were pink. But here's the really interesting bit. He chopped up some fresh mint and served the prawns in a lettuce leaf with the mint sprinkled over. How simple! And it sounds delicious! A few thin slices of cucumber would probably work well too, just to cool the chilli a bit.
I'm tucking into the last of the Activa fig yoghurt at the mo. Yum! Shoulda bought more while I was at the store. That Brit cook, by the way, uses yoghurt in hot chilli dishes to lessen the heat. You can do the same with coconut milk which Asians use almost religiously in pan dishes. Oh, lordy, lordy, lordy, I gotta get back to PROPER food! Although, I am managing a lot better than I was a month or two ago.
Probably the thing I find most amazing about cooking shows (and I like to watch them) is how there seems to be an endless variety of new and novel ways to cook all kinds of dishes. You'd think those guys would eventually run out of ideas, but they never do. By the same token, you get McDs and other fast food chains churning out the same old thing year after year and it never seems to lose favor. And that's another thing I'm longing to be able to eat again... PIZZA!
Wrap time again. Time to turn on the magic box and see what the world's been up to today. Gary
July 2, 2012. Just back from the doc's to have stitches removed from the surgery I had about a week ago. All's fine. The lesion was cancerous according to the pathology report but contained and hadn't entered the derma. I told the doc about my appointment with the head/neck specialist in Sydney on the 9th and he said he wouldn't be surprised if the specialist didn't wanna see me again... that my recovery so far was very good. Even the nurse reckons I've "still got a few years left in me".
The bill for the surgery was $156 but the Medicare refund was $130, so that was cool. It's all cashless. You use your savings account card to pay the bill, and then again to have the refund deposited into your account. It's all over in a minute. But I don't understand why I shouldn't just pay the $26 difference in the first place with one transaction instead of two. Bureaucrats are funny like that.
On the telly news the other day there was a story of a young bloke driving to work. Normal day, nothing unusual. Out of the blue, a truck carrying a large shipping container came around a corner too fast, tipped over, and fell on top of the young bloke's car, killing him instantly. This morning on radio I heard the story of a 53 y/o woman just up the highway at Coffs Harbor walking her dog at 6:30am. She was found later, dead at the side of the road, apparently the victim of a hit and run driver. Life can be such a bitch.
Just posted another of NC Art's essays, Ain't Gonna Bury Paw Today. That's six, and I can't find any more. He has more buried in his archives so I guess he'll do a bit of searching one of these days. He's been having trouble accessing AO lately and sent me a "bad address" this morning. Somehow, an extra dot got deposited in the AO URL... aussie.odyssey. Now how the hell could that happen?
Art just emailed. All is back working well again on his beloved computer. Now I'll need to cough up $175 bucks to translate a bunch of stuff from WordPerfect into MS Word. Mr. Gates does not make it easy for folks who preferred Corel once; the competition y'know.
Yesterday, I got a message from Facebook that somebody had tried to log in to my account... somebody from Brisbane. Dunno what that's all about but I had to change my password. No shortage of weird buggers out there in cyber space.
Just had another fight with a baked bean sandwich for lunch. Hehe. I'll be glad when all this mouth business is over. While I'm in Sydney next week, I'd love to pop into McDs or Burger King or one of those places for a quick feed but I suspect I'll have to settle for a coffee and maybe a donut. I used to tell people who didn't know me that I worked for a company that made the holes for donuts.
Did you hear about the woman who had married several times, and each of her former husbands had died of strawberry poisoning? She argued that her most recent husband had actually died of a bullet wound to the head. When asked why she said he wouldn't eat the strawberries. I heard that story last night on a show on telly about a group of centenarians who belong to the 100+ club. The teller was an old dame who had taken up singing lessons late in life and spent her time entertaining her fellow centenarians by putting on shows, including plays and comedy sketches. Another was a woman who was pretty good at discus and javelin throwing hehe. She had a ball on a chain which she swung around like crazy before letting it go. She was actually the record holder of the tossing brigade, which included youngsters in their '80s. But the woman couldn't see past about 3 feet so she had no idea where the hell the thing she was throwing actually went. One of the gents was a widower who had written 5 books and was on to his 6th. But they were hand written and the poor old bloke's eyesight was so poor he couldn't even see the nib at the end of his pen, so his writing was almost indecipherable. No worries. He would take his sheets of paper around to his mate's place to be deciphered and typed on a computer. His mate said, "Most people underestimate the value of our seniors. They are a very precious commodity because of their knowledge, experience and wisdom. I don't know how much longer my dear old friend has left to live, but I don't wanna miss a moment of it." At one stage of the program, when the old bloke and his mate were working at the computer, the old bloke said, "I had my hearing aid repaired the other day and it's fantastic now. I can hear everything. I can even hear better when I'm not wearing it." Hehe.
Yeah, that was on the ABC - the government funded but independently run Australian Broadcasting Corporation (formerly Commission) - which celebrated its 80th birthday yesterday. Started broadcasting back in 1932 with 6 radio stations in each of Australia's capital cities. It became known affectionately as "Aunty" because of its conservative image. Over the years, it grew into a national broadcasting network covering almost all of Oz, and in 1956 began ABC TV. Its news division is massive with correspondents stationed in almost every country in the world. I love the ABC, and always have. I don't even bother to watch commercial stations. The ABC has great programming with lots of shows I like - documentaries, current affairs, investigative journalism, human interest stories (like the one about the oldies) and that kinda thing. It buys quite a lot of programs from its "sister" network the BBC as well. Good ol' Aunty... 80 years on and still going strong. BTW, it also has a couple of extra digital channels including ABC NEWS 24 which I watch quite a lot. The radio network is excellent as well. AND NO ADS!
There ya go. Before I thought about the oldies I was running outta stuff to write about. I dunno what I'd do without the Waffle page. I like to do other things as well but writing my Waffle is kinda like having a fireside chat with friends. Pipe and slippers stuff. And a port or two. Hehe. Writing to me is wonderful therapy but I doubt it would be as therapeutic if I couldn't type quickly with all fingers. Hunting and pecking takes too damn long, and I'll never understand why people don't take typing lessons. In a month or so, you're done, and it's a skill you have for life. As a kid, my mother told me if I didn't stop talking so much my voice would wear out. Maybe that's why I learned to type. Even the radiation techy at Port Macquarie said, "You certainly love a chat, don't you?" Yeah... and I was wearing that mask! Hmmm, that reminds me of a robber who held a knife at my throat, tied me to a staircase post and shoved a screwed-up hand towel in my mouth. I spat it out and kept yelling at him. Hehe. Not all that funny, I guess, but at least he freaked and fled.
Well, heater's on (there's a chilly wind outside) and the sun has disappeared from view, which is my cue to wrap this up and attend to other matters. There's a satay chicken and rice thing in the pantry which I'm tempted to have for dinner. It's one of those sealed meals that doesn't need refrigeration. It comes in foil envelopes. Ideal for Odysseying out in the sticks. Gary
July 1, 2012. Happy Birthday, Codeman! Yes, the eternal teen would have turned 30 today. He would certainly have been a fully-fledged Marine Biologist and probably one with a successful business. That was his dream. He may also have been married with a tribe of little Codys running around. Cody is no longer with us in the physical sense, and hasn't been for 11 years, but his legacy is still with us; his prolific writings over 4 years in which he spoke of his folks, his friends, his passions and his life as a sportsman. He was a wonderful human being, not without fault, but wonderful nonetheless. As his buddy Steve said, Cody had the ability to make each and every one of his friends feel special. Long live the Codeman. May he continue to enrich the lives of all who come to know him through his example.
Speaking of teachings and the like, NC Art is about to share his wit and wisdom with Aussie Odyssey readers. I received his short bio this morning and will use it as an introduction to his work, which I've called ART'S ART. He has sent me quite a few pieces over the past years, which I'll collate and post on the site sometime during the next few days. He's written his essays basically for his own amusement, and not published them anywhere. So I thought it might be a good idea to make them available to a wider audience. Why not?
Lots of dreams last night about editing and shooting movies, hehe, often ending in frustration. I'm a natural worry wart ya know.
Well, there ya go. I changed my mind and started work on Art's Art. The intro page is up, and five of his essays. I'll add more later, but this is a start.
Remember the other day I was talking about recording interviews using both the camera mic and a separate recording device so that I could cut away from an interviewee to show relevant footage, and then return to the interviewee without interruption to the narration? Well, that's all very well, but how does one edit the audio track? For example, if the first 10 seconds of the interviewee's voice is to camera, and then the next 30 seconds is laid over other footage, then the 30 second grab needs to be edited to suit. I checked my software and it's basic... no editing of sound files. So I checked the Movie Maker forum and discovered a freeware program called Audacity. It's a beauty! I can edit sound files like I can edit video footage or text. I can edit music to any required length. How cool is that? I haven't studied the program very closely yet, but I'm pretty sure it also allows me to copy the audio track from video footage so that it becomes a separate file, which would mean not having to use a second recording source during a shoot. Yep, a bloke needs his tools, and that one sounds like a ripper.
Mind you, every time I introduce another process to putting a movie together, I create more work for myself. But if it makes the end result more professional and enjoyable, then it's worth the effort. Yeah? I still think it's cute though that I'm using a $130 camera and free software hehe. And free labor, of course. Incidentally, I checked how many sites on the net allow the uploading of videos, and there's about 20 of them apart from Youtube. So there's no shortage of places to show your work.
Back when I was involved with all those nitwits on Blue Water Dreaming, Network Ten told us they would put the show on air PROVIDED they didn't have to pay for it, and that WE were responsible for selling the advertising content. Bloody crooks. No wonder I went broke.
Now I do my own thing and there's no money or pressure involved. I don't need anyone's permission, I don't need to pay staff and I don't need to tolerate dickheads. It's all me me me me me me and I can do as I please! On the other hand, my freefall from grace into the gutter certainly taught me a thing or two, as did my time in radio, TV and advertising.
Just checked to see if any cruise ship is due to berth at the Overseas Passenger Terminal at Circular Quay while I'm in Sydney on the 9th and guess what? NONE. How dreary. I'd love to shoot some footage of one of those huge things with the Harbor Bridge in the background. There's one due on the 11th but that's no good to me. The terminal was vacant the last time I was there in late December as well. Oh well, I'll just have to make do with whatever's available. Actually, the terminal itself is pretty interesting as well as the surrounding area. I think I better wear my walking shoes.
Steve W was quite taken with my comments about voice exercises and projection the other day. He says his job these days requires more public speaking, so I'm giving him a correspondence course via email hehe. He says he practiced today but can't notice any progress as yet. Gimme a break! Oodnadatta didn't suddenly pop up outta nowhere! It's the same with singing lessons. It takes a while to develop a well trained voice. And it helps of course if you're actually doing 4 hours on air every day as I did. Steve has a long drive to and from work every day so he certainly has the opportunity and privacy to do his exercises. 10 minutes a day is plenty for his purposes. He can choose to do more though, if he wants.
Another handy trick is to cup your ear with one hand so that you can hear your voice more clearly. We tend to hear our voice as it reverberates inside our head, which is quite different to how it sounds to other people from outside. If you're new to hearing your recorded voice, you'll notice how different it sounds to the way you're accustomed to hearing it. It can come as quite a shock to some people. When I first started in radio, it took me quite a while to get used to hearing my recorded voice on ads and promos, especially when I was listening to the radio at home or in the car.
Public speaking in front of a live audience, on the other hand, is another matter. I don't have much experience in that area. However, I have heard of one golden rule: KNOW YOUR SUBJECT.
I've always had a problem with confidence in front a live audience. Reaction is immediate, and it terrifies me. Being on air in a studio alone is different. One has the luxury of thinking in advance about what one is going to say and to anticipate what the audience reaction might be. Same with writing. In fact, it's the same with putting a movie together. One has the time to make an educated judgement about potential reactions. But if your performance is live on stage, and the audience doesn't approve within the first few minutes, that's it, babe. You're dead.
Yes, it's all very interesting, and no surprise to me why most people don't go into showbiz hehe. And that's it, ladies and genitals. Time for a wrap. Time to turn on the telly and let OTHER people entertain me! Gary



← Older posts Waffle Index Newer posts →
or
Return to Home Page