| | |
| --- | --- |
| the WAFFLE page | |
January 31, 2013. All things come to an end. Yeah? Including January. For some reason, NC Art has his doubts about the Rolls in yesterday's Waffle: I'll bet you a Canadian penny that the Rolls ragtop pictured isn't the original.
Perhaps Art is comparing the way he looks now at 87 with the way he looked back in 1928. Hehe.
As to cats, feral or otherwise: Cats can be used imaginatively to reduce income tax. My former daughter-in-law owned a horse and boarded another for a friend. Horses love oats, and rats love oats, and snakes love rats which hang around stables because oats are there. So, my son claimed his cats' feeding expenses as deductions for pest control. It worked! No rats, no snakes. Incidentally, he hates horses because they remind him of his ex-wife.
If feral cats in Oz got rid of introduced rats, that would be cool. But they also attack our native rats, which are cute little furry critters that don't live in drains or carry disease, and they don't intrude into people's houses. We have native cockroaches as well, which also don't invade homes, and are clean little bugs. AND... we have native bees that don't sting. On the other hand, we have 10 of the most venomous snakes in the world hehe. And crocs that eat people.
Traffic jams can be beneficial also. Once caught in a barely moving line at a crossroad with a broken traffic signal, My son leapt out of the car, raced across the street to use a service station rest room, and was back in the car when it was our turn to move on. Good timing, speedy legs and the urgency of a full bladder.
Have you ever thought about how many public toilets there are in any given city? Thousands, perhaps millions. Such is our obsession with keeping certain activities private. You don't find toilets in jungles or, indeed, even in zoo enclosures. Even if you did, they wouldn't be called rest rooms. Animals don't need toilets. Therefore humans are not animals. Yeah? At least, that seems to be the accepted logic.
What flavor smoothie this morning? Chocolate. Mmmmm. I bought some drinking chocolate yesterday. I figured if I couldn't eat it, at least I could drink it.
NC Art forwarded those pics of headlines with the subject line: "Why I still buy the newspaper". Who needs comedy writers when we have "journalists"? And their copy editors... Here's another couple:
They get a bit tedious after a while so let's have two more, and that'll do.
Chris the Fence Man (and more recently the wheelchair ramp man) is here laying a new concrete block in the path and I suggested I get a small wooden cross with "Here lies...." written on it, and stick it in the cement before it hardens. "That would attract a bit of attention, dontcha think?" Anyway, he's volunteered to be here when I'm ready to back the truck under the camper to join the two units in holy matrimony. Isn't that nice of him? Ex-cop helps old fogey.
Just saw little Keiran at the front gate and had a chat. He's still little but getting a tad bigger as well as more Aboriginal looking in his facial features, and his voice is changing. He's in year 10 now so that makes him 15. I took photos of him on his 8th birthday. Sheesh... time marches on!
Back from Bunnings where I bought 6 of these (with hooks both ends) and 4 of these. The turnbuckles are 8" long closed and the snap hooks are 3" long so that should be plenty to stretch from the camper to the welded hooks on the truck bed. How much? $168. Oh well... I have spare turnbuckles that came with the camper but they're eyehooks both ends. Not what I want but okay for spares. I also have a few spare D-hooks.
The $2500 I got for the old Ute is getting a bit skinny, and I couldn't add to it today (pay day) because I had a $550 power bill to pay. Drat! So I think the AGM battery and auto electrician will have to wait for two weeks. Meanwhile, I'll have the camper brackets and eye hooks on the truck tray done. That shouldn't be any more than about $200. And a gas fitter to check the copper fittings, hose and regulator for the fridge and stove. Less than $200 should see him fixed. Anything else? A few bits and pieces. Otherwise I'd say the whole kit and kaboodle will be ready to roll by the end of February. The question remains, will I? That depends on what the doc in Port Macquarie says on the 11th, and what the doc in Sydney says on the 18th. And also what sort of schedule Nancy has in mind for mouth and gum "irrigation".
BUT... no matter what their story is, I expect to manage a couple of short Odysseys. I was impressed with Crowdy Head National Park when I called in on the way back from my last visit to Port Macquarie. Cody would have loved that place. Check out the rollers. As you can see, the National Park is not far from Taree, prolly an hour's drive including the dirt access roads. Yep, I reckon a few days at Crowdy Head would be veeery noice. It would also give me a chance to try out my campfire cooking. Oops! Sorry... that was the wrong pic.
So, ladies and genitals, one way or another, I'll get a taste of the real thing before the actual launch date. And it'll be most interesting to see what my verdict will be. But for now, it's five-ish again. Soup and telly. Hehe. Never mind... it won't be for too much longer. Gary
January 30, 2013. This month last year I was a patient in the cancer ward at RPA hospital in Sydney, with tubes stuck in my nose and arms and bottles of goo hanging off a hatstand. Hardly seems real now. Like some dreadful nightmare. I've had some pretty horrific experiences in my time but last year was probably the worst. Maybe that's the way life is... the lower you go, the higher you go on the rebound. Kinda like the stockmarket. Hehe.
During the 1990s when I hit rock bottom professionally and personally, I found Cody. Cody gave me focus. But a cruel act of Fate snatched him away. Then Steve gave me focus. But he faded after a year or two. I turned my attention to Green Room and Green Room II but that also was temporary. Finally, Aussie Odyssey came along. And here I am, impatiently waiting for Day One.
The difference between the Odyssey and all the other things that have occupied my attention over the years, is that no one can take it away. Not even a year of cancer treatment could take my dream away. In fact, it may be that my dream was the reason I pulled through.
An assortment of berries in my smoothie today, ladies and genitals... strawberries, raspberries, loganberries, etc. Pretty damn good too.
From the Beeb: Cats are one of the top threats to US wildlife, killing billions of animals each year, a study suggests. The authors estimate they are responsible for the deaths of between 1.4 and 3.7 billion birds and 6.9-20.7 billion mammals annually. Writing in Nature Communications, the scientists said stray and feral cats were the worst offenders. We have a similar problem in Oz with feral cats. And feral everything else... dogs, foxes, rabbits, camels, buffalo, cane toads, bugs, weeds and whatever else has been introduced to this once pristine environment by dummies.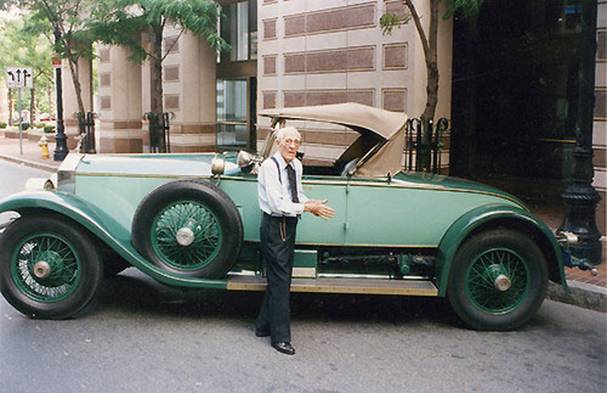 This man owned & drove the same car for 82 YEARS. Can you imagine even having the same car for 82 years? Mr. Allen Swift (Springfield, MA) received this 1928 Rolls-Royce Piccadilly-P1 Roadster from his father, brand new - as a graduation gift in 1928. He drove it up until his death last year ... at the age of 102!!! He was the oldest living owner of a car that was purchased new. Just thought you'd like to see it. It was donated to a Springfield museum after his death. It has 1,070,000 miles on it, still runs like a Swiss watch, dead silent at any speed and is in perfect cosmetic condition. (82 years). That's approximately 13,048 miles per year (1087 per month)... 1,070,000 that's miles not kilometres!! That's British engineering of a bygone era. I don't think they make them like this any more.
Thanks to NC Art for sending that little gem. I note that the old bloke is still wearing braces and a pocket watch.
I printed all those measurements I worked on yesterday, and made a simple drawing of the 3-sided frame I want Peter the metal bender to fabricate (if he agrees with my thinking). I also used a wrench to remove one of the brackets from the channel rail at the back of the camper (to see what it looks like and how it's attached). Peter will be back at his office in about an hour.
Meanwhile, you know those things boats use to buffer their sides against wharf poles? Sometimes they use old tires. Well, that gave me an idea for a buffer between the upright at the back of the truck cab and the front of the camper, to lessen impact when I'm reversing the tray between the camper jacks to load it. Just get a rubber mat about 4' wide, roll it up like a sleeping bag, tie it at each end, and use the ties to attach it to the uprights. Boom boom. The rubber cushion will also act as a brake to stop the camper from colliding with the cab under sudden deceleration. Are you with me? Probably not. Dozen madder. It'll all come out in the wash.
Well, it was a funny old show at Peter's engineering place. He had no idea what I was talking about hehe. At least not at first. But he eventually got my drift and then suggested a better alternative, which I suspected he would. After all, he's an engineer. He's also got an idea for anchor points welded to each corner of the tray for the turnbuckles. "Don't worry," he kept saying, "it won't fall off." Anyway, I appreciate him going to a fair bit of trouble to sort out a problem that most engineering companies of that size wouldn't bother with.
BTW, Peter's toys are off-road racers... those skeleton cars made of welded pipe on a chassis that holds an engine and a driver's seat. In other words, he's a maniac.
Soooo, I'll get all those things sorted, and the camper on the tray, before I spend money on other stuff... AGM battery, auto electrician, gas bottle and new connection hose with regulator, etc. And that should be about it! Scary, huh?
From the Beeb: The Russian capital is blighted by traffic jams - the total time drivers spend at a standstill each day equals about two and a half centuries. But when their cars grind to a halt, Moscow's commuters get creative to pass the time. I wish I'd read this article when I lived in Sydney.
The conflict in Syria has reached "unprecedented levels of horror", UN peace envoy Lakhdar Brahimi says, hours after evidence of another massacre emerges in Aleppo. Meanwhile, each side continues to blame the other.
I wonder if the reason so much madness exists in the world is because people don't commune with nature often enough. How could anyone be crazy in a place such as this?
Image source Destination NSW - Blue Mountains
Such a place is one of many I'll experience on the Odyssey. I'm sure the world's troubles will make even less sense to me as I sit there and contemplate the wonders of nature. And I won't be surprised if the Odyssey changes me as a person; if it makes me appreciate certain things more than I have in the past.
Time will tell. But now it's 5-ish again and time for the usual ho-hum. Gary
January 29, 2013. The remnants of The Big Wet are lingering around Taree at the mo but should clear by midday-ish. We were lucky here in that the wind and rain weren't all that bad. QLD and some parts of northern NSW are a mess. Some places copped a meter of rain in 24 hours. Can you imagine a rain gauge 3' tall? Sea swells were huge along the east coast, some up to 12 meters. Meanwhile, in Victoria they've been battling bushfires.
Here are some photos on the Beeb of flooding in QLD.
In one tragic incident, a pregnant mother and her young son were watching a creek rising when a large tree fell on them, pinning them both. The boy later died in hospital and the mother is in a critical condition.
I watched an item on the news last night about Aussies and their booze, with ads for beer and other alcoholic drinks associating the celebration of Australia Day with drinking, often to excess. The Aussie tradition. At one gathering, it was so hot, the guys got a bit creative with their ute. They had no pool - not even a wading pool - so they placed a large sheet of plastic inside the tub of the ute, filled it with water, and sat in it while they consumed their beers. How inventive.
Shortly, I'm off to the dentist for my routine check and clean. Later this afternoon, Rod the tooth fairy will take a mold of my gums. I'm hoping that by the end of the week I'll be munching on PROPER food. I am soooo looking forward to that, I can't begin to tell you.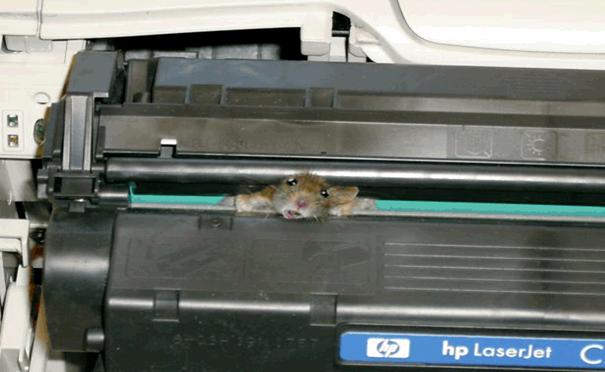 Thanks to NC Art for passing that pic along... and these...
And you thought you had compy probs?
BACK from Nancy and her irrigation trick. She says my gums are looking pretty good. "The dead bone is looking about as good as dead bone can look, if you know what I mean." Hehe.
From the Beeb: A bipartisan group of US senators unveils a plan to pass sweeping reform of the immigration system by the middle of this year. Nice word that... bipartisan.
The Australian radio show that made the hoax call to the hospital treating the Duchess of Cambridge in December has been cancelled. 2Day FM's Hot 30 programme had been taken off air following the death of nurse Jacintha Saldanha, who was found hanged after forwarding the call. The broadcaster said a new show, hosted by a different DJ, would fill the slot. Michael Christian and Mel Greig, the DJs who made the call, were still employed by the station, it added. The pair have been on leave since the incident and a music-based show without a host DJ has been broadcast in their show's place. "We look forward to Mel and MC returning to work when the time is right, in roles that make full use of their talents," said Rhys Holleran of Southern Cross Austereo, owner of 2Day FM. That place is a helluva lot different to the way it was when I worked there almost 30 years ago
The Boys Scouts of America has said it may overturn its ban on gay members and leaders, and allow local units to choose their own policies on the issue. The policy reversal could come once the national board meets next week. Only last year, the Boys Scouts of America (BSA) reaffirmed its ban on gay members, after a two-year review. "Be Prepared" will take on a whole new meaning.
Bill, the other bloke with a Courier/Freeway combo, answered another question of mine. I asked about reversing cameras and if he had one. He said he does have one fitted but never uses it. He relies on the rear-view exterior mirrors and "being careful". He says his main problem is avoiding trees in a 2.7 meter high vehicle. Well, mine's closer to 3 meters because of the extra storage box under the camper. So that's something I'll need to get used to quickly... avoiding branches as well as shop awnings.
BACK from the tooth fairy. He says the dentures won't be temp but permanent. He suggests leaving them out except when eating to allow things to settle for a while. Maybe in a month or so I can start leaving them in for longer periods. But my hope of getting them before the weekend was dashed. I don't see him again until Thursday 7th. Boo hoo...
Anyway, I've spent a lotta time today measuring trays and campers and whatnots in anticipation of taking all the info to the metal bender next time I see him to discuss what I have in mind. It's all soooo fiddly! I'm glad I don't do this kinda thing for a living. So time has beaten me and it's now time for a wrap. Checkyaz on the morrow. Gary
January 28, 2013. Yep, the Big Wait for the Big Wet is over. QLD is experiencing major flooding at the mo, and the wind and rain is headed down the east coast all the way to Tasmania. Areas around Bundaberg in QLD were hit by several mini tornados.
Hopefully, I won't be caught in bad weather on the Odyssey but ya never know. I'll insure TC anyway, probably for about 10 grand. I'll also keep a watch on the weather forecasts and hightail it out of areas that look ominous. That's one advantage wheels have over foundations.
Oregon Richie has a romantic view of the Odyssey: The day you open the door, sit and settle in, strap on the belt, notch the ol' girl in gear and just head on down the highway..... woah !! Fantastic !!! A long held dream coming together and a whole new blank canvas to fill with the paint of pictures and prose and charting your very own course.
Richie's take is a bit different to mine: Yep, I've driven out the drive of many places in my time to head off to another town and another job. The last time was leaving Sydney for Taree. Next time it'll be who knows where? And there'll be no turning back. My first stop will be home for the night - or two or three nights. It's a very weird feeling to think I'll be headed nowhere in particular, with no destination other than a convenient camp site, vagabonding my way around the largest inhabited island continent in the world. Remember that song "No particular place to go..."
A blank canvas, as you put it. The first page of a yet unwritten novel. A new life. Imagine that... 68 years left behind as TC heads off down the road to begin Day One, with all my worldly possessions crammed into a 14' x 7' space. Now THAT'S gonna be something worth writing about. A bloke my age should have more sense. Hehe.
Heard of Voodoo Mama Hot Sauce? NC Art sent this link to an ad on Youchewb. Don't expect to see it on normal telly anytime soon.
Art also writes: Food fads come and go … thank God! I've eaten raw eel, squid, fried rattlesnake and shark steaks, so I'm not rigid about experimenting. A couscous wave hit several years ago, so I tried it. Eeyuccht. This muesli sounds like it could be just as unappetizing. Truth about pancakes is that so many toppings can be used and enjoyed. The traditional butter and maple syrup is just fine. So is strawberry or blueberry jam or damn near anything you like. A slice of crispy bacon on each side make a lovely presentation if you're an esthete or something.
Mmmm. I'm having my smoothie at the mo, with pureed apple. Very noice.
Your professed atheism is certainly rational, but humans can't leave well enough alone and never could. Primitives were damned sure that volcano was out to get them, so they sacrificed young virgins to quiet its murderous wrath. Most ancient tribal stories include a great flood and include it in religious beliefs. Scientists who would never admit to any religious inclinations spend their lives seek-ing a reason for being; a quest for the Cause if it All. Old Greek, Roman, and Semites quite reasonably concluded that it was a good idea to worship Venus and Astarte as life giving. Rites of Spring were high old festivals and faithfully attended by everyone looking for sex with no holds barred. And music played its part: Young David soothed the rages of King Saul, then went to the sheep pasture and met Jonathon for gay roll in the hay. Curiously, it might have reminded you of Wingnut's deflowering in his all night rumble featuring mixed and matched and any-styled coupling.
Mysteries beg to be explored and explained. How dull an existence otherwise. In the Spring a young man's fancy often turns to thoughts…..and all that rot. Hehe.
I'm all for exploring and explaining mysteries, Art. No problem with that at all. Just as long as the explanations are not based on superstition. Have you ever thought about horror movies and why they're so popular? People love to be horrified and scared out of their wits. That's why religion includes things like armageddon, fire and brimstone, the devil, eternal damnation, evil spirits, the wrath of God, etc. They appeal in a masochistic way to the human condition, as well as Southern Baptist Ministers who love to pound the pulpit. And another thing, can you imagine fairie stories without wicked witches and wolves?
Yesterday, I asked TX Greg his opinion of a particular brand of AGM battery used by the US military. He wrote to say there's also one called Odyssey. My question came about because I'd been reading about different types of batteries and how some are fine for occasional use, such as a couple of vacations a year, while others are better suited to constant daily use. Ah ha! Something else I've learned. Greg also took the opportunity to remind me And with that thought, that's why I still strongly recommend that dual battery solenoid :)
After today, the last day of the long Australia Day weekend, things will be back to normal. Dentist and also the tooth fairy tomorrow for a fitting. With a bit of luck, I might have my temp dentures by the end of the week! PIZZA! I'll also visit the metal fabricator to check the cost of what I have in mind for the truck before I spend any more on other things. The power bill is due during the week, bleh. That'll be the last one! Future power bills will be $20 every 2 or 3 weeks for a bottle of propane.
I was just searching Youchewb for a dance performed by native Americans in Brazil. I saw it on a documentary by Michael Palin and I've been fascinated ever since. It keeps entering my brain like a song that won't leave. It was a barefoot shuffle by a group of men weaving their way around the village square, swaying from side to side as they shuffled. There was something hypnotic about the movement of the group in unison... even erotic. Anyway, I couldn't find it but I found these Africans doing a traditional dance instead, and enjoyed it.
Been listening to radio and reports of wind and rain damage up and down the coast. It's been fairly severe north of here, and worse in SW QLD. But the system is moving south which means Taree will cop it sooner or later. Not too bad now though. People north have been talking about howling winds but the wind here is yet to howl. We've had plenty of rain. One bloke at Old Bar, which is about 17kms east of here, said the seas are rough and rising. He's expecting the situation to worsen as the storm moves south.
Earlier, I checked TC and she's as dry as a bone inside. No leaks in the cab-over either and the mattress is dry. She's an old girl so I'm delighted she's in such good nick. A few external dings don't worry me. Adds character.
Just perusing the grey nomads forum and saw a question about Lightning Ridge and whether it was worth visiting: We have been to lightning Ridge twice and have loved it both times. It is so pioneering living for some there that I find so incredible. It is not rough getting into Lightning Ridge - sealed all the way. However, it is quite rough to go to a place called Glengarry - but it is worth every bump just to see the working mines and living quarters out in the field. The "Hilton" out there (which I might add is held together with a coat of paint!) serves the best hamburgers ever. Before leaving, ask for directions as it is extremely outback. We saw several sedans manage the road well. As far as the caravan parks, there is a new one of around 2 years old and extremely good. Called the Opal Caravan Park and not too far out of town. Showers have sliding glass doors and hair dryers near wash basins. Just great. Wonderfully clean. Cost was $27.00 per night for 2 people.
It's great to read stuff like that - salivates the travel buds if ya know what I mean. I think TC could handle a few rough roads provided I take it easy, and it's dry. In case you're not aware, Lightning Ridge is famous for its opals. This is what opal looks like in its rough state. And let's not forget the local cathedral.
As to oldies travelling alone: Hi there, A big welcome. I'm 73 years young and have an almost identical travelling companion these days called Cody - Terrier/Chitzu cross. I too have hitch-hiked around the world on my own in years past and never had a bad moment. I tell a lie. There was that one time with the East German border guards. I've been travelling in my little van for five years now and love it. Check out my blog for some of my travels if you're interested.
And here's another: Hey there, I'm 63 yrs young and travelling with a little maltese/terrier dog. I back packed around the world on my own in 2003 and I reckon I was completely lost in every country I visited, scared a couple of times when no one spoke english and I had no idea where I was or which way to go. I reckon travelling in Australia will be a breeze after that, at least everyone speaks the same language and if I get lost I still know I'm still in Australia. It sounds to me like there are heaps of single female travellers going about Aus. I haven't heard any horror stories, yet. Mind you I know that it is wise to be security aware and meeting up with different solo people along the way especially when free camping or out of the way places. Be safe and happy trails.
So if little old ladies can do it, why can't I? Actually, those posts have seriously deflated my ego. For a while there I was thinking I deserve some kinda bravery award.
And there goes another day, ladies and genitals. Another day closer to You Know What. Gary
January 27, 2013. It's raining, it's pouring, the old man is snoring. Well, I'm pretty sure I don't snore. But it is raining, and it's been raining all night. The "Big Wet" has finally arrived. In fact, lots of places in QLD are flooded, and Northern NSW is in for a bucketing as well. By the time I depart on the Odyssey, the landscape will be green and lush.
FL Josh sent a few links to caravan and camping thingies. There's a caravan dealer in Port Macquarie (where I'll be in about two weeks to see the oncologist). Josh suggests I should visit them for tips on how to mount a camper. But my cynicism tells me they're more interested in selling things. Actually, I phoned them one time for a bit of advice and the bloke couldn't wait to get rid of me when I told him I had an old Freeway.
There's a Caravan and Camping Expo in Newcastle early next month. There may be a wealth of ideas you could pick up that could be adapted to your situation like an electricity generator that uses roadkill for fuel. You might want to start driving off road just to hit roos for electricity!!!
Roo power. Yep, I like that. Waste not, want not.
One thing that becomes obvious to you when you're a pensioner living on $400 a week is how many people are not the least bit interested in you. Hehe. Like people who sell stuff you can't afford. When I walked into that engineering place the other day to ask about my piddly problem regarding the fitting of a camper to my truck, the bloke was very polite and even friendly. Judging by the size of the yard and sheds out back, they're into serious stuff like the erection of large buildings, bridges, etc. And there I was asking about a job worth a hundred bucks. I'll go back and annoy him again though because I don't know who else to ask. Besides, I've already figured out the solution to the prob.
Banks and credit card companies don't wanna know about pensioners (as distinct from self-funded retirees with substantial incomes and assets). Neither do loan companies. Nor retailers of "big ticket" items. So I've resigned myself to saving and buying stuff for cash... used stuff that's cheap but not necessarily nasty.
Caravan parks are always bitching about free campers like me, and about councils that spend public money on camping facilities in national parks and on other public land. The caravan parks complain that they invest hundreds of thousands of dollars in their businesses and pay taxes and other overheads, while people like me camp for free! Well, people like me wouldn't be camping at all if it weren't free, and local shops and retail businesses would miss out on the little bucks people like me spend on food, fuel and other necessities. Enough little bucks become big bucks, ya know.
The bloke who was here a week ago quoting on fitting solar panels and batteries to the camper was talking around $2500. He was trying to rip me off. The next bloke I phoned for a quote said he'd be here but hasn't turned up. I figure it's because without teeth I sound like a mental deficient. People tend not to take me seriously. Well, bugger 'em. I've come this far and I'll finish the job. Once the camper is on board the truck, I'll buy an AGM battery on eBay, have it delivered, and take it to an auto electrician to be fitted.
Bill, the bloke with the Freeway/Courier combo, answered a few more questions: He says fuel consumption with the camper aboard is 8 kms per liter (23mpg) compared to 10 or 12 without. It all depends on how you push the block of flats through the air. One American bloke who commented on another forum said with his slide-on aboard he was down to just 2 mpg. I find that hard to believe. He had a lot of nasty things to say about slide-ons, actually. But you get that. Bill also said the Ironman LoadPlus helper springs made the rig a lot more stable, and is great for a 2.7m high vehicle. I cruise at anything from 80kph to 100kph. So there ya go... straight from the horse's mouth. Bill's Courier is a diesel with only 65 kW. Mine is petrol with 85kW so it should perform a bit better.
Matter of bloody fact, now that TX Greg has mentioned welding, I might get eye hooks welded to each corner the tray frame to hold the turnbuckles rather than use the hitching rails that run along the underside. The rail doesn't look to be all that strong. Good for hanging the laundry on though. :)
I've also thought more about the solar panel. If running the fridge on solar is out of the question without installing a zillion watts and a huge bank of batteries or whatever, then I'll settle for 1 panel and 1 battery. My current panel will do for the time being. Later I'll upgrade to maybe 120/140W. I'm not worried about microwaves or toasters or any of that other stuff. I can get by quite well without any of that. If I ever decide that the a/c is worth using, I can get a small generator that runs on roo poo. The only time the fridge will be run on electricity is when I'm travelling. Sound cool to you?
From the Beeb: Thousands of people have rallied in Washington DC calling for stricter gun controls as they marched from the Capitol to the Washington Monument. Yep, I think if Obama is gonna be successful in his battle with the NRA he's gonna have to rally public support. And lots of it.
NC Art forwarded a message the other day with photos of very pretty, colorful birds with the title: "What fun God must've had the day he designed these..." At the bottom of the message was a quote from Abe Lincoln: I can see how it might be possible for a man to look down upon the earth and be an atheist, but I cannot conceive how he could look up into the heavens and say there is no God.
Well, that may have been the case in the 19th century but since then man has taken a pretty good look at the heavens, and even been "out there". We have a robot running around Mars at the mo, and telescopes hurtling through the far reaches of space. I don't see the logic of believing in a Supreme Being or Creator just because something can't be otherwise explained, or because certain things are beyond our comprehension. I'm absolutely sure I'll be overwhelmed on a starry night in the Aussie Outback gazing at the heavens through a pristine, crystal clear atmosphere. I'll be in awe, of course, and feel a connection with the universe. Why wouldn't I? I'm made of the same stuff. Everything that exists is related somehow. But unless there's a booming voice from the heavens that says "G'day," I won't be tempted to change my mind about being an athiest. Nonetheless, I'll have a roll of toilet paper handy.
I'm not religious, but I do appreciate how religion (Christian, pagan or otherwise) has inspired great art and architecture and, indeed, music over the centuries. It lifts the human spirit to a higher plane, and gives it a higher purpose. I suppose it's fair to say we wouldn't be what we are today if it weren't for religion and "the glory of God" - and you can include both the good and bad aspects of human nature in that. But I'm still an athiest. I also believe it's a copout to say you're agnostic.
Sooooo, if we were all athiests, would we have painted great paintings, erected great buildings and written great music? I think so. A belief in the Almighty is not the only way to inspire greatness. Belief in one's fellow man can inspire greatness. The longing for approval. An obsession with perfection. A desire to be remembered in death. The pyramids were more than just a method of arranging stones in a neat pile ya know.
I suggested to Oregon Richie this morning that the combination of the camper and the Courier, Le Chateau, may well end up an Australian icon, preserved for posterity in some museum hehe. But I forgot to mention the Porta Potti. It may also become an icon on display somewhere. I mean, if it's good enough for Ned Kelly to have his tin hat on exhibition, why not my Porta Potti?
In all seriousness, dear Breth, it may be that, after spending some years together travelling Oz, sharing numerous experiences and adventures, my Chateau and I will have become inseparable companions; a thing of immeasurable sentimental value. Actually, I don't know what to call the pair. Le Chateau is a bit over the top. I used to call my Valiants 'Big Val'. My Holden was 'TT'. My old house in Glebe was always '15 Hegarty'. So what should I call the motorhome? I can't call it the Freeway cos the Courier will feel left out. How about something like TC? That could stand for The Camper or The Courier. Or even The Codeman. Actually, I quite like TC. Roite, TC it is... unless one of you geniuses comes up with something better.
I still haven't tried out my new 55-200mm Nikon lens ya know. Been too hot and humid, and now it's too wet. Hehe. But I really must give it a workout, even if it's just down by the river with the pelicans.
I watched another foodie show on telly last night, with a Brit doing all kinds of things with breakfast. Do you like muesli? It originated in Switzerland, created by a doctor to assist his patients in eating healthier foods. Traditionally, it's not served with milk and sugar. It's mixed with a large dollop of plain yoghurt and freshly squeezed orange juice. Then it's refrigerated overnight to allow the flavors to meld, and eaten next morning topped with golden syrup. Sounds very nice, actually.
He also did nice things with pancakes, including leaving the batter mixture overnight in the fridge to make lighter, fluffier pancakes for breakfast. His fav topping is lemon and sugar (mine too) but he also used fruit such as strawberries and bananas.
A great little trick of his is to remove fatty bacon rinds, lay them in a baking dish, and pop them in a moderate oven for 10 minutes where they crisp to perfection, and add a crispy crunch to fried bacon and eggs. YUM! Can't wait for my TEETH!
Oh well, here I go with soup again (which is pretty good but gets a bit monotonous) and flavored yoghurt for dessert. Woe is me. Gary
January 26, 2013. Australia Day! I watched the Australian of the Year Awards last night. Young Australian of the Year was a surprise... Afghan refugee Akram Azimi who arrive in Oz with his mother and brother when he was 11. Despite cultural and language differences and difficulties, he went on to become Dux of his school. Then he was invited to become a social worker with Aborigines living in Kimberley country at the top end. He learned to see Australia through indigenous eyes, and fell in love "with the red dirt and the people", so much so, he's adopted the people there as his family. When you see news footage of Afghans on TV, in a war-torn environment, you don't think of them as intellectuals with an ability to study a triple major in law, science and arts at the University of Western Australia. Here's his story.
Australian of the Year is Ita Buttrose, also a refugee, but from Nazi occupied Europe during WWII.
After a long absence, FL Josh wrote: For God's sake, Gary, go to a dealer who sells slide on campers and find out the correct way to mount your camper onto your ute before you kill yourself.
Now why didn't I think of that? Actually, I did, but there are no dealers around here. There was an RV place that sold caravans but he went broke about a year ago. My old Freeway was originally designed to fit a tub ute like my ex-Ford. So that's no good. It was modified by a previous owner so that it's now suitable only for a flat tray. The modifications are fairly old so I'd say it's been sitting on flat trays for at least a decade, and maybe two. It's in pretty good nick so I assume it's never fallen off. The last owner, the one who sold it to me, hauled it around on the back of a flat-tray ute through some pretty wild mountainous country not far from here, with narrow winding roads, and all he used was 4 turnbuckles, which are still with the camper.
Since there are no slide-on dealers around here, I checked out a few forums on the web and found a bloke who, luckily for me, bought the same combo I have... an old Freeway and a Courier flat-tray truck. (He reckons we'll have to start our own club hehe). So I asked him how he secured his camper to the tray and he told me. He also took some pics. So my method pretty much follows his... 6 turnbuckles and 4 bolts, plus the installation of Ironman LoadPlus helper springs. He's since driven around Fraser Island and some rough country in Far North Queensland and had no problems. He says the camper is rock solid.
So, Josh, while I appreciate your concern, I don't see what else I could have done under the circumstances to ensure the stability and safety of the camper. If I see another slide-on in town, you can rest assured I'll be asking questions about how it's mounted. But until that happens, I've done all I can.
One web site I visited had a list of do's and dont's about mounting a slide-on. But when it came to HOW to secure it to the tray, it advised that "you should follow the manufacturer's instructions". Thanks very much. Bit late in the day for that in my case.
You know what actually worries me most? Remembering not to swerve suddenly if a kangaroo hops out of the bushes in front of the truck. Ditto little old ladies at pedestrian crossings.
One thing I didn't mention yesterday because I thought my inadeqate description was getting too complicated, is how the 3-sided bracket (I don't know if that's the right word for it but it'll do) will be made to fit. You know those twists they do in flat metal bars used in decorative ironwork? Well, the bracket will be flat against the floor of the tray where it bolts to the rails, while the uprights will be twisted so that they are also flat against the U-channel rail that runs across the width of the camper under the door. Yeah? The bracket needs to made of pretty thick steel plate, and braced at each corner, so that the uprights don't bend.
As to welding aluminium, which I questioned yesterday, TX Greg says it can be welded. Now that I think of it, my alloy bull bar is welded. So there ya go. Something else I've learned.
Just reading more forums. One person asked what they would need to power TV, 8 LED lights, two laptops and 2 phones for about 4 hours a day and the answer was one 80 watt solar panel and one 100ah battery. So that answers my query about using my existing 70 watter and one 120ah battery. If the weather happens to be cloudy or whatever, too bad. Grab the camera and go for a walk. Fold-out, stand-alone solar panels are relatively cheap and need no installation. You can also place them in the sun while the camper is parked in the shade, and move them at regular intervals to catch more direct sun. BUT, I'd hate to arrive back at the camper after being away to discover they'd been nicked.
And another thing, you can't use fold-out, stand-alone panels while you're driving, or parked in town having a beer in a pub or wandering around taking photos. If I'm gonna see as much of Oz as I can (and I ain't gettin' any younger), I won't be spending too much time at any one spot.
In the magazine section of the Grey Nomads web site there's a story about Queensland unveiling a plan to lure more Grey Nomads. Not surprising, really, because nomads spend money. It's in the interests of all areas, and particularly rural towns, to provide decent facilities for travellers. Travellers talk. They have forums and blogs, and they recommend places. Yes?
Just got a brilliant idea! I was visualizing the two bolts that secure the bracket to the tray rails as being the normal way up... that is, with the nuts under the tray. BUT... what if the bolts are put in upside down, with the nut thread protruding 3/4" above the tray, and held in place so they don't drop out when unbolted? (Remember, the camper will be sitting on a timber pallet that's 1" high). That way, the camper can be loaded or unloaded BEFORE the bracket is bolted to the exposed threads, with all the spanner work being done above floor level rather than buggerizing around underneath the tray. The bracket will be easy to attach/unattach as needed, and stored away when not in use. And don't worry about the pallet... it's the same length as the camper base so it won't get in the way of the bolts or bracket.
That's one thing I can do... visualize stuff. Pity I'm no good at tech drawing or I'd whip up something y'all can SEE! Anyway, 'tis time to vamoose and attend to tummy and telly matters. Gary
January 25, 2013. Pureed apple in my smoothie this morning. Very nice. The bloke who drove me back from Ford this morning is a country boy: "G'day, I'm Don," he said as he shook my hand, and then told me he's from Moree in NW NSW, hot and dry sheep and cattle country. His father was a shearing contractor. Don worked for him as a wool gatherer in the shearing sheds, and then became a wool presser. Don's your typical outback country boy, happy to say g'day, shake your hand and have a bit of a chat. I'll be meeting lots of Dons on the Odyssey, to be sure, to be sure.
Roite, let's start the Waffle with something wonderful posted on Justin's blog this morning. Two dogs having breakfast at the kitchen table.
NC Art wrote: Man, are you full of it today!
Y'know, humans waste 50% of foodstuffs produced globally. So, if early man was also profligate, it's no wonder dogs hung around camps and settlements. Eating free garbage is helluva easier than hunting and fighting over a single rabbit. Hoomins and canines just got used to each other.
The electric car was a model of silent cruising, but on a street full of clanking old Fords the effect was eerie. Two old maids owned an electric in my home town when I was a grommet. The ladies would take a ride once a week, and then have their yard man bring the thing to my brother's service station for charging. The entire boot was floored with batteries which took 12 hours to charge up ready for their next pleasure drive. It was black and polished to a high shine by their faithful manservant.
The photo of Little River has meaning for me. For years I was a contributor to a committee dedicated to keeping the river a protected wilderness. The group was headed by my former dentist, who blackmailed me into becoming a contributing member of the committee. Developers wanted to sell river lots and power companies wanted to dam the river. The preservationists had good success on some stretches, but some battles were lost. The river runs through a part of North Carolina and into Tennessee and is indeed wild and beautiful.
I'll end with my fervent condemnation of Stayin' Alive. For too long it permeated every minute of every day and every venue where ears could pick up a sound. Blasted from radios, TV's, honky tonk beer joints with that infernal thump thump thump thump … STAYIN' ALIVE! STAYIN' ALIVE! Arggh.
Hehe. I was a disco addict back then and spent a goodly amount of time gyrating on dance floors. Stayin' Alive is still one of my favs despite having heard it a million times. But I can understand why some radio stations in the US featured Bee Gee Free Weekends. Enough is enough, I guess. Even the Bee Gees themselves must have cringed every time they turned on the radio. It was just before they released Stayin' Alive that the brothers needed a scream in a song... something like Paul McCartney did on some songs... so Barry volunteered and discovered his falsetto voice which he used quite often after that, and which extended their harmony range. Here's a clip of their very first TV appearance in 1960.
TX Greg wrote: Well since you've said you're going to do a few short test runs first, that should give you a chance to see if that (existing solar panel and 1 AGM battery) is going to be enough power. Getting the sparky to get that spaghetti wiring fixed is the main thing.
Yes, sir! It worries me too... and shocked the sparkie who saw all the spaghetti when he quoted on the job the other day.
And Gary, I'm more concerned here with the tie downs. That is absolutely not going to work using those sliding brackets you showed in that picture. The second you try to tighten up with the turn buckle it is going to either pull down on that bent up bracket or it will pull completely out of that U channel aluminum track. And you still have to fasten the front down.
Yep, well it's a steel track, not aluminium. But I've changed the plan anyway. Kind of. Now my plan is this: See (below) those two rails on the inside of the rear lights of the truck to which the tray is bolted? They run the length of the floor up to the cab, and are bolted to the chassis. Once the camper is sitting on the tray, with the front up against the back of the uprights, there'll be a 6" gap between the rear of the camper and the rear of the tray. I plan to use a heavy-duty, 3-sided bar (one horizontal, two verticals |__| ) that measures the same width as the rails, and bolt it to the rails directly below the steel U-channel track. Each of the upturned ends of the bar will be tall enough to reach the channel track and be bolted thereto (as are the current angle brackets). That should be sufficient to stop the camper lifting or sliding sideways.
Ok, I went back and noticed something I saw in that jack photo you sent... See the hole at the bottom of that bracket? All four jacks should have that same hole, as all four corners must be tie downed to the bed. I take it that is where a turn buckle should be fastened. So using four turnbuckles those should go straight from the jack to a hole drilled in the bed side rail. So the question is with that box added to the bottom can you find a long enough turn buckle to reach. If not a local welding shop could easily fab up a proper bracket coming off the bed corners and also make sure that the jack bracket hole is ok to use too.
Dunno about welding... the tray is aluminium. But yes, the turnbuckles open sufficiently to reach from the hole in the bracket to the hitching rail that runs along the sides of the tray. See photo.
I figured I'd use the hitching rail (or whatever the damn thing is called) rather than drill holes in the tray sides. Naturally, all three tray sides will be removed before the camper goes on. And yep, all four brackets at each corner will be tied down with turnbuckles. Moreover, there are two extra brackets at the front, mounted higher up the jacks. Those will be used to tie the front end of the camper to the outer uprights behind the cab with chains in combination with two more turnbuckles.
So how does all that sound? Six turnbuckles plus four bolts. Secure enough?
BR João wrote: Every day I read the description of your mini-odyssey search for parts to the ute and the camper. As my knowledge of mechanics tends toward zero all my contribution to this chat will be to suggest a new and very simple Chinese model of mobile house. It has an advantage: engine's fuel and owner's food are the same so the bill is just one. And you can enjoy the luxury of a bathtub.
Thanks for the suggestion, João, but I think you're about 30 or 40 years too late.
It's very difficult for a bloke like me - non-techinically and non-mechanically minded - to describe the kinds of things I plan to do with the truck, particularly when I don't know the names of all the bits and pieces involved. I imagine readers' eyes have often glazed over these past few weeks. Hehe. Oregon Richie often says "well, you seem to have all the details of such and such well sorted" probably because he doesn't have a clue what I'm talking about. And that makes two of us. But I'm sure when I chat again with that engineering bloke I saw this week, we'll work something out.
This weekend is a long weekend. Tomorrow is Australia Day and Monday is a holiday. Vacationers won't like it much cos it's raining. The top end monsoon has arrived (late) and northern Queensland copped a dunking yesterday. Now the north coast of NSW is copping it, although it's not too bad here... showery mostly. Hopefully, the arrival of the monsoon will ease the dust and dry conditions inland which have caused heatwaves and terrible bushfires over several weeks.
From the Beeb: US Senator John Kerry warns a failure of a Middle East two-state solution would be "disastrous", at his confirmation hearing as secretary of state. Disastrous for whom? Anyway, I wish him luck. Many others have tried to convince the Israelis and Palestinians to compromise without success.
An underwater camera has captured the moment a dolphin that became entangled in a fishing line was freed by a diver in Hawaii. Martina Wing, who filmed the footage, said that the dolphin seemed to "communicate" with the diver to ask for help. Great video footage and well worth watching.
Guess what I've got?
Not a bad look, perfect fit, and it's color coordinated! It has brackets for driving lights too if I ever decide to get them. Ford fitted the Ironman helper springs as well, and did a job they forgot last time...removed and resealed gearshift housing. $170 for everything. So there ya go, the old girl's in tip top shape and ready to rock and roll. What was NC Art saying? OK, go shake your old bones all to hell in an underpowered olden Ford rattler. Your choice!
Actually, she does ride a bit rough but that's cos she's empty. Once the camper is mounted it'll be a different story.
Chris and his mate, the blokes who built the front fence back in 09, are here today demolishing the old wheelchair ramp at the front of the house and constructing a new one. So it's been a noisy day with power tools, hammering, and lots of swearing. BTW, it was a Ford salesman who volunteered to be my chauffeur this afternoon. He picked me up in a brand new Ghia. What a lovely car! He says business is tough these days because people shop around on the internet and get prices from dealers as far away as Sydney, Newcastle, Coffs Harbor, etc, before heading to the Taree dealership armed with quotes from all over.
Anyway, time to shoot through as they say in Aussie lingo. Cyaz. And thanks for your answers, Greg. Gary
January 24, 2013. Things were much different a hundred years ago, when ladies had to look their best in "complete social attire".
Little did they realize in 1915 that three decades later the Beetle would rule the roads. Human beings are sooooo vain, aren't they? Look at those women with their silly hats, rouge cheeks, painted lips and plucked eyebrows. No wonder they thought Darwin was a lunatic.
Anyway, I discovered something about those 4" square plates bolted to the floor of the truck tray. One is loose, so I squirted the bolts with WD40 last night in an attempt to loosen the nuts. Turns out the whole thing is loose, and comes away from the tray because that's all it's bolted to... just the skin of the tray and nothing substantial. Obviously, at some stage, the thing was strained by too much weight which pulled the bolts away from the skin. Sooooo, I'm gonna have to talk to the fabricator about attaching something to the rails that support the tray. I've got a few ideas that will make the camper more secure. Better safe than sorry, I say.
However, all this buggerizing around is eating into the budget. I'm thinking that if I stick with the current 70W solar panel and install one 120a/h AGM battery for the time being, that will be enough to run the TV, laptop, lights, and charge camera batteries, etc. I'll use gas to run the fridge. One battery plus installation will cost about $500 I reckon. Upgrading can wait till I've got the dough. What do you think of that idea, TX Greg?
I also discovered yesterday that the electrics plug near the tow bar (hitch) is cactus. I'll need that for the camper brake lights and indicators. So when I get the auto electrician to install the AGM, I'll also get him to install a new electrics plug and fit a reversing video camera. Money, money, money, money.
What's a haboob? Americans should know because they're quite common in the deserts of southwest US but not so off the West Australian coast. Francois sent this link to an article and pics from the NY Daily News. Being a boatie, Francois is very interested in weather conditions. He even had a crows nest installed on his boat so he can climb up there to keep an eye on things. Hehe.
I watched a doco about the Bee Gees called In Our Own Time last night on telly. Most interesting. Maurice had already died when the doco was made so Barry and Robin did the main narration with clips from a previous interview with Maurice to complete the picture. Robin died last year (2012). The brothers had released a few records in Oz which didn't take off. Then, just before emmigrating to England to try their luck in 1967, they released Spicks and Specks. They were one week into their 5-week sea voyage to England when they received the news that Spicks and Specks had gone to No.1 in Australia, but it was too late to return. In England, they were greeted by an industry that insisted groups were dead, and solo acts were now the only way to go. They were broke but not discouraged. After some months submitting tapes to record companies and management, they finally got the chance to meet Robert Stigwood. That was the turning point, and New York Mining Disaster became a hit. However there were many ups and downs during their career; periods when things just weren't happening for them - when record companies and management just didn't want to know them. There was also a 3-year period when the boys separated due to jealousies and an inability to communicate. When they did manage to reconcile their differences and work together again, they wrote, appropriately, "How Do You Mend A Broken Heart". Then they went on to unimaginable success with the music for Saturday Night Fever (Stayin' Alive and Jive Talkin' are still two of my favs). They had 5 hits simultaneously in the US Top Ten. Ironically, they were so successful, radio stations started promoting "Bee Gee Free Weekends". That was a worry, so they branched out into writing songs for other artists, such as Barbara Streisand and Celine Dion. Barry, Robin and Maurice became independent composers and did very well. But when they were finally inducted into the Music Hall of Fame, it was as the Bee Gees. Next month, Barry, the only surviving brother, will be in Oz to unveil a tribute to the group in Redcliffe Brisbane where it all began back in 1958.
As Barry said, most groups are associated with a particular generation or decade. But they managed to transcend that image and maintain their popularity through several decades. Even today, their music is still played on radio and is as fresh as ever. As to 'disco' being a dirty word, "We were the group that created it, so we like the word 'disco'." So do I.
And you know where Maurice got the idea for Jive Talkin'? Driving across a bridge with his brothers at 35mph, and hearing the sound of the railings. Barry was in the back making che-cha noises to the rhythm.
Just back from looking at the truck tray and camper again. Smartie pants here has figured out how to attach the camper to the tray rails. I've just made the fabricator's job easy... all he has to do is make the thing. It will prevent both lateral and vertical movement. It's also adjustable and easy to undo when the camper needs to be removed from the truck.
Aren't brains wonderful things? You just make observations and let the cogs do their thing until they spit out an answer. That kind of mental problem-solving activity often occurs during sleep.
From the Beeb: US Defence Secretary Leon Panetta is to lift the military's ban on women serving in combat, a senior Pentagon official says. I hope they don't look like the girls in the pic of the electric car hehe.
The US House passes a bill to extend the country's debt limit until May, deferring a budget debate with the White House. Getting an extension on the loan. Consolidation of debt. I'm familiar with all that stuff.
Anyone who owns a dog knows that it will rummage around in the kitchen bin looking for food, given half a chance. But this annoying behaviour may have a more profound undercurrent than we realise, according to scientists. A new study of dog genetics reveals numerous genes involved in starch metabolism, compared with wolves. It backs an idea that some dogs emerged from wolves that were able to scavenge and digest the food waste of early farmers, the team tells Nature journal. No-one knows precisely when or how our ancestors became so intimately connected with dogs, but the archaeological evidence indicates it was many thousands of years ago. One suggestion is that the modern mutt emerged from ancient hunter-gatherers' use of wolves as hunting companions or guards. No other animal enjoys such a symbiotic relationship with mankind.
Two blokes walking a white husky went by this house the other day and I commented on its good looks. A bewdiful thang.
Speaking of beautiful, I favorited a pic on Red Bubble the other day of an autumn scene in Tennessee. It's gorgeous.
The other day I said I wished there were things like a handcuff rather than a clevis. Well, well, well, lookie, lookie. Those will fit around the bar under the truck tray no worries, and then hook to the turnbuckle. We have a Bunnings Superstore in Taree so I'll shop there. 6 x hook/hook turnbuckles + 4 x snap hooks = $168. Sheesh. I already have 4 eye/eye turnbuckles plus a few clevis so I'll keep those as spares.
Oh, and my molded dash mat arrived today. Very nice. Fits as snug as a glove.
I meant to mention yesterday my convo with Denise, the woman from Ford who picked me up from home and drove me to the dealership the other day. She had to collect another customer on the way so we got talking about stuff and I mentioned my cancer and the gum thing. She's also been through cancer only worse... she had a breast removed and then the whole radiation/chemo routine. She's in remission, and has been for 4 years, but is still on the danger list. So there ya go. We're all like ten pins in a bowling alley.
I've been on a few trips as a passenger in the Ford courtesy car where there have been other customers to collect or deliver, and it's surprising how big Taree really is. I've lived here over 11 years and probably seen less than 10% of it. Most of it is like any suburb of any city... lots and lots of streets with lots and lots of houses. I saw a pic the other day on the grey nomad forum's "show us your rig" section of a woman sitting on a recliner camp chair outside her caravan in a caravan park SURROUNDED by dozens of other caravans hehe. That's like swapping one suburban situation for another. This is more my kinda scene... without the bushfires though. Warrumbungle National Park, Coonabarrabran, was reduced to ashes a few weeks ago. Here's another happy group of campers.
And here we are again, ladies and genitals, femmes and hommes, time to gain a bit of weight and watch a bit of telly. Gary
January 23, 2013. My dad's truck when I was a knee high to a joey was a Chevrolet, of which I have a vague recollection. I often wondered if it was a pre or post war model because I was unsure as to whether or not my dad was working for Marchants Printers during the war years. So I wrote my older bro and sent a pic of what I thought was a Chevy similar to what my dad drove, but it was a later model... post war. Dad's was a 38/39. Oz went to war with the Brits in 39 so no more vehicles were imported into Oz for assembly.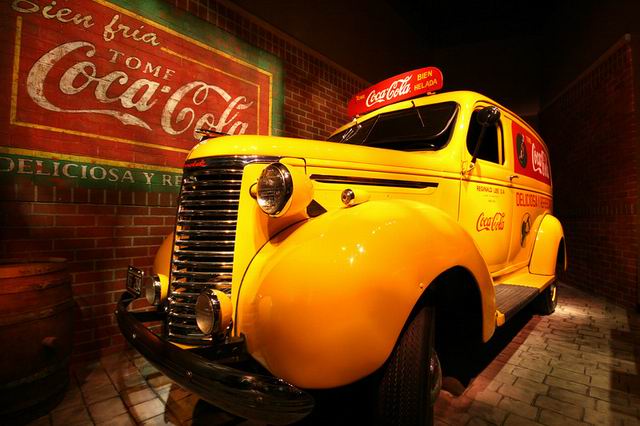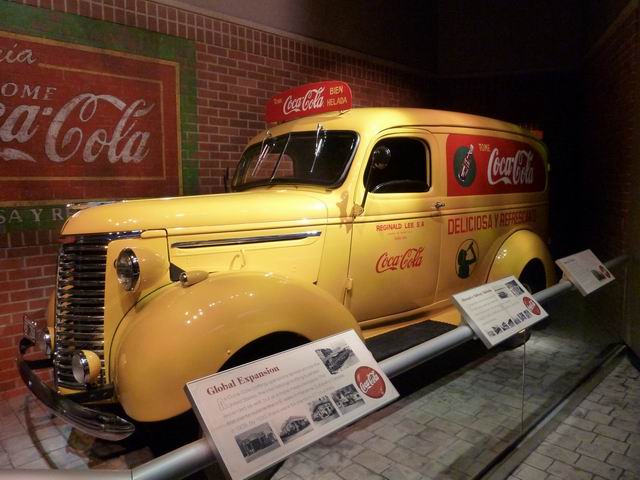 So there's the kinda truck my dad drove when I was a sprout. Same color too. His had Marchants Printers painted along the side. My bro said dad thought it was the best truck he ever had. And because of petrol rationing during and after the war, there was a large black bag mounted to the roof that he filled with gas from the meter in our front yard. My bro said it was ugly. Not only that, as it deflated, it wobbled from side to side. My dad was a smoker so it's lucky he never did a Hindenburg. Now I know where the expression "gas bag" (to describe a talkative person) came from.
My Ironman springs just arrived so that's cool. The truck's booked in for Friday to have them fitted along with the bull bar. Actually, Lindsay spotted the bull bar in the laundry this morning and was most impressed.
Back from seeing a steel fabricator. I showed him a printed pic of the rear of the camper and then he checked out the truck tray. There are two 4" square steel plates with a 1" square hole in the center bolted to each rear corner of the tray floor, intended to house an elevated crossbar that matches the one behind the cab, used to carry long ladders, long timber, pipes, etc. I figure they'd make useful anchor points for the camper to prevent lateral movement. So the guy's gonna come up with something. Beats me trying to figure it out.
Well, I buttered a couple of slices of bread while still frozen, heated a couple of cocktail franks while they were defrosting, whipped out the tamaaaaata sauce, and looked forward to a frankie sarmie. Forget it. Doesn't work. At least the gums don't work. I got a taste though before I had to spit out a mouthful. Now I feel cheated! Damn it. I'll just have to wait till I get the temp dentures before I can try anything like that again. Grrrrr.
I did try something wonderful last night, though. Dairy Farmers thick banana caramel pie yoghurt. It tasted like cheesecake. Yummy!
From the Beeb: Israeli Prime Minister Benjamin Netanyahu vows to form "as broad a government as possible" after his bloc narrowly wins general elections. Note: ... "as possible".
North Korea reacts angrily to a UN resolution condemning its rocket launch and expanding sanctions, pledging to strengthen nuclear capabilities. There's one in every crowd, yeah?
Most parents tells lies to their children as a tactic to change their behaviour, suggests a study of families in the United States and China. You mean they needed a study to find that out? Anyway, kids are nasty little things. Every time you ask them to do something they wanna know why. Why, why, why. No wonder parents tell whoppers.
More than 100 aid organisations have come together to launch a campaign against hunger to coincide with the UK's role heading the G8 this year.The Enough Food For Everyone IF campaign is the UK agencies' biggest joint mobilisation since Make Poverty History in 2005. It's possible. But food is like money. Once you're committed to paying off the mortgage on the mansion and the Ferraris, it's not easy to find a bit of spare cash to help the poor.
A magistrate in Australia has dismissed charges against a man fined after his goat ate flowers outside the Museum of Contemporary Art in Sydney. The goat's name is Gary.
A new venture is joining the effort to extract mineral resources on asteroids. The announcement of plans by Deep Space Industries to exploit the rare metals present in the space rocks turns asteroid mining into a two-horse race. The other venture, Planetary Resources, went public with its proposals last year. Advocates of asteroid mining hope it could turn into a trillion-dollar business, but some scientists are highly sceptical of the idea. Trillions, huh? Sounds like it's worth a shot. And who cares about environmental issues on an asteroid?
Well, 5-ish and time for the usual routine. I won't be saying that on the Odyssey. There will be no routine. Oh... before I go, a mate from Red Bubble who's travelled the world as well as most of Oz, made a comment on the AO guestbook. Gary
January 22, 2013. I think I'm getting a handle on this business of securing the camper to the truck. Sometimes you need to be a bit creative ya know, and use your own noggin to solve problems. Often, we learn by DOING, and I've done that countless times in my life, embracing new challenges with little or no experience.
Popeye the Sailor Man Francois answered my querie about U thingies yesterday: this one is galvanized but you can find a stainless steel one as yours.
Last night on IQ the contestants were given colored pencils and a notepad and asked to draw a wigwam. They all drew tipis. Tsk, tsk. The question was also asked: how many buffalo did Buffalo Bill kill? And the answer was none. There are no buffalo in North America, only bison. So he should have been called Bison Bill.
We have buffalo in Oz, up north. They were imported from Indonesia for some reason... beasts of burden perhaps. But now they're a bloody nuisance, churning up swamps and damaging the environment.
NC Art has my sympathy: A childhood buddy found out about masturbating at around 11 years of age. He thought the word … and the act … highly interesting. Trouble was, he kept getting it confused with masticating and used those two terms interchangeably. It could get some great laughs, or some shocked reactions depending on his audience. I guess he outgrew it or figured out why he was getting peculiar looks.
Which reminds me to ask my dentist how he plans to make a living after I run out of teeth to extract. I will be facing his forceps and needles two hours from now. Guess my next meal or two will be Gary Software Specials. Argh.
Thank god I never have to undergo that invasion again! I've had some pretty horrendous experiences in dental surgeries but those recent extractions take the cake. Just the sheer brutality of it all still blows my mind.
Meanwhile, BR João comments on Ned: I read the news about Ned Kelly's new burial. It's very interesting to see how he still polarizes opinions. It's also very interesting what you said about Australians and their lack of reverence for political leaders. It's the same in Brazil. If someone makes here a Hollywood style movie showing our president as a big hero – like "Independence Day" – it will be considered the comedy of the year. And the aliens will laugh too.
If you wanna be a superstar in Oz, and treated accordingly, you need to play cricket or football... preferably the former. Tennis and swimming are up there too.
From the Beeb: Barack Obama has told the American people to "seize the moment", in a speech in Washington DC inaugurating his second term as US president. He issued a plea for political unity while embracing liberal causes such as immigration reform, gay rights and the fight against climate change. Hundreds of thousands of people crammed the ceremony on the National Mall. PM Gillard could conduct hers in a telephone box.
Prince Harry shot at Taliban insurgents during his time as an Army helicopter pilot in Afghanistan, he says. The prince, whose five-month deployment to the country has just ended, spoke about his role as an Apache co-pilot gunner, and whether he had killed. "Yeah, so lots of people have. The squadron's been out here. Everyone's fired a certain amount," he said. "If there's people trying to do bad stuff to our guys, then we'll take them out of the game." He's no ponce our Prince.
And now to cars, and the way many of us began our love affair with wheels.
The one in front is based on the Austin A40 Devon from 1950, and the one at the back is based on a 1930 Citroen.
A picture's worth a thousand words, roite? This is the back of the camper.
Note the grooved rail that runs along the bottom, above the lower storage bin. There are six hooks (one out of sight at the far end), each with two holes. The two under the door are those I use to hook the entry ladder onto. Anyway, they're moveable by loosening the bolt and sliding the hooks to wherever you want them. I hadn't realized it till now but they're ideal for securing the camper to the truck tray. Bill (the forum bloke with the same combo I have) has used similar angle irons to bolt his camper direct to the tray, but his doesn't have an extra foot of storage bin between the angle irons and tray like I have. No worries, I'll figure something out. The storage bin is divided into three sections. The one in the middle is for the camper jacks, poles, plug for brake lights and indicators, hoses, etc. Access to the two outside bins is by full-length drop-down doors. In the far right, lower corner, you can just see a welded anchor point with a hole. Each lower corner has one of those, and there are another two half way up the front corners, which I'll use to attach to the tray uprights behind the cab. So, dear Breth, after much observation and deliberation, I think I've got the problem of securing the camper to the truck sorted.
One habit I'll need to develop is checking all the tie downs each time I return to the truck after an absence in case some asshole has pinched them.
The beef soup? Wonderful! But some of the veg was a bit of a stuggle to munch on, so just now I strained off the liquid, and used a potato masher to mash all the solids, including the diced steak. Much better than blitzing. Instead of a puree with unrecognizable contents, the individual veg and meat are mashed but not obliterated, and still retain their texture. Then I put the liquid back in, ladled the soup into containers, and stored them in the refrigerator. Yes, blitzing is okay for some things but not all things. The mash idea was a real winner.
How many languages are there in the world? Before you start counting, there were between 250 and 300 in Australia alone at the beginning of colonization. About 150 are still spoken while others are being revived. If you're into language, here's an interesting article on the Beeb.
While I appreciate the cultural and historical significance of languages, and the need to preserve them, I still think it's important to have a language common to all mankind for the sake of communication and the exchange of ideas. That's what the internet is all about... the great information revolution. Besides, my French ce n'est pas terrible.
Truck's ready to be picked up at Ford... but Denise is comin' to git me in a flash new Falcon. I get the royal treatment there ya know.
BACK! Whoa! I better slow down the spending. I expected something like $200 but the bill was almost double that at $374. Gasket head cover, tie rod end assembly x 2, wheel stud, nut. The labor alone was $200. Anyway, it's running well and sounds quieter. But I think this solar/batteries thing might have to wait a few weeks. The power bill arrived this week... $550. Sheesh. Hopefully, that's the last power bill I'll be paying here. Or anywhere else for a very long time!
And speaking of time, it's that time. Cya! Gary
January 21, 2013. Well, that's the dentist taken care of, and the truck which is at Ford getting gaskets and rubber boot thingies done. I've also booked the truck in for next Friday to have the bull bar and Ironman springs fitted. The dash mat should arrive this week as well. I'm smart enough to fit that one myself. :)
Roite, anyone know what that U thingy is called? I asked yesterday and was almost trampled in the stampede of answers. Yeah, right. Anyway, it attaches to the eye of the turnbuckle but it's too small to fit the metal rod that runs along the sides of the truck tray. The pic is about twice the size of the real one. If that were the real one, it would be perfect. Actually, what would be perfect is a circular shape that opens and closes like a handcuff.
The bull bar arrived this morning. Looks pretty good - silver colored alloy - two uprights and 3 cross bars, full width, 4 bolt-on points. I'm sure it'll make my little truck look more like a REAL truck!
BR João's Christmas card arrived today, more than a month after it was posted! The card shows a map of the island on which he lives - Florianopolis, Ilha de Santa Catarina. Very nice, lots of tropical vegetation and, of course, beaches all around. João lives at one end, right on the beach. Lots of tanned peeps right outside his door. :)
Ah! That was Rod calling... the tooth fairy. I have an appointment Tuesday 29 for a fitting. So that's one week. It'll probably take another week before I get the temp dentures. Actually, I think the teeth will be permanent but the "gum" part won't. It'll be made of a soft pliable material that won't hurt my own gums or exposed bone, but will be sufficient to help me eat properly... and MASTICATE! I'll only use them for eating. When my own gums have finally healed (which may take more surgery), the dentures will be made permanent. Isn't that exciting?
Soup's on the simmer. Lots of diced beef, onions, carrots, celery, garlic, potato, tomato puree, beef stock, water, parsley, salt, pepper, sugar. Smells good already!
Oops! One of the parts ordered for the truck turned out to be the wrong one. They phoned around looking for the right part somewhere else in Taree with no luck. No worries. I told them to keep the truck overnight and attend to it tomorrow.
Now I'm checking out tie-downs and straps... some with ratchets for tightening... things called transom tie-down straps for boats. It's all so confusing. But I think those things go over the top of a load, and I don't think I want straps over the top of the camper. Ah! Now I know what that U thingy is called... a clevis (or Jaw). There's a pic on a web page. But I think what would work best for me is a hook and hook turnbuckle... that's if there's a straight clear line of sight between the two hook-up points. Anything that's gotta go around corners needs a strap. See what I mean? There's no one to ask about these things. I've gotta figure it all out myself BEFORE I put the camper on the truck. One page I read said I gotta get four people to stand at each corner of the camper when it's lowered on to the tray. Yeah, right. Where am I gonna get another three people from? Maybe one other person so that the thing is lowered equally at each end... 3 inches at a time. Anyway, it seems you can buy clevis and clevis, clevis and eye, eye and eye, stub and stub, and hook and eye. But no hook and hook. Why not? Don't ask me. Here's one on eBay, but it's only about a foot long. I need something about 18" long. Oh well, I'll keep looking and reading and learning.
Lots of buggerizing around today without making much headway. And now the soup's ready. Gary
January 20, 2013. Remember the pics of Radiance of the Seas I took in Sydney? Here's a bird's eye view I found on Red Bubble this morning. The photographer, a Polish woman touring the world, climbed the stairs of the Harbor Bridge's southern pylon to get this view. I'll be there again next month but there's no way I could climb all those stairs in my current state of health, so I'll opt for a ferry ride from Circular Quay, under the bridge, and around to Darling Harbor on the western side of the city. I'll shoot a vid as well as take stills.
NC Art wrote to give me some free advice on nutritious foods to chew, like peanut butter sandwiches. I'm a big fan of peanut butter, which also works well with honey. I watched a Brit cook on telly last night doing all kinds of interesting things with fruit, including convincing kids to prefer it over manufactured sweets and drinks. The trick was how the fruit was displayed: skewered like a kebab, peeled, sliced, cut into chunks, etc. He put slices of banana, apple and something else in a bowl and squeezed fresh lemon juice all over them, which not only prevented them turning brown but also gave them a bit of a tang. Once the group of kids saw the colorful presentation, they ate the bloody lot! He also convinced one grumpy old fart who hated cooked apple to try them by being creative and innovative. Fried apple slices in a hot dog? Try it. (He used fried sausages instead of frankfurts - and then fried the apple slices in the sausage fat). He cored whole Granny Smith apples, filled the centers with a mix of raisins, sultanas and prunes marinated in alcohol (brandy, I think) and baked them, then topped them with custard.
Art closed with a word about nutritionists: A nutritionist should know other diet tricks for invalids off their feed. So don't knock it if you haven't tried it. Half of Europe survived on turnips during famines. I still don't like the things, but will eat them in a pinch. Try extra salt in some foods to stimulate saliva. Just don't overdo it. All these suggestions made without warranty, but what the hell. Desperate times call for desperate measures, what? Hehe.
TX pointed out that those expensive RV fridges I linked to yesterday were not compressor type, but absorption type. I had a feeling he might say that. What the hell would I know? And yes a "built-in" RV style dual 240V/12V compressor unit is just as expensive as an absorption unit... That is why most people opt to modify a home unit to fit the opening at the lower price. The only problem is they are stuck with only being able to run it on the 240V.
Anyway, the thing is RV fridges are expensive and since I already have one, I'll keep it. Dozen madder if it's not 12V. I have a 240V inverter. Another thing that's occurred to me is that absorption doesn't use machinery so, theoretically, it should last forever! Our first fridge when I was a kid was a "Silent Knight" which ran on gas. I think there were kerosene fridges around in those days as well. Before that we had an ice chest.
I had a good look at the turnbuckles on the camper and now I understand them. The previous owner had a short length of chain attached to one end which confused me a bit. There's a U shaped link with a threaded pin that screws through the two open ends, and attaches to each eye of the turnbuckle but they're not big enough to straddle the steel pipe that runs along each side of the ute tray. The pipe has a 1" (25mm) diameter so I'll have get new U thingies to fit. What are they called, and where could I buy them? Hardware probably.
From the Beeb: Syria's foreign minister has invited the "nationalistic opposition" to lay down its weapons and join talks to form a new government. Walid Muallem said any opposition group could join a new cabinet as long as they reject foreign intervention. He said any discussion of President Bashar al-Assad's future was "unacceptable". The opposition would agree with that last statement.
More than 130 years after he was hanged, Australia's most notorious outlaw is being buried, as old tensions resurface about what he really means to the country. Criminal or folk hero? Both, probably. It all happened back in the days when cops and bureaucrats weren't exactly saints either. As one commentator said the other night, "He wasn't the sharpest tool in the shed because his suit of armor left his legs exposed, and that's how the cops brought him down."
Like every other tourist, I'll be visiting the museum and taking pics of Glenrowan in Victoria, the town where Ned Kelly made his famous "last stand". I'm not a fan but I do find the history interesting. There were many bushrangers back then. After all, this joint was a dumping ground for British and Irish convicts. Not far from here is a road called Thunderbolt's Way, named after another notorious bushranger. Even our national song, Waltzing Matilda, is about a thief who stole a sheep and had "the troopers, one, two and three" after him. Hehe. And what about Jack Doolan, the Wild Colonial Boy?
They say that's why Aussies are not overly enamored by politicians, even Prime Ministers and Premiers. We certainly don't treat them with the same reverence as Americans treat their Presidents - not even remotely. However, 50% of us are big fans of the Royal Family. Aussies are generally a pretty rough and ready lot, with a streak of larrikinism. There's no equivalent to Hollywood in Oz. Our famous stars live in regular suburbs (or even country towns) where they mix with the locals and are treated the same as anyone else. The worst thing you can do in Oz is behave like you're better than the next bloke.
Short and sweet today, ladies and genitals. I bought a bunch of stuff today to make a hearty beef and veg soup tomorrow. Bought bread too for sangers, and some frankfurts. Love frankfurts on fresh bread and butter, with a dollop of tamaaaaaata sauce. And now it's time for a bit of telly. Gary
January 19, 2013. Satdeeeee! TX Greg wrote: Ohhhh Gary... And where did you get that $1700 price yesterday for the fridge. I thought we looked that up and it is about $900 to replace your current model with another RV absorption fridge. Back then, before solar panels, the absorption fridge was the way to go because you could run the unit on gas. But if you're going to have the power to spare, the compressor models to fit that opening are way under $300..... And like I've said, I really think that old fridge is going to give you a ton of grief. Hmmm you should go ahead pull it out of the camper and put it on EBay :)
Well, here's a fridge like mine (except it also has 12V - mine's only 2-way, 240V and propane). It's used, and the bidding starts at $500. No bids at the time of writing this though. As to domestic compressor fridges, I have three of them so I'm aware of what they cost. The smallest is a bar fridge that cost $120 new. I bought it for the bedroom cos Sue kept nicking my plonk. New absorption type, 3-way caravan fridges are between $600 and a grand, but when you start talking compressor fridges for motorhomes, you start talking big bikkies. Here's another one. Anyway, it was the bloke who quoted on the solar installation yesterday who said he saw the price of a new one at $1700.
I don't think my current Electrolux will give me grief. I can't afford to update at the mo, anyway, so I'm stuck with it. If it uses the same (or similar) amount of gas to run as the newies, 1kg lasts 3 days. So a 9kg bottle of propane should take care of the fridge and the cooking for a couple of weeks before I need to refill. Maybe even longer. If the solar system I instal means I can't run the fridge using electricity, except occasionally, then so be it. At least I'll have enough to run the laptop, water pump, exhaust fan, TV, lights, recharge batteries, etc. The system includes a digital readout so I can keep an eye on usage and the amount of charge remaining.
Oregon Richie, wrote: Most refrigerator units here run on LPG / LNG or "propane" and merely provide a burner heat source which activates a rather ancient but effective refrigeration cycle called the absorption cycle. The "electric" mode merely turns on a resistance heater element to replace the propane burner for heat and is actually less efficient, and a 12 volt mode is the least efficient but serves to help maintain temperature ONCE the refrigerator unit has already been pulled down to temperature.
Yes, I've read it's a good idea to fill the fridge with cold stuff before turning it on. A bag of ice maybe. Anyway, solar power is cheaper than gas, which is why I'd prefer to run the fridge on 240V. But if it can't be done, it can't be done. No biggie.
FL Bill must've missed the story I referred to yesterday about the bloke with a metal detector finding a gold nugget at Bendigo in Oz. He sent this report from Huffington Post.
I'm having a sandwich. Yep, a genuine sandwich. I boiled an egg, mashed it with mayo, spread it on bread (with butter), added a slice of soft cheese and shredded lettuce, removed the crusts, cut the sandwich into small cubes, and voila. One cube has already found its way down the screech. Now I'm chewing another. Do you have any idea what it's like trying to chew without teeth? It's kinda like screwing up a sheet of paper with your elbows. It's possible but not easy. However, I can feel REAL food entering my tummy, and it feels good. My dentist Nancy recommended I give this a shot. My body is too skinny and weak to assist the healing process of the gums so I need to BULK UP. Even three sandwiches a week would be useful. Anyway, the more cubes I eat, the easier it gets. More saliva is being stimulated, and I'm using water to assist the swallowing. Nancy says water is good for stimulating saliva. I'm by no means a fan of water but I can handle it.
Tellya what. The gums are practically useless, so I'm relying on the enzymes in the saliva to partially digest the food before swallowing. It means taking forever to eat just one sandwich but it's worth the trouble. AND... it's nice to taste things like mayo, egg and cheese again... and feel the texture of the bread.
I remember a story on telly about a Chinese woman who ran a restaurant in Sydney. She would ban people who refused to obey her instructions about wasting food and failing to chew the food properly before swallowing. She would not collect plates from a table if they still had food on them. Hehe. She obviously wasn't the sharpest tool in the shed because she drove most of her customers away and went broke. But she did have a point about chewing and using saliva to partially digest food before it enters the digestive system. It saves the body a lot of work and, according to her, promotes better health.
So there ya go.... halfway through the sandwich already hehe. Good thing I'm not in a hurry. Actually, half a sanger will do for now. I'll eat the rest later. My stomach has shrunk and isn't used to it.
Hot and oppressive yesterday. Warm and wet today. Sydney had its highest temp on record yesterday at 45.8C (114.4F), beating the previous hottest day in 1939. Bushfires are running rampant all over NSW and Victoria, destroying tens of thousands of hectares of bushland, stock, and some homes. One person was found dead in a car. Residents of one small town were given 5 minutes to pack their cars and run. Can you imagine that? 5 minutes to choose what to take? There was another story of kangaroos hopping down the middle of a road with fire on both sides. They were cooked alive in their tracks. One old bloke who was most upset about losing his house was also devastated by the loss of his two vintage cars... a Morris Mini Cooper and an MGB... both burnt to a shell. By some miracle, his motorhome (a large one) parked nearby managed to escape unscathed. And it started first go. He was interstate when the fire started and arrived home to see the aftermath.
From the Beeb: The US Federal Reserve may have underestimated the extent of the looming global financial crisis in 2007, released transcripts from that year show. Read the story here.
I wrote Bill (the bloke who has the same kinda rig as mine) a private note on the forum yesterday and he answered thus: I have reinforced the bottom of the camper with steel angle and it doesn't move at all now. I have done some fairly rough dirt roads (Cape Trib To Cooktown coast road, etc) and it seems to work well. I have some small bits of angle iron teq screwed to the tray which also helps stop it moving. I will take some pics if you want. Bill.
Bill's is a bit different to mine though. It's the original Freeway designed for a tub ute, so it doesn't have the storage boxes on each side. I'm not sure the angle iron idea will work for mine, but I've asked him to post pics anyway. In any case, he's obviously not relying solely on the turnbuckles to secure the camper. That's cool. I'll figure something out.
Back from the dentist to see Liam, the bloke who removed all my teeth. He says they've gone about as far as dentistry can take my situation. He wants me to talk to the head and neck specialist in Sydney next month about surgery to remove all exposed (dead) bone so that blood can flow to the gums. Meanwhile, the prosthetist will make a special set of dentures with a soft fit to use for eating so that I can improve my diet. Liam says my immune system needs more 'ammunition' to aid the healing process. He also wants me to see a nutritionist. Bleh.
Liam also admitted that had my teeth been extracted when they were supposed to be, shortly after the radiation treatment, everything would have been fine. But while Nancy was adamant they could be saved, she didn't realize that radiation was continuing to have a detrimental effect even though the treatment had ceased, and damage to my jaw was still in progress. By the time Liam got involved, it was too late to prevent the problems I'm having now. And that's why they're continuing to look after me at no charge. They've got the guilts.
But the issue runs deeper than that. When I told the oncologist in Port Macquarie that Nancy was trying to save my remaining teeth he said, "That's her call." And that's despite recommending extraction in the first place. The head/neck doc in Sydney said something similar. In other words, they were both reluctant to criticize a colleague in the medical profession. So much for getting a second opinion. That's tantamount to dereliction of duty if you ask me.
Anyway, orders are to "eat anything and everything", even naughty stuff like burgers and chips. Mastication is the main obstacle at the mo but that might improve when I'm fitted with temp dentures. I'm below 50kgs right now... maybe 47 or so. Not good. So there's a couple of hurdles to jump before this kid is fit enough to depart permanently on the Odyssey. Depending on what happens, I might have to settle for a few weekends away for a while. A "trial run". That might not be such a bad idea, actually. There's no shortage of camping places around these parts... beach, forest, lakes, mountains, you name it.
Just spent half an hour on the phone bringing Averil up to speed, and now it's time to flee. Gary
January 18, 2013. Here we go again. Got a call from the electrician/solar bloke this morning at 8:30 and he'll be here shortly to check out the camper and discuss what I'll be needing in hardware. That'll be interesting.
As I wrote Richie this morning: "Yep, amazing innit. You spend years buggerizing around in circles, seemingly making little or no headway, and all of a sudden things start to fall into place. It's kinda scary actually... like it's all happening a bit too fast! Anyway, the thing is, you get so used to being frustrated by constant obstacles being placed in your path, you lose sight of just where you are, and how close you are to realizing your dream. And then it happens. And you're in shock. Hehe."
NC Art wrote: Well, it sounds like a HOORAY FOR GARY is in order. The pieces are clicking into place and nearing your blast-off into the wild excursion of wherever. I feel your enthusiasm way up and around to my little corner of the globe. Now, if you can find a set of Ironman jaw replacements on e-bay for your mouth you will be super ready!
Thanks, Art. I really appreciate your encouragement. I remember old Kev next door saying one time, "You wouldn't last 5 minutes in the bush!" And a techie who was here fixing my compy: "You're not going anywhere!"
I used my pig skin gloves for the first time this morning, to stack the timber I bought yesterday along the garage wall. No splinters! The blokes at the timber yard had hands like leather so they didn't worry about handling rough timber. Not Goldilocks here! I bought the gloves for gathering firewood at camping spots but they've come in handy already.
Here's a story about an elderly Swiss couple who got bogged in the outback. They were very lucky to survive.
Well, the bloke from Mackies arrived and checked out the camper. He reckons I can keep some of the gear, like the inverter and regulator, but most of the stuff will be new, including the solar panels. Yes, two. The old one is a BP, 60/70 watt that's about 10 years old. So it'll get the flick. He's recommending 2 x 140 watt panels (higher wattage single panels run on 24 volt and it's all too hard) and 2 x AGM 120a/h batteries. He said if the fridge was a compressor type, I'd have oodles of power to run it as well as everything else - TV, laptop, lights, etc. But because mine's a non-compressor type, it sucks more power. BUT, a new camper fridge is about $1700 so that's out of the question. He says I can run the fridge using electricity but sparingly. Maybe during the day then switch over to gas at night or something like that.
Mark just phoned with the quote. $1500 for hardware and about $600 for labor. More if I want the batteries connected to the truck's alternator with an isolator switch. Sounds a bit high to me so I'll get another quote or two. From what I've seen on eBay, the hardware is more like $1000 which is a $500 saving to begin with. AGMs are about the $300 each mark but solar panels are $200 each.
Well, whaddaya know. I just phoned another company but they deal in grid stuff. It was worth phoning though because the bloke asked if I'd checked with any auto electricians. I never thought of that! So the first one I phoned said, "Yeah, we install solar panels and batteries on campers, no worries." He'll pop around here sometime next week and check out the camper. If I can get the hardware and installation down to about the 1 1/2K mark, I'll be happy. Otherwise I might have to settle for 1 panel and 1 AGM for the time being. We'll, see.
From the Beeb: Lance Armstrong admits using performance-enhancing drugs during all seven of his Tour de France wins. Full story here. I haven't bothered to read it. I'm not really interested.
Mick Hucknall and The Stereophonics are among artists attempting to re-record The Beatles' Please Please Me at Abbey Road on the album's 50th anniversary. The musicians will have just 12 hours to complete the work, mirroring the marathon single session that resulted in the Beatles' debut album. They will use the same studio, with all the tracks recorded in order. The event, which takes place on 11 February, will be broadcast live on BBC Radio 2. Jeez, 50 years ago and I'm still here!
An amateur prospector in the Australian state of Victoria has astonished experts by unearthing a gold nugget weighing 5.5kg (177 ounces). The unidentified man, using a handheld metal detector, found the nugget on Wednesday, lying 60cm underground near the town of Ballarat. Its value has been estimated at more than A$300,000 ($315,000: £197,000). Oh yes, that's another thing I need... a metal detector. :)
A security check on a US company has reportedly revealed one of its staff was outsourcing his work to China. The software developer, in his 40s, is thought to have spent his workdays surfing the web, watching cat videos on YouTube and browsing Reddit and eBay. He reportedly paid just a fifth of his six-figure salary to a company based in Shenyang to do his job. What a clever idea!
All of Boeing's 50 flagship 787 Dreamliners have been temporarily taken out of service amid safety concerns. The US and European aviation agencies said planes should be grounded while safety checks are carried out on their lithium ion batteries. They are worried that the batteries could leak, corroding vital equipment and potentially causing fires. Boeing said it stood by the integrity of the Dreamliner, which has been in service since October 2011. Grounding aircraft on this scale over safety concerns is rare. The last time the FAA ordered a general grounding of an aircraft model was in 1979, when McDonnell Douglas DC-10s were grounded following a fatal crash. Oregon Richie commented: Hope it does not become a "libeled" airplane but they usually do, and tends to freak people out. At times the B 727 had those problems which really was not deserved and turned out to be mostly related to pilot skills and differences in handling jet aircraft over piston-engined airliners, as did the early versions of the DC-10, which DID have core design problems eventually fixed but did not fix the attitude towards it.
I suppose you've seen the NRA's TV ad about Obama's kids being protected by armed guards while "our" kids are exposed to danger in gun free zones. Just goes to prove how lopsided the NRA's thinking is. When I saw the ad I couldn't believe those people could be so dumb! On the other hand, maybe they're not so dumb... maybe they're just trying to appeal to those who ARE dumb enough to believe that message.
I heard someone say on telly that before the '70s, the NRA was an organization whose charter was to promote recreational sport shooting in the US. There was nothing about arming the populace to protect itself from a possible dictatorship within its own borders. The NRA was all about target shooting and hunting. But then the organization was taken over by right wingers and paranoid fanatics. The NRA is now nothing more than a lobby group for small arms manufacturers. It uses the second amendment and the right to personal self-defense as excuses to sell more guns, including assault weapons.
Remember the arms race during the Cold War? Now they're trying to downsize the arsenals and limit nuclear weapons. So it's already been demonstrated on a global scale that more guns don't equal more peace. If Obama succeeds with his gun reforms, it'll mean small arms manufacturers will lose customers; lots and lots of customers. And they don't like that one bit. This is not about the second amendment or the infringement of personal liberty, this is about money and power.
It's like a furnace outside, so I put the a/c on. What a difference! But not for too long. Too damned expensive. However, the next 7 days will be high 20s and low 30s so that'll be okay.
I'm convinced that having no teeth, and finding it difficult to speak properly, encourages people to think you're not the full quid. They automatically associate no teeth with being intellectually challenged. It happened the other day when that off road bloke tried to flog air bags. Incidentally, the solar bloke today warned me against air bags. He said all his company's trucks had air bags fitted and they were nothing but trouble. Now they have extra leaf springs. But even he gave me a quote that I feel is over the top. I know what the hardware costs and it ain't $1500.
And finally, folks, here's what happens when you're in the auto design business and a war comes along between models: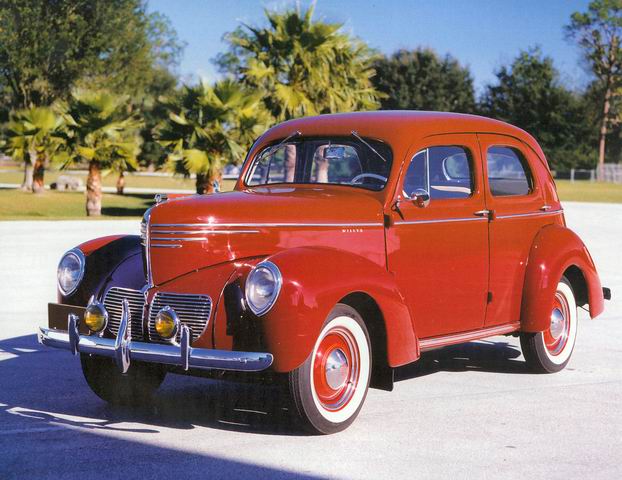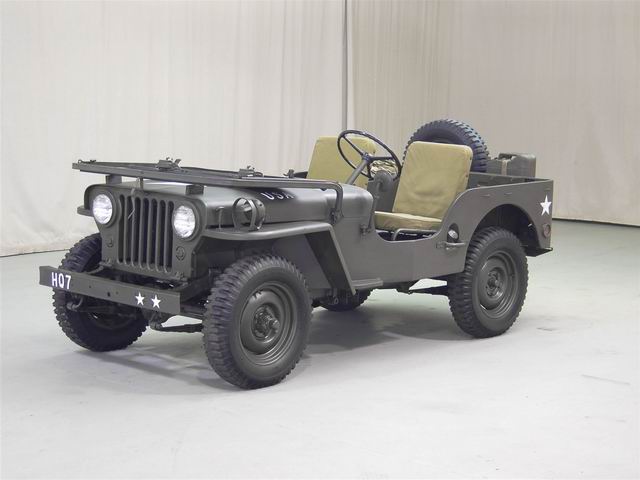 Gary
January 17, 2013. Well, I got me a bull bar. It's the type that bolts to the chassis under the existing bumper rather than the bar/bumper combo (which I'd prefer) but the bloke says he's got a bolt-on one that's done the kangaroo test many times without damage. He says if I use high tensile bolts to secure it, it should be fine. His has an impact rating of 14 tonnes. So there ya go... $250. I could have driven to Kempsey to pick it up but with petrol and time I opted for delivery at an extra $60.
TX Greg wrote: Those Ironman springs look pretty cool and should do the job you want just fine. I've install and repaired many of the Firestone RideRite airbags on motorhomes and yes they are very pricey. The big disadvantage is they are made of rubber and like tires break down and crack open over time. The only real advantage was they do give a softer plush ride versus the helper springs, but I don't think you're trying to make the camper ride like a Cadillac, hehe.
And Oregon Richie wrote: Your email about the Ironman springs did not feature the link so I looked it over this morning and essentially do think that THAT is the way to go. It's a proven system used on millions of various types of vehicles all over the world, essentially quite simple, and far less costly. No complicated installation, no rubber parts, no fittings and hoses and connections to leak, no fussy or electrically driven compressors to go punky, so... that is absolutely the way I would go with it. Saving some $ will help too because it can be directed to other AO requirements. OK, perhaps not as "elegant" in some ways and since your additional load factors will not be severe, such as pickup trucks with 3 thousand LB campers on them, it will work fine. Go for it, I say !!
I feel better now, confident about having made the right choices. I'm also confident about the rig itself and its ability to handle the trip. I figure if Bill, the bloke with Ironman LoadPlus springs on his Courier/Freeway combo, can handle places like Fraser Island and the rugged Gulf country, then the kind of places I intend to go should be a piece of cake.
So what's next? I'll order an Ironman kit on eBay, then have Ford fit both the springs and bull bar when they arrive. Meanwhile, I'll go to a timber yard to get 5 or 6 slats of timber to fit between the side rails of the ute tray. Once the camper is on board, I can take it to an electrician to have AGM batteries fitted and a new solar panel installed. Then to the gas bloke to check the fridge and stove fittings and instal a 9kg bottle. It's all coming together so damn fast I'm getting nervous! I'm used to things taking FOREVER.
Okay, that's the Ironman LoadPlus taken care of. Should arrive next week. Lindsay said this morning that there are government subsidies available for him and Sue which will increase their disability pensions in light of Sue's condition. That means "we can stay here instead of finding a new flat". He's been looking in estate agent windows and realizing that this house represents damn good value. It always has. So I'll leave some of my stuff here for them to use, and sell what they don't need. There's a lotta junk here as well which I'll happily let them worry about. Hehe. Once I'm gone, I'm G O N E.
BR João wrote: I didn't know Australians were so good with a football. Very impressive. Also interesting that Bonds make undies with a soccer ball pocket. Or should that be 'pouch'? Cody always called it a pouch.
Well, on the one hand you get some smartass who wants to sell you an expensive air bag kit, and then you get a bloke like the one I just spoke to at a local timber yard who says he can do me 6 timber slats for the truck tray for $20 - cut to size. How's that for cool? I explained what I want to use them for so he's gonna fix me up with rough hewn timber to prevent any slip. The turnbuckles will keep the camper glued to the tray anyway. Yes, it's the same timber yard I photographed back in '08 but under new management.
Back from the timber yard. Pity I didn't bring the camera because I got a ride in a little diesel truck - a kind of cross between a forklift and a golf buggy. The guys were great. Trimmed six off-cuts of 4"x1" to 6ft lengths with a chain saw, plonked 'em in the back of my truck, and charged me $20. Not sure what kind of timber it is but it's HEAVY (probably ironbark), and rough hewn. When I arrived I sat in the air conditioned office with the boss and told him about the pics I'd taken back in '08, so he checked 'em out on his comp and was quite impressed. The place has changed a fair bit since he bought it 18 months ago. So there's another job done!
Amazing innit. All that timber didn't exist before a little seed germinated and grew out of nothing.
So lemme see. The truck goes to Ford on Monday to have tie rod boots and gaskets fitted. Then it goes back in about a week to have the Ironman springs and bull bar fitted. Then it'll be ready to mount the camper on the tray, which means it'll be ready for the AGMs and solar panel early in Feb. A solar bloke will phone tomorrow to discuss doing the job. He wasn't available when I called. But Feb will be a tad busy. I have an appointment with the doc at Port Macquarie on the 11th, and another with the doc in Sydney on the 18th. And then? Well, we'll see. I think both docs are gonna freak when they see how skinny I am.
So that's the current progress report, ladies and genitals. It's all happening! Gary
January 16, 2013. Air bags, springs, boing, boing, boing. Everyone has a different story/opinion so it's a little confusing for a novice like me. The bloke on the Gray Nomad forum answered someone else's query about his rig looking top heavy and unstable. Here's what he had to say: Actually, it's not. I have Ironman loadplus override springs on the back and it's quite stable. A lower tray would be a great help in loading and unloading, but its not that bad. I have done Fraser island, and the Bloomfield track in it, so it seems to be ok. I went close to buying a Mazda BT50 2wd ute, but you lose the 4wd system, so I will keep the Courier. You can't go very quick with the power availiable, so I take my time, and it's reliable as the day is long, and easy to fix. See you on the track, Bill.
Bill's a bit more adventurous than I am... I'll be sticking to less hazardous situations. But, in response to my mention of Polyair Springs yesterday, Oregon Richie wrote: Oh, and I sent you that article because there are a number of options for your vehicle suspension. Helper leaf springs, spring adjustable load-leveler shocks, and I am not personally NOT a fan of airbag systems at all. Consider those things and maybe chat with others about it. Maybe the biz just makes more money on it. Dunno.
Well, I have discovered one thing... helper springs are about a quarter of the cost of air bags. That's tempting! So I'll do a bit more checking before I make a decision.
Meanwhile, NC Art wrote The Tooth, the Whole Tooth: I go to my dentist Monday for a couple of extractions. Pretty soon I'll be chewing like a chipmunk with front teeth only. Your situation reminds me of the old dentist joke. "Well, what did the dentist tell you?" "Oh, he said my teeth are perfect, but the gums need to come out."
That steering wheel in that nifty car picture reminds me of designers trying to make classy wheels from exotic materials. Fine woods inlaid and spliced, burnished and polished. Oops, some of the joints came apart when the glue dried out. Same thing with early plastics, in which case hot sun and time caused the stuff to crack and fall off the metal rim in pieces. Somewhat disconcerting to have the wheel disintegrate in your hand while cornering.
Ah, yes, like my '51 Morris Oxford. By the time I sold it, the steering wheel had begun to crack and flake, leaving my hands full of plastic splinters each time the wheel returned to center after turning a corner. You also remind me of the day I took delivery of my second Beetle. I parked the thing outside my house and the steering wheel came off! Someone had forgotten to attach the center nut. Oh dear...
From the Beeb: US President Barack Obama is expected on Wednesday to unveil wide-ranging measures aimed at curbing gun violence. The proposals could echo measures, considered the toughest in the nation, passed in New York state on Tuesday. Mr Obama has said he favours bans on assault weapons and high-capacity ammunition magazines, as well as broader background checks. The nation's top gun lobby, the National Rifle Association (NRA) says it will fight any attempts to limit access to guns or ammunition.
The US National Rifle Association has launched a target range game for the iPhone and iPad, a month after the Sandy Hook Elementary School tragedy. The game, which simulates a shooting practice, has been approved for children as young as four.
A Boeing 787 aircraft operated by All Nippon Airways makes an emergency landing at Takamatsu airport after a battery malfunction. The airline has grounded its whole fleet of dreamliners. Teething problems are not what you want at 32,000 feet.
Well, that was a waste of time. Turns out Old Man Emu (suspension) is the same Off Road place I went to yesterday! So why did the bloke zero in on Polyairs and not mention alternatives like helper springs? I don't like that, and I won't be shopping there for anything at all. Actually, it occurred to me at the time that it was a bit of a rush job.
So now I'm thinking of buying Ironman LoadPlus and having them fitted by the Ford dealer. I just checked a seller on eBay... less than $150 for the kit including postage for my model Courier. Add $100 max for fitting and I'm up for a quarter of the cost of Polyairs. Boom boom. I'll wait till Oregon Richie comments on my plan before I go ahead with it. But I'm already impressed by what Bill said about the performance of his Courier with the Freeway on board.
All's well that ends well, yes? And that's $750 I get to spend on something else.
NC Art reckons it's important to learn something new every day, so here goes:
NOW THIS IS A REAL EDUCATION...
Where did "Piss Poor" come from? Interesting history. They used to use urine to tan animal skins, so families used to all pee in a pot. And then once it was full it was taken and sold to the tannery... if you had to do this to survive you were "Piss Poor". But worse than that were the really poor folk who couldn't even afford to buy a pot... They "didn't have a pot to piss in" and were the lowest of the low.
The next time you are washing your hands and complain because the water temperature isn't just how you like it, think about how things used to be. Here are some facts about the 1500's. Most people got married in June because they took their yearly bath in May, and they still smelled pretty good by June.. However, since they were starting to smell, brides carried a bouquet of flowers to hide the body odor. Hence the custom today of carrying a bouquet when getting married.
Baths consisted of a big tub filled with hot water. The man of the house had the privilege of the nice clean water, then all the other sons and men, then the women and finally the children. Last of all the babies. By then the water was so dirty you could actually lose someone in it. Hence the saying, "Don't throw the baby out with the bath water!"
Houses had thatched roofs-thick straw-piled high, with no wood underneath. It was the only place for animals to get warm, so all the cats and other small animal (mice, bugs) lived in the roof. When it rained it became slippery and sometimes the animals would slip and fall off the roof.
Hence the saying, "It's raining cats and dogs." There was nothing to stop things from falling into the house. This posed a real problem in the bedroom where bugs and other droppings could mess up your nice clean bed. Hence, a bed with big posts and a sheet hung over the top afforded some protection. That's how canopy beds came into existence.
The floor was dirt. Only the wealthy had something other than dirt. Hence the saying, "Dirt poor." The wealthy had slate floors that would get slippery in the winter when wet, so they spread thresh (straw) on the floor to help keep their footing. As the winter wore on, they added more thresh until, when you opened the door, it would all start slipping outside. A piece of wood was placed in the entrance-way. Hence: a thresh hold.
(Getting quite an education, aren't you?)
In those old days, they cooked in the kitchen with a big kettle that always hung over the fire. Every day they lit the fire and added things to the pot. They ate mostly vegetables and did not get much meat. They would eat the stew for dinner, leaving leftovers in the pot to get cold overnight and then start over the next day. Sometimes stew had food in it that had been there for quite a while. Hence the rhyme: "Peas porridge hot, peas porridge cold, peas porridge in the pot nine days old."
Sometimes they could obtain pork, which made them feel quite special. When visitors came over, they would hang up their bacon to show off. It was a sign of wealth that a man could, "bring home the bacon." They would cut off a little to share with guests and would all sit around and chew the fat.
Those with money had plates made of pewter. Food with high acid content caused some of the lead to leach onto the food, causing lead poisoning death. This happened most often with tomatoes, so for the next 400 years or so, tomatoes were considered poisonous.
Bread was divided according to status. Workers got the burnt bottom of the loaf, the family got the middle, and guests got the top, or the upper crust.
Lead cups were used to drink ale or whisky. The combination would sometimes knock the imbibers out for a couple of days. Someone walking along the road would take them for dead and prepare them for burial. They were laid out on the kitchen table for a couple of days and the family would gather around and eat and drink and wait and see if they would wake up. Hence the custom; "holding a wake."
England is old and small and the local folks started running out of places to bury people. So they would dig up coffins and would take the bones to a bone-house, and reuse the grave. When reopening these coffins, 1 out of 25 coffins were found to have scratch marks on the inside and they realized they had been burying people alive. So they would tie a string on the wrist of the corpse, lead it through the coffin and up through the ground and tie it to a bell. Someone would have to sit out in the graveyard all night (the graveyard shift) to listen for the bell; thus, someone could be, "saved by the bell" or was "considered a dead ringer."
And that's the truth. Now, whoever said history was boring!!!
Speaking of wit and wisdom, as I shaved and showered today I listened to Michael Kirby, former Chief Justice of the high court in Oz, making a speech at his latest book launch. Talk about a funny, entertaining and witty man. He also talks quite frankly about being gay. Anyway, I became an instant fan. He has his own web site on which he posts articles and video clips. If you're sitting around one day needing a bit of mental stimulus, I highly recommend this man. My kinda dude.
And that, ladies and genitals, is it for today. I think I've made a bit of progress with the camper, and I've learned a few things! Gary
January 15, 2013. One of the things I loved as a kid about cars from the late '30s and early '40s was the art deco style. Interiors were sumptuous and inviting: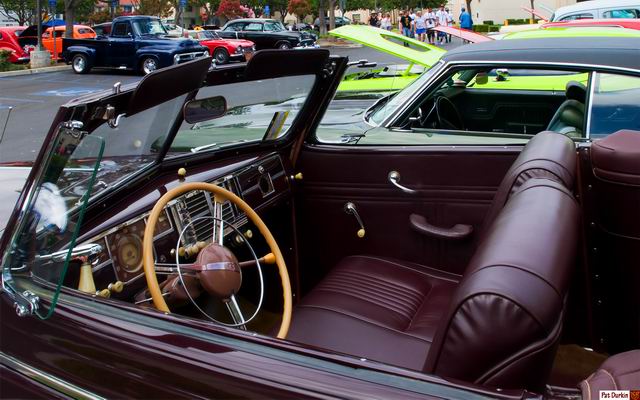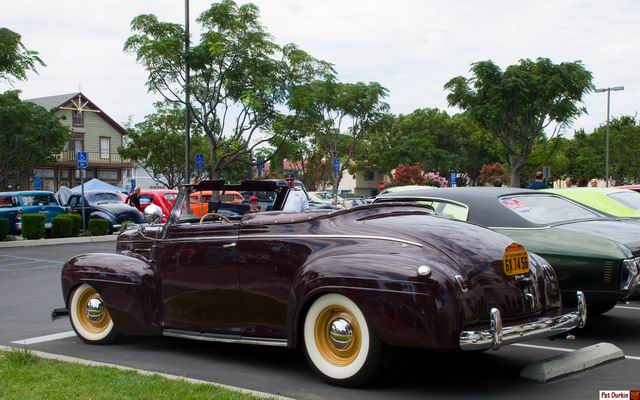 See that old Ford truck in the top left hand corner of the first pic? I fell in love with those things during the '50s and am still besotted. But back to being a kid of 4 feet something, I would always be relegated to the rear of our rello's cars whenever they took us for a drive, and I remember being swallowed up by huge, plump seats and intoxicated by the smell of leather. Compared to my dad's truck, riding in a car was like going for a magic carpet ride.
Stella, my dad's sister, had the good sense to marry a builder who was quite wealthy and lived at Collaroy on Sydney's northern peninsula. He also owned a large cruiser as well as a flash Chevrolet.
Back from the dentist. Nancy's worried about my lack of weight gain. She says my body needs more food to heal itself. So we agreed to start with sandwiches... something simple like mashed egg, maybe a bit of ham and shredded lettuce, cut into bite-size squares and more or less allowed to dissolve in the mouth with a minimum of chewing aka gumming. The first will be on Saturday morning shortly before the next appointment so she can flush out any food residue. And we'll go from there. Bread appeals to me... something that will stick to my bones.
From the Beeb: President Obama says the US is not "a deadbeat nation", as he warns Republicans not to play politics over the soon-to-expire federal borrowing limit. I watched an interview with Speilberg last night talking about his movie Lincoln. He said that back in Lincoln's time, the Republicans were the left wingers and the Democrats were the conservatives. How times (and ideologies) have changed.
Australia experienced a wave of migration from India about 4,000 years ago, a genetic study suggests. It was thought the continent had been largely isolated after the first humans arrived about 40,000 years ago until the Europeans moved in in the 1800s. But DNA from Aboriginal Australians revealed there had been some movement from India during this period.
Volkswagen says its group sales hit a record high last year despite slowing sales in Western Europe. The German carmaker sold 9.07 million cars last year, up 11% from 2011. Sales in North America and Asia-Pacific rose 26.2% and 23.3% respectively, helping to offset a 6.5% drop in sales in Western Europe, excluding Germany where sales were up 1.9%. The success of the Beetle was obviously no fluke in that case.
The Queen's Bentley failed to start following a Sandringham church service - until a bishop blessed the motor. As her chauffeur got nothing more than "throaty rasping" noises from the engine, the Queen laughed and pointed at the stricken limo. The Bishop of Chelmsford, the Right Reverend Stephen Cottrell, stepped forward and gave a blessing. At that point the car burst into life and the Queen commented: "Don't let it stop." Cynics will say it's coincidence but I bet the Bishop dines out on that story as long as he lives.
On Saturday more than 100 homes were on an emergency alert at Upper Lansdowne on the mid-north coast while homes were threatened by two bushfires at Georges Junction near Armidale. Those threats have now passed and fire crews will continue to monitor the blazes overnight. Upper Lansdowne is only half an hour's drive from here. But homes in the north west of NSW didn't fare so well yesterday.
Did you hear about the woman who asked her husband, "Would you please go to the shop for me, darling, and buy one carton of milk, and if they have avocados, get six." When the husband returned with six cartons of milk, his wife asked why. He said, "they had avocados." NC Art sent that one. According to him, if you need to read that twice, you're a woman.
Back from Taree Off Road and chatting with the boss. He didn't dilly dally. He recommends Polyair Springs... air bag suspension bellows to you and me. They're not very big, which surprised me. Anyway, installation and fitting will set me back a grand, which ain't cheap. But the bloke reckons it'll be a grand well spent in terms of handling, ride comfort, stability and safety. He says once the camper is fully loaded, it'll be around the 800+ kg mark which is pretty close to full capacity. An after-market stabilizer bar would be available, he says, "But that won't solve your weight problem. The Polyairs will take care of both weight and stability."
So there ya go, a grand for the Polyairs, another grand for two AGMs and solar panel, maybe a few hundred for the jobs next Monday at Ford, and maybe $200-$300 for a used bull bar. In April, 3rd party and comprehensive insurance plus registration will be due. Sheesh. I'm also expecting the quarterly power bill to arrive any time as well. Hehe. Never mind, ladies and genitals, I'll manage.
Just now, my authorization to post on the Grey Nomad forum(s) arrived, so I posted a message on the newbies page hoping the bloke who owns the Freeway/Courier combo (whose pic I posted the other day) will get in touch with me. I have a few questions to ask him before I make a decision about the Polyairs.
I'm not sure I like the Grey Nomad tag, but I had to laugh at a couple on the web site who said they've been travelling Oz for 12 years and fully intend to become "Geriatric Gypsies". They said when they're too old to travel anymore, they'll stay at a caravan park somewhere and "wait for God". Like me, they don't have a house to go back to.
Anyway, that's it for today, folks. Gary
January 14, 2013. Two weeks into the new year already and it's becoming routine. How quickly we adapt.
The topic of "destiny" was raised by Oregon Richie this morning in terms of the Odyssey, and I found myself doing a Waffle type reply, so I think it's worth pasting here:
I dunno about destiny. I don't think I ever thought I was destined to be a radio announcer, or in the media/advertising biz. It just seemed like a more interesting way to make a quid than sitting behind a desk in a government office. The Odyssey is the same in a way. I could spend my retirement playing lawn bowls or whatever but I suspect there aren't too many thrills and challenges attached to that. The Odyssey is simply something I've chosen because I can do it... it ain't rocket science or a matter of destiny. It'll provide variety and interest, and a great outlet for the two things I love to do; write and take photographs. And chat. I do love a chat ya know, and I'm confident there'll be plenty of chatees out there.
If I am destined to accomplish anything, it's being associated with something unusual. People who don't "live an ordinary life" are mostly associated with unusual things or lifestyles. If you're gonna write your memoir, it has more chance of being interesting if you're a Winston Churchill than a successful accountant. Hehe. One of these days, I wanna sit back in my rocking chair and reminisce about all the places I've been, people I've met, and adventures I've had. That's a memoir worth writing. And when I'm long gone, I'd like to think that there are people interested in reading about the life and times of yours truly. I don't want to spend a lifetime on this planet that doesn't amount to a hill of beans. If that's a destiny, then that's the one I have... to use my time here to good effect by doing something a bit different.
Sometimes I watch a show on telly about peeps who delve into their family tree, and discover all kinds of interesting ancestors. Invariably, they're delighted to find an ancestor who did something of note. Actually, I watched a show last night about Brits who buy historic houses in a sad state of disrepair and then go about restoring them to their former glory, paying particular attention to replicating materials and fashions of the period. It can be a daunting task, not to mention expensive. But one of the first things they do is research the history of the place, to learn about its builder and first owner in order to understand what the building represented not only to its original occupants but also the local village or town. Which reminds me of another type of program I like to watch... shows about antiques. Antiques with a story attached to them - like who owned it, etc - are worth much more than those whose history is either vague or been forgotten.
So there ya go. Obviously, that's what motivated me to write and publish the Scrapbook on AO, and what is now motivating me to write the Odyssey Journal. I never knew my grandfathers and barely knew my grandmothers, so it would have been nice if they'd recorded a diary during their lifetimes, with references to previous generations about whom I have no knowledge whatsoever.
It's like the way it is with artists... as soon as they fall off the perch, the value of their paintings skyrockets. Hehe. I remember one artist I saw interviewed who referred to his paintings as "my children". I suppose the Odyssey is mine.
As to your feelings about the LR, I have similar feelings about my old Benz. It would be nice to still have it. On the other hand, what would I do with it? What would be the point of the Odyssey if I stayed in the one place? As they say, life is a journey, not a destination. And what's the point of a journey if you don't keep a journal?
Yep, I think that sums up what the Odyssey is all about... a desire to be associated with something meaningful. That's what DJs do. If you can't sing or play an instrument, but you wanna be a celeb, play records on the radio. In my case, all I wanted to do was have a party in the studio out of sight of everybody, and then return to reality after the show. Hehe. When listeners began to treat me as a celeb off air, I was terrified. It was all very well to be a star, acting out my fantasy during show time, but off air I was glad to be back in the real world as myself. Plain ol' me.
Actually, I dread the thought of being "recognized" as the author of Aussie Odyssey by people who expect me to be a performer of some kind. I much prefer people to meet me not knowing of my association with AO, and then be pleasantly surprised by the fact that, "Oh, so you're really not all that boring after all!" Hehe.
You see, ladies and genitals, when you write it's the same as acting. You can project a persona that's a tad contrived in order to appear a little larger than life. You got to accentuate the positive, eliminate the negative... as the song goes.
So how did the chicken soup go? Not bad... certainly better than the canned variety. But I had trouble consuming the solids so I'm gonna separate the solids from the soup and blitz them before putting them back. I suspect cooking them as finely chopped is still important to retain their integrity and individual flavors, but also that it's okay to blitz them afterwards. Anyway, we'll see. Incidentally, when I removed the chicken legs last night, the meat just fell off the bones. Bewdiful!
NC Art donated a bit more blog filler: It IS difficult to buy the right amount of herbs and seasonings. I hunted fresh cilantro for months before I found a store which had it. A bundle of the piquant herb was sufficient to use in every way imaginable for weeks until I tossed out 90% because it was a wilted brown mess. I noticed yesterday that I must replenish my ground black pepper. The box I bought seven years ago is depleted, thanks to the gods on Mt. Olympus; it lost its zest years ago.
There ya go. I buy black pepper whole and use a grinder... one of those tall wooden ones that makes me look as if I know what I'm doing.
BTW, there was a show on telly recently about food, and how much of it is wasted. Supermarkets demand fruit and veg of a particular standard so anything on the farms that doesn't measure up is ploughed back into the ground. Supermarkets themselves throw out a stack of stuff that doesn't sell by a certain time or date. Consumers often don't know the difference between "use by" and "best before". And, to top it all off, about a third of household waste is food that goes into landfill. Rotting food produces methane, which is a greenhouse gas. One bloke on the show told the story of his grandmother who wasted nothing. She could use leftovers to make a meal that was totally different to that served the night before. People don't have those skills anymore, and many use pre-packaged foods.
From the Beeb: Indian police arrest six men after they allegedly gang-raped a woman on a bus in Punjab, just weeks after a similar attack in Delhi shocked the nation. Monkey see, monkey do. Pathetic, isn't it?
The governor of New York State, Andrew Cuomo, has declared a public health emergency because of the severity of this year's influenza season. The order makes vaccinations more accessible and allows pharmacists to administer vaccines to children.
Hundreds of thousands of protesters have taken to the streets of Paris over plans to give gay couples in France the right to marry and adopt children. Three big marches converged on the Champs de Mars, a large park next to the Eiffel Tower. France's Socialist government is planning to change the law this year. But the demonstrators, backed by the Catholic Church and the right-wing opposition, argue it would undermine an essential building block of society.
I can understand where the protesters are coming from. If I were superstitious I'd be worried about same-sex marriage too... as well as ladders and black cats and Friday the 13th, etc.
A bloke from Aged Care was here earlier assessing Sue's condition. I heard him explain to Sue that he was going to ask her a few questions in relation to her "memory problem". The first question was what year it was. She had no idea. Then he asked her what season it was. Again, she had no idea but was determined to figure it out. She couldn't. She didn't even know what month it was. From what I gathered listening to the wine glass held against the wall (no, that's not true), she's going to spend a couple of weeks at some local institution being clinically assessed over an extended period. I've been doing that for the past 12 years. She has a lot in common with a box of fruit loops if you ask me. And a husband to match.
Back from the dentist! Wrong day. The appointment is for tomorrow. What was I saying about dementia? Oh well...
I'm beginning to quite like the truck. This ute and the previous are chalk and cheese, but this one has a certain rugged charm about it. The short-throw gears are kinda sporty, and the high torque at low revs gets me around corners and roundabouts in third with no dramas. Lack of power steering is less of a worry than it was, especially with more air in the front tires. The cab is surprisingly roomy and comfortable. And it's certainly a lot easier to drive than the old Kombi with its long-throw gears and truck steering. Kombis have character but they sure weren't designed for comfort (at least the early ones weren't). The Courier's previous owner, Alex, was quite attached to it but his wife made him sell it. Good for her!
BTW, the Courier is booked in for next Monday to have those other bits and pieces done. I took the opportunity on the phone to ask about having a stabilizer fitted by Ford and the bloke in charge of service said it would be more trouble than it's worth. For starters, there are probably no attachment points. So they recommended I see the local off road specialist to hear what he has to say. I plan to take dirt roads, yes, but not go OFF road. I won't be going anywhere a regular car can't go. Meanwhile, I still haven't received my authorization to post on the Grey Nomad forum yet, and I'm desperate to ask that bloke who has a rig like mine about his experience. Maybe all those forum comments about air bags, stabilizers, and whatever were written by worry warts. After all, the Courier was built to carry a tonne. Should it really matter what the tonne (less in my case) consists of?
About 5 or 6 years ago, there was a newspaper story about a fatal accident involving a rented Toyota Hilux ute carrying a camper. Witnesses said it got the wobbles on the highway and the driver lost control. Authorities have since commented that no action has been taken to tighten legislation governing such vehicles because no similar accidents have occurred.
I'm beginning to thnk if I stick to moderate speeds and avoid driving on windy days, I'll be sweet as a nut. Anyway, time for a bit of telly and my blitzed soup. Over and out. Ten Four and all that truckie stuff. Gary
January 13, 2013. Sundee, and a good deal cooler. The temp reached 43C yesterday before the storm brought a cool change. That's pretty warm ya know.
Posting those pics yesterday was good therapy. I'm itching to get "out there" to see it all for myself. I thought those pics of the Nullarbor on the Spirit website were stunning, especially those cliffs along the Great Australian Bite. On a TV shoot in Port Lincoln SA one time, we hired a little chopper owned and operated by a middle age woman to take our cameraman out over the cliffs, and then to fly directly at them before doing a steep climb "at the last moment" over the top. The woman was cool about it. No biggie. And the shots were amazing. Our cameraman Willie was a mad Irishman so he wasn't concerned at all, even though he had no idea how experienced the woman pilot was or how proficient. Willie was used to danger though. He had sailed many a time on racing yachts in the Sydney to Hobart across treacherous Bass Strait (as the official cinematographer). Hanging out of a chopper was a piece of cake.
I hope you're not expecting any dare-devil stunts from me, dear Breth. Although, I do admit to getting a little more adventurous with a camera than without. Getting the shot takes precedence over personal safety.
Back from a bit of bargain hunting at a Homewares store having a stocktake sale. Vegie chopper $12 down to $6, and a lap desk with gooseneck light (battery operated), cup and pen holder, bead-filled fabric underside, $40 down to $10. I know Stan the Lawn Man made a lap desk for me but it's heavy and a bit unwieldy.
NC Art wrote: You're supposed to have flies this time of year. I am not, but I do. Temps here running in the mid-seventies (F). Thirty or forty normal in the Southeast U. S. Global warming or freak streak? I know about dropping like flies ok. A barn and cattle and cow dung make for good time for the little buggers. A spray gun with foul smelling oily pesticide can fill the barn with choking mist in a few minutes. Then watch flies falling gently to the floor. So gratifying except for the choking oily mess in your nose.
Flies are bad enough, but noseeums and giant mosquitos are worse. Noseeums are hard to see, but they can eat your ankles raw in minutes. In Alaska I saw caribou immersed in a river with only a nose visible to evade monster mosquitos. The blood sucking winged beasts can literally drive animals insane—including humans.
Incidentally, the rest of the world will thank you for not exporting your snakes on Qantas air liners. I have read that the snakes imported to control rabbits learned to climb trees and devastated the avian population in some Aussie locations. Right?
Not sure we have any imported snakes, but pythons certainly know how to climb trees. The snake catcher on telly the other night caught two pythons (on the show). One was still digesting a possum, and the other a rat. Pythons are not venomous and usually don't hurt people. But as the catcher warned while he handled one with his bare hands, reveal even the slightest fear and he's gotcha. At a guess, I'd say the biggest danger to our avian population is feral cats. And probably cane toads when it comes to small birds.
As to noseeums, they remind me of sand flies. Those little nasties are notorious for biting ankles which itch like buggery for hours afterwards. Insecticides are more sophisticated these days, and less harmful to sensitive noses. I remember the old pump-action, re-fillable sprayer my mother used and the smell of Mortein. But my roll-on Aerogard actually smells very nice. Whatever its active ingredients are, they don't kill the insect, just repel it. I think it's some kinda plant extract. On gardening shows I've seen programs about plants that repel flies. Very useful to have a few cuttings on the outdoor dining table, yes?
I dunno about "falling like flies" either. When ever I spray a fly, it does the ol' kamikazi routine for a while, crashing headlong into walls, ceilings, windows and anything else that gets in the way of its frenzied flight. Then, once exhausted, it settles into a corner and buzzes, spinning on its back until it finally expires. But spray is usually a last resort for me. I'm pretty lethal with a swatter. That shuts 'em up quick smart.
The only prob I remember having with flies was when I camped at Kangaroo Valley back in the late '80s. In the next paddock were horses. Go figure. Oh yes... one other time. I stopped on the western side of the Blue Mountains to admire the view and crack a tinnie (beer). There were those sticky little bush flies everwhere for some reason. But I didn't have any probs with flies for the rest of the trip.
Well, the chicken soup turned out to be a bit of an adventure. I couldn't get thigh cutlets (whatever the hell they are) so I bought legs. Then I discovered I had 500g instead of the recommended 900g. So I substituted a third of the water for chicken stock. Hehe. Oh well... maybe it'll turn out okay. How come when you buy fresh herbs ya gotta buy enough to last 6 months? I was lucky with the carrot and celery... one carrot and one stick of celery. I already had onions and garlic. And the vegie chopper? Useless. I mean USELESS. It wouldn't chop corn flakes. So I went back to the knife, rocking it backwards and forwards over the various vegies and herbs. It's a fairly large kitchen knife which is good for the job.
A shortie today, folks. Would've been even shorter if Art hadn't commented on flies and mozzies. Gary
January 12, 2013. NC Art wrote: Yep, reliable tie rods are right important. As a lad of 12 I was hanging around a service station on the road near my home when I heard a long screeching and squalling which sounded like a yell from hell. A truck had lost both tie rods, the wheels flipped outward, tires flew off and the rims were tearing grooves in the pavement with sparks flying. The station owner, all 300 pound of him, was scared spitless that gasoline would catch fire and blow up his business.
In my case, I think the tie rods are okay... it's the rubber boots that have perished (apparently). My guess is they're there to stop dust and dirt getting into the moving parts.
And the seat air cooling sounds right. You know Mama Nature built the gonads to hang outside and stay cool and virile. She didn't know we were going to invent cars and nest on our balls like chickens hatching eggs.
And the crossing of one's legs when seated. I wonder what that's all about? Anyway, you can't do it while driving or playing the piano... or sitting on the loo for that matter.
And now to BR João and flies: Oregon Richie said people in US are dropping like flies cause the flu. Fortunately it's just a metaphor. But why we use to say this? (There's a similar expression in Portuguese.) I never saw those irritant insects drop in any way. Brazilian northeast warm coast has magnificent beaches but if you stop by a seaside open air bar or restaurant in a minute your table and everything on it are covered by flies. It always makes me mad and I never eat outside there. Flies always win. Maybe this was one reason to go south instead of north when I left Rio. So, Gary, be sure to have an insecticide can when you hit the road or you'll drop like humans.
"Don't forget the Aeroguard... and avagood weekend." That advertising slogan has been around for donkey's years in Oz. Bush flies are so bad here, especially in areas where there are cattle and lots of dung, we call brushing them away "The Great Australian Salute". It's the little black flies in summer that are really pesky... you can "salute" all you like but they refuse to move. You often see bushwalkers or campers carrying a small branch with leaves intact to use as a swat. The expert advice is, if they're on your back, don't disturb them.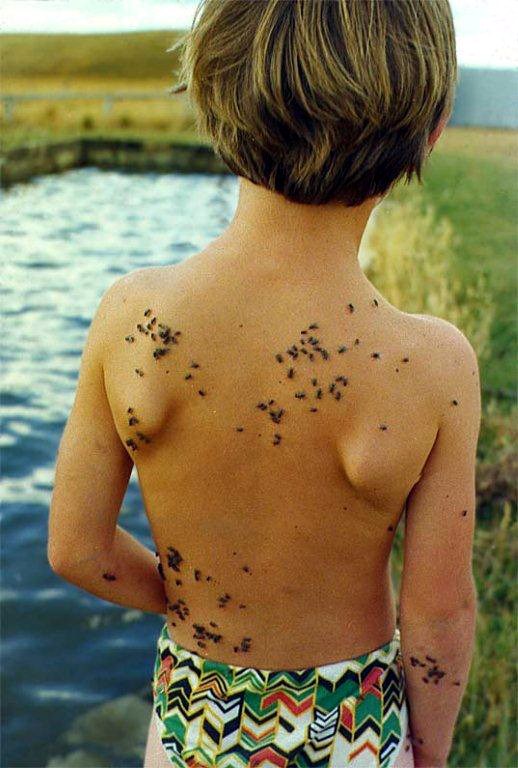 Anyway, you can be sure I'll have a good supply of Aeroguard at all times. The flies disappear at dusk, and peace reigns until dark when the mozzies emerge. Fortunately, the camper is fully screened.
I watched another news story last night about snakes in SE Queensland, even in the suburbs. Seems the heat and recent rain have brought them out in droves, which is keeping the snake catchers busy. One snake was coiled up in a bloke's shoe! And once it was unraveled, it was a couple of feet long! The catcher said he finds them everywhere... even in people's beds. Eeek! And what does he do with them when they're "in the bag"? He drives out to the bush and releases them. Snakes are protected wildlife in Oz. One of the snakes he caught was a juvenile eastern brown. He said it was still capable of killing "just under a dozen elephants". Hello? I can tell you, I'll be using a walking cane to lift the porta potti lid when it's installed in the shower tent. In fact, I'll carry a walking cane everywhere I go that looks a bit suspicious. *THWACK!*
And if it's a crocodile? No worries. I'll signal a passing hot air balloon.
From what I've read on Grey Nomad forums, confrontations with wildlife are rare. I guess they happen but I've not read of any. Seems Grey Nomads are full of praise for their new life of adventure, making new friends, swapping stories, being free to roam wherever and whenever they like. I hope I never get invited to a singalong around a campfire, though. Puh-leeeease!
Smoothie time. I look forward to my morning smoothie with all the goodies. It's about the only "proper" meal I have each day. Well, 41C forecast for today, with the possibility of it going even higher, so I reckon the ol' a/c might get a bit of a run. So will a cold shower. Come to think of it, if flies are gonna drop (like flies), today will be the day. Fortunately, today's high temp is an abberation. Tomorrow, it'll be 32, Monday 25 and then back to the high 20s and low 30s, which ain't too bad.
From the Beeb: US troops in Afghanistan will end "most" combat operations and switch to a support role this spring, President Obama and his Afghan counterpart say. It'll be fascinating in years to come to look back on Obama's presidency and gauge in retrospect how it stacks up in comparision to "the greats".
Police detail 50 years of abuse by presenter Jimmy Savile, whose victims included a boy aged eight and patients in 13 hospitals and a hospice. Dr Jekyll and Mr Hyde. Imagine that... 50 years of child abuse without so much as a single complaint.
This year in Oz (and probably for some years to come), a Royal Commission has been set up to investigate institutionalized child abuse, particularly in the catholic church. Horrific stories are emerging from victims of bashings, rapes and various forms of molestation from clergy and brothers, some of it going back to the '60s and '70s. The church is being accused of protecting its members from prosecution by police and other authorities. Cardinal George Pell, Australia's most senior catholic, needs to get real and stop referring to pedophiles within the church as "errant clergy". They're criminals, and nothing less. I attended a De La Salle Brothers school where nothing happened to me. It's a different story with the Christian Brothers though, so it's alleged.
The only thing at my school I remember being a bit strange was having to change into our Speedos in the classroom on sports day instead of at the pool change rooms. Kinky. I remember checking out the kid's bum in front and being distinctly unimpressed. Anyway, even if anything did happen, my mother wouldn't have believed me. The brothers could do no wrong. If I complained about corporal punishment, like getting the cane or rubber strap across the hands (usually for talking in class), her response was "you must have deserved it". If she were alive now to hear about the Royal Commission and rampant child abuse in her precious church, she'd be utterly devastated.
Ah! I can hear thunder in the distance which means a cool change is on the way! That'll be nice. Mind you, it also means lightning which is often responsible for starting bushfires. And there's Richie in Oregon talking about snow and ice and chopping firewood.
Well, I'm really tired of canned soups. Some are so awful I've thrown them out. So yesterday I Googled a chicken soup recipe made with chicken thighs, vegies and herbs. But the thing about soups for me is the LUMPS! No lumps, please. So I remembered those vegie choppers I've seen in shops... manual ones with blades that chop stuff with a vertical action. You can do it with a large kitchen knife but it takes too long to get the stuff finely chopped. I prefer chopped to pureed. Chopped stuff retains its individuality and substance. Pureed stuff becomes one big homogeneous blob. So you throw everything into a pot, add water, bring to boil, simmer for an hour or so, remove thighs, discard bones, chop meat, return to pot, voila. I could probably make 4 good servings for less than ten bucks.
Beef soup is a bit too complicated and time consuming... more like making stock. So I think I'll cheat and make a mushroom soup using ready-made beef stock instead of vegetable.
Not much of a storm but at least it cooled things down substantially, and sent a bit of much-needed rain. I sat on the veranda for a while smelling the rain and watching it fall. That's how long it's been since we've had any. It's quite a novelty! However it didn't last long so the lawns and plants will only get a brief taste.
I need my camping fix. I wanna be somewhere else.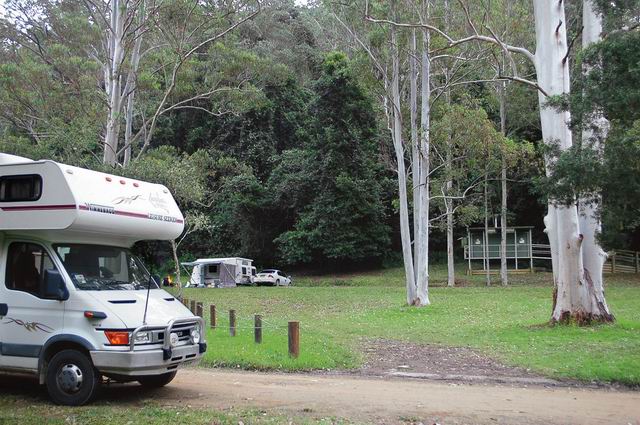 That's Barrington Tops, not far from here. I was there in October 2007 in ol' Tough Titties.
Here's a camper meeting one of the locals + joey at Camden Haven. I was there a couple of years ago as well. Yep, been a few places but NEVER CAMPED OVERNIGHT! That's about to change, folks.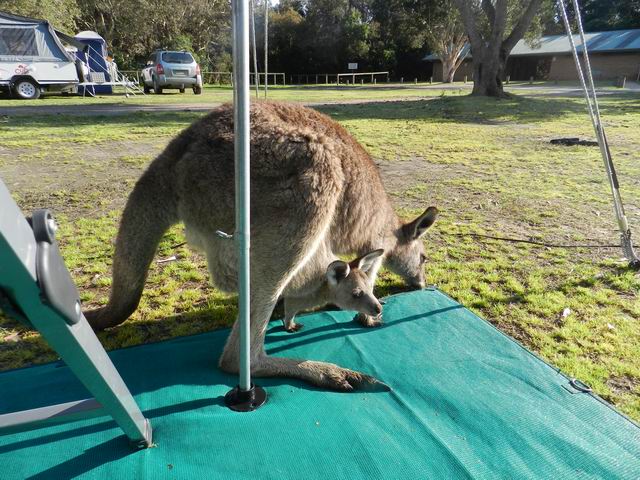 Here's one place I'm looking forward to visiting...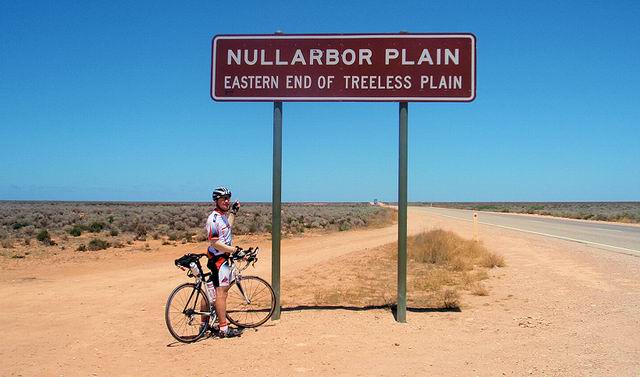 And if you think the Nullarbor looks boring, check out this site with pics of the Nullarbor taken at various locations. It's a real eye-opener.
Time for me to flee. Seeya tomorrow. Gary
January 11, 2013. ZYX wrote and asked if I'd ever heard of Black Mountain in far north QLD, near Cooktown. No, I hadn't. He also asked if I was familiar with the legends and spooky tales of Black Mountain. Nope. But it's on my to-do list and I'll write all about it once I get there. You sound like you're getting along better now, health-wise. Sure hope so. Francois??? Is he still navigating the ocean waters (HaHa). Yep, I'm improving healthwise, albeit slowly. A bit of extra weight wouldn't hurt. I'm all skin and bone at the mo. And Francois? Yes, he's like those legends of Black Mountain... ever persistent.
Speak of the devil: João is right on 2 points:- frenchies are the worst people in learning foreign languages: after 7 years of english (between 11 and 18y/o: 3h a week...) 95 % are unable to write or read english, don't think to speak or listen... Same on the other taught languages! - frenchies are always thinking they're superior to other peoples: "ces imbéciles d'anglais" is a very current locution in France. But frenchies useto think the same on the other european peoples... 1h to arrive to type the ã in João name on my french keyboard: it's just a sample to show you how much let down are the other languages for frenchies: I'd to type Alt-0227 ...
Me? I'm bad in english, I know it... But from 1965 to 1982 I forgot everything I learned at school, never speaking or reading a word in english. Then computers, and then internet arrived and I'd to learn again: the chats (funtb) in the nineties were difficult. And 20 years after, I know I'm a little less bad than I was then... Italian is an other case: my grand-parents were italian and often spoke in italian (between them) at home. And being a preteen then a young teen, I passed one month a year during 8 years in Tuscania at my grand aunt's, often alone with the italian family. So even after 20 years without going in Italia, I've still a not so bad italian.
Here in NC? Kanaks are speaking a bad french and yet their native language is not understandable for the neighbor tribe at 30 km: don't think to english! Caldoches (all the other ones native of NC) are a bad copy of frenchies... and they seem to think NC is the center of France hehehe
Alt-0227? I just copy and paste. :)
Back from taking the Courier to the Ford dealer for a service and inspection, and getting a ride back home in a flash new Falcon. The driver was the bloke in charge of service, so I took the opportunity to ask him about after-market power steering. Can be done but all too hard. So I'll have to develop Popeye arms. As to air con, I think I'll invest in one of those Waeco air-con seat covers. Sooooo, later today I'll know what condition the truck is in. It seems okay but ya never know.
The new Nikkor lens is pretty cool, and quite light. It's not much bigger than the 18-55mm zoom even though it's 55-200mm. Now all I need is an opportunity to use it!
From the Beeb: A teacher at a high school in California has been praised by police for averting a serious shooting incident. The teacher and a campus supervisor talked a gunman into putting down his weapon after he had shot and injured one pupil at Taft Union High School. Police said the gunman had enough ammunition to kill many people. Anyone wanna guess at what the gun lobby will say?
For excitement it may not have matched the Samuel L Jackson film, Snakes On A Plane, but passengers on a Qantas flight watched with fascination as one snake fought out its own drama. A 10-foot (3m) scrub python was battling to retain its grip on the wing as a plane made its way between the Australian town of Cairns and Port Moresby in Papua New Guinea. It held on the whole 1hr 50 min flight.
The US is grappling with a major flu outbreak, as 29 states report high levels of influenza-like illness, a US health agency says. On Wednesday, the mayor of Boston declared a public health emergency in the wake of four flu-related deaths. Oregon Richie said they're dropping like flies where he is.
The truck's back and it looks like I bought a goodie. Cost just under $300 for a full service and check over. I also had the wiper arms and blades renewed... the old ones were rusty. The fault list is minor: tie-rod end boots need replacing, rocker cover has leak at rear, gear shifter gasket at top of transmission has leak. So there ya go... no major probs with the machine. As soon as the parts arrive, I'll have those things attended to. I reckon there's a lotta miles left in that little truck. Actually, I'm more concerned with the miles left in ME!
So what's next on the list? Suspension, I reckon. Air shocks and stabilizer. But first I'd like to chat with the guy who bought a rig similar to mine... the one whose pic I posted late yesterday. I'd like to know if his suspension is standard, and I have a few questions about those tie downs. I joined the forum but I don't have my authorization to post yet.
After that, I'll get the AGM batteries and solar sorted. Then the gas. And then? A toilet brush for the porta potti. Actually, the motorhome should be ready before I am. I still have gums to heal and dentures to get... and both docs to see next month, in Port Macquarie and Sydney.
I was just talking to Lindsay. The people from Aged Care will be here on Monday to assess Sue. She has advanced dementia and is destined for a nursing home. Lindsay says he'll get his own flat somewhere. He's in for a shock. His share of the rent here is only $50 a week. But with him gone, I can sell everything... fridges, bookcases, comp desk, filing cabinet, stereo, and assorted bits and pieces. That might bring in a grand or two.
And that's it for this Fridee. Not a bad day... no dramas. Hot as hell, though. And after all that buggerizing around last year looking for a camper and a suitable truck, it's all fallen into place for 2013. Not only that, the camper's been refurbished and rewired, and the truck's in good nick. What more can a bloke ask for? Yeah... teeth. Seeyaz l8rs, allig8rs. Gary
January 10, 2013. BR João commented on Aussies "eating" their words: You can tell François that French people eat their words too (who doesn't?) he he. During one of my rare travels I was in London's tube when my attention was attracted by bunch of young boys and girls talking a language vaguely familiar to me. After some time I concluded it was French but I still didn't understand much what they're saying. They're probably in a school excursion and were led by a middle aged lady that held (and sometimes waved) a little French flag!
Two of the boys were leaning on the car door. A conscientious English lad warned the lady that it could be dangerous. She just waved her head and said: "Je ne comprends pas…" I couldn't believe. An educated lady, maybe a teacher, leading a school excursion in England and not speaking a single word in English? She's probably mocking ces anglais imbéciles. Very French.
By then everybody was paying attention to the scene. I was becoming nervous. So I translated into French what the lad was saying and the lady called the two boys from the door. It was a mistake. All the car applauded. My face became more red than the rouge strip of the lady's French drapeau. All I wanted to do was disappear. I was grateful when my destination place arrived.
I can always detect a person speaking French, not by the words so much as the nasal sounds. Not so easy with other European languages, like German, Swiss, Dutch, etc. I can't pick the difference between various Asian languages either. Italian and Greek sound much the same to me too.
There was a French chef on a cooking show I watched last night (hosted by Poh, also a chef but born in Malaysia). He said there is a pronounced Russian influence in French cooking. During Napoleon's period, the Czar of Russia was a keen foodie and hired French chefs for his palace kitchen. When the French chefs returned to France, they brought with them lots of Russian recipes. Napoleon was also interested in food, and often imported culinary ideas from Russia.
I don't think Australia has a national dish, unless you count witchetty grubs and meat pies. "Meat and 3 veg" was the staple when I was a kid. Even Pizza and bolognaise were unheard of. The fish 'n chip shop up the road, despite being run by Chinese, sold basic Aussie fare. Basic indeed. It wasn't until the '70s that Aussie cuisine underwent a revolution. Meat and 3 veg gave way to an explosion of cuisines from all over the world. The White Australia Policy had been abolished during the '60s which meant an influx of people from practically every nationality. Restaurants mushroomed, catering for every taste imaginable, and the Australian public loved it. Aussie pies and fish 'n' chips still have their place, of course, and even witchetty grubs! In fact, there are now restaurants in Oz catering for lovers of Australian indigenous foods.
From the Beeb: Apophis asteroid: Large space rock flies past Earth. An interesting article about asteroids and the potential danger they pose to Earth.
Cooler weather brings relief to fire-ravaged Australia. Yes, today is quite comfortable. But it ain't gonna last long.
President Barack Obama is "determined" to curb gun violence, US Vice-President Joe Biden has said, opening high-profile talks on the issue. Mr Biden, leading the White House effort on gun control policy, said the president could use executive orders. There was a discussion on last night's Drum about the cultural divide between Australian and American attitudes towards gun ownership. They agreed that what happened in Oz after the 1996 Port Arthur Massacre in Tasmania when PM Howard ordered a buy-back of all automatic and semi-automatic weapons in Oz is something that simply could never happen in the US. Howard, by the way, was a conservative. In American politics he would have been a Republican. He and GWB were great mates. GWB referred to Howard as "a man of steel". Anyway, whatever Obama manages to do in terms of gun control in the US will seem like a non-event compared to what was done in Oz. Americans went to war over independence and federation. We did it with pen and ink.
Oregon Richie was a little surprised at my need to have a bull bar this soon. Well, finding a used one to fit my model Courier will probably take a while. If I were just doing occasional weekend camping trips I probably wouldn't bother with one. But being on the road every day, and covering lots of territory including the outback, is a different story. Roadkill is a major problem in Oz on country roads. 'Roos are the main victims. I've heard that road trains collide with camels quite often across the Nullarbor. But even on my trips to Port Macquarie up the Pacific Hwy, which is only an hour in each direction, it's common to see a 'roo or two on the side of the road. As Richie pointed out, most 4WD owners fit a bull bar for looks (they do here too, even in Sydney to pick up the kids from school each day hehe) but looks are not my motive. A collision with a 'roo could put my truck out of action, which is not something I wish to happen out in the middle of nowhere. For me, a bull bar is insurance against being stranded.
Jeremy Clarkson was a guest on QI last night and told the story of giant black birds in Oz feeding on roadkill overnight. He said they gorged themselves to a point where they became so full and heavy, they had to run into the wind in order to take off... straight into the path of oncoming road trains "at windscreen height". Then he described the broken windscreen, the driver covered in a mass of entrails from the exploding bird, etc. Yeah, right. Some people will believe anything. It's true that crows make short work of roadkill though.
Stephen Fry told the story of a roadside diner in the US called Roadkill. They invite people to bring their roadkill to the restaurant to have it cooked. Their slogan is "From Your Grill To Ours".
At one stage the subject was about ventriloquists and one guest said he was watching a female ventriloquist performing naked from the waist up, with large, firm rounded breasts, "and I didn't see her lips move once".
NC Art is reminiscing again. He sent this link to a vid about living in the '50s, and says I missed out by a few years. No, I didn't! Oz was a bit behind the US then. I remember Bill Haley and the Comets, Bandstand, Elvis, drive-in restaurants, drive-in movies, the Mickey Mouse Club, The Big Bopper, Hula Hoops, Yo Yos, The Big O, jukeboxes, Buddy Holly, Dragnet, The Three Stooges, cars with fins, pin ball, and all that '50s stuff. Even my first car was a '51 Morris, and the next was a '59 Wolseley.
Not sure if I have a fav decade. The '60s was cool with Beatlemania, The Beach Boys, surfing and Apollo 11. The '70s was fun with flares, hippies and flower power. The '80s was groovy with disco. The '90s was... well best forgotten by me. It was a tough decade. The Noughties wasn't too flash either. And the teens? Well, stand by for the Odyssey.
Just back from visiting a local wrecker. I wasn't expecting him to have a bull bar but he did have something a bit better than a nudge bar... one that extends to the fenders over the headlights. It's off a Mazda Bravo (same thing) but bolts under the existing bumper, so it's not very strong, and wouldn't stop a 'roo even at moderate speed. Oh well... I parked next to a Holden Rodeo and noted its tray didn't have a lip along each side like mine so a slide-on could slide on with no problem.
Thinking aloud here: what if, instead of shaving a few millimeters off the outer skid boards under the camper, I bought 5 lengths of timber, say 1" x 2" x 6', and laid them across the tray between the rails at intervals of 18". The skid boards under the camper run lengthwise. Then I could lower the camper onto the lengths of timber without having to worry about the camper base fitting exactly between the rails. In fact the lengths of timber would effectively raise the level of the tray to the same height as the tops of the rails. My original plan was to have a completely flat tray anyway.
And now for the tie down bit: each corner of the camper base is fitted with a heavy chain coupled to a turnbuckle. One end of the turnbuckle is secured to a hook welded to the camper frame (the frame that holds the jacks in place). I'm assuming that the length of metal tubing that runs along the underside of the tray (used for ropes to secure a normal load) are strong enough to hold the other end of each turnbuckle so that the camper can't and won't move. Alternatively, the front of the camper can be attached to the upright frame behind the truck cab to prevent rearward movment, and the rear can be attached to the underside tubing to prevent forward movement. Hopefully, the tie downs will prevent sideways movement as well, but this is something of which I have no experience. I want a slide-on, not a slide-off. I guess I'll check out a few forums to see what other travellers are doing.
When Dan delivered the camper last year, he used a box trailer with two 2 x 4" pieces of timber placed across the top of the trailer sides and tied the whole thing down with two straps that went from one side, over the top, and down the other. Not recommended.
5-ish again. BTW, my new Nikkor lens arrived today. Pretty speedy service from Hong Kong! I'll play with it later.
It's evening now and I found a pic of a slide-on mounted on a Ford Courier on a camper forum. You can see the tie downs attached to the tubing under the tray. I have just bought myself a s/hand slideon and ute and must say I am happy with my purchase. I had to fly to Brisbane from NQ to pick it up , and the trip back was a breeze. Its a Ford courier diesel 4wd with a Winnabago freeway slide on. Its well fitted out and more comfortable than the last home made box. It all depends on how much you want to pay. I payed $6800 for the whole thing, and was lucky , because both the truck and the van are in G/C. When I looked at all the Northstar, and up market slideons , I was put off by the price, which was beyond my budget. They were lovely, but too expensive for me, so I bought what I could afford, and am happy with the purchase.
I paid $400 more for my combo than he did for his but mine has a few more goodies, like 2 side storage boxes, awnings, etc. Notice the tie downs? Apart from holding the camper down, they don't appear to be doing much in terms of lateral support. But he says his trip was a breeze. So maybe I worry too much. BTW, that's the kind of bull bar I want. Gary
January 9, 2013. Francois responded to my comment about communication between Frenchies and Aussies: You're right on my difficulties to communicate with my aussie friends, listening and understanding is really a pain! Why everyone don't speak french? hehehe. Anyway, happily Tessa is brazilian, so she speaks english with a latin accent and she is more understandable (for me) than Mike. She also uses to force Mike to repete slowly in good english without eating the words... So I arrive to understand, sometimes And in more portuguese and italian are near so, sometimes, I speak italian and she understands...
Just an anecdote, arrived in october 2011: I was with them at the butcher's in a small village of the North. I wanted to cook for them some meat and I saw some pieces of duck. And I didn't remember the word "duck": so at the middle of the customers I tried to imitate a yelling duck.. Everyone had to laugh at me, but Mike and Tessa understood hehehe. And imagine the sailing words... port and starboard, tack, windlass, jib, moorings, hawser and... yes often signs are faster to understand!
No doubt I will have the same experience on the Odyssey, meeting tourists from Europe and Asia. But it should be lots of fun trying to decipher what the other is saying. 20 years ago I got to know a couple of young Japanese surfers holidaying in Sydney and we had a great time communicating. One night they cooked a Japanese vegetarian dish for me and it was delicious. One of the boys told me they worked for a company that makes "bootons". Bootons? What the hell are bootons? It took quite a while to figure out he meant buttons.
Always, when travellers talk about their adventures they mention "the people you meet" as being one of the highlights. I expect it'll be the same on my Odyssey. Remembering all the names will be my problem. BTW, Francios is right about Aussies "eating" their words. They mumble. I just hope I have teeth by the time I hit the road or no one will understand anything I say!
One thing I learned when I recorded voice overs for radio was to gesticulate as I read the script. For example, if the word "big" was in the script, I would stretch my arms like a fisherman describing a fish he caught. Lots of gesticulation helps to animate the voice, which explains why recorded messages always sound different to "live" reads.
I just phoned an auto wrecker (salvage) company. When I had Bluey, they were very helpful at getting various spares by searching the network, so I'm hoping they'll be able to find a used bull bar for my Courier. Problem with bull bars is most collisions happen at the front end. Anyway, we'll see how they go. Saves me a lot of buggerizing around searching.
NSW managed to get through yesterday's catastrophic fire alert without loss of life or property (although one house was destroyed and thousands of stock lost in the ACT overnight). The firefighters and other organizations are well drilled and vigilant. They've been doing a sterling job. 130 fires are burning in various parts of NSW, about 30 of them out of control. But the fire season ain't over yet... there are still 2 months of summer to go. Here's a video report from the Beeb.
The US sweltered under its hottest year on record in 2012, breaking the previous yearly average by 0.6C (1F), the US government has said. Read the story here.
I watched an interview last night with a spokesman from the Bureau of Meteorology. The interviewer tried to get the spokesman to link the record temps in Tasmania (and elsewhere in Oz) to global warming but the spokesman was careful to avoid such a connection. Instead, he said the measuring and information gathering systems used these days are highly sophisticated compared to even a few decades ago, so it's difficult to say conclusively that the conditions we're experiencing now are unique. Nonetheless, the bureau has now introduced two new color gradations to its maps that show degrees of heat. Red was previously the highest. Now they've added purple and black to denote temps up to and beyond 50C.
There's a huge area of hot, dry air over central Oz that is influencing our weather at the mo. Monsoonal moisture and cloud from the northern tropics is late in arriving. Normally it travels over inland desert areas and cools the earth (and in turn the air). But it hasn't arrived yet. Imagine temps in the high 40s or low 50s. Sheesh! It was 39C in Taree yesterday... 42C in Sydney. That's over the ton in F. Today is better with a bit of a cool breeze. However, it'll be back to heatwave conditions next week and the firefighters are saying the worst is yet to come.
Would more guns save more American lives? The mass shooting at a US school which left 20 children and six teachers dead has provoked a national conversation about guns. But in Illinois that debate was already under way.
The pro-gun lobby says guns don't kill people, people kill people. They mean people with guns kill people, right? Doesn't it follow that people without guns kill less people? As to gun-free zones don't work, another claim by the pro-gun lobby, check out Oz. If gun-free zones don't work in America, then the reason must be that there are 300 million guns already in circulation over there. That's like declaring a mosquito-free zone in the middle of a swamp. Get rid of the guns, get rid of the problem.
Oregon Richie read the review of the Nikkor 55-200mm zoom and was quite impressed with the technology. Yep, it's amazing what's available today compared to just a decade ago when such equipment would have cost thousands. Mind you, if you start checking out fast lenses with apertures like f1.4 you're still looking at big bucks. I'm pretty keen but not that keen.
And that's it, ladies and genitals. Time for me to toddle off to stage left and plant the buns somewhere softer. Gary
January 8, 2013. NC Art sent me an email with a number of pics attached of kids getting up to all kinds of mischief entitled "How could anyone NOT want children?" So I saved all the pics and made an album.
You knew as soon as I was flush with funds I'd spend a bit, didn't you? You knew I couldn't resist a new Nikon lens, right? I read a review of the Nikkor 55-200mm zoom which was glowing to say the least, with features usually found on much more expensive lenses. The reviewer said it was cheap at $250 but I bought one from Hong Kong for $154. The 55-200mm using Nikon's DX technology is equivalent to 70-300 on the old film SLRs, so it'll be great for portraits, action, wildlife, sport, etc. My present 18-55mm takes care of land/seascapes and regular shots. One day I'll get a 10-24mm for panoramic stuff, and that'll be it.
It's gonna be a sizzler today and I'm not looking forward to walking back home from the tire/battery place after leaving my truck there for a wheel alignment and tire rotation, even though it's only a block down the road. I'm still too skinny and weak for physical excesses.
Pill time! Good ol' oxpentifylline. And a banana smoothie to wash it down. Nancy commented yesterday that she could see a blood vessel in a gum area near the exposed bone so it appears that the medication to stimulate blood flow and extend the network of vessels is working. Pizza, here I come!
From the Beeb: President Obama names Chuck Hagel to head the Pentagon and terrorism adviser John Brennan to lead the CIA, but Republicans question the nominations. Have you ever known an opposition to agree on everything the government does?
The Tasmanian bushfires are still raging. Here's footage of one bloke filming his brother's house on fire.
Here's the latest report on the search for a hoard of Spitfires buried in Burma.
Coincidentally, a Spitfire's undercarriage collapsed as it landed at East Midlands Airport.
Now here's an idea for a car like mine without air con. Waeco makes a seat cover that's air conditioned! You just plug it into the cigarette lighter (which in the truck is just in front of the driver) and presto, air conditioning! They're about $90.
Jeez, only $55 for a wheel alignment and balance. I told the bloke he must be living on Vegemite sandwiches if that's all he charges. Too hot to walk back home and down again so I stayed in the air conditioned office @ 23C. I could see him working through the sliding glass door though. A tool for absolutely everything. Hoists, wheel balancing machines, spanners galore, you name it, and it looked to me like the alignment equipment uses a laser beam. Anyway, it's all done. Next, a full service and condition report on Friday. The tire bloke noted the absence of power steering and when I told him the truck will be carrying a camper, he said, "You'll notice it even more then!"
Francois wrote about surviving the recent cyclone, and also sent a few pics of his new friends, Aussies from Perth: This Freda cyclone was forecast to arrive on NC for New Year Eve. And it arrived only the 2nd at night... Before we'd one whole week of very hot weather: more than 38c on my sheltered terrace : quiet before the storm, not a light breeze. We'd a big luck: Freda was a cyclone in category 4 at 350km in the north of NC and then was cut off by big winds in altitude. Its average winds lowed from 350km/h to 120 in some hours. Then it went on us very slowly (7km/h). We're placed in prealert on Monday morning, waiting.
It arrived here in category 1 in the evening of wenesday and the whole night we'd winds at 130km/h maximum: big noise in the dark yard...
Much rain too during 24h (til 330 mm). Nomore electricity during 12h in the night: a little frightening alone in the dark, far of everyone... Nothing is damaged neither for my barracks, nor in the Ouenghi port. I was confined here by the creek which had flooded the road on 2km til friday evening. The boats in the port were tied at 2m of the warfs on the big mother chains in the depth of the sea: here, the ports are very well prepared for this events. The East coast of NC has many damages, above all by the rain (400mm in 24h). 2 dead young men by their imprudence: one playing in the waves (more than 4m) the other in going through a river.
Til saturday, the meteo was frightening Freda'd return tmrw reinforced: it's now gone towards SE . You can see the uncertainty of the forecast here (fidji meteo) and the real path there (NC meteo). Very big luck! Til next one... Old peoples use to say: " year with lychees, year with cyclones" and we'd tons of lychees in November... (2 pics).
I join too some pics from my aussie friends Tessa and Mike (from Perth) who are now sailing on your coast between Coffs harbour, Trial Bay, Hat Head, Port Macquarie... this pics were taken last weekend.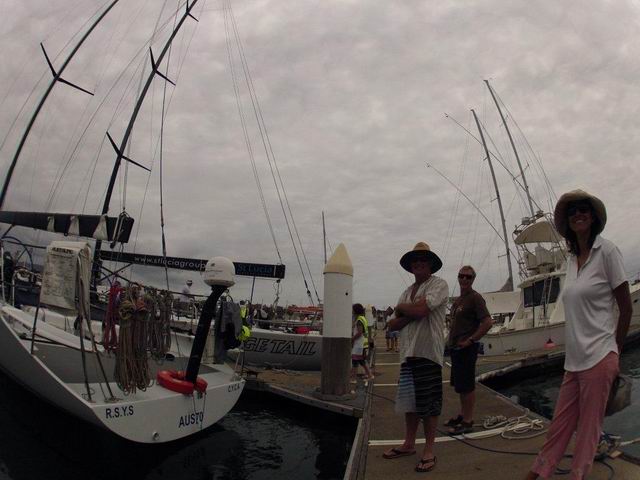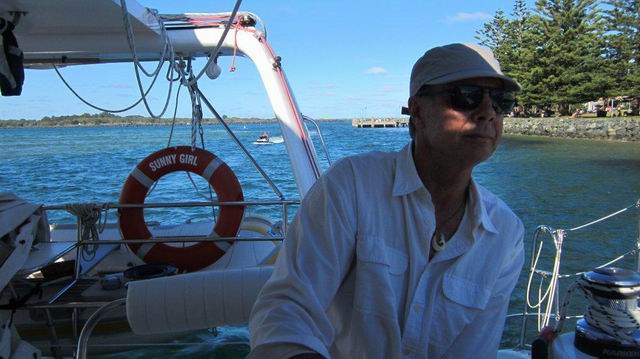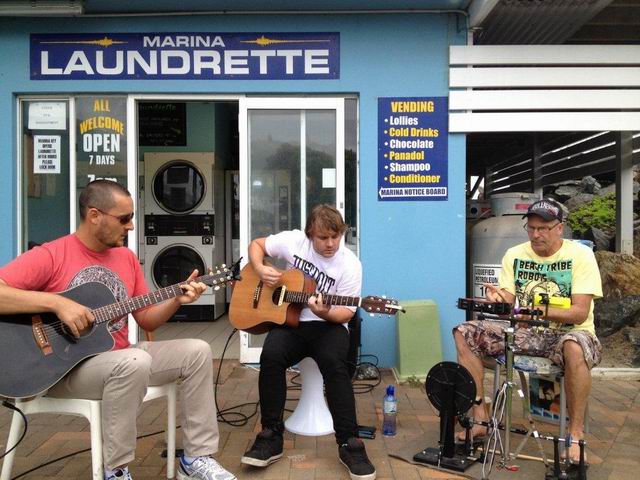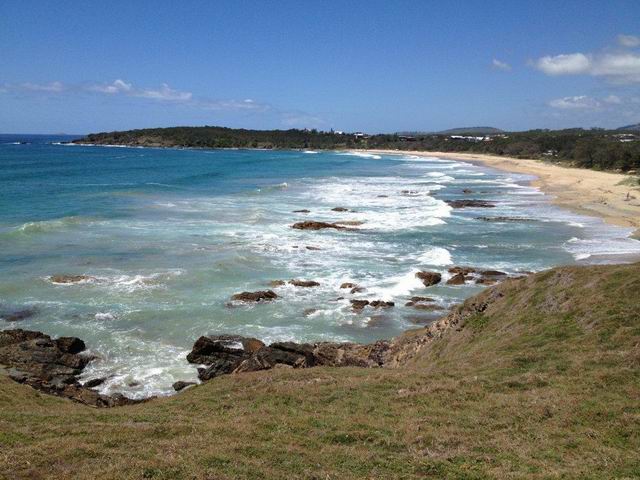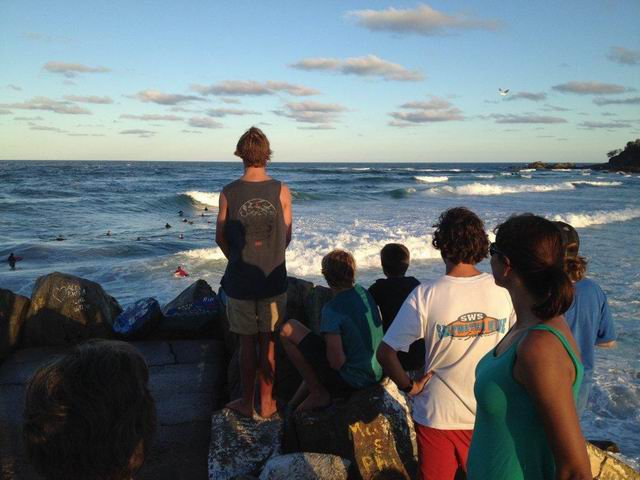 I can't help wondering how Francois and the Aussies communicated hehe. Sign language? Anyway, it's good news that Francois survived the cyclone without damage to himself, his boat or his "barracks".
And now, ladies and genitals, it's wrap time after a very hot day. No doubt there'll be bushfire reports on the 7 o'clock news. Gary
January 7, 2013. Well, Paul didn't arrive at 10. He arrived early... couldn't wait to get his hands on the Ute. When he handed over the cash he said, "You wouldn't take $2000, would you?" NOOOOOOOOOOO! He was joking. So now my wallet is so fat I can't fold it. Just did all the insurance and roadside assistance changeover by phone. Later I'll take the rego papers to the roads and traffic authority. It'll cost some bucks to pay tax on the purchase price of the truck, dammit. Then the dentist, bank, petrol and air for the ute, and that's it.
Back from the dentist. Nancy says I'm continuing to improve, albeit slowly, so that's good. I'm used to doing everything the long way around, anyway. Hehe.
Francois says I shouldn't be too optimistic about solar power: Just to give you an advice on the current given by a solar panel of 200W: I've experiences on solar panels with my boats (currently I've a brand new one of 150W and it gives me 10A at the maximum). Don't expect to have more than an average 12A even with a bright sun, even if you can calculate I= 200W / 12V = 16.6 A. This is theory but the panel, the wires, the regulator have some resistance and you lose always some current. With 12A during 10h (don't count the 1h30 after the dawn and the 1h30 before the sunset: the sun is not really efficient during this hours), you'll have 120Ah and that's optimistic... not enough to have 2 x 100Ah full. And for the cloudy days you can't expect more 30Ah a day. I use mine only for the computer and the fridge and often in winter and cloudy days, I've to run the motors during 2 or 3 hours to charge the batteries.
Well, whatever happens, I'll just have to learn to use power according to what's available. Most of my habits will change, anyway. Less TV, less time on the comp, etc. I'll be too busy doing other things. BTW, I've read that AGMs charge more quickly than regular deep cycle batteries. They're more expensive but also far more efficient (not to mention spillproof and maintenance-free).
TX Greg wrote to wish me luck on the sale, and sent this link to The Gall Boys, dad and his 5 sons doing 4WD adventures around Australia's top end. When you get to the web site, click on Cape York to see the video of a creek crossing, towing a caravan, and using a bridge made of logs. It's real heart-in-the-mouth stuff. You won't be seeing me doing anything like that. The Gall Boys is a real business, though... sponsorship, DVD sales, etc.
Nice to see all that money in the bank. I hate carrying large sums of cash. Now I can fold my wallet again. Back from a few chores... petrol and air (extra pressure in the front tires makes the steering a bit easier) and transferring the rego (cost me $105). And despite the large wing mirrors, the truck fits in the garage. Next Friday she gets the full service and condition report. Tomorrow, wheel alignment and tire rotation.
You know that bloke from Ohio? The bloke in charge of the Odyssey wardrobe? Sean? He sent me another T which arrived today, together with a note plus a lovely Christmas card from Jace and June. Isn't that sweet? The card says, "Because you're so wonderful... At Christmastime, I think of all the people who have given me reasons to feel grateful and have truly made a difference in my life - You're one of those special people. Wishing you a season of peace filled with love and happiness. June and Jace". Jeez, are they talking about me? Hehe. I never know how to react to such compliments except to say thanks.
Sean's been having a great time touring Europe with his big bro... visiting as many "clothing optional" beaches as possible. Tsk, tsk. He loves museums too, but I'm afraid optional clothing is not a feature of those places. Otherwise I'd visit them more often. And this year, as an addition to my already extensive Odyssey wardrobe of Ts, he bought this one: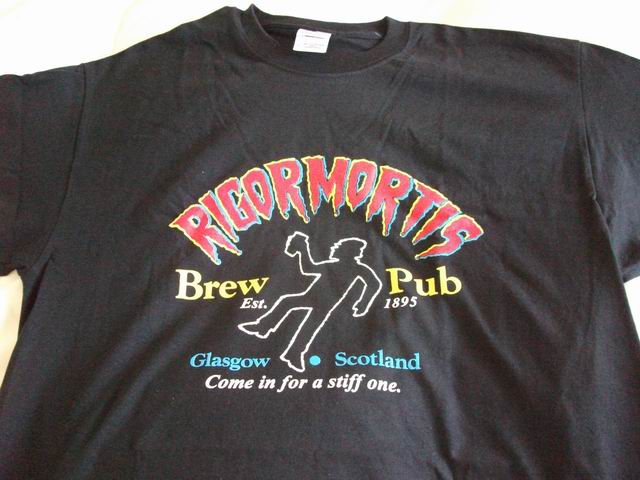 How am I supposed to project a respectable image with a bloke like Sean in charge of wardrobe? Anyway, thanks again Sean, Jace and June. You're a lovely bunch of Ohioans.
From the Beeb: A speech by Syria's Bashar al-Assad denouncing opponents as "puppets of the West" is dismissed by the US, which calls it "detached from reality". You can say that again!
Australian Prime Minister Julia Gillard is visiting wildfire-hit regions in Tasmania, amid warnings of more searing weather across the country. I'm not sure if it's the worst fire season on record for Tasmania but if it isn't it must be pretty close. Here it is in pictures.
Speaking of fire danger, for much of New South Wales tomorrow, the danger is rated as "catastrophic". The state premier warned today that we'll be lucky to get through the day without loss of life. Taree is not on the catastrophic list, but it's gonna be 38C, which is damned hot.
A 17-year-old student has been arrested on suspicion of plotting to bomb his classmates at Russell County High School in Alabama. Police detained Derek Shrout after a teacher read his diary.
Well, it's been a busy day with a lot accomplished, and it's 5-ish already. One small prob, though. I think the tray width is a few millimeters short of the width of the skid boards under the camper. Dangit. I thought I could remove the side rails on the tray to make it perfectly flat but they are what holds the tray together (like a sandwich) so they'll have to stay, which means the skid boards need to fit between the rails. I suppose there's a machine that can shave off a few millimeters off the skid board on one side. Oh well... that's a job for another day. Gary
January 6, 2013. $2500 is not a lotta money to some peeps, but to me it's not just money. It's a bull bar, air shocks, stabilizer bar, AGM batteries, an extra solar panel and a gas bottle, plus a few bits and pieces like a fire extinguisher and blanket. I might even have enough for a 70-300mm lens! Before Paul arrived on the scene yesterday, I was thinking $2000 was probably the max I could expect for the Ute... IF I could sell it. I feel like I've won the lottery!
Lotter-eeeeee, spending spreeeeee, heheheeeeee. Once the camper is on the back of the truck with all the goodies, and becomes officially a motorhome, it'll be like a dream come true. The key to travelling Oz. My Home Sweet Home! With a ladder at the back door just like the one in pics of the little old lady who lived in a shoe. No chimney, though. Nope. Can't have a chimney. That would be going too far.
Now here's something I was unaware of: the Nikon 70-300mm zoom is the equivalent of 105-450mm when used with a DX-format D-SLR camera like mine.
Yes, yes, yes, I know what you're thinking. By Monday morning, Paul might have changed his mind. True, but highly unlikely. He was paranoid yesterday about being gazumped (someone else making a better offer). He asked me to remove all the for sale signs and take the car off the street. "And don't let anyone steal it!" In fact, one of the first things he said was "and it's a good price too". No haggling. He'd made up his mind to buy it the moment he first saw it. First to see will buy, yeah?
He said yesterday that the sides of the truck tray are easy to remove but the rails will be a different story. They're screwed on at 10" intervals and the screw tops are rusty. Better give 'em a spray of WD40. That tray needs to be dead flat.
Well, this is a major moment in the build-up to the Odyssey, ladies and genitals. All things are now possible.
NC Art commented on the trouble I was having the other day uploading the Forster vid to Youtube: And…if you could imagine the physical infrastructure necessary to get your stuff uploaded and on its way, it would boggle your brain. Google, Facebook, and a zillion of other sites have billions of $$ invested in points scattered all over hell. I mean Internet Exchange. Exchange may be dedicated to one user, or huge companies which rent or lease space for many users to set up a router and connect to massive cable conduits under city streets or across open farmland and under oceans.
Then there are the data storage facilities. Buildings the size of a federal prison chock full of hard drives packed with data. Google security is near paranoid. Almost no one ever gets past the lunchroom and into the working areas, and unofficial folks never get through the security fences surrounding the whole mess. The data stored comprises damned near everything about you and me—what you wear, eat, screw, drive, hat size and dick length I suspect. Scary huh?
Facebook is much friendlier … until you start asking nosy questions. Then it gets chilly and you get the bum's rush.
No, I don't think it's scary. I'm an open book. The availability to all and sundry of data relating to me would only be of concern if I were worried about what others might think of me, which I'm not. Ya know, the main reason teens go through such a torrid period is because they allow peer pressure to dominate their lives. Even older people who should know better are obsessed with keeping up with the Joneses. Well, bugger the Joneses. When someone who disagrees with me begins a sentence with "If I were you..." I stop them dead in their tracks. People I annoy most are control freaks. If people enjoy the things I do, that's great. If not, too bad.
I'm reminded of a couple of things Mark said to Cody: "Under what rock did I find you?" "The only time I can take you somewhere a second time is to apologize for the first."
Well, it had to happen... bullet-proof vests for American school children. Here's a report from the Beeb.
Meanwhile, there's been another shooting in Colorado.
Better to admire 'em than ride 'em I said yesterday about boats and planes, which stirred a few memories for NC Art: Your aversion to big boats and sea swells reminded me of my voyage to UK on the Queen Elizabeth courtesy the English Crown. A complement of 14,000 Americans of all services crammed tightly aboard, plus the ship's crew. A fast trip across the North Atlantic to outrun U-Boats…maybe.
First morning out of New York everyone was mustered on deck to hear the rules of the sea as laid out by our crusty captain. The ship was just entering late autumn swells and rose giddily and yawed nastily. As the dismiss was announced, it seemed that half the deck contingent broke for the port rail, the other toward the starboard rail where they spent some time disposing of their greasy breakfast of bangers, biscuits and something faintly resembling eggs.
I have wondered if the captain hadn't caged the gyro stabilizers for the occasion. I didn't hear them groaning as usual.
Us flyboys were somewhat amused. Most of us had conquered the airsickness drill by hedgehopping over superheated deserts at low altitude. That'll unsettle a cast iron belly! At one point our joker pilot called back to ask how we were doing. I advised him to just crash the damned plane and put us all out of misery. He chuckled and yanked the plane up and down a few times just for fun.
Ah, boys will be boys, even big boys. I expect to have a few stories to tell when I'm doing the big tour but hopefully nothing as dramatic as Art's war stories. I never want to experience sea sickness again. 'Misery' is right. I used to suffer regular migrains too but haven't for decades. Don't wanna go back there either. No... my Odyssey stories will all be cheerful and jolly, with happy endings. Ho, ho, ho.
I organized all my keys today. What a nightmare! Now there are two sets (one spare) for Paul. Two sets for me. One set of house keys. I also organized all the paperwork in readiness for tomorrow morning, and transferred a stack of stuff from the Falcon glovebox to the truck's. Later tomorrow, I'll update the insurance company, roadside assistance company and the Roads and Traffic Authority and that'll be it... apart from a dental appointment and banking the cash. Oh, and booking the truck in for a complete service and condition report. No nasty surprises, please.
Jeez, solar panels have come down in price dramatically. 200 watts for 200 bucks. So I'm thinking why get a second solar panel when I can toss the old one (I think it's 60 watt) and replace it with a 200. That way, the old mount can be used without drilling more holes in the roof. The current holes don't leak and that's the way I want it to stay. 200 watts will charge 2 x 150a/h AGMs in a day... every day (with sun). Panel + batteries would cost about a grand all up, which ain't bad. $1000 divided by 4 years = $250 a year for power. I'm assuming the batteries will need replacing by then but the solar panel has a life expectancy of 25 years.
Will that leave enough dough for all the other stuff? Stay tuned.
Hmmm, lots to think about. Meanwhile, 5-ish again - soup de jour and creamed rice AGAIN! Never mind. It's not forever. Gary
January 5, 2013. Doesn't take long before 2013 becomes the norm. How quickly we adjust and adapt. Maybe that's the way it will be on the Odyssey. A couple of days on the road and my "past" life will have become nothing more than a memory as I quickly adapt to dealing with the reality of the present. Most people who go on trips return to the place from whence they came. Not me.
So it's a good thing there's nothing about my present circumstances I hold near and dear (except those things that will come with me). My home will be wherever I happen to be, and my future will be the never-ending horizon.
As to the concept that everyone needs roots, my roots will be set in cyber space where my permanent address will be Aussie Odyssey. Who said no one can be in two places at the same time?
Oregon Richie watched the Forster-Tuncurry vid and commented: Glad you got the vid sorted out and it looked pretty nice, all in all. I think you may secretly like boats and yachting or just plain sailing-away ( symbolically and otherwise ). Sailing away in a metaphorical sense, yes. Boating for me is best done on calm waters. Leaning precariously beneath a billowing sail is not my cuppa, nor is climbing a wave at 45 degrees or plummeting headlong into a trough on the other side. Boats are beautiful things, in my view. Sleek and gracious. Polished and gleaming. Poetry in motion. But I am a confirmed landlubber, to be sure, to be sure.
I feel the same way about aircraft... better to admire them than fly in them. My feet were designed to be planted on terra firma.
From the Beeb: The Church of England drops its prohibition on gay clergy in civil partnerships becoming bishops, so long as they promise to be celibate. Yes, we can't have the clergy involved in all that sweaty humping and pumping business. It's unbecoming.
You know that expression 'behind closed doors'? That's where all the ikky things happen, right? Activities we humans find undignified; unacceptable human behavior. Animals don't have phobias about such things but we're not animals. We were created in the image of God. And if he doesn't do ikky stuff, neither should we. Right?
I have a feeling I mentioned this before, but last night's Poh's Kitchen was a repeat. She did a most interesting thing with spuds before baking them. She boiled them till fairly soft but not mushy, and allowed them to cool. Next, she greased a baking dish and broke the spuds into rough chunky, bite-size pieces, arranging them in a single layer. Then she scattered knobs of butter over the top. (I think I'd probably spray them with cooking oil and leave it at that). Can't remember how long in the oven (conventional) - probably 20 to 30 mins at moderate heat, but they emerged golden brown and crispy, and looked delicious! It's the rough edges that make them go so crispy.
Well, the Falcon is all washed and sparkling, and sitting out on the nature strip with a For Sale sign. Hardly a car is passing, though. It's holiday season and the town is dead quiet. Speaking of car sales... sales of new cars in Oz jumped 10% last year. Imports were the big sellers because of the high Australian dollar ($1.05 US). I guess that means there's a glut of used cars going cheap.
Today is one of those hot days that makes you feel lethargic. Not much inspiration, I'm afraid. Lots of staring into space but no brain activity. Of all places this summer, it's Tasmania that's suffering damage from major bushfires. Hobart had a record 41C yesterday. First time ever. Last I heard, there were 3 large bushfires including one in the south east where several structures were destroyed. I thought Tasmania was the obvious place to go during high summer in Oz. Seems not. Not this year, anyway. Here in Taree at the mo it's 30C with northerly winds (the hot ones) but it'll drop down to 19 tonight. Took a while for the Beeb to publish the Tasmania story but here it is.
One thing's for sure, wherever I happen to be during summer on the Odyssey, it'll be around the coastal areas. Inland roasts. At least the coast has a seabreeze to cool things down a bit, especially at night.
I'm afraid that's all I have for you today, dear Breth. No it's not. Here's another story from the Beeb about a hoard of brand new WWII Spitfires buried in crates near Burma at the end of the war as "surplus to requirements".
6:45pm. About half an hour ago, a bloke came to the door asking about the Falcon. He's a retired mechanic. He had a look, checked the exhaust when I started it, took it for a test drive and said, "It's mine." He even made me remove the for sale signs when we got back. He'll be here Monday morning at 10am with $2500 cash. That's $10 more than I asked for hehe. So there ya go... been on Gumtree for a week or two with no takers, and then sold on the street in about half a day to the first looker. His name is Paul, and he lives just around the corner. Gary
January 4, 2013. Strange indeed. I tried uploading the Forster vid to Youtube last night and it took hours before being rejected. Something to do with cookies and Google. This morning I couldn't even access the upload page. Cookies again. I was using Firefox. So now I'm using Explorer and it seems to be working okay. So what's with the cookies thing? I dunno.
NC Art, among other things, is a sore bum expert: Get a piece of 2" thick foam rubber, put-on chair. Throw towel over it and sit in comfort!
Art also knows a thing or two about photography, having been in the printing trade for yonks: Yep, that photo from Red Bubble is terrific. The man has an eye for light and shadow like an old master painter. Actually, what I thought was, "hey that pic looks like a painting!"
As to the restored Lancaster bomber, Art spent time in Britain during the latter stages of WWII: And the link to the Lancaster bomber did stir me. That machine was absolutely amazing, as well as the guys who flew it on bombing missions. A bridge that we hit repeatedly with B-24s still wouldn't die. A night raid by three Lancs put the thing out of business permanently by taking out the center span in a low…very low level pass. They flew straight at the bridge, released bombs and yanked up over the target just as the bombs went off. Crazy buggers could have blown themselves to hell along with the bridge. When your entire country is in peril I guess extreme measures are acceptable.
Oregon Richie is also a plane buff: Good picture and fascinating vid about the ancient British Lancaster. Those were pretty awesome machines all right and it's really great when one of them can get flying again. Not an easy task by any means !
TX Greg also wrote: Can't remember if you've seen this photo. Yeah nowhere the quality of the Red Bubble pic yesterday and probably part Photo Shopped, but keep looking at it and you will finally see the neat hidden image :)
Took a few minutes to see it, but once you've figured it out, you can't miss it. What did it for me was the peculiar shape of the lower branch on the right.
Jeez, this uploading biz is frustrating. Everything was going along okay when it stalled at 84%. And there's nothing you can do. No retry button. No what's the problem button. It's like waiting for a train with no announcement to explain what the delay is. Will it arrive in a few minutes or will I be here forever? I just took a risk, disconnected and then reconnected. Will that help? Nothin' yet. Ah! Up to 86%. And to make matters worse, Sue took a fall in the loo. Lots of wailing and weeping, so I woke Lindsay (he sleeps most of the day) but he had trouble getting in because Sue was on the floor blocking the door. WHY ME?
Which reminds me of something I heard on QI. How intelligent are ants? The collective intelligence of a nest... not quite sure how big but I suppose pretty big... equals the intelligence of one human brain. Must be a Lindsay brain cos they don't have TV or microwaves.
And when was the last time you saw a pigeon at the movies? Pigeons don't like movies cos they're too slow. Humans only need 24 frames per second to see normal action, but pigeons need something like 200 frames a second. So for a pigeon it's like watching a very slow slide show. Boring! Hehe. They also don't like popcorn. One of the guests on the show said where he came from, pigeons that ate popcorn exploded. Methinks he was kidding. Hehe.
How are we doing? 97%. Cool.
And what animal in Africa kills more people than any other? The hippopotamus. They're fast swimmers, and also very fleet of foot on land. One of their main weapons is severe halitosis. Their breath is unbelievably diabolical. What put me off hippos (not that I was ever a big fan) was seeing one defecating undigested vegetable matter while swimming underwater, which was being eagerly consumed by a school of fish following close behind. Ew! Fresh fish for supper? No thanks.
UPLOAD COMPLETE! Well, there ya go. I've learned something new. Use Explorer and disconnect/reconnect if the upload stalls.
That bloke from the Central Coast who phoned the other day about the Falcon hasn't called again so I guess he's gone cold. Oh well... just checked the ad and there are 4 lookers on the page at the mo. All tire kickers, I suppose.
From the Beeb, here are the images of 2012 that were chosen by the White House for its official family album.
A city in the Indonesian province of Aceh which follows Sharia has ordered female passengers not to straddle motorbikes behind male drivers. Suaidi Yahya, mayor of Lhokseumawe, says it aims to save people's "morals and behaviours". What about toilet seats? Do they have to sit side-saddle there too?
If you're not religious but describe yourself as spiritual, what does it mean?
I don't think I'm spiritual. I don't believe in spirits, for one thing, unless you're talking about Johnny Walker on the rocks. I enjoy sunrises and sunsets, but I know why they occur, and that it has nothing to do with anything mystical. Ditto lightning and thunder. Trees. I like trees. I even like rocks. Big ones like Uluru. But I wouldn't go so far as to declare them sacred. Babies? Babies mean nappies (diapers). Ew! Nothing spiritual about poo if you ask me. Or snot. No, I think I'll pass on spiritual. Sure, I'm sensitive, sweet and adorable, but not spiritual.
I do however believe in a oneness with Nature and the Universe. I've yet to experience it, but I'm looking forward to being under a desert sky with stars that sparkle in 3D, as if you could reach out and touch them. There's a special feeling about gardens and forests too. Some people, like Cody, have that same feeling about the sea and all its creatures. The decision to sprinkle his ashes there was most appropriate. I can well understand and appreciate the expression 'Mother Nature'.
I often think that humankind gives itself too much credit for its intelligence, imagination and creativity. We are simply the product of Nature, so it's Nature that deserves all the credit.
Back from shopping and guess who was hovering around in the garage when I parked? Mrs Hornet. So I quickly got back into the car and in my haste, lost a flip flop. Anyway, it wasn't the old nest that continues to be a prob, they're building a new one! Next time I'm there, that'll get the heave-ho as well. So there I sat, watching Mrs H do her thing before I could finally emerge and carry the groceries inside. I bought free range eggs this time cos I'm not impressed by chooks being kept in cages. Ducks too. They lead horrible lives.
Do you get pissed off when someone talks loudly on a mobile/cell phone in confined public spaces like restaurants, theaters, trains, etc? NC Art sent this little gem:
After a tiring day, a commuter settled down in her seat and closed her eyes. As the train rolled out of the station, the guy sitting next to her pulled out his cell phone and started talking in a loud voice: "Hi sweetheart. It's Eric. I'm on the train."
"Yes, I know it's the six thirty and not the four thirty, but I had a long meeting."
"No, honey, not with that blonde from the accounts office. It was with the boss."
"No sweetheart, you're the only one in my life."
"Yes, I'm sure, cross my heart."
Fifteen minutes later, he was still talking loudly.
When the young woman sitting next to him had enough, she leaned over and said into the phone, "For God's sake, Eric, hang up and come back to bed."
One of my pet hates is being with someone, chatting away, when their phone rings and they answer it. None of this "I'm sorry but I'm with someone at the moment. I'll call you back." Oh no. They keep talking. And talking. You no longer matter. You're not important. Relegated to the back of the queue. So, as the minutes crawl by, you sit there like a dummy wishing the person on the phone would drop dead. Averil does that. But now as soon as her phone rings, I'm up out of the chair and gone. "Byeeeee!"
I thought about Waffle today. Once I'm on the road, I'll archive it and use the Journal instead. Waffle is all about fillling in time, pulling stuff outta the air and waffling on about nothing in particular. The Journal will be different. Its content will be mainly about where I am, what I'm doing, who I'm meeting and what I'm photographing. There'll be some waffle, of course, on days when not much is happening. Or it's raining. Contributions from Waffle regulars will still be welcome. L&S, hornets and Rodneys will be redundant though. Instead it'll be roos, goannas, koalas, emus and camels. And possibly the occasional snake hiding behind the porta potti. Eeek! During periods when I'm outta phone/internet range, the Journal will still be written, and then posted when I'm back on line. A daily diary of being on the road in Oz with lotsa piccies.
One purchase I hope to make before I leave is a 70-200mm Nikon telephoto lens. I already have an 18-55mm. The 70-200 is mucho cheaperer than the 70-300 or the 18-200. Anyway, I need more than 55 because there are things I'd prefer to photograph from a safe distance hehe. Mind you, my two Fujis are capable of long focal lengths but I prefer the quality of the Nikon.
Anyway, time to scoot. Gary
January 3, 2013. Here's a photograph I spotted on Red Bubble this morning that sums up what photography is all about. Take an ordinary scene, compose it with skill, add elements such as reflections, framing, lighting, exposure, depth, symmetry and this is what you get. I love the side-lit trunk of the tree. What a great image! Wallis Lake, by the way, is just down the coast from here.
Whoosh day today - pay day/bills day. My fiscal cliff is still reeling from the purchase of the truck, so the sooner I sell the Falcon the better. Although, that money is also ear-marked to disappear in a hurry. Never mind. I'll get back on my feet soon enough. And when I do, I'll have a motorhome.
If I hadn't made so many mistakes over the years with Bluey, Das Busse, etc, the Odyssey could have become a reality a lot sooner. But, that's not the way it happened. And maybe it's just as well cos 2012 wasn't exactly my best year. The most crucial thing I did back in late 2011 was to have my local doc check a patch of rough skin on the floor of my mouth. Would I have bothered to have it checked if I'd been on the Odyssey? For one thing, I wouldn't have had a "local doc". So I guess we'll never know. I'm not a believer in Fate but, by the same token, I'm not willing to discount the idea that "everything happens for a reason".
Pink smoothie this morning... strawberry. I ran outta eggs though, so no added protein. I know what Daniel would have suggested but I'm not Daniel.
I remembered this morning that I did a shoot of Forster-Tuncurry back in late 2007 so I delved into my archives and found the pics, a few of which will supplement the footage I shot last October. Good. That saves me from doing another shoot, so I'll start working on the vid tomorrow (or maybe later today). I also grabbed a couple of beach shots and aerials from the web.
From the Beeb: US Secretary of State Hillary Clinton is discharged from a New York hospital after treatment on a blood clot between her skull and brain. Anyone betting she'll lay low for a while and resurface in a few years seeking nomination to run for President?
American singer Patti Page, one of the most popular artists of the 1950s with hits including Tennessee Waltz, dies at the age of 85. Singers like Patti were all the rage when I first started in radio.
Markets in Europe gain after a short-term deal to stave off the so-called US fiscal cliff was reached, averting spending cuts and tax increases worth £370bn. Yep, even the Aussie stock market went up.
Two pensioners from Lincolnshire have restored a rare WWII Lancaster bomber. Art will get a kick outta this one.
Roite, I spent most of the day editing the Forster-Tuncurry vid. I was hoping to post it to Youtube before updating Waffle but I need to add music. Vision alone won't carry the thing. It was a windy shoot so I've had to mute most of the vision. In fact, it was so windy that day I didn't shoot much footage at all. Not many people about either which was a shame. People moving about always improves a shoot. At the start, I used a couple of shots I nicked from the web, otherwise all the stuff is mine (including the stills from 2007). I'll finish it off later and post it tomorrow.
5-ish already but it's been a fruitful day. I feel useful when I do stuff like editing a vid. It means a sore bum after sitting so long on this typist's chair with no natural cushioning but it's worth it. Now I can search the web for a bit of appropriate music, catch a bit of telly, and throw a bit of food down the screech. Gary
January 2, 2013. Back from the dentist! Nancy says the healing is coming along quite well. The front is doing particularly well. The sides will take a "long time" but overall I'm doing okay. I told her I'm Googling pics of pizza and burgers so she said she'll check to see if a set of temporary dentures is possible, just for eating. Hmmm.
The bookmark in the Digital Camera book fell out last night. It's the Amazon receipt and the name of the bloke who sent it to me is Chuck from Kentucky. He bought himself a copy and decided to send another to me. Aussie Odyssey wasn't around then so he must have known me from MrB. I read a bit more of the book last night... oodles of info (easy to understand) but the best way to learn and improve is to DO IT. Portraiture is something I'm interested in... capturing close ups of interesting faces using natural light. Hopefully, I'll have some willing participants on my travels.
The main trap with cameras is believing they see what we see. WRONG! Our eyes map a scene or object and build up a 3 dimensional panoramic image in our brain. Cameras see a 2 dimensional image for a very brief time as the shutter is released. So we need to use various tricks and techniques to give an image interest and depth.
NC Art wrote Happy Noo Yeah: An old saying predicted that what you did on new year's day you would continue all year. I took encouragement from that. After all I did wake up, get up and eat breakfast. So far so good! I did watch the ball drop at midnight (on the telly of course) in New York's Times Square, or at least a glimpse of it. Most of the descent was obscured by gross and garish advertisements by Pepsi and Sony. Pffft. So HAPPY NEW YEAR ALL YEAR 2013 TO YOU, MY MATE!
Thanks, Art, and may your prunes and contributions to Waffle continue for a long, long time.
TX Greg thinks I'm suffering dementia: Don't forget to update the link on the main index page for "2013" the next time you add something in the journal :)
Yes, I've been a bit slack in the journal department lately. You know those little balloon markers Google maps use? On my visitors/stats page with a map of the world, I noticed someone from Alice Springs visiting AO the other day. There are several markers across the US, quite a few in Western Europe, a couple in Eastern Europe, one in Brazil (g'day Joao), one on the east coast of Oz... but none in Africa, New Zealand, the sub continent, or Asia. I figure that'll change in time after I do the big launch and start building a portfolio of pics, vids and journal entries. In a couple of years I hope to have sufficient good material to publish a pitcha book.
Malcolm, a fellow Red Bubbler, knows a thing or two about photography. Here's a pic of the last dawn of 2012 on Sydney Harbor, taken from the western side of the bridge. Love the stillness of the water, the light, and the boats in the foreground.
From the Beeb: A US Senate-backed deal to stave off a "fiscal cliff" of taxation and spending goes to the House, but Republican opposition casts doubt on its passage. Meanwhile, issues such as immigration and gun reform take a back seat.
AZ 17 AV. Roite. I need to commit that to memory cos that's the truck's license number. Pity it wasn't AO 00 AO. Zed Vee is no good but the American pronunciation of Zee Vee works. A Zee A Vee. And Cody was 17 when he met Mark. Actually, I just checked. AO 00 AO is not available. BUT... AOAOAO is. :) How-bloody-ever... the cheapest personalized plates are $160 + $99 annual fee. Bleh. Maybe another time.
I did discover on the web site a way to pay for bridge and road tolls electronically on line without needing a pass or cash. That'll be handy when I visit Sydney or other cities with toll roads. Just drive through the toll gates without stopping, no worries. A camera photographs the license plate and debits your credit card. I was hoping for an annual pass to National Parks but they're controlled by state governments so there's no pass that covers all parks in Oz. State passes would be okay if I were touring NSW for a year and then QLD for a year, etc, but that's not the way it's gonna work. I'll be criss-crossing borders all the time.
The trick when visiting cities will be to find cheap or free camp sites. They're usually on the fringes or even further afield. Maybe I'll pick up a few tips from fellow travellers. There's undoubtedly a wealth of knowledge out there I can tap into.
Meanwhile, there are two hornets now... mister and missus, I presume. Apparently, knocking down the mud nest wasn't enough to deter them... they're still using it cos it's intact. So I'll have to wait till the coast is clear and toss it to buggery away.
Weeeeell, time to call it a day and plant the buns (what's left of them) on the easy chair for a bit of telly. Not a lot of excitement around here lately, I'm afraid. I suppose I could put that Forster-Tuncurry video together. I was hoping for better shots on the day but the ones I got weren't tooooo bad. It was a very quiet day and there wasn't a lot of boat activity. I didn't get any surfing/beach shots either. Hmmm... I'll think about it. Gary
January 1, 2013. Last NYE I had chicken crackles and chips for dinner. Last night I had SOUP and creamed rice. Sheesh. What a year. No New Year resolution, though. There are things I hope and plan to do but as to making a solemn promise, nope. You know what they say about mice and men. So I'll just follow my nose and see where it takes me.
The local fireworks were clearly audible from my bedroom last night but I didn't bother to watch. Seen one seen 'em all. Sydney is the exception, of course, with a local audience of 1.5 million lining the harbor foreshores, and a television audience of hundreds of millions. So I slept through the whole thing - like a log - and woke at 6:30am.
Oregon Richie was bitching about it being 15F over there. Hehe. Not sure what it is here but I'm shirtless and barefoot, and it's sunny outside. On last night's news, there was footage of the crowds in Sydney claiming their patch of foreshore for the big show at midnight. A sea of people covering every spare inch of ground around the harbor. The lucky ones were on their boats moored at the best vantage spots, or watching from thousands of homes and apartments that line the foreshores.
SF Bill saw the pic of the Triumph Spitfire yesterday and reminisced: I'm glad some people still remember the old Triumphs (means you must be old!); I had a great time in them. I went through a TR 3, 3 TR 4's and a Spitfire in an almost forgotten past as a kid. This was in addition to American muscle cars of the period. I loved the Triumphs, but they needed a lot of maintenance to keep them going right. My personal belief is the English believed in having motor cars to tinker with on the week ends, not to drive. I had more pure fun in that Spitfire than anything else I can think of. The Spitfire was kinky, cheap to purchase, and with a few suspension modifications, cornered like a scalded cat. I think I had more fun and scares in that thing than any of the more plush and powerful cars I've had since. Oh, to be 24 again!
Yes, 24. That's when I inflicted my dulcet tones on the radio waves.
Meanwhile, TX Greg sent a graphic of two snowmen doing unspeakable things with their carrots, so I'm afraid I can't publish it. Hehe. Greg is incorrigible, ya know.
NC Art, on the other hand, has this to say about taxis: That '54 Oxford reminded me of the old Checker cabs. For generations they were so standardized that a couple of fenders could be replaced in a matter of an hour or so. Body segments were simply bolted on. With low-slung, wide and deep passenger compartment, plus two folding jump seats, the car could carry a large family in reasonable comfort. Reasonable in that the suspension was stiff and not well cushioned. And it was not unusual for the car to rock up 300,000 miles in city traffic. My own driving record has been damned lucky. I never managed to crash into anything breakable; all my bent or broken vehicles got that way from others crashing into me!
Same here. My old Benz was rear-ended one time, which coincidentally demonstrated the worth of Benz's new crumple-zone technology. My most bizarre accident occurred at a railway level crossing. The bloke in front went too far and ended up stopping beneath the boom gate. He panicked, threw it into reverse, and planted his foot on the accelerator, causing his car to crash into mine. He insisted I'd crashed into him, so I dragged him by the elbow to the truck driver behind me and got the truck driver to explain what happened. In fact, I'd already anticipated what would happen and stopped well back from the boom gate to give him room to reverse. Ungrateful asshole.
Oh, before I fergit, I saw an Italian bloke on a cooking show last night. If you like lamb cutlets, try this. It's easy. Cut off excess fat and separate cutlets into 1" thick individual portions. Cut a pocket into the meat horizontally. Fill with prosciutto and thinly sliced soft cheese. Salt each side of the cutlets. Dip in lightly beaten egg and then in fresh breadcrumbs. Shallow fry until golden. I have a feeling that would go very nicely with steamed, crispy snow peas in their pods.
Now where was I? Oh yes, BR João wrote: I've tried to watch the video of the airplane crash in Russia but gave up when I saw that poor woman with the head covered with blood. Here's another fall of a flying machine. Yesterday, in Copacabana beach, Rio, a helicopter used to rescue people needed rescue itself, when landed on the water. Fortunately there was no victims. A tourist from Minas Gerais (a Brazilian state far from the sea) captured the all scene.
From the Beeb: The US will head over the "fiscal cliff", at least temporarily, after the House of Representatives said it would not vote before a midnight deadline. Here's what McCain has to say: Republican Senator John McCain has described President Obama's statement on the so-called fiscal cliff of tax rises and spending cuts, as a "cheerleading, ridiculing of Republicans exercise". Speaking on the Senate floor, Mr McCain questioned President Obama's commitment to finding a resolution and said the president had sent a clear message of confrontation to Republicans. Oh... well there ya go. I thought it was the other way around. Here's McCain's speech.
Roite, banana and malt smoothie today. Variety is the spice of life, ya know. *Sigh*
Still no response to my ad for the ute, so I think I might put it out front with a 4 Sale sign. Once the holiday is over, the street will be busy with traffic again. I've noticed dealer ads on Gumtree that stay there for weeks, probably because dealers ask a premium price. But even Alex who sold me the truck had been trying to sell it for quite some time before I came along. I'm not desperate to sell the Falcon but it would be nice to have the cash to spend on the truck.
Hello? Just had a nibble from a bloke about buying the Falcon. He lives on the Central Coast so he reckons if he can't con one of his mates into driving him up here, he'll catch a train. But he's talking $2000. He went down to $1800 at first and I said no. He said he'll phone back in a day or two when he organizes transport. He reckons the Falcon would be good for carting hay around to his horses. If he owns horses he ain't short of a quid.
Just back from opening the truck windows. Bloody hot out there! So I checked... 32C (90F) now and headed for 36C (possibly 38). I reckon the local beaches will be popular. Not crowded though. There are endless stretches of beach around this area that are impossible to fill. The circumference of Oz is virtually a 16,000 mile beach. Even the Gold Coast in Queensland never gets crowded. Bondi Beach in Sydney, on the other hand, is often crowded because it's "the place to be seen". It's also quite small compared to most beaches. Apparently the longest beach in Oz is 90 Mile Beach in Victoria.
My kinda beach has grass, trees and shade, thank you very much. And the perfect time to stroll along the shoreline as the breakers wash over your feet is very early morning or dusk. I'll leave the in-between time to the lunatics. And that's another thing... exercise. I don't get much at the mo, so I'm looking forward to getting fitter by walking around taking photos, strolling along the beach, checking out country towns, bush walking, and maybe even throwing a leg over the bicycle saddle. A few months of that every day and I'll be fit as a fiddle... which I'll need to be if I'm gonna climb up to lighthouses, lookouts and long flights of stairs.
Back in 2002 when I bought my first digital camera, some kind person "out there" sent me a book called Digital Camera (How to do everything with your...). It's quite a large and thick book... most comprehensive. And now, 11 years later, I'm reading it. Hehe. Don't rush me, roite? Can't remember who sent it, but I thank you belatedly. I need to get seriously serious if I'm gonna make the most of the Nikon on the Odyssey (and even make a few bucks from the images). Digital technology has come a long way in the last decade, but the book remains relevant. Photographic techniques and rules don't change.
5-ish again and time to rustle up a bit of this and that. Anything on telly? Poh's Kitchen, Food Safari, Best of Landline, ABC News, 7:30 (current affairs). That'll do. With a bit of luck, I might sell the Falcon this week! Gary
← Older posts Waffle Index Newer posts →
or
Return to Home Page