| | |
| --- | --- |
| the WAFFLE page | |
July 31, 2013. Stitches are out and I had my flu jab this morning. Hopefully, the latter will chase the bugs away. I'm feeling a tad better today. Thanks for the well wishes, folks! FL Josh wrote: Poor Gary. It's no fun to not be well. Hope you are better soon. May the great and all powerful Bawahala, Lord of Atheists, bless you and make you well, and reveal himself to you in the form of a gas man!!!
Got news for you, Josh. Athiests don't believe in Bawahala either. However, there is a Lotto God. I know that for a fact cos I won $18.50 last night.
NC Art commented on the GN 'dear mom' story: I think that 'dear mom' letter was to get even for the time when Nicholas came home from summer camp to find that his parents had moved away without leaving a forwarding address. Not sure what Art means but I suspect the kid's letter was a new take on an old joke. What is it they say about jokes? That there are only six or seven in existence, and the rest are all modifications?
Cody had a wonderful sense of humor. One of my fav stunts was when Wingnut came home from footy covered in mud so Cody offered to put his clothes in the washing machine hehe. Then he locked Wingnut outside naked. The grommet tried knocking on the front door a couple of times then gave up and took flight over the fence revealing a pair of lily-white buns as he disappeared next door.
OR Richie wrote: Something to entertain you for a few minutes... this newly declassified installation up around the National Lab at Los Alamos, NM... home of course to the Manhattan project, supercomputer work, physics work that nearly seems to defy physics, and more PhD types per square meter than anywhere else in the land.

There is still a LOT of activity as such going on up there and I did visit in during the first part of January of 2011. The town, that is. Anyway... interesting. Really not much in the way of conspiracy theory stuff happening up there because just about everything said of the place and what they do is pretty much universally known to be true.
Richie also mentioned fatigue associated with ailments of a respiritory nature. I sure do have lots of that! Between the above para and this one, I've been napping. Woke feeling fine. Five minutes later and I'm ready for the sack again. Hopefully, tomorrow - after another night's sleep - the flu will have said hooroo! Gary
July 30, 2013. As a kid if I didn't do my homework or played truant, I'd turn up the next day at school with a forged note from my mother explaining that I'd been sick. These days I don't need a note from my mother, forged or otherwise. I'm too drained to write Waffle, dear Breth. I slept 13 hours last night and again for 2 two-hour sessions during the day. I'm off to the doc in the morning to have stitches removed so I'll ask for a flu shot even though it might be a bit late. Not sure what this is though... just that I'm exhausted. Gary
July 29, 2013. My brain tells lies ya know. I have little dreams just before I wake at night that tell me all kinds of things other than the truth. It's a trick to stir me into consciousness so that I'll take a pee. The brain knows that I'll ignore the pee signal cos it's too cold to get outta bed. I hate that. Otherwise, I slept reasonably well last night and feel a bit better today. Seems like the cold is one of those shorties that hangs around for a couple of days making a nuisance of itself before fading into oblivion.
Today, I'll drive out to Bunnings the hardware megastore and get a few things I can't get elsewhere.
Back! Well, getting a grab handle for PJ's doorway is not gonna be easy. When I tap the aluminium cladding there are only a couple of places where I can tell there's solid frame behind, otherwise the sound is hollow. And the distance between the two sections of framework is 350mm. Might have to get something made. One of the ready-made handles was 320mm - close but not close enough.
But I managed to get a couple of things - super glue, anti-skid matting for lining cupboards, and stick-on letters and numbers (UHF 80 - which is an expensive way to buy a sign that lets other road users know I have CB radio). Two other prezzies arrived while I was out - the squishy hose and the emergency triangle and safety vest.
One thing I didn't find was some kinda tubing to wrap around the stainless-steel turnbuckles to hide them from wannabe crooks. Then I remembered I've got something already! A bicycle tube!
I picked the wrong day to be wearing thermals though... sleeves rolled up and the window rolled down. I hope this nice weather holds until I visit Sydney next Monday.
NC Art thought I might need a bit of cheering up with my cold so he forwarded this link to a bunch of TV commercials for a mortgage company whose slogan is 'Don't Judge Too Quickly - We Don't.' No, they don't. It's obviously a clever ploy to suck in the customers with poor credit standing and charge them an arm and a leg for taking the extra risk.
Just cruising the GN forum and found this "Dear Mom" letter.
Well, I'll have apologize again for running outta steam. I don't feel sick but I'm seriously lacking energy. I slept almost 12 hours last night and will again tonight. I figure sleep is the best medicine... I'm not taking any cough or cold mixtures. I take enough bloody pills as it is! Gary
July 28, 2013. Carbon copy of yesterday weatherwise, and much too nice to waste.... so I sat in the sun on the front veranda for a while just lapping it up and letting my thoughts wander. "You should be inside writing Waffle!" a little voice kept telling me. Do you wanna know what I kept telling the little voice? Nah, you don't wanna know.
Besides, I didn't sleep well last night again because of the sniffles and a slight cold. So I'm off the fags again. I rarely get colds so I figure I must've picked up a bug at the doc's surgery the other day. That's where all the people with bugs go.
Back from a little shopping and not being able to find the hardware items I was looking for. That's the problem with department stores that sell a whole range of stuff. They have a sign that says HARDWARE but what they really mean is HARDLYWARE. Never mind. But I noticed I was pretty short of energy and had to take a seat a couple of times. Even now I feel a bit washed out.
From the Beeb: US singer-songwriter JJ Cale has died of heart attack at the age of 74. An announcement on his personal website said he had passed away at a hospital in La Jolla, California, on Friday. Born in Oklahoma, Cale helped create the Tulsa Sound, which combined blues, rockabilly, and country. He became famous in 1970, when Eric Clapton covered his song After Midnight. In 1977 Clapton also popularised Cale's Cocaine. The two worked together on an album which won a Grammy award in 2008.
South Africa's Nobel peace laureate Archbishop Desmond Tutu says he will never worship a "homophobic God" and will rather go to hell. The retired archbishop was speaking at the launch of a UN-backed campaign in South Africa to promote gay rights.
Just cooked up a honey, soy chicken stir fry with veg, except I used ground chicken and chopped canned mixed veg and bell pepper. It'll all go into the whizzer later to be de-lumped and then served with noodles. But I barely had the stamina to do the cooking. I don't feel sick, just drained. I'm also exhausted trying to cough up mucus that builds up at the back of the throat. Just when I think I've got a nice big juicy dollop to expectorate, it turns out to be nothing and refuses to budge. But it's enough to interfere with the air flow and vibrate with every breath. That's what kept me awake all night. Inside my head, each time I draw or expel breath, it sounds like trying to kick start a motorbike with a flat battery.
So pardon me for closing shop early today. Hopefully, I'll feel better tomorrow - if I can sleep. Meanwhile, FL Josh sent a couple more links: I thought the TC Bank ad was quite interesting. TC Bank is the Taiwan Cooperative Bank, which was created in Taiwan when it was under Japanese control. Here are a couple more of its ads, A Mother's Courage and Tree of Life. I don't know if commercials in Taiwan normally run so long. Here in the States, commercials rarely go over a minute but routinely, they run four minutes or more of ads in a row so a three minute commercial would fit right in. In fact, it seems now that TV is purely commercials, with occasional breaks to provide something of interest, the program. Most programs now, after a commercial break, recap the last minute or two of the program when the ad started to remind is of what was going on. Figure that in with the time to show commercials and we get precious little of a program. ***mumble*** ***gripe*** ***vent*** Things will be different when I am king! TC Bank ad - A Mother's Courage TC Bank ad - Tree of Life
BTW, I've posted a couple of links lately to pics of the Milky Way. Here's yet another, this time taken out in central Oz. Gary
July 27, 2013. Yet another stunning day with loads of sunshine. And I discovered something when I not only got a dose of inner shedness but also a dose of winter sun - it makes you sleep! Not surprising really cos I didn't get much last night on account of the sniffles.
Steve W wrote hoses and noses: Having checked out the reviews on the squishy hose, many reported that it took up to 4 weeks, so don't give up, I think you will get it. What these companies do, is advertise extensively, see how many suckers, sorry clients, they have, then place the order in China or where ever and then wait for a container load to arrive. Enough to fill the orders (and the money they already have). Great business model isn't it?
No need for bricks and mortar these days, mate. Anyone can set up a 2 bob show. Anyway, I placed the hose order 3 weeks ago.
"Sooo, dear Breth, before you get on bended knee, make sure you get a whiff of the real thing first"........Since one is on bended knees, it would seem the ideal time to get a whiff.......sorry, I now have to cook dinner!
So why am I not surprised that someone commented on the body odor and bended knee line? Actually, I am surprised... that it wasn't TX Greg. As to what Steve cooked for dinner, I'd rather not know, especially given that he's piscatorially inclined.
FL Josh has been scouring the web for gems and found this most unusual Vee Dub lookalike camper.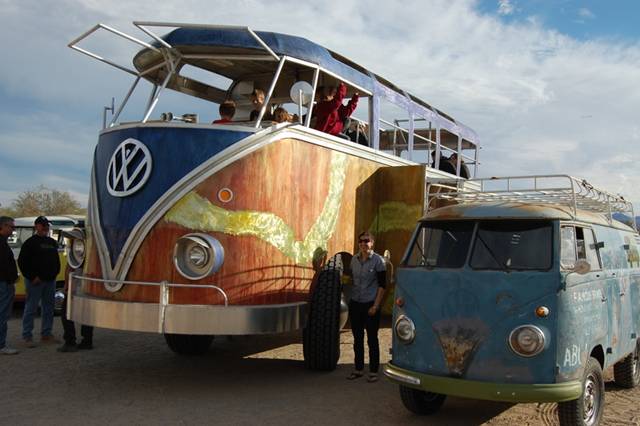 Here is more on the VW Bus RV. It apparently has two stories, including a dance floor.
From the Beeb: North Korea has staged a huge parade to mark the 60th anniversary of the armistice that ended the Korean War. State TV showed soldiers and military hardware parading through the capital Pyongyang in a carefully choreographed display. Troops and spectators shouted their allegiance to North Korea's young ruler, Kim Jong-un. Half their people are starving and the other half is having a party. How pathetic.
A celebrity memorabilia auction featuring cars once owned by Elvis Presley, Frank Sinatra and Bette Davis is to take place in California. Expected to top the sale is a van that belonged to Steve McQueen and has special significance, as Tim Allman explains. Stevie Baby had a camper!
"This is your captain speaking", is a commonly heard refrain by air travellers, but beyond the flight time, weather and comments about the seatbelt sign, pilots are not known for being too chatty. But what would the controller in the cockpit say if given the chance?
A GN posted this link to footage of a ship in stormy weather carrying motor vehicles on the top deck. Oops!
Another GN (first timer) posted this link to a bank commercial about the importance of living the dream. OR Richie will love this one. And so will everyone else. And NC Art? Well, he'll probably grumble about his arthritis hehe.
Just spotted one GN's signature: We're not on holiday. This is our way of life. We're happy to be homeless. Remember The Beatles Magical Mystery Tour? I was sitting in PJ today thinking about how it would be my home one day with a different view every week or so - a mystery tour with no particular destination or arrival date. Sounds really weird, but I keep reading comments from GNs who have been on the road for years - sometimes 15 or 20 - and loving every minute of it. I think the only reason I'm doing it is because there's no alternative - not if I wanna get the most out of life before I'm forced to plonk the old butt on a rocking chair permanently somewhere. And even that is a mystery.
Ah! Now there's an idea! I think I'll post a new thread asking GNs how the nomad lifestyle has changed them a person, and if their friends/family have noticed those changes (if any). That would attract some interesting responses, I think. By the time you read this, there may have been some responses already, so check out the thread.
I can tell you one thing for sure, joining the GN forum was one of the best moves I've made. I've learned a helluva lot, gotten to know some really nice peeps, and will learn a lot more yet!
BTW, I advertised the old Kenwood stereo and CD stacker on eBay - an auction starting at $1 over 7 days. Some people are asking $100 and more for stackers! I don't like their chances though.
Anyway, it's time to wrap this edition of Waffle and do the Saturday night gig. Which is pretty much the same as the Friday night gig. Which is pretty much... yeah. Hehe. Variety is the spice of life... or will be. Gary
July 26, 2013. Well, how flash am I? Just booked my seat on the XPT to Sydney for August 5 to see the doc but did it by phone this time instead of on the net. Sooooo, the bloke said it was a freebie (cos I'm ancient) but for an extra $22 I can go first class both ways. My own private seat, extra room including leg room, only 12 passengers in the whole carriage, and right next door to the buffet car. Sounds pretty cool to me, and certainly better than economy with all those snorers.
Another beautiful day with loads of sunshine so I spent time getting a good dose of inner shedness. PJ's sink was becoming a repository for a bunch of to-do stuff. So I got stuck into that and it's all doed. The only thing remaining is a plug. The tow ball is now free of rust and clean as a whistle, with a smear of Vaseline as well.
TX Greg wrote: What, you only have one ball? And what the hell did you get on it that required a stiff brush and kerosene to clean? Man that's got to be one tuff ball.
I should order you a pair of these to hang off the back of PJ, hahaha
Hmmm. Not sure about that, Greg, there's an ever so slight possibility that it could send the wrong message. Besides, if I had a pair like that I'd never get the damn things inside my new long johns.
From the Beeb: Japan should bolster its marine force and introduce surveillance drones, a defence review paper says, highlighting concerns over China and North Korea. Units that could be dispatched quickly to remote islands were needed, the document said, and equipment to detect "at an early stage signs of changes in the security situation". The report comes amid ongoing tensions with China over disputed islands. And then?
Australia's new asylum policy lacks "adequate protection standards for asylum seekers", the UN says. Under the new policy, boatpeople headed to Australia will have their claims processed by Papua New Guinea (PNG), and be resettled there if successful. However, the UN High Commission for Refugees said there were "significant shortcomings" in PNG's legal system for processing asylum seekers. Thousands of asylum-seekers try to reach Australia by boat every year. It's a mess as well as an embarrassment.
A pristine paradise in New Caledonia. The tiny Loyalty Islands may account for just 10% of New Caledonia's landmass, but they represent the survival of a fragile world, one untouched by mass tourism where the indigenous Melanesians treat nature with care and respect. With landscapes full of stories, the archipelago's heart is in its people – and it is their way of life that makes visiting the Loyalty Islands a truly extraordinary experience. The place Francois calls home.
The feminisation of office work happened incredibly fast. Until the late 19th Century there were no women in offices at all. In 1870, there were barely a thousand of them. By 1911 there were 125,000 and by 1961 there were 1.8 million, in 2001 there were 2.5 million female clerks. But how did it all begin? Lemme guess. QWERTY?
Last night I watched Catalyst which was about pheromones and sexual attaction. Human chemistry. A group of young men and women were asked to wear their shirts for 3 days and nights and not shower. Ew! Then all the shirts were collected and labeled. After showering with non-scented soap and asked not to wear deodorant or perfume, they dressed in fresh clothes and gathered for a party, where they were invited to give the various shirts the sniff test and rate them according to sexual attractiveness. Then the guests were monitored to see who paired with whom and how the pairing matched the scores they gave to the shirts. Hehe. Apparently, pairings generally matched the body odor scores.
Another test involved images of young women created from several photographs to form two composite images from which young men were asked to choose a favorite. Then they were shown photographs of their mothers at that age and were shocked to discover that the image they chose had remarkable similarities (nose, jaw, eyes, etc) to their mom. Almost incestuous!
Anyway, I suppose it all goes to prove that we excercise little freedom of choice when it comes to romance - that the choosing is largely controlled by chemical interaction. Perhaps that's Nature's way of preventing too many people from being attracted to the same person, and may also explain why we're often mystified by what a particular couple see in each other.
However, the question remains: why do we use deodorants and perfumes to disguise our natural odor? I figure if our natural odor is only going to appeal to a very small minority, it's probably wise not to offend the much larger majority. Oui? Sooo, dear Breth, before you get on bended knee, make sure you get a whiff of the real thing first.
And that's it for Fridee, with another weekend coming up. I think Andrew is in Sydney this weekend doing house stuff with his dad, whatever that entails. I have a couple of small things on my shopping list for PJ so I'll probably do a bit more fiddling. Meanwhile, time for telly and supper. BTW, my squishy hose hasn't arrived yet and I suspect I've been had. Gary
July 25, 2013. Nice day with lots of sunshine so I spent a while with PJ fiddling around with stuff. It's great to have the stereo playing while I'm there - dancing around and trying to keep the shock absorbers in time with the music.
NC Art wrote: That story about the transitioning guys(?) gals(?) messed with my head. What happens to the original equipment? How do they … do what? Wot th 'ell … they look happy enough, for now.
I have no idea what happens to the original equipment, Art. Maybe they're happy with whatever's available. In any case, Nature deals some pretty unusual hands sometimes and people just have to play them as they deem fit. Whatever blows your hair back, as Cody used to say. If they're happy, I say good luck to them. There are people with "issues" who say they can never be happy... and there are those who say they can be happy despite the odds.
The tools for that 1919 Essex reminded me of some in old T-model Fords. A heavy machine hammer wasn't included, but I guess it could be useful when nothing else worked.
I know Mr Fixits who swear by the ol' hammer hehe. It comes in mighty handy when you decide on no more Mr Nice Guy.
BR João wrote: I think there's not an English king named Gregory, but Gregorius Maximus, or Gregory the First, was a pope (590 to 604) who sent a mission to evangelize the pagan Anglo-Saxons on England. Second the legend, he decided this mission after he has seen some beautiful English boys in Rome that were "like angels". Hummm.
Ah yes, that androgynous business again, João. Pretty things nonetheless destined for hairy nostrils and earholes hehe. It's a hay and sunshine thing. Say no more.
The pope brought a "Patagonian" cold weather with him. Here in Floripa we are facing the coldest days in the last 30 years. This morning the hills along the sea coast presented a fine layer of snow, something I thought was impossible – and ridiculous. I think I will do like you and buy some more winter clothes.
Pretty stuff, João but better being somewhere else, right? We get a little sometimes west of here at Barrington Tops but not often. I drove up there one time and a sign said "Snow above/below this point." It's not exactly a thriving metropolis out there, mate.
The GN magazine has some interesting statistics in relation to campervans, caravans and the increase in nomads travelling Oz. Keep in mind that our pop is only 22 million so the figures are quite healthy. Check out the comments to the article as well.
From the Beeb: A train has derailed in north-western Spain, killing at least 77 of its 218 passengers and injuring more than 100, officials in the Galicia region say. All eight carriages of the Madrid to Ferrol train came off the tracks near the city of Santiago de Compostela. Media reports say the train may have been travelling at more than twice the speed limit around a curve.
The US House of Representatives has narrowly voted to continue collecting data on US phone calls, in the first legislative move on the programme. In a 205-217 vote, lawmakers rejected an effort to restrict the National Security Agency's (NSA) ability to collect electronic information. The NSA's chief had lobbied strongly against the proposed measure. The vote saw an unusual coalition of conservatives and liberal Democrats join forces against the programme.
Reversing US economic inequality should be Washington's top priority, President Barack Obama has said, as an autumn budget battle with Congress looms. He touted the slow but steady recovery in what was billed as a major economic speech at Knox College in Illinois. And he criticised his Republican opponents at length, challenging them to develop their own economic plan.
Psychopaths do not lack empathy, rather they can switch it on at will, according to new research. Placed in a brain scanner, psychopathic criminals watched videos of one person hurting another and were asked to empathise with the individual in pain. Only when asked to imagine how the pain receiver felt did the area of the brain related to pain light up. Scientists, reporting in Brain, say their research explains how psychopaths can be both callous and charming. How interesting! That explains a lot.
The Duke and Duchess of Cambridge's first baby has been named George Alexander Louis. But what's in the name? It is a partial victory for the old maxim, "the bookmakers are never wrong". George was the rock-solid favourite for boys' names for a while, backed all the way down to 2/1. Alexander and Louis were both not far behind. Oh well, that's it then... no King Gary.
Google has announced a low-cost competitor to Apple TV - a "dongle" device called Chromecast. The dongle is plugged into a television's HDMI port, and allows users to stream media from smartphones, tablets and computers. Launching immediately in the US, the device will cost $35 (£23).
And here we are again... well, I am. You're over there. I know you think I'm the one who's over there but, in fact, I'm over here. I cleaned my ball with a stiff brush and kerosene today - in case you were wondering. And I fixed the CO alarm to the "bedroom" wall. What else did I do? Emailed the speech therapist and nutritionist at Port Macquarie hospital. They wanna see me in October but I'll be seeing the doc there in mid August. Catch me then! Anything else? Installed the army-type spade in a storage bin. Sat in PJ listening to music while reading my snail mail. And that's about it. No wonder I'm exhausted. Hehe.
Oh yeah, and thought about where to attach a handle to one side of the doorway exterior. Stan the Lawn Man suggested I fit one or risk falling ass over tit one day climbing the entry ladder. He thinks I'm a frail old geriatric.
Anyway, time for the usual evening ritual. The Drum was pretty lively last night with various journos/pollies/academics arguing the point. Hehe. Gary
July 24, 2013. Back from being stabbed and sliced, and the skin cancer is seeya later sunshine. I go back in a week for suture removal. The doc's assistant was the med student and she did most of the anaesthetic jabbing and 4 of the 5 stitches hehe. He always does that to me when he has a student. "It's okay, Gary, she's already practiced on oranges."
Then I went shopping and as well as a bunch of groceries, I treated myself to thermal underwear - long johns and long sleeve tops. On spesh at half price cos it's half way through winter. Yesterday morning it was 1C - no wonder I was bloody freezing. This morning wasn't much better.
AND, my nifty little foldable army-style spade arrived - fits neatly into a camoflage zippered bag designed to hang from your belt, but mine will find a little spot in the tool area of the storage bin. The spade, not the belt. Isn't that exciting? Now I'll be able to dig myself out of bogs and shovel up 'roo poo.
I parked PJ in a regular spot today and had no trouble reversing out again with the good wide view in the TXG-TV. The little old lady wasn't impressed with having her trolley crushed but other than that... nah... just kiddin'.
Tool kit from a 1919 Essex...
I did my usual poke around Red Bubble this morning and spotted this charming shot of a typical English cottage with thatched roof and cottage garden. It really is soooo cute!
OR Richie sent this link to a story in the Huffington Post: A pair of teenagers from Oklahoma might seem like your typical young couple, but their love story is unlike many others. The transgender couple actually transitioned together.
From the Beeb: Around 400,000 Roman Catholics have joined a ceremony on Copacabana Beach in the Brazilian city of Rio de Janeiro to mark the opening of World Youth Day. The highlight of the festival will be a visit on Thursday by Pope Francis. I wasn't invited.
The Duke of Cambridge has said he and his wife are "still working on a name" for their son, who has spent his first night at home after leaving hospital. The world got its first glimpse of the unnamed prince as the royal couple left St Mary's Hospital, west London. What about Neville? King Neville?
Actually, Waffle has a few famous Kings - Richard, Arthur, Gregory (or was he a Pope?), William, James... Sorry, Joao.
At least three people have died after a boat carrying Australia-bound asylum-seekers sank, amid ongoing debate over the new policy. The boat sank off the Indonesian island of Java, the transit point for people-smugglers. At least 157 people have been rescued. It is not clear how many are missing.
US regulators have said menthol cigarettes are more harmful than other cigarettes, but stopped short of limiting their sale. A friend might be interested in reading that item.
Nasa has released photos of the Earth and Moon taken by a spacecraft orbiting Saturn - nearly a billion miles away. Our planet and its only satellite appear only as dots in the picture, which was taken by the Cassini spacecraft on 19 July. Yes, dear Breth, a mere dot in the great scheme of things.
Guns! There are those against and those in favor. But what if you were about to be attacked by an angry grizzly?
There I go again. I thought I'd check GN and Justin's blog before updating today's Waffle and got caught up writing a piece for Justin's blog. Suddenly I was immersed in what I was doing and forgot all about updating Waffle. Writing does that ya know... it consumes you totally. Anyway, telly time and dinner time. No doc and no dentist tomorrow. The day's all mine! BTW, Greg, I wrote a short thank you today and it bounced. Gary
July 23, 2013. Back from seeing my GP about the skin cancer on my neck. It comes off tomorrow. He spotted a few others too for later. He had an attractive female student with him, so I explained to her that David was being unusually nice to me because she was there. "He normally shows me the door after about 30 seconds. Can't wait to get rid of me."
Then I drove out to Ford and asked to have the tow ball undone, which they did with a pneumatic thingy in the service area. It was quite an experience watching PJ being driven into the work area looking so damn tall! I said to the young bloke when he got into PJ, "Don't tip it over!" When he returned to the parking area after the job, he said, "You haven't rolled it yet?" Har de har har. Anyway, they were very nice about it all and did the job for free, as well as straight away. So now I can check how/if the bicycle rack affects the rear view cam. Incidentally, the cam worked well on the drive out there and back. Sure makes a diff being able to see what's directly behind.
I must admit, though, driving at speed around bends in the road still makes me a little nervous! I need more practice.
TX Greg wrote: Was glad to see the TXG-TV is online and ready for whatever might happen into view :) I'm getting even more impressed with Andrew's work. It really shows that he takes pride in his work and enjoys his job at the same time. That's very hard to find these days. And he even had time to drill your crack, hahaha. Speaking of cracks, I think I spot two in the rearview cam...
Oh you knew that pic was coming :)---
Actually, you surprised me, Greg. But I posted it on the GN forum already hehe. That'll get their tongues wagging.
Goodie, goodie gumdrops, my cambuckle tie downs arrived, and the new smoke alarm - and a big black cloud. I was down the yard enjoying the sun when whammo, instant cloud. However, I tried the new smoke alarm using the battery from the previous dud and it works great. It's identical to the previous one's housing so it fits the clip-on backing plate already velcroed to the ceiling. Perfect! I also checked the bicycle rack. Oops! The pole sits right in front of the cam lens, and also stops the pole from sitting 100% vertically on the hitch. So, Andrew will have to move the cam next time he's here.
FL Josh wrote: As to my suggestion that when you buy two new tires to replace the spares, you make sure your best rubber is on the road, you say, "Not so simple, Josh. The tires on the car are new too - or near enough to it. I've only traveled about 1000 kms since I bought it." But in the Waffle of June 20, 2013, you said, "I had the two front tires replaced with 8 ply light truck tires. The rear tires are fairly new and also 8 ply light truck." I'm betting your conclusion that the rear tires were "fairly new" was based on the tread left on them, but tires dry rot and have to be replaced for safety.
Josh is in lawyer mode hehe. But it's true. The tires on TT were pretty ancient so I discovered, and the steering was incredibly heavy. So I dumped them for new ones all round and the difference was amazing. Steering was much lighter (almost like having power steering) and handling was dramatically improved.
Again, safety. With PJ having so much flat surface on the sides for the wind to hit, you need everything possible in your favor as far as handling goes, so when a strong crosswind hits you, you can keep things under control. I was driving a VW bus across a high bridge once and cross wind hit it and blew it into the lane next to me. Fortunately there wasn't another car there, but it was scary.
Yes, I had my Kombi for 8 years and often managed to change lanes without moving the steering wheel. Hehe. One time on a long, straight road that crossed a huge flat plain, the wind was so strong I had the wheel on 1/4 lock into the wind just to keep the damn car on course! But Kombis were very light not to mention underpowered.
Speaking of cars, Andrew's Holden Rodeo (Isuzu) is a '96 with 320K on the clock and still going strong. Mine has 165K (kilometers, that is).
As to the video on the Riverdance, I wasn't able to load the video, getting a "Page not found" error, but found it here.
From the Beeb: The Duchess of Cambridge has given birth to a baby boy, Kensington Palace has announced. The baby was delivered at 16:24 BST at St Mary's Hospital in Paddington, west London, weighing 8lb 6oz. The Duke of Cambridge said in a statement the couple "could not be happier". He and the duchess will remain in the hospital overnight. The news has been displayed on an easel in the forecourt of Buckingham Palace in line with tradition.
The top US military officer has outlined the costs, risks and benefits of possible American military involvement in the Syrian conflict. Joint Chiefs of Staff chairman Gen Martin Dempsey offered five military options, including limited strikes and establishing a no-fly zone. But he said using force in Syria would be "no less than an act of war" and could cost the US billions of dollars. Yep, been there, done that.
Ten people were left with minor injuries after a plane's nose wheel collapsed when it landed at New York's LaGuardia Airport, officials say. Six of the casualties were taken to hospital after Southwest Airlines Flight 345 skidded off the runway, said airport general manager Tom Bosco. Emergency vehicles surrounded the Boeing 737 from Nashville, which had 143 passengers and six crew on board.
A woman has been fined for taking her horse into a McDonald's restaurant in Greater Manchester. Police said the woman, who has not been named, was in the saddle when she was initially turned away from the drive-through kiosk on Bury New Road. The woman then led the animal inside, where it "ended up doing his business on the floor", a Greater Manchester Police (GMP) spokesman said. McDonald's said it was unable to serve customers on horseback. Old MacDonald had a farm, E-I-E-I-O...
Got a note from Red Bubble today - I made a sale! Yes, folks, one of my pics (old biscuit tins and collectables at a Taree fair) sold as a postcard. But here's the best bit. My commission is 24 cents. Hehe. And speaking of RB, I've been meaning to link a second shot of the Milky Way. I linked one the other day of an abandoned country church and the stars just before dawn which was magic. But when I saw this second one I was totally blown away. It looks for all intents and purposes like it was taken from another planet. The photographer lives in the Taree area too.
Bloody cold this morning - not a good time to be planting naked buns on cold toilet seats, ladies and genitals! Tomorrow will be the same, cold overnight and morning then 17 and sunny. But the rest of the week and weekend will be around the 20-22C mark which is mucho better! (68-70F) Still and all, I'll be glad to see the end of winter.
Were you born between 1925 and 1970? Are you awesome? Check this out.
I thought Art might enjoy that one.
And so say all of us... that time of day again, folks. Hooroo time! I go under the scalpel tomorrow but not before I get stabbed in the neck. Hehe. Oh such fun it is to ride in a one horse open sleigh. Gary
July 22, 2013. Well, it was quite a job fitting the rear view camera, but Andrew was very professional about it. The LCD monitor clips were a bit large to clip onto the existing mirror so the old bicycle tube I had in the garage came in handy for a bit of rubber padding. Then Andrew removed the roof lining, sun visor, and door frame trim to run the wiring out of sight to the back of the cab where it goes through a grommet and along the chassis to the rear of the truck. He also wired the camera to the ignition, which means the camera operates on accessories as well as full-on with the engine running. When PJ is moving, the camera is on permanently. It switches off when the ignition is switched off.
Then he put all the roof lining, door trim, etc, back together and it works like a charm, with a good wide view of the rear. I could never have done the job myself (even though the blurb says it's a piece of cake).
Sorry about the tear in the seat. It's normally covered by the seat cover. A previous owner must've had a very large butt. The Courier was a QLD car originally.
Oops! The tow ball is directly below the camera, which means the bike rack will be directly in front of the camera. The rack pole is only 1.5" vertical pipe so it may not matter given the wide angle lens. But I can't test it till I can loosen the tow ball nut. I'll call into Ford tomorrow on the way back from the doc and see if they can do a quickie. If the bike rack is a prob, I'll get Andrew to move the camera next time he's here. BTW, that other lead is for the camper stop/indicator lights and plugs into a socket on the hitch.
Andrew also fitted the new Kenwood digital media AM/FM stereo and removed the old radio/cassette as well as the CD stacker (which I'll auction on eBay). AND, he drilled a little hole at the top of the porta potti crack. :o) He was here for about 2.5 hours which cost $220. Pretty reasonable I reckon. I also mentioned the gas fitting and he was quite happy to take care of that. First, though, there's the battery solenoid/isolator business, the external mains power socket, and a couple of radio antenna (the driver's cab stereo works but is missing the fender antenna, and the new one inside the camper is not fitted with an antenna yet - but the USB works great).
Just back from fiddling with the Kenwood and playing a USB drive with all my stuff on it. Great sound! The Altec speakers are those that came with the camper, built into the overhead cupboard which acts as a speaker box. Tons of volume and bass - enough to rattle the joint hehe. So I'm tickled pink with that. The inner shedness is improving all the time.
Stan the Lawn Man rocked up to check about the lawns being mowed tomrrow and gave his seal of approval to PJ and the work done so far. Naturally, he reminded me of the role he played in getting the damn thing on board the truck hehe. Yes, most important... as well as clearing all the under and overgrowth from the far side of the drive.
One thing I'm learning is that every time I fiddle around in PJ I need to put things away again in readiness for the next drive. Things left on benches or tables tend to become missiles on the road.
NC Art commented on the questions about Oz I posted yesterday, and managed to decipher the Russian greeting as well hehe: Watch out for those danged racing hippos. They always run north but arseswise.
VYISDER ASZMENI (Why is there as many)
ORZESARZES (horses arses)
AZDERIZ ORZES (as there is horses)
B. Corsz (because)
Zeris (there is)
Vunarz Perorze (one arse per horse)
FL Josh, on the other hand, was more interested in tires: You said you were going to buy "new tires for both spares." Put the new tires on the road and use your worst tires for the spares.
Not so simple, Josh. The tires on the car are new too - or near enough to it. I've only travelled about 1000 kms since I bought it.
From the Beeb: Many people might think of office-bound life as a modern phenomenon, but there's a long history of people chained to their desks, explains Lucy Kellaway. In medieval London the old St Paul's Cathedral used to dwarf everything around it. Now it is dwarfed - by offices. The Shard, Canary Wharf, NatWest Tower - offices dominate the skyline.
Every household in the UK is to have pornography blocked by their internet provider unless they choose to receive it, David Cameron is to announce. In addition, the prime minister will say possessing online pornography depicting rape will be illegal. Apart from the obvious. who's to say what is pornographic and what isn't? Or what is offensive and what isn't?
Irish dancers have set a world record in Dublin for the longest Riverdance line. More than 2,000 people from 163 dance schools in 44 countries gathered on the banks of the River Liffey on Sunday. The previous record of 652 people dancing in a continuous line was held by Nashville, Tennessee in the United States. The Dublin performance was led by New Yorker Jean Butler, the lead dancer in the first ever show of Riverdance in 1994. I love Irish/Riverdance - in small doses, that is. Check out the vid.
England crushed Australia by 347 runs at Lord's to take a 2-0 lead in the (cricket) series and tighten their grip on the Ashes urn. The hosts bowled Australia out for 235 late on the fourth day, having set them a notional 583 to win after declaring on 349-7 when Joe Root was dismissed for 180. Don Bradman's 1936-37 Australians are the only team in the 136-year history of Test cricket to have come back from 2-0 down to win a series. Bloody Poms.
Well, it's been a pretty full on day but I'm delighted with the progress on PJ. BTW, I mentioned to Andrew the bonus use of the rear view camera in beachside car parks hehe. Naturally, I blamed TX Greg for coming up with the idea. It'll be great to park at the Mall without having to find a "drive through" spot. I'll be able to reverse now without a prob. I'm pleased with the Kenwood as well and being able to use USB drives. The little MP3 player is cool too but you don't always want to be wearing ear buds.
So now it's time to settle back, relax, catch up with world events on telly and throw a bit of Mongolian down the screech. Gary
July 21, 2013. What a lovely day! Bright and blue and headed for 19C which ain't bad. TX Greg commented: Did anybody else notice how stupid that bloke looked in the Ozcape vid yesterday. Every scene he just stared at the camera. And then it shocked me that he let the jacks down on the grass without any support boards underneath. I'd like to see them do that after a good rain, hehe
I must admit, the Ozcape presenter wasn't exactly Mr Sparkling Personality. As to the support boards, I've stored the ones I used before PJ was mounted in the bin with the jacks. Handy to have. Matter of fact, I'm just back from arranging all the jacks, bicycle rack, rake, gray water hose, spare chains and turnbuckles (in a cardboard box), etc, so they all fit neatly into the bin. BTW, one of the GNs yesterday said he uses a cordless power drill to operate the jack cranks instead of the handles. Not a bad idea.
Here's a paste of a GN comment, a scenario I've never heard of before: Had a very scary experience with a bush fire yesterday. Sitting in the shade at Bridge Creek rest stop between Katherine and Darwin when heard what sounded like thousands of fire crackers all going off. Looked up to see a bush fire roaring towards us on the other side of the highway. I can't remember ever feeling so frightened because I thought we were going to be trapped, but thankfully the wind changed and it continued along the highway in the other direction. One of the other campers here told me that a certain bird (I can't remember its name) deliberately starts fires by picking up a burning piece of wood from miles away and dropping it into the bush. It then circles around ready to catch small animals as they run from the fire. Not sure if it is true, but I couldn't believe how one minute everything was so peaceful and then the next thing a roaring bushfire erupts without warning.
What happens to old Olympic stadiums? OR Richie sent this link to an eerie look into the past: What happens to Olympic facilities after the games are over? Well, some are turned into tourist-attracting parks, training facilities, theaters, concert halls, malls, museums, gymnasiums, biodomes, housing, and even prisons -- repurposing that obviously could never compare to their original states of glory. However, what one would never expect is for some of these sites to go entirely unused, shamefully rotting away after billions of dollars had gone into their creation.
Inner shedness...
From the Beeb: Protests have taken place in more than 100 US cities, a week after George Zimmerman was cleared of murdering unarmed black teenager Trayvon Martin. Demonstrators demanded federal charges to be brought against Mr Zimmerman, 29, over the February 2012 incident. A Florida jury agreed that the neighbourhood watch volunteer killed the 17 year-old in self-defence.
Superman and Batman are to appear in the same film for the first time, it has been revealed, to the delight of many fans of the popular characters. The surprise announcement was made by Zack Snyder, who directed the most recent Superman film Man of Steel. Yeah... and how about Jesus and Mohammed?
US fighter jets dropped inert bombs on the Great Barrier Reef off Australia's coast during a training exercise that went wrong, it has emerged. The two planes jettisoned four bombs in more than 50m (165 ft) of water, away from coral, to minimise damage to the World Heritage Site, the US navy said. The emergency happened during the training exercise Talisman Saber, involving US and Australian military personnel.
Helen Thomas, a trailblazing journalist who covered the White House for nearly five decades, has died aged 92. She died at her Washington apartment after a long illness, the Gridiron Club, Washington's historic press organisation, said. Ms Thomas covered the administrations of 10 presidents and was known for asking difficult questions.
Rolls-Royce at the drive-in. Launched in 1952, the ocean liner SS United States demonstrated that speed and luxury were not mutually exclusive, crossing the Atlantic at a record average speed of 41mph – presumably without spilling the champagne. In a reciprocal gesture 60 years in the making, the British have sent back across the Atlantic the 563-horsepower, 6.6-litre, twin-turbo Rolls-Royce Ghost Extended Wheelbase. It similarly pairs incomparable luxury with improbable speed, thanks to its combination of leather, wood and V12 muscle.
There's a peewee outside convinced that another peewee exists in the Courier's rear-view mirror. He/she is fascinated by the image. It flits from one mirror to the other, trying to figure out how the hell the other bird manages to do precisely the same thing. Hehe. Or maybe it's two birds?
Yes, I've been meaning to mention that thousands of Yanks are in Oz at the mo. I heard the figure 17,000 but I'm not sure if that means all Yanks or a combo of Yanks/Aussies (and interpreters, of course) involved in the training exercise in coastal Queensland.
Speaking of interpreters, one GN posted this Russian greeting card on the forum:
VYISDER ASZMENI
ORZESARZES
AZDERIZ ORZES
B. Corsz
Zeris
Vunarz Perorze
Can you figure it out?
Questions asked by people from overseas intending to visit Australia:
Q: Does it ever get windy in Australia? I have never seen it rain on TV, how do the plants grow? (UK).
Q: Will I be able to see kangaroos in the street? (USA)
Q: I want to walk from Perth to Sydney - can I follow the railroad tracks? (Sweden)
Q: Are there any ATMs (cash machines) in Australia ? Can you send me a list of them in Brisbane, Cairns, Townsville and Hervey Bay? (UK )
Q: Can you give me some information about hippo racing in Australia? ( USA)
Q: Which direction is North in Australia? ( USA)
Q: Can I bring cutlery into Australia? (UK)
Q: Can you send me the Vienna Boys' Choir schedule? (USA)
Q: Can I wear high heels in Australia? (UK)
Q: Are there supermarkets in Sydney and is milk available all year round? (Germany)
Q: Please send a list of all doctors in Australia who can Dispense rattlesnake serum. (USA)
Q: I have a question about a famous animal in Australia, but I forget its name. It's a kind of bear and lives in trees. ( USA)
Q: I have developed a new product that is the fountain of youth. Can you tell me where I can sell it in Australia? (USA )
Q: Do you celebrate Christmas in Australia? (France)
Q: Will I be able to speak English most places I go? (USA)
Well, there goes another weekend. Andrew will be here tomorrow morning so that's another job (or maybe two) done. I'll ask him about the gas too. Got an early appointment with Nancy as well, and my GP on Tuesday. Otherwise, a pretty uneventful week. My PJ spending spree is virually over with only a few minor things to get... one of which, I thought, might be a kiddies inflatable wading pool so that I can shower on dirt without creating mud.
Actually, there are a couple of major-ish things on the shopping list - roof rack with basket, extra spare wheel, 2 new tires for both spares, and high-back folding arm chair. But they can wait. And now it's a bit of telly and Mongolian. Gary
July 20, 2013. Satdee, and after all those lovely sunny days it's raining. Bleh. So Andrew phoned to say he'll be here Monday, which will be sunny but cooler. So will tomorrow. Yesterday was 23C which is most unusual for winter in this temperate clime.
Here's an Aussie camper being loaded and unloaded onto a truck similar to mine (single wheel). The tie downs are similar as well, but attached to the chassis rather than the tray like mine. I have two extra turnbuckles attached to chains on the tray uprights, plus two bolted "stoppers" at the rear to prevent possible backwards slide.
Here's a pic of a pop top slide-on sitting on pallets like I was gonna do with PJ. Now mine sits on the tray between the side rails. The tie downs on this camper are also attached to the chassis (more noticeable on the larger pic).
Recently, a female police officer arrested Patrick Lawrence, 22 year old white male, fornicating with a pumpkin in the middle of the night. The next day, at the Gwinnett County (GA) courthouse, Lawrence was charged with lewd and lascivious behaviour, public indecency and public intoxication.
The suspect explained that as he was passing a pumpkin patch on his way home from a drinking session when he decided to stop, 'You know how a pumpkin is soft and squishy inside, and there was no one around for miles or at least I thought there wasn't anyone around,' he stated.
Lawrence went on to say that he pulled over to the side of the road, picked out a pumpkin that he felt was appropriate to his purpose, cut a hole in it, and proceeded to satisfy his pressing need. 'Guess I was really into it, you know?' he commented with evident embarrassment. In the process of doing the deed, Lawrence failed to notice an approaching police car and was unaware of his audience until Officer Brenda Taylor approached the side of his car.
'It was an unusual situation, that's for sure,' said Officer Taylor. 'I walked up to Lawrence and he's just banging away at this pumpkin.' Officer Taylor went on to describe what happened when she approached Lawrence ... I said: 'Excuse me sir, but do you realize that you're having sex with a pumpkin??'
He froze and was clearly very surprised that I was there, and then he looked me straight in the face and said: 'A pumpkin? Shit! ... is it midnight already?'
~~~~~~~~~~~~~~~~~~~~~~~~~~~~~~~~~~~~~~~~~~~~~~~~~~~~~~~~~~~~~
Wanna read a true love story? OR Richie married his teenage sweetheart not long ago after many years absence but it pales compared to the couple in this story who hadn't seen each other for 70 years before meeting again and getting hitched.
From the Beeb: President Barack Obama has said that "Trayvon Martin could have been me, 35 years ago", in his first comments on the case since last week's verdict. The unarmed black 17-year-old was shot and killed in Florida in February 2012. In an unexpected press call, Mr Obama said very few black men in the US had not experienced racial profiling. Also, very few have experienced living in the White House hehe. You tell 'em, Barack.
Police have restored order after rioting broke out at an Australian-run immigration detention camp on the Pacific island state of Nauru. Reports said several buildings were set alight on Friday and the camp's medical centre had been destroyed. Australian immigration officials said about 150 asylum-seekers were involved. I can empathize with their boredom and frustration. Processing is impossibly slow and complex.
Roite, time to do a little expensive toy shopping...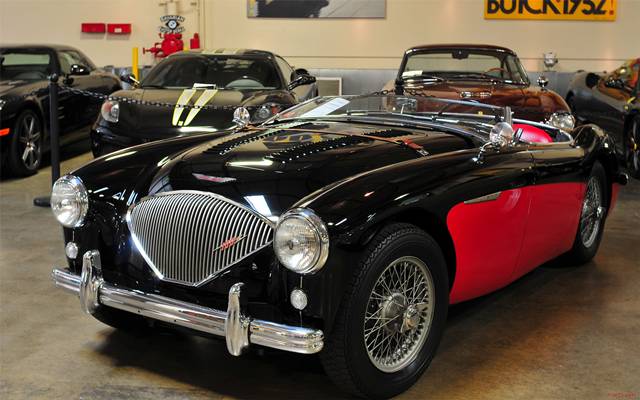 I think the problem with being rich enough to buy such toys is that you'd miss out on the pleasure gained from ordinary things. I've had a wonderful time lately buying stuff for PJ. Reminds me of a photo I saw of an Austrian kid during WWII with a new pair of shoes. He was ecstatic. The rest of his clothing looked like cheap hand-me-downs. So you have to wonder who got the biggest buzz... the kid with the new shoes or the bloke who bought the Austin Healey. Or me when I won the auction for the camper. Actually, I was a bundle of nerves cos I'd gone into debt and hardly had a bean left to bless myself with.
Yes, I really do question the value of being able to afford the things you want without pain. Since being on the pension and having to make ends meet by being careful with my spending, I've learned a great deal about the value - true value - of things. I know that NC Art has fond memories of tough times when he was a kid growing up on a farm, and I have a feeling Art's memories are far more precious than those of someone with a privileged upbringing.
BTW, OR Richie said he really enjoyed those Nature photos Art sent and which I assembled into an album posted yesterday. Very noize indeed. We really do inhabit a beautiful planet. Which reminds me: here's a photo Mieke took of a beach reflection. Notice how she captures unusual detail that makes her images so much more interesting. Here's another Mieke image of a fisherman on a rock, brilliantly composed. Make sure you click enlarge.
Yep, not a bad slice of cosmic real estate, this one. Hehe. And that will be something I'll be paying more attention to when PJ and I amble off into the great beyond. My Nikon will earn its keep as well.
Been a fairly quiet one today, Ls & Gs. Pity about Andrew not turning up but Monday will do. The only inner shedness I did today was check to see if the bicycle rack will fit in the center storage bin where the camper jacks go. Yep, no worries. So now it's time to catch a bit of telly and sample some more of the Mongolian stuff I made, which was pretty tasty. Gary
July 19, 2013. NC Art forwarded a series of stunning pics of Nature at its most colorful and beautiful yesterday, so I turned them into an album which you can view here.
Art also commented on FL Josh's comment about language: Language can indeed be a barrier to understanding. When General Motors brought out the Chevrolet Nova with great fanfare, they were mystified by the great guffaw in Mexico as the folks there beheld the highway bill board adverts. Uh, NO VA translates "does not go" in Spanish.
Meanwhile, Josh, who thinks our PM is better off looking like a dentist than a realtor, had this to say about Greek gods: As to Adonis choosing chasing a wild pig rather than a romp in the sack with Venus, there is more to the story. According to legend, Adonis was a mortal lover of Venus (Aphrodite to the Greeks), but only mortal in the sense that he could die. He was the ever-youthful vegetation god, sometimes referred to as the mortal god of beauty, and was annually-renewed, making him a death-rebirth-deity, also known as a dying-and-rising god, something he had in common with Jesus.
Adonis's parentage is confused but the most accepted version is Cinyras, was a king of Cyprus and inventor of the flute, had a daughter Myrrha, who impelled by an unnatural lust for her own father, slept with him, became pregnant, and asked the gods to change her into something other than human; she became a tree from whose bark myrrh drips. From this incestuous union sprang Adonis. Cinyras committed suicide over the matter. This left the baby Adonis fatherless and with a tree for a mother, so he was cared for by the Greek god Aphrodite (Venus to the Romans), who was the goddess of love, beauty, pleasure, and procreation. Aphrodite was born when the Titan Cronus, a son of Zeus, cut off the genitals of Uranus (god of the sky) and threw them into the sea. Aphrodite arose from the sea foam. Aphrodite would often let the Greek goddess Persephone (Proserpina to the Romans), care for Adonis.
Persephone, was a daughter of Zeus, and became goddess of the underworld when abducted by Hades, the god-king of the underworld. Hades was the son of Cronus, so Hades was Aphrodite's brother.
Both Aphrodite and Persephone got the hots for Adonis, and Persephone decided she wasn't going to give Adonis back to Aphrodite. Zeus settled the disagreement saying Adonis would spend one third of the year with Aphrodite and one third with Persephone and the remaining third, he could spend anywhere he wanted. Adonis chose to spend that remaining third with Aphrodite, so Adonis and Aphrodite/Venus were spending lots of time together, so the fact that on that one day he chose to go chase a wild boar, was not as bad as NC Art makes it seem, especially since hunting was Adonis's thing.
Incidentally, your writing style and comments of late suggest to me you might be back to sampling the wine again!!!
Now isn't that interesting! As I left Nancy's dental surgery the other day I said, "I used to drink a lot once, and I was always silly. Now I don't drink at all and I'm still silly. How do you explain that?" And she answered, "Genetic." Hehe. It's the dry mouth thingy I have that makes wine taste yukky so I choose not to imbibe. The money I save goes on PJ. Nonetheless, I look forward to the dry mouth thingy getting better one of these days so I can go back to enjoying a tipple.
I hadn't realized how complicated and intricate the Greek god family was but, come to think of it, it's not surprising since all those gods are the result of fertile human imagination and the desire to explain the existence of all things. As an athiest, I believe all religions have their origins rooted in superstition. Never let the facts get in the way of a good story.
Steve W was devastated to hear that the squishy hose has a bad rep: I have one of these that I carry in my boat - they roll up on a reel and they last for years - not as compact as xHose - but will never split, break and the fittings are robust. You need to dry them out after use but basically the same material the real fireies (hoses) are made from. Ok, sure someone else has already suggested that too........I shall go and consume some Bloody Mary's......or something!
I said Hail Marys, Steve. He's obviously never been a good Catholic boy. That 'fireies' hose is a bit expensive! But I suppose you get what you pay for.
OR Richie said: Sounds like you kind of got "hosed" on the matter of the hose. It seems to me that some of those are good ideas poorly carried out with cheap Chinese labor and quality materials that... are not. The fancy recoil one I had could get a kinky leak if a fly bit it and I threw it away, but it WAS a good idea. Cheap garden hoses that are 9.99$ or something can kink up if a bird steps on it, so I gave up on that a buy really good rubber ones that stay the course for a long time.
Well, hoses aside, there goes another $55. 4 x cambuckle tie downs, hi-vis vest and reflective triangle for roadside breakdown, and an army-style folding spade with other built-in tools.
From the Beeb: Detroit has become the largest US city ever to file for bankruptcy, with debts of at least $15bn (£10bn). The city, once a symbol of US industrial power, is seeking protection from creditors who include public-sector workers and their pension funds. Detroit has faced decades of problems linked to the decline of its industry.
Disturbing images of the Boston Marathon bombing suspect have emerged the day after Rolling Stone magazine revealed the accused on its next cover. Police Sgt Sean Murphy released photos of Dzhokhar Tsarnaev taken when he was captured in Watertown, Massachusetts. The images, given to Boston magazine, show him with the red dot of a laser sight of a sniper rifle on his face. A number of US retail chains said on Wednesday they would not stock the Rolling Stone edition. Funny innit. That photo on the current edition of Rolling Stone was printed by numerous newspapers and shown on millions of television screens but when Rolling Stone publishes it it causes a stink. Does anyone remember the stink caused by a photo of Charles Manson on the front cover of Rolling Stone? No, I don't either. As to the criticism of RS turning Tsarnaev into a pop star, that's absurd. The article is a study of the reasons behind Tsarnaev turning his back on decency to become a violent radical, and is typical of Rolling Stone's exemplary journalism.
Primitive society was not driven by war, scientists believe. Researchers from Abo Academy University in Finland say that violence in early human communities was driven by personal conflicts rather than large-scale battles. They say their findings suggest that war is not an innate part of human nature, but rather a behaviour that we have adopted more recently.
Here are a couple of photos taken by a GN in Western Oz. Check out the second one overlooking the camp site.
Here's a website that rates various free or cheap camp sites visited by the people who run the site. Scroll down for some of the pics. This is the kind of "accommodation" I can look forward to.
And here is a little house built by a couple with a cat. It's not your regular motorhome but it does have wheels. I think it's cute as... Check it out!
And here we is again, the end of another Waffle. I'm going Mongolian tonight. Cooked up a Mongolian BBQ flavored dish with pork/veal mince and veg. Smells yummy so I'll look forward to having that with noodles. Hopefully, it'll be fine tomorrow (beautiful day today but a little cloud on the way) for Andrew to do a bit more work on PJ - I think the rear view video cam is next and maybe a few smaller jobs. I'll also ask him about the gas. Also, I tried encouraging the wrench with a hammer today to loosen the tow ball nut but nope. Damn thing won't budge. Soooo, time to post this, catch some telly, and stack up some zeds. Gary
July 18, 2013. Steve W wrote re the squishy hose: Ok, hadn't been paying attention and may have missed a day or three ......... have stood in the corner for 30 minutes as penance! But at least it shows I am thinking of your comfort and convenience.
Wot? No Hail Marys? That's true, Steve, and I'm humbled. On the other hand, OR Richie wrote: Cool hose you had on WAFFLE. I don't like them. I had one like that which also had "automemory" recoil itself back up and it was a piece of crap. I have never had a damn good hose that was simply not a damn good hose.
And to exacerbate the matter, NC Art wrote: Before your hopes soar for that squiggly expandable hose, read some comments by unhappy users. They ain't exactly complimentary.
So I believe. One GN said hers sprang a couple of leaks after only two uses. Oh well... if that's the case, I'll survive. Nothing beats the blunders I made a few years ago with Bluey and Das Busse. Meanwhile, Art goes on to say...
Uh, the statue photo along with your comments on Greek god-boys must represent Adonis … the stupid kid who ran off to kill a wild boar instead of rolling around all afternoon with Venus, who was hothothot for his body. Except, the kid was dressed in goofy looking duds and is much too muscular to pass the Greek critics.
Ah love, while I have you here within this ivory pale
I shall be a park and thou shalt be my deer;
Graze on my lips and if those hills be dry
Stray lower where the pleasant fountains lie.
This after Venus had pulled Adonis down on top of her in the grass, but the stupid bastard was blushing with shame instead of getting it on. Next he tore loose and ran off after the hog, which trampled him to death and chewed him to pieces. Ah, what fools these mortals be! Yes Puck, indeed we are. Shakespeare and Mozart dramatize that truth quite well.
The difference between you and me, Art, is that you know what you're talking about and I don't. Other than that, there's absolutely no difference at all.
The quarterly power bill just arrived. I could buy a second AGM battery and two 200W solar panels for that and get loads of free electricity! The sooner I'm a vagabond, the cheaper it will be.
OR Richie liked the Austin Somerset I posted yesterday. A very pretty car, indeed. But Austin got all hairy-chested with the 90hp Atlantic version and all its bling hoping it would impress the Yanks: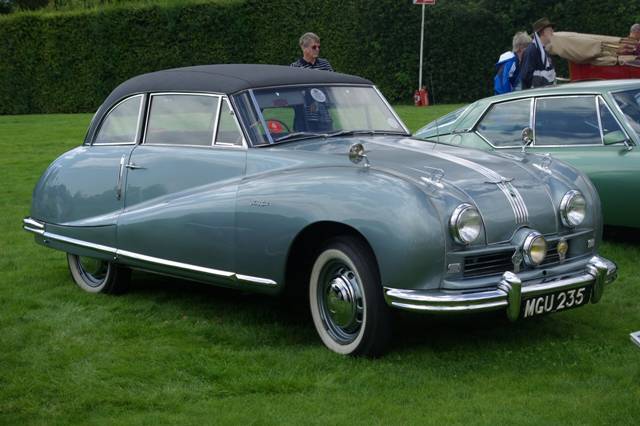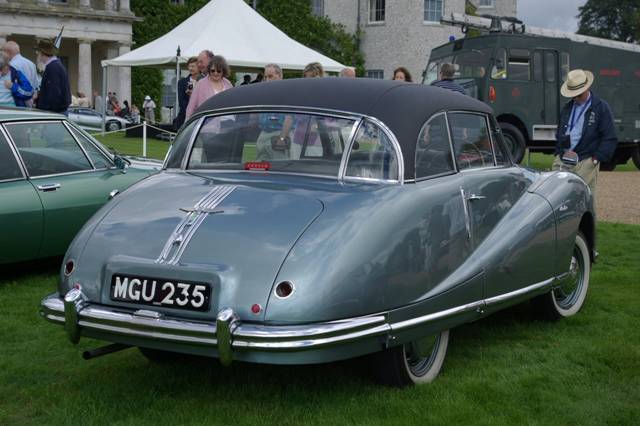 FL Josh wrote: I found the webpage for Jacana Motorhomes interesting. It is a Chinese company trying to convince Australians to spend their big Motorhome bucks on one of their fine machines, and talk about how wonderful they are. I have no idea how good their attention to detail is on their Motorhomes but I do know in creating that website for English speaking would-be customers, they didn't bother having someone who speaks English to proofread it. "This Product line is available for use of commercial coaches and also what we have based our range of new Motorhomes upon."
Almost as good as Aussie English. But I suppose the Chinese have a bit of a laugh at the way Westerners write Chinese when they're trying to sell them something. BTW, our PM speaks Mandarin. How about that? Since Kevin Rudd was re-installed as PM after winning the leadership challenge against Julia Gillard, Barry Humphries (alias Edna Everage) remarked, "Now we have a Prime Minister who looks like a dentist." Hehe. I mentioned that to Nancy this morning when I had my weekly squirt and she wasn't amused.
From the Beeb: Nelson Mandela is set to spend his 95th birthday in hospital in Pretoria, as events take place around the world and in South Africa in his honour. South Africans are being urged to match the former president and anti-apartheid leader's 67 years of public service with 67 minutes of charitable acts.
A Pakistani Taliban leader has sent a letter to schoolgirl Malala Yousafzai, 16, expressing shock that she was shot by Taliban gunmen last year. The Taliban were universally condemned after gunmen shot Malala in the head. In his letter to Malala, Adnan Rasheed stops short of apologising but says he wished the attack "had never happened". He also claims the shooting was not in response to Malala's campaign for girls' education, but because she ran an anti-Taliban "smear campaign". Sorry we got it wrong, guys. Consider your reputation restored.
In 1957, the space race was heating up. After the Soviet Union launched Sputnik into orbit, the United States was desperate to catch up. Dr Wernher von Braun and other top engineers struggled to find a solution to the US rocket programme's failures, so they turned to Mary Sherman Morgan. In the early 1950s, Morgan was the only female analyst among 900 rocket scientists at North American Aviation. She was also one of the few without a college degree. While von Braun became a familiar figure in newspapers and on television screens across the country, Mary Sherman Morgan's story is more obscure.
Rolling Stone magazine has defended its new cover story featuring Boston bomb suspect Dzhokhar Tsarnaev, which has prompted uproar. The magazine said a profile of Mr Tsarnaev suited its "commitment to serious and thoughtful coverage". But the mayor of Boston said the publication's cover "rewards a terrorist with celebrity treatment".
Online payments broker PayPal has admitted it erroneously credited a man with $92 quadrillion (£60 quadrillion). Chris Reynolds, 56, of Pennsylvania, found the amount when he opened his monthly statement. But the error was quickly recognised and his account had returned to zero by the time he had logged in. Gives new meaning to the adage, easy come, easy go.
Back to that 16 y/o girl who was shot by the Taliban... I think her bravery and televised speech the other day has probably done more harm to the Taliban than the entire Afghan war! If ever the Afghan people needed a hero and role model, she's the one.
Whoosh! The day went quickly again. Didn't even get a chance to enjoy a dose of inner shedness except to try the wrench on the tow ball nut which still won't budge even after a liberal spray of WD40. Next time I'll try using a little coaxing with a hammer. If that doesn't work, I'll get Ford to loosen it during the next service.
So, till tomorrow, it's off to the land of telly and noodles. Gary
July 17, 2013. July, right? Winter, right? It's so warm in the sun I had to take my top off. According to the local weather web site it's 22C but it feels warmer than that in the sun. Anyway, PJ has had a good fiddle. Wasn't there a Cuban bloke named Fiddle? Castro, I think. Someone saw him standing on a roof one day and wrote a song about him. If I were a rich man... Hehe. Yeah, too much sun. Aaaaanyway, I buggerized around for a bit with a few things - nothing mind blowing - including using the new wrench to undo the tow ball bolt. Yeah, right. That thing won't budge. I'll give it a squirt of WD40 and see what happens.
For the last 12 years my Willow cooler box and ice bricks (with a mini cooler that fits inside) has been sitting in the garage gathering not just dust, but major crap. So I cleaned it all up almost like new and now it has its place in a PJ storage bin. It needed a bit of clever maneuvering to get it in but once in it fits well.
Steve W wrote: Not sure if you have come across this little devil yet ........spotted on late night TV. A hose, that expands and contracts, is super light weight and compact. You will need to carry a hose and they can be very bulky and blood cantankerous critters. This one seems like a good concept. Two caveats - cannot leave out in the cold in winter and cannot be left exposed to the sun.......but apart from that, you can do anything! Hey maybe worth a look and is pretty reasonably priced.
Steve? Are you paying attention? FL Josh gave teacher an apple weeks ago, and one of those squishy hoses - 50 ft - is on its way. It's taking ages! The seller explained that "our supplier" is doing the posting so they're probably somewhere up in the mountains of Doodlewang Provence, China. However, I do appreciate the tip.
TX Greg wrote: Just wondering if the plumber/gas fitters you are calling are equipped to do the complete job. Those guys do work on houses and not RV's as the norm. We know you need to replace that old LP regulator and hose. The system needs tested for leaks and the new regulator needs to be set to the proper pressure. And there's also checking the fridge burner and flue. Have you tried to see if there is a mobile RV mechanic? Did you think to ask Andrew?
You should drive PJ down the street to Jacana Motorhomes and have a chat. Perhaps someone there that knows their stuff might do a side job for you, or knows someone that can.
When I spoke to the last bloke, I mentioned "caravan" and he was cool about that. He comes from Harrington which is a touristy beach/lake town/resort so there'd be heaps of motorhomes and caravans around there. However, I will ask Andrew when he's here next time. I'm expecting him this weekend. Andrew spent 3 years on the road touring Oz with his missus so my guess is he's familiar with all things camping. He's also a farmer soooooo... go figure.
It's amazing how much stuff I've collected over the past few years, and more recently, with AO in mind, plus bits and pieces I already had, like the cooler box/s. But it all fits into PJ no worries, with plenty of room left for camp furniture, etc. It's mind boggling! It's like I'm getting ready for an expedition to the Antarctic or something. You name it, I've got it. Even a bicycle built for two ... buns. No camels, though.
From the Beeb: Fugitive US intelligence leaker Edward Snowden has applied for temporary asylum in Russia, officials say. The Federal Migration Service confirmed he had completed the relevant paperwork at Moscow's Sheremetyevo airport, where he has been for the past three weeks. He has no travel documents, so has been unable to take up asylum offers from a number of Latin American states.
The bill allowing same-sex couples to marry in England and Wales has passed its final hurdle in Parliament. The government legislation is now due to get royal assent, after which it is likely to become law later this week.
As a kid coming home from the Satdee Matinee, sometimes we'd see a wedding at the local Methodist Church and sing,"Here comes the bride, big fat and wide". Kids nowadays will probably sing, "Here comes the groom, who the hell is whom?"
A boat carrying about 150 suspected asylum seekers has capsized off Australia's Christmas Island, with four people confirmed dead. Border authorities said two naval vessels had rescued 144 people from the water after the capsize on Tuesday. The vessels were escorting the boat to a detention centre on Christmas Island but the ship overturned in rough seas. People ask why those people take such a high risk sailing the vast oceans in leaky boats seeking refugee status in Oz. But they will tell you they having nothing to lose - that death is no worse than the life they are fleeing.
An unusual new species of dinosaur, unearthed from the deserts of Utah, has been described by scientists. The 5m-long (15ft) beast is a member of the triceratops family, but with a huge nose and exceptionally long horns, palaeontologists say it is unlike anything they have seen before. It has been named accordingly as Nasutoceratops titusi, which means big-nose, horn-face.
The scientists who escaped the Nazis: When Gustav Born's family were advised in early 1933 that it was time to leave Nazi-controlled Germany, it was from a good authority. The advice was from Albert Einstein, who told his friend and fellow scientist Max Born to "leave immediately" with his family while they were still able to travel.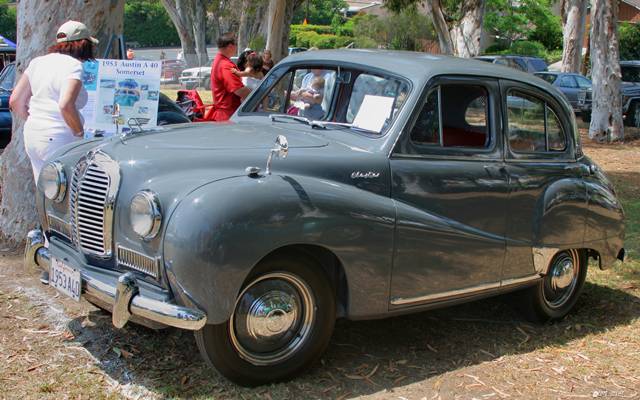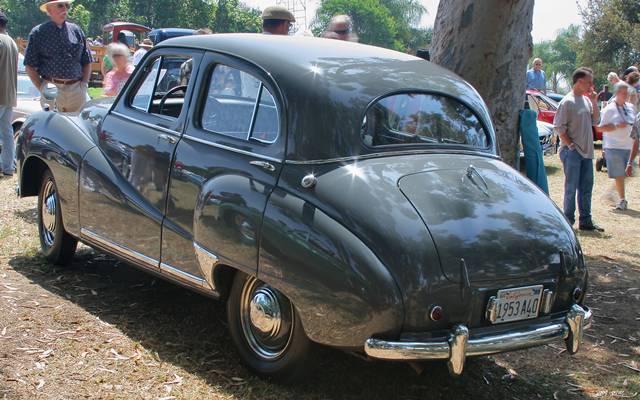 Now, what's the significance of that 1954 Austin A40 Somerset? Well, for starters my Uncle Andy had one and I remember thinking what a nice looking car it was. But it is also typical of cars made during that era with "the Jaguar look" - headlights mounted inside the fenders near the radiator grill. The Americans were doing the wide horizontal thing with their front ends, but the Brits wanted to keep their traditional tall/narrow radiator style. The positioning of the headlights on this Austin and other British cars of the early to mid 50s like Rolls, Jag, Armstrong Siddley, MG, etc gave the grill a wider look without going horizontal.
5.30pm now and no heater. Don't need it. According to the forecast we're in for a similar day tomorrow and Friday. No complaints from me! It's also pay day tomorrow, so my credit cards will get a few extra Bandaids. I haven't been spending my PJ budget lately except for a few odds and ends, but I expect Andrew will grab a fistful on the weekend. Hehe.
In a few weeks from now, I'll be in Sydney to see the specialist and hear what he has to say about an operation on my lower gum. If that goes ahead, it'll be dentures time once the gum has healed. By then all the work should be finished on PJ. And then? No more excuses... time to hit the road. I think I'll do a few "test" camps first just to acclimatize myself to the Nomad Lifestyle before the Big Lap. Kinda ease myself in. I'm basically a wuss ya know. Gary
July 16, 2013. Two plumbers/gas fitters down, so I phoned a third this morning. Reliable Plumbing Services - sounds like my kinda plumber. He's up the Highway at Harrington but he does Taree as well. "Before you go any further, I won't be able to do anything for 2 months. I'm booked solid." Well, that explains a few things about the other two, but I admire his honesty. Anyway, I'm not going anywhere for a while so next time he's in Taree he'll pop in for a look. I reckon he could do my job in about an hour.
NC Art wrote: Today I saw a magazine picture of a Greek statue from the classical era, and was reminded of those old farts' search for perfection. In sculpture their artistic striving reached a place where the perfect proportion was attained. They thought so at least, and made it tantamount to law. A few hundred years of boring sameness prompted one rebel to move a foot slightly to suggest vitality and the dam burst. Others began to take liberties and art became dynamic … well, as long as the Hellenic classic civilization lasted.
But their statuary was amazing. Representations of young people, mostly males in that fleeting period before sexual characteristics began to manifest themselves caught beauty as something divine. I can recall several actual pubescent youngsters in that nether land and likened their innocent grace to Greek gods. Achingly beautiful!
Of course the Greeks were not hung up on modesty, fitting a nicely proportioned uncut penis and modestly proportioned testicles to the pretty boys. Hehe.
Yep, that transitional period when a youth is no longer a boy and not yet a man can embody a certain androgynous beauty with its own distinct attraction to both sexes. You see it often with young pop stars whose fans include both boys and girls.
Art also sent a great collection of witty Pub Signs which I've put into an album.
TX Greg wrote in relation to the way PJ stands out in a crowd: At least you'll always be able to remember where you parked her :) I think we all can relate to the "Were did I park the car?" And perhaps the sight of PJ may seem "ridiculous" as you're just still getting use to it.
FL Josh responded to yesterday's Beeb story about Zimmerman's not guilty verdict and the question asked by a protester with: My answer to that would have been "They acquitted O.J. Simpson!!!"
That story I linked to yesterday about huge deposits of oil around Coober Pedy in SA apparently hasn't attracted mainstream media attention because it's still in its early stages of exploration and investment. Critics say fracking may be required to exploit it which is a no-no for the Greens. However, the area is very remote. Atomic bomb tests were carried out there during the 50s and 60s. The other thing is that it's very expensive to set up business in Oz because of the high Australian dollar and wages. Multinational companies prefer to invest in places like South Africa. Here's another report on the story by a South Australian newspaper.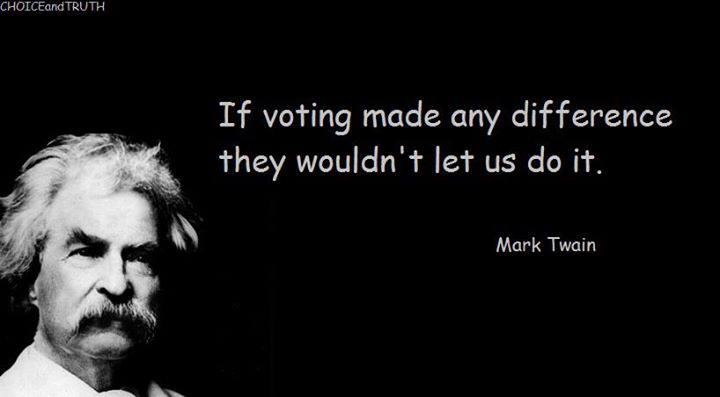 Stew died in a fire and his body was burned pretty badly. The morgue needed someone to identify the body, so they sent for his two best friends, Mick and Paddy. The three men had always done everything together. Mick arrived first, and when the mortician pulled back the sheet Mick said, 'Yup, his face is burned up pretty bad. You better roll him over.' The mortician rolled him over and Mick said, 'Nope, ain't Stew.'
The mortician thought this was rather strange. So he brought Paddy in to confirm the identity of the body. Paddy looked at the body and said, 'Yup, he's pretty well burnt up. Roll him over.' The mortician rolled him over and Paddy said, 'No, it ain't Stew.'
The mortician asked, 'How can you tell?' Paddy said, 'Well, Stew had two arseholes.' 'What? He had two arseholes?' asked the mortician. 'Yup, we never seen 'em, but everybody used to say: 'There's Stew with them two arseholes.'
~~~~~~~~~~~~~~~~~~~~~~~~~~~~~~~~~~~~~~~~~~~~~~~~~~~~~~~~~~~
From the Beeb: Miguel Angel Trevino Morales, head of the brutal Zetas drug cartel, has been captured in northern Mexico, the Mexican government has confirmed. Trevino Morales, known as "Z-40", was captured outside Nuevo Laredo, near the US border at dawn on Monday. One down and...
As an attorney for George Zimmerman, Mark O'Mara was a familiar figure for television viewers. His new-found fame highlights the phenomenon of the celebrity lawyer and their role in the US legal system. For two weeks, television viewers watched the trial of George Zimmerman, the Florida neighbourhood vigilante accused of second-degree murder. The jury accepted self-defence as justification for the shooting. The trial resulted in freedom for Mr Zimmerman - and in a new profile for O'Mara. Makes you wonder, yes?
American gas produced by the controversial technique of "fracking" is due to be exported for the first time. A $20bn project to prepare an export terminal is under way in Louisiana. The decision to sell gas abroad illustrates the extraordinary scale of the shale revolution in the United States with a further huge expansion forecast. Which makes it all the more difficult to export ours from Oz.
At the height of WWII, as deadly German V1 and V2 rockets were fired from northern France towards the UK, a country house by the banks of the River Thames became the centre of Allied attempts to discover the Nazis' test and launch sites. Hundreds of staff at RAF Medmenham in Buckinghamshire studied millions of grainy aerial images of northern Europe to try to find the final pieces of an intelligence jigsaw - known as Operation Crossbow. To mark 50 years since the first batches of WWII aerial photos were declassified, Allan Williams - from the National Collection of Aerial Photography in Edinburgh - has written a book about Operation Crossbow and the role photographic intelligence played to stop the doodlebugs and V2 rockets.
Speaking of the sky and space and stars and wotnot, I've been meaning to link to this photograph taken by a bloke I follow on Red Bubble. One cold morning, well before sunrise, he drove 2 hours SW of Sydney to an old abandoned church to photograph The Milky Way. How's that for dedication? But what a great shot! After a bit of experimenting I found that a shutter speed of 20 seconds at F 2.8 and ISO of 2000 gave me the result that I wanted.
No inner shedness today. The day got away too quickly. Before I realized it, it was after midday. Then after a bit of shopping (pharmacy had trouble getting my prescription) it was 2pm. The next two days are looking good weatherwise with no appointments sooooooo... PJ will get a bit of attention.
Here's a GN camping at Kununarra, northern WA near the border with the Northern Territory. 34C and 20% humidity. A pleasant spot near the river. Looks nice and flat for a bit of bicycle riding and sightseeing. Pretty soon I hope to be posting MY pics instead of those taken by other GNs. PJ sitting in Coles' car park just ain't the same.
Just read another GN's comment about that camp site. Apparently there's a local fresh water croc that comes around to check out the GNs at Happy Hour every day looking for handouts hehe. Sheesh.
Here's another GN camping pic... complete with pooch house.
Here's a paste from a GN's response to a newbie making plans to embark on the Nomadic lifestyle by the end of next year: Believe me you are doing the right thing. Best decision Karen and I ever made. Lucky to retire at 50 we thought maybe 2-3 years on road and back to work, but now starting 5th year travelling and absolutely no intention of giving up this life. So to continue this dream we too are putting the house on market and working on a plan to make sure it doesn't stop. You will be suprised how little you need. In fact we come home and ask ourselves why we need the big house full of furniture and all the trappings. We like a lot of grey nomads worked all our lives long hours putting up with crap of parts of the public, goverment red tape and the worry of the risks we had taken to try and make things work, to find we are happier than we've ever been in our caravan on some creek bank in the bush. Move if we want, stay if we want, go where ever we want whenever we want. So all I can say is just do it - just do it, you will have no regrets.
I read lots of comments like that from GNs who've been on the road for years, which is encouraging. If course, it's not a one size fits all lifestyle, but I hope it fits me. Some GNs who like to have an occasional break from travelling do house-sitting for a few weeks or a month or two, which is not a bad idea. Others become semi permanents at a caravan park. Most, though, get itchy feet and just keep on keeping on.
And there goes Chewsdee. Did I do anything constructive? Got a gas bloke (I think), wrote Waffle, took a pic, created an album of pub signs, contributed a bit to the GN forum and... well, that's about it. That'll do. Now I can watch The Drum's journos analyze and comment on today's political doings and enjoy a cuppa before dinner. L8erz. Gary
July 15, 2013. NC Art wrote to say he was a little confused about my new email addy. My ISP Comcen recently merged with Spintel so I have two email addys - comcen and spin - both of which work fine and arrive at the same mail box.
Wow! Strong words from a preacher man. But, he's an Episcopalian and we should forgive him a rare burst of warmth. Art
Tom Ehrich on Life & Faith
Jul 14, 2013 06:54 am
Right-wing contempt
By Tom Ehrich
It is tragic to watch contemptuous right-wingers declaring war on America.
With little heed for consequences on actual persons and on the national interest, they declare war on the poor, the hungry, Native Americans, the unemployed, homosexuals, immigrants, minority voters, women, military dependents, and public education.
They claim the moral high ground, but actually violate everything Jesus stood for. We should be reading the Beatitudes and Matthew 25 outside every legislature.
They claim to stand for small government, but actually disdain all government, from police forces to medical clinics, from food stamps to schools, from safe banking to protecting online privacy, from bridge and highway repairs to housing values.
They claim to be patriotic, but actually violate every reasonable value this nation holds dear, including values extolled in years past by genuine conservatives.
My father was one of those conservatives, a Taft and Eisenhower Republican. I cannot imagine him chasing after black voters, punishing pregnant teenagers, denying civil rights to homosexuals, wanting anything but the best for public schools, crippling the up-by-the-bootstraps advancement that he valued, or blaming the hungry for being hungry.
He was a man of honor. Our table grace every evening asked God to "make us ever-mindful of the needs of others."
These right-wing zealots aren't people of honor. They are thugs.
Our nation deserves better than a systematic effort to impoverish all but the precious few.
The right wing's scorched-earth campaign isn't about a theory of government or about strengthening free-market capitalism. It is about contempt. It is about nihilism.
It is willful self-destruction of an economy, a political system, an educational system, a history built on immigrants, and traditions of compromise and self-sacrifice - a campaign so reckless and mindless that it could take us all down, themselves included.
~~~~~~~~~~~~~~~~~~~~~~~~~~~~~~~~~~~~~~~~~~~~~~~~~~~~~~~~~
Meanwhile, TX Greg wrote: Well if you can get that glue to work on the porta potty you should be able to download with no problems, hahaha
Now THAT's gonna be an interesting experience - my first time on the porta throne. I'll be sure to write about it.
Nancy my dentist is back in town after 2 weeks in Sydney and 60 hours of lectures. She was asking about PJ and I mentioned how the handling has improved since I loaded the storage bins, keeping the weight down low. "Oh, yes," she said, "we saw that a lot on our trip to the Northern Territory - people loading too much stuff on their roofs..." So there ya go... she's done a few miles outback between drilling bicuspids, it seems.
Phoned the gas bloke again this morning and got the ol' I'm Unavailable at The Moment recorded message so I phoned another gas bloke. Same thing... leave a message after the tone. Sheesh.
OR Richie sent a link to this Youtube video of Abba singing Move On. Even if you don't like the song, you'll love the pics! This strikes me as a very poignant and photographically appealing theme to go along with PJ 'n CDM 'n The AO to go.... (CDM = Chateau de Mobile)
Meanwhile, BR João wrote: If someday you decide to change your motorhome consider this beautiful vintage model.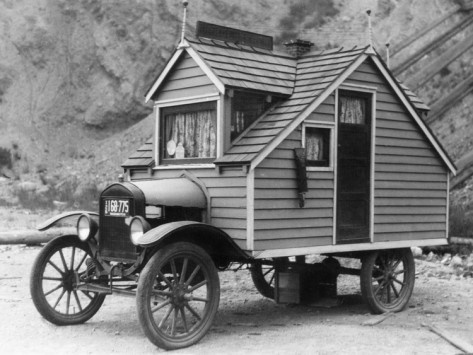 What a cutie! I hope it has a reversing camera.
Back from a little shopping at Supercheap Auto. Non-slip rubber matting for PJ's cupboards, a 300mm wrench, 10m heavy duty rope, tent pegs and 4 x single guy ropes (for securing the awnings). Also, the postie arrived with my 12V camp shower.
You've heard me talk of Coober Pedy, right? The place where opal is mined? A little town in the outback with a pop of less than 2000? Well, according to this report, that's all about to change... along with the world oil market.
From the Beeb: US President Barack Obama has called for "calm reflection" after Florida neighbourhood watchman George Zimmerman was cleared of murdering black teenager Trayvon Martin. Mr Obama said Trayvon's death was a tragedy for America, but that it was "a nation of laws and a jury has spoken". Protester: "If it had been a white boy who had been murdered, and a black guy who had murdered him, would they have acquitted him?" That's a rhetorical question, mate.
Ashes 2013: England win first (cricket) Test against Australia. James Anderson was England's final-day hero as the hosts held their nerve to complete an astonishing 14-run victory over Australia in an unforgettable climax to the opening Ashes Test. Amid unbearable tension, Australia's final pair of Brad Haddin and James Pattinson took the tourists to the brink of victory with a partnership of 65. But when Haddin was caught behind off Anderson for 71 via the thinnest of inside edges - and given out following a painstaking review - England could celebrate one of the closest wins in Ashes history. Bummer. But at least it was close. Next!
Here's one from NC Art: To help save the economy, the Government will announce next month that the Immigration Department will start deporting seniors (instead of illegals) in order to lower Social Security and Medicare costs. Older people are easier to catch and will not remember how to get back home.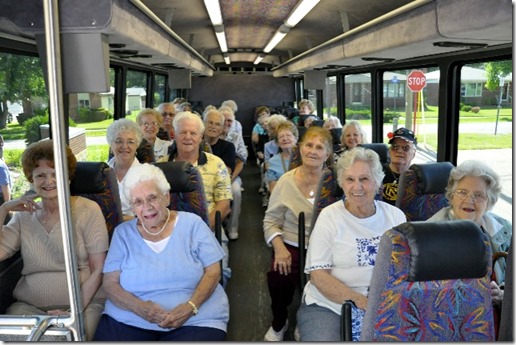 It's been a cloudy day which has robbed us of the sunshine we've been getting lately. Dangit. But it looks okay for the next few days when max temps will be 21C. That's amazing for winter. On the weekend, down to mid teens. Bleh. So I've not had my little dose of inner shedness today nor fiddled with PJ. One thing that stands out - and I mean STANDS OUT - is PJ in the mall parking lot. Hehe. She's head and shoulders above everything else even to the point of looking quite ridiculous. I'll take a pic next time I'm there.
OR Richie wrote something about his uncle which I thought was worth posting here: I probably told you how I spent an afternoon looking after my late Uncle Travis; his wife and my mom went out to enjoy the day, get away, and shop until they dropped. Travis was a very well known unknown and went way back with politicians, news people, governors and Senators and even presidential candidates, foreign leaders whom he knew, even had known our infamous Nixon fairly well, and I always LOVED hearing those stories and asking him about them. But the most impressive and amazing thing I had ever heard him say was late in the afternoon. I asked him of all these people, famous politicians, statesmen, you name it... even Cronkite, even everybody... I asked him that "out of all these people you have known WHO do you have the very greatest respect and admiraton for?".
He instantly replied with two words and said not one to explain why. "MY WIFE". By God if I don't know exactly how he felt and what he meant.
If the same question were asked of me, I'd have to think real hard. Cody springs to mind. Matter of fact, he's all that springs to mind hehe, and I've known a lotta peeps, including famous Aussies in showbiz. I think Cody's greatest asset was his disarming honesty. I've never met anyone like him before and I expect I never will again. His timing was perfect as well. Shortly after we met, he was as close to successfully "offing" himself as it's possible to get, and I'd hit rock bottom. Together, we pulled each other up by the bootstraps. Amen.
The second gas bloke hasn't returned my call so I guess it'll be a wait and see game. Tomorrow, I'll play with some of my new toys. I really like the 12V shower and the way it all packs neatly away in its plastic carry box. I keep most of the boxes things are packaged in to make it easier and neater to store stuff, including the bulkier kitchen wares.
So that's it for another day. Thanks to the Waffle contributors for their er... contributions hehe. Now I'll check the telly and look forward to another steaming bowl of exotic Thai chickoodles. Gary
July 14, 2013. Once upon a time in Sydney there was a hardware store called Nock and Kirbys whose in-store spruiker was Joe The Gadget Man. That guy could sell anything. But it wasn't just the gift of the gab he had going for him, it was his professionalism at being expert with anything he promoted. He would practice with a new gadget for hours or even days until he had mastered it before demonstrating it in store or, later, on television where he became a celebrity in the 60s and 70s.
However, not everything went to plan with Joe The Gadget Man.
The reason I mention Joe is because FL Josh was so impressed with the video demo of Rapid Fix (the link to which I posted yesterday), he went out and bought a tube for $20. ...and so far I am not impressed. It works by pressing two items together very tightly so as to close off access to oxygen. If you have two pieces that you do not get to touch very tightly, nothing happens. I tried it on the frame of a pair of sunglasses, and I could not get it to bind. Each time I tried, there was more build up of the glue preventing it from touching tightly together. If the two pieces you want to join need a tiny bit of filler, this won't work because you can't put some glue on it, add some powder, then press together because the moment you add the powder, it hardens instantly so there is no time to add the powder then put the bottle down and press two pieces together.
Furthermore, the length of time you have to hold the two pieces together depends on the materials, and there is no guide as to what materials grab fast like super glue and what materials you are going to have to bind and let sit for 24 hours. Also, it won't glue certain things like polyethylene and polypropylene plastics, Teflon and fiber based materials like cloth and paper.
I just checked my sunglasses and it finally hardened but it caused a gap of about a millimeter between the two pieces of the frame so the lens is now loose in the frame. These were nice sunglasses, with bifocal reading lenses built into them and I am going to have to use a razor thin saw blade to cut the RapidFix out and use a standard super glue with filler built in.
Later... Let my sunglasses sit for four and a half hours, then went to try putting them on and the frame broke right where I glued it with the RapidFix.
Are you getting the impression Josh is trying to tell us something? But back to Joe The Gadget Man. He had a knack for making potato peelers and whizz bang artichoke corers look so efficient and easy to use, people would buy them in droves. His sign off, incidentally, was always "And bring ya money with ya!" But stories began to emerge from consumers who had kitchen cupboards full of Joe's gadgets that were used once and never saw the light of day again.
Meanwhile, I dusted off my bike and pumped up the tires a bit, then wheeled it down to PJ to try the new hooks. Oops! I suddenly realized why the bicycle rack that attaches to the tow ball was designed like it is... bikes have handlebars, and handlebars get in the way of trying to hook the bike too close to the vehicle. Roite. Hehe. The hooks still have the labels attached, and I have the receipt, so I'll return them. Live and learn, yeah? I also discovered that the jaws of my wrench are a millimeter or two short of being wide enough to undo the bolt that holds the tow ball. Grrrr.
On a lighter and brighter note, Josh writes: Here is a video of the India Pakistan Wagah Border Gate Closing Ceremony done every evening.
I spent a little time getting a dose of inner shedness today (more fabulous weather) and checked the CO alarm. Fine. It comes on and re-sets as it should. As to the dud smoke alarm, it only cost $6 from Hong Kong which included a 9V battery and postage. So I bought the same type from another Hong Kong retailer - $5 including postage but no battery included. I'll use the other battery. My reasoning is that it will match the plastic backing that's velcroed to the camper ceiling and will save the hassle of removing the velcro if it works okay.
From the Beeb: George Zimmerman, the Florida neighbourhood watchman who shot dead an unarmed black 17-year-old male last year, has been found not guilty. Lawyers for Mr Zimmerman, 29, argued he acted in self-defence and with justifiable use of deadly force in the death of Trayvon Martin. The jury retired on Friday to consider its verdict on charges of either second-degree murder or manslaughter. The case sparked a fierce debate about racial profiling in the US. I suspect we've not heard the last of this case.
More British soldiers and veterans took their own lives in 2012 than died fighting the Taliban in Afghanistan over the same period. The BBC's Panorama programme has learned 21 serving soldiers killed themselves last year, along with 29 veterans. The Afghanistan death toll was 44, of whom 40 died in action. Either way, war is the culprit.
A cow has fallen through the roof of a house in south-eastern Brazil killing a man and narrowly missing his wife. The one-tonne cow was grazing on a hill behind the small house, in the town of Caratinga, when it stepped onto the asbestos roof, which collapsed under its weight. Joao Maria de Souza, 45, was lying in bed when the animal fell on him. Now I've heard everything.
Pakistani schoolgirl Malala Yousafzai has addressed the United Nations as part of her campaign to ensure free compulsory education for every child. She marked her 16th birthday by delivering the speech on Friday at the UN headquarters in New York. Taliban gunmen shot Malala on her school bus last October following her campaign for girls' rights. "I am here to speak up for the right of education of every child," she said. Bullets are not the enemy of the Taliban, books are the enemy. Everyone should listen to this young girl's speech.
There is no evidence of a direct link between the Boeing 787 Dreamliner's batteries and the fire at Heathrow Airport on Friday, investigators said. The fire on the parked Ethiopian Airlines plane closed the London airport's runways for 90 minutes.
Just read one GN's post that said they were taking a long time to reach some particular place. "Lovely little detours" was their reason - and I can't think of a better reason! To me, that's the magic of being a Nomad - taking the time to investigate every little nook and cranny, even if it means being late. Many GNs will tell you that once around Oz is not nearly enough. Some have done the big loop many times over many years and are still discovering new and interesting places to visit and camp. One GN said they took 9 months to go from Sydney to the Gold Coast in QLD. You could drive it easily in 2 days. But why would you?
I mentioned yesterday that I would take some interior pics of PJ today but decided against it since not all work has finished yet. Better to leave it till it's all done. I'll phone the gas bloke again tomorrow, but I have a feeling he doesn't want the job. Too small.
NC art sent a note via TX Greg to tell me to stop fiddling with PJ for a while and pester my ISP to fix the mail prob. But then he sent a test which arrived okay. I replied and so far there's been no returned undelivered notice. Sooooo, I can only assume that communications between Taree and NC are back to normal.
The days have been frightening short lately. Must be psychological. I'm spending more time in the sun that I normally do because the weather has been so pleasant - and there's always something to fiddle with on PJ. Also, being winter, the day is shot by late afternoon. By 5.30 the sun has set. Even midday seems to arrive before I know it.
So now it's time to de-waffle-ize for another day, and another weekend. I do look forward to my bowl of steaming noodles and various other goodies ya know. As I've said before, it beats the hell outta soup. And a big thank you to banana-bender Jeffrey for making a donation to AO. Very much appreciated. So, until tomorrow, keep yaselves noice. Gary
July 13, 2013. Another bewdiful day so I'm spending time in the sun fiddling with PJ. I dusted off the old bicycle rack and checked to see if it would fit on the tow bar and clear the truck tray. Yep. But it's heavy, awkward and takes ages to attach and remove from the hitch. Sooooo, I put the thinking cap on and decided to make something using the two hooks at the back of the camper that bolt onto the steel channel - the one the entry ladder hooks onto. I've got an idea in my head that's a bit too complicated to describe so I'll take pics when I've got it organized. Basically, it will allow the bike to be mounted and dismounted quickly and easily when I'm camped and/or need to access the rear door instead of going through all the tow ball bullshit.
Jeez, look at the time! 3pm already. Back from a little shopping and a wander around the hardware section of a department store. Found a couple of hook thingies that look like they might work for the bicycle. Otherwise, I'm sure I'll find another use for them. Also looked for a glue that one of the GNs recommended for the porta potti. Couldn't see it anywhere but gotta get some of this stuff anyway... check out the video!
So what else did I do? Not much. Put those two large containers of radiator fluid that the previous owner of the truck gave me in a storage bin. Found a place for the expandable rake. But most of the time was spent thinking about how to carry the bike. Tell ya what, though, looks like I'll have storage to spare when I eventually hit the road. Those bins soak up a stack of stuff!
From the Beeb: Rescue efforts are continuing to find the passengers of a train that crashed at Bretigny-sur-Orge, south of Paris, on Friday afternoon. At least six people have been killed and 30 injured, French officials say. The intercity train had just left Paris and was heading towards Limoges when it derailed, crashing into a station platform. When you think of the millions of trips carrying millions of passengers every day around the world, it's a wonder these kinds of accidents don't happen more often.
The Calabrian mafia, suspected of running Europe's biggest cocaine smuggling operation, controls its area of southern Italy with a mixture of bribery and corruption. But when Maria Carmela Lanzetta, the mayoress of one small town was attacked a year ago, she and the country said "enough".
Flights have resumed at London's Heathrow Airport after a fire on a parked Ethiopian Airlines Boeing 787 Dreamliner jet. All runways were closed for nearly 90 minutes after the fire at 16:30 BST. No passengers were aboard the plane at the time, a Heathrow spokesman said. Fifty Dreamliners worldwide were grounded in January after malfunctions with the plane's lithium-ion batteries.
Time now for a little singalong, ladies and genitals - Bugger the Bankers and Politicians, Bugger the Bureaucrats too...
Just taking a look at some GN photos of their trips. Here's one of a pleasant camping spot in NW Tasmania complete with picnic shelter and BBQ. It's at Black River near Dip Falls. I'd be very happy to spend a day or two there, checking out the local forest.
I don't think I've mentioned this on Waffle, but the other day I was telling OR Richie about Aussie gum trees and how they can drop branches unexpectedly. They've even been known to kill people sleeping in tents under a gum tree. There was a post by a GN recently on the forum about parking under gum trees. Best to give them a wide berth. All of which reminded me of a trip to Tapin Tops in ol' Tough Titties some years ago when the Odyssey was still in diapers. Even Bluey hadn't appeared on the scene yet.
Anyway, that's it for today's shortie. I was gonna take some interior shots of PJ today but didn't get around to it. I'll do it tomorrow. Gary
July 12, 2013. Where dat gas man? I've been ready since 8am when he was supposed to rock up. It's now almost 11am. I suspect being a plumber he's on an emergency call. No one calls a plumber unless the bathroom is being flooded or whatever. Soooooo, nothing to do but wait.
Those pics of the old battery were taken over a year ago - another era, so it seems - getting doses of inner shedness and trying to imagine what it would be like when PJ was together at last. It's the same with the cancer op and radiation... all ancient history. Funny how the mind buries stuff that's no longer relevant, and focuses on the present. I suppose once I'm on the road doing the Nomad thing, my time in Taree will be relegated to the AH file, never to darken my doorstep again. Actually, I don't have a doorstep - or won't - I have a ladder.
It's another beautiful day in the sun so I took the Midland CB radio stuff down to PJ and sat inside with the sunshine streaming through the door and read the manual. Much nicer down there than in here, and a most pleasant dose of inner shedness it was to be sure, to be sure. Even Lindsay came down earlier for a poke around inside and was duly impressed.
OR Richie wrote: Daily blogs are one thing but you have dedicated far more effort, research, and a wide range of topics over that particular field of dreams. That'll be even more fun once out and about the great vast spaces and a hundred as-yet to happen stories to tell and maybe some truly extraordinary guest authors should you encounter them and their great stories to write about. AND... maybe a dedicated column about simple practical things you encounter yourself and of those other GN types as you discover them. Good idea, huh? Take good care of your dream machine so you can keep living the dream and here's how to do it !! Tip of the month !! There is a great many subordinate subjects that I think can arise.
Dunno about tips of the month - there's enough of that kinda thing on the GN forum and elsewhere on the net. But stories certainly - that's my thing. And not only mine but those of other travellers and adventurers as well as the "characters" who live in small towns or mining villages. I'm gonna be a busy boy out there.
From the Beeb: The US has urged Egypt's leadership to stop the "arbitrary" arrests of Muslim Brotherhood members, warning against targeting any particular group. "You're working against yourself if your effort is to be inclusive," White House spokesman Jay Carney said. UN chief Ban Ki-moon also warned against the exclusion of any party.
The US says it is "disappointed" over China's failure to hand over fugitive intelligence analyst Edward Snowden. After talks with senior Chinese officials, US Deputy Secretary of State Edward Burns said Beijing's actions undermined "trust" in bilateral ties. China said Hong Kong - which allowed to leave Mr Snowden to Russia - had acted in accordance with the territory's law. Meanwhile, Microsoft has been accused of working with US intelligence bodies to help intercept users' data.
3pm now and the gas bloke still hasn't showed. The prob is not so much his not showing but my being stuck here waiting instead of being able to whizz up the road for medication. Now I'm a pill down - not that it's crucial.
I read about coastal erosion along NSW yesterday and it appears that the caravan park, surf life saving club and all the houses along the beachfront road at Old Bar (17km from Taree) won't be here by the end of this century. Mind you, I won't either, and I suspect neither will you. However, for people who own coastal real estate it must be a bit of worry, not in terms of being washed away any time soon, but as a long term investment. Places like the Gold Coast and Surfers Paradise in QLD have high rise all along the beach front. Even now they regularly use heavy machinery to replenish sand and shore up the beaches from the inevitable. Billions of dollars have been invested in those high rise strips.
There's a story on GN from a camper who visited Chilli beach in QLD where the locals organized a beach clean up, and collected 4,500 thongs (flip flops). They said there wasn't a single matching pair. And where did they all come from? The Philippines... bobbing over the waves across the ocean to arrive in Oz. Must be a lot of Filipinos wondering where their other thong went. My first thought was what a great photo it would make. A thong fest!
Another GN is thinking about doing the big loop on a motorbike - and pension. He's 67. Why not? If he can rough it a bit and handle sleeping in a tent then go for it. Several GNs have responded to his thread with messages of encouragement. Another has already done it both on a motorbike and on a pushbike.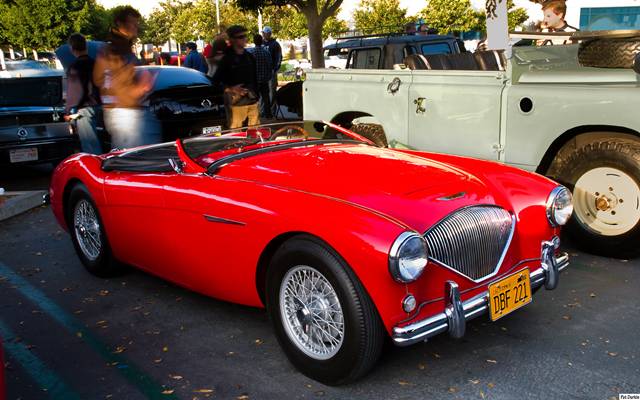 I wonder which one of those two Brits OR Richie is eyeing. He has a thing about old LRs ya know. BTW, the Austin Healey is a 1955 model. The following year, I would be 12 and getting into trouble for watching TV in the shop window instead of running home with the fish 'n chips for dinner at 6 on Fridays.
No fish 'n chips tonight though, but I don't mind the Thai sweet chilli chicken and noodles. In fact, it's niiiiiiiize! Incidentlly, I phoned the gas bloke an hour ago and got a message to say he was unavailable. I'm a bit peeved but what the hell. Not sure about Andrew tomorrow... I think he said he had family stuff to do. Never mind, the PJ project is unstoppable now and almost there. Catchyas later. Gary
July 11, 2013. TX Greg had second thoughts about what Josh meant by "new wiring": Ok, I realized also why Josh and maybe others might have misunderstood part of my use of "new wiring". You had only sent me and not posted some pics when you first got the camper of the battery and inverter wiring that showed that some dummy was trying to use a doubled ended male cord to backfeed the electric system from the inverter thru the camper system. A really dangerous situation as someone could have gotten shocked by grabbing that doubled ended male cord plug.
Here's a copy of the before pics you sent. In the first pic is where you see the black cord plugged into the inverter. The second pic shows that black cord with another male end being plugged into a powerboard/strip that backfeeds power back into the camper.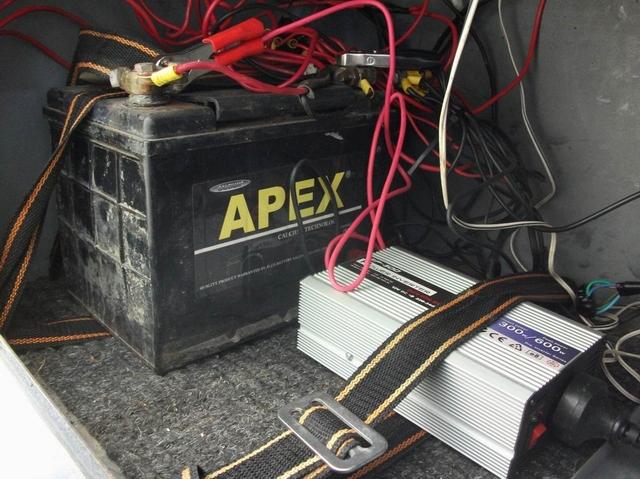 Andrew decided for safety to remove that cord and not backfeed the system in any way. The new pics show where he mounted a powerboard/strip inside the camper that plugs direct to the inverter only. Hence my wanting to see the "new wiring".
It wasn't only Andrew, but you and half the GNs on the forum. Anyway, that old double-ended male plug was carted away by the trash man last Tuesday. Having that separate powerboard for the inverter also explains the plugs for the a/c and fridge. The a/c plug is in a cupboard under the sink, and the fridge plug is on the other side of the cab-over wall in the "bedroom". They're only good for mains power if I happen to be in a caravan park. If I ever wanted to use the a/c at a free camp, I'd need a generator.
Which reminds me, OR Richie the other day mentioned parking in shade during hot weather. Nope, can't do that. The solar panel is on the roof. Some GNs use portable folding solar panels but those things get pinched if you're away from the camp site. AND, I thought of something else. That powerboard in the storage bin is for using 240V appliances like the laptop outdoors, but now it's only usable if I'm plugged into mains power. I'll need another powerboard (I have a few scattered around the house) plugged into the inverter for sunny days using the laptop outside.
Two more prezzies arrived today (while I was in the shower, of course) - the Kenwood stereo and yet another job for Andrew. I bought a new lid for the external power input on the van a while back but it doesn't fit properly cos the fixture is broken. So I bought a new fixture complete with three-pin plug.
And here's another prezzie! Just in time for the gas man tomorrow morning...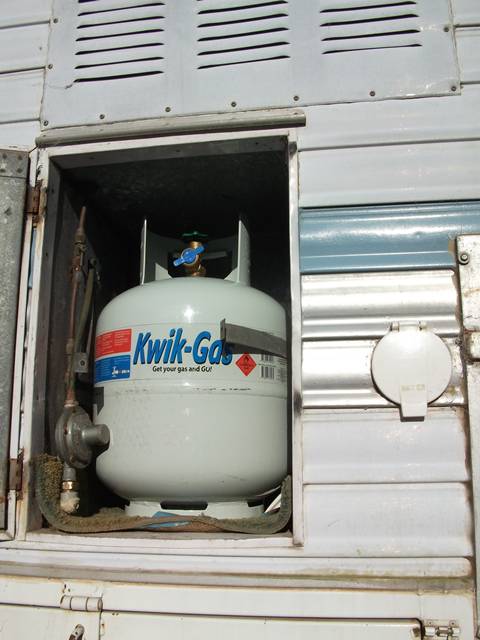 That little 9kg baby cost $79 cos I didn't have a bottle to exchange. Next time, it'll be a lot less, especially if I shop around for the best price. Darren, the bloke who served me at the servo was nice... carried the bottle to PJ and placed it inside the compartment. I chose that place cos it has lots of parking and I didn't wanna get in the way of cars queuing for petrol, especially being a newbie to this gas bottle business. Obviously, that compartment was designed specifically for a 9kg bottle.
Earlier today, I received 2 emails from Dr JustinO who forwarded stuff from a very irate NC Art. Apparently my ISP is rejecting Art's mail to me cos it thinks he's a crook: I have lost my contact with Gary Kelly, our intrepid aspirant to an Aussie Odyssey. I will forward to you a notice of rejected delivery which identifies the ip of blocking. And I request you kindly to forward to Gary along with this message to you. That way, he will at least know that I still exist, read his blog, and miss opportunities to swap insults with him. And hope he will be able to establish a clear channel once more.
Well, we can't have Art's gems disappearing into the ether instead of being posted on Waffle, so I alerted my ISP to the problem and culprit blocker. Haven't heard back yet but hopefully the solution is in the pipeline. Meanwhile, I informed JustinO of Art's Art on AO and recommended he read Art's essays to aid his convalescence. Incidentlly, JustinO is healing well and says he's feeling better every day.
FL Josh wrote: Here's a surfer video for you. I posted the link some time ago but for those of you who missed (or ignored) it, it's a cool vid of a surfing bulldog.
From the Beeb: The US is going ahead with plans to deliver four F-16 fighter jets to Egypt despite the political unrest in the country, senior American officials say. This comes as Washington is continuing to evaluate last week's overthrow of President Mohammed Morsi by the army. US massive military aid to Cairo would have to be cut by law if the removal of the Islamist leader is determined by Washington to have been a coup. I'm sure the American military would rather give the coup another name than lose the F16 deal. Hehe.
It's all a bit of a worry over there, though. One bloke on The Drum last night, who's worked all over the Middle East as a journo, said the area is riddled with failed states - Iraq, Afghanistan, Syria, Lebanon, and now Egypt. He says once the allies leave Afghanistan, the Taliban will rise again. And it's not just the Taliban that poses a problem, it's the current regime which is corrupt to the core. "The Americans have lost the war in Afghanistan but they won't admit it." However, perhaps it's not that simple as another Drum journo pointed out: during the 12-year allied presence in Afghanistan, much has been done with education for women (in particular) so the Taliban may find resistance within the population they hadn't encountered previously.
Canadian police have said 30 people still missing since Saturday's train disaster in a Quebec town are "most probably dead". Twenty bodies have already been found after a runaway train carrying oil derailed and exploded in Lac-Megantic. The train operator's boss blamed a local engineer for the accident, saying he had probably failed to set a series of hand brakes. What a dreadful thing to happen, especially to a small town of 2000 where everybody must be affected in some way.
The evacuation of Asiana flight 214, which crash landed on Saturday in San Francisco, was delayed because the pilots initially said passengers should stay put, a safety official has said. The evacuation began 90 seconds after the Boeing 777 skidded to a stop - and only after a flight attendant spotted fire outside, the official said. She called the failure to order the evacuation immediately "unusual".
Imagine a camera that allows you to see through a crowd to get a clear view of someone who would otherwise be obscured, a smartphone that matches big-budget lenses for image quality, or a photograph that lets you change your point of view after it's taken. The ideas may sound outlandish but they could become commonplace if "computational photography" lives up to its promise.
Been a magnificent day... cool early but warmed up to be sunny and glorious which is a real bonus for mid winter. I hope it's okay tomorrow when the gas bloke arrives at 8am. No sleeping in like I did this morning! That Thai sweet chilli chicken and noodles was great last night, so I'll look forward to that again tonight. Mucho better than that boring soup I was having before I discovered the noodle thing and the Colby cheese. Taste is much better too, with different types of sauces. I'd rather teeth, of course, and "normal" food but at least I'm enjoying this stuff - and gaining a little weight. So, it's off to the easy chair and a little telly. Byeeeeee. Gary
July 10, 2013. FL Josh wrote: TX Greg suggested you post pictures of the new wiring for the new battery and in response you posted some pictures, but you have now explained those were not of of the new wiring but the old. How 'bout some pictures of the new wiring.
Since when have I paid any attention to TX Greg? Nah... that's the old wiring with the new battery, Josh. Andrew used the old wiring but tidied it up a bit instead of going back to scratch. Greg explains: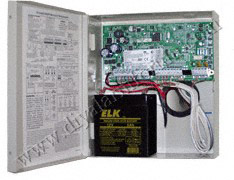 Yes I see Josh's concern, but this is a sealed AGM battery that won't be boiling out gases like the old style pop-off caps that you had to add water, so I see no real problem with that. The same type battery is also used in home alarm systems boxes that not only have a ton of wires over the top of the battery, but the electric circuit board is above too.
As to the smoke alarm: Well sounds like you got a defective smoke alarm like that TV box was. Some alarms will sound when the battery is first installed, but should reset and start working correctly.
Every time I press the reset button, after a few seconds it starts flashing and away it goes again. If Andrew can't fix it, I'll trash it. It was a $10 cheapie from China on eBay. Interestingly, yesterday I tried it in this room which has a hard-wired smoke detector on the ceiling! If there had been any smoke, both would have sounded.
As far as your crack, hahaha, there is a simple fix to keep your crack from growing. Really this does work for both plastic and metal. Take a very small drill bit and drill a hole at the top end of the crack. The round hole stops the crack from spreading. Then if possible spread your crack and insert "Super Glue" Just be careful not to get that glue on you or your own crack, hahaha.
What a great idea! And so simple - even obvious once it's explained. Speaking of glued cracks, a friend of mine years ago fathered a child born with a closed anus. I'd never heard of that condition before. Sounds very dangerous indeed. Anyway, thanks for all your suggestions, Greg. Most enlightening.
Here's a post by a GN who's just completed his first two years of travelling Oz.
~~~~~~~~~~~~~~~~~~~~~~~~~~~~~~~~~~~~~~~~~~~~~~~~~~~~
Dear Technical support,
18 months ago, I upgraded to Girlfriend 1.0 from Drinking Mates4.2, which I had used for years without any trouble. However, there are apparently conflicts between these two products and the only solution was to try and run Girlfriend 1.0 with the sound turned off.
To make matters worse, Girlfriend 1.0 is incompatible with several other applications, such as Boys Night Out 3.1, Football 4.5, and Playboy 6.9. Successive versions of Girlfriend proved no better.
A shareware program, Party Girl 2.1, which I tried, had many bugs and left a virus in my system, forcing me to shut down completely for several weeks.
Eventually, I tried to run Girlfriend 1.2 and Girlfriend 1.0 at the same time, only to discover that when these two systems detected each other, they caused severe damage to my hardware.
I then upgraded to Fiancée 1.0, only to discover that this product soon had to be upgraded further to Wife 1.0.
While Wife 1.0 tends to use up all my available resources, it does come bundled with FreeSex Plus and Cleanhouse 2012. Shortly after this upgrade, however, I found that Wife 1.0 could be very unstable and costly to run. Any mistakes I made were automatically stored in Wife 1.0's memory and could not be deleted. They then resurfaced months later when I had forgotten about them. Wife 1.0 also has an automatic Diary, Explorer and E-mail Filter,and can, without warning, Launch TurboStrop and Whinge. These latter products have no Help files, and I have to try to guess what the problem is.
Additional problems are that Wife 1.0 needs updating regularly, requiring ShoeShop Browser for new attachments and HairstyleExpress which needs to be reinstalled every other week. Wife 1.0 also spawns unwelcome child processes that drain my resources.
These conflict with some of the new games I wanted to try out, warning me that they are an Illegal operation.
Also, when Wife 1.0 attaches itself to my Audi TT hard drive, it often crashes. Wife 1.0 also comes with a rather annoying pop-up called Mother-In-Law, which can't be turned off.
Recently I've been tempted to install Mistress 2013, but there could be problems. A friend of mine has alerted me to the fact that if Wife 1.0 detects Mistress 2013, it tends to delete all of your Money files before uninstalling itself.
Any help you can provide would be much appreciated
~~~~~~~~~~~~~~~~~~~~~~~~~~~~~~~~~~~~~~~~~~~~~~~~~~~~
And now for something totally different. A film called Drift, that shows early morning fog wafting over San Francisco, shot from spectacular locations, and using time lapse photography. Thanks to Justin for posting it on his blog.
Cloudy today, which means I can't fiddle with PJ and enjoy a bit of sun. Which means the hot water bottle is getting a run between my back and the chair. Cold nights are okay because you can escape between the covers, but cold days are not my thing.
From the Beeb: A criminal inquiry has been launched in Canada into the derailment of an oil train that killed at least 15 people in a small Quebec town on Saturday. Quebec police inspector Michel Forget said investigators had found evidence leading them toward a criminal probe. Investigators are focusing on whether the brakes were released as it was parked in a town several miles away.
The senior pilot in the cockpit of Asiana flight 214 realised the plane was too low when it was flying at only 500ft (152m), an official has said. The pilot at the South Korean plane's controls was about half-way through his Boeing 777 training, an official said. Investigators have indicated the plane was flying too slowly when it struck a sea wall before crashing on the runway.
Well, that's the 12V shower crossed off the list. Just bought one on eBay for $45, $10 cheaper than the local camping store, with free postage.
AND, the gas fitter arrived with an apprentice in tow. Joshua is the apprentice and a very nice young man he is too. :o) The plumber is a wild and wooly bloke who looks like a bear wrestler. He asked if I wanted a quote and I said no, I just want the job done. Friday morning at 8 (brrrrr) he's gonna replace part of the copper tubing in the gas bottle compartment and the regulator/hose and then do a test. I'll get him to check the fridge pilot and flue as well. Tomorrow I'll get a gas bottle.
So it's all happening, ladies and genitals! PJ is almost ready to bolt out of the stalls and head down the straight. It's been a looooong wait.
Here's a bit of British motoring history... a cropped version of the text is below...
And once again it's time for me to leap into the air and spear off into the cosmos, dear Breth. I cooked the Thai sweet chilli chicken earlier and I'll have it tonight with noodles and melted cheese. Mmmmm. I do enjoy a bowl of something tasty on winter nights. Till tomorrow, keep yourselves noice. Gary
July 9, 2013. TX Greg wrote: Appears you got a photoelectric smoke alarm. But that still seems strange for it to be that sensitive. Perhaps you will need to get an ionization type instead. Most alarms today have the "hush" or "silence" which is usually the same button as the test. You really need that feature with it being so close to the stove.
Hmmm. Well, I think I'll try the alarm somewhere away from traffic and see how it goes - maybe down by the river. If it plays up when I'm driving around, I might have to disconnect the battery and reconnect it when I'm camped somewhere. That would mean if fire broke out in the camper while I was driving, I'd be none the wiser until it was too late. By the same token I can't have the thing squawking non stop.
Huh? Down by the river? What's the matter with me? I don't need to go down by the bloody river!!! I can do it here! Okay, just tried it in the house in a couple of different rooms and it still goes crazy. I'll ask Andrew about it next time he's here.
FL Josh wrote: I noticed all the wires laying across the top of the new battery. That does not look like a good arrangement to me. See if you can get some feedback from some of your other readers as to their thoughts on that.
That's the old wiring. Andrew tidied it up a bit and positioned it so that it wouldn't touch anything and short out. If something happened to cause the battery to shift wildly, a fuse Andrew inserted into the wiring would cut off the power. As he said, "I could rewire everything but it wouldn't make it work any better". What he didn't say, but was nonetheless implied, was that it would cost me an arm and a leg to rewire from scratch.
Just phoned the gas fitter. Apologies, apologies... got busy yesterday and didn't make it. So I told him I'm in no great hurry - pick a day. "Do you get up early in the mornings?" "Maaaaaaaaate! It was 2 degrees the other morning!" "Okay, okay... how about tomorrow afternoon about 4?" "Fine."
That's the great thing about 'mate'. You can do 'maaaaaaaaaaate!' Can't do it with 'bud' or 'pal'... dozen sound right.
I did a little shopping AGAIN today... stuff for dinner. How does Thai sweet chilli with chicken mince, corn, carrot, bell pepper, peas and noodles sound? I also spotted fleecy long sleeve, crew neck tops on spesh for $10 each so I bought 3. And a bicycle combination lock thingy for the camper ladder. Don't want anyone nicking off with that thing while I'm sleeping or taking a walk. That first step is a real doozy.
Did I tell you my crack widens when I sit on the Porta Potti? That's not actually what I said on the GN forum but that's the way they took it. They also thought I was talking about the toilet seat when, in fact, I went to great pains to explain that it was the toilet seat LID that was cracked. So to make it plain I took a pic. My question was how do I fix the crack to stop it widening when weight is applied to the lid (in the unlikely event it's used as a spare seat). One GN suggested plastic welding.
As I arrived back at PJ after shopping, and sat behind the wheel, I thought "well, I'm home." That's the way it will be pretty soon. Hehe. Imagine that.
From the Beeb: Incompetence and negligence allowed Osama Bin Laden to live in Pakistan undetected for almost a decade, a leaked government report suggests. A version of the report leaked to al-Jazeera says the killing of Bin Laden by US forces was a "criminal act of murder" ordered by the US president. A decade's worth of incompetence and negligence?
No expense will have been spared preparing Australia's and England's cricketers for the first Ashes Test on Wednesday - from training and physiotherapy, to a good dinner and a luxurious bed. It was very different for the first Australian team to visit the UK. In 1868, English ex-pat and former first class cricketer Charles Lawrence brought a team of 13 Victoria-based Aboriginal players to the UK, intent on capitalising on public curiosity regarding "exotic races" following the publication of Charles Darwin's On the Origin of Species in 1859. A most interest story.
A heavy rainstorm in Toronto has left some 300,000 people without power and flooded parts of Canada's largest city. More than 90mm (3.5in) of water - more than a month's average - was dumped on the city late on Monday, officials say. The rain flooded some major roads and subway stations, causing traffic chaos.
A man had two of the best tickets for the opening State of Origin match. As he sits down, another man comes along and asks if anyone is sitting in the seat next to him. "No," he says, "the seat is empty."
Shocked, "This is incredible..!" said the man, "Who in their right mind would have a seat like this for the State of Origin opener, the biggest sporting event of the rugby league calendar and not use it?"
He says, "Well, actually, the seat belongs to me. My wife was supposed to come with me, but she passed away. This is the first State of Origin match we haven't been to together since we got married."
"Oh... I'm sorry to hear that. That's terrible. I guess you couldn't find someone else, a friend or relative or even a neighbour to take the seat?"
The man shakes his head... "No. They're all at the funeral."
Well, dat's dat, nudja Chewsdee went dataway. Not a lot of excitement today but a little. My squishy hose should arrive soon, and the Kenwood stereo. Come to think of it, I haven't even opened the CB radio box yet to read the user manual. I'll do that after I post this. Be nice, Ls & Gs. Gary
July 8, 2013. Another chilly morning at 5C. Sheesh. But nice and sunny outside and headed for 17C, same as yesterday. Camping in this sort of weather would be great provided I didn't have to go outside at night to pee. The sleeping bag is good for 0C.
OR Richie wrote: Your morning leading pictures were NEAT !! The "power generation compartment" looks GREAT !! Sanitary and well engineered, and I thought the addition of the little amp-meter ( or voltage readout; whatever ) was a good addition. The interior pictures stirred the general spirit of excitement and I am really bloody jazzed about it. GREAT !! I can only imagine beyond what you write how excited you must be feeling about it. Not bad at all mate; not bad at all...
Settle down, Richie, settle down! You'll give yourself a bloody hernia. However, it is rather jolly to see what was once a pic on eBay is now part of PJ.
TX Greg wrote: Well the more open vents and windows the better, especially if you're cooking fish, hehe. Wonder if that stove fan exhaust motor is 12V or 240V? And I take it comes on automatically when you slide the metal louver open?
Yes and no. Yes, it's 12V and no, the metal louvre is only to open and close the vent, there's a switch inside the cupboard to operate the fan.
Well Andrew did quite a nifty nice job there. I do have to giggle at one little thing I saw there he did, because I have done the same thing too. Look above the inverter where he used a bolt to tie all those ground wires together. Before they were all tied direct to battery, which can be a real pain not to mention all the corrosion they can get attached to the battery post, so keeping all those wires separate off the battery post is a very smart thing he did.
That's the old car battery Andrew removed. The previous owner probably kept the deep cycle(s) and substituted that one before he sold the camper. The new AGM looks a tad better dontcha think? Hehe.
Instead of using a bolt, I switched instead to this little neat part called a buss bar or ground bar... It can be mounted on the wall, then slide the wires into the side slots and tighten the top screw. Also that does away with the crimped terminals that can pull apart. Oh yes that makes sense how Andrew separated the power, but did we forget about something? I thought you had hoped to run the fridge off of the solar/inverter also? Did you ever check that fridge manual to see if it list the watts for the heating element? Wonder if the inverter is large enough to even carry that load?
Yes I did and no I don't. I decided a while ago not to worry about running the fridge off the inverter because it sucks too much power. Maybe one day when I have 200W and 2 AGMs but for now I'll run the fridge on gas except when driving. The inverter is a 300W pure sine (max 600) but should be okay for the laptop, lights, fans, water pump, and occasional TV. Andrew suggested trying it for a while to see how it goes. I can always upgrade if I need to.
FL Josh wrote: When I bought my '77 Cadillac Seville in 1980, I pulled out the factory radio with built in 8-track player and beautiful Cadillac knobs with gold wreaths on them, ***sigh*** and replaced it with a Kenwood tuner and amplifier. The Kenwood tuner had a built cassette player, and I really loved that Kenwood. One of the features I liked was as you drove on the highway, from city to city, as the station you were listening too got weak, it would automatically seek out a stronger station. If your new Kenwood has that, as you drive along and the GN Talk Back Radio Hour fades, it would automatically switch to the Catholic Faith and Wonderment Hour, with hymns sung by the melodious voices of Father Peter John, Sister Mary Anne, and their lovely daughter Rosemary!!!
Daughter? What happened to the vow of celibacy? Anyway, the Kenwood is for the camper so it won't be used when I'm driving. There's a Sony in the car with seek. The Kenwood also has seek which will be handy when I'm camped in different places. Seek is one thing I looked for before deciding to buy the Kenwood.
Yesterday, I mentioned that I'm becoming more accustomed to the way PJ handles. But then I remembered that I recently loaded a bunch of stuff in the storage bins. That, plus the weight of the AGM, has probably made a noticeable difference to weight distribution and overall stability. Once the water tank is filled, I suspect it'll be further improved. Lots of weight down below to counteract any weight up top.
This morning I phoned a gas fitter who's coming around this afternoon to check out PJ. So that's another thing about to be organized. Some of the copper tubing doesn't look too healthy to me.
Another thing I've been meaning to mention is that the Aussie dollar has come down about 15 cents from its high of $1.05 US a few months ago. Aussie exporters are delighted, of course. Petrol has gone up a bit and I suppose some electricals and other imports will rise soon, but I'm lucky in that I've made all my major purchases already.
From the Beeb: The Boeing 777 that crash-landed at San Francisco airport was "significantly below" its target speed near the runway and the pilot tried to abort the landing, US investigators say. The pilot of the Asiana Airlines flight from Seoul requested a "go around" 1.5 seconds before the crash, they say. The plane with 307 people came down short of runway on Saturday, killing two people and injuring dozens.
Canada's Prime Minister Stephen Harper says the part of Lac-Megantic affected by Saturday's crude oil explosion looks like a "war zone". At least five people died when runaway train cars packed with crude oil derailed and blew up early on Saturday. Some 30 buildings had been completely incinerated by fires which engulfed the historic centre, said Mr Harper.
Brazil has requested clarifications from the US government about reports that its intelligence agencies monitored millions of emails and phone calls from Brazilian citizens. The allegations were published on Saturday by O Globo newspaper. They were based on documents disclosed by fugitive American intelligence analyst Edward Snowden. Oops! No wonder the US is mad at Snowden.
Spent a little time in the sun and getting a dose of inner shedness while I attached the smoke alarm to the ceiling in PJ. It works very well. In fact, it works so well, it even sounds the alarm when there's no smoke. Hello? I read the blurb (written in Chinese English) which says that the thing detects infrared light emitted by smoke particles. Does dust emit infra red light? Sunlight was streaming in through the back door and windows, and PJ is parked fairly close to the main road which is carrying a fair bit of traffic today. I wonder if the passing traffic stirs up dust that affects the sensor... or whether exhaust fumes are the culprit. In any case, I couldn't shut the bloody thing off so I disconnected the battery. Anyone know anything about infrared light and the likely cause of the alarm chucking a wobbly? We have hard-wired smoke alarms in the house which rarely give a false alarm but they're protected from sunlight and passing traffic.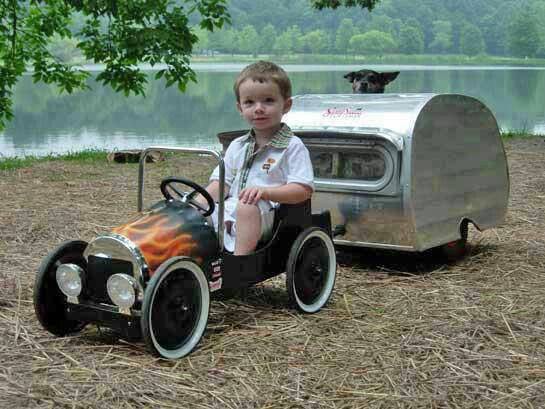 Here's a Land Rover in - no, not Oregon in winter - Mendooran Oz at minus 3C this morning. Here's another view.
Mendooran is a small town adjacent to the Castlereagh River in the Warrumbungle Shire of central western New South Wales, Australia. BTW, the GN titled his thread "Ice Pick Anyone?" and I answered, "Ice Pick English". Hehe. Oh well...
And there goes Mondee. The gas fitter didn't show. No surprise, really. I'll give him another day or two and phone again. Meanwhile, a/c heater's on and it's almost time for telly and belly. Gary
July 7, 2013. Brrrrr. Cold in the house. I had to go outside and warm myself in the sun for a while. TX Greg wrote: WHAT, NO pics of the new battery, wiring and powerboard?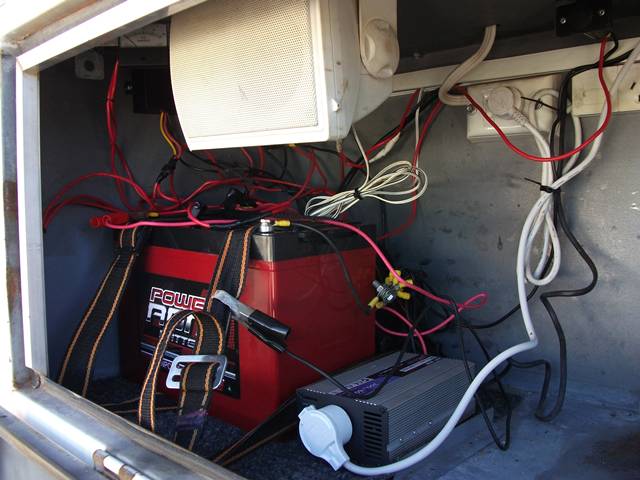 Guess about the best or only place to mount the CO alarm would be by the bed on the wall behind the closet. Anytime that stove is on you should have that vent above the stove open and running, which should help avoid false alarms. I hear of so many people that try to use the stove top in winter for heat, and well guess what, they never wake up :(
Good idea, Greg. As to using the stove for heating, there was a long discussion about that very subject on the GN forum recently, which is what prompted me to get the CO alarm. A few GNs actually admitted to using the stove for heating on cold mornings. By the vent, do you mean the roof hatch or the fan exhaust above the stove? Either one would do, I guess. Or both.
Speaking of buying things, I splurged a bit on eBay last night. The radio in the camper is an old Pioneer radio/cassette so it'll get the flick and be replaced with the Kenwood. I don't need a CD player now that all my stuff is on flash drive (or the MP3 player). There's a CD player in the truck anyway. I'll get Andrew to fit the Kenwood for me. The current Altec speakers will stay.
FL Josh wrote: You'll probably see signs like this on the Odyssey:
That'll save me bringing a towel.
NC Art sent this one:
Mujibar was trying to get a job in India. The Personnel Manager said, 'Mujibar, you have passed all the tests, except one. It is a simple test of your English language skills. Unless you pass it , you cannot qualify for this job.'
Mujibar said, 'I am ready.'
The manager said, 'You must make a sentence using the words Yellow, Pink, and Green .'
Mujibar thought for a few minutes and said, 'Mister manager, I am ready.'
The manager said, 'Go ahead.'
Mujibar said, 'The telephone goes green, green, and I pink it up and say, Yellow, this is Mujibar.'
Mujibar now works at a call centre.
Back from a little shopping! Reversing out of the drive was a piece of cake, especially on a Sunday with hardly any traffic. Besides, I can get a good view of the street through the passenger side window. I'm also getting more accustomed to driving the rig and dealing with the way it handles. It's altering my driving style - I'm not so antsy now.
From the Beeb: A Boeing 777 aircraft has crash-landed at San Francisco international airport, killing at least two people and injuring dozens more, officials say. Pictures posted on Twitter showed passengers jumping down the inflatable emergency slides and leaving the area, as plumes of smoke rise from the plane. Fire fighters and rescue teams are at the scene of the downed Asiana Airlines Flight 214, which had taken off from South Korea's capital, Seoul. The cause of the crash is unclear. Early indications suggest the plane came in too short and hit the seawall at the airport. Jeez, what a mess!
The presidents of Nicaragua, Venezuela and Bolivia have indicated their countries could offer political asylum to US fugitive Edward Snowden. Venezuela's Nicolas Maduro said it would give asylum to the intelligence leaker, who is believed to be holed up in a transit area of Moscow airport. Meanwhile Nicaraguan President Daniel Ortega said his country would do so "if circumstances permit". Bolivia's Evo Morales said Mr Snowden could get asylum there if he sought it. They feel sorry for the guy, right? Right.
Long before the Australian city of Darwin had an official recycling program, residents found a new life for their empty beer and soda cans. In 1974, while organising a local water festival on Fannie Bay, Lutz Frankenfeld and Paul Rice-Chapman decided it would be fun to build a raft out of beer cans and encourage others to do the same. So the first annual Darwin Beer Can Regatta was born. One day, I hope to be there in person to witness the race.
How to wreck a Land Rover Disco. Here's a post by a GN who survived a serious accident in his LR towing a rented trailer. Horrific stuff. At the time of posting, he didn't know how to post pics so if you scroll down through the other comments you'll eventually see the thumbnails. Click on those.
OR Richie thought Art's "Pin Drop" stuff was wonderful, and especially liked the one about De Gaulle: Even we Yanks have gone so far as to condemn the "french fries" verbage to "freedom fries". You say potato..... French fries and even potato fries were unheard of when I was a kid. It wasn't until McDonalds invaded our shores that those terms entered our vernacular. We called them chips - sometimes potato chips - but always chips. Fish 'n' chips, never Fish 'n' Fries. I still call them chips. And even McDs in Oz are now referring to chips. They also serve an Aussiefied burger with egg, pineapple and beetroot. Or did. Not sure if they still do.
New Version of the Three Bears Story. A far more accurate account of the events of that fateful morning....
Baby bear goes downstairs, sits in his small chair at the table. He looks into his small bowl. It is empty. 'Who's been eating my porridge?' he squeaks. Daddy Bear arrives at the big table and sits in his big chair. He looks into his big bowl and it is also empty. 'Who's been eating my porridge?!?' he roars. Mummy Bear puts her head through the serving hatch from the kitchen and yells, 'For goodness sake, how many times do I have to go through this with you idiots? It was Mummy Bear who got up first. It was Mummy Bear who woke everyone in the house. It was Mummy Bear who made the coffee. It was Mummy Bear who unloaded the dishwasher from last night and put everything away. It was Mummy Bear who swept the floor in the kitchen. It was Mummy Bear who went out in the cold early morning air to fetch the newspaper and croissants. It was Mummy Bear who set the table. It was Mummy Bear who walked the bloody dog, cleaned the cat's litter tray, gave them their food, and refilled their water. And now that you've decided to drag yourselves downstairs and grace Mummy Bear with your grumpy presence, listen carefully, because I'm only going to say this once....
I HAVEN'T MADE THE BLOODY Porridge YET!'
Ooer! Look at the time! Better turn on the telly and attend to supper. Catchyaz tomorrow. Gary
July 6, 2013. Another lovely day - not as warm as yesterday but still nice in the sun. Andrew turned up early this morning to connect the AGM battery to the solar panel and inverter and install the new power board/strip, which is fitted with a surge protector and individual switches for each power outlet. He also fitted the AGM with a fuse and tidied up the wires. When it's not in use he suggested removing the inverter negative aligator clip from the battery terminal so as not to waste charge. I got him to do a couple of small jobs - fix the dangling hinge thingy that supports the front window cover, and attach the new cover for the inlet power plug at the side of the camper. Looks like the old one had a barney with a tree branch.
Next time he'll connect the rear view video camera, and after that the solenoid. So it's all looking rather jolly! Meanwhile, I can take the laptop down to the camper and write Waffle! I'll try that later to see how it all works. Wow, not all that long ago what's happening now seemed like a distant dream - a fantasy.
Just now I was standing at the bedroom window and noticed a bird sitting on my rear view mirror. Then it started pecking at something. Hello? So I went down the yard to investigate. The damn thing was pecking at the plastic mirror surround trying to get strips for its nest (presumably). The bloody nerve! So now there's a bag over the mirror. Lindsay's response was, "It's only a natural - it's only a bird." Sheesh.
Here's a paste from a GN forum entry: I stumbled across this tidbit of useless information I just thought I would share... Back in 1885 Dr William Gordon Stables was apparently the first person to indulge in the pastime of caravanning. He called himself the Gentleman Gypsy. He stripped his household down to the bare essentials for life on the road: one coachman, a dog named Hurricane, Polly the c o c k atoo - and Foley, his valet. Foley's main task was to ride ahead of the caravan, on a tricycle, to make sure the road was clear and to look out for interesting stopping places. I thought it a little amusing that, since 1885 we have not changed our travelling style that very much. We GNs sell/down size our homes, become a 'coachman' to drive our rig and many surround themselves with pets for the journey. I guess "Foley" these days is the Navman and Camps 6 or 7 ... checking the road ahead and locating 'interesting stopping places'. AHHHH ..... time moves on but does it move at all ?? hmm
TX Greg wrote: That is really one neat water hose Josh found. Wow, talk about soft to hard in under 5 seconds, HAHAHA. Speaking of hard hose, do you think this bloke is waiting for someone to check his inflation?, HAHAHA You'll have to use your imagination, ladies and genitals, no way I'm gonna post Greg's pic. Hehe.
Meanwhile, Josh wrote: My bad on the expandable hose. I sent you the same link, twice, Here is the one with the review. People with sprinklers or who want to use the hose without holding it should watch the review.
During my dose of inner shedness earlier, I read the blurb that came with the CO alarm. Do not install in kitchen area. Install at least 15' from stove. Huh? The camper IS a kitchen and it's not 15' long! So I'm not sure what to do about that. The smoke alarm is okay though - provided it doesn't spit the dummy when I make toast in the mornings.
From the Beeb: Twelve people have died in Alexandria and three in Cairo in clashes between supporters and opponents of the ousted President Mohammed Morsi, reports say. The violence came after three pro-Morsi demonstrators were killed by security forces in another part of the capital. Troops later restored calm in Cairo, but nationwide violence left some 26 dead and 318 injured, officials said. Divided we fall, guys.
The presidents of both Nicaragua and Venezuela have indicated their countries could offer political asylum to US fugitive Edward Snowden. Venezuela's Nicolas Maduro said it would give asylum to the intelligence leaker, who is believed to be holed up in a transit area of Moscow airport. Meanwhile Nicaraguan President Daniel Ortega said his country would do so "if circumstances permit". Wikileaks said Mr Snowden had applied to six additional countries on Friday. As someone on The Drum pointed out, the countries offering asylum to Snowden have lousy human rights records. Those that do are US allies, which makes asylum there highly improbable. A dilemma indeed.
Zimbabwe's President Robert Mugabe has launched his party's campaign for the 31 July general elections, predicting a 90% victory for Zanu-PF. But the 89-year-old leader warned it was a "do-or-die struggle" and to prepare for a "battle for survival". The election will mark the end of a coalition government, which has stabilised the country's economy. He is standing for president against his long-time rival Morgan Tsvangirai, who has been serving as prime minister.
Some weeks ago on Waffle, I mentioned linear time and the Aboriginal concept of cyclical time - repetition of ages. When Cody died, I thought of him as disappearing from the present, and getting further away from "now" with each passing year. But if I think of Cody in cyclical terms, he's not getting further away. The 19 years he spent on Earth hasn't evaporated into nothingness, it exists in another dimension which can be imagined as kinda "next door" hehe. It's a rather comforting thought, actually, to believe that even in death he's not all that far away. That time doesn't move forwards or backwards, but remains constant.
One thing that refuses to remain constant is the warmth of the sun, which has now plummeted in the late afternoon. Dammit. I really enjoyed my time in the sun today, fiddling with PJ. When it's my permanent home, I'll be able to do that all day! I was telling Andrew that I feel happier about having loaded things in the storage bins yesterday, and having that extra weight (including the AGM battery) below PJ's decks as ballast. Once the water tank is full, I'm hoping stability is noticeably better. As I've previously mentioned, MI Bill has driven his all over the place for 15,000kms without a problem, so I'm looking forward to a little more experience behind the wheel, and reaching his level of confidence.
Andrew also mentioned the alarming number of caravan rollovers he saw during his time travelling Oz. Speed, inexperience and incorrect weight distribution he reckons are the main culprits. He also said many drivers choose a tug that's underpowered for the job of pulling a large van.
Just read a post by an Aussie GN who's in the US at the mo. Everything's bigger and better in the US of A, they say, and she reckons the rented motorhome they're driving is HUGE hehe. Lots of 5th wheelers in the trailer park as well. God knows what the average Yank would think of PJ.
Here's something NC Art sent. If you're an American, you'll love it. But it also says a lot about people who open their mouths before putting their brain into gear... and that's a universal problem:
Once upon a time, our politicians tended not to apologize for our country's prior actions. Here's a refresher on how some of our former patriots handled negative comments about our country. You Could Have Heard a Pin Drop.
JFK'S Secretary of State, Dean Rusk, was in France in the early 60's when DeGaulle decided to pull out of NATO. DeGaulle said he wanted all US military out of France as soon as possible. Rusk responded, "Does that include those who are buried here?" DeGaulle did not respond.
~~~~~~~~~~~~~~~~~~~~~~~~~~~~~~~~~~
When in England, at a fairly large conference, Colin Powell was asked by the Archbishop of Canterbury if our plans for Iraq were just an example of 'empire building' by George Bush. He answered by saying, "Over the years, the United States has sent many of its fine young men and women into great peril to fight for freedom beyond our borders. The only amount of land we have ever asked for in return is enough to bury those that did not return."
~~~~~~~~~~~~~~~~~~~~~~~~~~~~~~~~~~
There was a conference in France where a number of international engineers were taking part, including French and American. During a break, one of the French engineers came back into the room saying, "Have you heard the latest dumb stunt Bush has done? He has sent an aircraft carrier to Indonesia to help the tsunami victims. What does he intend to do, bomb them?" A Boeing engineer stood up and replied quietly: "Our carriers have three hospitals on board that can treat several hundred people; they are nuclear powered and can supply emergency electrical power to shore facilities; they have three cafeterias with the capacity to feed 3,000 people three meals a day, they can produce several thousand gallons of fresh water from sea water each day, and they carry half a dozen helicopters for use in transporting victims and injured to and from their flight deck. We have eleven such ships; how many does France have?"
~~~~~~~~~~~~~~~~~~~~~~~~~~~~~~~~~~
A U.S. Navy Admiral was attending a naval conference that included Admirals from the U.S., English, Canadian, Australian and French Navies At a cocktail reception, he found himself standing with a large group of officers that included personnel from most of those countries. Everyone was chatting away in English as they sipped their drinks but a French admiral suddenly complained that, whereas Europeans learn many languages, Americans learn only English. He then asked, "Why is it that we always have to speak English in these conferences rather than speaking French?" Without hesitating, the American Admiral replied, "Maybe it's because the Brit's, Canadians, Aussie's and Americans arranged it so you wouldn't have to speak German."
~~~~~~~~~~~~~~~~~~~~~~~~~~~~~~~~~~
AND THIS STORY FITS RIGHT IN WITH THE ABOVE...
Robert Whiting, an elderly gentleman of 83, arrived in Paris by plane. At French Customs, he took a few minutes to locate his passport in his carry on. "You have been to France before, monsieur?" the customs officer asked sarcastically. Mr. Whiting admitted that he had been to France previously. "Then you should know enough to have your passport ready." The American said, "The last time I was here, I didn't have to show it." "Impossible! Americans always have to show their passports on arrival in France !" The American senior gave the Frenchman a long hard look. Then he quietly explained, ''Well, when I came ashore at Omaha Beach on D-Day in 1944 to help liberate this country, I couldn't find a single Frenchmen to show a passport to."
~~~~~~~~~~~~~~~~~~~~~~~~~~~~~~~~~~
Meanwhile, another Satdee draws to a close. Seems like I say that every other day rather than every week. Where does the bloody time go? Must be because everything seems to be happening now - not like some months back when every week dragged because I was still trying to get my act together. Which reminds me, since Andrew is taking his time between jobs, I'll get in touch with a gas fitter on Monday and organize that side of things. Gary
July 5, 2013. You know those glossy brochures with pictures of vacationers relaxing on a banana lounge in the sun, wearing sunglasses by the pool? That's how it is here in Taree today. Glorious winter sunshine with plenty of warmth without being hot. And no wind or humidity. Perfect! I've been outside fiddling with PJ. Good thing I never said that to my mother when I was a kid. She'd wanna know who PJ was. Anyway, I stored a couple of things in one of the lower bins, taking care to distribute the load evenly. That telescopic ladder weighs a fair bit - prolly 10kgs or so. On the Odyssey, I'll be able to stay in the sun and Waffle instead of coming back into this house.
There are hoses and hoses according to FL Josh: You said re PJ, "The water inlet is next door which reminded me I need a hose!" Here is something I have seen advertised on TV that might be just the thing for you. (Also, you probably should wait until nightfall to attach it to Averil's water inlet so she won't catch you.) Expandable garden hose review from Consumer Reports. Expandable Garden Hose available in Oz.
What a great idea! Thanks, Josh. I've shared it on the GN forum as well. AND... I just ordered one. I reckon they got the idea from the way a willie expands and shrivels.
Also, you said you didn't back PJ in this last time you came home. Can you jockey it around in the yard so you can head out nose first or are you about to get the experience of backing into a roadway???
I've been backing cars from the drive onto the busy road outside for years. The only difference with PJ is there's a big box on the back. There's a set of traffic lights 500m down the road that stops traffic. But there's also a sneaky lane across the road from which cars dart from time to time, and there's always the danger of a car entering the street from a driveway or from the kerb which are easy to overlook if you're not careful. Jockeying the car around the yard is difficult because of the damn rotary clothes line plonked in the middle. At the mo (without the reversing camera) it's a pain reversing PJ into the drive because I can't see when the offside rear wheel is clear of the kerb and ready to enter the drive.
Well, does the Porta Potti fit? Just! Not a half inch of width to spare, but there's room on top for other things because the top and bottom sections are stored separately. There's no way in the wide world I'd get all this stuff into a campervan like Das Busse without towing a trailer. The only other bulky stuff I have is folding camp furniture and that'll all go in with ease, so it's all good.
From the Beeb: Egypt's army has said it will guarantee the right to peaceful protest ahead of the traditional day for major rallies. Muslim Brotherhood supporters are expected to rally on Friday after the army deposed President Mohammed Morsi. New interim leader Adly Mahmud Mansour, the top judge of Egypt's constitutional court, has pledged to hold elections based on "the genuine people's will". The rocky road to democracy.
President Evo Morales has threatened to close the US embassy in Bolivia after his official plane was banned from European airspace. The warning came as South America's leftist leaders offered him support at a special summit on Thursday. His plane was forced to land in Austria on Tuesday after several European nations barred it from flying through their airspace. The Bolivian president blamed Washington for pressurising European countries into refusing him passage. It'll be interesting to hear Washington's explanation.
China and Russia are beginning joint naval drills which Beijing has described as the country's largest with a foreign partner. The drills, which are taking place in the Sea of Japan, last from 5-12 July. People's Liberation Army chief Gen Fang Fenghui said on Tuesday the drills did not "target any third parties", but aimed to deepen ties with Russia. And we all know how the west feels about Russia. Hehe.
10 inventors who didn't get mega-rich from their inventions. Doug Engelbart, who has died aged 88, never really made any money from inventing the mouse. Here are 10 others who didn't get to be billionaires.
Last week the US Supreme Court struck down the Defense of Marriage Act, which defined marriage as between a man and a woman. But same-sex marriage has been possible in some states since 2004 - and one gay couple even craftily obtained a marriage licence more than 40 years ago.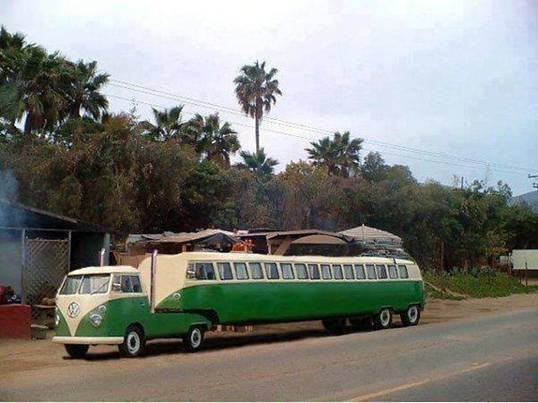 I'm just reading some of the GN posts and saw this pic of a camp site. Maybe the view/attraction is behind the photographer hehe. I can see why someone might stop there for a cuppa but... well...
Here's another pic they say is an optical illusion. Looks raised, but in fact it's a depression. How odd! One GN suggested it's someone buried upside down.
Another shortie today, I'm afraid. Blame the gorgeous weather. I fear we won't get too much more of this sunshine and warmth being mid winter. In fact, I can't remember the last time July was like this. Just checked the forecast for the week and sunny conditions will continue but the temps will be back to late teens rather than low twenties. No complaints from me, though. Some of my best friends are late teens. Hehe.
Roite. Time to catch up with the nooz on telly and feed the face. Yes, last year I was feeding the tube! What a horrible experience that was! Matter of fact, I looked at the mask I used to wear during radiation treatment and thought, "What the hell are you still doing here? I don't need to be reminded of all that crap!" So tomorrow it goes in the bin. Gone forever. Gary
July 4, 2013. TX Greg wrote: Well it wouldn't be our July 4th holiday without a good wiener, hehe...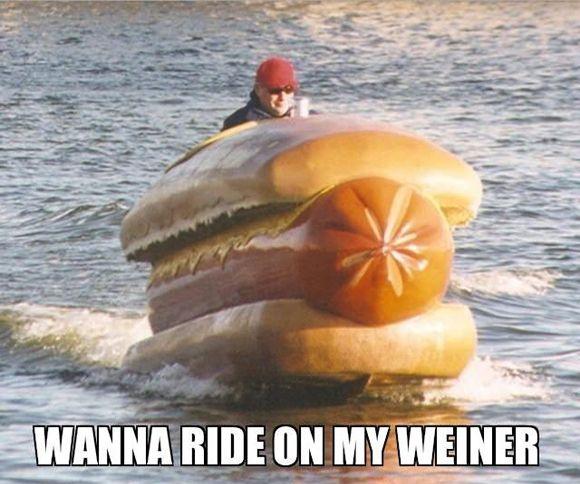 I never ceased to be amazed at what some people do.
SF Bill wrote: Pornographic Lions Ad Causes Uproar. It's a great ad; didn't know Aussies were so up tight. I think it's a great ad too! Trust the British Telegraph to beat up the story. I hadn't even heard about the ad till I read your email, Bill. Storm in a teacup. As to the Aussies who criticized the ad, I don't believe they're respresentative of most Aussies - just a couple of wowsers worried about Aunty Melbourne's reputation. For the benefit of the uninitiated, 'rooting' not only means barracking but is also Oz slang for fornication. Tsk, tsk.
Meanwhile, FL Josh would like to say: Loved "A Man's Age, as Determined by a Trip to Home Depot." NC Art is on a roll!!!
Yep, just like Greg's weiner - on a roll. There's no mustard on Art though (to my knowledge). So where are we? I've spent time out in the sun today. Can you believe this is mid winter - sunny and 22C? Glorious! So I fiddled a bit with PJ and soaked up some vitamin D. PJ is parked the other way around cos I drove nose into the drive yesterday instead of backing in. When I stood next to the gas bottle compartment I realized it wasn't all that high (now that the camper is on the truck). It'll be fine getting a bottle in there and turning on the gas, etc. The water inlet is next door which reminded me I need a hose! There's an old one in the garden but it's probably fulla ikky stuff and creepies. I'll also get one of those power spray nozzles that can power wash PJ from time to time.
From the Beeb: Egypt's army has removed President Mohammed Morsi from power, suspended the constitution and pledged new elections following mass protests. The army chief announced the move in a TV address. The head of the constitutional court is expected to be sworn in as interim leader on Thursday. Mr Morsi's supporters denounced the move as a military coup and said he was being held in detention. Didn't Morsi get 51% of the vote last time? What makes them think it'll be any different this time?
France has apologised to Bolivia for refusing to allow President Evo Morales' jet into its airspace, blaming "conflicting information". Bolivia accused France, Italy, Spain and Portugal of blocking the plane. It said some wrongly believed US fugitive Edward Snowden was on board.
The inventor of the computer mouse, Doug Engelbart, has died aged 88. Engelbart developed the tool in the 1960s as a wooden shell covering two metal wheels, patenting it long before the mouse's widespread use.
Thursday marks the Fourth of July holiday, when families in the US gather for long weekends and celebrate the country's independence with picnics, barbeques and fireworks. For many, no matter how much life changes, eating a favourite food outdoors brings back happy memories of days in the sun. Whether the humble hotdog or freshly grilled corn on the cob, these dishes are also a part of the American identity. Three writers based in the US - including The Time Traveller's Wife author Audrey Niffenegger - describe their favourite summer foods and what these mean to them for BBC Radio 3's A Taste of Summer in America.
Now, a 1957 Chevy may not be your thing. Maybe you're into motor cycles. Or maybe you're into horse-drawn buggies. Well, here's how you can turn bits of a '57 Chevy into something else.
And now to something more cerebral - Psychology 101.
I've decided to be nice to L&S by offering to bake a nice meal for them on the weekend but L has already bought frozen meals. Meals on Wheels only does weekdays. So, the offer stands for the following weekend. Roast chicken, meatloaf, whatever they fancy. I quite like cooking so I don't mind doing it for them. I only wish I could have some of it too!
Anyway, my little frolic in the sunshine earlier has meant the day went that-a-way. If it's nice again tomorrow, which it probably will be, I'll do a few more things with PJ. But for now, it's a wrap. All the bills are paid because we have a nice government in Oz that keeps giving me money every fortnight, and I can't wait for Andrew to reappear. It's school hols so he's probably doing the family thing. He also mentioned that his father is in the process of moving up here from Sydney. Andrew is one of those people who can't help waving his arms all over the place when he speaks hehe. He said it's the Maltese blood. He's certainly a very amiable and pleasant bloke, which makes a nice change from the formal treatment dished out at regular auto workshops. Keep yourselves nice, dear Breth, and tune in again tomorrow, same time, same station. Gary
July 3, 2013. NC Art sent this link to a Youtube video about why Russians use dash cams. Hold on to your seats.
Here's something else from Art:
A Man's Age, as Determined by a Trip to Home Depot
You are in the middle of a few projects around at your home: putting in a new fence, painting the basement walls, putting in a new garden. You are hot and sweaty, covered in dust, lawn clippings, dirt and paint. You have your old work clothes on. You know the outfit -- shorts with the hole in the crotch, old T-shirt with a stain from who-knows-what, and an old pair of tennis shoes. Right in the middle of these projects you realize you need to run to Home Depot for supplies. Depending on your age you might do the following:
In your 20s:
Stop what you are doing. Shave, take a shower, blow dry your hair, brush your teeth, floss and put on clean clothes. Check yourself in the mirror and flex. Add a dab of your favouritecologne because, you never know, you just might meet some hot chick while standing in the checkout line. And yes, you went to school with the pretty girl running the register.
In your 30s:
Stop what you are doing, put on clean shorts and shirt. Change your shoes. You married the hot chick so no need for much else. Wash your hands and comb your hair. Check yourself in the mirror. Still got it. Add a shot of your favourite cologne to cover the smell. The cute girl running the register is the kid sister to someone you went to school with.
In your 40s:
Stop what you are doing. Put on a sweatshirt that is long enough to cover the hole in the crotch of your shorts. Put on different shoes and a hat. Wash your hands. Your bottle of Brute is almost empty, so don't waste any of it on a trip to Home Depot. Check yourself in the mirror and do more sucking in than flexing. The hot young thing running the register is your daughter's age and you feel weird about thinking she's spicy.
In your 50s:
Stop what you are doing. Put on a hat. Wipe the dirt off your hands onto your shirt. Change shoes because you don't want to get dog crap in your new sports car. Check yourself in the mirror and swear not to wear that shirt anymore because it makes you look fat. The cutie running the register smiles when she sees you coming and you think you still have it. Then you remember -- the hat you have on is from Bubba's Bait & Beer Bar and it says, 'I Got Worms'
In your 60s:
Stop what you are doing. No need for a hat any more. Hose the dog crap off your shoes. The mirror was shattered when you were in your 50s.
You hope you have underwear on so nothing hangs out the hole in your pants. The girl running the register may be cute but you don't have your glasses on, so you're not sure.
In your 70s:
Stop what you are doing. Wait to go to Home Depot until the drug store has your prescriptions ready too. Don't even notice the dog crap on your shoes. The young thing at the register stares at you and you realize your balls are hanging out the hole in your crotch.
In your 80s:
Stop what you are doing. Start again. Then stop again. Now you remember you need to go to Home Depot. Go to Wal-Mart instead.
You went to school with the old lady greeter. You wander around trying to remember what you are looking for. Then you fart out loud and think someone called your name.
In your 90s & beyond:
What's a home deep hoe? Something for my garden? Where am I? Who am I? Why am I reading this? Did I send it? Did you? Who farted?
~~~~~~~~~~~~~~~~~~~~~~~~~~~~~~~~~~~~~~~~~~~~~
I took the initiative earlier today and drove out to Peter's engineering shop. He was standing out front as I arrived. "Sorry, mate, I forgot about the other night." I told him not to worry about it - he's got other things to occupy his mind rather than my little 2 bob job. I showed him what I wanted and he took the two brackets he made a few months back, cut off a length of each one, ground and smoothed the sharp edges, and then put them back on PJ. The brackets don't bolt to the camper now; only the truck tray as stoppers in case the thing ever wants to slide backwards. The corner turnbuckles are sufficient to hold the camper down, as well as its own weight. And he refused to take any money. Instead, he shook my hand and wished me well. "It won't fall off," he said. He thinks I worry too much.
So then I did a bit of shopping and here I am!
FL Josh sent this link to a most interesting and revealing article which surprised me. Josh thinks Snowden (the sneaky leaker, as OR Richie calls him) is a traitor. BUT, maybe the Hail Marys I said the other day made a difference hehe: Here's another twist on the Snowden saga, whistleblower? Traitor? Savior?
From the Beeb: Egypt's Mohammed Morsi has insisted he remains the country's legitimate president, as mass protests claimed more lives in the capital, Cairo. In a late-night TV address, Mr Morsi rejected an army ultimatum that the crisis be resolved by Wednesday. Mr Morsi said he would not be dictated to and urged protesters to remain peaceful. However, at least 16 people died at one pro-Morsi rally overnight. The army earlier leaked details of a draft "roadmap" for Egypt's future. Politics and religion cause enough problems as it is but when you add the Middle East to the mix, KABOOM!
Bolivian President Evo Morales's plane had to be diverted to Austria amid suspicion that US intelligence leaker Edward Snowden was on board, the Bolivian foreign minister has said. Officials in both Austria and Bolivia said Mr Snowden was not on the plane. France and Portugal reportedly refused to allow the Moscow-Bolivia flight to cross their airspace. Mr Snowden is reportedly seeking asylum in Bolivia and 20 other countries to avoid extradition to the US. My own view is that the US will do more harm to its international reputation if it catches and punishes Snowden than it will if it forgets about him.
Fighting in Afghanistan could be stopped "in weeks" if Pakistan told the Taliban to end the insurgency, the head of the Afghan army has told the BBC. Gen Sher Mohammad Karimi said Pakistan controlled and gave shelter to Taliban leaders, deliberately unleashing fighters on Afghanistan. Pakistan denies controlling the militant group.
Germany's standard dictionary has included a vulgar English term, used by Chancellor Angela Merkel among others, as an acceptable German word. Duden, the equivalent of the Oxford English Dictionary in the UK, said it was reflecting the common use of the word "shitstorm" among Germans. The word, which is used in German to denote a public outcry, seems to have caught on during the eurozone crisis. German language experts voted it "Anglicism of the year" in 2012.
There are certain words banned on the GN forum. Cock becomes **** hehe. So if you wanna talk about spatchcock or watercock or cockeyed, you've gotta get a bit creative.
Now here's something rather delightful. It's not a joke but something well worth taking on board:
There was a father who left 17 camels as an asset for his three sons. When the father passed away, his sons opened up the Will. The Will of the father stated that the eldest son should get 1/2 (half) of total camels while the middle son should be given 1/3rd (one-third) and the youngest son should be given 1/9th (one-ninth) of the total camels. As it was not possible to divide 17 into half or 17 by 3 or 17 by 9, the three sons started to fight with each other. So, the three sons decided to go to a wise man.
The wise man read the Will patiently. The wise man, after giving due thought, brought one camel of his own and added the same to 17. That increased the total to 18 camels. Now, he started reading the deceased father's Will. Half of 18 = 9. So he gave the eldest son 9 camels. 1/3rd of 18 = 6. So he gave the middle son 6 camels. 1/9th of 18 = 2. So he gave the youngest son 2 camels. Now add this up: 9 plus 6 plus 2 is 17 and this leaves one camel, which the wise man took back!
Moral:
The attitude of negotiation and problem solving is to find the 18th camel i.e. the common ground. Once a person is able to find the 18th camel the issue is resolved. It is difficult at times. However, to reach a solution, the first step is to believe that there is a solution. If we think that there is no solution, we wont be able to reach any!
I think I've got a whole stack of 18th camels out there in the backyard - dealing with problems and solutions for the past few years trying to do the impossible, ie getting the Odyssey together on a piddly pension. I've done a few "impossible" things in my time but I reckon this one takes the cake.
Speaking of cake, will I do another tribute to The Year of Our Lord, Nineteen Fifty Seven? Yeah, why not... Pardon the modifications but they're very well done.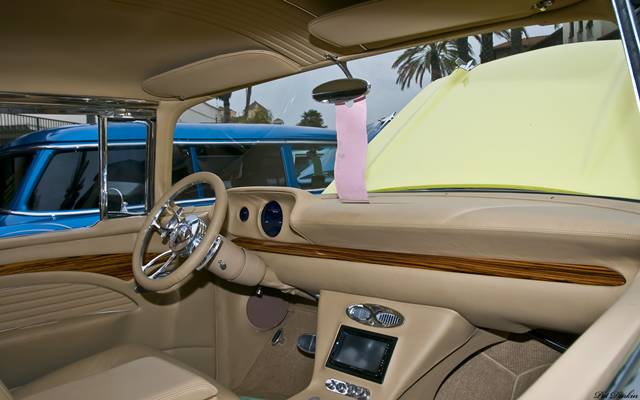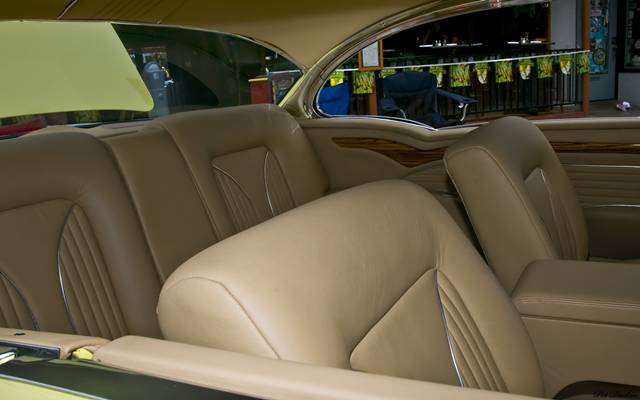 And there goes Wednesdee! Pay day tomorrow but most of it will go to shore up my credit cards. I still have plenty left in the PJ kitty to keep Andrew happy (when he shows up). Once the AGM is hooked up, it'll be interesting to see how the current solar panel (60/70 watts) handles the charging. There'll be a 200 watter up there one of these days but there's no rush. Gary
July 2, 2013. I mentioned Cody yesterday on Waffle. I think about him often but yesterday I forgot his birthday. Fortunately, my Brazilian mate João didn't, and sent this message and graphic: This mail is just to send you a little graphic on Cody's birthday. Very soon he'll be traveling across Australia with you in your heart and memory. Indeed he will, João, and thanks. Also thanks for the donations you made to the Odyssey. They were a big help recently. :o)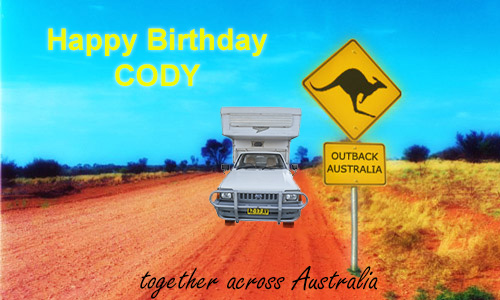 NC Art wrote to remind us that the digital age might mean less paper, but not necessarily all paper.
TX Greg wrote: Yep, that was a can of compressed air. Most office supply stores sell it for cleaning dust from inside computers and keyboards. The fridge may be working fine. I'm just wanting you to be aware of and understand why this is a normal maintenance issue. It's no different than checking to see if the engine air filter is clean.
Art agrees: Yes, you can buy air in a can. Neat for lots of jobs. Blow the dust and litter out of computer keyboards. Clean tiny bit of dust or lint from pilot light on gas appliances. I was a boon for me when I bought the first computerized typesetting machine in my printing business. Lots of uses where clumsy hands and tools won't reach or will do expensive damage. Use it sparingly because it isn't cheap and one can doesn't go very far.
Unless you use a sling shot. Ho, ho, ho. And as it happens, FL Josh didn't get the last word yesterday on the subject of espionage after all:
About the spying business, it's all quite legal. The U. S. congress passed laws, the NSA can gather masses of data, but they can't read it without a court order. The law is classified, which means you can't read it. The court and judges that approve use of data? Also classified. We don't know who the judges are or where the court sits. And, one doesn't even know which members of congress wrote the law in the first place. See how simple it all is? Hehe, ow!
~~~~~~~~~~~~~~~~~~~~~~~~~~~~~~~~~~~~~~~~~
One day a father gets out of work and on his way home he suddenly remembers that it's his daughter's birthday. He pulls over to a Toy Shop and asks the sales person, 'How much for one of those Barbie's in the display window?' The salesperson answers, 'Which one do you mean, Sir? We have: Work Out Barbie for $19.95, Shopping Barbie for $19.95, Beach Barbie for $19.95, Disco Barbie for $19.95, Ballerina Barbie for $19.95, Astronaut Barbie for $19.95, Skater Barbie for $19.95, and Divorced Barbie for $265.95'.
The amazed father asks: 'It's what?! Why is the Divorced Barbie $265.95 and the others only $19.95?'
The annoyed salesperson rolls her eyes, sighs, and answers: 'Sir..., Divorced Barbie comes with: Ken's Car, Ken's House, Ken's Boat, Ken's Furniture, Ken's Computer, one of Ken's Friends, and a key chain made from Ken's balls.'
~~~~~~~~~~~~~~~~~~~~~~~~~~~~~~~~~~~~~~~~~
Here's something rather novel doing the Big Lap of Oz.
From the Beeb: US intelligence leaker Edward Snowden has accused President Barack Obama of denying him his right to asylum, in a statement published by Wikileaks. It is his first public announcement since flying to Russia on 23 June, where he has applied for asylum. "This kind of deception from a world leader is not justice, and neither is the extralegal penalty of exile. These are the old, bad tools of political aggression. Their purpose is to frighten, not me, but those who would come after me." Yes, we certainly don't want to set a precedent, do we?
A deadly wildfire raging in Arizona remains uncontained, as the 19 elite firefighters killed by the blaze were identified and mourned. The bodies of the men, aged 21-43, received an honour guard on Monday as they were brought to Phoenix for post-mortem examinations. President Barack Obama, on a foreign visit to Africa, called the Arizona governor to offer condolences.
A Bulgarian student who is married to an American has become the first gay man to have his application for a green card granted, says their lawyer. The approval is seen as proof of US visa policies quickly adapting to last week's historic Supreme Court ruling on same-sex marriage. Traian Popov, who wed Julian Marsh in New York, may now apply for immigration benefits and a permanent resident visa.
I meant to comment on something I watched on telly the other night. A Muslim woman in Oz decided that Muslim fashions for women were dull and boring - as well as unsuitable for the Australian climate - so she started to design clothes for herself and friends. Although her creations conformed to the Muslim tradition of modesty, they were chic and sophisticated, and very stylish. So much so, her popularity as a designer spread. Eventually, she quit her job as a successful lawyer and took up fashion design full time. She now has her own factory and distribution network, and a thriving export market. What's more, many customers are non-Muslim, including Christian, who love the look. Isn't it amazing what a little creativity and imagination can do? Click here for a synopsis of the story.
Recently, I started a thread on GN about my ISP and Optus, the carrier they use for all wireless broadband and mobile/cell phone applications. Many GNs prefer Telstra to Optus, which they nickname Floptus because it doesn't have good reception in country areas. So they say. But there are those who use Optus and say it's fine. One uses a wireless modem fitted with a Yaggi antenna for added signal strength in remote areas. So after reading all the comments, I came to this conclusion: I'll stick with my ISP and Optus, mainly because my ISP hosts the AO website, facilitates FTP for updating the website, gives me access to website stats and is home to my email addy, etc. So, before I hit the road, I'll get a smart phone with a USB port to tether it to the laptop so it can double as a modem. It also must have an external aerial input to connect a Yaggi antenna. It must have inbuilt GPS. So that little package gives me an internet phone, modem, extra wireless signal strength and GPS. Sound cool to you?
BTW, a Yaggi looks like the sharp end of a sword fish rather than the regular stick type antenna. Point it in the direction of the nearest town with a relay tower and it brings in the signal - hopefully. There will be areas where a signal is non-existent, of course, which will mean being off line for a while, but that's okay. I'll continue to write the journal off line, assemble photo albums, etc, and update when I'm back on line. I should be able to notify visitors to AO when to expect interruptions to updates.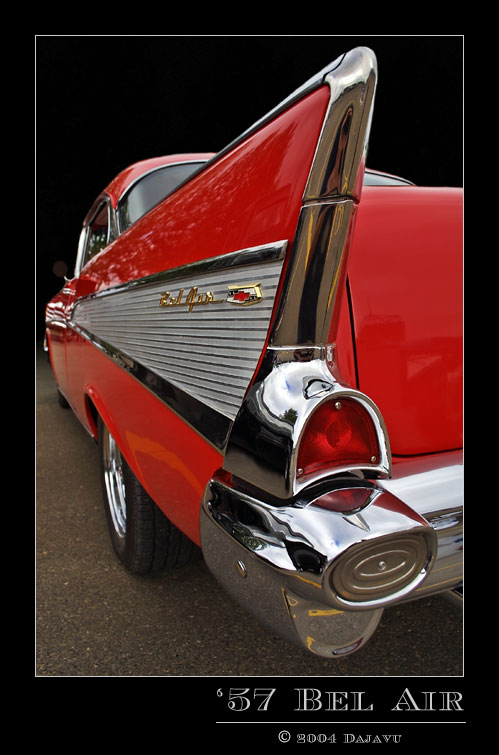 Isn't that a cool shot? I thought I'd end today's Waffle with that image as I toddle off to my evening ritual. Gary
July 1, 2013. Half way through the year!
The sun is playing peek-a-boo at the mo, taking turns with the clouds and showers. But sunnier weather is on the way, and pleasant temps for winter, so the weatherman says. Meanwhile, ladies and genitals, welcome to the second half of The Year of Our Lord, Two Thousand and Thirteen.
TX Greg wrote on the subject of bumper stickers: Actually in the early days, and I'm sure Ohio Jace can relate, I had a few motocross stickers, Fox Racing, Suzuki and couple of the popular radio stations. Yet I kept all the stickers on the back window glass for easy removal. I would always hate it at the RV dealer to get a trade-in covered in old stickers on painted surfaces that would take hours with a heat gun to remove.
Yep, quite a conundrum. If you stick 'em on the windows, you can't see out. If you stick 'em on the paintwork, they go all wrinkly and tattered after a while. Sooooo, digitize 'em, put 'em on the web site, and bin the original.
Well Steve W makes some good points on guns there. Our Constitution was written in the days of muskets and not assault rifles. I really wonder what our forefathers would think of things today. As to "10 out of 10" being naive, hehe, no I think that's quite the opposite here. And as the old joke goes "How can you tell when a politician is lying? His lips are moving."
Is the gas fitter going to be able to inspect and clean the fridge burner? Yes I'm being a worry and I know I've said it before, but that really does need to happen BEFORE you try to light it. Chucks of rust will always fall out the flue onto the burner causing an improper or no flame. Even something as simple as a spider making a web in the burner tube can cause big problems. That's not dirt he's blowing out of there, that's rust!
I hate that they put a screwed-on access panel instead of the hinged or removable type. You're going to be needing to get in there more than you know.
And I know you're going to have fun because that model fridge is such a pain to light with the inside controls, pull here and hold while you repeatedly push here and just maybe you can see the flame thru that cheap sight glass. Way easier to light on the backside with a match and can verify a proper flame and clean burner.
Well, I'm hoping you're wrong about all that, Greg. The bloke who sold the camper said the fridge was working fine, so I guess we'll find out soon enough. BTW, was that compressed air the bloke used to blow away the crap? I've never seen a can of compressed air before.
Meanwhile, FL Josh has the last word: In classifying government information, both the US and Oz define "Top Secret" as information that "if publicly disclosed, would cause 'exceptionally grave damage' to national security," and both have penalties for disclosing such to anyone not authorized to possess it. Neither country has a clause that makes revealing such legal depending on the revealer's intentions. So when you say, "If Snowden had leaked information in Oz that revealed ASIO had gathered intelligence by unlawful means, it would be ASIO that was in trouble, not Snowden," that simply is not so because Snowden would still have broken Australia's laws as to revealing top secret information to unauthorized people. That is why Snowden is wanted by the US Government. And as for what he revealed, it still hasn't been determined if the NSA's actions were illegal or not, but the decision on that will have nothing to do with the fact that Snowden broke our laws as to classified information, just as he would have broken Australia's laws and been in trouble there if he had done that over there.
While you were reading that, dear Breth, I said one Our Father and three Hail Marys for my penance. Shall we move on now?
Peter the engineer is popping in at 5pm. I phoned him earlier and could tell he was frustrated with me trying to explain things with no teeth hehe. I spoke to Averil as well on the phone and, trust me, it's not easy trying to carry on normally with this gum business. It's a good thing I have PJ and AO to occupy my time - I'm sure it's helped me cope with my medical issues. Playing around on the GN forum is also cool, and helps with decisions regarding the things I need for travelling.
From the Beeb: At least 19 US firefighters have been killed battling a wildfire in central Arizona, local officials say. They died while fighting the blaze threatening the town of Yarnell, about 80 miles (130km) north-west of Phoenix. The fire was started by lightning on Friday and spread rapidly amid high heat, low humidity and strong winds. How dreadful.
France, Greece and Italy have been the "targets" of US spying operations, according to the latest files leaked to Britain's Guardian newspaper. Citing a document by the National Security Agency, it says America's non-European allies were also targeted. The claim follows a report by Germany's Der Spiegel magazine saying EU offices had been bugged. EU leaders have demanded an explanation from the US. Hail Mary full of grace...
Australia's new prime minister, Kevin Rudd, has unveiled his cabinet, five days after ousting Julia Gillard as Labor Party leader. The cabinet contains a record number of women and many Rudd backers, who replace Gillard loyalists who stepped down after the leadership change. "There'll be no recriminations," he said earlier...
US President Barack Obama has toured Robben Island - the jail in which Nelson Mandela was kept for 18 years. He said he and his family were "deeply humbled" to visit the prison once inhabited by Mr Mandela - who remains critically ill in hospital. Mr Obama went on to give a speech at the University of Cape Town and launch a multi-billion-dollar electricity initiative. What a pity Cody is not here to see it all happening. He was a big Mandela fan.
Almost 5.30 and Peter hasn't turned up, which is a prob cos it's dark! Probably got caught up with a customer or whatever. Oh well... let's see what happens tomorrow. Heater's on and time for YKW. Gary
← Older posts Waffle Index Newer posts →
or
Return to Home Page