| | |
| --- | --- |
| the WAFFLE page | |
January 31, 2014. One down, 11 to go. How's your happy new year going so far?
I'm contemplating making my own trifle - my way. Fattening! Instead of sponge cake, I figure heavy fruit cake. I have leftover plum pudding so I'll use that up first. It's not easy for me to swallow cake with all the fruit so I'll use my extra sharp knife to slice it thinly and then layer it in a dish. Crumbling it doesn't reduce the size of the lumpy bits - tried that already. Instead of using jelly (jello), I'll use a good quality fruity jam. Fruit in jam is cooked so it's soft. The idea is a layer or two of thinly sliced plum pudding (or heavy fruit cake), spread with jam and a good soaking of sherry, a generous layer of double-thick custard, repeat cake, jam and sherry, and another generous layer of double-thick custard. Depending on the height, maybe repeat the layers. Top with grated chocolate. Refrigerate. I'll make enough for several servings so once each serving is on a plate, top with good squirt of pressure-pack whipped cream. Yeah?
I can't handle animal fat in meat but I have no probs with dairy fat - butter, cream, cheese.
NC Art reckons it's still a tad nippy over there: Weather predictors lied. Melting was supposed to begin today, but the jet stream god didn't read the weather forecast. Still living on an iceberg with temp right at freeze mark. Besides that my water line froze this morning, but thawed after my son put an electric heater in the pump house. We are on well water way out here in the woods. He managed to get out to the road in a pickup truck and brought back a newspaper, but said the driving was pretty hairy even at 10 mph. I won't be jumping in my ancient Buick until I can see gravel through the ice on our 600 foot driveway through the wilderness! Outback?
If you go down in the woods today,
You're sure of a big surprise.
If you go down in the woods today,
You'd better go in disguise.
For every bear that ever there was
Will gather there for certain because
Today's the day the Teddy Bears have their picnic.
Yeah... if you go down to the sticks today doesn't cut it. Or bush. Woods works. You don't hear people using 'woods' in Oz, it's always sticks, bush and sometimes forest. Now... if you're really hanging out to hear the Teddy Bears Picnic song, here's Ann Murray doing the honors.
Meanwhile, OH Jace wrote to say the weather in his patch is not too flash either: We are having a heatwave in Ohio too. It was a balmy minus 7 degrees C today after dropping to minus 29 C Tuesday and slightly warmer at minus 27 Wednesday and minus 22 C Thursday. This is the same storm that crippled the south with snow and ice in Florida. We finally received a decent snow last weekend, 8 inches, with a total for the season of nearly a meter. Way above normal. It has not been this cold since 1978. Like the past three weekends spring will make a brief appearance with temps around 4 C. Snow will changed to rain before changing back to snow next week with temps approaching minus 2 again. The wind chill, as low as minus 40, made things even worse.
Roite, well we're getting similar temps except they're plus instead of minus. Jace goes on to say: I get to baby-sit Ryan when the kids are in school which is not often at present. The poor kids will have to go to school half the summer to make up the lost days. Of course, he wants to go out and play, but it is way too cold. He seems satisfied with a quick walk up the driveway to the mailbox and back.
Well, I think it's very encouraging that he comes back again. Must something about your cooking, Jace. Jace also suggests Biotene for my oral cavity: Next time you go to the dentist ask about BIOTENE. It is an enzyme that helps with dry mouth. Dentist here swear by it. It comes as a mouthwash and toothpaste. Nancy recommended Biotene toothpaste when I first started seeing her. I still have some. I use a different mouthwash though... Savacol, which is a pretty strong antiseptic.
Anyway, good to hear that the Ohio Gang is well and making pancakes naked. I'm pretty sure Cody made toasted peanut butter sarmies naked one time hehe. Nothing shy about that lad.
Back from shopping - a few groceries and all the yummies for trifle. I looked for a good quality jam, one with lots of fruit, and found a brand I hadn't seen before, Anathoth Farm in New Zealand. Yes, I know, I'm being unpatriotic. Anyway, I read the label and was pretty impressed. It was double the price of the cheaper jams BUT, you get what you pay for. I bought the 3 berry variety - strawberry, boysenberry, blackcurrant. Couldn't find grated chocolate though so I'll grate it myself from a block of cooking chocolate.
From the Beeb: During World War One up to 12 million letters a week were delivered to soldiers, many on the front line. The wartime post was a remarkable operation, writes ex-postman and former Home Secretary Alan Johnson. When a soldier on the Western Front wrote to a London newspaper in 1915 saying he was lonely and would appreciate receiving some mail the response was immediate.
Australian authorities have approved a project to dump dredged sediment in the Great Barrier Reef marine park as part of a project to create one of the world's biggest coal ports. The decision was made by the Great Barrier Reef Marine Park Authority. We haven't heard the last of that, that's for sure.
The US economy grew at a 3.2% annual rate for the final quarter of 2013, according to the country's Commerce Department. Many predict that 2014 will produce the strongest growth since the end of the US recession in mid-2009.
Well, I think I'll go and make this trifle and see how it turns out. There are heaps of trifle recipes on the web using different ingredients apart from the basics. So inventing a new one is nothing out of the ordinary. Catch yaz tomorrow. Gary
January 30, 2014. OR Richie said of Obama's State of the Union speech: Our President gave a very good State of the Union address last night with predictably mixed results but we thought it was very good.
One commentator on The Drum last night said it was "classic Obama" but long on rhetoric and short on substance. My layman's view is that it's been a tug o' war in congress with one side not giving an inch to the other. It must be frustrating the hell outta Obama to be the first black president in the US constantly stymied by a hostile congress. At one point in his address, he said anything was possible in the USA including the son of a single mother becoming the president of "the greatest country on earth". Hehe. Oh well... our PM says that about Oz too.
One of our pollies, Joe Hockey, treasurer, I like. He's typically Aussie - acts like one, talks like one, and has a laconic sense of humor like one. So I was surprised to discover his ancestry is Palestinian. Just goes to show that no matter what a person's origins, owyagoin, mate, no worries, will gitcha sooner or later.
Hockey was interviewed on a show one time where he hosted the interviewer to lunch at his home, and did the cooking. Bangers and onions on the barbie with a bottle of tamaaaata sauce hehe. During the tour of his home (which is his bacheor pad away from his family when he's in Canberra) the cameras revealed an oven that still had traces of the original plastic wrapping despite its being several years old. In his bedroom, the pillow slip starred Bart Simpson which cracked up the presenter big time. Hockey shrugged and said, "It was on special."
Here's a clip of Hockey as opposition shadow treasurer during Rudd's reign as PM doing battle with the Speaker of the House. You'll need to watch it all the way through to get the full impact. Interestingly, in the end, then treasurer Wayne Swan answers Hockey's accusations. Behind Swan on the front bench are PM Rudd and Deputy PM Gillard. All three, Swan, Rudd and Gillard, are now out of politics and Hockey is the federal treasurer.
Parts of Oz might be in the grip of a heatwave (with a cyclone threatening N. Qld) at the mo, but it's quite a different story in NC Art's neck of the woods: Too Hot? Search for pictures of Atlanta, GA, after a weird snow/ice/sleet/rain storm hit us Southerners yesterday. I have a white blanket of sleet all round the house, and frozen moisture inside my bedroom glass door to the lawn. Thousands of school kids stranded in schools waiting for police and national guard forces to get them home. Bet the kids are having a ball sleeping in classrooms overnight.
Kids have a talent for turning disaster into an adventure - but they don't have to pay the repair bills. Meanwhile, FL Josh found this video about a group of enthusiasts getting an old Ford Mustang ready for a long trip.
One GN asked the forumites for advice and/or suggestions for a suitable twin-cab ute to carry his slide-on camper around Oz. There were quite a few responses but, in mine, I explained that my choice was of no value to him cos all I had to spend was $2500. Hehe. It was only later that I had sufficient bucks to tack on a couple of tires, helper springs, bull bar, and a new set of front brake cylinders.
From the Beeb: Canadian pop star Justin Bieber has been charged with assaulting a limousine driver in Toronto last December. The 19-year-old handed himself in at a Toronto police station where he was mobbed by TV crews, news photographers and screaming teenage fans. The charge comes a week after the star was arrested for a separate incident in Florida and charged with drink-driving. Is it true that any publicity is good publicity? In this case, I suspect so.
Stem cell researchers are heralding a "major scientific discovery", with the potential to start a new age of personalised medicine. Scientists in Japan showed stem cells can now be made quickly just by dipping blood cells into acid. Stem cells can transform into any tissue and are already being trialled for healing the eye, heart and brain.
Gene types that influence disease in people today were picked up through interbreeding with Neanderthals, a major study in Nature journal suggests. They passed on variants involved in type 2 diabetes, Crohn's disease and - curiously - smoking addiction. Genome studies reveal that our species (Homo sapiens) mated with Neanderthals after leaving Africa.
Retired defence chief Peter Cosgrove has been nominated as Australia's next governor-general by Prime Minister Tony Abbott. The ceremonial role, as representative of Queen Elizabeth II, involves opening parliament, giving assent to laws and receiving official visitors. Mr Cosgrove will become the 26th governor-general of Australia. Now there's another Aussie I like. A good and decent bloke if ever there was one.
Not all that hot today but windy, which played havoc with my Grey Nomad sticker as I tried to stick it squarely on the rear of PJ. Now it's official - I'm a dinky di Aussie grey nomad, with a GN baseball cap and stubby holder to boot.
And here we are at that time again, buns (what's left of them) on the couch time and a bit of telly. Gary
January 29, 2014. Boo hoo! Nancy gave me a big hug after the irrigation this morning - her last day at the "office". She'll be a full-time student again, with maybe a bit of casual work at a Darwin clinic. If Darwin is anything like Taree, there'll be no shortage of people needing dental care. She'll be back here every 5 weeks to see me. Meanwhile, we can stay in touch via the magic of email. Emma and Cherie will take over gob job duties while Nancy's away.
I checked the light rail map of Sydney last night. The tram at Central runs through the inner west and stops at Glebe, so I'll take that when I'm in Sydney on Monday. The inner city light rail network was still on the drawing board when I lived there. I think it was officially opened in 1997.
Also last night I visited a Nikon user's site to learn a thing or two about open-shutter photography, and ended up buying a remote shutter release on eBay. $22 including postage so that's pretty cool. I wanna be prepared for those outback starry nights and campfire shots - also early dawn and dusk.
From the Beeb: US President Barack Obama is giving his State of the Union address, in which he will promise to bypass a fractured Congress to tackle economic inequality. Mr Obama will pledge to "take steps without legislation" wherever possible, according to excerpts of the speech. The White House said Mr Obama would unveil an executive order to raise the minimum wage to $10.10 (£6.10) an hour for new federal contract workers.
$10.10 an hour is about $400 gross for a 40-hour week. That's what I get as an age pensioner, which in Oz is supposed to be about half the average wage. What I don't understand about the Republican attitude is if a consumer society has too many consumers that can't afford to consume, how is it supposed to survive?
US President Obama has paid tribute to the American folk singer and activist Pete Seeger, who has died following a short illness at the age of 94. "Once called 'America's tuning fork', Pete Seeger believed deeply in the power of song," said Mr Obama. "But more importantly, he believed in the power of community. To stand up for what's right, speak out against what's wrong, and move this country closer to the America he knew we could be." Seeger was quizzed by the Un-American Activities Committee in 1955 over whether he had sung for Communists, replying that he "greatly resented" the implication that his work made him any less American. Seeger was charged with contempt of Congress, but the sentence was overturned on appeal. Don't you wish those 'quizzers' were still alive today to stew in their own puerile juices at having been such morons?
Speaking of consumers and consuming, Toyota in Oz is doing pretty well with it's manufacture of the Camry here because it's an international car, chiefly exported to other parts of the world. Holden and Ford produce "Australian" cars designed specifically for local conditions. Ford doesn't have an export market for its Falcon and GM's Holden export markets are drying up. Holden used to do quite well in the Middle East, parts of SE Asia, S. Africa and New Zealand but that's all changing now due to competition from car manufacturers in Korea and other parts of Asia as well as Germany. Once Ford and Holden quit manufacturing in Oz in a few years from now, Toyota will be the only auto maker left.
Those who support the retention of auto manufacturing in Oz, even if it means government subsidy, stress that auto manufacturing is not just about cars: it's about electronics, robotics, plastics and other materials, design, fashion, and hundreds of components of all types supplied by other smaller manufacturers. Not to mention ongoing research and development. "We can't depend forever on selling what we dig out of the ground," they say.
I've noticed the GNs often refer to stocking up at the big supermarket chains no matter where they are - apart from the more remote areas of Oz. So you can imagine what that's done to the corner store in country towns. They're getting harder and harder to find. There are a few general stores around the Manning Valley but only in tiny villages of a hundred or so people. Even then, most of the locals make the trip into the nearby bigger towns to shop at the supermarkets. I'm thinking of one at Mt George, a community of maybe a hundred people consisting of local farmers plus a handful of people living in town. The General Store is the 'only' store - it sells groceries, liqor, petrol and gas, newspapers, and serves as the post office. The railway runs right through Mt George but the trains don't stop cos there's no station. I've been there a couple of times - and one time I spotted this bloke. Jeez, that's almost 6 years ago already!
Yep, time flies - especially when you've had a couple of naps on a hot day hehe. So it's time to split for another day. Gary
January 28, 2014. After yesterday's little rant about Greg Norman, it occurred to me this morning that it's not only golf and sport fishing that some celebs have in common but also celeb status and camping. Yeah? So guess who's gonna be "out there" meeting all kinds of people and armed with a couple of cameras? I might end up doing my own series of videos with me as the interviewer, cinematographer, editor, writer, audio tech, producer, yadda yadda. And it won't cost me a cent.
Ya never know what kind of opportunities lie around the next bend in the road, boils and goils. Anything could happen. And guess who has a whole bunch of experience just waiting to be capitalized on? <--- preposition at end of sentence - so sue me.
NC Art is the kinda bloke who can turn a negative situation into a positive one by using a little creative imagination: G'day Mate. Light a big fire in the chimney and enjoy roasted dove!
Pureed, of course. Speaking of which, my appointment with Nancy is just 15 minutes away. Poke, poke, poke, pick, pick, pick, squirt, squirt, squirt.
BACK! Tomorrow is my last appointment with Nancy until March when she returns from Darwin for the first of her regular five-weekly visits. Emma will be in charge of the squirting regimen in the meantime. Nancy's pretty happy with the progress though, slow as it is. At first, it was a "continent" of bone. Now it's an archipelego - a series of little islands divided by growing gum. Cool, huh? Next Monday, I see the doc in Sydney. I wonder if he'll notice the improvement.
In any case, I'll be spending the morning wandering around Glebe Point Park, photographing the Anzac Bridge (which was being constructed when I lived there) and various other sights around the area including old terrace houses and views of the city from the walkway around the point. What a pleasant way to spend a morning in old Sydney Town.
So what's on the agenda today? Good question. I have no idea. Yes I do! Make a smoothie, chill in the fridge, and pig out on a bit more trifle in the meantime. Also sent an email to my ex neighbor in Glebe to check if he's home Monday morning. If so, I'll call in for a coffee before I see the doc. Roite... that's organized... coffee at 10am. The last time I was at Jeremy's house I was torn to shreds by his cat, one of those exotic gray, green-eyed thingies. But that was over 20 years ago.
Not much on the Beeb today (other than the usual Syria, Ukraine stuff) except a story about niche bankers taking over certain financial sectors of traditional banking, using the latest computer technology and social media such as Twitter and Facebook. Established banks are trying to play catchup but as one of the niche players said, "It's easier to come up with something new when you start with a blank sheet of paper." Traditional banks are hog tied to too much old techlology baggage. Besides, banks are not my favorite people so I'm quite happy to see them getting a kick in the nuts.
In any case, the digital age has opened up all kinds of new opportunities for enterprising individuals. These are exciting times, folks. Even in my case, the AO web site and its contents are something I could never have considered doing even two decades ago. Here I am in living color and cinemascope for all the world to see! (They just don't know it yet).
Once upon a time...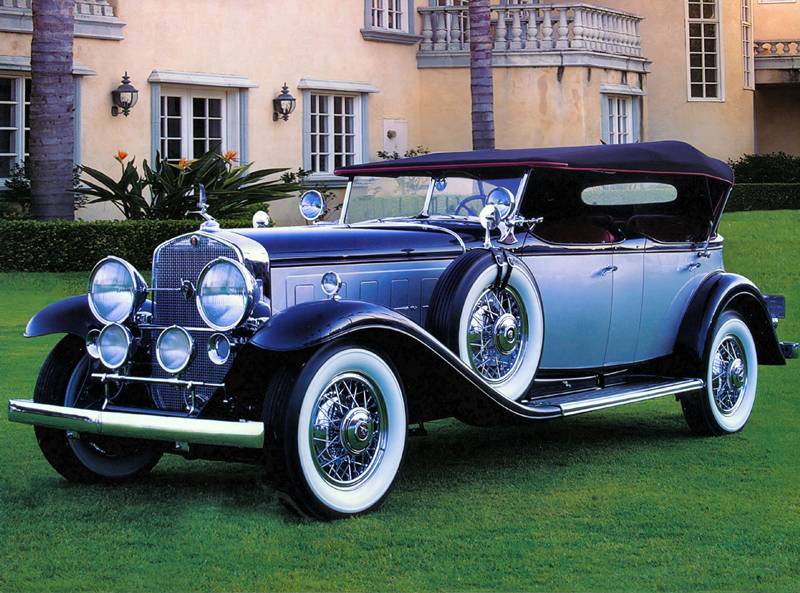 ...a Cadillac looked like this. Pretty fancy, yes? More bling than Al Capone's girlfriend at a gala performance. Forget all those silly fins and acres of sheet metal that came later, THIS old girl has class. It's probably a V16, in which case, that donk would sound as sweet as the Boston Philharmonic. I mean, is that a statement or is that a statement? Can you imagine that pulling into the drive and gliding up to your front porch? Every curtain in the street would be instantly pulled to one side.
Is there such a thing as style these days? I've often heard the term "minimalist" used in relation to modern design. Well, there's certainly nothing minimalist about that Caddy. Hehe.
Pay week this week, but also power bill week - $520, which pays for 3 months electricity. You know what else it would buy? One 200W solar panel and a second AGM battery. Hello? $2000 a year for power, $5000 for rent - are you with me?
And there goes the day. No dramas, no worries, and no long-lost relative carking it and leaving me a few million bucks hehe. And now a bit of telly and a nibble or two. Gary
January 27, 2014. I've never quite understood my older bro's comment regarding my professional demise, that I went beyond my station (in life). Maybe it's that traditional Aussie mistrust of people who "get too big for their boots". It's called the "tall poppy syndrome". Cut 'em down to size. And yet Australian lore is full of heroes who went beyond their station; who dragged themselves up by their bootstraps from working class backgrounds to become national icons. Not that I ever personally aimed that high. People like Banjo Patterson, Don Bradman, the 'Lithgow Flash' Marjorie Jackson, Slim Dusty, Rod Laver, Greg Norman, and thousands of others.
Last night's Australian Story on telly was about Greg Norman, the World's No.1 golfer during the '80s and '90s who made a career out of "almost" winning several majors. He would get to within striking distance and then whammo, lose the plot. But he turned his focus to setting up a business marketing his nickname The Great White Shark - clothing, golfing merchandise, course design - and is now worth well over 150m dollars. He's also involved in nurturing young Australian golfing talent and setting them on their way to professional success on the world stage. Among his personal friends are many famous celebs including Bill Clinton. "And I'm not a democrat!"
I have mixed feelings about that bloke. He's worked hard and deserves the success he has but he still killed that great white shark at Port Lincoln which trashed the TV program I was working on, and which my house was riding on. "Okay, Cap'n," he said after pretending to catch and release the shark for the cameras, "you've got your footage, now let's get him!" Well, he got him alright. The shark was drawn alongside the boat and out came the gaff. Goodbye shark. Later that day, in the dead of night, attended by only a select few, the trophy was strung up on a gantry where Norman proudly posed for the photograph. Little did any of us realize that Jacques Cousteau was on board his ship just off shore. He heard about the kill and soon the news was front page headlines in Europe. Goodbye house in Glebe.
There were other reasons for the trashing of the program including the incompetence of freelance crew hired for the golfing component of the show in Melbourne by people I trusted to know better, but the killing of the shark was the main contributor. The program was the pilot of an intended series featuring top golfers and game fishers (such as Lee Marvin) that didn't make it past Ep.1. By the time Nick Faldo stole the 1996 Masters at Augusta from Greg Norman after Norman succumbed to last minute jitters, I was sitting in my dingy flat in Petersham next to a pile of unpaid bills on the floor wondering what on earth I was gonna do about the eviction notice I'd received. Perhaps I was the only person in the world that day who was pleased about Norman's change of fortune.
Yet somehow I survived, and here I am 18 years later with no bills piled on the floor and no eviction notice. Not exactly a $150m empire but better than living on the streets. Yes, dear Breth, I've learned a helluva lotta lessons since those days. Trouble is, I'm not sure what the hell to do with 'em hehe.
The weird thing is, what and where would I be now if the program had been successful and led to the production of the full series? That's a scary thought. I'm kinda content with things the way they are. I'm freer now than I've ever been. Just me and PJ and blue sky. My only problem is a wonky gum and no teeth but even that will slowly be resolved. So maybe there's something to be said for the old adage 'everything happens for the best'.
Actually, there is one thing that's bothering me. There's a dove sitting on top of the chimney cooing. The coo travels down the chimney and becomes amplified by the time it reaches the fireplace behind me, like the damn bird is sitting on my shoulder next to my ear. COO COO COO COO. It's driving me nutz!
FL Josh got carried away yesterday after watching the vid of John Williamson singing Waltzing Matilda, and did a whole bunch of research about the song's origin and history. He loves the song, even though he thinks it's a bit sad. I was inspired to included it on the page after listening to an interview with a bloke from the Australian National Archives which houses a plethora of digitized memorabilia of Austrlian history. In any case, sad or not, the song has become the unofficial Australian National Anthem, sung by Aussies everywhere of all colors and stripes.
Last night it occurred to me that life on the road as a gypsy does have one ever-present problem - where will I camp for the night? So I put it to the GN forum and received some interesting responses.
Here's an interesting amateur vid on the trials and tribulations of negotiating winding road with hairpin bends in a large 5th wheeler, and relying on other travellers to help out in a major pickle.
From the Beeb: US intelligence leaker Edward Snowden has alleged the National Security Agency engaged in industrial espionage. In an interview with Germany's ARD TV channel, the former NSA contractor said the agency would spy on big German companies that competed with US firms. Mr Snowden, who was granted temporary asylum by Russia, also said he believed that US officials wanted to kill him.
Two white doves released by children standing alongside Pope Francis in Vatican City as a peace gesture have been attacked by other birds. A seagull and a crow swept down on the doves after they were set free from the Apostolic Palace during the Pope's weekly Angelus prayer. Tens of thousands of people watched as one dove struggled to break free. I've often wondered about those silly rituals. It's like sending the kids out to play in the traffic.
Do humans have an innate sense of morality? If so, where does it exist in the brain and how did it get there? BBC's Horizon shows how scientists looking into the minds of babies and criminals are rewriting our ideas of right and wrong.
An innate sense of morality? Maybe. If we do have it, we don't always act on it. An interesting scenario happened to me some years ago. I knew TT was low on petrol but I took a chance and tried to get home. I almost made it, but the old girl conked out just up the road in front of the courthouse. I was blocking one parked car (rear to kerb) but try as I might, I didn't have the strength to push TT backwards into the adjacent parking spot. The young driver in the blocked car was shaking his head, looking at me as if I were a total idiot, and not offering to raise a finger to help me. Then, out of the blue, two young blokes who were standing outside the courthouse waiting to be called inside to face a charge, appeared at the scene and asked if I needed a push. They told me to sit in the car and steer while they pushed the car into the parking spot. All done and dusted in less than a minute. I called NRMA roadside assistance who arrived shortly afterwards with a couple of gallons.
When all that was over, I walked over to the courthouse grounds and up to the two young blokes who had given me assistance. At first, they didn't recognize me and greeted me with a menacing stare - the kind of stare you get from thugs and bullies. "I just wanted to thank you guys again for helping me with the car," I said, and they realized who I was. "No worries, mate. Anytime." But that got me to thinking about why a couple of rough characters would go to the trouble of helping an old bloke in trouble. I suspect they thought that by doing a good deed, it would somehow manifest itself as a look of innocence on their faces when they stood before the magistrate.
Yeah... like bikie gangs turning up in droves at children's hospitals and kids' charities with bucketloads of gifts and toys just before Christmas, with plenty of media coverage, of course.
Things they don't teach you in school.
And once again, that's it from me for another day. Gary
January 26, 2014. Yep, Australia Day! Nice to see this headline: Australian of Year 2014: Adam Goodes, Sydney Swans footballer, recognised for anti-racism advocacy and youth work.
Jules posted this on the GN forum: You know you're Australian when:
You believe that stubbies can either be drunk or worn. You pronounce Melbourne as 'Mel-bin'. You believe that the letter 'l' in Australia is optional, and it's perfectly okay to call it 'Straya'. You think Woolloomooloo is a perfectly reasonable name for a place. You're secretly proud of our killer wildlife. You believe it makes perfect sense for a country to have a $1 coin that's twice the size of a $2 coin. You understand that Wagga Wagga can be abbreviated to Wagga but Woy Woy cannot be just Woy. Beetroot with your hamburger, of course. You believe that the more you shorten someone's name the more you like them. You understand that 'excuse me' can sound rude but 'scuse me' is always polite. You know what it's like to swallow a fly, on occasion via your nose. You know it's not summer until the steering wheel is too hot to handle, and a seat belt buckle becomes a pretty good branding iron. You know how to abbreviate every word, usually ending in 'o': arvo, convo, compo, garbo, lezzo, metho, milko, muso, servo, smoko, rego, speedo, righto, etc. You know that there's a universal place called 'Woop Woop' located in the middle of nowhere, no matter where you actually are. And you can understand all of this, have a giggle, and tell all your Aussie and international friends, I love Australia!
Meanwhile, things are a tad chilly in the good ol' according to FL Josh: Just got off the phone with a friend who lives in northern Minnesota here in the States. She said that since early this morning the snow has been nearly waist high and is still falling. The temperature is 32F below zero (-35C) and the north wind is increasing to near gale force. Wind chill is -59F (-50C). Her husband has done nothing but look through the kitchen window and stare. She says if it gets much worse, she may have to let the drunken bastard in.
That actually used to happen next door to my little house in Glebe. Old George and Joan were my original neighbors. When ever old George staggered home rolling drunk (which was often), Joan refused to let him inside, so he'd crash on the porch till morning. That's my house in the pic, George and Joan were in the identical house to the left. Check out the size of the porch, and its proximity to the footpath. And yes, I finally ditched the iron fence and replaced it with pickets. I think the row of terraces dates back to the 1860s. They don't make gutters from blocks of sandstone any more.
Yep, those little houses were originally "workmen's cottages", built for the ordinary working bloke and his family receiving the basic wage. Now they're worth about a million bucks each.
As I shaved this morning, I listened to an interview with Adam Goodes on radio. He's a most articulate young man and wise beyond his years. He's also a very gentle person despite being a star footballer. "I got that from being one of the older boys in the family - and it's a big family - and responsible for the care of the younger boys. If I hadn't done my job properly, I would have been in big trouble with my mum." Adam also spoke of the power of politics and how it could be used to further the things he believes in, such as racial harmony and equality. His current focus is on his professional football career but I got the feeling his future will be in politics at a federal level. Moreover, I wouldn't be in the least surprised if he's destined for the top job - as Australia's first indigenous Prime Minister. In fact, during yesterday's Australian of the Year ceremony, he made no bones about directing some of his comments about racial harmony and equality at our present PM, Tony Abbott, who was standing to one side taking it all in. Hehe. Incidentally, Abbott is the first Australian PM to also be the Member for Indigenous Affairs.
From the Beeb: In Australia, an 18th Century cottage that originally belonged to the family of explorer Captain James Cook has been sprayed with graffiti. The building was defaced with the slogan "26th Jan Australia's shame", in reference to Australia Day on Monday. Opponents of the holiday call it "Invasion Day," saying the day celebrates the wrongful seizing of the land from Aborigines by colonists. Russell Trott reports.
I suspect Adam Goodes won't be too impressed with that kind of protest. In fact, during this morning's interview he said he used to feel anger, resentment and sadness about Australia Day but he's changed his mind about what it all means now. He still feels sadness about certain aspects of European domination such as its attemps to obliterate Aboriginal culture and the terrible treatment of Aborigines by previous administrations (his own mother was taken from her family at age 5). But he's also heartened by recent changes regarding Aboriginal land rights and an official recognition of the importance and relevance of indigenous culture to all Australians. He says things are improving, and that also we're living in a wonderful country with opportunities for everyone, including all minorities, to succeed in life. The interviewer's parting words were, "Happy Australia Day", and his were precisely the same.
Back from a little shopping, and a lovely day it is too. Hardly anyone about. Medication, groceries, beer and a TRIFLE! Plus a bottle of sherry - McWilliams medium dry. McWilliams has been around almost as long as Capt. Cook's cottage. Speaking of plonk and the evils thereto, one of the GN's posted this today.
Hmmm, well so much for my little house in Glebe and all the vivid memories that go with it, including the very first time I went inside and the very last time I closed the door. 23 years later I have another little house. But this one, as the years roll by, will accumulate many addresses, at least hundreds and possibly thousands hehe. Which reminds me, every time I stop in a town I'll visit the newsagency or post office and get a sticker. There's one on PJ's rear window, old and peeling, of Brunswick Heads. Well, I'm not gonna do the ol' I've been everywhere trick and have stickers all over PJ, rather I'll scan them and end up with a digital scrapbook of all the places I've been, with the stickers being impervious to aging and weathering. Yeah? And it'll take up no room as would a real scrapbook or photo album. Down there fer dancin', baby. Oh... next time I'm shopping, I better get a sticker of Taree and the Manning Valley. That'll be No.1.
Did I say shopping? I just splurged on official Grey Nomad Forum merchandise - bumper sticker, baseball cap and stubby (beer) holder. It's for real now, ladies and genitals. The Odyssey is for real. I'm an official GN. Gary
January 25, 2014. Here's a Sydney street parking sign. A blizzard of baffling information.
Oops! Yesterday I said B&J were touring around the Blue Mountains area. I meant the Snowy Mountains. Not much snow this time of year though in 40C temps. I think they settled for a mountain creek and a willow tree. It's cooler here today, cloudy with a few showers. When I say cooler I mean low 20s C.
It's a long weekend in Oz for Australia Day (pronounced Straya Day in some quarters). A section of the Aboriginal population is not too happy about that. They refer to European colonization as the invasion, and I have to admit they do have a valid point. The first settlers didn't ask permission to establish themselves here. They just planted the Union Jack and took over the joint. In any case, I don't do the flag-waving, patriotic thing. It's not my scene. I'm an Australian-born citizen of the world. I love Oz, for sure, and am glad to be an Aussie. But I'm not a follower of the Us and Them creed per se (except when the Aussie cricket team beats the pants off the Poms).
Yes, dear Breth, we're all members of the human race. Well... not necessarily. I'm pretty sure I got off the train at the wrong station.
Yesterday I mentioned Francois sending me a whole bunch of pics of cities around the world. I got confuzzled, and thought I was gonna have to make an album. But no! It's a link to a page on the web. 27 Incredible Views you'd only see if you were a bird. See what happens when there are too many things happening at once? I get bam-bam-bam-ba-boozled.
Interesting to observe B&J's 21' motorhome layout yesterday. They use the cab over for storage and have a NS facing double bed at the rear - all ready made up. No buggerizing around shifting cushions when they wanna hit the hay. The wardrobe and shower/loo are against the rear side wall adjacent to the bed. The kitchen and dining area are amidships, and the driver/passenger seats in the cab swivel around to face the dining/lounge area. But, like most GNs, they spend their days outdoors, weather permitting.
I quite like the way PJ is laid out, and prefer to sleep 'upstairs', leaving the rest of the interior as open living space. I also like the idea of having two large storage bins accessible from the outside. I imagine it can get a bit crowded inside if you're rummaging around for hoses, buckets, tools, etc.
Oh, there you are? I've been cruising around the web looking for something interesting and got caught up with stuff on GN. Nuttin' much on the Beeb today, or anywhere else. However, I did download a few pics from an auto news group the other day. Would you like some pics of a few 1950s Jags to peruse?
Gorgeous old thing, isn't she? And now something for the more sporty driver...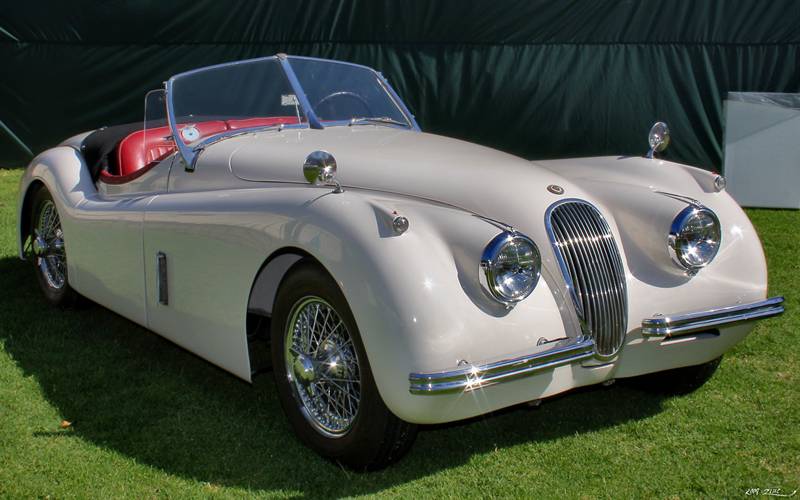 Well, that's my lot for this Satdee, Ls & Gs. Time to do my potato routine. Gary
January 24, 2014. Everything is back to normal! No it's not. Not quite. My routine went out the window this morning when Billeeeeeee and Jules from Gray Nomads arrived to say g'day. Which reminds me, I forgot to tell Jules my one and only semi-serious fling with a woman was a woman by the name of Jules. She was Barbara Streisand all over again, including the nose. Hehe. We were a riot together. At least I thought so. Hehe. Anyway, back to my meeting with Billeeeeeee and Jules, I wrote a report with pics which I posted on the GN forum.
After I posted yesterday's Waffle, I finished the Birth of PJ video and added it to Waffle, so if you missed it, scroll down the page and you'll see it embedded. Magnetic Bill (who also refers to himself as Barnacle Bill) saw it and thought it was cool. He's travelling down this way in early Feb so that'll be another excuse for a chinwag.
TX Greg wrote: "Drama"? Sounds like you were having internet withdrawals, hehe. You're getting better all the time putting those vids together :)
Yep, internet withdrawals. I thought about that yesterday and wondered about my "routine" on the Odyssey. It'll be vastly different to the one I have now, for sure. Bloody hell, a whole paragraph just disappeared. I HATE THAT! I was saying that the video had lots of action and shots taken from various angles in a fairly confined area to work with. But I still had to be mindful of keeping it entertaining. I was pretty ruthless with editing scenes down to "attention span" length to keep it tight and moving along. It worked out pretty well, I thought. Stan will be delighted with his DVD copy and take great pleasure in showing it to his familly and grandkids. In all the years he's been mowing lawns, he finally got to star in his very own movie. It was just in the nick of time too... that job was done last August but he doesn't do heavy work like that any more.
Speaking of editing. Justin posted a link to this video on his blog. It's a project by a college student in France (I think) and is excellent... the History of the World in 2 Minutes.
Here's another link from Justin's blog: Totally off the subject Justin (sorry), but thought you might find this interesting. According to Bill Maher, the Ducky guys probably were your garden-variety racist/homophobic frat boys before they morphed into their current made-for-tv, backwoods, good ole boy roles. Bill Maher has a new rule for Duck-Dynasty-following Americans.
Isn't it amazing what's there to be found on the net?
Which reminds me... so much to catch up on, and so little time. FL Josh wrote: Here is an incredible 2 year old basketball shooter who goes by Trick Shot Titus. I put these in an order to sort of tell a story.
Trick Shot Titus on Fox and Friends
Trick Shot Titus training for the Jimmy Kimmel Show
Clash of the Titus - Metta World Peace
2 years old? I can't even remember what I was doing at 2 years! Probably still playing with rattles and learning to say da-da. Francois also sent a bunch of birds-eye views of famous cities around the world but I'll need a bit of time to organize those into an album. Barcelona really got to me... it's a city of medieval buildings arranged around courtyards.
From the Beeb: North Korea has sent an open letter to the South calling for reconciliation and an end to "hostile military acts". The letter, published in North Korea's state media, comes weeks before South Korea is due to hold joint military drills with the US. South Korea dismissed the letter as having a "hidden motive". Hmmmm. Tricky one.
Singer Justin Bieber has been granted bail after appearing in a Miami court accused of racing and driving under the influence of alcohol, marijuana and prescription drugs. Amateur footage shows the moment the 19-year-old was pulled over by Miami Beach Police in the early hours of Thursday morning whilst driving his yellow Lamborghini. Rajini Vaidyanathan reports from Washington. Too much fame too soon, I suppose. A Lambo at 19?
I had a '51 Morris Oxford that cost 200 quid hehe.
Bill Gates, chairman of the technology giant Microsoft, has told the BBC that the he would like to see the amount of money spent on international aid increased. Speaking on BBC2's Newsnight he told presenter Jeremy Paxman that he wanted to see farmers better educated and more money spent on health care in areas of poverty. He went on to say that he would favour a higher rate of personal taxation in the US. "I've paid more tax than any individual ever, and gladly so... I've paid over $6bn (£3.6bn) in taxes," he added. Bill mustn't be aware of Einstein's theory of relativity.
Have I caught up yet? Almost. Now I can relax a bit. I need to embed the PJ vid on the My Rig page and do a few other bits and pieces but I'm basically back on track. I shouldn't do this to myself ya know. I've created a rod for my own back with my own deadlines and sense of urgency about certain things. That's gonna have to change on the Odyssey or I'll become a nervous wreck. But I know what's gonna happen. After meeting some interesting peeps I'll be desperate to write the journal hehe. Or if I take a bunch of pics somewhere I'll be desperate to get them on line. It's the nature of the beast. At least it is here. Maybe "out there" things will be different and I'll succumb to a slower pace. I hope so.
Speaking of a slower pace, Billeeeeeee and Jules are slowly making their way to Queensland, then across the top end to Darwin, and then over to Western Oz. They're looking at about 12 months of travel. I think Billeeeeeee said they were at Greens Lake for 4 months. That's quite a camp! And about 80 GNs visited Greens while they were there. B&J had their own "private" spot on a grassy knoll overlooking the lake with their own "private" front yard that was protected by trees hehe. No one else could park in front. How pleasant!
Billeeeeeee sold his home some 3-ish years ago and bought the motorhome. Jules was travelling with her husband but he took ill and died. She sold her rig (too many memories), met up with Billeeeeeee and it was an instant match. Now it's the B&J Touring Show hehe. The rig is their home, and all their worldly possessions are in it. PJ will be the same for me. "It's frightening at first," Billeeeeeee (7 e's) said. "I lived in houses for 60 years. Then all of a sudden you're homeless and living the life of a gypsy." He went on to say that it's a good six months on the road before the lifestyle becomes the norm. "My neighbors are Australia."
When they drove off from Taree, the pair headed for Port Macquarie to catch up with a couple of friends. And then? Who knows? They've been treating themselves to the luxury of staying in caravan parks lately but that can be very expensive, especially when you're being sponsored by Centerlink. The "Sponsored by Centerlink" sign is at the entrance to the rig hehe. Shoulda taken a pic! So pretty soon they'll be back to free camping, which is what I intend to do. In fact, it was only a week or so ago that B&J were touring around the Snowy Mountains area. Their address on their biz card is "On the Road, In the Playground".
BTW, Billeeeeeee owned a Ford Courier like mine and went all around Oz in it. So that's encouraging.
And now it's time to polish off the rest of that trifle in marsala before it goes off. I'm all outta whack with my meals today but who cares? Trifle and TV. That'll do. Catch ya tomorrow. Gary
January 23, 2014. Drama day! Spent 2 or 3 hours this morning trying to get on line without success, then tried the modem in the Acer. That didn't work either at first so I spent the next several hours finishing The Birth of PJ video. Earlier this morning I phoned my ISP about the modem but they were busy and offered to call back. I'm still waiting and it's now 5pm.
Hopefully, I'll have this mess sorted by tomorrow. Gary
January 22, 2014. Nancy told me to shut up this morning. "I never thought I would meet a person who talks more than I do." I frustrate her when she's poised to fill my mouth with dentiphernalia and I interrupt with a comment or two hehe. Did I just invent a new word?
Swap the male for a female and that's what I see twice a week. The second person on the left holds a vacuum thingy.
NC Art wrote: Yup, computers and www are just ducky …. Until they ain't. My son has spent three days and hundreds of $$ rigging up a network to improve our connectivity and speed. When all was complete you should have heard the language when he was blocked by a demand for security code—a string of numbers and letters a mile long—when he finally found it. Then couldn't get rid of it for another day of sweating and mumbling. Even got my telephone line involved, causing a series of ear-splitting squeals. Now he doesn't want to speak of that experience. Wonder why.
Luckily for me, the GN forum has quite a few tech whizzes that are only too happy to answer questions from novices like me. It means waiting till they respond (which could take a few hours or a day or two) but it's free and usually very comprehensive. TX Greg is very helpful in that regard as well.
Pleasantly warm today, but tonight a 50F degree plunge in temperature. Brrr.
That's more of a high dive than a plunge hehe. We had 32C yesterday but many areas in southern states have been roasting in temps around the high 30s and low 40s. 40C = 102F. It's cloudy here today and a far more sensible 25. Back in the early '70s when Oz converted to metric, I was on-air and had to read temps in both celcius and Fahrenheit. It was all rather confusing. My VW Superbug had a speedo with both mph and km/h on the dial. Earlier, in the mid 60s when we went decimal, prices were written in both the old pounds, shillings and pence as well as the new fangled dollars and cents. That took a bit of getting used to. To make matters worse, the new dollar was worth only half a quid (pound) or ten bob (10 shillings). Hehe. I'm glad we didn't change which side of the road we drive on as well. Even to this day I still can't visualize the height of a person given in centimeters or weight given in kilograms. I noticed on the GN forum this morning people referring to their height in feet and inches when talking about head room in their rigs.
After adding marsala to the trifle yesterday, and allowing it to soak in overnight (it was too hot to eat anything much yesterday anyway), I'm now enjoying some of it. Mmmmm! I'll be as full as a bull's bum if I keep eating this stuff. And FAT! Oh yes, this is good stuff. Too much to eat at one sitting, though, but that's okay... I'll have some more later on. The dieticians at Port Macquarie hospital would freak big time if they could see me now, shoveling a zillion calories laced with plonk down the screech hehe. Yep, this won't be the last trifle I have, that's for sure.
From the Beeb: The US and UN have reacted with "horror" to allegations in a new report that Syria has systematically tortured and executed about 11,000 detainees since the start of the uprising. The US said the reports underscored the need to remove the regime of President Bashar al-Assad. A Syrian spokesman said the report had no credibility as it was commissioned by Qatar, which funds rebel groups. I puke every time I see al-Assad's receding chin.
The US east coast has been hit by the second major winter storm of the year, with up to 12in (30cm) of snow, blowing wind and bitter cold forecast. Even before the first flakes had fallen, US government offices in Washington DC and schools in several states were closed pre-emptively. As snow fell along major motorways along the US east coast authorities warned of hazardous road conditions. And more than 3,000 flights have already been cancelled in the US.
Intelligence whistleblower Edward Snowden is to stand for the post of student rector at Glasgow University. The nomination of the former US intelligence officer, who has temporary asylum in Russia, was arranged by a group of students through his lawyer. Elections for the three-year post will take place next month. A latter day Robin Hood?
I discovered the other day on the GN forum that you can mix and match solar panels of different wattages, which is cool. I was thinking about eventually tossing my old 70 watt and installing a 200. But now I can keep the old one and install a new one, giving me a total of 270 watts which should be plenty. I'll also install a second AGM battery (same ah and brand as the one I have). No rush but it's probably something worth doing sooner rather than later, and here in Taree rather than "out there" somewhere. Some eBay retailers insist on a street address for delivery.
Remember as kids we used to make paper airplanes? Only took a minute or two. Here's a bloke who still makes paper airplanes but takes a lot longer. This model of a 777 for example has taken 5 years.
How do you separate the egg yolk from the white? You probably don't cos you're not interested in cooking. But if you were, and you wanted to make a meringue, how would you separate the yolks? The boring old fashioned way? Or the easy way like this?
FL Josh wrote: Just what you need. I have no idea what possessed Josh to think that belongs on my must have list. But it kinda reminds me of the All Nippon Airways TV commercial that has been labelled racist. The Drum panel discussed it last night and concluded that it wasn't racist, however it did concede that anything's possible in the current politically correct climate. One of the panel works for an advertising agency and said that making fun of other races is a no no with a few exceptions. "It's okay to make fun of the Brits," she said. Then after a pause added, "And the French... cos the French are funny. And the Irish. But generally speaking, making fun of other races is a risky area that the advertising industry avoids."
As a friend of mine in the voice over business says, "No one is writing comedy any more." Comedy was my main stock in trade back in the good old days before political correctness.
Anyway, not to worry and all that. Life goes on yadda yadda. And now it's time to cease and desist waffling and turn into a potato on the couch. Gary
January 21, 2014. Justin commented on his blog that a woman driving in traffic was talking on her cell phone and chain smoking cigarettes (lit a fresh one from the old butt which was tossed out the window) while her two kids were strapped in the back seat. One reader commented that parents should be licensed to raise children and Justin agreed. So that got me to thinking about who would be in charge of the licensing.
I think God is in charge at the moment, although Chinese authorities dispute that. I know one thing... there would be far fewer starving children in the world if people from those countries stopped giving birth like rabbits. Every time you see news footage of malnourished people you get the obligatory scenes of women holding emaciated infants. A responsible person would not bring a child into such deprivation and exacerbate an already impossible situation.
But that still doesn't answer the question "licensed by whom?" Or, to put it another way, who has the right to dictate whether or a not a person is elegible to be a parent? Removing abused children from existing parents is one thing, but how do you judge a person's suitability for parenthood prior to the event? That woman smoking and talking on her cell phone while driving probably has a good job, a house, and is a respected member of her community.
I dare say society will one day figure out a way to minimize undesirables being born into the community by some kind of selection process. Nature already has an effective system in place. Only the fittest get to bonk the ladies, and only the fittest of the newborns will survive. But humans are different. Humans know better. Just ask one.
NC Art commented on yesterday's waffle about "indecency" in art (no relation): Sin is in the eye of the beholder maybe. A big loudmouth American Christian evangelist pronounced solemnly that AIDS was God's punishment for homosexuality … and got richer for giving us a peep at what God told him in private. Another o' his ilk preached that riches were guaranteed to God-fearing folks who sent some of theirs regularly to his ministry called the PTL Club. The "ministry" went broke, the donors got the shaft and the evangelist got real rich…until they caught up with him, and his wife ran off with their building contractor. We never learn.
Well, some of us do learn, but if we try to pass on our wisdom and experience to a younger generation we're met with rejection, just as we rejected advice from our betters when we were younger. There's no such thing as a wisdom pill which can be taken by a younger generation. Each and every newborn starts out at zero and has to go through the whole learning process from scratch, despite its parents and grandparents having already been there and done that. "Things are different now, Mom." Mind you, not all knowledge is wasted or rejected, but many basic life skills are. Ultimately, it's experience that remains the best (and sometimes the only) teacher.
Meanwhile, FL Josh writes: Playing catch up again on past Waffles and I so enjoyed the 47 minute video on the bombing of the runway during the Falkland's war you listed in the Waffle for the 5th. My TiVo gets Youtube so I was able to watch it on my 60" TV and it was riveting.
As for you putting hooks on PJ to hang things, you might want to try the removable ones. I got some a while back when my sister was in the hospital to hang things on her walls, and was very impressed with them. You press them onto the wall and they stick, but when you want to remove them, you pull down on a little extension of the glue layer, and it stretches, and breaks the bond. The glue layer is sacrificed and cannot be reused but the hook can be reused and you can buy packages of the stick em, which is like sticky foam rubber.
Yep, pretty sure these are they... those are these... these are those. Even so, I'd like to be as sure as I can be about where to place them before I do.
NC Art also mentioned the little VW experimental car made in China. It was posted on Waffle ages ago but Art may have been dealing with Windows 8 at the time. Where can I buy a couple of these? They would make dodging idiots a lot easier than my '91 Buick can manage.
Yesterday, Nancy and Emma suggested trifle for dessert. Dunno if you have trifle "over there" but it's day-old sponge cake with custard, jelly and whipped cream. If it's home made it's usually laced with sweet sherry but the store-bought stuff uses something else, non alcoholic. And sparingly cos the cake was fairly dry. Soooooo, I had a look in my cupboard to see what lurks therein and there was a used bottle of Boronia marsala, a sweet wine I used in a recipe way back in my tooth days. It's not sherry, but it's fortified and sweet, so I figured that would be okay, and poured a goodly measure over the trifle. It's back in the fridge to allow the cake to soak up the wine before I take another shot at getting it down the screech tonight. Mmmm. That should liven it up a bit!
From the Beeb: The UN has withdrawn its invitation to Iran to join this week's peace conference on the Syria crisis. UN spokesman Martin Nesirky criticised Tehran for failing to back the plan to form a Syrian transitional government, which is the basis of the conference. The invitation to Iran, a key ally of the Syrian regime, angered the US and the Western-backed Syrian opposition. Getting humans to tolerate each other is like convincing dogs and cats to stop fighting, only worse because humans are the one species.
Rosetta, Europe's comet-chasing spacecraft, has woken from its slumber. A signal confirming its alert status was received by controllers in Darmstadt, Germany, at 18:17 GMT. Rosetta has spent the past 31 months in hibernation to conserve power as it arced beyond the orbit of Jupiter on a path that should take it to Comet 67P/Churyumov-Gerasimenko in August. Engineers will now finesse the probe's trajectory and prepare its instruments for the daring encounter.
There's a 15 minute program on telly before the 7 o'clock news that shows archival footage of news reports dealing with technological innovation. One from 1987, had a reporter using Australia's first ever ATM. He inserted the card into the machine, punched in a bunch of numbers and out popped $25 cash. Amazing! But the card stayed inside the machine. Then he interviewed a spokesman from Chubb, the ATM's manufacturer and installer, who explained that the card is retreived by the bank staff and then posted back to the customer "as soon as possible". He also said $25 was the cash limit and that if a customer wanted more, he would need to see a "live" teller.
A report from 1974 interviewed a computer expert in a room full of large machines. The reporter had his young son with him and said, "By 2001 my son will be my age. What will life with computers be like then?" The expert talked about personal computing machines with screens and keyboards that would be able to communicate with each other as well as other places like booking agencies for theater tickets and railway tickets. He said that many workers would be able to work from home, saving time and travelling in peak hour traffic. However, he didn't mention the internet and the information super highway. That was apparently beyond anyone's wildest dreams at the time. Nevertheless, he did pretty well at guessing the future of computers in 25 years.
It's quite fascinating to see those reports exactly as they were originally broadcast. I would have seen them myself, not giving so much as a thought to watching them again all these years later - on a flat screen stereo TV. By the way, my bank has been at me to select a PIN for my credit card. Signatures are being phased out. So I finally got around to it.
Many tasks are certainly a lot easier and faster than they were back in '74 but we rarely pause to make the comparison. New technology is quickly adopted and adapted and before you can say Jack Robinson it's routine and taken for granted. When we first came to Taree and for quite a few years afterwards, I trekked down to the estate agent every second week to pay the rent by check. Now it's all done on line. Until fairly recently, I was a regular customer at the bank, often standing in a long queue. Not any more. I no longer receive paper statements in the mail, or bills.
The banks are doing well out of all this electronic commerce, of course. Receiving or making payments is impossible without a bank account. No more hoarding cash under the mattress.
And so another Waffle grinds to a halt - or perhaps melts to a halt. It's been hot and humid again and this old bod has been feeling the effects, and nodding off occasionally. More tomorrow! Gary
January 20, 2014. Back from Nancy and another irrigation. She just can't resist that spot in front with her snippers, snipping away dead bone where the gum is ULTRA sensitive. Yow!
FL Josh wrote: Amazingly, here in the good old U.S. of A., a 6 year old girl being nude from the waist up is considered indecent, and any adult who allows a child to be that way in the presence of others is guilty of criminal behavior.
It was a cruel way to treat the little girl in front of her peers but I don't see her exposure as being "indecent". Potential boobs ain't boobs. There was a controversy over images of a nude 13 year old girl a few years back in Oz when exhibits were siezed by police from the NSW Art Gallery and charges laid against a prominent photographer. Our PM Rudd at the time said: I find them absolutely revolting. Kids deserve to have the innocence of their childhood protected. I have a very deep view of this. And, you know, for God's sake, let's just allow kids to be kids. He lived to regret that ill-informed statement after charges were withdrawn and the whole silly business faded. People who deem art and/or innocence to be "indecent" have a morbid obsession regarding sexual matters.
Let me ask you this question: If both a pervert and a do-gooder "recognize" something indecent about an innocent work of art, what does it say about them? Take a moment to analyze the first line of Rudd's statement: I find them absolutely revolting.
Some years ago, there was a movement to ban photographing children in public places, especially the beach. Even parents were banned from photographing their own children. The do-gooders were convinced that everyone with a camera was a potential pervert. Now, of course, there are thousands upon thousands of cameras small enough to secret from view, including those built into phones and other gadgets. There's also a proliferation of children themselves taking suggestive "selfies" and posting them on line. So much for the do-gooders and their attempts to impose their far right views on the rest of society.
This is really cute... a song about Senior Moments.
My zippered suit/shirt bags arrived from China. Great value at just a few bucks each, and ideal for storing button-up, collared shirts. Can't be running around in Ts all the time. The bags fold in half vertically and clip into place to become a carry bag. All very civilized. I have a couple of coat/hat wall hooks as well - stick-on ones from a $2 shop that I've been loathe to affix until I'm certain of where they should be positioned. They're plastic but look like those old fashioned brass ones normally screwed to a timber board. Quite stylish really.
FL Josh also recommends getting a few creative mates together to pass the time at an airport: Here are some guys who created a human bicycle on a moving walkway. A plus for originality.
From the Beeb: Lions and donkeys: 10 big myths about World War One debunked. Much of what we think we know about the 1914-18 conflict is wrong, writes historian Dan Snow.
Detroit's history of industrial decline and financial failure has culminated in bankruptcy. So why have some companies been using the city's name to sell their products?
US President Barack Obama has said smoking marijuana is no more dangerous than alcohol, but still called it a "bad idea". Speaking to The New Yorker magazine, he said it was wrong to think legalising the drug would be "a panacea" that could solve many social problems.
A UKIP councillor has blamed the recent storms and heavy floods across Britain on the Government's decision to legalise gay marriage. David Silvester said the prime minister had acted "arrogantly against the Gospel". Yes, folks, they're out there including in high places!
And now for some pitchas! Back in 1953, shortly after her coronation, Queen Elizabeth II toured Oz. I was sitting on my father's shoulders in the crowd and remember seeing her standing in the back of the Royal chariot, waving her gloved hand to loyal subjects as the procession passed by.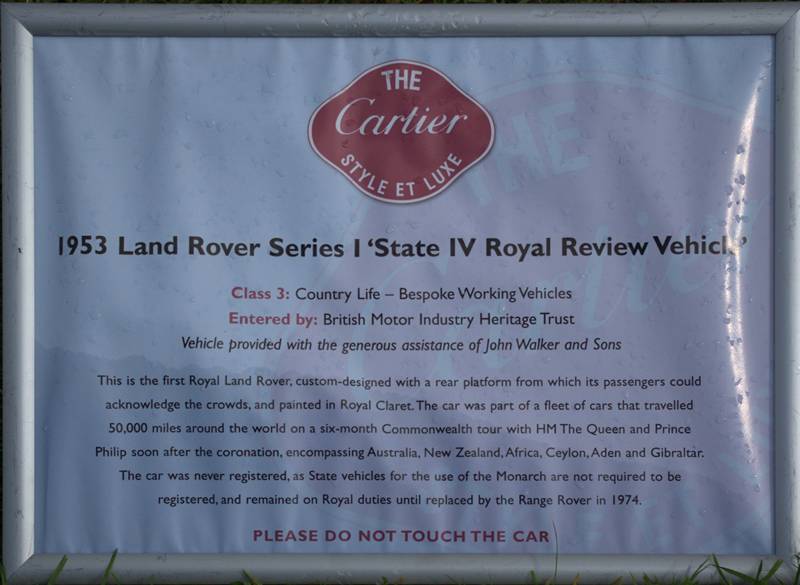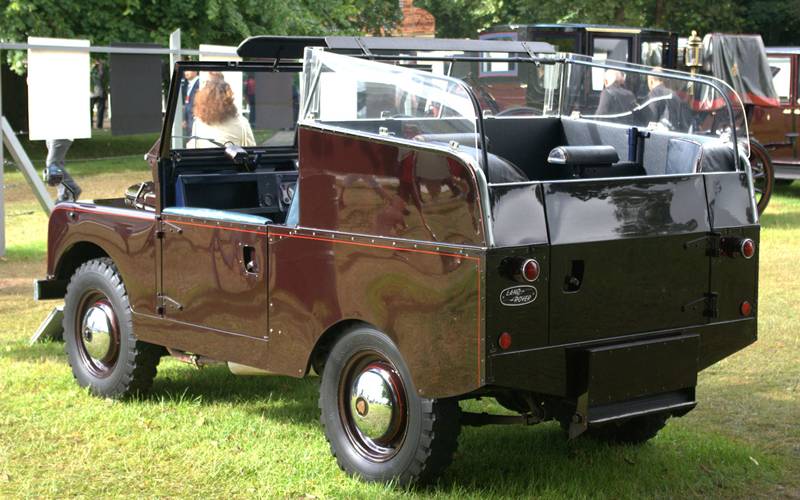 So the old bus remained in service for just over two decades. It wouldn't have clocked up too many miles though, only being dusted off for royal tours. I do remember thinking as a 9 y/o kid that standing in the back of a Land Rover was rather odd for the Queen of England. Another car the royal family was rather attached to for several years was a '57 (I think) English Ford Zephyr estate wagon with a raised roof (for the obligatory hats, I suppose) and seating for six, used for touring around various royal estates. Prince Phillip loved driving it and described it as "sprightly". Zephyrs were powered by a 2.2 liter six that developed about 80 hp.
Ford Australia's offerings before it began manufacturing the Falcon here were the English Anglia, Prefect, Consul, Zephyr and American Customline. Incidentally, buyers of new cars in Oz have a greater choice of makes and models than any other country in the world because of our various free trade agreements, which makes it virtually impossible for locally manufactured cars to compete.
And now once again it's time to flee! Be noice. Gary
January 19, 2014. Sundee! Then again, as one GN pointed out, there are 7 Sundees each week for retirees.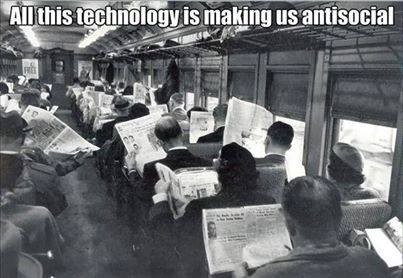 Last year, there was a news story about the accidental (or otherwise) poisoning of Indian children by a school meal cooked in pesticide instead of traditional mustard oil. It was one of those stories we often hear about - tragedies that occur in overpopulated third world countries, and that we tend to dismiss as being par for the course. But last night on telly, there was a repeat of a program called Foreign Correspondent that did an in-depth report on the village where the poisoning occurred, focusing on a couple of families who lost some of their kids. It was heartbreaking, and showed the real human face of such horror. "They (the authorities) know we are low caste, so to them it doesn't matter." One little boy who survived after a stint in hospital wasn't told of his younger brother's death until he returned home. He broke down and was inconsolable. The older brother 14 was given the job of burying his younger sibling. "I buried him with my own hands." The camera panned to a mound of earth in a field.
And now for something amusing as well as true - Things My Mother Taught Me.
Roite. Time for my chocolatium smoothiscus. I'm using Sue's Sustagen now with more vits, mins and fiber - plus choc flavor. That was a steal - 4 and a half large tins for $40. The dosage is higher too, which means I have to add more milk... so, more of everything for the tummy. I've also noticed I'm feeling a tad more sprightly since solving the noodles dilemma and finally getting a decent feed at night.
From the Beeb: President Barack Obama has said he will not let controversial surveillance by US intelligence services undermine Washington's ties with Germany. Speaking to Germany's ZDF TV, he indicated that US bugging of Chancellor Angela Merkel's mobile phone had been a mistake and would not happen again. After the row broke out last year, Ms Merkel accused the US of an unacceptable breach of trust. On Friday, Mr Obama ordered curbs on how intelligence was being collected.
President Barack Obama delivered his speech on Friday describing reforms to the NSA and US intelligence-gathering policies, and initial reactions are all over the map. As the BBC's Mark Mardell observes, the president's proposal is thin on details - which has allowed commentators to project their hopes and fears onto the president's proposals. From one point of view, Mr Obama's proposals didn't go nearly far enough. "This is the government, in the person of this president, telling you what you have to give up in order to be safe," writes Esquire's Paul P Pierce.
The current situation in Europe with the UN rights committee interrogating Catholic hierarchy about child abuse is quite the reverse of the way things used to be when the Church wielded political power around the world, and conducted various inquisitions over the centuries. Poetic justice. But even so, the bishops and cardinals still consider themselves above secular justice, answerable only to God. Everything they say in response to questioning is vague and pretty meaningless. A typically pompous reaction by people with a holier than thou attitude. I can only thank my lucky stars that I live in a country run by a secular government. Religion is not compulsory here, although my time spent at Catholic schools virtually made it so.
My belief is that religion exists because there's a market for it, and there's a market for it because insecurity is part of the human condition. Amen.
Anyway, after another hot day and lots of naps and taking it easy, another Waffle draws to a close. Is the whole world slowing down, or is it just me? Even the spammers have been quiet lately. Gary
January 18, 2014. So just how big is Straya? One GN went to the trouble of superimposing a map of Oz over Europe, North America and other places around the world. Interestingly, most of the interior of Oz is outback. The vast majority of the population lives around the coast. Remove about 270 million people from inland USA and there you have Oz.
Bourke is a town in NW New South Wales with a pop of about 2000. You often hear the expression "back o' Bourke", which means no man's land. It just happened that a friend on Google circles shared a post - a short film about George, a young resident of Bourke, who tells his story. He grew up in Bourke and is very attached to the place, as well as all his mates. He loves the lifestyle, his family, sport, fishing, mixing with the locals, etc. But career opportunities for young people there are pretty limited, so his parents made it possible for him to attend high school in Sydney where he graduated and then entered University where he's studying to be a teacher. His aim is return to Bourke and be a role model for the kids there. He loves the place. I really enjoyed his story and his positive attitude about living in a small outback town. You often hear the whingers who say there's nothing to do and/or that life in a small community is boring. But George doesn't see it that way at all. He invited some of his Sydney mates back to Bourke for a holiday and they loved the place too - being just a stroll from George's favorite fishing spot and swimming hole, playing cricket at the local oval, attending various social events in town. All good stuff, and the kind of story I'm looking forward to hearing as I visit various places on the Odyssey.
Hot and a bit windy out there but I got a dose of inner shedness anyway and added a few more things to PJ's inventory. She swallows up stuff like a bottomless pit. The color coded plastic rings on the saddlebag keys worked well. No more guessing. Radiator fluid is topped up, Check List (for making sure everything is shipshape before leaving camp) is in the cab, and all is just fine and dandy in the Home Sweet Home department.
A couple of things will hopefully get done this coming week - the marker lights installed by Andrew and the gutter above the gas bottle compartment installed by Jason. Oh... and I really need to remember to call into the tire place for a new spare. Then there'll be no excuses not to take off on a mini Odyssey for a few days somewhere.
Which reminds me, the buttered noodles and cheese thing worked pretty well last night... still a little reluctant to slide down the screech but not too bad. And I polished off the whole bowl. Squeezing the cap of vitamin E into a drink and discarding the gel coating worked well too.
From the Beeb: President Barack Obama has ordered curbs on the use of bulk data collected by US intelligence agencies, saying civil liberties must be respected. Mr Obama said such data had prevented terror attacks at home and abroad, but that in tackling threats the government risked over-reaching itself. However civil liberties groups have said the changes do not go far enough.
A law in Russia banning "homosexual propaganda" has been condemned by critics, who say it incites hatred. But a day hunting and relaxing in the forest - and hearing some extreme views - suggests it has plenty of support. Saunas are supposed to be relaxing but the prospect of this one filled me with dread.
Now lemme try to get this homophobic thing straight - for want of a better word. Homosexuality is wrong because it's not natural. Well, so is becoming an astronaut but existing in an unnatural environment for which humans are not designed has nothing to do with sex. Jumping out of airplanes or from cliffs is not natural either but sky diving and bungee jumping are not about sex. Smoking is not natural, being shot out of a cannon is not natural, dancing on tip-toe is not natural, transplants are not natural. So it seems to me that engaging in unnatural acts is fine as long as it has nothing to do with sex. Now where's the logic in that? I don't get it. Then again, maybe I do. Homophobes have an unnatural and dangerous obsession with matters sexual.
Hot = shortie, it seems. Energy is not in great abundance. Hope you're all well and smiling! Gary
January 17, 2014. The shredded chicken got stuck in the throat again last night. Mayo didn't help much. I think it's the inherent dryness of chicken breast, shredded or otherwise, that causes the problem. So I thought about butter instead of mayo; melting a knob in the hot noodles. Then I thought of adding just cheese instead of meat. Who needs meat? Cheese has fat and protein. So I'll try plain noodles with a knob of butter and a handful of shredded cheese mixed through. I could always tart it up a bit with different flavorings for variety. Carbs, protein and fat without choking half to death (as I did last night). Yeah?
I also wrote to Blackmore's about swallowing their vitamin E caps. Even the 500IU caps got stuck last night. So my question to Blackmore's is can I snip off the end of the caps and squeeze the contents into a smoothie? That would sure make life easier. I don't have a prob with the other tabs, so it's probably something to do with the gel coating... it clings to my tongue, palate and throat due to insufficient saliva.
If I can solve this "evening meal" dilemma with noodles, butter and cheese (and I love all kinds of cheeses) then spending a few days vagabonding in PJ will be a breeze with no special cooking requirements. I'll be a dairy diet man. The smoothies take care of other dietary requirements with Sustagen (fiber and a whole bunch of vitamins and minerals), banana, yoghurt, milk, egg, peanut butter and honey.
Just got a response back from Blackmore's. That was quick! It's perfectly fine to squeeze the contents of the E cap into a smoothie or juice provided it's taken straight away or soon afterwards. So there ya go. Prob solved.
Isn't problem solving fun? It would be pointless, though, if there were no problems in the first place. Remember that next time you bitch about having a problem hehe.
According to a GN's post it was on this day in 1949 that the VW Beetle was launched in the US. It must have seemed at the time, given the American appetite for large, gas-guzzling V8s, to be an exercise in futility, doomed to failure. The Beetle was everything the average American car was not. I can only imagine it was this strange little car's curiosity value that aroused interest. And we all know what happened after that.
VW sold a total of 390 Beetles in the U.S. sales during '51, according to this interesting chronological history of the Beetle.
From the Beeb: The US National Security Agency (NSA) has collected and stored almost 200 million text messages a day from around the world, UK media report. The NSA extracts and stores data from the SMS messages, and UK spies have had access to some of the information, the Guardian and Channel 4 News say. The reporting is based on leaks by ex-NSA contractor Edward Snowden and comes ahead of a key US policy announcement.
Tennis is part of the essential soundtrack to an Australian summer: balls rocketing off strings, the squeal of overworked footwear on baking courts and the grunts of heavy exertion. It's a sport that Australia once dominated. In the 1960s and '70s the nation built a triumphant global legacy - Rod Laver, Ken Rosewall, Roy Emerson and John Newcombe were imperious, while Margaret Court and Evonne Goolagong Cawley became sporting royalty. But since the early 1980s, Australia's women have claimed just a solitary Grand Slam singles title, and it's more than a decade since the evergreen Lleyton Hewitt became the last Aussie man to win a major, at Wimbledon in 2002.
On a hot day such as this I can think of a million reasons to postpone a couple of chores. But I did 'em anyway and now I'm glad I did. Mark the barber took one look at me as I entered his shop and figured I probably wouldn't last long enough to take my turn. Hehe. I do look a bit tragic being so underweight, but as I told him it's the glass half full thing. I feel okay. "And besides, once all the hair has been snipped back to a reasonable length, I'll look fine." Sure enough, once the hair was trimmed, I looked a whole lot better. I sure ain't lacking whatever it is that makes hair grow.
I also bought a three-cheese mix - cheddar, gouda and parmesan - and some butter, so I'll pig out on cheese and noodles tonight and see if I can handle it with no problems. If it works, I can focus on gaining a bit of weight. I don't mind the thought of eating the same thing night after night as long as it tastes okay and produces results.
Hmmm, another shortie. Oh well... Better than raving on for the sake of it. Seeya later. Gary
January 16, 2014. Pay day, and nothing major on the shopping list which means I can start whittling down my credit card debt. That's my goal this year, to be debt free. Imagine all that money I now pay in interest being MINE! One of the most valuable lessons I've learned since being on a fixed income is that spending less doesn't necessarily mean having less. Keeping your eyes peeled for bargains and specials is the key, as well as resisting buying stuff you don't really need.
It's also wise not to covet thy neighbor's goods. Just because the next bloke's got a whizz bang rig with all the bells and whistles doesn't mean mine is unworthy. I don't need caviar on my toast. Vegemite's just fine. Actually, there was a graph on last night's finance report on the news that showed "happiness" peaking at an average annual income of $30K-ish. Anything above that didn't increase the happiness factor. The average income in Oz is about $60K so I dunno what that says about our happiness. I suspect the more you earn the more you spend, and the more likely you are to be maxed out on your credit card keeping up with the Joneses.
I remember my mother commenting on a friend's new Holden back in the mid fifties. My mother was a stickler for the security of owning a home. She was the one who organized a mortgage on our house and who penny-pinched in the early days to make it happen. The friends, though, chose to rent. "And there they are, not even owning their own home, renting instead, and they're driving a new Holden!" She was livid hehe. Dad, at the time, drove the company truck.
Perhaps it's the kids who suffer most from pressure to keep up with their peers... having cool clothes, the latest smart phone, etc. Cheap is out. Last year's model is out. Well, peer schmeer. Stan the Lawn Man and I were chatting on the front veranda just now when a driver at the nearby roundabout screamed something at another driver who did something wrong. "What's the point of getting stressed?" I said. "It doesn't solve anything. People make mistakes. Get over it." I think that's one of the great benefits of getting older (at least, for me) - you see the folly of losing your cool over things that don't really matter, or that you can't change, and you become content with what you have rather than dwelling on what you don't.
That doesn't preclude having a dream, though. No, no, no. Just don't make the mistake of believing that you can't be happy during its pursuit. One GN wrote that he's giving up life on the road. He says he needs to settle somewhere to "visit the doctor more than once a year" and pursue a few hobbies. Fair enough. He's been travelling for 20 years, so he's paid his Nomadic dues I reckon. He's currently looking for permanent residence in a caravan or retirement park. I'll probably do the same thing eventually.
Many GNs worry about what will happen when it's time to quit travelling, so they hang on to their house or other asset for "security". Others, like me, throw caution to the wind. I'll figure it out when the time comes rather than stress about it between now and then. However, I will free-camp as much as poss and watch the pennies so that I can accumulate a reasonable nest egg - enough for establishment costs and then live on the pension.
Lindsay has just entered the 21st century. Rather than give me his share of rent/power in cash as he always has done, he organized a transfer from his account to mine at the bank. The transfer each fortnight will continue until he arrives home from England and a week or so staying with a friend in Sydney. There ya go. The magic of internet banking.
There was a story on telly last night about a couple of Oz businesses dealing in bitcoins for overseas transactions. They say it does away with the middleman (banks) and saves them a fortune. Early days yet, but there are two ATMs in Oz so far where you can insert money to buy bitcoins. I use Paypal a lot (which has expanded its operations - quite a few merchants outside of eBay now offer the Paypal option). Paypal withdraws money from my savings account rather than my credit card so I don't pay interest. Yes folks, banks might have to start rethinking their position in the marketplace. Smartass buggers have had it too easy for way to long. Imagine that... a virtual currency!
Right now, midday my time, 1 bitcoin is worth USD865. How much is it worth when you check? Apparently it fluctuates pretty wildly but I suppose it'll eventually settle down once it achieves more respectability with common usage. Didn't I read or see somewhere that one bloke (British, I think) bought a thousand bitcoins when they were worth 1 cent each, then forgot about them and trashed his old laptop and couldn't find his account after learning that bitcoins had reached USD1000? Oh, dear.
TX Greg wrote: HAHAHA. You'll find out why when you see this vid of Devil Baby Attack. Hehe.
From the Beeb: The mystery of why so many birds fly in a V formation may have been solved. Scientists from the Royal Veterinary College in London fitted data loggers to a flock of rare birds that were being trained to migrate by following a microlight. This revealed that the birds flew in the optimal position - gaining lift from the bird in front by remaining close to its wingtip.
South-east Australia has been hit with extreme hot weather, with temperatures of over 40C (104F) in some areas, and several bushfire warnings in place. In Melbourne, a tennis player and a ball boy at the Australian Open collapsed in the heat. Russell Fuller reports from Melbourne Park.
Comedians have personality types linked with psychosis, like many other creative types, which might explain why they can entertain, researchers claim. They score highly on characteristics that in extreme cases are associated with mental illness, a study by Oxford University researchers suggests. Unusually, they have high levels of both introversion and extroversion. The team says the creative elements needed for humour are similar to traits seen in people with psychosis.
When a motor company's history is as colourful as Bentley's, basking in past glories now and then is entirely acceptable. Enter the Birkin Mulsanne, a limited edition of the British luxury carmaker's flagship sedan inspired by one of the racing world's – and Bentley's – most winning personalities.
I think my '94 Courier is one of only 22 - one of only 22 left on the road. Poor old thing. She gets along okay, though, and has only 165K on the clock. That's about 135K less than Bluey, and about 100K less than the Falcon. Kilometers, of course. So, theoretically.... yeah.
Back from a little shopping - late, to avoid the Thursday pension day crush. I checked those "creamy" pasta sauce thingies. Bleh. FLAVORED! Which means "tastes like". But I found the shredded chicken in small cans in various flavors or plain springwater (what's the bet the water is straight out of a bloody city tap?) But I noticed that some of the flavors included mayo. Of course! There's the "creamy" element I want. All I need do is add mayo to anything that looks a bit dry and whammo, instant slippery dip. I'll try the mustard and mayo chicken tonight. Come to think of it, maybe I could handle scrambled egg mixed with mayo as well! Mayo is great with all kinds of things. Cheap too!
Went to the discount drugs store and got a bottle of 500IU E caps which are a good deal smaller than 1000. $37 for 150 which ain't bad - 2 months worth. And at the railway station I bought my return ticket to Sydney for Feb 3, first class, $22 pensioner concession. One person on duty and I was the only customer. So all is good, and that's a bunch of stuff done and dusted.
So now it's time to check the telly for the day's events and revert to passive mode. Gary
January 15, 2014. New year? Wot new year? It's half way through January already and all the fireworks and popping corks are well and truly forgotten. Of all the events that have occurred here in Taree, Cody's death seems the most recent probably because it had such a huge impact on me. I learned the news in this very spot where I'm sitting now, and it's hard to believe that this year will be the 13th anniversary.
Meanwhile, the gum saga continues. My next appointment with Nancy is in half an hour. Ho hum. I'll miss her when she's off to Darwin though. We're pretty good mates. Fancy that, eh? Good mates with a dentist. Who woulda thunk?
BACK! Seems the lower gum on the left side has finally covered the exposed bone. Success! But the right side still has a way to go, and the front presents a few tricky areas. But overall the Trental and vitamin E treatment is working together with Nancy's chipping away at dead bits of bone. She says the brushing is helping as well. Pity I didn't start that a long time ago. It stimulates the gum and also toughens it up.
She asked me about the shredded chicken and I told her it was like trying to swallow a dry tea bag. The food forms a wad that sticks to the roof of the mouth, dangit. She reckons (and I agree) that the sweet and sour sauce isn't "creamy" enough. Bolognaise works okay because of the melted cheese. So she suggested I check out some of the creamy pasta sauces at the supermarket and add a small can of shredded chicken to the mix. Apparently you can buy shredded chicken in various flavors in the canned fish section. Next!
I spent ages shredding that chicken last night. Grrrrr.
Speaking of munchies, FL Josh writes: For those who like Gummy Bears, but want to avoid calories, they now have sugar free ones, but . . . beware
Calories! That's what I need. Trouble is I'm not much of a sweet tooth. Some people only have to look at something fattening and balloon. Not me. Which reminds me... I was telling Nancy about prawns wrapped in bacon at Black Stump restaurants and lamented, "I wish!" So she leaned toward me and asked, "Do you know how many calories there are in wishing? NONE!" Hehe.
Just thinking. If the pasta sauce in packets and canned shredded chicken or fish works, that would be a boon to mini Odysseys. I baulk each time I think about getting away for a few days because of the diet thing, and having to prepare stuff. Hmmm.
After my blurb about Holdens yesterday, Josh was inspired to write about one particular car in his life: I owned one of these from 1965 to 1990, the most elegant car I have ever driven, and quieter than the Bentley I drove a couple of months ago.
You could fit a Holden in the boot of that thing, and then some. 25 years is a loooong time! Between '65 and '90, I owned 3 Beetles, a VW Type 3, a Holden, a Mercedes, a Mini, 5 Valiants and a VW Kombi camper. I've slowed down a bit since then. Since 2002 I've owned a Holden, a Nissan and 2 Ford utes. Das Busse doesn't count.
After posting about five zillion photos from the Net on Waffle, I finally got an email about copyright. I'm writing on behalf* of Destination NSW. Destination NSW is the lead government agency for the New South Wales (NSW) tourism and major events sector. They have two key consumer websites - Sydney.com and Visitnsw.com. I just wanted to shoot you a quick mail about the following page: -- I noticed you are using a Destination NSW copyrighted image... Anyway, they asked me to credit it with a line of their HTML code. No problem. Done! If you scroll down Waffle 40 until you reach the waterfall pic, you'll see it. Waffle 40? That's 12 months ago!
From the Beeb: Israeli Defence Minister Moshe Yaalon has apologised for quotes that appeared in a newspaper that lambasted US Secretary of State John Kerry's role in the Middle East peace process. Mr Yaalon was quoted as saying that Mr Kerry was acting out of "misplaced obsession and messianic fervour". The US state department expressed anger at the remarks. However, in a statement, Mr Yaalon's office said that he had no intention to cause any offence. Yes, of course... slip of the tongue.
There has been a "catastrophic collapse" in the number of lions in West Africa, with only around 400 left in the region, a new survey suggests. With fewer than 250 mature lions of breeding age, there are concerns the entire population could disappear. West African lions are genetically distinct from others in Africa.
I've been a bit fragile today, I'm afraid. It's the heat and humidity ya know. Knocks me a about a bit, so I took two naps, which hasn't left me with much time for my song and dance routine. I also took time out to play with the little TV remote. Installed a new battery, set up the TV and THEN realized it had to be turned on before the remote could turn it on or off and perform its other functions. Duh! It's a great little gadget though. I couldn't be happier with the picture quality and its convenient size. Perfect for PJ!
Sorry about the shortie today, folks. The forecast is for hot and steamy all week soooo... Better than freezing though. Gary
January 14, 2014. FL Josh reckons I should try apple sauce when swallowing large pills. But I did the ice cream trick again last night. The damn things take a bit of encouragement, to be sure. The thing about milk or ice cream is that they stimulate mucus. Anyway, it's just something up with which I must put. If solid pills present a problem, I can (and do) whizz 'em up in a smoothie. But the vitamin E is liquid in a gel. If the problem persists, I'll see if I can get 500IU and take two.
There was a terrible road accident yesterday in Melbourne. A hoon sped through a red light, killed a pedestrian, carried on and t-boned a car killing a couple who had just left their daughter's wedding and critically injuring another couple in the back seat. How do you punish an idiot like that? Is he even remotely capable of appreciating the utter carnage and heartbreak he caused? How would you feel if you were a cop attending the scene? My first instinct would be to tear the hoon from limb to limb. Aaaagggghhhh!
There'll be more pleasant things to write about on the Odyssey, I'm sure. Although, it's interesting to note that most GNs don't write much about the towns or history or geography of the places they visit, except to say it's pleasant or whatever and that they're having a nice time. Many are more interested in talking about who they met up with (other GNs), or how much a caravan park costs, or how their rig is going, or the weather. A lot take pics but they're point and shoot with little idea of what makes a good photo. One thing I find curious is how many GNs do the typical touristy thing and pose in front of landmarks. It never crossed my mind during my visits to Sydney to take a selfie in front of the Bridge or Opera House. I'm of the view that they are far more interesting than I am anyway. PJ, on the other hand, is different. I'm quite happy to include her in the occasional pic. For example, Uluru without PJ in there somewhere just wouldn't be the same!
So, although I'm doing the same thing thousands of other retirees are doing, it seems I'll be telling quite a different story, and certainly putting a lot more effort into my photography.
But even with regard to photography, I tend to be more focused on human interest and/or entertainment than "art". Art has its place, of course, but I am and always have been more of a song and dance man. Don't you love the way actors refer to their profession as a "craft"? What the hell does pretending to be someone else have to do with craft? Craft-y, perhaps. Cinematography is a craft. Set design is a craft. Editing is a craft. Writing a screen play is a craft. Pretending to be someone you're not is an innate ability.
From the Beeb: Pope Francis has issued his strongest condemnation yet of abortion, calling it a "horrific" symptom of a "throwaway culture" that placed too little value on human life. He said it was was "frightful" to think about early pregnancy terminations. Since his election in March, the pope has not spoken out against abortion as sternly as his predecessors. Pity we don't know what Mrs God thinks about this issue.
German carmaker Volkswagen has said it will invest $7bn (£4bn) in North America over the next five years as it looks to boost its sales in the region. The firm will also launch a new sports utility vehicle (SUV) in the US - one of its biggest markets - in 2016. It also reiterated its goal of selling a million Volkswagens and Audis - its luxury brand - in the US by 2018. From such humble and unlikely beginnings.
When I was a kid, 50% of cars on Oz roads were British or American (with a handful of French and German). The other 50% were Holdens. In '53, after 5 years of the same model, the FJ was introduced... same car but with a tarted up grill, different tail light (yes, one) and 12 volts. Why would you change something that had half the market? But by '56, the FJ was getting a bit stale stylewise, so a more modern square shape was released. Ironically, though, it's the FJ that became the Aussie motoring icon. And now, or at least in 2016, after 68 years, "Australia's Own Car" will cease production - UNLESS sales of the Holden rebadged in the US as a Chevrolet are good. AND if GM doesn't decide to shift its production to the States.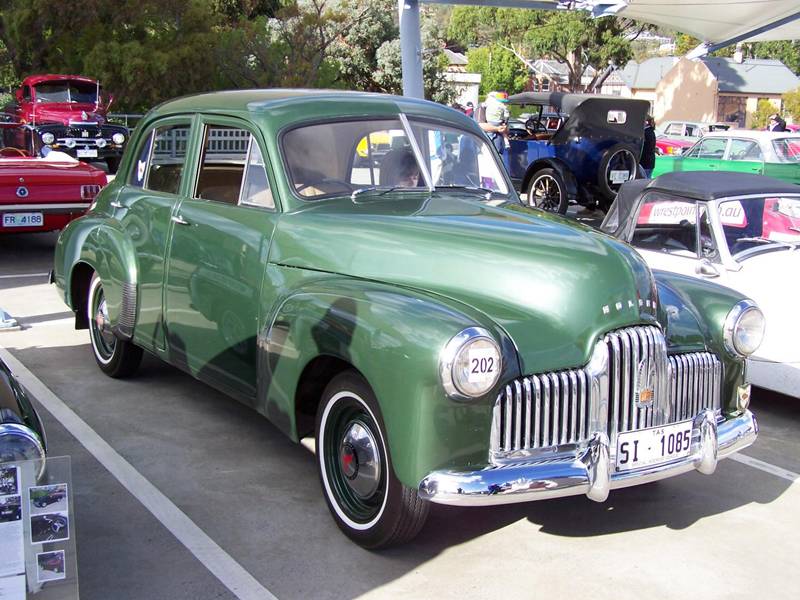 I was 4 years old when the first Holden rolled off the assembly line. So, by the time I was in my teens, the early Holdens were old enough to be bought cheaply by my peers and were given a new lease of life. And they were everywhere. Obviously, if there's one car I identify with more than any other as a young bloke growing up in Australia, it's the Holden.
Roite, the chicken breast has been oiled, salted, ground peppered, gingered, and herbed, and is now wrapped in its foil parcel ready to be steamed. Too easy! Hopefully, in half an hour or so, it'll be tender enough to be shredded easily with two forks. I don't need to feel guilty either... the chicken is RSPCA approved according to the pack, so the chook was apparently consulted before its demise and quite happy to cooperate.
"Lord, they are finally together," the priest said at the funeral.
NC Art will enjoy this one about getting older and wiser.
And this one is a classic... Masculine Moments.
The chicken's done (I think) so I better attend to the shredding. Catch you same time, same station, tomorrow! Gary
January 13, 2014. Time's a-racin' again. It's almost 9 and I'm due at Nancy's in half an hour. Better get this coffee down. And then? A bit of shopping, I guess, and maybe a fiddle with PJ. I can't shake this feeling of guilt about being retired ya know... not having a fixed work schedule or somebody to answer to. Each day I sit here in my "office" to satisfy the urge to feel productive, and it's been that way ever since I pooped my pants in kindergarten. I ran all the way home where I sought refuge in the backyard dunny. But I felt guilty about missing class, so I recited nursery rhymes and my mother heard me. Hehe. She cleaned me up and bundled me back to school.
BACK! There was a young work experience girl in the surgery, Holly. She's a rower! And for some obscure reason she wants to be a dentist. She appeared to be totally engrossed as she peered into my mouth. So I said, "You know those clown faces with open mouths that you throw things at? That's how it is at this end." Nancy finishes up at the clinic at the end of this month, and is then off to Darwin - back every 5 weeks to check on me. Meanwhile, Emma will take care of proceedings. Brushing with the baby brush seems to be working well, and I'm getting more used it. So that's a plus.
TX Greg wrote to say the "Brawn Power" bloke looked fit. Some of the rowers have very impressive physiques indeed. Years ago, I worked with a girl who was seriously into rowing, with shoulders that dwarfed most of the guys' at the office. Anyway, Greg reckons I should carry sample packs of sunscreen to hand out. Hehe. How subtle.
I thought more about the shredded chicken thing and decided to downsize from two breasts to one. The more I cook, the longer I have to eat the same thing every night, soooo I figure I'll do one breast at a time wrapped in foil with a little oil, garlic, ginger, herbs and S&P. Instead of the conventional oven, I'll use a saucepan fitted with a steamer. In fact, steaming foil parcels would be ideal on the Odyssey as well. You can use all kinds of meats, seasonings and vegies to make quick, no-fuss meals with almost no washing up! For the moment though, I'm interested in cooking meats that shred easily and don't need chewing.
Well, well, well, right on cue my stone frypan arrived! I'll check it out later.
As to swallowing monster pills without choking to death, NC Art says: I discovered an easier way to get pills down the hatch. Three of various size and coating each morning go down quite readily if taken with warm orange juice instead of cold water. Presumably one could use prune juice or other palatable and smooth potion. Works for me! May work for yew tew.
I think I have a problem relaxing the throat because of stress, anticipating the worst. However, last night I managed to dislodge the pill with a dollop of ice cream. Prune juice? Sheesh! Porta potti here I come!
Back from a little shopping. Jason the metal bender is still closed for Christmas/New Year vacation. Next! Country Link no longer runs the 4.12pm return train from Central to Taree. Dunno why, the damn thing was always packed. So now if I wanna get back to Taree the same day after seeing the doc in Sydney, the train leaves at 2pm. So I phoned the doc's office and they've put my appointment back to 12.15. Sorted. Next! Got two colored plastic key thingies so I can tell which is which for the saddlebags. They're not keyed alike. Dummies. And I got all my groceries including those for the chicken parcel. Blue Dragon tangy sweet and sour stir-fry sauce with vegetables, chunky pineapple, bamboo shoots and water chestnuts. Sound okay to you? Genuine Asian made in Poland. Hehe. On spesh at just $2 a jar.That'll go well with noodles.
From the Beeb: American Hustle has won three awards at the Golden Globes including best film comedy or musical. Its stars Amy Adams and Jennifer Lawrence also picked up best actress and supporting actress prizes for their roles in the 1970s-set crime movie. Steve McQueen's 12 Years a Slave picked up the top honour of the night, winning best film drama.
In pictures: In 1973, a group of men sailed across the Pacific Ocean on rafts - the 15,000km (8,300ml) journey from South America to Australia was the longest of its kind ever recorded. They wanted to prove that ancient civilizations could have travelled between two continents. These are some of the pictures from the expedition.
The frypan is pretty nifty, made of heavy-gauge aluminium, sprayed with a layer of marble, with a high base for induction cooking. It can cope with metal utensils, be used for fat free, non stick cooking, cleans easily and has a detachable handle for use in an oven. Fine with me!
Golly gosh! Look at the time. I gotta buzzoffski. Gary
January 12, 2014. Roite. Site's updated including the photo album of the Rowing Regatta yesterday. Got lucky with a couple of shots... a vintage bi-plane and a curious pelican. Don't forget to check the photo captions. The 55-200mm lens works well and the anti-shake thingy is great. Telephoto shots in good light are crisp. You'll notice a little vignetting with the 18-55 because of the lens hood but cest la vie.
I'm looking forward to photo shoots on the Odyssey; having the time to plan shots and aim for above-average quality and composition, and even reshooting an image if needed. No rush, no pressure. Early morning and late afternoon shots no problem.
Doing a little computer housekeeping at the mo, copying all the photos for the past year or so to the external HDD to free up space on the internal HDD. I thought the external was massive when I bought it a couple of years ago at 250GB. Now you can get a 1TB portable for about $100. It's not all that long ago that Pentiums were all the rage at 1GB. God knows how big Youtube is, or those cloud thingies you can use to store files. It's also not all that long ago that you bought rolls of photographic film in 36 exposures hehe. My, my, the times they are a-changin'.
Another thing I'm looking forward to on the Odyssey is the proximity of all my gear to me. At the mo, some is in the house and some is in PJ and I have to trek between the two. Once everything, including me, is installed in PJ everything will be in easy reach. How convenient!
Yesterday, I linked to a Beeb story about wealthy pollies and was tempted to comment, but NC Art has done it for me: That's an unlikely mob to be tending to the needs of the poor. What the hell do they know about hungry folks? I think the Democrats are a bit richer because more of them have been there longer … until recently. Finally Repubs have got hold of the election machinery and made off with the last two elections in the lower house. Then they promptly went on strike and now do nothing but obstruct progress and cozy up the big money interests, so they won't be long in second place.
Lesson: Keep politicians poor to keep democracy alive.
The argument against that, of course, is if you pay peanuts you get monkeys. There was a time in Oz politics that working class people made it to the top job but now they're all lawyers. Our current PM is an exception having started out training for the priesthood and then deciding the bucks were a bit lean so switched to journalism before turning full-time pollie. In the last 6 years, we've had the battling duo Rudd and Gillard now both retired PMs on lifetime pensions of half a millon a year each. Mine's about $20K.
p.s. I did NOT go to divinity school, but I would have fit right in with those smokers, drinkers, skirt chasers and hell raisers.
You forgot to include the mayor of Toronto, Art.
Hmmm. Just had an idea. I'm tired of mince (ground) meat. Sooooo, how about I share a BBQ chicken with Lindsay? He can have the legs, wings and whatever and I'll have the breasts which I'll shred finely using a fork. Then I can put a jar of sweet and sour stir-fry sauce through the blender for a few seconds just to get rid of the lumpy bits, put the whole thing together and serve with noodles. Hmmm, sounds more chickenish than ground chicken, and it should slide down the screech without any impediment.
I nearly choked to death last night trying to get one of those jelly-bean size vitamin E tabs down the screech. It got stuck, so I laid down on the bed in an attempt to coax it further down but it lodged in the windpipe. Oh dear! There was a whole lotta coughing and spluttering going on before the thing finally dislodged and cannoned out of my cake hole. I then stood at the kitchen sink with a glass of water and managed to get the thing down after two tries. Isn't life exciting?
FL Josh wrote: No one believes seniors . . . Everyone thinks they're senile.
An elderly couple was celebrating their sixtieth anniversary. The couple had married as childhood sweethearts and had moved back to their old neighborhood after they retired. Holding hands, they walked back to their old school. It was not locked, so they entered, and found the old desk they'd shared, where Jerry had carved I love you, Sally.
On their way back home, a bag of money fell out of an armored car, practically landing at their feet. Sally quickly picked it up and, not sure what to do with it, they took it home. There, she counted the money - fifty thousand dollars!
Jerry said, "We've got to give it back."
Sally said, "Finders keepers." She put the money back in the bag and hid it in their attic.
The next day, two police officers were canvassing the neighborhood looking for the money, and knocked on their door. "Pardon me, did either of you find a bag that fell out of an armored car yesterday?"
Sally said, "No."
Jerry said, "She's lying. She hid it up in the attic."
Sally said, "Don't believe him, he's getting senile."
The agents turned to Jerry and began to question him.
One said: "Tell us the story from the beginning."
Jerry said, "Well, when Sally and I were walking home from school yesterday ...."
The police officer turned to his partner and said, "Were outta here!"
From the Beeb: Two pilots have attempted a dramatic take-off - from a beach. Their single engine plane made an emergency landing on Martins Bay in New Zealand after aircraft's engine failed. It did not stop the pilots attempting to get it back in the air, along with the help of some nearby holidaymakers. Lucas de Jong reports.
January is a boom month for online dating, but certain irksome recurring phrases might put off potential mates. A Magazine article listing 20 cliches people write on their profiles attracted a huge response from readers. Here are a few of the most unpopular expressions.
Aren't some people pathetic when they try to impress someone else? I can think of many examples but I won't detail them. I prefer the quiet ones who do and say nothing out of the ordinary... the mysterious ones with a hint of a smile... a discreet sign of encouragement but by no means an invitation. However, I would no sooner seek a companion on an internet dating site than bungee jump. I'm perfectly content with my own company, thank you very much. Myself and I have been together for a helluva long time and we've sorted out most of our problems. We don't argue about things like who gets the TV remote or the fav chair, for example. But probably the most important thing is that we can tolerate each other's farts. I honestly can't remember the last time one of us had to leave the room. We also have realistic expectations of each other despite regular derogatory name-calling.
Hmmm. This retirement story posted by a GN ain't bad.
And now it's time for a wrap, Bs & Gs. Enjoy the regatta pics and I'll catch you tomorrow. Gary
January 11, 2014. Ah yes, I remember the name of that restaurant now... Black Stump (char grill). It was a franchise and there were a few in Sydney - and still are according to Google. Two American style restaurant/bars I remember from my days in Kings Cross were the Texas Tavern and The Bourbon and Beefsteak. Now I can't even do Hungry Jacks.
TX Greg wrote: Speaking of bacon, here's a new product... BTW> I hope you get a gawk shot this time, hahaha
That bacon ball thingy is not a bad idea. More washing up though. I've seen cooked "bacon bits" in jars in the herbs and spices section of the supermarket. Some hot dog sellers use crispy bacon bits to sprinkle on the sausage. Toasted and buttered buns improve a hot dog out of sight I reckon. Ditto burgers. Oh dear, there I go again... *sigh*
It's after 10am already so I better move this tired old butt down to the river soon (just made a coffee). The weather's great... sunny and no wind. I'll get some wide shots of the general scene and then switch to telephoto for some "up close and personals". In an Odyssey situation, where I'd camped overnight, I could have gotten some sunrise shots of rowers practicing. Mind you, I could have gotten outta bed at sparrow's and done the same thing but, hey... I'm lazy.
The foodies will be at the regatta for sure, selling steak and onion toasted sandwiches, egg and bacon rolls, pies, sausage rolls and all kinds of yummies I'll have to ignore. I'll never take food for granted again... or teeth. I was at Bunnings recently waiting at the checkout when a woman remarked on the smell of onions frying at the nearby food stall. Tell me about it. We got to chatting and she said she went through the no-teeth thingy after a mouth operation. Said she understood what I was going through. Thanks, darling, but it doesn't help at all.
Now what was it I was gonna say?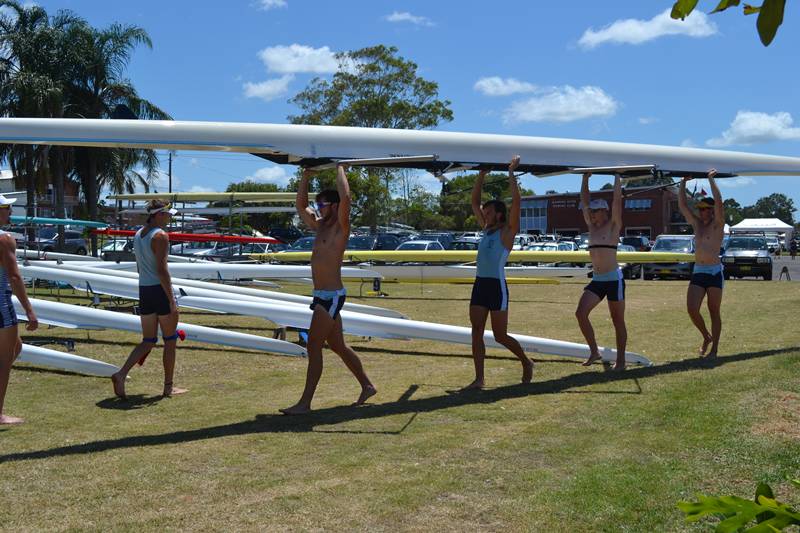 Oh yeah... I'm back from the regatta. Now don't forget to wear a hat! Yes, Gary. And don't forget to put on plenty of sun block! Yes, Gary. And don't start pointing the bloody lens at shirtless blokes! Yes, Gary. Well, I didn't wear a hat or sun block. After about an hour in the sun, I felt the tell-tale tingles and high-tailed it back to PJ where I downed a coldie and watched proceedings from the cab, occasionally venturing out for another pic or two. Then I came home and fell asleep for over an hour. That sun really takes it outta me.
I'll put the album together tomorrow. It's after 4.30pm now. The photos are okay... nothing thrilling. I didn't bother with the races cos no one knows what team's what and it's a bit dreary if you're not interested in who's battling whom. Although my old club at Glebe was there. I was a frequent visitor to the old Glebe Rowers Club. The club building is gone now, replaced by a fancy restaurant.
NC Art wrote but not to comment on bacon. Maybe he has an aversion to feelthy peegs. Art chose instead to comment on something with which he can more readily identify: True that old Ludvig B. was deaf during part of his time composing Ninth Symphony—known as The Chorale. And a widely known singer threw a tantrum about its difficulty to perform. An orchestra was cobbled together and a top flight soprano was invited to take part in a rehearsal prior to the first performance. The diva accepted, came on stage, looked over the vocal part she was to sing, threw the score in the floor and screamed, "No one can sing this shit!" and stomped out of the theater.
It is a trying piece of music, but the soprano was wrong. Many women have sung the part since … but very few very well.
And I like the story about the end of this master composer. Seems he went for a walk, and being deaf could not hear thunder. A sudden downpour caught him and he shook his fist at the sky, bellowing, "Das ist genucht!", had a stroke and died.
BTW, I was watching something on telly last night... oh, yes, an interview with aussie actor Geoffrey Rush, who is brilliant. His latest starring role is in The Book Thief. He was talking about the percentage of the German population that resisted Nazi rule (for the sake of their own humanity) and became involved in various anti-Nazi activities such as protecting Jews from persecution and death camps. That percentage was less than 20.
From the Beeb: The US Air Force is now investigating 10 officers at six military bases for alleged illegal drug possession, service officials report. Nine lieutenants and a captain at bases in the US and Britain have been implicated in the investigation. Two nuclear launch control officers at Malmstrom Air Force Base in Montana are said to be involved in the probe.
For the first time, half of the members of the US Congress are millionaires, according to a wealth analysis. At least 268 of the 534 politicians in the Senate and House of Representatives had a net worth of $1m (£606,821) or more in 2012. Democrats were slightly wealthier than Republicans, found the data from the Center for Responsive Politics (CRP) at OpenSecrets.org. It comes as politicians debate national jobless benefits and the minimum wage.
Earnest history teachers driving their families on improving holidays across Europe. Hippies heading to Woodstock in 1969. Surfers rolling down to Cornish or Californian beaches. The elderly chap next door who wore shorts and sandals with socks in summer and whose wife insisted the plastic wrappers that came with the front seats when new stayed firmly in place… The Volkswagen Type 2, better known as the Kombi, Camper, Transport or Bus ? it had various names in different countries ? was in production, in one guise or another, for more than sixty-three years.
Ah yes, the old Kombi. Been there, done that, and glad I did. Seeyaz tomorrow! Gary
January 10, 2014. NC Art commented: Yer roit mate. Your skill with limerick production ain't bad for early morn. Rhyme scheme is fine, but the meter could use a bit of smoothering. Say it out loud to get the feeling…and easy flow of accented syllables.
Oh hell, what do I know anyway?
There was a young man in Dundee
Who buggered an ape in a tree
The result it was horrid
All ass an no forehead
Blue balls and a purple goatee.
And this one of two stanzas, scribbled on the wall of the loo in a divinity school:
There were two old maids in Birmingham
And I'll tell you a story concerning 'em,
They lifted the frock and diddled the cock
Of the bishop who was confirming 'em.
Now this bishop was nobody's fool
(He'd attended a large eastern school)
He just took down his britches
And buggered those bitches
With his Arch-Episcopal tool.
[OUCH!!]
Art and I went to different schools. There was never anything creative on our walls, just stick drawings of our teachers. As to meter and accented syllables, I had a problem with PJ. If you accent the P rather than the J in PJ his home, you get a different meter than the one you get if you accent the J rather than the P. Life wasn't meant to be easy ya know.
I was just thinking about a dish I almost always ordered at a restaurant I frequented in North Sydney years ago. I'd never seen it anywhere else. It was school prawns wrapped in bacon served on a bed of rice with special tomato sauce (probably salsa). They were sooooo moreish I couldn't get enough of them. But cooking them (or trying to) at home was a different story. The damn toothpicks make them impossible to shallow fry. So for some reason this morning, I thought about deep frying them. Secure prawn and bacon rasher with toothpick, pop them into hot oil, cook for a minute or two, remove from oil, remove toothpicks, arrange on bed of fluffy rice, add a dollop of salsa on the side, enjoy. Does that sound like the way to go to you?
One GN suggested grilling.
I feel like a deaf Beethoven writing music. No teeth and thinking about FOOD!
I knew a chef on the Central Coast ages ago. His specialty was filet mignon. Rather than wrap the filet in bacon and secure it with toothpicks, he used a can from which the top and bottom had been removed. It was just the right size to accommodate a filet wrapped in a rasher of bacon, and would hold everything in place during cooking. The hot can also aided the cooking of the bacon. The cans were his pride and joy, never washed, and coated with black carbon from previous cooking to impart a smoky, BBQ flavor. I don't know how he brought new cans up to "cured" speed, but he never used a new can to cook a filet mignon. He was a bit of a character... always had his large black dog sleeping on the floor of the restaurant kitchen.
Why would eBay email me about 60% off a Canon printer when I've only just bought one? They do that kinda thing all the time. Speaking of which, I splurged on a stone/marble coated 8" frypan yesterday for PJ. I already have an 8" teflon, dish-shaped pan for pancakes, and a large cast-iron griddle for campfire cooking. It weighs a ton! Many GNs say it's a mistake to carry too much cookware. You only need the basics. Even now, here at home, there's a ton of stuff in the cupboard I never use. But I bought the stone frypan cos it uses virtually no oil, cooks more efficiently, and is easy to clean. However, I have a feeling the ol' jaffle iron will be my favorite hehe, especially after reading all the recipes and tips on that web site yesterday. I can also use it on the stove or a campfire. As to deep frying, all you need is a saucepan. Even a basket is not necessary, just a slotted spoon does the trick. I do like my chips, ya know.
Food, food, food. I gotta stop this!
Well, the Beeb's no help. Not much happening today, I'm afraid. While I shaved, I heard a tech head on the radio being interviewed about the iPhone (and its Android copies) on its 7th anniversary. He was talking about how much the device has changed people's lives. Apple is still ahead of its rivals despite Androids collectively selling more phones. The iPhone is better made and more responsive. One bloke in the construction biz called the station to say that it's revolutionized the way he operates his company. The iPhone has become his office. Another bloke said it's brought him and his son closer together. He chases errant weather balloons for a living and uses the iPhone to track and find them. Someone else - a stargazer - said if you're looking at a star and wondering what its name is, there's an app that allows you to point the phone at the star and it'll tell you its name and a heap of other relevant info. Hehe. Another app allows you to point the phone at a high flying aircraft to get all the relevant info... type, flight #, where it's going or coming from, etc.
I've always thought of iPhones as a phone first and everything else second, and since I rarely use my mobile phone, I couldn't see a need for an iPhone. Maybe I need to rethink, especially in light of the Odyssey and having no fixed line. However, I do like my laptop and full-size QWERTY. And I can't see myself working with photos and video using an iPhone.
Back from a little shopping and buying a couple of new button batteries for the little TV remote. How come they package them in pairs when I only need one? Bloody crooks. Also that medication for the vascularization of my gums ain't cheap either... $53 for less than a month's worth. And the vitamin E is expensive as well. I can buy a good quality fry pan for less than one of those other things and it'll last 10 years! Come to think of it, the frypan I mostly use here in the house is part of an enameled cooking set I bought at a liquidation sale 34 years ago for $20 the lot! The meals I've cooked in that thing would number in the thousands easily!
My Nikon bag is ready to go. Batteries charged, lenses and hoods ready, everything set to rock and roll tomorrow at the rowing regatta. Freezing a couple of small bricks for the cooler and a couple of coldies. I won't bother with PJ's fridge. I would have packed a sandwich as well but we all know that story. Bleh. It'll be the first time I've taken PJ to an event and used it as my private retreat. It can get pretty hot out in the sun walking around with a camera.
So that's about it from me today, folks. Time to veg out and catch up with what the world has been up to today. I hope all y'all are managing to thaw out "over there". Gary
January 9, 2014. NC Art wrote Um NO: Sorry mate, it's PARAPHERNALIA…
There was a bloke from Australia
Who packed his paraphernalia
PJ his home
where e'er he roam
Blessed be he that sail in 'er.
Hmmm. Not bad for this time of the morning. Thanks Art. You must have read my comment the other day about being gracious when corrected and thought I meant it. Hehe. Kinda reminds me of my youth when I had a job after school delivering prescriptions and washing bottles at a local chemist shop - paraffin bottles.
And speaking of the '50s, I saw this on an auto news group this morning... 50s Main Street USA
So what happened? It was there one day and now it's not. The photo proves that that moment in time existed. So where did it go? And where did all the people go? The bloke driving the Caddy was probably headed home to have dinner with his missus and kids and watch The Honeymooners on his Admiral TV. Photographs are spooky in that respect: a moment in time plucked from the continuum to be forever thus.
Speaking of photos, I checked the events calendar on the local council web site last night and noted that the rowing regatta is on this weekend just down the road. Teams from all over the east coast compete, and the weather forecast is for fine and sunny conditions. I was there a couple of years ago and saw some of those rowers without shirts on. By golly gosh, I said to myself, all that rowing certainly er... well, I can't remember exactly what I said but I do remember being rather impressed. So it occurred to me last night that I now have a 200mm digital lens hehe. And I haven't used it much. Yet. So I think I'll toddle down to the river on the weekend and get some practice. If I'm early enough, I might get a good parking spot close to the action and have PJ to relax in during breaks. Sound like a plan to you?
I checked my Youtube channel last night after a long absence and was surprised by the number of hits to a couple of my vids. About a year or so ago I wrote that one of my vids was up around the 500 views mark which I thought was pretty damn good given that I don't promote them. But the Kombi Fest vid has now topped the 6000 view mark, and the Sydney on a winter's morning vid has almost hit 4000. What happened? Word has gotten around, that's what happened. Takes a while but it does happen. I figure the same thing will happen with AO. It's been around long enough to become established, and once I hit the road it'll blossom.
And then what? I dunno. Hehe. It's a bit of a dilemma, really. On the one hand I'd like to remain relatively incognito but on the other, I want AO to succeed. I can't imagine anything worse than emerging disheveled and bleary-eyed from PJ, holding my bottle of morning urine, and having someone recognize me.
I just checked out a jaffle iron recipe site with more recipes than you can poke a stick at. I don't have teeth yet but at least I can drool. I love hash browns, for example, but they're a pain to make yourself, and the frozen ones are pretty boring. Sooooo...
Ingredients:
Butter
Grated raw potatoes
Salt and pepper, to taste
Directions:
Butter the inside of your jaffle iron and fill with grated raw potatoes. Season to taste and close the iron. Cook over medium coals, turning frequently. It's that simple! For a heartier appetite, add onion, green pepper, and sliced cooked sausage to the grated potatoes half-way through cooking. When done, top with a cheese sauce and serve up with eggs.
The recipes include fish cakes, all kinds of sandwiches, pizza pockets, desserts and a whole range of things you never thought of. I can't wait!
Finally got around to setting up the little TV with a bit of buggerizing around. But once it was on, it went through the seach thingy no problemo and all 19 free to air channels are perfect. It logged a whole bunch of radio stations as well... not sure if they're FM band or digital. Can't get the remote to work - probably a dead battery. I'm pretty sure the button battery is right side up cos the drawer only closes one way. Anyway, the TV is brilliant... great color and clarity and not bad sound for two little speakers. Woohoo!
From the Beeb: Australian PM Tony Abbott has defended what critics have described as government secrecy over asylum policy. Officials have in recent days refused to comment on reports that Australian naval forces have turned back at least one boat to Indonesia. Accounts have also emerged of asylum-seekers mistreated by navy personnel. Mr Abbott, who promised a tough line on the asylum issue when he took office, said restricting information flow boosted operational enforcement. "I'd rather be criticised for being a bit of a closed book on this issue and actually stop the boats," he told local media. "The point is not to provide sport for public discussion. The point is to stop the boats. I'm pleased to say it is now several weeks since we've had a boat, and the less we talk about operational details on the water, the better when it comes to stopping the boats."
Hmmm. It's a tricky one. Abbott's critics keep talking about the asylum seekers themselves and the way they're treated - being sent to off-shore detention centers and refused entry into Australia. But they never mention queue jumping. There's a proper process for emmigrating to Oz if you're seeking asylum, and each case is dealt with in turn. Those who decide to jump the queue and risk life and limb by travelling to Oz aboard unseaworthy boats are the victims of people smugglers who make false promises and charge a small fortune knowing full well their victims' fate - either drowning at sea or being sent to a detention center off shore with no hope of ever being granted Australian citizenship. Abbott argues that revealing details about "operational matters" only serves to inform the people smugglers who then ply their evil trade accordingly.
Anyway, it'll be interesting to see where Abbott goes with this one - whether he can resist pressure to cave into the critics or stick to what he believes in. I'm guessing here but I suspect there are similarities between our problems with asylum seekers and the US's problem with Mexicans illegally crossing the border.
The deep freeze that has left people in North America shivering for days, shattering century-old temperature records, is loosening its icy grip. The mercury is rising in the US Midwest and East, which has borne the brunt of the so-called polar vortex, but was still below freezing in many areas.
We cannot say we weren't warned. The growing threat of antibiotic resistant organisms is once again in the spotlight. Prof Jeremy Farrar, the new head of Britain's biggest medical research charity the Wellcome Trust said it was a "truly global issue". In his first major interview since taking up his post, Prof Farrar told BBC Radio 4's Today programme that the golden age of antibiotics could come to an end unless action is taken.
Rolls-Royce reported its fourth year running of record sales with 3,630 cars delivered to customers in 2013. That is a 1.5% increase on the 3,575 cars Rolls-Royce sold in 2012.
Despite the rapid rise of cashless payments worldwide, many people still prefer to have cash in hand and rely on paper money. But, increasingly, those notes aren't paper at all, but come in the form of a high-tech, plastic banknote. More than two dozen countries, from Romania to Vietnam and Israel have switched from old-fashioned cotton paper notes to polymer ones. Recently, The Bank of England announced that the Sir Winston Churchill £5 note will be made with plastic in 2016. Fiji and Canada also ditched their crinkly paper notes for plastic in 2013. And Australia, which pioneered plastic-based money, has successfully used the notes since the late 1980s.
And that's it for another day! I'm looking forward to the weekend and the rowing regatta... that should liven things up a bit! Gary
January 8, 2014. I'm losing Nancy! Boo hoo. But I'm thrilled for her. She's moving to Darwin, going back to university to study something unpronounceable but which is similar to the type of medicine my specialist in Sydney practices - head and neck - except that Nancy will also have a dentistry degree. She'll be a specialist's specialist. Bright girl, yes? She'll be back here every six weeks though to keep an eye on me. Meanwhile, I have an open invitation to visit her in Darwin. "You're one of the family here now."
She removed quite a bit of debris from my mouth this morning and - to quote her: "When I first started working on your mouth I was like Eeeeek! But now I'm like less eeeeky." Hehe. She says to keep brushing with the baby brush to toughen the gum in readiness for the upper plate and using the bottom gum to "gum" it when chewing. Overall, she's happy with my progress. The assistant was also impressed. It's been a month or two since she last saw my gum and she could see the improvement quite readily. It'll be interesting to hear what the doc in Sydney has to say when I visit him Feb 3.
Meeting people like Nancy and forming a friendship does wonders for my self esteem. For a while there I was worried that L&S was the best I could do. Back in the late '90s after my world collapsed, I met up with a friend who had been a regular companion during my halcyon days in radio and advertising. We were the Terrible Twins. As we sipped our beers in a pub, I caught a fleeting look in his eyes accompanied by a plastic smile. Gary's dead, it read. Gary's finished. I never saw him again, nor any of my other former colleagues.
Took a while, but I've since learned that you NEVER chase the past. Bury it and forget it. Move on. Chasing the past is like a gambler chasing his losses. All of which begs the question: how come it takes a bloody lifetime to wise up?
Speaking of lifetimes...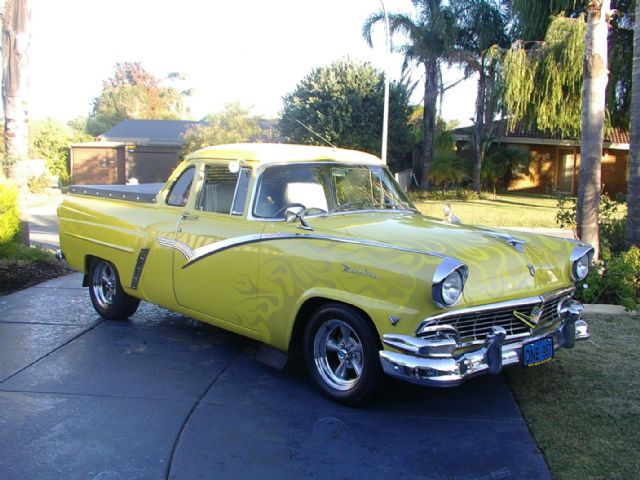 My best mate's father drove one of those when I lived in Terrigal 40 years ago. I remember the gentle throbbing of the lazy side-valve V8 with enough torque to pull a house around.
I wonder if there's a 50's style resort you can visit, with 50's cars, motels, furniture, B&W TVs, Rock-Ola juke boxes belting out Elvis records, fashions of the period, drive in burger joints, pin ball machines and all that wonderful 50's paraphanalia. Parkes in NSW is about to stage it's annual Elvis Festival which attracts thousands of Elvis look-alikes to the small western town (otherwise famous for it's observatory). But it doesn't look quite right if an Elvis impersonator turns up in a VW Golf. BTW, that XPT in the film clip looks very familiar... it's the one I travel on to Sydney and back.
From the Beeb: Dozens of US former emergency service workers have been arrested in a sweeping fraud investigation involving federal disability benefits, New York authorities say. Prosecutors say 72 police officers, eight firefighters and five corrections officers are among those charged. Some reportedly falsely claimed disabling conditions arising from the 11 September 2001 attacks. The fraud is believed to have cost hundreds of millions of dollars.
Former US Secretary of Defense Robert Gates has written a book strongly criticising President Barack Obama's handling of the war in Afghanistan. In Duty: Memoirs of a Secretary of War, Mr Gates says that the president was sceptical that his administration's Afghan strategy would succeed. "I never doubted [his] support for the troops, only his support for their mission," Mr Gates writes.
Now that I've almost finished loading PJ with all sorts of goodies, I can't wait for a fellow camper to ask "Have you got such and such?" And I can proudly say, "Matter of fact, yes, I have!" But now that my latest goodies have arrived, the mini TV, collapsible buckets and water filter, I'm beginning to suffer withdrawals. A mate of mine used to say, "A purchase a day keeps the blues away."
Nancy was impressed with the buckets this morning and is gonna order two for herself. The other day, a GN posted an idea for cleaning tea and coffee stains from plastic/melamine cups/mugs. So I just added a little bleach to my earthenware mug, filled it with water, left it for half an hour and bingo! Clean as a whistle. So there's another thing I'll be needing in PJ - bleach. White vinegar is also a great all-round cleaner. Another GN tip was to use wool wash for handwashing clothes in a bucket. No rinsing needed, which is important when water is scarce out in the sticks.
Well, I succumbed to the shopping withdrawals hehe. $9 for two suit/shirt zippered covers with accessories pocket and handles for carrying/hanging. I need a couple of button-up dress shirts for "special" occasions, and they don't travel well when folded. Yeah?
Just responded to a post by a GN newbie who wants to know what other GNs have to say about hitting the road and keeping their house, or selling it. Responses vary - those who have sold and never regretted it, and those who worry about having "something to come back to". Nervous nellies. When I lost my house 20 years ago, I had no choice but to rent. And now renting doesn't scare me one little bit. As I said in my response, if the day comes when I have to quit the road for any reason, there are tens of thousands of affordable houses/apartments like this one in country towns all over Oz. So what's there to worry about? One change I would make if I rented again is to rent a furnished apartment. Old Kev and Averil did that all their lives and never had the worry of moving a truckload of stuff each time. I've packed and unpacked more times than I care to remember. Never again! And when I leave this joint, none of it is coming with me!
And that brings to a close another waffle. Gary
January 7, 2014. My Red Bubble friend Mieke recently organized a get-together of Bubbleonians to visit Melbourne for a photographic jaunt through the city. It's a great read with great pics. Red Bubble tour of Melbourne.
Mieke is from the Netherlands but grew up in Melbourne. Now she lives way up in Kimberley country in WA, in a town called Derby (near Broome). When I'm over that way (who knows when) I'll say g'day.
Here's one you'll enjoy... choosing a wife, posted on the GN Just Joking forum.
FL Josh wrote: If you plan on using the box the little TV came in to store it and all its goodies, get a can of clear spray paint and give it a couple of coats and that will help the box last a long time.
I've noticed certain boxes have a varnish type coating that makes them more sturdy and durable, like my concertina file. It's a bit like a cardboard brief case. $10. I figured I'd need a place for receipts and various papers on the Odyssey. Good thinking, Josh. You'd make a great Gray Nomad.
NC Art commented on 'gentlemen's sport': Sports just ain't what they used to be. In a time called "Classical" [?] the Greeks and Romans went at it without protection in wrestling. Finally some Roman gladiator tired of having his gonads crunched, invented an athletic supporter … crotch guard I guess. The Incans and Mayans didn't read history and contended naked in a game called pelote, actually the missile used for scoring. The things were hard baked clay or some such and fatalities were common. Cracked skulls, broken limbs, gut spilling. Actually, murderous inclinations were played out on the field, grudges settled and old scores evened. We are wusses these day, eh.
Whaddaya mean these days? I've always been a wuss. I did quite well at table tennis and chess. Speaking of which, there was a story on a current affairs program last night about Uganda (I think it was Uganda) where street kids were lured to school by the promise of food. Part of the school's curriculum was chess. One of the girls excelled at the game and has since toured the world (including Russia). Her success and fame has encouraged many of the other kids to take the game seriously, and they love it. No power points, no batteries, no fancy bells and whistles. What a great story.
The chilling weather approacheth, and it is starting as I work here. Tonight below freezing, tomorrow high 34 and low 9 … that's Fahrenheit scale! AND I have a doctor appointment in the morning. Brrr. Maybe I'll call in sick? My old bones just don't adjust to wild temp swings, and besides that, THIS IS A WARM WEATHER AREA! Someone better get with the program!
Good luck with the doc, Art. Which reminds me, there was a repeat of a program last night about dogs trained to detect changes in behavior by people with aggressive temperaments and a tendency to become violent. The dogs and humans are paired for life and become very attached - best mates. It seems the dogs can detect a chemical imbalance about to occur in their handlers and warn them of any trouble before it happens. That may explain how my dog used to be able to read me like a book. She could somehow tell when I was considering taking her for a walk or a drive well before I said or did anything. So it wasn't so much my mind she was reading, but my chemicals. She would suddenly jump off the sofa, wag the tail furiously and carry on with excited anticipation, knowing full well what was in my head. And no amount of pretending by me could convince her that she was wrong hehe.
My foldable buckets just arrived! How wonderful! Each is housed in its own zippered carry bag about the width and depth of 2 large pizzas. A cinch to store in PJ. $30 for both including delivery. You did good, G. The buckets are well designed too... as it's lowered, the top spins so that the walls automatically fold inwards, ready to be packed away again. The handle locks firmly into a groove. Bloody marvelous.
Eggs! Dunno why eggs popped into my head but they did... poached. So I did a google and saw a link to a Youtube vid about cooking poached eggs in cling wrap. But, apart from the cling wrap, you need a ramekin, oil or butter and other bits and pieces. So I checked out this vid which shows a much simpler method, including swirling the hot water (not boiling) before adding the eggs so that the whites and yolks wrap around each other. How clever! It's an Aussie vid (or maybe Kiwi) and the bloke tends to mumble a bit, but you'll get the message. Bon appetite!
Now, if I can get an upper plate and manage to chew a little, I reckon I could handle a couple of soft poached eggs on lightly-browned toast minus the crusts. Mmmmm! What a great breakfast!
From the Beeb: The US says it is speeding up the supply of military equipment to Iraq to help its government fight militant groups in western Anbar province. The White House said additional surveillance drones would be delivered within weeks and more Hellfire missiles sent in the next few months. Fighting in Anbar has led to some of the heaviest clashes in Iraq for years.
Police in Australia have rescued a naked man who got stuck inside a washing machine while playing a game of hide-and-seek. The man reportedly hid inside the top-loading machine so he could surprise his partner. But he became stuck and it took 20 minutes for rescuers to dislodge him using olive oil as a lubricant.
As London's emissions regulations become ever more stringent, many of the 20,000 old Hackney carriages on the streets of Britain's capital are soon to turn their light off for the last time. But what will replace them? Well, 18 months ago, Nissan revealed its potential replacement for our lovable, chuntering black cabs. The NV200 London Taxi was pitched as a cleaner, greener, more spacious and less vomit-specked taxi that retained the traditional black cab's ability to turn on a sixpence.
If you go back far enough in Sydney there were heaps of RSL (Returned Servicemen's League) cabs, mostly Holdens. There were also Legion cabs and Yellow cabs. Then the industry decided to use Falcons during the 70s, 80s, 90s and noughties. But other than the familiar RSL colors, there was never really an iconic Sydney cab. Now you see Toyotas and other makes of all stripes and colors. If it weren't for the familiar TAXI sign on the roof, you'd never know it was a cab. One distinguishing habit of Aussie taxi hailers is that we often choose to sit in the front with the driver. I always do. I notice our PM sits in the front of his Commonwealth car with the driver as well. But, come to think of it, former PM Julia Gillard used to sit in the back. I guess she thought sitting in the front was a bit blokey hehe. Most Aussie blokes don't like the notion of being chauffeured. Bit posh for us.
I remember when my uncle drove his wife and my parents around in his Austin Somerset, he and my dad would sit in the front while the girls were relegated to the back. That's the way it was back then. Dad and Andy would point out various cars in the traffic and discuss their merits while the girls in the back checked out all the houses and gardens. It was also the way it was with me and my best mate and our girlfriends. Blokes in the front, sheilas in the back. Hehe. Dunno about these days, but whenever there's a gathering around the backyard barbie, all the girls gravitate to one corner and the blokes to another. As I got older, though, I swapped sides. I had no interest in talking about blokey stuff like footie or fishing or carburetors so I joined the girls instead and had a wonderful time.
During author Kathy Lette's interview the other night on telly, the interviewer quoted one critic who wrote that Lette overuses humor in her books, which can be a tad irritating. Lette responded by saying that women laugh much more than men. And it's true, especially when they get together. Women are incurable gigglers. Lette says it's probably some sort of defense mechanism to alleviate all the stress they have to deal with... puberty blues, childbirth, menstuation, motherhood, menopause, aging. My twice-weekly appointments with Nancy and Emma are basically giggle sessions. I can remember visitors to our house when I was a kid - usually a married couple related to one of my parents. Dad would inevitably chat with the husband about dry, humorless stuff, while mom and the bloke's missus would giggle merrily away about anything and everything. Hehe.
In any case, whatever it says about me, I tend to gravitate to female company at any gathering because I find their convos more amusing and entertaining - generally speaking, that is. There are exceptions. Cody was a giggler and a chatterbox.
Well, there ya go, another blank space filled with Kelly musings. Hehe. Gary
January 6, 2014. Back from another Nancy irrigation. She was trying to talk me into having my face stuffed with a Big Mac and washed down with a thickshake. I wish! But I know it's impossible. Anyway, she gave me a toothbrush to use with plain water to massage the gums - a brush for babies 4 to 24 months hehe.
Speaking of health issues, Francois wrote: All my wishes for you all. A good health for everyone is the best wish I've for you. My wishes are a little late, because I finished 2013 and began 2014 in the Noumea hospital with an intestine perforation: very painful during 20h even with morphin! Then with much antibiotics and painkiller in IV, it'd passed slowly. And after 6 days, I'm now back at home a little dizzy: the hot weather is maybe for something: 36c on the terrace when I arrived here. In 1 month exams to go and see the size of the damage, then in 2 months surgery ("cold") to remove the bad part of intestines: Ewwwwwww...
You'd dream of better news, but that's my life...
I'm sorry to hear about your woes, Francois. What a cruel way to end one year and begin the next! I hope it's over soon and you can go back to enjoying your retirement as a carefree sailor. And thanks for the wishes.

Cricket is a gentleman's game, right? Yeah, right. I was listening to the test the other day on radio as I shaved when a bowler delivered a ball that bounced. The batsman was momentarily confused and lowered his head slightly instead of moving it to the side. The ball struck his helmet's grill and buckled it. The commentator was horrified and said if it hadn't been for the grill, the ball would have sent the player's nose to the back of his skull. Those hard leather and cork balls travel at 150km/h. It says a lot for the courage of players back in the old days who wore no protective gear at all other than shin pads. Then last night as I watched highlights of the last test, I saw a batsman hold the bat vertically in front of him to deflect a ball which snapped the bat in half like a twig. Bloody hell!
It was a good day for Aussie sport yesterday when we not only won the Ashes 5-0 but Lleyton Hewitt also beat Roger Federer in the Brisbane International Men's Singles final.
FL Josh writes to say he has another method of understanding the relationship between volts, watts and amps: As to the volts, watts, amp thing, a comparison of electricity to water helps me understand it, where voltage is pressure, amperage is the flow rate and watts the total volume of water that flowed. A fire hose and a water gun might have the same pressure just as a car battery and 8 AAA batteries can both produce 12 volts, but a hell of a lot more water flows out of the fire hose (car battery) than what flows from the water gun (8 AAA batteries). A fire hose and a water gun can both fill a swimming pool (watts) but it takes a hell of a lot longer with a water gun than a fire hose.
I wonder if Benjamin Franklin was thinking about all that when he flew a kite in a storm. Now there's a frightening thought... all those zillions of volts lurking in clouds. No wonder prehistoric man was so obsessed with trying to appease the wrath of the gods. Those damn buggers were certainly a cranky lot.
From wonderopolis.org: But was Benjamin Franklin really the first person to discover electricity? Maybe not! In 1936, a clay pot was discovered that suggests that the first batteries may have been invented over 2,000 years ago. The clay pot contained copper plates, tin alloy and an iron rod.
It could have been used to create an electric current by filling it with an acidic solution, like vinegar. No one knows what the device was used for, but it sheds some light on the fact that people may have been learning about electricity long before Benjamin Franklin!
A GN wrote yesterday that she's finished visiting various rellos and friends and now has no particular place to go. How confusing! This really is the first time since I hit the road 3 months ago that I have no direction to go, nowhere that I really have to be, and the decision is completely mine. A funny feeling, one of freedom, a little daunting, and fun all at the one time. I can imagine the dilemma, if it is a dilemma. We spend all our lives watching the clock, making appointments and sticking to a routine. Even vacations are governed by bookings, itineraries, beginnings and endings. When I ponder my next shakedown, I think about where I'll go, how far, in which direction, yadda, yadda. Does any of that really matter? No. Hehe. But it's a hard habit to shake. I'm sure I'll get used to it after being on the road for a while. Just don't ask how long a while is.
My little Wintal portable TV arrived. It's in a box with a protruding handle, so compact and easy to carry/store. Perfect for PJ. I'll play with it later and figure out how it all works. $200 well spent, I'd say.
Yes, routines and timetables. Settling down to 2014 and taking it easy is a bit of a culture shock. The last whatever years have been spent putting all the pieces of the PJ puzzle together, spending, saving, spending, saving, figuring out priorities, solving problems, always something to do and to worry about. And now? It's all over bar the shouting. The stress has evaporated.
Remember FL Josh and Steve W reading the riot act about PJ's height? I may have responded in a nonchalant manner - she'll be right, mate, no worries - but in fact those buggers gave me nightmares. I can't begin to tell you how nervous I was when I took PJ on her first test flight. I was terrified! People forget I'm on a pension and that fixing things ain't easy. More stress. But I survived. Hehe. And now I'm doing the banana lounge trick with a drink full of umbrellas... and Raybans.
Actually, I lied about the Raybans. I bought my sunnies at a $2 shop. Two pair - one in the cab and one in PJ.
Just checked the contents of the Wintal box. Inside the main box there are two smaller boxes, both fairly sturdy. The TV is in one, and all the attachments are in the other. You know those boxes where you take everything out and can never get it all back in again? Not like that at all, thank god. I'm quite impressed with the way everything is so neatly and thoughtfully packaged. The quality of the TV housing is very good, so much so I checked to see if it was made in China. It is.
All the bits are there. Remember all the trouble I had with the old analoque portable with the set top box and those red, white and yellow AV inputs? None of that this time. Firstly, it doesn't need a STB (has its own digital tuner) and secondly both the supplied telescopic antenna and the power antenna (mine) use the same kind of jack to fit the antenna socket. Too easy. Depending on signal strength in a given area, I can use either one. Later, I'll take it down to PJ and set it up.
So that solves all the questions about where to store the TV during transit, where to place it for viewing, etc. Also I can watch it inside or outside. What a nifty little gadget! There's not a big demand for small screen sizes. Most stores only stock 18" and up. But for me, a 7" 12V is ideal. My goodness me, PJ is getting posher by the minute!
Back from a little shopping, including that in-line water filter I mentioned the other day. $36.95! Is there some mistake? Is this the place that advertised them for $26.95 on eBay? The attendant asked his boss who went to the screen on the counter, tapped a few keys, and said, "Yes, $26.95 it is." I'm glad I asked. The ticket price is $36.95. Also just got a note to say my foldable buckets are on their way, and Andrew's gonna fit new park light lenses at the front of PJ. The current ones are old and only one works. I hear from the GNs that if park lights are fitted, Roads and Maritime insist they work.
NC Art's having a bad day: Speaking of slow, I think the ISP I'm locked to needs a million more servers in this area.Time-Warner has a virtual monopoly and that always leads to sloppy service. I think that when schools let out every 14 year old who has a computer at home fires up and watches pornography until bedtime. Lately I have just about given up in the post meridian hours. A speed check on downloads and uploads often hardly moves the needle from zero. Bitching...
And don't forget all the kids with their smart phones exercising their thumbs. I feel for you, Art. I know the story. Remember when cars started appearing all over the place with insufficient roads to drive them on? Nothing's changed.
From the Beeb: Parts of the US are braced for potentially record-breaking low temperatures as a "polar vortex" brings more freezing weather. A winter storm has already blanketed areas of Canada and the north-eastern US with up to 2ft (60 cm) of snow. It has been blamed for 16 deaths in recent days and the cancellation of more than 3,700 flights this weekend. And here I sit shoeless and shirtless with the fan on.
Anders Bouvin is the boss of the most successful bank you've probably never heard of. And he, like the bank he runs, will challenge your preconceptions. I like their thinking!
Lindsay just arrived home with a large wad of money - English pounds. He's booked his air tickets (Qantas), organized travel insurance and passport, got Sue all packaged up in an urn, got himself a very flash jacket and shirt, and is all set to fly to London at the end of this month. He'll return early March. Sue's mother wants her daughter to remain above ground until mum calls it a day (she's 90+) when they'll share the one plot. I'll probably be long gone by then, cruising around Oz in PJ.
I must say, things are a lot more pleasant around here now with only Lindsay here. When he goes out, I don't have to worry about Sue taking a fall or getting into mischief. It's all so peaceful! And with that, I'll call it a wrap. Hooroo! Gary
January 5, 2014. No one noticed 2013 yesterday (since corrected). Old habits...
Not long ago I posted a couple of pics of the interior of the saddle bags showing two steel bars used as supports bolted to the tray. One GN commented: Any problems with electrolytic corrosion with the use of steel against the aluminium? I've heard that electrolytic corrosion is a problem with welding aluminium to steel but not in cases where there's no welding involved (or changes to the metal's molecular integrity). Do we have a metallurgist on board?
FL Josh wrote to say he saw my waffle reference to foldable buckets and foldable water. He couldn't find any foldable water but did manage to find dehydrated water. He says he's been busy fitting new toys to his car: have been installing 6 new speakers and a new radio in my car. Had to make my own wiring harness to adapt it to the factory plugs. It's a Kenwood with a 3" digital screen that can even show videos. Also had to figure out how to put my music on a thumb drive since it doesn't have a CD player. Have a back up camera yet to install, and am designing a new computer as the internet keeps barking at me because my Browser is old (IE 8) and pages that have trouble downloading also have trouble with Google Chrome so I think Windows XP is just not up to snuff any more. Am going to go with Windows 7 since 8 and 8.1 have such bad reviews.
Yes, the USB thumb drive. What a marvelous piece of technological wizardry that is. I went through the transfer of all my CD music to thumb drive some time ago and it's soooooo much more convenient. Makes you wonder why they were ever called compact disks in the first place. As to Windows 8, NC Art sings its praises all the time. Hehe.
Speaking of the devil, And then we have the waffle word, a verb or a noun. When one effects a change of plan, there are sure to be after effects … or is that an affection? Affectation?
Affectations, so I understand, refer to emotion rather than to thought. The emphasis shifts to the first syllable. I spoke by phone once to Kot and Co in Ukraine and referred to Oleg. For a minute or two, Kot didn't know who I was talking about. I hadn't realized Oleg was pronounced with the emphasis on the second syllable. Nonetheless, I have lots of fun with shifting emphasis... fragile becomes frag-a-lee, rhyming with happily. Envelope becomes en-vel-o-pee (rhyming with hyperbole). I knew a woman who lived at Lane Cove in Sydney but preferred to pronounce it Lana Co-vay hehe. And she always shopped at Tar-jay.
The manager of a country radio station I worked at almost exploded with rage one day when he ordered me to stop pronouncing the local post office as the post orifice.
I heard a writer on telly once describe poetry as the "distillation" of thought. What a wonderful way to describe it! Poetry (not that I profess to understand it or even like it) targets the very essence of meaning... the ultimate brevity. Me, I'm a chatterbox, more comfortable with conversational prose than formal. Another writer I saw on telly last night once described writing as the cheapest therapy available. Too bloody right, mate. She also used a phrase that stuck in my mind - porcelain people - to describe the precious British aristocracy. She was once asked to make an official presentation of some charity award to Prince William. Being an Aussie unfamiliar with royal protocol in such situations, she was introduced to the prince before the ceremony and said, "I understand I'm supposed to give you a kiss after handing over the award. Would you like a bit of tongue with that?" The poor prince didn't know which way to look. After regaining his composure, he replied, "Perhaps later... ha, ha, ha." The author was Kathy Lette who has written several books since her first sensation, Puberty Blues.
There's been a stack of media stories lately about intelligence gathering by government agencies (as well as private enterprise) together with the leaking thereof by whistleblowers Assange and Snowden. The other day I mentioned rogue genes and ancestry on Waffle and the next morning I recieved a spam email from ancestry dot com. Go figure. I'm being watched. There was a program on telly last night about such things, and how ordinary people are tracked by dozens (if not hundreds) of information gatherers on the web. Apps are particularly dangerous. Many of them are not secure, and the information supplied by users can (and does) end up in massive meta data banks. To demonstrate the ease with which private info can be plagiarized by third parties, an IT expert entered bogus info into an app and found it later stored by another on line site with no affiliation whatsoever... name, credit card details, password, street address, phone, etc. It was all there. Anyone using an app should make sure it's secure (with the little padlock icon) before entering any personal info.
As one commentator put it, all this information makes the people with access to it extremely powerful, and it's only a matter of time before that power is corrupted (if it hasn't been already). Currently, if you can believe the official rhetoric, the gathering of personal info on a massive scale is used by the goodies to catch the crooks. So what's stopping it from also becoming the reverse?
You've heard of stitching photos, yes? Programs like Photoshop can stitch two or more images, and some cameras have a pano mode that automatically stitches 3 shots. So do those in-store surveillance cameras. As you walk through the store and pass from one camera to the next, into and out of frame, the store's surveillance software can stitch your whole in-store time seamlessly together to show where you go, where you stop, what you buy, etc. And if you're carrying a mobile phone or internet device, they know who you are as well.
We've all known for ages about Big Brother. But it's only now that we're becoming aware of just how big Big Brother is, and how all pervasive. If it weren't for people like Assange and Snowden, we'd all be blissfully living in la la land.
From the Beeb: The Everly Brothers were, quite simply, one of the most influential groups in the history of popular music. Their close, expressive vocals set the standard for any rock band that employed harmony as a primary feature - from The Hollies to the Beach Boys. At the height of their popularity in the late 1950s and early 1960s, they scored 28 hits in the UK and were among the first 10 performers inducted into the Rock and Roll Hall of Fame when it opened in 1986. Simon and Garfunkel recorded versions of their songs Bye Bye Love and Wake Up Little Susie, while The Beatles once toyed with calling themselves The Foreverly Brothers. A great read.
Ohio Jace wrote and mentioned the "big chill" over there: Speaking of freezing over here. Storm number 9 is on our doorstep. Sunday will be a balmy 7C before the storm arrives and fall to a frigid minus 26C on Tuesday morning. The wind chill will be as low as minus 40C. Add to that 2 to 4 inches of snow. If the forecast comes true we'll be setting records for the date to be the coldest since 1996. School is supposed to resume Monday after a two week hiatus for the holidays, instead the kids will probably have more days off. Click here for some photos of the US winter storms.
Jace also mentioned English grammar: During the holidays there was a CEO from a company in California who used "you know" at least 41 times with a few sentences starting with "I mean" in response to the host's questions in a 3 minute session. It was very annoying. You get that a lot when people ad lib. I watch The Drum at 6pm weeknights. It has a journalist host as well as a rotating panel - a mix of journalists, pollies and experts from various fields, who are forever using "I mean" and "you know"... often the latter immediately following the former. One pollie begins almost every sentence with "the fact of the matter is..." Hehe. And just loves "quite frankly". Those habits are just too easy to form and extremely difficult to break. In my early radio days, the boss told me to stop using "rightio" as oral punctuation. Rightio, the time is... Rightio, here's a song by... I wasn't aware of it. Did you watch that Alec in WILDerland vid the other day? That kid was doing the same thing with "okay".
Jace added that his oldest great nephew has grown 4 inches since he broke his leg. So there ya go. Any shorties out there wishing to gain a bit of extra height can try it for themselves. Ho ho ho.
Well, the news is just in from Magnetic Bill on the GN forum... Australia has just thrashed the Poms for a 5 nil victory in the final Ashes cricket test at the Sydney Cricket Ground. I suppose the poor old Poms will be dreading the media crush at Heathrow on their return. Hehe.
Also this from the GN forum: This will be of interest to those of us who remember the Falklands war in 1982. I wonder how many of you knew the story. I certainly had not heard about it. It took place at the opening of the Falklands war, as a task force sailed towards the Falklands to regain control after the Argentinian invasion and occupation. In order to minimise the air threat to the task force, it was necessary to make the airstrip on the island unusable. The RAF brass proposed an audacious plan -- to send a Vulcan bomber down to drop ordinary bombs on it, rather than the nuclear variety they were originally designed to deliver. It makes a gripping story and I won't spoil it for you by revealing whether or not they were successful. Looks a bit big for my slow internet connection to handle, so I've not watched it. But I know there a couple of air force enthusiasts out there who might like to give it a try.
Meanwhile, time for me to cease and desist for another day! Gary
January 4, 2014. First weekend of the new year!
NC Art wrote: Some thoughts on your musings of 3 January 2014…
The moving finger writes and
Having writ moves on
Nor all your piety or wit can lure it back
To cancel half a line or all your tears
Wash out one word of it.
Fear not lest existence closing
Your account and mine
Shall know the like no more,
The eternal Saki from his golden bowl
Has poured millions of bubbles like us
And will pour.
Omar Khayyam
The Tent Maker
Omar was referring to pen and ink, of course. These days we "process" words. Is one a proper writer if one writes without a pen?
Now define AFFECT and EFFECT and explain how the hell to use them properly. Hint: the pesky things can be verb, noun, and otherwise. A real smart college friend—ultimately with a doctorate in history—never got it and turned writing into a real chore because he refused to use those two words! (He published four history books!)
I've always used affect as the verb and effect as the noun.
The whole theory of modern education is radically unsound. Fortunately, in England, at any rate, education produces no effect whatsoever. If it did, it would prove a serious danger to the upper classes.
Lady Bracknell, in Oscar Wilde's The Importance of Being Earnest.
It's a rather complicated question discussed at length here - What's an easy way to remember when to use affect or effect?
However, I must say that when I'm unsure about the correct grammatical use of a particular word, I go rummaging in my bag of alternatives hehe. Ultimately, though, one needs to ask oneself does it really matter? After years of writing advertising copy for radio, someone pointed out to me that truely is spelled truly, and rediculous is spelled ridiculous. Oops! Luckily, on radio, the pronunciation is the same. At a gathering of arty-farty showbiz types one time I was introduced to a woman as a writer. "Oh? What do you write?" "Advertising copy." "Oh... then you're not a real writer." Her bitchy remark caused me to overcome my fear of using the printed word when I write. I figured if my critics were going to be humorless, crusty old pedants like her, then it didn't matter. Moreover, it caused me to accept being corrected graciously. No biggie.
I also discovered a new freedom. Not being a "real" writer allowed me to use slang and all sorts of creative alternatives to correct grammar and spelling. I could mix and match as I pleased, to produce a desired effect. English was my toy and I could bloodywell play with it as I wished. Bugger the pedants.
I do abide by certain rules, however. Albeit my rules. Keep sentences short. Endeavor to be interesting as well as amusing. Be ever mindful of the reader and what he or she wants to know rather than what I want to say. If what I want to say overrides reader interest, then I'd better be bloody sure that I communicate my point in an entertaining way. Humor can work wonders.
Oh yes, and text. Large, crowded blocks of text are intimidating. Keep the sentences short and the paragraphs short. Keep the page open and airy. I haven't always written that way but I do now. I remember seeing advertising copy from agencies. It was always written in a fairly narrow block with double spacing so that the reader's eye could absorb the words effortlessly. However, this blog is a little different because I have to be mindful of depth and the need to scroll.
While you're freezing "over there", it's a much different story "over here". From the Beeb: Australia experienced its hottest year on record in 2013, officials have said. Temperatures were 1.2C above the long term average, the warmest since records began in 1910, the Bureau of Meteorology said in its annual report.
Cubans are now able to buy modern cars freely for the first time since the revolution in 1959. Previously, Cubans had to get a government permit to buy new vehicles. That requirement has now been abolished but only a minority will benefit. The state has a monopoly on new car sales and is marking up prices by 400% or more. Freeing up car sales is the latest in a series of reforms in Communist-run Cuba. Fidel fiddled while Havana burned. Or should that read was castrated?
What gets me about dickhead leaders is that they seem to have no shortage of dickhead followers.
TX Greg was quite impressed with my electric pizza lesson yesterday. Wow you passed the pizzeria test. You know you have to be the only person in the whole world that has had electricity explained in pizza, hehe.
I do need to add and clarify about the amp thingy. There's way more to amps than just the time with draining the battery. The only easy way to explain amps is - it is the amount of electric current volume that is flowing to and being consumed by the device at that moment. You've seen the fuses in your truck or the circuit breakers in the house? Those are rated in amps. You can only shove so many slices of pizza down your screech at once, right? You know when to stop so you don't choke, but wires don't, so the fuses blow and circuit breakers trip when too much amps are getting shoved down their screechs. Does that make sense?
That might also help explain why Cody used the term "amped". Amps is about the flowing of electricity so one would relate to being excited, fired up or stoked.
"Volted" No, think about that, your AGM battery isn't doing anything but just setting in the driveway a-waiting for you to flip a switch and create some amps a-flowing, right?
"Watted" NO, NO, NO. Have you ever looked close at a light bulb filament??? That would sound like you have your nads in a knot, hahaha
There ya go. And to think for all those years I couldn't understand something as simple and straighforward as the relationship between electricity and pizza. I will never think of volts, watts and amps the same way again.
And so another day draws to a close - wafflewise. I'm so excited I think I'll do it all again tomorrow! Gary
January 3, 2014. Just wrote to OR Richie who, like me, has had a rough couple of years. But all is well now and he's reaping the benefits of all the hard yards to coast through 2014. I used examples of a couple of other "coasters" whose stories I watched last night on telly, and which are worth repeating here:
In NZ deer are a pest, attacking grazing land, etc. So one farmer over there got the bright idea to farm the wild deer and use them for their milk. Their milk has far more solids than regular dairy cows but, with a little experimentation and thinking outside the box, the milk can be made into high-end cheeses and other products, including health and pharmaceutical. The farmer designed special sheds and equipment to milk the deer and more or less pioneered a whole new industry, turning a pest into a valuable commodity. How cool is that?
So there's another bloke who's done all the hard yards and is now coasting.
There was also a story about a bloke who used the hotel and hospitality industries to make enough money to buy a large cattle property on Tasmania's north/west coast. He's also a spud farmer. But there was a large area of his property that was virtually wasteland... sand dunes and sparse vegetation fronting the coast. So what did he do? He hired two of the world's best golf course designers and had two golf courses made, both of which are rated in the top 100 in the world, and are on every millionaire businessman's bucket list to play. His experience in hotel management and hospitality has been utilized to turn the courses into upscale resorts. He has no interest in golf at all hehe. Hates it.
Very inspiring stuff indeed, and another coaster... just like you and me.
Those stories were both on Land Line which is a program I love to watch even though I'm basically a city boy, born and bred. As a kid going to work with my dad during school vac, we would rise before sunup on Friday mornings and take the truck to Marchants Printers where he worked, enter a side door into the printing-press room with all its wonderful ink and paper smells and clanking mechanical noises, and have a welcome cuppa with the boss there before loading the truck with bundles of The Land newspaper which we took to Central Station for delivery by steam train to various country towns. Does The Land newspaper still exist? Well, whaddaya know, it does.
NC Art commented on The Cat's Gonads: That damned apostrophe wreaks all manner of havoc, what? As a simple possessive it works easily. But eventually you come up on something like St. James's Court. Or is it St Jameses' or St. James'es. Hell I don't know but it looks downright quare, rite or rong. But it all depends on whether the full name of the place is St. James Court, in which case there's no need for an apostrophe. However, if we're talking about the court of St. James, then it's St. James' court. Hehe.
Its and it's presents a problem for a lotta peeps. I have a simple rule: if its is not an abbreviation of it is, then its is the go. But if it is, then it's it is. For example, the cat chased its tail. Ask yourself if the sentence should read the cat chased it is tail. The answer is no, therefore its is correct.
TX Greg is more concerned with electric pizza: Gary were you smoking something yesterday when you wrote that about electricity, hehe. Yes that all can be real confusing, but I feel you're OVER thinking it. The volts, watts and amps are all independent variables that add up to make the full picture. Tons of many other variables such as wire size and temperature also play in to confuse it even more.
Volts = electrical pressure
Watts = measurement of the total amount of electricity consumed
Amp = a unit of electric current equal to a flow of one coulomb per second
Ok, here's a simple one, think of electricity like you're eating a pizza...
So with that in mind your new AGM battery is rated in Amp hours. I forgot the exact size you got, but let's say it's a 100 amp hour battery.
Watts ÷ Volts = Amps
Or like you said yesterday if you have a 30 watt device, 30 watts divided by 12 volts equals a 2.5 Amp draw off the battery. Meaning if that was the only device attached and running to a 100 AMP hour battery you could run that device for about 40 hours.
Hopefully that didn't confuse you more, but I know it made you hungry for pizza :)

Thanks, Greg. That makes perfect sense. At least it will until tomorrow hehe. Lemme see if I can get it to stick: Gary orders a volt. Gary decides to consume only a portion of the volt, being 3 watts. Gary takes 2.5amp hours to get it down the screech. I do appreciate the analogy, though. It's much easier to visualize pizza, slices and time spent eating than it is to visualize volts, watts and amps. That's how I remember PINs. I visualize the numbers written on a page, or associate them ages or events or dates.
When my old boss phoned the other day to catch up with the goss, I re-read The C Word and realized I hadn't updated it since all my teeth had been removed. So that's what I did last night, in precis form. Short and sweet for newbies and non-waffle readers. Chris (my ex boss and Kellys Copy Shop client) has also written his memoirs starting with his early childhood ("What? Are you telling me you even had a dictaphone way back then?") for the benefit of his grandkids and those to come. I have another friend, a most talented voice-over guy I used in many adverts, who has also written a memoir for the same reason. So there ya go, a bunch of old fogies grasping for some kind of immortality hehe. By the same token, it would be interesting to have a diary or other historical tome written by one or more of my ancestors, about whom I know virtually zilch. All I have from my father is a piece of paper on which is written in pencil a bunch of to-dos for a particular day at work that he used as a bookmark. Not very enlightening, really.
I must admit I am curious about the identity of the previous owner of the rogue gene I've mysteriously inherited, and which has stamped me as the most unlikely offshoot of the Jack and Nell union. Anyway, I suppose we all like to think we matter, or least mattered. But I tend to dwell on the fact that there are countless billions of dearly departed souls over aeons that have about as much significance as a large pile of autumn leaves.
I'm often bemused by the great deal of time, effort and money scientists devote to saving an animal from extinction. David Attenborough was involved in one case on an island off the coast of Oz where the accidental introduction of rats in the bad old days devastated a native bug, something like a centipede - a species exclusive to the island. After a concerted effort to rid the place of rats, they found a handful of the missing insects (who have apparently existed for hundreds of millions of years) and went about the business of breeding them in large numbers to reintroduce them to the island's natural habitat. But all during the story, they kept referring to the species, and how important it was preserve the species. Bugger the individuals. Bugger all the poor bastards who were devoured by hungry rats until there were barely any remaining. Individuals schmiduals. It's not grandpa or grandma at issue here. It's the kids. The species. The next generation. Babies and more babies. The oldies and dearly departed are redundant. Finished. Kaput. Of no further consequence. Hehe. So that's how I view my own mortality. However, I have made an effort to preserve certain aspects of my life on this web site for the edification of all the nephews and nieces I've not met, and the grand versions thereof, just in case there's a spark of curiosity. After all, there may be one out there with the same rogue gene I've inherited.
NC Art's another one. Have you read his "recollections of a small town boy"? Great stuff. It's rather like a diary except in short story form. Snapshots of a life in another time and place, never to be repeated. Art's 88 now and I don't think he has the inclination to write any more of those lovely essays. He wrote the ones I've posted here during the 2000s when he was a mere whippersnapper. But what's writ stays writ. That's what I like about the written word. It's a product of the mind; of the soul; of the essence of the person. It speaks to you, not from a grave but from a living, thinking mind. Words are truly immortal.
From the Beeb: Residents of the north-eastern US have been warned to stay indoors, as the region braces for a storm expected to dump up to 14in (35cm) of snow. Nearly 2,000 flights have been grounded nationwide as heavy snow fell from Illinois to Michigan in the US Midwest. New York and New England are expected to see blizzard conditions, with wind gusts of up to 45mph (72 km/h). In Canada, temperatures of -26C (-14F) were recorded in Montreal and Winnipeg, not including the wind chill factor. It's the opposite here.
Quest to grow human organs inside pigs in Japan: I am standing in a fully functioning operating theatre. A surgeon and team of specialists in green smocks are preparing to operate. But I'm not in a hospital. I am on a farm deep in the Japanese countryside. On the gurney about to undergo the knife is a six-month-old female pig.
G'day, Chevrolet: Chevrolet SS: The bruiser from the land of Oz.
Well, I wonder what will happen with GM-H now. Late last year when Holden announced it wouldn't continue manufacturing the Commodore in Oz after 2017 there was an outcry from unions and some pollies. But now the Commodore is all dressed up as a flash Chevy ready for export to the US. I wonder if sales "over there" will be sufficient to continue manufacturing in Oz. If so, that'll silence the whingers. On the other hand, GM-H might use the whingers as an excuse to shift manufacture of the Chevy SS over to the US. That would certainly make the whingers look pretty damn stupid. I hope it doesn't happen though. Oz needs its manufacturing industries, especially profitable ones.
Roite, time for me to spleet. Be noice. Gary
January 2, 2014. Just checked eBay for in-line water filters that attach to a hose (for filling the tank) and found one under $30 that lasts 12 months or 5,000 liters, and it's from an auto place in Taree. How convenient. I'll pop in at some stage and get one. Another thing on my list is a foldable bucket. Scratch that. Found one on spesh so I bought two! $30 total including delivery. Now all I gotta figure out is where to get foldable water.
Well, well, well, I heard the postie's squeaky brake stop outside our mail box, and there inside I found an envelope from Ohio with Chrissy stamps all over it. Now who, I wonder, could that be from? Thanks June and Jace, and thanks also Sean for your wishes and PJ prezzies. With the current exchange rate that pretty much covers my water filter and foldable buckets! What thoughtful peeps Ohioans are. It's just what I needed.
I'm off to a slow start today - it's after 2pm already. A hot and humid day, quite oppressive, so I tend to fall in a heap. A good day to be sitting on the banks of a creek under a willow tree with feet dangling in the water. Quite a few GNs responded to a thread about books this morning, and how much they love reading. I've never had much patience for reading - always been too busy buggerizing around with whatever - an obsessive fidget with a short attention span. I wonder if that will change on the Odyssey. It just struck me that the one thing missing from the scene above was a book.
Averil is a reader. She loves romantic novels. But she still calls her hydrangeas 'hide-a-rangers' hehe. There are many words she either mispronounces or doesn't understand. I remember one time she used 'platonic' to mean the opposite. I've noticed a lot of GNs are woeful spellers with an equally woeful grasp of grammar... even quite successful people who have retired from well paid positions. So it seems that reading by itself is not necessarily a good teacher of English.
I do worry about the poor old misunderstood apostrophe ya know. It constantly ends up where it shouldn't be and is omitted from where it should. People use an apostrophe to pluralize a word when all a word needs to go from singular to plural is the addition of an s (in most cases). One cat, two cats. One cat tail, two cat tails. An apostrophe is used to denote something missing, as in can't which is the shortened version of cannot. Or you're which is the shortened version of you are. Apostrophes are also used to denote the possessive case. The tail of the cat, the cat's tail.
Observation has been my chief teacher. I wasn't a model class-room student by any means. I figure stuff out. Why is it so? One of my clients back in my copywriting days called me a 'wordsmith', which I thought was odd. You know that expression 'in other words'? That's how I operated. I used the 'other words'. I simplified the hyperbole. When I was given the task of describing something I found complicated (which was normally the case), I'd set about unscrambling all the crap and using simple language to get the point across. I learned that technique from the brilliant Volkswagen press ads of the sixties. They were genius in their honesty and simplicity, as was the car itself. Moreover, they had credibility. You could believe what you read in a Volkswagen ad.
From the Beeb: The Italian motors giant Fiat has agreed to buy the remaining 41% of Chrysler it does not own in a move that will create the world's seventh-largest car company. Fiat has owned a majority stake in the US company since 2009. Well, well, well, the meek shall inherit the earth hehe.
Remember the fifties and sixties? There were little Toyotas buzzing around, and little Beetles buzzing around and little Fiats buzzing around. Who woulda thunk they would eventually become the giants of the global auto industry?
Yes, figuring stuff out. I once asked Lindsay where rain came from and he answered "up there". So then I asked how does it get there and he didn't know. Why is it so? He doesn't care.
One thing I find difficult to wrap my head around is electricity. An engine's power is measured in kilowatts (or horse power). But my brain wants to know that if watts and volts and amps all have something to do with electricity, then why is an engine's power measured in kilowatts and not volts and/or amps? How come Cody was amped about going surfing and not watted or volted? Why have three measurements of something when one would make it a lot simpler? It's been explained to me many times before but in a way the EXPLAINER understands but not me. I wanna know why my device measured in watts takes a battery measured in volts. Why isn't the battery measured in watts? The device uses 30 watts so I need a 30 watt battery. See how simple that is? So why isn't it so? Maybe it's a conspiracy. Maybe the geeks don't want the rest of us to know.
It's like legalese. The lawyers specialize in gobbledegook that nobody understands except them, so then you have to ask for a 'plain English' translation. Click here to agree to our terms and conditions. Hehe. Who the hell reads all that stuff? Much less understands it. It's a conspiracy I tellya.
Communication is what it's all about, Ls and Gs. Effective communication. When a sentence needs to be read twice in order to be fully understood, then it needs to be rewritten. I've always found it curious that politicians employ speech writers. One time I was surprised to hear Bob Hope thank his team of writers. I had no idea his jokes were not his own. Funny old world.
And that brings to a close my pontifications for today. I'll stare blankly at the TV screen now and assume sponge mode. Hooroo! Gary
January 1, 2014. Here we are, back at the start and having to do the whole damn thing again! I've given up on New Year resolutions, though. In fact I can't remember the last time I made one. Hehe. I know what I wanna do but there are certain obstacles in my path that are in the lap of the gods so I'll work around those and take it as it comes. One of the things I hope to accomplish this year is the elimination (or close to it) of my credit card debt. But I'm not obsessive about it - or anything else, for that matter - so we'll see how it goes. Obsession causes stress and stress is definitely not on my agenda.
Being on a fixed pension has certainly taught me a lot about managing money. It's amazing what you can do with a limited income if you're careful about your spending, and what you spend it on. All those old cliche expressions like 'waste not, want not', 'a penny earned is a penny saved', etc, make good sense to me now. When I look out my window and see PJ parked in the drive, there's a great sense of satisfaction about having turned a dream into reality.
But PJ is much more than that. Living in a rented house means being vulnerable to eviction at any time. So there's a certain feeling of insecurity involved. But with PJ out there, I have no worries about accommodation. What's more, there's power, cooking facilities, a fridge, storage, dining and sleeping area(s), furniture, phone, internet and everything else I need to be self sufficient. And mobile. How cool is that?
NC Art wrote: Fast away the old year passes…and such rot. Anyway I hope your plans work out for the best ever.
Plans? I feel like I've launched the rocket, pointed it in the general direction I wanna go, and now all I gotta do is let the momentum keep it flying (with occasional adjustments from the booster).
On another (a nother?) note, it doesn't matter what the latest TV or anything else does; the next day something more wondrous will pop up. A South Korean business has built a101-Inch ultra high definition TV set priced at above $100,000. Current HD material won't work on it, and they don't plan to make many of them … yet. Story of my life. Build a better mousetrap and some other bloke will top it before morning. Oh well.
By the same token, Art, nobody's bothered to build a better mouse, so if the old trap works with existing meeces, why bother with a new one? Hehe. Anyway, the little portable TV is not about the latest and greatest, it's about the efficient use of PJ's space. A year or two ago, Lindsay bought a large screen digital HD thing, which is all very well if you're not going anywhere. He also subscribes to pay TV cos he spends much of his time (including the early hours of the AM) plonked in front of the tube. Flat tube. I wandered into the living room the other night while he was watching yet another re-run of Bonanza with a very young Wayne Newton making a guest appearance.
A new computer is on the agenda at some stage though. This old Toshiba is getting a tad battle weary. There was one on spesh the other day on eBay but it was only 1.9GHz and I need about 2.4 or higher to use Windows movie maker efficiently. No hurry though. I didn't trash my old desk top until it was practically down to one cylinder. Remember the days when a typewriter mechanic would arrive at the office to fix broken machines? Or a technician to fix the photocopier? Elevator fixers were not an uncommon sight either.
I used to think it was weird how the boss sat in his office mumbling into a dictaphone because he couldn't or wouldn't type. I also remember the journalists who pounded out their stories with two fingers. As I recall, it only took a month or two to learn to touch type back in my mid 20s. Definitely one of the most useful skills I've ever learned. And don't talk to me about iPads/phones and that two-thumbs business. I occasionally get messages sent from those things - short, basic, no punctuation, no grammar, and totally soulless.
9:30pm NY Eve in Ohio and 1:30pm NY Day here, so Jace and the Ohio gang (mostly the little ones, and there's no shortage of those) are eagerly awaiting midnight. I know cos I just received Jace's e-card with all the news about the gang and some of the goings on around town. Our midnight happened over 13 hours ago. I didn't stay up to watch the Sydney fireworks but I did see the news report earlier. They were expecting 1.5 million to line the harbor foreshores and other vantage points, with lots of tourists present, all pretty chuffed about being in Sydney for the summer. For the first time, the Sydney Opera House would also become a launch pad for fireworks, together with the roofs of various buildings, barges and the bridge.
From the Beeb: North Korean leader Kim Jong-Un has spoken of the "elimination of factionalist filth" in his first public reference to the execution of his uncle last month. In a new year message broadcast on state TV, he said "resolute action" had strengthened the country's unity. North Korea announced on 13 December it had executed Chang Song-thaek after convicting him of "acts of treachery". Yes, folks, we all look the same, think the same, act the same and dance to the same tune. How exciting is that?
Celebrations are taking place around the world to mark the start of 2014. People in Auckland, New Zealand, were among the first to celebrate. In Australia, hundreds of thousands gathered for a spectacular firework display around Sydney's Harbour Bridge.
20 of 2013's most overused words.
John Fortune, the British comedian and satirist who found fame through his TV collaborations with John Bird and Rory Bremner, has died aged 74. He died peacefully on Tuesday with his wife Emma and dog Grizelle at his bedside, his agent Vivienne Clore said. Who? If the name John Fortune means nothing to you, here's a clip of him and Bird doing their thing.
Yes, thinking a little more about 2014, for me this will be a coaster year. The pressure's off. The hard yards are in the rear view mirror. I can relax. Relax? Wot dat? Sounds suspiciously like doing nothing. If Nancy can organize upper dentures for me, and I can improve my speech as well diet, mini Odysseys around the hood will become more practical and enjoyable. I'll be able to communicate with other peeps and enjoy a burger on the barbie. Hopefully I'll put on weight and improve fitness in order to handle long walks and/or bicycle rides, which will be good for photo shoots as well. At the mo, having to limit myself to prepared meals and moderate physical activity, provides little incentive to get "out there". And when I say the hood, I don't mean five minutes down the road, I mean within a radius of 100kms north, west and south. East is a bit damp.
When I first started mini Odysseys in Tough Titties, I would leave here early in the mornings with my thermos, cooler and a sandwich, and toddle off to various places, always bitching about having to return home by mid afternoon or so. "If only I could camp overnight," I lamented. Hehe. So that's my next goal - to masticate - which, by the way, produces saliva according to Nancy, and saliva is something I have a problem with at the mo cos I'm not masticating my food.
I'm not expecting an overnight transformation. No, no, no. The lower gum still has a prob with exposed bone, especially in front. But the right side ain't too bad in terms of sensitivity. With gentle practice, maybe I can toughen the gum sufficiently to handle things like sandwiches, cereal, scrambled egg, fruit and certain meats like burgers. That would be coolio!
My visits to Nancy are currently twice a week, Mondays and Wednesdays, which leaves the latter part of the week and the weekend for party time in PJ! So that's the plan, Ls and Gs. Mark often said that to Cody... "sounds like a plan".
Actually, I just had a call from my old boss, Chris Maitland, who ran a business called Sound Plan, selling programs and advertising strategies to radio stations. But that all went belly up when individual stations were swallowed up by networks. Instead of having hundreds of radio stations as customers, he ended up with just a handful of networks. Anyway, it was good to hear his voice again and catch up with the latest goss (most of which I contributed to). He didn't know about the cancer thing and being toothless.
And that's it! It's hooroo time again. Hooroo! Gary
← Older posts Waffle Index Newer posts →
or
Return to Home Page