| | |
| --- | --- |
| the WAFFLE page | |
April 30, 2014. Well, there ya go. I thought those drop sides and tail gate from the ute would have to be taken to the dump but no, I've had 2 bids already and it's early days yet. Who woulda thunk?
FL Josh wrote: Your mention about how it is hell to read instructions in Chinese English is well illustrated by attached picture.
Nuff said. Steve W wrote in response to fishtailing trailers: Have experienced fishtailing twice, both times towing a trailer with building stuff, never on a proper trip towing a boat. Just needed to get the stuff I bought back home. The first time it happened to me I nearly crapped myself……going down hill and far too much weight on the tow ball…..no steering and being pushed by a 2 tonne trailer that wanted my vehicle out of the way and couldn't decide how to overtake me!
Having survived that, did the same thing again and overloaded the trailer and going downhill it wanted to pass…..at least this time I knew, contrary to natural instincts, accelerate and stop the fucker from pushing you. Eventually downhill becomes uphill and all good again. Scary though. Gravity, momentum and dynamics are interesting, to say the least!
It also happens to peeps towing caravans on straight, level roads. One bloke I spoke to was driving steadily on a straight, level road outback and didn't realize anything was wrong till he saw the caravan beside the driver's window! By then it was too late and both car and van toppled.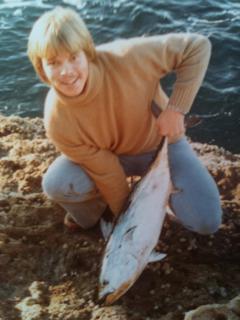 On another topic, fishing and related issues, Steve wrote: I know you had some time with Steve Starling, someone I admire as not just as passionate about fishing as I am but conservation and the rights of people. Have attached a pic of Steve at 13 years of age but more significant is his assistance in trying to open up the headland of Jervis Bay which both National Parks and the Aust Defence Department have decided that the mere public should not be able to access some of the most spectacular parts within striking distance of Sydney. I used to camp and fish there in the 70's and 80's. At times it was closed off due to Navel target practice - they used to park the big red double decker buses on the headland to use as targets. I do recall that all the buses I saw were all still completely intact apart from rust! Sleeping in the buses was the safest place to be. I remember a few years ago that a sea-launched surface fired missile just overshot the nearby town of Currarong. It is no wonder they couldn't hit a bus, the town is a good 15kms away from the target range. Oh, don't tell Indonesia about our accuracy!
Indonesia already thinks we're a bunch of wallies as it is, with our navy straying into their territorial waters. Hehe. There was a piscatorial person on the GN forum this morning who said he tried barramundi filets last night and was disappointed. Then he listed his fav fish, followed by other GNs who listed theirs. I, on the other hand, being non-piscatorially inclined, commented that the best fish I've ever tasted was at a fish n chip shop called Frying Times at Forest Lodge, just up the road from my house in Glebe, back in the '80s. It was run by some young blokes who formed a co-op to buy the restaurant. My guess is that the fish was whatever the local catch was that morning at Pyrmont Fish Markets, so it could have been anything. Maybe it was the way they cooked it that made so delicious. But their piece de resistance was their potato scallops, dried for a day or two before being battered and deep fried. Yummo! Frying Times was always packed, eat in or takeaway. BYO from the pub across the road. Ah, memories!
And how was the curry? Dunno yet. I blitzed it this morning and stored half in containers in the freezer. There's still half of the savory minz in the freezer too so I've got enough tucker to last for ages!
I discovered more about Andrese, the dentist, this morning. Before coming to Oz 3 years ago, he lived in New Zealand. But he was born in, wait for it, South Africa! He's married to an American and also rides a Harley. A Harley? He's about 30-ish - Cody's age. Hmmm. I must ask a few more questions when I see him again on Friday.
From the Beeb: The owner of the Los Angeles Clippers professional basketball team has been banned from the National Basketball Association for life after a recording emerged of him making racist remarks. NBA commissioner Adam Silver said Donald Sterling would be forced to sell his interest in the team. And the league will fine him $2.5m (£1.5m), the maximum allowed. Mr Sterling was recorded asking a woman not to associate in public with black people nor bring them to games.
Authorities are beginning the process of clearing up the debris created by the powerful storms that hit the US state of Arkansas. Local THV11 news anchor Dawn Scott visited the town of Vilonia and saw the destruction to residents' homes and belongings.
Media and experts urge Beijing to "remain on alert" in the wake of a new military agreement between Manila and Washington. "The 10-year defence agreement will embolden Manila to challenge China," Tian Fan, international affairs writer at the Xinhua News agency, tells the Qianjiang Evening News.
Original Star Wars actors Harrison Ford, Carrie Fisher and Mark Hamill will feature in Star Wars: Episode VII, the latest film in the franchise. Other actors confirmed are Andy Serkis and Max von Sydow, alongside relative newcomers John Boyega and Daisy Ridley, both of whom are British. Episode VII will start shooting at Pinewood Studios, near London, in May. I still haven't seen the first one!
Actually, if I have a fav genre of movies it's probably Westerns. My mother liked them for the scenery, my dad liked them for the fist fights but in my case it's the horses and cowboy outfits. Riding boots and spurs are cool, and low-slung belts and sleeveless leather waistcoats with dangly bits. I like cowboy hats as well. And my fav cowboy actors? Gary Cooper, Alan Ladd and Glenn Ford (not necessarily in that order). William Holden is another of my favs, and Jack Palance.
And while I'm reminiscing about fav things, one of these days I'm hoping to meet someone with an old Beetle who invites me to take it for a spin. That would be fun! One thing I like about PJ is the stubby floor shift. I'm getting back into my old habit of double-shuffling when I change down now. Vroom, vroom! Even with a camper sitting on the tray, PJ is much better to drive than the old Kombi, Bluey or that Toyota campervan I drove all the way from Tamworth to Taree across the Great Dividing Range in the rain. What a nightmare that was, in more ways than one. Thank god those days are well and truly behind me.
And this is another day that will soon be behind me, but only because the earth's doing its revolving thing and the cloud outside has turned pink. I'm looking forward to sampling that curry tonight too. Mmmmm! Gary
April 29, 2014. NC Art sent this. Thanks Art - I posted it on the Gray Nomads forum as well:
Subject: Taps in Holland.
A few years ago, a friend visited the Netherlands American Cemetery and Memorial in the village of Margraten, about six miles from Maastricht. There lie buried 8,301 American soldiers killed in the battles to liberate Holland in the fall and winter of 1944-5. Sgt. Bill Dukeman, 101st Airborne Division, 506th Parachute Infantry Regiment, Second Battalion, Company C (of "Band of Brothers fame) is buried there. He was killed in the battle of "The Crossroads" in northern Holland.
The Dutch hold an annual memorial concert every September at the above cemetery to remember and honor the Americans who died to free them in Operation Market Garden and subsequent efforts to eject the German army from Holland. Sgt. Dukeman, like many other fallen GIs, was "adopted" by a Dutch family. Dukeman's family in the States was contacted and hosted in Holland, and his grave site decorated each year by his Dutch "family." They keep his portrait in their home, displayed in a place of honor. Fathers pass this obligation down to their sons in Holland. This version of the original "taps" music is played by a 13 year old Dutch girl named Melissa Venema. The conductor of the orchestra is Andre Rieu from Holland .
Many of you may never have heard taps played in its entirety . The original version of Taps was called Last Post, and was written by Daniel Butterfield in 1801. It was rather lengthy and formal, as you will hear in this clip, so in 1862 it was shortened to 24 notes and re-named Taps.
Melissa Venema is playing it on a trumpet whereby the original was played on a bugle. Watch at this site, and go full screen.
And here's something wonderful sent by FL Josh: These men release their hawks, and then soar with them along the cliffs next to the Torrey Pines Golf Course just north of San Diego, California.
Roite, just phoned Great Lakes Caravans and made an appointment for tomorrow week (May 7), 9am, to have the Fiamma awning fitted to PJ. I'll take that piece of timber for the TV bracket with me.
It's mid afternoon already and I've been fiddling... and shopping. Curry tonight, an old fashioned one I've been making for decades, with coconut, banana, jam, chutney, brown sugar, tomato, onion, garlic, apple, lemon, salt, curry powder and steak. This time I'm using ground steak...minz. It's the regular stuff which is a bit fattier than lean but then fatty is what I'm trying to do! It's simmering on low in the pot at the mo and will continue to simmer for about 2 hours. Mmmm.
From the Beeb: Deadly storms are again barrelling down on the southern US, one night after they claimed more than a dozen lives. Six deaths were reported in Alabama and seven in Mississippi after twisters struck on Monday evening, although not all these fatalities were confirmed. Several tornadoes flattened buildings, overturned vehicles and brought down utility lines on a second consecutive night of devastation.
I watched a TV news report of the worst tornado last night and the devastation was incredible from an aerial shot. Poor buggers.
A US deadline for peace talks between Israel and the Palestinians has ended without an agreement being reached. Direct talks had resumed in July after a three-year hiatus but quickly became strained.
If you can't beat racism, eat it. That's what thousands of people on social media are doing, inspired by footballer Dani Alves' eating the banana hurled at him on the pitch. Way to go... turn the other cheek.
Moscow has voiced concern over an "unprecedented" increase in US and Nato military activity near Russian borders, amid an escalating crisis in Ukraine. Russia's Defence Minister Sergei Shoigu expressed the concerns in a phone call to US counterpart Chuck Hagel. But the US said Mr Shoigu also pledged Russia would not invade Ukraine. The US says it deployed extra troops in eastern Europe to reassure Nato allies. It has also imposed new sanctions on Russia over its actions in Ukraine. Imagine if the allies had used these kinds of tactics against Germany in the late '30s.
What your car says about you. It can be too easy to formulate stereotypes about why someone drives a certain type of vehicle, and what it says or doesn't say about a person. Better to let vehicle owners speak for themselves about which type of car they drive and why.
Well, I guess PJ says a lot about what I'm not, including rich hehe. But she's my girl and I think she's just wonderful. As a younger person I was concerned about what others thought of me, not just about what I drove, but the way I dressed, the house I lived in, the company I kept and all that other stuff. I can tell you I'm well and truly over that these days. I like to be relatively neat and tidy and polite but otherwise, stick it up ya jumper. However, I do care about my writing and my photography. I don't do either of those things to please myself, but to please others. It's the old song and dance man in me. Nonetheless, it's not something I fret about. If people express their appreciation, fine, if not, next!
While shopping today I bought Fuji AAA batteries 1.5V on spesh, and the digital weather station works. But it has instructions in Chinese English which is a helluva pain to read. So I just pressed buttons wildly until I managed to make sense of the damn thing. Seems to be working fine now. Hehe. When in doubt do what kids do... keep pressing buttons till you figure it out.
Here's what can happen to a caravan if it meets a truck. Bloody hell, not much left of that rig. Looks like the tug survived though. Fishtailing caravans are a fairly common occurrence which makes me wonder if the things are not loaded properly (balanced). I keep all the heavy stuff down below close to the center of gravity, and so far PJ handles quite well. Even so, on a wet road I'd be taking it extra slowly.
And I'm outta here... for today at least. Take care all y'all. Gary
April 28, 2014. Here's an informative and entertaining list of 88 things you may not know about Oz. Great stuff, posted by a GN this morning.
Well, sometimes it pays to get a second opinion, yeah? Andrese this morning suggested deadening the gum with anesthetic to do a more thorough job of cleaning the exposed bone. He said Nancy was worried that the adrenalin in anesthetic might affect blood flow, which is not a good thing. However, Andrese suggests deadening only half the gum and cleaning half the exposed bone at a time... and perhaps only infrequently. The front of the lower gum is very tender. Back in the bad old days, Nancy could dig away without a prob cos I didn't have much feeling but the meds and vitamin E have worked and the feeling has returned. Taste is another thing that's improved. Anyway, I'm all in favor of anything that speeds up the recovery.
This week, I'm hoping for a call from Great Lakes Caravans about the awning installation. If I don't hear by Wednesday I'll call them. And that'll be it for the big jobs. Well, for a while anyway... there's no rush for an extra AGM or solar panel, and it's important to rebuild my savings for potential emergencies (like those I've just experienced. Grrrrr).
TX Greg agrees that PJ's kitchen faucet looks phallic and suggests I refrain from doing anything unmentionable if I happen to be sleepwalking. He's a worry ya know.
My nifty digital weather thingy arrived today but it takes an AAA 1.5V battery and the ones I have are 1.2V. Dangit, so they're on the shopping list. Mine are rechargeable so maybe that's what the diff is. The regular AAAs in my LED torch/flashlight are 1.5.
And since money's a bit tight at the mo, I've auctioned my drop sides and tailgate for the ute tray on eBay hehe. Can't take 'em with me anyway so I might as well get a few bob for 'em if I can. The auction starts at $20 and the Buy it Now price is $99. Pick up only from Taree. Never know ya luck, roite?
From the Beeb: The search for the missing Malaysian plane is entering a "new phase", Australia has announced, after the initial undersea search found nothing. PM Tony Abbott said that "a much larger" area of the ocean floor would now be targeted.
At least 12 people have been killed by tornadoes as a huge storm system swept across the central and southern United States. Eleven of the victims were in several suburbs of Little Rock in Arkansas, a state official said. One other person was killed in the town of Quapaw in the north-east of Oklahoma where officials said many buildings were badly damaged. Tornadoes also struck in Nebraska, Kansas, Iowa and Missouri.
Germany: The rise and fall of a model socialist city. Eisenhuettenstadt still has an imperial feel about it. Even though many of the windows are boarded up and the streets are relatively empty, the big apartment blocks have retained a sense of the city's former grandeur.
In Prague, vintage (WWII American) jeeps form a 'Convoy of Liberty'.
Bit of a shortie today, folks, but that's the way it goes sometimes. More tomorrow. Gary
April 27, 2014. Someone must've given NC Art a bottle of soap concentrate at his christening! Look for highly concentrated soap products. A small bottle of the stuff will last a century when properly diluted. Stronger for scrubbing away hard dirt, weaker for dishes. etc., and very weak for delicate parts of human anatomy. "Simple Green" is one brand, but there is another made in Canada, but usually in huge containers. Dunno what you may find, but worth a look.
For my skin, it needs to be as pure as the proverbial driven otherwise I break out in a rash. No perfumes, no additives. Currently I use Pears transparent soap but I don't think they have it in liquid form. I stand corrected. There's a Pears hand wash. Whether there's a difference between hands and body I dunno... and maybe it doesn't matter anyway. I use Pears soap for everything, top to bottom. No shampoo, no conditioner, no nuttin... except Gillette shaving gel. How fascinating... Gary's secret bathroom habits exposed!
Guess who's been playing cubby houses? I couldn't resist. It's the frustration of not being able to travel yet, so I need to play games to keep myself amused and focused.
So there we have a paper towel holder top left. Not a bad spot for it... convenient without blocking the light from the window. Center we have a small dish drainer, perfect for my little sink. Couldn't find one of those in the big department store so I waddled next door to Home Arts and there it was on spesh for $10. And bottom center we have a chromed hand towel rack that slips over the top of the cupboard door and hangs. No screws, no adhesive. Isn't that brilliant? All up, $24 spent on 3 items and I reckon I got my money's worth.
BTW, is it just me or does that tap/faucet have a distinctly phallic look about it?
Another thing I saw that was tempting to buy (maybe another day) was a liquid soap dispenser made of bamboo with a chrome top. Very noice. I've noticed lots of things are being made of bamboo lately, including my chopping board. It's a most attractive material.
I think I'll look for a wall vase - one of those half-vases that attaches to a flat vertical surface. Then each time I camp, I can pick a few wild flowers and ferny type things and put them in the vase to brighten up my mobile abode. Sounds a bit girly but who gives a rat's arse? At my age I can bloodywell do anything I damn please hehe.
Every time I think of playing cubby houses I think of Anne Hopley, the little girl who lived just one house from ours, and who used to invite me to join her for "tea and cake" - all pretend, of course. Never got around to playing doctors and nurses, though. Hehe. Anyway, here I am a zillion years later still playing cubby houses... but it's for real this time. However, I'm quite happy to play on my own, thank you very much. If Anne Hopley knocked on the front door now I'd freak.
TX Greg has been perusing Youtube and found this: Wow, you just know Cody would have wanted to be the first person in Cape Town with a neon lit surfboard and wetsuit...Would have made for a awesome dawn patrol :)
Knowing Code, he would have also bought one for Winger as a birthday or Chrissy prezzie. Hmmm. Maybe I should think about visiting Bondi next time I'm in Sydney to see the doc. There's a train from Central out to Bondi Junction and then a bus to the beach. I can't remember ever having been there! I have been to a few beaches nearby over the years but Bondi remains Australia's most famous beach, followed closely by Manly, Bell's Beach in Victoria (surfing comps) and the Gold Coast in Queensland.
From the Beeb: South Korean Prime Minister Chung Hong-won has announced his resignation amid criticism of the government's handling of the sinking of a passenger ferry. The Sewol ferry with 476 people on board - most of them students and teachers - sank off South Korea on 16 April.
The Japanese and Koreans have a deeply-held cultural belief in honor. There was a doco on telly recently about the "Cowra Breakout" during WWII where a large group of Japanese POWs escaped from a camp at Cowra in south western NSW not to gain their freedom but to enable a mass suicide because of the shame they felt at having been captured. They were convinced they could never return home.
The Afghan presidential election will go to a second round, after no candidate reached the 50% needed for an outright win, preliminary results show. Former Foreign Minister Abdullah Abdullah won most votes with 44.9%. Former World Bank economist Ashraf Ghani came second with 31.5%. They are now expected to face a run-off vote on 28 May.
A company in China has used giant 3D printers to make 10 full-sized, detached single-storey houses in a day, it appears. A private firm, WinSun, used four 10m x 6.6m printers to spray a mixture of cement and construction waste to build the walls, layer by layer, official Xinhua news agency reported. The cheap materials used during the printing process and the lack of manual labour means that each house can be printed for under $5,000, the 3dprinterplans website says. How amazing!
An email from OR Richie just arrived: I'm glad to see that no silly thoughts about teeth... you have 'em or not... have not changed your spirits or ideals about the AO to go file of life. That about sums it up. This is the final year I'll be seeing the oncologist in Port Macquarie and probably the specialist in Sydney. If the verdict is no teeth, then I'm not gonna hang around Taree feeling sorry for myself. I can feel sorry for myself "out there" hehe, and I'll have a damn sight more to keep me occupied traveling Oz than being chained to this office chair and tolerating Lindsay's farts. If there are medical issues that need to be addressed in the future, I'll arrange to be available at the time. But that won't stop me from burning a bit of rubber in the meantime. I can blitz savory mince and make smoothies at Come-By-Chance or Oodnadatta just as well as I can here. Anyway, we'll see what the docs say soon enough. I'm due in Port Macquarie mid May and Sydney early September.
Sooooo, what's the verdict re trifle with passionfruit jelly and tawny port? Bloody marvelous - best yet. The port definitely has more 'oomph' than Marsala or sherry. And now I'm pigging out on choc coated nougat and caramel. It's been a good week foodwise... my best trifle yet, great savory minz and fancy chocolates I can suck on. Now all I gotta do is stop thinking about ...........
However, I am thinking of getting another one of those towel racks to put on the outside of the wardrobe door to hang shirts and jeans. Or I could save 10 bucks and use the curtin rod at the entrance to the cab over. Ironing is not my thing - gave it up years ago. I've discovered that folding shirts and jeans saves room for storage but they need to hang for a day or two to smooth out creases (gravity - my alternative to ironing). Mostly I wear Ts but there may be occasions where I'll need a button-up shirt with collar. After old Kev died, Averil gave me half a dozen old fashioned wooden hangers with a rotating wooden bar across the bottom for hanging trousers. Not long ago I bought a couple of suit carry-bags on eBay - ideal to keep dust off shirts and pants during transit. Don't mind me, dear Breth... just playing cubby houses again.
And I'm not the only one! Here are pics of Australia's first caravan. At the top of the page is a link to the whole article if you care to read it.
Here's Australia's second caravan, built by the same bloke in 1931. Great story of the family's first trip.
And here we are again! Time for a bit of extra padding for the buns and some telly. Gary
April 26, 2014. Before retiring last night I Googled portrait photography and saw a bunch of nice portraits, some better than others, but nothing really outstanding until the one I'm about to link to. But first, let me comment on a few things. The face is very old and lined, which is interesting, but much more than that is the photographer's technique. He/she probably used a fixed focal-length portrait lens in a studio or indoors setting because the focus is extremely delicate. When you study the photo, note how the main focus is on the spectacle frame which draws your gaze beyond the frame and further into the deep-set eyes behind the spectacle lenses. It's an amazing portrait, in my opinion, and one I suspect took a lot of thought and care by the photographer.
Portrait photography, it seems to me, is an art in itself because it involves the essence of a subject's personality and character, as well as the effective use of light and shade to enhance contours and other features. Hopefully, I'll be able to capture faithful images of interesting characters I meet on my journey as well as the obligatory touristy shots. It's important to me to have a portfolio of images that are much more than just a pictorial record of my travels.
FL Josh wrote: If you are going to mount the TV on a cupboard, is the weight of the TV going to possibly pull the cupboard off the wall?
It's a stand-alone cupboard which seems pretty solid... the tall, ceiling to floor closet that divides the cab-over from the dinette. As you can see, it's supported laterally (in the direction of the weight of the TV) by a row of overhead cupboards. As to the TV, it weighs only a couple of kilograms. After years of traveling it may be that something works loose so I'll keep an eye on it. Now that I have a cordless drill (plus a bunch of other tools), maintenance should be pretty straight forward. In fact, I'm looking forward to a whole new learning curve! Gary the handyman.
Josh also commented on my smoking (even though it's only a couple a day) and its effect on gum vascularity: Maybe, psychologically, you are afraid to head out on the odyssey so this is your way of making sure it never happens. Something to think about. Yeah?
It'll happen, teeth or no teeth, make no mistake. Sure I'm nervous about heading out, just as every other Gray Nomad was initially, but I'm even more afraid of the alternative. So far, I don't see my life as having accomplished anything worthwhile. A few highlights here and there but nothing to write home about. So the Odyssey is my final attempt at doing something of lasting consequence - of accomplishing a legacy worth leaving. Otherwise, what's the point of having been here? And besides, it'll be fun.
I suppose my determination to make the Odyssey a reality could have been less intense if not for the GN forum. I read it at least twice a day - posts by people discovering new places and faces and having the time of their lives. As a writer and photographer, the prospect of such an adventure is irresistible, especially compared to the mundane routine I have at the mo.
Josh also mentioned the piece of timber. He suggested finding someone with a bench saw but I'd already thought of that. However, it's worth mentioning that the length is perfect - only the width is a prob, not that it matters if I'm gonna have it cut with a power saw. The people at the timber yard on Thursday were busy, busy, busy so I was lucky to get what I got.
Money, money, money. Back from shopping and a repeat of oxpentifylline - that's the expensive med for vascularization of the gums, $53. It's not on the pharmaceutical subsidy list dangit cos I'm a guinea pig. Another $33 for groceries sooooo no more movies from Sanity. But I did treat myself to a block of Swiss 'intense' dark chocolate. AND I just made passionfruit jelly for my next trifle which will have port in it. Mmmm!
From the Beeb: The US says Russian military aircraft have entered Ukrainian airspace several times in the past 24 hours, amid rising tension in the east of the country. A Pentagon spokesman told the BBC late on Friday that the incidents had happened mainly near the border with Russia, but gave no further details. Cat and mouse?
Microsoft has completed its purchase of Nokia's mobile phone business for 5.44bn euros ($7.5bn; £4.5bn). The deal between the two firms should have been completed earlier this year but it was delayed by a hold-up in regulatory approvals. The sale will see the end of production of mobile phones by Nokia.
South Africans will celebrate "Freedom Day" this weekend - a celebration of 20 years of democracy. On 27 April 1994, millions of black people were able to vote in the first free and fair elections. Milton Nkosi reports on two decades of change.
In pictures: Anzac Day. The Australians suffered heavy losses at Gallipoli... 8000+. But it's all relative. The Turks suffered 80,000+.
Car designer Henrik Fisker — last seen decamping from his namesake Fisker Automotive a year ago —is making news again, this time out of his native Denmark, and on half his usual number of wheels. Lauge Jensen, the Danish maker of hand-built motorcycles, unveiled the Fisker-designed Viking Concept at the Top Marques show in Monaco on 17 April.
Nice looking bike, yes? Can't say I'm a fan of motor cycles per se but I do admire the look of some, and the freedom they promise. But if I ever did get a bike, I'd be happy with a Vespa. However I suspect pedal power will continue to be my lot.
No shopping on eBay but I did take a look at a few kitchen accessories. Things like a mini dish drainer, hand towel rack, paper towel dispenser, etc, all stuff I can get at the local department store for a few bob. It's the little things that make a house a home, yeah? As to soap for showering, I've lived in a few boarding houses and hotels where you need to carry your own washing/shaving stuff around, and there's nothing worse than carrying a slippery, scummy cake of soap in your bag. BUT, one of the GNs mentioned liquid soap in a dispenser bottle. Yes! Poifect! Just plain ol' non-perfumed soap will do me, none of that high falutin fancy stuff. That and cheap Sorbolene cream with vitamin E as a facial moisturiser.
Okies, it's time for me to put my new trifle together now that the jelly has set, and call this edition of Waffle a wrap. Gary
April 25, 2014. Don't let the facts get in the way of a good story, roite? That's the thing about human beings... they love their myths and legends, just as they love their religious beliefs. So one GN took a risk and posted a link to a site that exposes some of the most popular myths associated with the ANZAC landing at Gallipoli 99 years ago today.
Speaking of beaches, TX Greg wrote: Have you ever seen the TV show "Modern Family"? Last night's episode was a vacation to Sydney. Cool seeing some of the places you had walked and snapped photos. There was a really funny scene were Luke walks out into the surf and a huge wave knocks his bathing suit off... In that scene Luke kind of made me think of Wingnut :)
Winger didn't need any encouragement hehe. To answer the Q, no, I don't watch commercial telly cos of all the annoying ads. But it's interesting how we feel some kind of connection with a place we've never visited just because we know someone there. That's how it was with Cody & Co and Capetown for me. OH Jace knows just about every square inch of the place after lots of Googling over the years.
Not sure how significant this is in terms of a "sign from the heavens" but anyone attending the ANZAC dawn service would have been drenched this morning. Lightning and thunder began about 5.30 and continued until after 7.30 with buckets of rain! It's beginning to clear now though, at midday.
From the Beeb: US Secretary of State John Kerry has accused Russia of "distraction, deception and destabilisation" in eastern Ukraine. In a strongly worded statement, he called on Moscow to help defuse the crisis there or face further sanctions. Earlier, Russia called on the US to make Kiev stop raids on pro-Moscow separatists in the east. Them's fightin' words.
A 21-year old man has died after being crushed by a crucifix erected in honour of Pope John Paul II in northern Italy. Marco Gusmini was killed instantly and one other man taken to hospital, Italian media reported. Part of the 30m-high (100ft) sculpture collapsed at a ceremony ahead of the Pope's canonisation. John Paul II and his predecessor, Pope John XXIII, are due to be declared saints on Sunday.
A young girl offered US First Lady Michelle Obama her father's CV during questions at the White House's Take Our Daughters and Sons to Work Day. Charlotte Bell, 10, told Mrs Obama her dad had been out of work for several years. Mrs Obama told the other children the girl was "doing something for her dad".
Food Photographer of the Year 2014. Colourful close-ups and creative cooking - whet your appetite by taking a look at some of the winning entries in the Pink Lady Food Photographer of the Year competition - with chair of the judges' panel, food writer Jay Rayner.
Meet China's most expensive car at $800,000.
You've seen magicians before, roite? No, you ain't. Not yet. Meet Darcy Oake.
Here's a big surprise for everyone at Chris and Leah's wedding earlier this month... including the bride and groom themselves. Hallelujah! Bloody awesome!
Know anyone with a power saw? I just had a go at the piece of timber destined for the TV wall bracket with my hand saw and no thanks. That QLD red gum is like iron... it'd take me a week! That's if I didn't expire first. I figure the drill will need a high torque setting to penetrate that stuff. The timber Andrew used was pine. Anyway, Stan's back from a caravan holiday next week and he's got a power saw. Or maybe I can take it with me to the caravan repair place when I have the awning done and they can do it. It'll only take 5 minutes.
Oh yes... the savory minz. I blitzed it till pretty smooth then served it over noodles to which I added a knob of butter (after the microwave) to make it all slippery and a handful of shredded cheese which I melted through. Perfectamundo! I'm tempted to add a shake of Tabasco tonight just to liven it up a touch. The recipe is great though, all in one pot, saves a lot of buggerizing around. And the liquid in the vegies, beef, tomato puree, etc, is enough. No more required. Too easy.
And that's about all the Waffle I have for you today. If you have a bit of time up your proverbial sleeve, you might like to peruse a bunch of entertaining notes from children who know exactly what they want in life. The link was sent by Francois, who also sent a link to photographs of beautiful and uncommon places around the world - not photoshopped. And also this link to portraits and studies of "the human condition". Seeyaz tomorrow. Thanks, Francois. Gary
April 24, 2014. My appointment with Nancy was at 9 and PJ had to be at Ford at 9.30. Hmmm. As I waited for Nancy, another patient went in so I nicked home, drive to Ford, got a lift back to the dental clinic and made it in plenty of time for Nancy to see me. Two birds with the one stone, yeah? No wukkers. Trouble is, Andrese who's been looking after me during Nancy's absence, treating me with kid gloves, was called into the surgery to have the situation explained by Nancy. No more kid gloves. She wants him to dig around amongst the dead bone and give me as much hell as she does. Grrrr. Oh well... "it's for your own good" as Nancy keeps reminding me.
Before I left, she mentioned "indigenous medicine" and is gonna check out the indigenous scene in Darwin when she gets back there. Really? "I'm willing to try anything," she said. Yeah, right... what about me? Don't I get a say? Witchetty grub stew comin' up. She's also itching to try surgery. The specialist in Sydney reckons trying to stitch the gum together over the exposed bone won't work because there's not enough vascularity for the gum to knit. Nancy's not so sure, and would like to try a small section just to see what happens. Don't mind me, I'm just the piano player. However, despite all that, she admits there is significant improvement since treatment began a year or so ago.
Speaking of "two birds" it seems Nancy is still working at the clinic during breaks from university in Darwin. She'll be back for a few days in May.
Meanwhile, the new water pump is being installed as I write, and with a bit of luck the new awning will be installed next week. So things are coming together for my next shakedown.
And the savory minz? Still too "gritty" despite a 3-hour simmer. I'll have to put it through the blitzer. The choc coated coconut was a problem with swallowing too, dangit, so Lindsay has those. However, the nougat and caramel is okay. Soooo much buggerizing around being toothless!
TX Greg wrote in response to my question yesterday about this photograph: Well knowing you, my first thought would be that the guy is enjoying his big hose, hahaha. Maybe you're talking about the two signs in the background, I can make out on the top one "notice" and "positively", but the letters in-between look like a different language. Oh, oh, oh, I think I just got it, are you referring to the white guy pumping his own gas instead of the black guy?
Yep, kinda looks like the white guy doesn't want the black guy to mess with his shiny new car. On the other hand, maybe the black guy's job was just to pump gas into the top reservoir - but I doubt it. Could be that the photographer saw an opportunity to make a statement about racial inequality.
Speaking of racial relations, it's ANZAC day this weekend, and last night there was a story on telly about the grandson of an Aussie digger at Gallipoli who's just discovered a box of letters written by the digger to his wife/sweetheart back in Oz. One of them describes the relationship between the diggers and the Turks. The diggers used to throw canned food over to the Turks and the Turks responded with packs of cigarettes and other items in short supply. Then they'd go back to shooting each other. The digger said the relationship was (forget the exact words) like having mates and enemies at the same time. A GN posted pics of the memorial at Gallipoli today that show just how close the diggers and Turks were to each other in battle. Just a few meters! Scroll down the page to see the pics. Amazing stuff.
Guess what just arrived? My cordless drill! If looks are anything to go by, it's a beauty. Some of the things Steve W mentioned the other day are not supplied so I'll get those bits and pieces at Bunnings. The supplied storage case has lots of room for extras to keep everything neat and tidy. Woohoo!
From the Beeb: The first contingent of US troops has landed in Poland for military exercises amid tensions with Russia over Ukraine. Some 150 soldiers, who landed in north-west Poland, are due to be followed in coming days by a further 450 troops. Separately, the UK, Netherlands and Denmark scrambled fighter jets after two Russian military aircraft were spotted approaching their airspace. Earlier, Russia's foreign minister said Moscow would respond to any attack on its interests in Ukraine. Saber rattling, yes?
US actress Jodie Foster has married her girlfriend, Alexandra Hedison, the actress's representative confirms. Ms Foster wed Ms Hedison, a photographer and actress, over the weekend, broadcaster E! first reported. The Oscar-winning actress publicly came out as gay in a speech at last year's Golden Globe Awards.
Roite, back from collecting PJ. $303 which ain't too bad. I was thinking maybe $400. Half was for the water pump and half for labor, which included fitting, bleeding the system and road testing. So all is okay. Then I drove to the timber yard looking for a piece of timber to brace the inside of the cupboard wall for the TV bracket. The bloke gave me a piece of dressed QLD red gum he was gonna use as a kitchen chopping board. It's heavy! It's also too big for what I need so I'll saw off a section. The wood is damned solid so it'll probably take the whole bloody weekend to saw a section at a time. I'm not strong enough to do it in one hit... and I only have a hand saw. But it was a freebie so who's complaining?
So it's been an action packed day, ladies and genitals. Irrigation, cordless drill, water pump and a piece of timber. Now I can play with my new drill over the weekend. I was a bit confused with the thing at first, then I rememberd my dad's old hand drill and how the chuck worked. No worries. The variable torque was stubborn until I realized it wasn't meant to be a lady's shaver and required a bit of macho grunt to turn the dial hehe.
And that's it from me today. I'll get busy with my hand saw tomorrow. Gary
April 23, 2014. Ford didn't waste any time getting my new water pump. It arrived this morning and will be installed tomorrow, which means I can do the Nabiac trip next week if the awning is ready. Nothing else can go wrong for a long time, roite? So I can relax, roite? Roite.
On telly the other night a panel was talking about religion and I was surprised to discover that only 10% of Aussies are professed athiests. I figured it would be more. I suspect many people are not particularly religious but are disinclined to reject the notion of a supreme being altogether.
Just checked savory ground beef (we call it mince but I like 'minz') recipes on the net and discovered one where everything goes into a pot. I've always pan friend the onion and beef but it's a devil of a job getting the lumps out of the mince. Er, minz. Hmmm. I can see that cooking on a slow simmer would break up the minz and soften the chopped veg so that I might not have to puree it. Yeah? I'll give it a shot, and serve it with soft noodles or mash. I have fond memories of the landlady at a boarding house back in the early '70s sitting me down to a huge plate of savory minz on toast after I'd finished the breakfast session at the local radio station. Everyone else at the boarding house had gone to work but the old dear was determined to spoil me and fatten me up.
From the Beeb: A survivor of South Korea's ferry disaster has described taking the agonising decision to save himself as the ship capsized and water washed away students he was trying to rescue. Lorry driver Eun-su Choi told the BBC: "We were trying to pull them up... but it was very difficult. We then decided to climb up, but I now regret it." The confirmed death toll has reached 113, as divers recovered more bodies from the sunken hull of the Sewol.
Ukraine's acting president has ordered the relaunch of military operations against pro-Russian militants in the east after two men, one a local politician, were "tortured to death". Oleksandr Turchynov said the body of politician Vladimir Rybak was found near rebel-held Sloviansk. "The terrorists who effectively took the whole Donetsk region hostage have now gone too far," he said.
Scientists have outlined how they managed to make the "wonder material" graphene using a kitchen blender. Graphene is thin, strong, flexible and electrically conductive, and has the potential to transform electronics as well as other technologies. An Irish-UK team poured graphite powder (used in pencil leads) into a blender, then added water and dishwashing liquid, mixing at high speed.
The Duke and Duchess of Cambridge have visited Australia's most famous natural landmark, as their tour of the country continues. The Royal couple travelled to Uluru, also known as Ayers Rock, which is a sacred site for the area's Aboriginal people. Nicholas Witchell is following the tour.
An Aussie reporter did a live cross from Uluru and said William and Kate were looking forward to seeing the night sky and it's billions of stars so different to what they're used to seeing in London. In fact, I suspect people who live in cities never bother to look at the night sky.
Back from seeing Nancy. She says my gum is looking much better after brushing 3 times a day, and she wants to see me again tomorrow "I get withdrawals if I don't see you every day." She also gave me a chocolate to suck on - a ball coated in some kind of nougat shell with a soft center. Mmmm. Noice. I'll get some more goodies when I go shopping later.
And later it is. Just made the savory minz and it's simmering away. Two hours should do it. I added a couple of extras... ground pepper and salt (I use rock salt), a pinch of herbs and a generous dash of Worcestershire sauce. Otherwise, the recipe is pretty straight forward - 500g ground beef, can tomato puree, brown onion, carrot, celery (all chopped finely), 3 crushed garlic cloves, 2 tsp gravy powder. All in pot, stir to mix, bring to boil, simmer.
Nancy has slow-cooked meals all the time. She has one of those slow cookers. Throw everything in in the morning, let it cook all day, arrive home from a busy day at work and dinner's ready. Boom, boom.
I also bought some between-meal yummies... choc coated nougat and caramel, and choc coated coconut 'sensation'. Just pop 'em in and let 'em dissolve. Nancy and Emma said something earlier today about "giving him sugar diabetes" but then quickly added, "but that's only a minor issue." Hehe.
The savory minz has been simmering on low (barely bubbling) for an hour and smells wonderful already, but I'll leave it for another hour... maybe even a bit longer after a taste test. Meanwhile, it's time for me to swap this typist's chair for a softer bum-friendly armchair, point the remote at the telly and see what the world's been up to today. BTW, did you notice this pic in the historic autos yesterday? Is there a message there, or is it just me? Gary
April 22, 2014. Nancy's back! The other dentists pussy foot around, careful not to cause any pain but not our Nancy. Oh, no. I told her I'd give her a backhander across the chops if she hurt me but she just ignores me and tells me to shutup. So she whipped out the pliers (or dental equivalent thereof) and got rid of a lot of dead bone, then gave me a long lecture about eating more fatty stuff and washing food down with buttermilk. AND BRUSHING for at least 2 minutes, 3 times a day. Sheesh. "It's tender because you're not brushing enough! Brush more!" She also saved the cost of a postage stamp by giving me a post card she'd forgotten to send from Republica Dominicana. Hehe. The usual tropical beach scene with palm trees. I see her again tomorrow at 12.30.
Meanwhile, I phoned Ford about the radiator leak and they've asked me to take PJ over for a look, which I'll do as soon as I finish my coffee. That was quick service! I topped up the radiator yesterday and checked it again this morning after not driving anywhere (or running the engine) and it's down about an inch. Hopefully, it's just a hose or something.
What did I say about no more big bills for a while? The water pump is leaking, dangit. So that's $300-$400 and it needs to be replaced soon, before it gets any worse. No trips to Nabiac until it's fixed so the awning will have to wait. "Don't ask me to buy a new car," I said to the girl at Ford, "I've already got half a new one." Anyway, I phoned the power company and arranged to settle half the bill this pay and half the next. It means I'll lose my 13% bonus but them's the breaks.
When ever I fix anything on PJ I console myself by thinking that's another problem out of the way, and one I won't have to deal with on the road. Hehe. It's true though... I'd rather things go wrong here in Taree than "out there". I just wish probs would spread themselves a little thinner instead of happening all at once like they have lately.
From the Beeb: World's Fair: Isaac Asimov's predictions 50 years on. It is 2014, and we should all be in therapy. At least, that's according to Isaac Asimov, one of the 20th century's best-known science fiction authors, who in 1964 published an essay predicting what our world would look like today.
Can you remember 50 years ago trying to predict what the world would be like now? That's assuming you were here 50 years ago. I suppose I had some vague ideas about space travel, robots and bubble cars, and I can remember my mother saying television would be a flat screen attached to the wall, but other than that I don't think I spent much time pondering the future. I was too focused on living in the present.
Thousands of marathoners have taken to the streets of Boston, as the city honoured three killed and more than 260 injured in a bomb attack last year. Dignitaries, spectators and more than 36,000 runners observed a moment of silence before the race began.
Thinking about Nancy and this putting on weight business, I've arrived at the conclusion that a little often is preferable to a lot all at once. I can't eat large meals, period. So tomorrow I'll go to the supermarket and the fatties' aisle and load up with chocolate bars with soft centers such as caramel, nougat, cream, etc, break off a portion, pop it in the oral cavity and let it happily melt away. Kinda like a permanent between-meal snack. No prep, no plate, no cutlery, no glass or mug, no washing up, no mess. I can do it driving, camping, working, watching TV or whatever whenever. Yeah? There's so much emphasis on losing weight these days that just about everything at the supermarket is low fat, reduced fat or no fat. EXCEPT in the fatties' aisle.
Yesterday, I sent a message to the seller of the cordless drill about buying a second battery, and wondered what the response would be. Well, they don't have any in stock at the mo but have ordered more which will be in the next shipping container. Cool. However, one GN said he tossed his rechargable battery and rigged up his drill to run off the inverter. I expect mine to arrive this Thursday. BTW, next weekend is another long weekend. Friday is ANZAC day. What's the bet a lot of workers took Tuesday, Wednesday and Thursday off this week to lengthen the Easter break by an extra week?
Here's a story posted on the GN forum. The story is a fake but the croc pics are real as explained by one of the comments.
The poster of historic photos of autombiles in everyday life throughout the first half of the 20th century has posted another 50 during the past week or so, so here they are assembled into an album. And that's it from me! Gary
April 21, 2014. Steve W wrote: You will never regret buying that baby, they are incredibly useful, especially when on the road. Get a good set of drivers - screw driver kits and some small hex nut drivers. Oh and buy a range of self tapping screws. And take a couple of the old wire coat hangers, you can then fix or jury-rig pretty much anything that comes along…….and trust me, it will!
I've seen Andrew and other tradesmen use cordless drills and they certainly make life easier! And yes, an old wire coathanger has already come in handy - I fashioned a double-ended hook to keep the TV wall bracket in place during transit (instead of using a strap). My pliers wouldn't cut the wire so I used a file to make an incision and the rest was easy. There's also a roll of galvanised wire in my tool kit. I saw an anthropologist on telly talking about the earliest of stone tools and how they became an extension of a person's arm that allowed the performance of tasks such as cutting, hammering, slicing, piercing, stripping, crushing and a host of other jobs all of which would otherwise have been impossible. Tools rule!
I've emailed the seller to ask if they have spare batteries in stock. I'd like a second one.
From the Beeb: Entrepreneurs reveal their failures en route to success. Millions of people dream of starting their own company, but only some are brave enough to take the leap. Fewer still go on to great success.
A portrait of the Queen by British photographer David Bailey has been released in honour of her 88th birthday on Monday. The black and white photo, which shows the Queen smiling, was taken in March. Same vintage as NC Art.
The Duke and Duchess of Cambridge continued their royal tour of Australia with a tour of Taronga Zoo in Sydney accompanied by their son Prince George. The young prince was introduced to a real Bilby but was less impressed with a toy which he quickly discarded.
Meanwhile, as you may know, African lions (or any other kind of lions) are not indigenous to Oz. As a result, native Aussies have no fear of the king of beasts. They think they're just big puddy tats. Pictured below is a series of pics taken at an Aussie animal park showing a lion jumping on the hood of a car where food is placed to attract the animal so it can be viewed at close quarters. You'll see the people smiling even though the lion is just a meter away. No worries, mate. She'll be roite. It's only a big pussy.
This is the Werribee Open Range Zoo in Victoria Australia, and only the hood of the car is outside the glass cage with lions. The rest of the car is on the inside. Very interesting way of interacting with the lions.
There ya go. Didn't I say no worries? The thick plate glass protects visitors to the zoo sitting in the 'safari jeep'. Aussies are not dumb, ya know. Thanks to NC Art who forwarded the pics.
The big question on this bloke's lips right now is will Great Lakes Caravans install the new awning this week? Actualy, there are two questions. Does my new radiator leak? I suspect it (or something else) does. I've had to top it up twice in a month, the last time within a week. It's only a liter or so but it shouldn't leak at all! So I'll have to phone the Ford dealer tomorrow and have it checked. This is not good.
Neither is my fiscal situation which is getting a bit skinny. A power bill this week will gobble up most of what's left over. BUT... no more bills other than the normal rent/food/meds expenses for 3 months so that's an extra $2800 I can split between credit cards and savings... provided I can leave eBay alone hehe. Well, maybe a few little goodies won't hurt. I do enjoy my prezzies, ya know.
Reading the GN forum is a trap for buying stuff - or has been. There's always someone suggesting something or other that's useful. But I think I already have just about everything I need. Except teeth, of course. Which just prompted me to send the dental prosthetist an email to let him know I'm still alive and in Taree. He's already been paid for the dentures even though I'm still without, and have been since November 2012.
Well, a fat lotta good that did. The email was returned as undeliverable.
Speaking of eating, I saw a program on telly about the latest efforts to control cane toads, which are spreading west and south from QLD and the Northern Territory at an alarming rate. They reckon they'll never get rid of the bastards but they have developed a way of stopping our native fauna from eating them and being poisoned to death. Out in the bush, baby toads are fed to goannas which makes the goannas sick. But it's not enough to kill them. The goannas quickly learn to avoid toads as prey - just as I learned to avoid turnips and swedes as a kid hehe. Yuck. I'm not sure how many eggs a female lays but it's in the tens of thousands.
Time to toddle off once again, chaps, and I trust all y'all had a nice Easter. Gary
April 20, 2014. Both FL Josh and TX Greg pointed out that the link to Harvest Beef and Vege Curry ended up back at the digital weather station. Hmmm. Seems I wasn't paying attention. So, to rectify the situation, here's the correct link. Except mine was on spesh at Woolies for $3.
As to blocks of text suddenly disappearing, Josh commented: Been there, done that. What is happening is you are going to type a capital A by pressing the Shift key and the A. But you miss the Shift key and hit the Control key. Ctrl-A is select all. So all your text gets selected and then when you hit the next character after the intended capital A, the computer takes that as replace the selected text with this new character. However, Ctrl-Z should bring it back.
Roite. I'm sure it's because my forearms get lazy allowing my fingers to touch unintended keys as I type. When I raise my forearms a little, all is well.
Your digital "weather station" looks neat, but I bet one thing your old one had that is lacking in the new one is barometric pressure.
Yep. But I have a barometer already. It's not one of those fancy ones that has rain, change and fair marked on the dial, but a simple, straightforward one similar to this with hPa marked on the inside and mmHg on the outside. At the mo, it's reading 1017.8hPa (hectopascals) - fair with slight chance of showers. Humidity is 62%.
As to Lindsay and his gal friend, good for him, there's life in the old boy yet. It also shows that he enjoyed having Sue around and misses that, so in that respect, it is a compliment to Sue.
Well, the new gal was ushered in last night and deposited in the living room with the door closed. No introductions. All I got was a whiff of the trail of cheap perfume in the hall after she'd been to the loo and back. This morning she was ushered out and sent packing while I was checking email. Later, Lindsay appeared in the kitchen, stared out the window and lamented (because of his guilty conscience), "this is my first Easter without Suzie". Yeah, right. You know those nasal monotones Aborigines use when they sing traditional songs? That's what she sounds like. BTW, she's Aboriginal.
Josh also mentioned Avril. True, I haven't visited or even phoned for months, mainly because it's difficult to conduct a convo with no teeth, but also because Ken (the weather report) has taken over the joint since I've not been there. He is soooooooooo boring! I often see him through the kitchen window approaching Averil's screen door. He starts talking from several feet away. When he leaves, he doesn't stop talking till he's half way to the front gate.
OH Jace sent an Easter ecard. With all the snow we ended up in second place for all time accumulations of just over 60 inches (5 feet). The record is 69 inches and we better not get more now. Not sure what the record here in Taree is... probably zero. Jace lost his tulips as well, which is another thing we don't have here. They grow well down in the southern highlands and Canberra though, where they have mass public plantings in Spring. But back to Ohio, all the gang is well and the kids are looking forward to the Easter bunny in the morning (it's already Sunday here). Thanks for the card and the note, Jace. And watch those pounds with all that chocolate. I'm having chocolate flavored Sustagen in my smoothie if that counts.
As I shaved, I listened to a radio interview with a bloke who cares for kids with problems such as refugees. He said some of their stories are horrific. One Iraqi girl was about 11 when she worked in a factory in Baghdad or somewhere. One day she forgot to put a screwdriver away and left it on a bench. Her boss took her outside, smashed a couple of bottles on a concrete slab and forced her to walk barefoot over the broken glass. When she arrived home, she hid her cut and bleeding feet from her mother because she didn't want her to worry. No wonder those people risk life and limb in leaky boats to seek refuge in places like Oz.
From the Beeb: Music lovers and vinyl enthusiasts are gathering for the UK's seventh annual Record Store Day on Saturday. Despite many predictions of the demise of vinyl, it has never looked like disappearing. But who's still buying? Record Store Day was held here in Oz too, and was a great success.
A lot of audiophiles insist that vinyl has superior sound but I remember the first time I played a CD on my Teac stereo back in '87 it blew me away. Mind you, my record player at that time wasn't too flash. Even so, radio stations and sound studios were quick to take up digital and dump analogue. For me, digital is much more practical, especially now that hours and hours of stuff can be copied to USB flash drive and MP3 players. Stacks of hits from the days of analogue recording have now been digitally remastered and released on CD, which is great. Same thing is happening with movie classics.
I go back to the days when my older bros played 78rpm records with steel needles on our old radiogram built by my father in the early '50s. Then vinyl replaced shellac compounds and in '59 I bought a furniture style stereogram which could play 33, 45 and 78 with a sapphire needle. Next came tape recorders followed by cassettes which allowed copying for the first time. And during the mid '80s, digital arrived. Vinyl is okay if you're an enthusiast and have a spare room with a large storage capacity. All my vinyl was tossed out years ago. More recently, all my CDs together with my stereo were sold. And now my entire music collection fits on a couple of flash drives the size of my thumb. What's more, the sound is fine using the Kenwood stereo and Altec speakers in PJ.
I remember Bose magazine ads from a decade or two ago that promised ultra high fidelity from small shelf speakers. I didn't believe it, of course. I was from the old school that associated quality sound with something the size of a fridge. A few years ago I bought a pair of Logitech USB powered speakers for the comp for $65, about the size of two Mars Bars. Bloody hell. I couldn't believe the quality, or the bass response. "Speaker technology has changed a lot lately," the sales guy said to me when I made the purchase. He wasn't kidding. Even headphones have improved. Those little ear buds attached to my MP3 player are amazing!
And the speed boats? It's mid afternoon and I haven't heard much activity down by the river. Dunno what's happening down there but I'm not inclined to bother finding a park and looking for a decent spot amongst the crowd to take pics of a couple of rooster tails. Sooooo, I spent my time in PJ tidying the TV antenna wires that Andrew left poking out of the top of the sofa like spaghetti. They're all out of sight now. I also studied the TV wall bracket. He's mounted it sideways which I don't like (even though it would work... sort of). So what I need to remedy the situation is a larger piece of timber to use as a support inside the wardrobe, whose size will fit the bracket holes right side up, and a... ready for this?... cordless drill. I've been thinking about one of those for a long time. They're pretty handy. Sooooooooooo, I bought one. GNs are always raving on about Makita, Hitachi, Ryobi, Bosch, etc but hell, I'll use this once for the TV bracket and probably again in 6 months or whatever. It's not like I'm a tradesman. What I really like about it is that the $85 I got for the stereo and CDs has been put to good use with a digital weather station and a cordless drill. And there's still $20 left! Sounds like a good deal to me.
One thing the GNs point out about cheapie cordless tools is battery replacement. Often with cheapies, replacement batteries are unavailable. So I found one complaint by a purchaser of a Randy & Travis power tool who said the tool was fine but the battery didn't last. He was pissed off big time. But eventually he found a replacement available from Factory Fast in Oz and decided to change his tune about R&T. He's now as happy as Larry.
I noticed there were only 3 of those drills left for sale so it's probably old stock or the last of a batch or whatever. But $52 is cheeeeep! Now all I gotta do is find an offcut piece of timber the right size at the local timber yard.
So who said today was gonna be dull? Ya never know what's lurking around the corner, yeah? Gary
April 19, 2014. TX Greg wrote: Not sure how you did this, but at the very top left of the current waffle page in the background you've typed the number "1".
Ah, yes, sometimes as I type the cursor gets itchy and jumps around like a frantic flea. Often, it ends up at the top LH corner of the page before I notice, and in the case you refer to I probably deleted whatever had been typed except for the 1 which was hiding behind the blinking cursor. Another problem I have typing at 60wpm is when I use caps. Without warning, it'll send a signal to the word processor to highlight a whole line or paragraph which then suddenly vanishes before I cease typing. *POW!* It all happens so quickly it catches me by surprise, and the undo feature doesn't bring it back. My first computer back in 1986 was so slow I often had to sit back and watch an entire sentence or two appear on the screen one letter at a time after I'd ceased typing. It often took several seconds hehe.
Yesterday, while fiddling around in PJ I tried to find a suitable location for a timber framed weather station I have, with three analogue type dials. Looks pretty but it's too big and heavy for a velcro wall mount. So I went onto eBay and bought a digital weather station about 4" square. Rather than hang it or mount it, I'll put it in a drawer during transit and stand it on a bench when camped. It's good for inside or outside and the info will be handy. Has a calendar mode too! I already have a barometer I can mount somewhere.
Had a beef and vege curry last night for dinner. Not brilliant but not bad... pureed, of course. Canned meals pureed are better than soups, with more substance. The meat is also slow-cooked and tender so that it purees smoothly. I make a pretty good curry but the problem is there's only one mouth to feed.
Back from a little shopping. The holiday makers are in town, and have cleared the shelves of homebrand-long life milk hehe. So I paid an extra 30 cents and moved up to a branded product. Dunno what the diff is. A cow is a cow, right? The HMs also cleared the homebrand cococut cream.
But I snuck into Sanity for a quick peek and scored another 3 movies for $20 - Far Country with Jimmy Stewart. I met him once at a radio station where I worked back in the mid '80s. He said "hi, there" and I said "g'day". Very in depth convo, yeah? And he sounded just like he did in the movies. I also bought The Rainmaker with Matt Damon, and The Firm with Tom Cruise.
Lindsay has been running around with dustpans and vacuum cleaners this morning cos he has a lady friend visiting tonight and staying over. Ooer! It's not even 6 months since Sue died, but I don't find that surprising.
From the Beeb: The captain of a South Korean ferry that sank this week said he delayed giving evacuation orders because he feared passengers would "drift away". Lee Joon-seok, 69, was arrested with two crew members on Friday. He has been criticised for not giving orders to evacuate soon enough.
The Duke and Duchess of Cambridge have made an appearance at Sydney's Royal Easter Show, during their tour of Australia. The royal couple admired the local produce, and watched demonstrations of sheep shearing and cookery, before meeting surf life-savers at Manly Beach. Nicholas Witchell reports from Sydney.
The US is dominated by a rich and powerful elite. So concludes a recent study by Princeton University Prof Martin Gilens and Northwestern University Prof Benjamin I Page. This is not news, you say. Perhaps, but the two professors have conducted exhaustive research to try to present data-driven support for this conclusion. Here's how they explain it:
Shannon Airport in the Irish Republic has long been the unlikely host to celebrities and US presidents making the Transatlantic crossing, writes Christine Finn.
So that's how Irish coffee came about? Bloody good drop it is too, especially sitting in front of an open fire. Which reminds me, I bought a bottle of McWilliams Royal Reserve tawny port for nine bucks to use in my next trifle. It's not the flashest port but not the worst either. They had muscat for $9 also. I knew a French bloke who pronounced it moose-ka. Anyway, I'm confident the port will work well.
I tried choc flavored hazelnut spread with the trifle last night. Nah. Not for me. Too sweet. I much prefer peanut butter. BTW, that American style peanut butter I mentioned before is actually made in the US. 'American Style' is highlighted in red on the front of the label and again on the back. 'Made in USA' is in small print at the bottom, so the word 'style' is a marketing ploy to trick buyers into thinking it's made in Oz. Naughty, naughty.
If you've had a bad hair day, try this one on for size from a GN's post on the forum.
And that's it. Been a bit of a quiet one today, Ls and Gs. I heard the speed boats today but they were only preliminaries or something. I'll go down to the river tomorrow and take a few shots. Gary
April 18, 2014. The world's smallest BBQ.
There is no better way of life in the world than that of the Australian. I firmly believe this. The grumbling, growling, cursing, profane, laughing, beer drinking, abusive, loyal-to-his-mates Australian is one of the few free men left on this earth. He fears no one, crawls to no one, bludges on no one, and acknowledges no master. Learn his way. Learn his language. Get yourself accepted as one of him; and you will enter a world that you never dreamed existed. And once you have entered it, you will never leave it.
John O'Grady author Theyre a Weird Mob
Well, not only did I ride the bike all the way from the driveway to the front gate and BACK, but I did it twice! How's that for dedication? I also gave the poor old thing a wash. It's back in the garage but this time it's covered with a ground sheet. While I was washing it, I checked the side walls of the tires for cracks. Nope. Good as new. My last two bikes were stolen; one by Luke and the other by his dopey mate. I've not seen hide nor hair of those two bastards for 6 or more years, and good riddance! Anyway, Lindsay felt sorry for me and bought the current bike as a prezzie, a Chinese cheapie that needed to be assembled. But it works fine. I added a headlight, tail light, pump, and water bottle. And air.
And what a stunner of a day it is outside in the sunshine - just the ticket for all the visitors to the Mid North "Holiday" Coast.
From the Beeb: Russia, Ukraine, the US and the European Union have said that all sides have agreed to steps to "de-escalate" the crisis in eastern Ukraine. Their foreign ministers were speaking at the end of talks between Russia, Ukraine, the EU and US in the Swiss city of Geneva. Analysts say the outline agreement could stay economic sanctions the West was preparing to impose on Russia.
'Most Earth-like planet yet' spotted by Kepler. The most Earth-like planet yet has been discovered, scientists report in the journal Science. The rocky planet, Kepler 186f, is close to the size of Earth and has the potential to hold liquid water, which is critical for life, the team says.
Your pictures: South Africa. Each week, we publish a gallery of readers' pictures on a set theme. This week it is South Africa, and we begin with this picture by Tom Paton of a kite surfer on Blouberg Beach, near Cape Town.
Songs from the past can stir powerful emotions and transport us back in time. Tiffany Jenkins explores what happens in our brains when music carries us away.
And that's it for this Good Friday. Having no family to speak of and no local friends cos I don't socialize in this town, I spent the day just like I spend every other day. But that's okay. I don't mind. But it was interesting to read various posts on the GN forum from people popping in to see family or friends, or having people visit over Easter. It's obviously important to lots of people to have connections. I'm just a weirdo. Mind you, a weirdo with no teeth so socializing ain't on the agenda anyway. Gary
April 17, 2014. Oops! I was an hour early for my dental appointment this morning but they attended to me anyway. Next appointment is for Tuesday and Nancy will be back in town for Easter. So it'll be nice to see her again. It'll also be interesting to get her impression of my "progress" after being away for 2 months.
Back in my television says I discovered just how important the end credits are to the people who work on a project. Make a mistake with titles and/or spelling and you're in BIG trouble. Same thing here on Waffle hehe. Yesterday I credited FL Josh with suggesting cooking sherry when it was actually NC Art. So Josh reckons "one of us" is having a senior moment, and NC Art wants to know if Josh is plagiarizing his emails. Gotta be careful of people's sensibilities ya know.
One of the GNs wrote yesterday about having spent 2 months at a particular free camp which meant no accommodation or petrol costs. He was able to spend $1300 on goodies for his rig. He also points out that money spent on accommodation and fuel is gone forever whereas money spent on equipment provides years of service. That's how I feel about the money I've spent on PJ. It's an investment that will return worthwhile dividends for a long time to come. I suspect it's probably the best investment I've ever made.
Just saw a post about Qantas on the GN forum - the airline made its first overseas flight on this day in 1935. Which reminds me... QANTAS is an anagram for Queensland and Northern Territory Air Service. No longer appropriate, but what the hell. Interestingly, Qantas is often misspelled as Quantas.
From the Beeb: A major rescue operation is under way after a ferry carrying more than 470 people sank off the coast of South Korea. Officials say at least four people have died and hundreds are still unaccounted for. Most of the passengers were school children and their teachers. Amateur footage has emerged which apparently shows passengers on board waiting to be rescued. Some may find Lucy Williamson's report distressing.
Methane hydrate: dirty fuel or energy saviour? The world is addicted to hydrocarbons, and it's easy to see why - cheap, plentiful and easy to mine, they represent an abundant energy source to fuel industrial development the world over.
A 19-year-old Canadian became the first person to be arrested in relation to the Heartbleed security breach. Stephen Arthuro Solis-Reyes from London, Ontario was accused of hacking into the Canadian Revenue Agency (CRA)'s website last Friday by the Royal Canadian Mounted Police.
The Duke of Cambridge has described Australia as a "beacon of confidence" as he and his family began the next leg of their Antipodean tour. Thousands turned out to greet the royal couple at Sydney Opera House to mark the start of their 10-day visit.
Yes, dear Breth, when it comes to podes, we're anti. The Brits referred to Oz and New Zealand as the antipodes, which is technically a line drawn from Britain and Ireland straight through the center of the earth to arrive at the opposite end. But in the case of Britain and Ireland, the line actually ends up in the Pacific Ocean south of New Zealand. The antipodes of Oz are in the North Atlantic. Approximately 15% of land territory is antipodal to other land, representing approximately 4.4% of the Earth's surface. So there ya go.
Something I've been meaning to do for a long time... inflate the bicycle tires. So I used old Kev's foot pump which made the job a lot easier. Then I swung a leg over the saddle and pedaled around the backyard without falling off hehe. Swinging the leg back off the saddle proved a bit more difficult but I managed... just. Need some practice. But I'm pleased to know I can still ride the thing (and that it still works after years of neglect). I'm looking forward to getting back to a reasonable level of fitness, and I figure riding the bike is just the ticket. Besides, it'll be very useful on the Odyssey.
It had a wire basket on the back but I took it off. It's now in one of PJ's storage bins full of bits and pieces. The basket was too high to swing a leg over, which was a bloody nuisance. So now I'll use a backpack to carry stuff like camera gear or groceries when I go shopping. Backpacks rock. And I can still use the small carrier thingy behind the saddle.
Bicycles are one of the all-time great inventions, I reckon. They cover relatively long distances quickly, they cost almost nothing to run, they can go just about anywhere and there's no worries with parking. Great for sightseeing as well. I was practically glued to mine as a kid.
Had a call from the husband of the woman who owns one of the cars damaged by PJ's awning wanting to now what's happening with their insurance claim. He's asking me? What the hell would I know? He was pretty irate probably because he's being pestered by his missus. Anyway, I remained calm despite his rantings and said I'd phone my insurance company, which I did... and waited and waited and waited to be answered. Then I phoned him back and told him that my insurance company tried to contact his missus by phone without success (probably had her mobile switched off) and would send a letter. I also gave him my claim # and told him that if he has any further questions to phone my insurance company. He had cooled down by that stage hehe and was grateful for my assistance. As to his calling me and demanding action, the insurance rep said that shouldn't happen, that it wasn't my responsibility to provide information... "that's what insurance is for".
And all because I misjudged the distance between PJ and a power pole. Grrrrr. And not by much either...only an inch or so. The only good thing to come outta all this is a new awning. The old one was okay but the casing was badly weathered and brittle. Hopefully, the newer ones are UV treated.
If Great Lakes Caravans installs the awning next week (after Easter), I'll take off on a mini Odyssey somewhere - probably north at Crowdy Bay National Park... Diamond Head campground. It'll be closed for 3 months from May 5 for maintenance works but I should make it before then. And won't that be noice! Coupla days being a beach bum. A bloke could get used to that. There's internet access so Waffle will continue.
Meanwhile, the Royal George meets an Aussie wombat... albeit stuffed.
And GN Billeeeeeee and Co make the newspaper headlines!
And there goes Thursdee. Enjoy your Easter break and stay safe. Actually, that reminds me of what Emma said as I left the dental surgery this morning. She told me to behave myself during Easter, and that she would be keeping an eye on me. "What? Even when I'm not behaving?" "Yes!" "That could be a worry." Hehe. Gary
April 16, 2014. The Easter Power Boat racing is on this weekend down at the river soooooo I'll wander down there with the tele lens and 2x adaptor to see if I can get some "interesting" shots. Boat racing bores me but close ups can be cool. Besides, they make such a bloody racket you can't hear yourself think at home.
I dreamt last night of eating potato crisps and how easy it was despite the gum problem. The dream was incredibly real and made me wonder why it had taken me so long to realize I could still eat crisps! Which I can't, of course. Grrrr. As to crushed nuts on trifle, I got the idea of scooping a little peanut butter on a spoon before I dip it into the trifle. Yeah? I'll try it today and see if it works.
From the Beeb: The Ukraine crisis is entering a new and dangerous phase. The seizure of police and administrative buildings in several cities in the eastern part of the country by what some describe as pro-Russian activists raises the prospect of a firm response from the Kiev government. This, in turn, could give the Russian authorities the pretext they need to move the military forces massed on Ukraine's frontier westwards.
Amazing pictures! A 13-year-old eagle huntress in Mongolia.
North Korean officials paid a visit to a London hair salon to question why it had used their leader Kim Jong-un's picture in a poster offering haircuts. The poster in M&M Hair Academy in South Ealing featured the words "Bad Hair Day?" below the leader's picture. Barber Karim Nabbach said embassy officials were shown the door and the salon's manager spoke to the police.
Why are Abba so popular? The Swedish group burst onto the world stage 40 years ago this month – and are still one of the most successful bands of all time. Andrew Harrison asks why.
On air, I used to back announce Waterloo as 'watery loo'. Hehe.
FL Josh wrote an email he titled 'expensive wine' in response to my comments about Madeira, and suggested cooking sherry. But today's news headline is also about expensive wine... a $3000 bottle of 1959 Penfolds Grange Hermitage given to NSW Premier Barry O'Farrell as a gift after winning the 2011 election. The giver of the gift is now under investigation (among others) by the Independent Commission Against Corruption (ICAC) in a fraud case involving alleged bribes made to leading government officials by a water company seeking favors. Yesterday, O'Farrell told the inquiry that he had no memory of receiving the bottle of wine. He also denied sending a thank you note to the giver. Today the note appeared as evidence. Shortly thereafter, O'Farrell tended his resignation as premier. So that bottle of Penfolds Grange is an expensive wine for two reasons: 1) it cost $3000 and 2) it's just ruined the premier's career. He's in trouble for not having declared receipt of the gift initially and also for attempting to mislead the ICAC hearing.
Last night on The Drum, the panel discussed the issue, all agreeing that a seemingly trivial incident such as a gift of a bottle of wine could lead to a politician's downfall. How right they were.
Also in the news is the Commonwealth government's decision to go ahead with Sydney's second airport at Badgery's Creek on the outskirts of western Sydney. There's been talk of Badgery's Creek for decades... since the late '60s... with successive governments putting a final decision on hold because of protests by greenies and locals who wanted to preserve the area's rural environment. But now the deed is done at last, and it will be just the boost to employment and infrastructure that the area (with a pop of 2m) needs. It will also relieve the congestion at Sydney's main airport which currently has a daily curfew between 11pm and 6am. Here's a shot of a Qantas jet landing over the top of General Holmes Drive at Botany Bay.
I tried the peanut butter with the trifle and it was pretty damn yummy. The salty, roasted flavor of the peanuts contrasts nicely with the overall sweetness of the trifle. I wouldn't be able to eat peanut butter normally cos it sticks to the roof of my mouth. I don't have the saliva to wash it down, so the custard and Marsala do the job instead. Another way of explaining dry mouth is this: I can't spit. I've been told that when I'm fitted with dentures, the chewing action will help to stimulate saliva. I certainly hope so!
I also have a jar of chocolate hazelnut spread so I'll try that later as well. Peanut butter and hazelnut spread are full of calories so having them with trifle means I can eat stuff I otherwise couldn't (except in smoothies and there's a limit to how much I can use). The best thing about trifle is that the ingredients that go into it are pretty boring on their own. But together they're magic and I just love the stuff. I have it twice a day! I'm confident that it's just what the doctor ordered to help me fatten up.
I've just answered a question. Does the 2x tele adaptor interfere with the Nikon's auto focus? The answer is yes. So if I need to use it for the power boats to get a decent close up, I'll have to use manual focus, which is not all that easy with a moving target. Actually, the adaptor is 2.5 so that will increase the 55-200mm to 500mm. One of these days when I've oodles of dough I want an 18mm-300mm zoom (if they're available). The thing is, if you're shooting long distance and using a telephoto, and something happens right near you, by the time you change lenses the shot may be lost. I've seen photo journalists with two cameras around their necks, so that's one way to 'be prepared'.
Here's a quote from Robert Louis Stevenson that makes a lotta sense to a Gray Nomad.
And here's what happens when a truck carrying high-pressure gas cylinders crashes into another vehicle.
And that's it from me, dear Breth. Gary
April 15, 2014. I should have known... the bloke who posted the historic auto pics on the newsgroup came back after a few days and started posting more! No worries... I'll save them and make a second album.
I've seen some clever dogs in my time but never anything like this mutt. FL Josh sent the link:
Yesterday's forecast said it was gonna be gray and showery today but it's just the opposite at the mo. That could change, of course. If it's clear at about 5 this afternoon, I'll go down to the river to see if I can get a pic or two of the rising moon. From Thursday for the next week or so, it's gonna be mostly sunny and mild so that'll be good for the Easter holidaymakers - and there'll be no shortage of those! Once Easter is over, I'm hoping to hear from the caravan repairer about the awning.
Steve W commented on the baked spuds: Have been doing similar for some time, but instead of using fingers to break them up, you can just smash them with a spud masher (don't need to wait for them to cool that way) , not mash them, just break them up, a bit of olive oil and back into the oven or on the fire. Delicious.
Love spuds as well as their versatility. There's that jaffle recipe for hash browns I can't wait to try as well: Butter the inside of your jaffle iron and fill with grated raw potatoes. Season to taste and close the iron. Cook over medium coals, turning frequently. It's that simple!
Hmmm. I can visualize putting half the grated potato in the jaffle iron, then a slice of cheese, then the rest of the potato for a hash brown with runny cheese in the middle! Or is that the center? Middle, center... A GN this morning said she found a spotless caravan park in a nice spot. Hehe.
And what a gorgeous day it is out there in the sunshine! I just fiddled with a few things in PJ including giving the padlocks a quick squirt of WD40. That stuff is magic! My folding step is now secured to the tow bar with a bicycle chain so I don't have to worry about that disappearing... especially overnight at a camping site.
From the Beeb: The Guardian and Washington Post have shared the Pulitzer Prize for public service journalism for a series of stories on US electronic spying. Their reporting was based on documents leaked by former National Security Agency contractor Edward Snowden.
The FBI and local police say they will pursue hate crime charges against the suspect in Sunday's deadly shootings at Jewish community sites in Kansas. Frazier Glenn Cross, 73, has been charged with murder in the deaths of three in a suburb of Kansas City. Cross founded several white supremacist groups and later ran twice for elected office on a white power platform. He appeared to shout "Heil Hitler" from the back of a police car as he was arrested.
10 inventions that owe their success to World War One.
Skywatchers in the Americas will be able to catch a rare celestial show as Earth's shadow falls across the Moon. On Tuesday morning (BST), the Moon changes colour from orange to blood red or brown in a total lunar eclipse. The total lunar eclipse unfolds over three hours from 06:58 BST (05:58 GMT) when the Moon moves into Earth's shadow. A little more than an hour later, the Moon will be fully eclipsed and shrouded in a red glow.
The crashes that changed plane designs forever. The tragedies that were part of a long and fraught process that has helped make flying as safe as it is today.
You may remember my mention of Kerry Packer, Australia's richest man at one stage (billionaire), who died in 2006. Packer was an adrenalin junkie... a gambler, womaniser and lover of fast cars. In the early noughties, he suffered a massive heart attack while playing polo, and was pronounced clinically dead for 8 minutes. After surviving, he was interviewed and said of the hereafter, "There's good news and there's bad news. The good news is there's no hell. The bad news is there's nothing." He was featured last night on ABC TV's Australian Story, and one of Packer's friends had been told a slightly different version of the hereafter experience by Packer himself: "There's no shining light, there's no one to judge you, there's no one there! You can do anything you fucking like!" The friend looked at him and said, "So what else is new?"
The friend also commented on Packer's gambling. At a casino somewhere, Packer made the headlines after losing $24m in a single night. The friend said casually, "According to Freud, you gamble because you want to lose. You want to punish who you are." Packer studied his friend's face for a while and said nothing. The friend was Phillip Adams.
Now here's a coincidence. FL Josh just wrote with a gambling story: Here is an episode of Wheel of Fortune from earlier this week, and a contestant has a chance to win $1,000,000 with ALL the letters in the puzzle in place, and he manages to screw it up. It reminds me of the old saying, "Snatching defeat from the jaws of victory." Then, as the game progresses, he has a chance to win a new car by naming a "person" but he goes for "Worlds Fastest Car," when the answer was "World's Fastest Man." Then, he has another chance to win by coming up with "On-the-spot decision," but he goes with "On-the-spot dicespin." I think this is the personification of the expression, "Three time loser."
Josh also mentioned the full eclipse: We are having a full eclipse of the moon tonight, starting in an hour and a half and I just went outside and checked and the sky is clear, not a cloud anywhere.
Yeah... well the local forecast was right about the cloud here in Taree. No full moon shoot tonight, I'm afraid.
However, I've just finished putting two trifles together (in two containers), using strawberry jelly, jam rolls, marsala and custard. But this time I also added a drizzle of golden syrup between the grooves of the jam rolls. Just a drizzle, no more. Yeah? Should be noice.
I'll check out Madeira next time I visit the bottle shop but it ain't cheap. Maybe the local bottlo has something on spesh. Alternatively, I could use a cheap port as a substitute (so they say in cooking blogs). Marsala, by comparison, is about $10 a bottle. Sherry is nice too but a bit subtle for trifle. How I long to top the trifle with grated chocolate or crushed nuts but my swallowing gear ain't ready for that yet.
Before I flee for another day, here's a link to a vid containing truly amazing footage of underwater scenes from Fiji and Tonga. The editing is great so that the scenes change often to keep the interest and surprises happening. Thanks Josh. Great stuff! Gary
April 14, 2014. Andrese is the dentist who's now attending to my oral cavity during the absence of Catrina who's swanning around the UK. And both of them are taking the place of Nancy who's at Darwin university. You'd think a bloke with a flash name like Andrese would have an equally flash surname but no; it's plain ol' Smith hehe. He's a nice bloke too... married to an American.
So what's on the agenda today? I have no idea. Shopping later but otherwise no plans other than assemble a bunch of pics into an album. The pics appeared on an auto newsgroup 10 at a time over a few days so I waited until there were no more before creating the album. There were no explanatory notes accompanying the pics (titled 'webfind') but they're all shots from the first half of the 20th century that feature cars or some other form of motorized transport in everyday life. I find those glimpses from the past quite fascinating. And here it is!
FL Josh sent this link to amazing new technology that also benefits from the trend towards miniaturization: Here is the Orcam, some new, mind boggling technology.
Since the assault and battery I suffered the other day with the hot and spicy version of V8 vegie juice, I'm becoming more used to spicy stuff, which is a good thing I think. In fact, I'm now able to tolerate (even enjoy) a tad more Tabasco in my noodles. It's the lingering after-taste that appeals to me, like you get with curries and chilli dishes. Mmmm! For a while there I was worried that I'd lost my fondness for spicy foods... like a smear of hot English mustard on a hot dog. Hot dogs, by the way, are much, much better if the bun is toasted and buttered, with a sprinkle of crispy bacon bits.
There's another crispy thing I can't wait to try. Peel and boil spuds till easily pierced with a fork, cool, break up roughly with fingers into bite-size pieces (the rougher the better) and place in oven tray. Spray with cooking oil and bake in moderate oven until rough edges are crispy brown. Too easy.
There was a Brit cook on telly a while ago who set up a stall outside a fish monger's shop in an attempt to convince passers by of the merits of cooking fresh fish rather than buying frozen fish in supermarkets or cooked fish 'n' chips from a shop. It was all too easy. He would take a fillet, slice a pouch (or use a whole fish), insert a few fresh herbs, sprinkle the fish with olive oil, wrap it in foil, and bake in an oven for 20 minutes. Voila! Foil packages work well in hot ashes from a camp fire or BBQ as well.
Back from shopping, which was a pleasant no-rush experience. Parking, even in busy lots, is no problem with the rear view camera. The only parking I find difficult is reversing rear-to-kerb between two cars. I can't see either one of them until I straighten up. Nose-to-kerb is easier but presents a problem when I reverse to leave and can't see approaching traffic on my left if there's a car beside mine. Reversing out of my drive is okay cos I get a clear view.
Oh... and did I buy any more movies? 'Fraid so. Hehe. Brad Pitt in World War, Life of PI, and Leonardo DiCaprio in Titanic. I think I've picked the eyes out of the bundles of 3-for and 4-for, but those at $20+ each are a tad expensive. I'll have to wait till the more popular movies are finally relegated to the specials department.
From the Beeb: Russia has urged the authorities in Kiev not to use force against pro-Russian protesters in eastern Ukraine. At a special UN Security Council session, Russia's ambassador Vitaliy Churkin called on Kiev to "start a genuine dialogue". But Ukraine's UN ambassador Yuriy Sergeyev said Moscow had artificially created the crisis in eastern Ukraine. Ukraine's government has promised military action against pro-Russian militants on Monday morning.
Teams searching for the missing Malaysia Airlines plane are to deploy a submersible for the first time. Search chief Angus Houston said the Bluefin-21 drone would be sent down as soon as possible to search for wreckage on the sea floor.
AE Housman: "Homosexuals"? Who is responsible for this barbarity?
Chamberlain: What's wrong with it?
AE Housman: It's half Greek and half Latin!
Chamberlain: That sounds about right.
That's about all I have for you today, boils and goils. Hope you enjoy the historic auto pics. Gary
April 13, 2014. Sundeeeeee! Nice start to the day too, sunny and mild.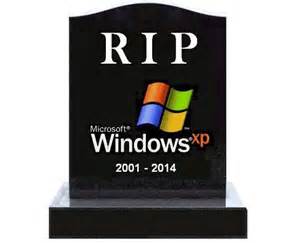 TX Greg wrote: Been so busy I forgot to mention that last Tuesday the 8th was the end of WindowsXP. I really feel they do that just to make us keep buying more stuff.
I noticed the headline on the Beeb a few days ago but didn't include it on Waffle. I can't remember exactly but I guess I had XP on the desktop which is long gone. The Toshie has Vista and the Acer has Windows 7.
Awesome pic of the lorikeet. That's a must for next years calendar :)
Thanks, Greg. It's getting quite a bit of attention on Red Bubble. After that episode, I now appreciate what those bird watchers have to go through to get their pics. The parrots are back again this morning making a helluva racket cos the bottlebrush trees are loaded with blossoms. Lorikeets travel in very large flocks, as do white cockatoos, but rosellas prefer smaller groups. Galahs (rhymes with 'blah blah') form family groups and pair for life. Black cockatoos are much rarer and travel in fairly small groups. I've seen them occasionally around here. You can tell when they're around because of their long raucous screech. The little guys, budgerigars, prefer the outback. Here's a shot of a lone budgie.
And that ends today's Aussie parrot lesson.
Actually, after checking all the discarded pics before deleting, I discovered something about lorikeets I was unaware of... the flock was comprised almost exclusively of rainbow lorikeets but there was also a green one which is called 'scaly-breasted' or 'green and gold'.
Roite, well there goes the full moon shoot on Tuesday. The forecast has been revised to cloudy all day and showers, so it'll have to wait for another day... month. One of the GNs wrote about becoming bogged after heavy overnight rain at Green's Lake (Victoria). She had parked too close to the lake shore. She heard the rain overnight but it wasn't until morning she realized that the water was ankle deep. A nearby motorhome was also bogged so she called the local farmer's co-op store and they arrived with a tractor. I remember my older bro telling me about his camping adventure as a young teen. He and his mates found a nice clear sandy patch out in the bush and set up camp. That night it rained and the sandy patch turned out to be a creek bed hehe. So, keep an eye on the forecast and avoid low-lying ground methinks.
From the Beeb: A UN report on climate change is expected to call for a trebling of the planet's use of renewable energy sources such as solar and wind power. The report is also expected to argue that the trend of increased carbon emissions can only be reversed if a "massive shift" in energy use is made. Scientists will also cautiously endorse a shift to natural gas an alternative to carbon intensive sources. The report will be released on Sunday at a press conference in Berlin. PJ is solar and gas, yeah?
One of Earth's closest neighbours, Mars is still some 56 million km away at its closest alignment, a journey of at least nine months. Rovers have landed on the Red Planet, probes have scanned its surface but what would it take to put a human on Mars? The BBC asked scientists from Imperial College London to design a mission which could take astronauts to the planet - and back. Watch the videos and explore this interactive to find out about their radical solution.
The death of the US shopping mall. Born in the 1950s, these temples of commerce were symbols of the US consumer culture – but many are now dying out. Jonathan Glancey takes a look.
I remember the first shopping mall in our area (and indeed Oz). It was a golf course called Roselands where I played a few times as a kid, and the developer decided to keep the name. It opened the same year I bought my first Beetle, 1965. The shops I remember most during the '50s, though, were the two corner stores just a few doors from our house, a grocer and a butcher. Quite often after school, I was given the billy can to get a half pint of milk if mom was running short... and sometimes half a loaf of bread. The grocery was run by three brothers and a sister who emigrated from Hong Kong. Jim became a doctor, John a missionary and Richard was content to run the business. Dunno what happened to the sister. Maybe she got married. They were such a regular part of the local scene I never thought of them as Chinese. However, when a Chinese family built a house on the only vacant block left in our street during my early teens, I saw them as being "foreign". Opposite the Chinese was a Russian family. My mother said they were okay cos they were 'white Russian' (whatever that meant) and not red ones hehe.
Those were the years shortly after the war that many migrants from Europe arrived here, including lots of Greeks and Italians. But they tended to gravitate to country towns where they bought farms/wineries or the outer lying suburbs where they operated market gardens. It wasn't until my early twenties that I met any Greeks or Italians. Oz has certainly undergone a dramatic cultural change since those days but it took some decades for Greeks and Italians (and other Europeans) to assimilate and eventually influence our cuisine (if you could call it that) and introduce us to wine. No self-respecting Aussie drank wine when I was a kid. The ladies might have an occasional sip of sherry or port but beer was generally the order of the day. These days Oz makes some of the best wines in the world. More recently, Asian cultures have had a huge influence on our national cuisine. Walk the length of Glebe Point Road, known for its proliferation of restaurants and cafes, and you'll find eateries representing just about every country on the planet. It's still a bit Aussiefied here in Taree, but we do have (the obligatory) Chinese, Italian, Indian, Thai, Greek, Lebanese, etc. Yep, Oz was a cultural backwater when I was a kid. The only condiments on our dinner table were Worchestershire sauce and tamaaaata sauce hehe. Or mint sauce with salad. No coffee... just tea. Chicken was once a year at Christmas.
Nonetheless, memories of my childhood are good. No major dramas. I loved riding my bike everywhere, climbing the big camphor laurel in the backyard and running around barefoot (which I still do). That's one thing I had plenty of as a kid... freedom. In many respects, I lived a Huck Finn lifestyle. And will again once PJ and I get going.
Barnacle Bill is back on Magnetic Island just off the coast at Townsville, Far North Queensland where cyclone Ita is dumping a load of rain along the coast. This is what he wrote on the GN forum a short time ago: 495mm (20 inches) in 24 hours, and 153mm (6inches) of rain from 7am to 8 am, at Horseshoe bay, Magnetic island. We get REAL rain here.. Bill
He's not kidding!
In case you (like me) didn't know: Alfred Bernhard Nobel, born in Stockholm in 21 October 1833, was a Swedish chemist, engineer armaments manufacturer and the inventor of dynamite. Although a dramatist and poet, he became famous for his advances in chemistry and physics, and by the time he died on 10 December 1896, he held over 350 patents and controlled factories and laboratories in 20 countries.
Eight years prior to his death, on 13 April 1888, Nobel opened the newspaper to discover an obituary to himself. Although it was his brother Ludwig who had actually died, the obituary described Alfred Nobel's own achievements, believing it was he who had died. The obituary condemned Nobel for inventing dynamite, an explosive which caused the deaths of so many. It is said that this experience led Nobel to choose to leave a better legacy to the world after his death. On 27 November 1895 at the Swedish-Norwegian Club in Paris, Nobel signed his last will and testament and set aside the bulk of his enormously wealthy estate to establish the Nobel Prizes, to be awarded annually without distinction of nationality. Nobel died of a cerebral haemorrhage on 10 December 1896.
The Nobel Prize is considered one of the most prestigious awards in the world and includes a cash prize of nearly one million dollars. The fields for which the awards can be given are physics, chemistry, physiology or medicine, literature and toward the promotion of international peace. In 1968 the prize field was extended to include economic science.
Roite, time to call it a day. Adios amigos. Gary
April 12, 2014. NC Art wrote with a spelling and geography lesson: That wine is Marsala—with an ARR. Masala is a different cat entirely. And not even a wine atawl. Marsala is named for the Italian town where it is made.
There ya go. I have a thing about people who omit the first 'r' from Nullarbor. On the other hand, I also have a thing about people who do a Harry, Larry and Barry and give Gary a second 'r'. And then there's the 'r' in arse that we don't pronounce hehe.
Picture of waterfall at Uluru is spectacular and displays eroded rock that took millennia to happen. I thought of the Grand Canyon in American west, carved over ages and deep enough to cause dizziness when viewed from the rim above. At bottom a large river which appears as a thin thread. Awesome!
Two thirds of Uluru is buried, which makes you wonder where the hell that giant monolith - surrounded by desert as far as the eye can see - came from.
Just back from taking a pic of the bottlebrush outside on the footpath near the roundabout (council planting). It's just come into autumn bloom and is attracting the bees as well as the lorikeets. Pretty things.
There was a story on telly the other night about a looming shortage of honey in Oz due to the recent drought and lack of flowers for bees to pollinate. That's not the case around here though, and I noticed yesterday that the shelves at the supermarket are well stocked. I buy the upside down squeeze pack which works a treat.
I heard lots of squawking outside and figured the lorikeets were feeding on the bottle brush so I hastily grabbed the Nikon, replaced the regular lens with a telephoto and rushed outside. Naturally, they all vanished at the sight of me. But I persisted and visited a number of bottle brush trees down the street trying to get a shot. Not so easy - those parrots flit all over the place, and when they do pause for a nano second it's upside down or with their heads buried in a flower. Either that or they synchronize their rapid departure perfectly with my shutter-button finger and blur the image. But out of 62 shots I did manage a few reasonable ones but only one good one. It was the 9th but I kept going to see if I could do better.
I rather like that shot cos it's in the context of the lorikeet's natural environment and feeding habitat. The birds did get used to my presence after a while but I ran outta patience. Some other time I'll sit on a camp chair and use burst mode as well as the tele adaptor to get even closer. I contemplated cropping that pic but then decided I preferred it in its entirety.
Interestingly, Terry from Red Bubble commented: Superb capture Gary, I have these little gems come into my yard but I`ve never been able to get a shot this good. Yeah, I know what he means... damn things jump around like feathered fleas.
Actually, I managed two good shots. Less bird in this one but more flowers and atmosphere. It looks as though I've been trudging through dense bottle brush forest for weeks in seach of a rare species of bird and finally captured a glimpse.
During the shoot I used 'sports' mode cos auto focus recognizes a moving target and aims at that rather than the rest of the scene. It also selects a faster shutter speed than other modes.
FL Josh wrote: I can't imagine you running into any snobbery on your odyssey stemming from those with posher rigs. If people have a problem rubbing shoulders with the masses, camping in public campsites is not where they will go. When I was growing up, we had a boat and when we would tie up in various marinas, there would be boats far bigger and boats far smaller, and everyone got along fine.
I also had my Model T Ford and entered old car meets where I would rub shoulders with garbage collectors and zillionnaires, and again, we had a common interest that made our other differences moot.
That's true - a common interest bridges all kinds of cultural and social divides - fishing, philately, numismatics, camping, photography, you name it. Josh also commented on Art's contribution: NC Art's pictures were indeed, among the best I have ever seen. I couldn't help but think if the pictures had had captions about the photographer, the one of the tiger racing through the water towards the camera would have had a caption saying it was the last photo taken by "the late" Joe Smith!
From the Beeb: The White House has refused to issue a US visa to Iran's nomination for UN ambassador, who was involved in seizure of the US embassy in 1979. The decision in effect bars Hamid Aboutalebi from taking up the role at the UN, which is based in New York. Mr Aboutalebi was linked to the student group that took dozens of people hostage at the embassy in Tehran.
US Treasury Secretary Jacob Lew has urged other countries to contribute more to the economic rescue of Ukraine. He told the International Monetary Fund (IMF) that Ukraine's "sizeable financing needs" meant other nations must add to its $1bn (£597m, 720m euros) loan guarantee.
Residents in northern Queensland are surveying the damage after Cyclone Ita brought winds of up to 230km/h (140mph) to north-eastern Australia. Some communities have been left without power, with damage to some buildings, but no casualties have been reported. The cyclone made landfall at Cape Flattery but weakened as it travelled inland, Australia's Bureau of Meteorology (BOM) said. It is the strongest storm to hit since Cyclone Yasi, which struck in 2011. You won't find me or PJ up there during the cyclone season, thank you very much.
Lithium: A metal that floats on oil and powers our phones. Lithium, a key ingredient in lightweight batteries, is already powering the modern world, and could be key to getting the world to reduce its reliance on fossil fuels.
An Australian chef has won this year's award for the best Pizza Margherita at the World Pizza Championship in Italy. The annual competition, which took place this year in the Italian city of Parma, attracts hundreds of entrants from around the world. The international panel of judges decided the winner in the traditional Neapolitan pizza category was Johnny Di Francesco, who runs a restaurant in Melbourne, Il Sole 24 Ore newspaper reports.
More and more Americans are building tiny houses, drawn to the prospect of financial freedom and a smaller ecological footprint. Gianna Palmer reports on the growing movement from Charlotte, North Carolina. Mine's called PJ. The Little House with a Thousand Backyards.
Yep, it's amazing what you can do with a small space. The Courier's tray is 6' x 8', which ain't big by any stretch. But once you increase the width to 7', put four walls around it, add a roof and a 'loft' over the driver's cab, that small space is totally transformed and made a helluva lot more usable - not to mention weatherproof. Attach an awning or two, some outdoor furniture and voila, home sweet home.
If I removed everything from inside PJ and the storage boxes and spread it all over the lawn, most people would tell you there was no way in the wide world that all that stuff would fit inside the camper hehe. PJ's layout is very clever indeed, and makes brilliant use of cupboards, shelves, seating and bench space, with plenty of living space left over. I think the most important trick I learned on shakedown #1 was stowing the outdoor furniture in the driver's cab overnight so that it doesn't intrude on living space.
And here it is wrap time again. Thanks all y'all for the contributions. Gary
April 11, 2014. Cloudy and showery today. Oh well... Lindsay bitched about the weather cos he went shopping this morning. He doesn't take an umbrella, his reasoning being "Don't use 'em". I have three.
I used Masala in my latest trifle which has worked well! Mmmmm. I used it in my first too but that was with the wrong cake... some leftover plum pudding which was too dense and also full of fruit which caught in my throat. So this time I used it with sponge - just the right amount to moisten the cake without making it too wet. So then I checked Masala on Google and discovered that it's a fortified wine made in Portugal, as is Madeira. So I might try Madeira next time. Sherry is nice too but a tad bland. Sherry is better by the glass where it doesn't have to compete with jelly and custard. Incidentally, Madeira has an interesting place in early American history.
I didn't pay attention to the label last time I bought V8 vegie juice and got the hot and spicy by mistake. Whoa! HOT! First sip set fire to my mouth but, interestingly, the second sip was less aggressive, and the third even less again. So I guess the taste buds settle down after the initial assault. I was definitely a hot and spicy fan before the radiation business and having all my teeth pulled, so I guess I kinda gotta work up to it again.
Piccies time! NC Art sent this link to Some Of The Best Shots You'll Ever See!
It's been raining in parts of the Oz outback. Even a place like Coober Pedy out in the desert is flooded! But most interesting is a story I saw on telly last night about visitors to Uluru during the rain. There were waterfalls in many of the rock's crevices which have taken millions of years to be weathered by wind and rain. At one spot, a large pond had formed at the base of one such waterfall, something rarely seen. In fact, only 1% of visitors to Uluru have seen the rock during heavy rain, in which case I hope to get lucky and be one of those 1%... with Nikon handy, of course. Here's a pic of Uluru during a lightning storm.
Movies I've heard about but never seen. Yep, I treated myself to another 3 for $20, and I think I've exhausted that lot. What's left are pretty ordinary. Rabbit Proof Fence is a true tale of 3 Aborignal girls who were taken from their homes (part of the 'stolen generation') and sent to a remote settlement 1500 miles away. They escaped and followed the dingo fence back home. 2001 A Space Odyssey is another movie I've not seen (where have I been???) and, would you believe, James Dean in a Rebel Without a Cause. Gotta lotta catching up to do, yes?
FL Josh wrote: On the story about the high school boy who went on a stabbing rampage among his classmates, you said "Are you thinking what I'm thinking about the difference between knives and guns?" I bet I am. . . that passing gun laws would actually do nothing towards protecting the public because those intent on hurting others will just find something else to accomplish their evil." Good observation, Gary. It's like I can read your mind. And this is a good time to think about such since April 15th is the anniversary of the Boston Marathon bombing that killed 3 and injured 264 others using a bomb in a school backpack. Gun laws wouldn't have prevented that any more than they would prevented the stabbing.
Sorry, Josh. I was thinking that all the victims survived with their lives. If the assailant had used a gun or guns, many (if not all) would have died. But you knew that, anyway. In my opinion, guns are what brought civilization to the wild west, and then brought the wild west back to civilization.
From the Beeb: The US has accused Russia of using its energy supplies "as a tool of coercion" to try to control Ukraine. It comes after Russia warned European countries of possible gas supply cuts because of Ukraine's energy debts. Separately, Nato has defended the accuracy of satellite images which it says show Russian troops massed on the Ukrainian border in recent weeks.
Australian leader Tony Abbott says authorities are confident that signals heard in the Indian Ocean are coming from the "black box" flight recorders of the missing Malaysia Airlines plane. Speaking in China, he said teams had "very much narrowed" the search area. An Australian vessel has on four occasions picked up signals consistent with flight recorders, officials say. That will no doubt impress the Chinese during Abbott's free trade negotiations.
The Australian state of Queensland is braced for the arrival of Cyclone Ita, a category-five storm set to hit its far north coast. The storm is expected to hit the Cape York peninsula later on Friday, bringing very destructive winds.
A little while ago, I was getting a dose of inner shedness and listening to music when a large motorhome followed by a large caravan went past. They sure made PJ look a tad humble hehe. It made me wonder what it'll be like being surrounded by such lavish RVs at various camp spots - like a kid in rags turning up to school on the first day with all the other kids dressed in their fancy new uniforms. Normally, I'm not bothered by such comparisons but it depends on the attitude of the others. If they get snobby I suppose it could become somewhat awkward.
Actually, reading the GN forum regularly has opened my eyes to a number of realities... that it's not all beer and skittles out there on the road. I think it's unwise to have unrealistic expections at first. Nothing's perfect. However, overall, I get the impression that the good far outweighs the bad. Meanwhile, in regards to me and PJ, what ya see is what ya git, and if that bothers ya, get nicked.
I mentioned that I was a bit peeved at having to wait till after Easter to have the awning fitted but I suppose that gives me an excuse to try the smaller one over the back door. It's not a wind-out so I'll have to use my virgin collapsible ladder to lift it out of its cradle and drop it down. I'm thinking that I'll camp for a night or two at Wingham Brush for the full moon next week (15th). Forecast is for cloud with possible shower so maybe I'll get lucky.
And that's Friday's Waffle! Gary
April 10, 2014. At last! The NRMA insurance hassle has been resolved, the excess paid, and the repairer notified that he can go ahead with the awning repair and charge it to NRMA. Trouble is, he has to order an awning and won't be able to do the installation until after Easter. Dammit. What a marathon effort sorting out this mess has been! Gotta watch those power poles in future... as well as shop awnings, tree branches and low-flying wombats.
Been a busy morning farting around, and then dusting and preparing the stereo and CD collection for pick up. Damn things were so dusty I had to take them outside to dust hehe. For a minute there, I thought the traffic was gonna have to slow down due to poor visibility. $85 for the lot is a joke but at least they'll be outta the place before I leave on the Odyssey. Meanwhile, the whole CD collection (including Joao's contributions) is safely backed up on the external HD as well as a couple of flash drives.
The buyers have just left. Anyone seen the movie Deliverance? Hehe. The wife had a club foot or something and hobbled in, followed by hubby with a mop of long tangled hair matched by an equally long and tangled beard. Country bumpkins, but they were cool. They had an identical Akai but their fish tank exploded and wrecked it (plus furniture), so they wanted to replace it with the same model. No worries. AND they just happened to be passing through Taree on their way to the Hunter Valley for an Italian cook-up. How's that for coincidence? The moment they saw the Akai on eBay they grabbed it.
So while hubby and friend loaded the Akai and CD boxes into their trailer, Ingrid told me all about what she's cooking for the Italian Food Fest - all genuine Italian dishes including slow-baked lamb and authentic Italian pizza. I told her to change the subject because I have no teeth and can't eat proper food, but she ignored me and kept telling me about the recipe ingredients and cooking methods. Aaaagggghhhh!
From the Beeb: Millions of Indians have begun voting on the first big day of the general election pitting the ruling Congress party against the main opposition BJP. Polling is being held in 91 seats in 14 states, including in the capital Delhi and the key state of Uttar Pradesh. The nine-phase vote began on Monday and will conclude on 12 May. Votes will be counted on 16 May. More than 814 million Indians are eligible to vote in the polls.
Teams are focusing on a narrowed search area in the hunt for the missing Malaysia Airlines plane, after more signals were heard earlier this week. Thursday's search was set to involve up to 14 aircraft and 13 ships, the agency co-ordinating the search announced.
An attacker armed with two knives has gone on a rampage at a high school in the US state of Pennsylvania, stabbing 21 students and a security guard. A suspect, named as Alex Hribal, 16, was arrested at Franklin Regional High School in Murrysville near Pittsburgh, police said. He was later charged with four counts of attempted homicide and 21 counts of assault. The wounded, some with serious stab wounds, were as young as 14. All are expected to survive. Are you thinking what I'm thinking about the difference between knives and guns?
FLJosh wrote: Every now and then you run into someone who you know is going to be fantastically successful based on personality alone, and here is one such person, 14 year old Canadian child prodigy, Daniel Clarke Bouchard, on the Ellen Show (April 8, 2014), playing his own creation, Olie's Boogie Woogie. Although he is a child prodigy pianist, his other love in life is hockey.
How infectious is that kid's sheer joy and enthusiasm? He's got my vote!
So there ya go... all insurance done, stereo sold, still got a few bob left over and there's food in the fridge. And Stan mowed the lawn. Things could be worse, ya know. Hehe. Gary
April 9, 2014. As you may remember, I tried to auction my stereo and CD collection some time ago on eBay and failed. Last week I tried to sell it at a "buy now" price of $85 or best offer. It failed too. But eBay offered me free re-listing. And today, a lady paid the $85 and will collect it tomorrow. There ya go.
FL Josh sent "The Best Classroom April Fool's Joke Ever". I'll have to watch it again cos I didn't get it. As soon as it starts, pause it and left click on the little gear in the lower right and turn off subtitles (not annotations), otherwise you will have Spanish subtitles on top of the English annotations.
Josh also sent this: 1936 Stainless Steel Ford
In 1935, officials at Allegheny Ludlum Steel Division and the Ford Motor Company collaborated on an experiment that would become a legacy and a tribute to one of the most dynamic metals ever developed. Allegheny, pioneer producer of stainless steel, proposed the idea of creating a stainless steel car to Ford. The idea took shape in the form of a 1936 Deluxe Sedan.
That car became the centerpiece of a campaign to expose the public to the new metal and its many uses. This is the 1936 Ford Tudor Sedan built for and owned by Allegheny Ludlum Steel. This is 1 of only 4 in existence and is the only one currently in running & in road worthy condition.
The jaw-dropping beauty offered here is one of that tiny production run, recently restored by Lon Kruger, one of the world's best restorers. The car utilizes the standard 221/85 HP flathead mated to a 3-speed manual and working Columbia overdrive, and has been driven just 18 miles since its restoration.
The only privately owned example, it won 2 trophies at the Early V8 Club Auburn 2009 event, 1st Place at the 2009 Hershey AACA (Antique Automobile Club of America) event and was nominated for the 2009 AACA Car of the Year. FYI, the car was insured (we were told) for the trip to Louisville via covered trailer, for 1.5 million dollars.
The car is in exceptional condition, with the interior and even the frame looking great. Each of the 4 cars was driven over 200,000 miles before being removed from service.
These cars were built for Allegheny as promotional and marketing projects. The four top salesmen each year were given the honor of being able to drive one of them for one year. The V-8 engine (max 85 hp) ran like a sewing machine and was surprisingly smooth and quiet.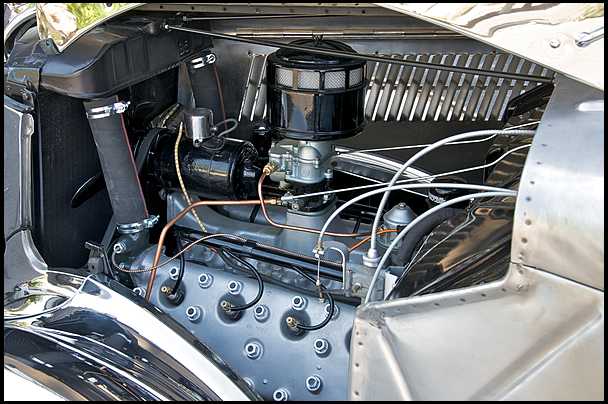 We were also told that the dies were ruined by stamping the stainless car parts, making these four cars the last of this model ever produced.
______________________________________________________________________
I felt better yesterday and again today. Not sure what did it but my chest is a lot clearer and I don't tire as easily as before. Maybe it's a few subtle changes to my diet recently. Who knows? But it's welcome.
From the Beeb: Teams searching for the missing Malaysia Airlines plane have reacquired signals that could be consistent with "black box" flight recorders. An Australian vessel heard the signals again on Tuesday afternoon and evening, the search chief said. Signals heard earlier had also been further analysed by experts who concluded they were from "specific electronic equipment", he said.
The Bradley Timepiece, a watch designed for blind people and named after a Paralympian gold medallist who lost his sight in Afghanistan, is up for design of the year at London's Design Museum. But it's mostly being bought by sighted people, writes Chris Stokel-Walker. The watch has a stark, circular titanium face. There are no hands. There are no numbers. Around a groove in the centre a ball-bearing rotates to mark the minutes. Around the edge of the watch, another ball bearing rotates to tell the hours. What a lovely looking thing!
Senior officials from the EU, Russia, the US and Ukraine are to meet next week to discuss the worsening situation in Ukraine. It will be the first four-way meeting since the crisis erupted. EU foreign policy chief Catherine Ashton will join US Secretary of State John Kerry, his Russian counterpart Sergei Lavrov and Ukraine's Foreign Minister Andriy Deshchytsia.
A New York man has been exonerated over a 1989 murder as part of larger review of questionable convictions. Jonathan Fleming, now 51, had been on holiday in Disney World at the time of the murder and had documents supporting his alibi, but he was still convicted. Since then, a key eyewitness has recanted and prosecutors turned up a hotel receipt proving he was in Florida hours before the killing. "I feel wonderful," Mr Fleming said after a judge dismissed his case. I'm sure 'wonderful' is not all he feels after having 25 years of his life stolen.
A battery that can charge in under 30 seconds has been shown off at a technology conference in Tel Aviv. Israeli start-up StoreDot displayed the device - made of biological structures - at Microsoft's Think Next Conference. A Samsung S4 smartphone went from a dead battery to full power in 26 seconds in the demonstration.
The little car that saved Mazda from becoming an historical footnote. A great read.
In Oz, the Mazda 323 was sold by Ford as the Laser which was very popular. The Laser was replaced by the European Ford Focus in 2002. It is currently offered in sedan and hatchback variants with a 2.0L engine, which is one of the market leaders in sales. PJ is a rebadged Mazda. Bluey (Nissan) was the first Japanese car I ever owned and PJ is the second (not counting Das Busse (Toyota) which was a BIG mistake).
GN Rocky Lizard (John) posted some more pics of his travels... this time in NSW. Gives me something to look forward to!
But for now, it's Hooroo time! Gary
April 8, 2014. What a hassle last night with NRMA insurance. Wasted an hour online trying to lodge a new claim for the damage caused by the awning to two parked cars so gave up and went back to the phone queue. Finally, spoke with a rep who took ages to comprehend the situation and the existence of a claim already made for the awning replacement - made worse by my inability to speak properly without teeth.
In the end I was given a claim number. However, I got the distinct impression that the awning won't be fixed until the insurance excess of $650 is forthcoming. I'm already late by a few days with the payment for comprehensive insurance on the ute (but I have a cover note). Pay day is this Thursday so I'll pay it then. Last pay was gobbled up by compulsory third party insurance and the new radiator, a total of almost a grand.
Soooooo, where am I gonna find the $650 excess? This morning I got an interest-free advance on the pension. I didn't wanna do it but I don't have a choice. At least all the big bills will have been taken care of and, apart from the power bill next month, it'll be smooth sailing for a while so that I can build up my savings. I would like a second AGM battery for PJ but that can wait. Whew! Fiscal hoops - but I made it.
How much have I spent since the camper arrived in May 2012? Don't ask. I don't wanna know hehe. It's not important. It's not a case of what I've spent but what I've got, and what it will enable me to do with the rest of my life. That's what counts. It's an investment in my future. Admittedly, certain things could have been done more wisely and more cheaply, but that doesn't matter either. The great thing about pensions is that they're like a running tap that keeps filling the bucket hehe.
My pension will be reduced a little when I hit the road because of the loss of a subsidy or two. But that won't matter either. Once I use the rest of my time here in Taree to reduce my credit debt, I'll save a bloody stack on interest payments so I won't have that to contend with any more. Yeah? So it's all good. Things are lookin' up.
I rarely lose my cool but I did yesterday when I was frustrated with trying to lodge an insurance claim online... which prompted NC Art to send this:
LEARNING TO CUSS!!
A 6 year old and a 4 year old are raking the yard.
The 6 year old asks, "You know what? I think it's about time we started learning to cuss". The 4 year old nods his head in approval.
The 6 year old continues, "When we go in for breakfast, I'm gonna say something with hell and you say something with ass".
The 4 year old agrees with enthusiasm.
When the mother walks into the kitchen and asks the 6 year old what he wants for breakfast, he replies,
"Aw, hell, Mom, I guess I'll have some Cheerios".
*WHACK!*
He flies out of his chair, tumbles across the kitchen floor, gets up, and runs upstairs crying his eyes out, with his mother in hot pursuit, slapping his rear with every step. His mom locks him in his room and shouts, "You can stay there until I let you out!"
She then comes back downstairs, looks at the 4 year old and asks with a stern voice, "And what do YOU want for breakfast, young man?"
"I don't know", he blubbers, "but you can bet your ass it won't be Cheerios!"
From the Beeb: The US has voiced "great concern" about heightened tension in eastern Ukraine after pro-Russia demonstrators seized government buildings in three cities. US Secretary of State John Kerry told Russian counterpart Sergei Lavrov in a phone call that any Russian efforts at destabilisation "would incur costs". They discussed the possibility of direct talks within the next 10 days. It's a pretty cool way to win an argument - target the soft underbelly-the economy.
An Australian vessel searching for the missing Malaysia Airlines plane has detected signals consistent with those from "black box" flight recorders. The Ocean Shield ship picked up the signal twice, once for more than two hours, said Angus Houston, a retired air chief marshal leading the search. He called it the "most promising lead" so far.
Hollywood's top box office star of 1939, washed up and bankrupt by 1962, Mickey Rooney led a life as dramatic as any of the 200 films to his name. But by the end of his long career, the small but powerful actor had emerged as one of the more spirited survivors of the studio system.
Japan and Australia have agreed a trade deal which will see them lower tariffs on imports of key products. Japan has agreed to lower duties on Australian beef and raise the duty-free quota on cheese - Australia's biggest dairy export to Japan. Australia will cut tariffs on Japanese electronics, cars and white goods. The deal, agreed after seven years of negotiations, is expected to be finalised later this year when Japan's prime minister visits Australia. Australia's Prime Minister Tony Abbott, who is currently visiting Japan, called the pact a historic one. Yes, it is, and a good one for Oz. It'll be interesting to see what else this government can pull out of the fiscal hat that's good for our economy.
Openbay, where mechanics bid for your business online. Repairs at the tap of a button.
Years ago, I discovered an Aussie kid from Queensland, Cody Simpson, who could sing and play the guitar quite well so I subscribed to his Youtube channel. At that time, most of his vids were recorded in his bedroom at home. During the next few years, I didn't hear much about him except that he'd had some success in the US. But I had NO IDEA he was now a contestant on Dancing With The Stars!
When FL Josh wrote and mentioned Cody Simpson, I thought he must be referring to a different Cody Simpson, but no. Same blond haired banana bender from QLD, but a bit older:
I just finished watching Week 4 of Dancing With The Stars (DWTS) and was impressed with how wholesome 17 year old Cody Simpson is. His family moved here in mid 2010 and one or the other of his parents are with him all the time, which he accepts, and sees the problems his tour mate, Justin Bieber has gotten into.
Here is his Foxtrot this week on DWTS.
And here he is arriving for rehearsal and his interaction with the Paparazzi. A BIG difference from Justin Bieber's reaction with them.
And here is his competition on DWTS, Olympic Star Meryl Davis, dancing a Foxtrot last week. She is flawless.
And here is Meryl's dance this week, an Argentine Tango. Ballroom dancing just doesn't get any better than this. This week, the competitors did not dance with their usual partners, but instead danced with a partner picked by audience vote. Meryl got the brother of her regular partner.
[The spell checker didn't recognize Foxtrot!!! Hello!!!]
Remember when the posh ladies wore fox furs around their shoulders, complete with head, tail and feet? How gross. I'm also reminded of my ballroom dancing days during my early teens. Can't remember why I attended ballroom classes - probably at my mother's urging - but I was offered a job as instructor at the local school so I must've been okay. Later, I attended Arthur Murray's studios in Sydney to learn latin dancing. Cha cha cha!
Actually, my ballroom days came in handy when I was asked to escort a young lady to the official crowning of Miss Summerland when I worked in Lismore in 1970. And she won! So I was dancing with the best sort in the joint... and so was she. Hehe.
No dramas today. How about that? Did one small job on PJ - I bought a pack of large plastic tent pegs, one of which I intend to use as a peg to hold the antenna pole in place. Once the peg has been hammered partially into the ground, the pole can slide over the top. But the pegs have a hook at the top which makes it too wide to slip inside the pole. Soooo, after deliberating how to remove the hook without damaging the peg, I grabbed my unused, virgin saw, used the folding steps as a saw horse, and sawed it off! All done in a few minutes.
And now it's off to telly land and a bite to.... er, scratch bite... eat. Gary
April 7, 2014. Well, Catrina is off to England, Wales and Ireland for a while so I'll have Andre poking around in my oral cavity for a few weeks. I was sure Cherie said 7.45 this morning so I was there before the clinic was open. Bugger! Never mind. When I returned at 8.45 the waiting room was chockas so Cherie gave me an office chair to sit on... with wheels... and I was tempted to hurtle down the hall at full speed into the surgery when I was called. But I kept myself noice. Hehe.
TX Greg wrote: Speaking of advertising, have you noticed all the ads on the GN forum? Perhaps you should look at making an ad spot at the top of the waffle. Hey a few bob is better than no bob :)
They even have their own store: Didn't I suggest something like that years back with the coffee mugs?
Yes you did. And I explained that I don't have anything to sell at the mo, and won't until I hit the road and start accumulating pics and stories. The GN forum has a membership of about 5,000 plus heaps more visitors who come in for a looksee. It's a very specific audience so advertisers can target their market. I mentioned Steve Starling the other day, my fisherman mate. He's got a stack of sponsors but he's been around for many years as a television personality and journalist.
Last night, I received an email from incomedia about a program called Website X5 Evolution 10 that builds websites with blogs, e-commerce stores and all the stuff I'll need to run a biz online. It's a bit early yet but something like that would be handy down the track when I'm ready. As to sponsorship, well, that depends on a lotta things. Nikon might be appropriate at some stage. Or even denture cleaning tablets hehe.
In the meantime, of course, I'm still buggerizing around getting my act together. Even Scott's expedition to the Antarctic took less time than the Odyssey. But I'm quite confident that opportunities will evolve as I clock up the miles. The main thing is to set the machinery in motion and then take advantage of situations as they arise. I have a rough idea of what I wanna do but fine-tuning can wait.
Back from shopping (Monday's are great... not many shoppers and plenty of street parking) and splurging $20 on another 3 movies. Unforgiven with Clint Eastwood, Gene Hackman, Morgan Freeman and Richard Harris (4 Academy Awards), The Wild Bunch with William Holden, Ernest Borgnine and Robert Ryan, and Out of Africa with Meryl Streep and Robert Redford (7 Academy Awards). Oldies but classics. 3 for $20 is great value. I have a lotta catching up to do after not having been a movie watcher for several decades. I might even become a fan!
I also bought some meds including a replacement purple puffer thingy - regular cost almost $80 but I paid $6 cos it's subsidized. Ditto all my other meds except one; the one I take for the gum business. Thank god for medicare.
From the Beeb: Indians have begun voting in the world's biggest election, with the ruling Congress party pitted against the Hindu nationalist BJP opposition. The nine-phase ballot begins on Monday and concludes on 12 May. Votes will be counted on 16 May. More than 800 million Indians are eligible to vote in a poll dominated by corruption and high inflation. A new anti-corruption party, the AAP, is also contesting the elections after a spectacular result in local polls.
Pro-Russian protesters have stormed government buildings in three eastern Ukrainian cities. In Donetsk, Luhansk and Kharkiv they clashed with police, hung Russian flags from the buildings and called for a referendum on independence. Ukraine's acting president called an emergency security meeting in response.
Mickey Rooney, the child actor who became the world's top box-office star, has died aged of 93, US media report. Born in Brooklyn, he began his career aged 18 months in his parents' vaudeville act, Yule and Carter, and never really retired. By 1965, Mickey Rooney's 200 films had earned more than $3bn (£1.8bn) around the world. Sir Laurence Olivier once referred to him as the greatest film actor America ever produced.
Fancy that... Rooney bankrupt by 1962 despite those mega-earnings. Makes my story look a bit ordinary.
Roite, the NRMA claims bloke called and the quote for the new Fiamma awning is right to go... EXCEPT... it's the ute's insurance that covers the damage to the two parked cars, which means I have to lodge a second claim. Why wasn't I told that when I lodged the first claim a month ago? "There appears to be some confusion," was the bloke's answer. Thanks very much. Then he offered to transfer me to the appropriate department before discovering they had a looooooooong queue of callers waiting. He makes out calls and doesn't have that problem. So I'll try them later tonight or early tomorrow. Once the second claim is sorted, I should get the nod to have the awning fitted.
I'm late! Thought I'd bypass the queue and do the claim online. Spent and hour buggerizing around only to be told there were mistakes and to re-enter this and that. Tried every which way but the damn thing still bitched. SO FUCK IT. I'll phone later tonight. Gary
April 6, 2014. I found the answer to the perennial question why did the chicken cross the road? this morning on the GN forum.
And today marks the end of daylight saving for another season in Oz... last light is about 6pm now. But the weather will continue to be warm for a few months yet.
FL Josh wrote: You said, "BTW, Josh, were you 'out and about' in the Bentley?" Indeed I was. Driving it is indescribable. And what makes it even sweeter is I got a major case to work on that is going to take about two solid weeks of my time and will net me just over $50,000. It's like getting the Bentley and all it's expenses for several years for free. "All things come to he who waiteth. . . if he worketh like hell while he waiteth!!!"
Dunno about that. Advertising is another business where fortunes can be made, but I had no idea what I was worth. I still charged by the hour rather than for the ideas. Silly me. I spoke to the bloke who took over my job at 2UE one time after he had also gone solo. He was charging $1500 for a 30-second radio script and I was charging $50. 10 scripts a week would gross me $500 and he'd make $15,000. And yet he was the bloke who was bagged by Barry Humphries (aka Dame Edna) for writing crap while I was praised to the heavens for my scripts. *Shrug*
Anyway, after portraying the Bentley as "driving it is indescribable", it's a good thing Josh doesn't write a motoring column hehe. I used to write radio ads for Jaguar. So how do you create images of walnut, leather, sleekness, smooth power, style, etc, on radio? You use lots of descriptive phrases and a voice with an upper-crust, baritone English accent that pours forth like honey from a jar. Tim Elliot was his name. What a voice! In fact, Tim's delivery was so good, there was no need for effects or music.
The thing about the ads I wrote was that they could run for months on air and still sound fresh. Some of them ran for years. Did I get residual payments or royalties? No. What a twit.
Sooooooo, after a few years of gathering material on the Odyssey for publication, how am I gonna market it for max benefit? I dunno - yet. But I ain't gonna sell myself short again, that's for sure.
From the Beeb: Afghan and Western leaders have praised the turnout in Afghanistan's presidential election, describing the vote as a success. It is the strife-torn nation's first transfer of power via the ballot box. More than seven million Afghans out of an estimated 12 million eligible voted in the poll, the country's electoral commission says. But there are reports of ballot paper shortages and sporadic violence from across the country.
Australia has expressed hope that a pulse signal detected in the southern Indian Ocean could be linked to the missing Malaysia Airlines plane. But Prime Minister Tony Abbott also warned this was "by no means certain". Australian authorities are considering sending planes to the region where the signal was picked up by a Chinese ship.
Prince George will be in the spotlight as he heads to Australia and New Zealand with the Duke and Duchess of Cambridge. What can they expect on their first engagements as a family of three? He's not even nine months old yet, but he's already making a big impact. George Alexander Louis is about to embark on his first official foreign tour - with his mother and father too, of course.
Each week, the Beeb publishes photos sent in by subscribers. The theme this week is 'different angle' and there are some interesting images, particularly one that uses colored pencils and a pencil sharpener. Next week, the theme is 'growth' so I submitted one of my pics. Stay tooned!
There's a thread on the GN forum about people with rellies (current or past) in the pub biz, and one of the comments was about a town of about 700 with three pubs in the main street hehe. Anyway, it reminded me of buying my little house in Glebe back in '78. I went for a walk up the road to see what the locals were like and went into the Ancient Briton Hotel. It was mid afternoon and the bar was occupied by lots of women with curlers in their hair, shelling peas on newspaper, and having a beer and a natter with their friends and neighbors. Most of them were puffing away on ciggies as well. If only I'd taken a pic! That was just before the Yuppie invasion by people like me. Here's what the Ancient Briton looks like today.
I've been thinking more about this year and the fact that I don't see the specialist in Sydney again till September, which means the Odyssey ain't gonna happen for a while. Even if he gives the nod for a set of dentures, they'll take a while to organize. Sooooooo, I really need to make a concerted effort to do a mini Odyssey at least once a month, even during winter! Winter's not all that cold up here anyway, and it's a great excuse to have a camp fire going. Maybe a communal camp fire with a few other campers. So, less talk and more action! Roite? PJ's all set to rock and roll (or will be once the new awning is fitted) so let the music play!
Besides, I need to get out more with the camera, and have stuff to write about.
Meantime, it's time to call it a wrap. Gary
April 5, 2014. A bolt of lightning knocked out power last night for half an hour, then it rained for a couple of hours. So this morning I checked to see if the cheapie radio aerial Andrew installed a while back had leaked into the cab. Nope, not a drop. It had leaked a couple of times before I realized what was happening. The telescopic aerial is not waterproof so water leaks down the rod and travels along the wiring where it drips onto the floor. Soooo, bright spark here thought about it, pushed the aerial down to about an inch above the fender, and sat a spare rubber foot (I bought a couple for my walking cane a while ago) on top. Bit wobbly but it's enough to stop the rain. I just have to remember to remove it and replace it each time I use the car.
Those walking canes (I have 3) were just a few bucks each from a $2 shop. I got the idea after trudging through the bush on one of my mini Odysseys in TT where I used a stick I found. It made a big difference to the rough going and was also useful for knocking down spider webs strung between trees along the walking tracks.
FL Josh brought my attention to a boo boo. I said the cars in the assembly line pic the other day were Pontiacs when, in fact, they were Oldsmobiles. Oops! Slip of the whatever. Even the photograph is titled 1952 Oldsmobile assembly line. However, Josh did go searching for a Pontiac hood ornament and came across this web site operated by a keen photographer... the guy has some excellent pictures. His choice of the angle he takes his pictures from is exceptionally good and I thought you would find it interesting. He has other pages listed near the top.
Indeed he does! He obviously thinks very carefully about the content of his images and composition. Very nice. Josh also added: I was out and about today and stopped by the building my father built in 1958 for his manufacturing business, and which we sold in the early nineties, just to see who the current tenants are and share with them some of the history of the building. It currently is a business that sells things to students attending a nearby college aimed at aviation and people becoming pilots. A student came in who was obviously Asian and he, the guy behind the counter, and I got to chatting about world affairs and the student was from China and was telling about things different in his country compared to here. The guy behind the counter constantly brought Russia into the conversation and I asked why. He said he was from Russia. He had come to the US twelve years ago, when he was 14. He also attended the school. The thing I found most interesting was the Chinese guy said they are not allowed to own guns in China but if the laws were changed and they were, the 22 provinces that make up the Peoples Republic of China would, within a week's time, take up their arms and declare independence.
Then China would be embroiled in a civil war and stop manufacturing cheap goods for us westerners to consume and we'd have to go back to paying a fortune for our toys. BTW, Josh, were you "out and about" in the Bentley? I reckon those wheels would be a good enough excuse to be "out and about" any ol' time.
One of the panelists on The Drum last night was talking about tax reform and government expenses such as pensions. "I don't know how people can live on the pension," he remarked as an aside. Well, people don't live on pensions... they exist. For example, I don't go to coffee shops for coffee, I have it at home where it's 20 or 30 cents. I don't go to cinemas, restaurants, clubs or anywhere else that costs money unless I have no choice. I spend most of my spare money on PJ and Odyssey oriented stuff because THAT is my life. It's an investment in my future, and I'm sure the benefits will be manifold once I get going. I also believe that once I accumulate a few years experience on the road, together with a variety of interesting tales and a large portfolio of photographs, I'll be able to turn that accumulation into profit via some sort of publication(s). I don't expect to ever make a fortune but, hey, I'll have fun doing it.
So with the Odyssey as my focus and future, I don't mind missing out on a few luxuries. Fact is, I don't know what the hell I'd do if I didn't have the Odyssey to occupy my time and dreams. Whenever I see a busload of pensioners on tour, with rows of bored faces staring out windows, I think OMG, how pathetic. Once in a while a group of local pensioners is entertained across the road from this house in a public hall. They're served a hot lunch and entertained by some wannabe country and western singer hehe. Oh dear. PUH-LEEEEEASE! Sue was dragged off to a couple of those community dos by a Taree community service organization and even she ended up saying, "Never again!"
From the Beeb: Afghans have begun voting for a new president in what will be the nation's first ever transfer of power through the ballot box. A massive security operation is under way to thwart the Taliban which has vowed to disrupt the election. Eight candidates are vying to succeed Hamid Karzai, who is barred by the constitution from seeking a third consecutive term as president. I wish them luck!
The US Treasury has granted plane manufacturer Boeing a licence to export certain spare commercial parts to Iran, a company spokesman says. Boeing has had no public dealings with Tehran since 1979. In a statement, the US company said the licence had been granted for the safety of flight.
A Chicago train operator, whose train derailed last month when she dozed off, has been sacked, officials say. Thirty-two people were hurt when the Chicago Transit Authority train jumped its tracks at O'Hare International Airport and hurtled up an escalator. The woman, 25, worked as an operator for two months and reportedly admitted it was not the first time she had dozed off at work.
Dentists say elite athletes could stand a better chance of winning gold medals if they look after their teeth. The Oral Health and Performance in Sport conference heard that athletes' oral health was notoriously bad and could impair training and performance. At the pinnacle of elite sport, the difference between winning and losing is tiny, so even marginal improvements can make a crucial difference.
And there goes Satdee! I'd rather be saying "and there goes Gary!" headed off to the first of many adventures. But that will have to wait for another day. Gary
April 4, 2014. FL Josh sent a number of maps to help us understand the world better - concentrations of population, countries with and without McDonalds, left and right side driving, etc. I saved all the pics and assembled them into an album which you can see here. Thanks, Josh... very interesting.
NC Art sent this pic of a Falcon in a gum tree. I reckon the driver parked on top of a sapling and then forgot where he put it. On the other hand, it could have ended up there after a flood. Either way, that's a gum tree if ever I saw one. They're the buggers that can lose a limb without warning. Never park under a gum. 'In' a gum is fine though.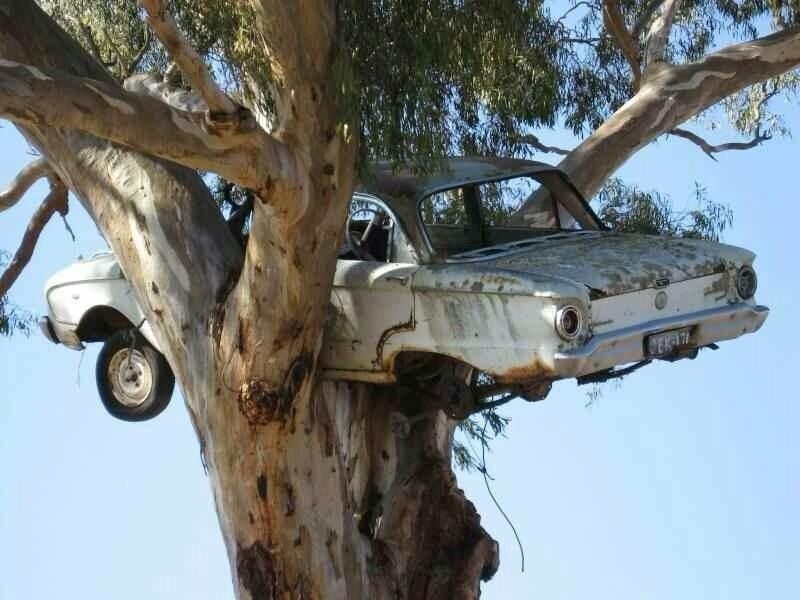 Funny thing on the news last night. Ford, Holden and Toyota have recently announced they will cease manufacturing in Oz in 2017. However, the latest sales figures show imports down and locally-built up, in particular Holden. Go figure.
George from NRMA insurance didn't phone back yesterday as promised about the awning, dangit. Why do people say things they don't mean? He also didn't say whether NRMA has accepted the quote from Great Lakes Caravans or not. As far as I know, the only other relatively local repairer is in Port Macquarie. It's like the old outback stories of people having to drive 100 miles for bread and milk. When you ask a country bumpkin directions and he says "it's just up the road" that could mean a couple of hours away! Actually, a lot of overseas tourists don't realize just how big Oz is and often think they can do a tour that takes in the Great Barrier Reef, Uluru and Tasmania in just a day or two hehe. That would be like doing Florida, Texas and Alaska.
Aussie Bush Etiquette is recognized throughout the civilized world but we all need to be reminded from time to time.
In General:
1. Never take an open stubby (of beer) to a job interview...
2. Always identify people in your paddocks before shooting at them.
3. It's tacky to take an Esky to church.
4. If you have to vacuum the bed, it's time to change the sheets.
5. Even if you're certain you're included in the will, it's rude to take your ute and trailer to the funeral.
Eating Out:
1. When decanting wine from the box, tilt the paper cup and pour slowly so as not to bruise the wine.
2. If drinking directly from the bottle, hold it with only one hand.
Entertaining at Home:
1. A centrepiece for the table should never be anything prepared by a taxidermist..
2. Don't allow the dog to eat at the table, no matter how good his manners.
Personal Hygiene:
1. While ears need to be cleaned regularly, this should be done in private, using one's OWN ute keys.
2. Even if you live alone, deodorant isn't a waste of money.
3. Extensive use of deodorant can only delay bathing by a few days.
4. Dirt and grease under the fingernails is a no-no, it alters the taste of finger foods and if you are a woman it can draw attention away from your jewellery.
Theatre/Cinema Etiquette:
1. Crying babies should be taken to the lobby and picked up after the movie ends.
2. Refrain from yelling abuse at characters on the screen. Tests have proven they can't hear you.
Weddings:
1. Livestock is a poor choice for a wedding gift.
2. For the groom, at least, rent a tux. A tracksuit with a cummerbund and a clean football jumper can create a tacky appearance.
3. Though uncomfortable, say "yes" to socks and shoes for the occasion.
Driving Etiquette:
1. Dim your headlights for approaching vehicles, even if your gun's loaded and the roo's in your rifle sight.
2. When entering a roundabout, the vehicle with the largest roo bar doesn't always have the right of way.
3. Never tow another car using panty hose and duct tape.
4. When sending your wife down the road with a petrol can, it's impolite to ask her to bring back beer too.
From the Beeb: The US Army says there is a "strong possibility" a gunman who killed three people at a base in Texas was involved in an argument before the shooting. Lt Gen Mark Milley formally identified the attacker as Specialist Ivan Lopez, 34, who later shot himself. He told reporters there was "very strong evidence" that Lopez, originally from Puerto Rico, had an unstable psychological condition. Sixteen others were wounded in the attack.
The US Senate Intelligence Committee has voted to recommend declassification of part of its report into "brutal" interrogation methods used by the CIA when questioning terror suspects. But officials say it will be some time before the summary is made public. Leaked parts of the report said that the CIA often misled the government over its interrogation methods when George W Bush was president.
The chief executive of Mozilla - the company best known for its Firefox browser - has stepped down. Brendan Eich was appointed just last month but came in for heavy criticism for his views on same-sex marriage. Mozilla's executive chairwoman Mitchell Baker announced the decision in a blog post.
The White House has criticised Samsung for promoting a "selfie" photo taken by Boston Red Sox player David Ortiz with President Barack Obama. The picture was taken by Ortiz on his Samsung phone this week and was re-tweeted by Samsung to millions of the phone maker's 5.2 million followers. White House spokesman Jay Carney said the president's image should not be used for commercial gain.
There's a lotta talk about "selfies" these days. Well, dear Breth, I was doing it way back in the '60s before it was heard of. A couple of times I visited one of those coin-operated passport photo booths during lunch, put the coins in, pressed a button, and pulled 4 faces while the camera did its thing. Then I took the photos (in sepia) back to the office and handed them around hehe. For some reason, I could pull the most ridiculous of faces in a booth, but not in front of people at the office. Anyway, once a song and dance man, always a song and dance man.
Another song and dance man, albeit of the piscatorial persuasion, is Steve Starling, who now refers to himself as 'Starlo'. When I knew him, he was Boon, half of the Mills and Boon team, of which I was the other. That's what the boss called us when we worked as writers on a program called Go Fish Australia. For some reason I was wondering what he's up to these days and did a Google. Among other things, he's running his own web site (not surprisingly) about fishing (even less surprisingly). Those of you who are piscatorially inclined (like Steve W) may be interested in taking a gander.
And that's it from me for the time being, Ladies and Genitals. Catch you tomorrow. Gary
April 3, 2014. Just made up a list of stuff I need to take on a Mini Odyssey. Sheesh! There's a stack! One day, I won't have to bother with a list cos all my stuff will be in PJ in the first place. Imagine that! No packing or unpacking!
NC Art sent a link to some great news for the rich folks: Supreme Court Defends Wealthy's Right to Own Government.
Another faaaaaabulous day weatherwise. "You should be out travelling," Lindsay said this morning. Yeah, right. He knows the reasons why I can't so I just grunt. One of the things I have on board is a wooden box of games - chess, checkers, backgammon, snakes and ladders and some other Oriental thing. It's been decades since I played chess so I checked Youtube for vids and found some that use a chessboard graphic with moving pieces, which is MUCH easier to understand than P-K4, N-B3 etc. The vids are short, focusing on opening moves - enough to get things happening. Youtube is very handy in that respect - no matter what you need to know, there's a vid explaining how to do it. I also bought a pack of playing cards the other day. It's been ages since I played cards as well.
I'm always intrigued by photos such as the one above, showing the Oldsmobile assembly line in 1952. It's a moment in time that reveals people going about their ordinary everyday business with no thought of the year 2014. They were more concerned with getting home to watch Dragnet or discussing the latest Harry Truman headline.
From the Beeb: A shooting at the US Army's Fort Hood base in Texas has left four people dead - including a gunman who died from self-inflicted wounds - and 16 injured. The suspect's name is known but next of kin have not yet been informed, military officials said. President Barack Obama said he was "heartbroken" over the attack. Gen Milley said that the suspect had served in Iraq and was being assessed to see if he had post-traumatic stress disorder. He said that the gunman was suffering from depression and anxiety.
Malaysian Prime Minister Najib Razak is visiting Perth, Western Australia, where the search for missing flight MH370 is being co-ordinated. Early on Thursday Mr Najib was briefed on operations as he visited the military base from which search aircraft have been flying. He was to hold talks with Australian PM Tony Abbott later in the day.
A powerful 7.6 magnitude earthquake has rocked northern Chile, just over 24 hours after an 8.2 tremor killed six people, destroyed 2,600 houses and led to mass evacuations. A tsunami alert in Chile and Peru was again issued, but was later lifted after waves of 2.4ft (0.7 meters) hit coastal areas. Chilean President Michelle Bachelet was among those evacuated on Thursday.
A woman has been taken by a shark while swimming off a popular beach in Australia's New South Wales. The woman, who is believed to be in her 60s, was swimming with a group between the wharf and the beach in Tathra village when she was attacked. "We have a number of witnesses who saw the incident occur so it is fairly safe to say that a shark has taken her," Police Inspector Jason Edmunds said. Police closed the beach while boats and helicopters searched for her body. I have fond memories of living in Tathra back in '76.
Yep, the old Tathra wharf was where a group of us larrikins camped overnight one time as a sort of dare. The structure was in a terrible state with rotten timbers and giant holes in the decking. In the morning, some of the guys pounced on another, tied his wrists to an overhead beam, pulled his pants down and left him while they went fishing. I watched as the poor kid tried vainly to lift his shorts with his foot but to no avail. I wasn't sure whether to spoil the prank and go to his aid or not. Then the rest of the group saved me from having to make the choice - they returned and freed him. Meanwhile, the wharf has been completely restored and is now a tourist attraction. It was originally used by coastal shipping to bring supplies to the area from Sydney. Dreadful news about the woman taken by a shark though. As I remember, the water around the wharf was quite deep.
Here's an interesting story about the corner store which, in this case, is literally located on 3 corners out in the sticks. That's definitely on PJ's list of places to visit.
Meanwhile, it's time again for a wrap. Gary
April 2, 2014. The NRMA insurance assessor was here bright and early this morning to check PJ and take a few pics. He's up here from Newcastle staying in a motel, and will be back in the office tomorrow to sort out the claim. He says he'll give me a bell and let me know what's what. So that's good news... I hope. Poor bloke banged his head on the cab over as he went to check inside the driver's cab for something hehe. I told him I'd only done that once. "Only once for me too," he said. Then he recorded some details from the engine bay. It seems the truck is "at fault" and not the camper, which means I'll be up for the $650 excess rather than the camper's $200. But I figured that anyway.
Speaking of cars and things, NC Art sent a link to a great article about a bloke in the States who so loves the little town he was raised in during the 50s and 60s he builds models of the streetscapes and uses his photography skills to take pics that look awesomely real. Check it out.
Was life really simpler and more innocent back then? I guess in some ways it was. On the other hand, a US President was assassinated, there was the ever-present threat of nuclear catastrophe during a long Cold War and just a few years beforehand, the Nazis exterminated millions of Jews.
Just in case you're wondering what it's like to invite a giraffe to breakfast, here's a link sent by Art to a place in Kenya which allows you to do just that... Breakfast with Rothschild Giraffes.
Well, perhaps Nancy said something to the staff at the dental clinic yesterday after we made email contact. They were much more attentive this morning. Emma, who hasn't seen my oral cavity for quite some time, was there and commented that it's looking much better. "You're filling your holes," she said, and also noted that the gum tissue is slowly growing over the exposed bone. So that's encouraging. I was beginning to think that progress had slowed, or worse, stalled. The news has cheered me up heaps! Catrina, who took over Nancy's role, also spent a bit more time with me and poked around with one of her instruments. I'm inclined to think that the vege juice is making a difference.
TX Greg wrote about the solar thingy and charging batteries during cloudy/wet weather: Don't forget about adding a second battery which will double what you can use or these new compact generators are pretty neat. Here's a small one that puts out 700 watts (800 max). Something small like that would be great for charging the battery and running the laptop or TV. You just need to see what watts the laptop or TV pull to match up to the size generator. I've seen a few like this and they are really quiet. They won't sound like Stan's weed whacker, hehe.
Yeah, I forgot about a second battery. Most GNs who use generators require more power than I will. They have things like microwave ovens, washing machines and other appliances including air conditioners, and some use electricity to run their fridges. During my last shakedown, I didn't even bother to connect the inverter. I used a 12V charger to power the laptop which worked fine. I reckon a second battery would see me through most situations.
The generator looks great, I must admit. And it's cheap! However, "quiet" is relative. People who live in cities forget just how quiet quiet can be. One time I was out in the sticks on a mini Odyssey in TT, standing in the bush checking out the scene for a photograph, when I heard a plane. I looked up and saw a vapor trail with a silver dot in front, probably flying at 30,000+ feet. But I could hear it plain as day. At night in the bush, it's even quieter, as well as pitch black if there's no moon.
Just back from shopping and saw a couple of American (possibly Canadian) tourists who managed to swipe a parked Falcon station wagon in the car park. They were driving a large VW motorhome with a long rear overhang and misjudged the swingout as they turned. But they were good about it and spent time writing a note for the Falcon owner upon his return. When I got back to PJ the owners had returned - 2 girls and a bloke - and they were happily chatting to the two American guys about their trip, etc. No hard feelings. The VW was rented so no worries about insurance. When the guys get back home from their trip and tell their friends about their adventures, Taree will get a mention if for no other reason than the prang hehe.
One thing I couldn't find was a double-ended hook to secure the TV to the wall bracket in PJ during travel. There were butcher's hooks but the two hooks faced in opposite directions for hanging. So I gave up and returned to the car. Then, a light bulb moment! Get an old wire clothes hanger, snip off a 6" length and make my own double ended hook. Yeah? No wukkers.
From the Beeb: Nato foreign ministers have agreed to suspend all practical civilian and military co-operation with Russia. Secretary General Anders Fogh Rasmussen said Russia's annexation of Ukraine's Crimea region was the gravest threat to European security for a generation. There could be no "business as usual", he added.
Russia has its eyes set on bigger goals than Ukraine - it wants to tear apart the territorial status quo created in Europe after the fall of the Soviet Union, says Jonathan Eyal of the Royal United Services Institute.
British submarine HMS Tireless has joined the hunt for missing Malaysia Airlines flight MH370. The Ministry of Defence said the Trafalgar class submarine had arrived in the southern Indian Ocean and would help search for the plane's black box recorder. It will soon by joined by Royal Navy coastal survey ship HMS Echo.
Here's an interesting pic - looks like a parrot but is actually a naked woman.
Anyway, time to split for another day, dear Breth. Hooroo. Gary
April 1, 2014. What a gorgeous morning to be sitting in PJ with the sun streaming through the door while I rearrange a few things in cupboards and contemplate life on the road. Here I am after years of buggerizing around with vans and utes, finally all set to go with a great set-up, and a gum problem decides to get in on the act. Who woulda thunk.
I read the GN forum this morning and one guy was asking about generators after spending a week during cloudy and wet weather without solar to charge his battery. I'm not crazy about the idea of carrying a generator plus fuel to run the thing. So I figure, since I have the battery connected to the engine alternator as well as the solar panel, I could use the engine to charge the battery under cloudy and wet conditions. Yeah? I wonder how long a top up from 12 to 14 amps would take with the engine on idle. Taking PJ on a 2-hour run would also do the job but that would require quitting camp, which I may prefer not to do, especially if it was raining. In such cases, I'd cut down on battery usage until the weather improved.
The sensible thing to do, of course, is to keep an eye on the weather forecast to avoid long wet periods before they arrive.
I must be psychic. Just called NRMA insurance to check progress on my awning claim and discovered they had called me this morning while I was enjoying my dose of inner shedness. But I missed the landline call and my mobile was here in the house. Soooo, they're gonna call back to arrange a time for the assessor to check PJ. I really need to get into the habit of carrying my mobile with me, dangit. Meanwhile it's been a month since the accident so they're obviously not in any great rush to settle the claim. Grrrr.
FL Josh wrote: If you can down peanut without problems, it is an extremely healthy food and chock full of calories. Everything you need to speed up the healing. I personally love Skippy Creamy peanut butter, and buy it in the 48oz jar. In checking to see the size of my jar, I got a dollop of it on a teaspoon and as I type this, I am licking it off the spoon. 95 calories per Tbsp, and 7 grams of protein. 'Scuse me, gotta go refill my spoon.
Yep, peanut butter can be very moreish and sometimes I get a real craving for it. Happens with Vegemite too. And Peck's Anchovette paste. I can go for ages without Peck's and then, outta the blue, I can't get enough of it. Can't stand anchovies but I love anchovette paste on toast.
Nancy the dentist (now medical student at Darwin university) emailed to ask how I'm travelling. She was surprised (and somewhat miffed) to learn that I'm in and out of surgery like an Indianapolis pit stop. She also asked the staff at the clinic to organize an appointment for me during her March visit but it never happened, and she assumed I was busy. It appears none of the staff at the clinic shares Nancy's passion for my oral cavity - which is not surprising. Nancy's off to the Dominican Republic and asked for my address so she can send a postcard... the non e variety.
Speaking of Indianapolis, Francois sent a link to an auction of David Hasslehoff's 1986 Pontiac Firebird, KITT, from the TV show Knight Rider. Francois says it's not for him... he's not into cars. I am, of course, but not suped-up show cars. I prefer stock standard.
From the Beeb: Is this the best ever April Fool's ever? On 1 April 1957, the BBC current affairs programme Panorama hoaxed the nation with a report about the annual spaghetti harvest.
Hundreds of thousands of Americans have signed up for insurance under Barack Obama's healthcare programme, in a frantic bid to beat a key deadline. Officials believe they have reached their target of seven million sign-ups. Monday was the last day for most Americans to register for coverage and avoid a penalty next year.
The costs of inaction on climate change will be "catastrophic", according to US Secretary of State John Kerry. Mr Kerry was responding to a major report by the UN which described the impacts of global warming as "severe, pervasive and irreversible". He said dramatic and swift action was required to tackle the threats posed by a rapidly changing climate.
I hope this NRMA assessor does his thing soon and authorises a new awning for PJ cos I'm antsy for a mini Odyssey while the good weather lasts. Just a few days somewhere nice and peaceful to get away from this routine and spend a bit of time with the Nikon enjoying Nature and the outdoors.
Meanwhile, that's it for April the oneth! Seeya on the twoth. Gary
← Older posts Waffle Index Newer posts →
or
Return to Home Page