| | |
| --- | --- |
| the WAFFLE page | |
November 30, 2014. OH Jim tells me that Black Friday was pure chaos with specials disappearing off shelves in a frenzy of buying. LED flat screens, DVDs, vacuum sweepers, fleece pajamas, skateboards. Jim works at a department store so he had no choice but to risk being trampled in the stampede, but you wouldn't catch me there. I can't handle crowds let alone crowds of crazy shoppers.
We have an ALDI store here in Taree, which is a large German retailer famous for its bulk buys and discounts. I won't go there when a sale is on. Bargain hunters queue up outside early and within an hour or so all the special buys are gone. I'd rather buy on line and avoid the crush.
I apologize for bringing this Waffle to a short close, dear Breth, but I've slept and dozed all day with a stomach upset. Nothing serious, and I'm not sick per se, just feeling a bit butcher's as we say in Oz. Butcher's = butcher's hook = crook (unwell). Crook itself is commonly used in place of unwell, sick, ill or, in fact, anything not up to scratch, like "this pie tastes crook, the plumber did a crook job, the weather's crook, politicians are all bloody crooks, etc.
So now I'm gonna have a cuppa (Twinings breakfast) to see if it settles the ol' tum tum down a bit. Back tomorrow for December. Gary
November 29, 2014. No photo shoots this month. Naughty me! So before November is out, I better post an album. All I have is more historic auto shots from the first half of the 20th century, so here they are.



TX Greg wrote: Hehe, I wonder why you keep being dyslexic on Cody's name? It's Taronto!!! Oh and Steve's "Shaffer", I've always had this feeling that Steve came up with that derivative from something he saw in front of him all the time... "C'mon, dad! Every damn time I try to talk to you, you're so busy writing something that you're not even listening to me!"

"OK," he yielded as he placed his gold Sheaffer ballpoint on the desktop pad. "I'm listening."

Looks like that might have been a bit of GK editing. I have one here, a prezzie for my 42nd birthday. And on the subject of Cody and his gang, OH Jim asked if Cody's accent was more Afrikaans than Aussie. Well, for starters, Afrikaans is a West Germanic language, an offshoot of several Dutch dialects spoken by the mainly Dutch settlers of what is now South Africa, where it gradually began to develop independently in the course of the 18th century. If someone who normally speaks Afrikaans speaks English, it's like a Dutch or German person speaking English, with guttural sounds and sharp consonants. Cody's English would have been much softer but with vowel sounds peculiar to English-speaking South Africans.

So I'm confused with what you wrote about Thanksgiving. The whole idea is that you realize that you're lucky to be where you are at, and not in some third world country. It isn't a day of arrogance, just the opposite. You don't have to be rich, monetarily, but rich with family, friends and the like. It would have been better not doing it alone yesterday, but my daughter was not in Cincinnati, and too far to travel for one day. Zach was busy with multiple family dinners, as it should be. But I was still grateful for my lot in life, and I did say a silent thank-you.


Don't forget that the Indians brought most of the first Thanksgiving meal to struggling Pilgrims (or so we were taught in grade school). And it isn't uncommon to find photos of politicians volunteering to work in homeless shelters serving food or cooking. Yeah, it's a photo op, but it's something that is in the spirit of the day. It's not the meal, parades, football or Black Friday . So I just don't get what you wrote. We shouldn't be thankful for our lot?

I was just pointing out the other side of the coin - being the devil's advocate. I'm in no way accusing you of flaunting your turkey stuffing or two Ford Mustangs, Jim. Yes, I agree that we should be thankful for what we have. And thanking the Native Americans for their kindness and generosity was fine. But what I'm questioning is who is being thanked for the Frisch's pumpkin pie nowadays. Certainly not the Native Americans. As an atheist, it's thanking God that I have an issue with. Nothing wrong with being thankful or grateful or appreciative. It's the use of the word Thanksgiving that I question, now that there are no Native Americans to thank for distributing jellied cranberries to the Pilgrims. Maybe I'm just being pedantic.


You see, the Incas believed in their gods, and had no problem offering up a couple of young virgins in return for a good harvest. Ask any member of Islamic State who they're fighting for and they'll happily answer Allah. Moreover, they insist that the elimination of all infidels is Allah's holy command. It can be pretty useful having a god to justify a cause. Hehe.

But all that aside, events such as Thanksgiving and Christmas can start out very differently to the way they end up, especially in a materialistic society like ours.


Obviously, thinking outside the square has its downside hehe. It's much easier to go with the majority flow.


I have my doubts about "all men are created equal" too. What would be the point of equality in competition if it meant nobody won? Who would do all the menial tasks if everyone was a CEO? Can you imagine a world without its Einsteins, da Vincis and Galileos?


Anyway, I suppose the Bill of Rights wording is a matter of interpretation. Does it mean that all men are equal under the law? (Provided they can afford a decent lawyer, of course). Even if it does, there's no way you'll ever get ordinary men to accept all other men as equals. It's not in the nature of the beast.


Some father on Twitter yesterday suggested standing a cricket bat against the wall outside the front door of houses and businesses to honor young Phil Hughes who died after bring struck on the neck by a short ball. The idea went viral in Oz and then throughout the world. Even on Google yesterday in Oz, there was a graphic of a cricket bat leaning against its own shadow. How thoughtful and poignant.


From the Beeb: Pope Francis has called for an interfaith dialogue to counter fanaticism and fundamentalism, at the start of a key visit to Turkey. In a speech in Ankara, he also called for a renewed Mid-East peace push, saying the region had "for too long been a theatre of fratricidal wars". Best of luck, Francis.

Cricket fans and players have been using their bats to pay tribute to Australian cricketer Phillip Hughes. The 25-year-old died on Thursday, two days after being struck in the neck during a domestic match in Australia. Thousands of people have posted photographs on Twitter, using hashtags #putoutyourbats and #putyourbatout.

Just back from a little visit to PJ to soak up the atmosphere. Pity everything is not on board... like the TV, laptop, food, cameras, etc. I'd be tempted to toddle off somewhere. Some part-time GNs who can afford it, have two sets of everything... one for the caravan and one for the house. Anyway, I won't have to worry about that in six months or so. PJ and I will be as one. Joined at the hip.


A GN described the scene at Greens Lake the other day. One camper was doing the washing, another was walking the dogs, someone else was relaxing in a chair with a coffee taking in the view of the lake, so it was all quite urban really. I've long thought of life on the road as non-stop excitement and adventure but maybe the reality is that, like most things, it has its moments but not 24/7. Yeah. Better not raise my expectations too much or I might be disappointed. By the same token, I can't say life here in Taree is a thrill a minute hehe, so almost anything's gotta be an improvement.

One thing is sure to change. The Nikon will become my constant companion. Gary

November 28, 2014. Is that '59 Chevy painted red and orange? Nope. It's the strong sunlight causing the shadow under the fin to make the paint appear darker (or the paint in direct sun to look lighter). Blame my habit of being too lazy to take shots in early morning or late afternoon light when contrast is less of a problem. I also knew less about photographic techniques back in '09.

Speaking of contrast, the weather the past few days has been much cooler after the previous heatwave. Down by 10 or more degrees C, which is a lot!

The really sad news last night was the death of cricketer Phil Hughes. He was just a few days away from turning 26 and had a bright future as a professional cricketer. Even at the tender age of 12 and 13 he was playing with adult teams. His technique as a batsman was brilliant, which took bowlers quite a while to figure out. It was the short ball that finally got him... a ball bowled short so that it bounced. I understand that only a limited number of short balls (or bouncers) are allowed in a given innings under cricket association rules. The experts say there was a 1 in 10 million chance of that bounce connecting with Hughes' face and causing fatal damage. He collapsed shortly after being struck and never regained consciousness.

Hughes was a country boy from Macksville, just up the coast from Taree, and a very well-liked and respected player. The cricket fraternity is devastated, both here and internationally.

Meanwhile, it's Thanksgiving in the US, and OH Jim is all stocked up with goodies: It's Thanksgiving and I am jumping the gun a bit by having a slice of pumpkin pie along with my coffee this morning. I know it's supposed to be my dessert for tonight, but what the heck. I have a lot of pie. :)


So I have the turkey ready to go into the oven ... actually a turkey breast, candy yams/sweet potatoes, Oceanspray jellied cranberries, which I like better than the cranberry sauce, and STUFFING !!!! I LOVE STUFFING... YUM. And then some more pumpkin pie.


The pumpkin pie comes from Frisch's, better known for their Big Boy double decker hamburgers. They have the best pumpkin pie in Cincinnati. But we have pie wars between Frisch's and Buskin Bakery. They do ads and practical jokes over who has the best pumpkin pie. This article is from the 2012 Wall Street Journal, but they have not stopped . Pie wars continue for 2014.


So the thought comes to mind that you might never have had any of the above mentioned foods, Thanksgiving being a more of a North American holiday (actually American, but I think the Canadians celebrate it also). I guess today in Oz it's just another Thursday. But here it's the Macy's parade in NYC this morning, and profession football games on TV all day. Of course the true meaning of Thanksgiving is just that... being thankful for your family, friends and for living here with all what we have.


Lemme see. Turkey, yes, Cranberry sauce, yes (but not jellied), pumpkin pie, yes, sweet potatoes, yes. But we don't have Macy's Parade. We don't even have Macy's. As to Thanksgiving, you can't give thanks unless there's someone to thank. Hehe. And who might dat be? I'm pretty sure there were no Pilgrims or Puritans on the First Fleet to Oz. Incidentally, Thanksgiving in Canada is also called Action de grace.

I'm inclined not to support celebrations that flaunt wealth; that focus on the haves in contrast to the have nots. For example, I've been asked by World Vision not to mention certain things we take for granted in Oz in my communications with my sponsored kid in Nicaragua. His family is poor so I need to be mindful of that.

Giving thanks to God could be construed as a way of saying it must be cool with God that you have an abundance of goods, even more than you need. If He gave it to you, then you're entitled to it. It justifies wealth. You don't agree? I'm not surprised. Many people wouldn't. Hehe.


From the Beeb: The death of Phillip Hughes has left a country weeping and has "changed cricket forever" - according to former Australian batsman Michael Slater. The 25-year-old died on Thursday - two days after being struck in the neck during a domestic match in Australia. "I think we've all wept in the last day or so," Slater told BBC Radio 5 live. "I don't think anyone thought the outcome would be Phillip Hughes passing away." Slater added of the batsman: "It is so heavy and confusing. It's not what happens in cricket. In this instance it has changed cricket forever. "The whole of Australia is mourning because he was a fighter. He got dropped by Australia but came back out and scored lots of runs. Australians can relate to that - he was gritty. His death has affected a nation."

A New Zealand man serving a life term for child molestation and murder who fled to Brazil has been deported to his home country, officials say. Phillip Smith, 40, was escorted by police officers onto a plane that left Rio de Janeiro for Auckland via the Chilean capital, Santiago. Smith used a passport in his birth name, Phillip Traynor, to fly to Chile and then on to Brazil on 6 November. He escaped while on a three-day release from a prison south of Auckland. Grub.


A huge clean-up operation is under way in the Australian city of Brisbane after a severe storm swept across south-east Queensland. The storm produced hailstones the size of golf balls, causing widespread damage. Up to 90,000 homes were without power as winds gusting at 140km/h (85mph) brought down trees and power lines. Commuters were also stranded after rail services were suspended across Brisbane. Transport Minister Scott Emerson estimated the cost of the damage at more than $A100m (£54m). He said it was probably the worst storm Brisbane had seen in almost 30 years. Good thing it didn't happen a few weeks back during the G20 Summit.


Well, some GNs are getting gold fever again. A 3.6kg nugget was found at the side of the road, about 15cm below the surface a couple of years ago and recently sold for almost $300K. It was found just outside Bendigo, a town in country Victoria that was part of the gold rush days in the mid/late 1800s. Fancy that. A nugget the size of a fist in this day and age, just when you thought they'd all been found. I'd be more than happy to stub a toe on one of those.


We were discussing great white sharks the other day. Last night I saw a science story about shark research and heard them described as a very large fish with a public relations problem. They're at the zenith of their evolutionary process and have been for millions of years. A perfectly formed and proportioned torpedo made of muscle with a cavernous mouth, lots of teeth, eyes the size of billiard balls and a brain as big as the top of your thumb. If humans were on their preferred menu they would hang around the shallows at beaches but they tend to spend much of their lives at sea, migrating huge distances. As one researcher said, "if you surf a few hundred meters from shore at dusk, you're asking for trouble". Otherwise, I take it, you're pretty safe. If one ever pops out of the shower plug hole, I'm in deep poo but I don't anticipate that ever happening.

BTW, OH Jim asked if Cody spoke Afrikaans. He knew a few words and phrases but not all that much. He said the local fisherfolk used to greet his father as "baas", meaning "boss", and Cody as "little baas". Cody's heritage was English. His grandfather was in the SA air force during the apartheid regime and drove a Morris Minor 1000.

The system of apartheid in South Africa was banned in 1994. The last president under apartheid was Frederik Willem de Klerk. After this, Nelson Mandela became the first black president. Both were awarded the Nobel Peace Prize for their efforts. With a name like Frederik Willem de Klerk, he definitely would have been of Dutch origin unlike Cody's folks.


I'm pretty sure all of Cody's close friends were of English origin perhaps with the exception of Steve. He was the neighborhood Blond Himbo. Steve's folks lived in a wealthy suburb and spent a lot of time travelling Europe on business. The surname Steve chose as his pseudonym was Shaffer which sounds to me more Scandanavian than English. Cody chose Toranto but I'm sure that was an attempt to shake off the bloodhounds.

Anyway, they're my ponderings for this Friday, ladies and genitals. Happy Thanksgiving and spare a thought for the Have Nots. Gary

November 27, 2014. Helluva storm last night... lots of thunder and lightning as well as heavy rain. Now it's cloudy, cool and sprinkling. Quite comfortable, really. Shortly, I'll waddle up the street to the dental clinic for the "usual".

It was November 2012 when the clinic panicked after realizing my teeth hadn't been pulled as they should have following radiation treatment. Nancy thought it best to try and save them. How wrong she was! She was all over me like a rash trying to make up for the boo boo until she decided to return to university to study medicine (head and neck) in Darwin. She hasn't been in touch for 18 months. Sorry, Gary, but I have my own life to live. Andries is now doing what he can (under instructions by the clinic's owner) but it's all to no avail. If the prof in Sydney hadn't decided to operate again in February, my current situation would have been permanent.

And I would have been speaking to a lawyer.

OH Jim has his share of medical issues too. Every three weeks he has to get a shot of testosterone in his butt. Which reminds me of something Stephen Fry asked the panel in QI recently. "Why would I be crouched down with my head between my legs, hands over my head, and my arse in the air during an electrical storm?" One of the panelists, a woman, said wryly, "Stephen, I wouldn't have thought you'd need an excuse." (Fry is gay). Anyway, it turns out that crouching is the best way to avoid being struck by lightning. That led to an explanation of why you shouldn't stand under a tree. If lightning hits a tree, it boils the sap which causes the tree to explode. All of which has absolutely nothing to do with Jim's butt.

However, it is a pain in the ass (pardon the expression) when you're obliged to keep regular appointments with a medico. It locks you into a routine around which the rest of your life revolves. Grrr.

Back from the squirt and vacuum, and a philosophical discussion about the meaning of life. Andries is a bit of a thinker. A Harley-riding, philosophical dentist. There ya go.


A good chin rub and ear scratch session is something about which I've never given much thought. But it's routine at Jim's house after he's given his Little Black Cat a morsel of pork from a McDonald's McRib sandwich. It's one of those curious things that go on behind closed doors that we never read about in the papers.


However, the real reason behind the demise of the Ford Edsel is a different matter altogether: They attributed the failure mainly to a US recession in 1958. And since Ford aimed the Edsel at the middle class, they lost their market instantly when the recession hit. They did a really nice piece with the dash board and all the fancy do-dads that they put on the car. Like a spinning speedometer and a gear shift that was push buttons, located in the hub of the steering wheel. So that was cool. The car sold for $55,000.


I had a '64 Valiant with push-button auto. The age of gimmicks, like those fins a few years earlier. Meanwhile, the ubiquitous Beetle kept beetling along with only minor modifications hehe. It was the antithesis of everything else on the road.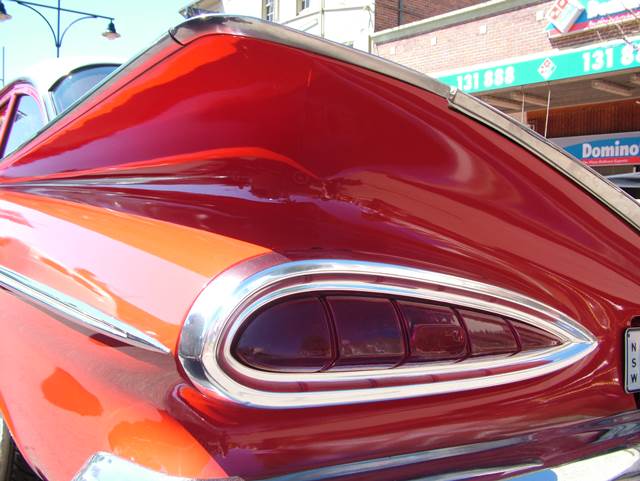 That's a pic I took here in Taree at a Show n Shine in 2009.


And now to accents. Jim was talking to a woman recently he assumed was from Australia. Nope. She was from Pretoria, SA. But here she was talking to me and after a while, I could tell the difference between a SA accent and an Ozzie accent. Hers was more gravelly whereas an Ozzie was more smooth. Sorta like a Boston accent verses a Southern accent. She emphasized hard C's and K's where an Ozzie accent adds a bunch of soft vowels to every word. It was a "cool beans" moment, thinking how Cody's accent must have sounded like.

Hmmm. Depends on whether the South African person has English or Dutch heritage. Descendants of Dutch settlers speak Afrikaans, and when they do speak English it has a harsher edge. Andries was born in Cape Town but moved to New Zealand. I'm not sure how long he's been in Oz but he has no trace of either a Safrican or Kiwi accent, which is unusual.


Being a cool and cloudy day, I took advantage of the conditions and gave the Courier a wax. Didn't need to wash cos the storm last night obliged in that department. There was a film of grime but the FW1 spray-on wax lifts that off and rolls it into little jelly balls that don't harm the paintwork. And my RB calendars arrived all the way from the USA. So that's a couple of jobs done. Next!

From the Beeb: The family of Michael Brown, the black teenager shot dead by a policeman, say they are "crushed" by the grand jury's decision not to charge Darren Wilson. Mr Brown's father told NBC news his son's character had been "crucified". Separately, Mr Brown's mother said Mr Wilson had been "disrespectful". Mr Wilson, who shot dead Mr Brown in Ferguson, Missouri, in August, has told US media he has a "clean conscience". There were protests over the ruling in 13 US cities on Tuesday night.

The people of Pittsburgh in the US state of Pennsylvania have the "ugliest accent in America" - or that at least was the finding of one online survey. Gawker Media ran a competition in which 16 cities were pitted against each other, with the audience asked to vote on which city's accent they thought was ugliest. The company told the BBC its competition was meant to celebrate the regions. But in Pennsylvania - which had three of the 16 contenders - they are not happy to have won the inauspicious title, and the bad headlines that come with it. Some critics claim prejudice against the Steel City's working class roots is a factor in Pittsburgh taking the top spot.

Australian Phil Hughes remains in a critical condition after being struck on the head by a short-pitched delivery during a first-class domestic match. The 25-year-old batsman is in an induced coma in a Sydney hospital. He underwent scans on Wednesday, but team doctor Peter Brukner said: "Phillip's condition is unchanged and he remains critical."


OH Jim wrote this about cricket and baseball: I don't know Cricket at all, other than our baseball was sorta copied from it . A short ball? I don't have time to be fancy, but you need to see this video of Red's pitcher Aroldis Chapman getting hit in the face with a line drive. It fractured his skull, and required emergency surgery and they put a plate in his skull. He came back, and pitched again. There was no effect on his pitching. He owns the record for the fastest fastball ever thrown at 106MPH. But that night was awful. They called off the game right then and there. The two voices you hear are the Reds radio announcers, Marty Brennaman and Jeff Brantey. Marty has been the Reds broadcaster for the last 42 years. The dead silence in the background was because no one in that stadium was talking. It sounded like they were in the studio, not at a ball park.


The outpouring of emotion and concern for young Hughes was the same in Sydney last night. One cricketer made a statement to the news cameras outside the hospital and had a terrible time trying to control his grief. All the team guys have undergone counselling including the bowler who is understandably shattered. It's a sad time indeed.


Well, dear Breth, no stunning revelations or pontifications of great profundity today, I'm afraid. I did discuss thoughts with Andries this morning... that our thoughts aren't necessarily made up of words or images. Often they're a flash - a spark - some sort of electrical impulse that has nothing to do with language or pictures. And yet we can recognize and decipher them. For example, you'll have a light bulb moment and say, "I've got an idea!" Then it might take 5 or 10 minutes to translate that idea and explain it using words or images even though the thought itself lasted only half a second. So I suppose you could say that thoughts are like coded information compressed into a tiny space, which might explain why the brain has such a massive storage capacity.


Do I know what the hell I'm talking about? Not really. Dozen madder. It's good excercise and hopefully keeps Alzheimer's at bay. Or something. Gary

November 26, 2014. Here's a little chuckle from the GN forum this morning... So you've only had one job?

Much cooler today, which is a relief - not only for regular peeps but also for firefighters. However, the fire season has barely begun. I can understand why peeps choose to build a home in the bush, with the birds and the views, etc, but I wouldn't like to endure a hot summer each year worrying about my house becoming toast.


OH Jim asked if PJ's windscreen washer motor has a fuse. There ya go. I didn't even think about fuses, and I wouldn't have a clue anyway. The fuse box is under the dash so I suppose I could take a peek. Peek, peek, peek.

Yep, there are a whole bunch of fuses in there, labeled, but I didn't see anything about w/washer. As to the engine, yeah right, way too complicated for this kid. I recognized the throttle but didn't see any adjustment screws. I'll have Ford check it out. It'll be interesting to see how I'm treated after my letter of complaint about the last lot of jobs.

The killing of Michael Brown by a police officer and the decision handed down by the Ferguson grand jury made the news here last night. On The Drum, one panelist provided some fascinating stats about racial disparity in the US such as 1 in 3 blacks will go to prison in their lifetime. The same thing happens here with Aborigines. Aboriginal and Torres Strait Islander people are massively overrepresented in the criminal justice system of Australia. Aboriginal people represent only 3% of the total population, yet more than 28% of Australia's prison population are Aboriginal.

Soooooo, is it because most cops and law enforcement agencies are white, or because black people are more likely to break the law? I do know one thing: Papua New Guinea, just to our north, which used to be administered by Australia is now an independent country and self-governing. All government agencies and cops are black, and yet the crime rate in PNG is very high.


I think it might have been OH Jace who told me that since the apartheid regime in South Africa was dismantled, and power restored to the indigenous population, crime has gone through the roof.

As I've said previously, I'm just here observing the passing parade and taking notes so I'll leave it to others to explain and hopefully solve the issues of racism, prejudice and intolerance.

I was reading about Benelong yesterday. The land upon which the Sydney Opera House is built, Benelong Point, is named after him. He was an Aborigine captured in 1789 by the Governor of NSW in the fledgling town of Sydney and ordered to act as the liason officer between the local Biripi people and the new settlers. Benelong was happy to oblige. He also adopted the white man's ways and dressed accordingly. Later, he spent 3 years living in London as a curiosity - a genuine Australian savage. When he returned to Oz, he could no longer handle the white man's lifestyle and wished to return to his native ways. But he was ostracized by his tribe and lived the rest of his life in a cultural limbo. I'm sure there are many modern-day Aborigines who feel the same way about living in a white man's world.


From the Beeb: The US state of Missouri has ordered more troops to the Ferguson area to quell unrest after a policeman was cleared over Michael Brown's killing. State governor Jay Nixon said 2,200 National Guard would be deployed in and around the St Louis suburb on Tuesday. Meanwhile officer Darren Wilson said he had a "clean conscience" over his actions, in his first public comments. Protests continued in Ferguson on Tuesday, with demonstrations also under way in several US states.


The male grooming and beauty industry is booming in South Africa, with products now targeting a new audience - black men, as the BBC's Milton Nkosi finds out. I have never had a facial before. For me, it sounds like something a woman might do. It had never even occurred to me that a man, a black African man, might one day go for a facial. Mere talk of pre-wash facial scrubs makes my hair stand on end. Well, a lot has changed. Because this boy from Soweto has just dived head-first into male grooming.

Australia batsman Phil Hughes remains in a critical condition after being struck on the head by a short ball and will have scans on Wednesday. The 25-year-old is in hospital in Sydney after collapsing during a Sheffield Shield match. "A further update will be provided when the results of the scans are known," team doctor Peter Brukner said. Cricket Australia also confirmed that the current round of Sheffield Shield matches has been abandoned.

Yep, those cricket balls are solid, made of cork and covered in leather, and they can travel at speeds of over 160km/h when delivered by a pro bowler. In the old days (when I was a kid) cricketers played without protective gear. Now, they wear helmets, face guards, body padding and leg protectors.


I'm more into pillow fighting, myself.

Justin, who runs the Dunes blog, suffered a "silent" heart attack a couple of months ago in his mid 20s. It was a shock to everyone because, apart from being so young, he's into fitness and a healthy diet. It's been a month or so since he updated his blog so some of his followers were becoming increasingly concerned. One emailed me the other day to say he'd been praying for Justin's recovery but was worried that his prayers weren't being answered. So, being the smarty pants I am, I replied by saying that answers to prayers weren't guaranteed. "Dear God, here's the deal. I'll say my prayers every night if you promise to answer them." I thought that was one of my best lines ever but no sooner had I sent the reply than Justin updated his blog to say he was on the mend, and buggered everything.


Did you know that if you want to prevent masturbation, cornflakes can assist in reducing the urge? On QI, last night, when asked what cornflakes and masturbation had in common, one of the panelists answered that cornflakes were used by an order of monks to fill their mattresses hehe. He was joking but not all that far from the truth.

Oh dear, human beings can be such duffers. Honestly, how on earth did we manage to evolve this far? As Einstein said, only two things are infinite, the universe and human stupidity. And I'm not sure about the former.

Albert said some pretty interesting things: The only reason for time is so that everything doesn't happen at once. Hehe. But there's a delicious logic about that statement.

Anyway, speaking of time, the clock ticketh and remindeth me to seeketh softer seating for these aching old buns. Which begs the question, who the hell designs modern bicycle seats? Gary

November 25, 2014. Lovely surprise this morning when Mieke wrote to comment on my RB calendar. She said it was very entertaining, with a little bit of everything, including a little bit of me in each shot. Isn't she sweet? TX Greg also commented and said it must be hard to choose what makes the cut. Not in this case, Greg. I haven't been very busy with the camera this year so I was lucky to get 12 shots. 13 if you count the cover.

Yes, dear Breth, I've been very naughty this year - too bloody lazy to get off my butt. My excuse is "it'll be different on the Odyssey" hehe. And it will be. Everything will be within arm's reach. I won't have to go anywhere cos I'll already be there. Uluru? No wukkers. It's just outside the door.


There was an item on the telly news last night about a group of people living in mobile homes at a park that's been sold to a developer who gave them their marching orders. He wants to build a new housing estate. No other parks have the room to accept them and the local rents for regular housing are unaffordable. They can't sell their houses cos there's no market for them. So they're all freaking about becoming homeless.

Naturally, I thought about all the GNs who don't consider themselves homeless at all. But I guess what's good for the gypsy goose ain't necessarily good for the stay-at-home gander. For lots of people, there are ties that keep them in one spot - family, friends, job, routine, possessions, security, etc. For me, staying in the one spot would be like waiting for the grim reaper to come knocking. No thanks. I intend to make the most of whatever time I have left.

Apart from that, I'm lazy. If I don't force myself to get off my butt and DO things, I procrastinate. On the Odyssey I'll be forced to shop for supplies on a regular basis, including gas and fuel, and I can't go shopping without taking my house with me hehe - which is an excuse to keep moving along.

When I put my latest RB calendar together, it became obvious to me that most of those images would not exist if it weren't for my appointments with the docs in Sydney and Port Macquarie. So I'm like the kid who's forced to take piano lessons or elocution lessons even though he'd rather be kicking a football around the park. If I'm forced to get off my butt, I might as well take the Nikon with me. Crazy, yeah? The reluctant photographer.

So there ya go. I have no choice. It's either the Odyssey or ten years wasted.

OH Jim reckons it's weird reading about a good ol' thunderstorm a week before Thanksgiving. Yeah, well the early settlers in Oz thought so too which is why Christmas here was celebrated in the traditional European style until fairly recently. These days you see cards depicting kangaroos wearing Santa hats as well as typical European winter scenes. The traditional Christmas dinner with roasts and puddings has given way to salads and BBQs. No log fires and snow-covered window sills here. Hehe. Quite the contrary - Christmas is also bushfire season. Mind you, you can buy snow in an aerosol can if you pine for the old country.

Some restaurants here offer the full, traditional Christmas feast complete with a red-suited, white-bearded Santa but not in December. Nope. You gotta book your table for July. Oz is not called Down Under for nuthin ya know.

Jim also tells me he's aware of how feral animals differ greatly from their domesticated cousins. His puddy tat was a feral kitten when he rescued it and named it LBC (little black cat). Scratch the surface, he says, and therein lurks the wild beast ready and willing to kill anything and everything in sight, including the deer that wander into the yard. An angry Sylvester is very subtle, no?, with his spiky arched back and exposed fangs.

I'm not a cat person. I find them too aloof and independent (which is what some people find annoying about me).


Did Cody ever mention having to deal with sharks while surfing? When I was snorkeling in the Bahamas , I saw a fish bigger than my leg. For someone who grew up in landlocked Ohio, that really got my attention. I was used to seeing fish that big in an aquarium tank, not swimming free around me. It was probably harmless, but what do I know?


I don't think Cody ever gave much thought to the presence of sharks while he was surfing. One time he referred to a seal colony not far from his local beach. Where there are seals there are sharks, especially great whites. But Cody believed he was trespassing on their environment and that they had every right to be there. In any case, I discovered on QI the other night that more people are killed by falling coconuts than sharks. So there ya go.


As to large fish, I met a SCUBA diver in Sydney years ago who made friends with a large fish something like the one in this picture. He regularly dove at his local beach and sure enough the fish would come to greet him. It was like a dog in many ways, allowing the diver to pet it and even hug it. It's the little guys you gotta be wary of... the ones with all those razor sharp teeth... piranha.

From the Beeb: Turkish President Recep Tayyip Erdogan has said women cannot be treated as equal to men, and has accused feminists of rejecting motherhood. "You cannot put women and men on an equal footing," he told a meeting in Istanbul. "It is against nature." He also said feminists did not grasp the importance of motherhood in Islam. His comments often seek to appeal to his pious core supporters, says the BBC's Mark Lowen in Istanbul, but they anger more liberal voters.

Concorde was the most glamorous airliner the world has seen. But what was it like to fly? Jack Stewart delves inside the Science in Action archive to find out. It was the ultimate airliner. From 1976 until its retirement in 2003, few things in life signified luxury quite so much as a flight on Concorde. It could whisk around 100 people – paying over £4,000 a seat – for a two-hour trans-Atlantic trip at speeds faster than that of a rifle bullet. It was a remarkable achievement of engineering.

Speaking of engineering, the Courier has developed a couple of probs. The auto choke isn't working and the idle is too slow. On the old carb engines, you could adjust the idle by turning a screw. Dunno about these EFI engines though. And the windscreen washers don't work despite water in the reservoir. Grrrr.

Another hot day and humid, but it's beginning to cool off now. OH Jim reckons there's a heatwave over there too, with temps sizzling in the late 50s and early 60s F. Hello? One of Zach's mates hit black ice on the highway and slammed into a wall, almost toasting his 2002 Mustang. Is it mandatory in Ohio to drive a Mustang? Anyway, the kid's problems make my auto choke and windscreen washer look pretty tame.


But bending PJ outta shape is one drama I definitely can't afford to have happen. Touch wood. It's common for GNs on the forum to say they've travelled tens of thousands of kilometers without mishap so, hopefully, the same will apply to me and PJ. And Bubba.


BTW, Karl Benz was born on this day in 1844: He demonstrated the first gasoline car powered by an internal-combustion engine in Mannheim, Germany, on 3 July 1886 after patenting it on 29 January 1886. The vehicle had three wheels, an electric ignition, differential gears and was water-cooled. It reached a top speed of 10 kilometres per hour.


Not exactly neck-snapping acceleration, folks. But it was a start. And who could have guessed where it would lead? Time for a bit of telly now, and then a bit of tucker. Gary

November 24, 2014. SF Jim, who died in 2006 - "I'm not dying... I'm only 73" - told me after learning of Cody's death that I must keep on writing. I could never figure that out ya know. Jim was a Lutheran minister and a highly educated man (he said he was overly educated) and extremely well read. I, on the other hand, was a high school drop-out hehe with no academic qualifications whatsoever. His insistence that I should "write on" has always puzzled me. However, writing is something over which I have no control. It's not a matter of choice. If I didn't write, I'm sure my head would explode.

I remember once thinking I was too dumb to be a writer - and that I didn't know enough. I still do to a degree. But then it dawned on me that being "qualified" wasn't the point. Writing wasn't necessarily about being right, or an expert at something. Writing was simply about writing. It's like everything else. The more you do it, the better you get. And you've gotta start somewhere. I suppose you could say I'm "in training" for my journal about the Odyssey.


I do have one rule though. The eye should be able to glide across the page without effort and absorb the information in one sweep. Make that two rules. There needs to be an incentive for the reader to continue reading hehe. In other words, keep the info interesting and, if possible, entertaining. Did I mention a third rule? Brevity.

Back from another clean and squirt from Andries. As much as I like Andries and the peeps at the clinic, I long for the day when all this gum crap is over. It's beginning to get me down.

OH Jim, who reckons 57F is a "warm snap", wants to know how illegal migrants are counted if they're constantly under the authority's radar? My first thought was a turd-counting machine installed at the sewerage treatment works. I'm not sure, Jim. I can only guess that there are ways to assess these things. As to changing laws in Congress, and Obama's executive powers, I don't think our PM has those powers. The Australian Constitution does have a procedure called a double dissolution, though, which dissolves the entire parliament and requires a new election.

Did I say I wasn't going to do any Christmas shopping? I lied. Actually, I forgot about my gift to the doc, the dental clinic, Stan and Sue, and my two older bros - my annual Red Bubble calendar. So I just ordered 5. It's become a tradition since the doc told me some years ago that he keeps them hehe. He made me feel obligated.

From the Beeb: A 12-year-old boy has been shot dead by police in the US city of Cleveland, after brandishing what turned out to be a fake gun in a playground. Police say an officer fired two shots at the boy after he failed to obey an order to raise his hands. A caller reported the boy to police for scaring people with a gun but said that he did not know if it was real. One of the officers was in his first year on the local force, the other had more than 10 years of experience.


You have to ask yourself the question; could the cops take a chance on the gun being a fake in a country where guns are legal and school shootings are relatively commonplace?


Lewis Hamilton clinched his second drivers' World Championship with a comfortable victory in the season-ending Abu Dhabi Grand Prix. The 2008 champion became only the fourth Briton to win two world titles.

A leading computer security company says it has discovered one of the most sophisticated pieces of malicious software ever seen. Symantec says the bug, named Regin, was probably created by a government and has been used for six years against a range of targets around the world. Once installed on a computer, it can do things like capture screenshots, steal passwords or recover deleted files.

Australian police have charged a 30-year-old woman with attempted murder after she abandoned her newborn baby in a drain in western Sydney. They say the baby boy, who is in a serious but stable condition, may have survived up to five days in the drain. He was discovered 2.5m (8ft) down inside the pit by a group of passing cyclists on Sunday morning. It took several people to lift the heavy concrete slab to rescue the baby, who was malnourished and dehydrated.

The 19th Century Russian novelist Fyodor Dostoyevsky wrote about characters who justified murder in the name of their ideological beliefs. For this reason, John Gray argues, he's remained relevant ever since, through the rise of the totalitarian states of the 20th Century, to the "war against terror". When Fyodor Dostoyevsky described in his novels how ideas have the power to change human lives, he knew something of what he was writing about. Very insightful.


After reading that article I thought I might be nihilistic but no, not me. I checked it out on Google. I do, however, tend to think that a lot of values such as good and evil, morality, right and wrong, fair and unfair, etc, are human concepts because they don't exist in nature. We are the only species that needs a massive library of law books and an army of administrators to govern our behavior. It would be total chaos otherwise - or nihilism, if I understand it correctly.

I've watched documentaries on feral dogs and feral cats in Oz and been amazed at how different they are to their domesticated cousins. They look the same but couldn't possibly be more different. So I suppose you could say that early humans tamed themselves out of a need to co-exist in a civilized environment which benefited everyone. And then they tamed the animals. If that's the case, then civilization and people-friendly beasts exist in an unnatural state. Some people might even call it an evil aberration, a wrongful deviation from Nature's Grand Plan (whatever that might be).

As I wrote that last para, there was an almighty clap of thunder that made me jump, and that caused a power outage for a few minutes hehe. Whoa! It's been a very hot day so an afternoon thunderstorm is to be expected. It only lasted about 15 minutes but it sure made its presence felt. At least it's cooled things down quite a bit.

I was thinking earlier about being camped at a beach. Way too hot during the day (with that burning sand) but wonderful in the mornings and evenings for a stroll or a dip in the surf. I'm the type who doesn't venture further than waist deep - a wuss as Cody would say. I've gotten myself into serious trouble a few times in the surf and freaked big time. I'm not a strong swimmer (even worse now) so waist deep it is and will remain, thank you very much. Wuss schmuss.


Anyway, after that clap of thunder almost turned me into a ghost, it's time to hang out the closed sign and say hooroo for now. Gary

November 23, 2014. Headed for another hottie today but right now, before the sun starts to bake the earth, it's a good time to take a bucket down to PJ and give the ute a wash. Roite? Nah... I haven't finished my coffee yet hehe. I'm very good at inventing excuses. A teacher at school said I had an excuse for everything.

I think Taree's max today is mid 30s but parts of Sydney will hit 40+. That's bloody hot! And would you believe it's not even summer yet? OH Jim said it was 35 there as he composed his email but he was talking about Fahrenheit. He said his neck of the woods was headed for a high of 54F - which is about 12C, and I can tell you from personal experience, 12C ain't warm!

Oz went metric in '72 and it took me a looooong time before I became familiar with it. I still find it difficult to get my head around liters of fuel per 100kms travelled instead of mpg. I can tell you one thing, PJ is not the most economical of chariots despite it's 2.6 liter, 4-banger. But it'll do. I'm guessing but I'd say the average distance travelled on the Odyssey between camps will be 50kms, and the average length of stay will be 3-4 days, which would work out to be about a tankful a month or $30 a week.


OH Jim is sticking to his belief that illegal immigrants suck the system and should be deported. Others beg to differ, of course, while arguments for and against keep going around and around and around like they do in Congress. So it was timely of Jim M to send this link to 5 Immigration Myths Debunked.

Funny about myths and how they can become accepted as truths. Basically, people choose to believe what they wanna believe. As it's said of journalistic license, never let the facts get in the way of a good story. The Immaculate Conception, The Resurrection, The Ascension are all examples of people's willingness to accept the improbable or even the impossible as fact.

The ancient Greeks and Romans needed gods so they created them out of stone. No problem. A few rocks, a few chisels, and voila! What's more, they were quite happy to worship them. Likewise the Babylonians, Egyptians, Incas, Etruscans and whoever else you care to name, right down to stone-age man and his primitive superstitions.


William Tyndale was the first person to translate the Bible into English directly from Hebrew and Greek texts. He was labeled a heretic by the church heirarchy who wanted to preserve the Latin version so that the average person couldn't read it for themselves and risk false interpretation. The heirarchy believed that it was the role of clergy to preach the official interpretation of the 'word of God' and for followers to show unquestioning obedience. Perhaps that's where the word 'faith' comes from.


Although Tyndale lived in hiding in Europe, he never got to finish his work. He returned to England (silly bugger) and was executed. However, sufficient translation had been completed to allow many Christians access to the Bible in English. The church heirarchy was right though... access to the Bible by ordinary people caused fragmentation and the formation of new churches. So it's all the fault of personal interpretation, roite? Or opinion. Or bias. Or even downright prejudice.


When ever a person quotes the Bible to prove a point, do they realize that someone with a different take on the matter can do the same thing? Separating fiction from fact is the job of science. What begins as a theory becomes fact only after it's proven beyond doubt. And even then it can remain open to question. Meanwhile, dear Breth, I'll continue to make observations and take notes hehe.


From the Beeb: The slaughter of 28 people on a bus in Kenya is a bid to start a religious war, a senior adviser to President Uhuru Kenyatta has told the BBC. Abdikadir Mohammed called on Kenyans of "all faiths and creeds" to stand together against the "heinous crimes". At dawn on Saturday, al-Shabab gunmen attacked the bus in northern Kenya, shooting dead non-Muslim passengers. The Somalia-based Islamist group has carried out numerous attacks across Kenya since 2011.


Yep, they want to start a religious war. It gives purpose to their otherwise pathetic and pointless lives and earns them a higher place in Paradise. Can't have all the goodies without a war, right?


TX Greg reckons the frame around PJ's solar panel is an original part of the panel whereas OH Jim doesn't have a bloody clue. However, Jim reckons the newer panels would be thinner and lighter, and he's right. They're also cheaper. I remember when those things were $500+ each even for modest wattage, and it wasn't all that long ago. You can also get flexible panels now and even stick-on sheeting. I've read where it's possible to incorporate solar panels into clothing that will charge the wearer's "devices".

Sunlight is a pretty amazing thing ya know. Plants have been using it for millennia to create food out of thin air. And now we can capture it and put it in a battery. Jim wants to know if there's gonna be a big neon Odyssey boomerang on top of PJ that's lit up at night. Nope. The only thing glowing at night will be my nose after a few drinks.


Anyway, after this hot and sticky day it's time for me to veg out in front of the telly to see what the rest of the world has been up to. Gary

November 22, 2014. Oz has been criticized by various political groups for its policy regarding illegal refugees using boats to reach Australia without going through the proper immigration channels. Since Abbott's government has been in power, the boats have stopped. Illegal immigrants (and their smugglers) have been warned before seeking refuge here that they will not be allowed into this country - that they will be processed off-shore and either sent back home or resettled in third-party countries like Papua New Guinea or Cambodia.

So I understand where OH Jim is coming from with his comments about Obama's changes to the immigration system in the US. OK, well Obamarama just made himself a real lame duck. I for one think that all the illegals ought to be shipped out of here. All Obama is doing is playing politics for the next election. At the expense of real Americans who can't find work, because illegals are taking jobs and are willing to work really cheap. And since they are illegal, they are paid under the table. No sympathy or sob stories. they broke the law, and are a drain on what little ( per what you say, Gary) social services there are here in the US. Some one has to pay for them. And it is the American taxpayer. Send them back to where they came from. And then deduct their shipment back home from their home country's welfare... umm... I mean foreign aid that we give them.

Is it that simple? If illegal immigrants are willing to work real cheap, who's employing them and paying them under the table? So-called respectable American businesses run by so-called respectable Americans?

As I understand it, illegal immigrants have been crossing the US/Mexican border for decades without much being done about it by successive governments of both persuasions. The problem has ballooned to almost 5m people, many of whom have married and had families born in the US. What the hell are you gonna do with all those people who have no homes to go back to?

Both Australia and America owe their success to immigration - people with the courage to start a new life in a foreign country - people who arrive literally penniless and work hard to become successful. Those stories abound in Oz and the US.

So, while it's true that neither country can afford to open the flood gates and let people in willy nilly, or to offer social services to people with no intention of making a positive contribution, we also need to consider both sides of the story. Last night on the news, John Boehner said Obama had gone too far, and that this was not the way to govern. So what is the way to govern? The same way as in the past? The same way that led to the creation of this problem in the first place, and which will continue to allow the situation to get progressively worse?

If the problem was as simple as sending all those people back to Mexico, why wasn't it done during the 8 years of the Bush administration? Or 16 years if you count Dad.


How can Boehner talk about the "correct" way to govern after having done all in his power to frustrate Obama's attempts to implement the policies mandated by the majority of American voters? Pardon me if I find all this a tad baffling. It's the same in Oz. The Abbott government gets elected to implement a range of policies only to have the bills rejected by certain members of the Senate who hold the balance of power.

To quote Churchill, "Democracy is the worst form of government except for all the other forms that have been tried." Or this one, "The best argument against democracy is a five-minute conversation with the average voter."

The GN forum webmaster doesn't allow religion or politics to be discussed because it inevitably leads to personal attacks and emotional outbursts. Human nature... isn't it wonderful? Don't look at me... I'm not human. I just observe the passing parade and take notes.


Stan the Lawn Man and his wife Sue have just left after doing a chainsaw massacre of all the overgrowth that threatened to take over the bloody joint. Weeds that started out looking innocent and ended up as trees. I'm sure the seeds were dropped by the pigeons fed by old Kev and Averil next door. They would gather in their dozens every day on my roof and guttering to keep watch on Av's place. Anyway, Stan charged $100 to fill a large trailer full of green waste and take it to the tip (dump) which I reckon is very reasonable. Luckily, I managed to grab $50 from Lindsay before he toddled off to the pub for his regular donation to the pokies (slots).

I borrowed Stan's ladder while he was here and took a pic of PJ's solar panel. First time I've seen the damn thing. Can anyone tell me if the aluminium frame around the panel is an original part of the panel itself or something added after market? If all panels come with frames, then fitting a new 200 watt panel will only require repositioning the pop-riveted feet to the roof and new waterproofing.
Alternatively, given that the hatch is centered on the roof, there's obviously room for a second panel on the other side, so I could keep the current one, install a second and have a total of about 260 watts. Not sure what the current one is but a solar guy told me it was an old BP panel with 60-70 watts. 260+ watts and 2x 105ah AGMs should give me heaps of power for longer camps. BTW, can anyone guess the vintage of that panel?

From the Beeb: US President Barack Obama has said he will press for further immigration reform, after Republicans condemned his use of executive powers on the issue. Mr Obama said he had no choice but to act, accusing the Republicans of blocking a bill in Congress, and vowed to make permanent reform a reality. The current move means that more than four million illegal immigrants will be allowed to apply for work permits. Republicans say it will encourage more people to arrive unlawfully.
Cameron Douglas and his wife Danielle work a 20,000-acre farm in rural New South Wales, where they work cattle and sheep and breed working dogs. Cameron says there are no incentives for young people like him to go into farming these days with high paying jobs like mining on offer but he has grown up farming and would not do anything different. In order to subsidise their chosen profession Cameron and his wife have started breeding dogs both to use in their work and to sell. They spoke to BBC News about the importance of keeping the tradition of the working dog going.
Armistice Day is remembered as the day World War One ended, but for naval historians Britain's greatest victory came 10 days later. Operation ZZ was the code name for the surrender of Germany's mighty navy. For those who witnessed "Der Tag" or "The Day" it was a sight they would never forget - the greatest gathering of warships the world had ever witnessed.
'Pooped' was the word I used yesterday to describe how I feel after years of false starts, medical issues and various frustrations. If this is the way I feel when I leave the driveway for the final time next year, I'll head to a local camp ground maybe an hour away, set up camp, and veg out for a week or two. No dentists, no doctors, no Lindsay, no appointments, no Stan and his lawnmower, no nuthin. Just veg out until the weight of the past peels away completely, leaving me in no doubt as to the reality of my new circumstances. Unfettered freedom. I have a feeling it's gonna take a while to truly dawn on me hehe.

People who go on vacation eventually go back home again, roite? There's a start date and an end date. That's gonna be the really weird thing about the Odyssey - no home to go back to, no time limit, no itinerary, no pressure, no stress... and the whole thing permanently funded. Weird, indeed. Gary
November 21, 2014. A/C, heat pumps, furnaces... as TX Greg says, it's all confusing:
What really gets confusing is I call a heater a furnace and you call it "ac". Here A/C is for cooling. Which reminds me, back in the 60s A/C was still a luxury and a big option for cars. I can still remember seeing old Chevys equipped with A/C having the small A/C decal proudly displayed in the lower driver's side rear window.
My first car didn't even have a heater, despite being made in England. Heaters/demisters were after-market luxuries (until they became law in Oz in the late 60s, early 70s. The first car I owned with a/c was a '73 Valiant. It was a huge under-dash thing. One time, as I tried to outrun a heavy storm, the air was so thick with humidity that the a/c was spitting out little chunks of ice. The Courier has a heater but no a/c. PJ has a/c, cleverly installed in a side-storage bin.

During the '70s and '80s, I wrote lots of ads for "reverse cycle" air conditioning and "heat pumps". All very wordy and complicated stuff. Basically it meant air conditioning that cooled in summer and heated in winter. Prior to those days, a/c was generally used for cooling. There's a ducted, reverse cycle unit here in this house. I'm not sure what they call it these days but I think most peeps are familiar with a/c being reverse cycle. The unit in PJ is.
The thing about the word "furnace" though is that it suggests flame, such as a gas or oil heater, or enclosed wood-fired stove. There's a gas heater installed in an open fire place behind me (this room was a dining room) but is no longer operational. It would have been supplied with gas from cylinders stored outside.
I remember the heating system in the 19th century building where I began my working life, the Registrar General's Dept. It had a huge furnace in the basement (probably coal fired). The rising hot air was channeled through cavities in the walls and emerged from vents. Additional personal heating was provided by electric radiators with cone-shaped elements and circular concave reflectors of polished brass. Talk about ancient.

Another way to keep a house comfortable all year round, of course, is to put wheels on it and follow the sun. Hmmm, now there's an idea.
Meanwhile, things are a tad nippy in Ohio according to Jim: It's 7:19 AM and it's still dark outside. AND, we are having a tropical heat wave: 25ºF !!!! By Saturday, we will have rain and 50ºF. See, buying 60 pounds of salt means we won't see any more snow this winter. That's the way it is suppose to work, isn't it?
Forecast top here is 38C (100F). No snow but thunderstorms later in the day. Eeeek! Yes, folks, it's bloody hot out there, with a hot wind for good measure. I've just returned from a little shopping. The woman behind me in the checkout queue helped to unload my wheely basket onto the counter. How generous and sweet! Either that or she was pissed off at my taking so bloody long hehe. Yeah... I'm still getting used to this business of being treated like a geriatic. It has its advantages, of course, but it's not exactly a huge boost to the ego. Anyway, all that fussing took my mind off the job and I forgot to pick up my meds from the pharmacy, dangit.
From the Beeb: Nearly five million people living illegally in the US can escape deportation under sweeping changes to the immigration system. "Come out of the shadows and get right with the law," urged President Barack Obama in a televised address. Republicans say the action, without Congress, is beyond his authority and relations will now be poisoned. Yes, folks, no more kisses and hugs from the GOP.
The UK's first bus powered entirely by human and food waste has gone into service between Bristol and Bath. The 40-seat "Bio-Bus" runs on biomethane gas generated through the treatment of sewage and food waste. The eco-friendly vehicle can travel up to 300km (186 miles) on one tank of gas, which takes the annual waste of about five people to produce. It is run by tour operator Bath Bus Company and will shuttle people between Bristol Airport and Bath city centre.
I've long believed that dumping poo into the sea is a mindless waste of a valuable resource.
At least two people have died from heart attacks while shovelling snow in Buffalo, New York. Every winter, about 100 people in the US die doing this. Why? A study looking at data from 1990 to 2006 by researchers at the US Nationwide Children's Hospital recorded 1,647 fatalities from cardiac-related injuries associated with shovelling snow. In Canada, these deaths make the news every winter. Cardiologist Barry Franklin, an expert in the hazardous effects of snow removal, believes the number of deaths could be double that. "I believe we lose hundreds of people each year because of this activity," says Franklin, director of preventative cardiology and cardiac rehabilitation at William Beaumont Hospital, Michigan.
Yesterday morning while watching telly in the waiting room at the dental clinic, I saw a clip of CCT footage showing an old man being king hit in an undercover parking area. He fell to the ground and was then robbed by his assailant and accomplice, who casually walked off after stealing his wallet. I was outraged and sickened by what I saw. But the sound of the telly was turned down so I didn't quite know what it was all about. Last night, on the news, I saw the footage again. The old man had been lured into the Sydney suburban parking area by his attackers after one of them witnessed him withdrawing his pension money from an ATM in the shopping mall. Two young women were later arrested and charged, and a third person, a male in his early 20s, was arrested on a train that afternoon. Despicable low life. The 84 y/o man was shaken and bruised after being treated in hospital but otherwise okay. The shopping mall organized a collection to replace what was stolen and the old bloke said he still feels safe living in his home suburb despite what happened. The thugs were from out of town. A small rural town, in fact,

What contemptible grubs those people are. Honestly, if I ever witness something like that - a vicious attack on an old defenceless and vulnerable person - I'd hate to think of what my instinctive reaction would be if I had a gun. Grrrrr.
Nuttin much happening around the Kelly Camp. I've been laying low and watching my pennies, recuperating from earlier fiscal upheavals and trying to build a buffer for those to come, like insurance bills and registration costs for PJ next April.

Nonetheless, the pluses for 2014 are significant... a new radiator and water pump, new cylinder head, and new 3-meter Fiamma roll-out awning. That's about $2500 worth (or closer to $3000 if you count the cost of installing the awning). There are a few other bits and pieces like the TV mounting bracket, digital antenna, and the power drill. Let's not forget Bubba. So there's been worthwhile progress despite the lack of fanfare and excitement.
I suppose the prof's decision to operate on my gum can be counted as a plus too. If all goes to plan, I should be ready to hit the road by mid-ish 2015. So why aren't I jumping for joy? I dunno. All pooped out after years of false starts, I suppose, and medical issues. I think it's finally catching up with me... the strain, that is.

OH Jim mentioned Black Friday occurring next week. Black Friday? Wot dat? I had to check it out on Google. So it's the beginning of the Christmas shopping season in the US? Bunch of crazy obsessed consumers if you ask me. Anyway, Jim has to work that day so he's not a happy camper cos it means he'll miss a party thrown by a fellow ham. My commiserations, Jim ol' boy.
As to Christmas shopping, I'll do the same as last year and the year before that. None. Hehe. What a grump. Gary
November 20, 2014. It was on this day in 1959 that Ford announced the discontinuation of the Ford Edsel. Only 110,847 Edsels were sold over 3 models at a loss of $350m. It was also around that time that Beetles started popping up all over the world's roads like mobile mushrooms. What an unlikely contender for an auto success story that was.
However, the automobile itself has been an astonishing success story, from its humble beginnings based on horse-drawn carriages a little over a century ago to the sleek and powerful machines we have today in their tens of millions.
I have a confession to make. Not once in my life have I bought 60 pounds of salt all at once. Never. Mind you, I've never had to shovel snow from the porch or pathway either. For a bloke like OH Jim, buying 60 pounds of salt is like me buying a bottle of tamaaaaaata sauce. Nothing unusual about it at all.

Jim also has a furnace - gas fuelled and controlled by a microprocessor. OR Richie, on the other hand, has a slow burning, enclosed fireplace fuelled by wood, delivered by the cord, which he then splits into bite-size chunks. I rather like those old fashioned wood-burning stoves. We had one in Canberra where I was the chief log-splitter. Canberra gets pretty chilly in winter (not far from the Snowy Mountains, Australia's alpine region) but it rarely snows there except on the local peaks.

So there ya go, we're all living on the same rock but winter means different things to different peeps. For some peeps, like those living in the Northern Territory of Oz, there is no winter, only the dry season. It's monsoonal country up there. Santa arrives on Christmas eve dressed in Wellington boots, red shorts, singlet and a Sou'wester. His 'sleigh' is an open boat drawn by six dog-paddling kangaroos. There are no chimneys, of course, so he chucks the prezzies through an open window.


Christmas trees in Oz are gums, decorated with cans of Fosters, multi-colored thongs, strips of cooking foil, and a boomerang on top (although stuffed koalas are also popular). You can learn a lot about Oz by reading Waffle, ya know.

I've noticed Christmas songs playing on the PA system at the local supermarket. If I hear Bing with THAT song again I'll scream! Honestly, as if we needed reminding of what time of year it is. Junk snail mail is full of it, spam is full of it, the airwaves are full of it and newspapapers and mags are full of it.

From the Beeb: A massive snowstorm has wreaked havoc in the north-eastern US and left seven people dead in upstate New York. After sweeping across the Great Lakes, the storm dumped 5ft (1.5m) of snow in the Buffalo area, with more forecast. The storm caused seven deaths there - one in a car crash, one trapped in a car and five from heart attacks. Freezing temperatures were recorded across all 50 US states, including Florida and Hawaii, and there were more deaths elsewhere in the country.

US TV network NBC has scrapped a proposed project with comedian Bill Cosby after accusations that he sexually assaulted women resurfaced. In a statement, the company confirmed the project with the 77-year-old was "no longer in development". On Tuesday, streaming service Netflix postponed a special show with Cosby after a model alleged the comedian had sexually assaulted her in 1982. Cosby has so far declined to comment on the allegation.

Fans of understatement, look away now: it's the new Bentley Grand Convertible. It's described by Bentley boss Wolfgang Dürheimer as "embodying elegance beyond compare". So long as you deem "elegance" to be "five and a half metres long and two-tone", you can't really argue with him.

Well, while America freezes, Oz boils... at least in my neck of the woods. It's been a hottie today, and looks to continue that way for a while. Heat and humidity saps energy - mental as well as physical - so I haven't exactly been a blur of activity hehe. Matter of fact, the Courier needs a wash and polish and I've been loathe to do it. Or too lazy. Either or. So I placed a thread on the GN forum today asking about all-in-one wash and wax products and if anyone cares to recommend one. I can't use the auto car wash any more cos PJ's a permanent fixture now. Anyway, we'll see what happens.

Not all that long ago I used to wash TT with a hose and brush, and then use a chamois to dry the car. No problem. But not now... not after the cancer op and radiation. I just don't have the stamina. Hopefully that will change when I can eat properly again and get a bit more regular exercise. It's also only a few years ago that I did all the shopping for L&S and Averil a couple of times a week, carrying a stack of heavy bags into Av's house and then the same again into ours.

And then I'd cook dinner for three!

Jeez, I don't mind slowing down a bit but I'm not ready yet to fall in a heap. Unless it's in front of the telly. But that's different. Furthermore, it's what I'm about to do. Catch yaz later. Gary

November 19, 2014. OH Jim was right about Cody's web site disappearing yesterday. TX Greg is checking now, and I'm expecting my ISP to call in an hour or two to explain the problem. Greg thinks someone may have stolen the domain name. I don't understand how that could happen but a few months ago some Chinese guy was emailing me about wanting to use the name. I thought it was some kinda scam so I ignored it.

UPDATE: All is cool again. Greg phoned the domain registry. They needed me to update and verify my details, which I've just done. Back to normal, folks.


Poor Greg is also trying to solve a furnace problem at his house while Jim is complaining about below-freezing temps. OR Richie wrote the other day to say it was single digit Fahrenheit on the weekend. I can't begin to tell you how guilty I feel about the summery warm weather here in Oz. Black ice on the roads was another thing Jim mentioned... when the snow melts and then refreezes and becomes invisible to the naked eye causing mayhem for drivers.

We do get snow here occasionally... well, west of here at Barrington Tops during winter if it's really cold. I was there in Tough Titties in '07 and saw the roadsign warning of snow but there wasn't any, only dry dusty gravel.


Now, when you think of a furnace, you think of a heavy iron door, flames dancing around inside and a pile of wood or coal alongside. Roite? At least, I do. But that's not the case with TX Greg's. Nope, he traced the fault with his furnace to the... wait for it... circuit board. Hello?


Jim reckons the reason Oz spends only 6% of its budget on defense is because we know the good ol' U S of A will come to our rescue with both guns blazing if anyone tries to invade us. That's true - America is our most powerful ally. We recently arranged a deal with the US military to have 3000 marines stationed on a rotational basis in Darwin, which wasn't received too enthusiastically by our biggest trading partner China hehe. In any case, we're a fairly wealthy country so 6% of a lot of money is still a lot of money. We've signed a deal with Lockheed Martin to buy a possible 100 F-35A fighter aircraft to replace our current Hornets and Super Hornets (in service in Iraq and Syria at the mo). And we're about to spend billions of dollars on a fleet of new submarines. Oz is a significant military power in the South East Pacific but obviously we're no match for the big boys.


Oz is right on the doorstep of the world's largest population of Muslims (250m) - Indonesia. Happily, we have good relations with Indonesia, which is a democracy.


Jim tells me that gas is $2.89 a gallon over there. It's about $1.50 a liter here and there are just over 4 liters to a gallon which makes our juice about double the price of yours. On the other hand, our boomerangs are cheaper. Jim adds: of course the Saudis are probably flooding the market with cheap oil, to drive the fracting and sand oil companies in the USA out of business. Nice allies (and I use the term loosely with any mid eastern country). Yes, well, business is business hehe. US farmers do the same thing to Oz farmers if we look like snaffling some of their market share.

BTW, guess who's the biggest foreign investor in Oz at $658b or almost 27% of the total? It's funny cos the Chinaphobes are forever screaming the Yellow Peril threat (and have been since the 19th century). But 50% of total foreign investment in Oz is from the US and UK with China at 1.3%.


From the Beeb: A UN committee has called for the Security Council to refer North Korea to the International Criminal Court over its human rights record. The human rights committee passed a motion seeking a probe into alleged crimes against humanity committed by the Pyongyang regime. The motion still needs to be voted on by the General Assembly itself. A groundbreaking UN report released in February revealed ordinary North Koreans faced "unspeakable atrocities".


The Bill and Melinda Gates Foundation has pledged $5.7m towards a programme to increase production of experimental Ebola treatments in Guinea and other affected countries. The programme will focus on treatments derived from the blood of survivors. The foundation also said the grant would be used to evaluate new experimental drugs.

Robots may hold the key to preventing an industrial crisis in a country whose geography makes many key jobs undesirable. I knew Australia was big, but it didn't really hit me till I stood on a viewing platform hanging over a valley in the Blue Mountains. As I watched the land fall away below me, giving way to a valley of forest that stretched to the horizon, I could feel thousands of miles of silence sucking me in like a vacuum. Part of Australia's beauty is also its problem. Its untamed, uninhabited interior contains rich pickings, but there are few who want to go and get them.

Speaking of rich pickings, it's pension day tomorrow - the ol' fiscal revolving door trick. Hello! Byeeee! The government gives me just enough to keep the wolves at bay not not enough to get rid of the buggers permanently. It's a conspiracy ya know. It takes money to make money. How do I know? Gina Rinehart — mining tycoon and Australia's richest person — is now also the world's richest woman. Last year, her wealth grew by $18.87 billion to $29.17 billion. Her wealth grew $52 million a day or $1 million every 30 minutes.

See what I mean? It's almost obscene, isn't it. $1m every 30 minutes. Sheesh. At my current rate of pension, I'd need to live another 41.6 years to be paid that much, and there's Gina making $52m a day! You couldn't even spend that much in a day! Not on creme caramels, anyway.


Actually, it is obscene. How the hell could you fully appreciate the simple joys of life when getting virtually anything you wanted was as easy as snapping your fingers? Nah... I reckon having that much loot would be a curse unless you used it to alleviate world suffering or assist medical research and development and various other humanitarian causes. Gina may very well be doing that, I dunno. More power to her if she is.

And now dear Breth, one of the funniest vids I've seen about Internet dating. French with English subtitles.


And on that note, I'll take my leave. See yaz. Gary

November 18, 2014. A new member of the GN forum has just posted pics of his rig. Minimalist, to be sure, but interesting... the kind of traveller I'd like to have a chin wag with around the campfire.

Another GN who impressed me this morning was Revemike. He posted some of the best pics I've seen on the forum. A bloke who sure knows a thing or two about photography.

Revemike demonstrates so well that understanding light and how a camera works can make all the difference to producing an outstanding image. Mind you, having a good eye for composition helps too. An ordinary scene can become a work of art and a joy to behold.

OH Jim asked if Cody's web site had been taken down. Nope. Still there, as always. Jim survived the ham radio sweepstakes competition with little sleep: So Sweeps is over for another year, and I came pretty close to a "clean sweep" ... working all 83 ARRL/ RAC sections. ARRL, the American Radio Relay League, and the RAC ( Radio Amateurs of Canada) are the are co-sponsors of the contest.


Jim provided a whole bunch of technical info regarding the comp and how it works, but I won't post it cos I doubt if regular Wafflees will understand it. I certainly don't. But Jim also commented on the pic of PJ on eBay: Your PJ looks so weird in that picture. Never saw a pickup camper being towed on a trailer like that. Ingenious idea. That awing looks simple to deploy. Did you get the trailer with it? I guess the kid wasn't part of the deal. Too bad. Teenage slave labor comes in handy LOL.


The kid was the owner's nephew. The owner had only recently bought PJ from the bloke who refurbished the camper but went broke and had to sell it. Then the owner went through a divorce and had to liquidate his assets. And I got lucky. At the time, I had a tub ute so I couldn't collect PJ from the owner's place up the coast near Port Macquarie. I had to give him a sob story about the cancer op and how frail I was and ask him if he could deliver it for me. Hehe. He arrived a few days later with PJ sitting precariously on the back of the box trailer and then reversed it into my yard where it stood for several months before being loaded onto the Courier. Then I discovered it was too tall with that extra storage box underneath, so I had a local engineer do some surgery to lower PJ to the height she is today.

Jeez, when I think back to those days and all the hassle I went through, I shake my head in disbelief. No way in the wide world would I go through all that complicated rigmarole again.

I won't comment on what the Dems did to our economy. That they wrecked it with the "everyone deserves to own a home" thing which happened under Clinton's watch. Which led to the economic melt down in '08, and the reason why I am still working. My 401K took a huge hit. And now, most companies have to limit part time work to just 30 hours in 2015, thanks to Obamacare. We were already told at work. Thanks, Dems. Right. They sure fixed that one, didn't they?

I dunno. Did they? I've never understood American politics. It's the richest and most powerful country on Earth and yet the official minimum wage in the US is $7.25 an hour. Here in Oz it's $16.87 an hour or $640.90 a week. How do you figure that? Americans complain about the cost of Obamacare and yet I've been through the whole cancer thing, surgery and radiation therapy, with another operation to go, for zero dollars. The dentures are free too.

67% of Australian households are owner occupiers. Admittedly, goods such as cars are more expensive in Oz... but even so In 1955, there were 153 passenger vehicles per 1,000 people in Australia. By 2013, this rate had increased to 568 per 1,000 people.


I can only assume that America's expenditure on things like defense (40% I think is the figure compared to Australia's 6% ) and space exploration is where the money goes that might otherwise be spent on social services. Social security and welfare occupy 35% of the Australian budget, and health a further 16%.

Having said that, America's investment in military and space research and development pays off handsomely by selling the resultant manufactured technology to the rest of the world. American R&D is not a charity.




Perhaps comparing the way things are in Oz to the way they are in the US is like comparing apples with oranges, which nonetheless seems a bit odd given our similar backgrounds in some respects.

Meanwhile, Jim's opinion of Putin is pretty much aligned with OR Richie's: Is it true that Putin is president of the Russian branch of the Hitler fan club? He sure seems to want to try to resurrect the Third Reich in Moscow. Instead of trying to make Russia an economic powerhouse, all he is doing is making Russia a political outcast. Note to Putin... Y'all lost the Cold War. Get over it and move on. You can't go back. We won't let you.

I'd love a crystal ball to check out what a typical journal/waffle page will be like in a year or two from now... what thoughts occupy my brain, what activities I'm involved in, what my attitude to life is. I know that my attitude to a lot of things has changed over the past decade or two. However, I don't think I've quite reached "the new and improved, better than ever" me yet. But I'm working on it.

It's taken me since the mid nineties, when I hit rock bottom, to get this far - 20 years. It's about 7 years since a former colleague shouted down the phone, "Who the fuck do you think you are?" for having the temerity to publish a web site about ME. Hehe.

Now I'm beginning to see all those former colleagues who either deserted me in droves and/or aimed their venomous criticisms at me for what they really were - and are. Nasty little opportunists who chewed me up and spat me out. Mind you, to a large extent it was my fault for being utterly naive and way too trusting.

So, dear Breth, the ultimate aim is to sit under the stars in my folding lounger surveying a squillion square kilometers of outback Oz while sipping on a cold beer and thinking, "Who the hell gives a damn?" Hehe.

From the Beeb: The governor of the US state of Missouri has activated the state's National Guard in anticipation of a grand jury decision over the killing of an unarmed black teenager. In a statement, Jay Nixon said the guard will "support law enforcement's efforts to maintain peace". A panel is deciding whether to charge Officer Darren Wilson in the August death of Michael Brown, 18.


American mass murderer Charles Manson, 80, has reportedly been granted a licence to marry a 26-year-old woman who has been visiting him in prison. The marriage licence was issued 10 days ago for Manson and Afton Elaine Burton, the Associated Press reports. Ms Burton moved to Corcoran, California, nine years ago in order to be nearer Manson's prison, it adds. Manson is serving a life sentence for the murders of seven people and one unborn child in Los Angeles in 1969. Their victims included pregnant actress Sharon Tate, wife of film director Roman Polanski. Takes all kinds ya know.

In pictures: My Toilet. This will make you appreciate your own private loo.

There was a program on telly the other night about the Roman empire in its glory days and how the public toilets were used by men to discuss various issues and even do business (both commercial and defecatory). The toilets had no privacy. Instead, they were furnished with long wooden benches with holes spaced at intervals of a few feet along its length. Users would gather up their tunics before depositing their bare buttocks over a vacant opening. Seems they didn't wear undies back then, or pants. Tunics made it easy to remain clothed during defecation. There was no evidence of toilet paper (invented by the Chinese) or any other means of cleansing one's butt. Ew!

When I was a little red-haired freckled G we had an outdoor loo in the backyard... plonked right in the middle, with a concrete path leading to it. I remember the wooden seat, the squares of newspaper hanging on a nail inside the wooden door, and the cistern sitting high atop a wooden structure with a chain hanging from it. There was no electric light so we used a candle. Mom finally nagged dad into installing a loo in the back room of the house, which he divided into three sections - a loo, a small room to house his printing press and a sunroom.


And here I am at 70 with my very own porta potti. It was one of the first things I bought in anticipation of the Odyssey back in 2007 or 8 hehe. I still haven't christened it yet. Given how much wind I manage to accumulate these days as a septuagenarian, there's a strong possibility that the porta potti's initial introduction to my boney butt could end up resembling one of Wily E Coyote's more spectacular disasters.

And so closeth another Waffle. I know I get a bit self-indulgent occasionally, but Waffle is my shrink, my analyst, as the Americans say. I sort out a lot of what's in my head by tipping it out on a blank Waffle page, rather like the letters in a game of Scrabble, and then try to make sense of it all. It's rather like photography in that you freeze a moment so that you're able to study it in more detail. You can't do that with a moving target such as time itself, or a thought that materializes and then vaporizes just as quickly. Yeah? Gary

November 17, 2014. Putin's reception by the majority of G20 leaders was "frosty" according to the news on telly. But Putin was impressed by Tony Abbott's efforts to make his stay comfortable and cordial, and went out of his way to thank our PM in writing. Being leader of the host country, Abbott had the additional responsibility of making guests feel welcome regardless of politics, which was something other leaders didn't have to worry about.

As he walked to his aircraft after the end of the summit, Putin deviated from his path to shake the hands of the Aussie motor cycle cops who escorted his car, which was an unexpected gesture.

OR Richie is a big fan of Putin: Putin and the little cute critters, eh? Damn. What a piece of work he is. Maybe when he's elder grandpappy age he can start a new career as a clown. I do believe he and Adolph have some similar traits. A loving animal hugging baby-kissing dude in public and then creeps back to shadowy rooms and plans irritating if not evil moves. And they seem to really LIKE the guy, them Russki folks. Whatever...


Putin is between a rock and hard place with the Ukraine business. If he withdraws troops and arms from eastern Ukraine, he'll be seen by his supporters at home as bowing to pressure from western Europe and America. He enjoys an 80% approval rating from the Ruskis who see him as the "father" and protector of Russia. Anyway, he's gotten himself into a pickle and now he's got to figure a way out.


Nice to see that our President is getting a good reception down beunder. He should. He does not get as much raves in this country as he should, indeed. How typical. Something in the nation hits the fan stateside and they turn to democrats to bail 'em out and take care of things like the good nurturing group they tend to be... and when things improve a bit.. bitch and moan and get a bit crazy and vote back in the nuts who largely created the mess to begin with. I guess they like the message. How odd. I like to point out that in my travels the US is largely viewed as "the essential country" in this dopey world, but in so many social issues... be it health care of gun laws... most of the countries beyond our shores think we're pretty damned nuts.

Essential nuts, as it were. One of the major headlines this morning was the signing of a billion-dollar free trade agreement between Oz and China. China's President Xi Jinping has arrived in Canberra with what could be the most ambitious free trade agreement his country has signed since committing to the World Trade Organisation, promising billions of dollars in new markets for Australian exporters. Goodie. I can keep my pension and health care.


But getting back to Richie's comment about the Dems and the GOP. Here it's the other way around. Ideologically, our Labor party has much in common with the Democrats, and the Liberals (conservatives) have much in common with the Republicans. But it's the Labor party that sends the country broke every time it's in power, and the Libs who have to rescue it. The Libs are back in power (with Abbott) after 6 years of chaos with Gillard/Rudd taking turns on the PM merry-go-round. What a joke that was! This deal with China is a real coup for the Libs and should ensure their reign in government continues for many years.

I'm a bit of a fence-sitter politically. I believe in small government and prosperity through private enterprise (Liberal), but I also believe in things like pensions, medicare and free education (Labor). Many political commentators these days say there's not much difference between the two parties - both aim their policies at middle Australia.

Many thanks to TX Greg and also FL Josh for sending the pic of PJ on eBay. I've yet to set up the rear awning and just wanted to check how it operates. Looks like you lift it out of its cradle and drop it down, which will require using my extension ladder. Maybe I'll get a bit tricky after some practice and back up to a picnic table and stand on that to erect the awning and then drive to my parking spot. Hehe.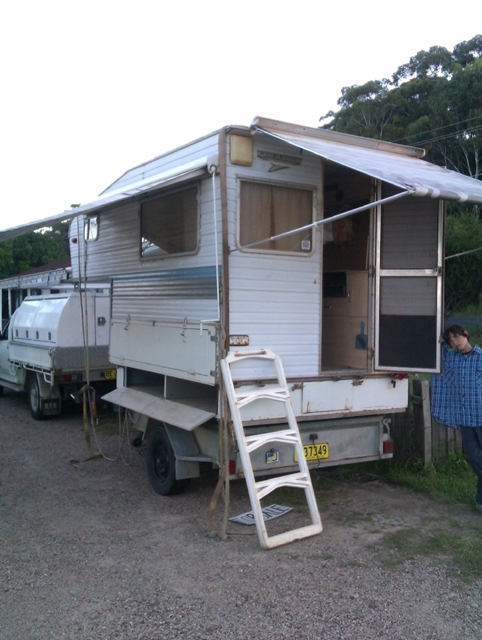 That was May 2012, about 4 months after the cancer op in Sydney and during the radiation therapy at Port Macquarie. Horror days. Then in November that year, out came all my teeth - oops! too late - and left me with an exposed bone issue. After that came 2 years of pointless medication and bi-weekly irrigation at the dental clinic. But wait! There's more! In about 10 weeks I'll be back in surgery and then on the road to recovery within 6 months. Yeah? Can't wait to take a selfie of me tucking into a thin and crispy supreme with double topping.
From the Beeb: US President Barack Obama has condemned the killing of US aid worker Abdul-Rahman Kassig as "an act of pure evil". The Islamic State (IS) militant group released a video showing a masked man standing over a severed head, which the White House confirmed was Mr Kassig. His parents said he died "as a result of his love for the Syrian people". Mr Kassig, 26, was taken while working for a refugee group. He is the fifth Western hostage to be killed by IS, which controls parts of Syria and Iraq.
A man dressed up as Father Christmas robbed a post office in Melbourne, Australia. According to police as he entered the people in the post office thought he was giving out sweets, but instead he filled a sack full of cash and left.
Here's something interesting, a series of WWII photos from 1944 with views of the same locations in 2014. Hold down the mouse button and slide the cursor from left to right to go from 1944 to 2014 and right to left to go back again. Coincidentally, 1944 was when I was born.

Well, the koalas are back in the gum trees eating leaves and Brissie is back to normal. The party is over. Actually, during a speech, Obama used the term "chin wag" which apparently is an Aussie expression not used globally. He kinda liked it, and paused to say so. He was making the point that the G20 Summit was more than just talk. He also knew how to pronounce Four X, a brand of beer from Queensland whose logo is XXXX. More importantly, perhaps, he pronounced Brisbane Brisb'n as the locals do. However, I didn't hear him say Straya. Hehe. Gary
November 16, 2014. Here's a pic of Abbott and Obama cuddling koalas but the marsupials are obviously much more interested in each other than presidents or prime ministers. Not to be outdone, Putin also wrestled one of the so-called bears into submission to add to his collection of macho images.
I'll bet those beasties were shampooed, brushed and de-peed before being offered to guests.

There was a lot of news footage of Obama being mobbed and shaking hands with Aussie fans. He was getting the pop-star treatment big time. One young kid was asked why he wanted to see Obama: "Everyone wants to see Obama. He's really famous!" I suspect Obama wishes he enjoyed the same popularity in the US as he does here.



Brisbanites were initially a tad pissed off about having their city in lock down, roads closed and various other restrictions but soon warmed to the occasion and began to enjoy the limelight of world attention and festivities.

Actually, not too many cities can claim to have hosted 20 world leaders all at once, so it's quite a feather in Brissie's cap. They've gone from a boiled lolly to an Old Gold chocolate, as we say in Oz.


From the Beeb: The G20 summit in Australia has entered its second and final day with the focus on boosting economic growth. Finance ministers from G20 countries drew up plans in February to boost global growth by 2% in five years. The first day was overshadowed by anger with Russia's President Vladimir Putin over the conflict in Ukraine. Mr Putin criticised US and EU sanctions imposed over Russia's involvement in the Ukraine conflict, saying they hurt the West as well as Russia.

America's top general has told US troops in Iraq that momentum is turning against Islamic State militants. Gen Martin Dempsey, on an unannounced visit, called the militants "midgets" but said the battle against them was likely to take years. The US has launched air strikes against IS and has more than 1,000 personnel in Iraq to help to train local forces. IS controls huge areas of Iraq and Syria, though Iraqi forces have claimed victory in some recent battles.

BBC readers' photos on the Theme of Australia.

Train fans have experienced the speed of super-fast maglev trains, during test runs for members of the public in central Japan. One hundred passengers whizzed along a 42.8km (27 mile) route between the cities of Uenohara and Fuefuki, reaching speeds of up to 500km/h (311mph). The Central Japan Railway Company is running eight days of testing for the experimental maglev Shinkansen train on its test track in Yamanashi Prefecture.

Of all the possible answers the call of the open road, perhaps none is more compelling than the Airstream travel trailer. Though these glinting whales of the highway have been manufactured in the US since the 1930s, Airstreams are selling at record numbers, with the company reporting a 50% increase in revenue for fiscal year 2014.Though Bob Wheeler, Airstream president and chief executive officer, attributes the growth to such factors as an expanded dealer network, accelerated marketing efforts and product consistency, it is the Airstream trailer's fervent fans – along with a zeitgeist-y embrace of retro kitsch – that largely underpin the renaissance.

OH Jim's email didn't send at the usual time so he sent it again and it's now late afternoon. He's been busy with his ham radio contest: IT'S NOW 11:30 PM AND INTO THE CONTEST. SO FAR I AM GOING FOR SECTIONS WORKED. THEY COUNT AS A MULTIPLIER TO BOOST YOUR SCORE. THERE'S 83 SECTIONS, I HAVE OVER HALF, 46 BAGGED, IN 3HRS, 53 MIN ON THE AIR.


Roite. I'm sure that's good... why exactly, I have no idea... sections, multipliers, chilli and vermicelli. 10-4, 99. Copy. Over and out. Rhubarb, rhubarb. Meanwhile, Zach chalked up a milestone in his young life. He was left in charge of phone inquiries and sales at the ham shop while the regular sales staff attended a hamfest out of town. He was nervous about going solo but handled it well, making quite a few sales before closing at 6pm. That's an experience he'll never forget as long as he lives.

You mentioned Friday dinner fare as a kid. Our Catholic supper was either fish sticks and macaroni and cheese or grilled cheese and tomato soup, or pancakes at Perkin's Pancake House, if it was my Dad's payday. They had all you could eat, and probably lost money when they saw our family arrive, with 3 hungry boys. They had the best buttermilk pancakes, and I would eat myself full on them with real maple syrup. Yum. Too bad they went out of business.


With your help, of course. "Real" maple syrup? Is there any other kind? The one in my pantry is Steeves. I don't think we have gum tree syrup here in Oz. Eucalyptus on pancakes doesn't sound too appetizing. But at that house in Canberra where I saw snow for the first time, I used to make crepes with buttermilk and roll them up with savory fillings such as tuna or chicken. The damn things would disappear off the plate as fast as I could make them. Crepes, by the way, are very thin French pancakes.


And so another weekend Waffle comes to an end. I spent some of today looking for the pic of PJ on eBay with the rear awning open and the kid holding the back door open. It's probably buried somewhere. Greg, do you have a copy handy you can send? Gary

November 15, 2014. Vlad's in town and not too thrilled about sanctions imposed on Russia by G20 member countries for its involvement in Ukraine. Obama is due later this morning. Yes, folks, it's all happening in Brissie which is turning on a tropical heat wave just for the occasion.

No heatwave in Ohio though according to Jim: It's 6:23 AM and current temp is 19F. Driving to Florence yesterday, I was seeing snow flakes. Just a light flurry, and not enough to stick, but it was an "ah Jeez" moment. We don't need this. I assume anyone from Wisconsin or Minnesota would just laugh at my whining. They have had real snow already. Better them than us.

Not forgetting Oregon from whence Richie haileth: Like the picture of the ancient car covered with snow.... that's pretty much what started here yesterday. It dumped about half a foot overnight and through the morning, with promises to do the same today, and... glancing out the window... it's started again and with BIG damn lumpy but very dry powder snow. This will go on for a few days and then it warms up a bit, but traffic crawls, with pretty much the same effect on business, and it's slow going.

I remember someone yelling "it's snowing!" when I lived in a house in Canberra in the early '90s, so I rushed to the back door for my first ever glimpse of snow and all I saw was a few little flakey bits wafting through the air. That's it? That's what Bing Crosby sang about?


But OH Jim has more important things on his mind for the weekend... the ham radio contest. So he's filled the crock pot with home-made chili and vermicelli (yes, I know what vermicelli is... I prefer it myself to regular spaghetti), and has stocked up with donuts and coffee and caffeine-loaded pop. Zach will also partake in the comp but wants to use his own new radio at home.

After the bingle I witnessed yesterday at the roundabout, with little damage other than a few red faces, Jim witnessed a far more serious accident on a feeder ramp onto I 75-71 in Kentucky where a car's rear end had been pushed up to the back of the rear seat. All he recognized from the compacted wreckage was a folding beach chair. It's inevitable I suppose when you get thousands of missiles piloted by human beings, travelling at high speed at any given time.

On the Odyssey my intention is to spend as little time as possible on the road and as much as possible camped somewhere. The word 'hurry' will be stricken from my dictionary. Which reminds me, the other night on QI Stephen Fry discussed the 7 day week, which was invented by the Babylonians but the ancient Romans had an eight day week. Either way, it's a man-made construct. Aaaaaaand, the five-day working week is why it rains on Saturdays more often than any other day. Smoke and hot air from factories are poured into the atmosphere from Monday to Friday, and then on Saturday it stops (or decreases) and triggers rain.

Anyway, for me on the Odyssey, weekdays and weekends will cease to have much significance. One day will be pretty much the same as another just as it is with the birds. Sunrise, sunset, day time, night time. When I went solo in 1986, suddenly I was free of peak hour traffic worries, and the dreaded 9 to 5 regime. I worked weekdays and weekends, and whenever it suited me. It was soooooo liberating! When I booked a local studio, I booked it for 11am so that the session ended just in time for lunch, which was always the client's treat. I refused to make appointments before 11am. How civilized!


Yes... and then it all came to a grinding halt when I got involved with my ex-biz partner. Oh well...


The other night, I had a dream in which I could sing. It was magic! I remember remarking that for years I wanted to be able to sing but couldn't, and now all I had to do was open my mouth and out came a magnificent voice. It was effortless. When I woke, I realized the dream wasn't about singing, it was about being free. It was about having no restrictions, no worries, no responsibilities, no one to answer to.

The landlady of a boarding house where I lived in the early 70s used to say, "All the world is queer save thee and me, and sometimes I think even thou art a little queer." Yes, it's wonderful to be able to say that and mean it hehe. I have spent far, far too long believing that it was me who was nuts, and not the rest of humanity. Well, I've changed my mind. And what's more, I no longer feel obligated to prove anything, not even to myself. How liberating is that?


Have you ever stopped to think how many people there are out there whose mission is to annoy you? Hehe. Squillions! And if they succeed, dear Breth, blame yourself.


From the Beeb: The Philae lander on the distant comet 67P has re-established radio contact with its orbiting Rosetta satellite and is sending data from the surface. It ends a tense wait for the European Space Agency (Esa), amid fears that the lander's battery was about to die. Scientists will be most keen to see if the probe has managed to get a surface sample of the comet with its drill. Philae descended to 67P on Wednesday - the first time such a feat has been achieved. The probe has been sending pictures and other scientific data ever since, relayed by the Rosetta satellite.


World leaders are meeting in Brisbane for the first day of the G20 summit. The two-day summit, attended by the US, Chinese and Russian leaders among others, will focus on promoting growth. The crisis in Ukraine and the threat of Ebola are expected to be discussed, while campaigners want climate change on the agenda. Vladimir Putin is expected to face a hostile reception from some Western leaders concerned about Russia's increasing military assertiveness. Speaking ahead of the G20 summit, the Russian president said US and EU sanctions imposed over Russia's actions in Ukraine would harm not just Russia but the global economy.

Just happened to be browsing the name of a colleague I worked with in radio years ago and came across some others, some of whom have made the 'most influential' list in the radio biz while others have been inducted into the Hall of Fame. I checked and I'm not in there. Dunno why. Must've been an oversight.


I need to be careful here not to sound bitter about my lack of success but I remember meeting some of those people in the early days and thinking they were slimy and/or creepy. Anyway, here I am CEO of Aussie Odyssey. Now all I gotta do is figure out how to make it work. Merchandising will be the key but that won't happen till there's something worth selling hehe - probably a series of picture books with captions and minimal text, and at the end of it all, a book based on the journal. The picture books could be released annually as an account of each year's travels. Anyway, I'll work something out.


Hmmm. I wonder if there's sufficient quality material to publish a picture book of the lead-up to Day One? Could be worth thinking about. A sort of condensed overview thingy.


It's time to catch a bit of telly to see what's been occurring at the G20 in Brissie. Come to think of it, Brisbane is the only capital city in Oz with a nickname. We don't have Siddie or Mellie or Addie or Pertie or Darwie. However, we do have Tassie, but that's a state. Hooroo! Gary

November 14, 2014. Friday used to be fish n chips day when I was a kid. As Catholics we weren't allowed to eat meat. So mom would give me the money to buy fish n chips for 4 from the Chinese shop and a tea cake with pink icing from the cake shop next door. It was the only take-away food we had each week, and was a real treat. Butter never tasted so good as spread on a tea cake.

Interesting story on Catalyst last night on telly about losing weight with the low carb diet. It seems that high carbohydrate diets are not the way to go after decades of being told they are. Natural fats like butter, cheese, meat, etc, are converted into energy by the body if there's a lack of carbohydrates. In other words, if the diet contains too many carbohydrates the body will use it as fuel rather than fat, which is stored instead of being converted to energy. And you become overweight. The fat has nowhere to go. As an example, a chef made a bolognaise without pasta, using strips of zucchini instead of spaghetti. To lessen your intake of carbs, cut down on cereals, breads, etc, and eat more bacon, eggs, meat, cheese and steer clear of processed foods. If you exercise regularly, the fat will be burned off as fuel and you'll lose weight.


Remember all the fatty foods we ate back in the 40s and 50s when there wasn't an obesity epidemic? Sounds weird, but according to this new research, losing fat means eating more fat - and less carbs.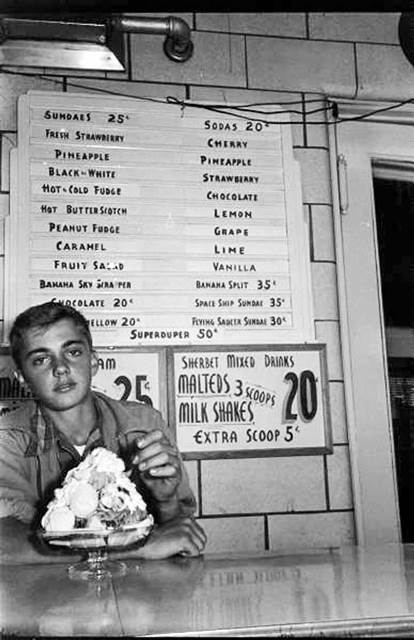 OH Jim sent this link to The Contest, the song about ham radio competitions. It's all about the human need to communicate, which explains why we've gone from cave etchings and smoke signals to the Internet; why we have language, and radio, and TV, and phones, and books, and newspapers and send signals into outer space in the hope of communicating with who-knows-what.
I actually found a picture of MY 68 Mustang on a German web site by accident while surfing the net. That was a start. Not that I minded, but there it was in MY driveway. I picture I took years ago. It was kind of a wake up call.
If you scroll down to the comments section of THE CONTEST on YouTube, you will find my comments that I wrote, over 7 years ago. It's still there. It just goes to show, that when you send something across the Internet, you can never get it back. Even E-Mail. Did Cody expect that what he wrote to you would be read by me, many years later? Nope. Thankfully you hung on to them, because it became a great tribute to the kid. But the morning he sent them to you, I bet he never realized it. Just goes to show you. What's the quote you always use about what he said about respect? It applies in spades on the Internet, because what you write will echo for decades.

Can you imagine the Aboriginal bloke 40,000 years ago, after spraying a mouthful of red ochre at his hand placed on the wall of a cave in Arnhem land to create an imprint, saying to his son, "Some white fella from a big canoe with huge sails and tall masts is gonna see this image one day, kiddo, and wonder who the hell I was."
Actually, that reminds me of something a GN posted on the forum the other day about a "glimpse into the future". You get all kinds of people who claim to know what the future holds, from tarot card readers and crystal ball gazers to astrologists and believers in an after life. Yet, no paleontologist has ever discovered a fossil from the future. Some people think of time as having a past and a future, with the present being somewhere in between. Hehe. It's true that the past was once the present, and therefore existed, but the future has never been the present, and therefore has never existed. Nor will it, nor can it. The future shall forever remain a mystery. My head is beginning to hurt.
It's funny your GN group has the same type of fights and squabbles that certain Ham groups do on line. I think that's because people grow another set of balls when they are on the the computer, and write things they would never say face to face, or even on the radio. You can get a lot braver, when hiding behind a keyboard and display, and it's easier to type something, that you will regret later. I always try to think before I engage the keyboard. Do I realize that people will read what I wrote years from now? Yeah. Does it bother me? Not really.
Yes, if you happen to be in a tea cup during a storm, it can seem pretty turbulent. Fortunately, retrospect is a wonderful enlightener of perspective, even if it does have a habit of arriving too late to be useful at the time of most need. As to anonymity behind the keyboard and not thinking before pressing SEND, yes, fraught with danger that one, especially if you allow emotion to do the talking.
Someone just got shunted onto the island at the roundabout across the road by another driver coming from behind and not paying attention. I always think of drivers using a phone when I see that kind of thing happen. Anyway, not a lot of damage and no one hurt.
From the Beeb: President Barack Obama is close to announcing major changes to the US immigration system through executive action, US media report. Reports in the New York Times and Fox News say Mr Obama is planning to extend protection from deportation to some parents of legal US residents. The overall plan is estimated to affect as many as five million undocumented immigrants living in the US.
Australia wants this year's G20 summit to be all about strengthening the private sector and creating jobs. But it's more likely to go down in history as the meeting that avoided discussing arguably the world's biggest economic conundrum - climate change. The world's most powerful economies are well known for talking big but doing little at their annual meetings. It's a reputation Prime Minister Tony Abbott hopes to shift this year, as Australia hosts the latest summit this weekend in Brisbane - the culmination of its year-long G20 presidency. The presidency is a valuable opportunity for Australia to influence the world's economic agenda and to strengthen its relationships with other major economies.
When the world's most powerful leaders descend upon Brisbane this weekend, for the G20 Leaders Summit, 15-16 November, they'll discover a thriving business community "down under" in Australia's third largest city and Queensland's capital. Queensland has one of the fastest economic growth rates in the country, at 4.1%, creating more jobs than any other Australian state in 2013, according to a report by the Brisbane Marketing Economic Development Board. By 2031, the city's economy is expected to grow by more than 60% and its population is projected to double to 3 million. Owyagoin, mate, welcome to Brissie, no worries.

Canadian astronaut Chris Hadfield has published a book of photographs looking back at Earth from the ''unique and privileged'' vantage point of the International Space Station. It depicts some of the highlights of the planet, including Mauritania's Sahara ''eye,'' and Venice and New York City by night. He also told the BBC's Katty Kay how he felt about the historic but awkward comet landing of the robot probe Philae, which bounced twice before settling in the shadow of a cliff.
Yep, landing Philae on a 4-km-wide comet travelling at the speed of light tens of thousands of kms out there in space was certainly an audacioius project - totally unthinkable not all that long ago. Who the hell do we humans think we are? It's ironic that we are capable of the most fantastic achievements and yet equally capable of the most catastrophic blunders. You can't have a cop show without baddies, I guess. Two to Tango and all that.

It's 34C (93F) at the mo and I've had to close the front door to prevent the heat radiating from the road and footpaths from entering the house. And it's still spring! Jim was saying this morning that there's a warming trend in Ohio and it'll touch 40 by the weekend. 40F, that is. Oh... and he also says there is indeed an Olympics of Ham Radio.
Sooooo, what do you do when a squirrel keeps stealing food from your bird feeder? Bring out the Vaseline!
It's after five again and not a lot happening. Cooling down outside but not a lot. Gonna be a warm night methinks. Anyway, time for me to skedaddle. Gary
November 13, 2014. Jim says temps are bit Eskimo-ish over there in Ohio, but no snow forecast for the time being.



Human beings are naturally competitive, roite? If you're a butcher you probably have sausage making competitions. If you're a baker you probably have bread baking competitions. And if you're a candle stick maker you probably do weird things with candle sticks. But if you're ham radio enthusiast, what kinda competition do you have? Well, you try to talk to as many other hams from around the world as you can in 24 hours. The one Jim is involved with this weekend is the November Sweepstakes.

I did a couple of full 24 hour stints when I was a teen, and even then it was hard. I plan to go as far as I can and then sleep for a couple of hours here and there. Doing it solo is hard. I was thinking of asking Zach if he wanted to do a Multi-operator effort from here, but I think he wants to try his new radio. The outright winners in all classes will win... a plaque. That's it. A plaque. But for me, it is competing against the other guys I know... who had the best score.

Jim didn't mention the Olympics so I gather it's not an Olympic sport - yet. But there is a pop song about The Contest, interspersed with cuts from the actual contestants calling each other. This is not the song, but it'll do.


So there ya go, whether it's trying to break the record for the most hot dogs devoured in a certain time or a superpower space race to put a man on the moon, mankind cannot resist the urge to compete. Except this particular mankind. I'm just not the competitive type.

One afternoon at school on sports day, all the kids boarded buses to be taken to a local park to play football. I wasn't the least bit interested in playing football so I was left behind to sit in the school grounds to twiddle my thumbs for the rest of the day. One teacher remained behind to make sure I served my full penance. It was either play football or nothing. Conform or be made to look like a fool. So next time, I joined the rest of the kids and bussed it to the football oval. On the field, as soon as all the kids ran in a certain direction, I ran in the opposite direction, jumped into the storm water drain and went home.

I would have made an ideal army recruit.

On remembrance day, as usual, flags flew, speeches were made, jets flew over the city, and the nation paid homage to those who made the ultimate sacrifice to protect our democratic values, as well as honoring those who returned. During the telecast, a couple of old diggers were interviewed and one said, "Don't think of us as being heroes. We're not. We were just doing a job for our country." Now if a politician said that about our diggers, he'd be stoned to death and labelled a traitor. Yeah. People need their sacred cows even if the cows themselves don't realize they're sacred.


It's the same deal with religions that label non-believers as heretics or infidels. How dare anyone doubt the sanctity of our belief!

On a more individual level, it's how dare anyone doubt the credibility of my expert opinion! Recently on the GN forum all hell broke loose in Techies Corner when a number of members began to criticize each other about the technicalities involved in electrical installations in caravans and motorhomes. Criticisms led to personal attacks and the webmaster had to close the thread. But not before some members spat the dummy and resigned membership of the forum. A similar situation had developed previously in relation to the use of "inappropriate" avatars with members resigning. Sensitive little possums, yes?

To me, efforts to bully non believers into submission are a sure sign of insecurity. And if you disagree with me I'll come over there and wallop you around the head with a boomerang.

From the Beeb: A European robot probe has made the first, historic landing on a comet, but its status is uncertain after harpoons failed to anchor it to the surface. Officials said the craft may have lifted off the comet after touchdown before returning to the surface. Lander project manager Stephan Ulamec said: "Maybe we didn't just land once, we landed twice." The European Space Agency's director general described the landing as "a big step for human civilisation".

Nato has seen Russian military equipment and Russian combat troops entering Ukraine this week, its top commander Gen Philip Breedlove says. Nato chief Jens Stoltenberg later urged Russia to pull back its forces. Russia's defence ministry denied sending troops to eastern Ukraine to help pro-Russian separatists there. The European OSCE monitoring mission has warned of "a real risk" of further escalation in a conflict that has killed more than 4,000 people.

Australia says it is monitoring four Russian naval vessels that are approaching its waters to the north of the country. The Australian Defence Force said two frigates and a surveillance aircraft had been sent to track the warships. In a statement, it said the Russian vessels were heading towards Australia but remained in international waters. Analysts say it is a show of force by Russian President Vladimir Putin ahead of the G20 summit in Brisbane.

Missed meeting Shekon (Sharon) a GN on her way south. She sent me a PM on the forum but I didn't see it till too late. In any case, she discovered that her mother's not feeling too well so she's off to visit her. I've linked to Sharon's forum comments about life on the road a few times on Waffle - she's the one who remarks often on how her new lifestyle has changed her attitude to many things, and improved her outlook. So I missed out on an interesting chat. On other hand, I'm not well equipped to entertain visitors and I have trouble speaking, dangit.


Anyway, tis time once more to pack up the pens and pencils and call it a day. Be noice till we meet again on the morrow. Gary

November 12, 2014. I just applied for a job. Kinda. It's a competition. I happened to read a post by a GN on the forum and thought, 'This is it! My chance to show those advertising 'experts' that I'm just as smart as they are!' So I sent off an email to Dick Smith. Scroll down the thread to see the competition details.

In my email, I analyzed Dick's problem the way I see it (being a shopper myself for many years as a bachelor and then a carer for L&S), and offered a few ideas without being too specific. I suggested we meet for a chat. Hehe. So we'll see if I've managed to arouse his curiosity. Stay tuned.


TX Greg wrote to question the expression I used yesterday about being bored stiff. He suggests it's a contradiction in terms. Yeah... I guess it is.

OH Jim and his mate Zach spent hours fiddling around with Behringers and circuits and toroids and RFIs and WTFs and all that fascinating ham radio stuff before pigging out on pizza and 3-ways and coneys with no onions. I fear that Zach's teenage metabolism will settle at some point and he'll balloon once all those calories cease to be used up as energy.

World leaders are beginning to arrive in Brisbane for the G20 summit this weekend, so the city is now in lockdown. Jeez, sleepy ol' Brisbane? Australia sure has changed since I was a kid. The Queen and other members of the Royal Family would visit from time to time, as would the occasional world leader, but nothing like 20 all at once, as well as their entourages. All the 5-star hotels are booked out and security is tight. The world media will be roaming the streets interviewing 'real' Aussies: She'll be roite, mate, no wukkers.

I remember the days when the vast majority of Americans had no idea where Oz was on the map. Then Crocodile Dundee came along with his shrimp on the barbie. Hehe. What a claim to fame that was. I'm not sure what we're famous for these days - if anything.


From the Beeb: Russia has agreed to build up to eight nuclear reactors in Iran, 12 days before a deadline for a deal to curb Iran's nuclear activity. The deal agreed by Russia and Iran envisages the construction of two reactors, with scope for a further six. World powers including Russia have been pressurising Iran to curb its activity amid fears it wants to build a bomb. Diplomats are due to meet for a final round of talks next week. It is unclear what effect the Russian deal will have.


The Mormon church has admitted for the first time that its founder, Joseph Smith, took multiple wives. In an essay published on its website, the church said "careful estimates" put the number at between 30 and 40, including a 14-year-old and others who were already married. The Mormon church banned polygamy in 1890, and now excommunicates anyone who practises it. Church leaders had previously portrayed Joseph Smith as married to one woman.

"Family friendly" pub chain Hungry Horse has been criticised for creating a burger containing nearly 100% of a woman's recommended daily calorie intake at 1,996 calories. The Double Donut burger consists of two beef burgers topped with cheese, four bacon rashers and BBQ sauce, sandwiched between two glazed ring-doughnuts. Critics called it irresponsible, dubbing it "a heart attack on a plate". Hold the onions.


Speaking of holding onions, I'm pigging out at the mo on a triple chocolate mousse - dark chocolate, white chocolate, and a dark liquid chocolate. The brand is OMG. Hehe. I'm just back from shopping for a few goodies.


While I was at the mall, I noticed a new Optus shop. Optus is the phone/broadband carrier that my ISP uses. And let me tellya, my connectivity for the past several months has been pathetic with several dropouts each day and snail-pace speed on line. BUT, for some weird reason, it's improved markedly during the past few days. Do you think that might have something to do with the opening of the new Optus shop (selling mobile phones, etc)? Bloody crooks.


Jeez, it's after 5 already and I've only managed a shortie Waffle. Oh well... we'll see what happens tomorrow. Gary

November 11, 2014. Remembrance day. Lest we forget. It's also the anniversary of the hanging of Australia's most notorious bushranger, Ned Kelly, in 1880 as well as the dismissal of the Whitlam government in 1975.

Speaking of hanging, there was an article on the Beeb the other day about the autopsy performed on Robin Williams after his suicide. No alcohol and no drugs. He died by hanging himself. That really brought home to me just how serious depression is. Imagine being drug and alcohol free and yet still able to embrace hanging yourself just to rid yourself of the psychological demons. The man had a nice wife, a lovely house, plenty of money, a successful career and abundant intelligence. All good reasons to want to live, one would have thought.

OH Jim wrote to complain about the cold, and 5 months of misery until decent weather rolls around again. He also bitched about all the domestic chores he has to do today, including raking a mountain of leaves deposited on his drive by his neighbor's oversize pin oak. I hate domestic chores. I remember a successful business woman saying that when she does a job, she expects it to stay done. So she employs domestic help to take care of cleaning, gardening, and all those other menial tasks that require constant re-doing.


Quentin Crisp was an English intellectual (the subject of the song "An Englishman in New York") who insisted that dust wasn't a problem "unless you disturb it".

Many GNs have commented on the forum that life on the road has been their domestic chores savior. "Housework" is done in 5 minutes, no lawns to mow, no mending, painting, dusting, raking... and no alarm clocks. Heaven on a stick, if you ask me. Hehe.

You talk about "communing" with nature and the special feeling you get when you're out in the bush, or walking along a deserted beach at sunrise. It's an overwhelming sense of belonging, a kind of spiritual awareness. Umm, yeah I guess everyone has those moments. You don't have to be out in nowhere, either. Cody had his on Table Mt or on the Dawn Patrol. Right in Cape Town. I use to have it as a teen when I had to take my dog Pepper for a late night walk, especially in the winter and in the snow. It was dead quiet. This was before they put I-71 in, so there was no tire roar off to the west as it is now. Just me and Pepper, doing his thing, making yellow snow. (Don't you dare say Silence is GOLDEN, Gary !)


But it was dead quiet, and it always would make me pause. Nothing moving. Maybe snow falling silently. Sorta like that morning with me and my Dad at that motel. I know that there were other people around in the row of houses that were behind me, but I would just stand there soaking it in, staring out into the field behind our house at the tree line out there in the snow. Then Pep was done, and he's yanking his chain and the moment would be gone also.


Billeeeeeee sent a PM this morning asking me what I thought "spiritual awareness" was. I answered by saying I wasn't really sure but that I suspect it has something to do with the way Aborigines feel about Mother Earth and the various places they hold sacred. They believe everything that exists is related somehow - all at one with the Universe. For millennia, the Aborigines had the advantage of wide open spaces undisturbed by cities, noise, pollution and modern civilization. They were able to focus completely on the natural environment.

Sydney's St Mary's Cathedral was across the road from the government offices where I worked as a teen. I remember going into the church one day during lunch hour. The first thing that struck me was the immense thickness of the padded doors. Once closed behind me, they shut out the noise of the city so that I had no choice but to focus on the silent ambience of the massive sandstone interior with its tall columns and vaulted ceilings. Clever design allowed light to filter through colored leadlight windows to illuminate the interior in a way reminiscent of sunrise or sunset. It was the House of God.

But to create the House of God, clever design and architecture was used to seal the building from the civilized world outside and create a walled refuge from its myriad of distractions. Go figure. Hehe.

Nonetheless, I've never forgotten the spiritual feeling that enveloped me as I stood in awe of that cathedral and I'm hoping it's something I can recapture out there in the bush. In other words, I have a feeling that spirituality is something that exists within myself, triggered by certain environments. Yeah? I suspect meditation produces a similar environment but I'd rather have my eyes open and use all my senses to embrace it fully.

And now to politics: I don't usually comment on politics, Steve W is whining about the election and the shellacking the Demo's took at the polls is funny. I bet he married a Democrat? I don't remember any news reports about a light voter turn out here in Ohio. Maybe because there were local issues that were debated for months and there was a gubernatorial race in Ohio. But anyway, maybe the Republicans will co-operate a lot more than the Demo's did when they controlled everything. Personally, Obama had his chance, and I think as a President, he did a terrible job trying to be bipartisan. Look what happened with Obamacare. The shoe is now on the other foot. It's too bad the Republicans don't have a super majority. But this next two years will be fun to watch.


Expectations were high when Obama took center stage. The first black president also heightened hopes of something new and exciting for America. But after 6 years, the American public is disenchanted, and with 2 years still to serve, Obama's legacy doesn't look promising. That said, I'd rather have Obama's legacy than GWB's hehe.

From the Beeb: At least 46 students have been killed by a suicide bomber at a school assembly in the north-eastern Nigerian town of Potiskum, police have said. A suicide bomber dressed as a student is believed to have caused the blast at the boys' school in Yobe state . Police suggested the militant group Boko Haram carried out the attack. Yobe state's governor has shut all public schools around Potiskum and criticised the government for not tackling the group. In a statement governor Ibrahim Gaidam said: "Urgent action must be taken right now to restore a fast-waning public confidence by doing whatever it takes to stop the escalating violence." Boko Haram has targeted schools during a deadly five-year insurgency aimed at establishing an Islamic state.

Did someone say Islamic State? Yes, Boko Haram, like other fruit loop groups, don't like kids being educated at schools. Education leads to independent thinking and we can't have that.


An American doctor who became the first person to be diagnosed in New York with Ebola is to be released from hospital on Tuesday after he recovered. A statement from city health officials declared that Craig Spencer "has been declared free of the virus". He worked for Medecins Sans Frontieres (MSF) in Guinea and tested positive for Ebola on 23 October after he returned.

A possible sinkhole has opened up in a driveway in Pasco County, Florida, swallowing a car and leading to the evacuation of six homes. Within 15 minutes the hole grew from 4ft (1.2m) wide by 4ft (1.2m) deep to 10ft (3m) wide by 10ft (3m) deep. ABC's Erik Waxler reports.

And there's OH Jim complaining about leaves from his neighbor's tree and bird poo hehe.

Twenty-year-old Grace Wunungmurra works as a ranger in North East Arnhem Land, a remote corner of Australia's Northern Territory and home of the indigenous Yolngu people. Interesting story, summed up in the words of her final sentence.

Allow us introduce François Gissy, quite possibly the world's bravest cyclist. Last weekend, the Frenchman (a bus driver by trade) rode his rocket-powered bicycle to a jaw-dropping, white-knuckle-inducing, sphincter-puckering speed of 207mph. Yes, you read that right: Two hundred and seven miles an hour. On a bicycle.

Now there's a novel phrase... sphincter puckering. Very expressive indeed.

A GN posted a question on the forum about which smart phone to buy - said she was confused. She's probably even more confused now that all the other GNs have offered their opinions. Hehe. So I Googled 'choosing a smart phone' and read an article from a site called how things work (or something similar). It posed the question, do you really need a smart phone? After reading that, my answer was no. I don't. I don't tweet or use facebook, I don't email very much, and I don't download music or movies or games or even browse all that much. As to phone calls, I make two or three a week and receive even less. It would be useful as a GPS I suppose but I've managed quite well so far without one. There's an app called wikicamps that the GNs reckon is very handy but I have the Camps Australia Wide book as well as access to its constantly updated web site.

So there ya go. Do I need a smart phone? And if I did buy one to use mainly as a phone anyway, would an el cheapo smart phone suffice for my needs? One thing that is on the bucket list is a new laptop but I'll wait till I have enough cash to buy a good one that can handle video production with ease.


So there goes another uneventful day through which I've breezed without incident. If it weren't for Waffle to provide a bit of cerebral stimulus, I reckon I'd have been bored stiff. Gary

November 10, 2014. Back from another squirt and clean from Andries who was curious after I told him about taking a pic of my kitchen sink on the weekend hehe... so he went into Red Bubble and took a look. Even Mieke commented on that pic. He also thought the Yogi Bear "thumb" graphic was funny (so did the nurse).

Speaking of photography, Anna (from the dental clinic) was married recently and Andries was talking about how much photographers charge for weddings - up to $10,000. Sheesh! I gather Anna chose a relative newbie to the business and paid $5000. That's a helluva lotta bikkies for one afternoon and night.

And on the subject of marriage, Steve W recently tied the knot in the UK but moved back to the US (where his wife is from). I asked him how it was going: All is good here in the US……except for the mid-term elections this week when only 1/3 of eligible voters could be bothered exercising their democratic right. And those that did vote went for the Republicans now ensuring that Obama has no hope of achieving anything in his remaining 2 years. The Republicans have already demonstrated that their only goal is to block everything the Democrats propose. And we think the Oz system is stuffed……nothing compared to here. Enough of my rant.


Well, I suppose you could say politics has always been crazy. How could it be otherwise when it's made up of members of the human race which is crazy to begin with? I watched a doco about the history of the Berlin Wall last night on telly and the thing that amazed me most was how those Communist politicans and various authorities actually went about their business in the sincere belief that what they were doing was sane. Hehe.


There you had a city divided with the western half enjoying prosperity and vibrancy, while the eastern half was drab and impoverished. Half the population of the east had already fled to the west seeking a better life. And yet the Communist regime insisted upon preserving the status quo. Only one explanation makes sense to me - the preservation of the status quo had everything to do with personal power and nothing to do with the welfare of the east German people.

However, every cloud has a silver lining and the positive aspect of the Wall, according to some analysts, was that it saved the world from nuclear war. JFK must have agreed because he decided to take no action during its construction.

If you believe in socialism, and the sharing of wealth equally by all citizens, then you need wealth in the first place otherwise there's nothing worth sharing, which means you also need to embrace capitalism. Communist China is waking up to the fact that capitalism creates wealth while comrade North Korea is still being led by fools. Australia is a socialist society that utilizes a capitalist system and it works well.


From the Beeb: President Barack Obama has said the deployment of 1,500 more US troops to Iraq marks a "new phase" against Islamic State militants. He told CBS TV that the new troops, although non-combat advisers, could help Iraq go on the attack against IS. A US-led coalition has been helping Iraqi and Kurdish ground forces with hundreds of air strikes since August. Iraqi forces have now reportedly seized large parts of Baiji - home to Iraq's biggest oil refinery - from IS.

Investment into renewable energy projects in Australia has dropped by 70% in the last year, according to a new report by a climate change body. The Climate Council says foreign investors are going to other countries because Australia's government has no clear renewable energy policy. Australia has gone from "leader to laggard" in energy projects, it added. Another new report says Australia will need to raise its carbon emission reduction target to 40% by 2025.

A host of stars turned out to see four cinematic veterans honoured at the Governor's Awards in Los Angeles. Actor and musician Harry Belafonte, Irish actress Maureen O'Hara, Japanese director Hayao Miyazaki and French screenwriter Jean-Claude Carriere were celebrated at the event.

The brain has specialist neurons for each of the five taste categories - salty, bitter, sour, sweet and umami - US scientists have discovered. The study, published in the journal Nature, should settle years of debate on how the brain perceives taste. The Columbia University team showed the separate taste sensors on the tongue had a matching partner in the brain.

Just finished my second or third nap for the day. Maybe I need one of OH Jim's energy drinks. Then again, what's wrong with a nice snooze? I was thinking maybe I sleep so well these days because I don't have all that worry of looking for a ute and/or camper any more. What a hassle that was. Checking eBay and Gum Tree every day or so searching for something I could afford. I didn't have the money to be choosey.


I wrapped some garbage in a couple of sheets of newspaper today and noticed a full page ad by a local car dealer, with two used utes for sale - a Nissan and a Ford, $18K and $16K respectively. Yeah, right. I bought mine for $2500 hehe. And PJ for $4700. And I'm quite happy to keep both for many, many years just pottering around Oz. If something breaks, I'll fix it rather than buy something else.


Yes, indeedy, I haven't been this relaxed since... actually, I can't remember when.

Yesterday, I waffled on about communing with nature, so today I posed a question on the GN forum about the silence of the bush and the stars, and got some interesting responses.

And with that I'll take my leave and wish thee farewell for now. Gary

November 9, 2014. There I was in the kitchen making a coffee and thinking about being "in" the moment, so I tuned into the sounds outside of birds as well as the general quietness of a Sunday morning. A cool and gentle breeze wafted through the back door on an otherwise warm and sunny day. And then I realized I was inside, and all that was outside. You've heard of individuals building a psychological wall around themselves to isolate themselves from society. We do the same thing with houses by isolating ourselves from nature - and we call it shelter. And then we build towns and cities to further isolate the houses from the natural landscape.

So when we refer to "communing" with nature by being outdoors in a natural environment, it seems kinda strange that we need to go out of our way to be at one with the universe. Like a child being reunited with its mother.

There is a special feeling you get when you're out in the bush, or walking along a deserted beach at sunrise. It's an overwhelming sense of belonging, a kind of spiritual awareness.


Mind you, OH Jim has a different kind of awareness. It's 30F outside with a forecast top of 52F.


It's the 25th anniversary of the fall of the Berlin Wall. Stupid thing to erect in the first place. But on QI recently Stephen Fry was talking about 1990 being the official end of WWII because until the reunification there was no Germany.

Funny about photography. I've been feeling guilty lately about not going on a shoot, so I guess that triggered something. I was in the kitchen when I noticed a pool of water in the sink and how interesting the shape was, so I took a couple of shots of it. Then I played around with the images in Photoscape and eventually came up with this, which I've just uploaded to Red Bubble.


OH Jim asked how I'm gonna keep in touch with the world on the Odyssey. Easy. Same as I do now. I have a wi-fi dongle which I've also used in hospital in Sydney and elsewhere, and on my one and only shakedown so far. The phone company says its network reaches 98% of Australians, which is true. But those 98% of Australians live in about 20% of Australia. So there will be times when I'm camped in remote places where there'll be no signal. Not often though. Even so, I'll keep pumping the keyboard and clicking the Nikon as usual, and update when I'm back on line. I don't intend to be off line for long periods... maybe a week occasionally. PJ is not equipped to handle deserts or rough country. Either am I, come to think of it. Hehe.

Jim also says Waffle is worth keeping for tradition's sake. We're splitting hairs ya know. So maybe I'll add a bi line to the Journal page title - incorporating Waffle. The thing about the new Journal page is that it will have an index in the left column that will allow readers to jump to a particular subject/location. Each page covers a period of 1 month so it gets pretty long after a week or more. In the right column there will be an index of all the regular pages such as My Rig, Heart Attack, Scrapbook, etc.


Jim's beginning to contemplate the inevitable ending of certain traditions now that Zach's high school years are coming to a close (which is why he's adamant that Waffle should be retained). No more Friday night football, etc. Yeah, we don't like letting go do we. So imagine what the Odyssey will be like... a few days here, a week there, one or two days somewhere else. Set up camp, pack up camp. Arrive, leave. What's the bet I'll wake some mornings without a clue as to where I am? On the other hand, will it matter?

In any case, it's not about the end of Waffle, it's about the beginning of the Journal. It's about Day One. It's about The Beginning.

From the Beeb: Celebrations are being held in Germany to mark the 25th anniversary of the fall of the Berlin Wall. Concerts and exhibitions are being staged in the city and Chancellor Angela Merkel will later attend a huge open-air party at the Brandenburg Gate. White balloons marking a stretch of the wall will be released to symbolise its disappearance. The Berlin Wall was built in 1961 to stop people fleeing from Communist East Germany to the West. Its fall in 1989 became a powerful symbol of the end of the Cold War.

Coalition air strikes have targeted a gathering of Islamic State leaders near Mosul in northern Iraq, the US says. Friday's strikes destroyed a convoy of vehicles, a US defence official said, but could not confirm whether IS leader Abu Bakr al-Baghdadi was present. Baghdadi made a rare public appearance at a mosque in Mosul in July.

The world is on the brink of a new Cold War, and trust should be restored by dialogue with Russia, former Soviet leader Mikhail Gorbachev has said. He expressed alarm about recent Middle Eastern and European conflicts at an event to mark the 25th anniversary of the fall of the Berlin Wall. Tensions have been raised between the West and Russia over Ukraine, which was part of the Soviet Union. Rob Broomby reports.

A giant pink condom has been placed over a Sydney landmark as part of a new campaign to raise awareness about HIV. The 18m sheath will cover a heritage-listed obelisk in Hyde Park until Wednesday. Some members of the public voiced their backing for the installation, but others seemed less than impressed. Why? What's wrong with pink?


Kid: "Dad? I'm considering a career in organized crime."

Dad: Folds his paper and looks at his son over the top of his glasses. "Government or private sector?"


Oh yes, on last night's Land Line there was a story of a farmer who was wondering what to plant as a crop. He happened to be at a nursery one day with his missus and saw ornamental trees for sale at pretty hefty prices, especially for mature ones. So he said to the missus, "why don't we grow those?" At the time they were zoologists and had to suddenly become expert at horticulture. That was 25 years ago and his business has been a great success. But now he has a deal with China to export mature trees (ornamentals and gums) mainly for the greening of Bejiing. The Chinese government has plans to green at least a third of the city in an attempt to reduce pollution as well as improve its aesthetics. So the Aussie farmer has really kicked a goal. Not only has he the trees to sell but also the expertise involved in growing, grafting, etc. Domestically, there's also a strong market these days for "instant" gardens in newly built homes. Great story, yes?

There wasn't much on telly later so I thought I'd try a movie on one of the free-to-air channels about some kid who wanted to spend all summer vacation playing video games but whose plans went astray. Blimey charley, who's licking whose butt in Hollywood? How the hell do those pathetic movies ever get made? I lasted about 10 minutes before hitting the off button.

Anyway, this kid's got things to do so it's au revoir and seeya later sunshine. Gary

November 8, 2014. Satdee! Francois wrote the other day and sent a bunch of pics of weird cars - modified autos to suit different purposes, none of which was originally intended. So this morning I got my act together and made an album. Thanks, Francois.


TX Greg commented on the Waffle vs Journal issue: Wournal? That sounds like you invented a new type of Urinal, hahaha. Perhaps you could give it call letters, 2AO Update, hehe.

Dunno about a new type of urinal but one of the GNs posted a thread about a new type of underwear - ones that filter flatulence hehe. We oldies do get a tad ripe in our latter years ya know. I'm absolutely flabbergasted when I stand in the loo for my morning pee and relax the escape hatch, which reveals the amount of wind I manage to accumulate overnight .

And now for something more salubrious. OH Jim wants to know what a gum tree looks like. There are several species, all eucalypts. The eucalyptus oil evaporates and forms huge clouds of flammable gas during bush fires, igniting the canopy of the forest which allows the fire to travel very fast over long distances, making the fire fighters' job extemely difficult as well as highly dangerous.

I Googled the baked bean variety of gum but couldn't find an image of a tree in season with lots of cans dangling from the branches. Sorry about that. This one of snow gums in Tasmania will have to do. Gums have interesting bark and are a very popular subject for painters and photographers. Albert Namatjira was a famous indigenous Aussie painter who loved the outback. The Queen has some of his works in her collection. Namatjira was unusual in that he employed the western style of painting rather than traditional Aboriginal dot style.

A couple of things more about Frampton that day. He was signing all of that stuff for a charity auction. To this day I don't know what it was all about. He sat next to me because there was just two over stuffed chairs in the place, and I had one of them. He hung out a for a while afterwards, drank another cup of coffee. He told the women that he and the family were going to OZ for a vacation the next day. He drove a really dirty old BMW sedan, which surprised me. No biggie.

Well, that's what you do when you're rich and famous - drive around in a dirty Beemer like it's no biggie while the rest of us polish our cheap jalopies to a mirror shine.

Jim also asked if Gloria Jeans was a blue jeans fashion franchise or truck stop or designer motor oil. Dunno. The franchise here in Oz is a coffee and cake joint. I also noted at the supermarket that you can buy Gloria Jeans-brand ground coffee. Actually, now that I think about it, I have a feeling there is a Starbucks coffee joint at Darling Harbor in Sydney.


Being a couple of dedicated ham radio enthusiasts, Jim and Zach spent many hours trying unsuccessfully to solve a technical problem with their equipment, with the result that Zach got into deep poo with his mother for arriving home late on a school night. Meanwhile, Jim found a $20 gizmo at Radio Shack that solved the problem in a minute.


From the Beeb: The US is to send 1,500 more non-combat troops to Iraq to boost Iraqi forces fighting Islamic State (IS) militants, the White House says. The Pentagon said the troops would train and assist Iraqi forces. President Barack Obama authorised the deployment following a request from Iraq's government, the Pentagon added.

Suspected gang members have confessed to killing more than 40 students missing for six weeks, Mexican Attorney General Jesus Murillo has said. He said three alleged gang members claimed the students were handed over to them by police. They said some were already asphyxiated and they shot the others dead, before setting fire to all the bodies. A total of 43 students went missing after clashing with police on 26 September in the town of Iguala.

Robin Williams was not under the influence of drugs or alcohol at the time of his suicide, authorities in California have revealed. The actor, 63, was found dead in his California home on 11 August in what authorities soon ruled a suicide. A Marin County coroner's report released on Friday found Williams died from asphyxia due to hanging. Williams, famed for roles in such films as Mrs Doubtfire and Good Will Hunting, had been treated for depression.

Uruguay's President Jose Mujica says he has been offered $1m (£630,000) for his vintage Volkswagen Beetle. Mr Mujica, once dubbed "the poorest president in the world" because of his modest lifestyle, said the offer had come from an Arab sheikh. Ben Bland reports.

The Australian drummer of hard rock group AC/DC, Phil Rudd, has had a charge of attempting to arrange a murder dropped in New Zealand. He will still face charges of drugs possession and making threats to kill. The U-turn by authorities, announced less than 24 hours after Mr Rudd appeared in court, was because of a lack of evidence, his lawyer said. Paul Mabey said the charge should never have been laid, and that his client was considering "any possible remedies". He added that Mr Rudd had suffered "incalculable" damage from the publicity surrounding the allegation and its sensational reporting.

Understanding the way diamonds are formed deep in the Earth could explain how life evolved on our planet. So a team in Germany are attempting to forge the gemstones themselves, from carbon dioxide – and peanut butter. David Robson reports.

Back from shopping with the usual goodies plus a few extra treats - creme caramel - 4 single servings on spesh. On the way down the escalator with the trolley, I forgot to give it a push at the bottom and the damn thing stuck so there I was walking backwards and bumping into the bloke behind me hehe. But he was a gentleman and pushed the trolley forward for me. I'm getting a bit dottery in my antiquity.


Mmmmmmmmm! This creme caramel is noiiiiiiiiiiiiiiiice! I tried to eat one about a year ago without success but I'm not having any trouble with this one. Down the screech no wukkers at all. And the caramel sauce is divine (which happens to be the brand name), just like you get in French restaurants. Yum!

It's toddle off time again, and being Satdee I can watch Land Line with stories about farmers and what's going on in the food production biz, and then Gardening Australia which a great show too. When L&S and I were living in a rented house in Sydney, I decided to have a go at the garden - what little there was of it. I couldn't afford to buy anything so I pinched cuttings from neighbors' front gardens on my to and from the shops, and dug up a couple of garden beds, bordered by a bunch of old bricks stacked in the back yard. Then I dug up the soil and used heaps of old leaves and rotted vegetation which I mixed into the soil as I tilled it. And finally planted the cuttings and watered them often. In a few weeks to a month, the yard was looking great... and the landlord couldn't believe it when he paid a visit one time. So there ya go... somethin for nuttin. Gary

November 7, 2014. A new day! I woke at 6am and thought if I go over to the south side of Martin Bridge, I'd be able to catch the flowering jacarandas in the early morning light. I was still thinking about it at 7am, and again at 8am. Hehe. How I long for the day when I won't have to go anywhere except outside PJ's door to capture the early morning light. I'm such a lazy sod.

More about Waffle. Waffle was conceived as a daily blog because the Journal wasn't updated often enough . So they became separate pages on the AO web site. But on the Odyssey, the Journal will be updated daily. When that happens, the Journal will incorporate news of where I happen to be as well as my thoughts and ponderings - a sort of Joffle page, or a Wournal. Yeah?

OH Jim woke the other morning and instead of his regular coffee heart-starter, he had a very cold Diet Mountain Dew - carbonated water, concentrated orange juice, citric acid, citrus pectin, potassium benzoate, natural flavor, aspartame, potassium citrate, sodium citrate, acesulfame potassium, sucralose, gum arabic, sodium benzoate, calcium disodium EDTA, brominated vegetable oil, yellow 5, phenylalanine, 0 calories, 0 fat, 50mg sodium, 0 carb, 0 sugars, 0 protein. So there ya go... I hadn't realized he was on such a serious health kick. :-/ Zach and his friends are into it too, the diet one with caffeine.

I figure this is an ideal opportunity to link to a pic of something Zach may have never seen, or even realize exists.


Jim also got the message about remembering the good times: So the funniest thing I read in Codeman was Cody making (or black mailing) Wingnut into picking up the dog crap in the backyard. I really laughed at that. Mainly because it was a so "big brother" move. And what makes me proud of Cody was Wingnut wasn't even his brother! Cool beans, as Zach would say. And yes, Zach blackmails his 7 year old brother also.


I was the oldest and therefore the big brother by default. And I would always be sticking it to my two younger brothers. Especially when I got a driver's license! "Oh, you need a ride? Sure! OK! BUT...." It will come with a price. I loved it. The only chore I couldn't off load like that was getting those two to pick up our dog's crap. Sigh. I was stuck doing it until I left for the Army. Pepper died while I was in Turkey. I got VERY drunk that night.

Fortunately, I don't have that problem with Bubba. Bubba is not only stuffed, but the stuffing stays stuffed. Trust me, I checked just to make sure.

Now here's something I found interesting about Jim's lifestyle. Here in Taree, as far as I'm aware, there's no one famous. But in Jim's neighborhood, it's quite a different story: I live in Madeira, and my backyard is the border between Madeira and Indian Hill, the richest suburb in greater Cincinnati. It's where all the rich and famous people live. They all shop in Madeira, since Indian Hill has NO business section. I used to see Neil Armstrong shopping for groceries at Krogers occasionally. LOL no big deal. No one would bother him.


Fancy that. The bloke who made international headlines by being the first person to walk on the moon, shopping for groceries in Madeira. Mind you, you're far more likely to find a supermarket in Madeira than The Sea of Tranquility.


Another time I was sitting in our Starbucks, sipping coffee and reading the latest issue of QST Magazine (Ham Radio). Some guy sits down next to me and about 10 minutes later, three women come in and go directly over to him, and he started signing a couple of guitars, and other stuff. Then it dawned on me that he was Peter Frampton! He married a Cincinnati girl, and they lived in Indian Hill. After the women left, he turned to me and apologized, if all of that had bothered me. I said no, you were fine. He noticed I had a Ham Radio magazine and asked me if I ever had talked to Joe Walsh from the Eagles, who is also a Ham. I said no I hadn't, but I certainly knew who he was, and flipped the magazine open to an ad with him in it! So cool.


Yes, I'll bet Frampton couldn't wait to tell his family, friends and Walsh about the time he met OH Jim at Starbucks. Actually, what I find most curious about that meeting is that Frampton sat next to Jim. Maybe he figured if he appeared to have company, fans would be less likely to bother him. Meanwhile, here in Taree we don't even have a Starbucks. We do have a Gloria Jeans though. Does that count? I've never seen anyone famous there. Not even Gloria.

Jim also responded to what I wrote about horse racing: My Dad loved to go to the track at River Downs. He was into horse racing as Cody's Dad was into surfing. It totally awed me as a kid when they would come around the final turn at River Downs and thunder by me. The ground actually shook.


My little house in Glebe was just a block or so away from Harold Park, a greyhound and harness racing track. It was sold recently and turned into a huge residential area. But I often went there to bet on the races, and one time I happened to be standing just outside the post and rail fence on the turn as a field of trotters pulling their sulkies in full flight, sped past me as they headed for the post. 'Thunder' is the word alright. And like Jim, I felt the ground shake. Afterwards, I thought about those drivers and how it must have felt to be sitting on a flimsy sulky in the middle of all those thundering hooves.


Harness racing is a marvelous spectacle, far more graceful and majestic than the gallops. They were called the trots in Aussie lingo, which became the "red hots" because there was always suspicion regarding the honest running of the races.
From the Beeb: A public row has arisen over which US commando fired the shot that killed Osama Bin Laden, more than three years after the al-Qaeda leader's death. Ex-Navy Seal Robert O'Neill, 38, has told the Washington Post in a new interview he fired the fatal shot. This contradicts the account of Matt Bissonnette, another former Seal involved in the raid, in a 2012 book. The al-Qaeda leader was killed in a 2011 Navy Seal raid on his compound in Abbottabad, Pakistan. How time flies!
US retail giant Home Depot says hackers who stole payment-card details of millions of customers also stole 53 million email addresses. It said hackers accessed its network with a vendor's username and password between April and September. The company had previously revealed that 56 million debit and credit card details were also stolen in the hack. Analysts say it is one of the largest data breaches on record, surpassing a similar incident at retailer Target.
The mid-terms are over. The 2016 presidential race starts now. The results improved the chances of some Republican presidential hopefuls like Chris Christie, while it gutted the Democratic field from rising stars and undermined the chances of Democratic hopefuls like Governor Martin O'Malley. But how did the Democratic favourite Hillary Clinton perform?
Just made 8 rissoles (burgers). One of these days, at a camp site, I'll set up the camera and make a vid of the whole procedure from mixing bowl to pan. G the Bush Chef presents... Hopefully, the bush flies won't bugger it up. Making vids will be fun from time to time, and I'll have TEETH so I can do a running commentary. And maybe subtitles for you blokes who can't understand proper English.

A GN posted a comment about the new Pink Floyd album. According to the blurb on the web, it's the 15th studio album by the group. I had no idea they had produced so many albums. I have Dark Side of the Moon, and I know some of the songs from Wish You Were Here, but that's it. Another 13? The latest is titled Endless River. Their style is called 'progressive rock' and progressive it certainly is. They were a standout band in the 70s and apparently still are. I think it was my older bro, who was a teen during the Big Band era, who said rock and roll is the longest running genre of pop music ever - and it's still going. So much for those who said Bill Haley and The Comets were flash in the pan.
Well, while OH Jim is having his daily dose of potassium and sodium citrate, I'm having a glass of Greek style yoghurt with pureed peaches in coconut water poured over. So there. Made from genuine Australian peaches and coconuts picked fresh from a gum tree. We grow everything on gum trees here. Watermelons, grapes, apples, baked beans, you name it. Saves buggerizing around with different kinds of trees. We even grow koalas on gum trees. If you stand under a gum tree and look up, you'll see them growing right there before your eyes. Japanese tourists love 'em.
So there's another interesting fact you can file under "Gary said". And with that I shall leave you to greet the northern hemispherical dawn while I catch a bit of telly and a rissole or two. Gary
November 6, 2014. OK Mike was concerned yesterday when he read about the Waffle page being archived that my waffling would cease. Nope, once a waffler always a waffler. It's just a relocation of the pulpit to the new Journal page. Rather than waffling from here in this room in Taree, I'll be waffling from somewhere "out there". And a-waffling I will go. But it won't be called Waffle, that's all. It'll be called The Journal. Same thing, different name.

Waffle, thus far, has been my way of passing time while waiting for the Odyssey to begin. And there has been a lot of time passing. Waaaay too much! So when the Odyssey does finally begin, I want it to be a special occasion - Day One - and I want it to be separate from the past. Aussie Odyssey needs to be about the journey itself and, although the past 6 or 7 years have served as a period of preparation such as acquiring PJ etc, Day One needs to begin when I leave Taree.

Think of it as a race. Lots of preparation and training goes into a race before the starter's gun fires. But it's the race itself that captures the imagination. The preparation and training is important, of course, but it's a separate story. That's why most of the stuff prior to Day One will be archived - not trashed but archived, and still available to anyone interested in events leading up to Day One.

Your insights , suggestions and wealth of experience shared during your " detour " has been a source of inspiration to me and probably many others . It is medicine when I am down about myself and some of the issues I live with . You have contributed much to all that are familiar with AO as well as the readers of GR . You have introduced me to a whole new me , you have given me an opportunity to re develop my thought processes , a way to see things I did not see before . None of this would have likely happened if it were not for the interruptions to your plans . Six years is a bitch of a time to wait , but that's just how it is . Six years is too long to now say fuck all I'm outta here . Just the idea of closing the Waffle rankled me pretty good .
Hehe. Settle down, Mike. No one's quitting. Hopefully, the above explanation will sort out any misunderstanding. Anyway, that's very kind of you to say I'm an inspiration. I don't think of myself as inspiring. Waffle, for me, is like a "screen print" except that the screen is the brain. I tend to be a bit of a thinker whether I like it or not. The brain's always on hyper drive and just keeps pumping out stuff. So rather than allow all that cerebral activity to vanish into the ether, I write it down on Waffle. By putting my thoughts into written words, I'm forced to analyze them and clarify them, to make them more precise as well as communicable.
That's how I explained it to Andries this morning as he merrily poked and prodded. He did a bit extra this morning after I mentioned that even after several rinses, I still spit out ikky stuff. It's the gradual deterioration of the exposed bone (osteoradionecrosis), which will be halted by the operation on my jaw in February to transplant "new" bone. As the prof in Sydney said, if the deterioration is allowed to continue, my jaw could suffer a fracture.
And as I walked through the corridor leading to the dental clinic, I saw a red Harley Davidson Sportster parked in an alcove. Hello? I knew it had to be Andries'. Maybe he wanted me to see it? The girls at the front desk explained: late yesterday afternoon there was an electrical storm so Andries brought his bike inside the building and left it there overnight after arranging a lift home to Forster (half an hour down the highway). Nice looking bike too.

From the Beeb: The US Senate's new Republican leader and President Barack Obama have both promised to end the political gridlock that has so frustrated American voters. Republicans made historic gains in the mid-term elections and now control both legislative chambers. Incoming Senate leader Mitch McConnell said he would make the ineffective Senate function and pass bills. Mr Obama said he was "eager to work with the new Congress to make the next two years as productive as possible".
Happiness nose dives as you hit middle age - but only if you live in the affluent West, according to experts. Using world survey data, the Lancet study authors found life satisfaction followed a predictable trajectory depending on where people lived. In countries such as the UK and the US, life satisfaction followed a U-shape, dipping to a low in midlife. In Africa it was low throughout, and in Eastern Europe, the former Soviet Union and Latin America it declined with age. The reasons behind the trends were multiple and complex, but there were some plausible explanations as well as important lessons to be learned, said Prof Andrew Steptoe, of University College London, and associates.
The drummer of the hard rock group AC/DC, Phil Rudd, has appeared in a New Zealand court on charges of attempting to arrange a murder. Mr Rudd, who was born in Australia, has also been charged with possessing the drugs methamphetamine and cannabis, and of making threats to kill. The musician's waterfront house in Tauranga, on New Zealand's North Island, was raided on Thursday morning. AC/DC are due to release a new album later this year.
Today has slipped by very quickly. I slept like a log for 10 hours last night, but then took a nap between noon and 2. I have no idea why the old bod needs so much sleep... I'm not ill. So when I woke from the nap I decided it was time for a hair cut. Then I toddled up to the bank to put some cash into my account. I got back here at 4 and here it is 5 already. Whoosh!
So OH Jim's stuff will have to wait till tomorrow. Sorry 'bout that. The poor bloke will wake in the morning expecting his name to be up in lights as he drinks his coffee, and discover he's been ignored! Oh dear...
Mark the barber and I talked about weight and he asked me how much I weigh. During the Melbourne Cup the other day I was reminded of the weights carried by race horses in a handicap event... down to 48 kilos or thereabouts. I was a mad punter years ago and it never occured to me that, one day, I would weigh as little as those tiny jockeys do! It's not so bad for them cos they're a lot shorter than I am. Anyway, not to worry. 2015's looking better. Gary
November 5, 2014. Just read a short report from a GN who travelled thousands of kilometers over 6 months and had a wonderful time visiting all kinds of interesting places and meeting all kinds of interesting folks. It pisses me off a bit still being a "gonna", waiting my turn to experience life on the road but it keeps the dream alive.
Yesterday, I checked an AO journal entry from 2008 and the relevant photo album, and then realized that was six years ago. Sheesh. Six years of being a "gonna". Sometimes I feel like trashing the AO web site and starting all over again from scratch. But I won't. Instead, all the current stuff will be archived once I'm ready to head out the drive for the last time. Waffle will be dropped in favor of a new daily Journal, so in effect I will be starting from that point as if it were Day One.

From the GN forum: On this day 1935 - Parker Brothers releases the board game 'Monopoly'. The popular board game 'Monopoly' is named after the economic concept of monopoly, the domination of a market by a single seller. The game was developed by Charles B Darrow, but the concept was actually based on a game patented in 1904 by Lizzie J Magie, a Quaker from Virginia. Magie's invention was called the Landlord Game, and was designed to promote her political agenda by demonstrating how rents enrich property owners and impoverish tenants. Darrow developed his own version of the game and patented it in 1935. 'Monopoly' was released on 5 November 1935. It was immediately popular as, during the Depression, people enjoyed the concept of a game in which players could make their fortune, accumulate large sums of money and send other players into financial ruin.
Yep, and nothing's changed, which explains why about 2% of the population owns all the wealth.
Speaking of rent, ours went up last pension day by $40 a fortnight ($20 each), so I logged into my Centrelink account to make the changes. It was one of those on-line forms designed by a public servant that ended up telling me that my new circumstances were that my shared rent increase took place on October 25, 2014, the same day as Lindsay moved in. Huh? I wanted to explain that the only thing that had changed was the rent, not the person I share the house with, but there was no allowance for that. Dumb buggers. Anyway, it means my rental assistance goes up by about $12 a fortnight. Every little bit helps ya know.
Yesterday, in response to OH Jim's remarks about feeling the loss of Cody (he has only recently read the Codeman), I remarked on how the Ts were comforted by the company of Cody's close friends (and vice versa): When my Dad died back in the 80's, and after the funeral was over, we all went to an Uncle's home for the after funeral lunch and get together. I was sitting down in their finished basement, just being quiet, trying to eat a sandwich and drink a beer. No appetite to be honest about it. The Catholic priest, who did the service at Gate of Heaven Cemetery, came over with a sandwich and a beer, and sat next to me at their bar. I said hi and he said something to me about the weather turning cold again ( it was March 9, 1985 - actually my Dad's birthday). I think I said it seemed appropriate for what we did today. And then he said "you know, you feel down and that's understandable. But there will come a time at your regular family Thursday night dinners (how HE knew about those I haven't a clue) when all of you will be there and then one of you will tell a story about your Dad, and then someone else will tell another one, and then you all will start laughing. And that's when you will know it is ok." Well he was right, and it played out just that way. It sounds like it like that happened also with Mr & Mrs T and the other kids when they came to visit.

Yep, sharing the load with friends and family significantly lessens the pain of loss, as does the telling of stories of happy times. We do need to make that effort, despite our grieving, to remember as well as treasure the legacy left to us by the passing of our loved ones. To paraphrase the priest, it is okay... it is okay to laugh... it is okay to continue living... and it is okay not to feel guilty.
When I wrote GR I made a conscious effort not to break the news of Cody's death gently. I wanted readers to appreciate just how unexpected and cruel it was for all of us. I wanted readers to feel for Wingnut who breezed into Cody's room that morning only to see a bed that hadn't been slept in, and then to be told by the Ts that his big bro would never be coming home again.
The news must have totally shell-shocked the kid at such a tender and vulnerable age. But even he came to terms with Cody's death as he demonstrated when Steve visited Cody's room for the first time since the accident. Steve was alone in the room when Wingnut walked in and said, "It's like he's still here but invisible." What in essence he was trying to say was that Cody's legacy was still there... in his things, in his room, and in the hearts and minds of those who loved him.
It was very fortuitous that Steve befriended me after Cody's death. If he hadn't, it would have left many questions unanswered. It was and still is important to me to know about Cody's memorial service and the speeches, the scattering of his ashes at his local beach, and the role he continued to play in the lives of his friends. Even today, 13 years later, the Codeman is still having an effect. And that is as it should be.

From the Beeb: The Republican Party has taken control of the Senate in the US mid-term elections, increasing their power in the final years of President Barack Obama's presidency. After gains in Arkansas, Montana, South Dakota, West Virginia and Colorado, North Carolina clinched victory. Mitch McConnell will become the Senate majority leader. According to AP news agency, the party is also set to increase its majority in the lower House of Representatives.
Steve Tsouklas arrived in Sydney by boat from Greece in 1964. As he came into the harbour he saw the construction site for the city's Opera House. At 19 years old, he decided on the spot he wanted to work on the building and several years later his wish came true. Now as his 70th birthday approaches, Steve says working on and in the building for the past 45 years has shaped his life. He developed his own special solutions of olive oil and baking powder to care for the thousands of tons of concrete and bronze that make up the building. Steve told BBC News why it is his life's work to look after the iconic structure he calls his "beautiful lady".
Thousands of Australians have watched a memorial service for the country's former Prime Minister Gough Whitlam, following the event on public screens in several locations. He was the country's leader for less than three years, from 1972 to 1975, but made controversial decisions and saw through far-reaching reforms, improving access to healthcare and education, among others. Inside the Sydney Town Hall, former Prime Ministers Malcolm Fraser, Bob Hawke, Paul Keating, John Howard, Kevin Rudd and Julia Gillard joined Prime Minister Tony Abbott to pay their respects. A number of dignitaries and friends and relatives of Mr Whitlam addressed the service. Here is a selection of their quotes.
In 1914, German engineer Oskar Barnack completed the first working model of a new compact camera. When other photographers were lugging around huge equipment with glass plates and tripods, the Leica allowed a spontaneity that makes even its earliest photographs look as modern as today's street shots snapped on a smartphone.
Well, it's about time I parked this old butt in front of the telly. Catch ya tomorrow. Gary
November 4, 2014. Another bewdiful day on the mid north coast of NSW. There were lots of RVs on the highway yesterday, mostly headed south after the northern winter (which is more like summer). They probably thought I was crazy heading north. I've read on the GN forum lately that the book Camps Australia is not the only "bible" they use for travelling. Those with a smart phone use an app called Wikicamps, which is updated regularly (by users) to include a lot of camp sites that are not listed for whatever reason in the Camps book. And you don't even need to be on line. Download the maps and you're away. So there's another reason to get my stickies on a smart phone.
I picked up a handy hint on the forum this morning... never stand on one leg while showering in a pop-up shower tent. Yeah... for us wobbly oldies, it's a tip worth remembering. Sitting on the porta potti on a windy day could also be fraught with unexpected consequences.
OH Jim wrote: I wrote something on Cody's tribute page, and I started it with "Hey Cody", and then I stopped because it struck me that I was actually talking to him. I had to stop and kinda redo my thoughts some.

You said you'd always be there,
You said you'd never leave
But now I turn around and see that my star is gone
And now my sky is so empty...

That short poem was written by (my daughter) Beth when she was in high school. It covers an entire page of paper. I borrowed just the first stanza. I found it in a box of photos and stuff when I was looking for something else. I read it and the first stanza immediately reminded me of Cody. I'm sure Beth would not even remember that she wrote it. I saved EVERYTHING that came to me when she was in school. It has all gone into a box. Some day, she will find it all after I die, and she is going through all this stuff.
Ah yes, a trap for the unwary and the young. We all learn the hard way that nothing in life is guaranteed, and that it's important to live "in" the moment. Cody told me one time about something he explained to Mark about his mother... that she insisted on always giving a hug and a kiss on the cheek before leaving the house "even if it's just going to the shop cos you never know when it'll be the last time you see them." The morning of November 2, when Cody left the house for the final time, he hugged and kissed his folks and added, "Love ya" for good measure.
I remember using the word "snatched" after hearing of Cody's accident to describe the cruel and brutal manner in which he had been taken from us. Such an unexpected loss is extremely difficult to deal with, as we all know. For me, the only way to deal with it is to focus on what can't be lost.
Jim also wrote about a time he shared with his dad; a special time he's never forgotten: I sorta have in my memory a Dawn Patrol, that happened while we were on vacation, on the way to Miami. We overnited some where, and the next morning I got up dressed, and went outside while the others were getting up and ready. I remember looking at a field behind the motel, and there was a light layer of very thin fog hovering over this field. It was so white and the field sparkled green with the dew. I just stood there leaning against the side of our Oldsmobile, looking across the field. I really wasn't thinking of anything, other than how quiet it was. Then I heard my Dad from behind me quietly say "it's nice, isn't it? " I answered "yeah". That's all we said. We stood there for a while not talking. Then I heard the gravel crunch a little and I turned and he was gone.
I was 9, maybe 10. That little episode plays in my dreams every once in a while. It was just me and my Dad. So when I read Cody's email about the Dawn Patrol, my mind went to that motel parking lot and my Dad. We weren't on surf boards, but I never felt closer to him. if you could ask Cody, he would probably feel the same toward his dad.

I just hope Mr & Mrs T are still here and are coping as best they can. Today is probably a nightmare that they have to live through. Again and again.
Hopefully, they focus on the hundreds, if not thousands, of happy memories of their remarkable son, like the way they did every time they were visited by Mark, Steve, Steph and Wingnut to share a meal and lots of laughs as they chatted about the antics of The Codeman. The Ts always treated Cody's friends as close family which would have been of immeasurable comfort during that time of great need.
Before Steve stopped writing me, he said the Ts were considering moving to the UK, where Paul's folks had gone some years previously. The two families had been close friends for years, and the two boys, Cody and Paul, grew up together like brothers.
And Jim, if you think Cody's accident was bad enough, imagine how shattered those two families would have been if their two 15 y/o boys' suicide attempt had not been thwarted. Moreover, there would have been no Steve, no Wingnut, no Mark and no Steph... and no Gary for that matter. As to the Codeman story and its thousands of readers, it would have never existed.
So, you see, we really do have something to be grateful for.

From the Beeb: US technology companies have become "the command and control networks of choice" for terrorism, the new head of GCHQ has claimed. Writing in the Financial Times, Robert Hannigan says some US tech companies are "in denial" about how their services are being misused. He also said UK security agencies needed support from "the largest US tech companies which dominate the web". Extremist groups in Syria and Iraq had "embraced the web", he added. "However much they may dislike it, [US technology companies] have become the command and control networks of choice for terrorists and criminals, who find their services as transformational as the rest of us," Mr Hannigan says.
This election season candidates have been spending millions of dollars on television advertising to try to win or hold onto seats in the US Congress. Guns have been a recurring prop in many of the most successful adverts, as candidates look to bolster their perceived toughness or express their displeasure with a political proposition by opening fire on it. BBC Trending's Anthony Zurcher looks at how firearms are being employed in some of this year's most popular campaign commercials, which have received hundreds of thousands of views on social media.
An Australian man has been charged by police after driving a light plane down the street and parking it at a pub while he went inside for a beer. Police in Newman, Western Australia said the 37-year-old man endangered the life, health and safety of residents. The man had allegedly bought the wingless Beechcraft two-seater aircraft from a private residence and was taking it home when he stopped for a drink. The engine had been left running making it a danger, police said. Local residents were amused to see the sight of a plane parked outside a well-known local spot.
It happens quite often in the outback - locals flying their planes or small helicopters to the "local" for a beer or two and a bit of shopping. Distances between towns out there can be hundreds of miles.
Pakistan recorded only their second Test series whitewash against Australia after winning by 356 runs on the final day in Abu Dhabi to seal a 2-0 victory. It was their largest win in terms of runs and their first Test series success against Australia since 1994. The Australians resumed on 143-4 in search of an improbable 603 but lost their final five wickets for eight runs and were all out for 246. Pakistan now move above England to third in the world Test rankings.
What the Beeb fails to mention is that Oz is still #2 in the World Rankings behind Sth Africa. Nonetheless, losing to Pakistan is... well... it's just not cricket, ol' boy. C'mon, chaps, stiff upper lip and all that! Let's show those blighters what we're made of!

If you want to change the face of transportation, you're not going to do it by giving bikers better bikes; you have to turn more people into bikers. To that end, Seattle-based design company Teague has created the Denny. Denny is a bike that aims to eliminate (or at least lessen) the hassles of biking. Hills are conquered with an electric assist, and greasy chain-and-derailleur setups are replaced with a belt drive and an automatic shifter. The front basket — a must for urban commuters – isn't a basket at all, but a parcel shelf cantilevered over the front wheel, making steering stable with loads up to 50 pounds. Lights? Integrated and sensor-activated. Turn signals? Activated with the flick of a finger. Even the hassle of bike locks disappears, thanks to an ingenious handlebar that doubles as a beefy bar lock. And yes, this bike can even charge your phone as you pedal.

I saw an item on telly the other night about thoroughbred horse racing on the decline in the US, due mainly to competition from other gambling sources such as casinos and on line. I think it was Boston that recently closed a famous race course. Anyway, here in Oz it's alive and well, especially today, Melbourne Cup day - the race that stops a nation. The last time I won on a Melbourne Cup horse was in an office sweep in 1974 - horse names drawn from a hat. Mine was Think Big and I won about $7. Today I'm not in a sweep, and I haven't bet on a horse on line. In fact, I don't even know who's running in the race, except some Japanese nag that's fancied to win.
It'll be on the TV news tonight, of course, and splashed across tomorrow's newspapers. For some, it's an excuse to dress up to the nines in the latest outfits from Paris or London, or a tux and top hat. Hats are a big thing for the ladies... the more outrageous the better. For others it's an opportunity to knock off work early and spend the rest of the day partying at a restaurant or pub... or at the local racecourse if Flemington is out of reach.
Ah, well I've just heard that it's Germany's day with Protectionist (Ger) winning the race by a couple of lengths. The Japanese horse and favorite, Admire Rakti, finished last, then collapsed after returning to the stalls and died. Very sad. Red Cadeaux (UK) ran second, with Who Shot The Barman third.
And that's it for this Melbourne Cup day, first Tuesday in November. Gary
November 3, 2014. On this day, 2001, it was a dark day in the lives of Mr and Mrs T, Mark, Steve, Steph, Wingnut, Paul, and all who knew and loved the Codeman.
"Everyone has the right to be respected for their differences, and the responsibility to respect others for theirs." Cody

It's taken quite a few years to come to the realization that the loss has been well compensated by the legacy - the precious memories of his time here on this planet that can never be erased, and that are ours to treasure forever. Long live The Codeman.
As it happened, Mieke posted a photo on Red Bubble this morning that reminded me of Cody's Dawn Patrol, and I commented on it. She replied: What a beautiful tradition… and it's an honour that this photo would evoke his memory, Gary. Big hug from me.

OH Jim wrote: It's 12:28 AM, Sunday. And in Cape Town it is 6:28 AM, 11/02. Sometime late tonight or early tomorrow morning, Eastern Time, Cody died 13 years ago. Just another teenager who never saw 20. Yet, to all the of thousands of people that he touched in his short life, he wasn't just another teenager that never made it past his 19th year.

When someone old dies, we just say oh well, he had a great life, and it was just his time. Saying that is a way to soften the loss. And make the person who died look like he did a lot with his life. But a dead teenager leaves an empty void . He didn't have a lifetime of accomplishments through the decades. There is a huge grieving. Instead of saying 'he had a great life' and look at all of his kids and grandkids he left behind, there is a pause, and a 'he was SO young'. There's a lost potenial that will never be applied. And the world that he leaves behind is at a loss to explain why he isn't here anymore.

So I am just rambling, and I am at a loss for words. Nothing I can say will ever make it right.
On the other hand, Jim, by remembering Cody on this day you are doing him a great honor. He would have been chuffed to know that 13 years down the track, there would be people like you feeling the way you do.

Meanwhile, life goes on as it does, and must, and soon I'll be off to the dental clinic for the bi-weekly ritual, followed by the drive to Port Macquarie for more observations and assessments by the medicos. At least the weather is fine - cloudy but not wet - and mild.

Back from Port Macquarie and seeing the docs - two of them. I took the CT scans from about a month ago and both docs were interested in taking a peek. It seems everything is okay, relatively speaking, and there's no sign of the cancer returning. I'm still skinny but at least my weight has stabilized and I'm in reasonable health. The oncologist will see me again in 6 months (after the op in Sydney).
PJ ran well there and back. She breezes along the highway in 5th between 80 and 100km/h no problem at all. She gets buffeted sideways a little by passing trucks but not to any alarming degree.

From the Beeb: Keith Jesperson is notorious in the US as the Happy Face Killer, who raped and murdered eight women in the 1990s. Here his daughter, Melissa Moore, describes how she learned the truth as a teenager - and eventually found a way to live with it.
We should not get overly obsessed with making spelling mistakes or typos, because they are not what makes our writing good or bad, says author and Financial Times columnist Lucy Kellaway. In a recent column about Sheryl Sandberg, I spelt her first name with a C. I read the piece over a few times before submitting, as I always do, saw nothing amiss, and pressed "send". I have spent 30 years in journalism, and there I was misspelling a name I had spelt correctly dozens of times before.
Interesting article about typos. They're bloody hard to spot if you're the writer because you're reading what you think you wrote, not what you actually wrote. It's easier for others to spot your typos.
Clarinettist Acker Bilk, who personified the trad jazz revival of the 1950s and 60s, has died after a lengthy illness, aged 85. His most famous number Stranger on the Shore was the UK's biggest selling single of 1962 and made him an international star. Born Bernard Stanley Bilk, he changed his name to Acker - Somerset slang for mate - after learning to play the clarinet in the Army. His last concert was in August 2013.
Another thing OH Jim mentioned in his email to me was his convo with his mate Zach. He said to Zach that Cody was paranoid about being outed at school, but that times had changed since then. Zach responded by saying that they hadn't - that gays still get beaten up at school. Well, I seem to remember Mark calling Cody a fag in the school quad, and ending up flat on his ass with a fat lip for his trouble hehe. Cody often spoke with his fists to anyone who gave him lip. But I think the gay bashing thing will aways be an issue at schools because of the pressure teens are under to conform. It's just the way teens are.
Cody was more worried about being ostracized socially by his school friends than copping a black eye. He loved school, and that's where most of his friends came from. Anyway, as it turned out, Cody didn't have to prove anything to anyone. If I remember correctly, Steve said there were about 200 people at Cody's memorial service.
"Everyone has the right to be respected for their differences, and the responsibility to respect others for theirs." Cody
And on that note, I'll let Cody have the last word. Gary
November 2, 2014. Greens Lake in Victoria is a popular free camp for many GNs who congregate there at this time of year to spend a month or two socializing and lazing about.
I think Billeeeeeee and Jules were there for about 3 months last time, then went on a winter tour of Queensland, Northern Territory and Western Oz before returning via New South Wales during this past week. What a life! They have a fairly large motorhome and have just purchased a flat-tow trailer and a little Nissan Micra to make getting about when camped easier and more convenient.
Speaking of Billeeeeeee, he posted this pic this morning:
OH Jim wrote to say that Halloween is a bust for him, a chance to repay the good times when he was a kid knocking on neighbor's doors to trick or treat. I agree that the idea is great - a chance for kids to dress up and be rewarded with bags of candy. But I fear it's not that innocent these days - or at least headed that way here in Oz. I remember one kid the morning after Halloween a few years ago gleefully showing me a fist full of dollars. Nuff said.
Jim also suggests that I don't let my inability to speak stop me from going camping - he reckons I could use 3"x5" cards if necessary hehe. Yeah, right. Meanwhile, Zach and his g/f have patched up their differences and are an item again. The devil you know...

And 11/3? Jim says he's preparing to spend a quiet day. For me it'll be a visit to Andries in the morning for the usual clean and squirt, and then off to Port Macquarie to see the oncologist at midday. Cody will be on my mind, of course, but without the anger I used to feel.
From the Beeb: A court in Egypt has sentenced eight men to three years in prison for appearing in a video alleged to show a gay marriage. All eight had denied charges of inciting debauchery and offending public morality. The video, which was posted to YouTube in September, shows two men exchanging rings on a boat in the Nile. Though homosexuality is legal in Egypt, it remains a taboo. Police raids on gay venues have risen in recent months.
It is regarded as tradition for wives to take a man's name after marriage. Why, asks Dr Sophie Coulombeau. My name is Sophie Coulombeau. But a year from now, after the fuss from my wedding has died down, it could be something rather different. For me, to adopt the surname of my partner and relinquish my own would profoundly affect how I think about my own identity. On the one hand, it would bind us into a family unit and make it easier to know what to write on the birth certificates if we ever have children. But on the other, it would make me first and foremost a wife, while my husband would remain, quite simply, himself. Introducing myself as "Sophie Hardiman" would mean that saying "I do" had fundamentally changed the answer to the question "Who am I?"
Yes, who am I? The answer to that question, dear Breth, is in your wallet. Driver's license, credit card, debit card, medicare, and all that stuff. Roite? Or does who am I go deeper than names and numbers or what's chiseled on your headstone? Ask a dog who you are and he'll describe a specific scent exclusive to you.
I suspect we are many things. "I am what you think I am." Most people respond to the question who are you? by giving their name and/or occupation. So if a person changes his/her name and/or occupation, does he/she become a different person? Fido wouldn't think so hehe. Can't change a smell. So maybe dogs have got the whole question of identity nailed.
Today's been a far more pleasant day than yesterday. Warm but not too hot. No wind. Clear blue sky. Tomorrow, for my trip to Port Macquarie. it'll be about the same .Yesterday, after a hot and humid day in Sydney, there was a late cool change which was gale force and did some damage. But by the time it reached Taree it had petered out and was no more than a whimper. There were destructive fires in the Blue Mountains too.
Well, it's been a pretty quiet day - bit of shopping and whatnot. Nothing headline grabbing. I'll take the Nikon with me tomorrow just in case. Gary
November 1, 2014. Well, lookie here... it's November! For computerphiles who fancy a trip down memory lane (that's a computer joke), here's a GN thread about techies starting out in the 70s and 80s with their first computers. There are some clever peeps on the GN forum.
OK Mike sent happy Halloween regards. It's not something we celebrate in Oz, at least not traditionally. However, lots of retailers are trying their best to establish it here because they can see a quid in it. Two little boys knocked at the front door last evening wanting to trick or treat so I politely told them I wasn't into Halloween, and they politely responded by telling me that was okay, and left. But one GN on the forum said this morning that he was told by some kids (accompanied by an adult) that he was an old bastard after asking them to leave. Charming. I personally don't approve of strangers knocking on doors expecting hand-outs (usually money). If you asked them what Halloween was all about they wouldn't have a clue... except that it was an easy way to make a quid.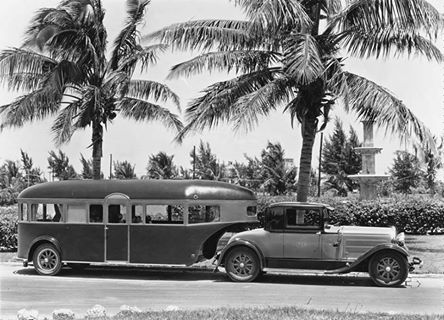 Mike also writes that all the delays to AO are not my fault and that I've used the time well to get organized. I guess so but I cringe every time I check something I wrote years ago only to see the same hopes and dreams expressed over and over. Patience my dear boy, seems like you have most the hard part stowed and locked away, in time the bell will ring and Gary will be the first out the door to enjoy that well deserved recess. While bouncing around the net, I scored a picture of early travel and think it applies well with the AO, just think what it would be like to source parts for that rig.


One GN wrote this morning that he finished off what he had started yesterday, which was nothing, so he'll be doing nothing again all day today and catch up with what's left over tomorrow hehe.

Mike and his partner will travel to Dallas Texas (Greg country) in December to see Fleetwood Mac in concert. One of my very fav bands but I'm not a concert-goer. Too many peeps for me. Strange little black duck, aren't I.

Mike also mentioned November 3 getting closer and how it's a dark day for me and all those who have come to know Cody. 11/3 was a dark day for me for many years but now I prefer to be thankful for the life Cody shared with us all. It's a contribution that can never be erased, and one that has enriched each and every one of us. That's the way I look at the whole of life itself now - a series of enrichments despite the downers.

OH Jim will be glad to know that Mike shares his enthusiasm for The Three Stooges. Jim tells me the temp was 47F this morning instead of the 31 forecast. Bit different here in Taree. Right now it's 37.3C which is the old ton in F - 99.4 to be precise. The forecast top was supposed to be 33C. So, yes it's pretty warm out there. I had to close the back door to prevent hot air circulating through the house (there's a hot westerly blowing). Here in this room, the gauge is showing 30.2C.

Jim says as long as I believe I'm gonna do the Big Lap, that's all that counts. It's my motivation to keep going and deal with all the setbacks. Yep, he's got a point. Without the dream, I'd have nothing to plan for, nothing to get excited about.

Jim has been peeking, and checking out caravan parks in Taree hehe. He suggests I try one of those for a few days to get the hang of camping, while remaining close enough to home to bail out in case something goes wrong. I did that about a year ago in a nearby town called Wingham which is also on the banks of the Manning. I will do it again somewhere, and soon, but I've been pretty poor lately, catching up after a year of unexpected and large expenses. But I'm almost back in the clear. The other thing that keeps me from mixing with people is having no teeth and the difficulty I have in speaking and making myself understood. It doesn't provide much incentive to leave the house.

Some of the best times camping with the Minnie Winne and later with the pop-up was going to Winton Woods, a county park, 3 miles from home. We did a couple of shakedown campouts, to figure out that everything worked like it was suppose to. And if it was a disaster, we could bail out. We never did, and we made some nice friends there. And we went back to Winton Woods many times, for a last minute weekend campout.

TX Greg wrote to suggest using a pair of pliers to pull the crank handle off PJ's wind-out window. But I have a feeling there's more to it than that. Here's part of a convo on a caravan forum about Australite window winders which involves removing a long rivet. Sounds scary to me.


From the Beeb: A pilot was killed and another injured as Virgin Galactic's SpaceShipTwo space tourism craft crashed in the California desert. The craft was flying a manned test when it experienced what the company described as "a serious anomaly". It was undergoing its first powered test flight since January over the Mojave Desert, north of Los Angeles. Virgin Group founder Sir Richard Branson said he was "shocked and saddened" by the "tragic loss".

It's 50 years since the publication of one of Australia's most iconic books. The Lucky Country by Donald Horne, which came out in 1964, has gone on to become a cult classic, as well as saddling this land with an entirely misappropriated nickname. On arriving in Australia just over a year ago, it was the first book I read having received a recommendation from my predecessor. "That sounds upbeat," I thought, seeking inspiration for my new life down under. It is, however, a thoroughly depressing read. A damning and bleak assessment of Australian society in the early 1960s.


This heat is a great excuse to indulge in more than the average siesta time. I've had a few today - and after what that GN said about having nothing to do yesterday, today and tomorrow - I don't feel the least bit guilty. Gary

← Older posts Waffle Index Newer posts →
or
Return to Home Page