| | |
| --- | --- |
| the WAFFLE page | |
August 29, 2015. Happy Birthday Gary :)
It just doesn't feel like a whole year has past since you were celebrating your seventieth. Over the years Gary never did like to make a big fuss about his birthday, but that was one very special day he truly enjoyed.
BR Joćo made that for Gary ten years ago in 2005. Like Gary, I always loved that one and here's some of Gary's comments.
"I love the birthday pic from Joćo, my Brazilian mate. Check it out. Hey, I got a chimney on my motorhome and even a rear porch. How wonderfully domestic! Uluru is in the background, and there I am in my Aussie bush hat meeting a local Aborigine. And Kelly? She looks a bit like a runaway hedge...needs a trim. And the platypus? Gotta be careful of those cute little buggers: poisonous spurs on the back feet. Ouch! And I just love the little flower boxes on the outside of the motorhome. How Dame Edna Everidge! Even the steering wheel is on the "proper" side! Joćo, you've done well. I love it to pieces! Thank you, thank you, thank you.

Actually, I was hoping this birthday would go unnoticed. I don't like the fuss. 60, 61, what the hell. Dozen madder. The earth ain't gonna shift off its axis. What matters is what I do between now and the final curtain, and how it matters to other peeps. Joćo, my friend, captured that brilliantly in his drawing."
Yeah well, we all did make a fuss. It's your birthday mate :) And I got couple of little prezzies for you. Did anyone notice the dot com is working again? Yeah, I got all that sorted out and both the dot com and dot net are now working on new hosting. And who says you can't be in two places at once, hehe. Did you know Gary bought the dot com name as a birthday present to himself? Well mate your prezzie is back where it belongs and working.
Speaking of working, last month when I ask if anyone noticed something not working right after I recoded all the files to let me know. Well, I want to extend a huge thanks to Franēois. He went back and downloaded all the the new recoded files and redoubled checked everything. He didn't find any more problems and everything is running smoothly.
And here's another little small prezzie. Gary had wanted to do a special page for his little Nicaragua mate Anyel whom he sponsored thru World Vision. I created a small page with some comments over the years. I also added a new link on the home page for Anyel.
While I was working on Anyel's page I thought about the original 1985 charity song "We Are the World".
One amazing talented group of folks in that vid. And speaking of vids, Gary had a little talent of his own when I created a couple of little cartoon vids for birthday back in 2010, hehe.
"TX Greg went to the trouble of putting together a couple of vids just for little ol' me... er, forget the ol'... just for little me. Here's the first one. And here's the second one. Just click "open" when prompted and it'll play on your windows media player. Great stuff, Greg, and thanks for the giggles. You're a clever bugger."
That is a painting my mom did way back when I was still a wee little one. It's hanging here in the room with my comp. I've stared at it quite a bit these last few months. Hard to explain, but it has helped ease the pain and hurt, which somehow made me think about Johnny Cash's music video "Hurt". "Everyone I know, goes away in the end."
I received a nice letter from Cherie who used to work over at Stebercraft.
"The world has lost one that was worth keeping.
I caught up with Gary a few times around town after I met him at Stebercraft & we would have interesting conversations about photography, which is also my hobby & various places around our area & also around our country. I'm lucky that I have travelled extensively around Australia while I was younger & I was hoping that Gary would get to make his dream trip. The other interest in common I had with Gary is that I'm a volunteer DJ at a community radio station & spend every Saturday arvo playing music.

I know he was having a rough trot as I'd contact him every so often to see how he was going. I'm sorry I hadn't kept in contact with him lately as I could have helped in out with the help that he needed, he should never have felt so lonely & helpless."
If you never saw Gary's Stebercraft albums there's three, stebercraft-taree, steber-feb09, steber-mar09.
Before I forget, I was thinking about Gary's "Guest Travelers" section. If anyone takes a really neat cool trip and wants to post it up there, send it to me. And no Jim, the Hamvention does not count, hehe.
AZ Dan had asked what my fondest memory of Gary was. Well not just one thing in particular, but I say it would be the privilege of knowing someone that loved so much and devoted his whole life to entertain others :) Gary's last line in the scrapbook. "I'm hoping that the time I have left on this planet will be interesting enough to keep both you and me amused." Indeed you did my friend :)
Oh-Key-Doe-Key (Texan for Ok, hehe) For now I've got every here set on Automatic Pilot. Hahaha, they just don't make movies like that anymore. As of now the next waffle post will be Christmas Eve. Thought that would be a special day to spend here with our, as FL Josh said, "family".
Any one ready for some Birthday Cake? Oops, hehe.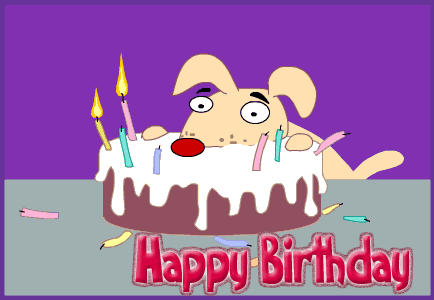 Greg
← Older posts Waffle Index Newer posts →
or
Return to Home Page