| | |
| --- | --- |
| the WAFFLE page | |
February 28, 2013. And there goes February. Late last year, Steve W urged me to set Feb as the Odyssey departure date. Didn't quite work out that way but I'm not all that far off. Tomorrow, Peter the metal bender will drill my holes in the Courier tray, and on Monday Ford will do a rego check. So that's all organized. Then I'll phone Chris The Fence Man to help me load the camper one day next week. Third party compulsory insurance is on hold till after the rego check in case they find something that needs fixing. But it should be okay.
Imagine that. PJ will have become a motorhome within a week or so. That means everywhere I drive it from then on, it'll be almost 3 meters tall. That's gonna take a bit of getting used to, and I'm kinda nervous - always am about anything new or different. Magnetic Bill doesn't think twice about driving his now, and that's the way I wanna be as soon poss.
I read some interesting GN Forum comments this morning from peeps who have bought their RVs in the US through Aussie Spec US Caravans, an Australian company with a branch in CA. I am currently in the process of getting my American RV converted to Aussie ADRs (Australian Design Rules) in California, by Aussie spec US caravans. It has an Oshkosh chassis, 300 HP Caterpillar motor, 4 speed Allison Auto gear box, The early garbage trucks in OZ were these chassis, motors and gear boxes. Converted to right hand drive, all wiring to OZ specs, all gas lines in copper to OZ specs. Left hand door fitted, lights changed to OZ specs. Inverter changed to 240 volts and a 240 volt outside power plug. Australia does not make any thing like it, the quality is far superior to any thing made here, and I have looked, I hate to say this, The Yanks make some thing better than us, and they do in RV's. My 25 year old RV looks better than a half million dollar one built here. I need an engineers certificate to verify the work done is up to standard, I need a roadworthy, I need Rego. Then I can drive it any where. I got my MR licence last week. I bought my RV privately in Texas, The PO drove it to California, 1500 miles, with his car towed behind the RV, then drove his car home back to Texas. They call it a toad over there. There are a few catches for the unwary in OZ, some of their RV's are 101 inches wide, cannot be registered in OZ, max width is 98 inches. The over hang at the back cannot be more than 3.7 metres or 60 % of the distance between the axles length. Do not buy one that has been sitting in a caravan park for years, or a permanent lived in home. They will be stuffed mechanically from lack of use. It will be here in 2 months time, And bloody cheap as well, It also has all the bells and whistles, which are all optional extras here.
Other commenters say there's no shortage of new and used RVs on the market in the US. If you can't afford to go there yourself and buy, Aussie Spec will arrange someone over there to search for something suitable, send you pics, ship it over here, do all the changeover specs, and deliver it. They might be a lot cheaper than Aussie equivalents but they're still way outta my league. Here's a caravan that's being modified by Aussie Spec for $33,000. Wow, something like that built in Oz would be at least twice the price, and probably thrice. Makes my old Freeway look a bit ordinary hehe. Oh well... she'll be roite, mate, no wukkers.
BTW, have you heard about the Smorsche? It's a cross between a Mercedes Smart and a Porsche (thanks to Photoshop). Thanks, Francois. Love it!
Back from a little shopping. 35 liters of petrol @ $50 filled the tank (from just under 1/2 full), and I bought two pillows on spesh at $10 each, down from $30 each! They're for the camper. The ones I use in the house are a bit old. The packaging is interesting... they're almost flat in a large carry bag. As soon as you open the bag, they puff up to full size. And I took Nancy's advice and bought some hazelnut/choc spread to flavor smoothies.
From the Beeb: Australian police say they have made their largest-ever seizure of the drug methamphetamine hidden in a shipment from southern China. The drugs weighed a total of 585kg (1,290 pounds) and had an estimated street value of A$430m ($440m: £291m). They were found last Friday in a container of chemicals from Shenzhen. Three men - a Singaporean, an Australian and a Hong Kong man - have been arrested and are due to appear in court in Sydney on Thursday. They face a maximum life sentence if found guilty.
Australia is known for its hard-drinking men and women rarely seen without a "tinny" of beer in hand, but something is changing. In some circles, ordering lemonade instead of lager is no longer seen as "soft", it's fashionable.
Yahoo has banned its staff from "remote" working. After years of many predicting working from home as the future for everybody, why is it not the norm? When a memo from human resources dropped into the inbox of Yahoo staff banning them from working from home it prompted anger from many of its recipients. Virgin entrepreneur Richard Branson, who spends much of his time working on Necker Island in the Caribbean, was quick to respond, calling it a "backwards step in an age when remote working is easier and more effective than ever". Working from home. More productive or less?
In my experience, working from home is more productive, but I suspect if I hadn't been working for myself it may have been a different matter. If I cheated the boss, I'd be cheating myself. Taking a "sickie' was also a no no unless I was really ill. Then I'd have to work twice as hard the next day. However, my "working" lunches tended to be rather longish. I remember one time some friends came into the restaurant. No, not late for lunch. They were there for dinner. Oops!
Speaking of which, it's THAT time again. BTW, I noticed on one of the cans of Heinz soup the other day... 97% fat free. Roite. That's no bloody good for me. Just about everything in supermarkets these days is marked low fat or fat free. And all the good stuff like pies and sausage rolls and cheesy things and lashings of butter I can't eat! No wonder a bloke's anorexic. Anyway, time marches on tomorrow. Ha ha ha ha, ho, ho, ho. Get it? And it'll mean winding my calendar watch forward 3 times.
Oh, almost forgot:, NC Art wrote: Noted a news story today about an Aussie billionaire … or maybe just a multi-millionaire who is to build, in China, a replica of the Titanic and sell passage for a retrace of its maiden voyage from Liverpool to New York. It will be safer than the original because of more lifeboats and escape slides. And, since global warming has melted so much of the arctic ice, the North Atlantic will have fewer icebergs in shipping lanes. The fellow says that he wants to do "something" with his money instead of just sitting on it. Wonder if he could get you a set of really lovely grinders?
Actually, I did write to him about Odyssey sponsorship. Heard nothing back. Oh well... Clive Palmer is a very colorful character in Oz, always giving cheek to political parties who find him excruciatingly irritating hehe. But he can get away with it. He loves to dabble in politics just to upset the status quo. And he can call a press conference at the drop of a hat. The media loves him. Here's his story on AM, ABC radio yesterday. You can listen to the broadcast or read the transcription. Gary
February 27, 2013. There ya go, almost 2 months into twenty thirteen already. Isn't it amazing how quickly we become used to a new year?
NC Art wrote: Please tell us again why anyone needs a sack of watch parts. Besides a plethora of wind stems, you are well supplied with balance wheels. Will one of those possibly work inside your head? Huhuhu. Yeah, remember wind-up toys? Anyway, I've never had a sack of watch bits before, so I think that's a good enough reason to have one now. If I'm sitting around a campfire one of these days and someone mentions a wind stem or a balance wheel, I'll be able to say I've got a bagful. Nyuk, nyuk.
I've always been fascinated by old pocket watches so the idea is to keep an eye out for old broken ones going cheap at op shops or garage sales.
Speaking of camp fires and such, have you ever wondered what happened to the Woodstock generation of hippies and flower power people? Well, they've all turned into Gray Nomads. Scroll down the page to check out the pics.
So now you know what kinda peeps I'll be sharing the roads with on the Odyssey. And if you thought I was a bit strange, what about THEM? Someone mentioned Bing Bong on the forum. Apparently it's a place in the Northern Territory. So I asked if the people in Bing Bong play table tennis... Ping Pong in Bing Bong at a sing song with Ding Dong and King Kong who made a phone call and got his ring wrong. Ding Dong is the nickname of a female TV singer/presenter in Oz.
So what exciting things are on today's agenda? Not much really. The dentist in a couple of hours. Pay day tomorrow. I'll pay compulsory 3rd party insurance tomorrow and then book the Courier in for a rego check before I put the camper on. That'll give me a month to fix the comprehensive insurance and possibly the gel battery and auto electrician, with the gas fitter in early April. Yep, that sounds do-able. Then the next power bill will be due in May. Hehe. But after that, all the major expenses will be over and I'll be able to save some cash. The $1000 advance I received from my pension will be paid off by June as well. Blue sky at last!
It's a good thing I don't frequent pubs or clubs or restaurants or have any expensive habits. I could never have put all this Odyssey thing together if I didn't stay home every day and amuse myself with Waffle and the internet. I don't miss going out. There'll be enough of that on the Odyssey when I'm "out" every day.
Back from putting the food containers in the camper and buggerizing around a bit. I really like that little house. It's soooo cozy and cute! I found a strip of metal that was once glued to the fridge... with all the operating instructions printed thereon. So that's handy. The power point for the fridge is in the cab over, and the one for the air con is in a cupboard. I remembered how I used to pack the Kombi before going away for a camp and then having to unpack it all on my return. None of that any more. Once packed, PJ stays packed. How wonderful. There's tons of room inside for storage, and loads more in the outside bins.
Orally sound. You like that? That's the term Nancy used to describe my condition. She says I'm looking a bit better lately... not so gaunt. But I'm really impressed with "orally sound". It has that ring of clinical elitism about it hehe. We have a good ol' chat while I'm there (as much as it's possible with my mouth open and half her surgical instruments poked in there, plus several fingers and a vacuum thingy). The young assistant thinks I'm funny and cracks up all the time.
From the Beeb: The US Senate has confirmed former Senator Chuck Hagel as the new Pentagon chief, after four Republicans joined Democrats to approve his nomination. The former Republican Nebraska senator was confirmed by 58-41. "I am grateful to Chuck for reminding us that when it comes to our national defence, we are not Democrats or Republicans. We are Americans, and our greatest responsibility is the security of the American people," said Mr Obama.
People on Australia's north-west coast are bracing themselves for the arrival of a tropical cyclone, with forecasters predicting winds of more than 170 km (106 miles) an hour. Forecasters say Cyclone Rusty could strengthen to a category four storm, and people in Port Hedland have been stocking up on essentials following warnings to take shelter.
The US has registered surprisingly strong economic data, suggesting the recovery may be gathering steam. New home sales, a lead component of past recoveries, surged 16% in January to the highest rate since July 2008. The Conference Board index of consumer attitudes rebounded to 69.6 in February - the highest since November - from an upwardly revised 58.6 in January.
This is what I wrote on a forum thread about weather/flood conditions on the east coast: Floods and wind damage up and down the Mid North Coast of NSW but here in Taree it's been okay. Wet and a bit windy sometimes but otherwise no worries. Including my old camper. Dryzabone inside.
And this is what the next bloke wrote: Yep! Here in Tweed Valley, far Nth NSW, we've had well over a metre of rain so far this year (about 500mm in one day, in fact). This = three times landlocked by floods, many trees down courtesy of the major winds (some on the access track/roads), a summer crop gone to waste right at harvest time, a house-for-sale that grows mould by the day, a 'yard' with a maintenance regime that'd do most people's head in; and mozzies, leeches, sour clay soil, no solar power etc etc. BUT, we are safe and well, the 'countryside' (esp the watercourses) is looking very healthy, the house is standing and still our castle... and, truth be known, I am not in a position to complain at all..... (I just wish we were out of this and on the road etc).
Bill from Magnetic Island sent me a message saying that he was reading my blog when he noticed Art's piece about why men prefer guns over women. He suggested I post it on the "Just Joking" section of the GN forum. So I did. While there, I spotted this one from another contributor:
Fred was in the fertilized egg business. He had several hundred young 'pullets,' and ten roosters to fertilize the eggs. He kept records, and any rooster not performing went into the soup pot and was replaced. This took a lot of time, so he bought some tiny bells and attached them to his roosters. Each bell had a different tone, so he could tell from a distance, which rooster was performing.
Now, he could sit on the porch and fill out an efficiency report by just listening to the bells.
Fred's favourite rooster, old Butch, was a very fine specimen, but this morning he noticed old Butch's bell hadn't rung at all! When he went to investigate, he saw the other roosters were busy chasing pullets, bells-a-ringing, but the pullets, hearing the roosters coming, would run for cover. To Fred's amazement, old Butch had his bell in his beak, so it couldn't ring. He'd sneak up on a pullet, do his job and walk on to the next one.
Fred was so proud of old Butch, he entered him in the Brisbane City Show and he became an overnight sensation among the judges. The result was the judges not only awarded old Butch the "No Bell Peace Prize," but they also awarded him the "Pullet Surprise" as well.
I was also reading an article about the popularity (and sales) of caravans and RVs in Oz. Manufacturers have increased output by record numbers over the last 3 years. The Baby Boomer Nomads are booming and they say it's affecting the availability of caravan park accommodation, especially in mining towns where parks are flat out accommodating the influx of miners and other workers. I don't think it'll bother me. It's a big country out there.
BTW, I keep hearing very complimentary things about Tasmania from nomads who have visited the place. Stunning scenery, friendly people, lots to see and do. So I reckon when I eventually get there, I'll spend several months taking a good look around. I'll book a one-way trip on the ferry and worry about booking the return a few weeks to a month before I decide to head back to the mainland. Winter's a bit fresh down there so I reckon early summer to mid autumn is the go. Yes, a roaring log fire and snow on the window sills sounds lovely but not for 4 or 5 months! Here's the Spirit of Tasmania swallowing cars. Here's a cutaway of the interior (click image to enlarge). This will give you an idea of its size.
Meanwhile, I'm all Waffled out for another day! Country chicken soup tonight. Oh well... Gary
February 26, 2013. Another cloudy, wet one. Not a big deal at the mo, but I guess it will be on the Odyssey when I'm relying on solar panels hehe. Although it's always an option to go for a drive and top up the batteries that way.
Roite. Just insured the camper. I thought the one policy would cover both the Courier and the camper but no... separate policies because they're separate units. The cost of insuring the camper is $270 which includes contents and replacement of awnings so that's not too bad. But I also have compulsory 3rd party and comprehensive insurance on the truck due in 4 weeks and that's about $800 total. Sheesh. I'll be glad when all the establishment costs are over and I can get a break from all this expense! At least the truck and camper have been spread over a period of some months. I could never have managed it in one fell swoop. Outside of the insurance, other expenses such as battery/gas don't have a "due by" date so there's no pressure, and what I owe the metal bender won't be much.
Oregon Richie is out on his own now, doing his own thing, which I think is about bloody time! He's got a nice VW Passat for sale for about ten grand if you're interested. He wears a chequered sports coat, floral bow tie and white shoes so you can easily spot him. Hehe. Sorry... that's not true, but I couldn't resist. You know that old question "would you buy a used car from this man?" Well, I would from Richie. He's as honest as the day is long, even on winter solstice. Hehe.
Bill from Magnetic Island off Townsville, the bloke who owns the same motorhome combo as mine, says he's in the market for a Falcon tub ute like my last one. He says the Courier's tray is too high and it's a bugger trying to get the camper loaded. His Courier is a '97 with a higher tray than mine. Also his Freeway doesn't have side bins like mine. It's the original configuration designed for a tub ute. And the jacks weren't designed for a high tray. He asked me why those Falcon Longreach utes are so cheap. Well, that's easy... there's a million of 'em out there. Dime a dozen. Great cars though.
Anyway, I'm glad Bill started out with a combo the same as PJ because he's been a mine of valuable info, and he's taken his across some pretty rough country... rougher than I'll be negotiating.
BR João wrote: If someday you become tired of travelling throughout Australia you can move to Berlin without leaving your motorhome, though it will be a very strange option. What João means is there are a number of very unusual hotel rooms in the world.
Speaking of money, here's an article from the Beeb: This month the Canadian mint stopped distributing the penny, or one-cent piece, as it costs more to make than it is worth. It's far from being the lowest-value coin around, however. Some central banks are clinging on to coins that are truly "small change". There are many precedents for scrapping small coins. The US abolished the half-cent in 1857 and the UK's halfpenny ($0.8 cents) was withdrawn in 1984. New Zealand and Australia abandoned the one-cent and two-cent coin in the 1990s.
The Syrian opposition reverses its decision to boycott international talks in Rome, after the US and the UK promise to increase their support.
Oregon Richie was talking about submarines and other naval vessels built in Oz and wondered if we have a nuclear capability. Yes, we do.
World powers and Iran are set to hold their first talks over its controversial nuclear programme since June 2012, in the Kazakh city of Almaty.
The estranged wife of a New York City policeman has told a court about her discovery of his alleged plot to kill her and cannibalise women. Kathleen Mangan-Valle said she found emails detailing husband Gilberto Valle's plans to slit her throat, and kidnap and kill her friend. I wonder if that kind of gruesome behavior is potentially within us all?
Ikea has withdrawn meatballs from sale in 14 European countries after tests in the Czech Republic found traces of horsemeat in a batch made in Sweden. Meatballs from the same batch had been sold in many states, including the UK, France and Portugal, the retailer said. I was not aware that Ikea was into food production. I wonder if it comes in flat packs and you assemble it yourself.
My bag of watch bits arrived today so I took a pic with the Nikon, converted it to 256 shades of gray and used an antique filter in Photoscape.
Not bad for an old geezer hehe.
Soooo, have I done anything constructive today? Insured the camper, so I guess that's constructive. Not much else, though. Don't wanna spend too much money until all this insurance is taken care of. I'm thinking PJ will be ready for her first couple of days camping somewhere in early April. She'll be registered for another 12 months then as well. April 1 is Easter Monday so the Easter break will be over, and camp sites will be back to normal. I don't wanna be anywhere near popular holiday spots during school holidays.
And there goes another Waffle, dear Breth. I hope you found some of it interesting and enlightening. Gary
February 25, 2013. TX Greg wrote: A couple of new entries in the guest book....
"Every now and again I stop here. I once visited this site and MrB stories every day longing for the next entry, story, insight into the life of a remarkable person. I never knew Cody personally but I visited here for years and read every story up until his death. I was so stunned and often still can't believe that he is gone. Only when one makes a great impact can the loss linger for so long.....you will always be missed.
"What a unique and inspiring young man Cody must have been, so all of you who knew him and loved him consider yourself most fortunate. To find a friend like he must have been is truly a blessing and should be treasured always.
So there ya go, Code... going on 12 years and they still love ya. When Francois wrote "the world's best teen ever..." I thought his remark was a bit over the top, but it seems not. As the man said, you will always be missed. And may I add, always be remembered.
Oregon Richie wrote: Thanks for the link to the Naval Museum facility. COOL place !! A must-see if I ever visit the place, and had a chance to scope out the Sub in particular ( scope, yeah? ) and the moving video. Most neat. I think a probably British design of the era, and a gentle evolution of the technology, insofar as a few things reminded me of the advanced Fleet-type WW ll Sub in San Francisco which Becky and I toured. The USS Pampanito. I think it was after the war that the US Navy ceased to name their "boats" after fish. Then they got into cities and states for their names.
BTW, Richie, my email this morning bounced so I forwarded it. Bounced again. Dunno what the story is. ----- The following addresses had permanent fatal errors ----- <R******@aol.com> (reason: 554 mtain-mb01.r1000.mx.aol.com ESMTP not accepting connections)
I didn't have time to tour the ships at anchor or the interior exhibits at the museum, so I must make time one of these days to do so. For those of you who are unaware, I toured the Endeavour replica back in 2008 when it was at Port Macquarie.
Whoa! Coming up to six years since the birth of the Odyssey idea. A lot of mistakes and a bout of cancer later and here I am, still waiting. But at least the web site has some useful content and is well established, ready to take on the next lot of adventures. It also gave me time to put the scrapbook together which is something I would never have done on the road. I rather like the idea of having that large slab of my life now "on permanent display".
It's also interesting to consider what the next six years may bring. Being on the road every day, with new experiences happening constantly, I suspect this web site will balloon enormously. Speaking of which, a GN on the forum took a ride in a hot air balloon and posted some pics. She said it was fantastic. There's no sense of flying, apparently. It's as though you're suspended above the earth as it moves beneath you. There's no wind because the balloon IS the wind. So it's something I must do despite my fear of heights. I think having the camera and videoing the experience will take my mind off any fear, anyway. A ride in a bubble chopper would also be cool, especially on a farm where they're used to round up cattle (or feral camels). Imagine all that swooping and weaving. Hehe. It would make a great vid. And a glider? Oooooo... I would have to think seriously about that. In any case, this web site's gonna be a monster.
Yesterday on the Kevin McCloud site about building the Man Made House, a woman complained about his shooting a deer and using its hide (tanned by using its brain) to upholster a recliner chair made out of old tractor parts. I watched the episode last night and, although I found it disturbing, I thought the incident was handled well. McCloud was obviously shaken by the experience, but the deer was one of many destined to be culled, with its meat used for pet food and the rest wasted by being buried. So at least McCloud put it to good use, and learned a thing or two about tanning hide as well as what to do with an old tractor in the process. Made me wonder if the woman who complained wears plastic shoes and carries a plastic handbag.
McCloud also built a poo processor fed by an outdoor dunny on a hill. He invited all his friends to a Poo Party provided they contributed to his poo plant. He eventually collected enough poo to produce sufficient methane to fuel a pig cooking on a gas fired roasting spit. Earlier, he visited a local lion park to collect lion poo. Carnivor poo is ideal for producing methane.
Watching that episode made me wonder about a city like Sydney that pumps its effluent out to sea. What a waste! And while all that effluent is being wasted on a daily basis, mining companies are causing outrage by people opposed to coal seam gas exploration (fracking) in urban areas and prime agricultural land.
Back from the farm machinery place at Wingham with 2 x 1 meter lengths of 8mm chain for $7.60. And what a shop! Been there for donkey's years and never dusted. Some of the nuts and bolts in cardboard boxes are discolored and probably many decades old. Some shelves are bowed from many years of supporting heavy objects like car batteries. I reckon nothing much has changed in that place since the '50s. It was like stepping back in time.
The woman behind the counter was the no-nonsense type. "What's it for? We don't have any load-bearing chain." So I explained. "What size do you want?" "8 to 10mm." I suspect when I opened my toothless mouth to speak she thought I was a dill. She lightened up a bit after that. As to "load-bearing", it's high tensile steel but it's not meant to support the full weight of something heavy, however it can be used to secure a load.
So all I need now is a couple of holes drilled in the tray, a couple of bolts, and the camper will be ready to load. That'll be a milestone... PJ in all her finery. Almost. It's been a looooong time coming!
From the Beeb: Daniel Day-Lewis wins the best actor Oscar – the third of his career - for his role in Steven Spielberg's Lincoln, while Ben Affleck's thriller Argo is crowned best film. I'm not a movie watcher but I'd like to see those two. Maybe I'll get the opportunity on the Odyssey.
Egypt these days is more intent on eradicating symbols of the past than honouring them. So there is little prospect of a largely forgotten Irishman Francis (Frank) McClean ever being hailed there for his extraordinary feat a century ago that heralded Egypt's golden age of aviation. I'm sure Oregon Richie will be interested in reading that article.
Australia has managed to come out of the global financial crisis without a recession. But as a result of its booming economy, the cost of living is extremely high. An interesting article written by an Aussie returning home after 12 years abroad. I must say I take that article with a grain of salt. Living in a country town on the age pension is not exactly living the high life but it's manageable. She chose limes to complain about but didn't mention the abundance of cheap tomatoes, bananas, potatoes and a host of other fruit and veg. Gotta watch these journos ya know.
So that's about it for "chain day". Hopefully, one day this week it'll be "holes day". And that'll be followed by "load camper day", maybe next week depending on when Chris The Fence Man gets a chance to lend me a hand. After that, it'll be the end of putting the truck in the garage. It won't fit with the camper on board - PJ will be banished to the great outdoors in the back yard. So now it's telly time and Heinz time... angus beef and veg soup. Gary
February 24, 2013. BTW, if you'd like a description of some of the exhibits at the National Maritime Museum, like the retired Navy ships and the old lighthouse, you can check out the web site here.
No surprise to hear on the radio this morning that low lying areas of Taree are flooded... the council car park just a block from this house, the park along the river bank, some businesses along Victoria Street. We had a helluva lotta rain yesterday and overnight, but it's clear this morning with the sun shining. The wind has also dropped.
Taree's probs are minor compared to some of the towns further up the coast, like Ballina, Port Macquarie and Coffs Harbour. There's been wind and flood damage, and a couple of people lost their lives, including a 17 y/o who was swept into a storm drain. His mate was also swept into the drain but managed to survive and is now recovering in hospital. Sydney copped it late yesterday and overnight as the low moved south. I checked the camper last night... nice and dry inside. :)
The international surfing championships held at Newcastle yesterday were moved because of 10 meter swells. Where were they moved? Inside the harbor! First time in the history of international surfing that a competition has been held inside a harbor.
NC Art wrote: Kudos for the Sydney travelogue … and your discovery of captioning as an aid to the ignorant or ill informed about scenes so far from our usual haunts. I have often wondered just what I'm seeing and its raison d'etre. Let's see more of it as possible!
Today I was fascinated by what lies under the Nullarbor Plain … a geographical wonder I'd never imagined. Thanks for the link with stunning photos. My son visited and was also impressed. He was telling me about a 2013 line of Sony cameras, one of which is a compact thing, but with a full frame light sensor never seen except in monster equipment before. Price around $2800.00 US, so I won't be shopping for one just yet. Hehe.
And even Nancy my dentist wrote: As expected rivalling Hitchcock:) My other half and I both cracked the popcorn:) Just home from work, long day:) Cheers for the film. Where is the lighthouse? And that's why I posted the link to the Museum at the top of the page. I also added it to the Journal page.
As to the captioning, yes, that will become increasingly important as I travel, with pics of places that are unfamiliar to me as well. Also, there'll be a story behind many of the pics as well as the names of any people involved. Captions will be invaluable references as time dulls the memory. "Whaddaya mean I drove around Australia? Really? When was that?"
From the Beeb: A German minister suggests food containing horsemeat should be fed to the poor, as further contaminated products are discovered across Europe. Obviously, he's not one of the poor.
South African athlete Oscar Pistorius "will have to live with his conscience" over the killing of his girlfriend Reeva Steenkamp, her father has said. Barry Steenkamp was speaking a day after the Paralympic champion was freed on bail pending his trial. The trouble with that idea is that many (perhaps most) criminals don't have a conscience.
I won't go into boring detail but I figured out a better way of attaching the camper to the Courier tray to stop latereral movement at the front end. That's one of the advantages of not being in a hurry and having plenty of time to think things through. That's the way the ol' noggin works ya know. I wasn't entirely happy with my original idea and kept thinking about it. Yesterday, outta the blue, the solution popped in and today I measured a few things to check the feasibility. All I need now is two 1-meter lengths of chain, which I can get at a machinery and farm supply place in Wingham. So that's something else I can stop worrying about. Next week, I'll check with the metal bender Peter to see if he has time to drill some holes for me. I won't be surprised if he doesn't... much of his work is outdoors and all the recent rain has probably put him behind. Until the camper is mounted on the Courier, there's not a lot I can do. That's not a problem though. I ain't in a hurry and the longer I wait the more I can save. The auto sparky and gas fitter are next on the list. It's a nice feeling to know that what needs to be done CAN be done without checking eBay every day, searching for stuff. It's all smooth sailing now. Just gotta make sure I have the bikkies for insurance and registration renewal in April. That'll set me back about $800. I also want to upgrade my current comprehensive insurance (which was transferred from the previous Ford to this one) to include the camper and contents.
There's a chopper circling overhead... probably a TV news crew filming flood damage up and down the coast.
Back from shopping. I didn't see any flooding in the streets or carparks. The river's much higher than usual but that's no surprise. Anyway, I spotted a set of 6 Systema food storage containers, different sizes designed to take up minimal space in the fridge, with click-on lids, half price. How domestic! They're destined for the camper. Heinz canned soups were also on spesh at $2 each soooooooo... I even bought chunky ones that I can blitz before serving. So that works out at a dollar a serving. Not bad. However, I pay a premium price for eggs because free range are dearer than caged, and after seeing docos on telly about the mistreatment of chooks in cages and what a miserable existence they lead, there's no way I could buy caged eggs. Besides, a few worms and bugs make the yolks yellower. I have two eggs a day now in smoothies.
When I showered and shaved, I heard the tail end of an interview with a bloke who suffered throat cancer. He says he's lost a lot of weight but is managing to consume sufficient protein via liquids and supplements to keep him ticking, but it's the solid food he has trouble with. Even simple things like sausages and mash take him forever to eat and by the time he's eaten one sausage he's too buggered to eat a second. He must have teeth if he's eating sausages. Maybe his teeth escaped radiation. My cancer was on the floor of my mouth, not the throat. Anyway, I'm not too worried about my weight. At least it's stable, and I feel okay. I just look anorexic. I could buy health drinks with added protein and fiber but they're expensive. My smoothies are packed with a zillion goodies and taste a whole lot better. And they're cheap. In fact, I intend to continue with them even when I'm over all this crap and back to normal. Especially the ones with coconut cream and ice cream. YUMMY!
Back from delivering the DVD of Darling Harbor to Averil and a chat. She told me about Ken, her neighbor - The Weather Report - and what a miser he is. He bought a recliner chair from St Vincents de Paul for $5, and two kitchen chairs from The Sallies for $5 each, and then had the bloody nerve to ask for free delivery. AND THEN when they were delivered, he found $15 stuck between the cushions of the recliner! Did he offer to return it to St Vinnies? Not on your life. He's always bitching about being broke but how can he be? He gets the same pension I get. So what's the story? There's something he's hiding. Anyway, I don't like the man and I don't know how Averil puts up with him. He's always in there talking over the top of her.
BTW, it's Averil's birthday tomorrow and she turns 80.
And here we are again, 5-ish, and time for the usual bits and pieces. Kevin McCloud's Man Made Home is on again tonight so I'll look forward to that. Rick Stein's Far Eastern Odyssey is also on... not a bad show as Rick tours various far eastern countries sampling their cuisines and cultures. I won't tell you what I'm having for dinner. :( Gary
February 23, 2013. Satdee! Still windy, wet and wild, though, with some towns north of here copping damaging winds and flooding rain. Taree has had a lotta rain but is so far okay. Must check the camper later to see if it's still nice and dry inside. Should be. It was the last time we had a lot of rain.
Picked up these great hints on a GN forum: When my self and wife leave the van and go bush with the Oz tent, we use a make shift shower i made up from one of those pump up garden spray bottles, just add a thicker hose and bigger nozzle and fill it with water for a pressurized shower. 9 Lts is a good amount for a good shower. Solar garden lights make fantastic night lights and don't use batteries or gas.
The other bloke with a Courier/Freeway combination wrote to say he's back on Magnetic Island after travelling from Far North Queensland down to Eden on the NSW/Victorian border and back again. He said the Courier didn't miss a beat. So if his rig works well, mine should too. Yeah?
The Darling Harbor vid had 55 views on its first day which normally takes a month or two. So that's cool. The one I made last June has almost 600 which is pretty good for me. I don't do the networking thing on Youtube, Twitter or Facebook. Can't be bothered.
Speaking of vids, Francois sent a link to this one, adding: nothing to add at the stupidity of our world shown by this wonderful images: It's short but very powerful.
From the Beeb: The US grounds its entire fleet of F-35 fighters - the Pentagon's most expensive weapons programme - after a cracked engine blade is discovered. Trial and error. That's the price of progress.
South African Olympic and Paralympic athlete Oscar Pistorius is granted bail pending his trial for the killing of his girlfriend Reeva Steenkamp. That'll make a lotta peeps think twice about his guilt.
However, the Pistorius tragedy also speaks volumes about the obsession some people have with guns, and keeping them in the house. Had Pistorius not been so obsessed with guns, and paranoid about his own personal protection (living in a gated community) his girlfriend would still be alive and he wouldn't be on a murder charge.
Back from Nancy the dentist and an irritation... sorry, Freudian slip... irrigation. Liam, the bloke who yanked all my teeth out and suggested the hyperbaric chamber routine and an op to remove the dead exposed bone was eager to hear what the specialist told me in Sydney... which was wait for another 3 months. He also asked how the prosthetist was proceeding and I told him the oncologist in Port Macquarie said NO TEETH. So that well and truly put paid to Liam's suggestions hehe. Nancy is gonna lend me her food processor which is powerful enough to grind ice cubes, chocolate and all kinds of stuff for smoothies, soups, etc. They're a good bunch up there at the dental practice. Since I'm there at least once a week, I'm part of the family.
4-ish now and it's still raining buckets, with the occasional blast of gusty wind. I wonder how campers up and down the coast are coping with being stuck in their caravans and motorhomes. The weather's been lousy for about 3 days now, but it looks like it'll start to clear overnight or tomorrow. I reckon it will be a good idea when I'm on the Odyssey to keep an eye on weekly weather forecasts so that I'm well informed in advance. If lousy weather is forecast in a particular area, I'll head in another direction.
I mentioned to Richie a show I'm watching about Kevin McCloud's shed in the woods, constructed "off grid" of various materials he finds on his 2 acres and fossiking around junk yards, curio shops and even sewers. It's a most interesting project. For example, the floor is a "cheese floor" using milk and human hair, first perfected by the Vikings. The window uses glass made on the property from sand and washing powder. The wood stove is an old safe. Here's an article on the project with pics.
I kinda feel the same way about PJ. It's not as radical as McCloud's shed but it serves the same purpose... a place to get away from the madness of the world and watch the sunrises and sunsets. And mine is mobile! A beach shed, a country shed, an outback shed, a bush shed, a riverside shed, a shed for all seasons and locations. Yeah?
Anyway, that's about it for today's Waffle, ladies and genitals. I see that the wind has dropped and the rain has eased. Still cloudy though, and I dare say some towns on the coast still have flood worries with all that ground water still swelling rivers and breaking their banks. Sometimes it takes days for rivers to reach their peak after long periods of heavy rain. But for me, it's tummy and telly time. Gary
February 22, 2013. TX Greg wrote: Another fantastic fossil filum :) It really is neat to get to ride along while I'm enjoy my morning cuppa. I feel I've been to OZ and back in a few short minutes, with no jet lag and my feet don't hurt, hehe
Oregon Richie wrote: Nice !! Good vid presentation of the harbour area and the "light rail" and everything else. Loved that one; kudos and damned good job, Ace.... The cute couple at the train station was kind of a sweet way to start things, too. Ah, to be that young and cute again !! And that horny at times, hee hee. Well, lemme check the bank balances.... ( click peer evaluate... ) ..... but ah, no... not enough money to pop off to OZ right now. Such a pity.
And that explains why I get sore feet and spend hours and hours shooting and editing these things. The kudos is worth it. Every performer is addicted to applause. As I mentioned to Richie this morning, another reason is: The challenge for me is putting together an entertaining vid using only the most basic tools and a budget of $0. It can be done, though, if you use a bit of imagination. Experience in vid production helps too. :) I've spent many hours in vid editing suites and on shoot locations observing the techniques of the pros. Come to think of it, if I told my former colleagues in the TV production biz that I intended to make videos using an old Fuji digital SLR and Windows Movie Maker on a budget of $0 and a crew of 1 they'd double up laughing. Hehe. Yeah? Well, this kid can do anything.
I remember back in the 60s Sydney's top drive time jock saying on air that his station charged a dollar a second to advertise on his show. $30 for a 30-second ad? Sheesh. You'd be talking hundreds of dollars these days.
Wet, cool and windy today, which is the case up and down the NSW coast, with some places getting flash flooding. Other areas of Oz are suffering drought while some are battling serious bushfires. No shortage of variety down under, folks.
From the Beeb: South Africa's top detective is to take over the Oscar Pistorius inquiry amid attempted murder accusations against current lead officer Hilton Botha. Detective Botha was removed pending the result of an investigation into seven counts of attempted murder. This case is developing into one even Agatha Christie would find puzzling.
The UN's nuclear watchdog says Iran has begun installing advanced centrifuges at one of its nuclear plants, drawing an angry US reaction. Israel won't be too impressed either.
A kangaroo has been rescued after spending two hours high up on a ledge in Melbourne, Australia. The frightened animal was perched about 50 metres above the ground in a shopping centre parking lot. Check out the vid.
I watched a fascinating science program on telly last night about the Nullarbor Plain and its huge cave network. The plain consists of the largest slab of limestone in the world. Over millions of years, rainwater has seeped through the limestone to form massive caves "that you could fly a plane through", as one observer put it. The rain has also formed huge underground lakes with water so clear you can't see it. Several of the team donned SCUBA gear to investigate the lakes. The divers looked like they were "swimming" through space. Absolutely amazing stuff. Access to the caves is gained via sink holes that are more like craters. They're all off the beaten track so I don't think I'll be seeing them when I cross. I didn't even know they existed! One of the team was the presenter (not a scientist) and she was totally gob-smacked.
Here's the web site run by one of the photographers on the show (Catalyst on ABC TV) with a couple of fascinating pics.
There are places along the Eyre Highway where you can turn south and head toward the Great Australian Bight to check out the cliffs along the Great Southern Ocean. But the cliffs are constantly being eroded by the sea and crumbling. It's a dangerous place to visit and sightseers are advised to park well back from the edges. Whale watchers often go there. And yet there are thousands of travellers who cross the Nullarbor and complain there's nothing to see!
Here's a pic of the Nullarbor sand dunes, made of limestone crushed over millions of years. If you pour vinegar on it, it fizzes by releasing oxygen.
Mmmmmmm! This time I added a bit of malt flavoring to the coconut cream smoothie with ice cream! Veeeeery noice.
Just made a DVD copy of the Darling Harbor vid for Averil and decided to watch it here on my TV. Well, it scrubs up pretty well on telly - just like a bought one! Lots of color, activity, variety and interest. Of course, it helps to have a location like Sydney with plenty to see and do. Now I can't wait to make another one! Incidentally, the Fuji doesn't have an inbuilt steady cam thingy so I use a monopod. If the shot requires a long pan or tilting up or down, I shorten the monopod and use it as a camera on a stick, holding it like a lollypop. The shots are not 100% steady but they're acceptable, and it gives me a lot more creative freedom. Luckily I'm left handed so I hold the monopod with the left hand and use the right for camera adjustments and the shutter button. I don't use the Nikon for video because it won't allow use of the viewfinder - only the LCD screen, which is not ideal in bright sunlight. However, the Nikon has a wide angle lens (18-55mm) ideal for interior shots/video of the camper because it's a confined space. I'll do a complete movie of PJ when it's all set up - down by the river to enhance the setting.
Well, 5-ish again and time to think about sustenance and telly. Anything good on tonight? The Drum: Analysis of the day's news in an engaging and entertaining way. The Drum brings together a panel of journalists and commentators with a diverse range of opinions to chew over the day's events. And later tonight, Planet America: Chas Licciardello & John Barron take a wry and insightful look at the major issues in the USA & how they impact on the world. Can President Obama's second term bring Americans closer together or will politics get in the way? In between those two shows is the 7pm News and Current Affairs on 7:30. No wonder I'm a fountain of knowledge hehe. Gary
February 21, 2013. Yes, folks, the video of Darling Harbor is now screening for your viewing pleasure.
It's hard work putting all those pics together to make an album, and all that footage together to make a movie. Not to mention spending hours walking around and shooting the pics. TX Greg wrote: Wow, you did put some mileage on your shoes. That was a lot of ground you covered :) Yes, indeedy! But it's the flights of stairs on railway stations that really buggers me. I'm expecting to be a lot fitter on the Odyssey when that much walking will be just another part of a normal day's routine. Despite the effort and all the work, though, I love it. It's a way of preserving the past so that at least some of it still exists. As I mentioned this morning to Richie, my parents didn't leave much behind (nor those who went before them). What's more, I'd much rather leave a bunch of photos and videos behind than a headstone.
On the train trip back to Taree, I looked out the window near Newcastle and saw a very large cemetery - most of it very old - with lopsided headstones and weeds growing over many of the plots. Only a handful had vases of flowers. I really don't see the point of cemeteries. It's a person's life that matters. I'm with Cody... ashes sprinkled somewhere. Cody's life was about living life to the full, and that's how I remember him. If people remember me when I'm gone it'll be because I left something behind worth leaving. And it won't be a weed infested headstone hehe.
Anyway, apart from all that, I enjoy the creative process. One bloke on the GN forum travelling solo said he was bored because it was raining, and wanted to know if anyone had any suggestions for keeping one's self amused in the confines of an RV during inclement weather. I suggested he take up a hobby. Buy a book on cartooning or painting. Build model airplanes or ships in bottles. Anything that takes up little room and doesn't depend on electricity. Visit op shops and garage sales and buy cheap mechanical watches that are no longer working, and a book on watchmaking. I rather fancy that idea... fiddling around with old watches and getting them to work again. I could spend hours and hours doing that.
Hmmm. Guess what I just did? Checked eBay for the prices of old pocket watches and saw a bag of spare parts (lots of springs, screws, gears, winders, etc) on auction with 3 minutes to go, so I bid and bought the lot for $30. Hehe. Now all I gotta do on my travels is keep my eyes peeled for cheap old pocket watches. It's a start!
From the Beeb: The bail hearing for South African paralympic sprinter Oscar Pistorius, accused of murdering his girlfriend, is due to enter its third day. Correspondents say the magistrate's line of questioning on Wednesday indicated he may be considering bail. Oops! The prosecution's evidence seems to developing inconsistencies.
Qantas profits have risen, boosted by compensation from Boeing after it cancelled 787 orders and amid narrowing losses on its international operations. It made a net profit of A$111m ($114m; £75m) in the six months to the end of December, up from A$42m a year earlier. The figure includes A$125m compensation that Qantas received from Boeing. Piddly bikkies when you compare it with the profits banks and grocery retailers are making.
The widely-used insect repellent Deet appears to be losing its effectiveness against mosquitoes, scientists say. Researchers from the London School of Hygiene and Tropical Medicine say mosquitoes are first deterred by the substance, but then later ignore it. They say more research is needed to find alternatives to Deet, which was first developed by the US military. This is nature at work, folks, and it obviously doesn't favor the human cause.
I meant to mention the other day that in Sydney it's "spot the Aussie". On the walk to Central station through a tunnel late afternoon, when a lot of workers were heading home, the vast majority of people were Asian, Middle Eastern, African, Islander or of some other non-European origin. It was like being in another country compared to what it was like 20 or 30 years ago. One woman I spoke to could hardly speak English, and a shopkeeper who did speak English had a thick accent. On my last trip there, I was standing at the head of the platform at Circular Quay videoing an incoming train when the driver's cab came into view and I saw the driver was wearing a colorful turban and a long, full beard. My neighbors as a kid worked for the railways, and they were as owyagoin' mate as you can get, so it was a major surprise to me to see such an exotic looking bloke driving a Sydney train.
For some reason, most migrants settle in major cities. Taree is much different. It's more like the Australia I've always known. Only occasionally do you see a turban or headscarf here, or hear a foreign language. Oh, and another thing... I paused for a coffee at a restaurant/bar in Darling Harbor on Monday (near the Maritime Museum). I had to explain to the waitress about the no teeth thing. I asked for a smoothie but their machine was kaput, so I settled for a cappuccino. Anyway, we got to talking and she said, "Taree? I was born there! I lived in Elizabeth Street!" Small world, huh.
Tellya what, I might be as emaciated as an anorexic but I feel okay, and seem to have adequate energy. My smoothies contain 3 scoops of "hospital strength" Sustagen, a food supplement with lots of vitamins, minerals, protein and fiber. I'd be history without that stuff. In fact, the doc in Sydney didn't seem all that concerned about my weight. He was more concerned about regular oral hygiene and minimizing the risk of infection.
Well, time to shoot through for another day. I hope you enjoy the video. I think it scrubs up okay, and it's all good practice for the Odyssey. Gary
February 20, 2013. Really? The 20th already? It's also after 5-ish cos I've spent all day putting the video of Darling Harbor together. Hoursnhoursnhoursnhours. I am soooooooooo dedicated! That's like what they do to coconuts. Haven't you heard of dedicated coconut?
The video isn't finished yet but I'm about 90% there. Just gotta tighten up a few spots, add a bit more footage, think about some music (or maybe not) and convert it to .wmv or whatever the hell Windows calls it. BTW, Windows kept interrupting me all bloody day saying it needed to update something. Hello? I was using the Acer and I wasn't even on line! But the stoopid thing kept persisting and driving me bonkers.
However, I got a second wind last night and was up till 2am putting the stills into an album. I had plenty of time so I discovered something about the Jalbum program I hadn't realized... it has a comment function. So now the pics that need a bit of explanation come with a comment/description that shows up with a mouse-over (or part of it, depending on how long it is) and at the bottom of the screen. You can check out the Darling Harbor photo album with the link here.
I hope to have the video finished and uploaded to Youchewb sometime tomorrow.
So it's a good thing the rest of this week is free... lots of time to play my little games. It's actually damned hard work but also fun if ya know what I mean. Reminds me of Cody. He'd be totally exhausted after surfing or running or swimming and he'd say, "...but it's a good feeling." I suppose it's a sense of accomplishment as much as anything else. I was thinking yesterday how the trip to Sydney and return would have been a non-event if it hadn't been for all the photos and video footage I brought back with me. I'm particularly pleased with having ridden the monorail and gotten some good exterior/interior shots because the thing will soon be scrapped and sold to another country. I well remember, as if it were yesterday, the opening ceremony speeches and all the glamorous hoo-haa when it was first put into service 20 years ago. There was also a strong body of criticism at the time, people who thought the thing was an abomination.
Anything happening on the Beeb? Scientists say they may be able to determine the eventual fate of the cosmos as they probe the properties of the Higgs boson. A concept known as vacuum instability could result, billions of years from now, in a new universe opening up in the present one and replacing it. Thanks for the warning... I'll get onto the Odyssey post haste.
The world's cargo ships are getting big, really big. No surprise, perhaps, given the volume of goods produced in Asia and consumed in Europe and the US. But are these giant symbols of the world's trade imbalance growing beyond all reason? What is blue, a quarter of a mile long, and taller than London's Olympic stadium? Money makes the world go around, the world go around...
Well, sixish now so I better vamoose... maybe do a little more of the vid later before I hit the sack. I'll sleep well tonight, folks. Enjoy the pics! Gary
February 19, 2013. Here it is almost 5-ish and I've only just started! Been checking out the footage and stills I took yesterday in Sydney, and am pretty pleased with it. I didn't take the Nikon because there wasn't room in the bag for two cameras, and I prefer to shoot vid with the Fuji because I can switch between video and stills really easily. Managed to fill one 2GB memory card and part of another. Here's one shot I was lucky to get. The girl walked into frame as I was about to click and gave it a whole new meaning.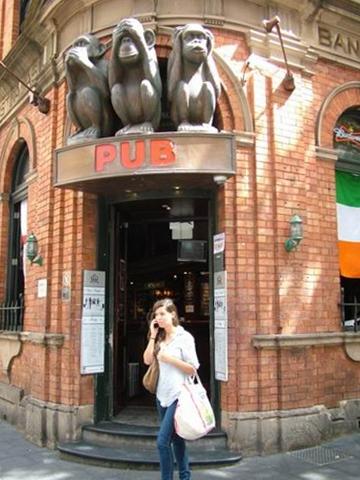 Here's another I posted on Red Bubble that I thought was unusual. Normally those things are buzzing around the harbor but this was about 8am. I'll put a photo album of the stills together tomorrow, and then start working on the vid. I still didn't see everything at Darling Harbor so next time (early June) I'll check out the Japanese Garden and other attractions.
However, I did manage a ride on the monorail plus a few exterior shots from different perspectives, which is great. I hear the thing will be dismantled in April. Next time, I'll take a ride on one of the new trams (they call it light rail). There are sooooooo many photo ops in Sydney it ain't funny. Neither is all the walking.
Yesterday I was gonna wear my jeans to Sydney. I hadn't tried them on since the weight loss business (been wearing trackies everywhere) and discovered that two of me could fit in there. So I wore trackies. But I also wore gym boots (fairly heavy ones) and noticed the clutch was as smooth as a baby's bum. Normally I wear flip flops. With shoes on, it's much easier to operate the accelerator and get some revs happening before engaging the clutch. Maybe that has something to do with the truck being a worker's vehicle, and workers normally wearing boots. Anyway, the clutch was shudder-free again today. I suspect the previous shudder was my fault for treating the thing too gently. It seems to be fine now.
I phoned the metal bender. Way busy this week so I'll call him again next Monday about drilling holes in the truck bed for the camper brackets. No wukkers.
Speaking of busy, I went shopping earlier and was in Woolies when I realized I'd forgotten my wallet. And that's not all I forgot. I missed my dental appointment as well. I think I'm still frazzled by all the running around yesterday.
AND... I spotted this pic on an auto newsgroup this morning from Popular Mechanics, June 1929.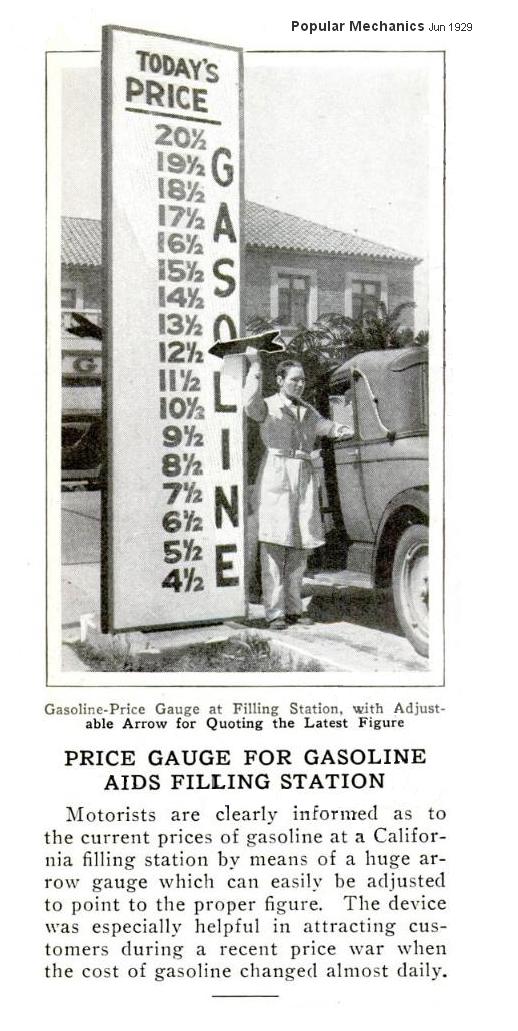 Oh yes, on the train back to Taree yesterday, a girl boarded at Gosford, about an hour into the trip and sat next to me. She kept eating chocolate and corn chips. Grrrr. And to make it worse, the two fat ladies in front were pigging out on sausage rolls, cakes and lollies. Grrrrrrrrrr. But, as if that wasn't bad enough, the girl had serious BO. Ew! Imagine sitting next to that for the next 4 and a half hours.
From the Beeb: The world's biggest food company, Nestle, has removed beef pasta meals from shelves in Italy and Spain after tests revealed traces of horse DNA. Oh dear! Someone on the GN forum the other day suggested a manufacturer that makes burgers should change its slogan to "I'm so hungry, I could eat a horse." So I wrote back and told him I didn't wanna nag him but his joke was really lame. Hehe.
Oscar Pistorius is due back in court in Pretoria for a bail hearing that may reveal further details of the murder case against him. A statement released by Mr Pistorius's family suggests he will deny the charges being prepared against him. "The alleged murder is disputed in the strongest terms," it said. When the news first broke, it seemed almost everyone was convinced he was guilty. There ya go.
Australia's Olympic swimmers existed within a "toxic" team culture that led to bullying and misuse of prescription drugs, a report has found. The review was ordered by the sport's governing body after Australia's swimmers saw their worst Olympic performance in two decades last year. It found standards and discipline were "too loose", and incidents of "intimidation" were not addressed. There was a "dire need" for stronger leadership, the report found. Australia's swimmers won just one gold medal at London 2012, far short of previous medal hauls at other recent Olympics. Yes, how embarrassing.
Two people have been charged in Papua New Guinea with burning alive a woman they accused of sorcery, officials say. The pair charged with the murder of Kepari Leniata, 20, are related to a six-year-old boy they accused her of using sorcery to kill, police said in a statement. Welcome to the 21st century, folks.
Well, it's late now so I better skedaddle. Gary
February 18, 2013. Just got back from Sydney. The doc's assessment was a non-event. Another appointment in 3 months. Meanwhile, the hyperbaric business is not gonna happen any time soon. Weight gain is "keep working on it". The doc reckons he wants to see how things progress before any operation on the exposed bone is considered. So, $110 later and a handshake, that's it... nothing to report. But I did manage to shoot a lot of video and take quite a few stills. I was totally buggered after all that walking around. I'll start working on the movie from tomorrow.
It's almost 11pm now and I'd better hit the hay before I turn into a pumpkin. More tomorrow. Gary
February 17, 2013. Got some good advice on the GN forums about renewing prescriptions for meds on the Odyssey. The forums are a wealth of info no matter what you need to know. Just ask and there are peeps galore who've been there, done that.
In about 12 hours from now, I'll be on a train to Sydney, listening to snorers. It's been a while since I've done any photography or video so I'm looking forward to my time in the Big Smoke tomorrow. My appointment with the doc is 12:45pm so that gives me about 5 hours shooting time, and maybe a few more after the appointment (which is better than sitting on a railway platform for 3 hours). I must remember to take a trip on the monorail - it's gonna be dismantled soon. Seems like only yesterday there was a whole bunch of controversy over building the thing in the first place.
If I do end up having to undergo hyperbaric chamber treatment in Sydney, that will mean spending a few weeks there which will give me time to photograph lots of places like the Botanic Gardens, Paddington, Manly, Bondi, Glebe, etc. I'll know more about that tomorrow when I hear what the doc has to say.
In any case, once I'm back in Taree on Tuesday, I'll be able to re-focus on getting PJ organized.
From the Beeb: Afghan security forces are to be banned from calling for foreign air strikes in residential areas, says President Hamid Karzai, in the wake of a raid which killed 10 civilians. Bit late for the 10 civilians, mate.
Scientists are set to release the first batch of data from a project designed to create the first map of the human brain. The project could help shed light on why some people are naturally scientific, musical or artistic. Interesting stuff. Understanding the brain and how it works will unlock the secrets to Nature's most wonderful machine.
Sorry, peeps, but I've been reading GN forums regarding claiming rent assistance while travelling. Lots of pensioners do it. It's a bit complicated and fiddly but worth the trouble. It was something I wondered about before I saw all the info on the GN forums. It means notifying Centerlink (online which is easier) of every change of address even if it's only one night and free. So I guess that will become part of the daily routine on the Odyssey. It also means lodging forms at a Centerlink office from time to time. They love their forms and date stamps ya know. Still, I'll have all the time in the world, and if I'm gonna go for a walk around town I might as well nick into the Centerlink office while I'm at it.
I also discovered that searching a particular topic is a lot quicker than starting a new topic. When I searched rent assistance, I found 3 threads. And the funny thing is, I got more info and quicker service from the GN forums than I would have from Centerlink itself. As someone said, ask two Centerlink staff the same question and you'll get two different answers.
So pardon me if I get sidetracked by the GN forums for a while at the expense of my Waffle duties but it's all part of being prepared for the Odyssey. I've never come across a forum that embraces so many topics. They might be all gray nomads but they're also retired electricians, accountants, plumbers, computer programmers, mechanics, circus performers and just about everything else you can imagine. There's even a joke section! If there's a bushfire somewhere, or some other natural or unnatural calamity, there'll be GNs there providing on-the-spot reports with pics. If you wanna check out a particular spot before visiting it, there'll be GNs who've been there, are there, or know someone who has. It's the most amazing network of Aussies in every corner of the island, including Tasmania - all with a common purpose, to travel Oz.
I used to think it would take quite a while on the road, chatting with fellow travellers, to become wise in the ways of being a gypsy. But no! I can meet heaps of them even BEFORE I leave the driveway! How grand is that?
So here we are after 5-ish and it's time to pack the backpack with stuff I'll need for the train trip tonight and my day in Sydney tomorrow. No Waffle, obviously... maybe a shorty just to let you know what the doc said. And I'll hopefully return with a bunch of nice pics and video for a little movie. Gary
February 16, 2013. TX Greg wrote: Was glad to hear the good news :) (about the CT scans). I don't remember hearing you say you enjoy eating donuts. That's a good way to fatten you up quickly! No probs with the holes in the middle, Greg, it's the bit around the outside that's difficult. No teeth, no donuts, I'm afraid.
Oregon Richie commented: The prognosis for life ahead looks pretty good, too. Those burdens of the past year will only reinforce and inspire the direction ahead. That is really good news and I'm sure you are vastly relieved.
NC Art wrote: Take the word of the guy who has been there on stretching the tummy after long fasts. That knot of tissue amidships actually shrinks rather quickly when deprived of its customary overload of several big meals plus snacks in between. You've but to keep expanding your horizons in the middle region. My doc advised a diet to lose weight about 20 years ago … and my wife made damned sure I stuck to the regimen. No fat, no candy or ice cream, no whole milk or anything at all that might taste good! I lost 30 pounds, and it took ten years to gain five of them back. I still weigh what I did at age 16. And I wish there was more meat on the old bones to cushion chair seats and firm mattress. Oh well, it's better than the alternative.
No doubt at 16 you did have more padding to cushion the butt area. But the padding has since been rearranged hehe.
I mentioned bicycles yesterday. Last night on telly, I saw a story about a bloke who's 76 and taking his third ride around Oz. He reckons he's gonna live to 120. He looks pretty fit, and in good nick for his age. During the interview, he told a story about an incident on his last "big lap". He was towing a small trailer behind the bike which seemed to get heavier and heavier the further he pedaled. After about 20 kilometers, and exhausted, he decided to stop and check. The wheels on the trailer had seized and he'd been dragging a dead weight of 30 kgs for several kilometers uphill. Meanwhile, I can think of more comfortable and less strenuous ways of seeing Oz even if it means only living to 110. Hehe.
Back from the dentist and a bit of irrigation. All is cool. Well, not getting any worse. I'll know more when I see the doc on Monday in Sydney about where we go from here. And I'm looking forward to taking a few more happy snaps of my old home town.
Here's a pic of a GN's laundry day. He absolutely loves the gypsy life in his HiAce camper (shades of Das Busse). He says he's homeless by choice - sold his home two years ago and is having much more fun now. He says the key to being a successful homeless person is to be a "people person" and to have a sense of humor. He didn't say anything about being glamorous, though.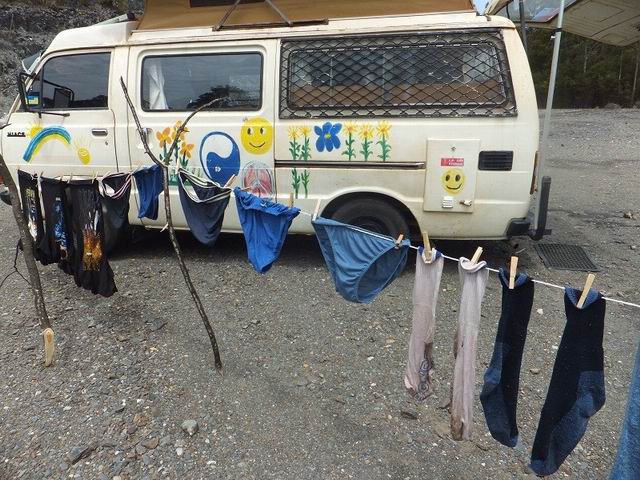 Well, not much happening with the Beeb today. Not much happening here either. I've been spending more and more time reading the GN forums. The other day I commented about the NSW government allowing amateur shooters into National Parks for the purpose of culling feral animals as well as some native. Right away, the pro-gun lobby appeared outta nowhere with its vitriol, accusing anyone who objected to guns in National Parks an idiot. They ended up making fools of themselves anyway because I was careful not to be baited by their taunting, and chose my words accordingly. Then they calmed down a bit and began to put their case for culling. I agreed that culling was a necessity, but also asked if culling was a necessity before European settlement hehe. Then I asked who brought foxes and rabbits into this country. Hunters right? Feral animals didn't get here by themselves. And the sugar industry brought cane toads in. Our own animals became pests because farmers grew crops that fed them and upset the natural balance.Then I suggested if they were so keen to criticize "idiots", why not include the people who caused this ecological mess in the first place? Seems I've had the last word. No one has commented since.
BUT, on a less controversial note, someone asked how much water they'd need on board to cross the Nullarbor. I hadn't thought of that. There are a couple of roadhouses along the way but they sell bottled water at a premium, in small 2-liter bottles for drinking. I guess my 50 liter tank should be enough. There are quite a few camp/rest sites listed but not all that many with drinkable water. So that's something to consider.
My Camps Australia Wide book was printed in 2007 when I first launched this site, and was still contemplating using TT towing a caravan. Lotta water under the bridge since then. The latest Camps Australia Wide book has just been published... #7. So it's time to update. All the GNs use it and refer to it as their "Bible". You also get free access to updates on the Camps website for 4 years.
I've met a few GNs on the forum who are in the same boat as I am... age pensioners living the gypsy lifestyle, driving rigs that have seen better days and busy saving their pennies to upgrade. I'm pretty happy with what I have so I'd say it'll be a few years at least before I need to think about upgrading. One GN is a 69 y/o woman travelling solo, and living in a pop-top campervan with her dog. It doesn't even have an indoor cooker or table. She says it's a bit cramped so she's busy saving up for something bigger (and better equipped) and expects to have enough in 18 months. So there ya go, not all GNs are swanning around in palatial motorhomes worth six figures. But no matter what the rig or state of their bank account, they all love life on the road. A lot of them have formed friendships, as well, and meet up quite often. It's kinda like a big family.
My guess is there's a bit of class snobbery between the haves and have-nots at camp sites. Those with the caviar and champers at one end and those with the bangers and beer at the other hehe. Doesn't bother me. I'll park PJ anywhere.
Anyway, 'tis the end of another Waffle on a slow day. Time to swap chairs and check the pantry. Gary
February 15, 2013. Ready for the good news? The doc in Port Macquarie the other day was worried that my severe loss of weight after having all my teeth removed might be due to something other than not eating enough, so he organized the CT scans I had recently at the local hospital. He phoned this morning to say the results were ALL CLEAR. How jolly is that? Brain (yes I have one), neck, chest and abdomen are all clear. And two lumps on the floor of my mouth have disappeared.
So now all I gotta do is put on some pounds and get this exposed bone prob in the gum sorted out.
When you get a bit of time, check out this site run by a couple who've travelled a lot of Oz and taken lots of photos as well. Click on "pictures".
Goodness me! 3:00pm already. Been doing a bit of measuring again today and fiddling with turnbuckles, shackles and chains just to be sure everything's ready for the camper to join the Courier and become my home on wheels. Meanwhile, NC Art wrote: Best to get that clutch checked. I once drove a truck with shudder, but never did fail. Conversely my dad had a sedan so afflicted, and soon the clutch tore itself all to hell. Not a happy event if you're 200 miles from civilization. Both were Fords.
I reckon you're roite, Art. I had that problem with the Morris, my first car, back when I didn't have two bob to rub together. Used to rely on the deposit from soft drink bottles to buy petrol hehe. Always had a stack of empties in the boot/trunk. Anyway, the shudder eventually snapped a rear axle right in the middle of an intersection at the base of a steep hill. I'll wait till things calm down a bit with docs and dentists, etc, before I book it in. BTW, it wears a Ford badge but it's a Mazda.
Oh, and I also discovered my bicycle rack is home to a red-back spider. I checked to see if the rack fits onto the tow-bar/hitch and clears the back of the tray. It does, so I'll have secondary transport for getting about the local area when I camp. PROVIDED IT'S FLAT. I haven't ridden the bike in years so I better get it serviced before I try throwing a leg over the saddle. And... I put the rack back without disturbing the spider. I undoubtedly wouldn't have been so generous if he'd bitten me.
Meanwhile, I've been reading lots of GN forum entries from peeps on their respective trips, talking about where they're camped and how nice it is, blah blah blah. It's enough to drive me balmy. Sometimes they post pics which makes it even worse. I also checked out another stove-top collapsible camp oven, smaller than the one I linked to yesterday. It needs only one burner, which leaves the second free for something else. It also has a thermometer built into the door. Here's a bloke using one on top of a fuel stove.
From the Beeb: More than 4,000 passengers are disembarking a crippled cruise ship which reached land four days after an engine fire knocked out its power. The Carnival Triumph arrived in Mobile, Alabama at around 21:15 (03:15 GMT). Here's the full story.
A space rock the size of an Olympic swimming pool will pass harmlessly within 28,000km of Earth on Friday - just a tenth the distance to the Moon. It's a long way but also a little too close for comfort.
Speaking of swimming pools, last night on telly I watched a show about Kalgoorlie, a gold mining town in Oz, and learned that the entire amount of gold mined in world history is the equivalent of 3 swimming pools full. Sounds a lot, but not when you compare it to the size of the world itself. No wonder the stuff's worth a few bob. One GN wrote on a forum that he just spent $6000 on a metal detector and prospecting equipment. He's keen.
A car that is able to drive itself on familiar routes has been shown off at an event at Oxford University. The technology uses lasers and small cameras to memorise regular journeys like the commute or the school run. I suppose this will be the way of the future.
Weeeeeeeeell, another day has almost faded into history, but I put it to good use I suppose. Yesterday, I bought four more snap hooks to go with those I have already so that two form a small chain to lengthen the reach of the turnbuckles. They had cheaper zinc coated ones at the store but I stuck with the more expensive onces - stainless marine-grade steel. Three times more expensive, actually. It's all looking rather good and I'm confident the camper will be secure once it's on board. Once they're "married", I'll focus on getting the auto elecs and gas done.
BTW, I really like those coconut cream smoothies. Mmmm. Trouble with all the smoothies is they're so damn filling that I feel like I'm trying to digest a brick afterwards, and usually nap for half an hour. The doc wants me to drink 3 a day but I'm struggling with 2 plus soup. I'll work on it. Gary
February 14, 2013. Valentine's Day! I don't have a Valentine, boo hoo. Oregon Richie does... he married her recently, so I guess they'll be celebrating by doing something special. Ditto Jace and June in Ohio.
And here it is, 3:15 and that's all I've written. Not all I've done, though. Been measuring stuff, shopping, buggerizing around, and picking up the scans from the imaging place. Wow! Lotta pics in there, and it's quite heavy! Me wondereth what it all meaneth. The reports have already been faxed to the docs so I guess I'll know soon enough. Meanwhile, I'll carry on regardless.
I was gonna take the truck to Ford today to get one of the mechanics to take it for a test drive. There's a shudder in the clutch when I engage it at low revs or idle, but it's fine if I spin the engine and slip the clutch for a second before moving on. It was okay today so maybe it's a matter of getting used to it. I'll give it a bit more time. The previous owner said it was a heavy duty clutch - whether or not that has anything to do with it I dunno. Otherwise, the truck runs very well.
From the Beeb: The EU urges members to conduct random DNA tests on processed beef for three months, to tackle a widening scandal over mislabelled horsemeat. I was with a friend in a Chinese restaurant who suggested leaving our order to whatever the chef recommended, so I was served a dish with a very small chicken. At least I thought it was a chicken hehe. I found out later it was a frog. Ew!
California police end the hunt for an ex-policeman accused of murder, a day after finding a charred body in a cabin where he was thought to be hiding. Funny how we sympathize with people who suffer mental illness provided they're harmless.
American Airlines and US Airways are planning to form one of the world's biggest airlines, according to media and newswire sources. Which means?
Do you have the Webber BBQ "over there". Lots of peeps on the GN forum are singing the praises of the Webber Baby Q. Here's another pic of it open. They say it cooks everything really well: roasts, pizza, bread, grills, etc. But they're about $300 and designed to be used outdoors. Today on eBay I saw a collapsible oven with a glass front door that sits on a two-burner gas stove (like mine) for about $80 including freight. It folds down to just 2" high for easy storage. For another $20 including freight you can get a thermometer designed to be used inside the oven. I like baking and roasting. And if it's too hot to cook inside, I can always get a second two-burner stove for about thirty or forty bucks to use outside.
So much to think about. But that's okay. Better than thinking about dreary things like teeth. Another shortie, ladies and genitals. I'll try to do better tomorrow. No appointments or plans for tomorrow. A free day. Gary
February 13, 2013. Consider me well and truly scanned. The nurse had trouble getting a blood sample and sticking a catheter in my arm... my veins were playing hide and go seek, so she punctured me 3 times. Anyway, I hope the scans don't reveal any more nasties.
On the poz side, I'll be videoing my ferry trip from the Quay around to Darling Harbor on Monday, so that'll be interesting. And after seeing a great pic of The Grand Staircase at the Queen Victoria Building in Sydney on Red Bubble the other day, I'm gonna re-visit the building and try a few more shots with the Nikon.
Speaking of great shots, check out this one by Mieke of sand dunes in Western Oz. She's a real talent, that girl.
I don't think I'll never be a master photographer because I lack the passion. People like Mieke and some others on Red Bubble go to extraordinary lengths to capture spectacular images. If I can build a reasonably good portfolio of shots from the Odyssey - good enough to be used in picture books, prints, etc - I'll be happy. Meanwhile, I'll keep studying the work of the "experts" and learning a thing or two. For example, some of the best portraits I've seen (candid type) are severely cropped, often showing faces from about mid forehead down to the chin so that the eyes become the main focus.
The LED 12V lights arrived today and they work brilliantly - in more ways than one. Nice white light. There's a couple of LED reading lamps in the "bedroom" as well, already installed. Actually, the owner before Dan (who sold it after a short time because of his divorce) did a lot of good-quality work on the camper, obviously with a serious trip or trips in mind. He apparently went bust before realizing his plans, and I'm the beneficiary.
Da da! Here are the brackets, good and sturdy. Peter wants me to mark the spots on the tray where I want the holes drilled for the twin bolts at the bottom of the brackets. They'll bolt to the rails that support the tray, and that are in turn bolted to the chassis. Only one small prob... the holes at the top are too high. I said 390mm and he's given me 420 for some reason. They're one bloke short at the shop so maybe someone screwed up the communication. Anyway, while they're drilling the holes in the tray, they can drill another in each bracket. Dozen madder if the bracket itself is too long, just as long as the holes match the channel rail on the camper. Actually, it's a good thing they made them too long instead of too short.
Mmmm! I just made a smoothie with coconut cream, Sustagen powder, raw egg, and two dollops of ice cream. Thick and creamy. Very nice indeed!
From the Beeb: President Obama urges Congress to back his plans for government action to revive the sluggish US economy in his annual State of the Union speech. He also called for action on gun violence, climate change and immigration reform. I hope he has more luck with Congress than he does with Pyongyang.
North Korea's actions only isolate it further, US President Barack Obama warns, hours after the UN Security Council condemned its nuclear test. NC Art wrote: "Incidentally, North Korea says it must have those rockets for self-defense. I spent the evening wondering just what the hell N K has that anyone would want. Maybe export mud and rotten turnips?"
France's National Assembly has approved a law allowing same-sex couples to marry and adopt children. After days of intense debate, the bill was passed by 329 votes to 229. It must now win final approval in the Senate.
Ten key events that defined Pope Benedict XVI's papacy. Click here for the list.
The reporter who broke the news of Pope Benedict XVI's resignation got the scoop because she understood his announcement in Latin. How much of it is spoken in the Vatican and elsewhere these days?
A sea slug that is able to detach, re-grow and then re-use its penis has surprised scientists. They believe this is the first creature known that can repeatedly copulate with what they describe as a "disposable penis". Don't try this at home, folks.
Another day where time has gotten away from me. I suppose that'll happen all the time on the Odyssey, but for different reasons. Oh, almost forgot, NC Art also wrote: My old doctor told me once that it's best to stay out of the medical system as long as possible because once you're in they'll never let you go. Hmm. Maybe that's true but I don't have a choice. I could count on the fingers of one hand the number of times I went to a doc before the heart attack 10 years ago. The old bod ain't what it useta was. Anyway, time to beetle. Gary
February 12, 2013. Back from shopping where I discovered bottled vanilla/malt flavoring for milkshakes in the coffee/tea aisle. That's the kinda syrup they used in milk bars back in the good ol' days. Since I've gotta have 3 smoothies a day, I might as well have as many different flavors as poss. This time I'm substituting ice cream for yoghurt. I also bought 4 cans of coconut cream cos Nancy said its fulla fat (good fat) which is what I desperately need. So I'll use that to flavor smoothies as well. Not exactly a smorgasbord of culinary delights, dear Breth, but what can I do?
Just phoned the tooth fairy to let him know the situation... no dentures till my mouth has healed completely. He agrees with the oncologist and is happy to put the dentures on hold. Hyperbaric is the word... a hyperbaric chamber is the thing I tried to think of yesterday, and it seems I'll need a couple of weeks treatment in one of those things, plus a fair bit of weight gain before I can go anywhere near an operating theater. The tooth fairy, who's a bit of a health nut (as is his son) suggests I go to a health food shop and buy some bulking powder. By the way, FL Josh sent this link to a Brit vid about making dentures. It's quite a complex procedure, and most interesting.
NC Art wrote: Too bad about that fickle tooth fairy. We were hoping soon to see a photo of Gary with lower jaw where it should be instead of trying to meet your nose half way. Hehe.
Tomorrow morning, I have an appointment with Diagnostic Imaging at the local base hospital for a CT scan of soft tissue neck + brain, chest and abdomen. That's for the docs at Port Macquarie and Sydney. I mix in important circles, ya know.
Tomorrow afternoon, I collect my brackets for bolting the camper to the truck. Oh, and I picked up a handy tip from the GN forum. Buy a watering can with a spout, remove the spray thingy on the end of the spout, and use it to fill the water tank when there's no hose connection to a tap.
From the Beeb: North Korea is suspected of conducting a nuclear test, several nations say, after an earthquake that monitors said had "explosion-like" qualities. So much for sanctions and warnings.
Pope Benedict XVI will not interfere in choosing his successor after his shock decision to resign at the end of this month, the pontiff's brother says. Click here if you wanna read more on this story.
The Pentagon will extend some family benefits to same-sex partners of US military members, Defence Secretary Leon Panetta says. Fair enough.
Been a busy boy today, ladies and genitals, organizing this and that. So time has gotten away from me. I'm also a bit cheesed off about the latest developments in the cancer/teeth saga, and I hope the CT scans tomorrow don't exacerbate matters. I'm getting a bit weary of all this crap. Oh well... just gotta grin and bear it, I suppose. Gary
February 11, 2013. Well, there goes the teeth. The oncologist at Port Macquarie says NO TEETH until the exposed bone prob is solved and the gums have completely healed. He says any pressure on the lower gum will increase the risk of infection and put me back to square one. I explained that I would only use the teeth for eating but he didn't buy it. Goodbye pizza.
This is the kinda thing that happens when you have dentists and oncologists not collaborating. So what's the tooth fairy gonna do now? I'll leave that to the dentist to figure out. I'll be seeing Nancy tomorrow morning.
Meanwhile, the oncologist has put me on 3 smoothies a day plus anything else I care to eat. One smoothie is not enough, obviously. But I was hoping teeth would fix that. NOT. I weighed 62kg 3 months ago when the doc saw me last. Since then I've lost about 15 kg (30 pounds). Soooo, he wants me to get a CT scan at the local hospital before I see the head/neck doc in Sydney next Monday. They're thinking about one of those decompression chamber thingies to oxygenate my blood or bones or whatever before they consider any operation to fix the exposed bone prob.
Sooo, just when I think things are looking up, someone throws a spanner in the works. The way things are developing, it seems my recovery could take some time. My next appointment with the oncologist is in May, and I guess it'll be the same with the head/neck bloke in Sydney (with the possibility of more surgery in between). If the oxygenation thing goes ahead, that'll mean spending some weeks in Sydney for the treatment. I can't afford private accom so maybe I can figure out something using PJ. In any case, the Odyssey needn't wait forever. Hopefully, there'll be long-ish breaks in between appointments and whatever so that I can begin my journey but stay within reach of the docs when needed. There's nothing that says I have to stay here in Taree - except for my weekly dental "irrigation" which will become redundant after more surgery anyway. Meanwhile, I'm easily contactable by email and/or mobile phone.
So if you can figure all that out, that's where it stands at the mo. My current plans for the truck and camper will stay as they are - gas fitter, auto sparky, etc. I want PJ to be ready as soon as the budget allows it. My first camp might be in the car park of some hospital hehe. By the way, the Courier ran well today. At one stage, she climbed up to 120kph on the highway and the speedo needle stuck. Never been there before, I guess. So I gave it a couple of raps with my knuckles and it loosened. It's back to normal now. It was also a good opportunity to give the engine an Italian tune up. She runs as sweet as a nut. It'll be different with 800kgs on her back, of course, but I reckon she'll handle it okay. And the ride will be a lot smoother.
Next Monday after my appointment with the head/neck doc, I'll know more about what's in store for me medically. I have a feeling it ain't gonna be a breeze. On the other hand, if it helps to bring this whole cancer thing to a close sooner rather than later, I'll be happy. Gary
February 10, 2013. Last night I watched a Brit chef on his cooking program making bread. Making my own bread on the Odyssey is something I'll need to do, but I'd like to keep it as simple as poss, as well as yummy. So the Brit made traditional Irish bread... soda bread. Here's the recipe if you'd like to try it at home. But the one thing I don't have in PJ is an oven, so I checked eBay. Problem solved. I'll halve the bread recipe and make half a loaf. Mmmmm, fresh bread still warm and moist with butter. Good enough to eat on its own.
And now, here are more camping tips from Francois! -for the coffee, use filters to make it not a plunger, as there's nothing to rinse and waste water: just trash the filter each time.
-if you plan to camp beside the sea, use washing liquid without soap (often sold for babies): it lathers in salt water and you've just to rinse (in fresh water) after rinsing in the sea. I've 300l of water in my boat and I arrive to hold 1 month with this using just the sea water for the dishes and my body... just rinsing after.
-for insect bites as for sunburnt aloe vera is quite the best: an other product in NC is niaouli essence. have always some citronella to take mosquitoes away: many different sorts. I use citronella essence I put on my pillow.
-for hot water the black solar bags are very efficient but sun is mandatory... and you've to think to hook it the good side of the camper (north I think) in the morning to have hot water in the evening. Gravity is better than a pump to not waste the water...
Well continue to write what you think, and I'll send you my experiences: I've many from my boats, but from the campers too we'd some 30 years ago when my kids were little kids... my daughter is 40y/o hehehe
All good advice, Francois, and merci beaucoup. They're all on my shopping list.
Meanwhile, the bloke in charge of the Odyssey Hysterical Dept, TX Greg, wrote: Ok, I'm just being silly here, but what if you called the camper GOD "Gary's Odyssey Dream". Think of all the funny lines with that... I took GOD out to the beach today. Gave GOD a bath today. The sparky took all day trying to figure out how to rewire GOD. It was so hot today that GOD blew a gasket. (And when the gas fitter gets done) GOD's got gas. hehe :)
Moving right along, Oregon Richie wrote: Well, the little nomadic home-sweet-home "perfectly jolly" picture looks quite appealing enough to ME !! I like it.
Yep, kinda like a doll's house for adults. It's still amazing to think that it's my future home. Come to think of it, it's a 1974 model (albeit renovated) so you can imagine how many places it's already been! This time, it'll have a reporter on board to make sure the stories ARE told!
On a sad note, the grey nomads and backpackers have brought out the thieves. Here are a couple of excerpts from the forums: My wife does voluntary work with the local Salvation army and mentioned to me that the pick up truck used by the Salvos had its heavy duty battery stolen a few nights back. They purchased a new one and then the low life's came back and stole that! For the life of me, I can't believe that people can steal from charities that are actually there to help them.
Here at Greens Lake in Cent Vic. A father and son arrived Monday night, woke up in the morning and their outboard motor and a few other items, stolen from right next to them. Not happy campers at all.
Spoke to a caravanner at a rest stop recently, they were from Tassie but had been staying at a Big 4 Caravan Park in Forrestfield, WA and both they and a neighbour had their Engel and Waco fridges stolen overnight from outside their annex. Both had them chained up, one with high tensile steel, but the thieves managed to cut through them. Not something you would expect in an upmarket caravan park, so can happen anywhere.
And here's one for the books. The park manager was complicit! Guess I can give you an indication. Caravan park in Broken Hill. Rented cabin as we were attending funeral. Window catch broken. Worst part was owner knew catch was broken. Wife left her carry bag with everything in it on the bed under the window. We did not even think about checking the widows. Next morning bag gone. Cops indicated who had done it. Owner would not admit any liability. I walked around all cabins and found all windows where people would put valuables underneath were broken to the extent whereby something could be stolen! I will not say that the owner was involved, but park management needed to really take a back seat in defending an owner that would not even bother to get of his arse to even come and see us. When the owner did actually meet with us his complicity was evident. The low life would not admit window was broken and would not admit all the other windows were broken when shown. Thieves, lowest are the ones who manage thieves to rob the clients! Will never stop any where in Broken Hill again!
We were staying in a caravan park and a couple had their new push bikes stolen from the back of their motor home, while they slept.The bikes were locked in place. We have also been targeted , but our theft was from the roof racks on the cruiser in broad day light around 2pm.. stopped at one of those driver reviver stops and parked across the road ( this was at West Wyalong ) When we came back to the car our annex from our OZ Tent had been stolen.We had it secured , but not enough to deter some one else who wanted it more than us .We went to the police to report it, their response was it happenes all the time in that location, the thieves sit and wait then pounce ...Never ever will we stop for a cuppa there again.
I'm not sure if they're relatively isolated incidents, but it sure pays to be ultra careful. I guess the thieves have woken up to the fact that parked caravans and campers are easy targets. You don't even have to break in! Also, if you're a stranger amongst strangers you don't look out of place. Easy pickings. But it sure makes your blood boil.
From the Beeb: Gen John Allen, the outgoing commander of Nato forces in Afghanistan, says the alliance is on the road to winning the war in the country. I sure hope he's right... otherwise it'll be a massive waste of lives, money and resources.
Nasa's Curiosity rover finally drills deep enough into Martian rock to acquire a powdered sample for analysis - an historic first in planetary exploration. Amazing innit. Mankind is sooooo clever! One down and only several billion to go.
A major snowstorm brings areas of the north-eastern US and Atlantic Canada to a standstill, with hundreds of thousands of homes without electricity. Anyone still skeptical of climate change?
As Rio de Janeiro's carnival gets under way, its oldest street parade has drawn an estimated 1.5m revellers. The samba-dancing crowd filled the streets of Rio's business district and some passed out under the summer heat. Police arrested more than 100 partygoers for minor crimes, but the majority of celebrations were peaceful, officials say. I wonder if BR Joao was there!
How the other half lives: Indian Kumbh Mela people in pictures... and most interesting ones.
Perfect day today, sunny, hot and blue. And I haven't been out. Not even out the front door. Tsk, tsk. But I'll be out tomorrow, driving up to Port Macquarie to see the doc (oncologist), and then back again. So I'll take the Nikon in case there's a photo opp. If I had PJ with me I could take a detour and make a night of it, but that's for another day. Diamond Head beach and camp area is up that way. Or you can detour inland to places like Ellenborough.
Ya know, if I tried to see everything as I travel, it would take forever just to get out of NSW! So I think I'll do the continent once and then start all over again and see different places the second time around. It might take several laps before I see most of it, or even a goodly portion. And by then I might be vertical from the waist down and horizontal from the waist up. Hehe. One thing's for sure, I'm NEVER gonna run outta new places to visit. Remember that couple I mentioned a while ago who've been travelling for 12 years? They haven't seen it all yet.
Fancy that. Here I am just 18 months from becoming a septuagenarian and I'm about to launch myself into the greatest adventure of my life. They talk about life-changing events. But I think of the Odyssey as a life-beginning event hehe. I haven't even started my life yet! It's a good thing I still think young - like a kid, actually. I've often been accused of not growing up; of being immature and reckless. Well, what can I say? There's a positive side to everything hehe. I'm sure Cody would give me the thumbs up. "You're still pretty teeny for a fossil," he used to say.
One entry on the GN forum today spoke of a group of backpackers skinny dipping at a camp site. None of the nomads batted an eyelid. Hey, we invented Woodstock, remember? My mother would have been horrified though. Hehe. And here we is again! 5-ish and you-know-wot. Bleh. Gary
February 9, 2013. Berry and apple flavored smoothie this morning, and very nice it is too. I probably would never have discovered those things if it hadn't been for the tooth business.
FL Josh wrote: Good looking (aluminium) ladder you mention in your Waffle of 2/8 being interested in getting. The guy demonstrating can't be more than a meter tall? A dwarf maybe. I wonder why they make such a big deal about "No returns."
Yes, I noticed that too... the ladder in the pic of the guy demonstrating was bigger than the one advertised. Did they make a big deal about no returns? Buggered if I know why. It's an eBay option that I also use when I'm selling something. I know what you're thinking... that the product is crap. If it were, that company wouldn't stay in business very long. I'd worry if it was some fly-by-night seller but not an established Aussie company. Ironically, it's the fly-by-nighters that offer returns hehe. Oregon Richie suggested I buy some wood, drill some holes, and make my own. My dad made his own ladder. He needed an extra long one to paint the house. But I need a collapsible one that's easy to store in my limited storage space.
Things like toilet rolls, brushes, sponges, kitchen cleaners, etc, aren't all that exciting, yeah? Well, they are when they're destined for the camper. Setting up the camper as my future home makes it FEEL like a home. Know what I mean? Modifying the truck suspension and adding a bull bar are different. They're practical things that need doing for practical reasons. But opening a cupboard and seeing dishes or cleaning stuff makes a house a home. It's a great feeling - one that most of us take for granted unless we're in the process of "moving in". Bare cupboards are soulless. I've seen them many times in my life, and that's why I'm so excited about the bags of goodies I bought yesterday. It's been over 20 years since I last had that feeling of being "home". Renting just ain't the same. Nowhere near the same, actually.
So, as humble as my new home is, owning it is what makes all the difference. Matter of fact, I was thinking yesterday of calling it PJ instead of TC. PJ can stand for many things I suppose but in this context it stands for Pride and Joy. I rather like the sound of PJ. Whaddaya reckon?
I'm going back to my childhood when I used to put a Vegemite jar of nasturtiums in my cubby house. Hehe.
In the kitchen this morning, I rinsed my coffee plunger as usual under a running tap and thought, 'this is something I won't be doing on the Odyssey'. I'll either use the camp site tap or figure out another way to clean the plunger. I could change to instant coffee but... bleh. I much prefer ground. So, yes, a 50 liter water tank on board will mean a few lifestyle changes... as will many other things.
As I mentioned yesterday, reading the GN forums is most illuminating... there's everything from the best camp sites to how to fix a leaky porta potti. I've read a few complaints about certain aspects of camping, such as insect bites (some say aloe vera is a good remedy), but I've never read anything from anyone about giving up the nomadic life (other than for health reasons). Seems everyone who tries it is hooked. Mind you, not all of them rough it. Some of those rigs are palatial.
Speaking of rigs, here's another I grew up with, the Morris J van from the '50s. Lots of those cute little buses were running around Sydney, and also used by the NRMA as their road-service vehicles. I'm pretty sure they sat on a Morris Oxford chassis and were powered by the same 1.5L side-valve engine. My old Morris broke down one time and the NRMA bloke drove me home in one of those old timers. There was no passenger seat so I sat on a box.
I note that J van above belongs to Doyles Seafood Restaurant at Watson's Bay, the best known fish 'n' chip shop in Sydney.
NC Art wrote: I too wonder why we all gotta try to understand business and street slang to get along today. That "not self-executing" phrase would have my dad asking "what the hell does that mean?!" But he was an old fogy by the time the General Tire advert came along. He was born in 1874 and retired by the time all his boys went off to fuck up Hirohito and Hitler.
Sorry about the tardy tooth fairy.
Wow, 70 years before I was born... and I'm less than 2 years from 70. If you know the date of his birthday, you can find out what day of the week it was. I was born on a Tuesday. But back to 1874 and a headline from that year: Jesse James gang robs train at Gads Hill, Missouri. For other events from 1874, click here.
Here's a headline from my birthday: August 29, 1944 "15,000 American troops liberating Paris march down Champs Elysees".
Here's something a little more recent from the Beeb: Snow is falling around the US north-east, which is braced for a "potentially historic" storm that could see up to 3ft (91cm) of snow in some areas. Ooer! Isn't Ohio NE? I hope Jace has a big shovel.
A former US ambassador to Mali has told the BBC that France that paid ransom money to free hostages and the funds ended up bolstering Islamist groups it is now fighting. Vicki Huddleston said France paid $17m (£10.75m) to free hostages seized from a uranium mine in Niger in 2010. She said other European countries, including Germany, had also paid ransoms amounting to nearly $90m. Oops! Full story here.
John Kerry has prompted a Gallic shrug by refusing to speak French at his maiden news conference as US Secretary of State. Asked to answer a question with a "bit of French please", he said: "Not today. I got to refresh myself on that." The response surprised some in the francophone world as Mr Kerry attended a Swiss boarding school and is known to speak the language well. Mr Kerry's knowledge of French prompted scorn from the right-wing US press during his unsuccessful bid for the presidency in 2004, due to the souring of US-French ties over the war in Iraq. Se noyer dans un verre d'eau.
Just reading about a GN's recent travels in Western Oz: These are photo's of Shelley Beach (near Cosy Corner - East of Denmark off lower Denmark Road on the way to Albany), it is also used for hang gliding off the nearby hills. A fresh water creek runs onto the beach and has a bathing pool behind the shrubbery. The camping area is on the right as is the unisex long drop toilet further in.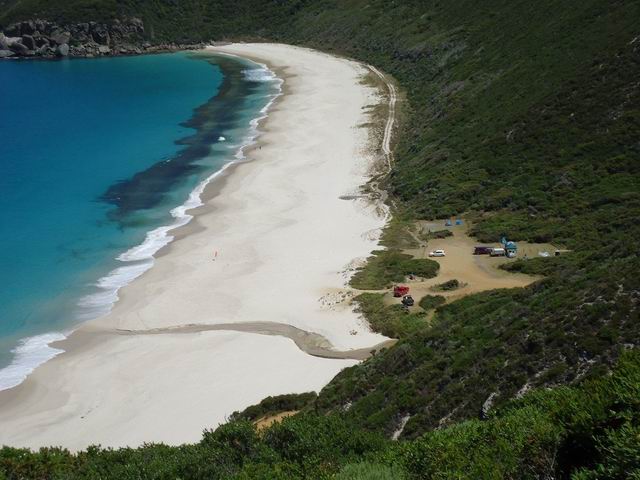 How's that for a cool spot to camp for a while? That'll be ME one of these days!
Somebody on the forum quoted comedian Carl Barron who said if you ask an Aussie how he's going, he'll tell you how he's not going - not bad. If you ask him how much something cost he'll tell you it wasn't cheap. If you ask him what he's been up to he'll say not much. If you ask the location of some place he'll say oh, it's not far. If you ask him what time he's leaving he'll say not long now.
Well, 5-ish again. My brain keeps telling me I could handle a sandwich no worries, but I know better. I can't wait for my teeth in 2 weeks. What the hell did I do in my last life to deserve this??? Gary
February 8, 2013. It's tomorrow! Well, it was tomorrow yesterday. Now it's today. So wot's on the agenda? Nuttin much except I'll phone the metal bender to see if my brackets are ready.
I read a few grey nomad forum entries last night, one of which was from a bloke who's about to launch himself into vagabond territory and is nervous about it - like I am. But others who've been on the road for a while say he'll adapt quickly and never look back. Also, like me, he's giving a lot of his stuff away to friends and neighbors, and selling whatever he can't take with him. Whatever doesn't fit in his camper gets left behind. I read in another entry that there are about 200,000 GNs travelling Oz at any one time, which is a helluva lot from a total pop of about 22M. Seems the baby boomer generation hasn't lost its sense of adventure.
Ah, Peter the metal bender still hasn't done my brackets. I asked him if his was the wrong kind of business to do a small job like mine but he said no, it's just that one of his employees broke his wrist and they've been battling to finish other jobs. So it's all cool, and I'll phone again next week. I'm not in a hurry anyway... still got teeth to get and docs to see.
I bought 4 LED 12V interior lights last night on eBay. $60 including postage. Sheesh. But they last 10,000 hours or something... and use very little power. The old 12V incandescent bulb is 26W which is a lot for a bulb. Even the TV is only 30W.
I've been buggerizing around in the camper checking things. The original main interior light on the wall near the door is housed in a square yellowish plastic cover held by 4 phillips screws. I've heard that yellow doesn't attract flying insects. The same type of light is mounted to the exterior wall. I thought they'd contain two bulbs, one 12V and one 240V, like the other light fittings but they don't. It's a long florescent tube that zigzags in short lengths to fit inside the 6" square. The interior one has died which dozen madder cos there's another one with two tubes about 8" long fitted above the doorway. But if the outside one carks it I wonder if you can still buy those tubes. Maybe I should just flick it and get a sparky to fit an LED flood or something.
Here's something else I'm interested in getting.
Funny innit... I'm getting quite domestic about the camper. There's a bunch of kitchen and cleaning stuff, plus a toilet brush for the Porta Potti on my shopping list. Hehe. Actually, it's quite fun reading forum stuff about porta pottis and external showers and pop-up tents, etc. Not all GNs tour around in posh motorhomes with all the mod cons, ya know. One I read was a cute idea. They use one of those black solar bags to heat water in the sun, then tip it into a bucket and use a cheap 12V pump instead of gravity to shower in the pop-up tent. I guess there's not always a convenient hook available to hang the bag.
From the Beeb: EU leaders begin budget negotiations hours later than planned, amid deep divisions over spending priorities for the next seven years. Countries like Oz and the US take being united or federated for granted. Very little bickering. Not so Europe with its different languages and cultures.
The US Federal Aviation Administration has granted permission for Boeing to carry out test flights of its 787 Dreamliner planes. Hope everything goes well.
And what's Chrysler doing these days? Check out this report on Chrysler's latest heavy metal.
Just had a young Indian/Pakistani bloke here (probably on a working holiday in Oz) desperate to sell a change of power provider. I've been through all that bullshit several times over the years so I told the bloke I wasn't interested. But he wouldn't take no for an answer, and was even somewhat argumentative. I was shirtless, and looking like death warmed up, so I told him I've got no teeth, I'm rapidly losing weight, I've got cancer and I probably won't be here tomorrow. Well, that worked hehe, and he shut up. Then he left. The bloody nerve of that guy!
Back from shopping for a bunch of goodies for the camper, and now it's time to bid thee farewell for another day. It's been another quiet one (apart from the Indian) so... as the Warner Bros cartoons used to say, That's All, Folks! Gary
February 7, 2013. Drama, drama, drama. Sue had another fall followed by all the usual sobbing, and Lindsay's not here. I can well do without all this crap, dear Breth.
On a brighter note, this is TEETH day! Later this afternoon I'll know how useful they are. The first thing I'll do when I get back home is make a baked bean sandwich! Stay tooned.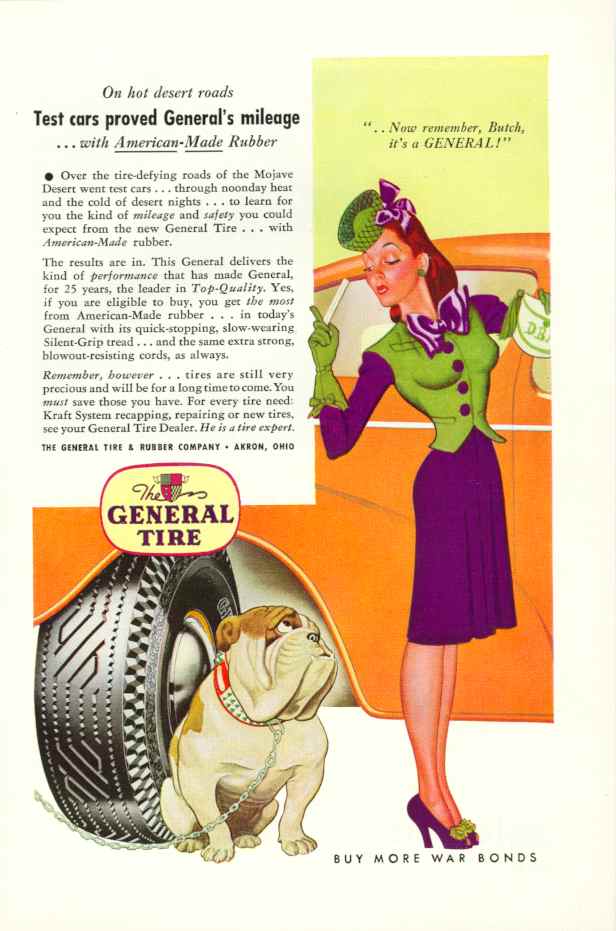 Pretty risque for 1944 dontcha think? I dunno what brand condoms my parents used but that was the year I came into this world as the result of a faulty one.
Have you ever wondered who writes for Wikipedia? It's the only web site I contribute money to... $30 a year. And here's the reason why.
From the Beeb: The US has tightened existing sanctions on Iran, in an effort to push Tehran to abandon its alleged nuclear weapons programme. The measures further restrict Iran's access to its own oil revenues but also include financial restrictions against Iran's state-run media. More than one way to skin a cat, yes?
Going forward. Leverage. Level playing field. In the business of politics, politicians increasingly use corporate buzzwords. Why, asks Sally Davies. There was a line that stood out in Barack Obama's second inaugural address last month, but not in a carve-it-on-the-Lincoln-memorial sort of way. How business buzzwords took over the English language.
The US Postal Service plans to end Saturday delivery of first-class mail by August, in its latest cost-cutting drive. Jeez, I can't even remember when we last had Saturday delivery. When I was a kid, the postie arrived twice a day.
Remember those quaint little Citroen 2CVs? Francois sent me a bunch of pics of one tarted up by Hermes Interieur & Design in expensive leather. Check out the album.
Well, as I said to Nancy the other day, Rod (the tooth fairy) will probably delay the teeth for some reason, and he has. At least, he didn't make the process clear the last time I was there for a fitting and I thought today would be the day. Nope. Another two appointments which means another two weeks of SOUP. It's disappointing, yes, but I'm getting so used to disappointments of one kind or another, I'm almost immune. Cest la vie. When he fitted the bottom plate it hurt a bit, but the pain sort of eased somewhat after the initial pressure. It's the exposed bone that causes it. I could probably handle a bit of discomfort when I'm eating as long as I don't bite or chew too hard. He also said my mouth is still shrinking, which makes a perfect fit a little difficult.
So there ya go, hold the baked bean sandwich. Drat! At least I was pleasantly occupied in his waiting room, reading a caravanning and camping mag. In fact, I took it with me into the fitting room. The last page I looked at was an ad for Gel Tech deep cycle batteries. I was reading about those yesterday and was quite impressed with the technology. Oh yes... I also read about LED globes which use very little power for better light, so I'll replace all the 12V incandescent globes in the camper with those. There are two small 12V florescent tubes as well, but I'll leave those. They're pretty economical to run so I understand. The 240 watters I'll replace with long-life, low wattage EELs.
There were quite a few ads for new RVs in the mag, with pics of their interiors. Sheesh. Talk about mini mansions. They sure make mine look a bit humble. BUT... I'm happy with mine. Comfort first, practicality a close second, and looks a long, long third.
And that's it for today, ladies and genitals. Not the most thrilling of days but there's always tomorrow. Gary
February 6, 2013. It was August 1962, and I'd just turned 18. I knocked off work at midday to take 2 weeks leave, then walked down the front stairs of the Registrar General's Dept building in College St. Sydney to see a car waiting for me. It was a green 1951 Morris Oxford, driven by a salesman from the BMC dealer at Strathfield. My first car! And it looked totally awesome! I didn't have a driver's license so the salesman drove me to the motor registry at Roseberry to get my learner's permit, and then home to Lakemba where he bit me for ten bob to get a taxi back to Strathfield ($1 in today's money). He also gave me a receipt for 50 pounds, my deposit on the Morris (with 150 pounds left to pay).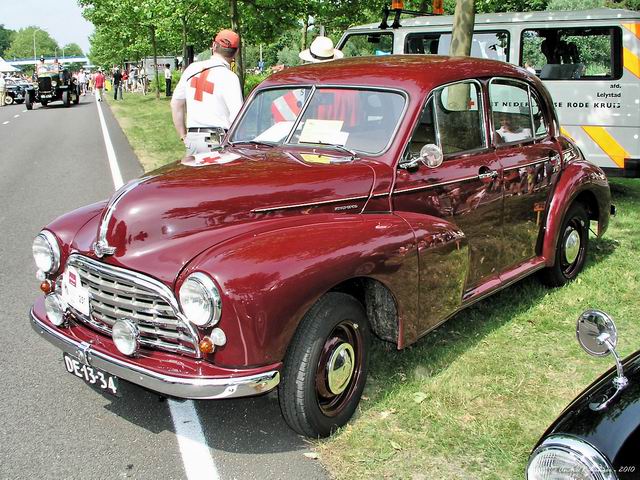 That's something a young bloke never forgets - his first car. If you look closely you can see the pop-out trafficators secreted in the center door pillar. It was quite a well made car, actually, with stainless steel window surrounds, non-droop door handles, hidden door hinges - designed by Alec Issigonis after WWII and released in 1948. He was also responsible for designing the Morris Mini launched in 1959, and was a most interesting man.
Meanwhile, TX Greg has a suggestion for merchandising "something different" - a pouch made from a kangaroo scrotum with the AO logo. You think he's kidding? Check it out.
Back from the timber yard and getting a bit lopped off the boards for the truck tray. Now they fit beautifully! So that's another job done. Peter the metal bender "hasn't had a chance" to do the brackets yet. Not to worry, I'll phone him again on Friday.
NC Art wrote: I feel a bit of affinity for old Richard III whether he was a murderous despot [briefly] or a misunderstood saint. My birthplace is named York. A rival town in my state is named Lancaster. Not unusual for American places to carry old England names, much as do Australia and Canada.
York, S.C. adopted the white rose as its flower, so Lancaster chose the red rose. Rivalry in football and other murderous sports often ran white hot, each bent on spilling the red blood of the enemy, much like the Wars of the Roses between House of York and House of Lancaster which ended with the Tudor clan on the throne for a while.
Even literary clubs, restaurants, and theaters in the two American towns were named for the respective roses. I thought it was quite amusing, and wondered why our high school football team mascot was the Green Dragon instead of the White Lilies. But that wouldn't seem so manly now would it?
I suppose we won anyway, since the Plantagenet's got the short end when Tudor prevailed.
I also feel a bit of an affinity for Richard III... at least for his skull, which I studied last night on telly and noted how much distance there is between gums if you remove the teeth. No wonder I can't even eat an egg and cheese sandwich! But that will change tomorrow when I see the tooth fairy. Interesting that Shakespeare, who wrote his poems and plays during the Reign of Elizabeth I, characterized Richard as the villain who murdered Elizabeth's great grandfather. I wonder how she felt about that? By the way, in Cockney rhyming slang, a Richard the Third is what a dog leaves behind when it goes walkies. Hehe.
Art also sent this link to a great story about another villain, the one who bought Richard's bones.
Bill, the other bloke with a Freeway/Courier combo, is a wealth of info. He had his camper weighed... 720kgs (1600lbs) unladen. Also on the grey nomads forum is a story about Taree council changing its mind due to pressure from local business about overnight camping at Wingham riverside park. Now there's a sign saying campers in self-contained vehicles are welcome to stay overnight, and it's free. How sensible. Its only a matter of time before other councils follow suit.
Just followed a few links that led to a web site called HoboHome. It's a biggie, and as the blurb says: On this site you will find our Travel Log (over 8 years of travelling Australia in a converted bus) as well as a wealth of information and technical articles relating to motorhoming and caravanning. If you check out this page, and scroll down a bit, you'll see a map showing where they've been during the past 8 years. Pretty impressive!
I read his latest blog entry where he and his wife (I presume) camped at a remote site in northern QLD, reached by negotiating a narrow track. Seems like there's no stopping that bus! Anyway, he said they had a lot of web site catching up to do, so he posted this pic of his office. You can check out his rig here and even take a video tour. So who knows? I might get to meet those people one day.
And now it's 5-ish. One more soup before I get my new choppers. I'm loathe to get too excited in case they're a bit problematic at first - fitting properly, getting used to them, etc. I've only been without teeth for three months but before that my gums were sore and tender and I had almost no feeling in my tongue, so eating solids even back then was almost impossible. That means I've been on a liquid diet for over 12 months, and about half of that was with a stomach tube. Not my best year, folks.
Anyway, 2013 is looking good! And that's what matters. Gary
February 5, 2013. Well, that was quite the speech I made yesterday about the Odyssey. Probably a bit over the top but that's okay... just giving myself a little pep talk. Motivating the troops as it were. But it's interesting to ponder the merchandising potential. Everyone does the T-shirt, caps, coffee mug routine. I'd like to do something a bit different. Not sure what yet.
As to fat ladies and singing, NC Art writes: And there's Yogi Berra's version: It ain't over til it's over. The old baseball manager had a lot of them, such as, When you come to a fork in the road you take it. Good odyssey advice.
Tallulah Bankhead got off some good ones. The crusty old actress with cigarettes and whiskey roughened actress once commented on why she wouldn't visit one particular city: Because there's no there there! And she called Kate Smith, the [portly] Song Bird of the South, a great tub of shit - at a swank cocktail party of upper-crust guests on Manhattan. Were people more colorful way back when?
Maybe they were. We had a Prime Minister back in the 80s, Paul Keating, who had a wonderfully ascerbic turn of phrase in parliament. He could demolish an opposition member with one line and have the rest of the members in hysterics. Winston Churchill had that skill as well. I tend to be more interested in what I'm saying or writing than how I'm writing/saying it. Eloquence is not something I'm consciously aware of. In fact, some writers frustrate me to hell with their "creative" use of language. They're more interested in impressing their peers than getting to the damn point! A bloke like Churchill could do both, but writers and orators like him are rare.
Two more sleeps till I see the tooth fairy again for.... drum roll.... TEETH! I hope they fit okay, and don't hurt the exposed bone too much. I might have to ease myself back into biting and chewing. Something like pizza might be a bit too adventurous for now. Anyway, we'll see. But whatever it is, it's gotta be better than soup, soup, soup, soup, soup.
Well, there's another job done. The truck's almost ready to take the camper on board. But I discovered that the boards I bought from the timber yard were cut a little too long... about 5mm... so it's a trip back there to get them shortened. As you can see, there's a raised lip that runs along the length of each side. The distance between the lips is 1830mm about 5mm too narrow for the camper base, so the camper will sit on the boards. Tomorrow I'll check with the metal bender to see if my brackets are ready. Then it'll be a matter of drilling the holes for the brackets and welding hooks to the corners of the tray.
And now, without tray sides, there are NO squeaks and rattles! The truck is 99.99999% quieter, which is a relief.
By the way, when I was chatting to Chris yesterday I saw a Ford like my ex ute at the roundabout. "Nice looking unit," I thought to myself, and then realized it WAS my ex ute. As TX Greg wrote when he first saw it in November 2011, "that ute looks pretty sharp!" By contrast, the truck is just a truck... utilitarian. But that's cool because it won't look out of place with the camper on board. The truck needs a polish though, which is something I'm not all that keen to do. The last time I polished a car was 10 years ago - Tough Titties. Mind you, the truck is only half a car hehe. Maybe I'll do a section at a time.
From the Beeb: Standard & Poor's says it is to be sued by the US government over the credit ratings agency's assessment of mortgage bonds before the financial crisis. Hmmm. The blame game. S&P says the case is entirely without factual or legal merit.
Boeing asks US aviation authorities to allow test flights of its 787 Dreamliner passenger plane, after battery problems forced the plane to be grounded.
An "atheist church" in North London is proving a big hit with non-believers. Does it feel a bit like a new religion? Not many sermons include the message that we are all going to die and there is no afterlife. But the Sunday Assembly is no ordinary church service. A most interesting article.
A kidnapper in the US state of Alabama has died after police raided his bunker, saving a five-year-old boy held captive inside for six days. What a terrifying ordeal for that poor little boy.
A skeleton found beneath a Leicester car park has been confirmed as that of English king Richard III. Another interesting story.
5-ish already. Will I leave you with a bunch of Holdens? I grew up with these oldies:

L to R: 1948-53 FX, 53-56 FJ, 56-58 FE, 58-59 FC, 59-60 FB, 60-61 EK, 62 EJ. Back in '59, Holden had a 50% share of the Australian car market. Pretty heady days indeed! Ford and Chrysler were relying on imports but in 1960 decided to give Holden a run for its money, and began local manufacture of the Falcon and Valiant. They were referred to as "The Big Three" for a while but Japanese cars started to make inroads. The Valiant ceased local production in 1980. The Falcon and Holden (Commodore) now have a minor share of the market. I must be getting old... that EJ on the right still looks modern to me, and it's 50 years old!
Soup and telly time! Gary
February 4, 2013. I stand corrected on two counts. Sorry Art: Not to quibble, but it was a B-24. Not a B-29. And during a bombing mission I was scared spitless. Never nonchalant. Exception maybe near the end of a long run when I was too tired to care.
I can imagine. My scariest moments were probably on air, thinking the whole world would crucify me if I made a boo-boo. I felt like a soldier standing at attention during inspection, terrified that one tiny thing out of place would earn the drill sergeant's wrath. Entertainers are masochists, basically, especially those who perform live.
Back from a haircut. Mark was desperate to get me outta there before another customer turned up and stopped him going to lunch hehe. Then I went to an auto place and got a seat cushion to bolster the driver's seat. No buns, ya know. It slides under the sheepskin cover so it works pretty well. The sheepskin covers could do with a wash so I checked Google. A washing machine is okay as long as you use a mild wool detergent that doesn't harden the leather, and then dry them in shade.
Remember Graham autos? This is the 1941 Hollywood model: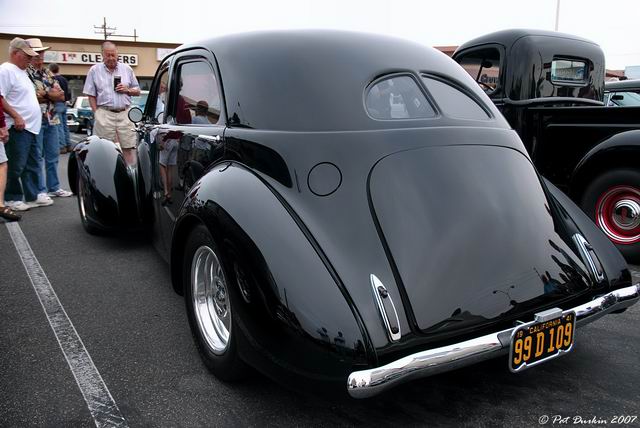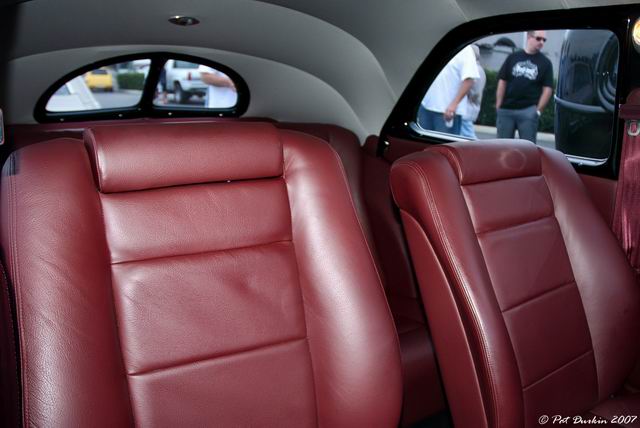 Chris just finished the wheelchair ramp and a bit of painting. I've been chatting to him for a while about this and that. Before he left, he reminded me to give him a call when I need a hand to load the camper. That's very nice of him... very neighborly... and I appreciate it very much. He was also the one to come to the rescue shortly after I bought the camper last year, when it was sitting up high on jacks and I was paranoid about the thing falling over in a stiff breeze. Chris epitomizes the image of the Aussie "good bloke", of which there aren't all that many, lemme tellya, despite what Aussies like to think of themselves.
Rick Stein, the bloke who was in Cambodia last week on his TV show, was in Vietnam last night sampling the local cuisine. The Asians are very strict about their recipes, especially traditional ones. They have to use exactly the right ingredients in exactly the right amounts to be authentic, which is why they've been the same for thousands of years. Stein is a fan of a famous author (can't remember his name) who used to stay for long periods at a flash hotel in Saigon when it was a French colony. He opened one of the author's books (after he inspected the room in which the author stayed) and quoted a passage about writing being therapy. Jeez, I've been saying that for years! The author said he couldn't understand how people who didn't write, paint or indulge in some other form of creative therapy coped with the hum drum and pressures of life. He wrote that we all need an escape of some sort and that writing was his. (I gather he was a writer of fiction). But it's true. I use Waffle to give me something to do; something to take my mind off my current circumstances - living with L&S. I also use it to "think aloud" about my plans for the Odyssey and to sort things out in my head... to prioritize my to-do list.
Waffle has also helped to keep my dream alive. It focuses my attention - keeps my eyes on the prize. I'm sure my endless chatter about utes and measurements and brackets and porta pottis has driven y'all crazy hehe, but it keeps me on track... and it's gotten me this far. It also helped me deal with the cancer crap. Therapy, yes?
And that's why Waffle will be archived when the Odyssey begins and the Journal takes over. Documenting my travels and daily events will replace wishing and hoping. The dream will have become a reality. I'll be in the thick of all the action at the front line, dear Breth. Instead of pics off the net, I'll be posting REAL ones of the here and now! It'll be the soap opera to end all soap operas, with millions of addicted fans tuning in each day for the latest episode hehe. Even as it is, I've only gotta miss a day's Waffle and NC Art wants to know if I've been run over by a truck or something. Hehe.
So, ladies and genitals, even though it hasn't happened with AO yet, my time in media and advertising has taught me the value of the never-ending story, and how serialized soaps have the power to attract a large and loyal audience, desperate to find out what happens next. MrB's audience was huge because I wrote serialized versions of all the stories. AO will be the same, and even I won't know what the next episode will bring until it happens. It will be a real-life adventure unfolding day by day, week by week. The only hiccups will be when I'm out of range of phone/internet, so there'll be times when the web site won't be updated for few days or a week. But I'll still be writing and taking photos when I'm off line, and then play catchup later.
So the fat lady ain't sung yet, dear Breth. The potential for a much bigger audience - one that will hopefully attract a bit of sponsorship as well as merchandising opportunities - is yet to be realized. As they say in the classics, you ain't seen nuthin' yet. And the bloke who said Kelly's got a million ideas but none of them work can eat his hat. So can the bloke who said who the fuck do you think you are? And all my former colleagues who insisted I was washed up.
Wot's more, I don't need to be a Leyland Brothers or a David Attenborough or a Steve Irwin or some daredevil adventurer to do it. All I need to be is myself, an ordinary bloke telling a good yarn. And I've been around long enough to know what makes a good yarn. :)
Mind you, I'm not the least bit interested in creating some kind of empire. Aussie Odyssey will forever remain a one-man band - just lil ole me doin' ma thang. I like it that way. Simple and straightforward. Only one bloke in charge of everything. One seat on the board. Hehe.
Yes, merchandising. After a few years on the road, if AO has a big enough following, there may be opportunities to market certain things... bush recipes, camping tips, calendars and framed prints, BBQ aprons, caps, who knows? It would be nice to have a little nestegg for my "retirement", when I finally settle somewhere and write my memoir. Anyway, that's another dream for another day.
Meanwhile, it's back to reality. Chicken soup and telly. Bleh. A gas fitter will phone later to organize a day to check out the gas fittings in the camper, and replace stuff that's a bit suss. Another step forward. Gary
February 3, 2013. Sundee morning, cool and cloudy. But according to the forecast, the cloud will dissipate by midday and we'll be back to summer. Weird weather we're having lately. I'm wearing a fleecy top at the mo.
The Brit cook on a foodie show last night was talking about lunch, and how it's degenerated into grabbing a quick sandwich and something to drink. Same old, same old. He advocates the return of the old lunch box, and taking a few minutes each morning to fill it with something a lot more interesting than same old, same old. It reminded me of Cody and Mark sitting together in the quad during school recess. Cody made do with grabbing a pie from the canteen while Mark went to the trouble of making his own sandwiches before school. Cody would often talk Mark into swapping a bite of his pie for a bite of Mark's "avo" sandwich hehe. Mark was very domestic in that sense... able to cook and do various chores around the house. Cody's limit was a toasted peanut butter sarmie and juice. Opposites attract, yes? Yet there was nothing timid about Mark's ability in the boxing ring. He was one tough customer.
NC Art sent some tips on his mother's method of making potato salad, Mom's were the standard for the neighborhood and in great demand for picnics or church dinners. Most people are too damned lazy to turn potato salad into a culinary work of art.
But Art doesn't quite understand the Aussie meat pie: Now a question about meat pie. What the heck does it look like or taste like? Beef or chicken pot pie I know about, so I guess it's the same? I also know about shepherd's pie from trying one in Harrods's basement in London. It had the consistency of a slice of auto tire—tyre?—and tasted somewhat worse. Conversely a steak and kidney pie in an English country pub was always a delight. Go figure.
I suppose the meat pie is a derivative of the Cornish pastie (traditionally filled with vegetable leftovers) wrapped in flaky pastry, baked in the oven, and given to the old man before he headed off to work. In winter, he would put the piping hot pastie in his pocket to help keep him warm, and eat it for lunch. The pie is probably the original Aussie fast food able to be served hot. Fillings are basically a stew... plain steak (ground or chunky) with gravy, steak and veg, curried steak, chicken (with or without veg), or topped with mashed potato instead of the pastry lid. Sometimes, the lid is removed so mashed peas can be added, then replaced. The gravy is the crucial element, thickened so it doesn't dribble all over the eater's chin (pies are usually hand held), and spiced to give the pie its particular flavor. A dollop of tomato sauce (similar to ketchup) adds the finishing touch.
The difference between a meat pie and a shepherd's pie (also known as cottage pie, usually made with leftover lamb) and other pies is that it's completely encased in pastry and able to be eaten on the run. No plate or cutlery needed. When I was a kid, Sargent's Pies were baked on the premises in Sargent's bakeries, using meat off the bone, sweet and tender. My dad loved them, and always treated me to a Sargent's pie when I went to work with him during school holidays. These days, they're produced by the thousands in a factory. Not the same.
Finding a really good pie ain't easy. Any filling completely encased in pastry can hide inferior quality. Commercial pies are most often nowhere near as good as those produced by small independent bakeries and patisseries that depend on repeat trade from locals. There was a famous pie shop (and bakery) near where I lived in Glebe. Just one shop, and not very big, but customers came from miles around. The place was always packed. The owners were so confident of customer loyalty, as well as their own talent, they closed the shop and took 2 months off every year to holiday back home in Europe. When they returned and re-opened, business was just as brisk as ever.
Despite the influx of migrants from all over the world since war and the profound influence they've had on Aussie cuisine, as well as fast food restaurants like McDonalds, KFC, Subway and the like, the humble pie remains not only a down under favorite, but a tradition.
BR João shares Art's love of the good old days with legendary entertainers like Fred Astaire, Gene Kelly, Rita Hayworth, etc, and sent this link to some great clips of their performances... with a difference hehe. Sorry, Art. But you must admit, it is clever.
Art also sent this list of reasons (in reverse order) why American men prefer guns over women:
#10 - You can trade an old 44 for a new 22.
#09 - You can keep one gun at home and have another for when you're on the road.
#08 - If you admire a friend's gun and tell him so, he will probably let you try it out a few times.
#07 - Your primary gun doesn't mind if you keep another gun for a backup.
#06 - Your gun will stay with you even if you run out of ammo.
#05 - A gun doesn't take up a lot of closet space.
#04 - Guns function normally every day of the month.
#03 - A gun doesn't ask, "Do these new grips make me look fat?"
#02 - A gun doesn't mind if you go to sleep after you use it.
And the Number One reason Why Men Prefer Guns over women.....
#01 - You can buy a silencer for a gun.
From the Beeb: French President Francois Hollande has said his government will help rebuild Mali, three weeks after launching an offensive against Islamist rebels who had seized the north of the country. Speaking in the capital, Bamako, he pledged more French aid to its former colony and vowed to restore cultural sites damaged by the rebels. Mr Hollande said France would help Mali re-establish control in the north. "Terrorist groups have been weakened, but not disappeared," he said. French troops would stay in Mali "as long as necessary", he added, reiterating that France would hand over to African troops "once the sovereignty of Mali is restored". How come the French can do it and it doesn't take 10 years? Maybe they're not so bogged down with diplomacy and world opinion. Hehe.
The French National Assembly approves a crucial article of a bill on legalising same-sex marriage after months of public protests and counter-protests. Yep, just get on with it. Same sex marriage is inevitable anyway.
Sandwich shop chain Pret A Manger has withdrawn a new "Virgin Mary" brand of crisps following religious complaints. The firm, with about 350 shops in the UK, launched the spicy tomato crisps - based on the non-alcoholic version of a Bloody Mary cocktail - last week. This prompted complaints, including from Catholic groups, that it was an offensive reference to Jesus's mother. It's a good thing I don't take religion seriously otherwise I may be offended by what they say about people like me.
Here's an email I just received from a bloke named Paul: Hi Gary,
Thanks for creating your scrapbook. It's a great insight into the decades where Australia was white, homophobic and naively respected the media.
What a ride!
Funny, innit. I guess it was a pretty amazing ride but I don't see it quite that way. I suppose if I compared it with what could have been - a career spent shining the seat of my pants behind a desk in a government office - it's a tad more exciting. However, NC Art flew in an American B29 on bombing missions over Nazi Germany. Now THAT'S a ride! But Art probably shrugs and says something like, "Yeah, I suppose it was." It's all a matter of perspective. I'm sure I'll meet many fellow travellers on the Odyssey with far more interesting stories to tell than I have. But that's okay... I'll have fun retelling theirs.
Did you see that interview with Hillary Clinton at the 59th Town Hall Meeting in Washington the day before her last as US Secretary of State? The interview was conducted by Leigh Sales, an Aussie journalist who hosts 7:30 (current affairs) weeknights on ABC TV here in Oz. I wonder how she got the gig with Hillary? Anyway, there's a repeat of the show tonight.
There's also Rick Stein's Far Eastern Odyssey, another foodie show. If it's the same bloke, he was in Cambodia last week, which was really interesting - the people as well as the food. All Asian food is interesting. Fresh and spicy as well as healthy. And often quite simple. It seems there's always something new to learn in cooking. Poh, a Malaysian born chef in Oz, often has guest chefs on her show - French, Asian, Middle Eastern, English, Russian, Polish, Hungarian, you name it, and they're always learning something different from each other.
How did my chicken soup last night go? Pretty good. I'll have it again tonight. Usually tastes better the day after. Gary
February 2, 2013. Irrigation time again. Bleh. BACK! Everything looks cool, and Nancy says she's gonna buy me a meat pie when the teeth are in next week. She's gonna get one for herself too, "and we'll have our pies together". She says there's a pie shop in the Manning Mall that makes wicked pies.
As to food, I'm gonna make chicken soup today with lots of vegies. And I picked up a tip from a recipe on the web... use a BBQ'd chicken (or part thereof) rather than uncooked to enhance the flavor. I'm gonna use chicken stock instead of water as well. I've learned a thing or two about making soups since all this tooth and gum business, and I'm here to tell you that home made beats the pants off canned.
NC Art sent a funny story about financial planning: Dan was a single guy living at home with his father and working in the family business. When he found out he was going to inherit a fortune when his sickly father died, he decided he needed to find a wife with whom to share his fortune. One evening, at an investment meeting, he spotted the most beautiful woman he had ever seen. Her natural beauty took his breath away. "I may look like just an ordinary guy," he said to her, "but in just a few years, my father will die and I will inherit $200 million." Impressed, the woman asked for his business card and three days later, she became his stepmother.
Women are so much better at financial planning than men.
And here we are... nudja Satdee. And it's cool. Heatwave one day, cool the next. This is February, supposedly the hottest month of the year, and today it's barely reaching 20C. So what's the story? One thing is certain, the recent bushfires, floods and cyclones in Oz have stimulated discussion about Global Warming. Add to that, the UN warning that the Great Barrier Reef will be placed on the "in danger" list if positive action is not taken soon.
Roite. Chicken soup is on the simmer. I bought a slotted spoon as well. It's about time I had one of those things. Chefs/cooks on telly are always using them. Tonight I'll find out if using a BBQ'd chicken (minus the stuffing) improves the flavor of the soup. I also added a bay leaf, parsley and garlic to the original recipe... and a glass of white wine to the stock. This recipe is interesting in that it says to chop the vegies into large chunks before putting them in the pot. It's only after they're cooked that you chop them finely... when it's easier. How sensible.
BTW, at the supermarket car park I was parked near a new Ford Courier, which is considerably larger than mine. The cab is bigger and higher, and the tray is about a foot higher off the ground. I'd hate to think how high the camper would be sitting on one of those things. Mine's enough of a worry as it is! Speaking of car parks.
From the Beeb: Hillary Clinton says the world is a safer place, in her farewell address to state department staff on her last day as America's top diplomat. It's a work in progress, darling, and always will be. Dictators and fanatics keep popping up like weeds.
Russian President Vladimir Putin will lead tributes marking 70 years since the Battle of Stalingrad, seen as a turning point of World War II.
Well, the soup turned out well. The recipe author is correct... carrot, celery, onion, etc is much easier to chop when cooked. I separated all the solids from the liquid, chopped and then mashed all the vegies and potato, shredded the chicken meat, and put it all back together. Mashing is better than blending or pureeing... you can still tell what's what... and the meat is still meat.
Oh, and I bought a bottle of kerosene today. I'm gonna soak all the old rusty bolts and washers from the channel rail at the back of the camper. That should loosen them up. My mother used kerosene to wash the bathtub.
Now what did I save from the auto newsgroup today? Oh yes... something a bit different... a 1919 Duesenberg V-16 aero engine.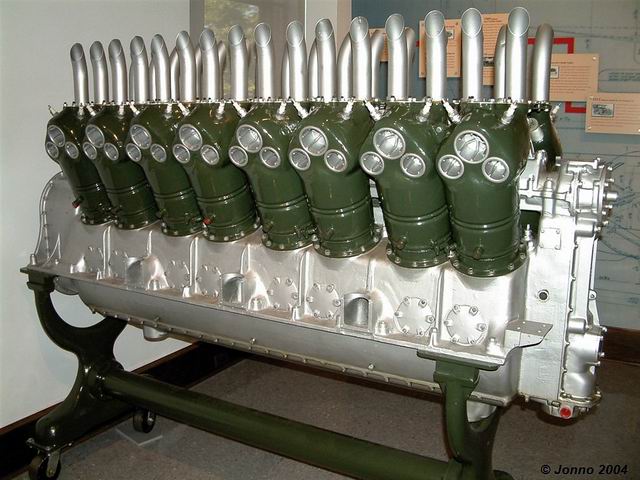 Imagine putting that in a rag and glue biplane. Anyway, boils and goils, it's time for me to watch a bit of telly and eat a dead chicken. Gary
February 1, 2013. Roite. One more month of Waffle and then I think I'll archive all the Waffle stuff and start using the Journal for my daily entries in March. Not sure if the Odyssey will actually begin then, but at least I should be doing mini-Odysseys. There's a million places around the Mid North Coast. I could spend a year here and not camp at the same place twice... unless I forgot something and had to come back.
Remember Vaudeville? That's where most entertainers from the 30s, 40s and 50s got their grounding... song and dance, stand up, slapstick. NC Art sent this link to two old guys dancing: James Cagney and Bob Hope at a Friar's Club Meeting back when actors were real performers. Bob Hope was 52 and James Cagney was 56. For the young folks, here is something you probably have never seen before and, unfortunately, may never see again. For us older folks, this is the best of the best, and we had it for many years!
This is a side of these two entertainers you hardly ever saw but it shows you their enormous talent. Bob Hope, the best of the comedians, and Jimmy Cagney ... mostly cast as the bad-guy gangster in the movies.
I've always wanted to tap dance. I even dream of gliding around the floor as if I'm floating on air, tapping out an infectious rhythm. Instead I learned ballroom. My oldest bro was seriously into ballroom... they called him twinkle toes. Both older bros were a product of the '30s and grew up during the Big Band era. I was at the tail end of it... and was 10 when Bill Haley and Comets had a hit with Rock Around the Clock.
Back from seeing the local doc for a routine check and a bit of paperwork. He's worried about my weight. I told him about the dentist's recommendation that I see a dietician but added that I already had enough of that bullshit with the dieticians at Port Macquarie. Don't wanna go through all that again. So I told the doc my new dentures will be ready next Thursday and not to worry... that I'll be able to eat lots of fatty stuff and be back to normal weight in no time. I don't think he was all that impressed with my self-diagnosis hehe, but what the hell. She'll be roite, mate, no worries.
BTW, when Art wrote yesterday that "the Rolls ragtop" wasn't the original, he was referring to the ragtop, not the Rolls. But on logic…. Men move about on two legs. Roos move about on two legs. Therefore men are roos? Nah. Sounds like National Rifle Association logic.
Then there's Kieran. He's now 10 which makes him 15. So by logic he was 12 when you took his picture two years ago at age 8. Please advise your faithful followers just what logic supports that mathematical mystery. And as he ages, if he looks more and more aboriginal when will he look completely ab?
This seems an appropriate time to remind everyone that logic is an Irish invention, and my name is Kelly. What I meant about Keiran looking more Aboriginal was that he's losing his little boy looks. Little boys of any ethnicity don't look like men, but it's more pronounced with Aborigines. In Keiran's case, his mother is full blood, and his father is white. It seems to me that his mother's genes are dominant, and increasingly determining his appearance as he matures. The same thing happened to his older bro, Josh.
From the Beeb: The White House has warned Syria not to transfer weapons to Hezbollah in neighbouring Lebanon. The warning came amid contradictory claims of an Israeli strike in Syria. Syria says Israeli war planes bombed a military research centre north-west of Damascus, but the US and others say lorries carrying weapons bound for Lebanon were hit. Israel has maintained silence about the incident, but Syria has made a formal complaint to the UN. That's a bit rich... Syria complaining to the UN.
The US Congress extends the nation's borrowing limit until the middle of May, setting the stage for yet another fiscal fight in the spring. Never put off until tomorrow what you can do the day after.
Feel-good drama The Sapphires dominated the Australian Academy of Cinema and Television Arts Awards (AACTA), picking up 11 gongs at the ceremony in Sydney. The musical comedy about an Aboriginal girl group entertaining the troops in Vietnam was named best film. The ceremony at Sydney's Star Casino was hosted by Russell Crowe, with Australian stars Nicole Kidman, Cate Blanchett and Geoffrey Rush also attending.
Here's an interesting article... The Science of a Long Life.
My fav gardening show was on telly last night (not that I'm a gardener, far from it). The host took us back to the time when he first interested a few of his neighbors in planting vegies, herbs, fruit, flowering shrubs, and native plants "on the verge"... the strip of land between the pavement and the road, usually home to grass and weeds. Then he took us through the various stages of the project as it grew and prospered over a couple of years - and spread all along the street - to where it is today. One neighbor remarked on how the garden had brought everyone together as a community. It gave them something in common; a reason to get to know each other; to share ideas; to have street parties; to discuss new plantings and even recipes. So the community garden became much more than a free source of fresh fruit, vegies and herbs, it was a meeting place where friendshops blossomed. Even the kids became enthusiastic supporters while also learning valuable lessons about where food comes from, how it grows, and its nutrional value.
People in cities often live in isolation, locked behind closed doors and fences, rarely getting (or even seeking) the opportunity to get to know their neighbors. Community gardens aren't always "on the verge" of a street. Often they're developed on waste land - old factory sites or bits of land unsuitable for building. They're carved up into plots and allocated to interested locals to tend, managed by a committee of neighbors. They're ideal for high density housing areas where people don't have access to anything but a balcony... if that. And they provide a meeting place where locals can get to know each other by sharing a common interest. There's no age limit to gardening.
I often see stories about people who like to create their own little oasis in their backyard, with lots of trees and shrubs, winding pathways, fountains and fishponds, flowers, outdoor seating, etc. They don't need much room. A regular suburban block will do. If they know a thing or two about plants, they can attract birds and other creatures like butterflies, frogs and lizards to enhance the experience. I think a backyard oasis is a wonderful idea, especially for busy people. Step outside the door and there it is, a place to relax or do a bit of gardening. And that's why I like gardening shows... they're not just about gardening.
Five-ish again. No soup tonight... I managed to get through a mashed egg and mayonaise, cheese and lettuce sandwich a while ago so I'm gonna take another shot at it. Gary
← Older posts Waffle Index Newer posts →
or
Return to Home Page